Craving a delicious salad this fall? Try these salad recipes that you can easily make on any night! Indulge in the flavors of autumn in every nourishing bite.
French Potato Salad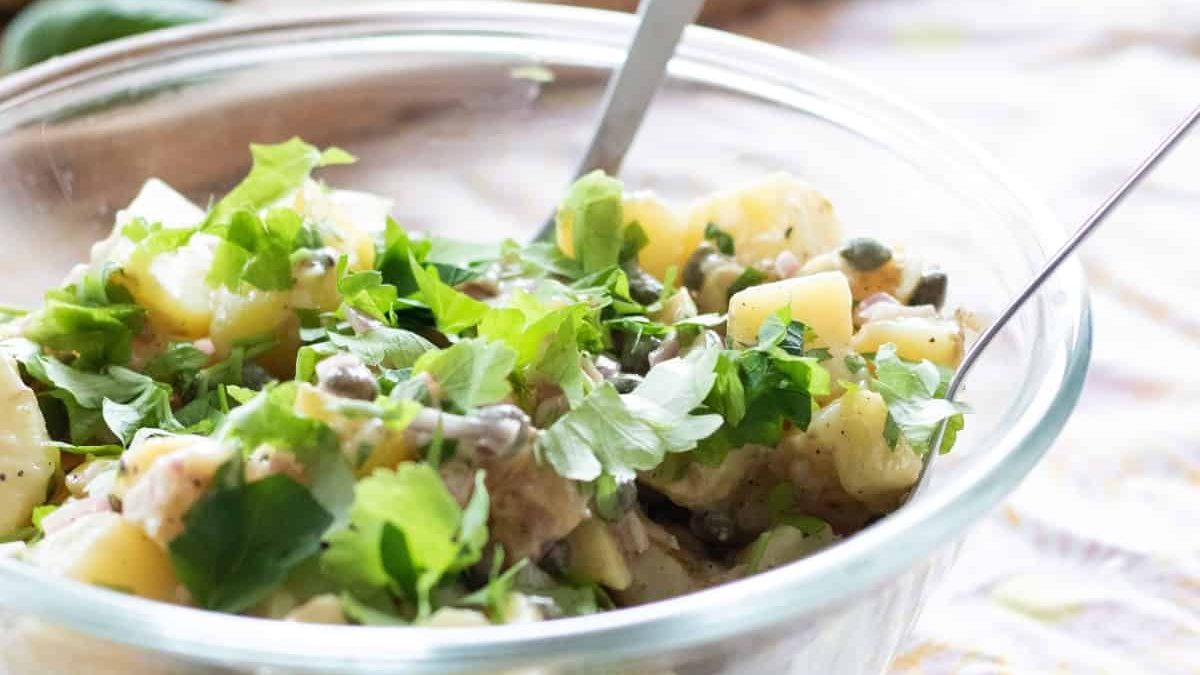 Try the best easy, homemade Vegan Potato Salad! Without mayo, eggs or any dairy products it's made creamy the traditional French way with a Dijon mustard dressing - which makes it naturally vegan, gluten free and dairy free.
Roast Pork Salad with Caramelized Onions and Charred Fennel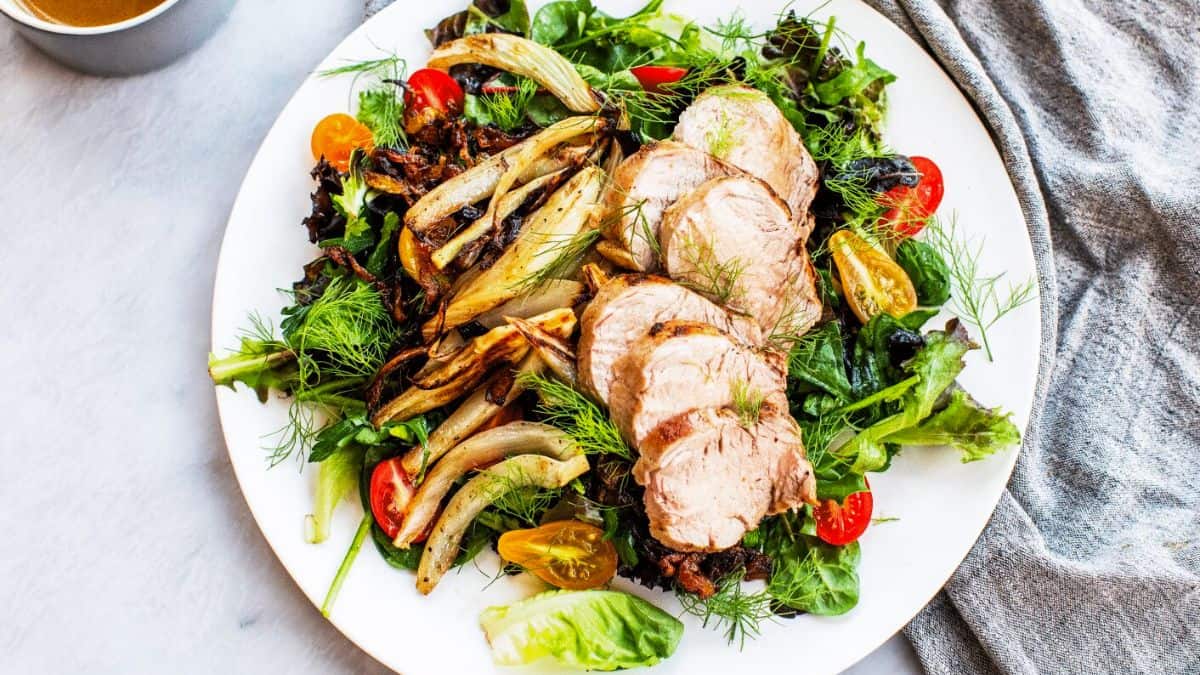 This roast pork salad with caramelized onions and charred fennel is a great summer-to-fall transition meal with warm flavors but light enough for a hot day.
Roasted Sweet Potato & Feta Cheese Salad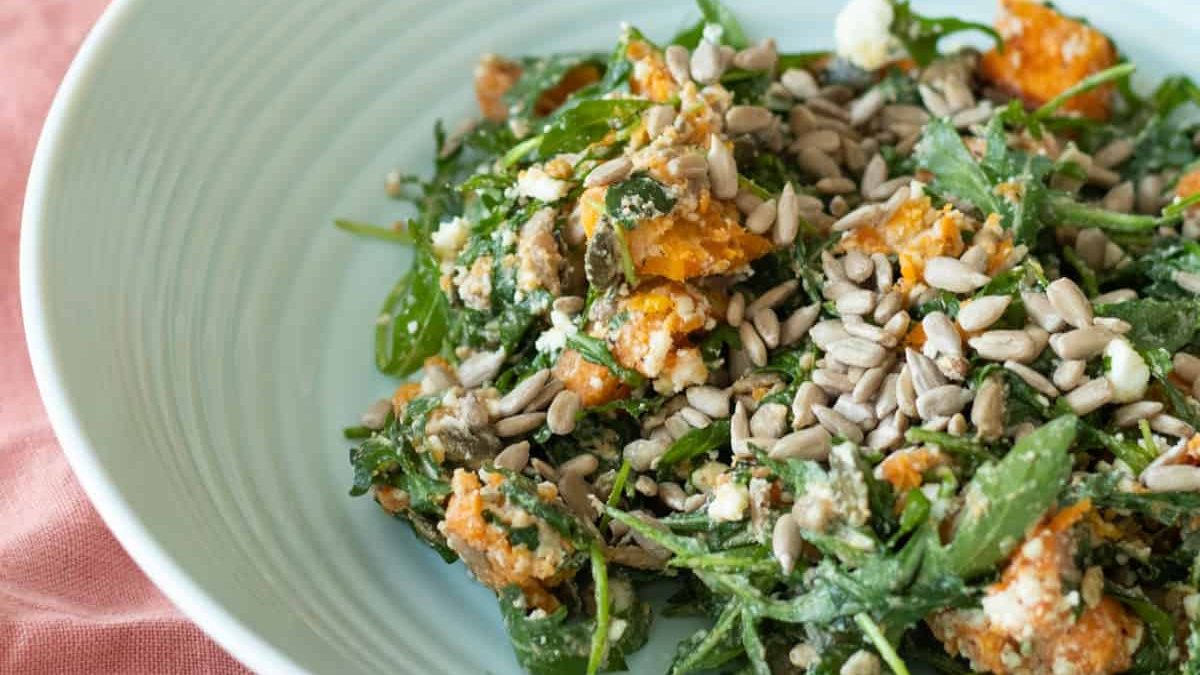 If you're craving a healthy salad, this sweet potato version is just what you need. Warm and filling, and great the next day as well.
Fall Harvest Salad with Cider Dijon Vinaigrette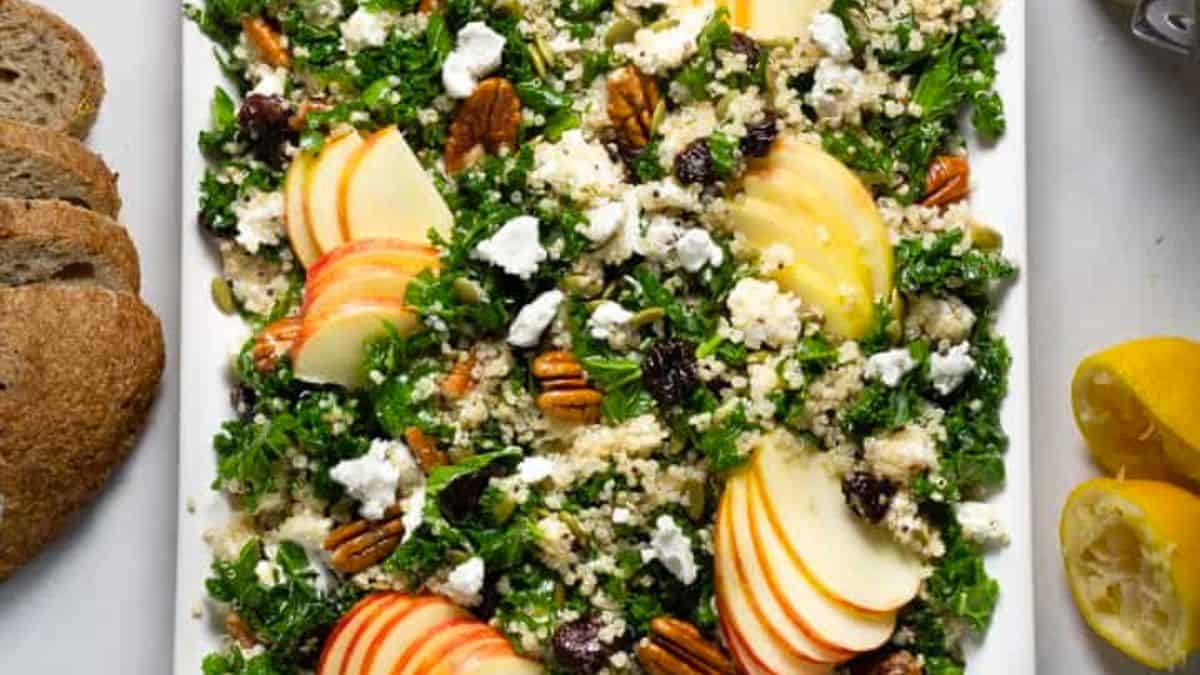 This fall harvest apple pecan salad comes together in just a few minutes and is loaded with fresh-picked honey crisp apples, tangy goat cheese and a quick and easy apple cider vinaigrette.
Fig and Prosciutto Salad with Mozzarella and Poppyseed Vinaigrette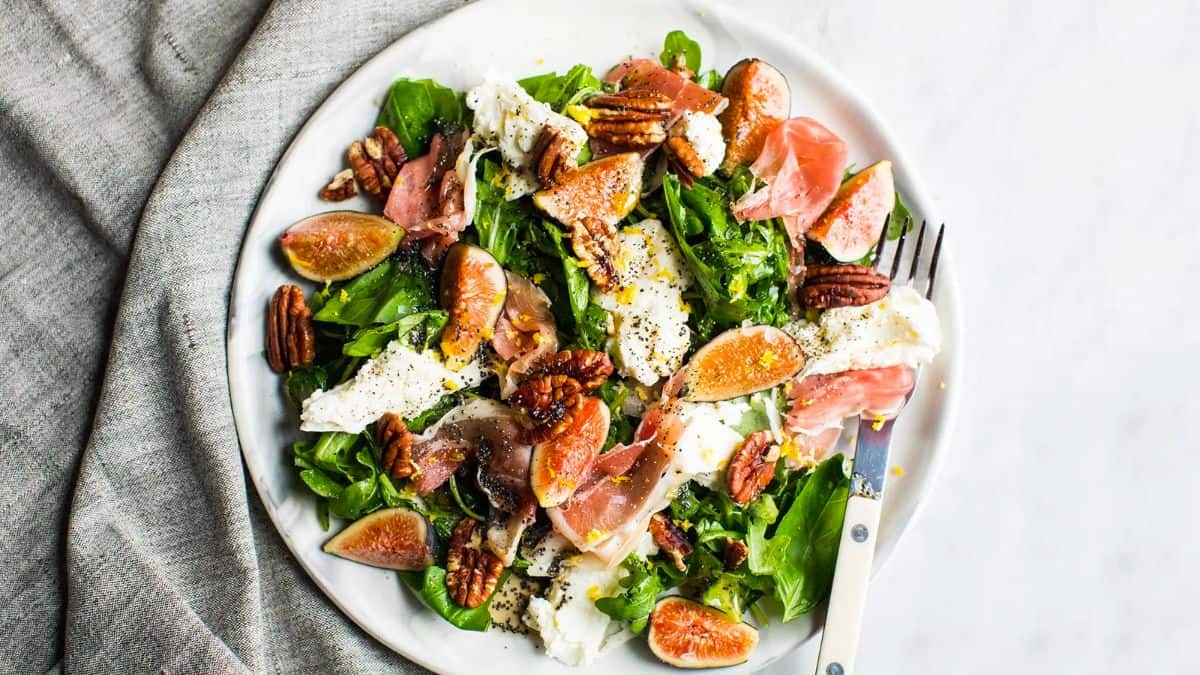 This fig and prosciutto salad with mozzarella is the perfect early Autumn salad. It's loaded with fresh figs, warm pecans, and hints of fresh basil that help tie the last of summer and beginning of fall together.
Apple, Brie and Pecan Salad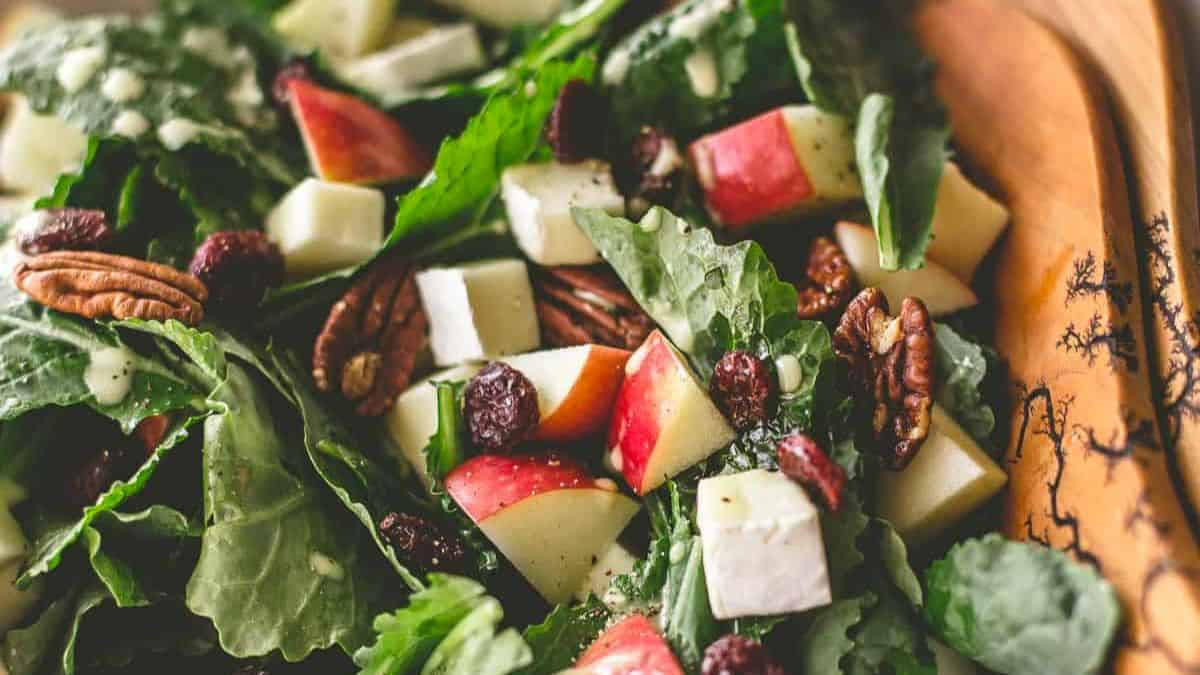 Apple, Brie, and Pecan Salad is the perfect mix of fall flavors and is tossed in homemade Apple Cider Vinaigrette.
Kale Salad with Apples and Manchego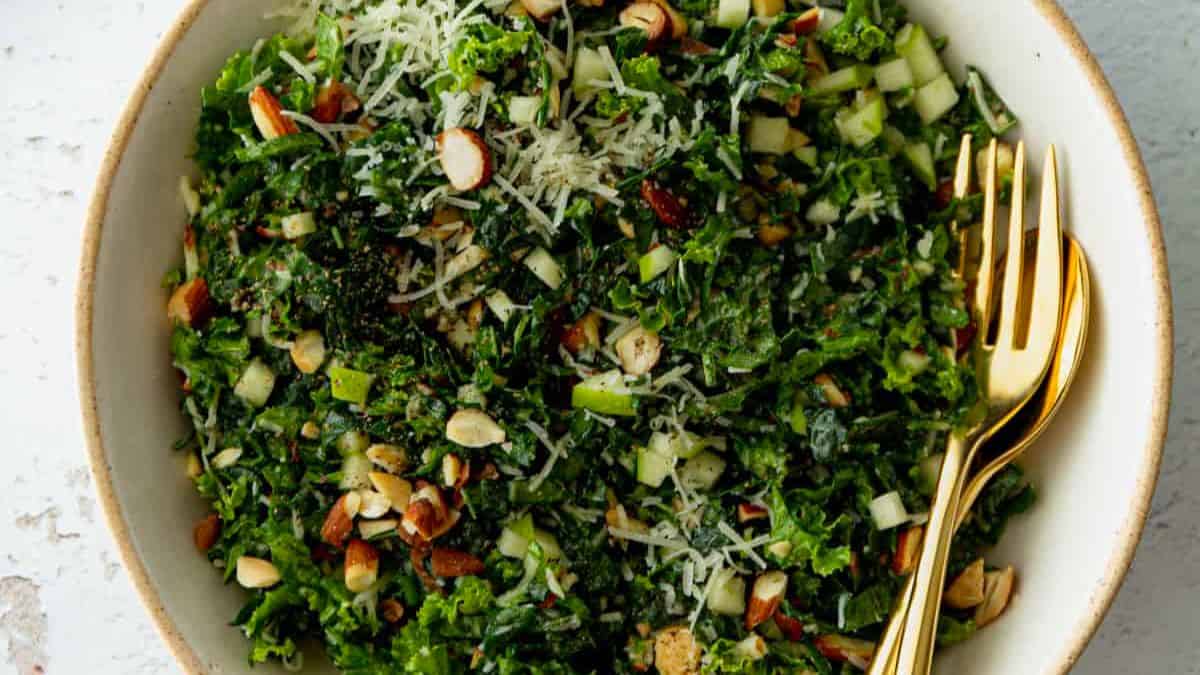 Packed with texture and fresh flavor, a shredded Fall Kale Salad is the perfect healthier side dish to serve with your favorite main dishes. Apples, crunchy almonds, and tangy Manchego cheese balance the heartiness of the kale.
Butternut Squash and Kale Salad with Toasted Breadcrumbs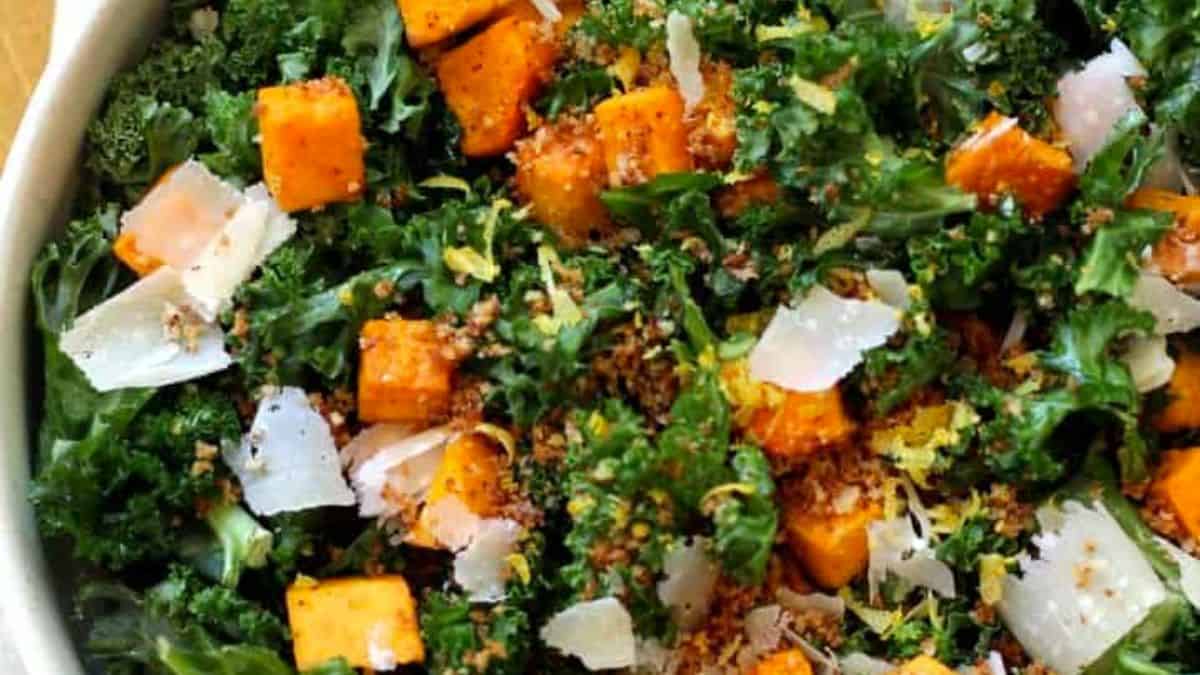 Butternut Squash and Kale Salad with hearty kale as a base has lots of sweet and savory notes with toasted breadcrumbs and sweet roasted squash. A honey-lemon dressing ties it all together.
Pear and Gorgonzola Salad with Maple Candied Walnuts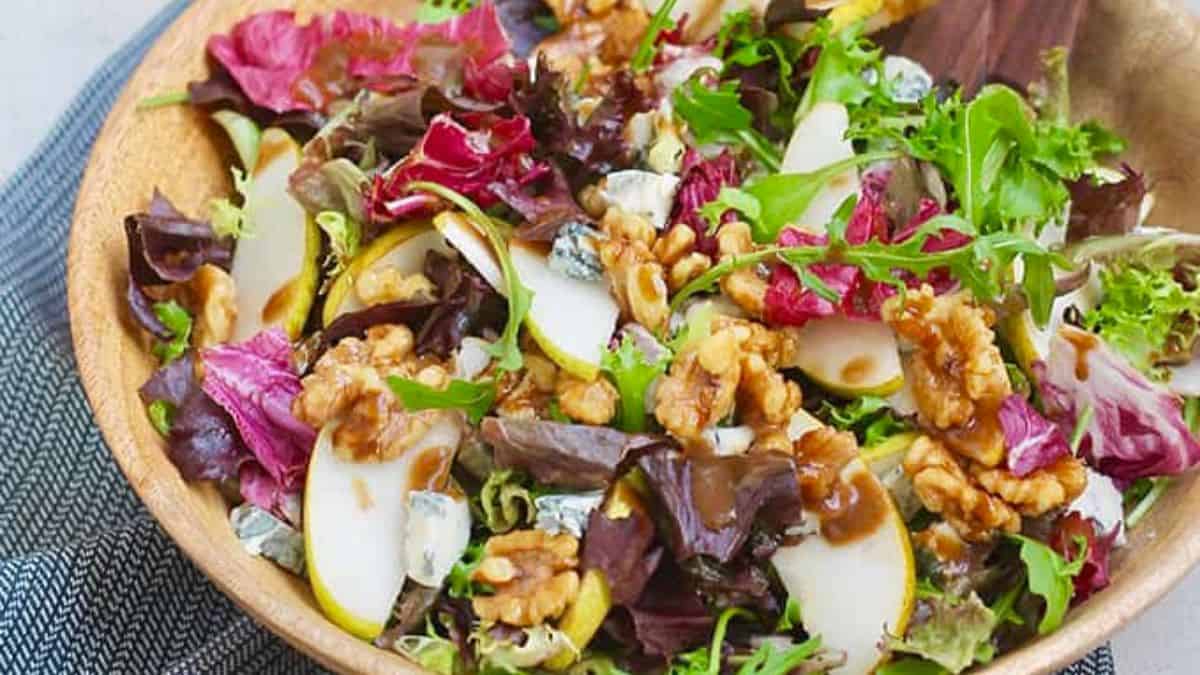 This Pear Gorgonzola Salad with Maple Candied Walnuts is a simple green salad is such an easy and tasty recipe for the holidays. With a quick and easy vinaigrette and a good amount of gorgonzola cheese, it's healthy and delicious.
Roasted Butternut Squash Salad with Apple Cider Vinaigrette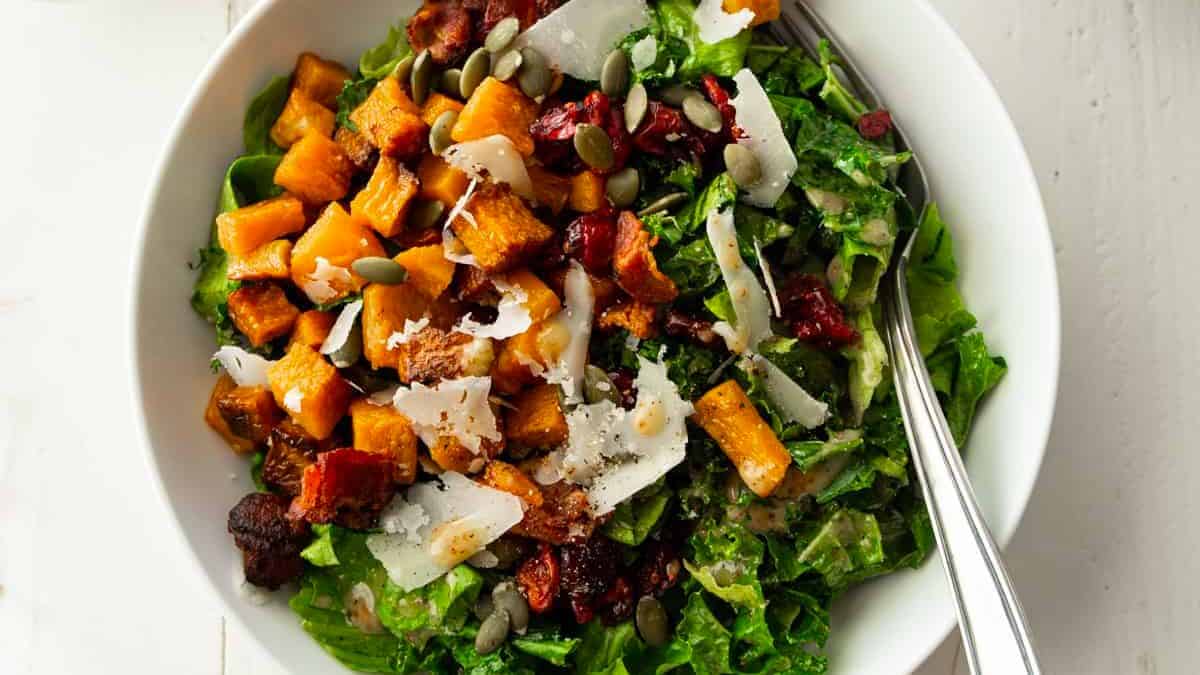 Dressed in a simple apple cider vinaigrette, this sweet butternut squash salad is rich with flavor and perfect on it's own or as an accompaniment to a hearty main course. Filled with vibrant leafy greens and crunchy sweet and tart textures, this salad is as easy as it is delicious!
Roasted Pumpkin and Beetroot Salad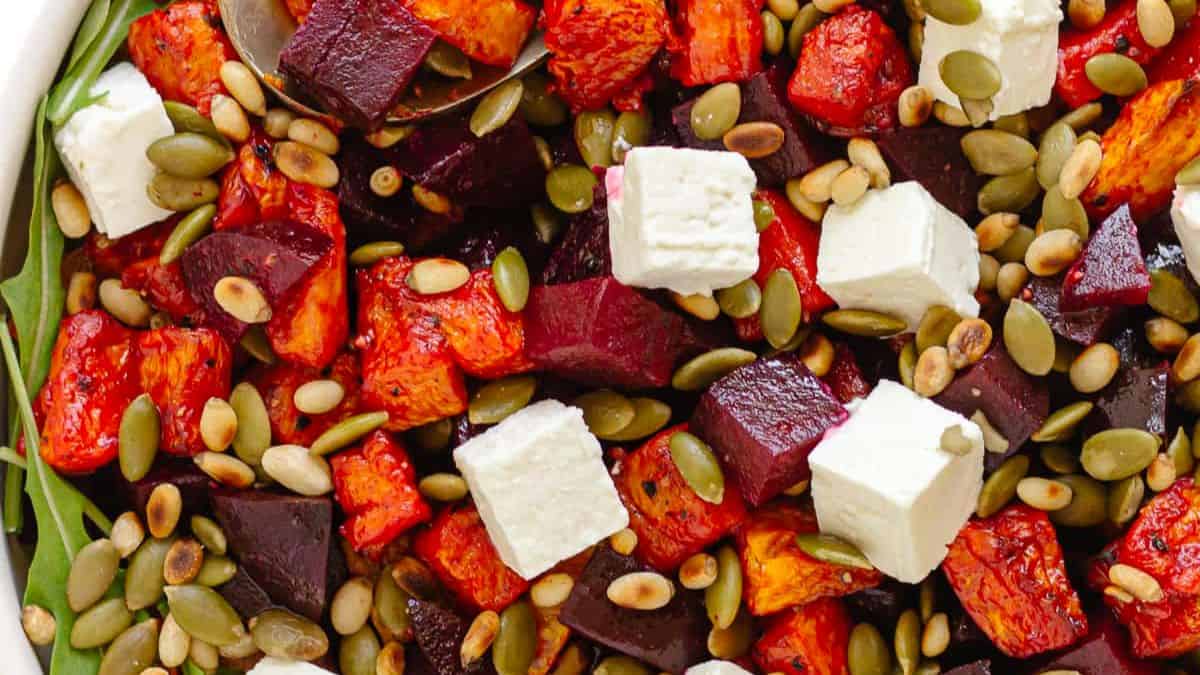 Looking for a simple yet impressive fall (or winter) salad recipe? This Roasted Pumpkin and Beetroot Salad is sure to hit the spot! A hearty salad with roast pumpkin and beetroot, salty feta, crunchy pine nuts and pepitas, peppery arugula and a delicious maple vinaigrette to bring it all together.
Shredded Brussels Sprouts Salad with Poppyseed Dressing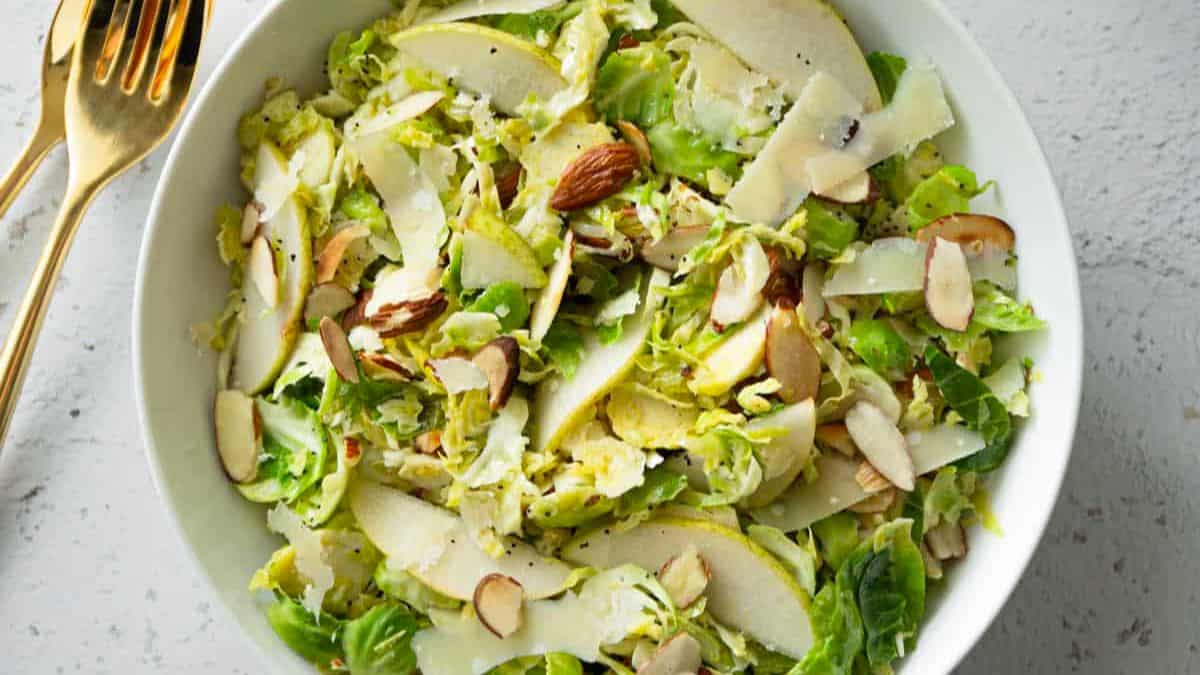 Fresh shredded Brussels sprouts pair with sweet, tangy poppyseed dressing in this salad that is great for fall and winter gatherings and can be entirely prepped ahead. Finish the salad with pears, almonds, and parmesan cheese.
Roasted Vegetable Salad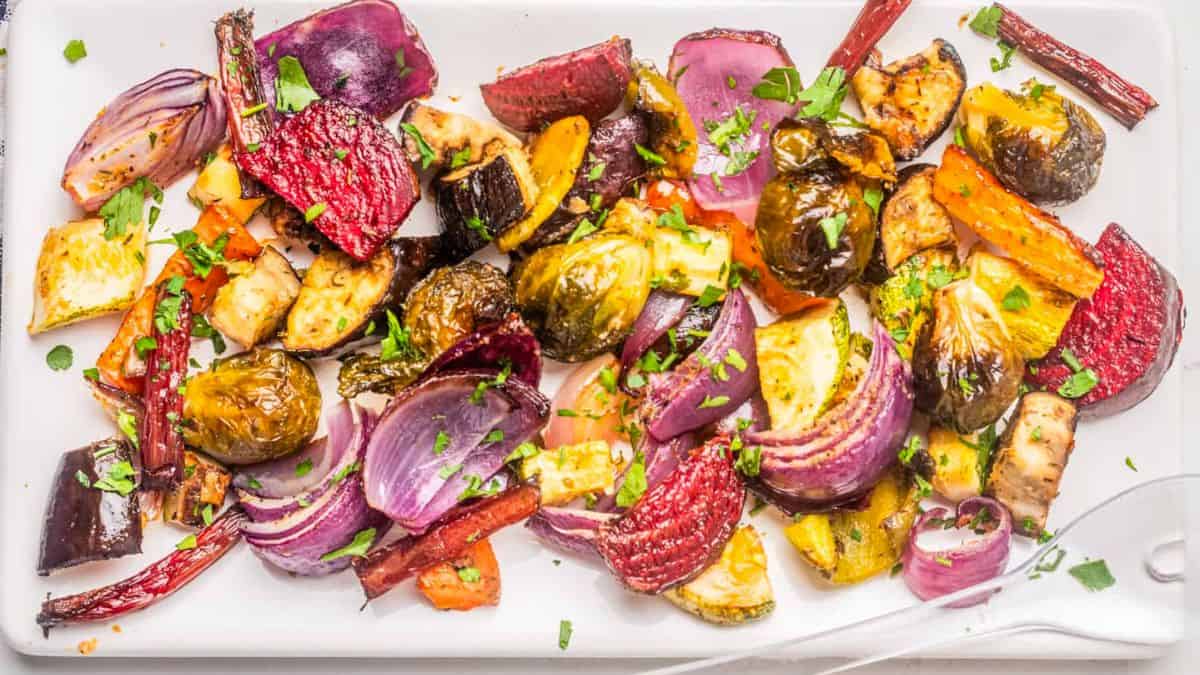 This roasted vegetable salad is perfect for the Fall. Loaded with tons of flavor and a light vinaigrette, you can serve this salad hot or cold and it is perfect for leftover for back to school lunches!
Storebought Wins: 10 Foods That Are NOT Better Homemade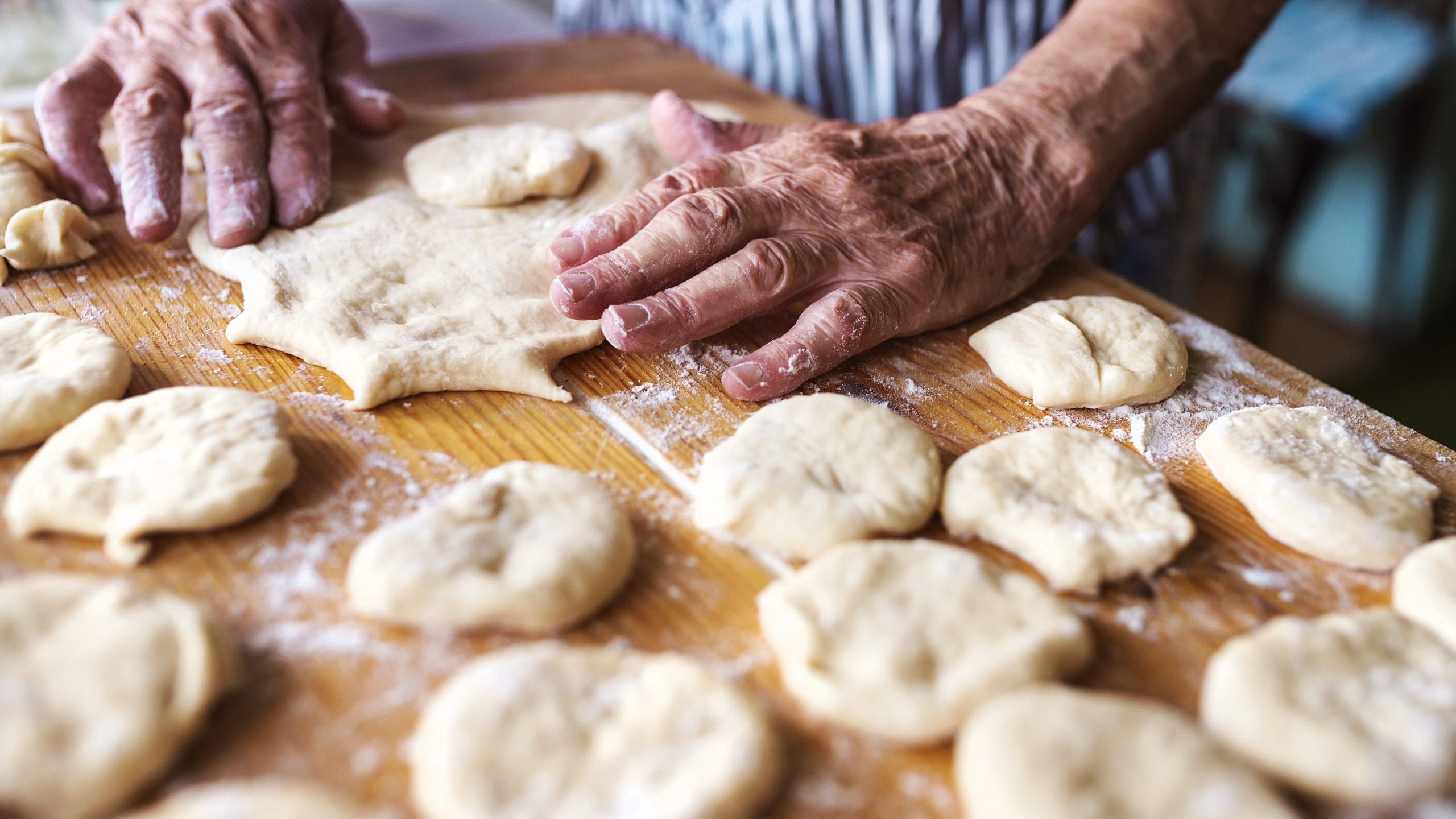 A lot of the time we value homemade food much higher than what we get from the store. And in many cases, this is correct - homemade is better. But for some foods, this is definitely not the case. Whether due to the difficulty of making it, lack of access to the right ingredients, or just the homemade version missing that special "something" we get in the storebought version - some foods are just not worth it making at home. Read on for the 10 top foods that are NOT better homemade, as decided by a group of foodies on an internet forum.
12 Most Overrated Restaurant Chains In The United States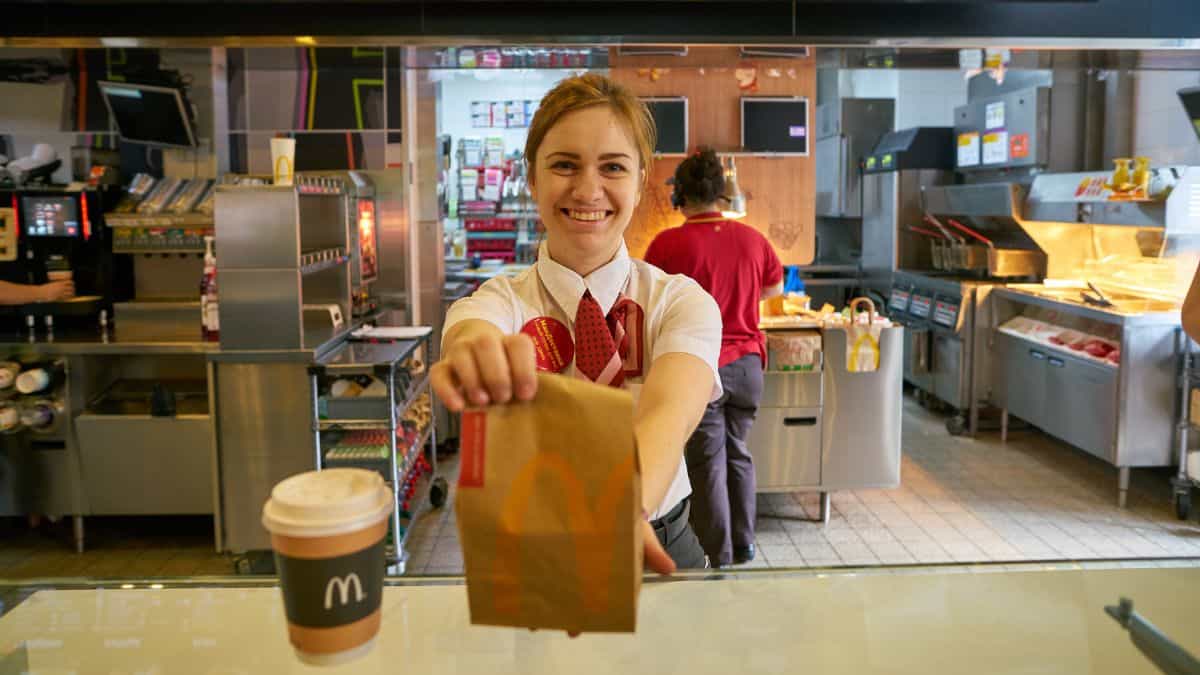 Curious about which restaurant chains live up to the hype, and which definitely do not? Join us as we explore the 12 restaurant chains that have sparked a lively debate in a recent internet forum discussion. While these establishments may have garnered popularity, they're not without their share of critics. We'll delve into what makes these chains some of the most overrated in the nation, shedding light on the dining experiences that might leave you questioning the hype.
You're Doing It Wrong! 12 Common Cooking Mistakes Almost All Home Cooks Make.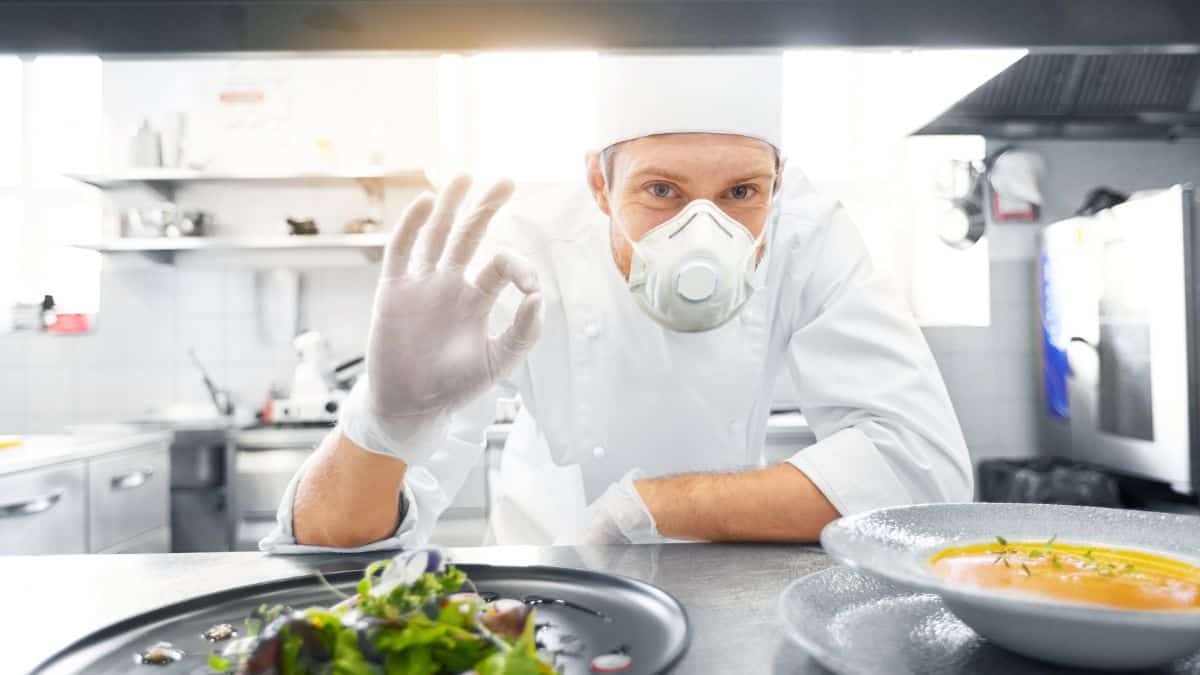 There are some mistakes almost all home cooks make, no matter how experienced and for how long they have been cooking. Recently, a group of foodies, where many of them have worked in the restaurant industry, started discussing what the most common mistakes home cooks make are, and the results were eye-opening. I am a professional recipe creator, and even I admit to making some of these mistakes on occasion!
Dump, Bake, and Enjoy: 13 Hands-Off Recipes Done in 30 Minutes or Less.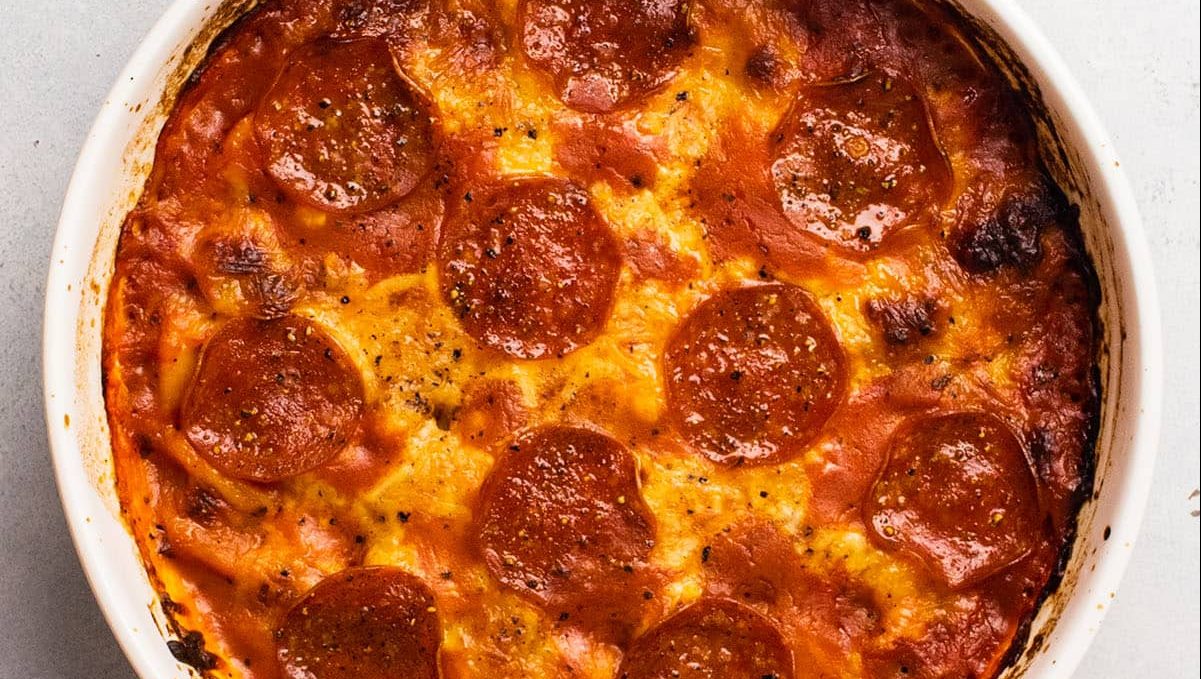 Imagine making a delicious meal with just a few simple steps and less than 30 minutes of your time. Well, you can do just that with these 13 dump-and-bake recipes! They're perfect for busy days when you want something tasty without all the fuss.
12 Common Groceries That Are A Total Waste Of Money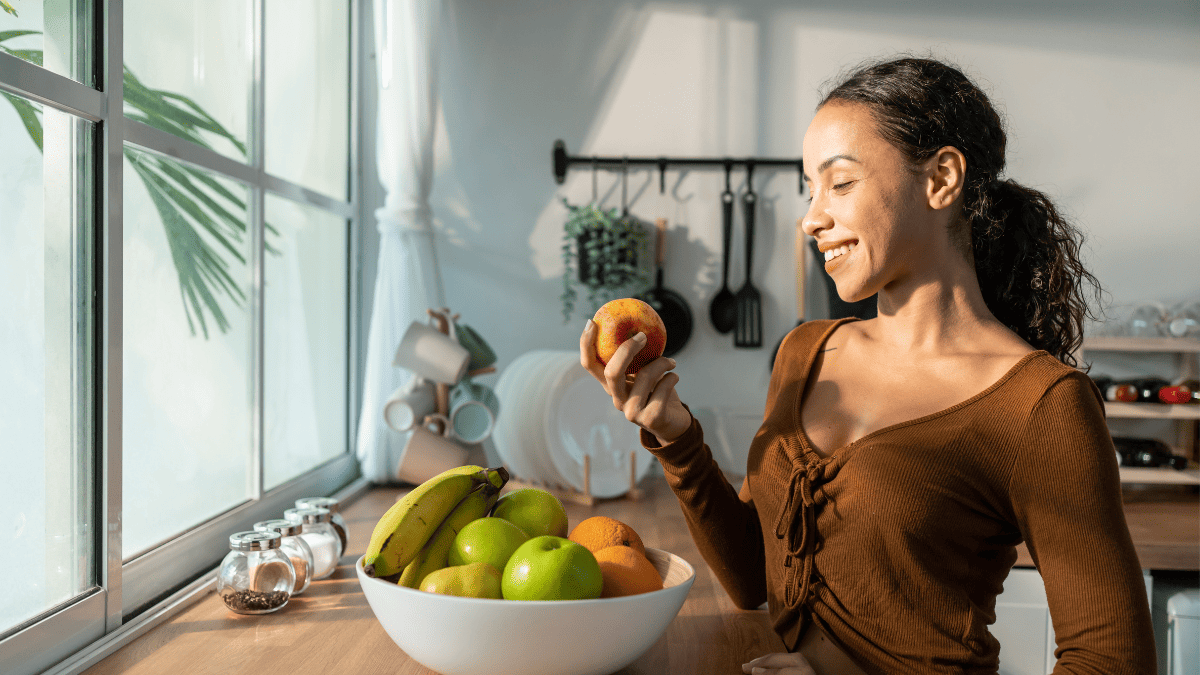 Are you tired of feeling like your grocery bills are climbing higher and higher each month? You're not alone. We're about to uncover a secret that could save you a significant amount of money, so you can spend it where you really need it instead! Get ready to discover the 12 common groceries that might just be a total waste of your hard-earned cash. Buckle up, savvy shoppers, it's time to make your grocery list smarter and more budget-friendly!