We all have those nights when you're hungry but you don't have the time or energy to cook. Well, these easy weeknight dinners are the solution for you! You only need 30 minutes or less to make these recipes, and they require simple pantry ingredients. Cheers to stress-free weeknight dinners!
Shrimp Curry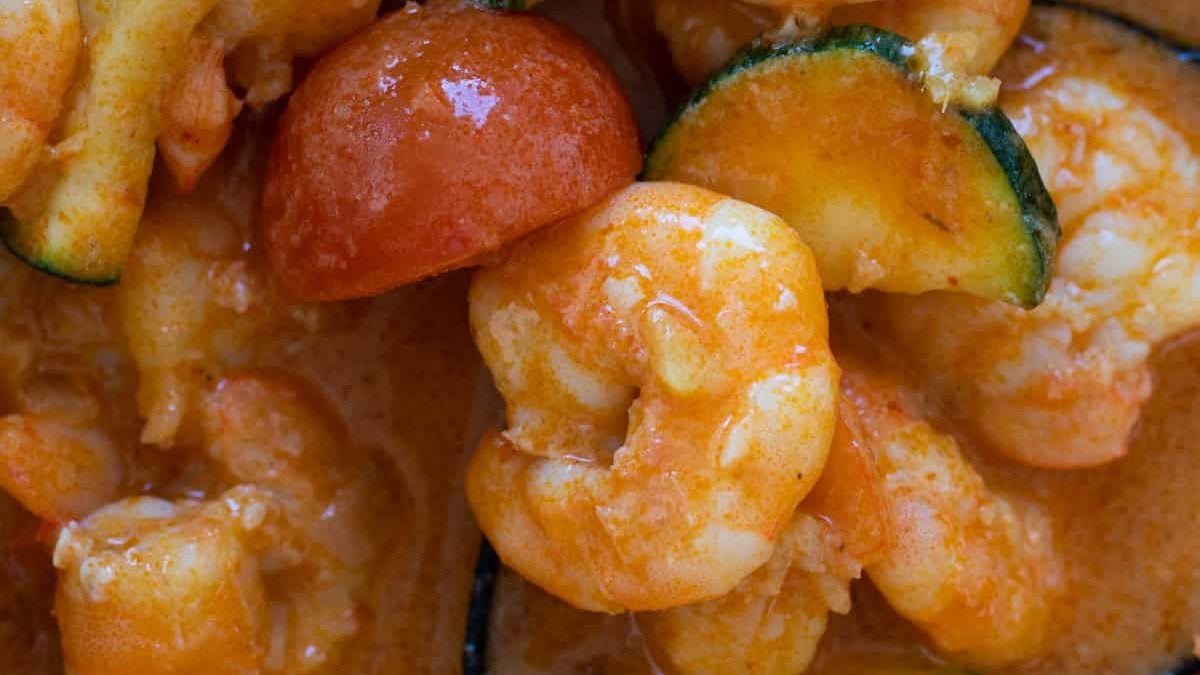 If you're a fan of spicy and flavorful curries, then you're going to love this easy and delicious Shrimp Curry recipe! Made with fragrant Thai red curry paste and creamy coconut milk, this Shrimp Curry comes together in just 20 minutes, making it the perfect weeknight meal. Get the recipe: Shrimp Curry.
Greek Pasta Salad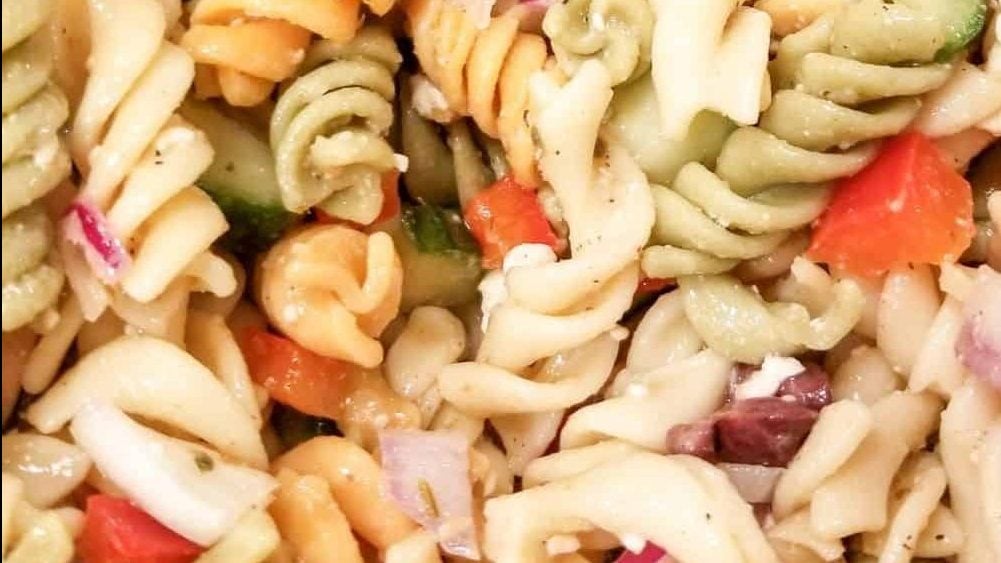 A bright, light, refreshing Easy Greek Pasta Salad full of fresh vegetables and topped with a tasty dressing- a perfect summer salad. The simplicity of this salad is incredible, and the taste is amazing.
Air Fryer Chicken Legs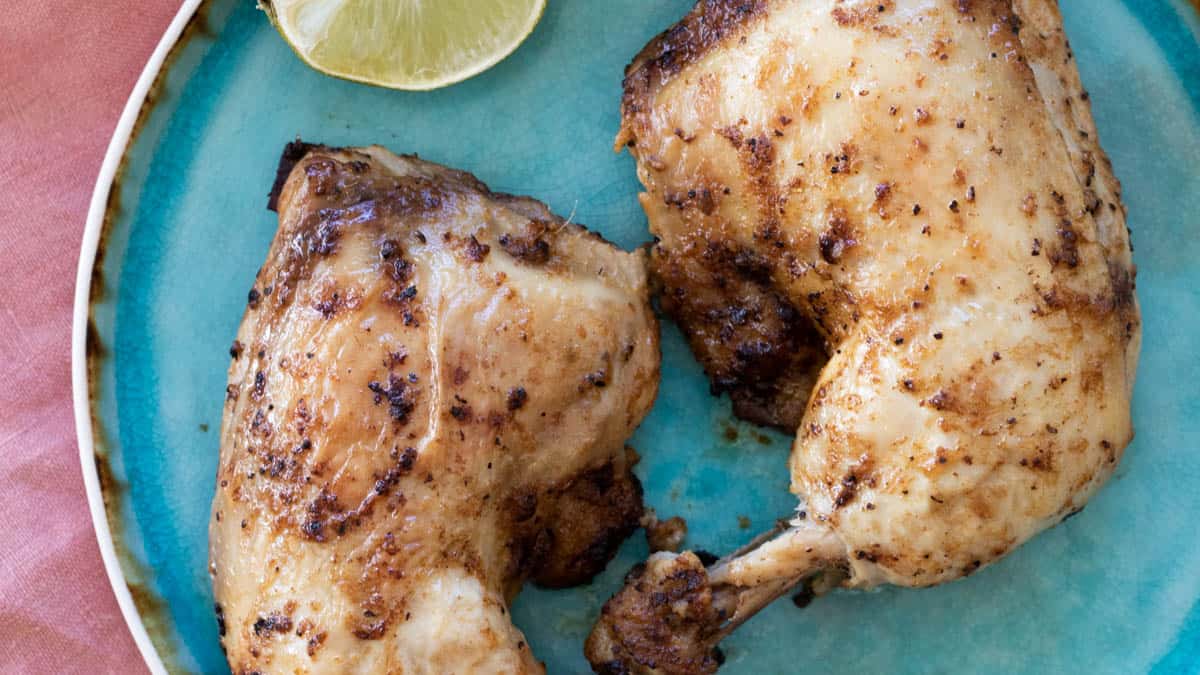 Experience the perfect blend of crispy skin and tender meat with this foolproof Air Fryer Chicken Legs recipe. Using the magic of air frying technology, these chicken legs turn out golden brown on the outside and tender on the inside.
Get the recipe: Air Fryer Chicken Legs
Cherry Tomato Pasta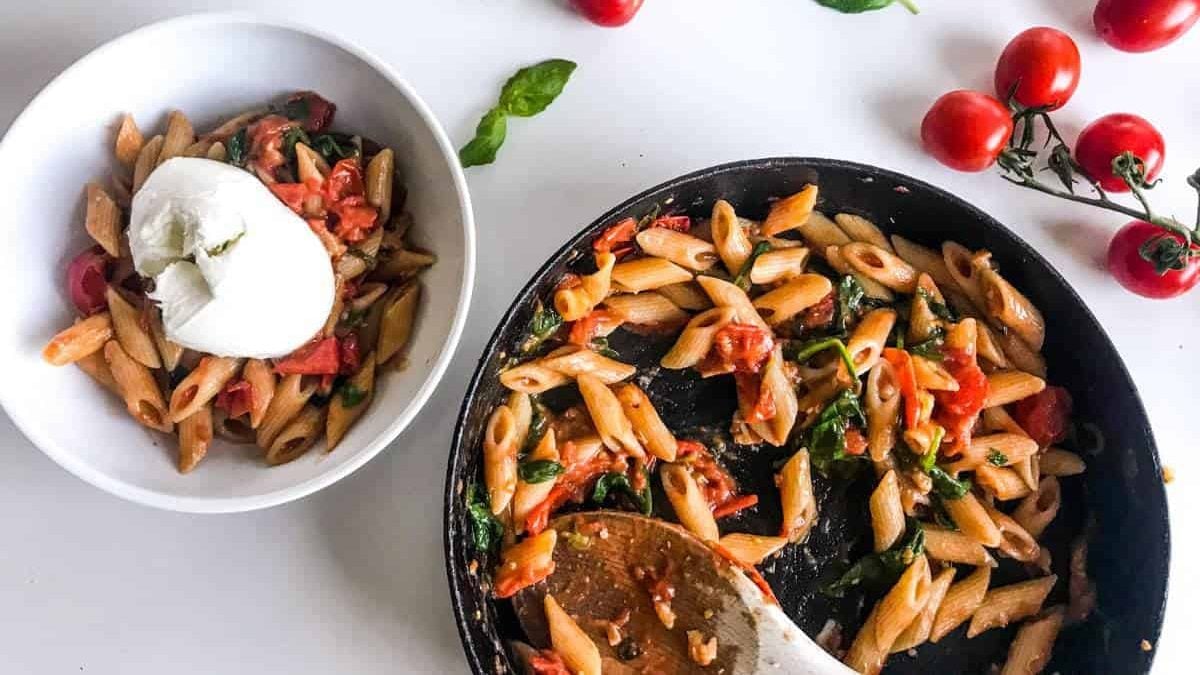 Simple can sometimes be so much more, and that's definitely the case with this 15-minute Cherry Tomato Pasta with Spinach and Walnuts. Quick and easy to make it's delicious as it is, and even better topped with a generous piece of mozzarella or burrata cheese. Get the from always use butter.
Marry Me Chicken Pasta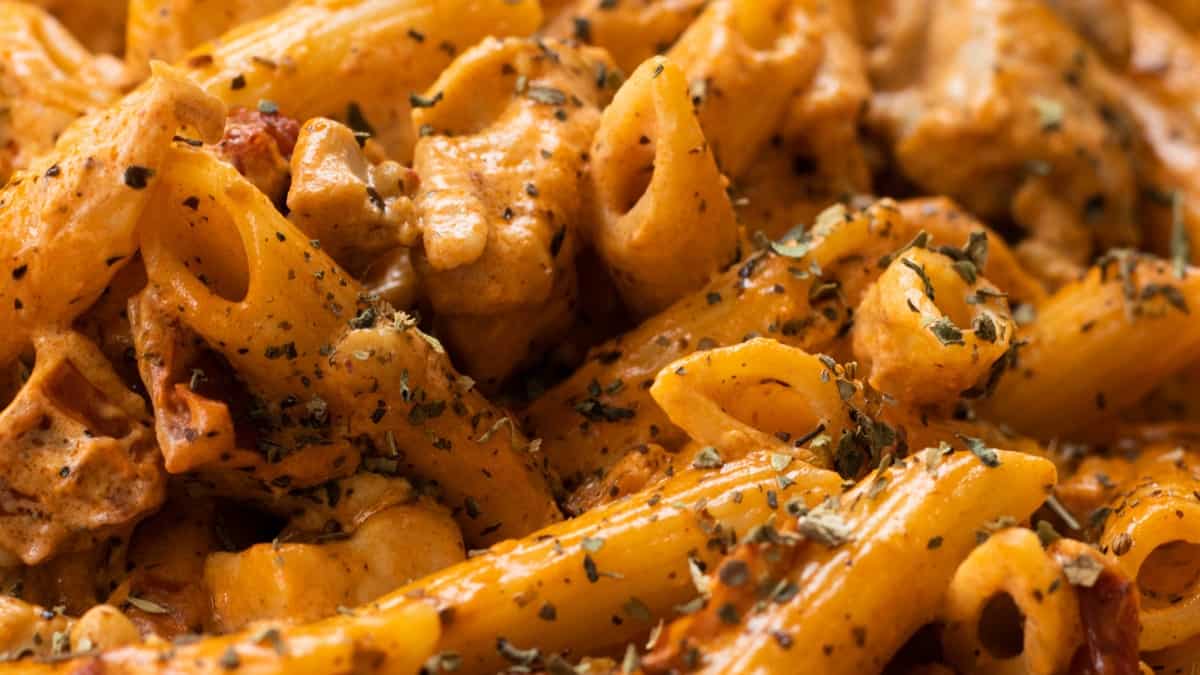 Make this flavor packed Marry Me Chicken Pasta in just 20 minutes - and don't be surprised if everyone asks for seconds (or your hand in marriage!). It's a super creamy sauce with a delicious flavor combo of crème fraîche, sun-dried tomatoes, basil, paprika & oregano. All achieved with pantry staple dried herbs & minimal prep. Get the recipe: Marry Me Chicken Pasta
Garlic Butter Shrimp Pasta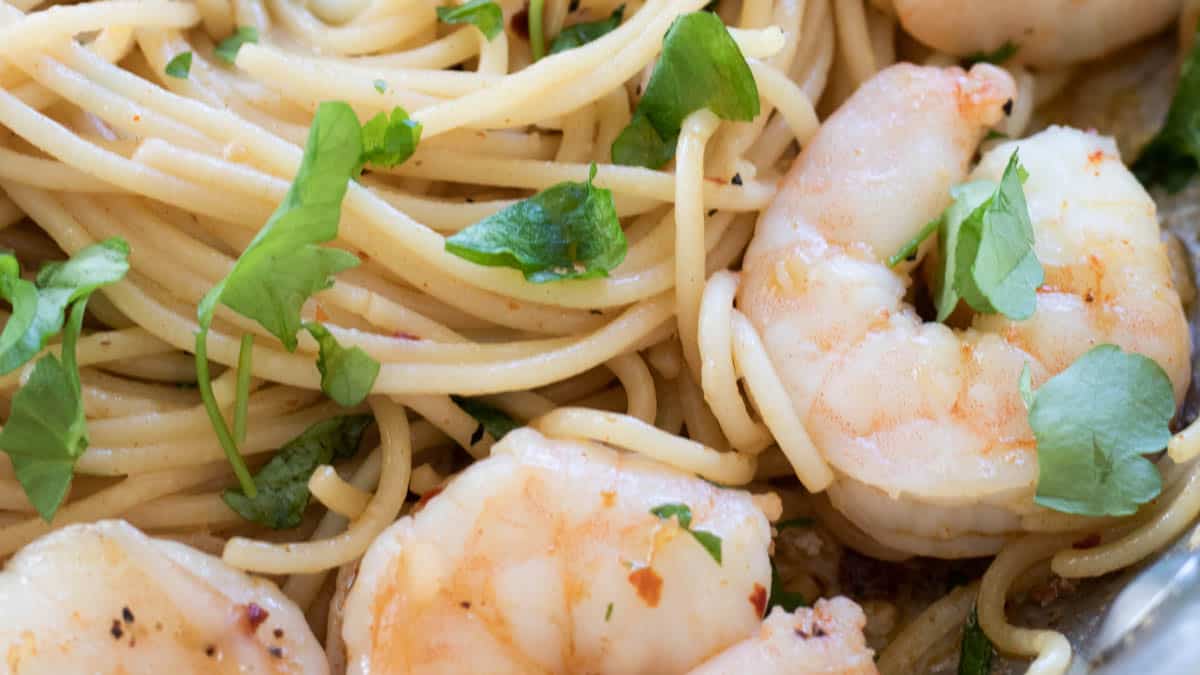 This 15-minute Garlic Butter Shrimp Pasta is an irresistible combination of tender shrimp, al dente pasta, and flavorful garlic butter sauce. Follow this simple recipe to create an effortless meal that blends the best of seafood and pasta into a delicious dish the whole family will love.
Get the recipe: Garlic Butter Shrimp Pasta
Halloumi Wraps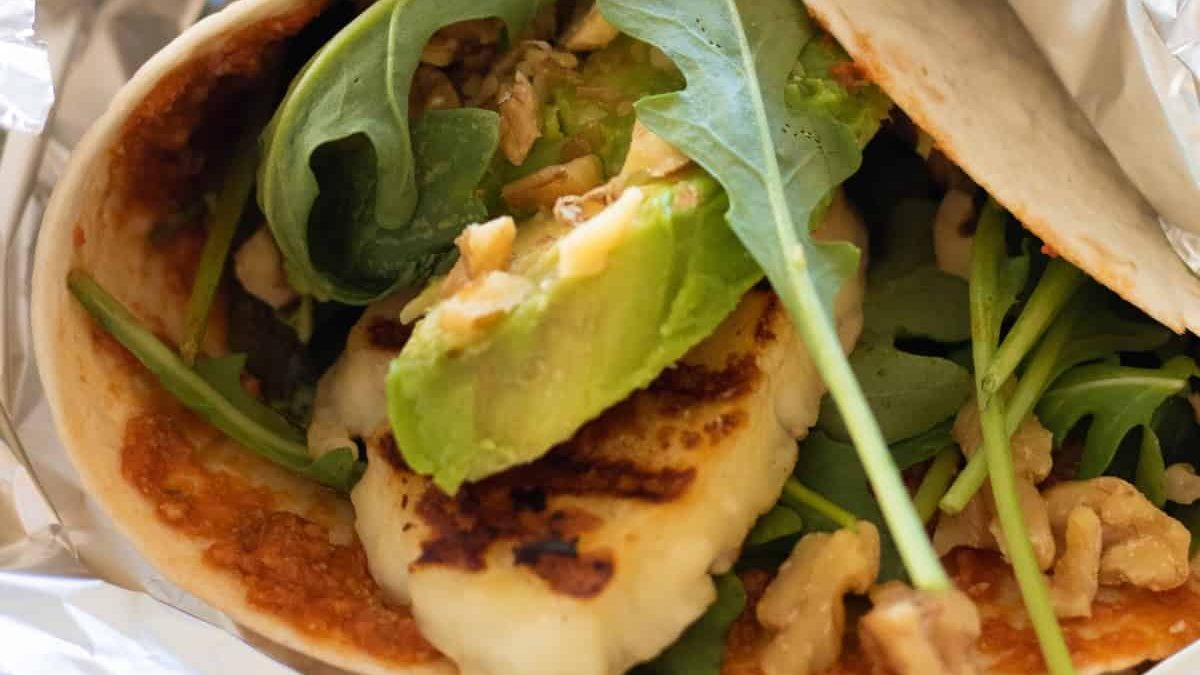 Make the halloumi wraps that everyone loves - kids and foodies included! - and be the star of your next picnic or road trip. With halloumi cheese, red pesto (store-bought is fine), avocado and walnuts these wraps are packed with flavor, done in 20 minutes and super easy to make. Get the recipe from always use butter.
Caprese Pasta Salad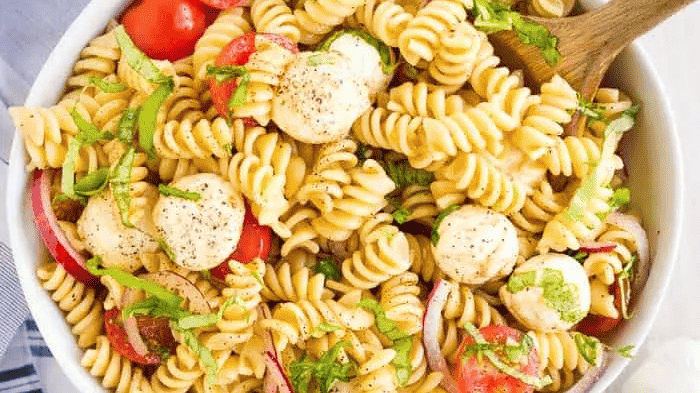 Caprese Pasta Salad is an easy and delicious summer salad full of fresh ingredients! A tangy balsamic dressing ties the fresh tomatoes, creamy mozzarella, and tender pasta together for the perfect side dish to any potluck or BBQ. Get the recipe.
Roast Salmon with Spring Greens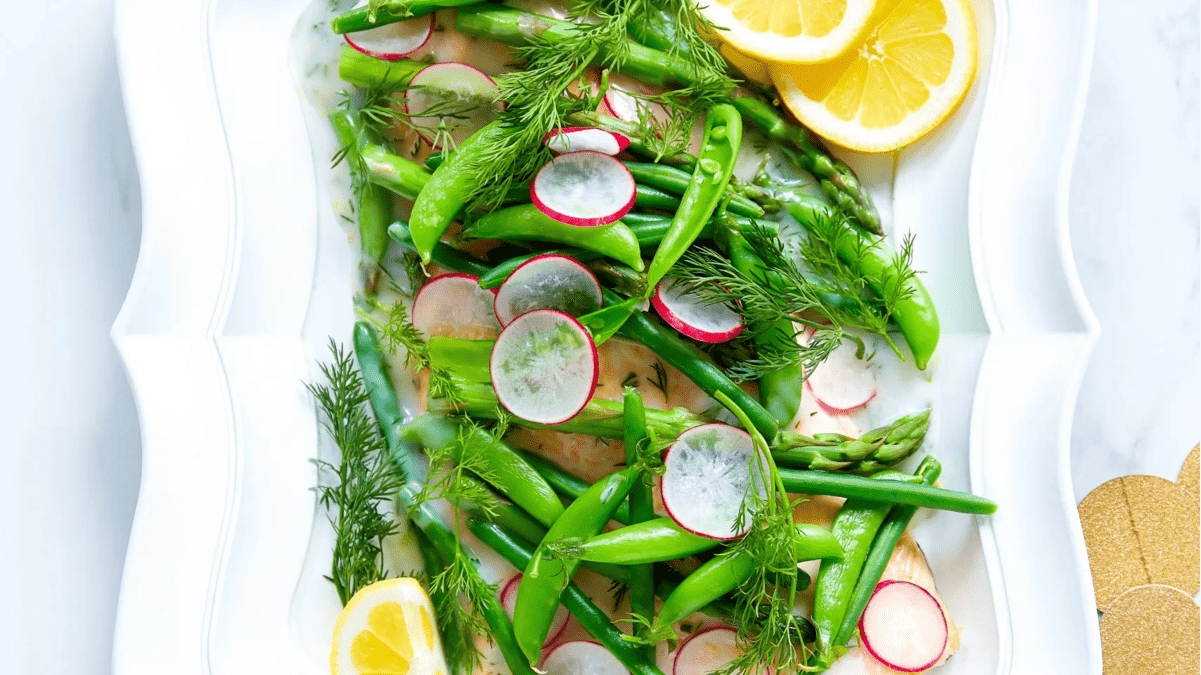 For a show-stopping fish dish that looks as good as it tastes, look no further than our Roast Salmon with Greens. Best of all, it's really easy to prepare. Get the recipe.
Tuna Pasta Salad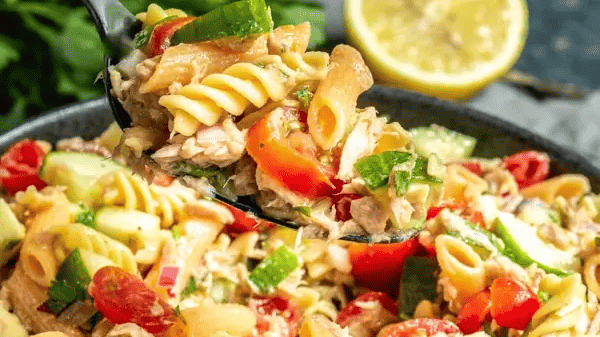 Tuna pasta salad is packed with veggies and fresh flavors. This tuna noodle salad calls for no mayo, which makes it a great, low calorie dish perfect for sharing. Get the recipe.
Air Fryer Shrimp Tacos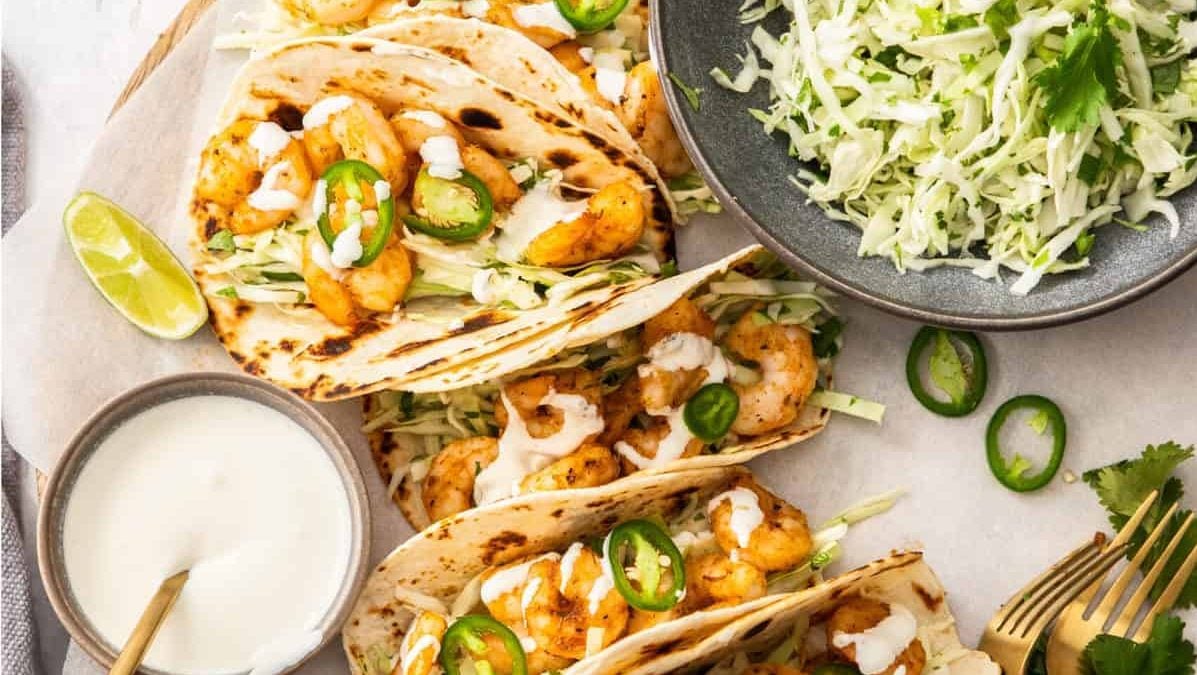 Taco tuesday just got even easier with the help of your air fryer. Get the recipe from Sustainable Cooks.
Pesto Chicken Quinoa Bowl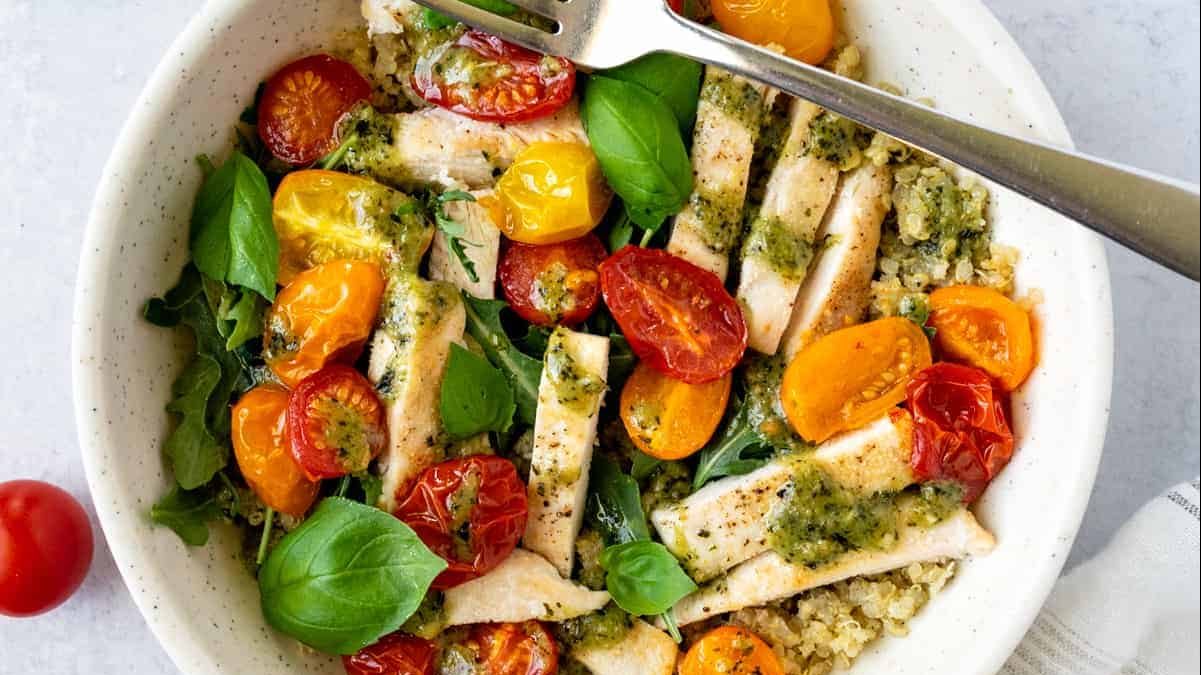 This Pesto Chicken Quinoa Bowl is a quick and easy weeknight meal. It's ready in less than 30 minutes and is filled with all those delicious summer flavors. Get the recipe.
One Pan Fish & Broccoli in Lemon Butter Caper Sauce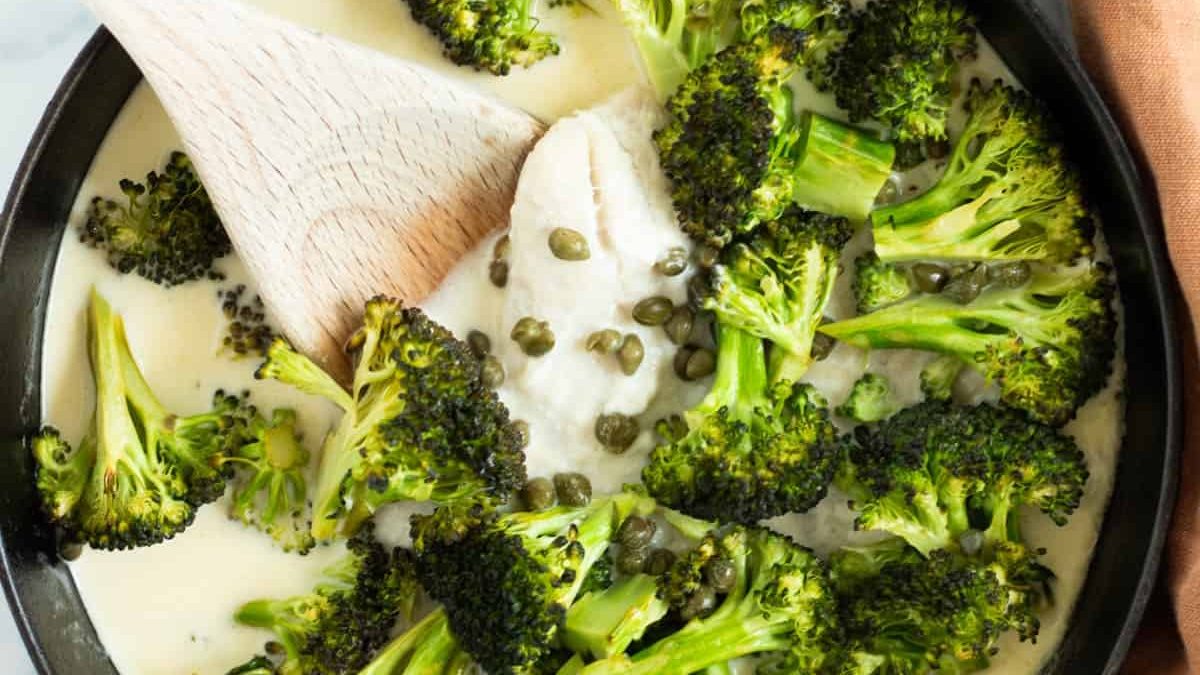 Silky, savory, delicious lemon butter caper sauce pairs so well with fish & broccoli. All made in one pan! Get the recipe from always use butter.
Strawberry Balsamic Tofu Pasta Salad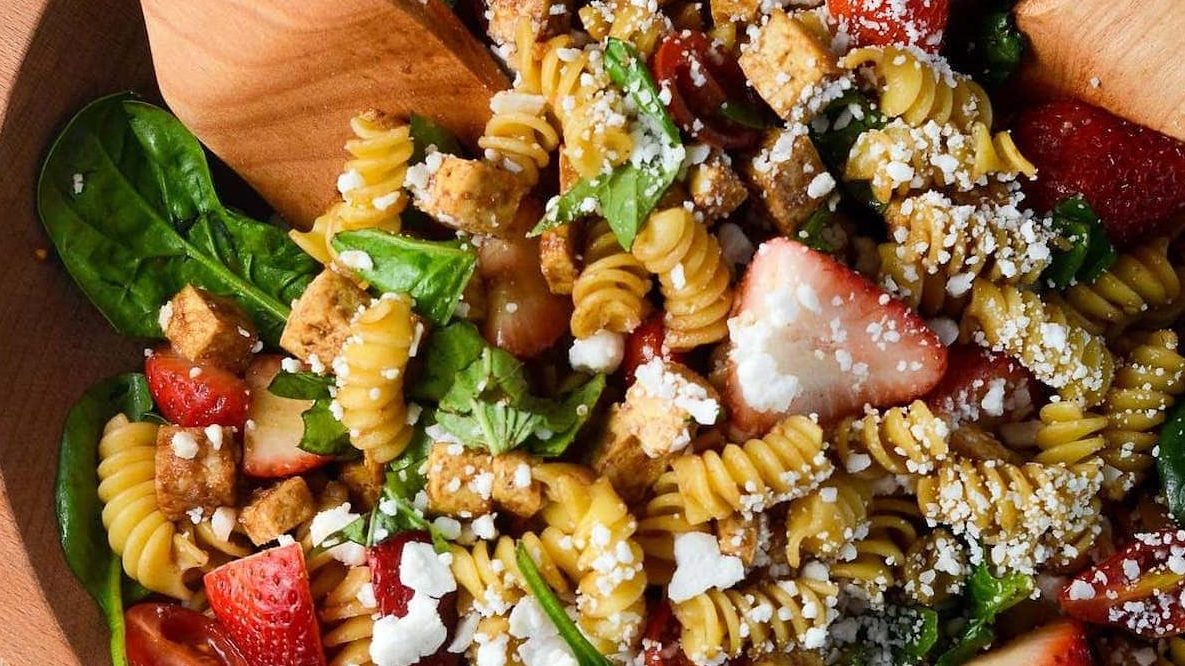 As the warm weather settles in, there's nothing better than this Strawberry Balsamic Vegan Tofu Pasta Salad with vibrant, juicy strawberries, marinated balsamic tofu, fresh spinach & basil, and creamy feta cheese. Enjoy this as a side dish for a picnic, BBQ, or weeknight main dinner! Get the recipe.
Creamy Broccoli Pasta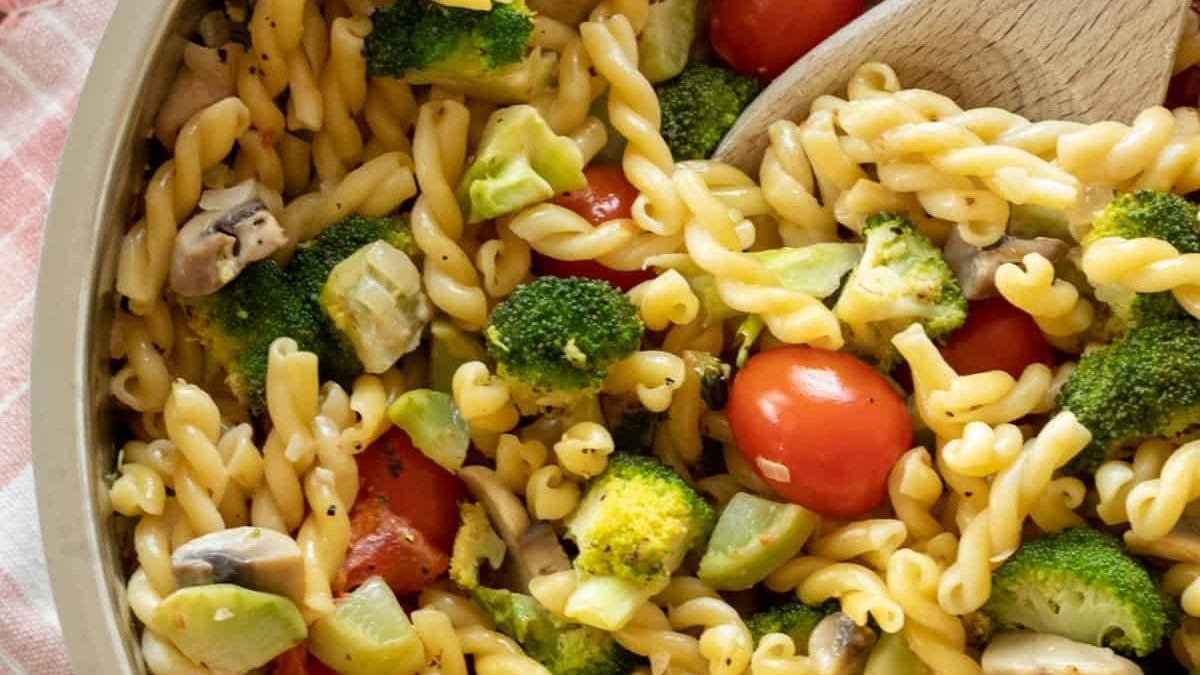 This pasta is loaded with veggies for a healthier dish you'll love. Get the recipe from always use butter.
Spicy Southwest Salad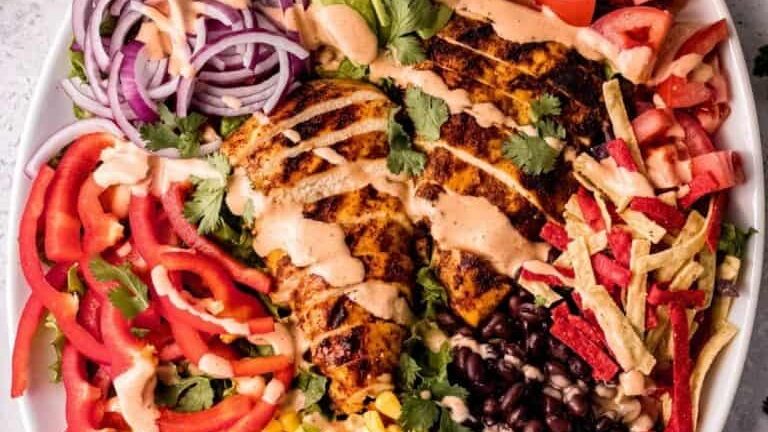 Chicken is marinated in honey, fresh lime juice, and seasonings, then grilled to perfection is already delicious. Placed on atop a bed of lettuce, avocado, fresh vegetables, and smothered in homemade spicy ranch dressing, this is a salad you just cant't beat! Get the recipe.  
Lemon Pepper Salmon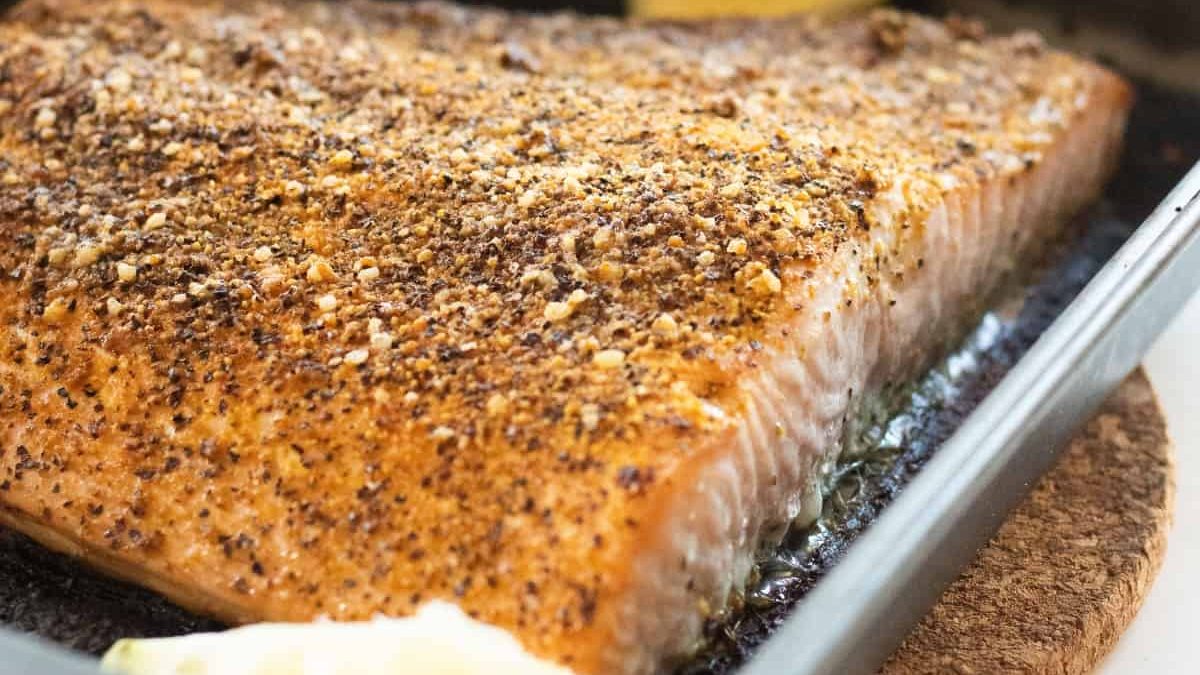 The best salmon version ever - all done with just 3 ingredients. Get the recipe from always use butter.
Vietnamese Beef Noodle Salad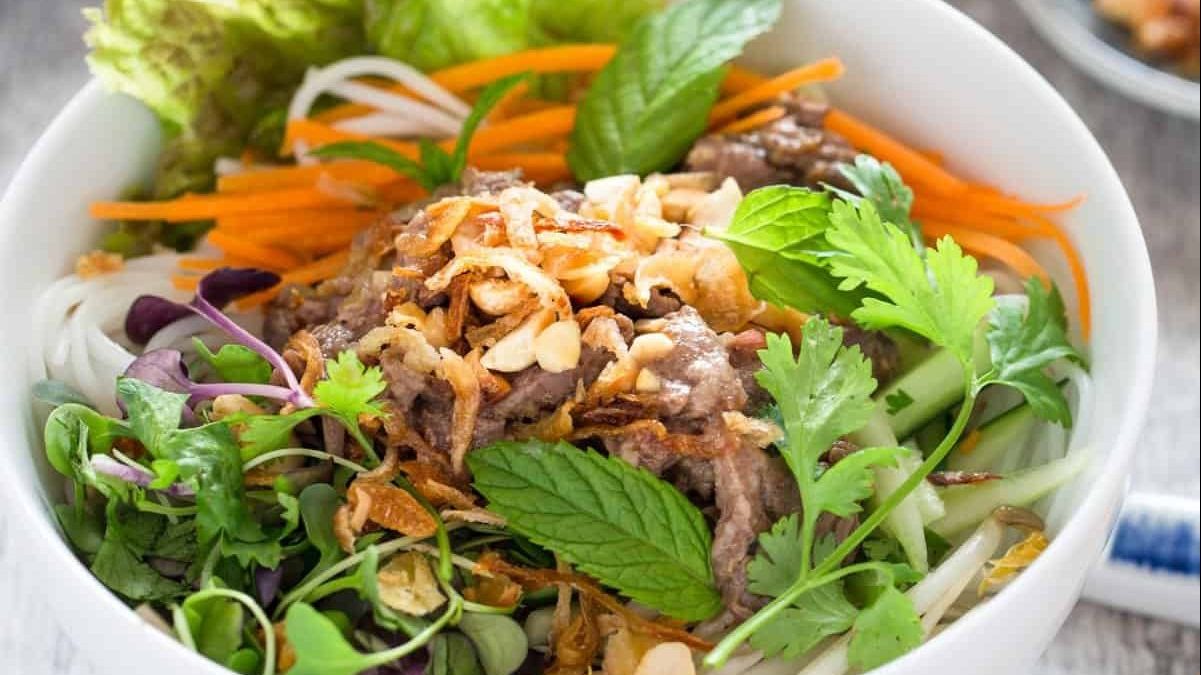 Vietnamese beef noodle salad (bun bo xao) is packed with fresh herbs, flavorful beef, and refreshing lime fish sauce dressing. It takes only 30 minutes to make, and you can enjoy it either as a main or side dish. Get the recipe.
Roasted Sweet Potato & Feta Cheese Salad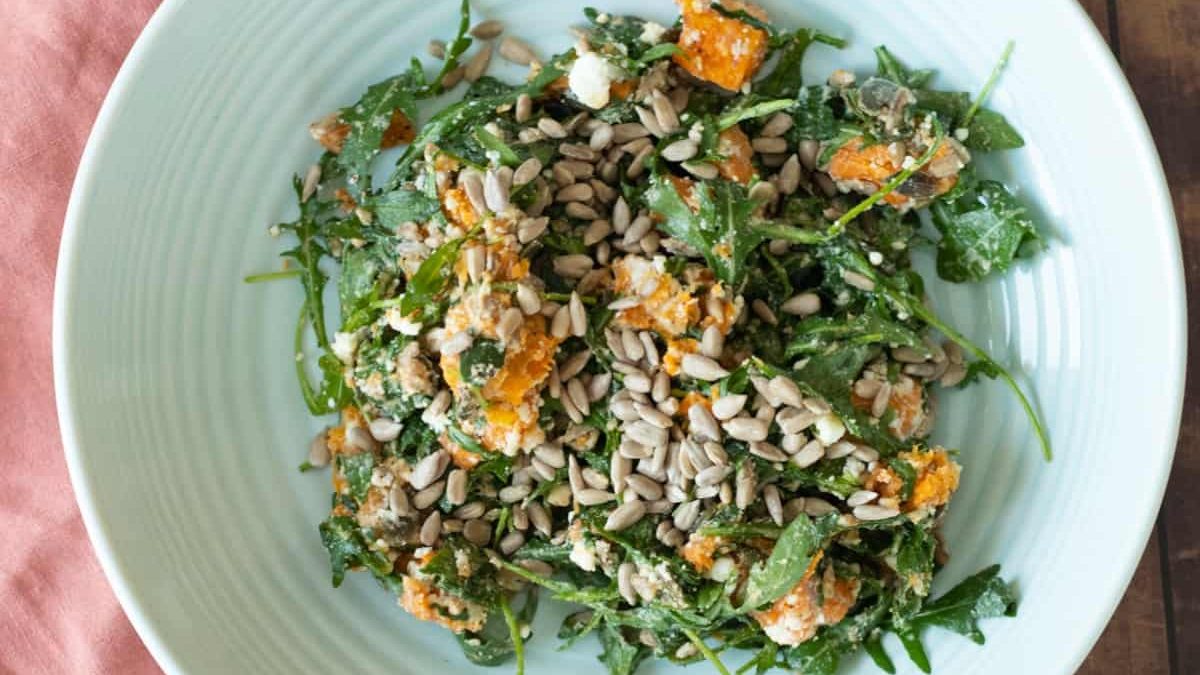 If you're craving a healthy salad, this sweet potato version is just what you need. Warm and filling, and great the next day as well. Get the recipe from always use butter.
One-Pot Greek Salmon with Feta & Peppers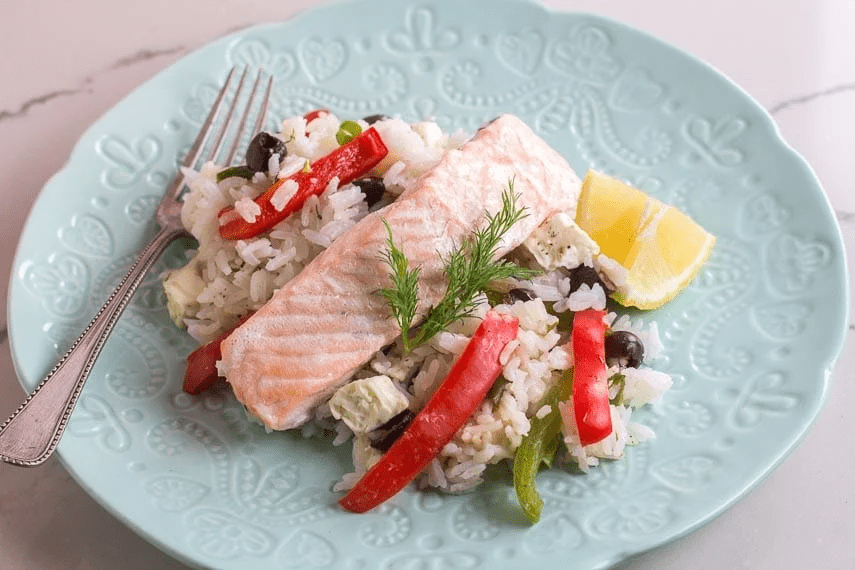 A tasty salmon dinner loaded with flavors, and all made in one pot - including the rice! Get the recipe from FODMAP Everyday
Kale Wild Rice Salad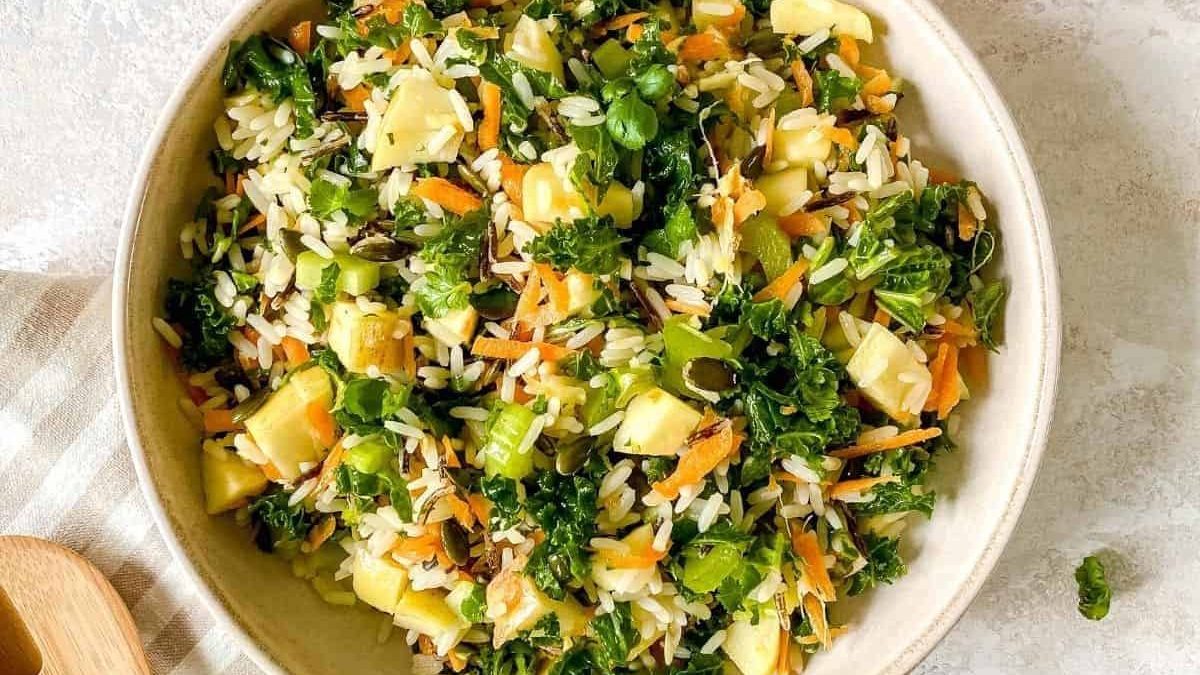 This kale wild rice salad combines fresh fruit and vegetables with wild rice for a healthy lunch or side salad. Easy to make, this vegan salad is full of flavour with a deliciously zingy ginger dressing. Get the recipe.
Shrimp Carbonara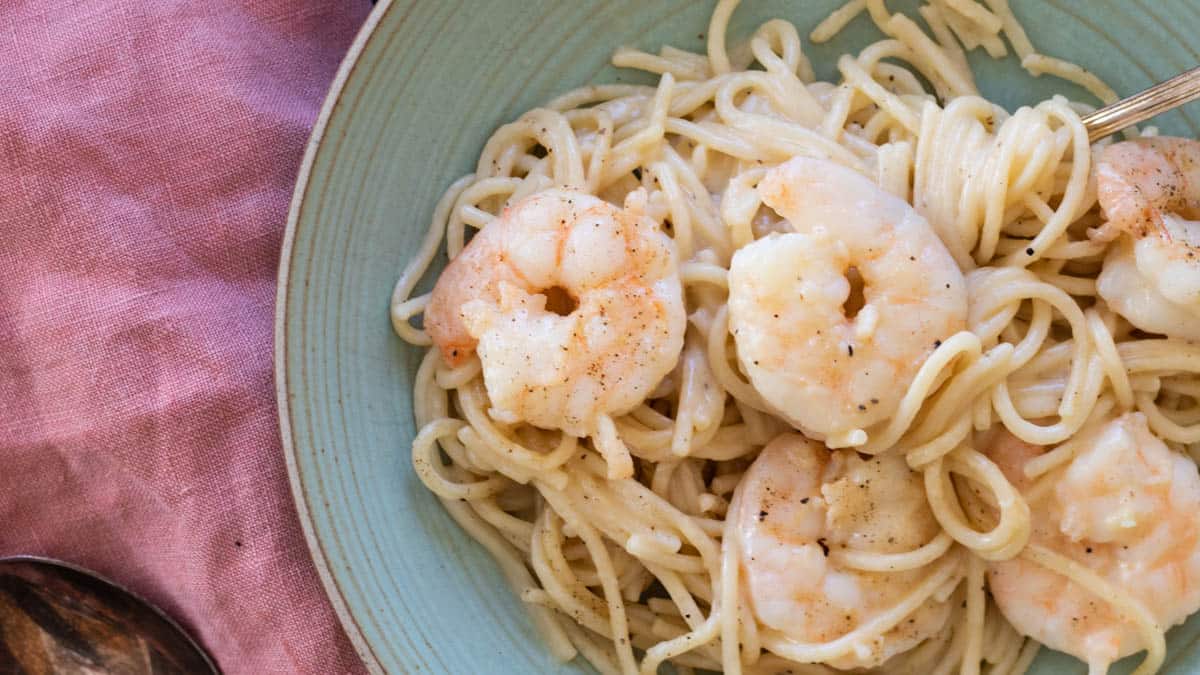 This 10-minute Shrimp Carbonara is a delicious twist on the classic Italian pasta dish. All the creamy texture of traditional Carbonara, with the addition of perfectly cooked shrimp. A delightful fusion that will satisfy your cravings for both seafood and pasta, all with an easy no-fail no-cream carbonara method!
Get the recipe: Shrimp Carbonara
Zucchini Noodles with Tomatoes & Halloumi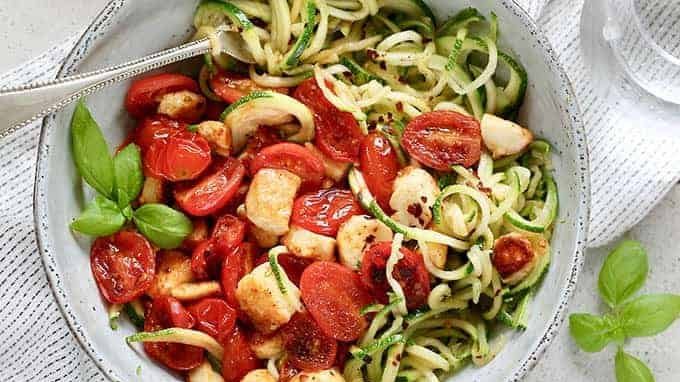 A healthy "noodle" dish loade with flavor. Get the recipe from Hey Nutrition Lady.
Salmon Stir-fry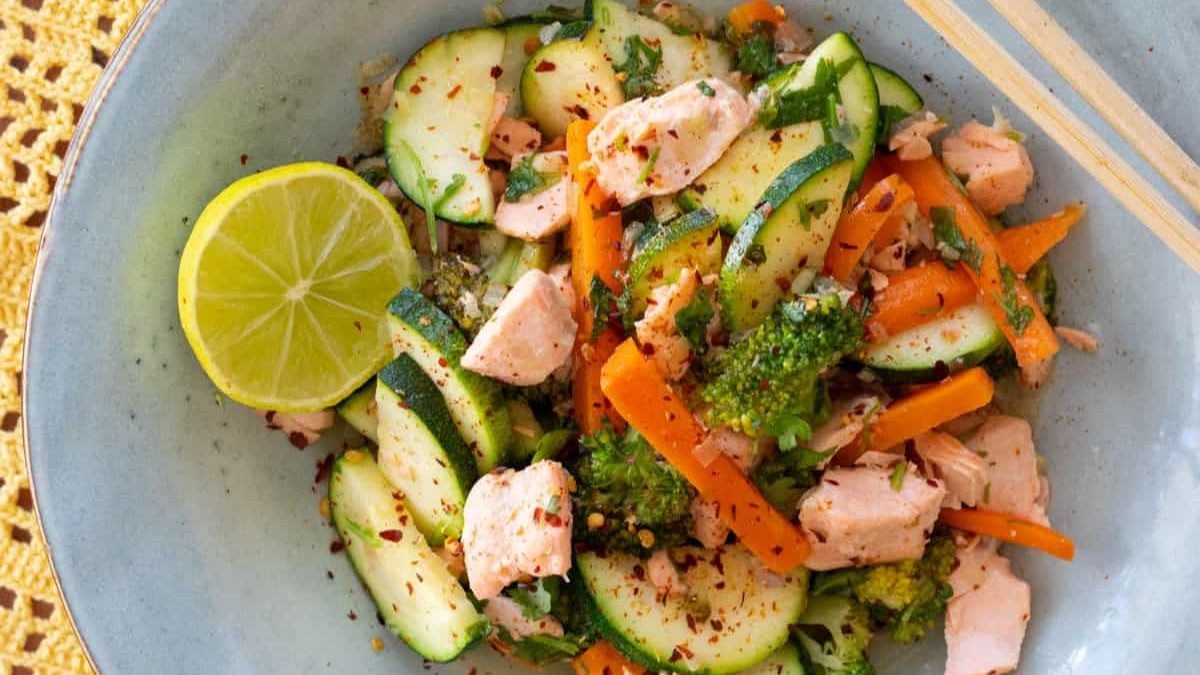 This quick stir-fry loaded with veggies has a light & citrusy flavor profile you'll love - and is just as good served on its own as with a side of rice. Get the recipe from always use butter.
White Bean Panzanella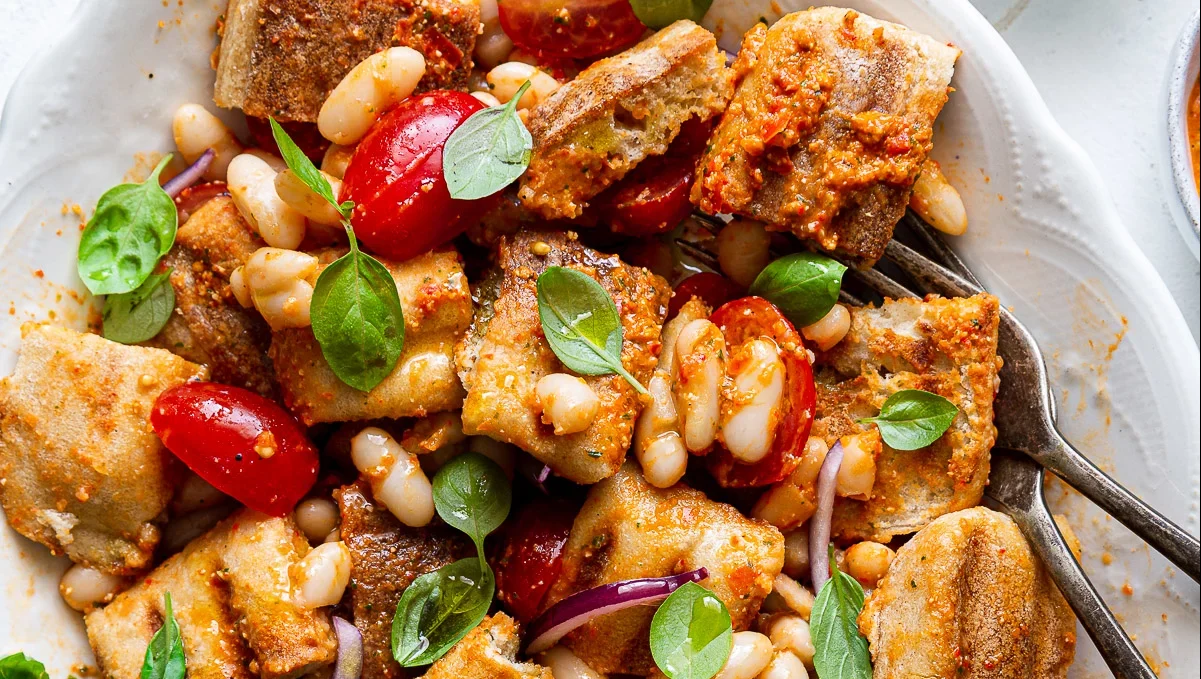 This Tuscan Bread Salad is a hot weather saviour! In this Italian-style recipe, ripe juicy tomatoes are combined with white beans, toasted bread and tossed in an aromatic tomato and white bean dressing. Get the recipe.
Salmon Crème Fraîche Pasta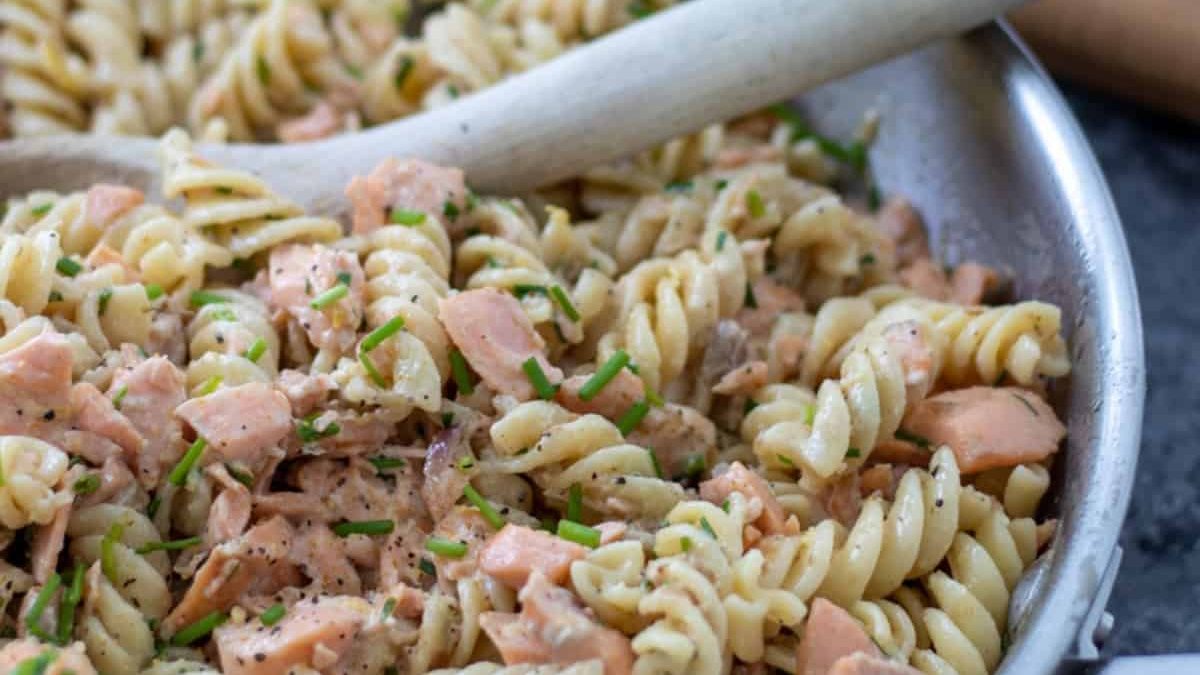 Salmon and chives make this one of the best salmon pastas ever. Get the recipe from always use butter.
Caprese Salad with Spinach & Cashews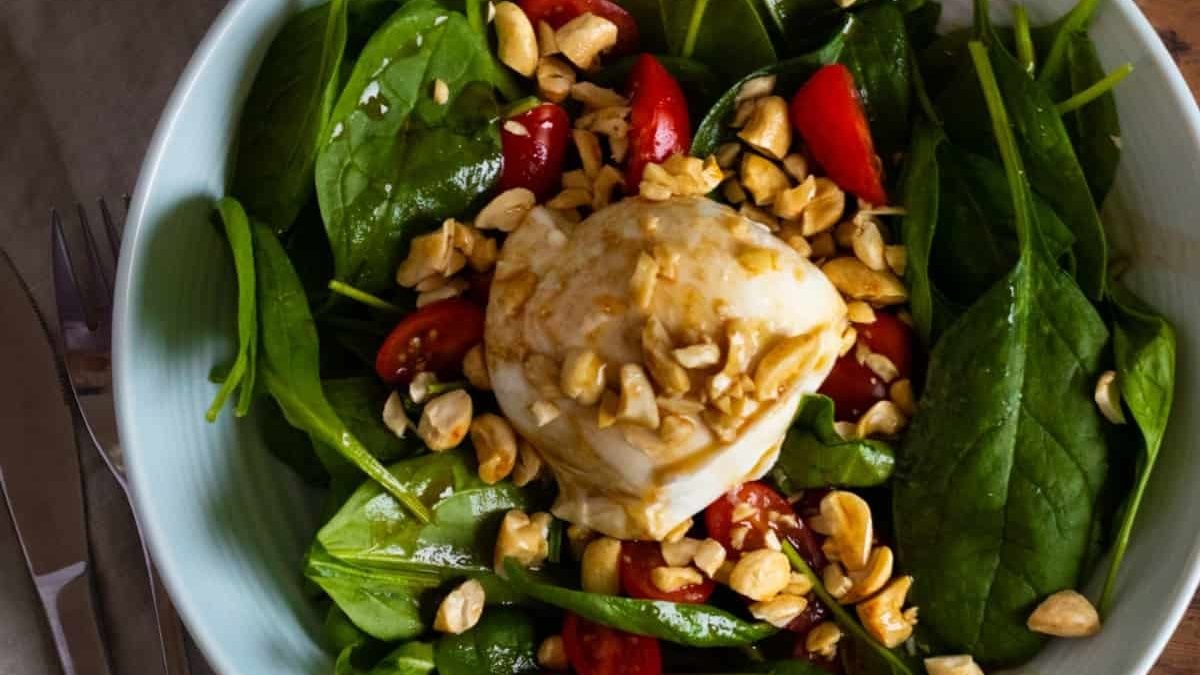 A quick and easy caprese version that's filling enough for dinner. Get the recipe from always use butter.
Smoked Salmon & Spinach Pasta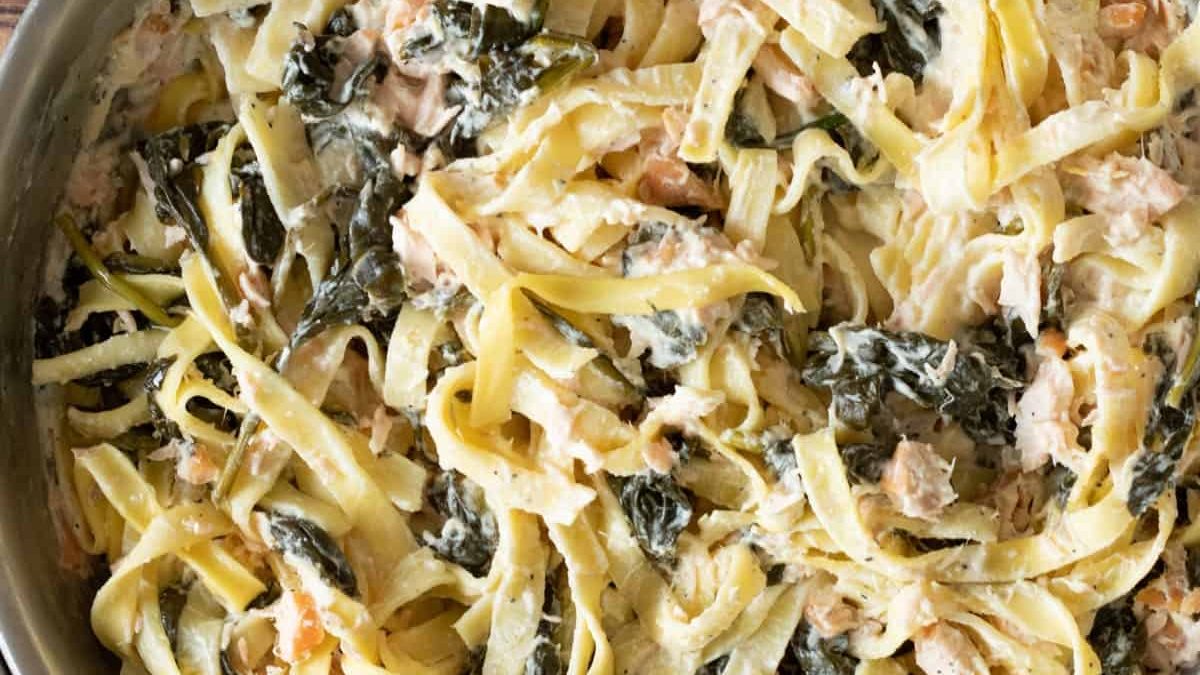 A super quick pasta dish you'll be coming back to over and over again. Get the recipe from always use butter.
Grilled Halloumi & Peaches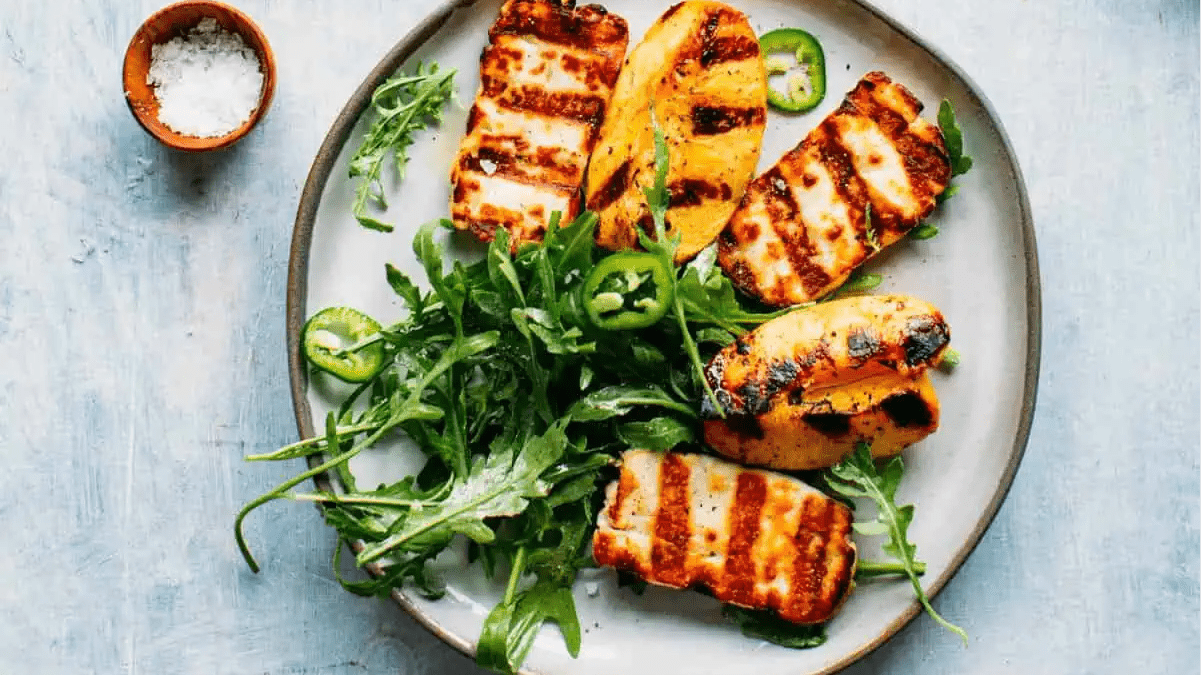 Here's a simple summer meal that's fresh, healthy and absolutely delicious! Salty Halloumi cheese turns crispy and melty on the grill, making it a perfect pair for the jammy, sweet charred peaches. A hefty mound of arugula, spicy jalapeños and a sweet and tangy honey lemon vinaigrette bring it all together for an awesome gluten free, vegetarian salad that's great for dinner, lunch or even brunch! Get the recipe from Coley Cooks.
Summer Tortellini Salad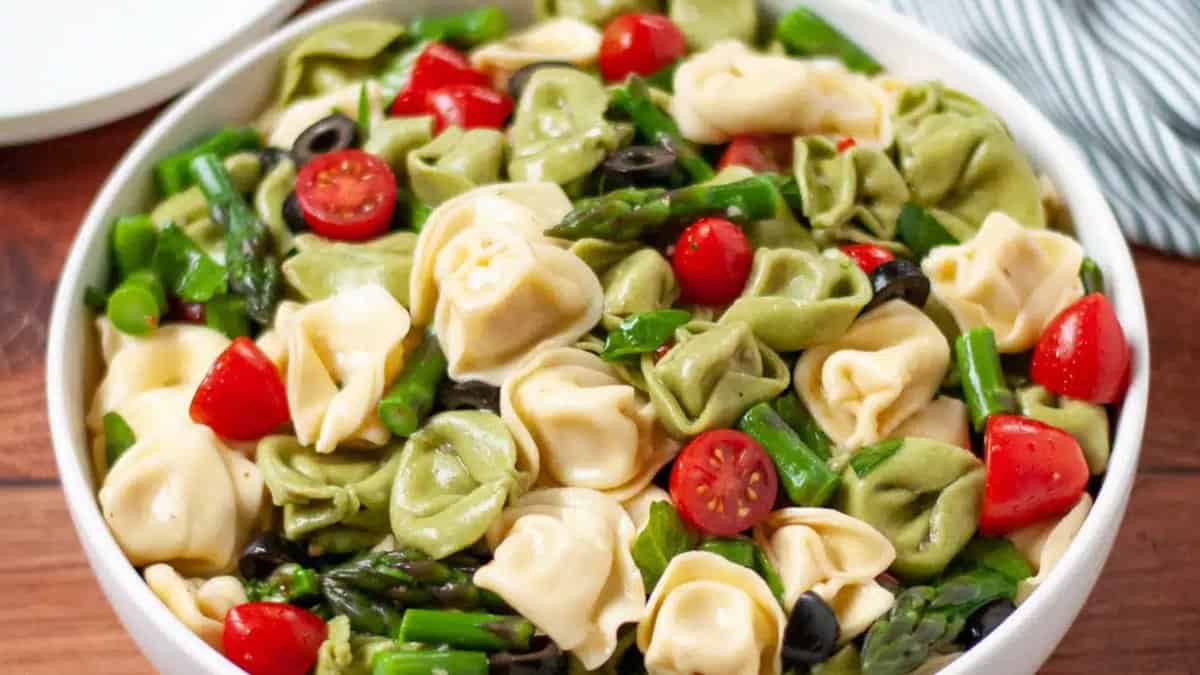 This delicious 6-ingredient summer tortellini salad is super easy and ready to enjoy in 20 minutes! A great option for potlucks, backyard BBQs, or as a light summer meal.
Larb Gai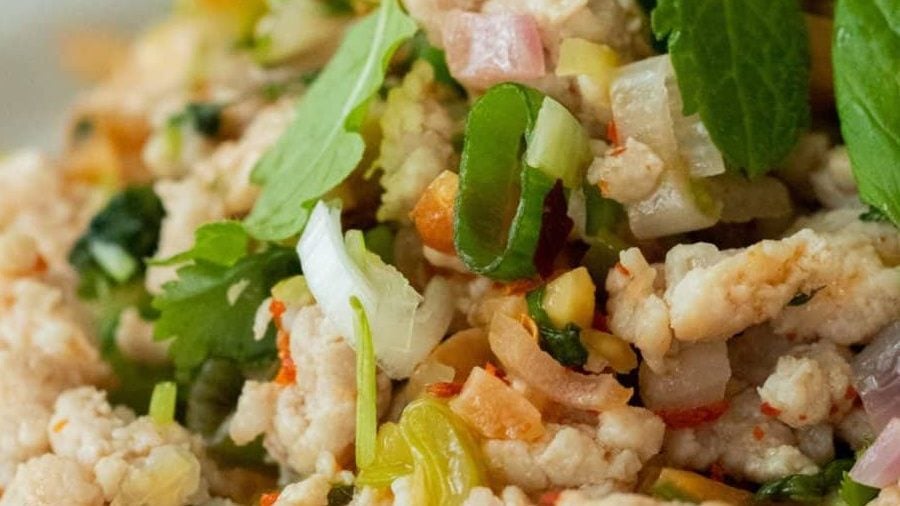 A healthy Thai dish you'll be making every week. Get the recipe from always use butter.
Chicken Pesto Pasta Salad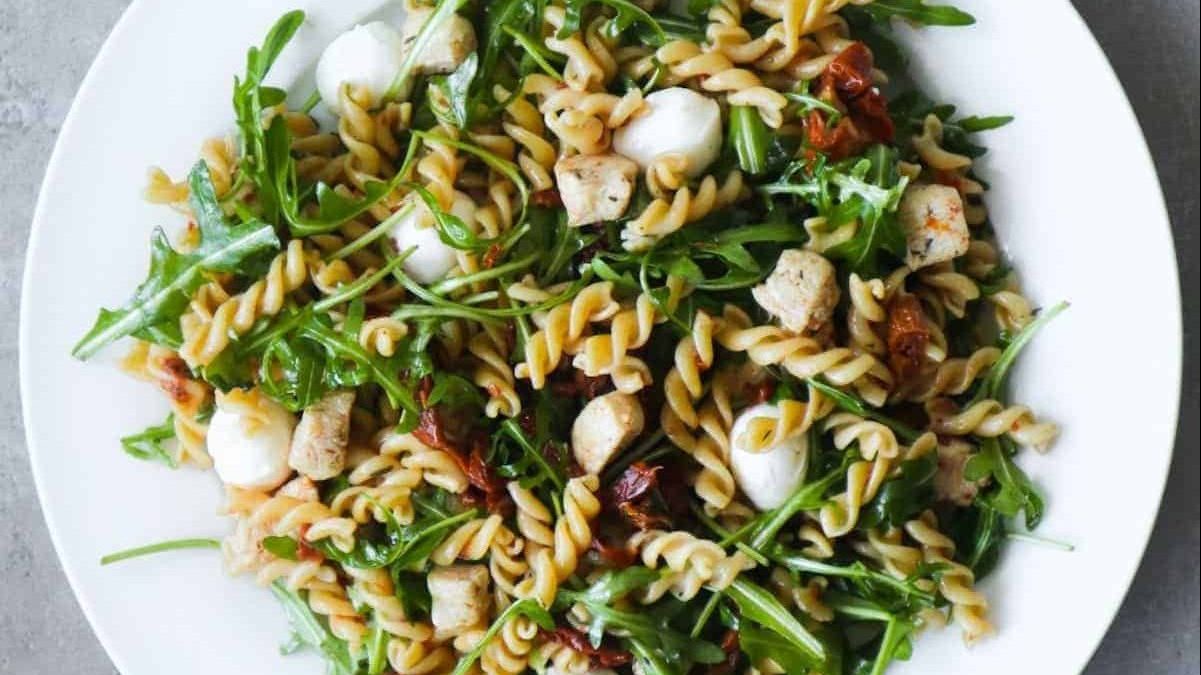 This chicken pesto pasta salad recipe is perfect for summer. This healthy, simple salad that is quick to prepare and perfect for a BBQ! Get the recipe from Nutmeg & Vinegar.
Easy Pesto Pasta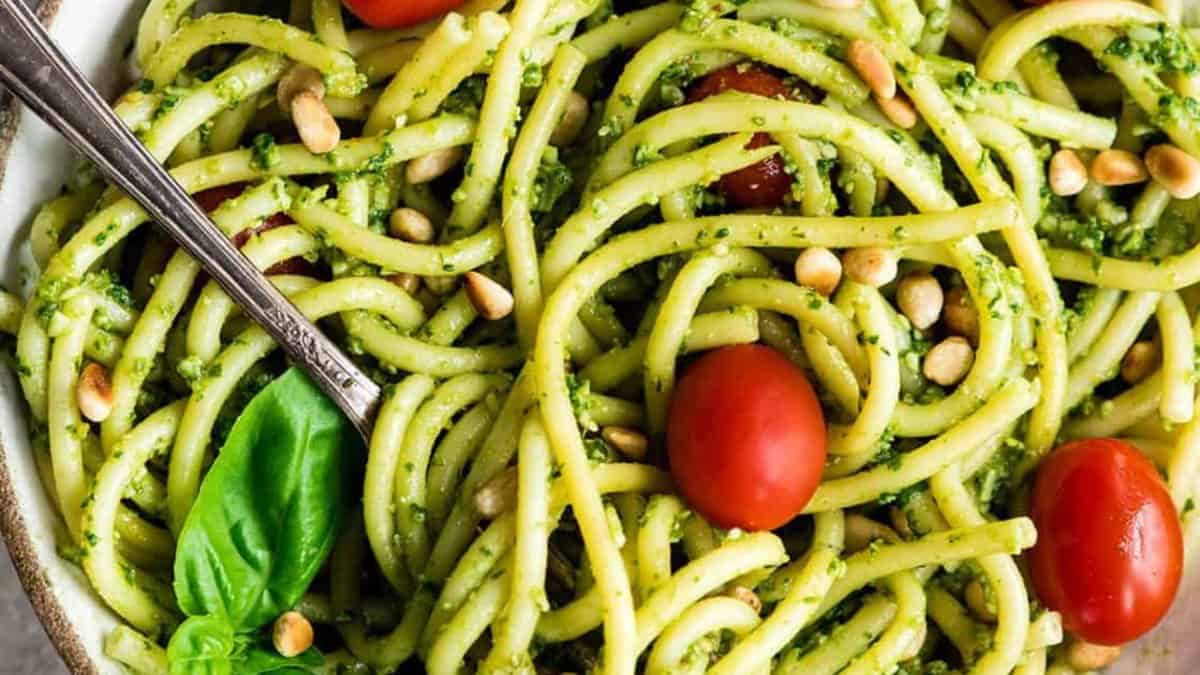 This pesto pasta recipe is a delicious quick and easy summer recipe! It can be served as a main dish or side dish, and you can enjoy it warm or cold! Full instructions how to make your own basil pesto are included, or you can make it even easier and use store-bought!
Air Fryer Shrimp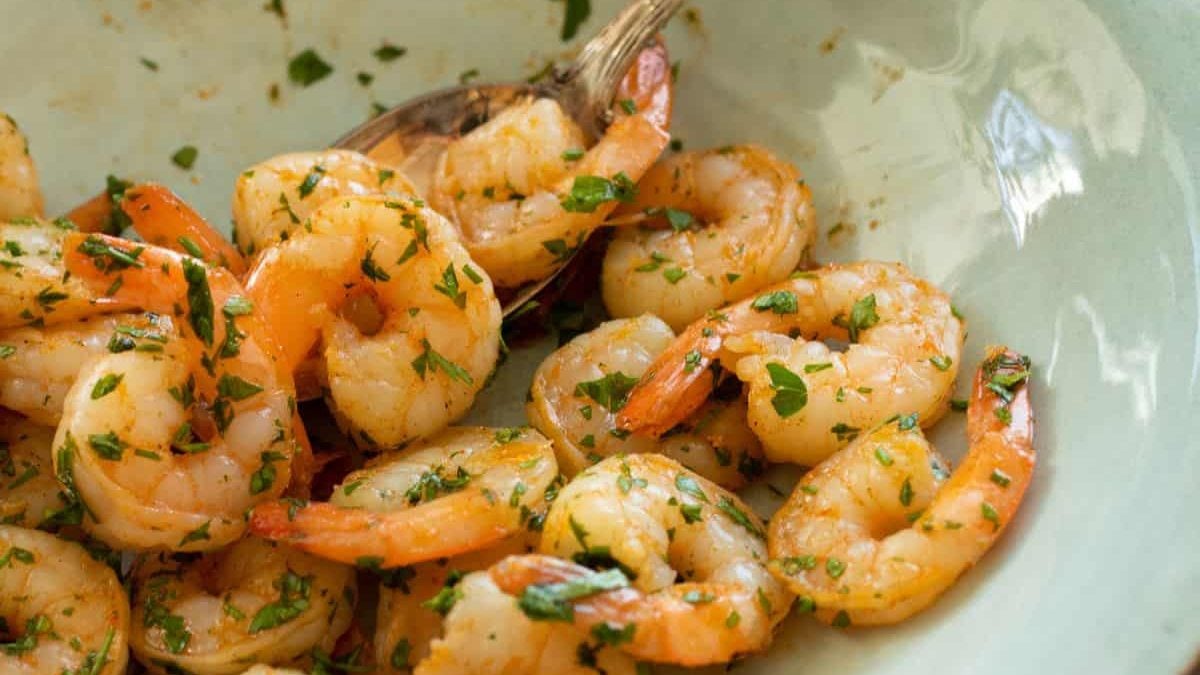 Air Fryer Frozen Shrimp are super easy to make and take 3-5 minutes to cook. Seasoned with garlic & paprika for incredible flavor, and topped off with fresh parsley for a green touch. Perfect for hot summer nights when you don't even want to put on the stove! Get the recipe from always use butter.
Lemon Pepper Pasta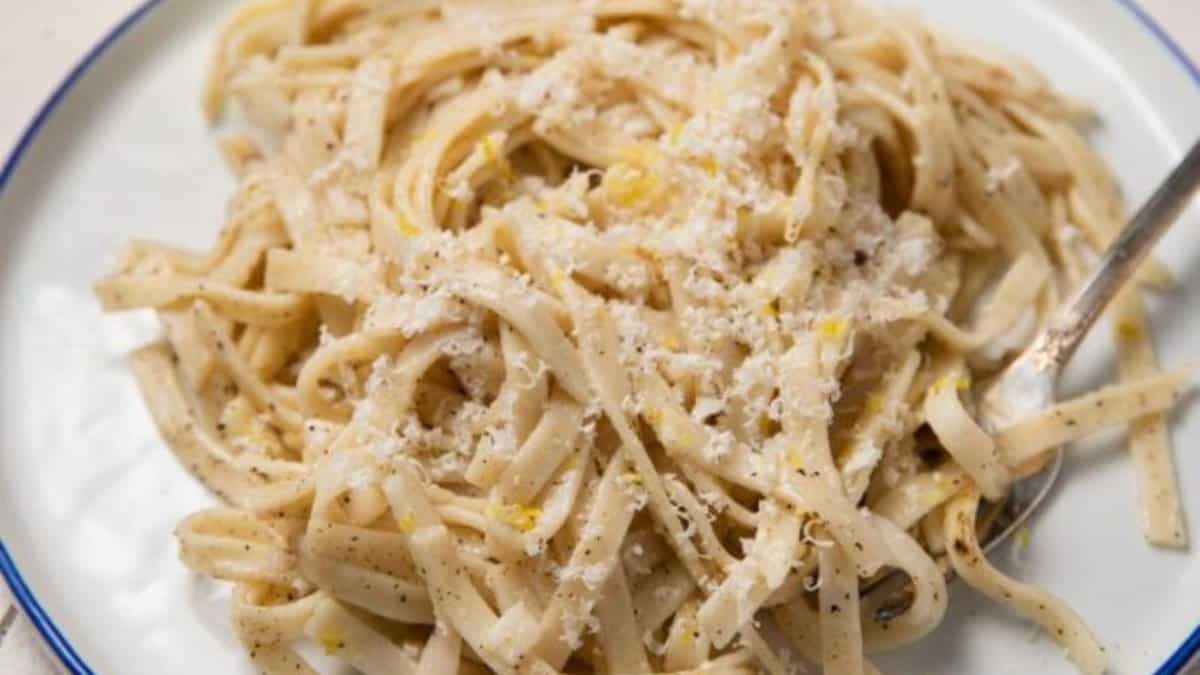 Pasta lovers rejoice! This creamy Lemon Pepper Pasta with parmesan is a delicious dinner that will quickly become a family favorite. Made with just a handful of ingredients you likely already have on hand at all times and is an easy 20 minute meal, it's the perfect quick and easy weeknight dinner that is sure to impress. Serve it with extra fresh grated parmesan cheese on top and a crisp glass of white wine or Prosecco for the ultimate in Italian delight!
Southwest Salad with Honey Chipotle Chicken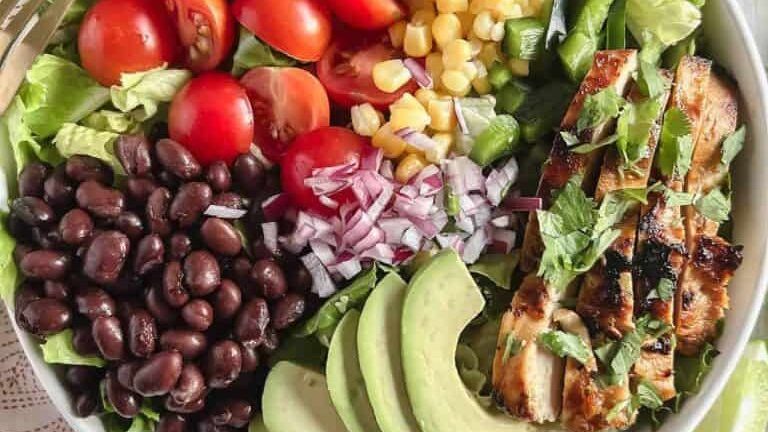 This Southwest Salad is loaded with black beans, corn, avocado and smoky, spicy honey chipotle chicken, drizzled in a tangy cilantro lime dressing. A hearty main dish salad that fresh, full of bold flavor and easy to make! Get the recipe.
Lemon Basil Pasta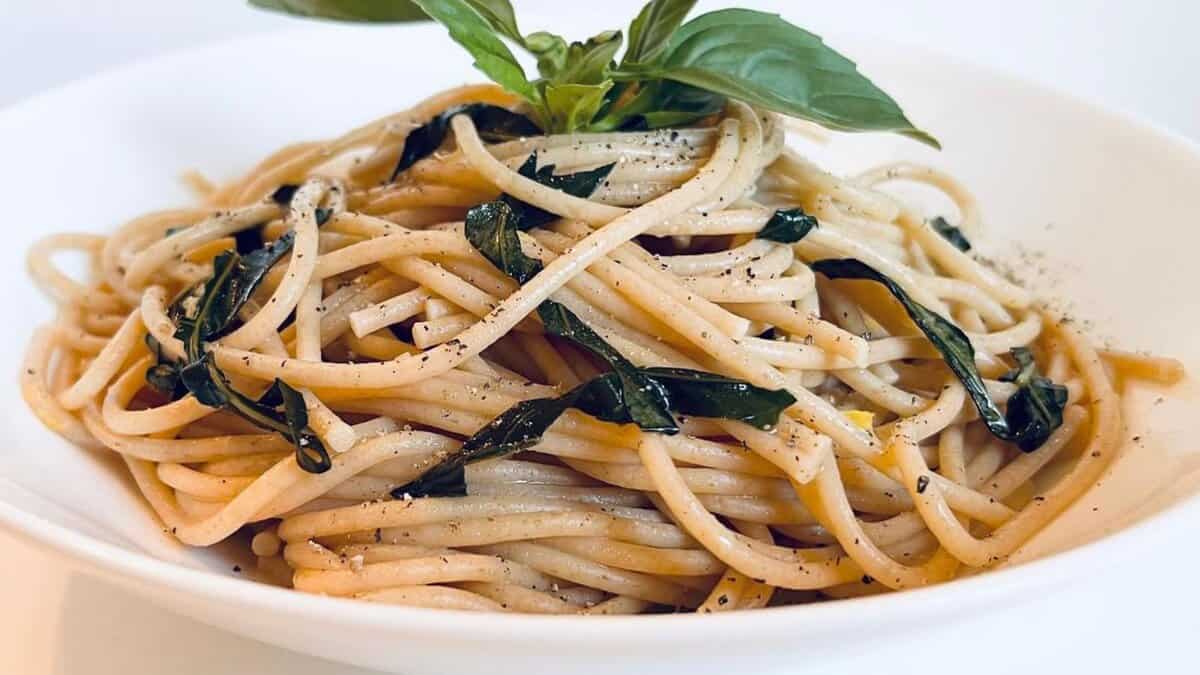 This lemon basil pasta is an easy and delicious dinner or lunch recipe. It's perfect for entertaining but quick and simple enough to make on busy weeknights too. This flavorful, budget-friendly dish is a must try.
Halloumi Pasta Primavera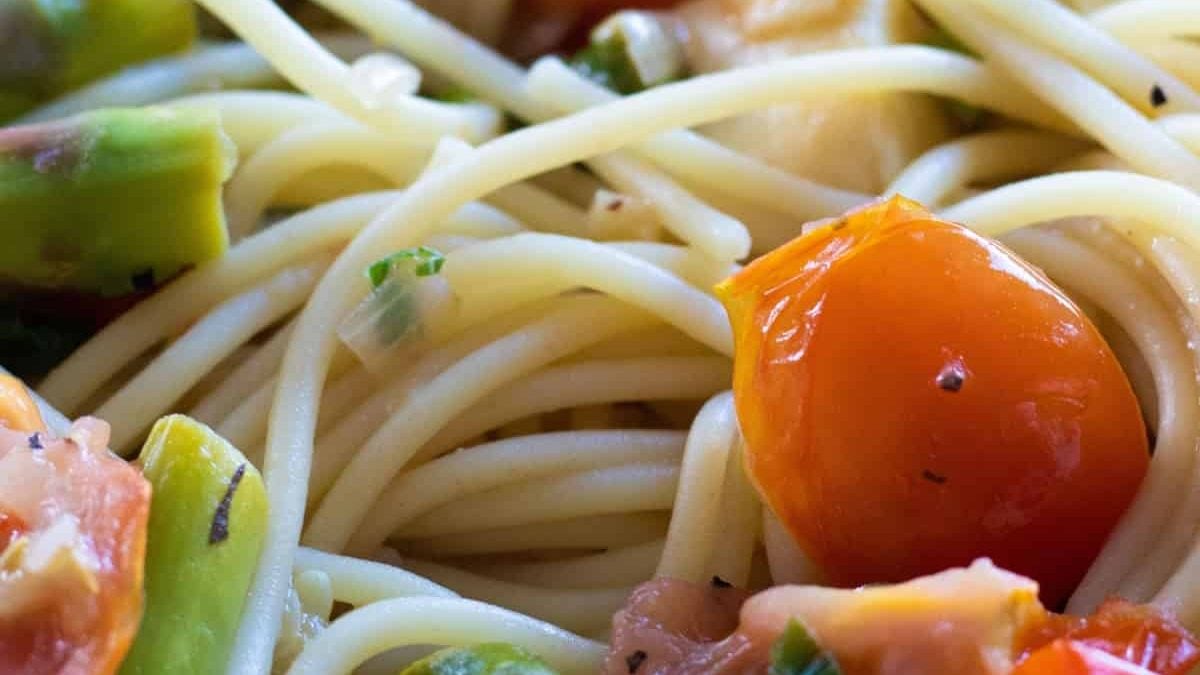 20-minutes (chopping included!) is all you need to make this delicious, vegetarian halloumi pasta loaded with veggies. A light and summery dish without cream, this is a great summer dinner that lets the veggies shine. Get the recipe from always use butter: 20-minute Halloumi Pasta Primavera [Vegetarian]
Orzo Pesto Salad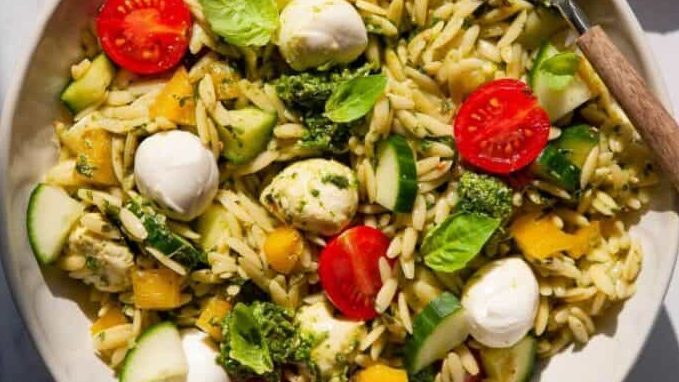 This orzo pesto salad recipe is packed with veggies, fresh mozzarella, and tossed in homemade nut-free basil pesto. Serve it for dinner, lunch, or as a side for a summer cookout! Get the recipe.
Salmon Tacos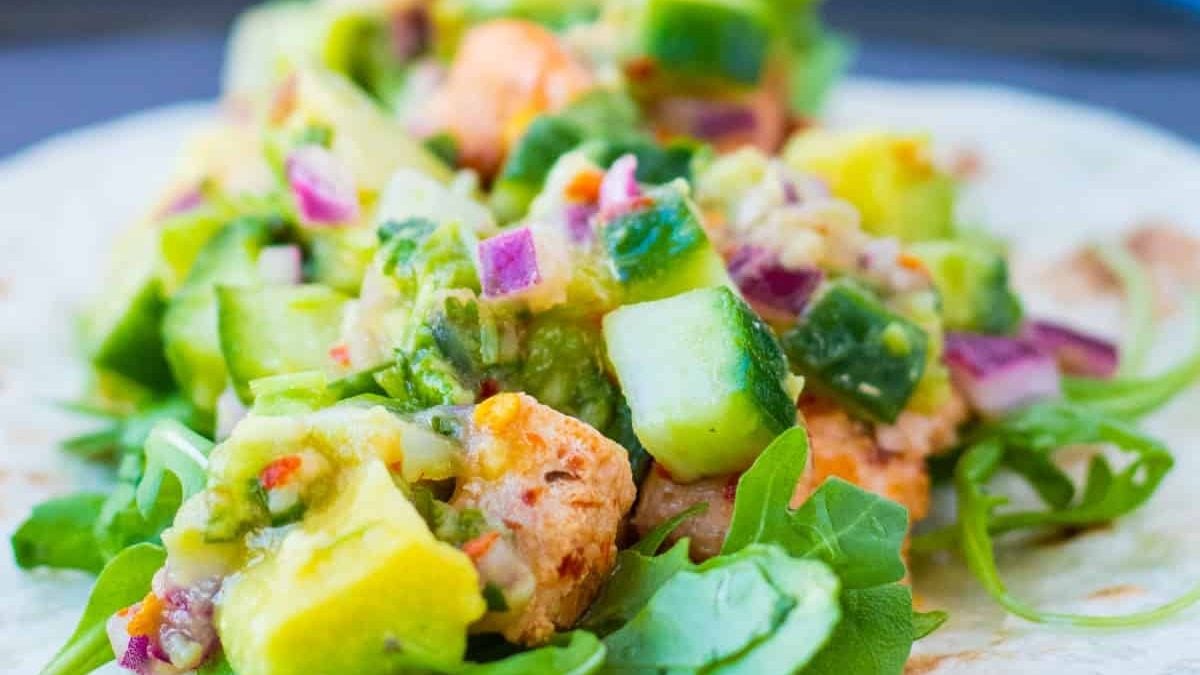 Healthy salmon is seasoned lightly, pan-fried quickly, and deliciously paired with a super easy Ginger Avocado Salsa to make the perfect healthy Salmon Tacos. All with just a few short minutes of cooking, loads of health benefits and even more taste! Get the from always use butter.
Sun Gold Tomato Pasta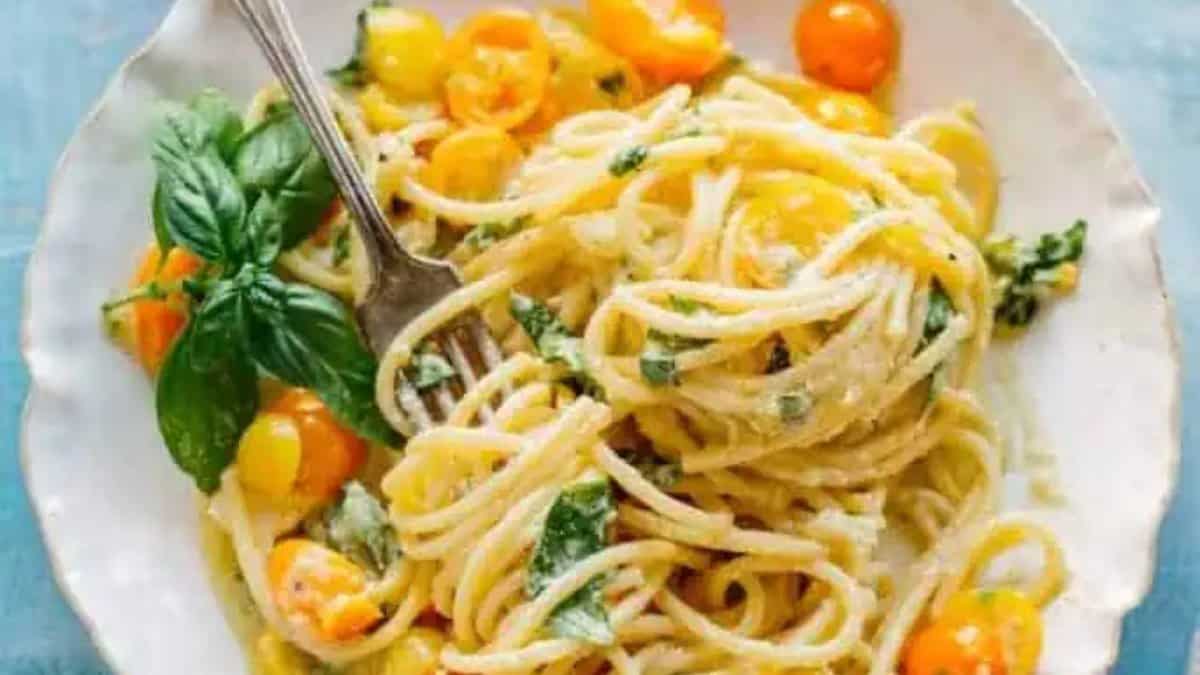 This recipe for No-Cook Sun Gold Tomato Pasta takes just 6 simple ingredients and less than 20 minutes to make!
Black Lentil Salad with Feta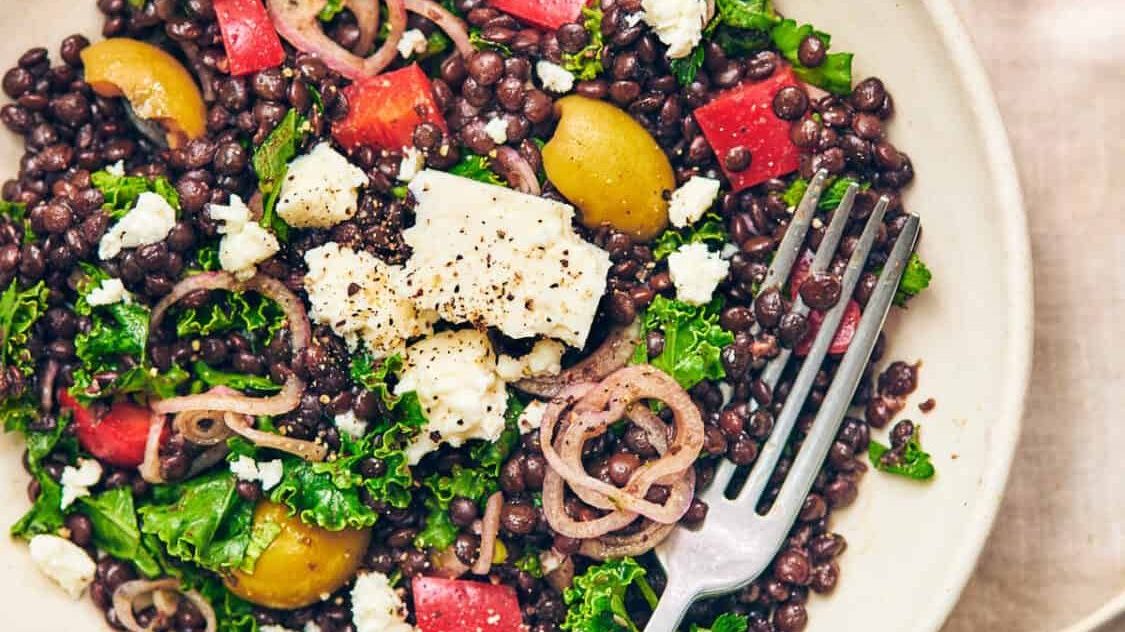 This Mediterranean Black Lentil Salad with Feta is bursting with flavor! Easy to make, a great source of protein, and meal prep friendly for dinners or lunches. Features healthy lentils, creamy feta, crisp veggies, and a simple vinaigrette. (Gluten Free, Vegan option) Get the recipe.
Lemon Ricotta Pasta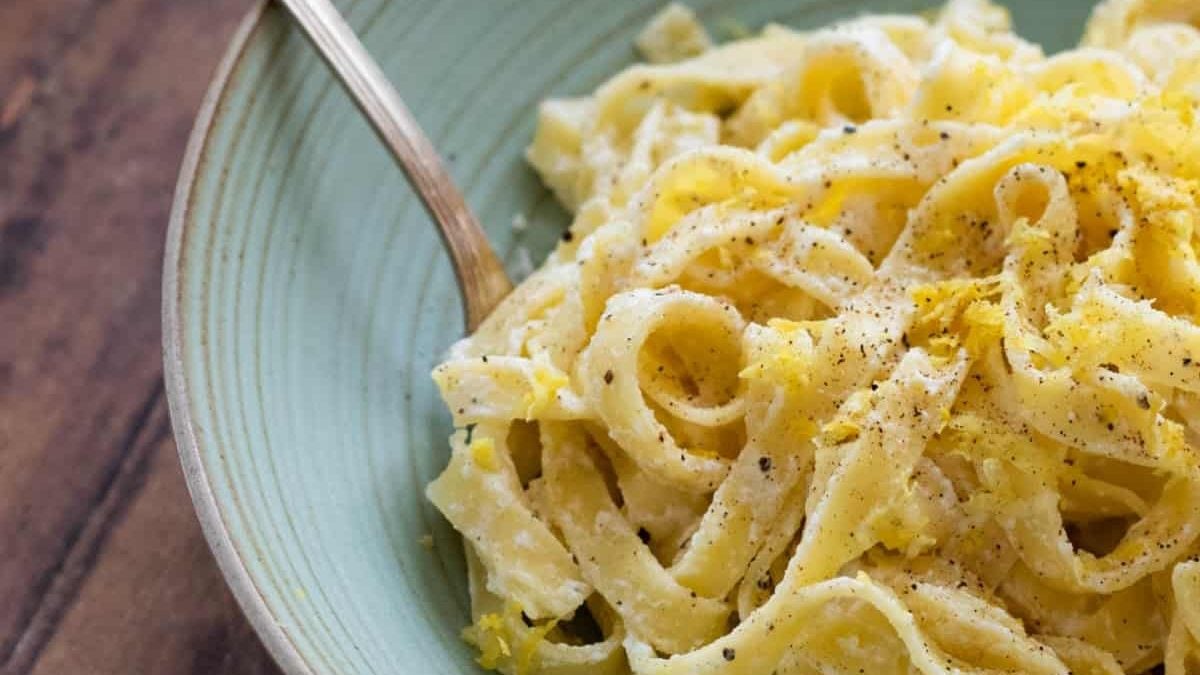 You won't find a simpler pasta dish than this. Get the recipe from always use butter.
Watermelon Panzanella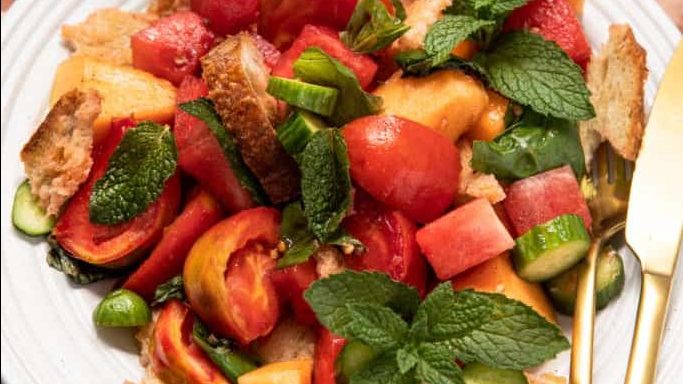 This Watermelon Panzanella salad is the perfect easy, fresh summer salad recipe! It uses just a handful of fresh, easy to access ingredients for an incredibly impressive dish. Highly customizable to any taste or dietary needs by making a few simple swaps detailed in this post. Get the recipe.
Vermicelli di Positano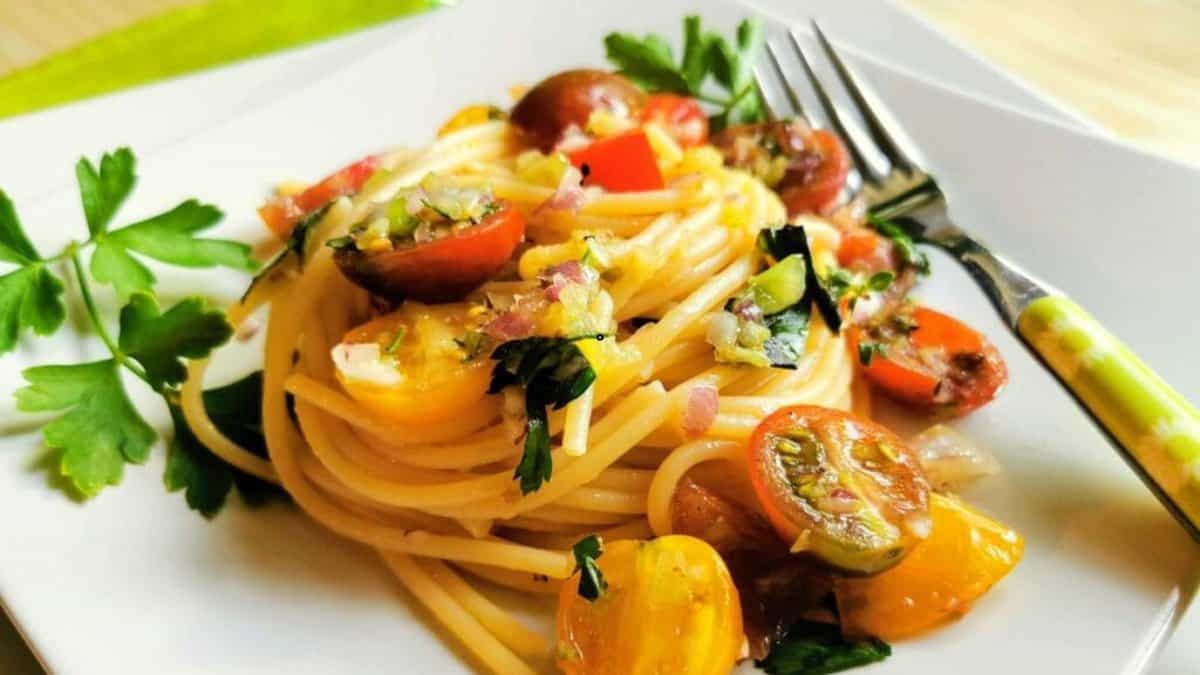 This fresh tomato vermicelli di Positano recipe is great for summer. You only have to cook the pasta and marinate the vegetables and herbs. Perfect for vegetarians and vegans, easy, nutritious and delicious!
Baked Cod in Foil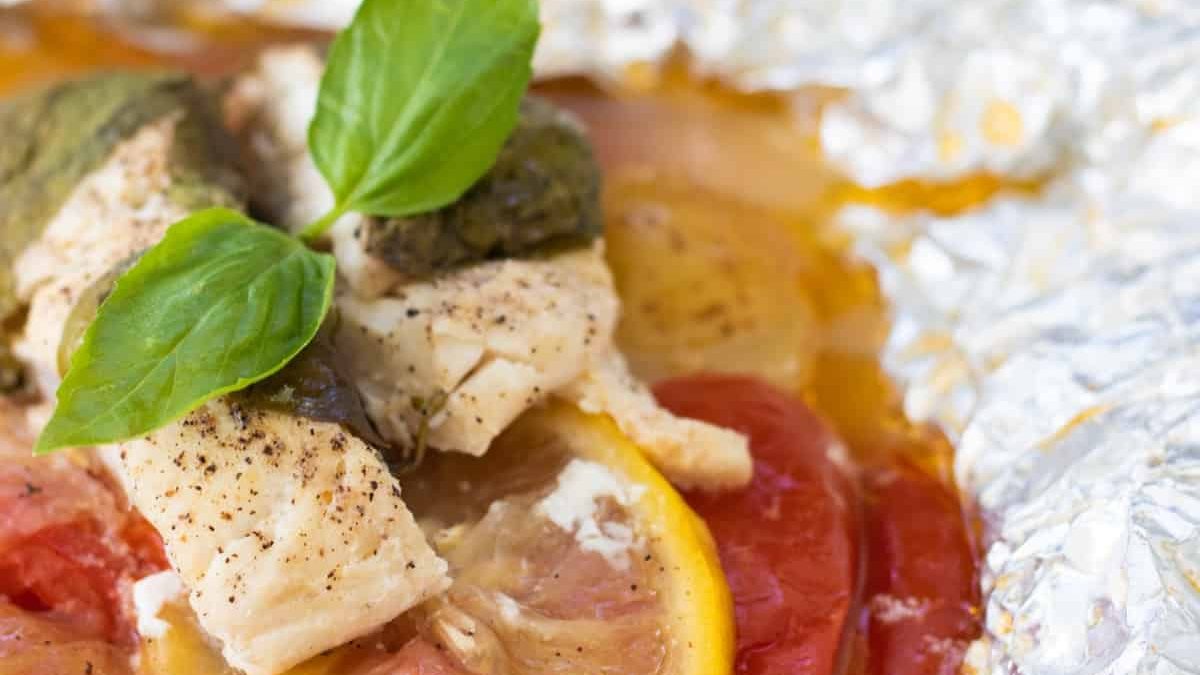 Make these flavor loaded packs of baked cod in foil with just 5 minutes of prep. Filled with cod, tomatoes, potatoes and lemon for a fish-potatoes-and-sauce-dinner all in one. The secret to not overcooking the fish? Use frozen cod. Get the recipe from always use butter: Baked Cod in Foil.
Green Mango & Seafood Salad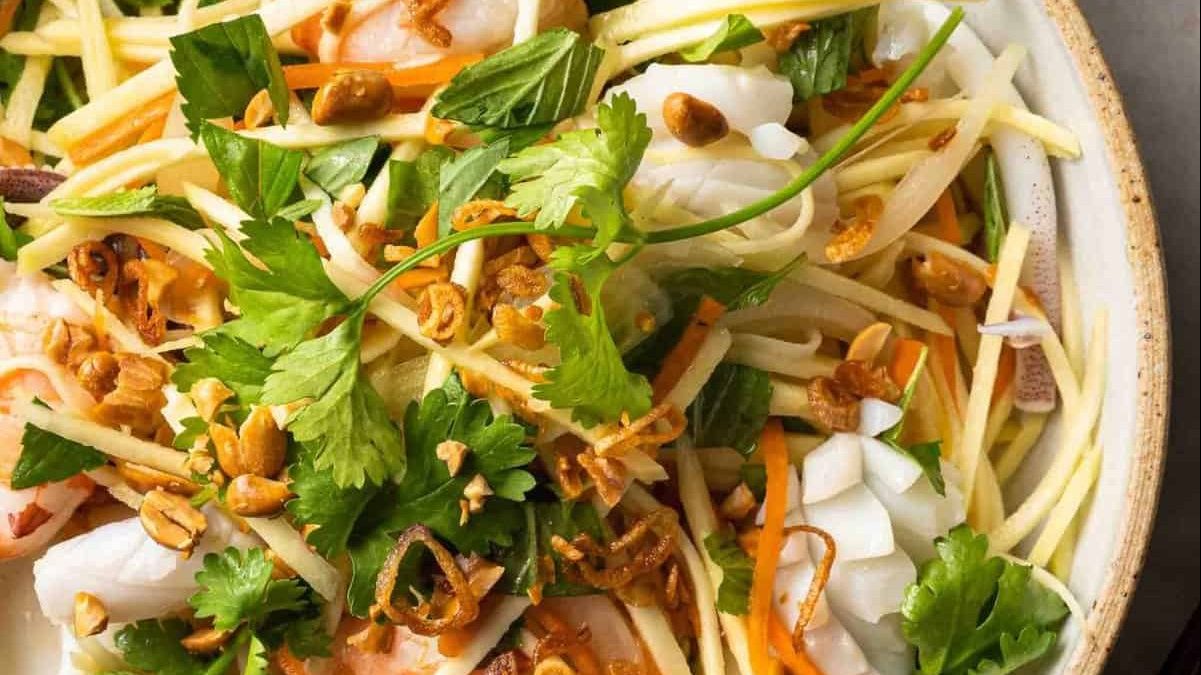 This Vietnamese Green Mango Salad with Seafood (Goi xoai xanh) is refreshing and delicious with contrasting flavors and textures complementing each other. It is also quick and simple to make. Get the recipe.
10 Most Unhealthy Foods Most People Don't Realize Are Junk Foods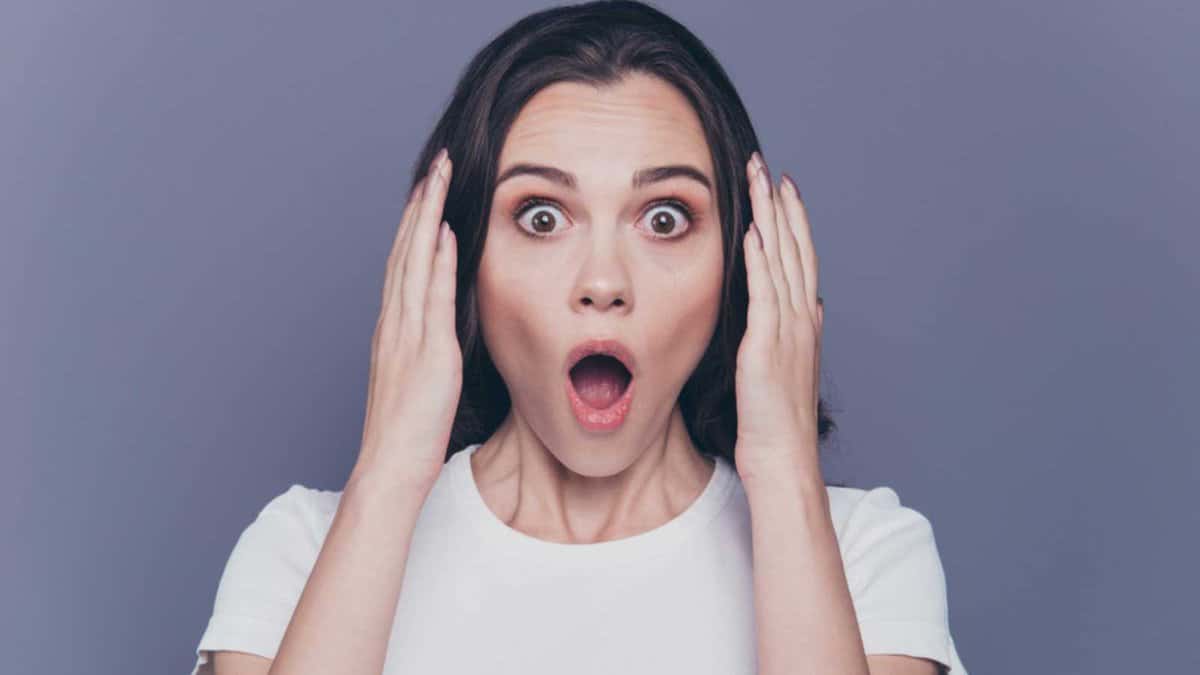 Surprisingly there are a lot of foods that consumers assume are healthy when they definitely aren't. We often don't bother to check the labels of foods that have always been marketed to us as beneficial. According to a popular internet forum, these 10 foods are super unhealthy foods - most people just don't realizeit. Get ready to be shocked, and maybe even clean out your pantry. Find the whole list here.
12 Ground Beef Dump-and-Bake Dinners for Super Busy Nights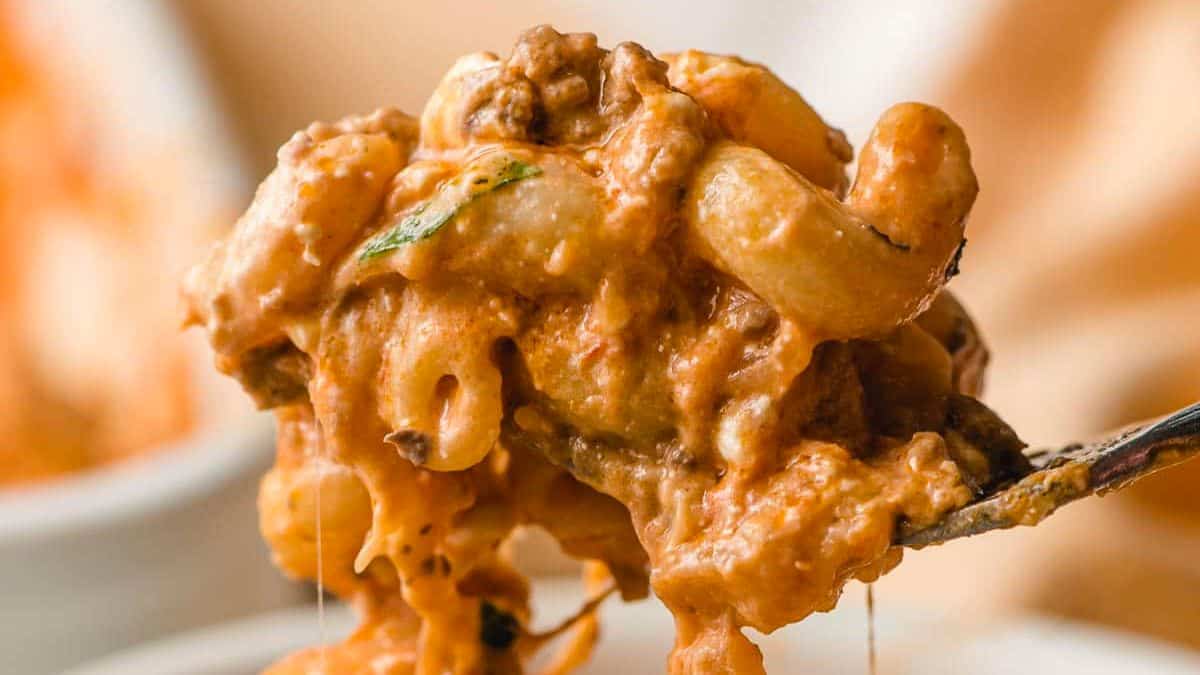 Say goodbye to complicated meal prep and hello to effortless cooking with these delicious dump and bake ground beef recipes. We've gathered a variety of delicious and hassle-free dishes that will save you time in the kitchen. Get ready to enjoy hearty and satisfying meals with minimal effort, making weeknight dinners a breeze! Find the whole list here.
12 Dump-and-Bake Recipes Done in 30 Minutes (Or Less!)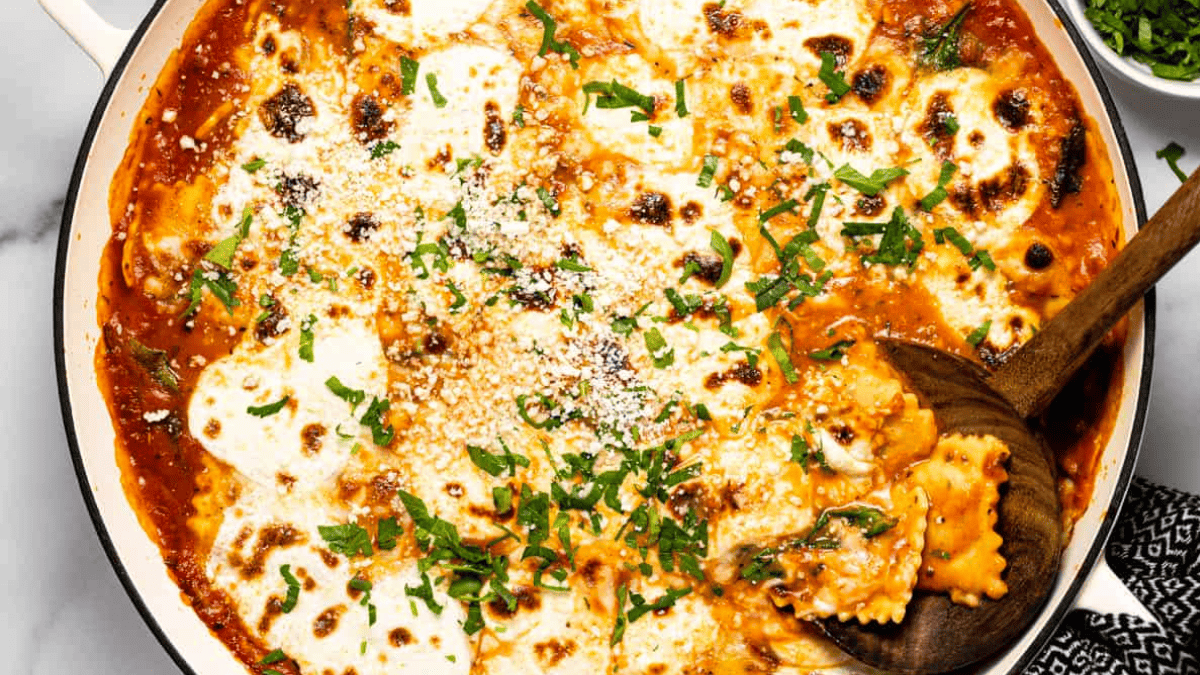 Say goodbye to complex prep and hello to easy and satisfying meals with this fantastic roundup of dump and bake recipes that can be done in under 30 minutes. These recipes range from hearty casseroles to creamy pasta dishes and will be the quick-fix recipes that will make your busy days a breeze! Find the whole list here.
Storebought Wins: 10 Foods That Are NOT Better Homemade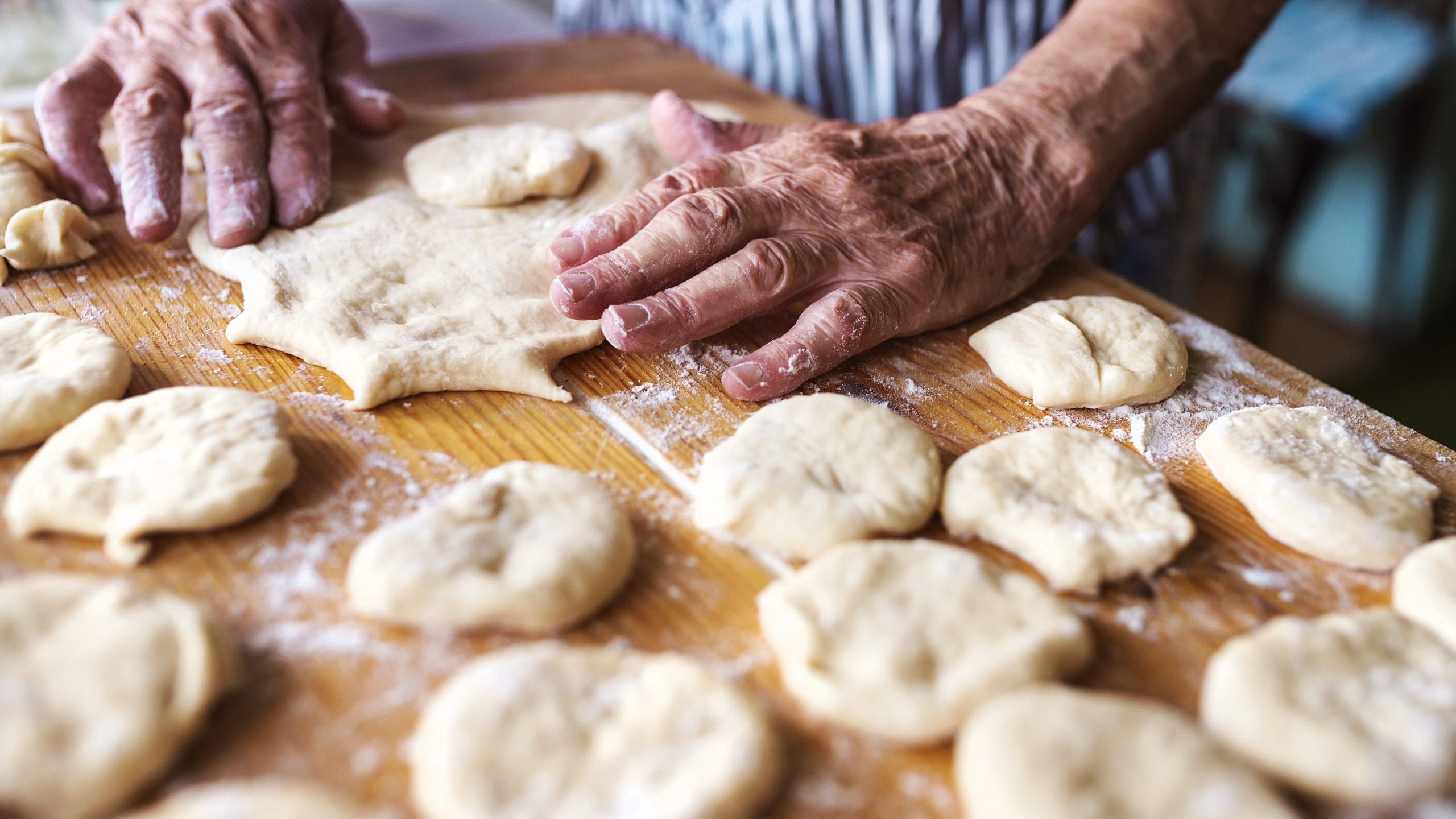 A lot of the time we value homemade food much higher than what we get from the store. And in many cases, this is correct - homemade is better. But for some foods, this is definitely not the case. Whether due to the difficulty of making it, lack of access to the right ingredients, or just the homemade version missing that special "something" we get in the storebought version - some foods are just not worth it making at home. Read on for the 10 top foods that are NOT better homemade, as decided by a group of foodies on an internet forum. Find the whole list here.
41 Easy But Fancy Meals You Can Make Tonight!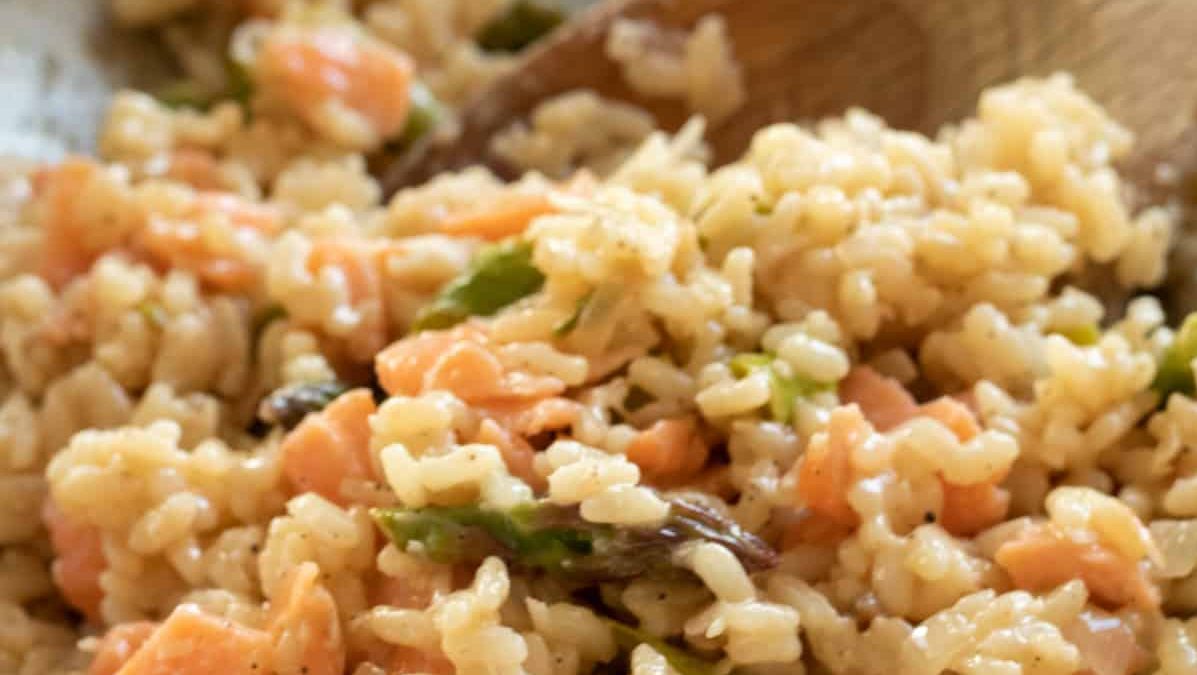 Do you want to impress your family or friends with a delicious home-cooked meal tonight? Here you go! We've put together a colelction of 41 exceptional recipes that are perfect for any night of the week. These easy-to-follow recipes use simple ingredients and straightforward techniques, helping you create a satisfying and flavorful meal right in the comfort of your own kitchen - even if you're not a cooking star! Find the whole list here.