This post may contain affiliate links, which are always marked with *. Please read my disclosure for more information.
15 minutes is all you need to make the best air fryer * potato wedges. Lightly seasoned with salt & olive oil they're baked to perfection in the easiest way possible - and a great healthier alternative.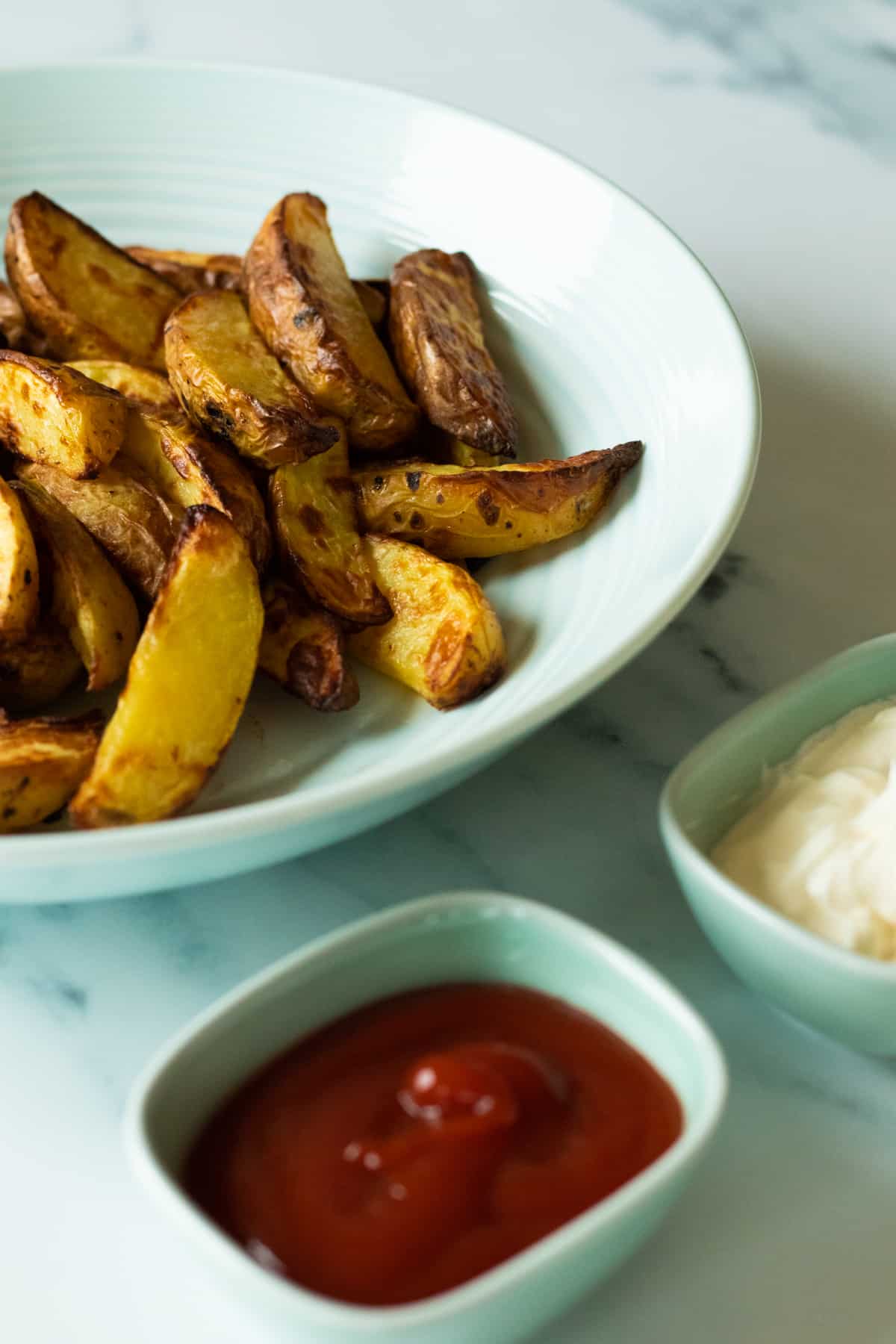 I fell in love with my air fryer * the moment I tried it for the first time - and since then, these potato wedges are on my table several times per week. Try them, I think you'll agree they are some of the best (and easisest!) potato wedges you've ever had.
Why you will love this recipe
What you need to make it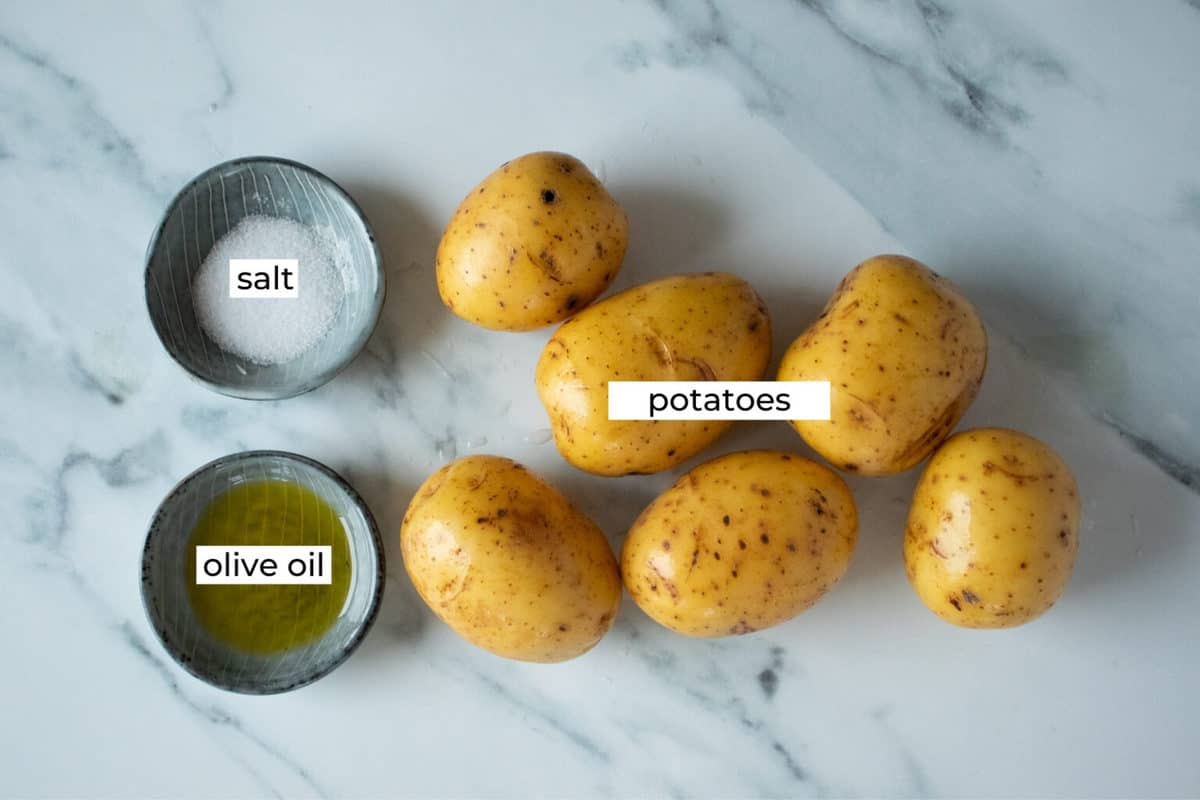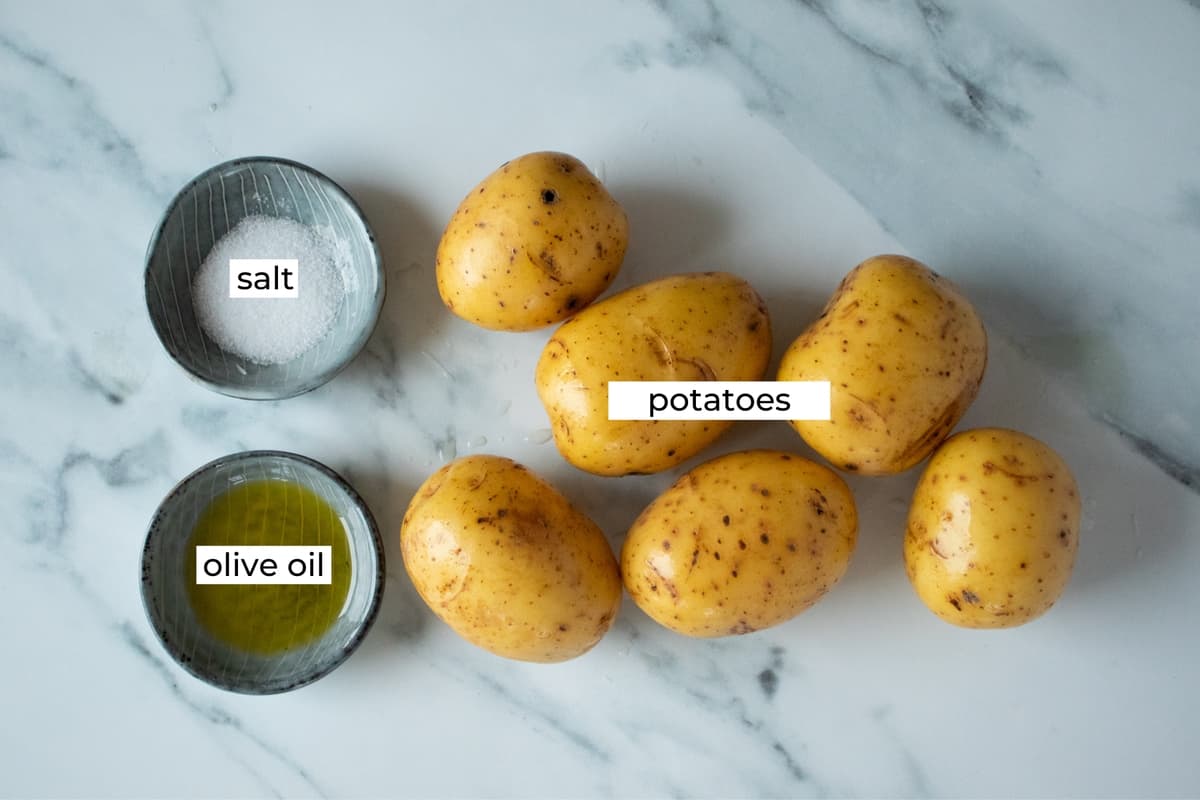 Ingredient notes & substitutions
How to make it
For a quick run-by of how to make them, check out this story.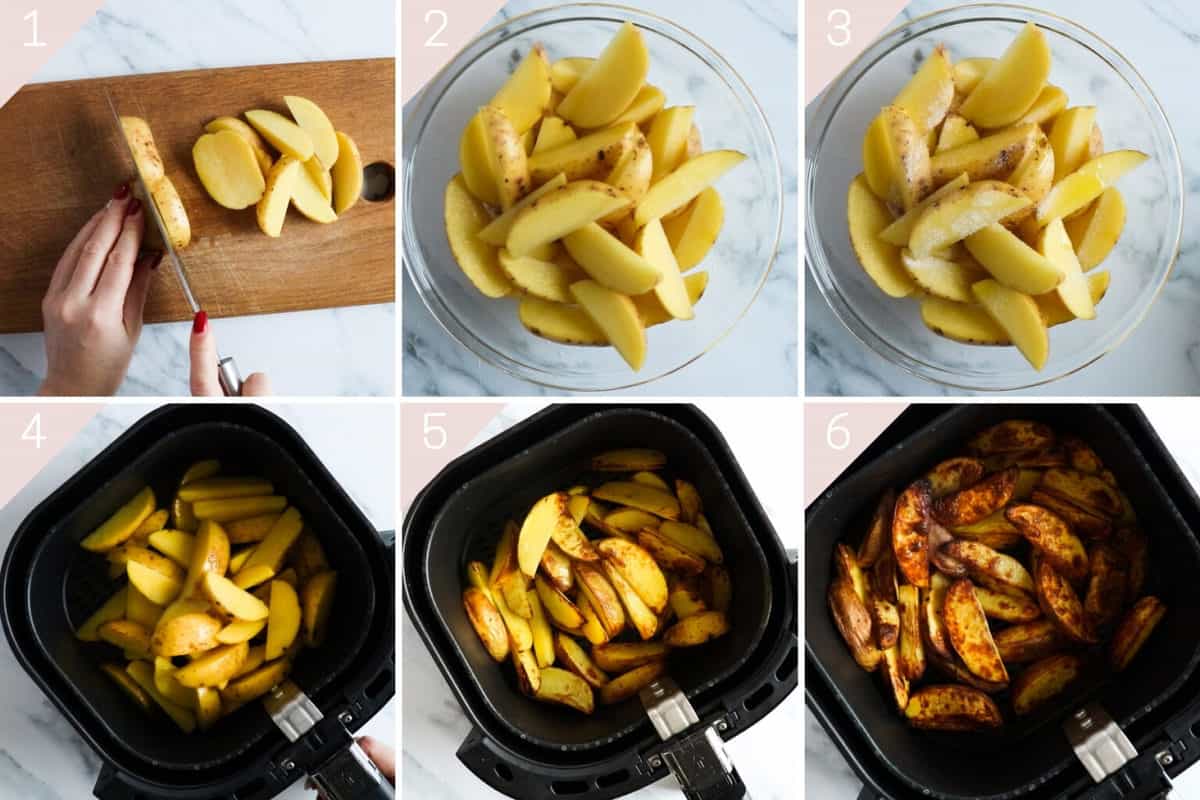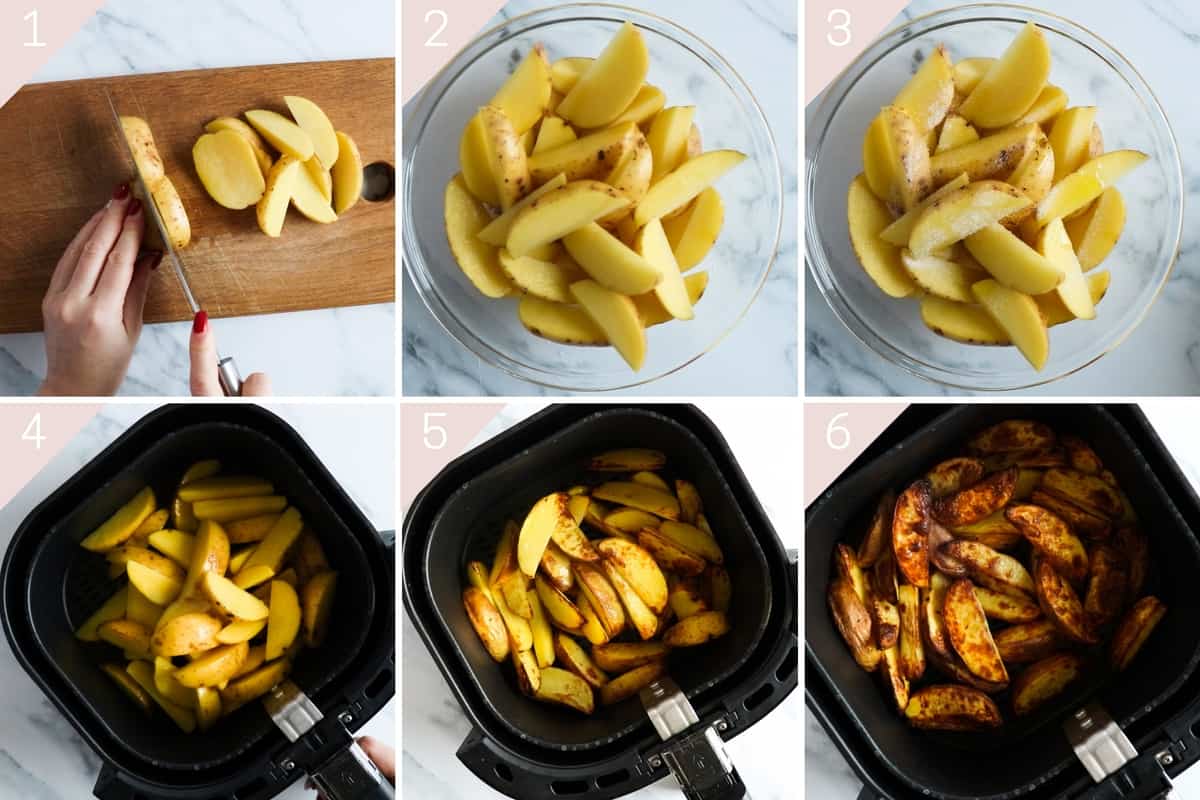 Start by cutting each potato in 6-8 wedges
Place the wedges in a bowl
Season with salt and olive oil, and mix
Place the wedges in your air fryer

*

basket
Air fry for 15 minutes, removing the basket and shaking it to mix the potatoes around every 5 minutes
After 15 minutes, shake one last time, and serve!
Tips & tricks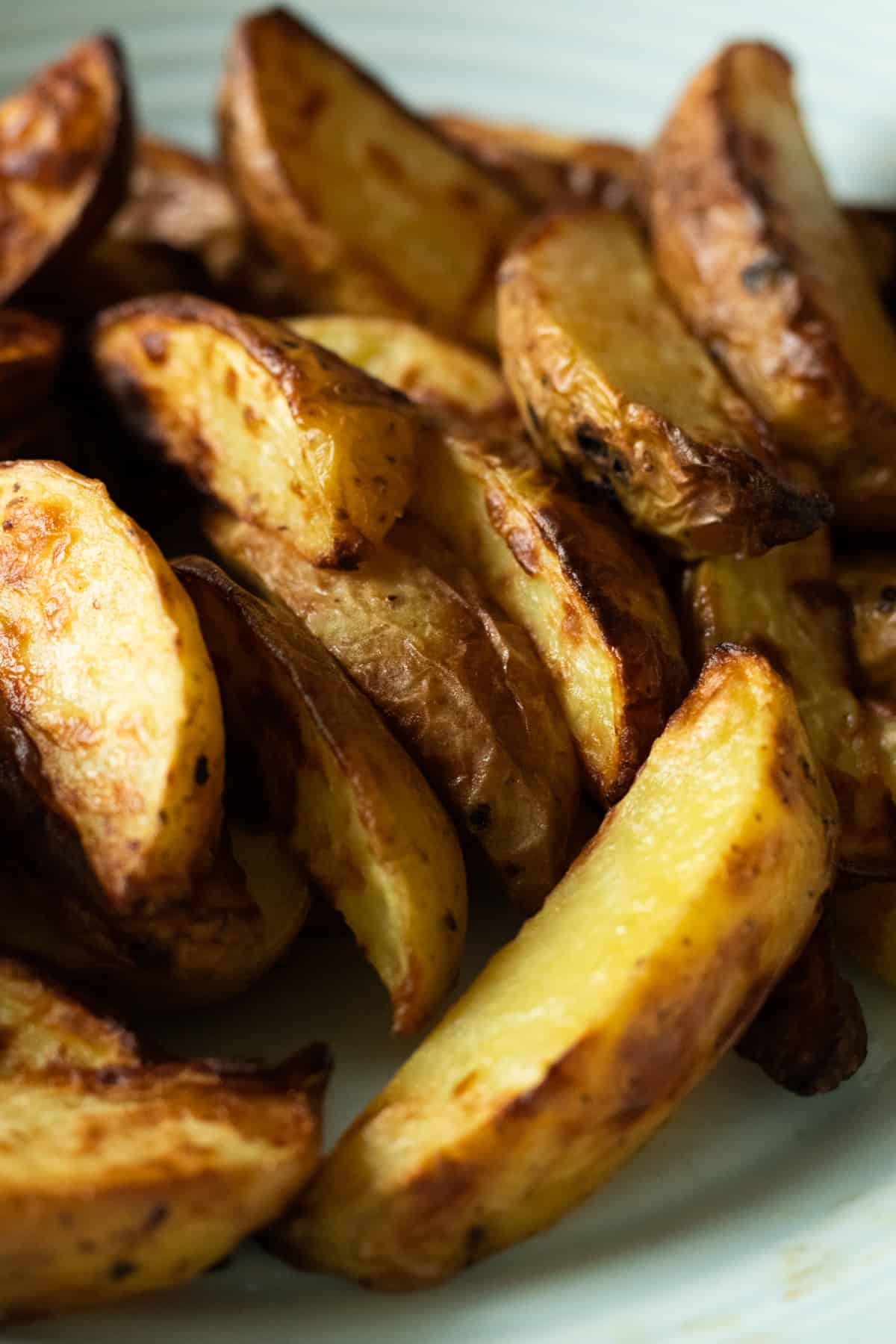 Recipe FAQ
What is an air fryer?
An air fryer is actually a small convection oven, which uses hot air to "fry" your food. Since you're cooking your food in a basket the hot air can circulate around and through it which is why I prefer it to a regular convection oven.
Are air fryer potato wedges healthy?
Yes, they're healthier than many alternatives like deep fried or oven baked potatoes, as you need just a little bit of oil to cook them. A lot of that oil also runs off through the basket while frying.
Does an air fryer use grease?
You don't have to use grease in an air fryer, but to get that nice golden exterior I do recommend it. However, you can achieve this with just a little bit of oil sprayed or brushed onto the basket.

Please check the instructions for your specific air fryer model as recommendations can vary between models.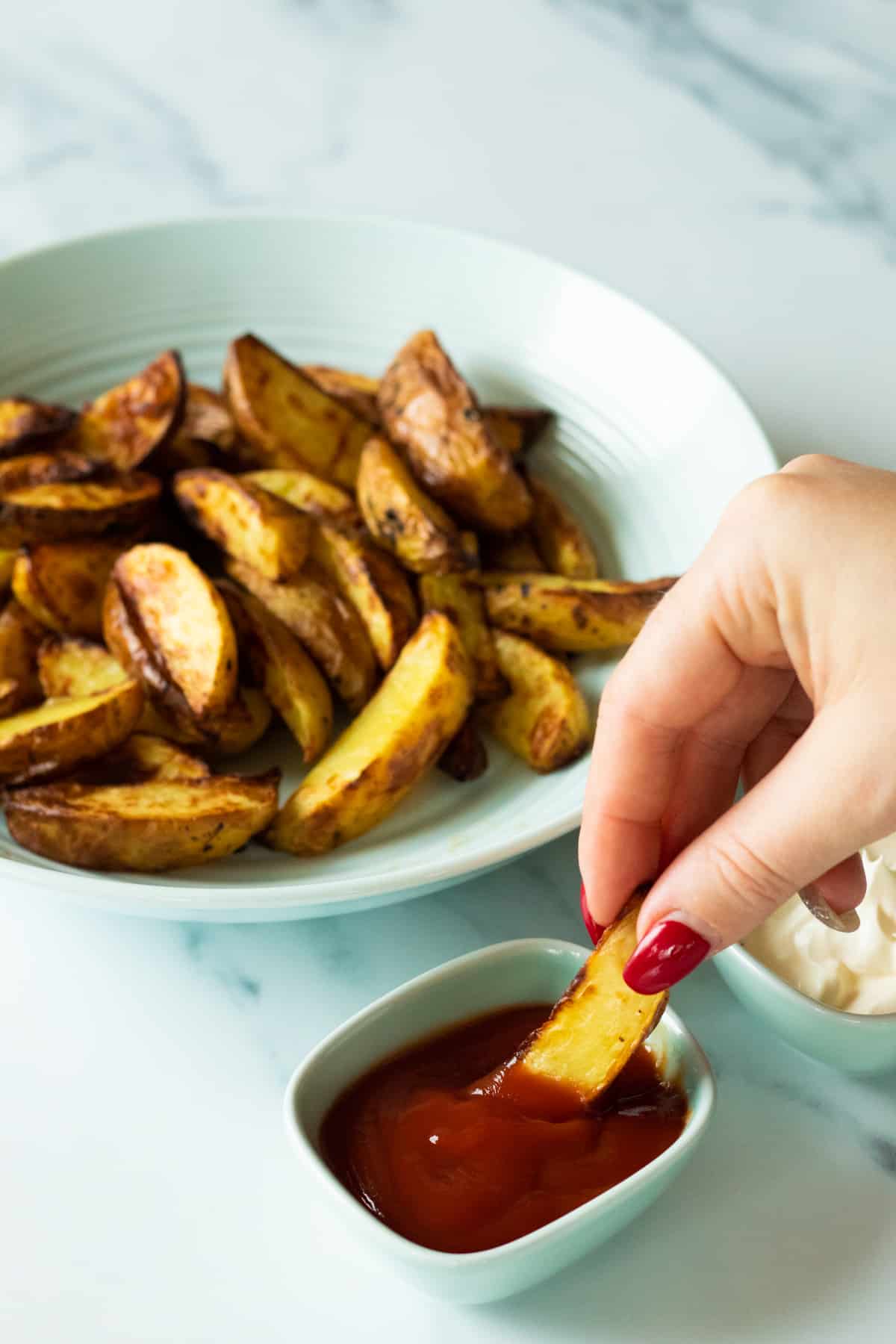 Quick & easy sauces to dip in
Want to dip them in something? These are my favorite dipping sauces:
Did you love this recipe? Rate it five stars!
...and let me know what you loved about it in the comments.
Recipe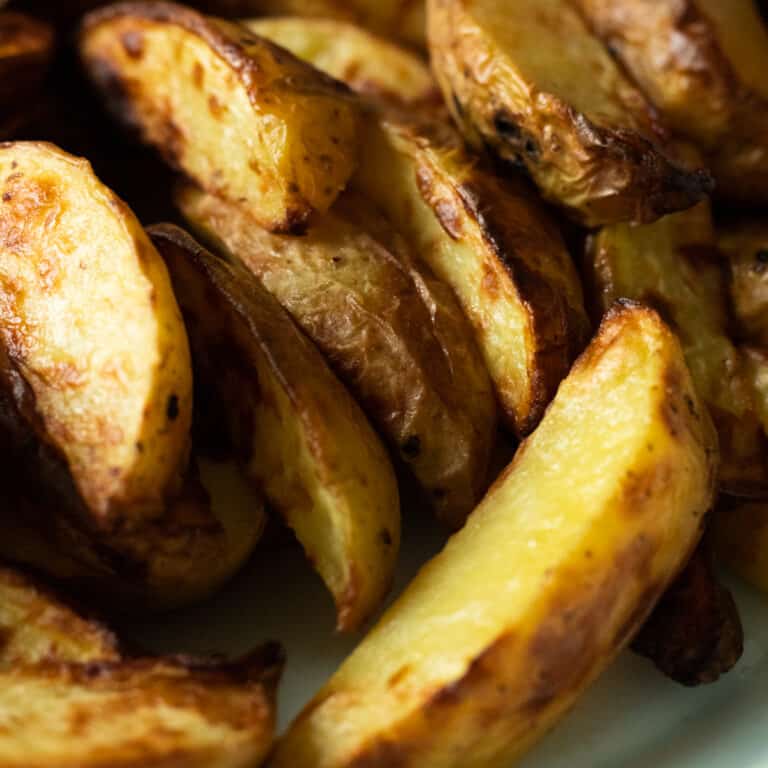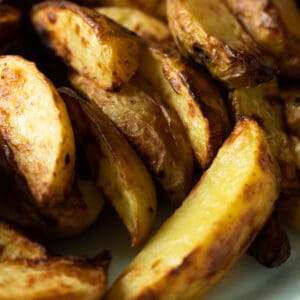 Ingredients
6

medium-sized potatoes

each cut in 6-8 wedges

1

teaspoon

olive oil

½

teaspoon

salt
Instructions
Air Fryer Instructions
Preheat your air fryer by running it at 400°F (200°C) for 5 minutes.

Place potato wedges in a bowl and season with salt and olive oil, then mix well.

6 medium-sized potatoes,

1 teaspoon olive oil,

½ teaspoon salt

Place your potato wedges wedges in the air fryer basket and place it in your air fryer. Fry at 400°F (200°C) for 5 minutes, then take out the basket and shake it to mix. Repeat twice, until you've fried them for 15 minute total. Test to make sure they're done - if not, fry for 3-5 minutes more. Then serve immediately!
Oven Instructions
Preheat your oven for 440°F (225°C) and line a baking tray with parchment paper.

Place potato wedges in a bowl and season with salt and olive oil, then mix well.

Place the wedges on the parchment paper, with the skin-side down. Bake in the middle of the oven for 25-30 minutes, until golden on the outside and soft on the inside. Mix once after 15 minutes.
Equipment needed for this recipe
Notes
Serving size: The serving size assumes each person eats 1.5 potatoes. As these are seriously yummy, it might be worth it to make a little bit extra.
Ingredient notes & substitutions
Firm potatoes work best for this recipe. The recipe assumes medium-sized potatoes but you can use any size - just adjust the amount of seasoning accordingly, and add an extra 3-5 minutes if your wedges are larger.
Salt - any type will do, but use fine salt for the most even seasoning
Olive oil can be swapped for another type of vegetable oil, or skipped entirely. If you skip it, I recommend spraying or brushing the air fryer basket with just a tiny bit of oil before frying.
Tips & tricks
Add more seasonings as you like - paprika powder, onion powder, garlic powder and cumin are all versions I've tried and enjoyed. A squeeze of lemon is also a nice twist!
Fry in batches depending on the size of your air fryer basket. This recipe with 4 servings fits perfectly in my small air fryer basket, but in multiple layers.
For crispier potatoes fry in just one layer
Shake the basket every 5 minutes for an even fry
Nutritional information assumes half of the olive oil is consumed.
Nutrition
Calories:
251
kcal
|
Carbohydrates:
56
g
|
Protein:
6
g
|
Fat:
1
g
|
Saturated Fat:
1
g
|
Sodium:
165
mg
|
Potassium:
1345
mg
|
Fiber:
7
g
|
Sugar:
2
g
|
Vitamin C:
63
mg
|
Calcium:
38
mg
|
Iron:
2
mg
Nutritional information is approximate and automatically calculated, and should only be viewed as an indication.