This post may contain affiliate links, which are always marked with *. Please read my disclosure for more information.
Get your Omega-3 & vitamin booster game on with this delicious Lemon Pepper Salmon with Garlic Roasted Broccoli & a Whipped Feta Cheese Sauce! Delicate salmon is seasoned with lemon pepper and seared until almost cooked through, served with yummy garlic roasted broccoli and topped off with a fresh & always delicious feta yogurt sauce.
Don't feel like cooking stove-top? Or just have a nice salmon side lying around? Try this super easy oven-baked lemon pepper salmon instead - but keep the garlic roasted broccoli & Whipped Feta Cheese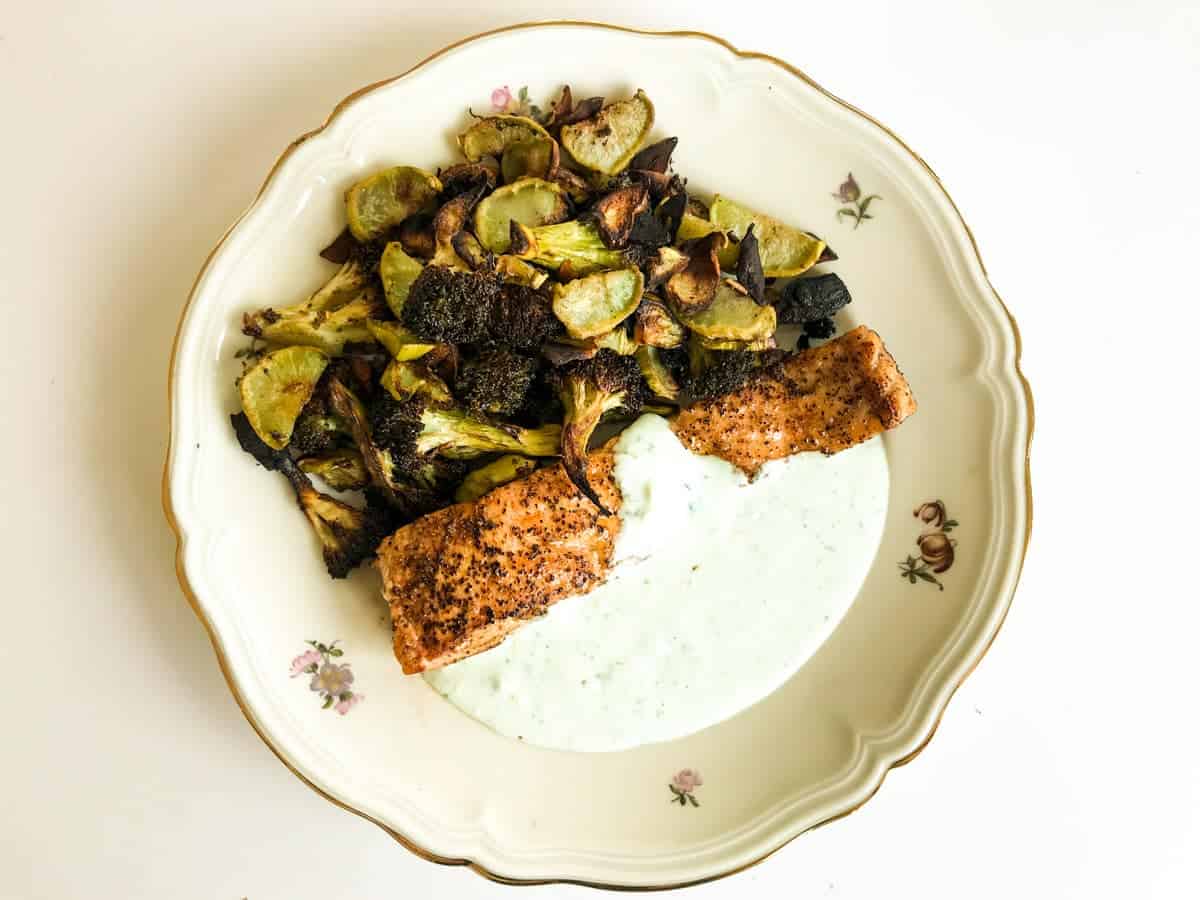 How to Make Garlic Roasted Broccoli
By now, you've probably had kale chips both once and twice. Maybe they've even made it into your standard Friday night repertoire. But have you had broccoli chips?
Now some might rebel against me calling these chips. They're not really chips, to be honest. They are however bite-size pieces of deliciousness with a good crisp to them, so in my book that's as good as a chip.
Even better actually, since these are filled with all the good and healthy broccoli stuff (we're talking loads of vitamin C & K as well as heaps of antioxidants) as well as garlic that not only tastes delicious but also helps to both regulate blood sugar and promote heart health.
What are these "broccoli chips" then, you may ask? Well, I'm talking about my new favorite vegetable dish - garlic roasted broccoli.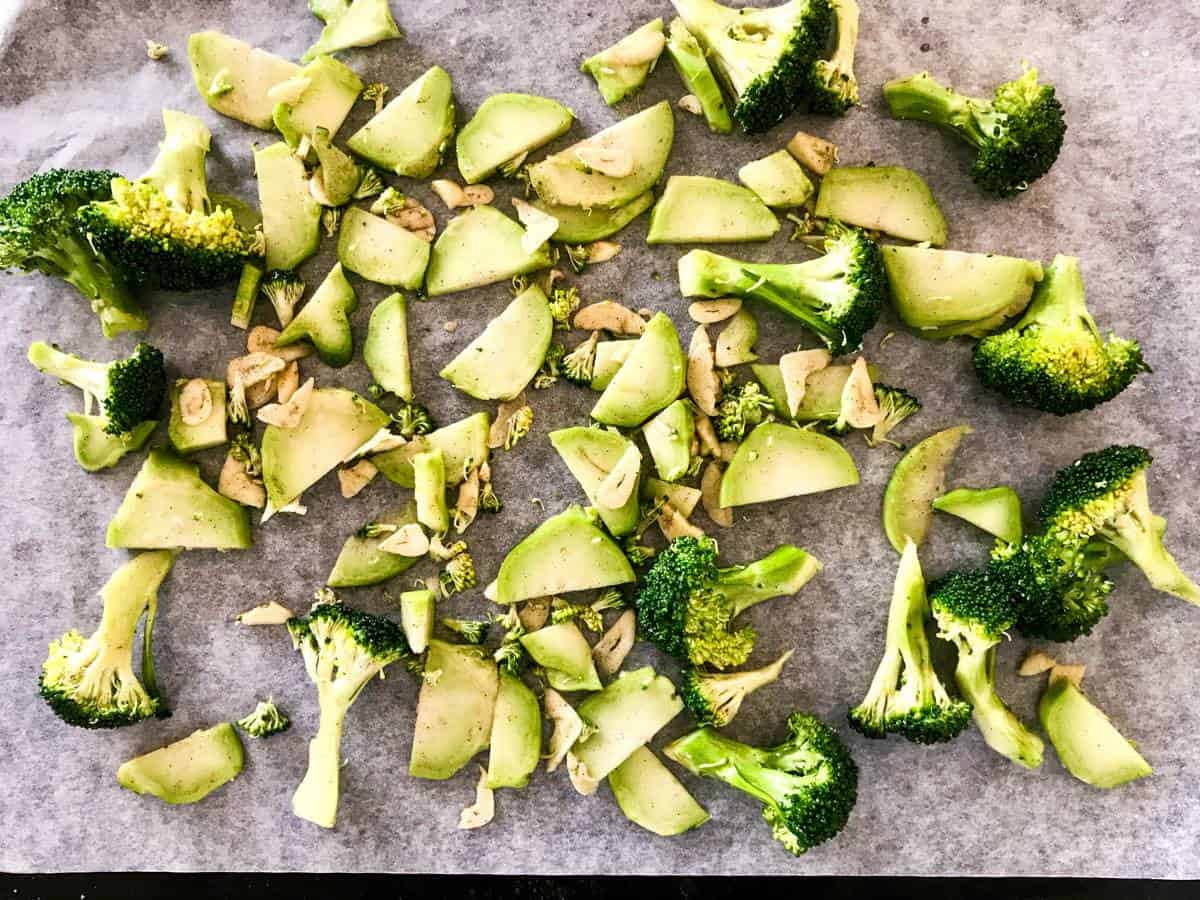 Apart from being good for you and ridiculously tasty, they're also really easy to make. Just cut off the broccoli florets in bite-size pieces, peel the stem and chop it up and then mix it all with thinly sliced garlic, salt, pepper and olive oil.
20 minutes in the oven and you have a perfect side for just about anything. Or just eat them as a snack, they're that good!
Now while the broccoli is being roasted you have time to make the Feta Yogurt Sauce and cook the salmon. And yes, both of these are easily accomplished as well!
How to Cook Lemon Pepper Salmon
The salmon is seasoned with just a bit of lemon pepper - or just black pepper and salt if you don't have lemon pepper - and seared for a few minutes per side. I like to sear mine in butter, but olive oil also works well.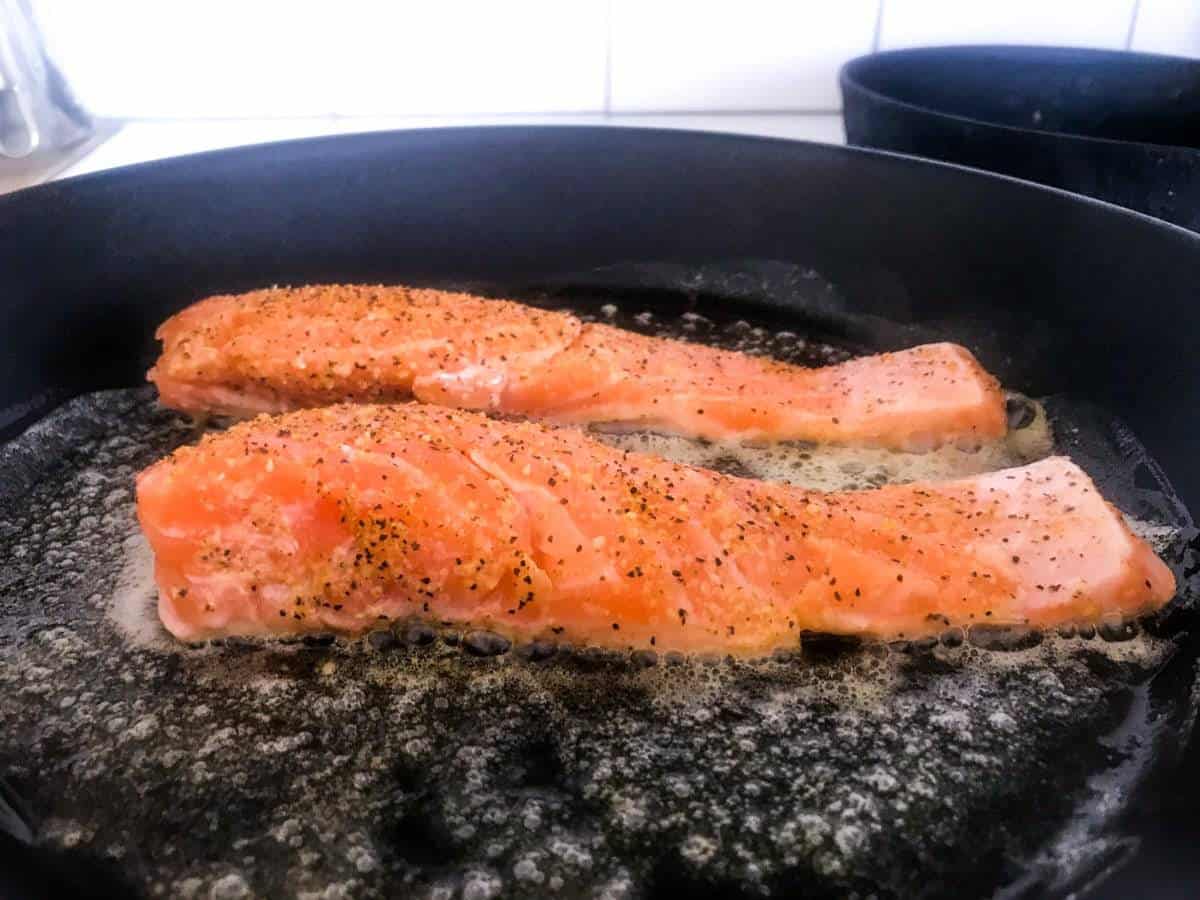 You want to cook the salmon until it's almost cooked through. It should still be a vibrant pink color and almost a bit raw in the center. This is why I love using frozen salmon - this way you don't need to worry about cooking it completely through, it's okay anyway.
(This is also supposed to be true for farmed salmon, previously frozen or not, but I know not everyone wants to eat farmed salmon for other reasons so just go with the frozen one.)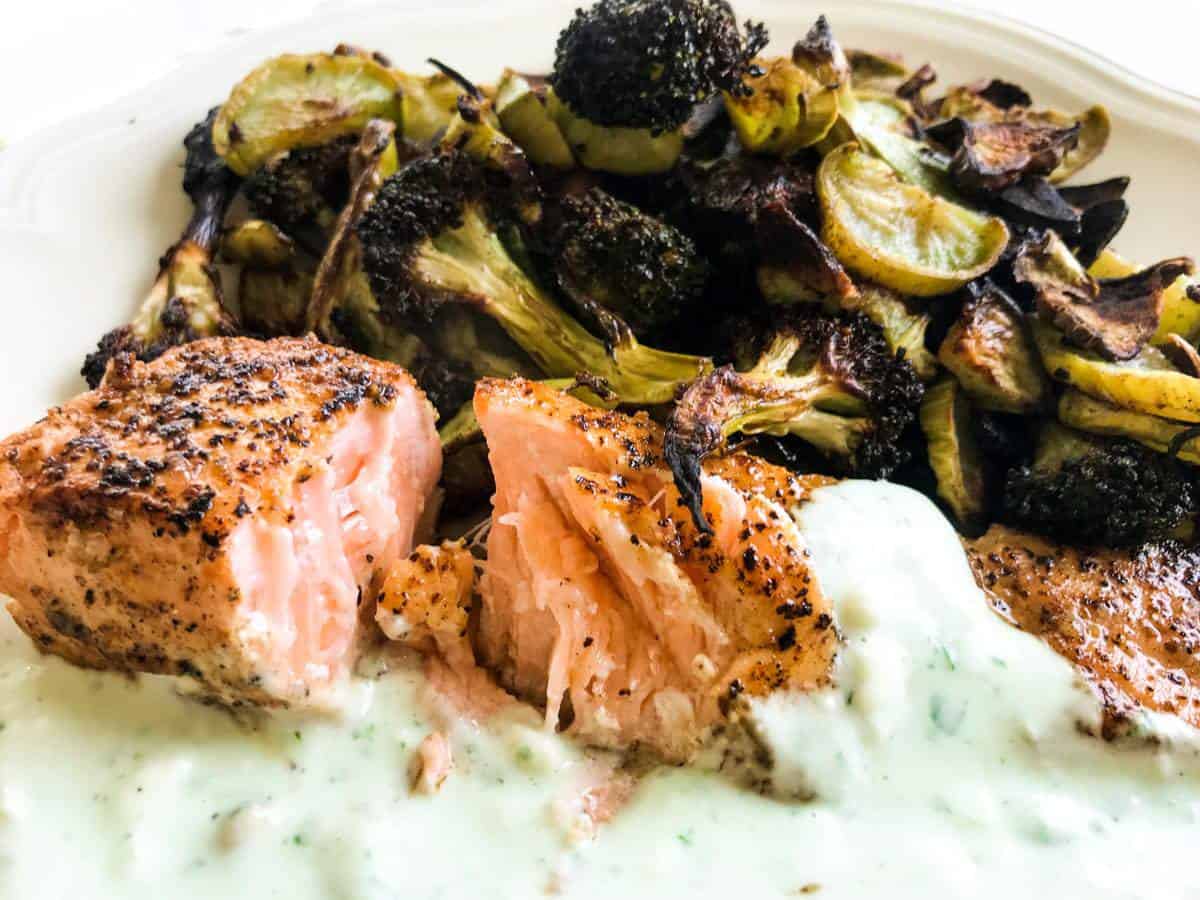 How to Make Whipped Feta Cheese
The Feta Yogurt sauce then - it's a bit of a healthier version of my standard feta sauce. Feta cheese, basil, garlic and yogurt are mixed together and seasoned with some black pepper - and that's really all there is to it.
Check out this longer rant about the marvels of the feta sauce, if you want to know your options - or you're just a feta cheese freak like me. Or head on over and have a look at this video to see just how easy it is to make!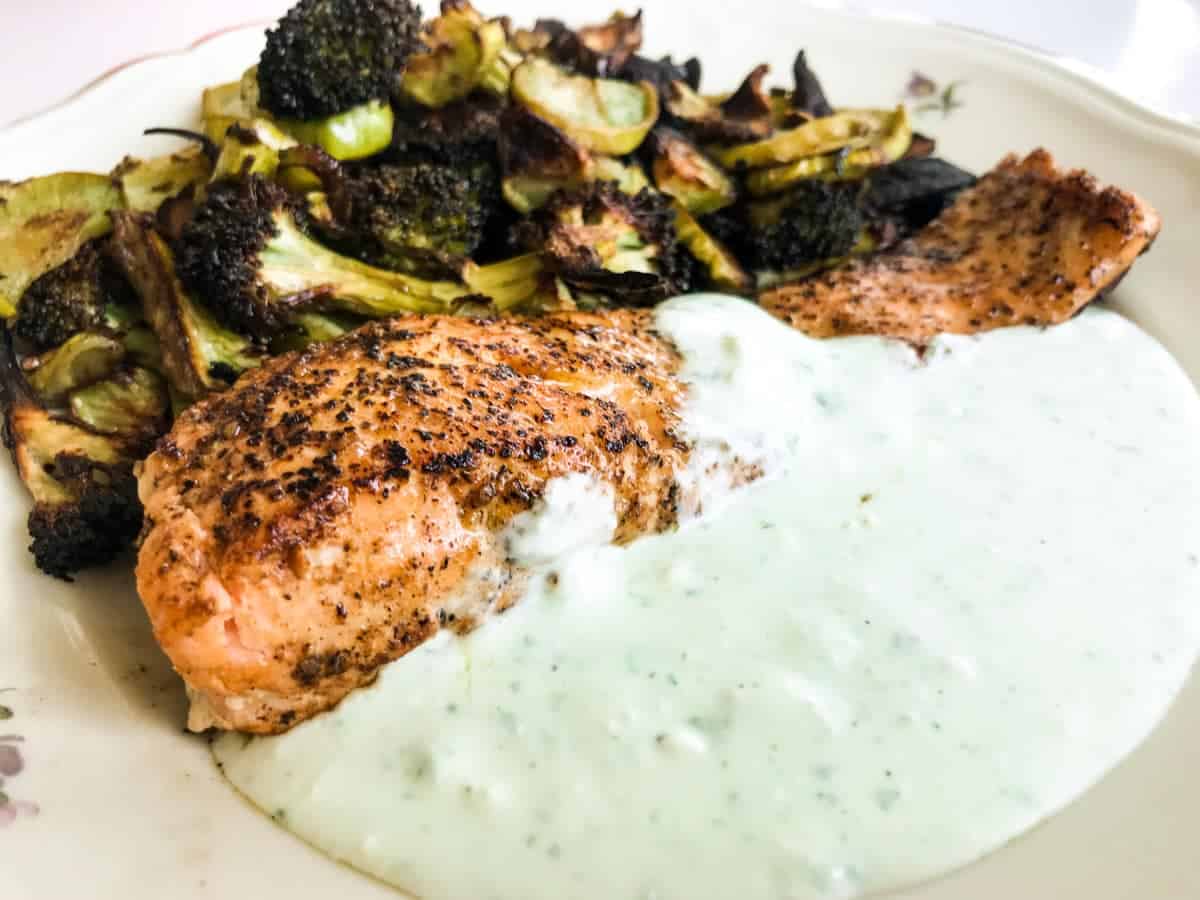 Now like most of my recipes this one is perfect for a bagged lunch as well, just keep the sauce in a separate container and the rest will heat up nicely. If this is your plan you could also cook the salmon for a minute or so less, and you won't risk it overcooking in the microwave the next day.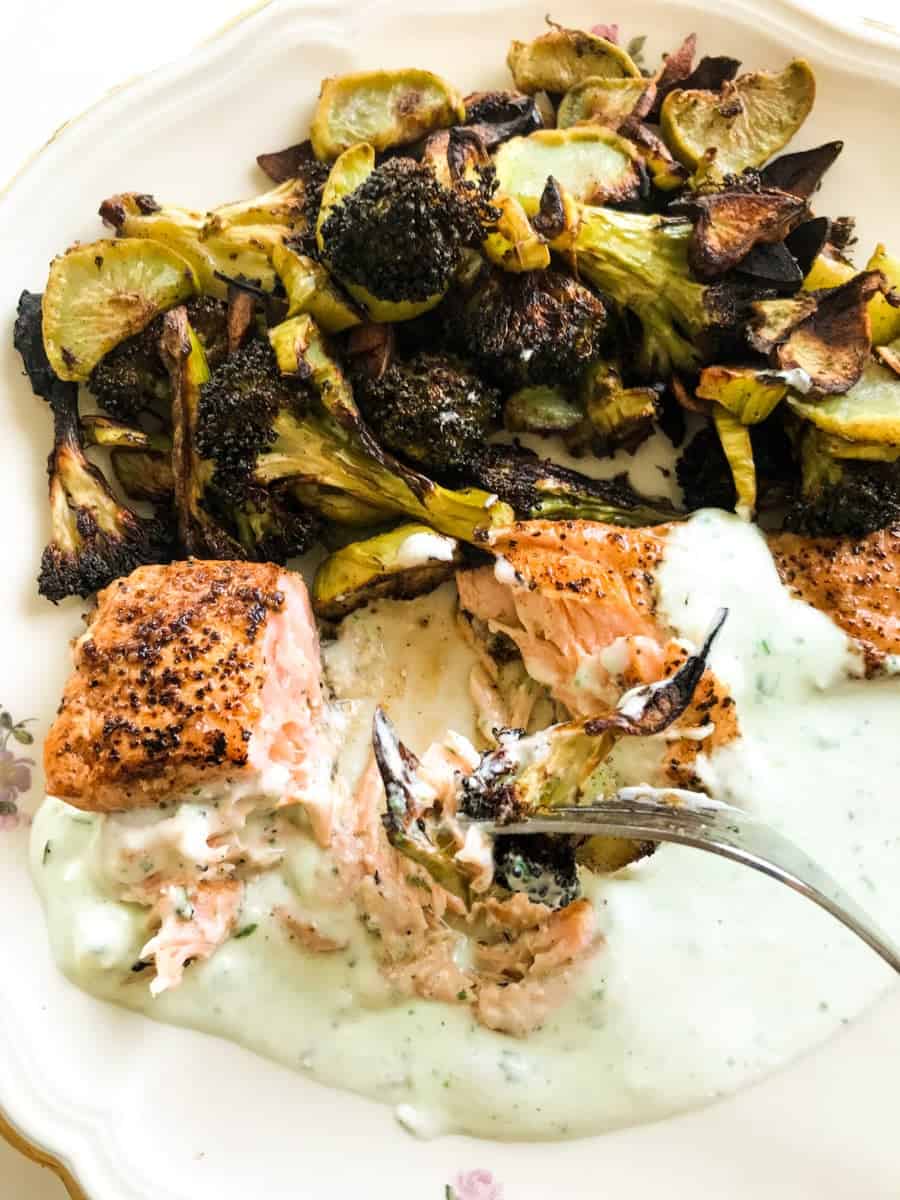 So there you have it. A healthy, delicious option that's quick enough for a weeknight dinner, perfect for a bagged lunch and probably the most delicious version of broccoli I've ever had.
If you make this lemon pepper salmon with garlic roasted broccoli and feta yogurt sauce, please be sure to leave a comment and/or give this recipe a rating! I love to hear from you and to see your versions of my recipes - so if you do make this, don't forget to also tag me on Instagram!
Recipe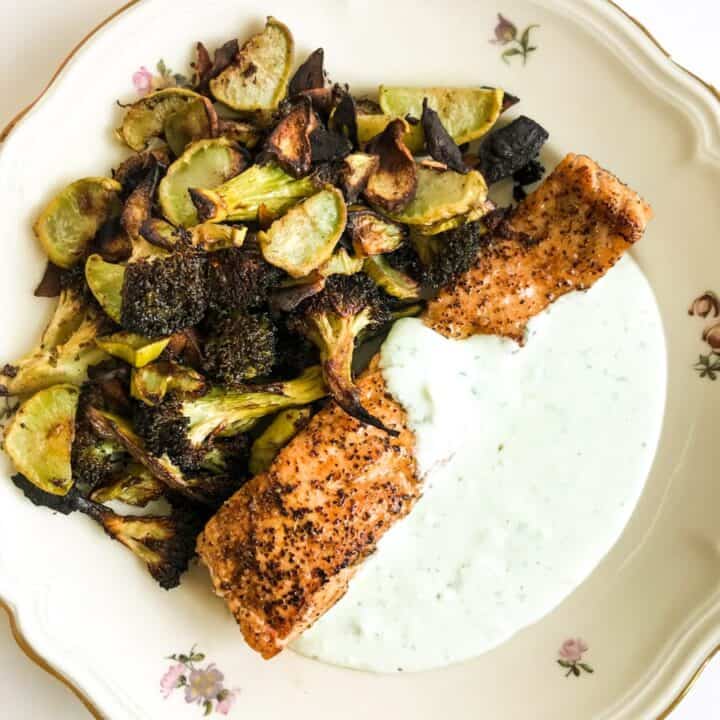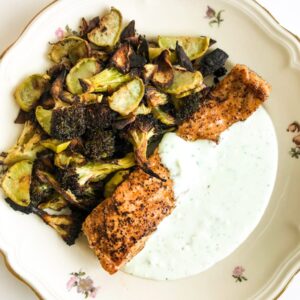 Lemon Pepper Salmon with Garlic Roasted Broccoli and Feta Yogurt Sauce
Print
Rate
Ingredients
Garlic Roasted Broccoli
800

g

broccoli (about 3 small heads with stems)

4

garlic cloves, peeled & thinly sliced

1

teaspoon

salt

0.5

teaspoon

black pepper

3

tablespoon

olive oil
Lemon Pepper Salmon
4

salmon filets (about 500g)

2

teaspoon

lemon pepper (can be substituted for salt and black pepper)

1

tablespoon

butter (can be substituted for olive oil)

1

batch

Whipped Feta Cheese
Instructions
Garlic Roasted Broccoli
Set oven for 200 C/400 F and place a baking sheet on an oven tray.

Cut the broccoli florets into bite-size pieces and peel the stem. Slice the stem into slices a few millimeters thick. Place broccoli florets, sliced broccoli stem and sliced garlic in a bowl and mix with 3 tablespoon olive oil, 1 teaspoon salt and 0.5 teaspoon black pepper. Massage the broccoli with the oil and spice mixture until thoroughly oiled up, and then place it on the baking sheet.

Place the oven tray with the broccoli in the middle of the oven and cook for 20 minutes, turning once halfway. The broccoli should be browned and crispy, but not too burnt.

While the broccoli is cooking, make the Whipped Feta Cheese.
Lemon Pepper Salmon
With 10 minutes left on the broccoli, pat the salmon dry and season with the lemon pepper on all sides.

Heat a pan over medium-high heat and add in the butter or olive oil. Place the salmon filets in the pan and cook for 1.5 min on each of the four sides. Then take it off the heat and let it sit for 2 minutes before serving. The salmon should be a vibrant pink inside with a slightly raw or almost raw center.

Serve the lemon pepper salmon with the garlic roasted broccoli and feta yogurt sauce.
Notes
If you prefer to oven-bake your salmon (so easy! hands off! and all the flavor!) try this oven-baked lemon pepper salmon instead, but keep the Garlic Roasted Broccoli and Whipped Feta Cheese.
Nutrition
Calories:
487
kcal
|
Carbohydrates:
18
g
|
Protein:
38
g
|
Fat:
30
g
|
Saturated Fat:
10
g
|
Cholesterol:
111
mg
|
Sodium:
1156
mg
|
Potassium:
1328
mg
|
Fiber:
5
g
|
Sugar:
5
g
|
Vitamin A:
1610
IU
|
Vitamin C:
181.3
mg
|
Calcium:
331
mg
|
Iron:
2.9
mg
Nutritional information is approximate and automatically calculated, and should only be viewed as an indication.