Get ready to celebrate Independence Day with a bang by preparing a delicious spread for your 4th of July picnic. This collection brings you a variety of amazing recipes that are perfect for outdoor gatherings and patriotic festivities. From grilled delights to refreshing sides and festive desserts, these recipes will make your 4th of July picnic an unforgettable culinary experience.
Fourth of July Cookie Bars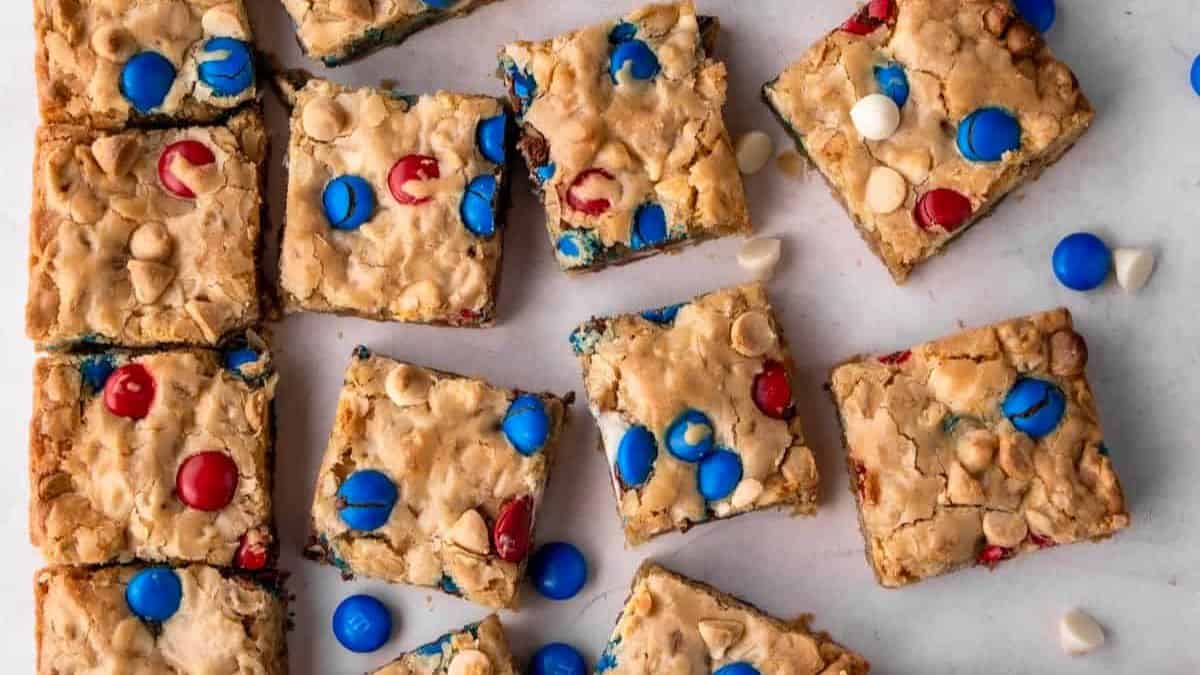 Soft, chewy Fourth of July Cookie Bars are filled with M&Ms, white chocolate chips, and rolled oats. Made in under 30 minutes, add these festive cookies in bar form to your Independence Day celebration.
Red, White and Blue Pinwheel Cookies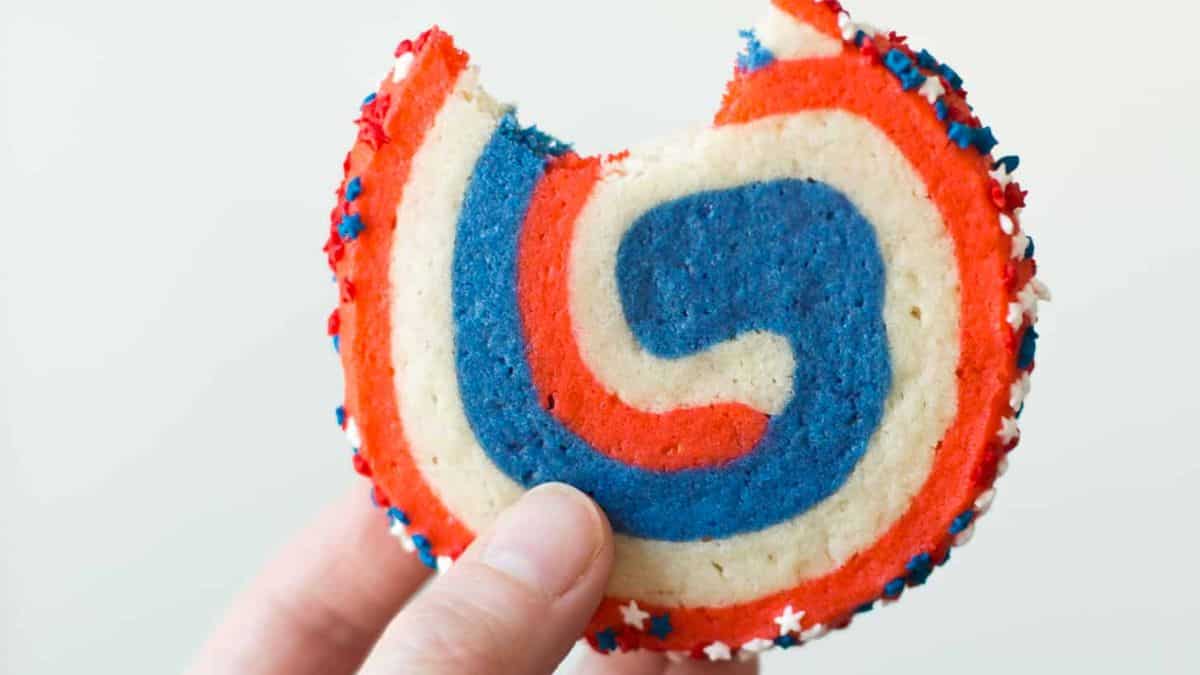 Want to go patriotic with your next dessert? Red, White, and Blue Pinwheel Cookies are just the thing. Buttery and soft, refrigerate them ahead of time to just slice and bake when you're ready to serve!
Italian Tortellini Pasta Salad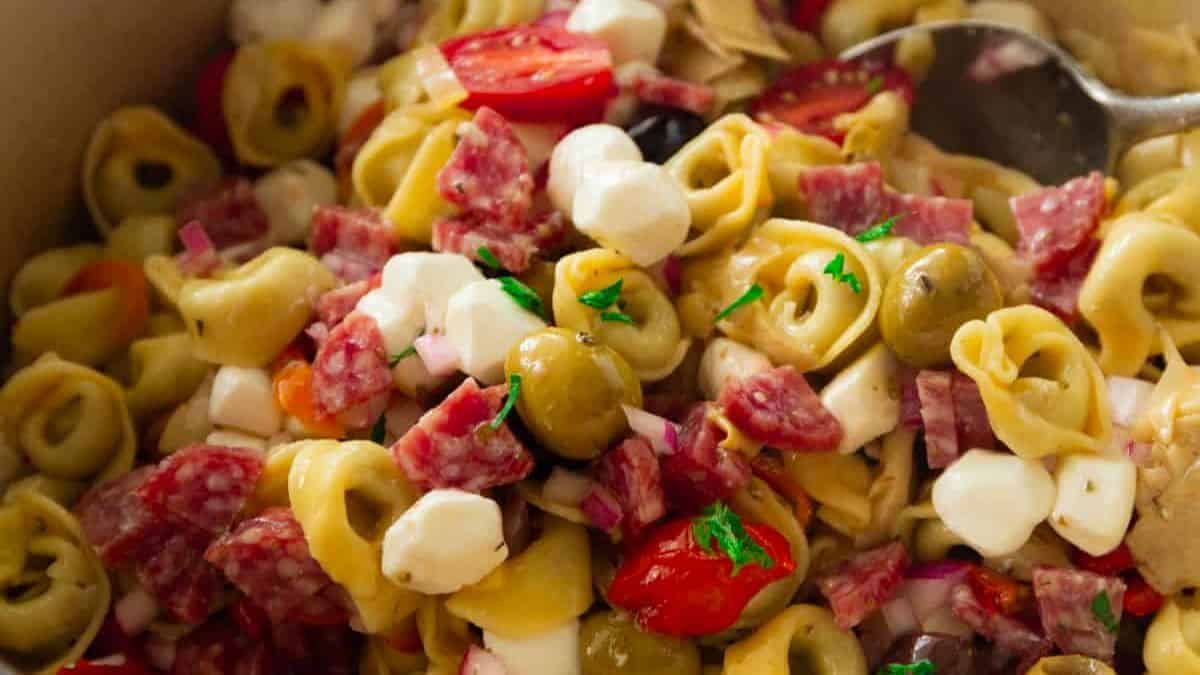 Looking for your next picnic or potluck dish? Look no further than a colorful Italian pasta salad. This Italian Tortellini Pasta Salad is hearty enough to serve on its own or makes a great side dish.
Cherry Caprese Pasta Salad
Cherry Caprese Pasta Salad! Sweet and savory pasta salad for all your summer potluck needds. Vegetarian as is, and easily made vegan.
4th of July Brownie Cupcakes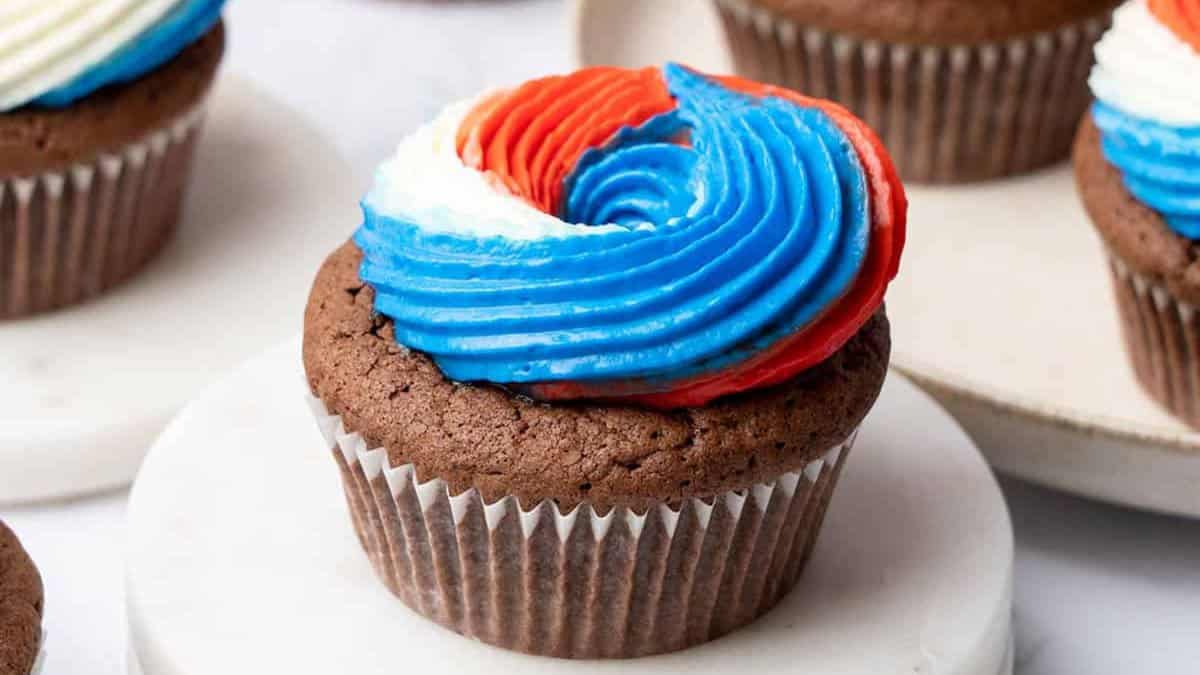 Make these 4th of July Brownies to celebrate Independence Day in style! These patriotic brownies have a classic chocolate brownie taste and fudgy texture, and surely both kids and adults will love the red, white, and blue frosting.
4th of July Cupcakes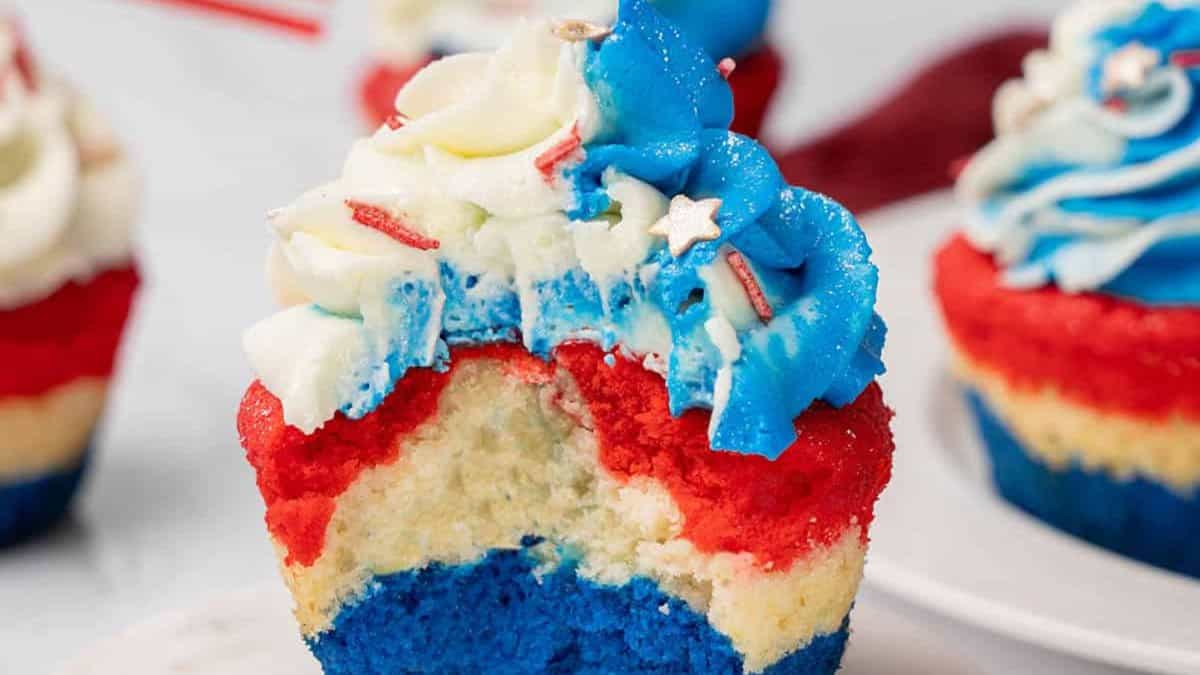 These 4th of July Cupcakes are a delicious way to show off your American spirit! Decorated in patriotic red, white, and blue to match the American flag, this festive and easy-to-make dessert will be the star of your Independence Day gathering and a wonderful dessert for Memorial Day too!
Lemon Blueberry Muffins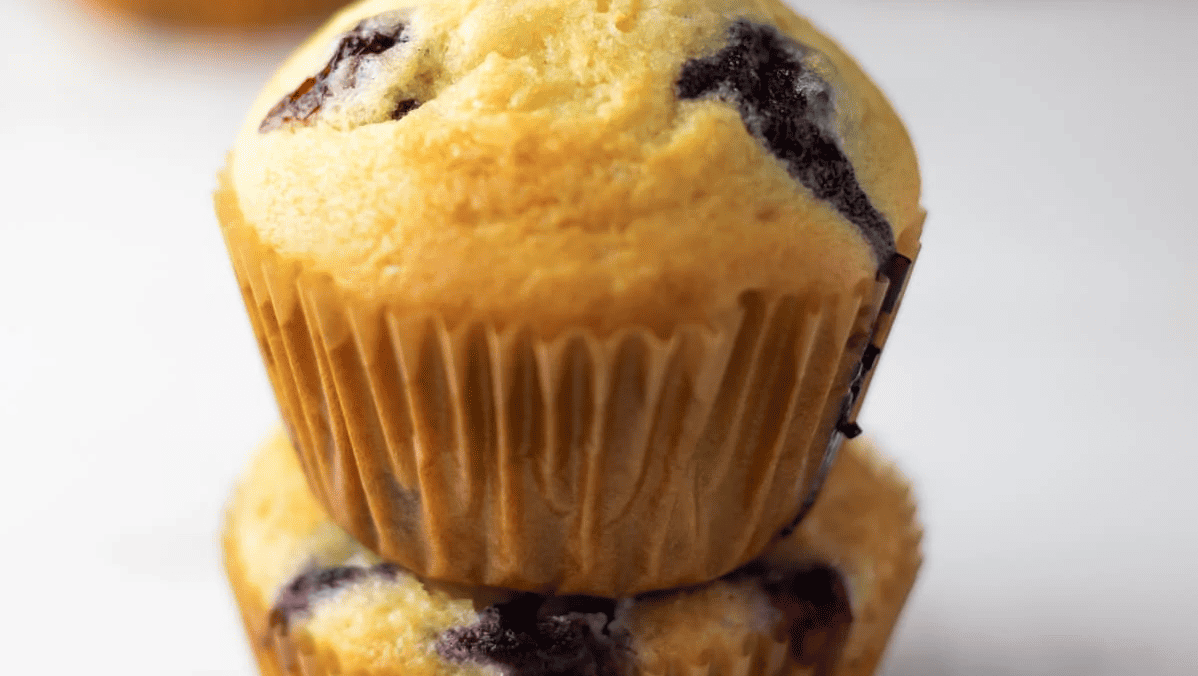 These decadent Lemon Blueberry Muffins can be made from scratch in under an hour. Made using fresh blueberries, buttermilk, and a squeeze of lemon juice, these muffins come out of the oven sweet, moist, and healthy enough to enjoy as a grab & go breakfast!
BLT Wraps
These BLT Wraps are a delicious alternative to a sandwich. With bacon, lettuce, and tomatoes, you won't miss the bread at all.
Bacon Steak Wraps with Blue Cheese Dressing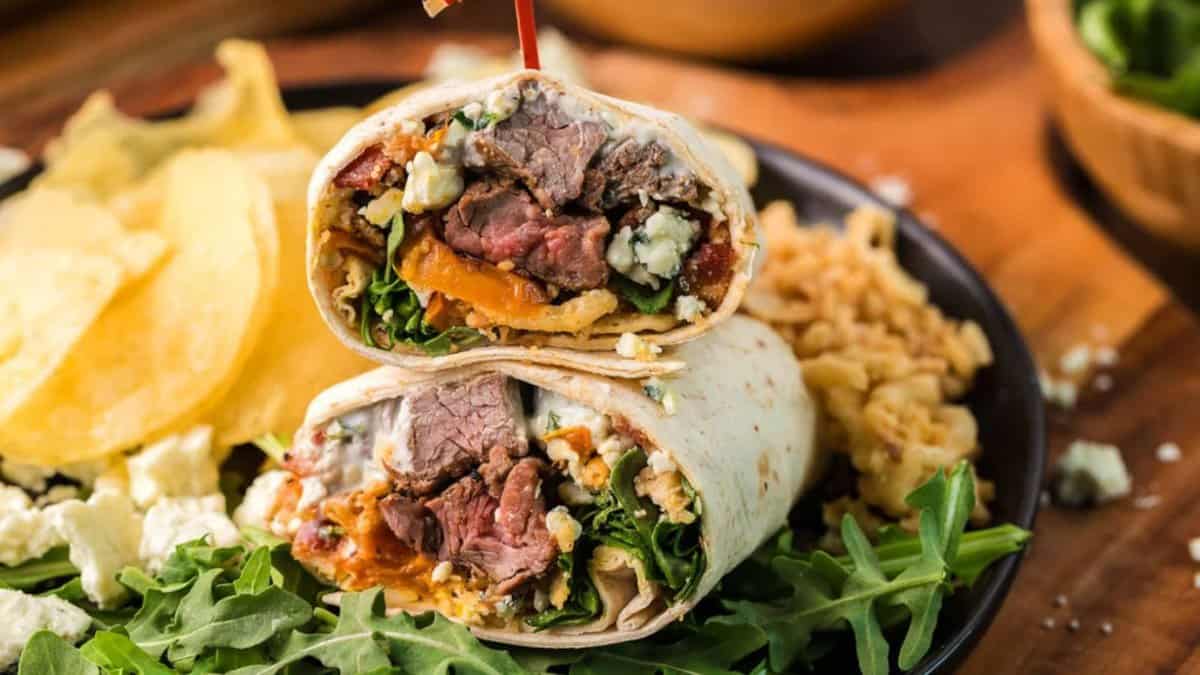 Bacon steak wraps, made with chuck steak and a homemade blue cheese dressing, are hearty, rich and delicious. If you're wondering what to put in a steak wrap, I recommend bacon, blue cheese crumbles and fried onions! If you're going to make something this tasty, you might as well go ahead and add in all your favourites! As always, you can simply leave out any ingredients you aren't so keen on. You will love this delicious and easy to make lunch recipe.
BBQ Pasta Salad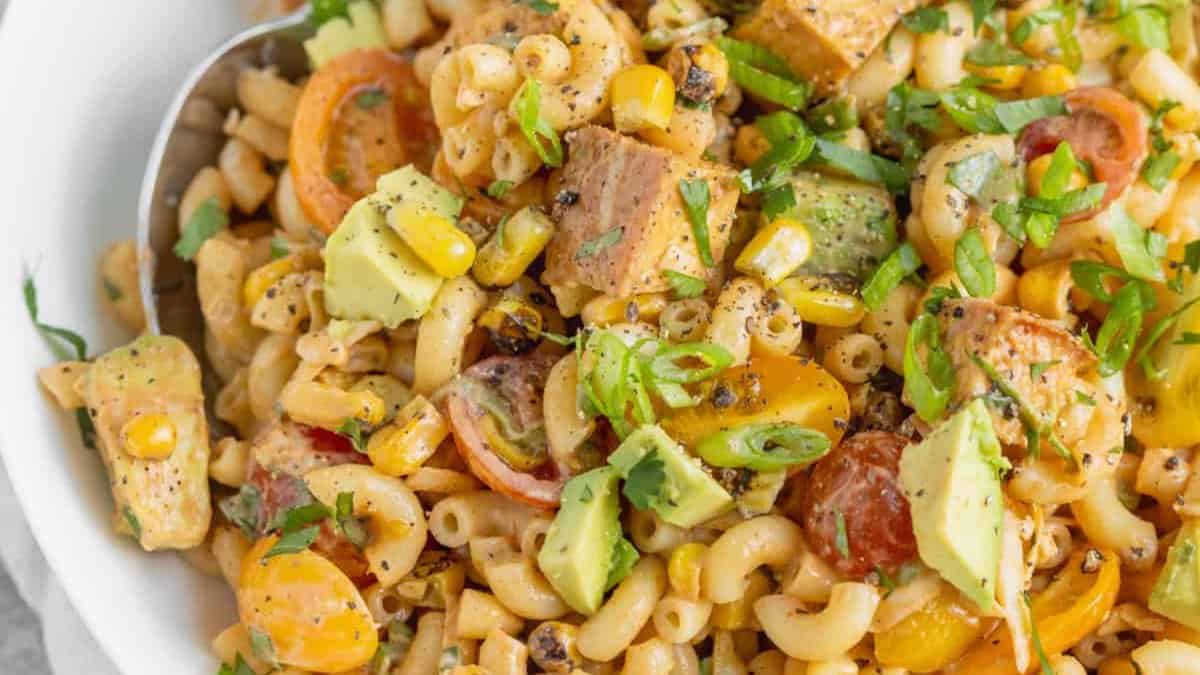 A pasta salad for BBQ lovers! Elbow noodles, corn, tomatoes, scallions, chewy BBQ tofu crumbles and a creamy dressing. A fun twist on pasta salad!
Halloumi Wraps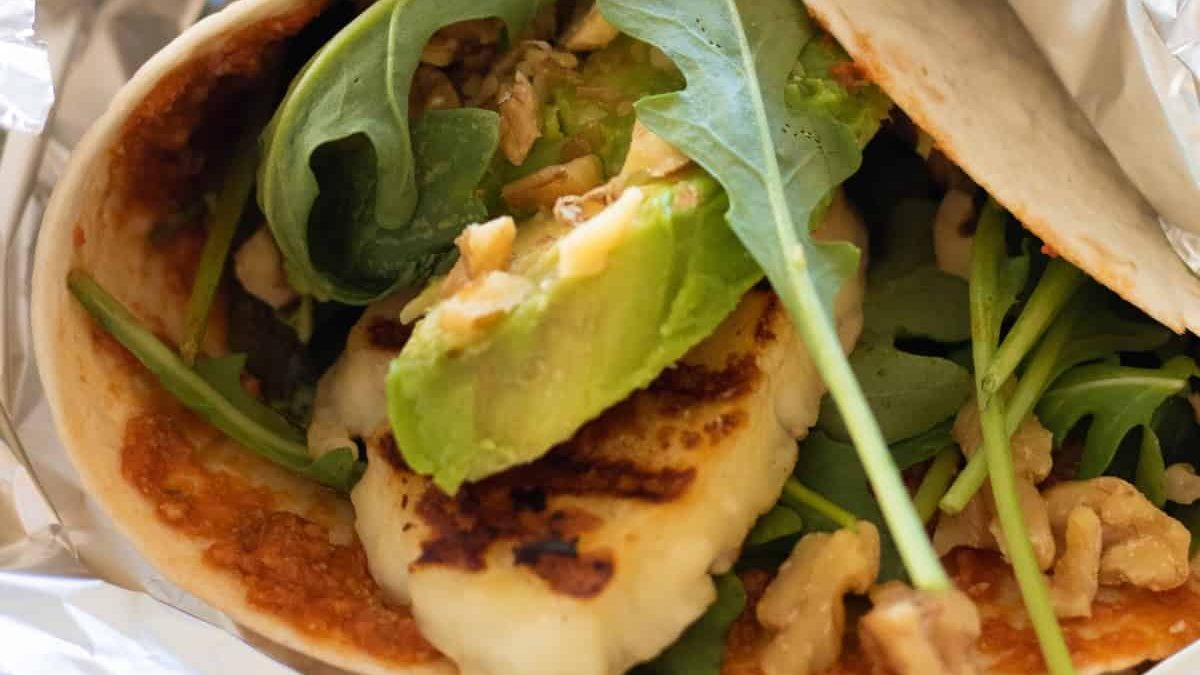 Make the halloumi wraps that everyone loves - kids and foodies included! - and be the star of your next picnic or road trip. With halloumi cheese, red pesto (store-bought is fine), avocado and walnuts these wraps are packed with flavor, done in 20 minutes and super easy to make.
Chipotle Ranch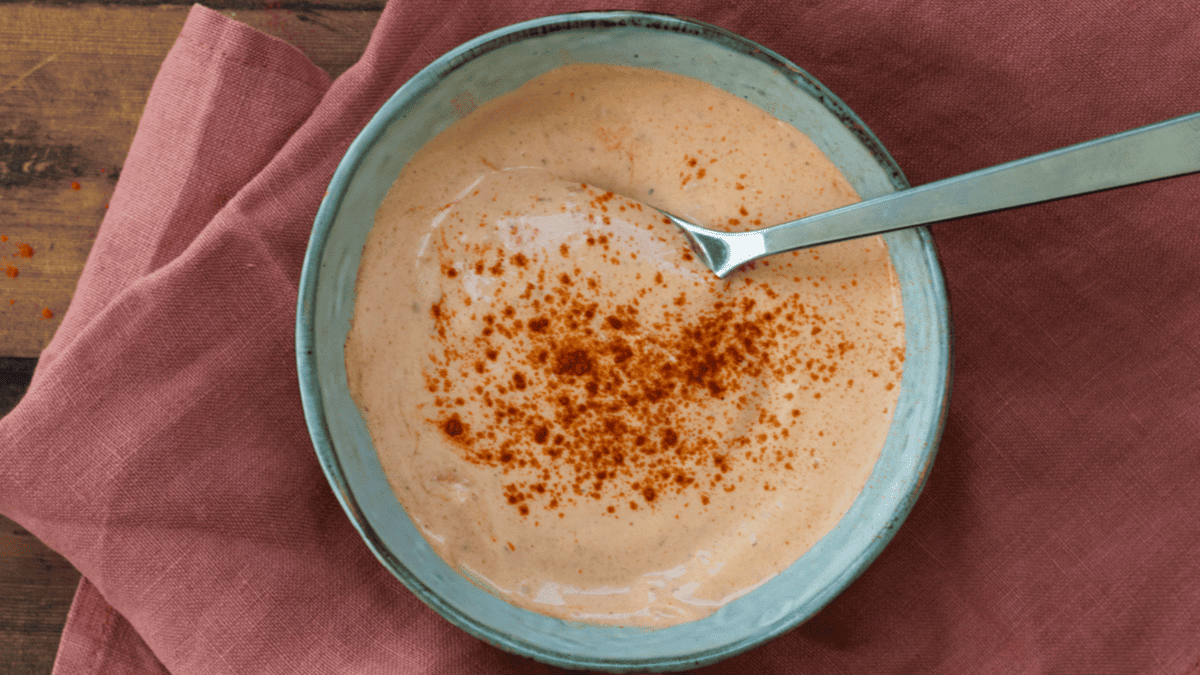 Chipotle Ranch Dressing is the spicy cousin of traditional Ranch dressing. Easy to make in under 5 minutes and great on top of salads, tacos, burgers and steak - and an amazing option to dip your chips or veggies in. This version is made without buttermilk, using store bought mayonnaise.
Rainbow Yogurt Popsicles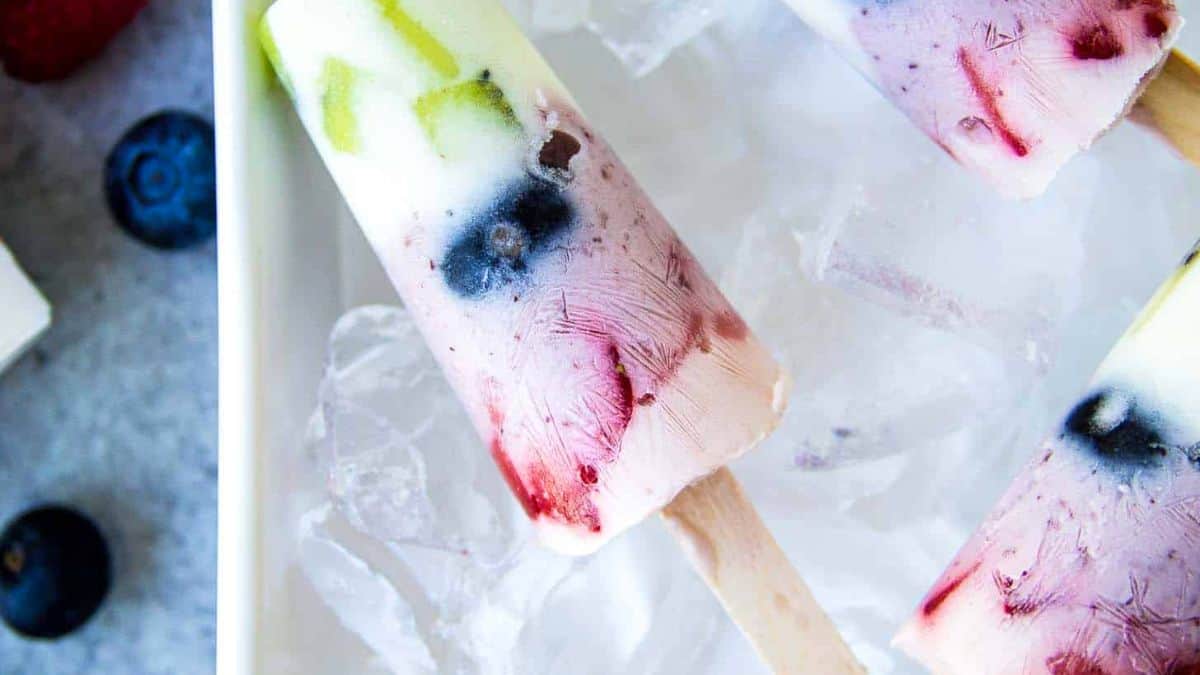 These Rainbow Yogurt Popsicles are quick, easy and made with just two ingredients - yogurt and fresh fruit!
World's Best Macaroni Salad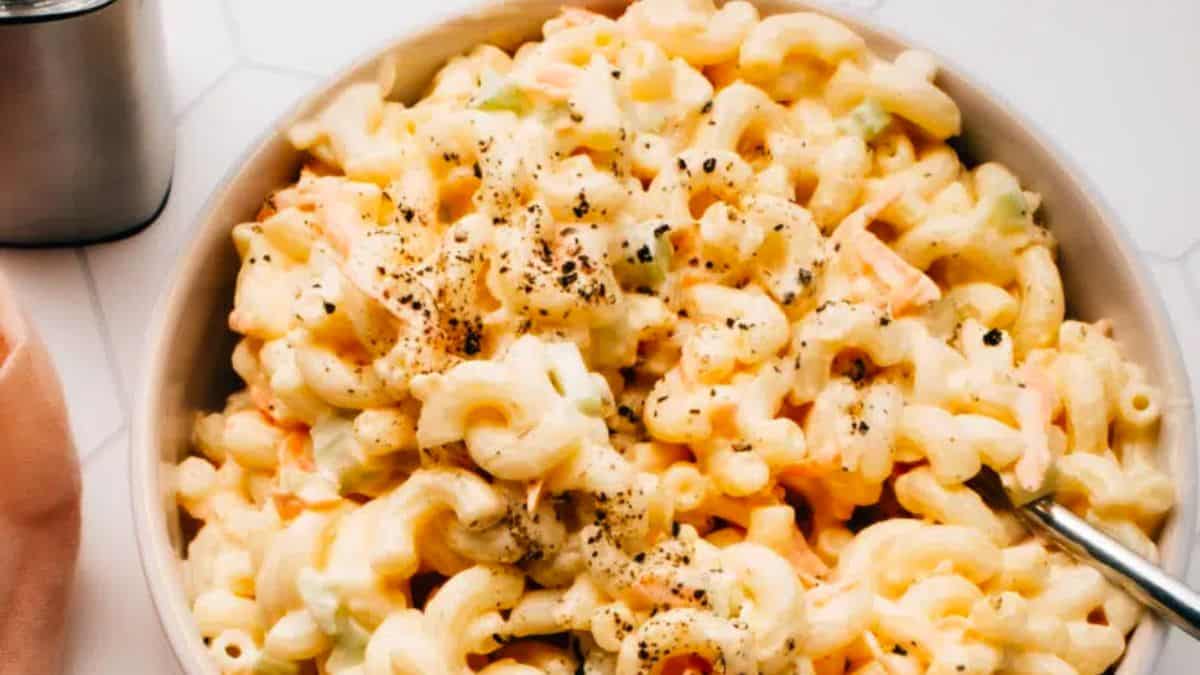 Whether you're a fan of traditional macaroni salad or looking to try something new, this recipe is a must-try. Plus, it's easy to make and can be prepared ahead of time, making it a perfect addition to any picnic or party.
Chicken Pesto Pasta Salad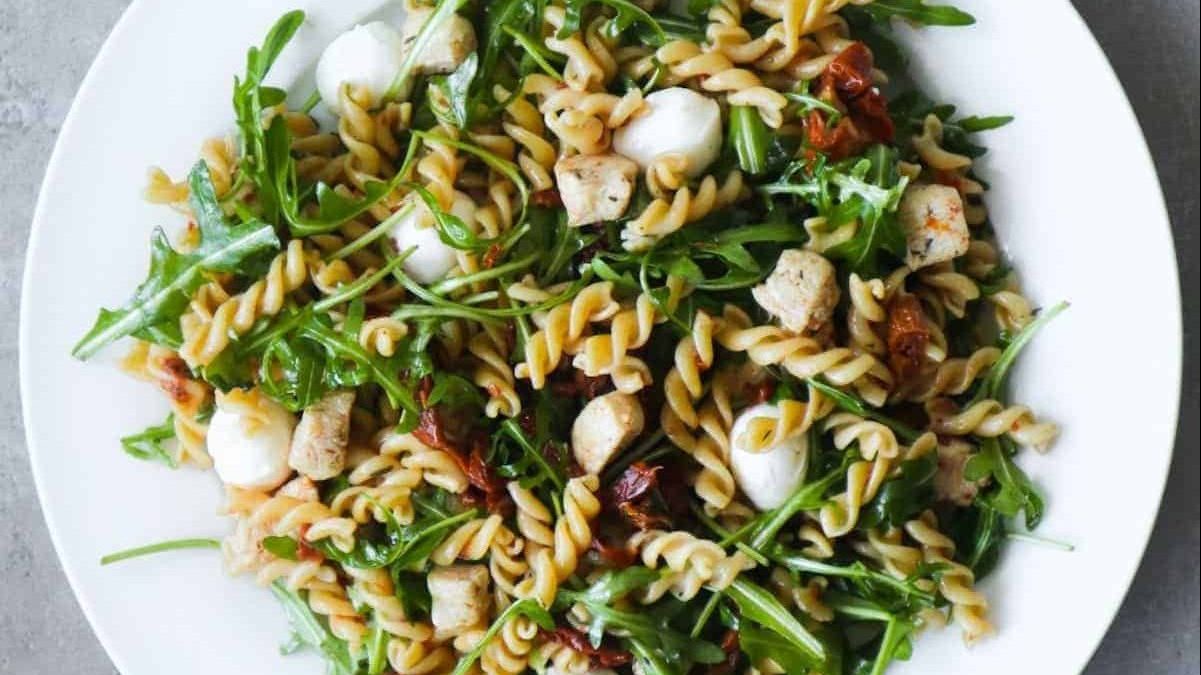 This chicken pesto pasta salad recipe is perfect for summer. This healthy, simple salad that is quick to prepare and perfect for a BBQ!
Strawberry Balsamic Tofu Pasta Salad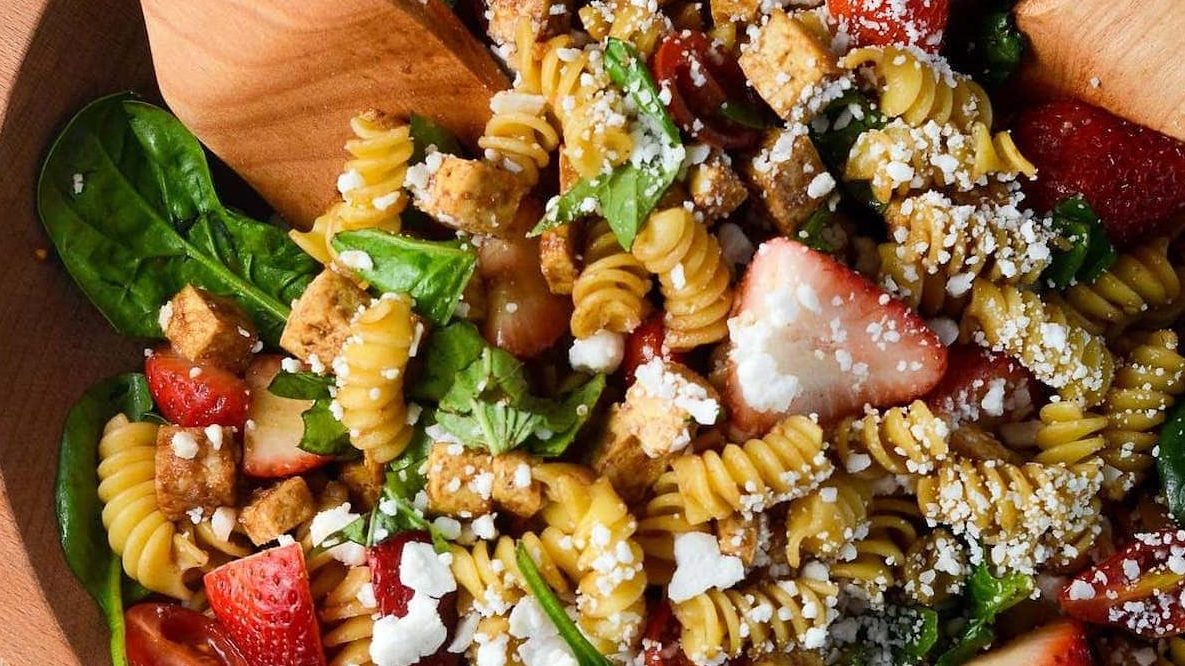 As the warm weather settles in, there's nothing better than this Strawberry Balsamic Vegan Tofu Pasta Salad with vibrant, juicy strawberries, marinated balsamic tofu, fresh spinach & basil, and creamy feta cheese. Enjoy this as a side dish for a picnic, BBQ, or weeknight main dinner!
Chicken Pesto Pasta Salad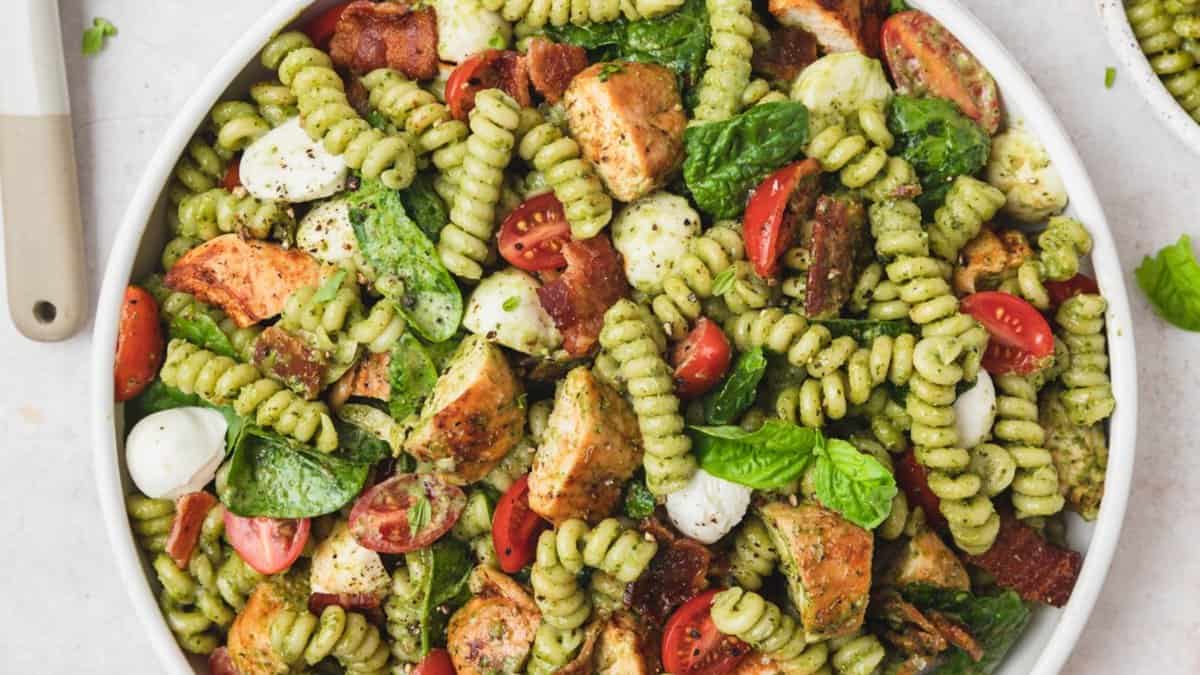 One of my favorite easy meals is this super simple chicken pesto pasta salad! It's light, fresh, and comes together in less than 20 minutes! With creamy pesto and mascarpone cheese, grilled chicken, spinach, and tomatoes it's the perfect summer lunch!
Southwest Salad with Honey Chipotle Chicken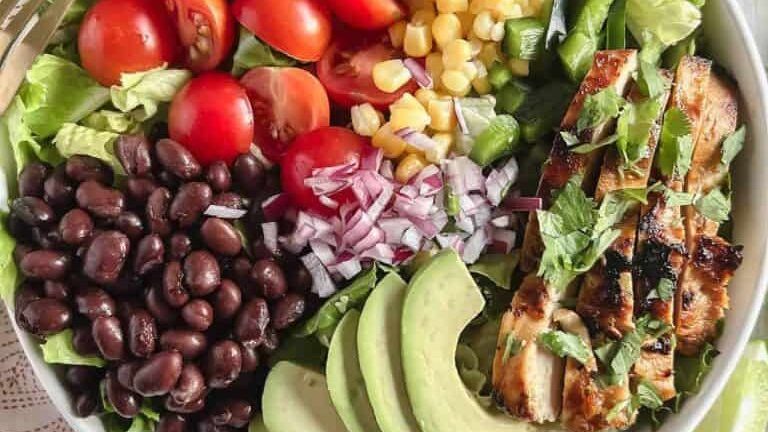 This Southwest Salad is loaded with black beans, corn, avocado and smoky, spicy honey chipotle chicken, drizzled in a tangy cilantro lime dressing. A hearty main dish salad that fresh, full of bold flavor and easy to make!
Tex Mex Chicken Pasta Salad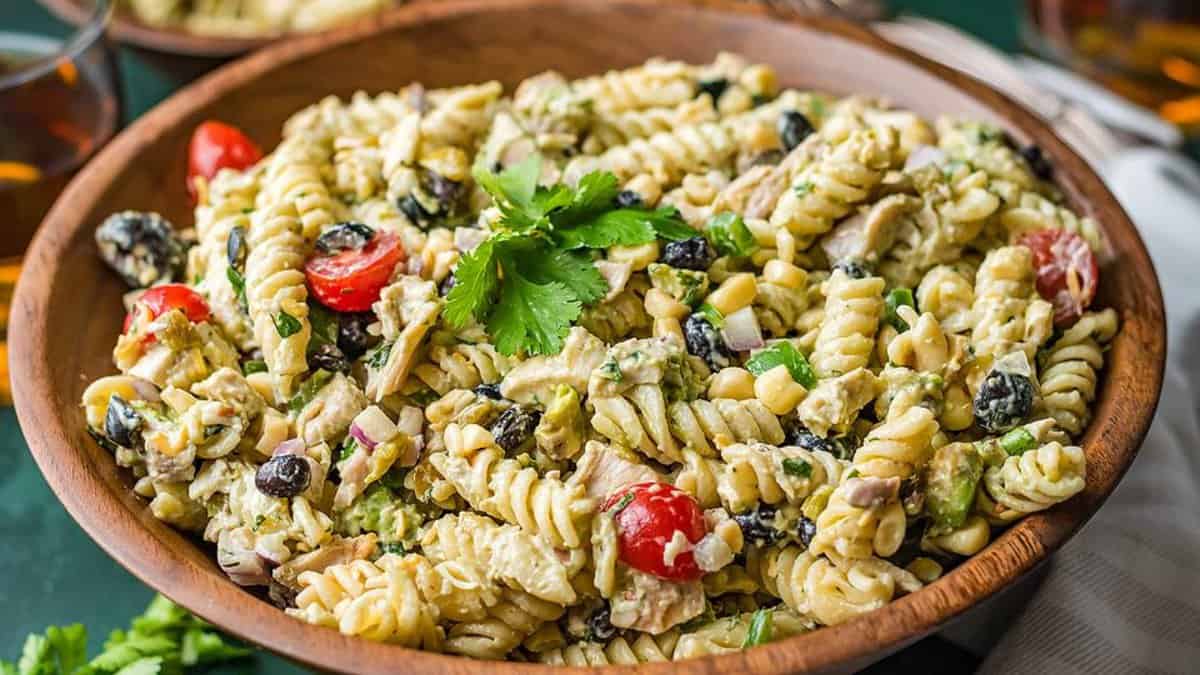 This Tex Mex chicken pasta salad is so delicious. If you aren't sure what you fancy for dinner – Tex Mex, chicken, something with pasta, or a salad – try this! It's a southwest pasta salad with chicken offering the best of all worlds. This is a flavourful dinner salad just bursting with colour and flavour! This is the perfect salad for a summer BBQ and I hope you have plenty of those this season. Add this favourite summer salad recipe to the menu and you won't be disappointed.
Summer Berry Gino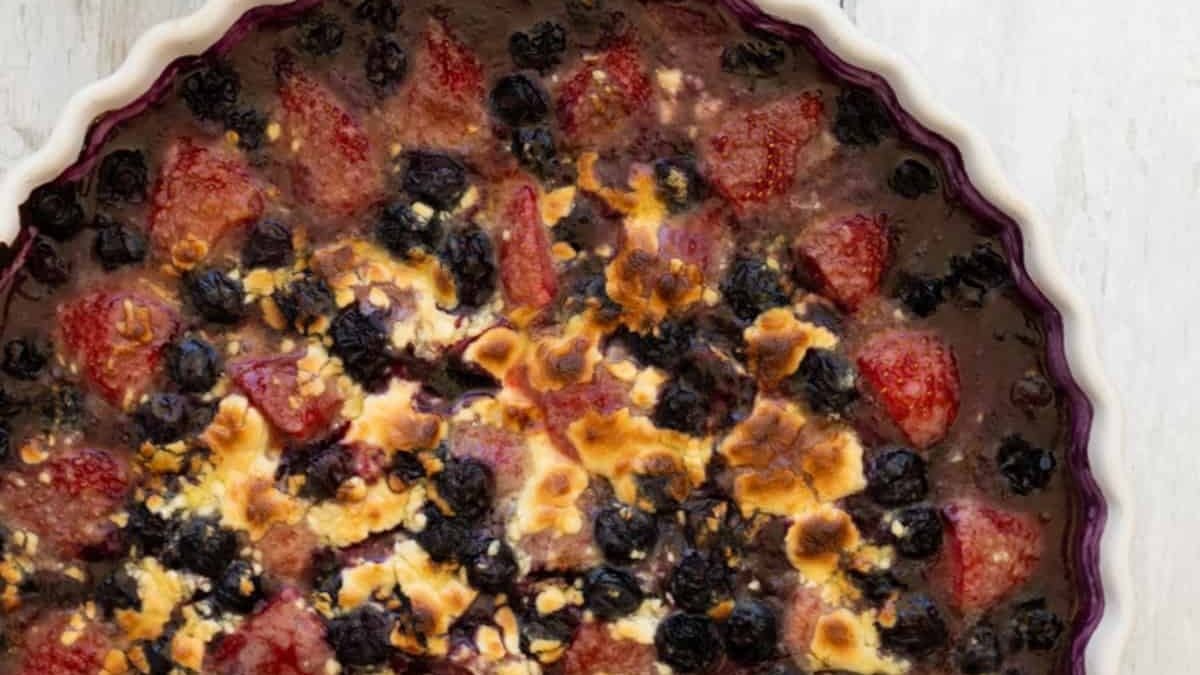 This super easy berry bake is filled with bananas, strawberries and blueberries and topped with white chocolate for a delicious dessert. Perfect for any dinner party - and great to prep ahead of time. Serve over vanilla ice cream for the ultimate, indulgent experience.
Vegetable Pasta Salad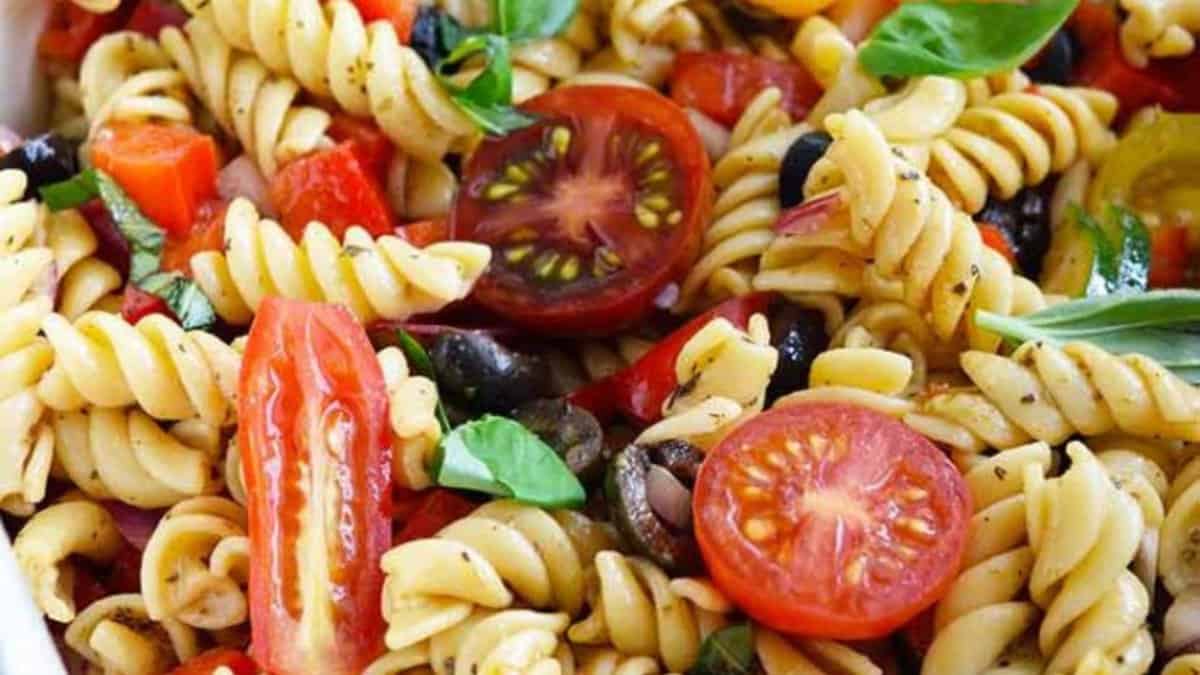 This delicious vegetable pasta salad recipe is perfect for a vegan/vegetarian pasta dinner, or as a side dish to a main course right off the grill.
Black Lentil Salad with Feta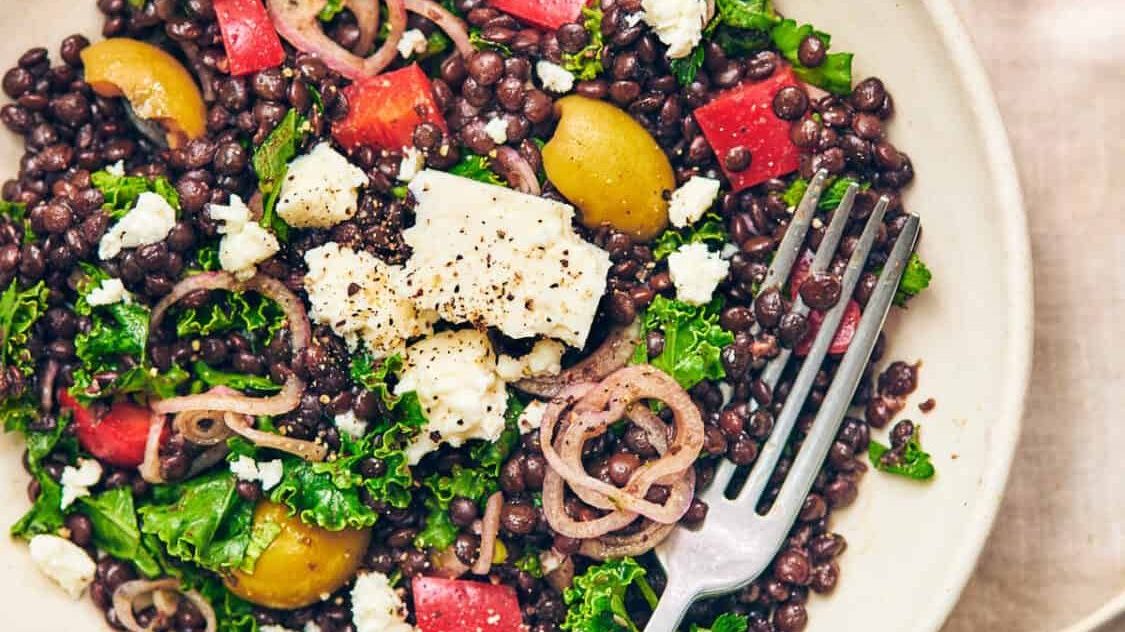 This Mediterranean Black Lentil Salad with Feta is bursting with flavor! Easy to make, a great source of protein, and meal prep friendly for dinners or lunches. Features healthy lentils, creamy feta, crisp veggies, and a simple vinaigrette. (Gluten Free, Vegan option)