Are you looking to take your chicken dinners to the next level? You're in luck because here is a collection of must-try chicken dinners that are impressive yet effortless to make. You're guaranteed to turn to these recipe ideas if you're stuck in a rut. 
​Balsamic Chicken with Peaches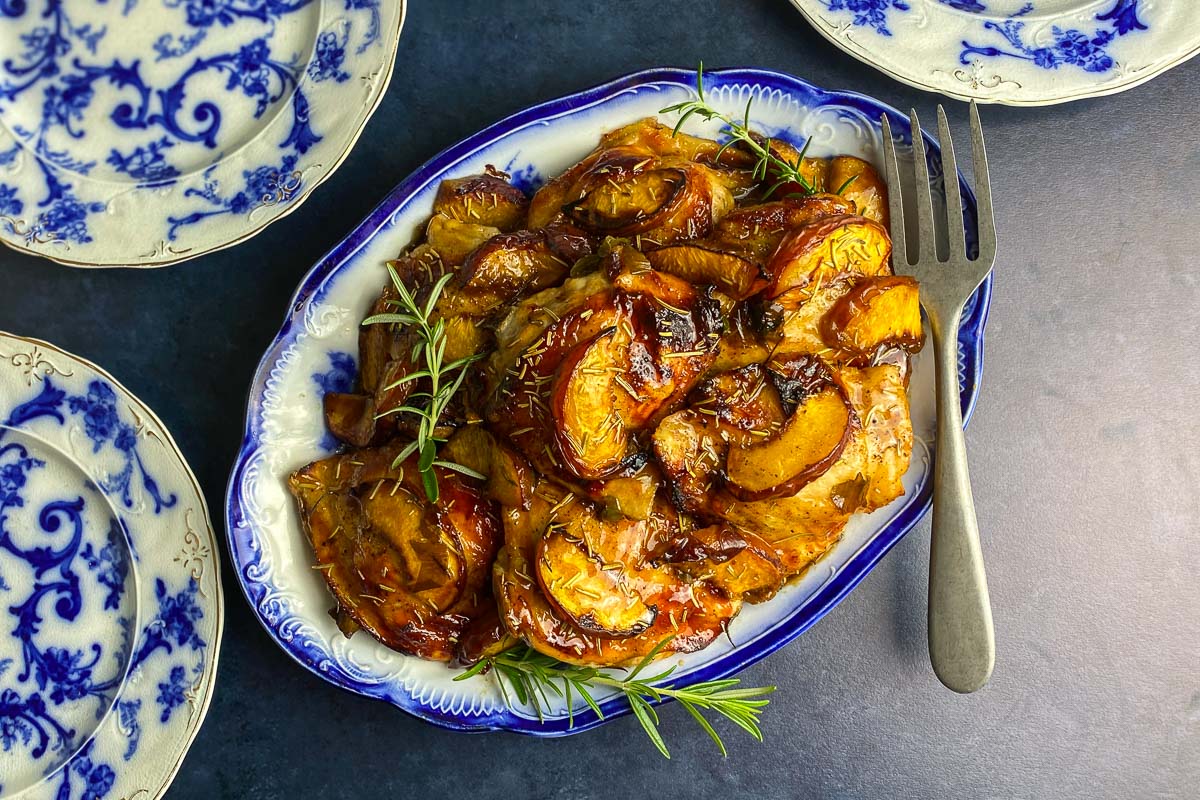 ​ Balsamic Chicken with Peaches. Photo Credit: Dédé Wilson. Juicy chicken thighs, peaches, balsamic vinegar, maple syrup and rosemary come together in this one-pan Balsamic Chicken with Peaches.
Orange Ginger Chicken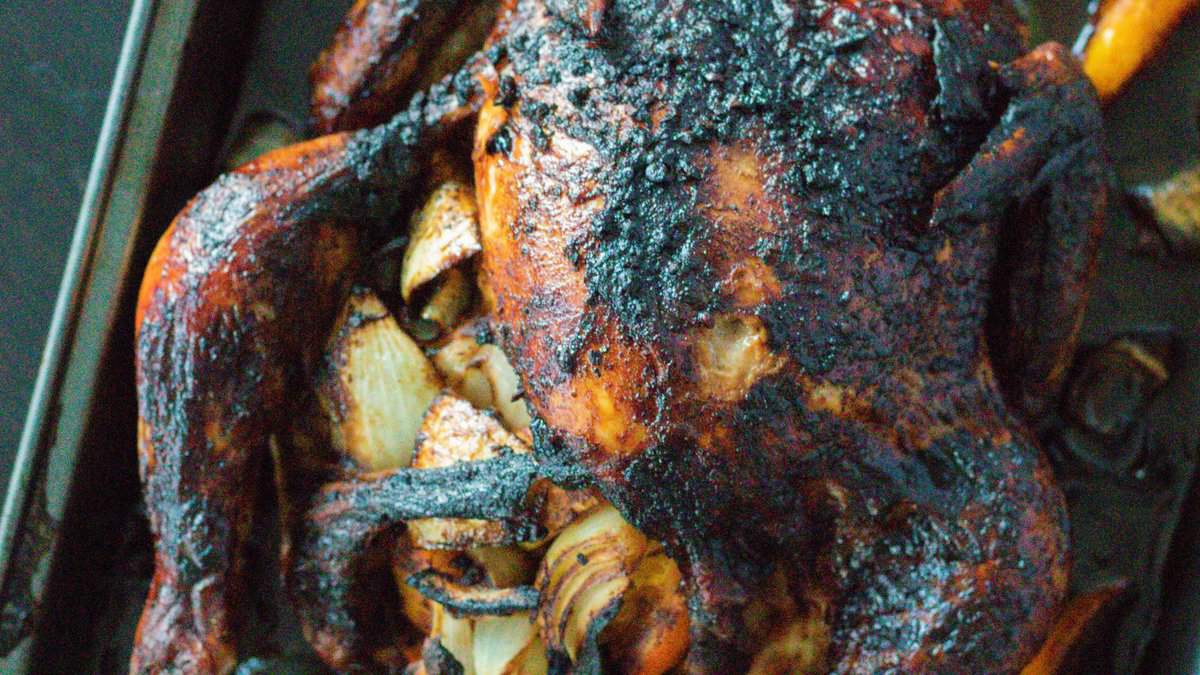 This Orange Ginger Chicken recipe takes a whole chicken and some oranges and with a few simple steps transforms it into a lovely roast dinner, complete with the most flavorful sauce. With sweetness from oranges, a kick from ginger, and a salty tang from dark soy sauce this is a perfect dinner any night of the week. Get the recipe: Orange Ginger Chicken with a Whole Chicken
Paella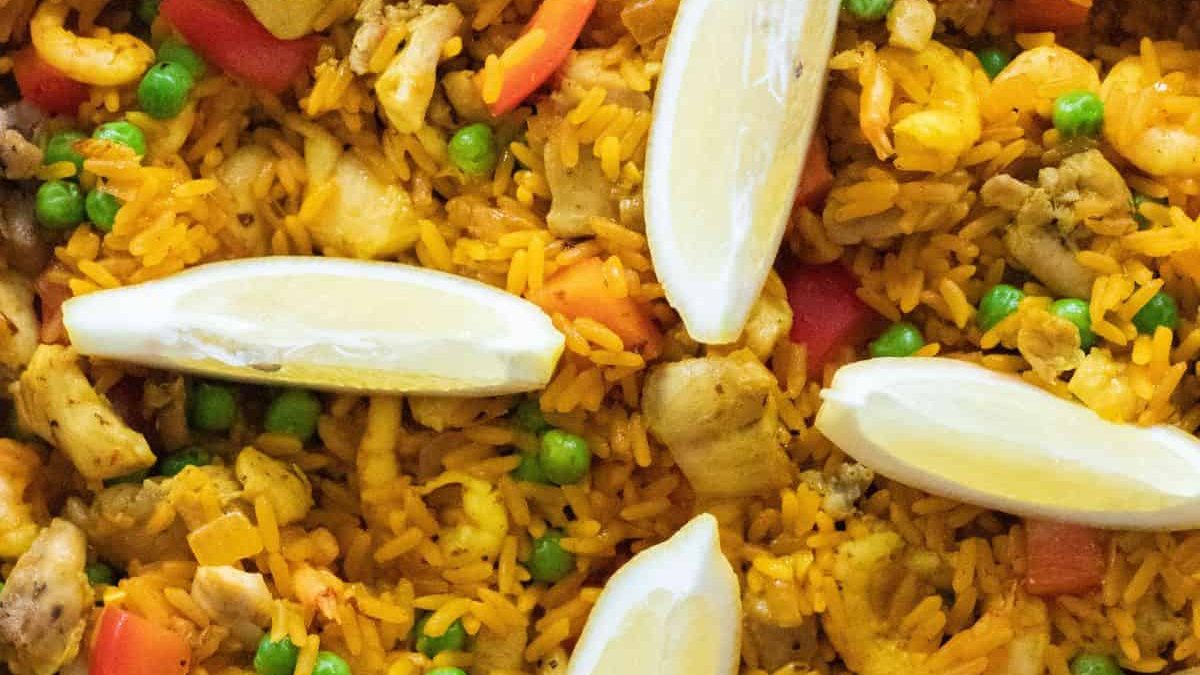 This paella is an easy dish that's a sure crowd pleaser. It's filled with deliciously fragrant saffron & dry white wine and stuffed full of shrimp, chicken, green peas and bell peppers. Perfect for a dinner party and just as delicious reheated the next day. Making it for a crowd? No worries! This recipe works wonderfully when multiplied. Get the recipe.
Spinach and Cream Cheese Stuffed Chicken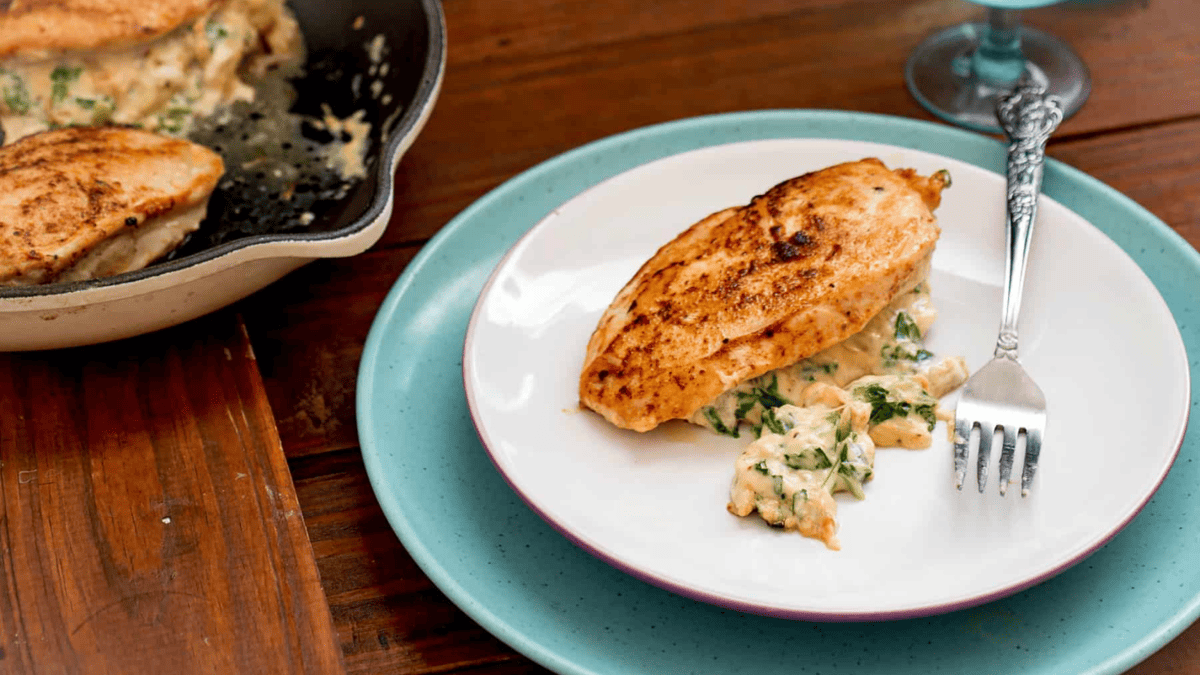 No boring and dry chicken here! This easy cream cheese-stuffed chicken breast recipe is sure to be your new favorite. Creamy, juicy, and flavorful, get amazing chicken breasts stuffed with a flavorful spinach and cream cheese filling ready in no time, and no oven required. Get the recipe: Spinach and Cream Cheese Stuffed Chicken
Vietnamese Lemongrass Chicken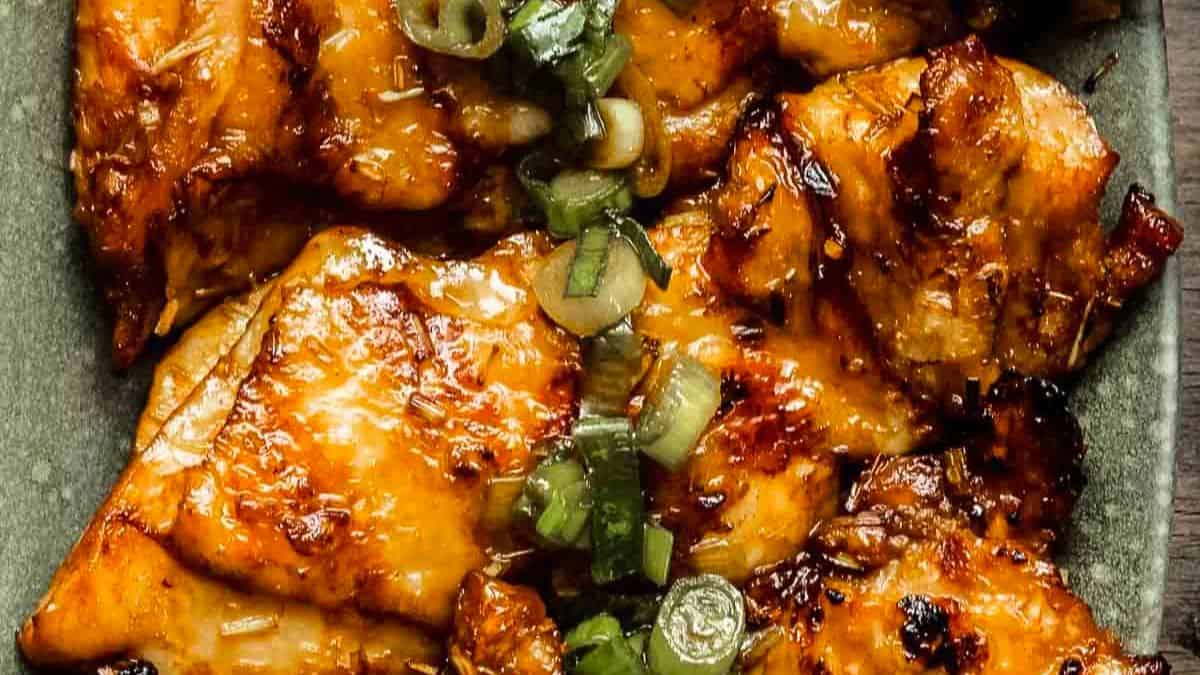 This Grilled Vietnamese Lemongrass Chicken recipe is incredibly quick and easy to prepare, loaded with flavor from the lemongrass chicken marinade and grilled to perfection to give you a delicious sweet and savory, juicy grilled chicken that can be served in many different ways. Get the recipe
Air Fryer Chicken Legs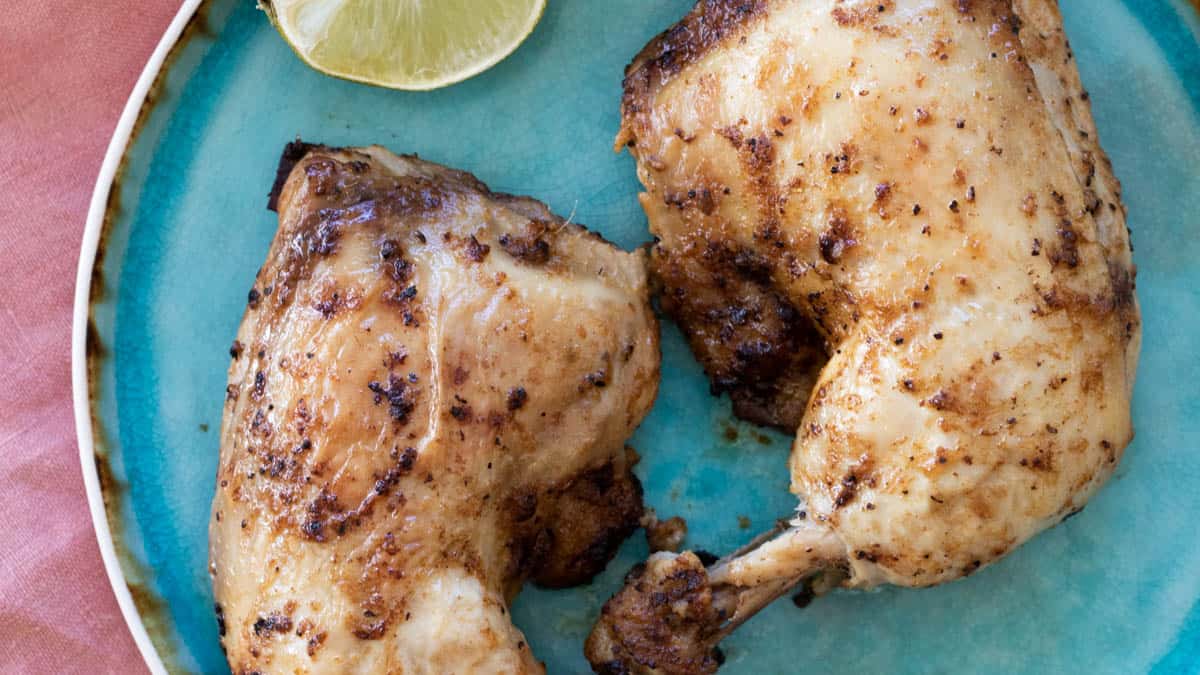 Experience the perfect blend of crispy skin and tender meat with this foolproof Air Fryer Chicken Legs recipe. Using the magic of air frying technology, these chicken legs turn out golden brown on the outside and tender on the inside.
Get the recipe: Air Fryer Chicken Legs
Marry Me Chicken Pasta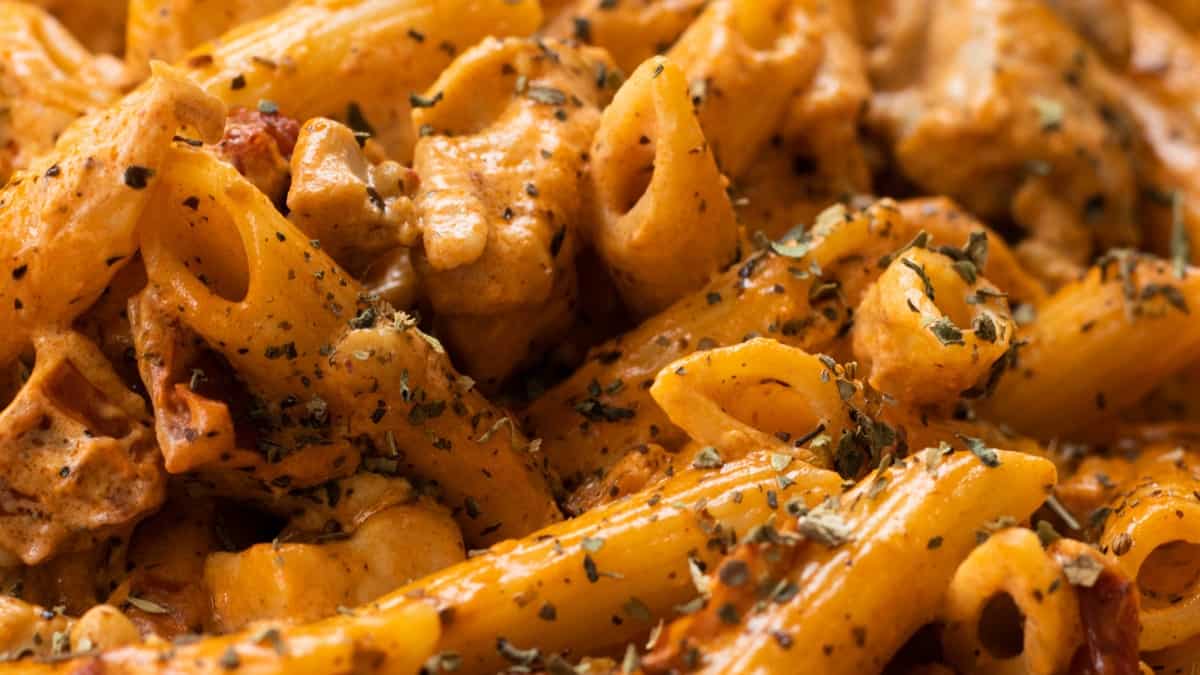 Make this flavor packed Marry Me Chicken Pasta in just 20 minutes - and don't be surprised if everyone asks for seconds (or your hand in marriage!). It's a super creamy sauce with a delicious flavor combo of crème fraîche, sun-dried tomatoes, basil, paprika & oregano. All achieved with pantry staple dried herbs & minimal prep. Get the recipe: Marry Me Chicken Pasta
Chicken Thigh Tray Bake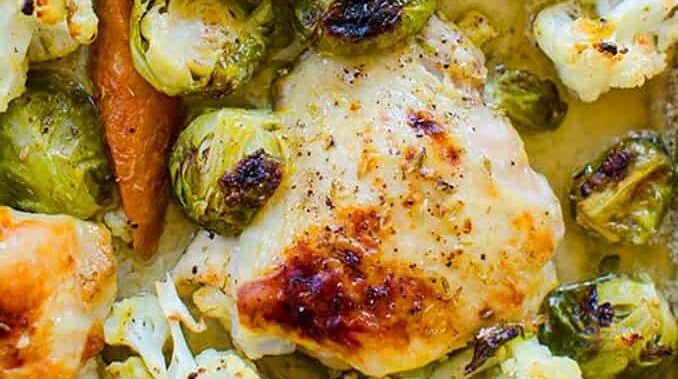 This chicken thigh tray bake recipe is fuss-free and perfect for a speedy weeknight family dinner and ready in under 45 minutes. Simply roast chicken thighs, Brussels sprouts, cauliflower and carrots in a flavorful marinade. Get the recipe.
Caprese Chicken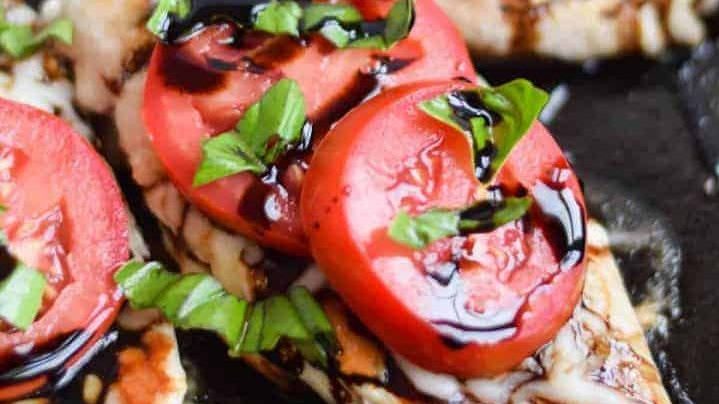 This easy 5-ingredient Caprese Chicken is everything you want in a one-pan meal. It's wholesome, hearty, and a total comfort food. Your whole family will love this and it will be your instant favorite for when you want an easy yet delicious dinner. The best part is that it only needs five ingredients so prep time is a breeze! You can even make it in one pan and is also gluten-free. Read the 5-Ingredient Caprese Chicken recipe here.
Mexican Chicken Marinade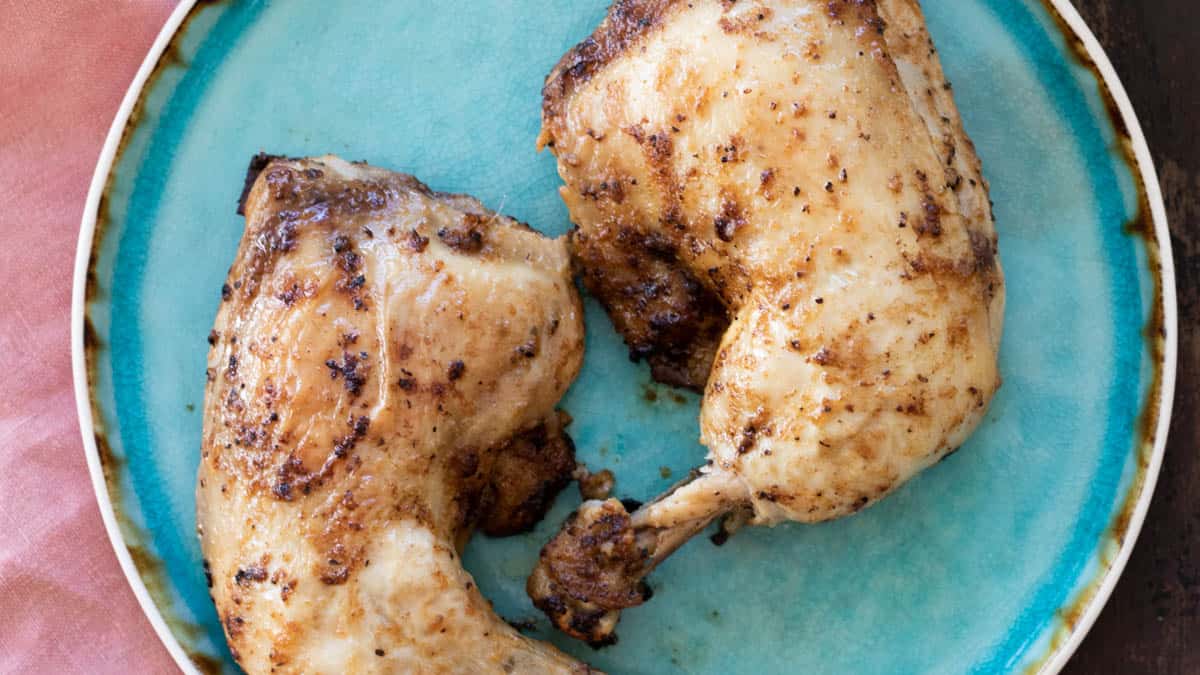 This zesty Mexican Chicken Marinade recipe is a quick, flavor packed addition to your dinner. Bursting with vibrant spices and tangy citrus, this marinade will transform ordinary chicken into a super tender fiesta of flavors. Get the recipe: Mexican Chicken Marinade
Chicken Stuffed with Feta Cheese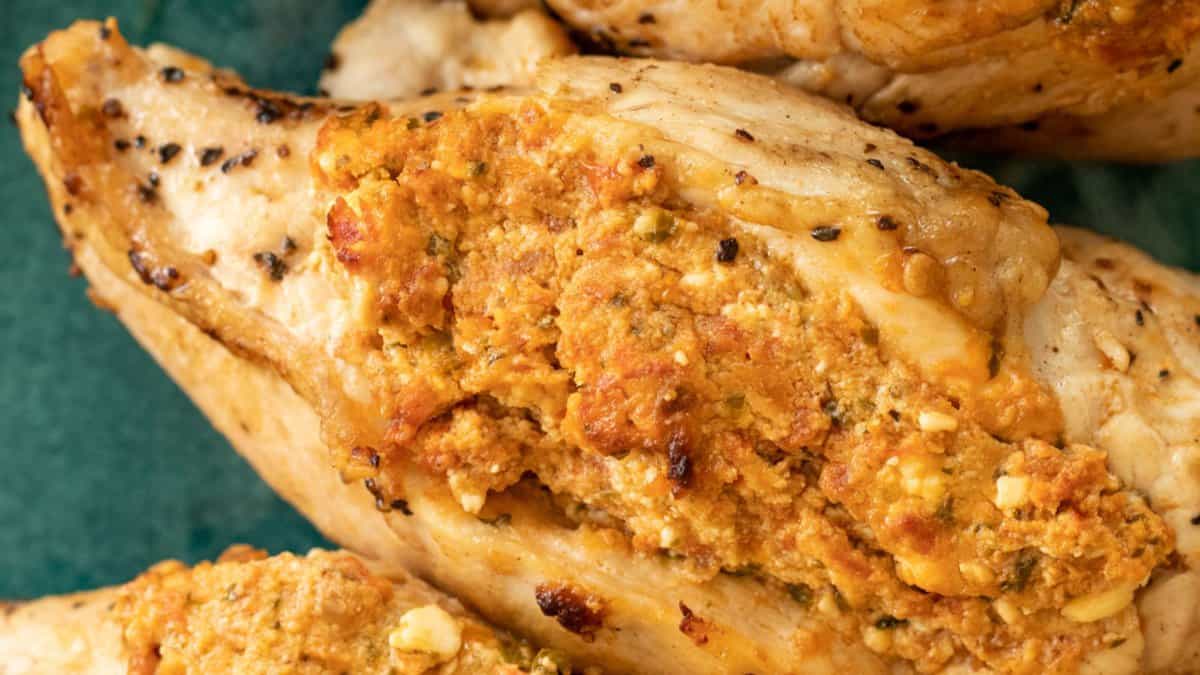 These chicken filets are loaded with Feta cheese, sun-dried tomatoes and basil for the tastiest chicken you've ever had. Get the recipe from always use butter: Feta Cheese Stuffed Chicken
Chicken & Shrimp Fajitas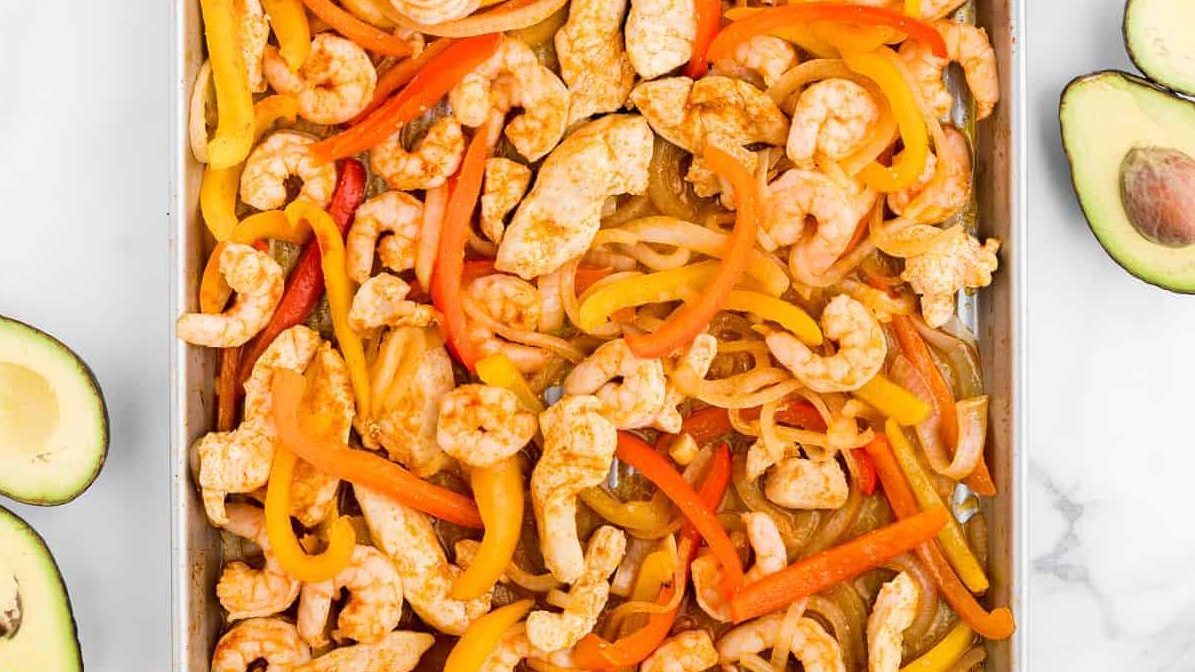 This sheet pan chicken and shrimp fajitas recipe is the simplest, most delicious one pan dinner around. With tender chicken and juicy shrimp in a delicious homemade fajita seasoning, this easy dinner will have a permanent place on your meal plan. It is definitely one of our favorite family meals for the busy weeknights. Get the recipe.
Ranch Sheet Pan Chicken & Veggies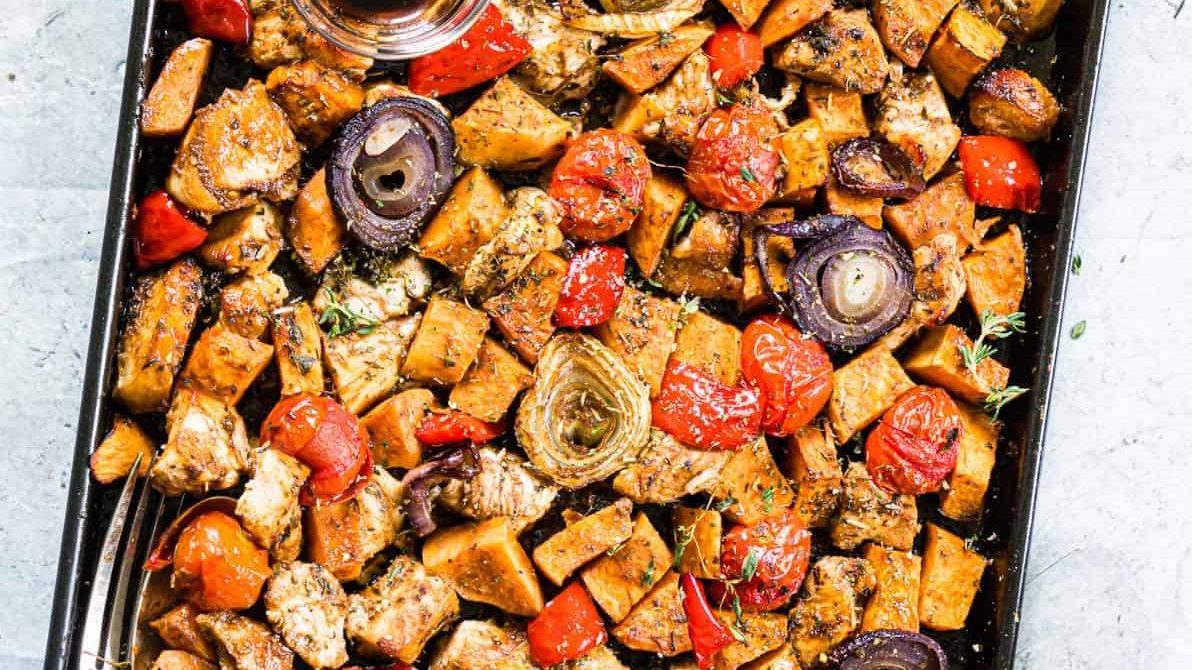 This fuss-free sheet pan chicken dinner with veggies is perfect for busy families who still want to eat a healthy, hot meal for dinner. Toss, bake and serve. It really is that easy! Get the recipe.
Ranch Chicken & Potato Casserole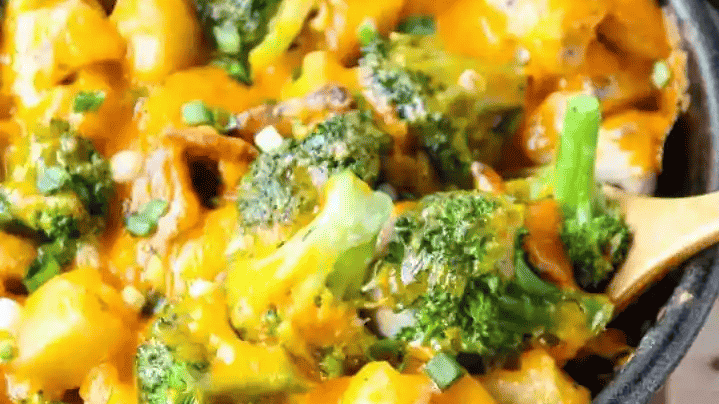 This Ranch Chicken and Potato Casserole with broccoli, bacon, and cheese is comfort food at it's finest. Super simple and made in just one pan, this delicious, easy dinner recipe is perfect for a quick weeknight meal. Get the recipe.
Baked Chicken Drumsticks & Veggies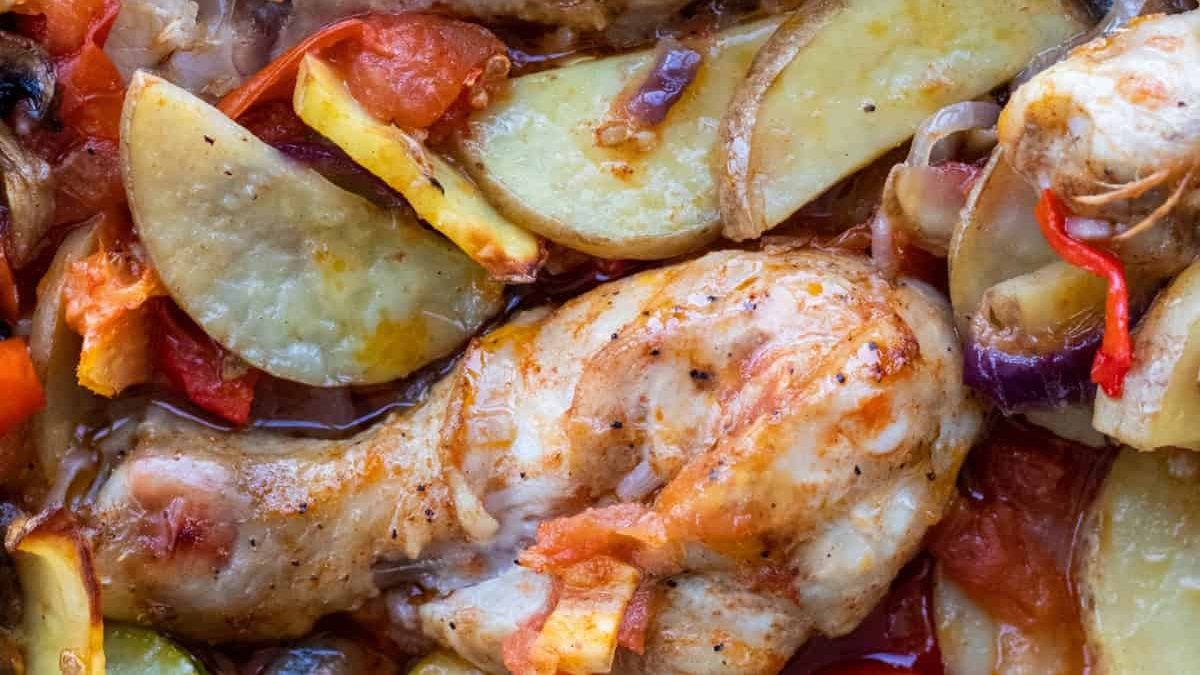 This sheet pan dinner is great for quick and easy weeknight meals! Hands-off with just a bit of chopping to start, and comes out tasting amazing with chicken, veggies and lots of sauce all in one pan. Get the recipe from always use butter: Baked Chicken Drumsticks with Veggies
Oven Roasted Five Spice Peking Chicken
This Chinese five-spice chicken is marinated overnight in five spice, ginger, garlic, and soy sauce and then baked in the oven and glazed to get that delicious-looking skin. It's full-on flavor and pairs amazingly with a ginger scallion sauce. If you're looking for a very flavorful roasted chicken, you definitely need to try this one. Get the Oven Roasted Five Spice Chicken recipe here.
Sheet Pan Chicken Thighs & Sweet Potatoes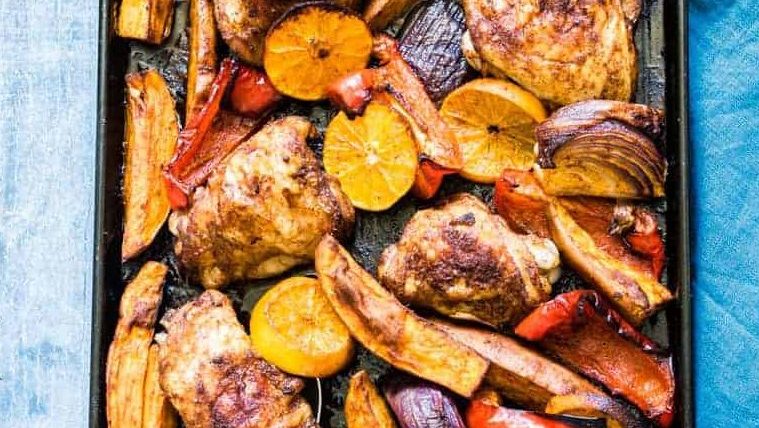 You will love this comforting, easy, filling and over the top delicious Sheet Pan Baked Chicken Thighs and Sweet Potato recipe. It is extremely easy to make with pantry staples and cooks in just 30 mins. This gluten-free spiced One Pan Chicken recipe can be doubled or tripled to feed a crowd. Get the recipe.
Sheet Pan Prosciutto Wrapped Chicken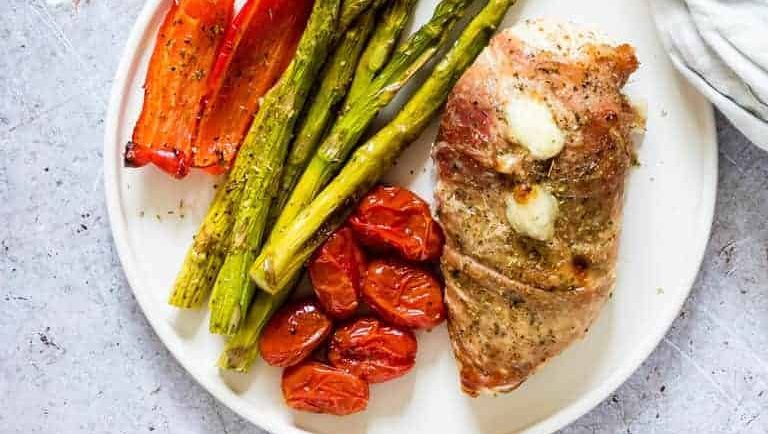 This Prosciutto Wrapped Chicken is an easy sheet pan chicken dinner that comes together in minimal time with minimal effort. Get the recipe.
Baked Chicken & Potatoes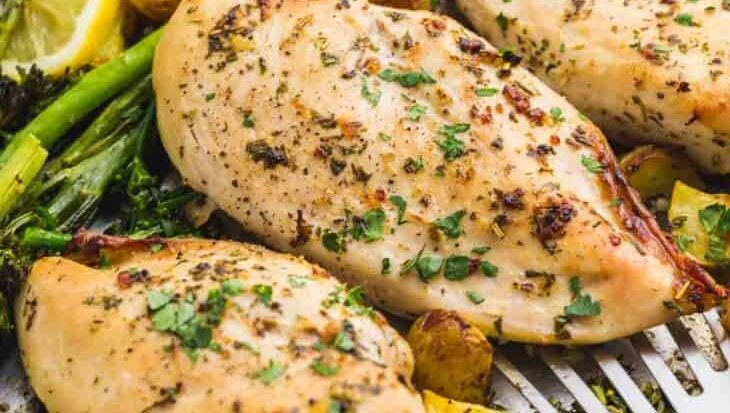 This easy-baked chicken and potatoes one-pan meal results in tender juicy chicken coated in a zesty lemon garlic butter sauce, crispy golden potatoes, and delicious, slightly charred, broccoli. It's a simple, wholesome, weeknight dinner that takes minimal effort and very little mess. But really, it just tastes amazing! Get the recipe.
​Chicken Thighs with Grapes, Thyme & Smoked Paprika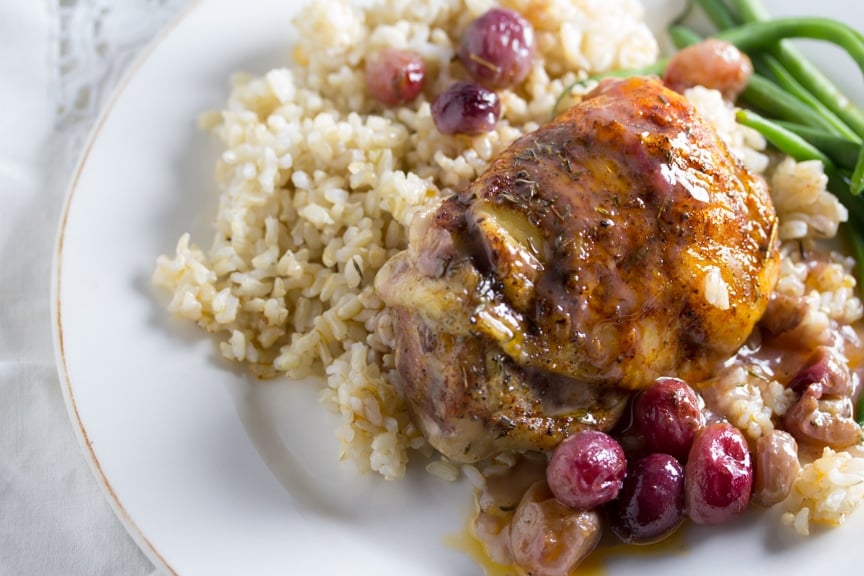 ​This Chicken with Grapes, Thyme and Smoked Paprika recipe is a simple one-pan, oven-roasted meal that highlights the sweetness of the grapes, the smokiness of the paprika and the savory-ness of the chicken and thyme. It comes together in less time than it takes for the oven to preheat and is easy enough for a weeknight, and fancy enough for guests.
Culinary Bucket List: 12 Must-Try Foods for Every Foodie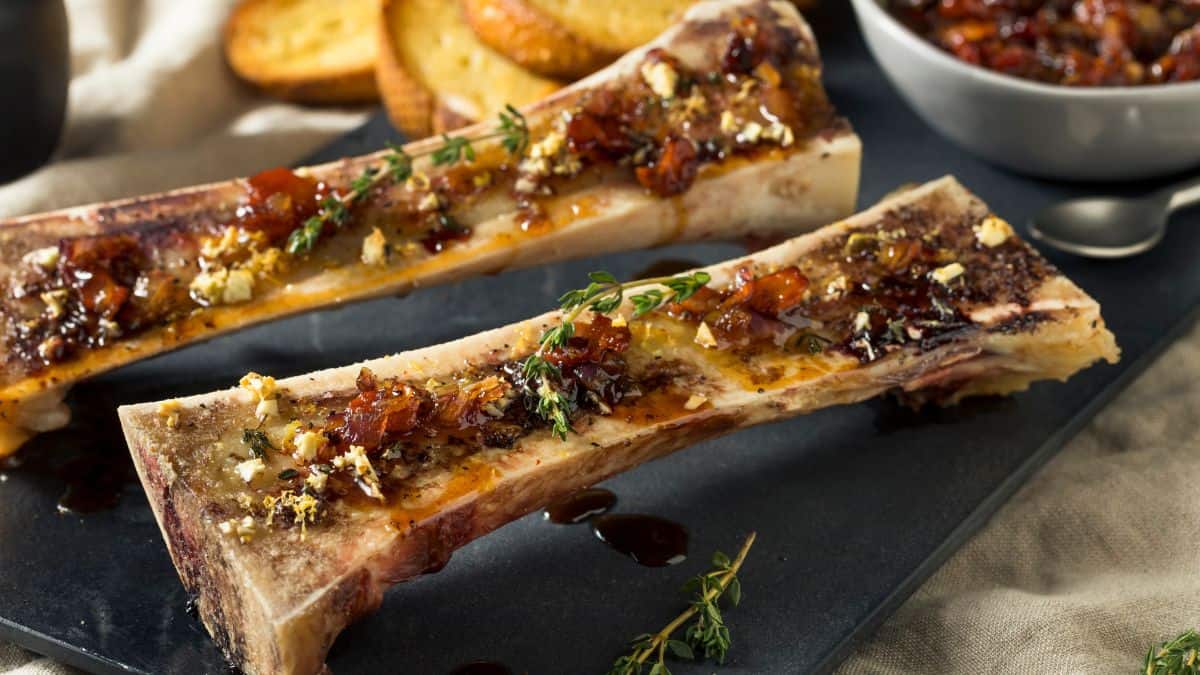 Are you a true foodie looking to expand your culinary horizons? Look no further! Inspired by a recent internet forum discussion, we present the ultimate culinary bucket list. These 12 must-try foods have been handpicked by fellow food enthusiasts. Get ready to embark on a delicious journey, and make sure you tick off these delicious dishes that every foodie should savor at least once in their lifetime! Find the whole list here.
Fresh Baked Bread Every Morning: 15 Easy Overnight Recipes To Try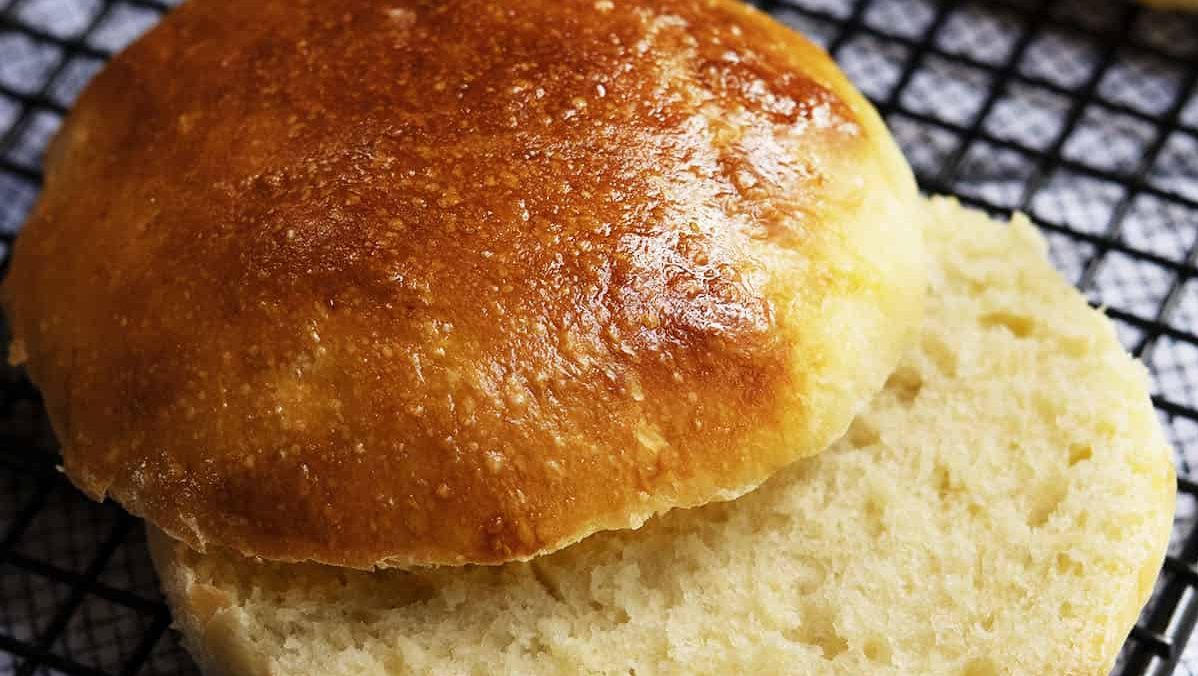 Are you tired of the same old breakfast routine? It's time to shake things up and start your day with a delightful twist. We've gathered 15 mouthwatering overnight bread recipes that will make your mornings a whole lot better. From sweet to savory, these recipes are easy to prepare the night before, so you can wake up to the wonderful aroma of freshly baked bread. Find the whole list here.
If You Have This In Your Pantry, You're Probably A Bad Cook!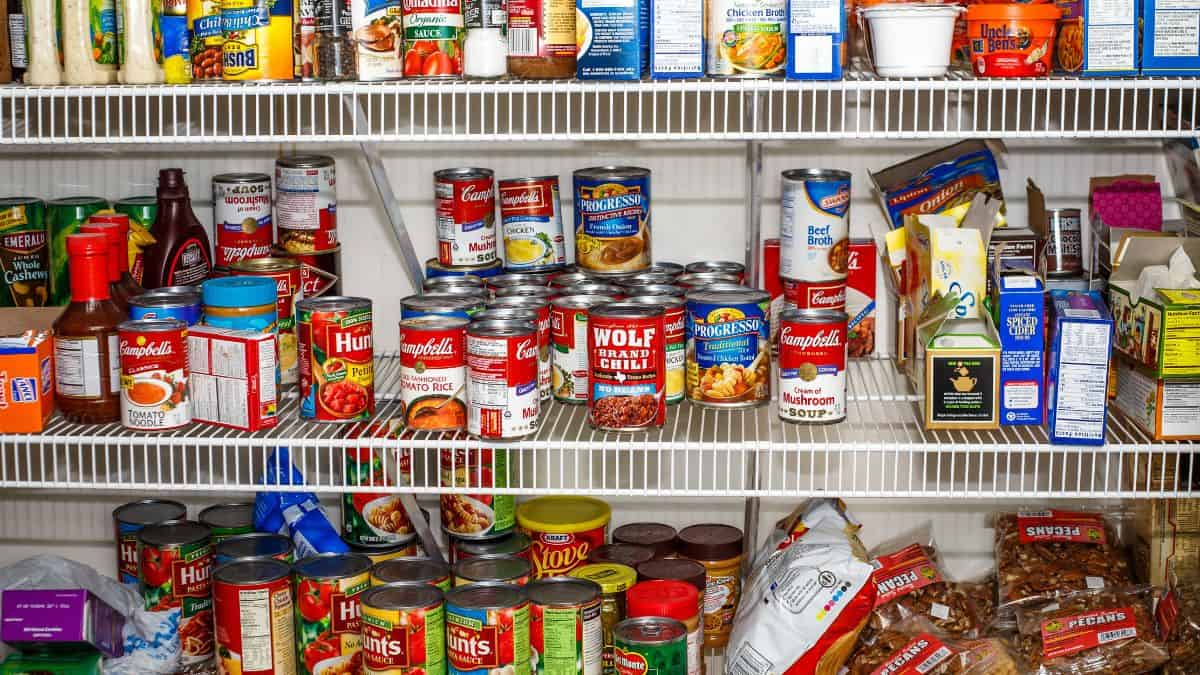 Ever wondered if your pantry holds the secret to your culinary prowess? According to a lively internet forum discussion, certain items might be red flags for aspiring chefs. Join us as we explore the humorous side of cooking and reveal the pantry staples that some suggest could be a sign of being, well, a less-than-stellar cook. Remember, it's all in good fun! Find the whole list here.
12 Effortless Crockpot Dinners for Fall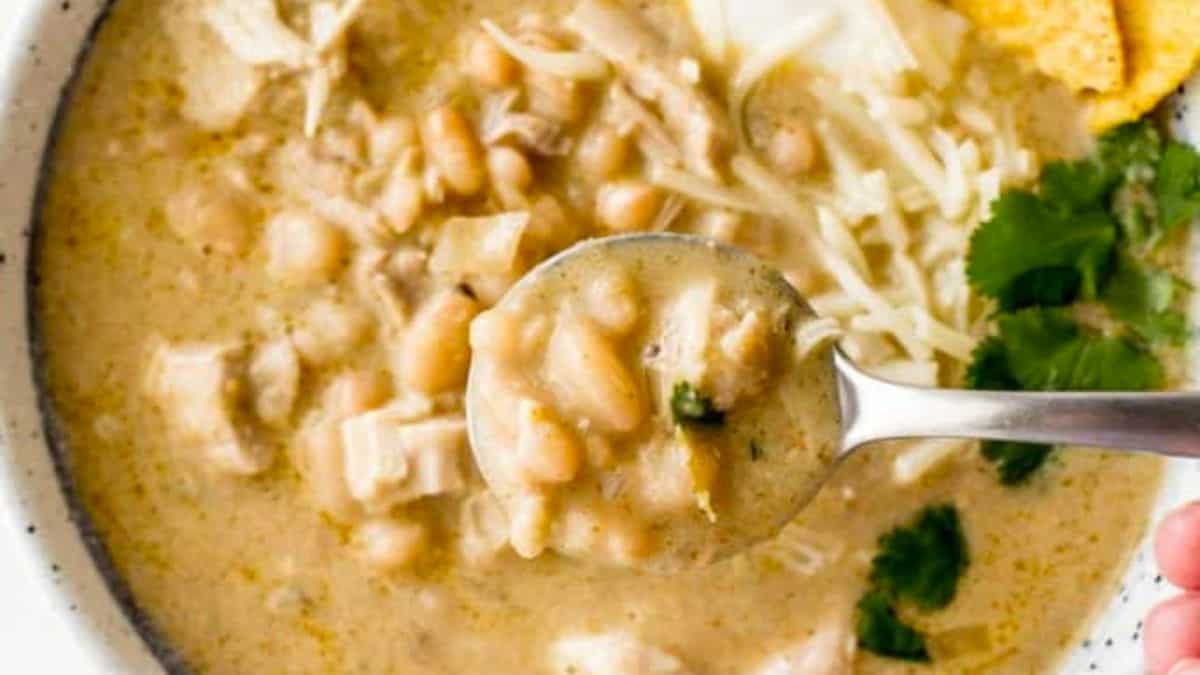 Get ready to cozy up with our roundup of 12 delicious crockpot dinner recipes perfect for the fall season. Imagine coming home to the smell of simmering soups or stews, all effortlessly prepared in your crockpot. These recipes are designed to bring the comforting essence of autumn right to your table with minimal effort. Find the whole list here.
If You Like These Foods, You're Probably A Boomer!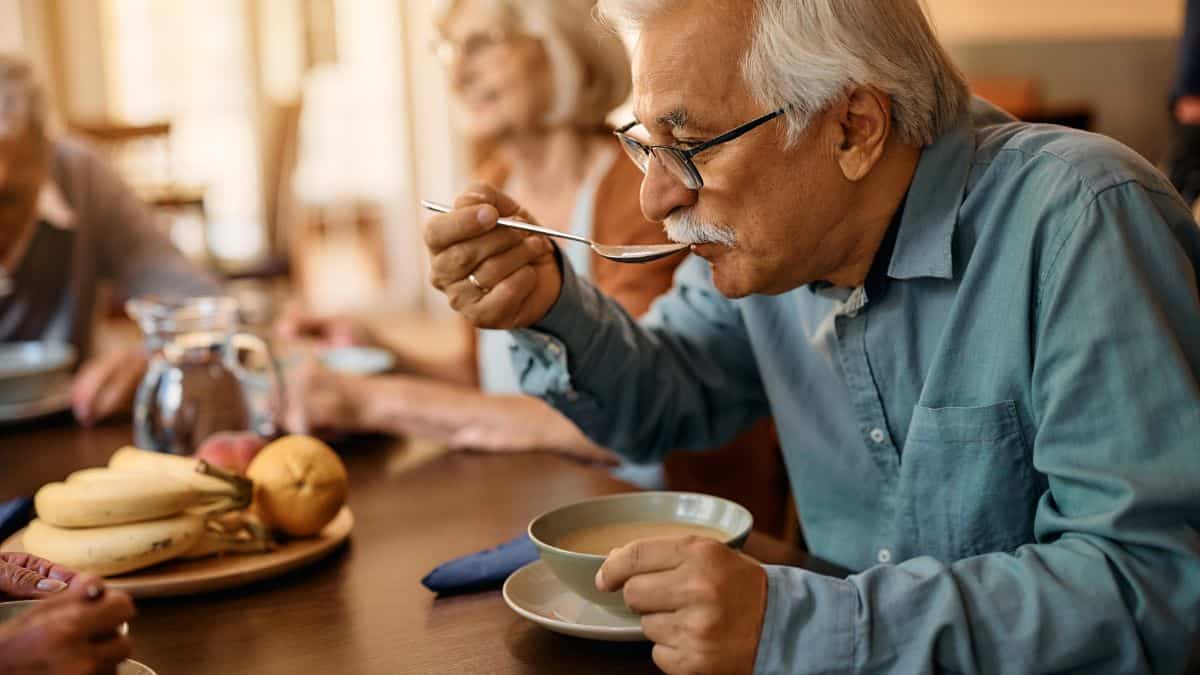 Curious about your culinary preferences and what they might say about your generation? Well, according to a lively internet forum discussion, if you're a fan of these foods, you're more than likely to belong to the boomer generation! Join us as we explore the flavors and dishes that seem to have a special place in the hearts of boomers and discover some delicious nostalgia along the way. Find the whole list here.