A different type of holidays calls for different types of gifts. While we might not be able to celebrate as usual this year, I for one find myself wanting to show even more appreciation than usual for my friends and family in times like this.
And what better way than by sending them a great christmas gift?
The gifts below can all be either found at online retailers like Amazon and sent straight to your friends & family (and they can even wrap them for you!) or are subscription services the recipient can enjoy for months to come.
So just pick who you're getting a gift for below - and get ready shop!
For the wine lover
Riedel wine glasses are a real classic and there's a kind for any type of wine. While they're not the cheapest option, they are great value for money - and a gift any wine aficionado will love.
My favorites are the tumblers - but there are loads of different options to choose from.
Coravin has been on my wish list for many years now - and it's the ultimate gift for someone enjoying fine wines, but maybe not a bottle at the time.
It lets you pour the wine without removing the cork, so the remaining wine stays fresh for weeks, months - or even years.
Yes, it's true! You can finally have your own fancy wine bar at home.
The California Wine Club* (US) is that wine trip you've been craving (or is that just me?) - but in the comfort of your own home.
And best of all? You can subscribe to it, and receive new wine experiences just once - or as often as you like.
With memberships at many different price levels starting at just around $40* and the option to choose if you want red, white, or a mix - you are sure to find a perfect gift here.
SomMailier* (US) is a great way to discover new French wines - all exclusive, you won't find them anywhere else in the US! Choose from different quarterly subscriptions, as well as a vast library of bottles.
I know I for one wouldn't mind finding a wine subscription* in my stocking this year...
For the coffee lover
A grind and brew coffee maker* is a game changer. I loved coffee before I got one, but this took the whole experience to a new level.
Even better? This version has a timer, so you can wake up to a pot of fresh ground coffee brewing.
Another way to have amazing coffee is with a French Press*. I used one for many years, and it gives you great tasting coffee as well as making you feel like you're in a cosy European bistro.
Just what we need when we can't travel to one!
New coffee maker or not - great coffee* makes a big difference. It's always best when ground from beans at home, but even a pre-ground high quality coffee will make a huge difference.
No matter which coffee you choose - it always tastes better in a nice cup. Or a funny one.
<
For the steak lover
A meat thermometer is a must have for the steak lover. Get just the right cook on your meat - every time - whether you're grilling, searing or roasting it in the oven.
(Bonus: it's also great for your turkey)
Steak knives are a great gift for someone who loves meat.
While there are many versions on all different price levels, I love these gorgeous ones with a wooden handle and their own box.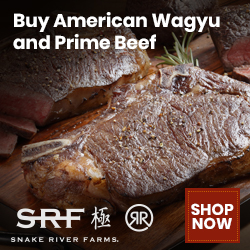 Snake River Farms* (US) is THE place to shop if you want to make a special meal for a meat lover.
With high grade beefs like Wagyu and excellent pork, you can buy once - or even subscribe*.
For the savvy home chef
A sous vide is a prefect gift for the home chef who has it all. A fun new technique to learn - and a great way to cook food for maximum flavor.
A mandoline is another of those things most home chefs don't own - but really should! It makes it so easy to slice anything really, really thin - and doesn't take up a lot of space.
A wok is the perfect gift for the home chef who likes to cook Asian food. I love the authentic look of this version in hammered steel.
A KitchenAid stand mixer will be my gift to myself this holiday - I sure need a "kitchen helper"!
Use it for mixing, or buy add-ons to use it as a meat grinder, ice cream maker, pasta maker, and pretty much anything. This gadget never gets old!
For the newbie cook
A great kitchen knife is the most important gift you can give to a new cook. A great knife makes chopping, slicing and dicing so much easier - and will help them enjoy cooking.
I've had my Kai Wasabi for many years, and it's still going strong. All for a very reasonable price.
A food processor is another thing that will make cooking so much easier & more enjoyable. Use it for sauces, for chopping or slicing - it's a great multi-product for a good price.
Woodden chopping boards are a favorite of mine. Great for chopping on, and you can also use them to serve cheese, meat or anything else on.
Cute kitchen gadgets might not make it easier to cook, but it will for sure make it more fun! Available in many colors - I'm ordering these dusty pink ones immediately, because what could be more on brand?
I hope this guide made gift shopping this strange year a bit easier! Stay safe and enjoy your holidays!
Emmeline