So I know we're all still getting used to the fact that December is here and we're finally allowed to be all Christmassy, but seeing as New Year's Eve is almost as close by, someone had to start thinking about it. And by "it", I of course mean the food - your New Year's Eve menu anno 2018.
Click here to skip straight to:
Appetizer: Rum-spiked Smoked Salmon Tartare
Main course: Duck a l'Orange
Side dish: Crispy Garlic Parmesan Smashed Potatoes
Dessert: Passion Fruit Gino - White Chocolate Fruit Bake
Tips, tricks & planning: Step-by-Step New Year's Eve Cooking Plan
So I thought about it. And now you don't have to.
This season I thought I'd help you out a bit with your New Year's Eve dinner. I've put together a 3-course menu (and, of course, I do have some suggestions for how you can make it into a 5-course dinner as well) with some recommended wine pairings, and I will deliver these recipes straight to your computer or smartphone throughout December.
The aim of this year's menu is for you to be able to create a beautiful, delicious dinner for your friends & family, without spending all night in the kitchen. The menu is set up to allow for most of the prep to be done beforehand, and timed so that you can sit down and enjoy the meal together with your guests.
Sound good? OK. On to the menu.
The 2018 New Year's Eve Menu
So, what can you expect? Well, I didn't want to go for the too-obvious New Year's choices like lobster or steak or panna cotta, and I also felt like red meat is a bit over, isn't it? But we still want festive.
So, I exchanged lobster for a fancy-sounding but easily-made & prepped-almost-all-the-way salmon dish, steak for the almost-red-meat-but-not-really duck, and panna cotta for something completetly different that still feels somewhat related.
I give you, the 2018 always use butter New Year's Eve Menu.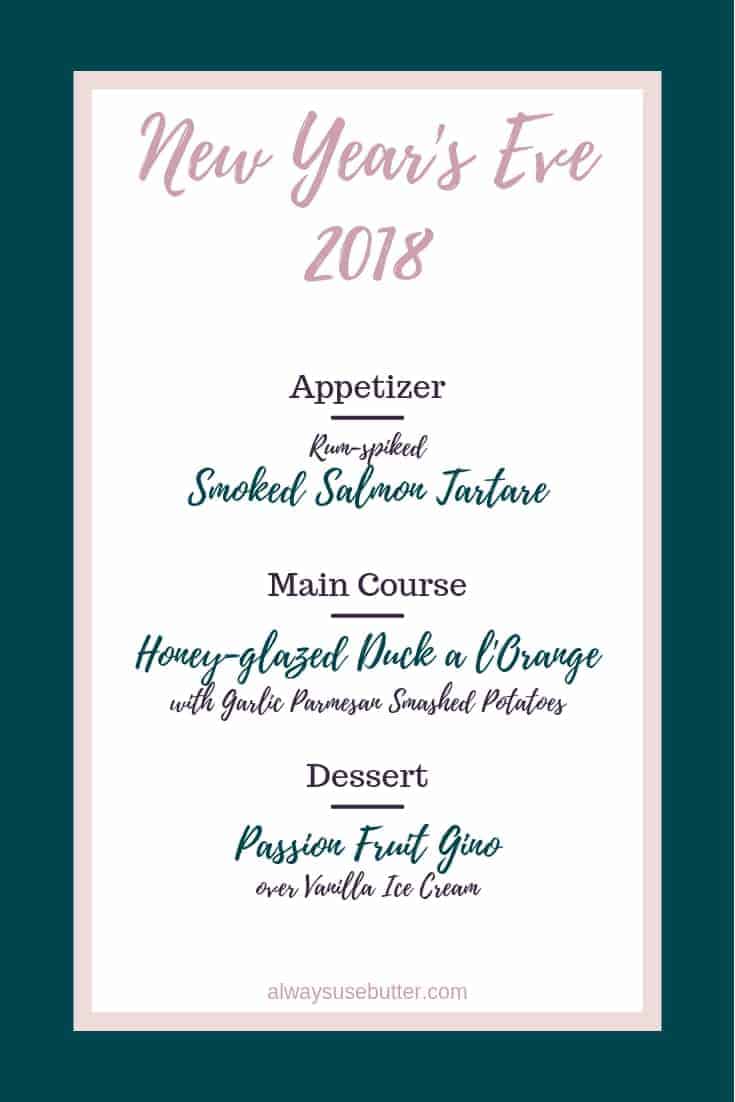 This menu consists of three of my all-time favorite dishes, that I find myself coming back to again and again. Yes, because they're delicious - but also because they're easy to get right, and can be prepped almost all the way even several hours before your guests arrive.
And they all sound kinda fancy don't they? (But you know the trick if they don't, right? Just translate into french. Works like a charm every time.)
The main dish & a variation on the dessert were actually part of my New Year's Eve dinner last year - and then I made it as part of a 7-or-something-course dinner for 25 people, so they are well suited even if you're serving a crowd. The appetizer is one I've made over and over again, and it's the perfect dish for when you want to serve something festive yet prep as much as possible in advance. But more about that tomorrow, when I'm sharing my recipe for the Rum-spiked Smoked Salmon Tartare.
No Fancy Equipment Needed (except a meat thermometer)
More good news - there's no fancy equipment needed for this menu. However, one thing you will need to be able to get the duck just right is a meat thermometer. If you haven't got one yet, I suggest getting one. It's great for all types of cooking, once you have one you'll use it for all kinds of thing. I even use mine to get my English Muffins just right!
I suggest getting the one where the digital reader is separate from the thermometer (either cordless or connected with a cord). This way you can easily keep track of the temperature without opening the oven door all the time
How to Go From 3 Courses to 5 Courses
If you're already a hardcore dinner party planner, then maybe you'll want to up this to a few more courses. In that case I'd add some oysters with vinaigrette paired with a nice crisp glass of Champagne as an amuse bouche, served before the appetizer. Another nice addition is a cheese platter following the dessert, paired with a nice Sauternes dessert wine.
Now - get ready to amaze your guests and add some new favorite dishes to your dinner party repertoire!
Who's with me for this NYE 2018 menu??
Comment if you're in - and tag me on Instagram and use the hashtag #alwaysusebutter if you post it!