This post may contain affiliate links, which are always marked with *. Please read my disclosure for more information.
Wine Tuesday. My favorite day of the week as well as my favorite concept. And soon, I do believe it will be your favorite concept as well.
Before we begin - Wine Tuesday demands a glass of wine (or any other type of cosy drink if wine's not your thing), so start by pouring yourself a nice big glass of red. Or white. Or tea!
OK, now we can start.
If you're curious what my choice is for that big glass of red I mentioned, today it's an Australian Shiraz from Dandelion Vineyards. One of my go-to reds, actually, for three reasons:
It's really tasty
It's cheap enough for a weekday
It comes in half bottles, ie it's single friendly
Anyway, this was not supposed to be about what wine I'm drinking. Rather, I wanted to start by introducing you to the concept of Wine Tuesday. So here it goes.
Just about 6 years ago, my dear friend Susanne and I were in our penultimate year of uni. At the time we had just moved in to the same house and since we were A. tired of studying, B. still oblivious to the fact that year 4 would be a lot harder than years 1 through 3, and C. Avid fans of the Swedish Hollywood Wives, one Tuesday we met in my apartment to watch the latter together.
Since Susanne is the good kind of friend, she brought a bottle of wine.
And so, Wine Tuesday was born.
We loved the concept from the start, and started spreading the word. Soon friends joined in, and Wine Tuesday turned out to be just about the best concept ever. I mean, first of all, there's wine. Second, Tuesdays are boring. Tuesdays might just be the worst. Every Tuesday it seems like an eternity since the weekend, but it's even longer until next.
But now, with Wine Tuesday, Tuesdays all of a sudden were kinda the best.
There aren't many rules to Wine Tuesday. You come as you are, you bring your drink of choice, and, if you feel like it, you can bring a snack as well. Sometimes there's cheesy fondue, but most of the time the most advanced snack is cheese doodles left over from the weekend. It's also highly recommended that you watch (or read!) something highly entertaining, but preferably not all that educating, reality TV being the perfect choice. Celebrate Wine Tuesday with friends, or by yourself, either way - it's serious, relaxing, you-time. No to-do-lists allowed!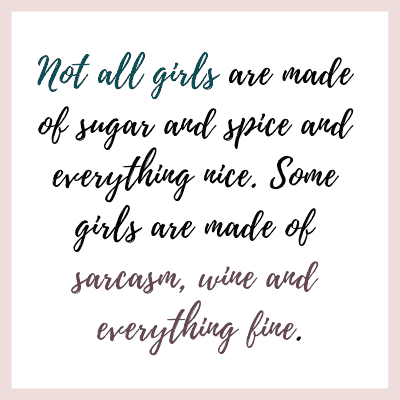 So, for the past six years, even in the busiest of times, Tuesdays have been the day I let myself leave work a bit earlier, let my hair down, and relax for a few hours. Sometimes I still meet up with friends for Wine Tuesday, but more often I watch my favorite show or read a good book, always with some kind of treat. Most often wine, sometimes there's cheese, and sometimes I trade it all in for a bag of candy. Sometimes I treat myself to a really long and cosy yoga session instead. It's my weekday break, and then I'm ready to go-go-go the rest of the week.
Now, since I want this page to represent me, not just my kitchen, Wine Tuesday had to be incorporated. So from now on - every Tuesday, what do you say we meet up here? We pour ourselves a glass of wine or whatever. I rant a bit, tell you what's going on in my life, what I'm into right now and what's happening on the blog. Maybe I give you an unsolicited wine tip or two, or maybe just tell you about that obnoxious person I just met at the store or my new favorite yoga teacher. And then you can tell me all about your own Wine Tuesday in the comments. Sound good?
OK then - let's start.
I hereby present to you - the first ever digital Wine Tuesday!
On always use butter this week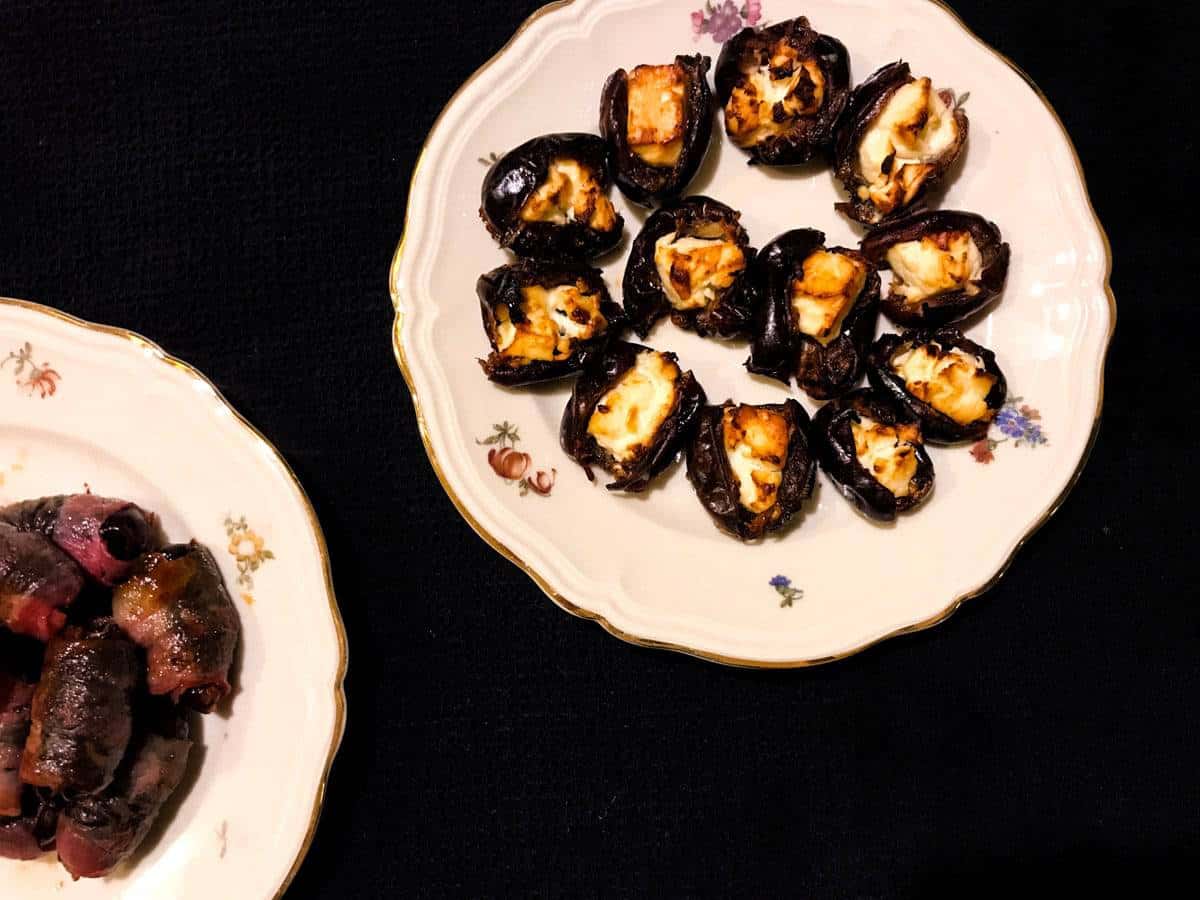 Savory Bacon Wrapped & Feta Filled Dates - My all-time favorite snack & the star of every dinner party & tapas spread. Also perfect as a Wine Tuesday treat!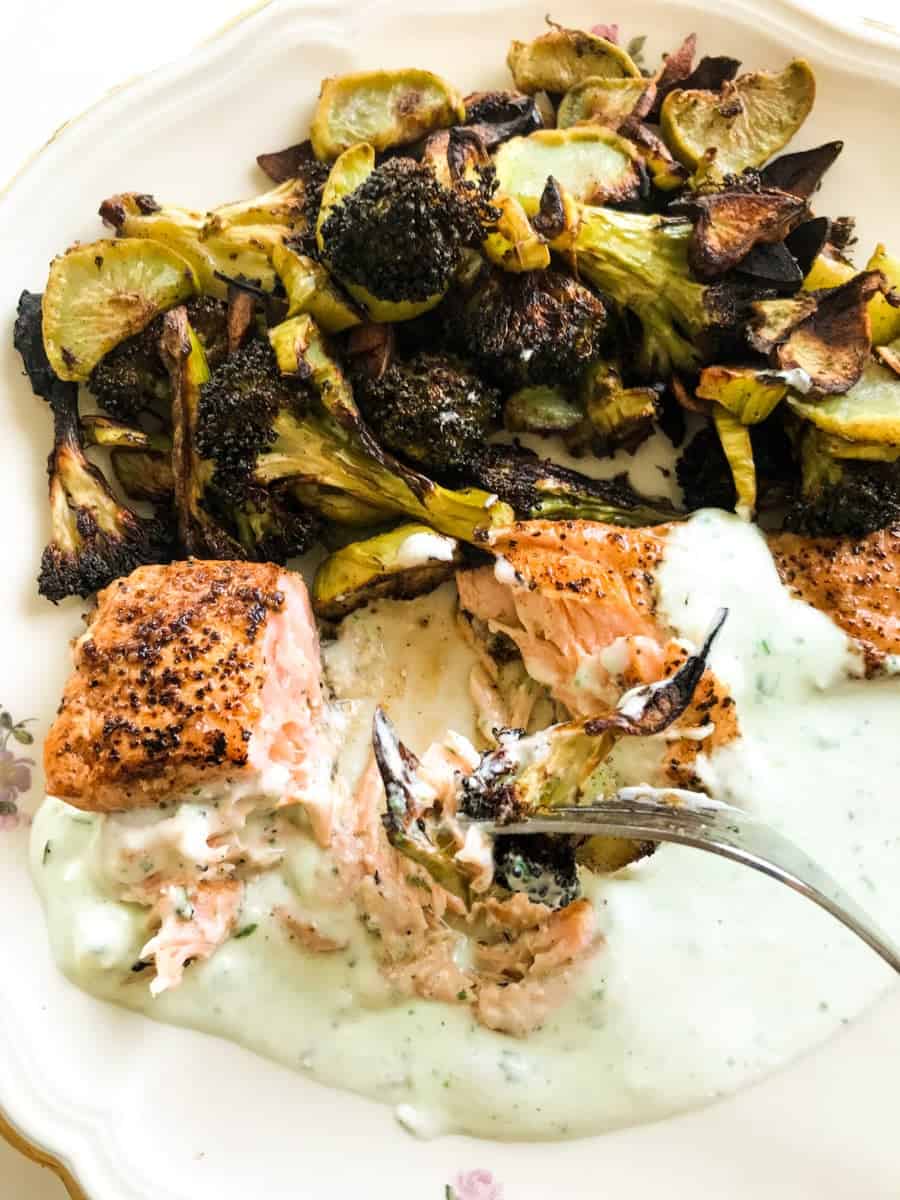 Lemon Pepper Salmon with Garlic Roasted Broccoli and Feta Yogurt Sauce Chips for dinner? Almost! Just even more craving-inducing & a ton healthier. This recipe not only has the world's longest name - it's also a quick & delicious way to get lots of vitamins & omega-3. Perfect for warding off all those nasty fall colds coming your way!!
Food of the week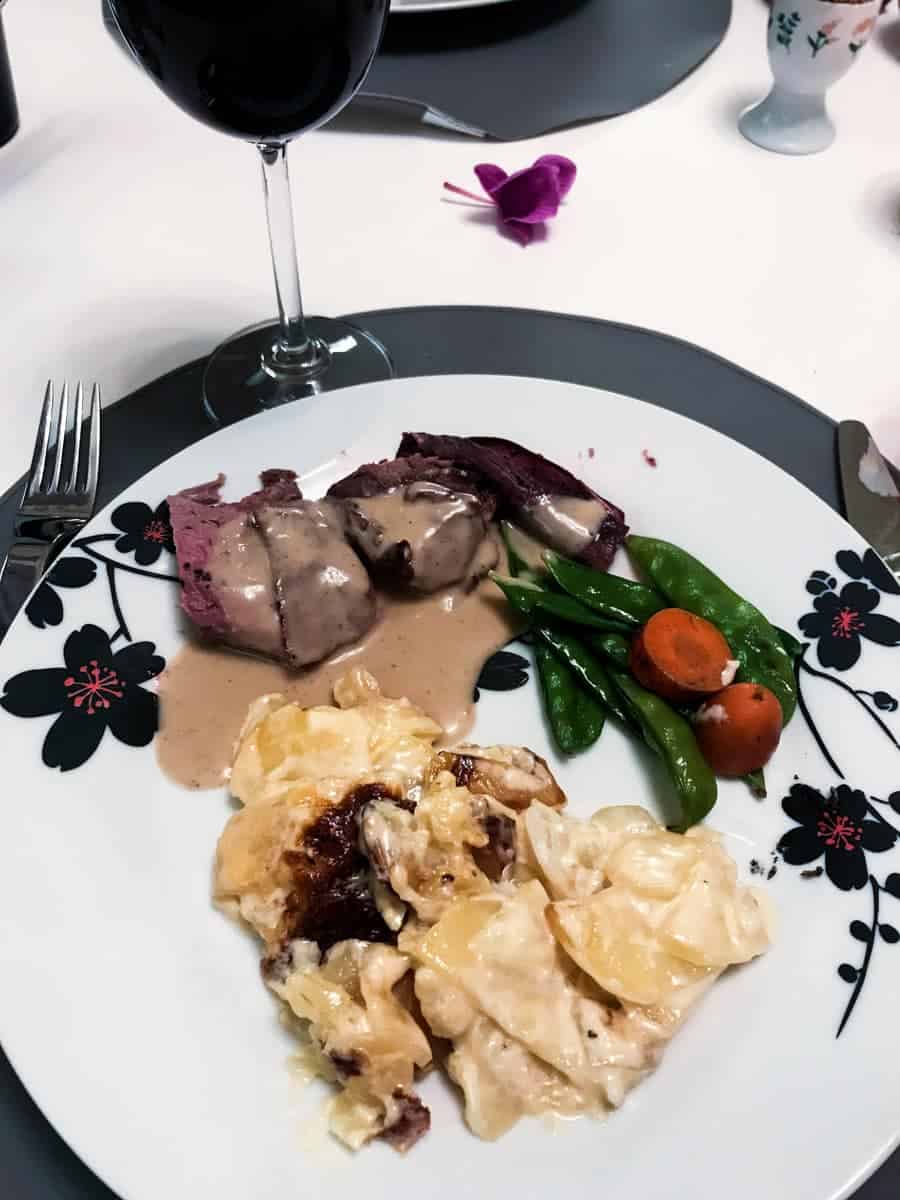 My sister treated me to a delicious Saturday night dinner (surprise: she also loves to cook & she does so brilliantly). She just happened to have a deer saddle laying around (because who doesn't??) (I don't, that's who. No one does.), which she served up with a delicious potato gratin, loads of sauce and homemade blackcurrant jelly. I just couldn't stop eating!
Craving right now
Jerusalem artichokes are in season! Definitely need to cook up a good Jerusalem artichoke soup these coming weeks. Anyone have a good recipe for one
Everything fall and warm and cosy - I want hot breakfasts (thinking about making some healthy breakfast muffins this week), warm drinks (prime Chai Latte season is soon here!) and full-flavored pasta dishes like Creamy Red Wine Chicken Pasta.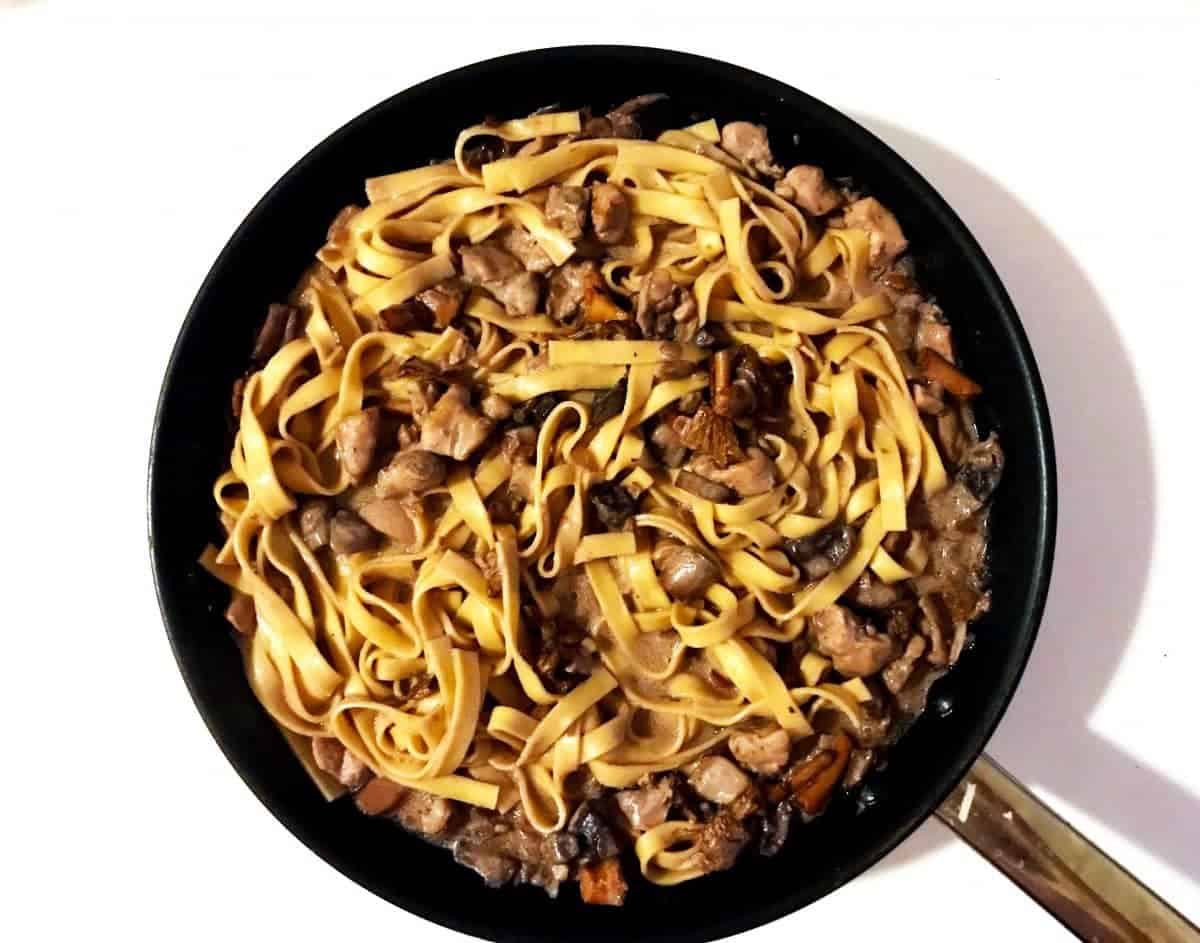 I think my body is feeling a need to stock up on vitamins because I'm craving fruit all the time. Currently obsessed with all the beautiful apples in store (my favorite: Pink Lady! I mean, just the name would have been enough, but they're also delicious.)
On that note - Autumn Apple Bourbon Fizz from How Sweet Eats looks like the best combo of my favorite flavors right now: bourbon, apple and ginger. Must be delicious! But apple butter? In Sweden? I don't think it's a thing?
Reading right now
I'm a serious bookworm and I usually like reading two books at a time - one for learning & one for pleasure.
I always start my day out with a cup of coffee and my "learning" book - this past week it's been the good old classic "How to Win Friends and Influence People" by Dale Carnegie. Surprisingly modern seeing as it's from the 30's and while there was nothing in it I hadn't heard before it's always great to get a reminder. Also, at times it feels more like reading a 30's novel than a self-help book, so you might actually be better off pairing it with a nice Old Fashioned instead of coffee.
While my days start with my learning book, my days this past week have ended with "The Subtle Knife" - part 2 of the "His Dark Materials" trilogy by Philip Pullman. I love YA novels (Hunger Games, anyone??) and I love fantasy. But this series just isn't as great as I had hoped. However, it's quick & easy & entertaining so I'll probably go for the 3rd and final book as well.
Watching right now
I made the mistake of starting in on Jane The Virgin. Don't go there. It's too addictive. My treat for Wine Tuesday this week? Binge-watching this!
Coming up on always use butter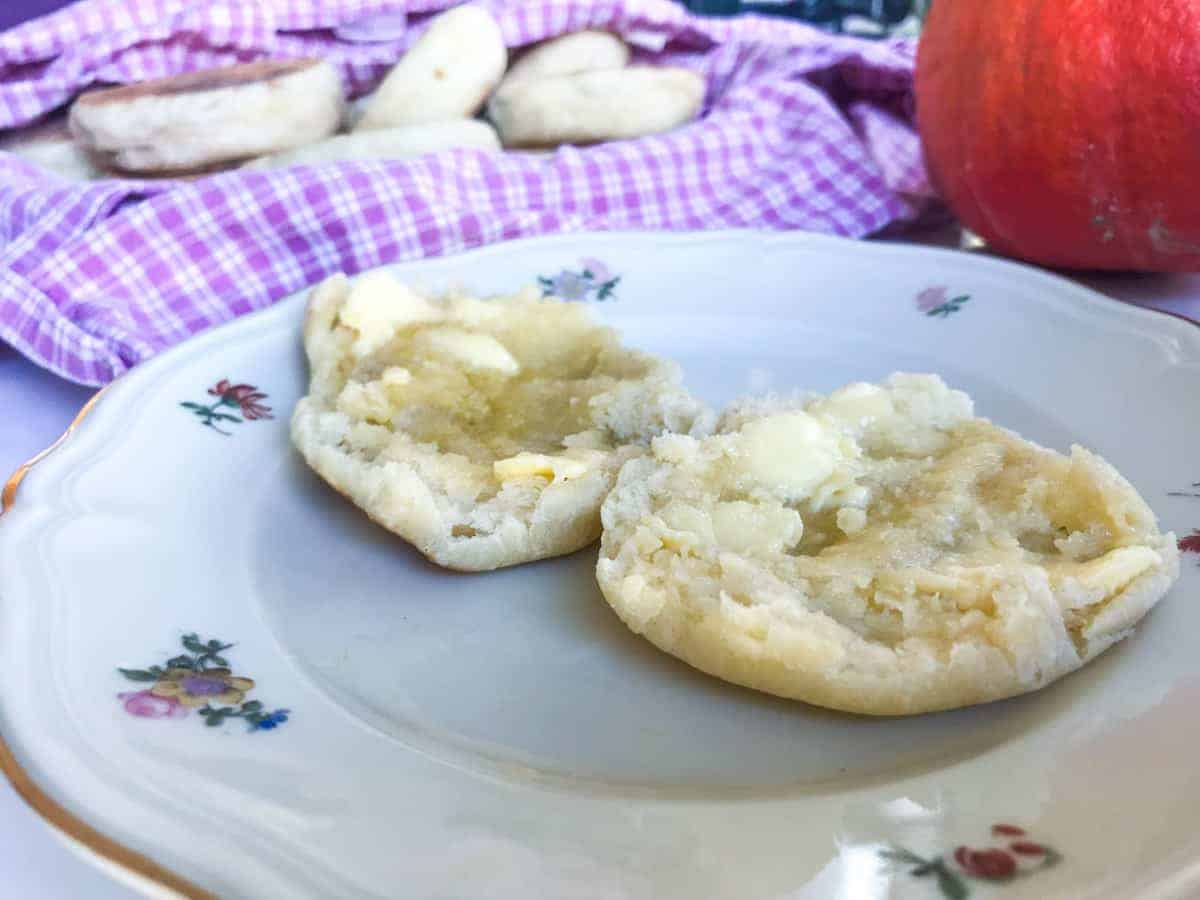 My new favorite weekend breakfast: Minimal Mess Overnight English Muffins - coming up on Thursday.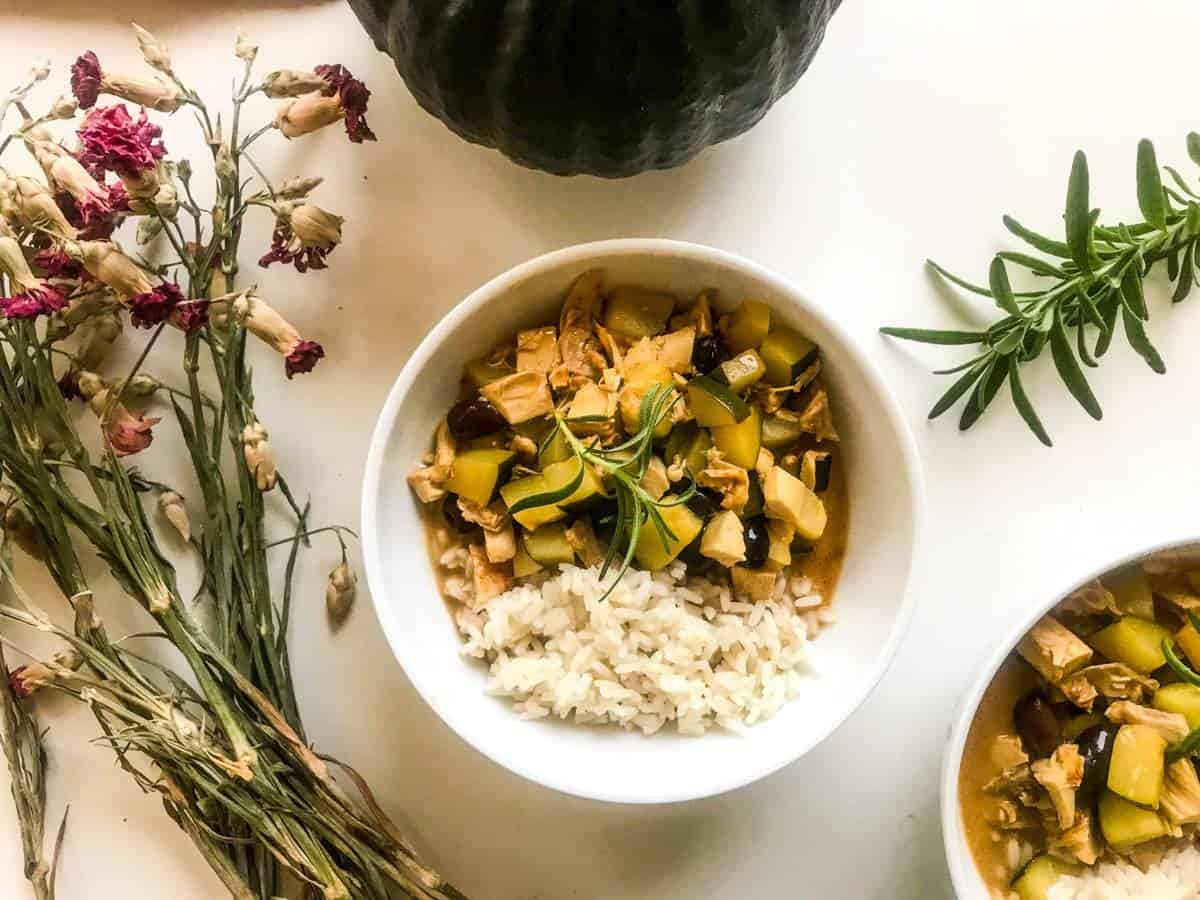 A good old favorite of mine courtesy of my BFF's mother-in-law: Quick & Easy Lemony Chicken Stew - on the blog on Sunday.
Mm, I'm getting hungry just thinking about it!
Make sure not to miss these recipes or any others by subscribing:
That's all for this week's Wine Tuesday! Thoughts? Did you enjoy it? Do you like the concept? What do you want me to write about?
And most importantly - how's your Wine Tuesday treating you?