Get ready for a fun twist on the good ol' blueberry! In this collection of recipes, we've put together some tasty ways to enjoy blueberries in savory dishes. You'll discover everything from zesty salads to mouthwatering sauces and surprising flavor combos. There's something here for everyone to enjoy!
Cran-Blueberry BBQ Sauce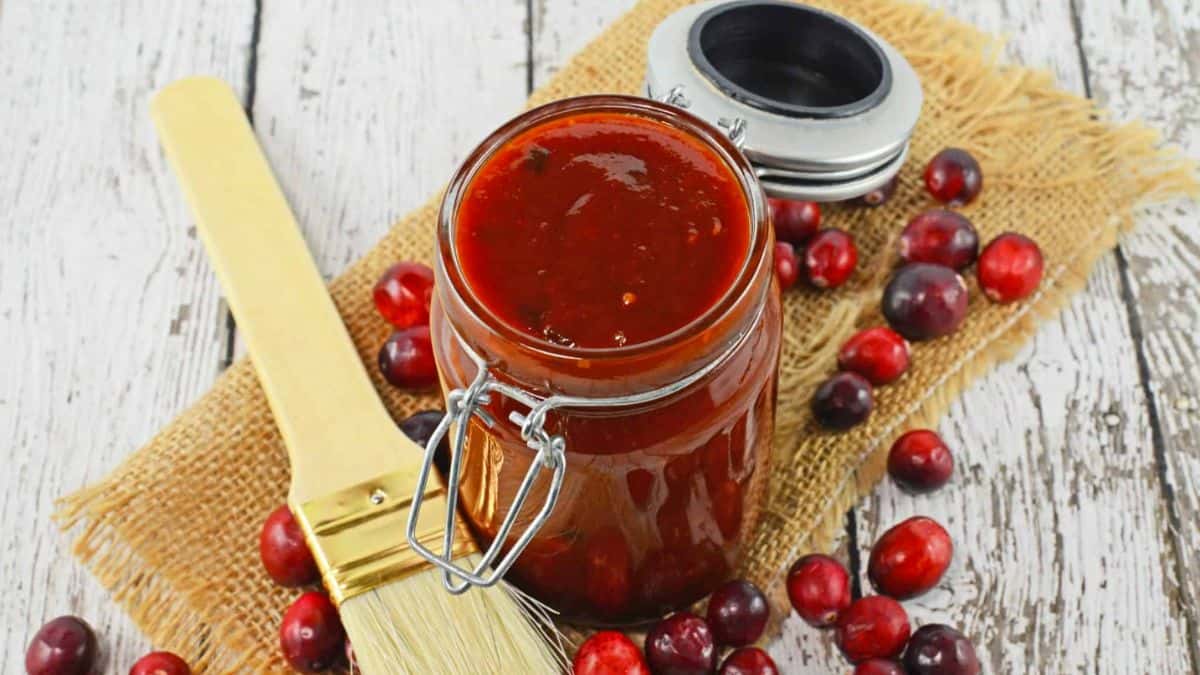 You read correctly: Cran-Blueberry BBQ Sauce. I saw this recipe on a traveling cooking show on the Food Network. I was intrigued by the mix of sweet fruit, spicy chile pepper and coffee.
Blueberry Flatbread with Goat Cheese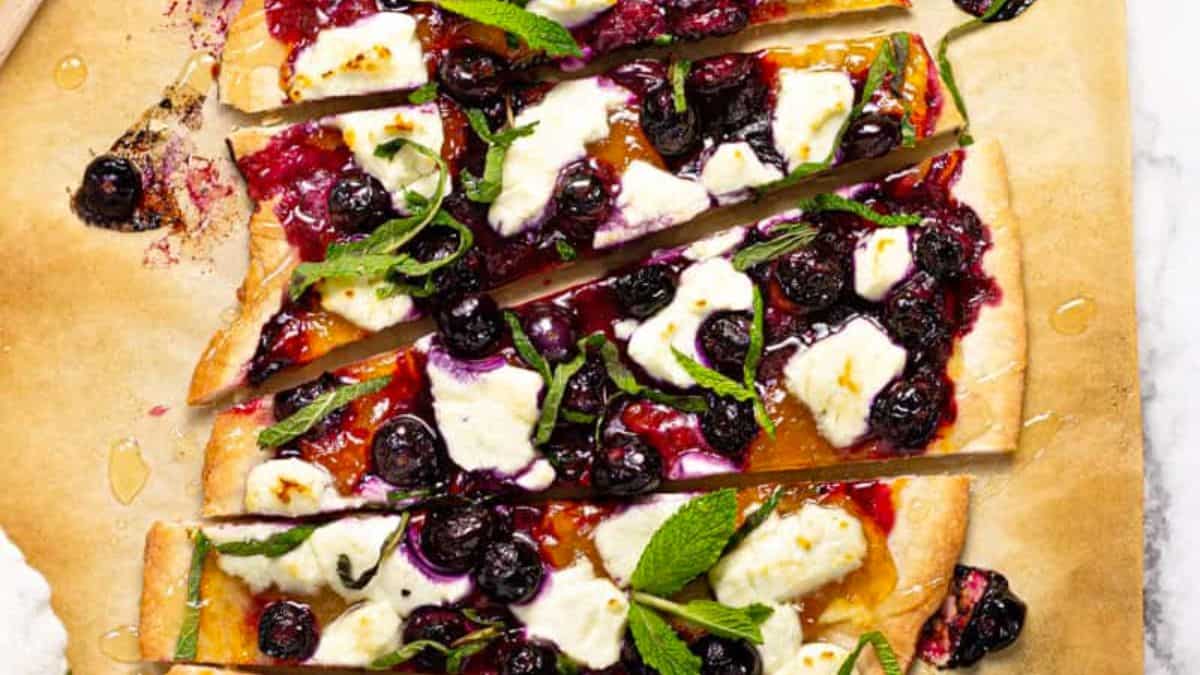 This delicious fruit-forward blueberry flatbread is loaded with apricot jam, creamy goat cheese, sweet honey, and fresh mint. It's the perfect vegetarian appetizer or dessert to use up those fresh, ripe blueberries this summer!
Blueberry Walnut Salad with Honey Lemon Vinaigrette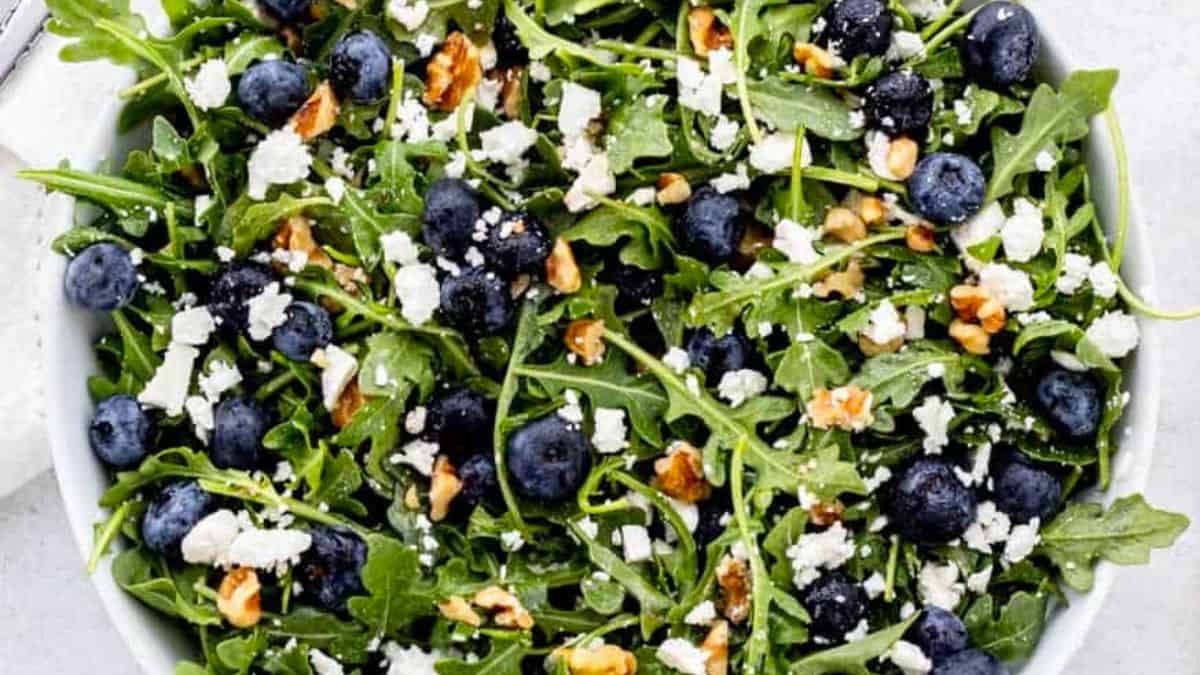 This mouthwatering blueberry walnut salad with a honey lemon vinaigrette is light, refreshing and a definite crowd-pleaser! Plus, it's packed full of omega 3's and antioxidants, which are great for the heart! The perfect simple salad recipe for those warmer months!
Fresh Blueberry Salsa (Sweet & Savory)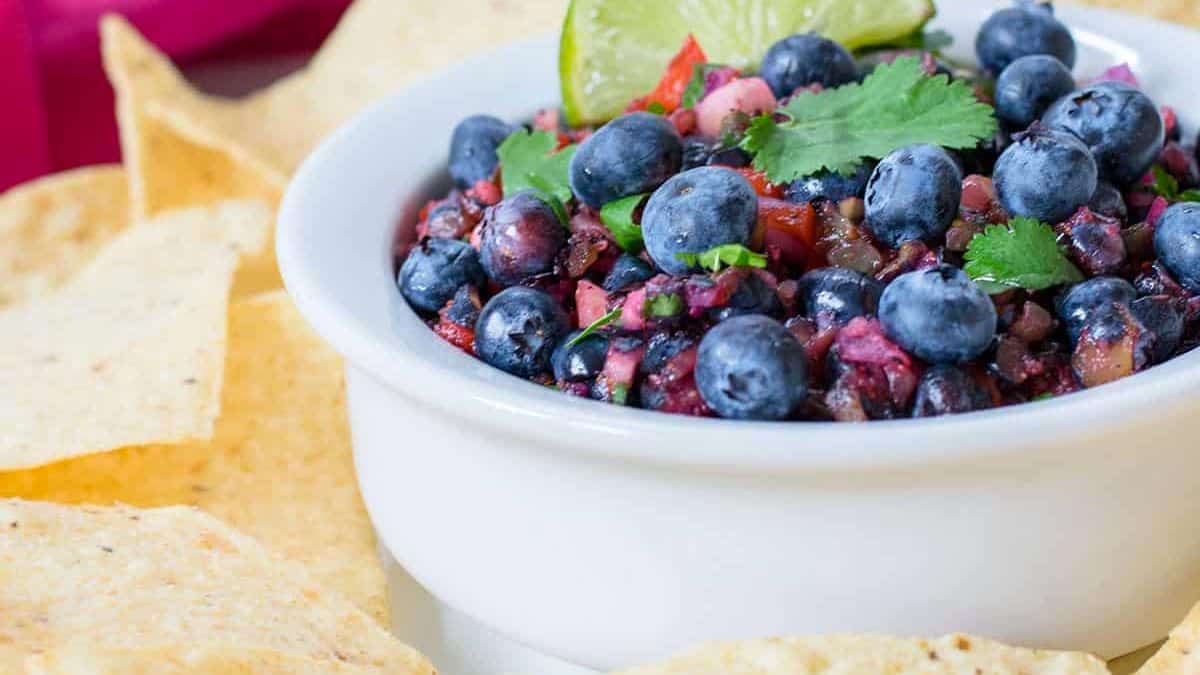 You can make this Fresh Blueberry Salsa in 15 minutes! It's sweet, savory and delicious! Serve it with tortilla chips or over fish, chicken or pork.
Homemade Blueberry Wine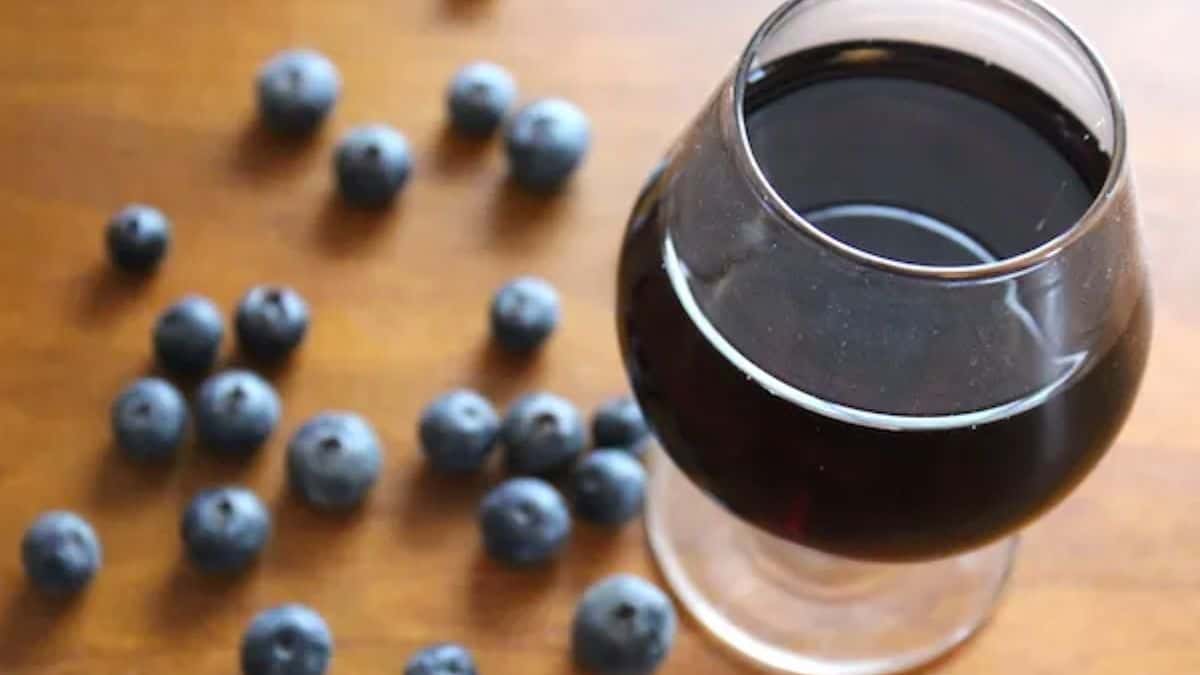 This recipe produces a fruity, easy-drinking, nicely balanced wine.  It's slightly sweet and is a great match for fruit pies, chocolate cake, ice cream, and soft, creamy cheeses.
Whole Roasted Chicken with Blueberries and Pinot Noir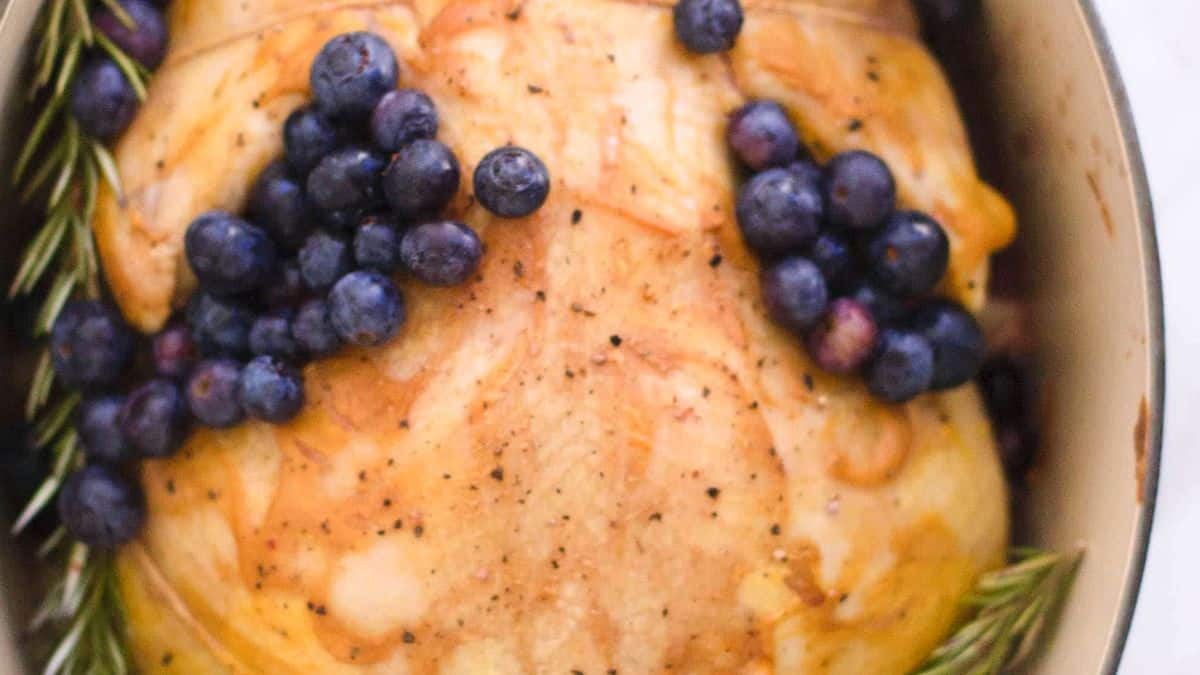 This melt in your mouth whole roasted chicken is so flavorful and easy to make. The blueberry and pinot noir sauce has a subtly sweet undertone that tastes like summer.
Spiced Blueberry Pie with a Cardamom Crust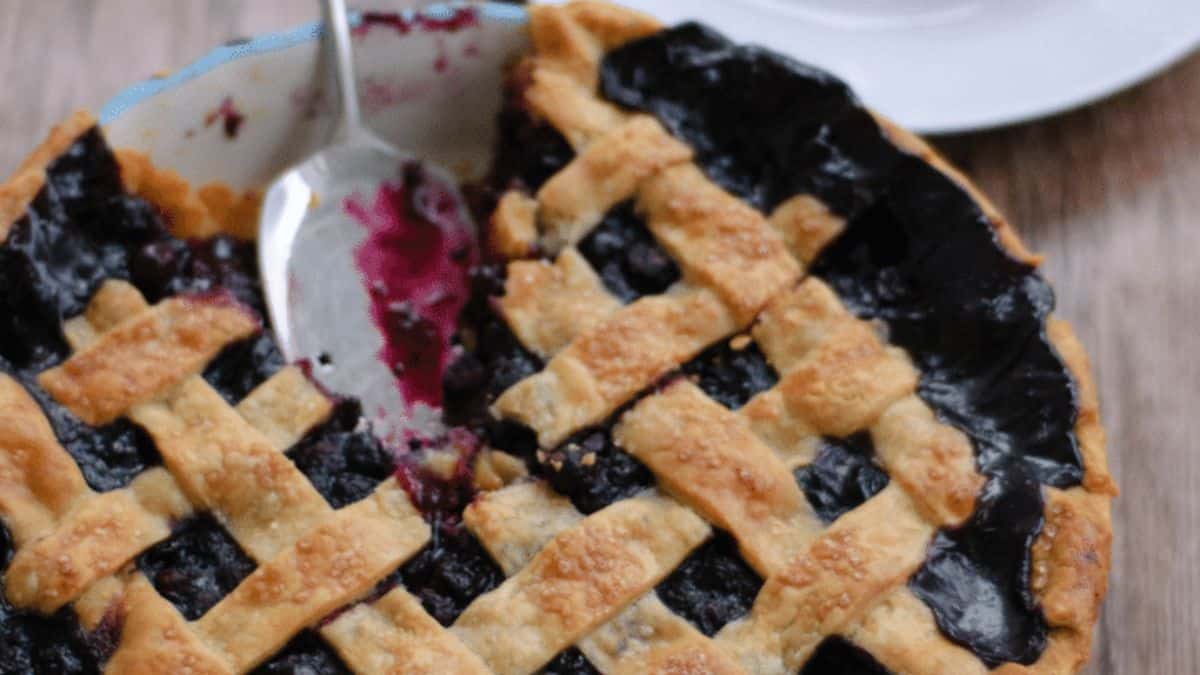 This spiced blueberry pie recipe can use fresh or frozen berries for a fantastic year round pie. Its earthy spices and rich flavor are enticing and delicious, and a perfect alternative to traditional pie.
Blueberry Balsamic Braised Beef Short Ribs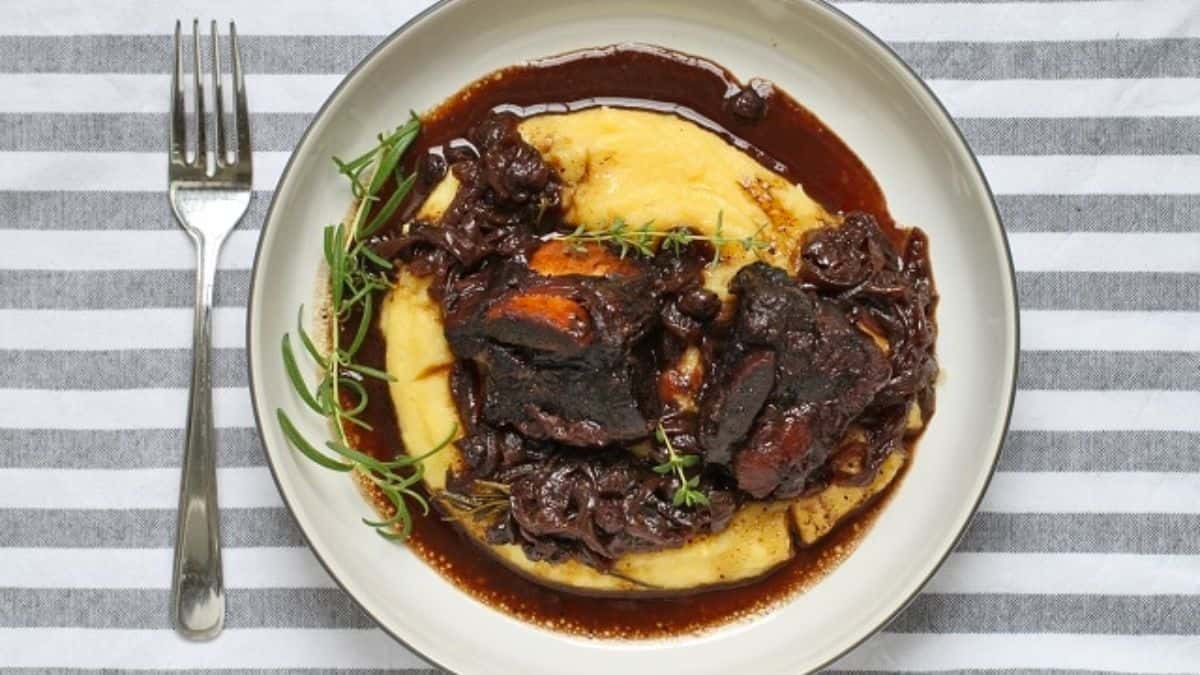 An Easy Peasy Classic Beef Comfort dish with a blueberry and balsamic flavour spin. Cook these Braised Short Ribs low and slow until they reach fall-off-the-bone deliciousness.
Easy Blueberry Goat Cheese Appetizer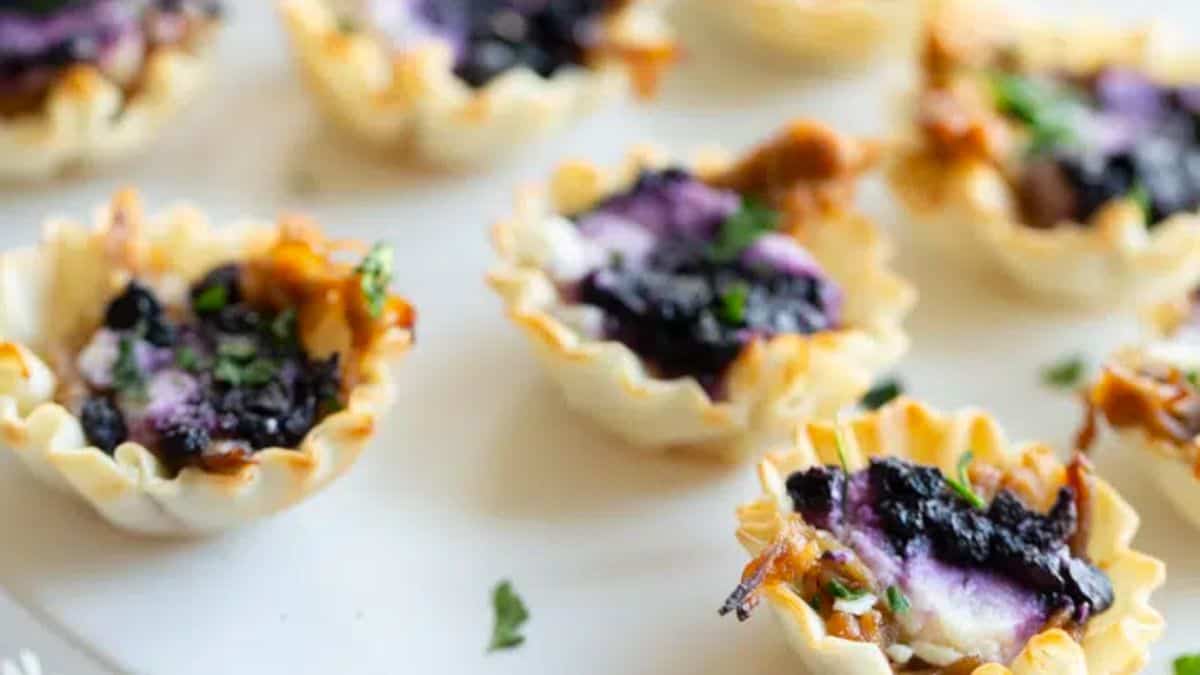 This Easy Blueberry Goat Cheese Appetizer uses goat cheese, pulled pork and pastry shells to make this simple, fast and delicious appetizer. Perfect for holiday entertaining!
Grilled Turkey Brie Sandwich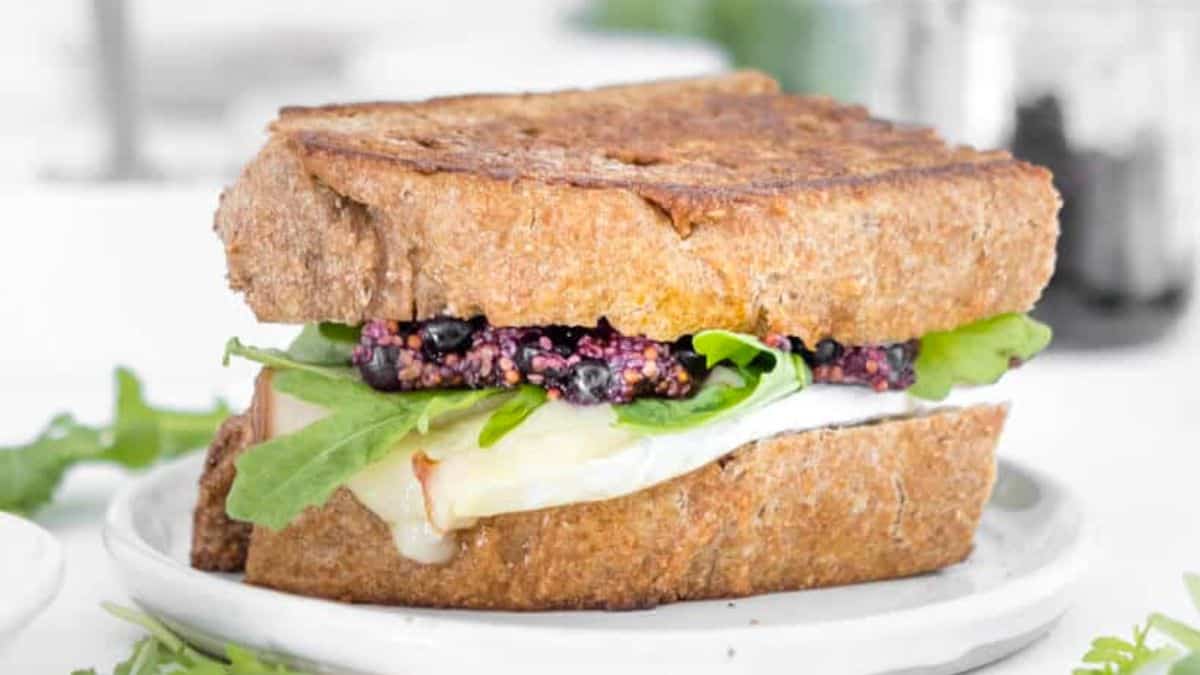 Bump up the flavor of this turkey brie sandwich with a homemade award winning wild blueberry mustard. While you can eat it year round, it's great for Thanksgiving leftovers. Serve with a delicious salad like this easy grapefruit and avocado salad.
Blueberry Balsamic Braised Brisket Recipe
Blueberry Balsamic Braised Brisket is a must-try, unique brisket recipe for the holidays! If you've never had blueberries with brisket, you're missing out, and you won't believe how amazing it is!
Beet & Blueberry Bruschetta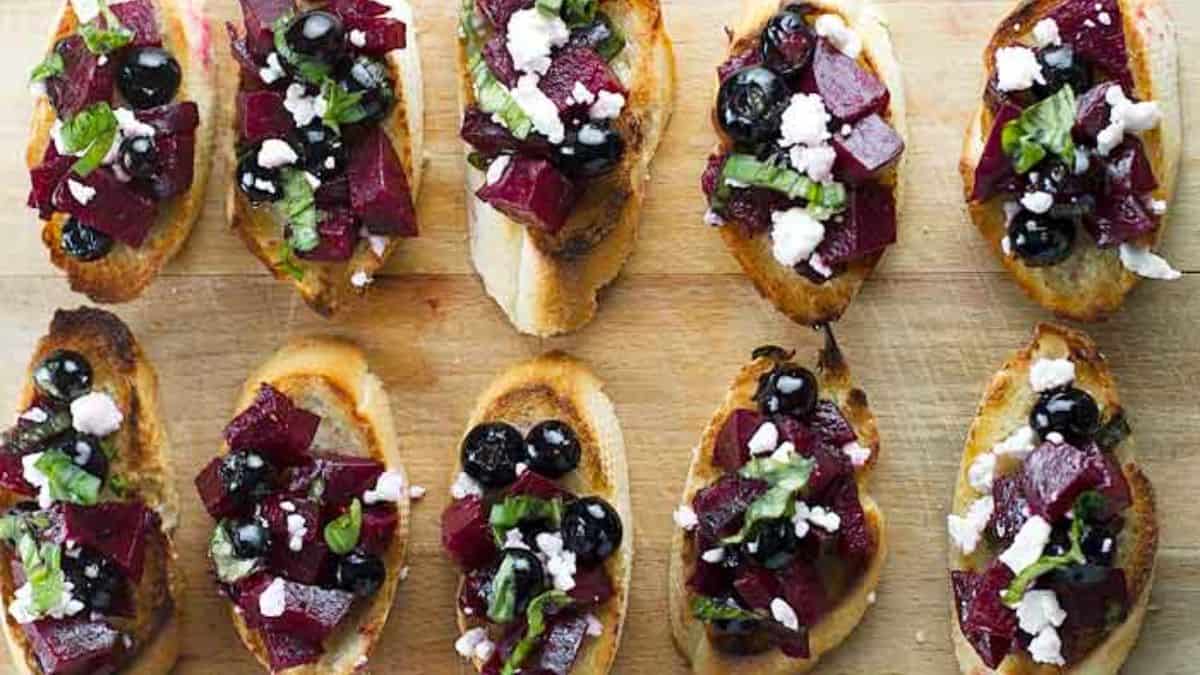 Roasted beets and fresh blueberries served on toasted bread. These summer bites are a twist on a traditional tomato bruschetta and are great for entertaining.
Dump, Bake, and Enjoy: 13 Hands-Off Recipes Done in 30 Minutes or Less.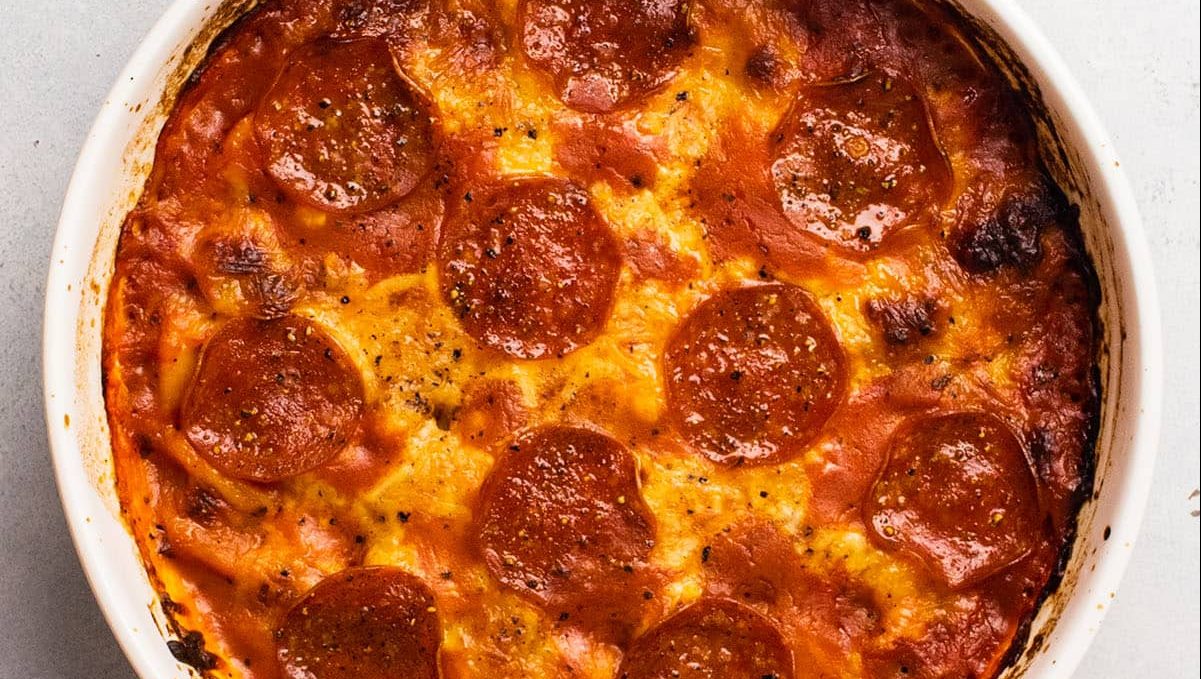 Imagine making a delicious meal with just a few simple steps and less than 30 minutes of your time. Well, you can do just that with these 13 dump-and-bake recipes! They're perfect for busy days when you want something tasty without all the fuss.
13 Easy Tasty Salads To Make This Weekend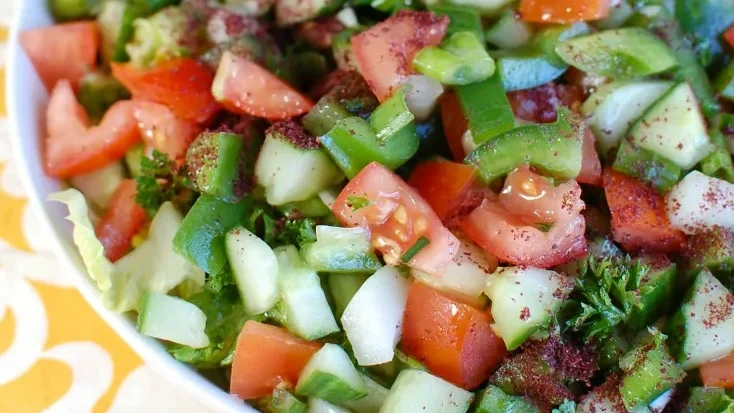 Get ready for a salad adventure that's both delicious and hassle-free. In this collection, we've gathered 13 tasty salad recipes that are easy to make and bursting with flavors. Whether you're a salad enthusiast or just looking for a quick and tasty meal or side, these recipes will satisfy your cravings with minimal effort.
20 Delicious Fall Dinners in 30 Minutes or Less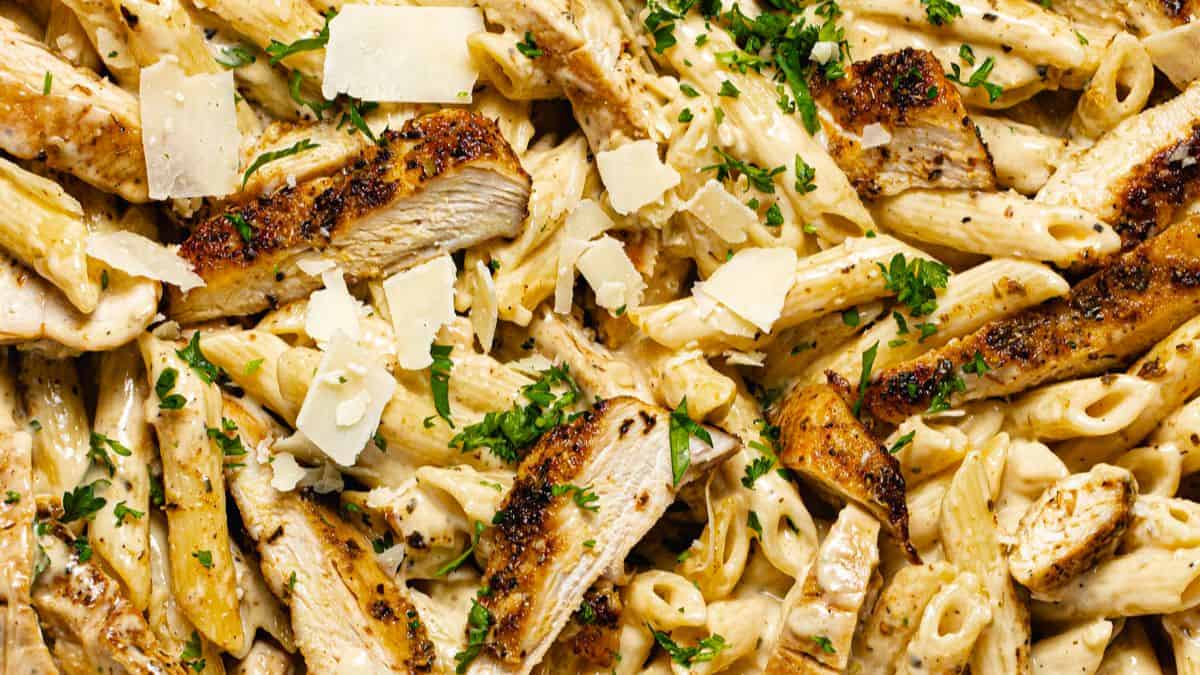 No need to compromise on hearty and delicious dinners due to time crunches! This handpicked collection of 20 fall dinner recipes, each ready in under 30 minutes, will have you savoring the flavors of the season without sacrificing precious time. From warm soups to comforting pastas and savory skillet dishes, these recipes are here to help you enjoy the essence of fall even on your busiest days.
29 Heartwarming Dinners for a Cozy Evening In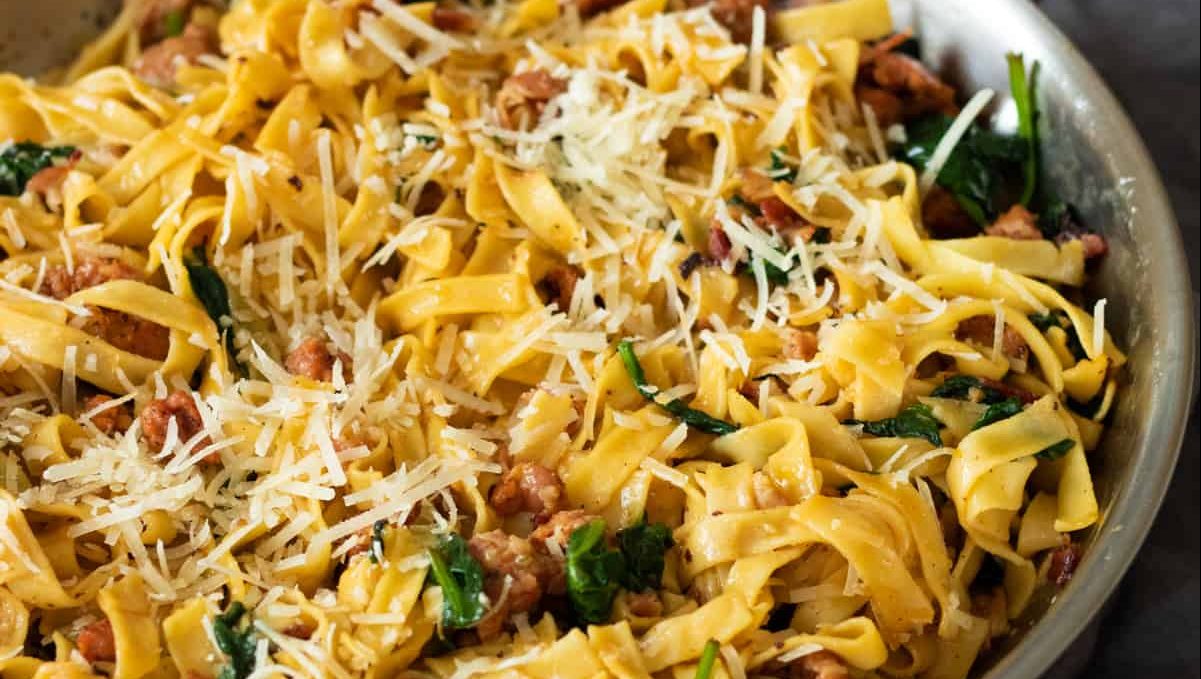 Sometimes, all you need is a cozy dinner to warm your heart and soul. We've gathered 29 comforting dinner recipes that are perfect for those evenings when you want to relax at home. From hearty stews to classic favorites, these dinners will make your evening in extra special.
19 Creative Puff Pastry Recipes To Try This Weekend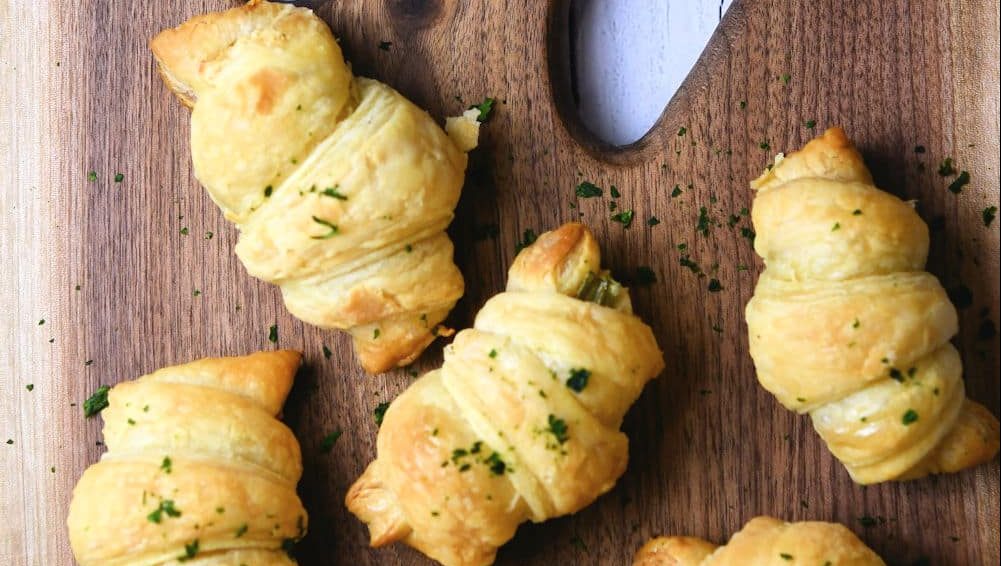 If you enjoy airy, flaky, and buttery puff pastry, you're in for a real treat with these 19 creative recipes. I'll bet you haven't come across most of these before! From tasty snacks to sweet desserts, these recipes put a delightful spin on the classic pastry.