Buttered Cinnamon Apples with Salty Candied Walnuts & Vanilla Ice Cream is a delicious dessert with just the right mix of sweet and salty, softness and crunch. And as if that wasn't enough, it's actually really quick and easy to make.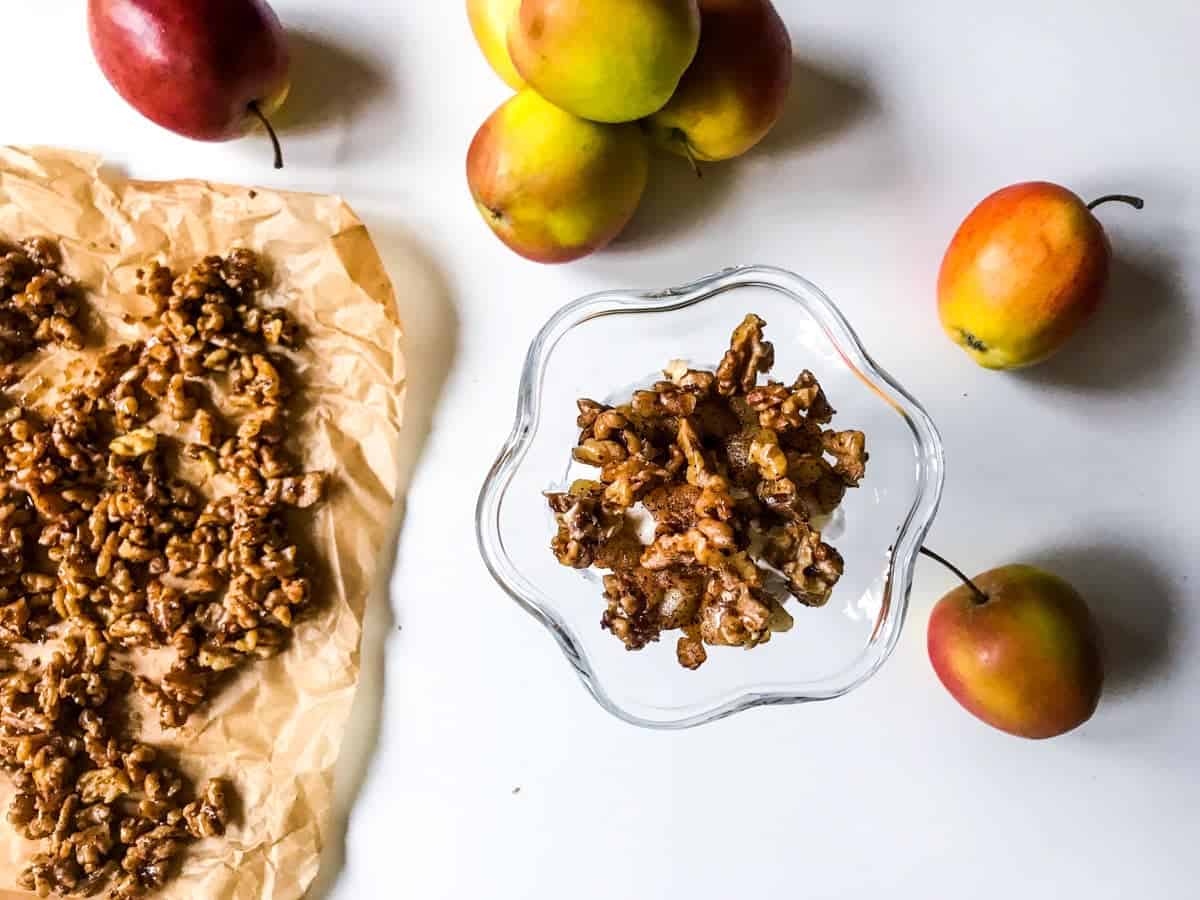 OK first I need to get this out there: I'm not really a dessert person. I know, that's weird - all my friends think so. But to me, there is so much more to savory than to sweet.
That's why, when I DO make dessert, it needs to be a little bit of both. Sweet, yes, but also a touch of savor. Salt, maybe a hint of spice, a nice crunch. All those delicious components that I'd use to add complexity to any other kind of dish.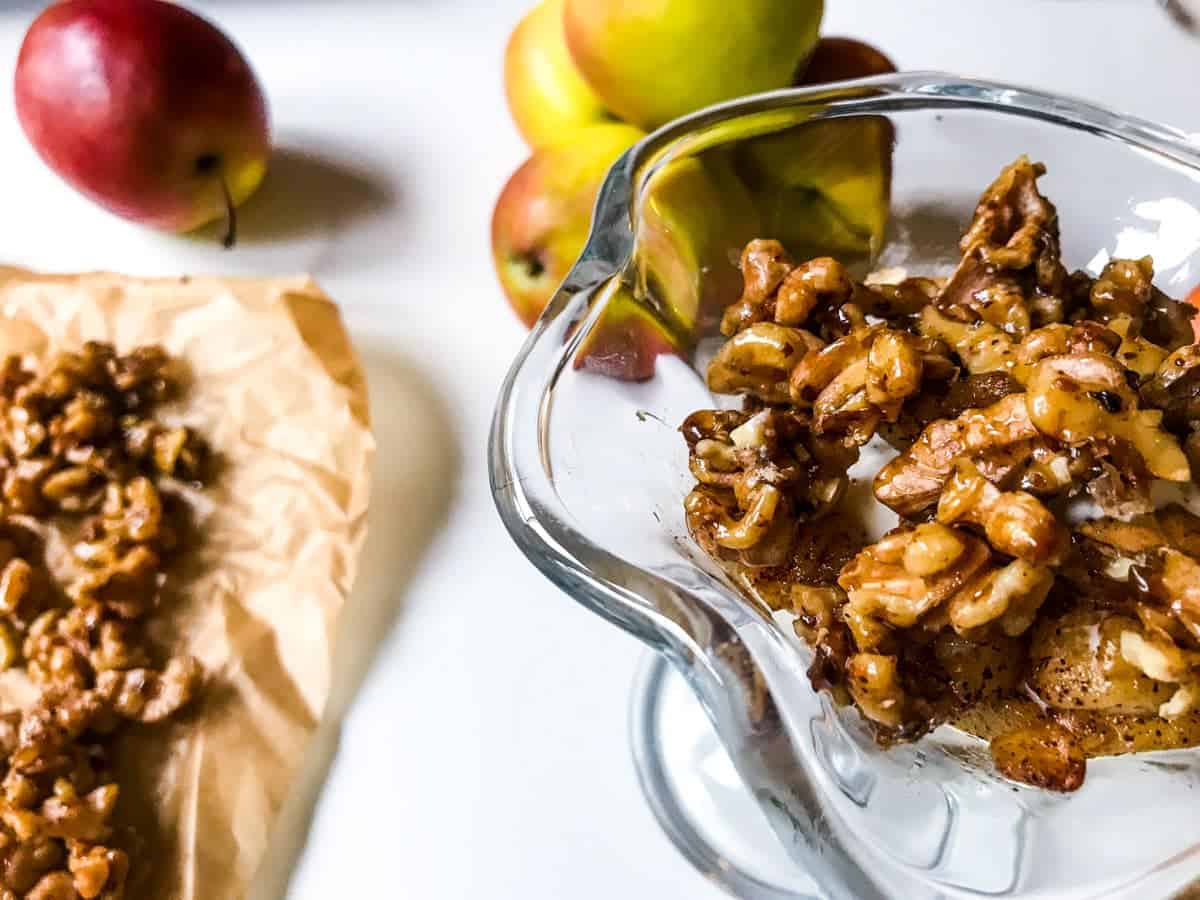 For this one specifically, there are two components that provide that added savor. Lots of salted butter for frying the cinnamon apples in, and salty candied walnuts. And salty they are, these little gems. When you taste them straight out of the pan you might think something along the lines of "Oh no, Emmeline has gone mad! This is just too much salt! I thought we were making dessert? She's trying to fool me into making an appetizer!"
But please, just indulge me, and have a bite with the vanilla ice cream, the buttered cinnamon apples and the salty candied walnuts together, and let me know if all that saltiness didn't just make this into a seriously dreamy experience.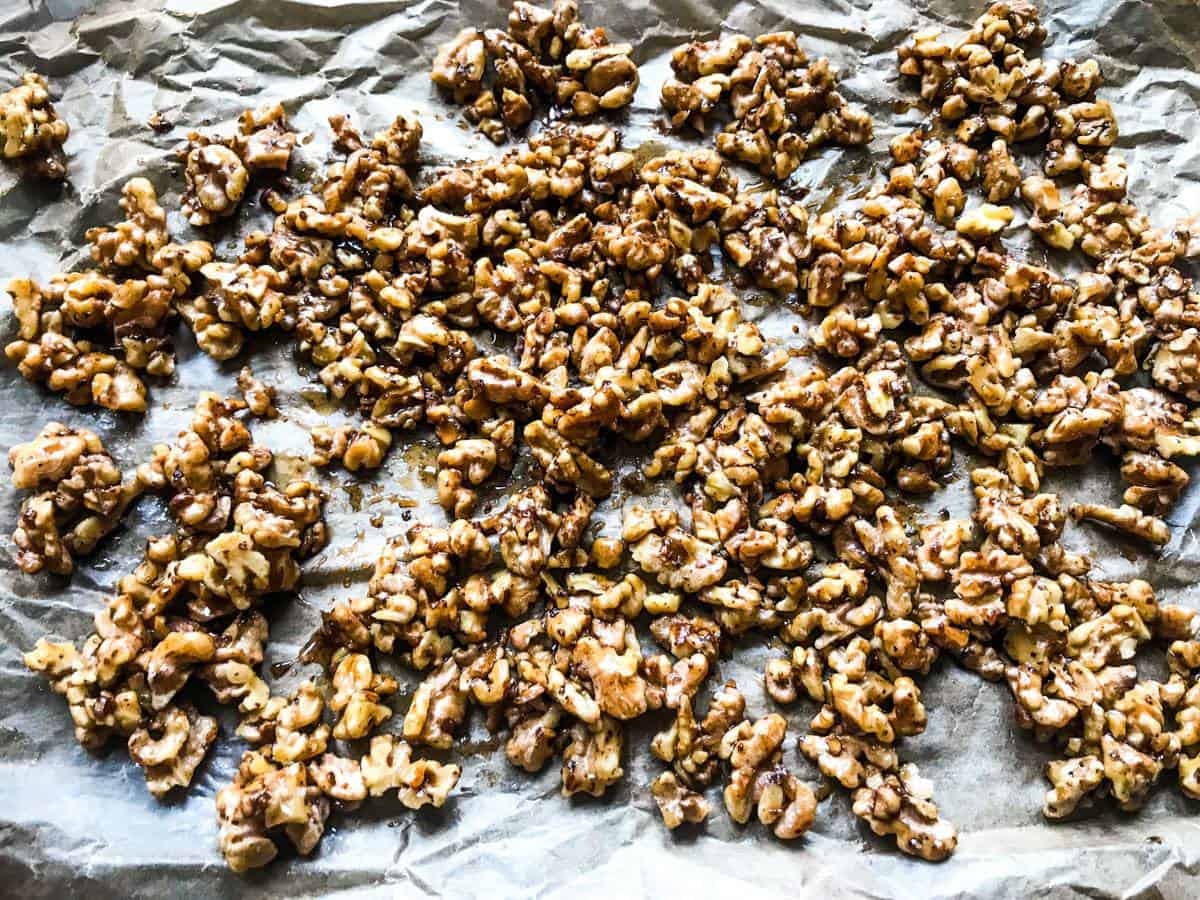 If you think making these salty candied walnuts is hard, think again. It's actually quite quick, and even a beginner can pull it off.
So how exactly do you make salty candied walnuts, you ask?
Just mix together sugar, salt, water and a pinch of cayenne, heat up and let boil for a few minutes - keep an eye on the sugar while it's heating up and boiling away, you don't want it to burn. Then add in dry roasted walnuts, mix, pour on to a baking sheet and leave to cool. Done! All in 10 minutes, even when including the time it takes to roast the walnuts.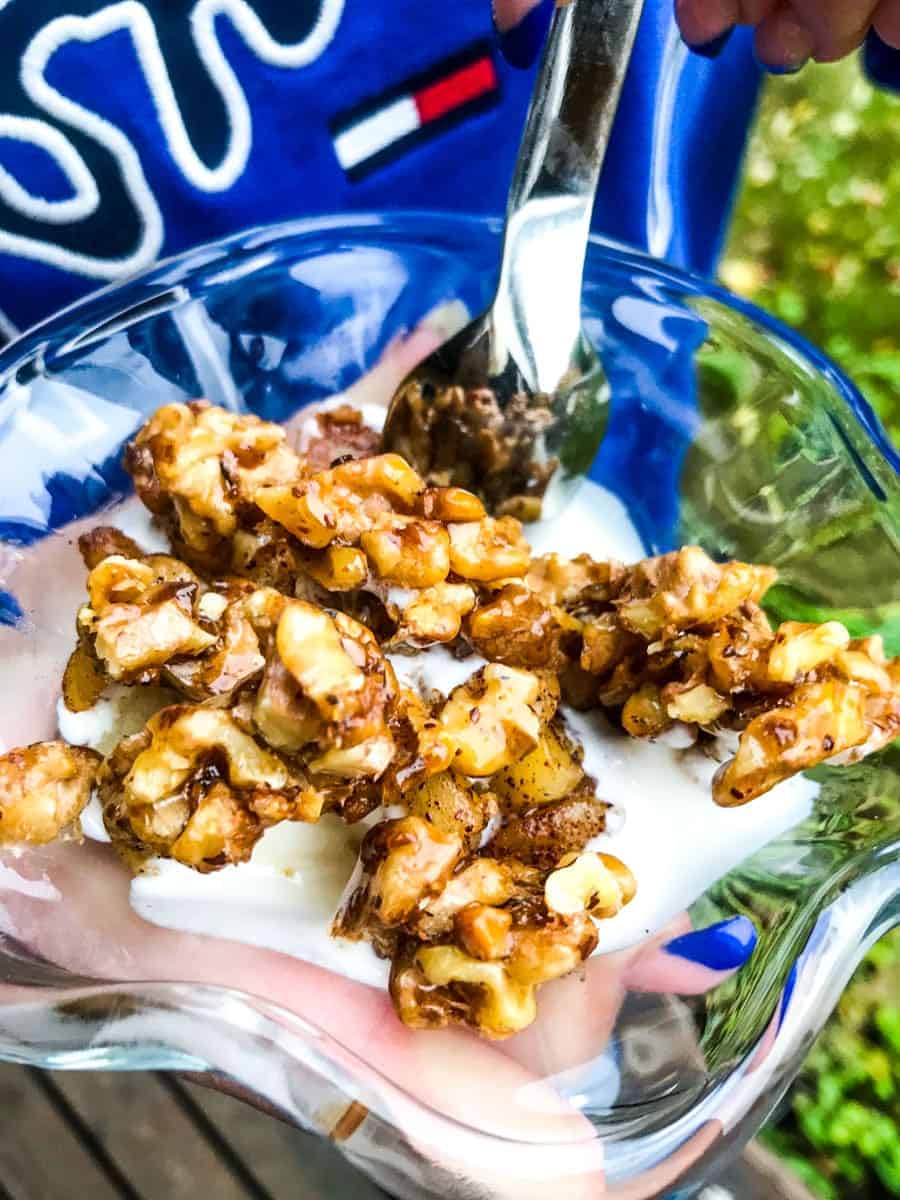 I had some help for shooting (and tasting) this recipe, and oh my was that fun! I made this for my sister & her kids & parts of the big American family that were here on vacation (including uncle George 94 years old, all the way from Colorado!). So while my sister (you know, the fellow foodie who sometimes just happens to have a deer saddle laying around) was cooking away on our main course I included her kids in serious taste tests (Remember those really salty candied walnuts and the experiment of combining them with the buttered cinnamon apples & vanilla ice cream I mentioned above?) and a very fun photo shoot.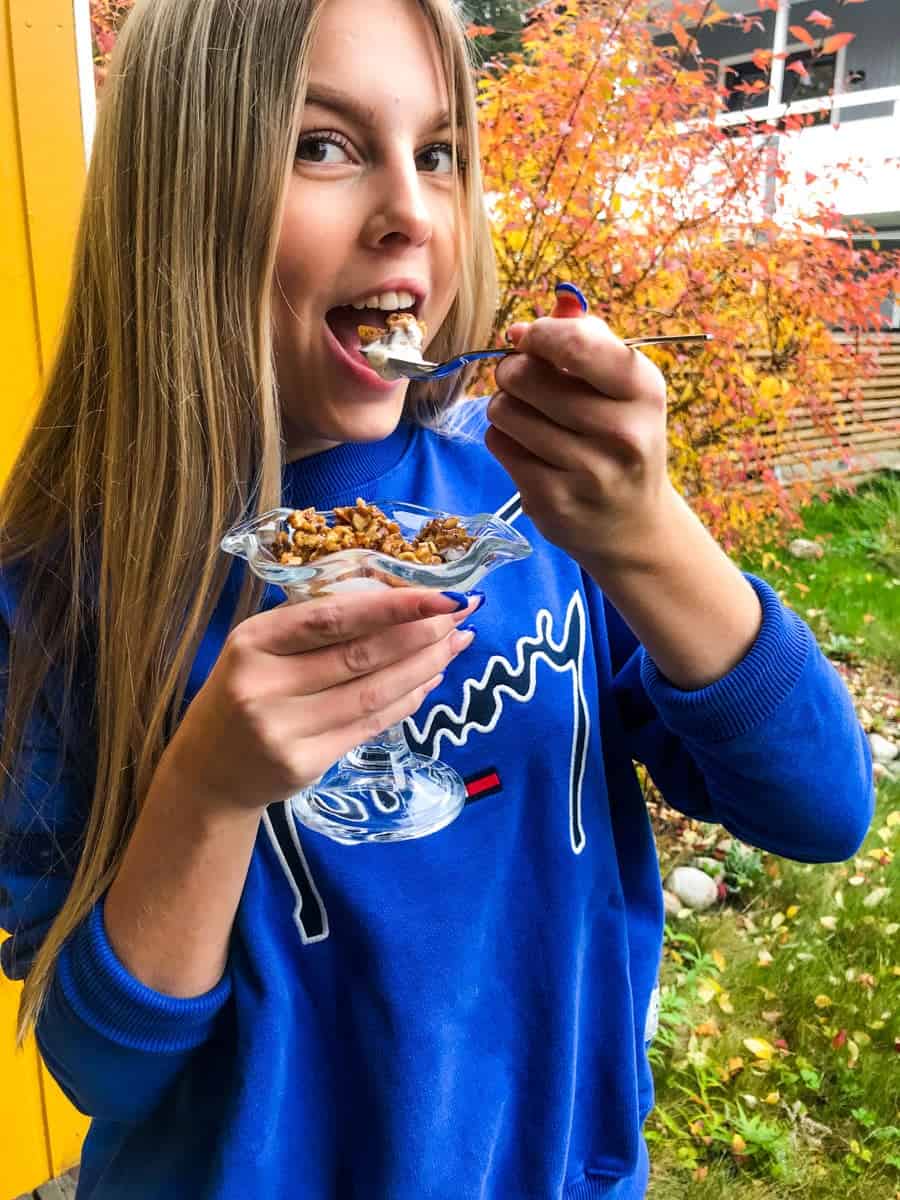 Result? For the first time ever - there are pictures of people on this blog! And also, can't you just tell how much my niece (above) likes eating an ice cream dessert outside in five degrees celsius in front of a pretty tree? Or maybe it's just that the buttered cinnamon apples with salty candied walnuts & vanilla ice cream she's eating is THAT good!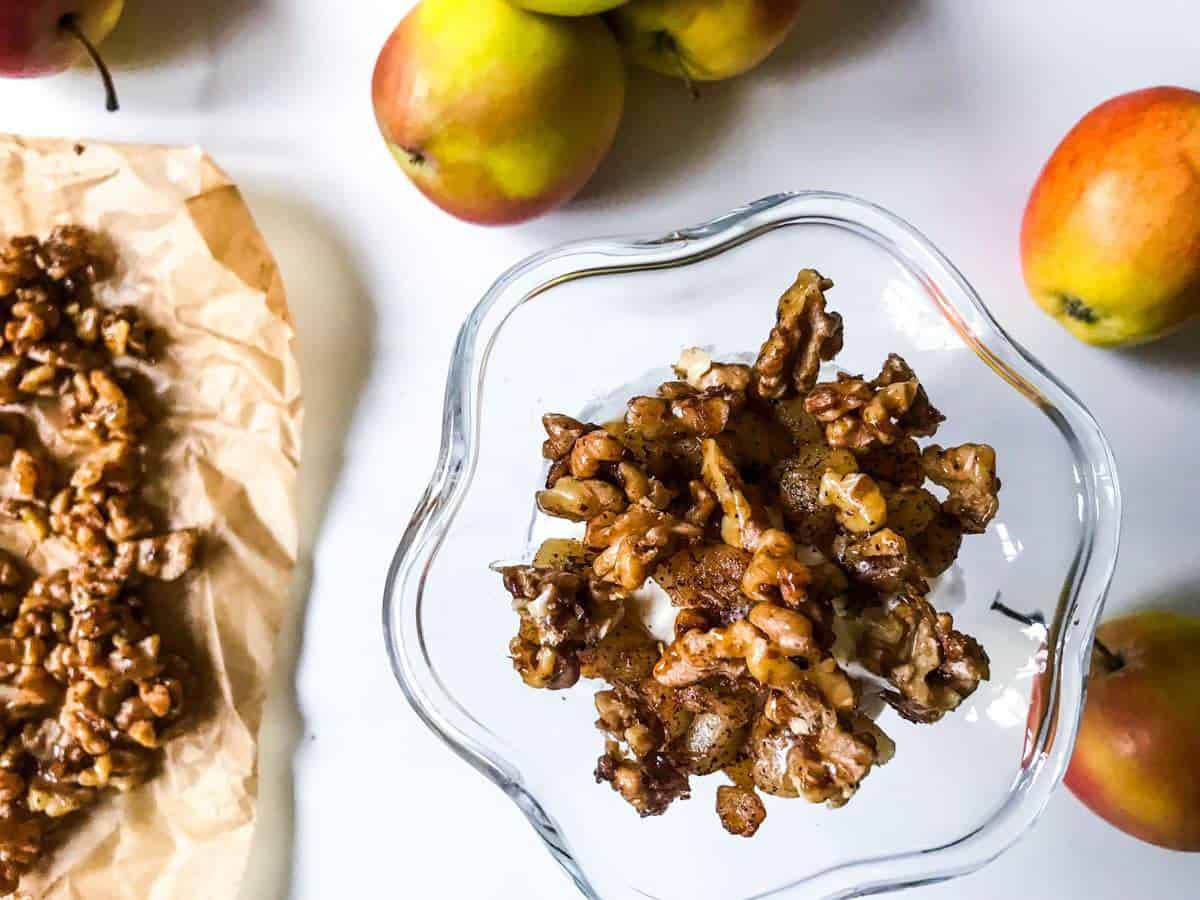 So before we run out of fall and all these gorgeous seasonal apples - do yourself and anyone you love a favor and make these buttered cinnamon apples with salty candied walnuts & vanilla ice cream. It's kinda quick, it's easy, and even someone who doesn't really like desserts (like me!) will love it.
If you make these buttered cinnamon apples with salty candied walnuts & vanilla ice cream, please be sure to leave a comment and/or give this recipe a rating! I love to hear from you and to see your versions of my recipes – that's why I also love it when you tag me on Instagram when you show off your creations!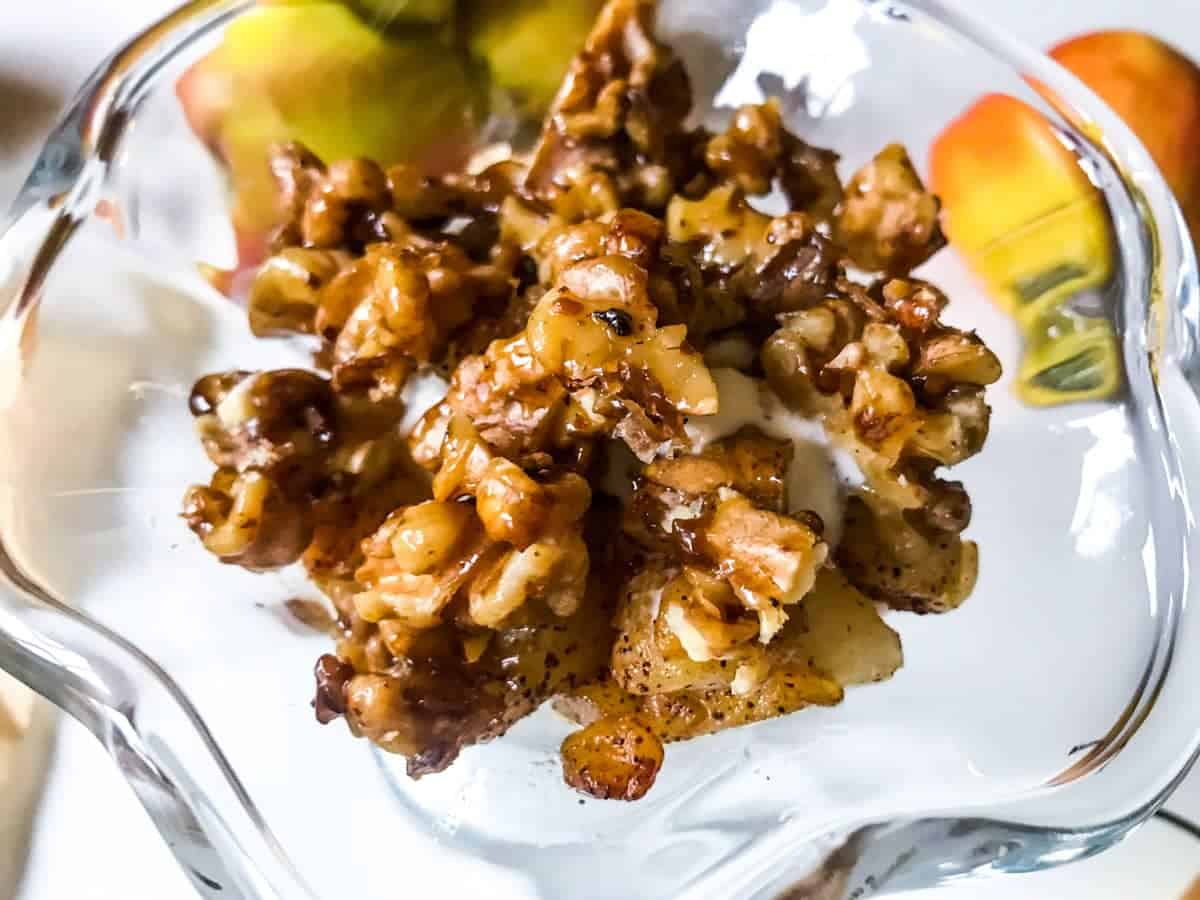 Recipe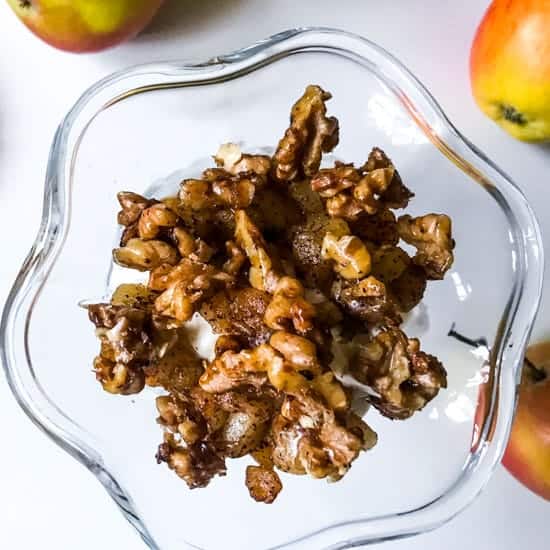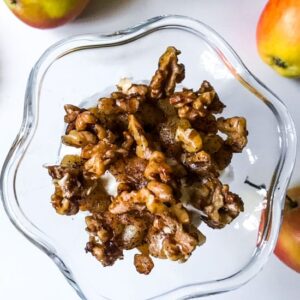 Buttered Cinnamon Apples with Salty Candied Walnuts & Vanilla Ice Cream
Print
Rate
Ingredients
Salty Candied Walnuts
100

g

walnuts, roughly chopped

2

tablespoon

brown sugar

2

tablespoon

white sugar

2

tablespoon

water

0.75

teaspoon

salt

a pinch of cayenne pepper
Buttered Cinnamon Apples
4

apples, preferably a sour kind, peeled and cut in bite-size pieces

3

tablespoon

salted butter

1

teaspoon

ground cinnamon
To serve
0.5

liters

vanilla ice cream
Instructions
Salty Candied Walnuts
Place a baking sheet on a heat resistant surface, eg. an oven tray.

Heat a pan over medium high heat and place the walnuts in the pan. Roast for 3-5 minutes, stirring often to avoid the walnuts burning. Set aside for now.

In a bowl, mix together the brown sugar, white sugar, water, salt and cayenne pepper. Pour in a cold pan and place over medium heat. Bring to a boil and let simmer for 3-5 minutes, until golden brown, taking care that the sugars don't burn . Do not stir - if it browns unevenly, instead tip the pan a bit to mix.

Add in the walnuts and mix, and then pour them onto the baking sheet. Leave to cool until ready to serve.
Buttered Cinnamon Apples
Melt the butter in a pan over medium-high heat. Add in the apples and cook for 3-5 minutes.

Add in the cinnamon and cook for another minute. Serve immediately.
To serve
Scoop vanilla ice cream on to a plate or into a bowl, place buttered cinnamon apples on top and sprinkle over the salty candied walnuts. Enjoy!
Notes
If you want to exchange the brown and white sugar for another combination, eg. using only brow or white sugar instead, you can. This will affect taste slightly. If using only white sugar there's a higher risk that it will burn, so keep an even closer watch if you choose to use only white sugar.
Salty Candied Walnuts can be prepared ahead of time, and then you only need to cook the Buttered Cinnamon Apples cooked just before serving.
Nutrition
Calories:
520
kcal
|
Carbohydrates:
57
g
|
Protein:
6
g
|
Fat:
32
g
|
Saturated Fat:
11
g
|
Cholesterol:
51
mg
|
Sodium:
569
mg
|
Potassium:
436
mg
|
Fiber:
7
g
|
Sugar:
45
g
|
Vitamin A:
640
IU
|
Vitamin C:
9.1
mg
|
Calcium:
140
mg
|
Iron:
1.1
mg
Nutritional information is approximate and automatically calculated, and should only be viewed as an indication.