There are a few recipes that have been with me since forever, that have been go-to's for as long as I can remember, and this creamy saffron arrabiata shrimp with tagliatelle is one of those. These go-to recipes of mine are always deeply satisfying and generally quite quick and simple (I did not have nearly the same patience in the kitchen way back when). This recipe is no exception. It's creamy, spicy, deeply fragrant from the saffron and has a subtle sweetness from the tomatoes and shrimp. All in all, it rarely disappoints.
Another reason I love it so much is that it's one of those dishes that's great when freshly made, but almost twice as good the day after. Or two days after brought along for lunch. Actually, you could even make this the day before, not finish cooking the pasta, and then finish it the day of. Haven't tried it but please let me know if you do!
I've made saffron arrabiata shrimp a gazillion times and I've made it for a bunch of different people. The verdict? It's a surefire dish unless you serve it to someone who's allergic to spice. Just don't. This is a spicy dish. You could make it with regular tomato sauce instead of arrabiata, but I haven't tried as I like the complexity added by the spice. Anyway, still haven't met anyone who likes spice and doesn't like this dish.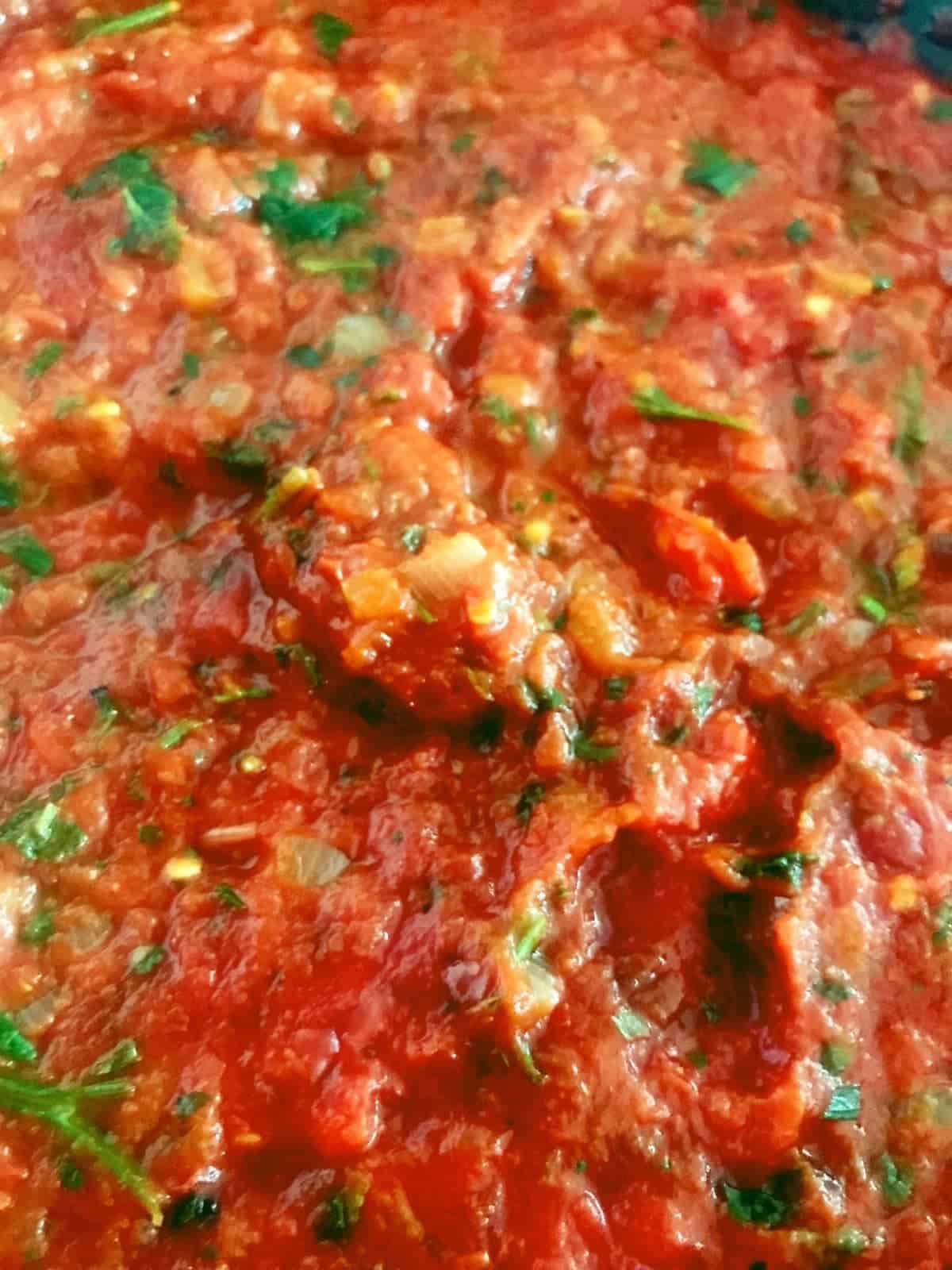 Even though I've made this dish for years, I managed to update it a bit recently. I used to make it with a pre-made arrabiata sauce (the Barilla kind is really good for it!) - which still makes a really good dish. And ridiculously fast. But this time around I updated it with a homemade arrabiata base. You can do either, depending on ambition and time constraints. I do however recommend trying your hands at doing it all from scratch. The arrabiata mainly cooks itself and doesn't even require a lot of chopping, so you'll probably find it well worth it. It really does add extra flavor, and comes with the added bonus of knowing exactly what's in it (and being able to adjust the spice!).
Another option if you're in a hurry is to reduce the cooking time for the sauce. 15 minutes will do it, but if you can I suggest to let it stay on at least the full 45. Just adjust the amount of water accordingly. Add a bit at a time and just add more when it starts to look a bit dry. Not dry-dry, then it's gone too far - but just not as saucy anymore. Keep in mind though that you'll add lots of cream as well for the final sauce so the consistency of the arrabiata shouldn't be too runny. Aim for 2 dl for 45 min, less for shorter and more for longer, and you'll be fine!
As always with spices, please taste and adjust to the heat in the red peppers and chili flakes available to you. The red peppers we have in Sweden are usually really mild, but if yours aren't then please be gentle. The opposite can be said for the chili flakes. The ones I get here seem to be extraordinarily spicy. (I realized this after following exact measurements for chili flakes and destroying good food - and I'm not one to shy away from spice!).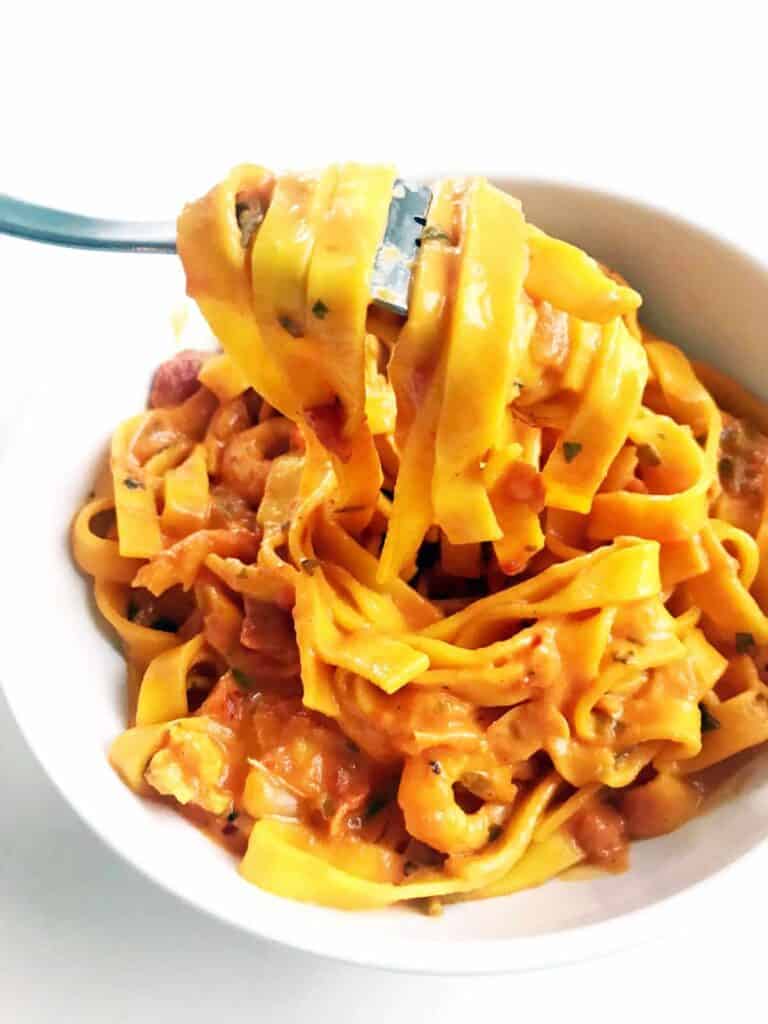 Not really that much more to say about it - just try it. The spice and slight sweetness of saffron arrabiata shrimp pair well with a nice glass of spicy red, if you're into wine - a Côtes du Rhône or Pinot Noir usually does the trick. Some other, less spicy, wines can feel a bit flat next to all the spice.
Oh, and don't throw away the shrimp shells! They'll make a really nice broth for you. Don't have time to make it now? Double-bag them and throw in the freezer, then make that broth another day.
So, without further ado - I give you Creamy Saffron Arrabiata Shrimp with Tagliatelle. Enjoy!
Don't forget to share this recipe if you like it! Have you tried it? Please give a rating below!
Recipe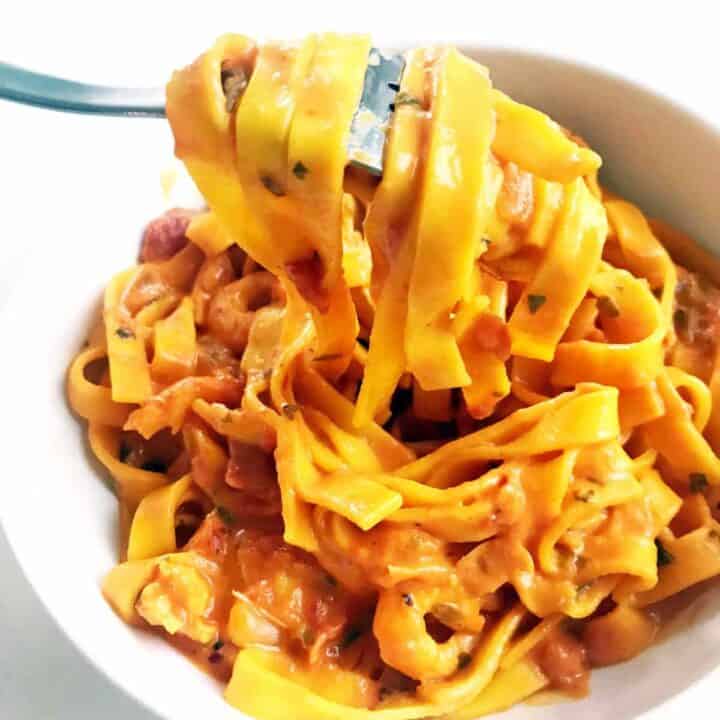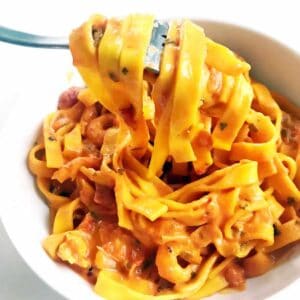 Creamy Saffron Arrabiata Shrimp with Tagliatelle
Print
Rate
Cook time:
1

hour
15

minutes
Total time:
1

hour
30

minutes
Ingredients
Arrabiata sauce
1

tablespoon

olive oil

1

yellow onion, finely chopped

4

cloves

garlic

2

red chili peppers

2

(14 oz) cans

chopped tomatoes

2

tablespoon

tomato puree

1

tablespoon

fresh basil, chopped

¼

teaspoon

freshly ground black pepper

1

teaspoon

chili flakes

1

cup

water (less if cooking for a shorter time)

2

tablespoon

fresh parsley, chopped
Creamy Saffron Arrabiata Sauce with Tagliatelle
2

cups

cream

0.04

oz

saffron powder

2

lb

shrimp, peeled

1

lb

fresh tagliatelle pasta

¾

cups

pasta water
Instructions
Arrabiata sauce
Peel the garlic cloves and press them with the side of the knife so they hold together but are a bit crushed. Cut the chili peppers in half.

Heat olive oil over medium heat in a pan large enough to hold all the sauce and, if possible, all the pasta as well. Add the chopped onion, slightly crushed garlic and chili peppers and cook for about 5 minutes.

Add the chopped canned tomatoes, tomato puree, basil, black pepper, chili flakes and water. If you're not cooking it for the whole 45 minutes, start by adding some of the water and then add more as needed while cooking. Cook under a lid for 45 minutes over low-medium heat and stir occasonally.

When finished cooking, remove the garlic cloves and chili halves.
Creamy Saffron Arrabiata Sauce with Tagliatelle
Add the parsley, cream and saffron. Bring to a boil and let simmer for a few minutes.


Cook the pasta according to the instructions on the package, but take it off one minute before it's finished. Add the pasta to the sauce together with a few spoonfuls (approximately 2 dl) of pasta water. Let it cook for a few minutes until the pasta is done.


Add the peeled shrimp to the sauce and pasta and give it a good mix. Serve and enjoy!
Notes
This recipe is amazing when made with pre-made arrabiata sauce as well - I like the one from Barilla.
Chili differs a lot in spiciness - if you're sensitive to spice, use a bit less and add more if needed. As you will add cream and pasta water to the arrabiata sauce the plain arrabiata sauce is pretty spicy with my amounts.
Nutrition
Calories:
824
kcal
|
Carbohydrates:
71
g
|
Protein:
49
g
|
Fat:
38
g
|
Saturated Fat:
19
g
|
Cholesterol:
598
mg
|
Sodium:
1543
mg
|
Potassium:
766
mg
|
Fiber:
4
g
|
Sugar:
6
g
|
Vitamin A:
1775
IU
|
Vitamin C:
45.5
mg
|
Calcium:
375
mg
|
Iron:
6.9
mg
Nutritional information is approximate and automatically calculated, and should only be viewed as an indication.