This post may contain affiliate links, which are always marked with *. Please read my disclosure for more information.
This easy Baked Tortellini Casserole is quick & mainly cooks itself, with very little prep. It's one of the best weeknight dinners, for those nights when you feel a little indulgent but just can't be bothered. And as an added bonus it's really easy to make vegetarian - just go for cheese filled tortellini instead.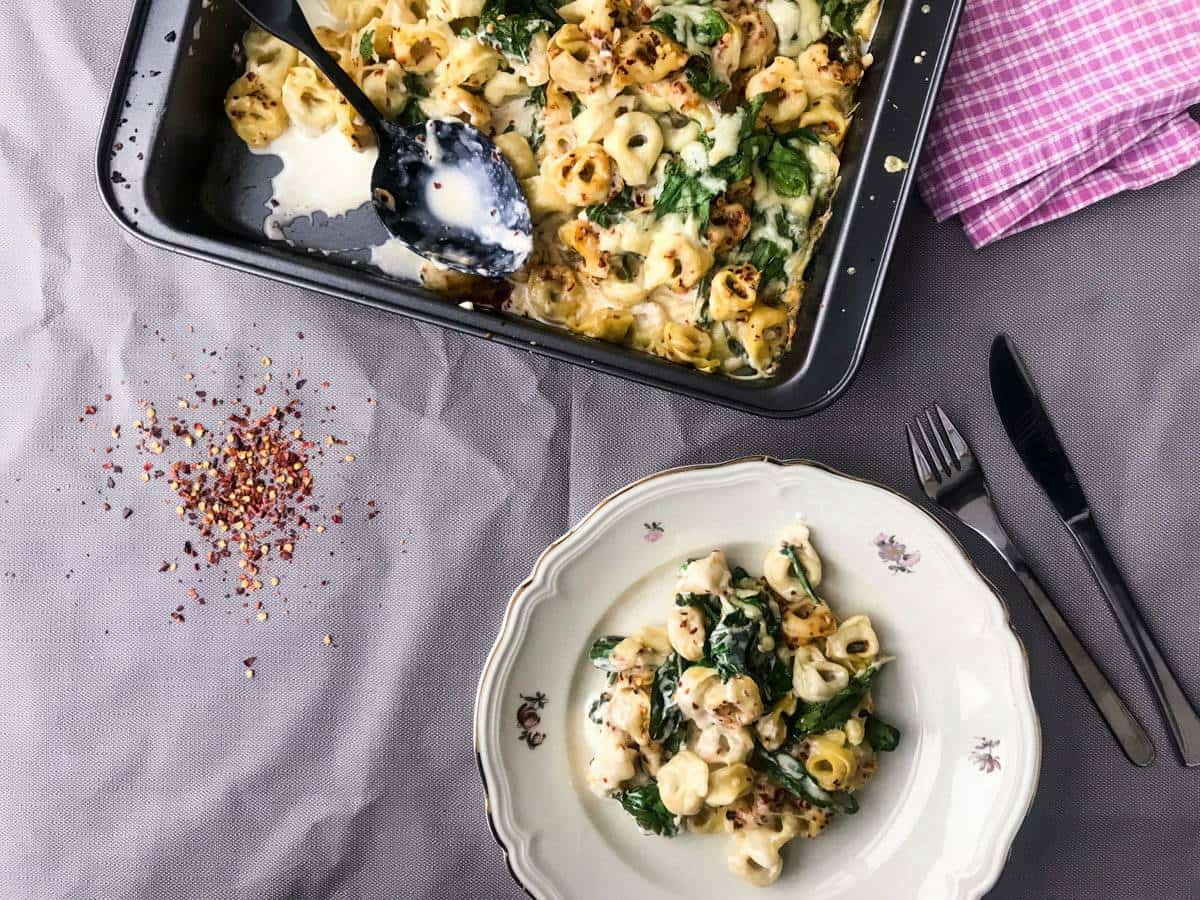 A big part of my college degree could be probably attributed to this specific recipe. I made it almost every week back then, when money was tight (I once had mashed potatoes topped with barbecue seasoning and ketchup for dinner. A low point in my culinary career. Especially as I added too much water to the mashed potatoes so it came out more like a mashed potato soup.) and all food needed to be lunchbox-appropriate.
But, knowing myself, it also had to be really tasty (the mashed potato soup being one of the few exceptions to the rule) - otherwise, I would just ditch it and run to the cafeteria instead. (This happened more than I would like to admit, especially when I was really trying to live on a budget and made some really boring food that ended up costing me more than making some nice stuff would have. Probably something like this that ended up causing the whole mashed potato soup incident. And made me get a job.)
This tortellini casserole fits all the requirements. It's quick and mainly cooks itself (here's two other recipes that fit perfectly in this category as well: a baked seafood pasta casserole and a super simple chicken broccoli pasta bake), so it's perfect for fitting in some studying or working while it's cooking. It's cheap, at least along my standards - one portion comes out at €1-2. And, it's perfect for your lunchbox - especially if you cook the tortellini a little bit less so they're not overcooked after heating up.
And, not to mention, it's tasty & cheesy & comforting and all set to make you happy.
Now, on to the easy-peasy cooking part.
How to make an easy Baked Tortellini Casserole
Start by cooking your tortellini (dried tortellini is best for this) about half the time stated on the package. Drain and place half of them in a non-stick oven pan*. No need for butter if using non-stick for this!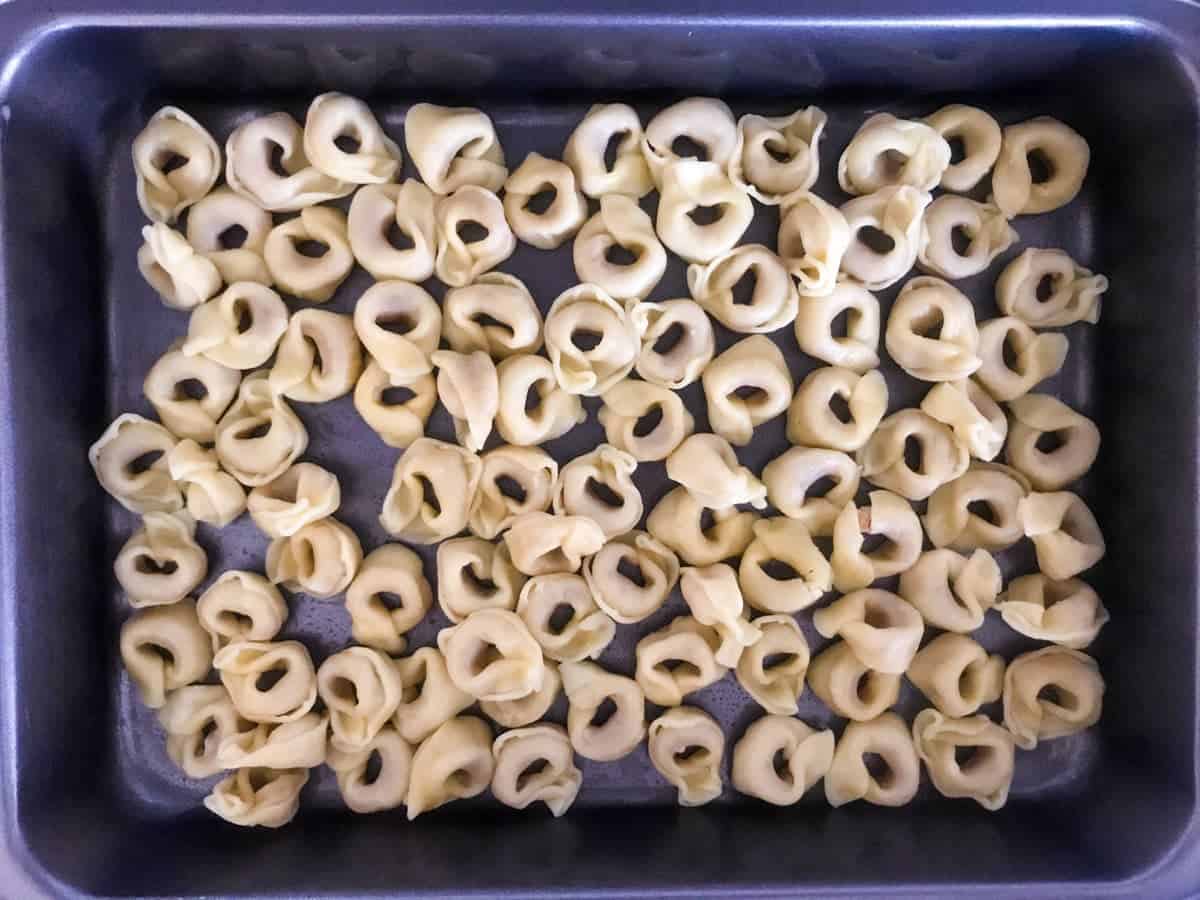 Place half of your spinach on top - don't go splurging on baby spinach for this, the big grown-up kind will do just as well.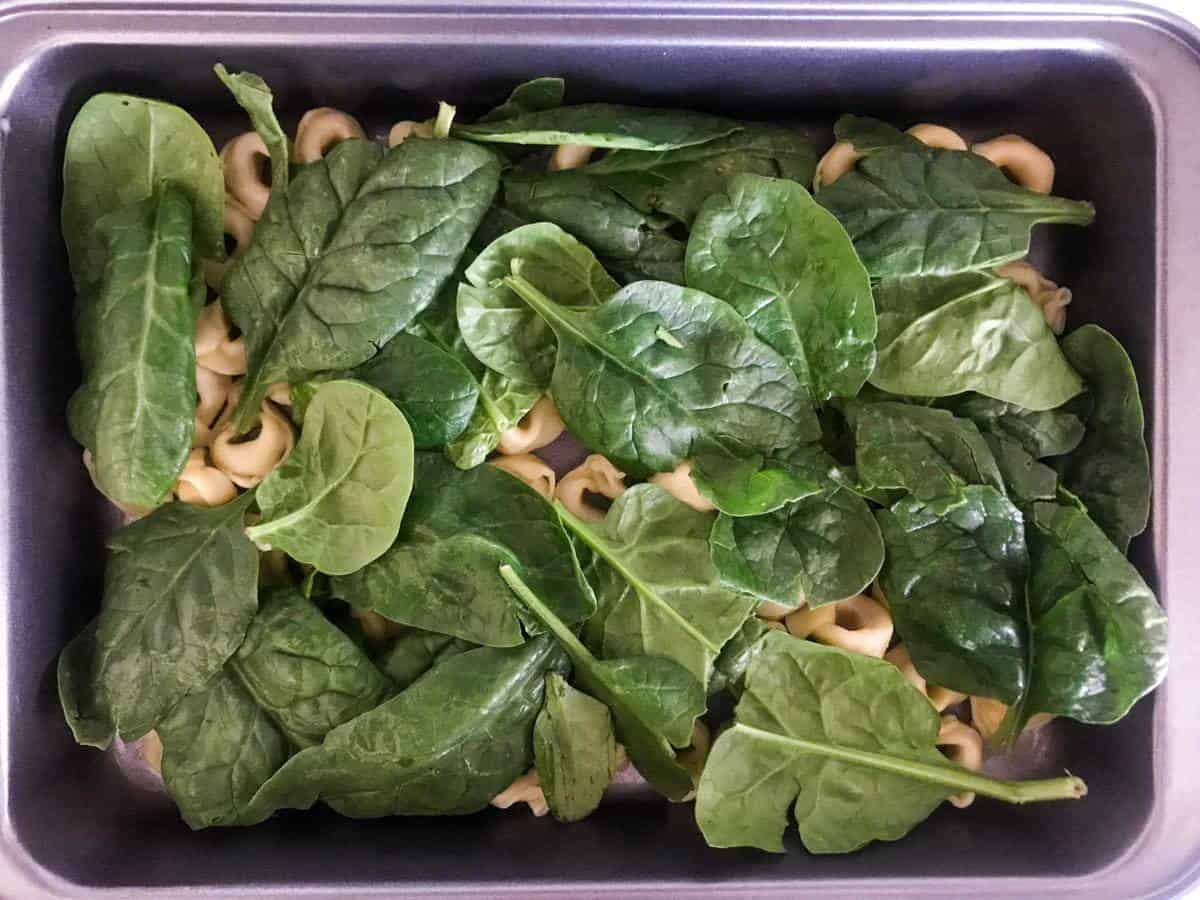 Now add half of your cheese.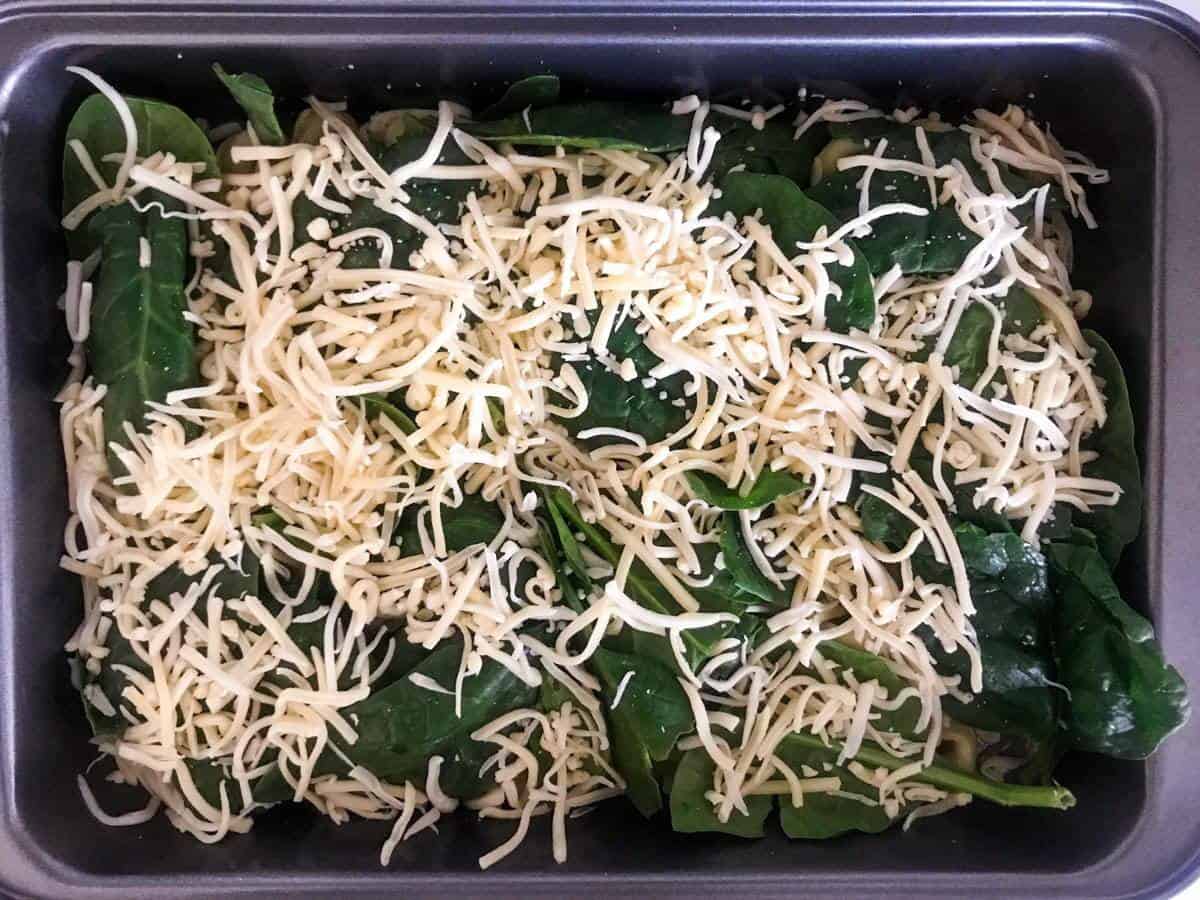 On with the rest of the tortellini and sprinkle with chili flakes*. Adjust to your taste, and if you don't like spice at all then just add your seasoning of choice instead. But don't skimp! A lot is good.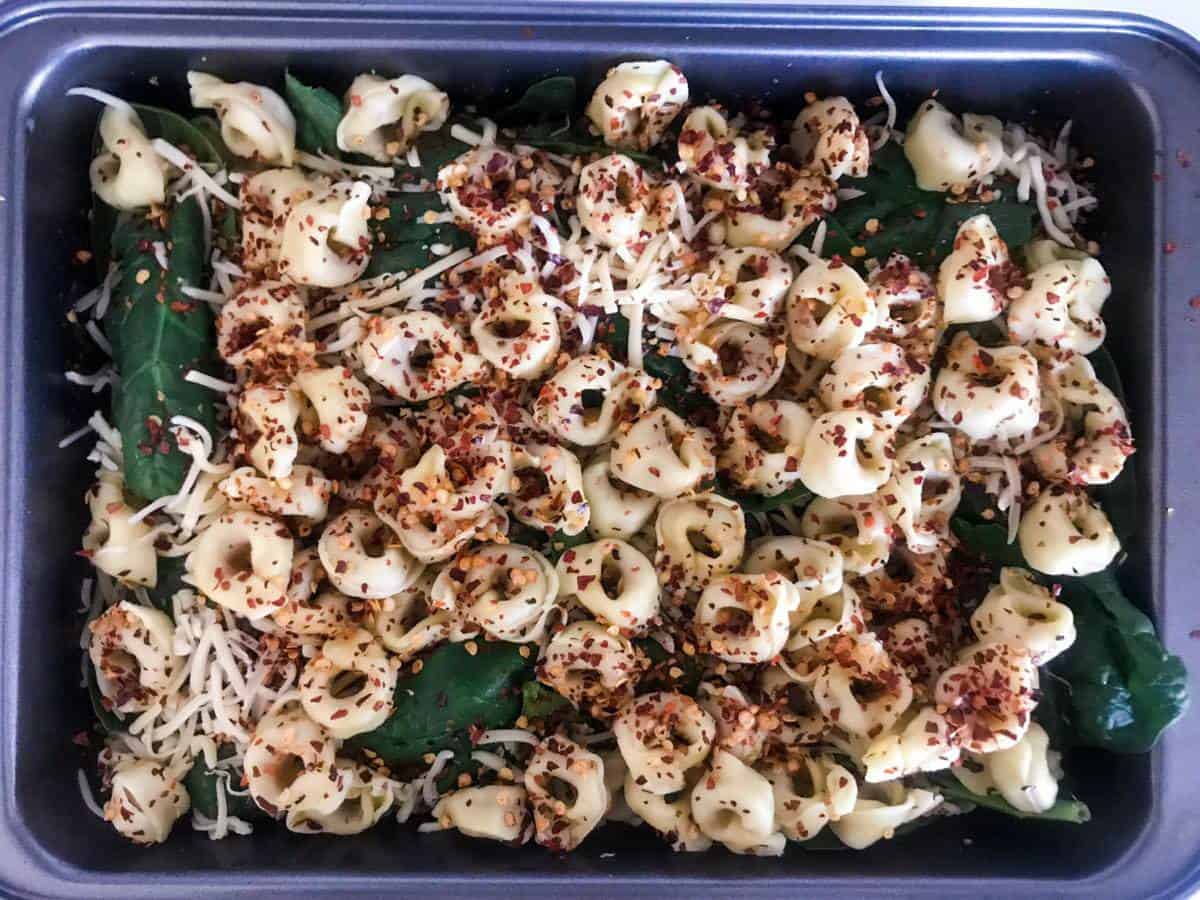 Add the rest of the spinach.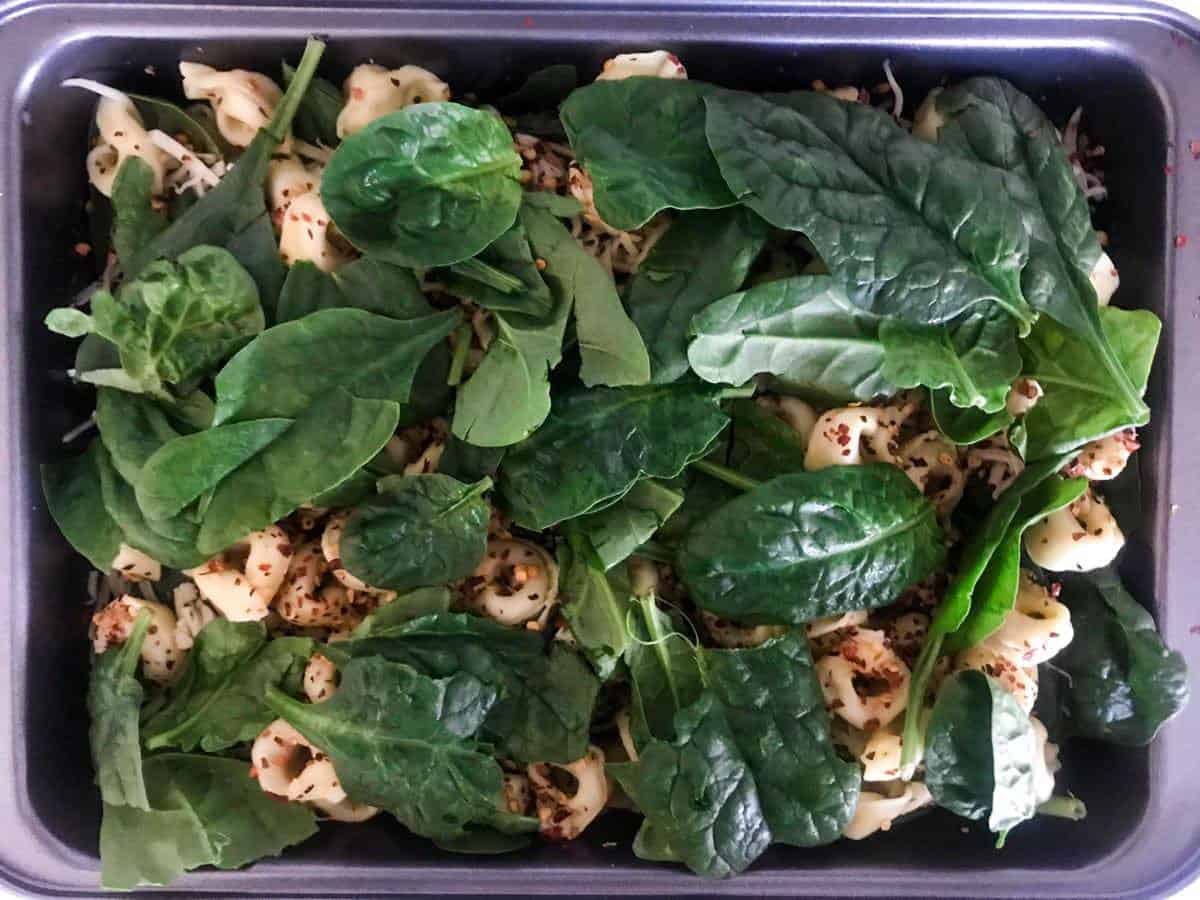 And the rest of the cheese.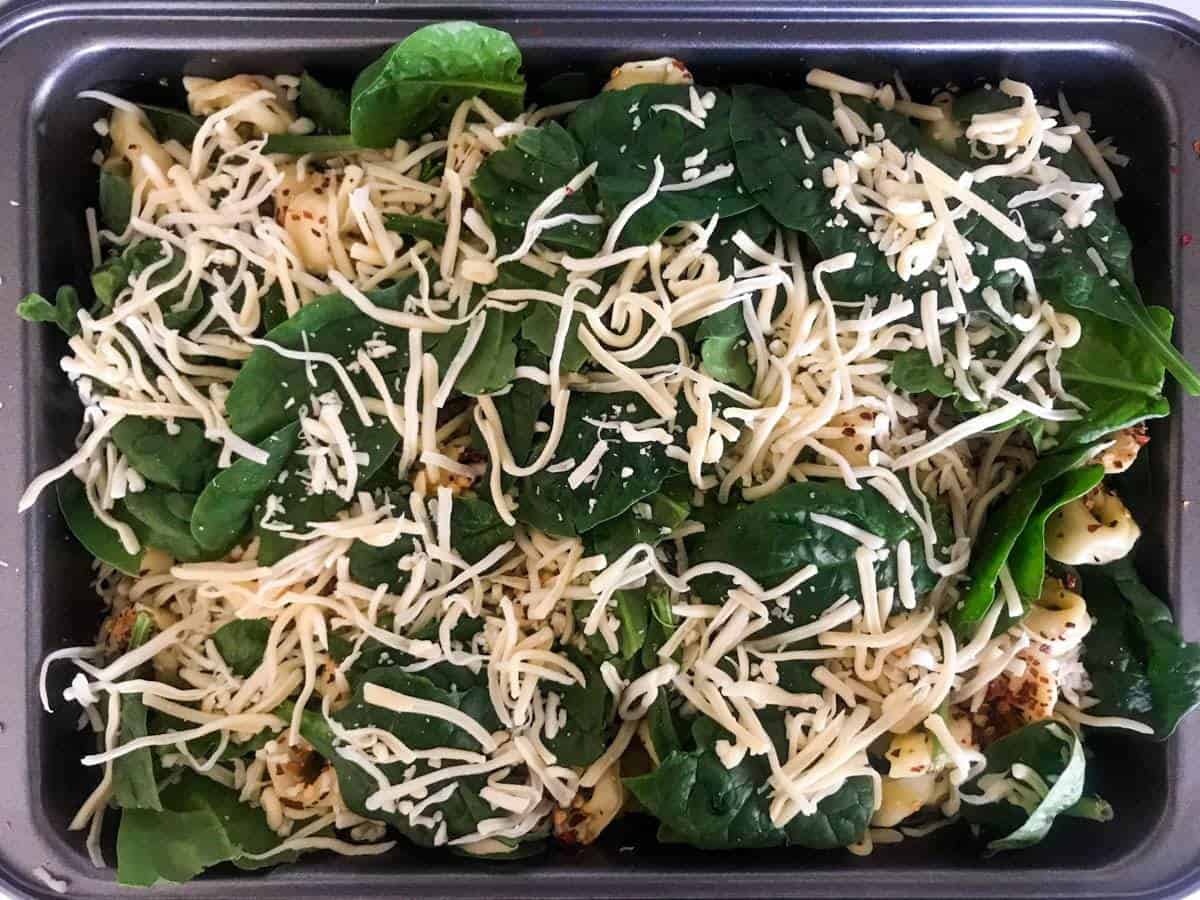 Pour over the cream, and stick it in the oven.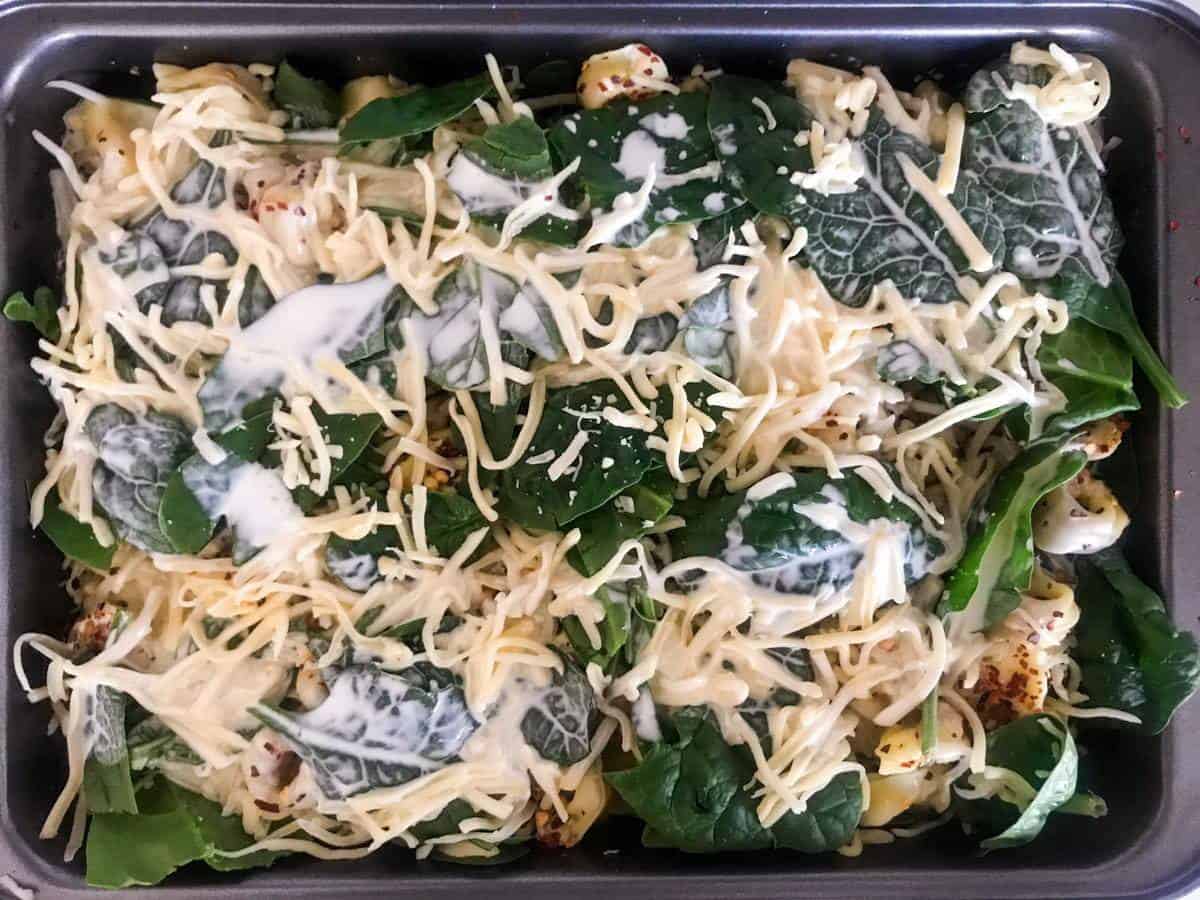 And about 15 minutes later you'll have this beautiful baked tortellini casserole all ready to go.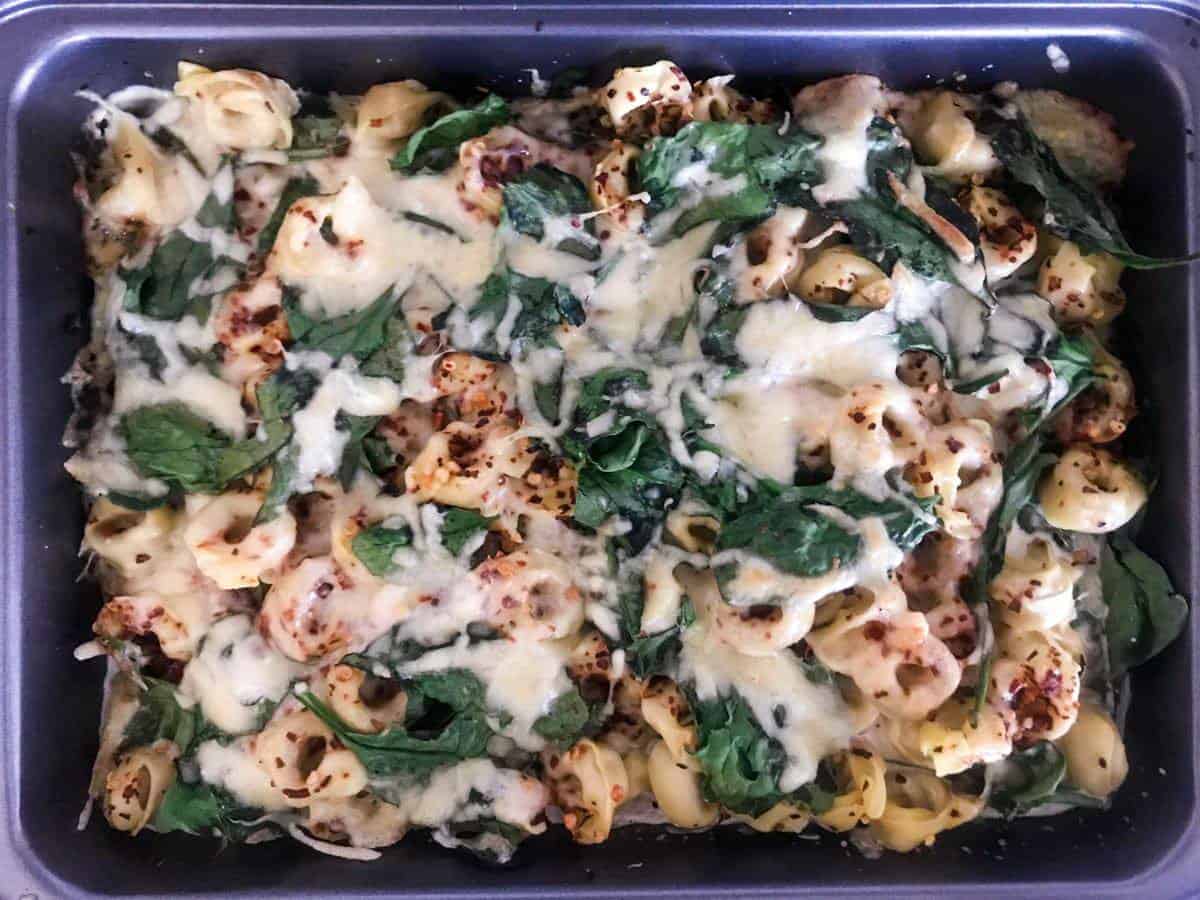 What to serve with Baked Tortellini Casserole
Often I just eat my tortellini casserole as it is, I mean you do have a nice helping of spinach in there so that's technically salad (or something like that). But it does go really well with a separate salad as well - tomatoes, cucumbers and peppers with a basic vinaigrette would sit nicely.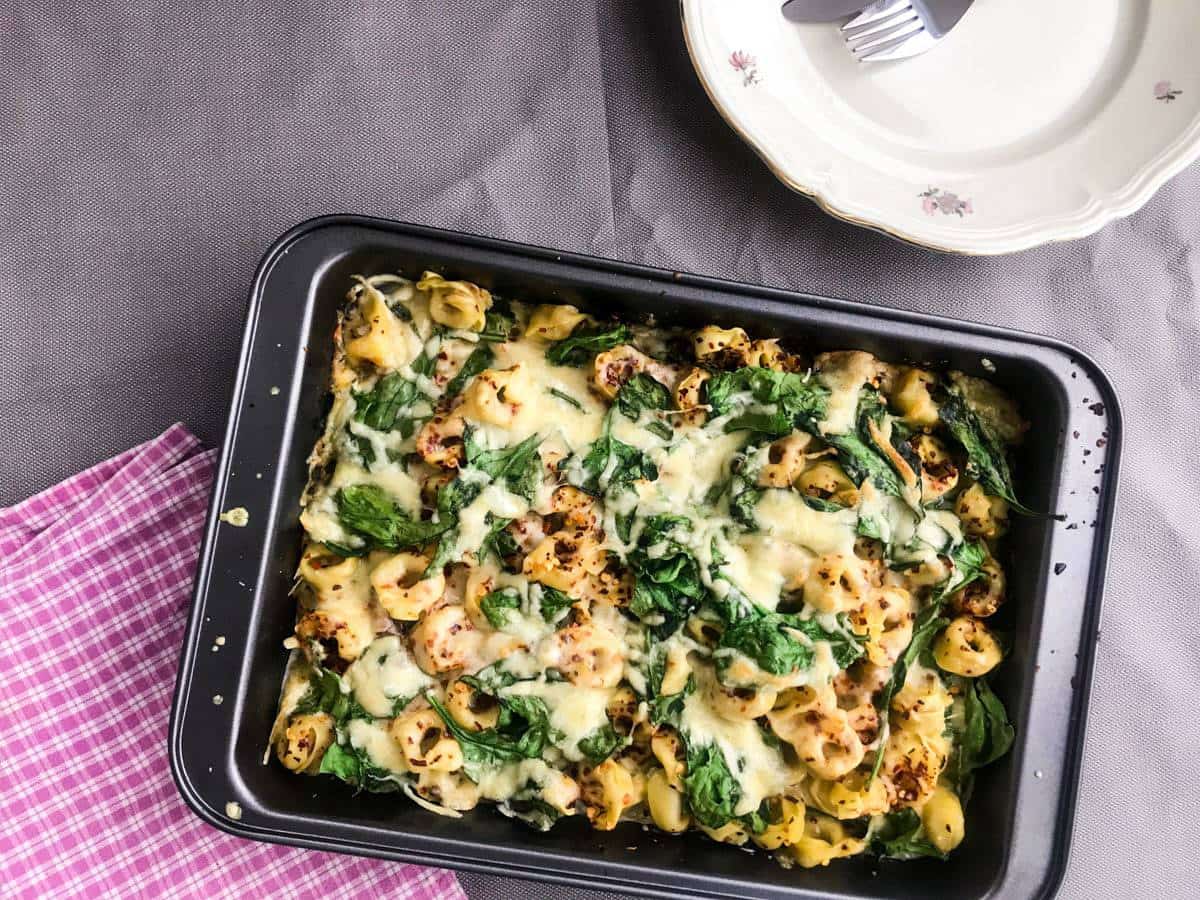 And if what you're really wondering is which wine to choose - go for something with its own hint of pepperiness, like a Syrah, Tempranillo or Pinot Noir. If going for white, go a bit sweet - it balances the spiciness nicely.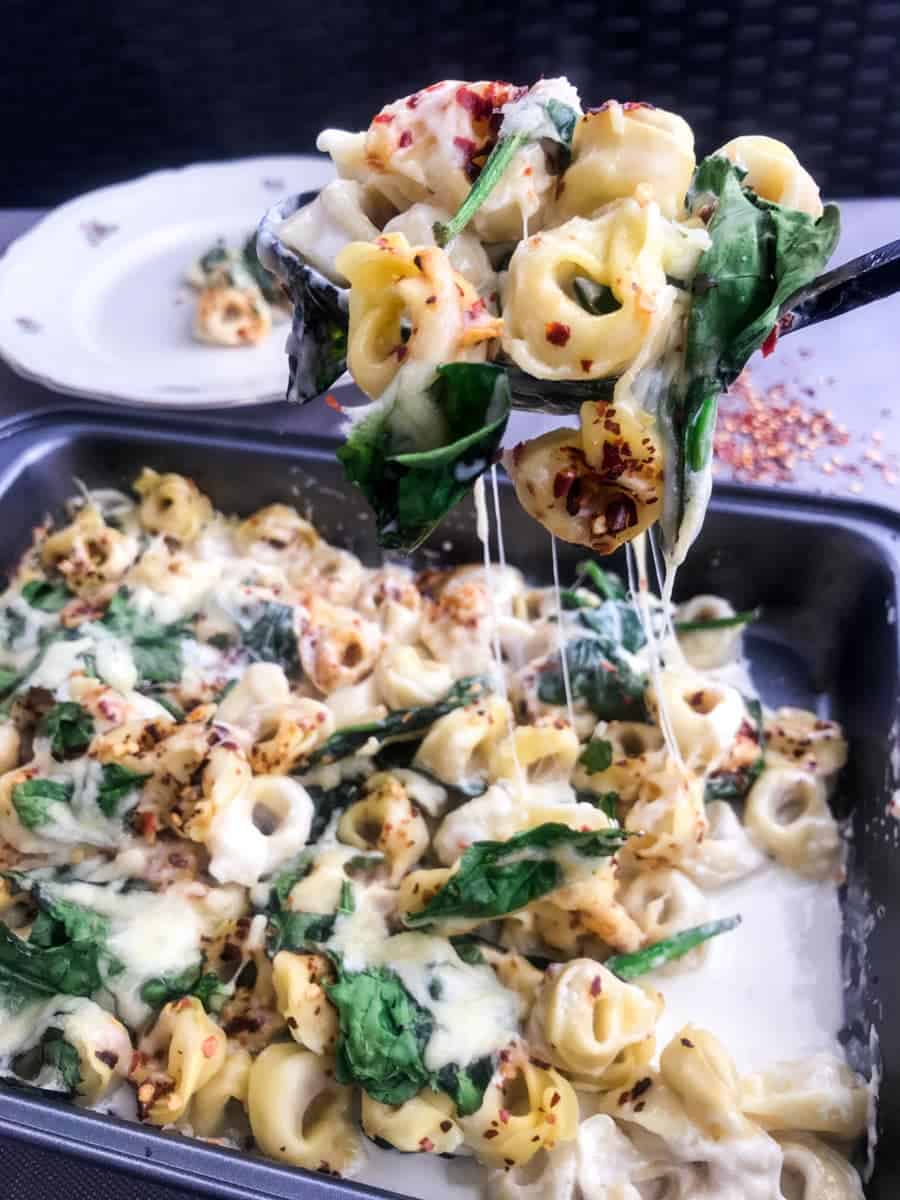 As always - I love hearing from you, so if you made this, please leave a comment and rating below! Or just leave a comment anyway and let me know what you think. And if you share your creation on Instagram - please tag me and use the hashtag #alwaysusebutter!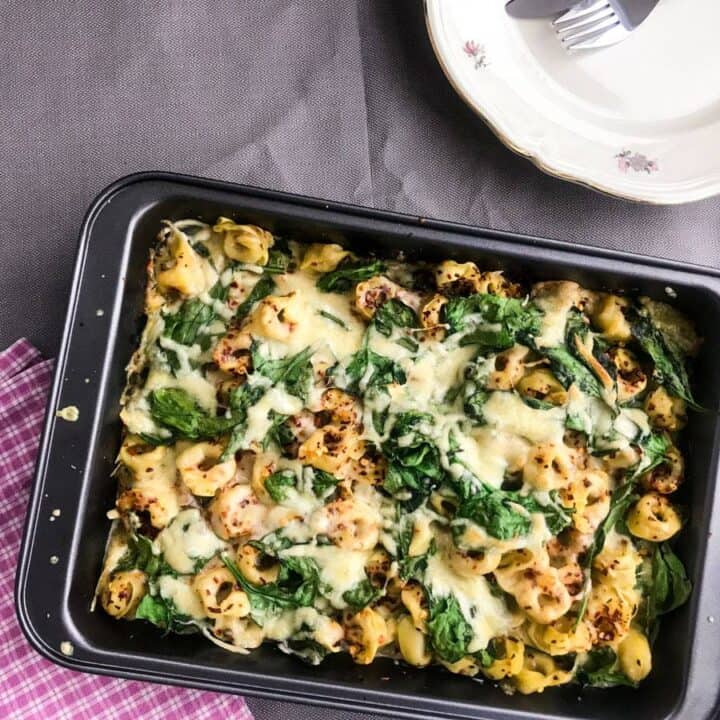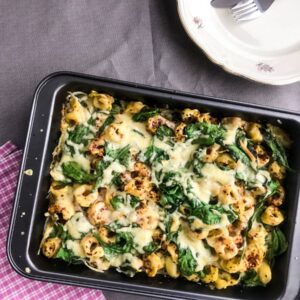 Ingredients
250

g

dry tortellini filled with ham & cheese

70

g

spinach

150

g

shredded cheese

1

tsp

chili flakes

2

dl

cream

full fat, cooking cream or half n half
Instructions
Set oven for 200 C/400 F.

Cook the dried tortellini for half as long as stated on the package and drain.


Place half of the tortellini in an oven pan measuring about 20x30cm/8x11''. On top of the tortellini, place half of the spinach followed by half of the cheese. Add the rest of the tortellini, sprinkle with the chili flakes, and follow with the rest of the spinach and cheese. Pour over the cream, and try to spread it out as much as possible.

Bake in the middle of the oven for 15 minutes or until cheese is melted and slightly golden and the casserole seems mostly set. Serve as it is or with a salad.
Equipment needed for this recipe
Notes
Make it vegetarian: Use dried cheese tortellini instead of ham & cheese
Make ahead: Cut the tortellini cooking time by one more minute so it won't overcook when heating up.
Not into spice? Use another seasoning of your choice.
Nutritional content is calculated assuming you're using full fat cream.
Nutrition
Calories:
547
kcal
|
Carbohydrates:
39
g
|
Protein:
19
g
|
Fat:
36
g
|
Saturated Fat:
19
g
|
Cholesterol:
138
mg
|
Sodium:
834
mg
|
Potassium:
173
mg
|
Fiber:
4
g
|
Sugar:
3
g
|
Vitamin A:
2890
IU
|
Vitamin C:
5.2
mg
|
Calcium:
329
mg
|
Iron:
1.5
mg
Nutritional information is approximate and automatically calculated, and should only be viewed as an indication.