These Orange Ginger Carrot Cupcakes got so many thumbs up from my co-workers that I figured I had to make them again (poor me) and take some pretty pictures. And trust me, it's not the last time I make them!
Short background: I don't bake a lot, but when I do, I take it seriously. So when my time came around in the Fika Group at work I started planning what to make well in advance. I wish. (Sidenote: The Fika Group is a Swedish concept where everyone takes turns bringing along "Fika" for everyone, often started as a just-for-fun way for everyone to get to have some sweets at least one afternoon of the week, but quickly escalating into full-on Masterchef baking competition. Or maybe that's just me.)
In reality, with two days to go, I started to get a bit stressed out over what to make. So I did the only reasonable thing – I had a quick brainstorming session with a friend over several glasses of wine. And so, the idea of  Orange Ginger Carrot Cupcakes was born.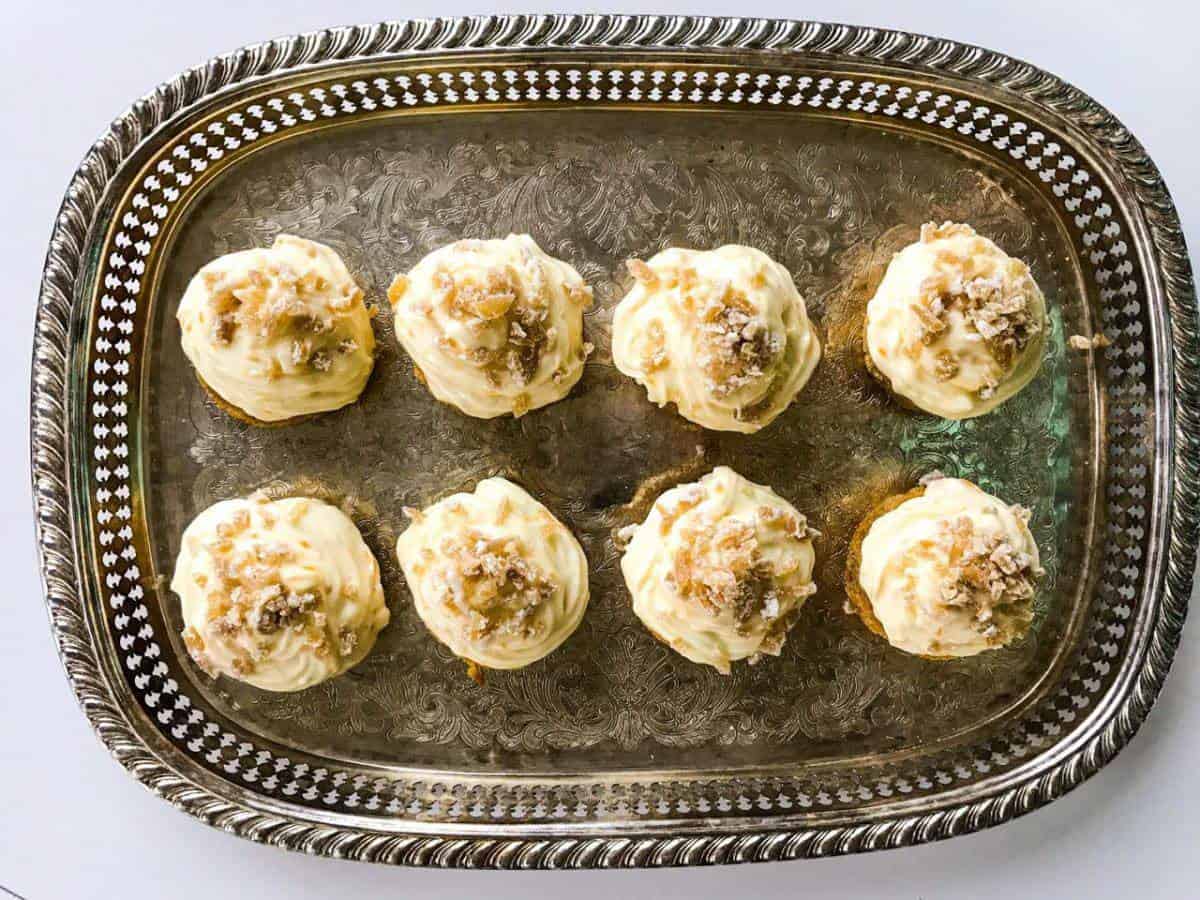 I realize as I'm writing this that this was probably not all that random. I'm not a big sweets person, especially not when it comes to baked stuff. So when I do bake I don't want it to be just sweet – it needs to have tons of flavor and preferably be a bit savory as well. And I have to say the Orange Ginger Carrot Cupcakes did the trick.
The muffin part of the cupcake is based on Pinch of Yums Carrot Cake Cupcakes. It's not overly sweet, it's moist and cooks evenly. However, I did add a twist: enter the ginger, first visit. Grated and mixed in with the rest of the batter it provides a hint of spice, without overpowering the subtle carrot flavor.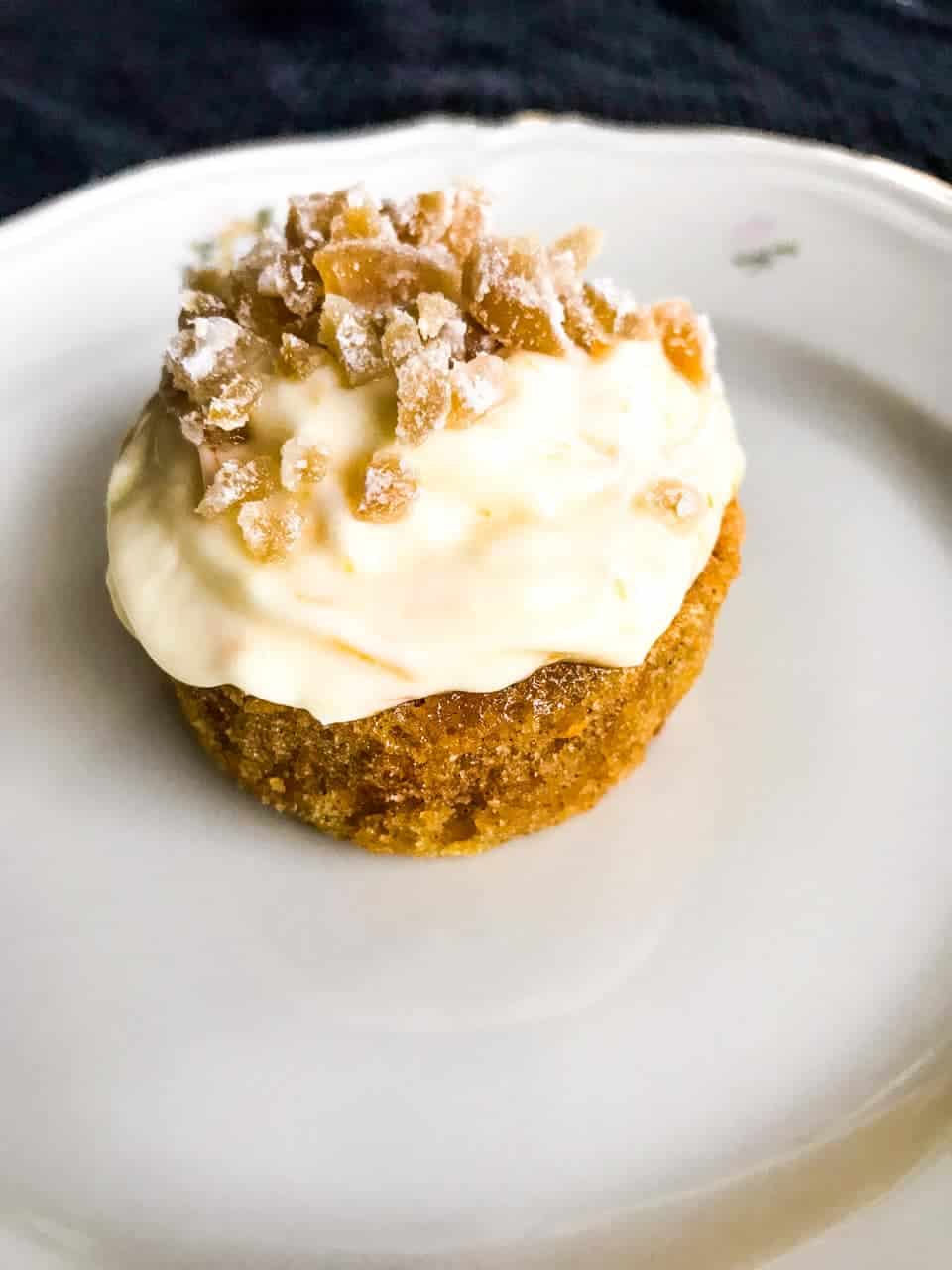 However good the muffin part is, the real hero of this cupcake is the frosting. It's a basic creme cheese frosting, but then again – it's so much more. My co-workers and I were literally eating the leftovers by the spoonful. It's sweet but not too sweet, full of orange flavor and then again that tiny hint of ginger. It's not as firm as some cream cheese frostings can be, if you like it firmer you can add some more powdered sugar, but that will of course also increase the sweetness.
The final touch is the candied ginger. This is not a must. You can leave it out. It's a 1000% allowed. The frosting really is the hero and it performs excellently on its own (preferably eaten by he spoonful, as I mentioned). But if you're like me (a lover of all things ginger as well as seriously overambitious, that is) you'll make it. A fair warning though: it's highly addictive.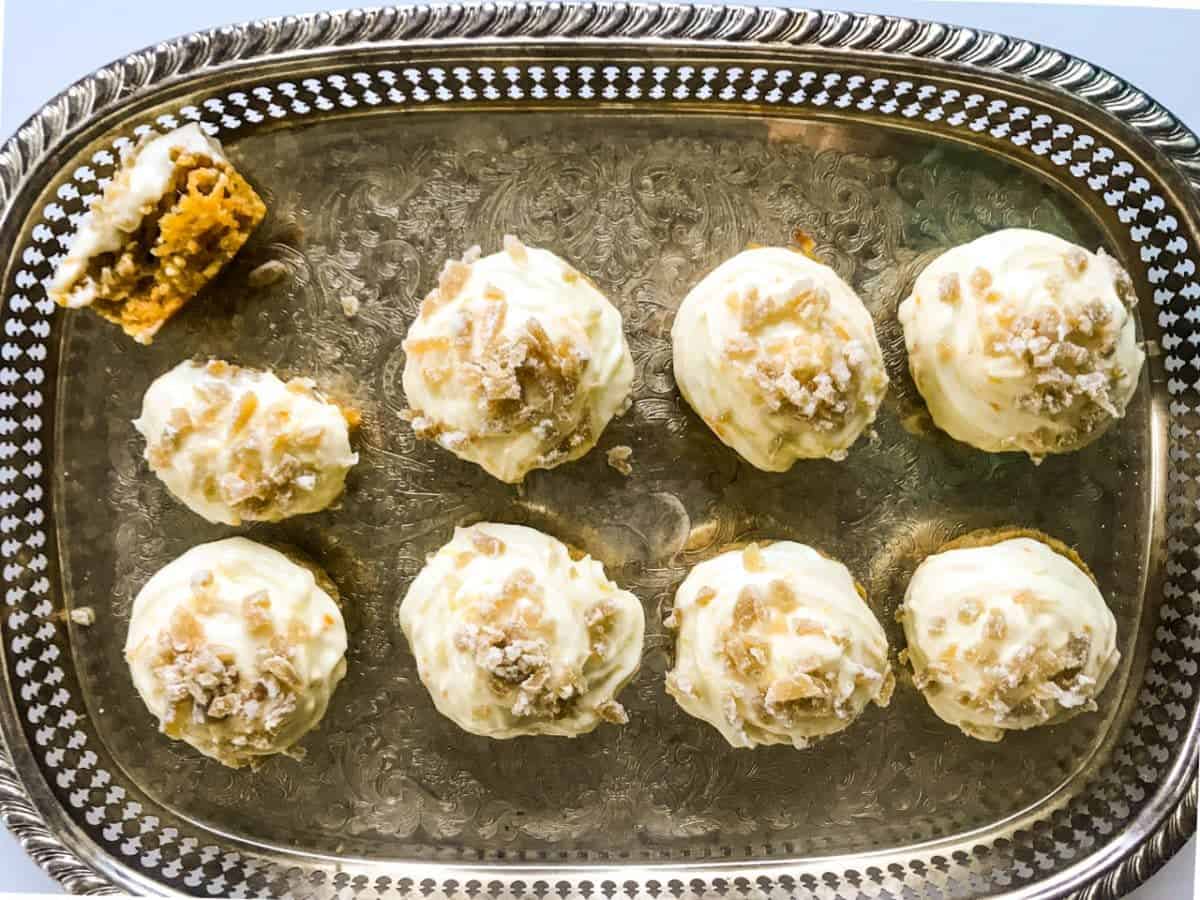 So there you have it. From brainstorming to Fika Group to you in less than a week. Must be some kinda record, right? And two recipes in one, at that!
Trust me when I say: make this. Make it now.
Please share this recipe if you like it, and even better – tag me @alwaysusebutter if you do! Did you try it? I'd love for you to leave a rating below!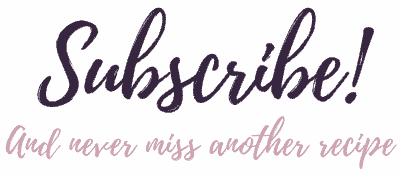 Print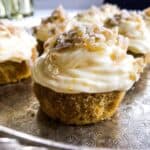 Orange Ginger Carrot Cupcakes
These Orange Ginger Carrot Cupcakes might be the best cupcakes ever - subtly sweet and full of flavor, and with an extra zing from the ginger.
Ingredients
Carrot Ginger Muffins
2.5

dl

140g flour

1.75

dl

175 g sugar

0.5

tsp

cinnamon

1

tsp

baking powder

0.25

tsp

salt

4

dl

200g finely shredded carrots (about 4-5 carrots)

1.5

Tbsp

20g finely grated ginger

1.75

dl

vegetable oil, e.g. rapeseed oil

2

eggs, beaten
Orange Ginger Frosting
4

Tbsp

60g salted butter, room temperature

225

g

cream cheese, room temperature

3.5

dl

240 g powdered sugar

2

Tbsp

finely grated orange zest, approximately from one orange

2

Tbsp

orange juice, approximately from half an orange

1

Tbsp

15 g finely grated ginger
For decorating
1.5

dl

candied ginger, chopped (see separate recipe below, can be omitted)
Instructions
Carrot Ginger Muffins
Preheat oven to 175C/350F.

Grease a muffin tray or place paper muffin forms on a baking tray or in a muffin tray.

In a bowl, combine flour, sugar, cinnamon, baking powder and salt.

In another bowl, large enough to hold all of the batter, combine grated carrots, grated ginger, and vegetable oil. Add the flour mixture slowly. Then add the beaten eggs and mix.

Scoop the batter into the muffin forms, filling them to a maximum of 2/3.

Bake for 18 minutes. Baking time may vary with your oven so it might be an idea to bake for 10-15 minutes first, check, and then return the muffins to the oven if necessary. You want them to have a nice golden color and to be finished inside, but not dry. Set aside and let cool before adding the frosting. While the muffins are baking, make the frosting.
Orange Ginger Frosting
Mix the butter until fluffy.

Add the cream cheese and powdered sugar and mix.

Add orange zest, orange juice and grated ginger. Taste test and check texture – you want it to be firm enough to stay on top of the muffins. If it's too soft add some more powdered sugar.

Let sit in the fridge for at least 30 minutes before decorating the cupcakes.
Decorating your Orange Ginger Carrot Cupcakes
Decorate the cupcakes with the frosting and add chopped candied ginger on top. Serve straight away or keep in the fridge for up to a few days.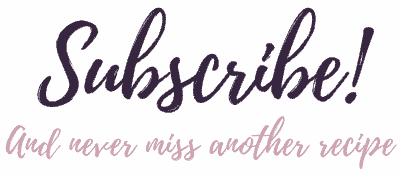 Print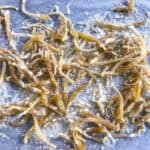 Easy Candied Ginger
Candied ginger makes a great topping for cupcakes, but is also delicious on it's own. Beware: it's highly addictive! 300g of ginger makes about 3 dl of finished candied ginger.

Cook Time
1
hour
40
minutes
Total Time
1
hour
50
minutes
Ingredients
300

g

fresh ginger, peeled

sugar, same weight as cooked ginger

0.5

dl

water
Instructions
Slice the peeled ginger into thin slices. Place in a pan with a lot of water and cook for about an hour, until the ginger has softened.

Pour off the water and weigh the ginger. Place the ginger back in the pan together with the same weight of sugar as ginger, and about 0.5 dl of water. Mix together and place over medium-high heat.

Let it simmer and stir often. When almost all the water has evaporated and the sugar has started to form sugar crystals again it's finished. Pour the mixture over a baking sheet and stir with a spoon or kitchen thongs, so that it doesn't stick. The sugar will start cooling off immediately and form crystals.

Let cool completely before using. Enjoy!
Recipe Notes
This recipe makes about 3 dl of candied ginger, but you can adjust it to the amount you like - just adjust the amount of ginger and sugar accordingly
Candied ginger is perfect for decorating cakes and cupcakes, but it's also delicious on its own - it's just like candy!