Simple can sometimes be so much more, and that's definitely the case with this 15-minute Cherry Tomato Pasta with Spinach and Walnuts. Quick and easy to make it's delicious as it is, and even better topped with a generous piece of mozzarella or burrata cheese.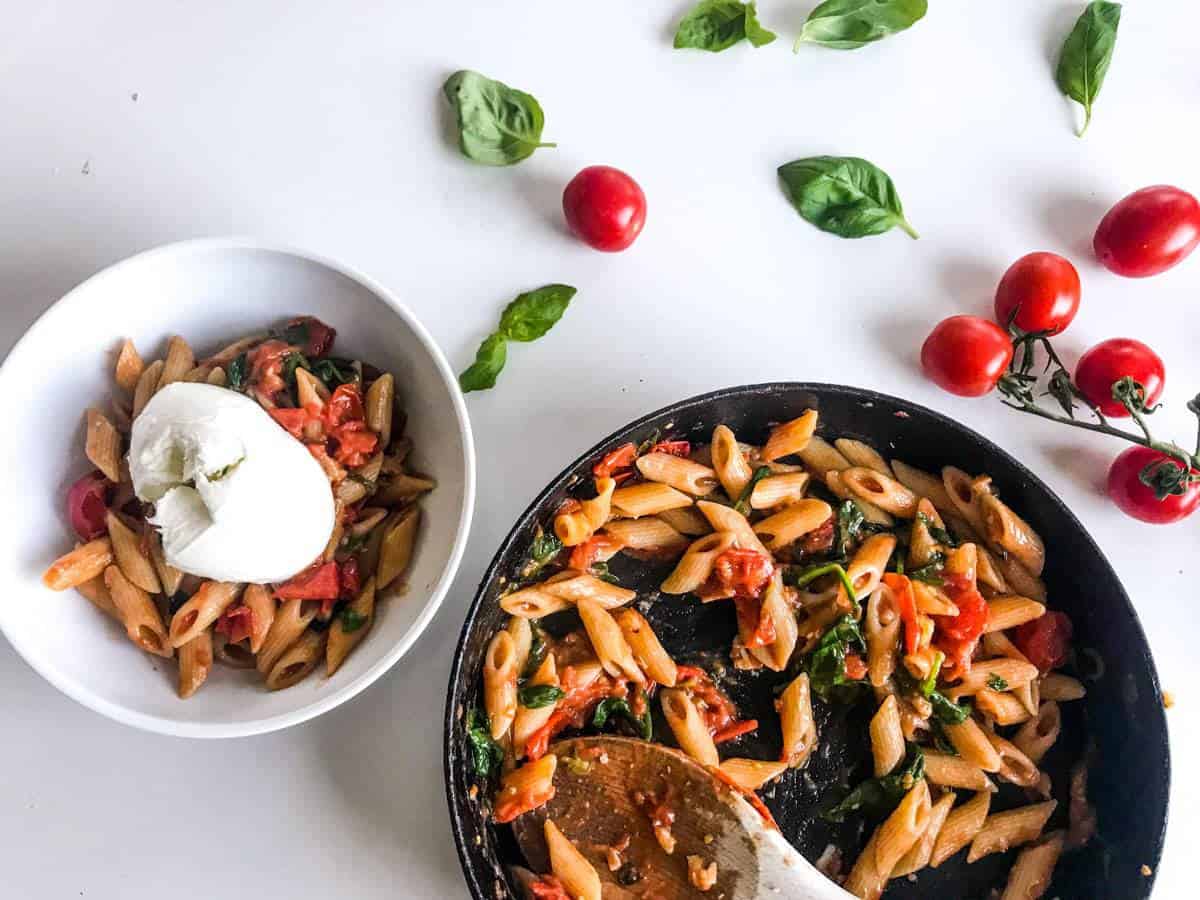 I know, I know. Tomato pasta is the lazy, newbie meat-less choice, the easy way out, the only slightly pimped up version of the cheapie college kid's spaghetti and ketchup. But I still find myself cautiously eyeing the tomato sauces at every Italian restaurant I go to. I often go for something else in the end - a Truffled Macaroni, Penne with Red Wine & Tenderloin, Pasta Vongole... (Yes, it's always pasta, that's for sure) And the only reason being that I, too, have fallen in the trap of considering a simple pasta with tomato sauce exactly that - too SIMPLE.
But simple, simple can be the very best. While I seldom attest to the aphorism of "less is more" (currently eagerly awaiting colder weather and the return of the leopard faux fur coat!), I do believe that simple can be more. You just have to do it right.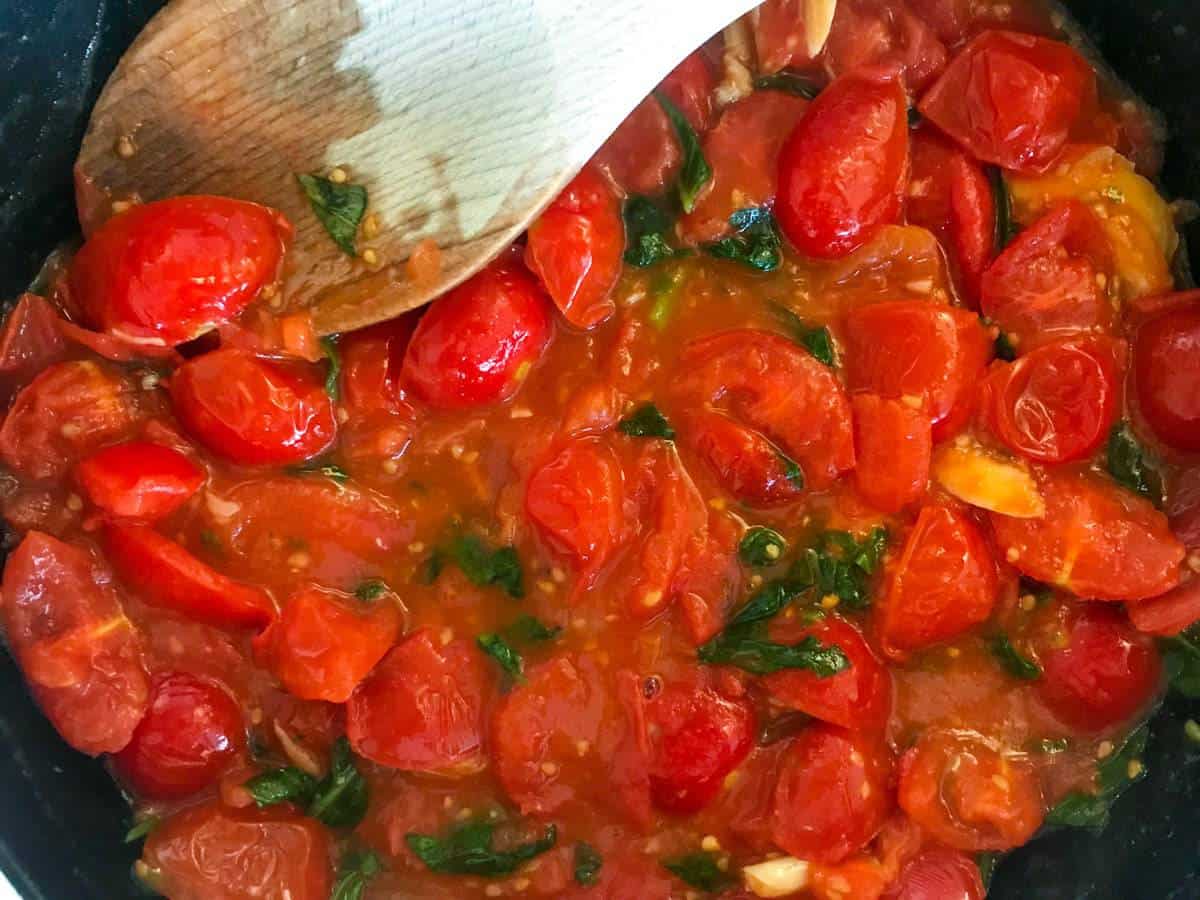 I mean, what is a good tomato sauce, really? Oh, nothing special. Not at all. It's just juicy, sweet tomatoes with just the right amount of acidity, heaps of fragrant basil, and just a hint of garlic - not enough to stay on your breath, but just enough to let you taste it. Best served with perfectly al dente pasta and maybe, maybe, some cheese on top.
Hungry yet?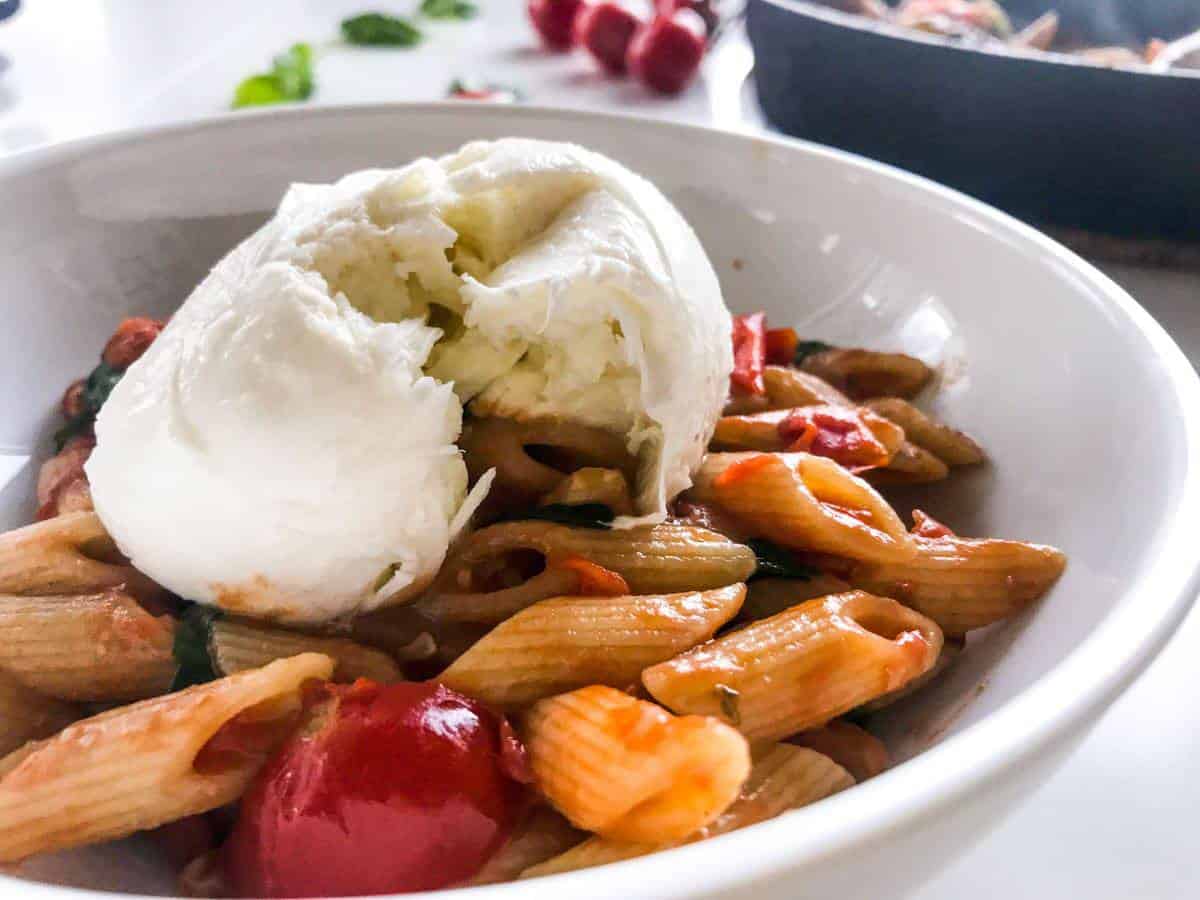 I know I said simple can be more, and that's true. But a little crunch never hurt somebody (unless you're allergic to nuts - then please please please exclude the walnuts). Especially not when it packs all the health benefits of walnuts. Neither did hiding some spinach that really does nothing but provide a hint of flavor and lots of good vitamins. Or a juicy piece of mozzarella or burrata cheese, just saying.
And, just beacuse I'm a firm believer in everything small tasting about 1000000 times better than the same normal-sized thing (mini-cupcakes and sliders anyone??), I used a really fragrant type of cherry tomatoes (the kind I used is called Romantica, in Sweden at least) in place of normal-sized tomatoes.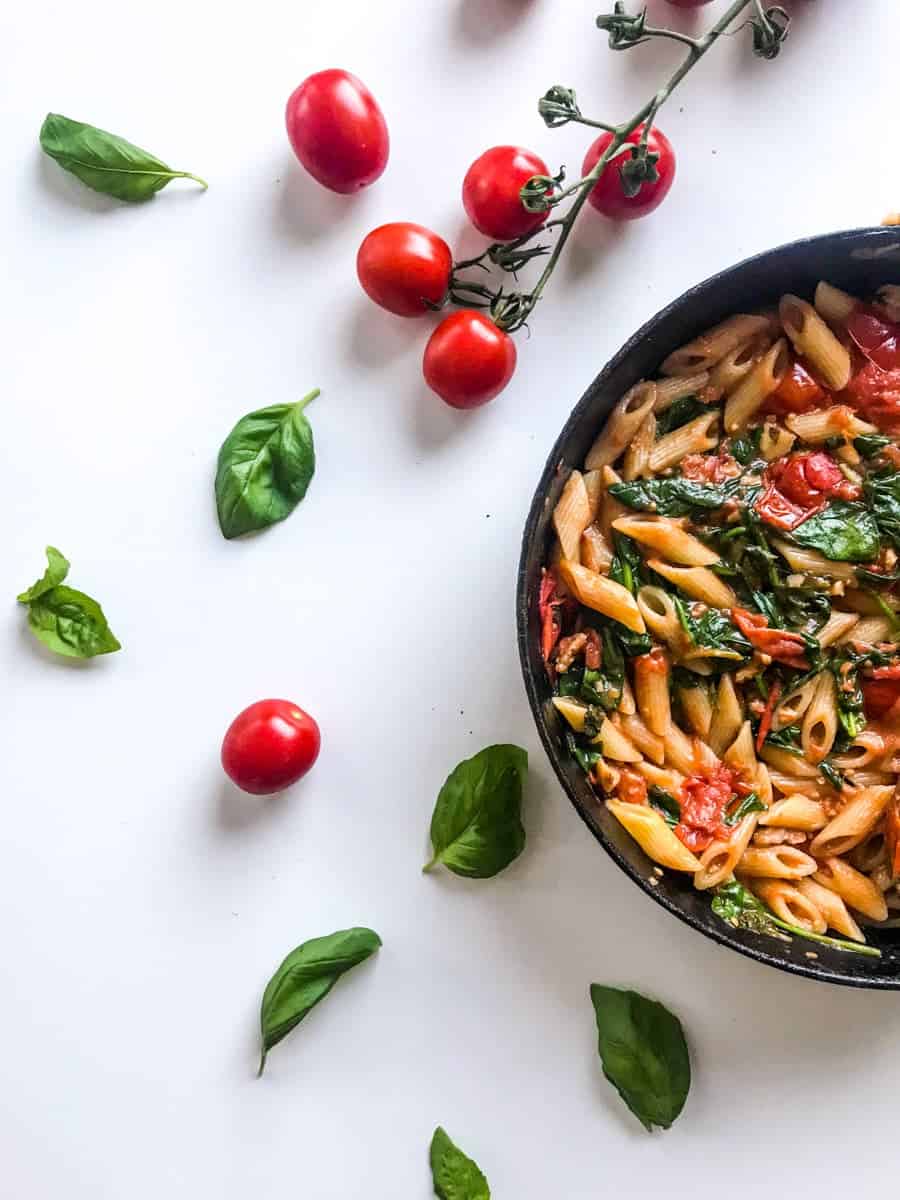 And that's about all you need to make this tomato pasta with spinach and walnuts. Delicate, sweet, juicy, cherry tomatoes, a few cloves of garlic, some olive oil, lots of fresh basil, maybe a tiny bit of sugar if your tomatoes aren't sweet enough (Sweden in October? Yep, they needed sugar.), an even tinier bit of chili flakes to get just a hint of heat, a few handfuls of spinach (to make you strong!), some chopped walnuts and, if you like, a piece of mozzarella or burrata cheese (highly recommended!). Oh, and 15 minutes.
Let me know what you think! The easiest way to do this is to just leave a comment and/or a rating below.
And please tag me @alwaysusebutter if you post your creation somewhere, I love to see your versions!
Recipe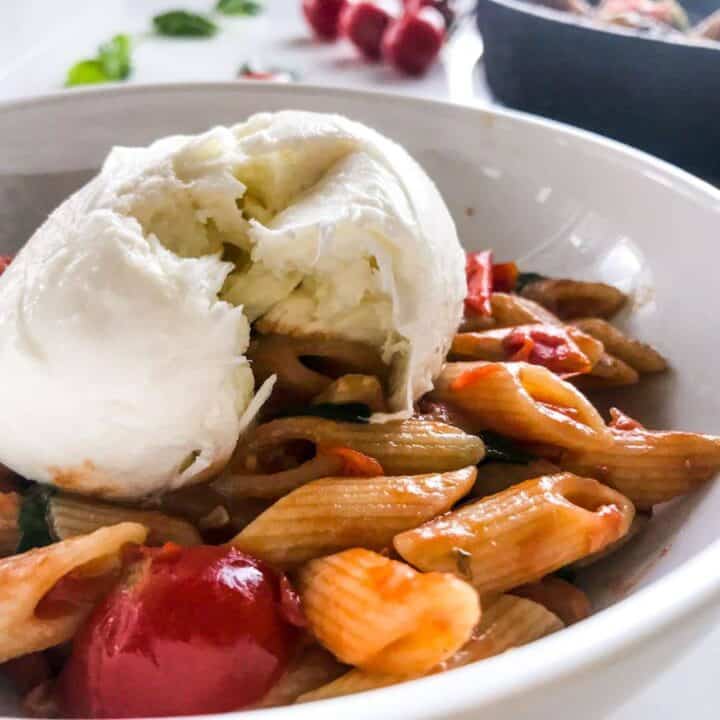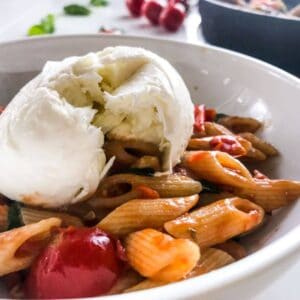 15-minute Tomato Pasta with Spinach and Walnuts
Print
Rate
Ingredients
1

tablespoon

olive oil

2

cups

cherry tomatoes, cut in quarters

1

cup

fresh basil leaves

loosely packed

2

garlic cloves

peeled and in one piece, but slightly crushed

⅛

teaspoon

chili flakes

1

teaspoon

sugar (can be omitted)

1

handful

spinach (preferably baby leaves)

½

cup

walnuts, chopped

2

servings

pasta

cooked 1 minute less than instruction on package

salt and fresh ground black pepper to taste
To serve
1

ball

mozzarella or burrata cheese, split in half (can be omitted)
Instructions
Heat the olive oil over medium heat. Add in the crushed garlic cloves and let them cook until fragrant.

Add in tomatoes, basil and chili flakes and cook for at least 5 minutes until saucy - cook longer if you like, just add some water so the sauce doesn't dry out.

Taste test and add in the sugar if you want it sweeter, and cook for another minute.

Remove the garlic cloves. Mix in the cooked pasta, followed by the spinach. Cook until spinach is wilted and pasta perfectly al dente.

Mix in the chopped walnuts and taste test, adding salt and fresh ground black pepper as desired.

Serve in two bowls and place half a piece of mozzarella or burrata cheese on top of each (can be omitted).
Nutrition
Calories:
625
kcal
|
Carbohydrates:
58
g
|
Protein:
23
g
|
Fat:
35
g
|
Saturated Fat:
9
g
|
Cholesterol:
38
mg
|
Sodium:
253
mg
|
Potassium:
843
mg
|
Fiber:
5
g
|
Sugar:
9
g
|
Vitamin A:
5100
IU
|
Vitamin C:
54.5
mg
|
Calcium:
1212
mg
|
Iron:
3.9
mg
Nutritional information is approximate and automatically calculated, and should only be viewed as an indication.