This post may contain affiliate links, which are always marked with *. Please read my disclosure for more information.
These Gingerbread Spice Meatballs are a match made in heaven between deliciously tender meatballs and your favorite gingerbread spice - all topped off with the best Honey-Balsamic Glaze. Perfect as an appetizer for a Holiday dinner party or as part of your Christmas Smörgåsbord.
Looking for something sweet and Gingerbread Spiced instead? Check out these Gingerbread Cupcakes with Blue Cheese Frosting!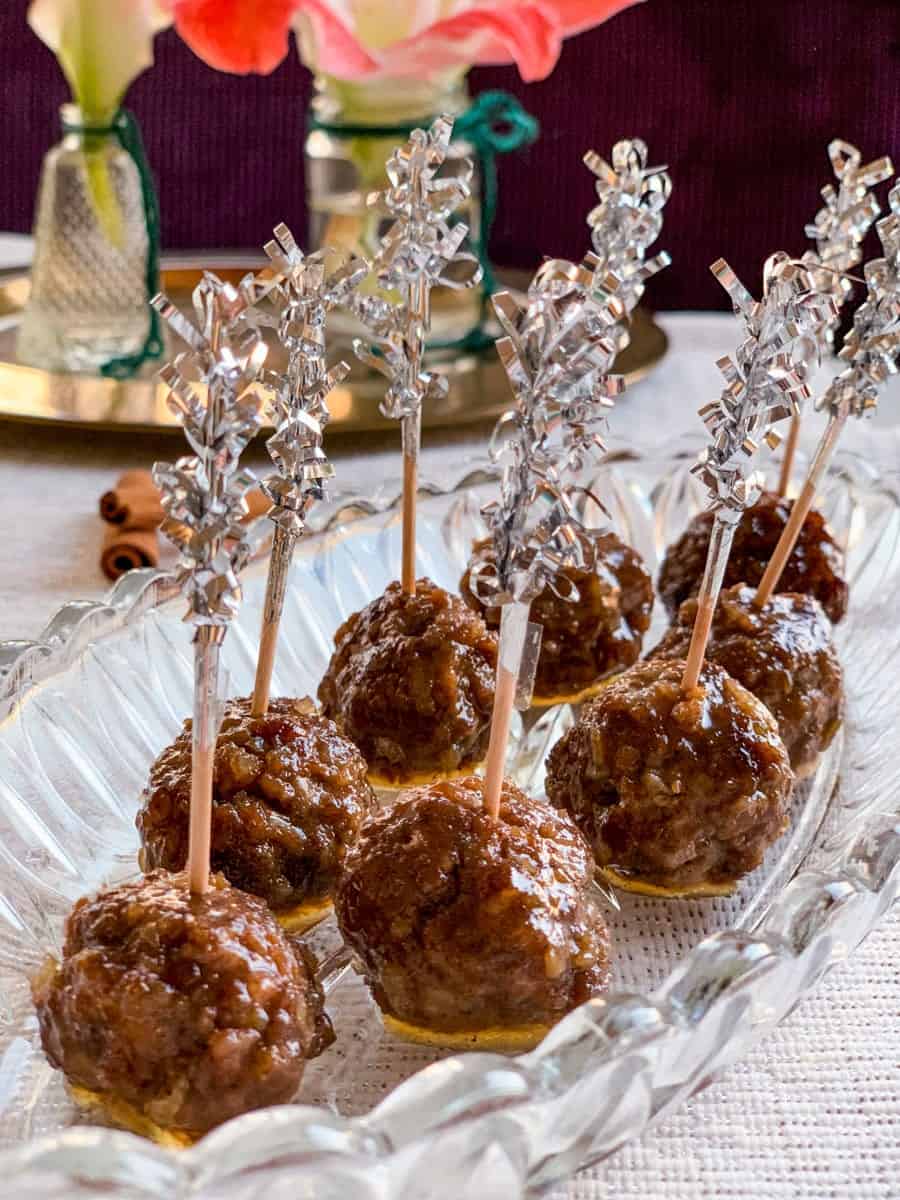 As you may or may not be aware of, meatballs are a very important part of a Swedish Christmas. Like top three things you need to have as part of your Smörgåsbord. You might have had the traditional Swedish Meatballs at IKEA, or somewhere else - Swedish Christmas meatballs are just the same, but traditionally the white pepper is accompanied by a seasonal dash of allspice. My Dad has always made the best meatballs for Christmas, and while I love tradition, and his meatballs, I also love to experiment.
So this year I decided to up the Christmas meatball game a bit. I started with my Dad's magic meatball recipe but then I added the most Christmas-y flavor of all: Gingerbread Spice. Lots of it. And thinking that a glaze never hurt anyone I added that as well. The end result? Deliciously spicy meatballs covered in a sweet & sour & salty glaze. Maybe not your standard weeknight meatballs, but perfect as an appetizer or as part of a Christmas Smörgåsbord (they'll for sure be part of mine!).

What's in a Gingerbread Spice Mix?
My gingerbread spice includes only three spices - this is the traditional recipe for Swedish gingerbread spice, but I know some recipes call for a few more. I use only ginger, cinnamon and cloves, while sometimes gingerbread spice recipes call for cardamom, allspice and nutmeg as well. I like to keep it simple, so I'll just run with my three - add cardamom, allspice or nutmeg (or all three!) if that's what gingerbread should taste like to you.
Another great option is substituting the ginger, cinnamon and cloves for a pre-made gingerbread spice mix. Best thing about making meatballs? It's so easy to fry a small one to taste test and adjust the seasoning!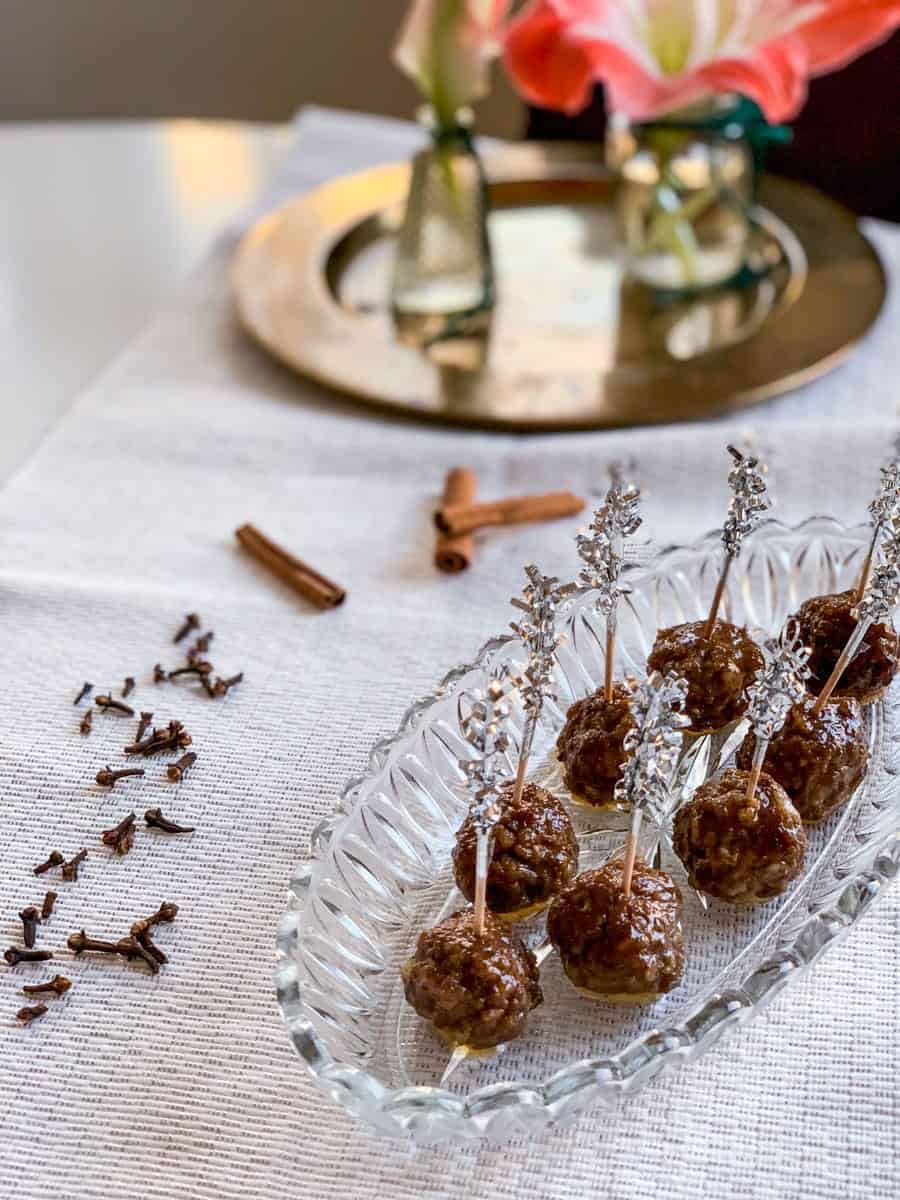 So, over to you. Don't you just love gingerbread spice? If so - bring out your favorite gingerbread spices and make these meatballs for a delicious & festive appetizer.
Did you make these Honey Balsamic Glazed Gingerbread Spice Meatballs? If so - please leave a comment and/or a rating below, I love hearing from you! I also love seeing your creations - so please tag me on Instagram if you post it, and use the hashtag #alwaysusebutter!
Recipe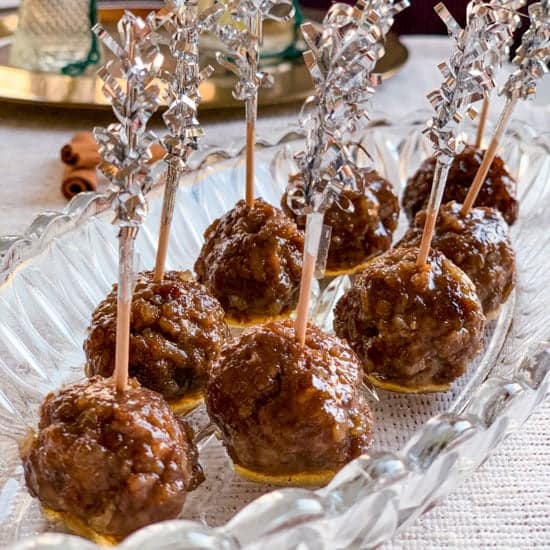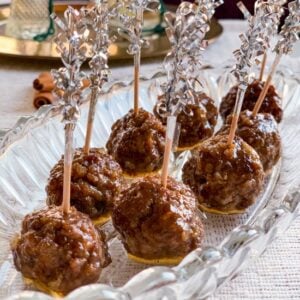 Honey Balsamic Glazed Gingerbread Spice Meatballs
Print
Pin
Rate
Ingredients
Gingerbread Spice Meatballs
250

g

ground beef

250

g

ground pork

3

tablespoon

butter

divided

1

medium-sized onion

finely chopped

2

tablespoon

wine

white or red

2

large cooked potatoes

shredded

0.5

dl

milk

0.25

teaspoon

worcestershire sauce

0.5-1

teaspoon

salt

0.25

teaspoon

white pepper
Gingerbread Spice
1

teaspoon

ground cinnamon

1

teaspoon

ground cloves

1.5

teaspoon

ground ginger
Honey Balsamic Glaze
1

tablespoon

butter

1

dl

honey

2

tablespoon

white balsamic vinegar

2

teaspoon

sea salt flakes
Instructions
Gingerbread Spice Meatballs
Heat 2 tablespoon of butter over medium-high heat and add in the onion. Fry for 3 minutes, then add in the wine. Fry for another 3-5 minutes until the onion is soft and translucent.

Mix the ground beef and pork in a large bowl and add in the fried onion, shredded cooked potato and milk. Mix well. Season with worcestershire sauce, salt, white pepper, and gingerbread spice.

Heat the remaining 1 tablespoon of butter in a pan over medium-high heat. Make one small patty, fry it, and taste to check the seasoning. Adjust according to taste, then make all the meatballs and fry them for about 5 minutes, making sure to cook them on all sides.
Honey Balsamic Glazed Gingerbread Spice Meatballs
Melt the butter over medium heat and add in the honey and white balsamic vinegar. Bring to a boil and simmer for 5-10 minutes, until sticky - when it starts bubbling a lot it's done.

Take the Honey Balsamic Glaze off the heat and add in the sea salt flakes - crush them a bit in your hand if they are very big. Then mix in the meatballs, making sure to coat them on all sides. Place on a serving platter, maybe stick a toothpick in them, and serve.
Notes
Use at least 50% pork for the ultimate tasty meatballs and don't go low-fat - more fat means both more flavor & a juicier texture.  
Use your favorite Gingerbread Spice or follow the recommendation in the recipe
Cooking your meatballs over medium-high heat will give them a nice sear and keep the moisture inside - a too low temperature risks drying them out.
White balsamic vinegar can be substituted for regular balsamic vinegar, or rice vinegar.
Nutrition
Calories:
41
kcal
|
Carbohydrates:
1
g
|
Protein:
1
g
|
Fat:
3
g
|
Saturated Fat:
1
g
|
Cholesterol:
9
mg
|
Sodium:
39
mg
|
Potassium:
67
mg
|
Vitamin A:
30
IU
|
Vitamin C:
1.2
mg
|
Calcium:
6
mg
|
Iron:
0.5
mg
Nutritional information is approximate and automatically calculated, and should only be viewed as an indication.