Celebrate the patriotic spirit with a delightful roundup of red, white, and blue recipes that will add a festive touch to your special occasions. From vibrant salads to refreshing beverages and irresistible desserts, this collection has everything you need to create a stunning spread in the colors of the flag. Whether you're hosting a 4th of July party or simply feeling patriotic, these recipes will bring a burst of flavor and a visual treat that will impress your guests and ignite your patriotic pride.
Fourth of July Cookie Bars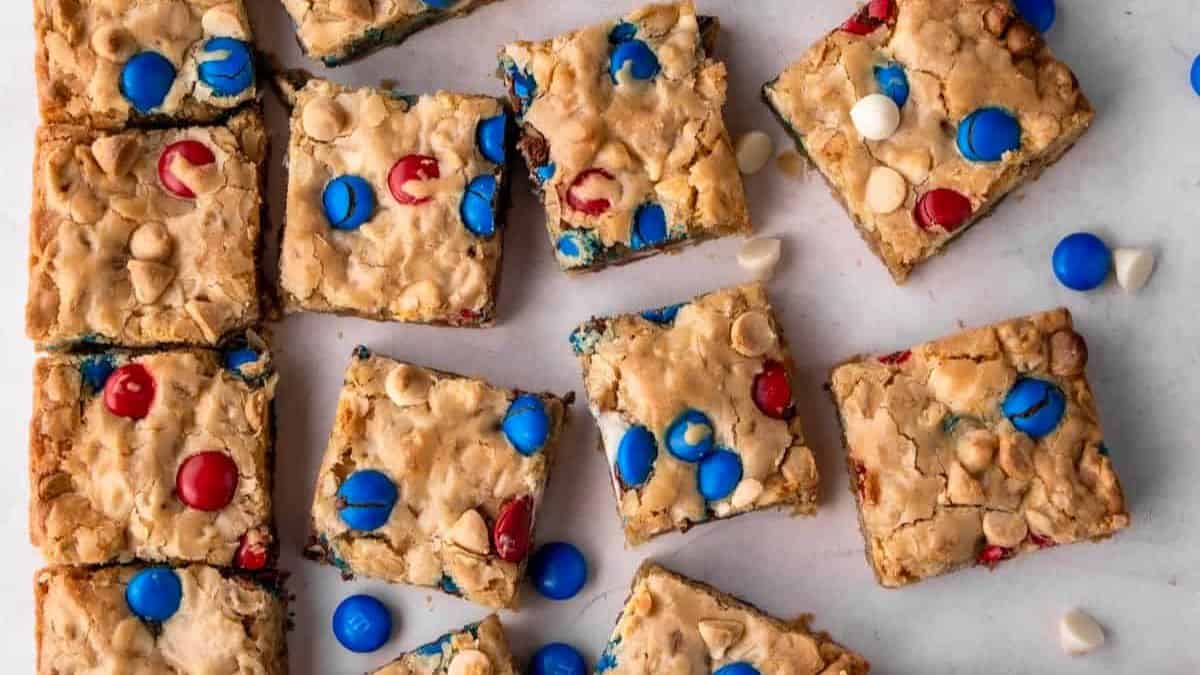 Soft, chewy Fourth of July Cookie Bars are filled with M&Ms, white chocolate chips, and rolled oats. Made in under 30 minutes, add these festive cookies in bar form to your Independence Day celebration.
Red, White and Blue Pinwheel Cookies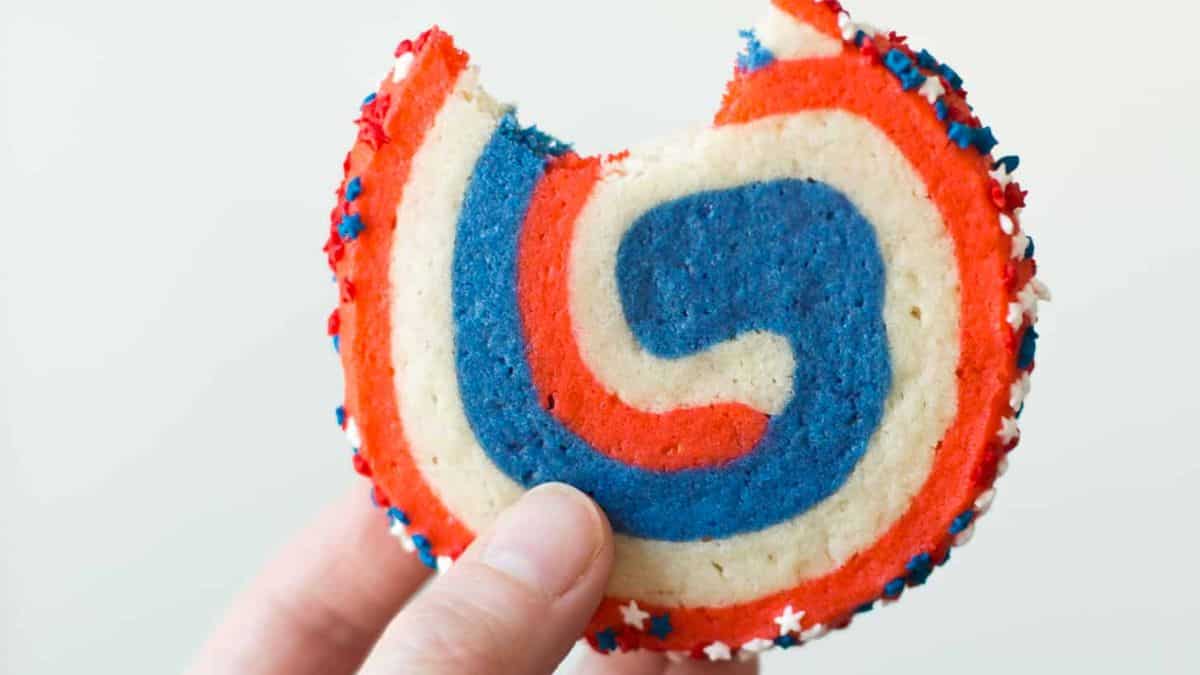 Want to go patriotic with your next dessert? Red, White, and Blue Pinwheel Cookies are just the thing. Buttery and soft, refrigerate them ahead of time to just slice and bake when you're ready to serve!
4th of July Brownie Cupcakes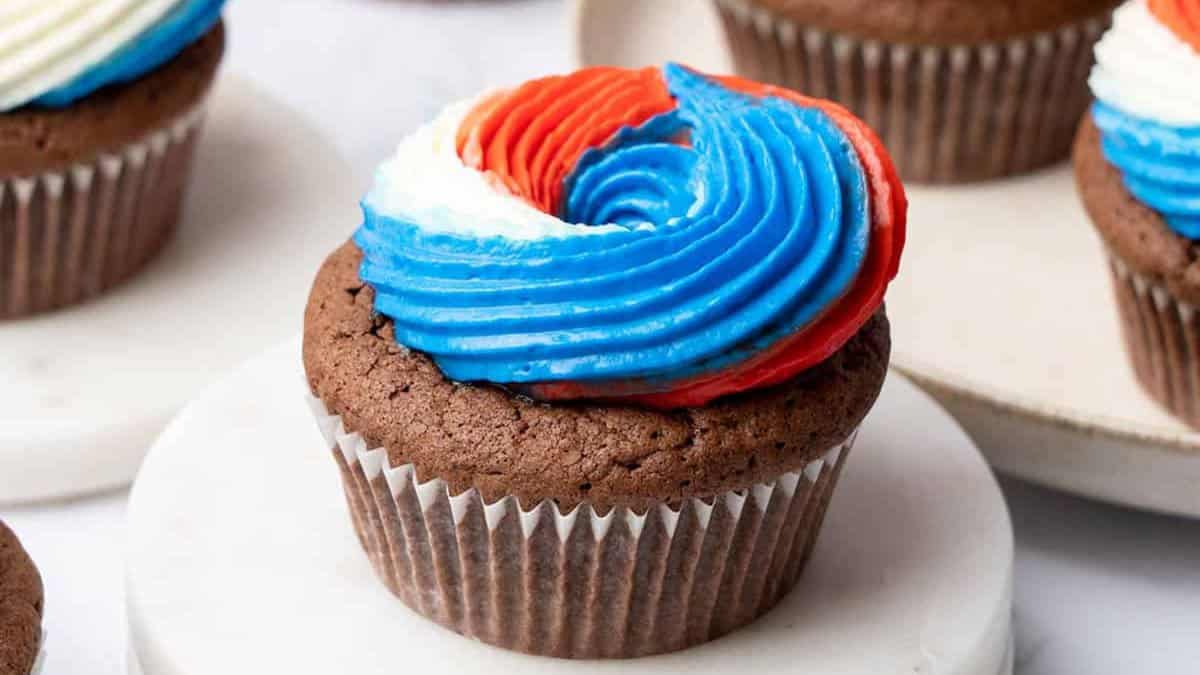 Make these 4th of July Brownies to celebrate Independence Day in style! These patriotic brownies have a classic chocolate brownie taste and fudgy texture, and surely both kids and adults will love the red, white, and blue frosting.
4th of July Cupcakes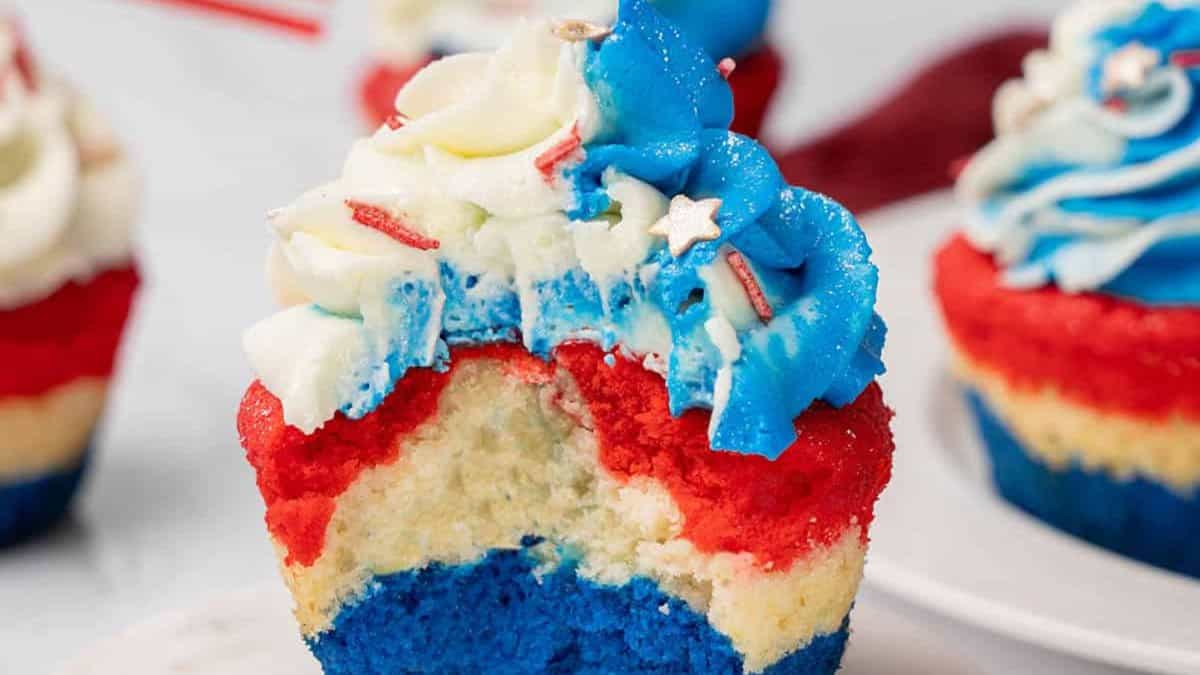 These 4th of July Cupcakes are a delicious way to show off your American spirit! Decorated in patriotic red, white, and blue to match the American flag, this festive and easy-to-make dessert will be the star of your Independence Day gathering and a wonderful dessert for Memorial Day too!
Bomb Pops
Stay away from the sugar and high fructose corn syrup this Summer and instead make your own bomb pops with cherry, lime and blue raspberry layers.
Red, White And Blue Bark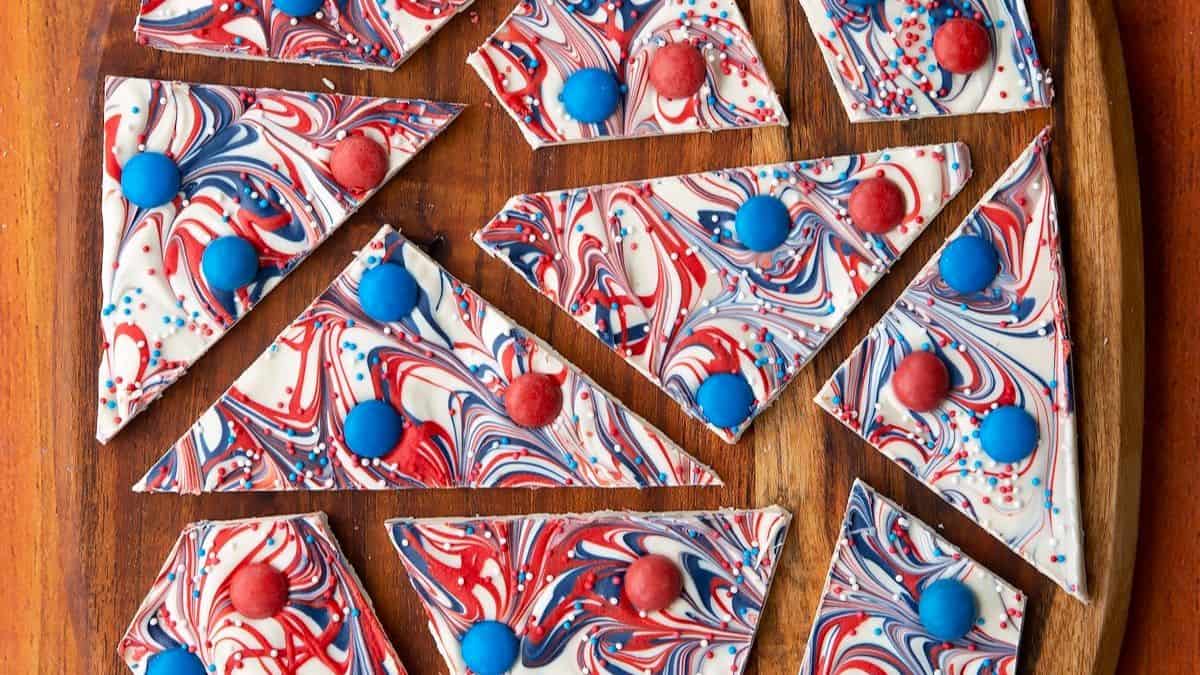 This delicious red, white & blue bark is perfect for game days, holidays and patriotic occasions like the Olympics or the 4th of July!
Red, White, And Blue Fourth Of July Cake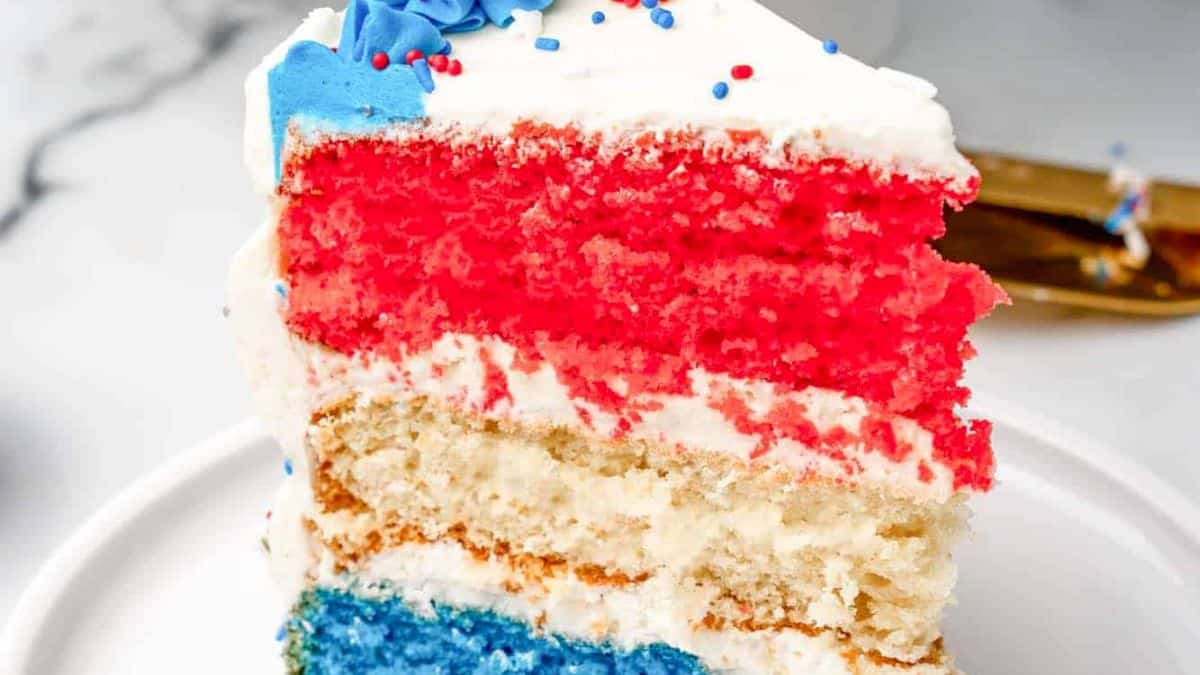 This fun, layered, colorful 4th of July Cake is perfect for the holiday, or for any time you want to celebrate the red, white, and blue with an impressive dessert.
American July 4th Cake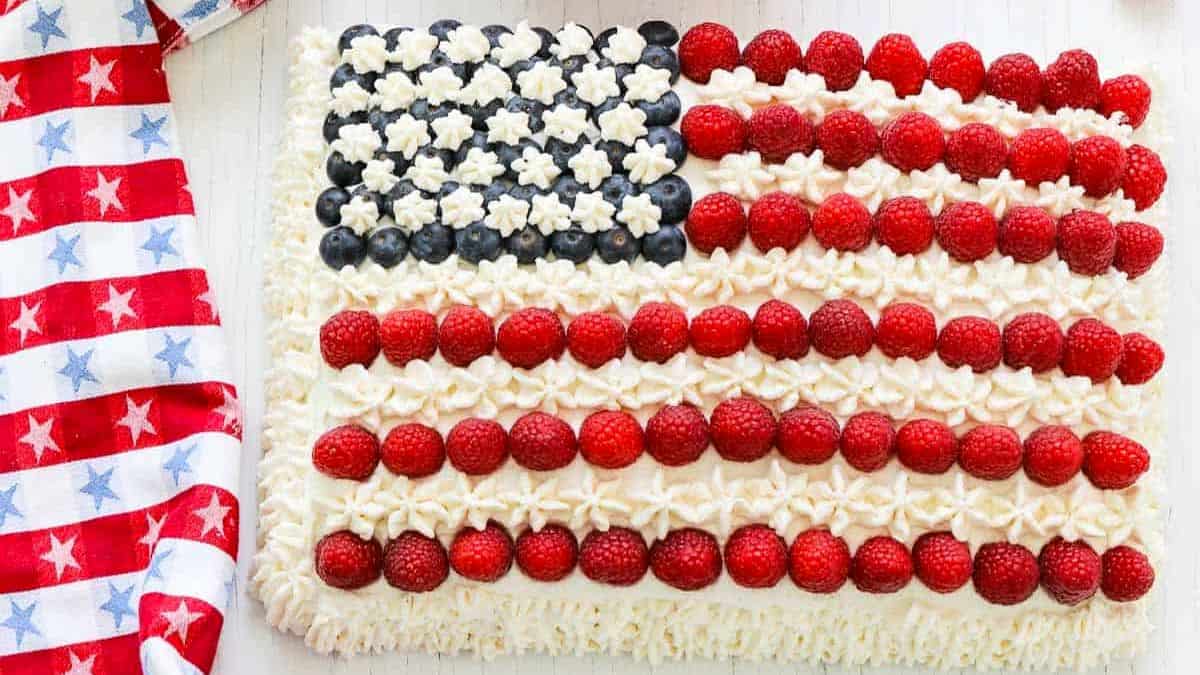 Bake a patriotic American Flag July 4th Cake with red, white, and blue marbled vanilla cake inside. And, an amazing, scrumptious, bakery-style buttercream frosting that is not too sweet, and spreads like a dream.
Blueberry Puff Pastry Stars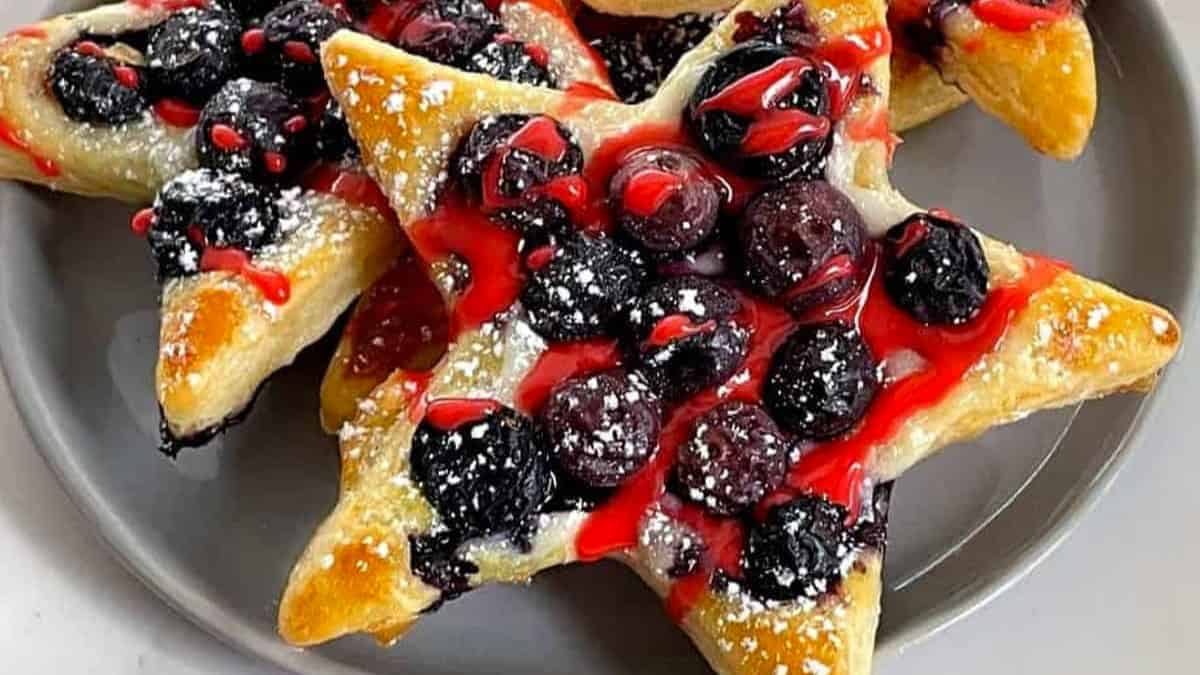 These cute and easy Blueberry Puff Pastry Stars are perfect for the Fourth of July, Memorial Day, or just for a fun pastry treat! Fresh blueberries and a delicious cream cheese filling make these stars irresistible.
Fourth of July Fruit Pizza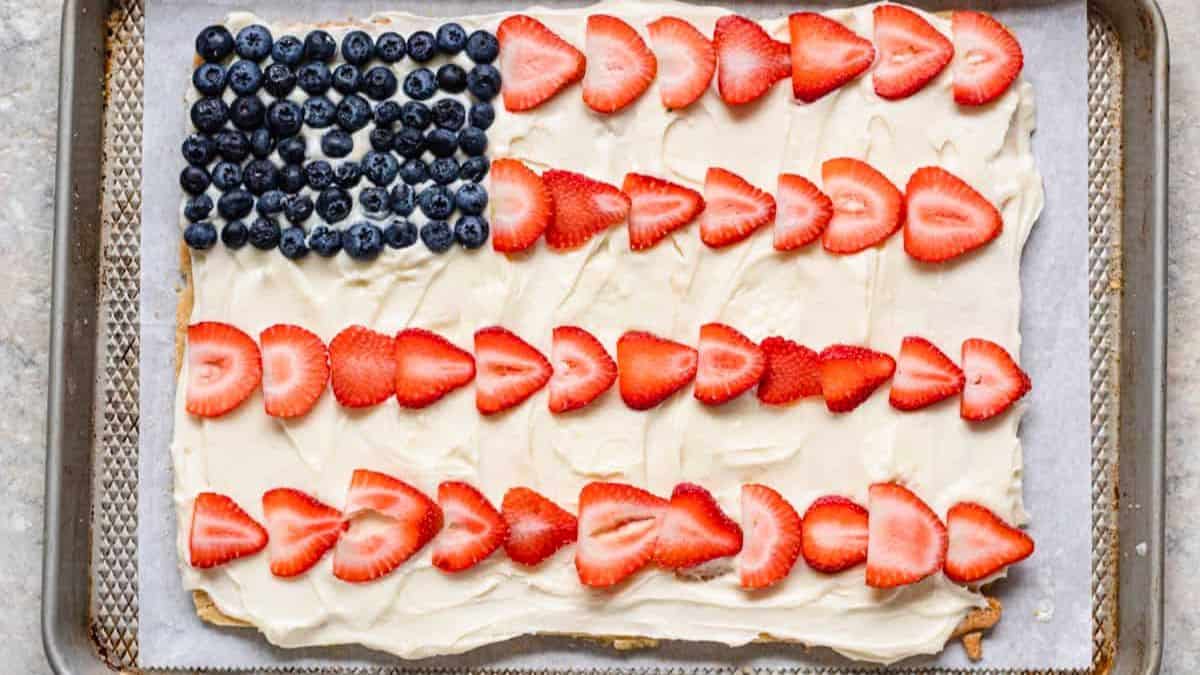 Are you ready for the Fourth of July? This sugar cookie fruit "pizza" is in the shape of an American Flag, perfect for celebrating any patriotic holiday! It is made with store bought cookie dough for a simple recipe that will impress everyone at your celebration
Patriotic Cheese Tray - A Holiday Charcuterie Board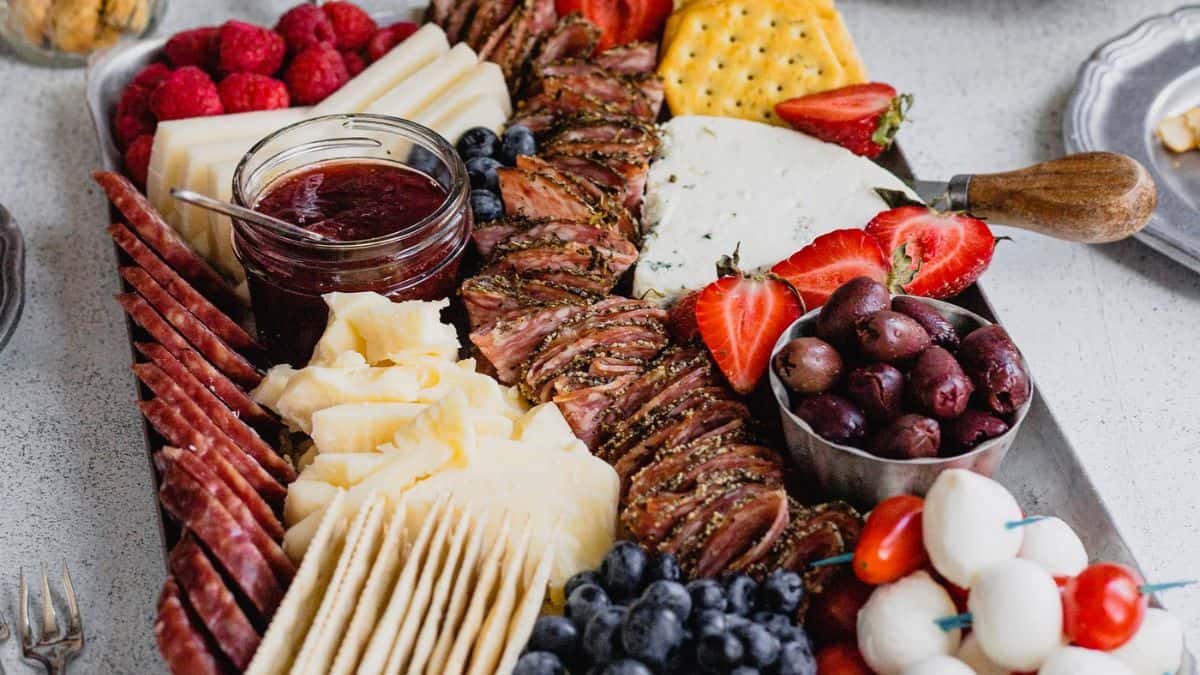 Filled with red, white, and blue goodies this patriotic cheese tray is a delicious way to celebrate the Fourth of July!
Red, White and Blue Sangria Sparklers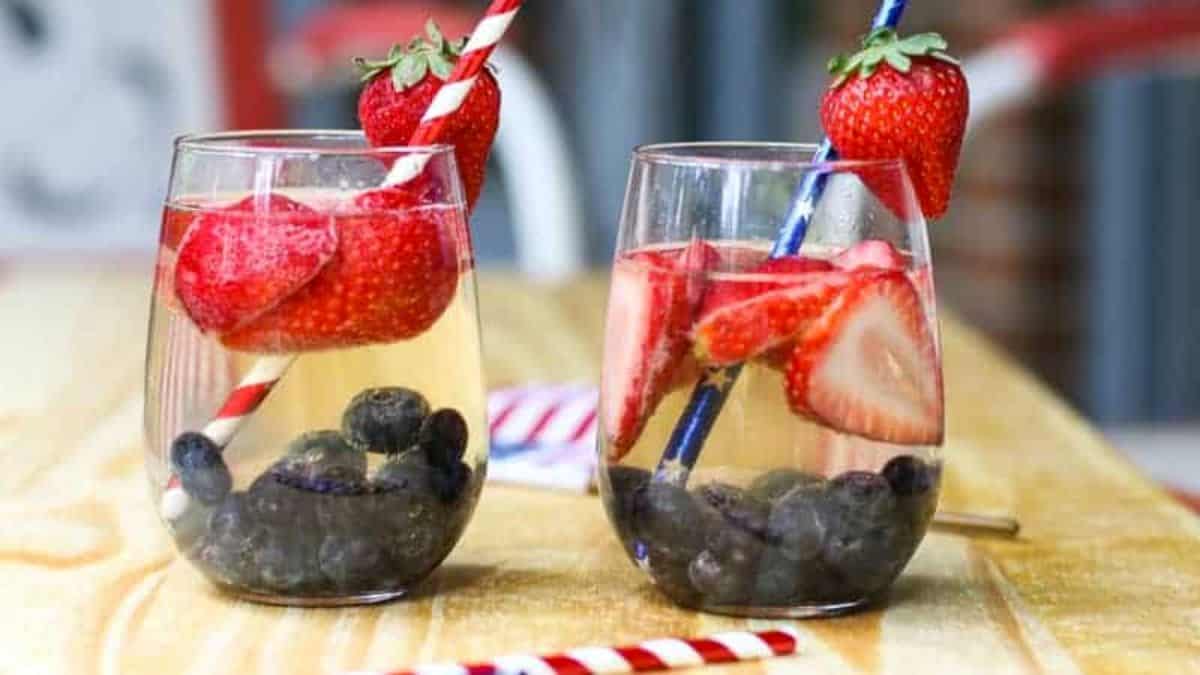 These Red, White, and Blue (white wine) Sangria Sparklers are pretty show stoppers, perfect for Memorial Day, July 4th, backyard cookouts, and any summer time fun in the sun event!
Red, White and Blue Vodka Slush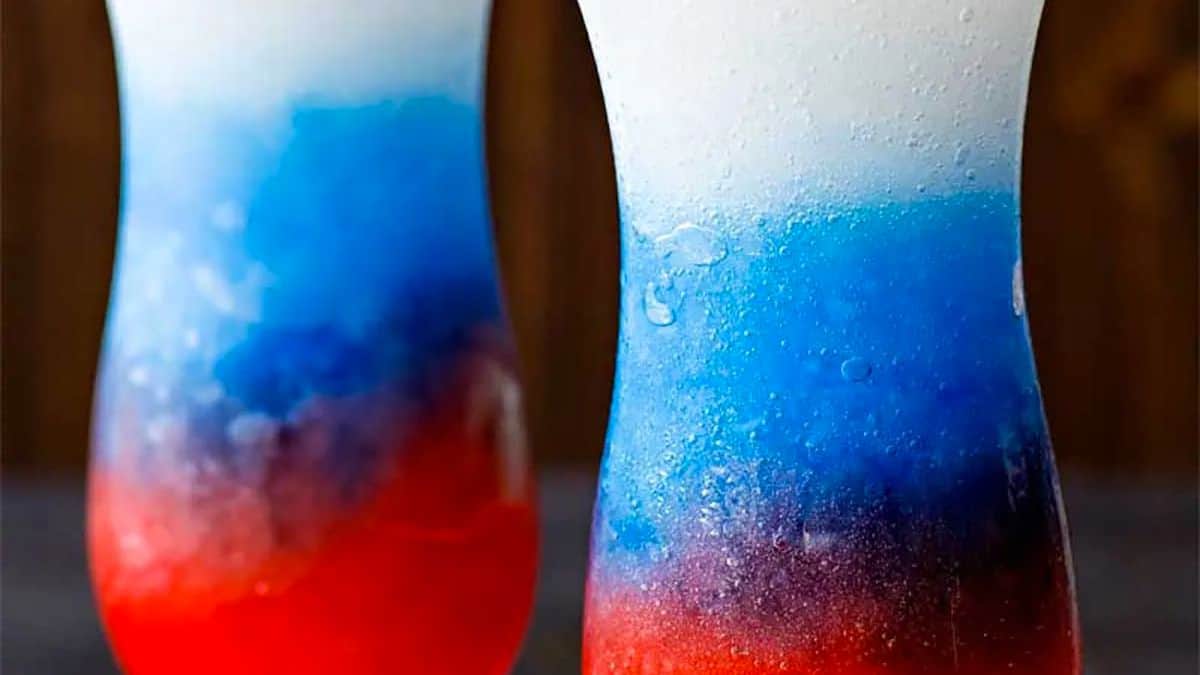 Celebrate your patriotism with a refreshing (and colorful!) slush, made from layers of crushed ice and flavors of grenadine, blue curacao, and spiked lemonade.
Red White & Blue Ambrosia Salad Recipe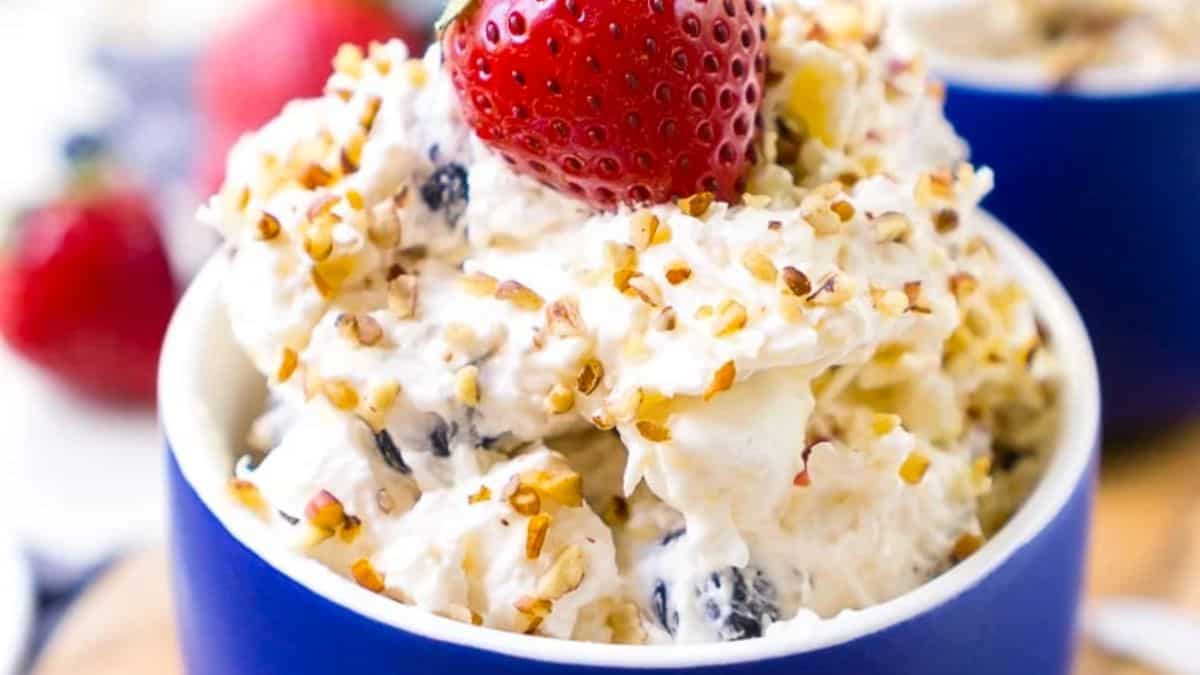 This Red White & Blue Ambrosia Salad is a delicious, no-bake, retro dessert recipe that's easy, addictive, and loaded with strawberries, blueberries, coconut, and pineapple!
Classic Crepes for Two With Red White and Blue Fixings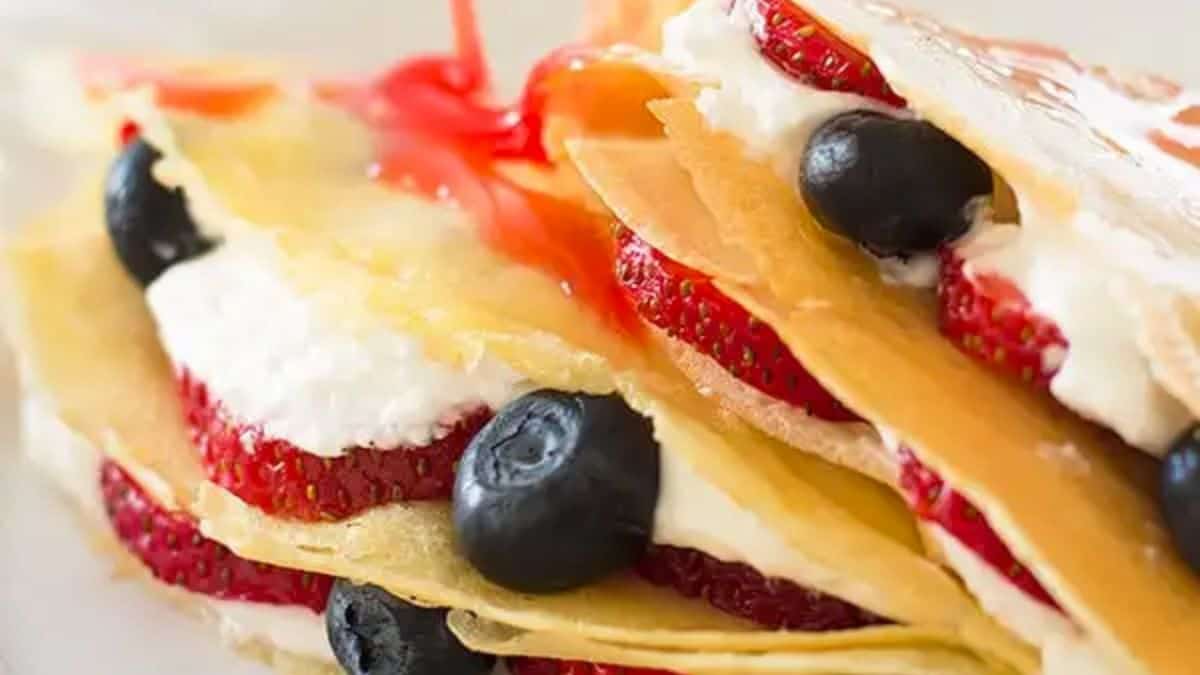 Classic crepes for two stuffed full of whipped cream, strawberries, and blueberries and topped with strawberry syrup make a perfect patriotic breakfast.
Kid-Friendly Patriotic Punch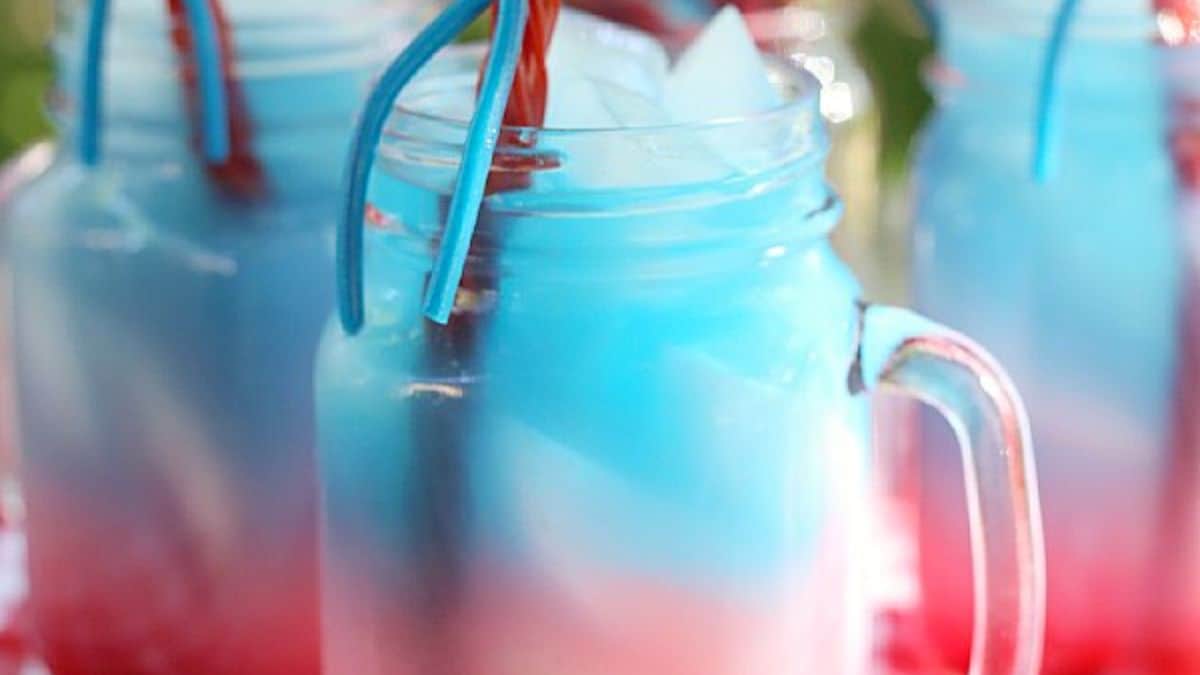 This super fun patriotic punch is perfect for your backyard holiday barbecues or pool parties this summer!
Chocolate Coconut Chia Pudding Fruit Pie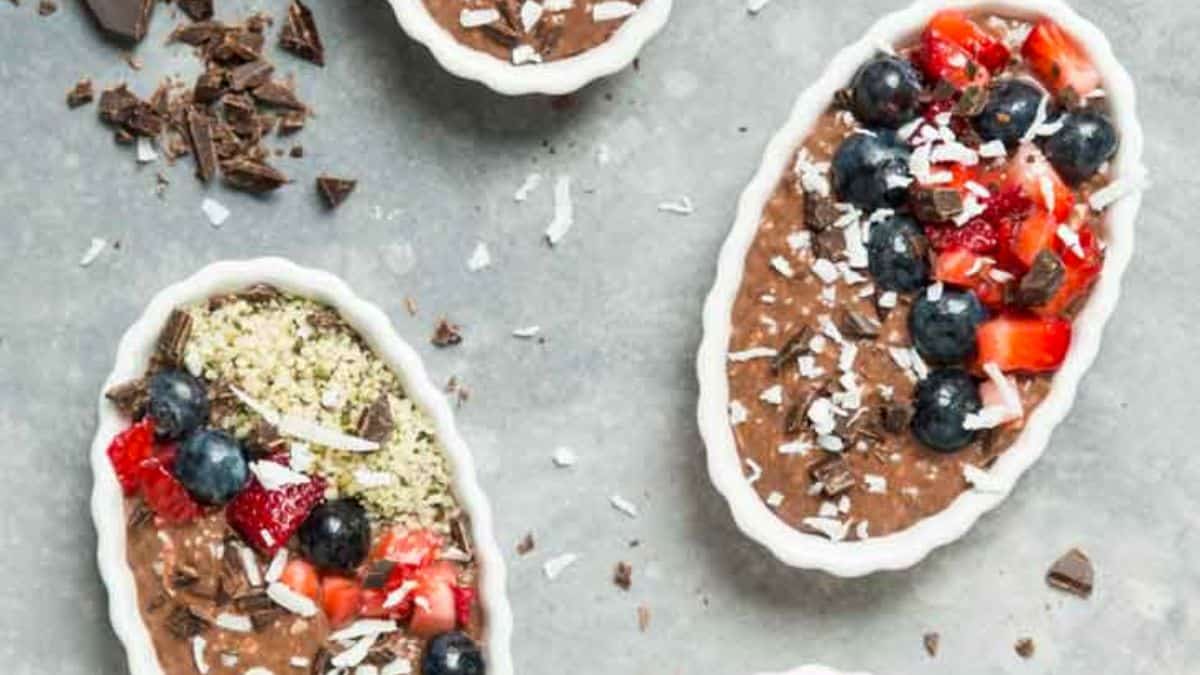 Whether it's during the summer, the holidays, a potluck, or a weeknight…this 7-ingredient Chocolate Chia Pudding Pie  requires only 10-minutes of prep, is vegan, no-bake, quick and easy, gluten-free, and refined sugar-free!
Frozen Greek Yogurt Fruit Bites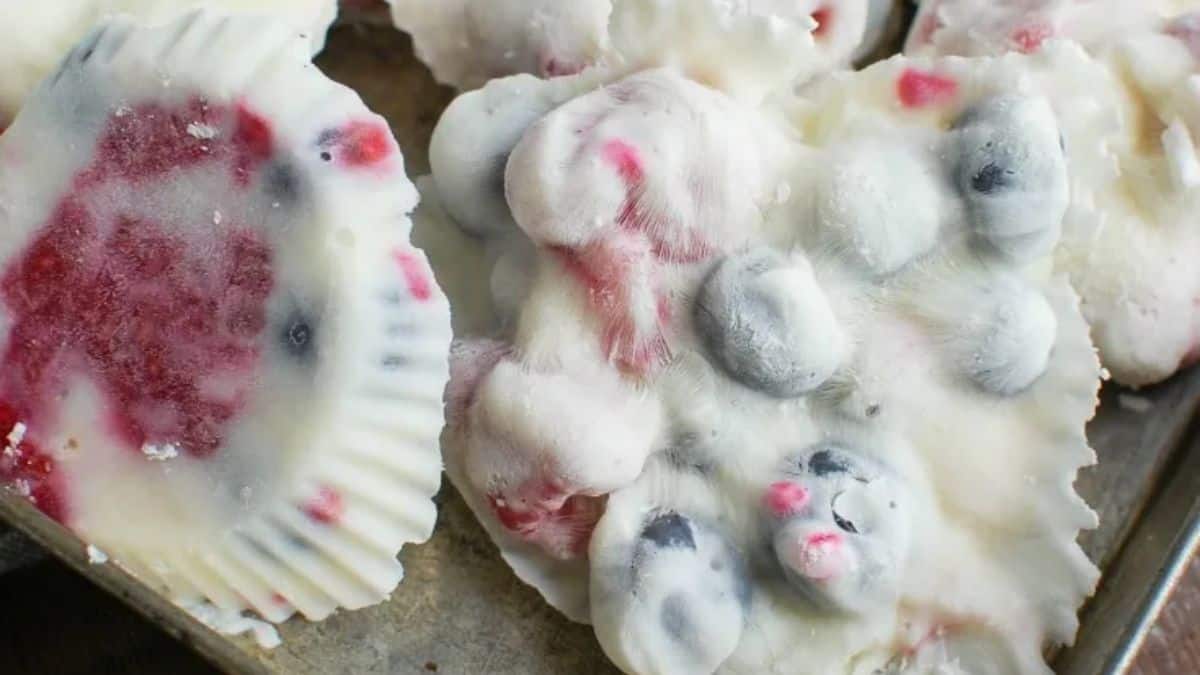 Frozen Greek Yogurt Fruit Bites are a fun treat for adults and kids, especially in the warmer months. Greek Yogurt is mixed with fresh fruit and honey and frozen into a bite sized snack that is packed with protein!
Red, White & Blue Cake Batter Dip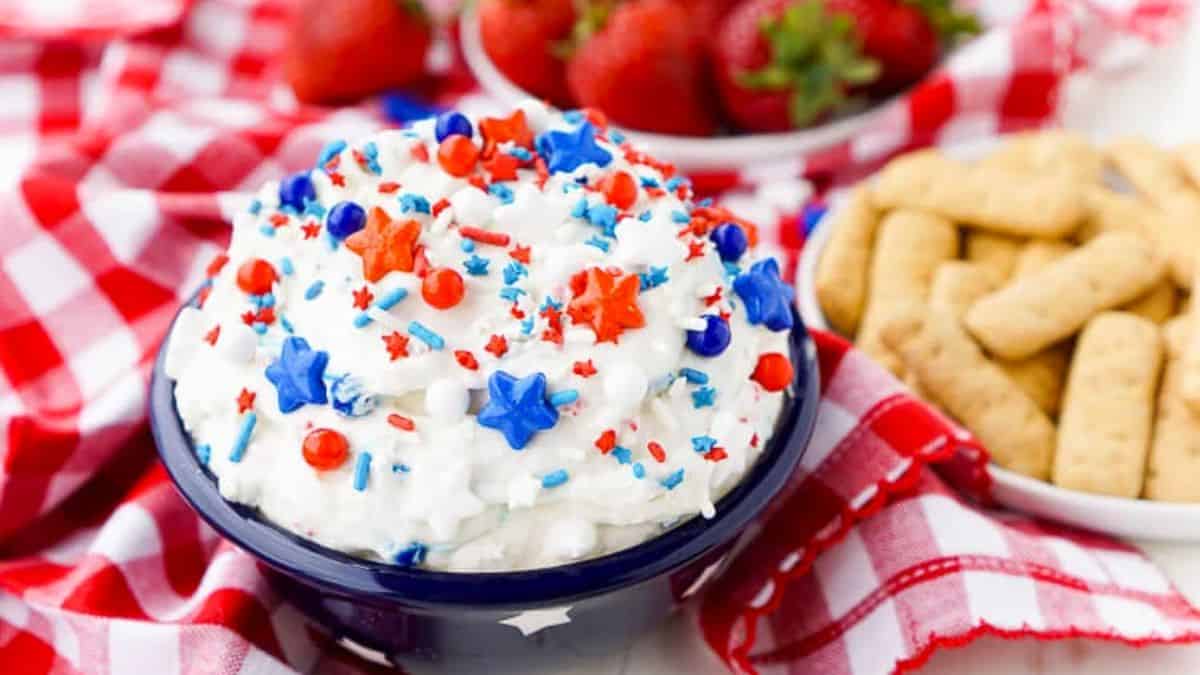 This Cake Batter Dip is made with just 4 ingredients and is ready in just 5 minutes! Change the sprinkles colors to customize it for any occasion like birthdays, graduations, the 4th of July!
Easy Red, White and Blue Trifle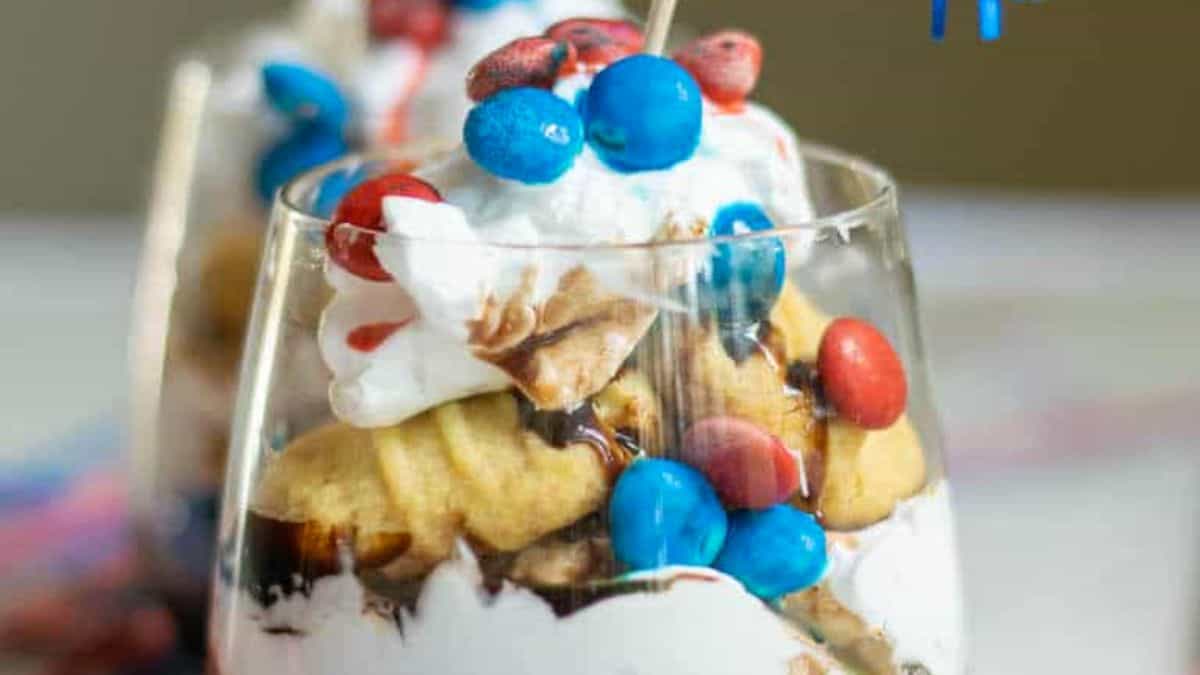 This Red White And Blue Trifle is the perfect patriotic treat for your holiday celebration! This fun and festive no-bake dessert is just the thing for bringing to BBQs, potlucks, and picnics.
Rainbow Yogurt Popsicles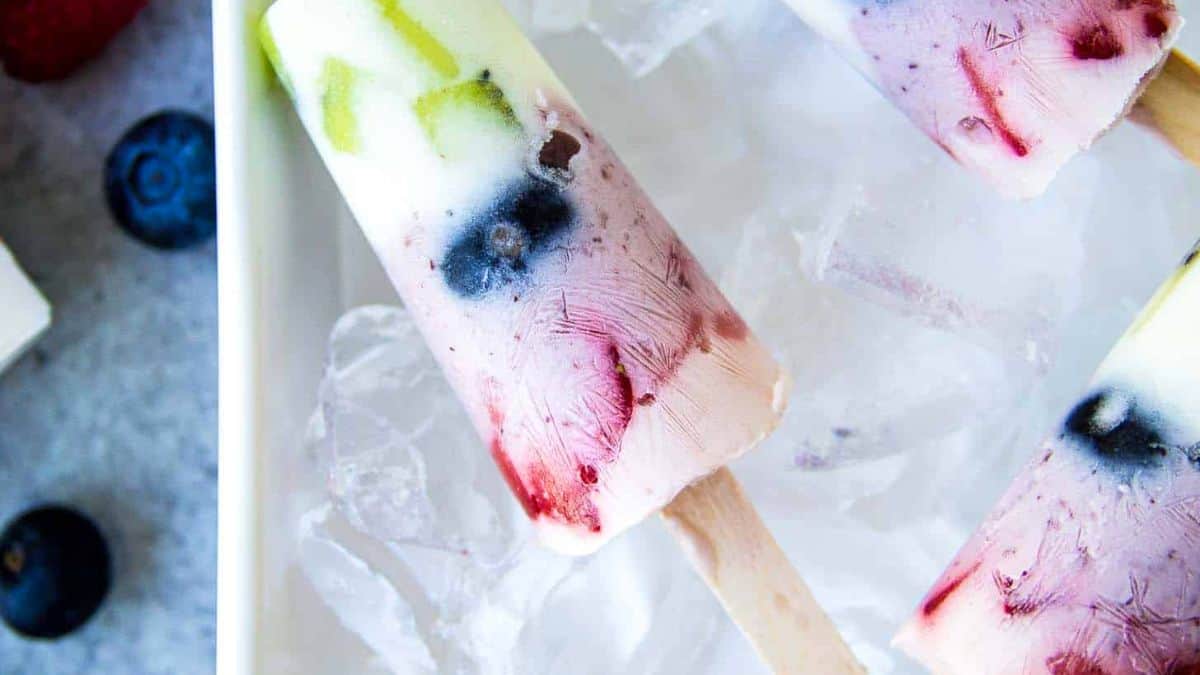 These Rainbow Yogurt Popsicles are quick, easy and made with just two ingredients - yogurt and fresh fruit!
Summer Berry Gino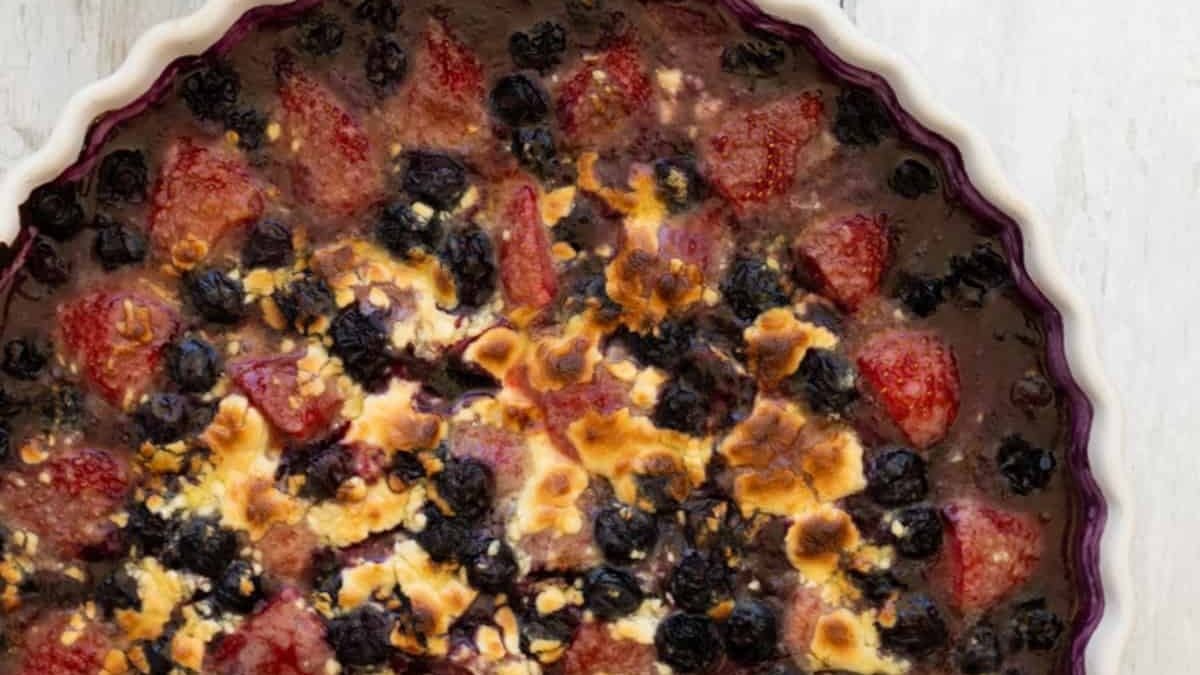 This super easy berry bake is filled with bananas, strawberries and blueberries and topped with white chocolate for a delicious dessert. Perfect for any dinner party - and great to prep ahead of time. Serve over vanilla ice cream for the ultimate, indulgent experience.