This quick Vegetable Pad Thai is based on an authentic Pad Thai recipe, but unlike many meat-less versions it has broccoli and bell peppers, and no tofu. More good stuff, and still all the flavor!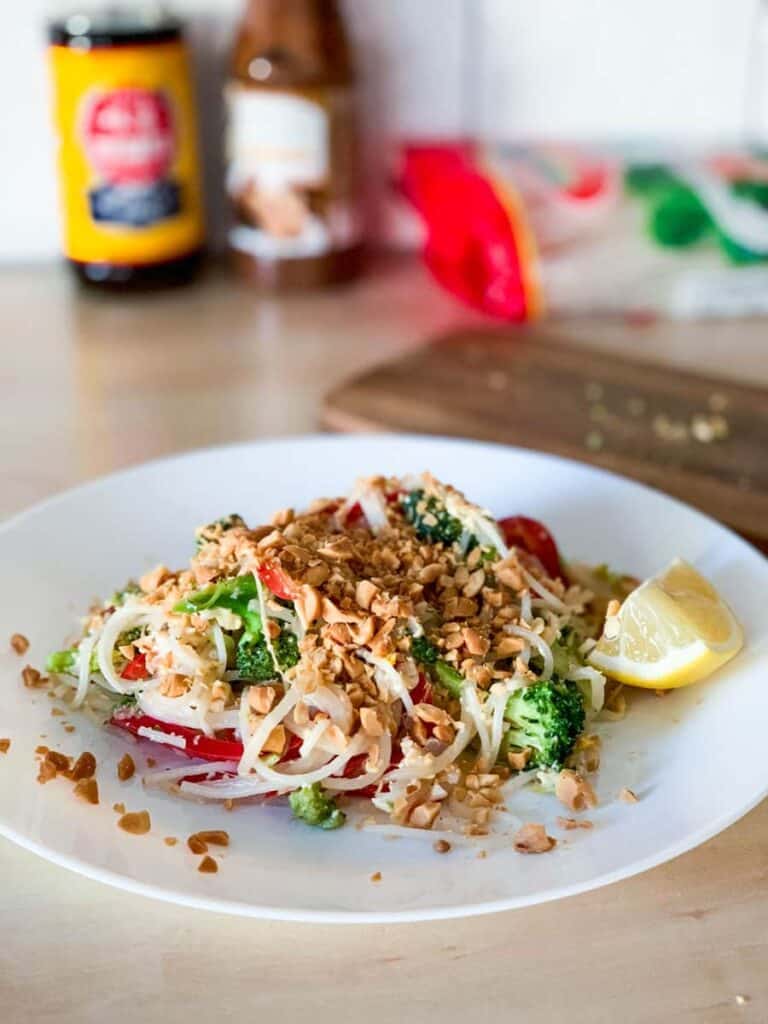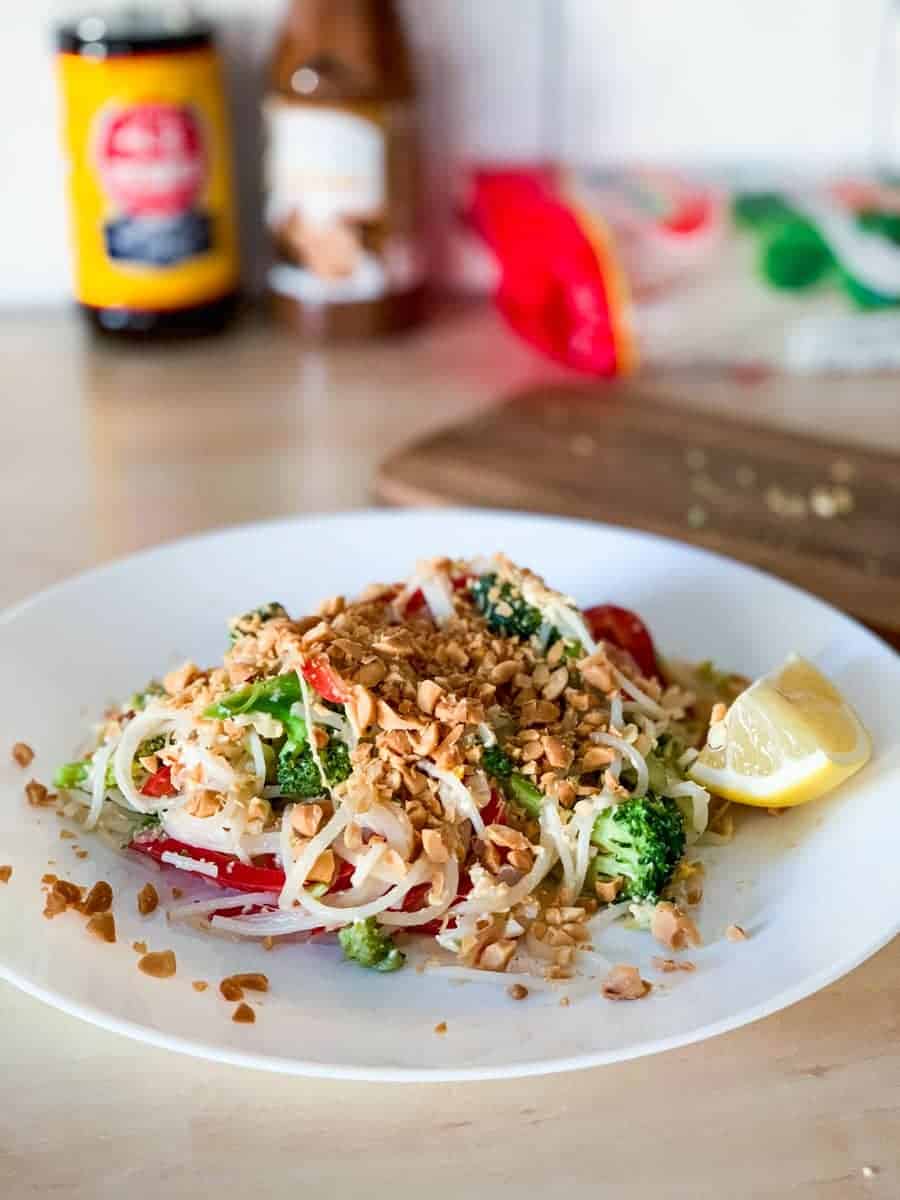 If there is one Thai dish that's a little bit more common than all other Thai dishes - at least in Europe - it has to be the Pad Thai. Not too uncommon in Thailand either, mind you - it seems like every corner in Bangkok has its own Pad Thai restaurant. I use the term restaurant loosely here, because in general it's just a stove top on wheels. Doesn't make the Pad Thai any less tasty, though - rather the other way around.
I get why it's so popular, especially among us Westeners. All the delicious thai flavors - but none of the spice (unless you add a load of chili flakes, which I usually do). So suited to our delicate/cowardly palates.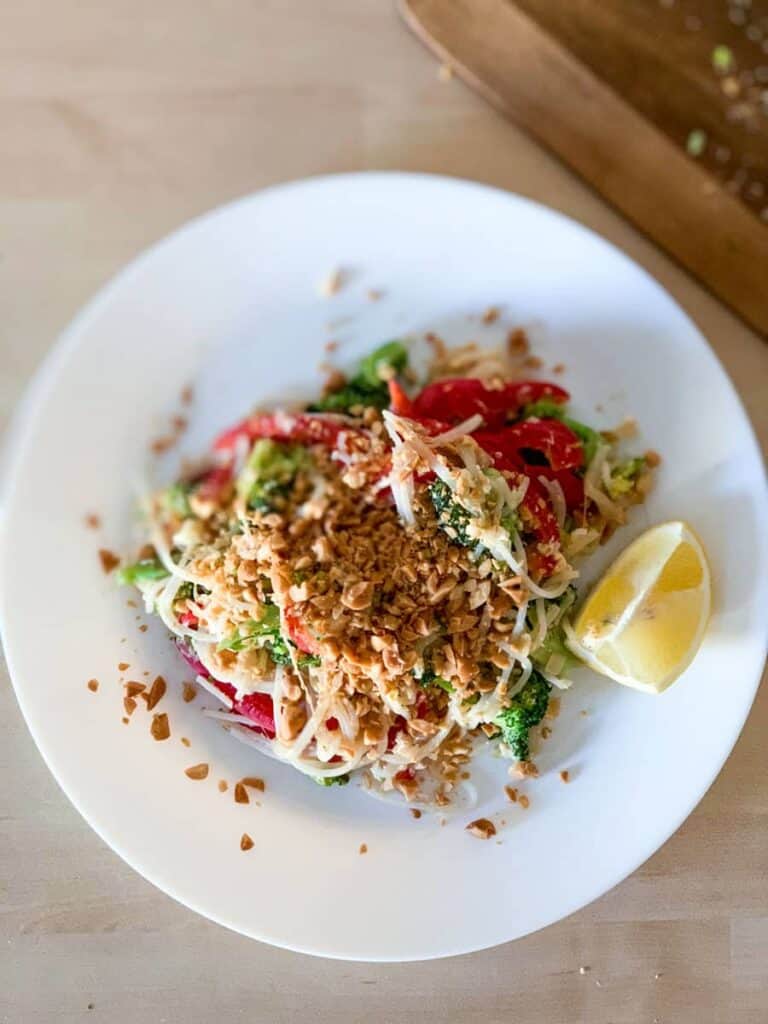 Learning the Secrets of an Authentic Pad Thai
This specific recipe is based on a true, authentic Pad Thai recipe. While living in Bangkok I attended the Chef Leez Thai cooking school, which I can highly recommend if you're ever in the vicinity and crave some cooking.
For me, living without a kitchen for 3 months, that day with Chef Leez was one of the best of my life. Hands down. No question. I just loved it. Not just getting to cook, but also learning soo many great tricks from her (She's definitely one of my two favorite Thai people! Rivalled only by Mom of the extraordinary Larb Gai.). And while I had dabbled a bit in Thai cooking before this, when I got home I took my Thai cooking to a whole new & so much more authentic level. Since then I've refined and updated my Pad Thai, all to suit my taste buds, but I still find it quit authentic in flavor.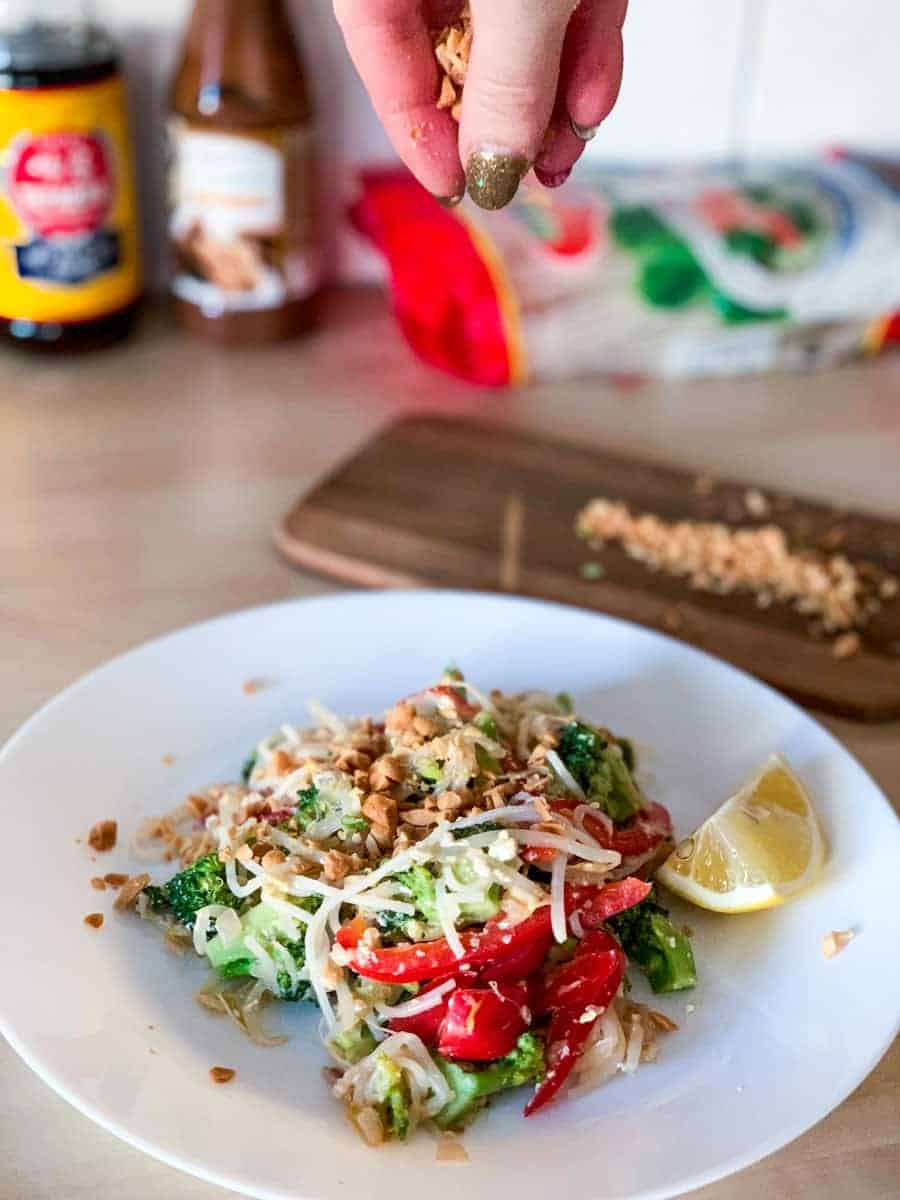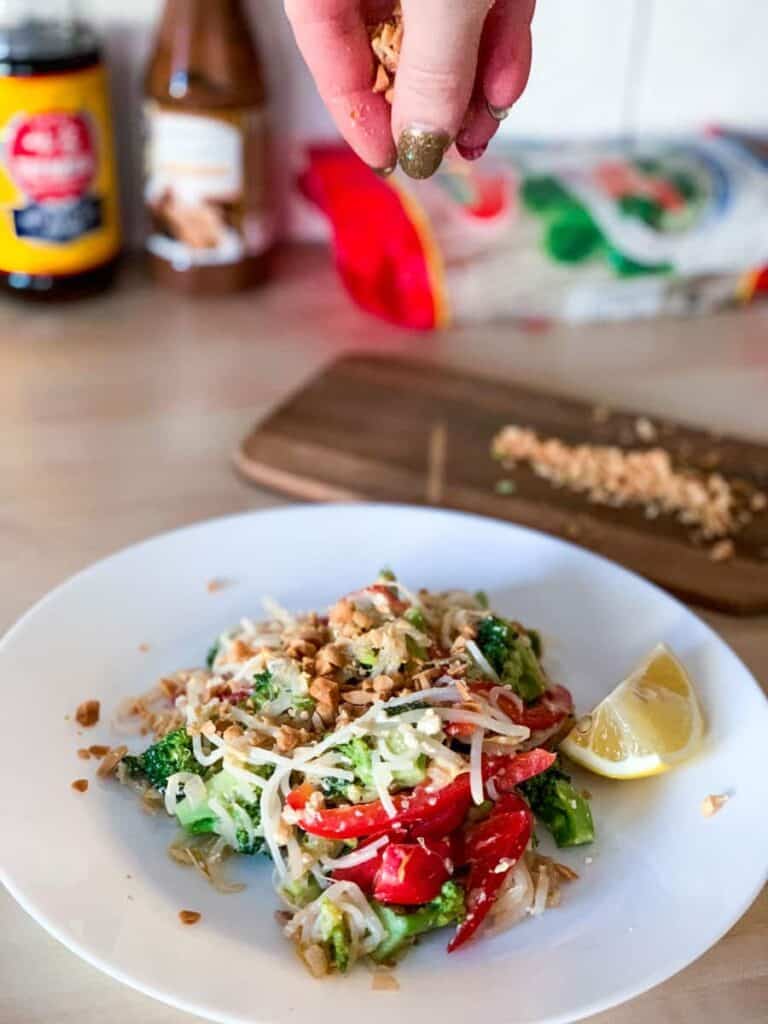 What is Pad Thai?
While we have all kinds of flavors associated with a Pad Thai, "Pad Thai" literally means "Thai stir-fry". Anything Pad is a stir-fry and Thai means, well, yeah, "Thai". In Thailand you will see many different kinds of "Pad", and what they have in common is exactly that - being stir-fried. Now there are several components that are usually present in a Pad Thai: rice noodles, bean sprouts, fried egg, pad thai sauce and a side of crushed peanuts, chili flakes and a wedge of lemon or lime.
If you have it in Thailand you will likely get dried mini shrimp as well - these bring a delicious flavor to the mix, but can be a bit scary when you first encounter them. I mean, whole shrimp with their shell and head and everything is not an everyday thing where I'm from - no matter how small they are!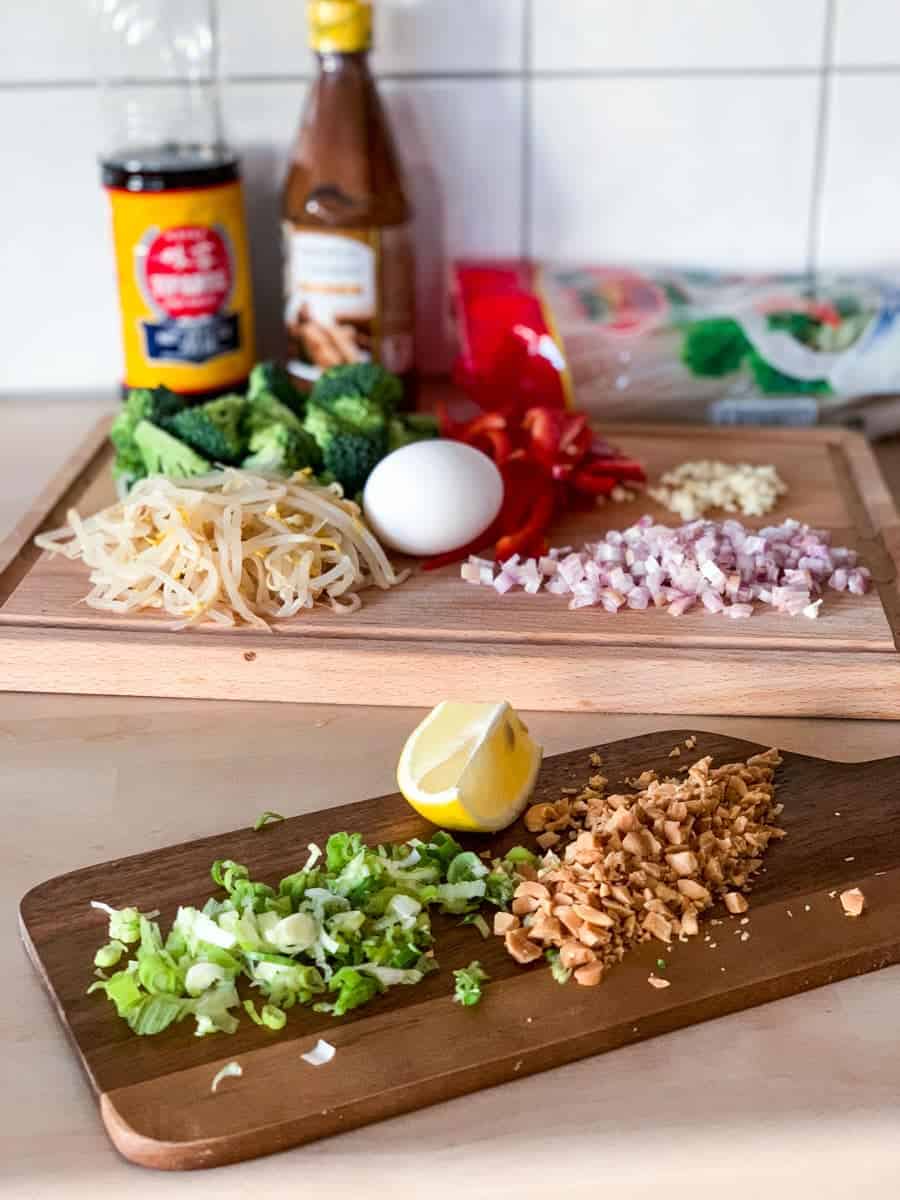 Making the Pad Thai is just like making any stir fry. Chop everything up, combine in a wok, add some sauce, and fry. Combine it all in the right order and you'll ensure the perfect texture. Top with your crushed peanuts, chili flakes and lemon or lime and - for the true Thai experience - serve with some fish sauce on the side for the salt lover.
How to Make Pad Thai Sauce
An important part of a good Pad Thai is having a good Pad Thai sauce. You can buy this at most Asian supermarkets outside of Thailand but I prefer making my own. It's super simple with only a few ingredients, and all are far more versatile in your kitchen than a can of Pad Thai sauce. All you need is fish sauce (salty), tamarind paste (sweet & sour), a pinch of sugar and some water. For the exact ratio of these, I suggest the classic old taste test. I like using the same amount of fish sauce and tamarind, but I also like to add a bit extra fish sauce on top before diving in.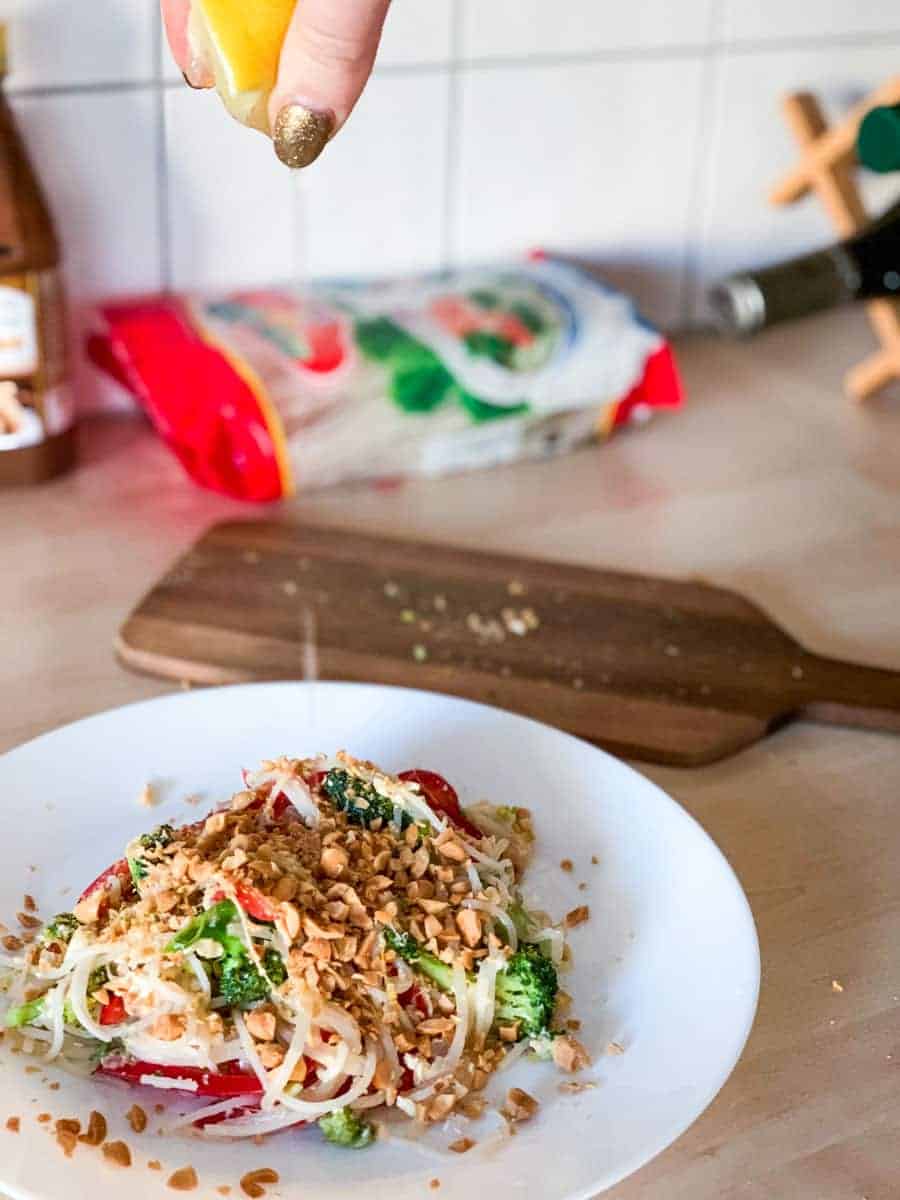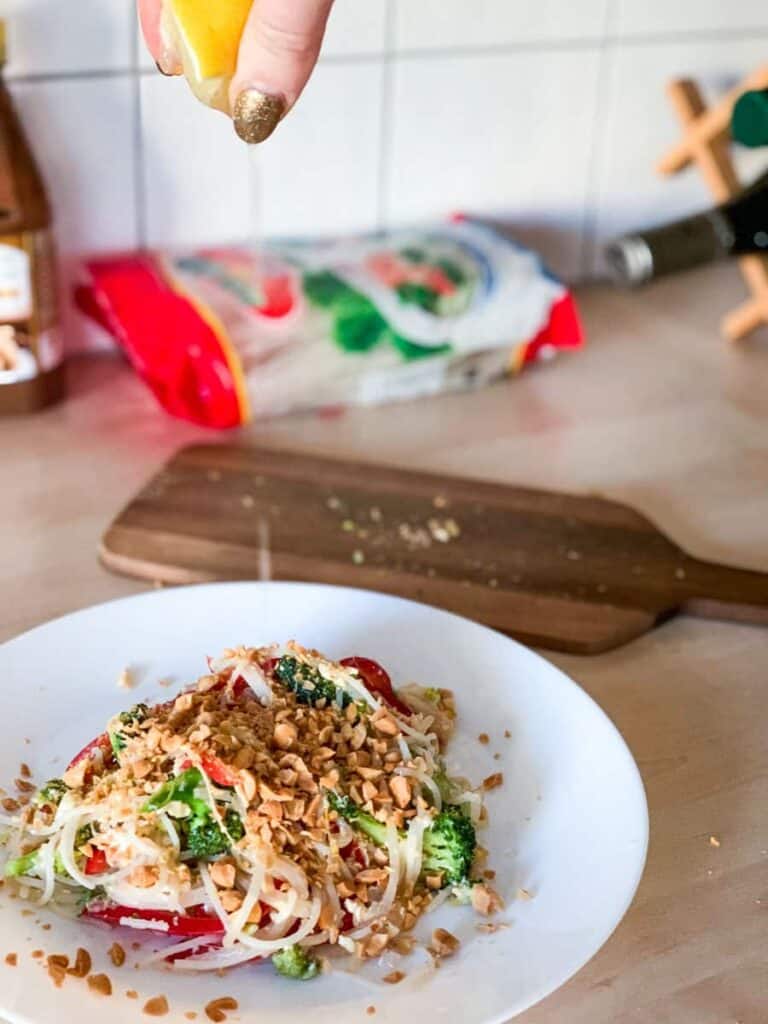 Now yes, there is a little sugar added. Traditionally, it should be palm sugar (it's supposed to be healthier than refined white sugar, and is more authentic in taste) - I have a hard time finding good palm sugar in Sweden so I use my regular kind. I've made it without sugar as well, and it's still delicious. But it's such a small quantity and it does provide that extra roundness of flavor, so most often I add it.
How to Make Vegetarian Pad Thai Without Tofu
Anyway, this Veggie Pad Thai is my latest Pad Thai favorite. I'm not a big fan of tofu, so I really wanted to create a meat-less Pad Thai version without it. Here the broccoli and bell pepper provide both texture & taste, while at the same time filling you up with loads of vitamins.
And of course, it has all the Pad Thai flavors you love - the sweet & sour tamarind, the salty fish sauce, the crunchy peanuts, the squeeze of lemon or lime. And that touch of sugar, if you like. Yes, I said, fish sauce. So while almost vegetarian, it isn't technically. But less meat is always something, right?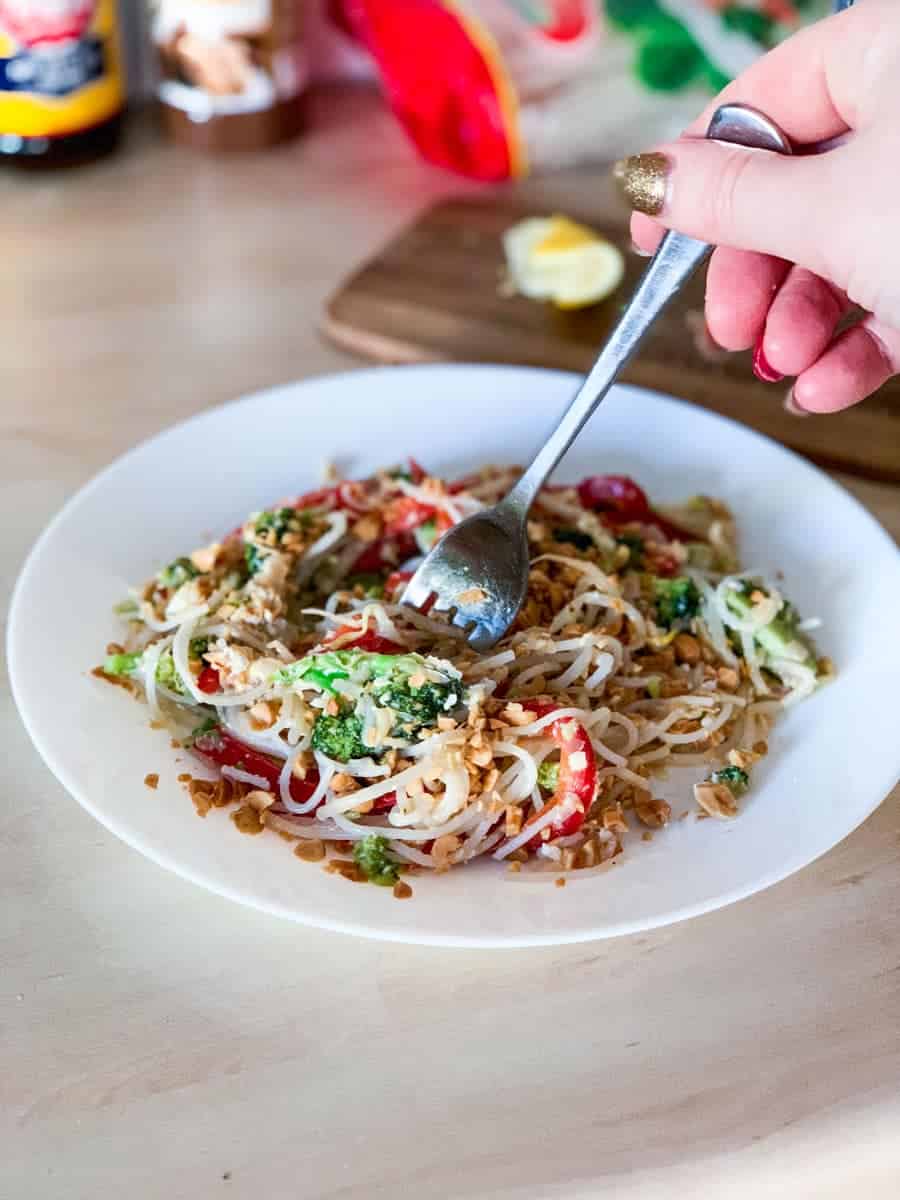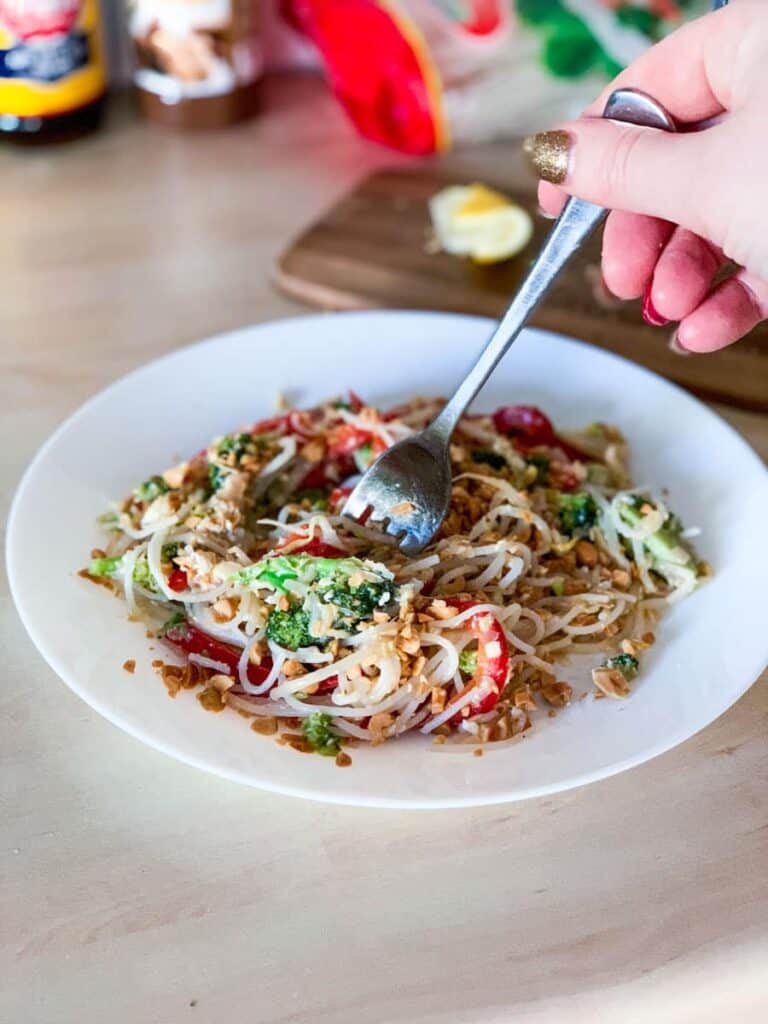 Over to you then - try it, and stop with the takeout already. I mean, 15 minutes? That's quicker than Uber Eats! Looking for more delicious Thai recipes? Check out my authentic Massaman Chicken Curry or Larb Gai.
Did you make this? Please leave a comment and/or a rating and let me know what you thought! Or just leave a comment anyway - I love hearing from you. Posting it on Instagram? I'd love for you to tag me @alwaysusebutter, and please use the hashtag #alwaysusebutter as well.
Love & deliciousness,
Emmeline
Recipe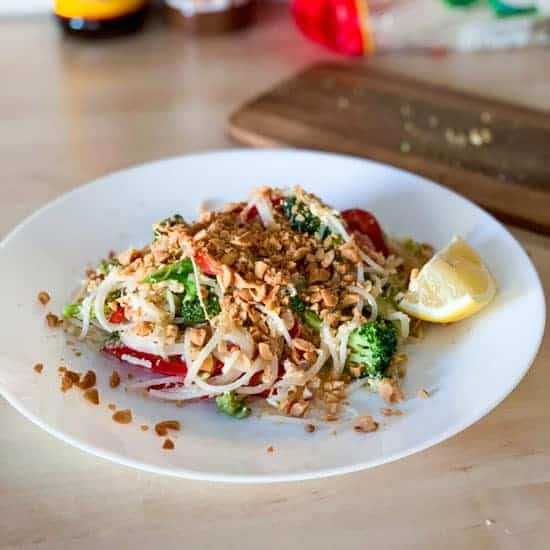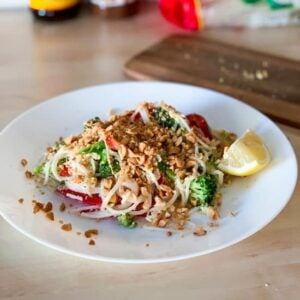 15-minute Vegetable Pad Thai
Print
Pin
Rate
Servings:
2
large portions
Ingredients
1

tablespoon

vegetable oil

2

shallots

finely chopped

2

garlic cloves

finely chopped

1

broccoli

cut in bite size pieces

1

red bell pepper

thinly sliced

2

servings

rice noodles

cooked according to package instruction

2

eggs

1

cup

bean sprouts

2

spring onions

finely chopped
Pad Thai Sauce
1

tablespoon

fish sauce

1

tablespoon

tamarind paste

1

teaspoon

sugar

can be omitted

2

tablespoon

water
To serve
4

tablespoon

unsalted roasted peanuts

roughly chopped

2

lemon or lime wedges

fish sauce

if desired

chili flakes

according to taste
Instructions
Make the Pad Thai sauce by mixing together all the ingredients. Taste test and adjust accordingly.

Heat the vegetable oil in a wok or other large pan over medium heat. Add in the chopped shallots and garlic and fry for

a minute

.

Add in the broccoli florets and sliced bell pepper, and fry for

2-3

minutes until the broccoli is slightly softened.

Add in the Pad Thai sauce, mix well, and cook for

a minute

.

Add in the cooked noodles, mix well, and cook for

another minute

.

Move the vegetables and noodles to one side of the pan. Break the eggs straight into the empty half of the pan, break the yolks and mix carefully without mixing it in with the vegetables and noodles. Let the eggs fry until just cooked, then mix it in with the rest.

Add in the bean sprouts and chopped spring onions and mix well. Plate, and top with chopped peanuts, chili flakes and a wedge of lemon or lime.
Nutrition
Calories:
555
kcal
|
Carbohydrates:
65
g
|
Protein:
19
g
|
Fat:
26
g
|
Saturated Fat:
9
g
|
Cholesterol:
163
mg
|
Sodium:
882
mg
|
Potassium:
885
mg
|
Fiber:
8
g
|
Sugar:
16
g
|
Vitamin A:
2690
IU
|
Vitamin C:
154.7
mg
|
Calcium:
119
mg
|
Iron:
3.7
mg
Nutritional information is approximate and automatically calculated, and should only be viewed as an indication.