This post may contain affiliate links, which are always marked with *. Please read my disclosure for more information.
This Larb Gai - Thai Chicken Salad is filled with the best Thai flavors - lime, fish sauce, chili, spring onions, cilantro... and both healthy and super quick to make. This makes it a sure weekday hit! It's one of my absolute favorites, and I end up making it at least every other week.
The first time I ever had Larb Gai, this delicious and spicy thai chicken salad, was in Laos about seven years ago, in the beautiful town of Luang Prabang (supposedly a "secret" favorite holiday destination for movie stars such as Julia Roberts and George Clooney, or so Lonely Planet said). I remember falling in love instantly with the spiciness, the tanginess, the saltiness - basically, all my favorite flavors mixed into one perfect dish. No wonder it's considered Laos' "unofficial" national dish!
The next time I had it was while living in Bangkok, and this time it came as Larb Moo. Short Thai introduction if you're unfamiliar - "gai" means chicken, and "moo" means pork. (I remember having soo much fun with this in Bangkok, I mean wouldn't it be more suitable for "moo" to mean beef? Is this some kind of ironic joke that was then incorporated into the language? Nevermind, probably not as funny to anyone else.) Equally as delicious as Larb Gai.
Anyway, this time it was served at my all-time Bangkok favorite "Mom's". Mom's was a restaurant situated far out of the way on a small back alley in a residential and very thai part of Bangkok, called Sutthisan. From the street the restaurant looked like the most touristy place in Bangkok with all its colorful lights and neon writing on the walls - but they served the most amazing and truly authentic Thai food. The place was run by a wonderful/very scary older Thai woman ("Mom", I guess?) who was very impressed (she didn't actually say so, but I'm sure she was) by my ability to eat really, really spicy curries and always berated me for not finishing my rice. Lucky for us our company had not set us up in any of the expat areas but in a small hotel in Sutthisan, a short walk from Mom's, and we probably ate there at least four times a week.
So, back to the Larb Gai/Moo. Mom's was where I fell deeply in love with northeastern Thai cuisine (also known as Isan cuisine) in general, and with Larb in particular (the inhabitants of Isan are mostly Lao, hence the similarity of the Laos and Isan cuisines). Northeastern Thai/Isan cuisine differs a bit from the common Thai food in Europe or the US as this is more often from the central or southern parts - you've probably had creamy coconut curries, stir-fries or pad thai. But have you had Larb Gai or Larb Moo, Sai Krok Isan (a tasty fermented sausage), Kor Moo Yang (grilled pork neck) or Som Tam (commonly known as papaya salad)? (OK the last one you might actually have tried) If not - TRY IT next chance you get. Or why not whip up a Larb Gai in your own kitchen? It's quick, it's easy, and it's full of flavor!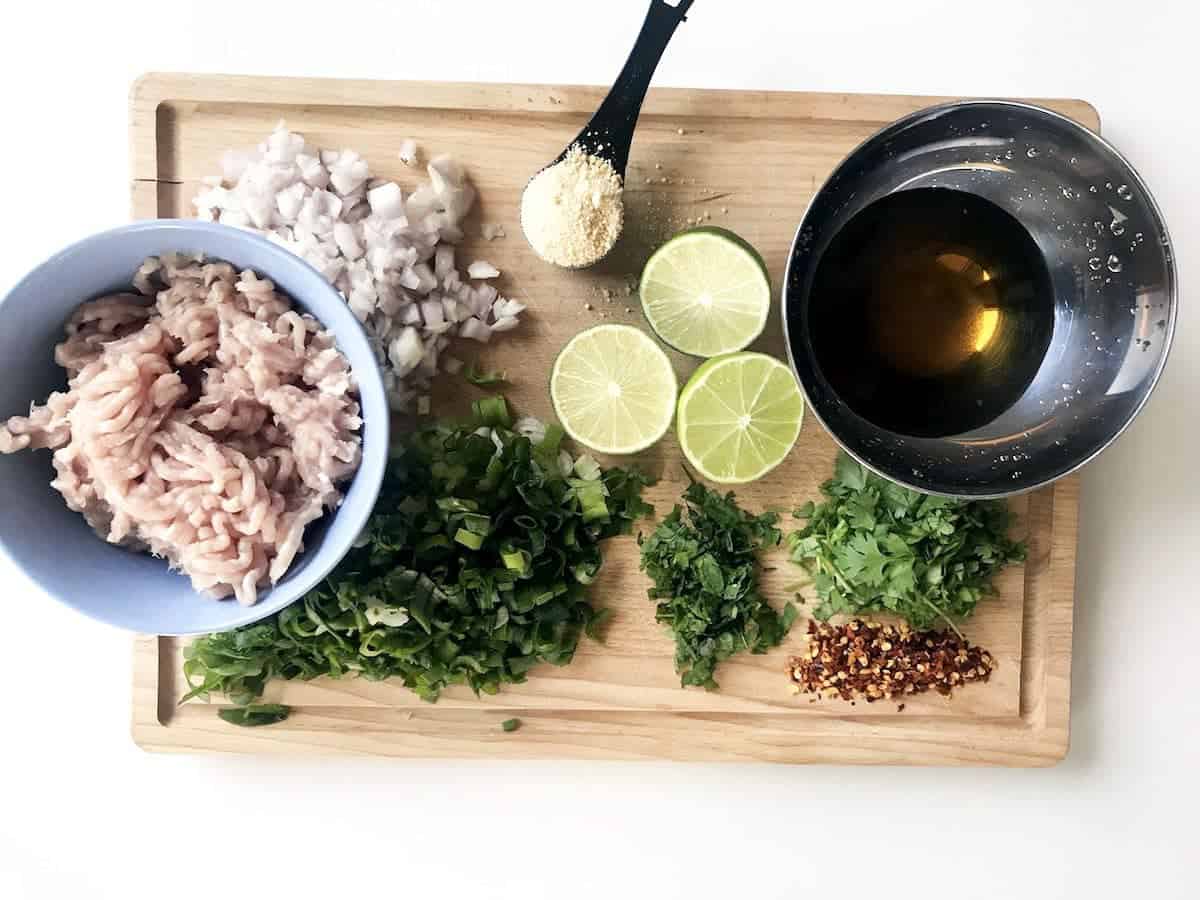 A slight reservation for any other aficionados of Isan cuisine out there. Traditionally, Larb can include both blood and offal, however for my version I have left those out. In part because these are not the easiest ingredients to find but mainly because, nope, even I have to draw the line somewhere.
My version of Larb Gai is mainly based on this recipe by Mark Wiens. I've exchanged the pork for chicken, changed some amounts and added a splash of water, but the basic idea is the same. No use inventing the wheel twice, eh? This being said, I encourage you to taste, taste, taste and make it your own. For example, I use far less chili flakes than Mark's recipe calls for as I use another kind, and you might like it less salty or more acidic. This recipe for Larb Gai is quite spicy, but sometimes I do add another teaspoon of chili flakes if I feel like it. If you're a bit nervous about spice, use half my amount to start - great thing is, you can always taste and add more if necessary. Oh, and also - I usually eat mine as-is without rice, but traditionally it's served with sticky rice (can be substituted for jasmine rice). Do as you like!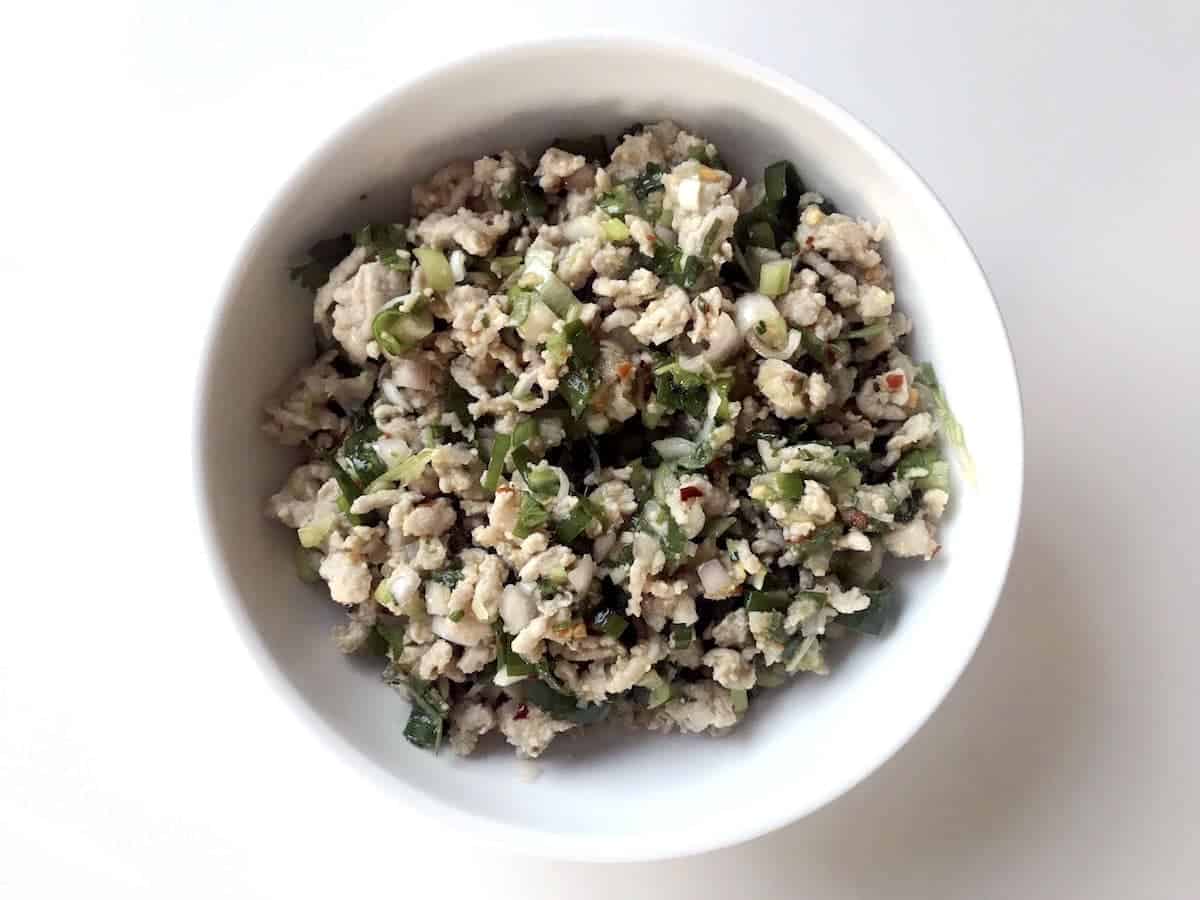 The only thing that actually does take a bit of time with this recipe is making the Khao Kua (rice which is toasted and then coarsely ground). You can omit it but it really does add an extra dimension to the dish. What I do is I make a batch, store in an air-tight container and use it both for Larb and anytime I need a non-nutty substitute for chopped peanuts (try it the next time you're cooking for someone with a nut allergy and want to incorporate some crunch!). In the recipe I haven't included an amount for the uncooked jasmine rice as I will leave it up to you to decide if you want to make a batch or just enough for the recipe. The time stated for the recipe includes the time it takes to prepare the Khao Kua - otherwise prep time is no more than 10 min and you can easily do that prep while the chicken is cooking.
OK, so here goes - Larb Gai, your intro to Isan cuisine (sorry if this ends up costing you a plane ticket). If you're looking for another authenti Thai recipe - check out my Massaman Chicken Curry.
Don't forget to share this recipe if you like it! Have you tried it? Please give a rating below!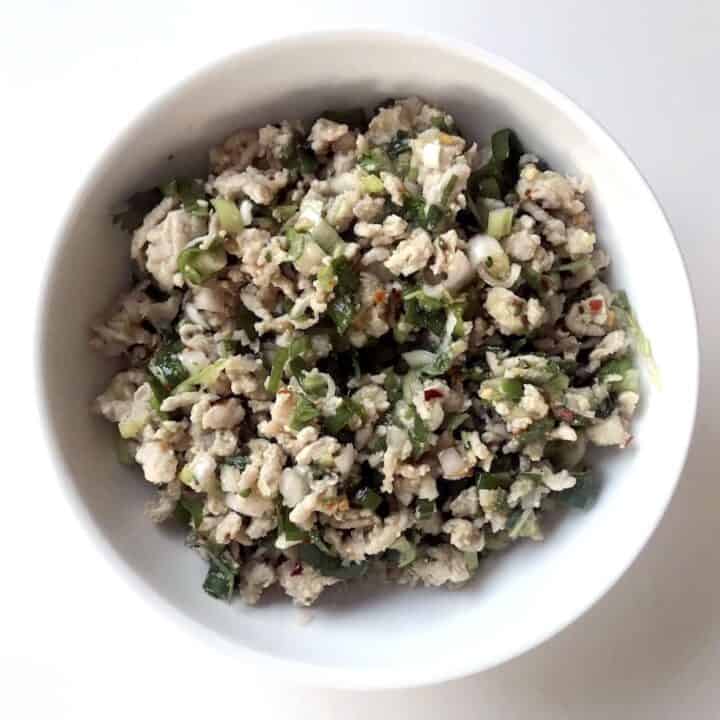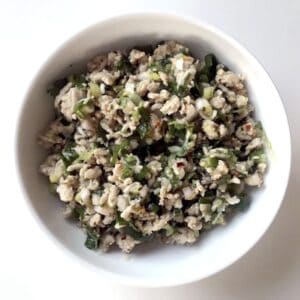 Ingredients
Khao Kua (toasted rice) (can be omitted)
Uncooked jasmine rice (or preferably glutinous rice, if you can find it)
Larb Gai
2

Tbsp

vegetable oil

for example rapeseed

500

g

minced chicken

4

Tbsp

Khao kua (toasted rice)

1

tsp

chili flakes

3

small shallots

finely chopped

3

whole scallions, green leaves included

finely sliced

3

Tbsp

cilantro (about 5g)

chopped

15

mint leaves

chopped
Dressing
1.5

lime

juice of

2

Tbsp

fish sauce

1

tsp

sugar

2

Tbsp

water
3-4

portions

cooked jasmine rice

can be omitted
Instructions
Khao kua (toasted rice) (can be omitted)
Heat a dry pan over medium heat and add the uncooked jasmine rice. Stir regularly, and more often when the rice starts to get some color. Roast the rice for about 15 minutes, until it's turned golden brown

Let the rice cool for a few minutes, then add it to a mortar or mixer and ground it to a coarse powder. That's it! Use what you need for this recipe and store the rest in an airtight container, it usually keeps for several months.

Larb Gai
First, you should have cooked the jasmine rice already if you want to include it - the Larb Gai will be ready in just 5 minutes! Then mix together the ingredients for the dressing - taste and adjust to your desired flavor.

Heat a wok over high heat and add the vegetable oil followed by the minced chicken. Cook through while stirring to separate the chicken.

When the chicken is cooked through, take the pan off the heat - but don't turn off the heat just yet. Stir in 4 Tbsp of the Khao kua (toasted rice), chili flakes, chopped shallots and scallions. Give it a good mix.

Place the pan back over the heat and pour over the dressing. Give a good mix and cook for just about 15 seconds. Remove from the heat and turn the heat off.

Mix in the chopped cilantro and mint. Taste, taste, taste!

When your happy with the taste, serve by itself in a bowl or on a plate with jasmine rice and or some green leaves. Gin hai aroy na! (That's Thai for "bon appetit", by the way)
Notes
This dish works really well with minced pork as well - it is then called Larb Moo, but the concept and flavors are the same. If I make Larb Moo I skip the oil and let it cook in it's own fat (pork is fattier than chicken) and add more lime and fish sauce.
Adjust the amount of chili flakes according to your taste, sensitivity to spice and the chili flakes you have available - with the "Red Hot Chili Flakes" I get in Sweden 1 tsp makes it SPICY but when using thai chili flakes I use about 2-3 tsp without the spice being too overpowering. As always - taste, taste, taste!
Thai basil is a nice addition to this, and even works as a substitue for mint - if you happen to have it on hand.
Nutrition
Calories:
639
kcal
|
Carbohydrates:
36
g
|
Protein:
48
g
|
Fat:
34
g
|
Saturated Fat:
16
g
|
Cholesterol:
215
mg
|
Sodium:
1591
mg
|
Potassium:
1627
mg
|
Fiber:
3
g
|
Sugar:
6
g
|
Vitamin A:
835
IU
|
Vitamin C:
11
mg
|
Calcium:
76
mg
|
Iron:
3.7
mg
Nutritional information is approximate and automatically calculated, and should only be viewed as an indication.