This authentic recipe for Massaman Chicken Gurry (Gaeng Massaman Gai) is subtly sweet and not so spicy – filled with coconut milk, chicken, potatoes, red onion and comforting cinnamon. Gluten free, dairy free and easy to make Vegan!
For more Thai flavors – check out this Veggie Pad Thai, Thai Chicken Salad or Thai Chicken Noodle Soup.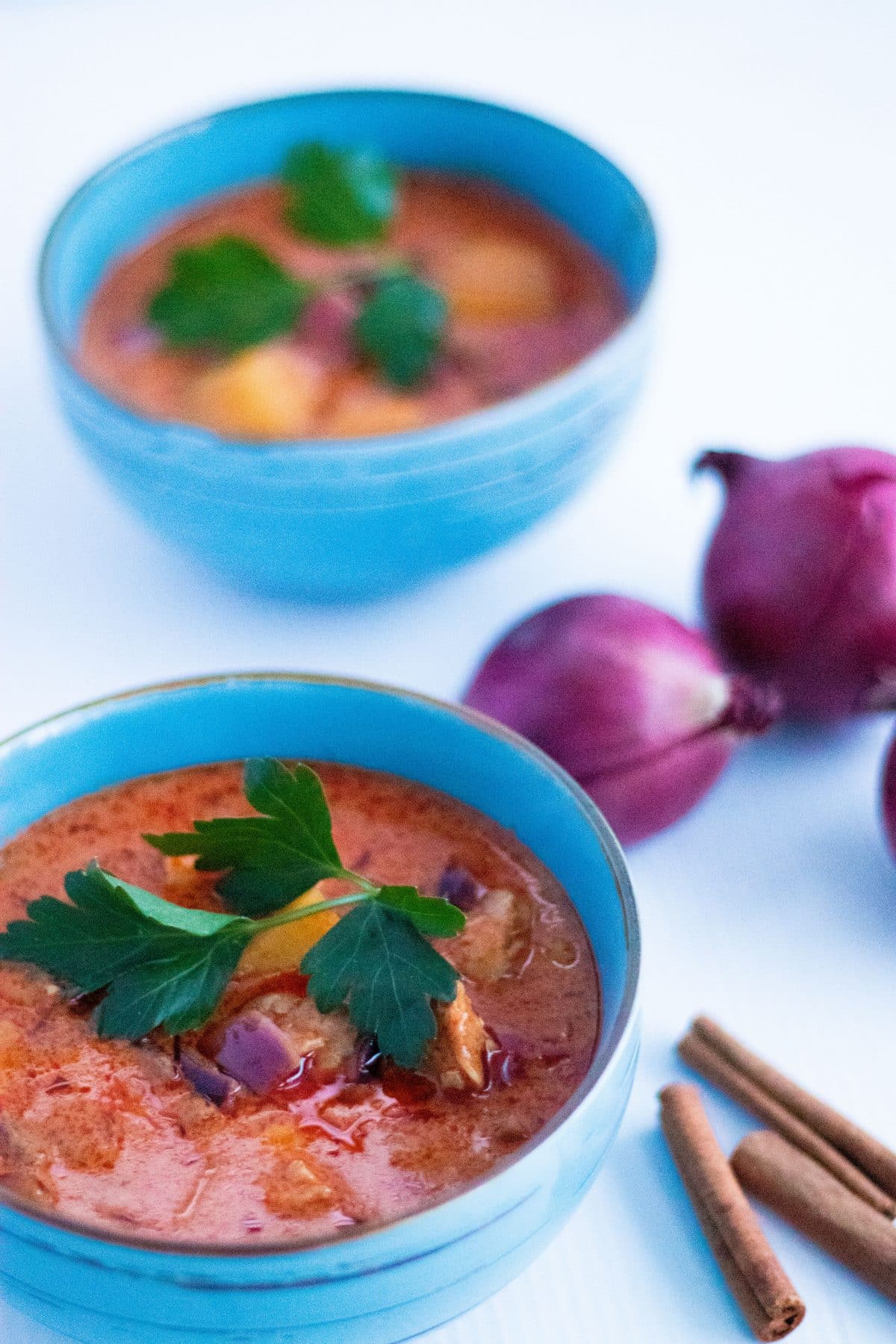 Although I've been a big fan of Thai food for many years, it wasn't until just a few years ago I had Massaman Curry for the first time. But when I did, it was love at first bite.
What is Massaman Curry?
Massaman Curry is a Thai coconut milk based curry. It's subtly sweet and not very spicy, and usually made with beef or chicken as well as potatoes and red onion.
Massaman Curry is a bit different from the Red, Green & Panang curries so widely popular. The main difference lies in the type of spices used. You might have wondered about the origins of the Massaman Curry – it somehow doesn't feel very Thai. I know at least I thought it was Indian at first!
But this is all due to the type of spices used. While most Thai curries rely on fresh spices, the Massaman Curry paste is based on mainly dried spices. Just like an Indian curry, that is. That's actually what the name comes from as well – Massaman Curry translates into "Muslim Curry", and so named because apaprently using dried spices is a muslim thing. (At least according to the teacher of the Thai cooking class I attended!)
As one of few Thai dishes that doesn't call for fish sauce it's easily made vegan – just exchange the chicken for tofu, or just leave it out. It's a great allergy and special diet friendly dish in general, actually. While there's a good amount of peanuts in there there are no other common allergens like dairy, eggs or gluten. And as it is so easily made vegan it's perfect to make for most crowds – just as long as no-one's allergic to nuts, that is…
Why this recipe works
Using storebought Massaman curry paste is a worthy shortcut, believe me – I tried making it myself, but I just come back to the storebought version being better, while at the same time saving me so much time.
Chicken thigh filets are juicy and tender and perfect for curries and other stews.
Cooking the chicken in the coconut milk & curry paste gives the chicken so much flavor.
Not stirring too much before the chicken has cooked on the outside ensures the curry does not take too much flavor from the chicken. We want our chicken to taste of curry, not the other way around!
Tamarind paste is a surefire way to add acidity & authentic Thai flavor at the same time.
Cinnamon sticks give the curry a warm and cosy taste, like a big warm hug on a cold winter day.
Adding some sugar is a must for this dish, it's supposed to be slightly sweet and it's the way to go to make it authentic. Leaving it out still provides you with a yummy dinner, but it won't be just the same.
Cooking the potato in the curry ensures the potatoes get the taste of the curry and become an incorporated part of the dish. And better yet – leaves less dishes!
How to cook Massaman Curry
Prepare by peeling your potatoes and cutting them in cuarters. Peel your red onion and chop it into large pieces, and cut your chicken thigh filets into bite-size pieces.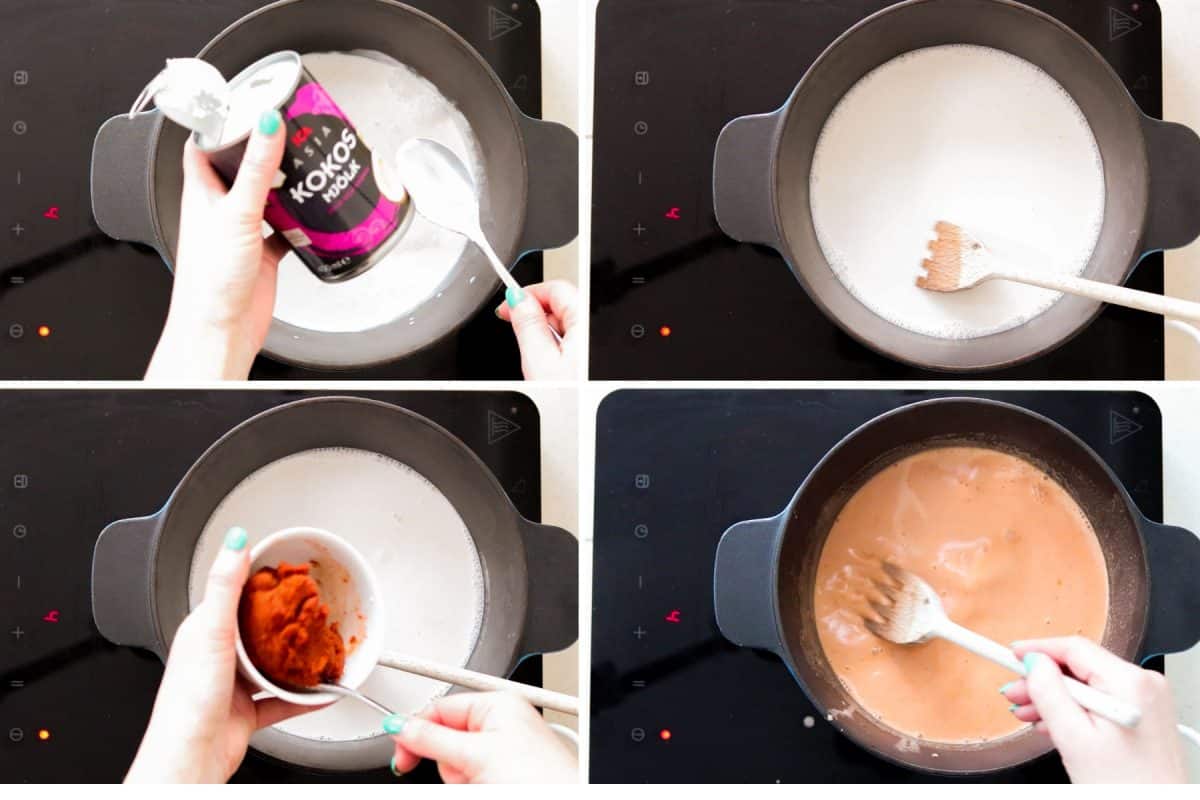 Then start by heating up your coconut milk in a large pot over medium-low heat.
When the coconut milk is hot, add in the Massaman Curry paste and mix well until the curry paste has dissolved completely. This can take a few minutes.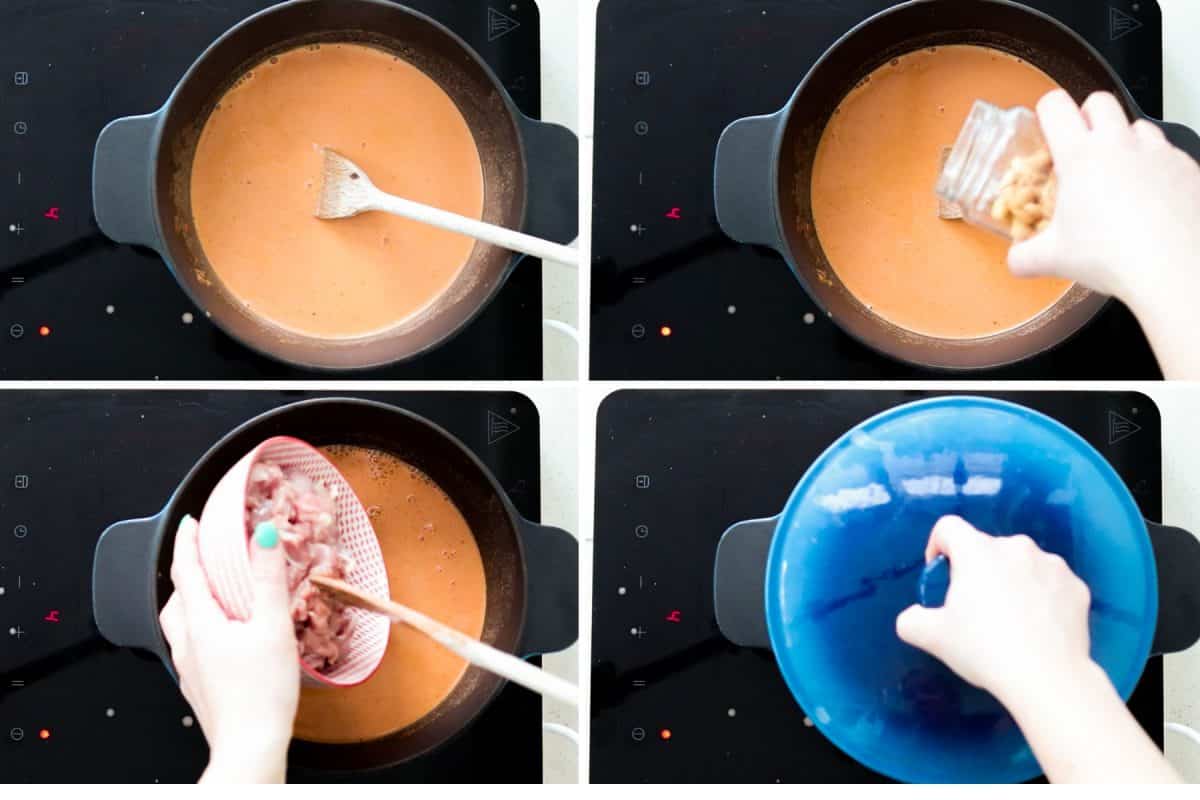 When the curry paste is completely dissolved, add in the peanuts and chicken. Mix, cover, and let simmer until the chicken has changed color – this takes about 5 minutes. Don't stir too much during this process as this can make the curry taste too much of chicken.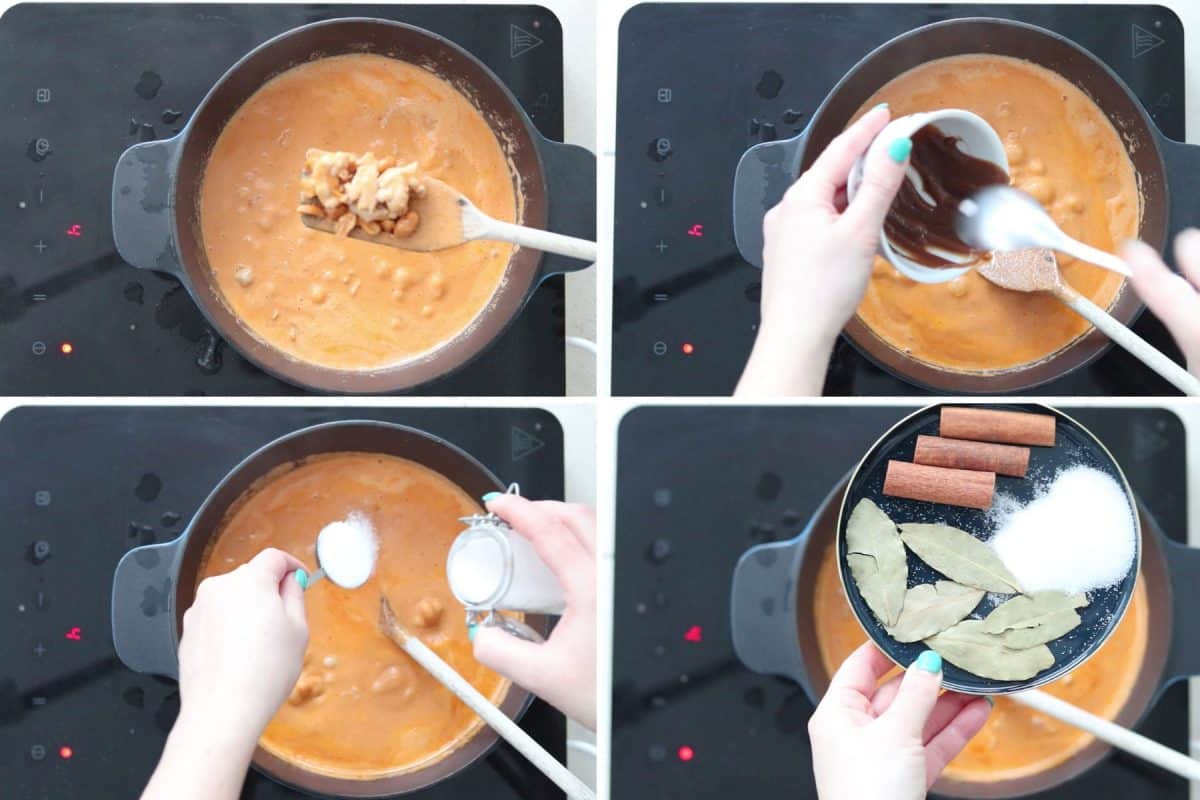 When the chicken has changed color, mix in the tamarind paste, sugar, cinnamon sticks, salt and bay leaves.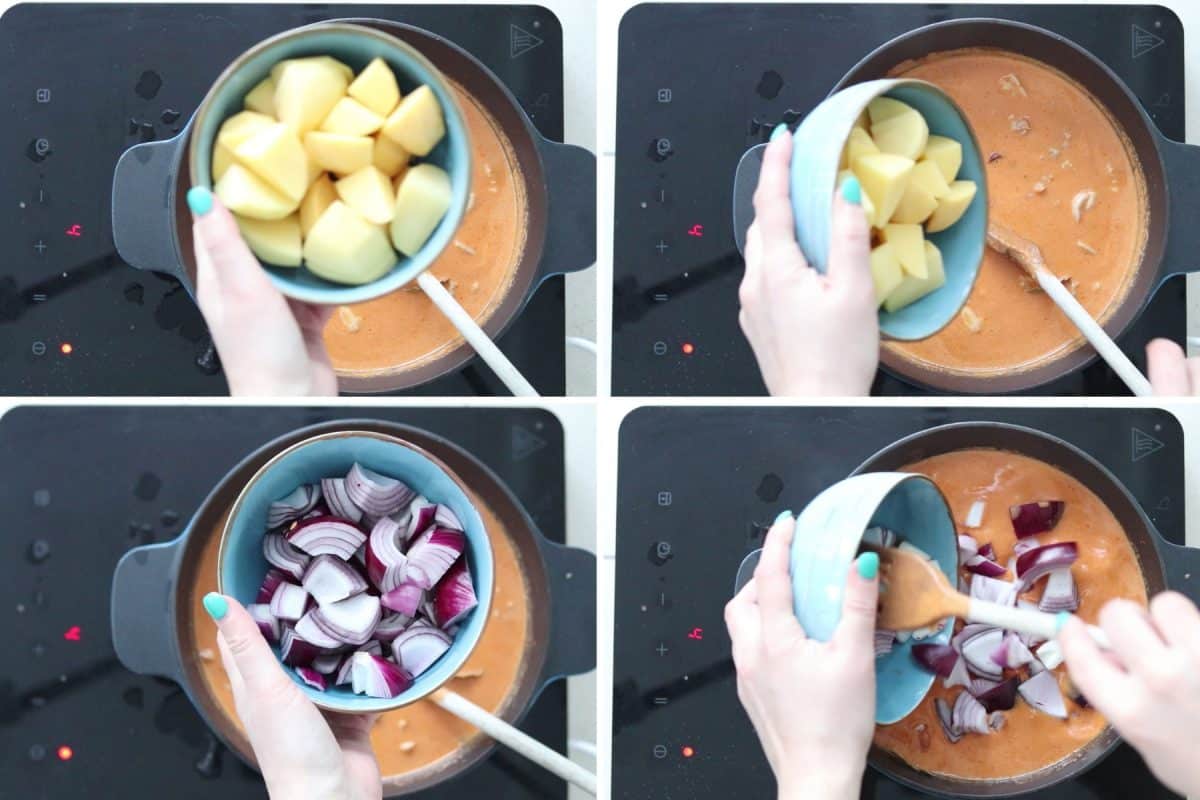 Then add in the potatoes and red onions.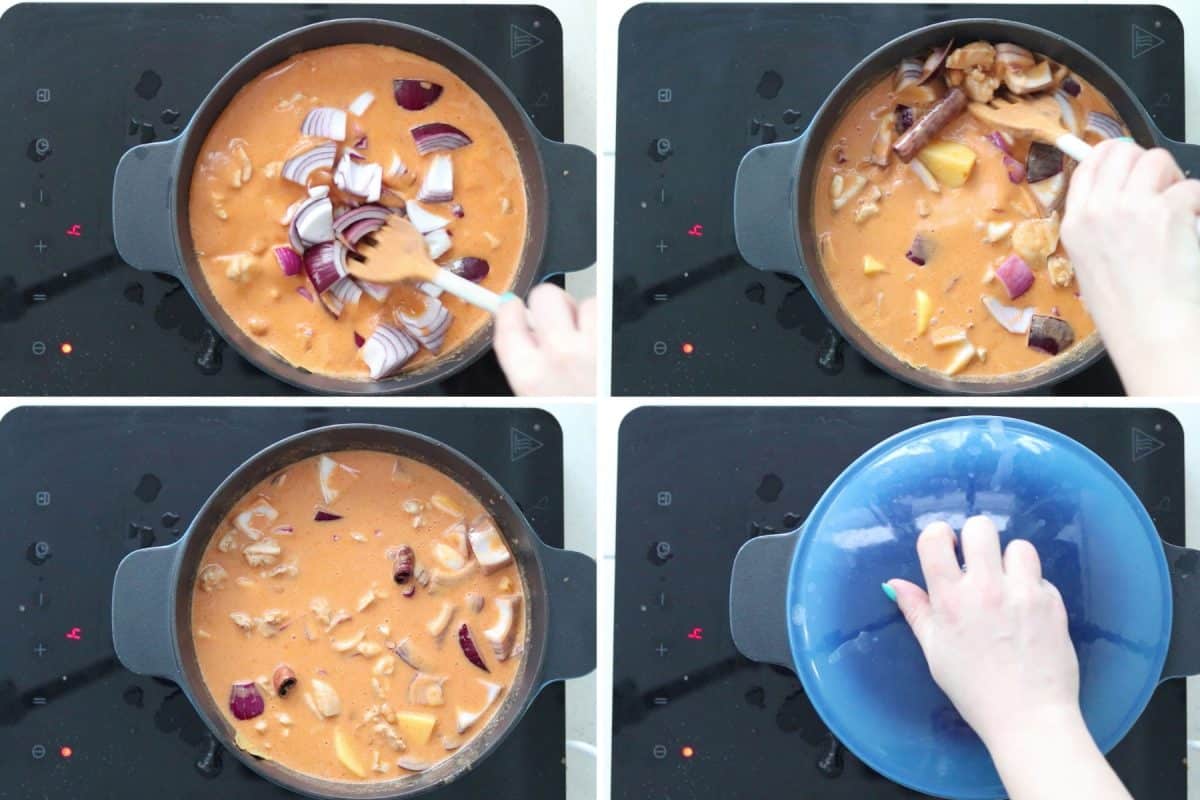 Mix well and cover the pot. Leave to cook for about 20 minutes, or until the potatoes are finished. Stir a few times while cooking.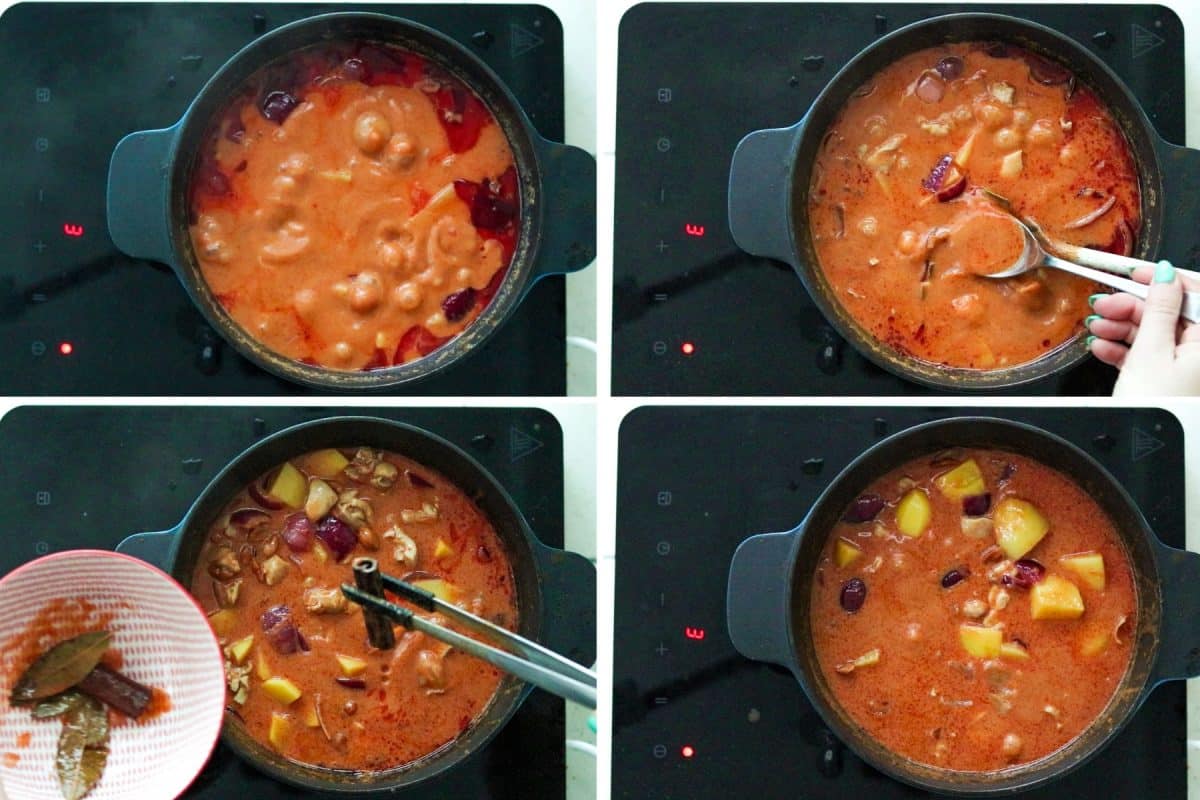 Once the potato is cooked through, taste test and add more salt and/or sugar if needed. Then remove the cinnamon sticks and bay leaves.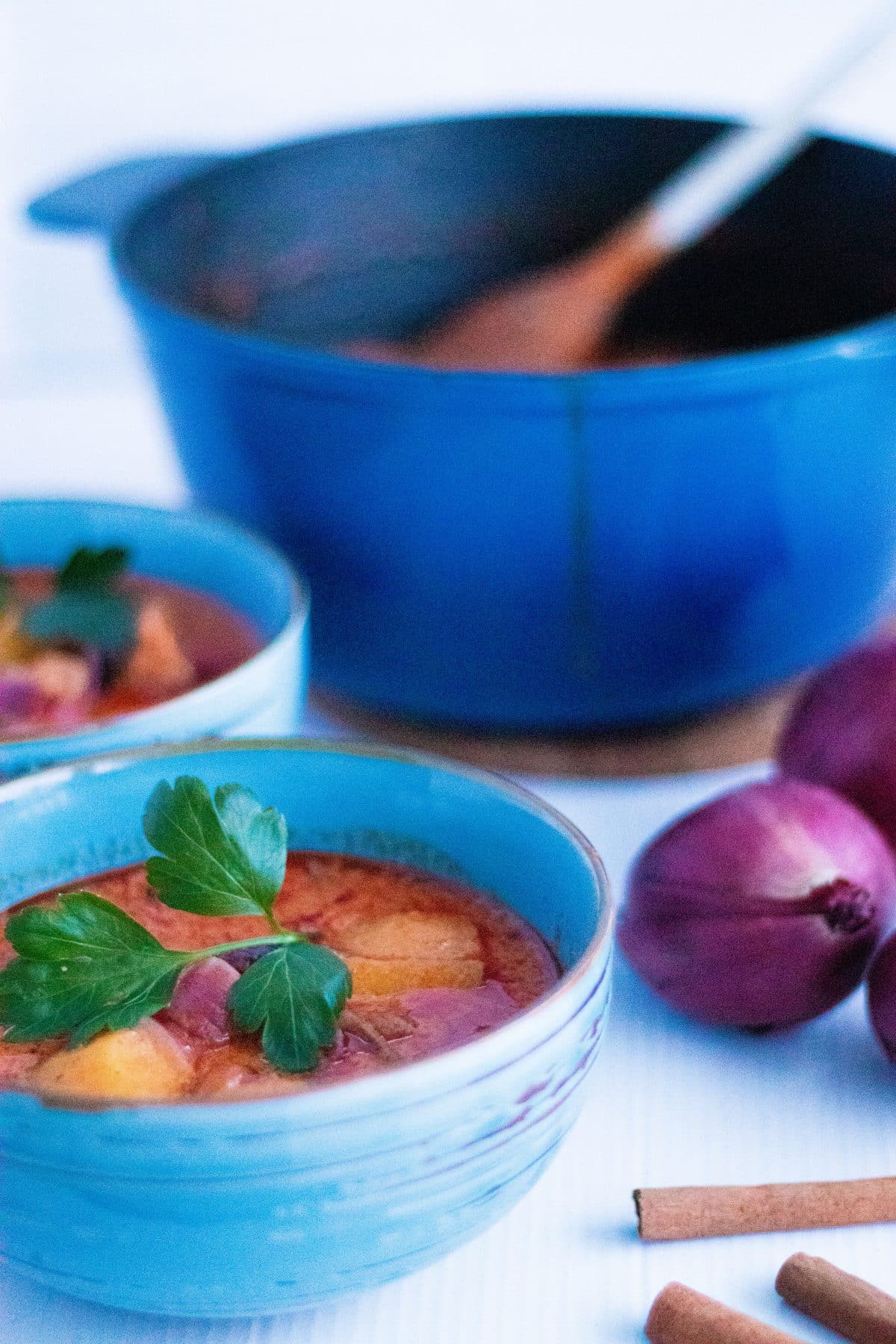 And you are now ready to serve your homemade Massaman Chicken Curry! I usually serve it just like it is, but you can also go full Thai style and serve it with cooked Jasmine rice. Your choice!
What do you think of this Massaman Chicken Curry? Does it feel authentic to you, or do you miss something? Please let me know in the comments below – and I'd love for you to leave me a review while you're there!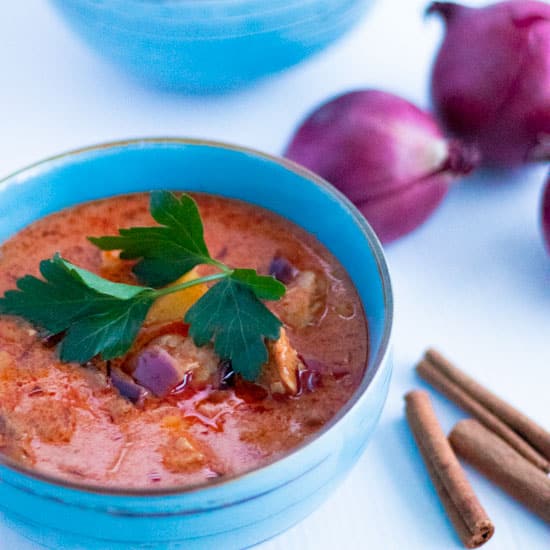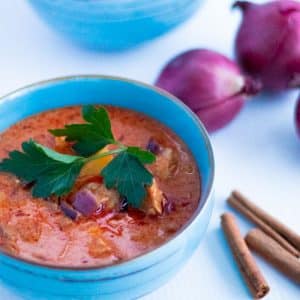 Ingredients
800

ml

coconut milk

5

Tbsp

Massaman curry paste

2

dl

roasted unsalted peanuts

400

g

chicken thigh filets

cut in bite-size pieces

5

Tbsp

tamarind paste

2

Tbsp

sugar

1

tsp

salt

400

g

potato

peeled & cut in quarters

2

red onions

cut in bite-size pieces

3

cinnamon sticks

5

bay leaves
Instructions
Pour the coconut milk into a pot large enough to fit all the ingredients and heat over medium-low heat.

When the coconut milk is just starting to boil, mix in the Massaman curry paste. Mix well until completely dissolved, this can take a few minutes.

Once the Massaman curry paste is dissolved, add in the peanuts and the chicken pieces. Boil until the chicken has changed color to white, about

5 minutes

. Do not stir too much during this time, or the coconut milk will take too much taste from the chicken.

When chicken has changed color, go a head and add in the rest of the ingredients: tamarind paste, sugar, salt, potato pieces, red onion pieces, cinnamon sticks and bay leaves. Stir, cover, and leave to simmer until potato is cooked through – this takes about

20 minutes

. Lift the lid and stir a few times while cooking.

When potato is cooked through – taste test and adjust if necessary. Serve as it is, or with a side of cooked Jasmine rice.
Notes
Nutritional information is excluding rice.
Nutrition Facts
Massaman Chicken Curry
Amount Per Serving
Calories 787
Calories from Fat 522
% Daily Value*
Fat 58g89%
Cholesterol 76mg25%
Sodium 574mg25%
Potassium 1315mg38%
Carbohydrates 45g15%
Protein 31g62%
Vitamin A 2380IU48%
Vitamin C 15.8mg19%
Calcium 146mg15%
Iron 10.6mg59%
* Percent Daily Values are based on a 2000 calorie diet.
Nutritional information is approximate and automatically calculated, and should only be viewed as an indication.
Thai Cooking Essentials
The links in the collage below are Amazon affiliate links which means that if you buy something through one of my links I receive a small commission (at no extra cost to you).