This post may contain affiliate links, which are always marked with *. Please read my disclosure for more information.
These Brownies with Cocoa Powder have been my go-to sweet treat for as long as I can remember, and will make a perfect treat for you the next time cravings strike. Sweet, chewy, crunchy and salty - no wonder these Brownies always get a standing ovation!
Chocolate not your thing? Then why not bake up some delicious Orange Ginger Carrot Cupcakes or Easy Vanilla Muffins instead?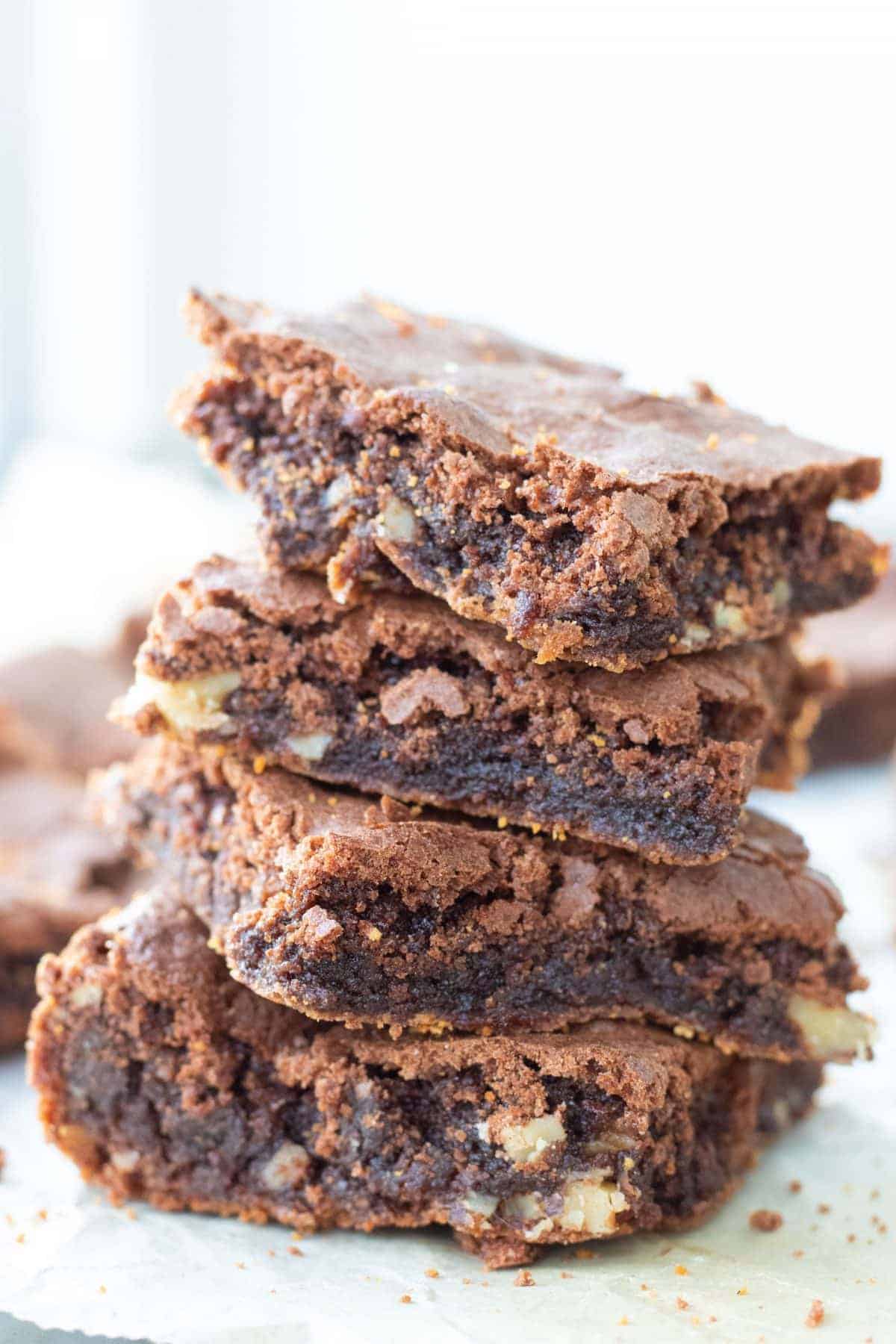 I don't know when I started making these Brownies but I know I got the recipe from my sister, and I must have been about 10 or so. Crazy, isn't it? I made this recipe so often when I lived with my parents that we had the yellowed and faded recipe pasted to the inside of one of our cupboards. Right next to other life essentials like the basic recipes and ratios for a roux, Ceasar salad dressing, and Southern Fried Chicken.
Needless to say - this recipe has been tested. Over and over. And over. It has been made in countless different ovens, with different types of nuts (my sister prefers hazelnuts while I prefer walnuts, like in this recipe) and multiple brands of cocoa powder. It just works. Just keep an eye on it in the oven the first time - cooking time does differ a bit from oven to oven but 25-27 minutes seems to be the general sweet spot.
The only improvement I managed to make? Adding more salt. Because salty brownies are the best.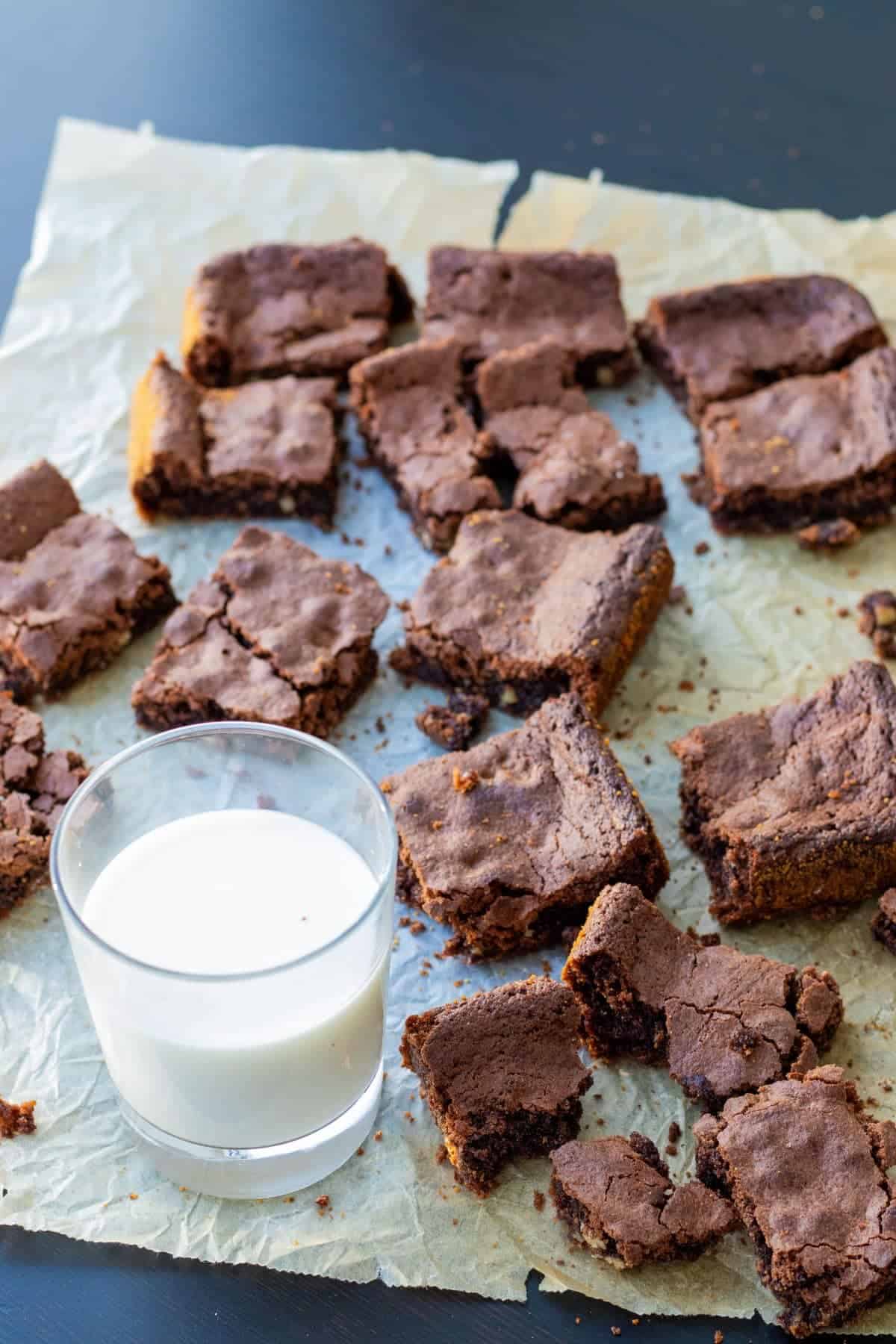 Ingredients for Brownies with Cocoa Powder & Walnuts
I love this recipe because all the ingredients are such staples - I bet most of you already have them at home. I know I do - and hence I'm always ready to bake some Brownies when I feel a craving coming on.
All you need to make these Cocoa Powder Brownies is:
Flour
Cocoa powder
Baking powder
Vanilla sugar
Salt
Eggs
Sugar
Butter
Walnuts (Or another nut you like - I've made them countless times with hazelnuts instead, and they're almost as yummy! Or even make them without nuts. I did this A LOT during one of my weird teenage phases.)
Breadcrumbs, to line your pan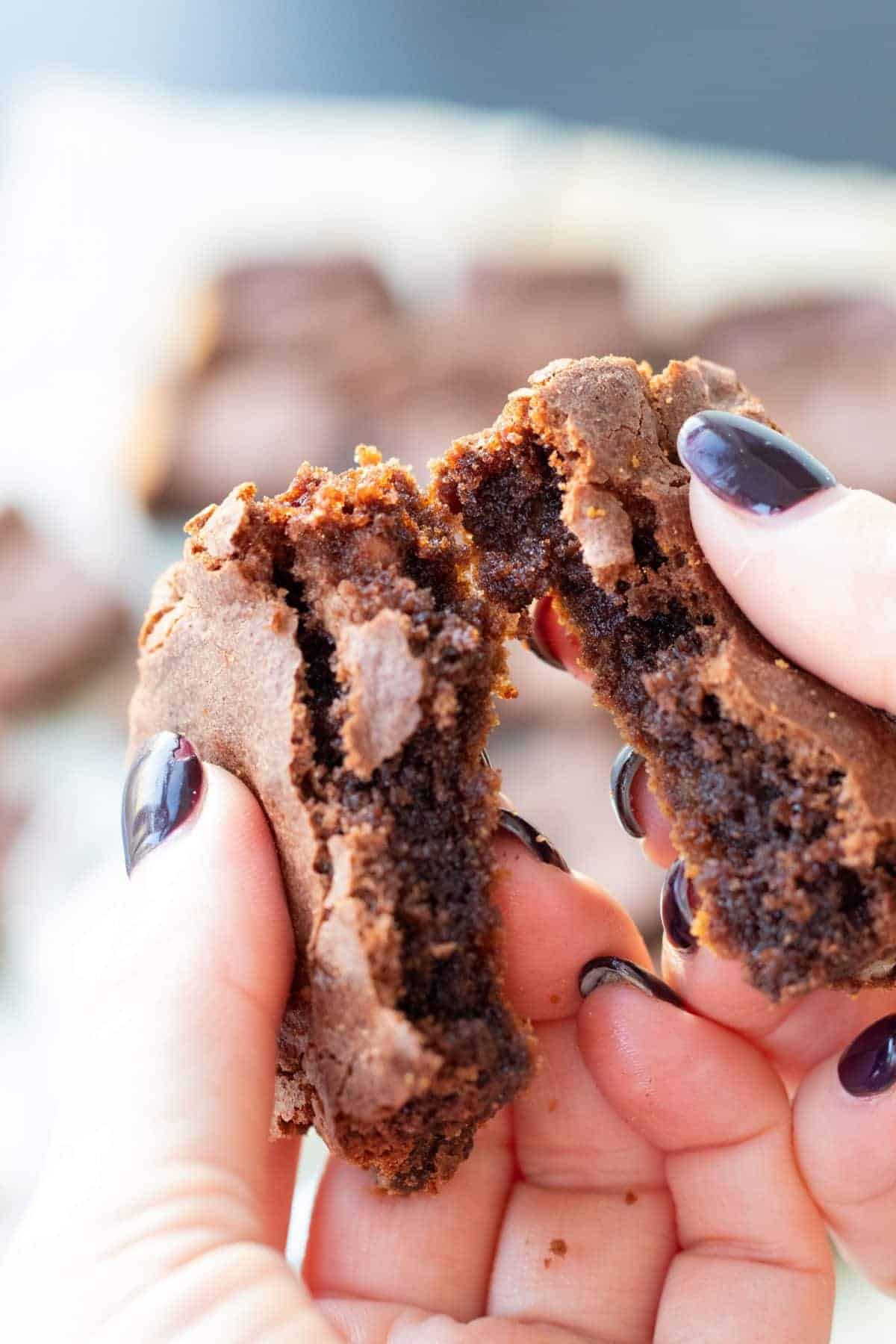 How to make Brownies with Cocoa Powder & Walnuts from Scratch
Another reason I love these Brownies is that they're just so easy to make. No fancy techniques, no melting of chocolate in water baths - you aren't even allowed to mix your eggs & sugar too much!
Just start by melting your butter, and let it cool a bit. Meanwhile, chop your nuts roughly, and then line a roughly 20 x 30 cm / 8 x 11'' pan (the smallest one in this set should work like a charm) with butter & breadcrumbs.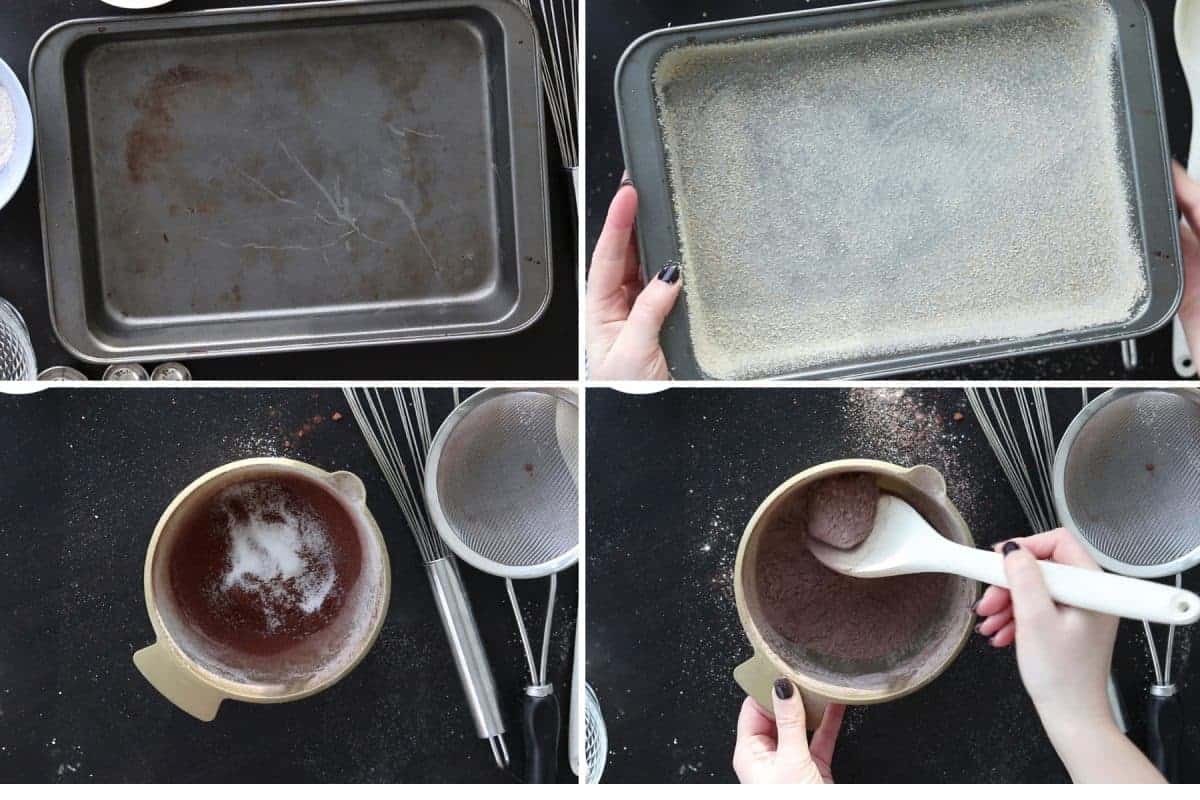 Then mix together the dry ingredients i a small bowl - your flour, cocoa powder, vanilla powder, baking powder and salt - and set aside. Use a sieve or a strainer to avoid clumps.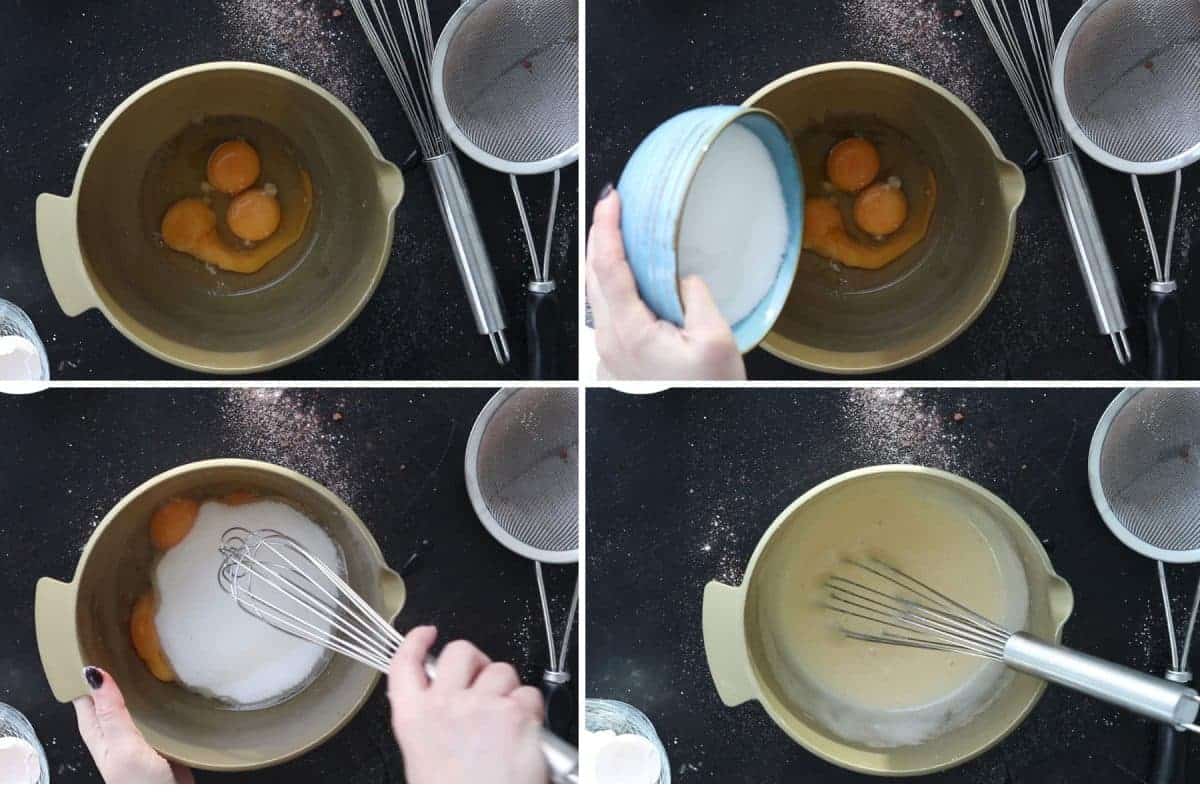 In another bowl, large enough to fit all of your batter, mix together your eggs and sugar. Don't mix too much! You want it to be well-mixed but not too airy - otherwise your cake will rise and fall and end up sunken in the middle. A few bubbles on top are OK, but not too much.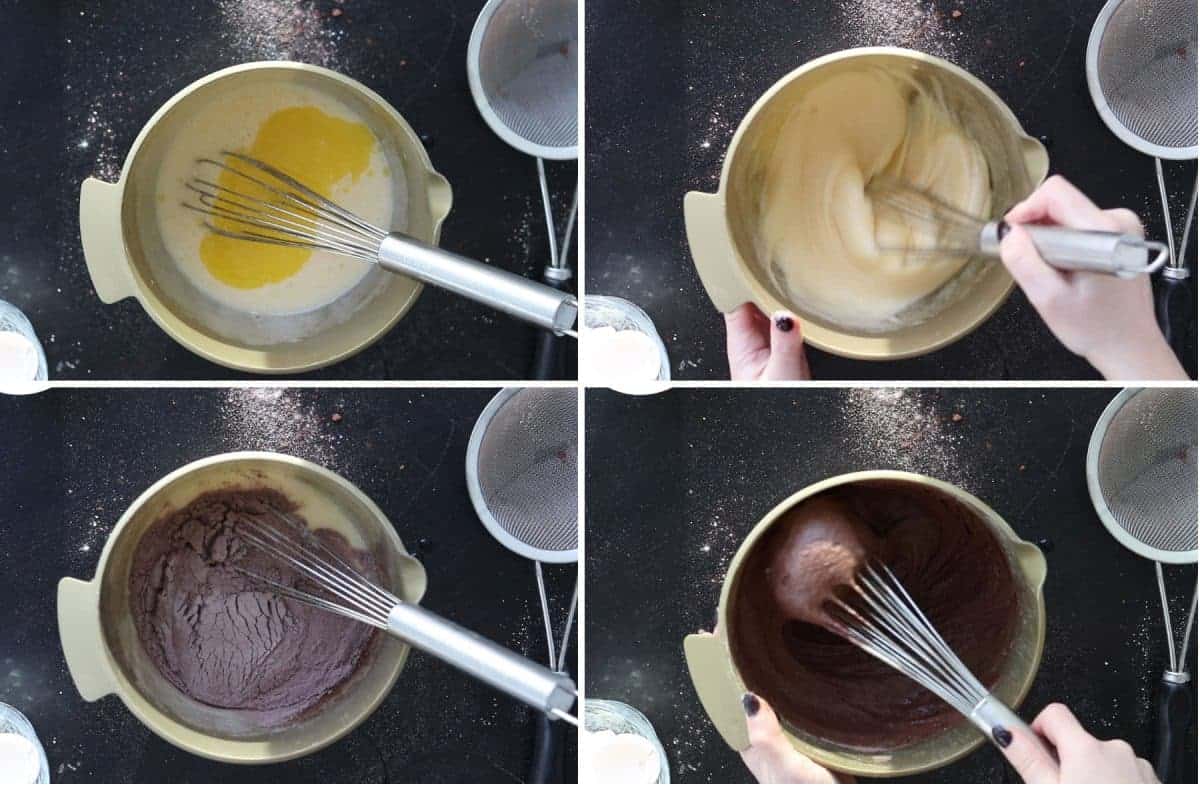 Once you've mixed together your eggs and sugar, go ahead and mix in the butter and the the dry ingredients you mixed together before.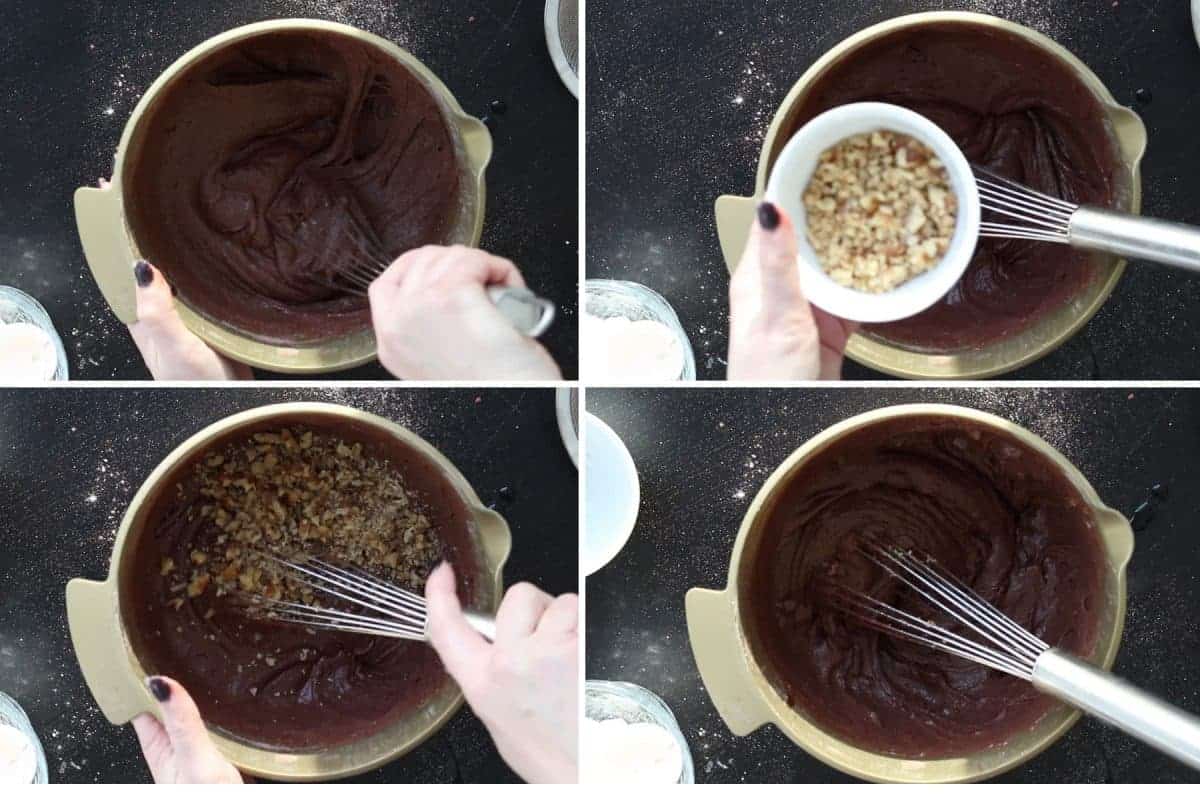 Then add the chopped nuts, and mix gently.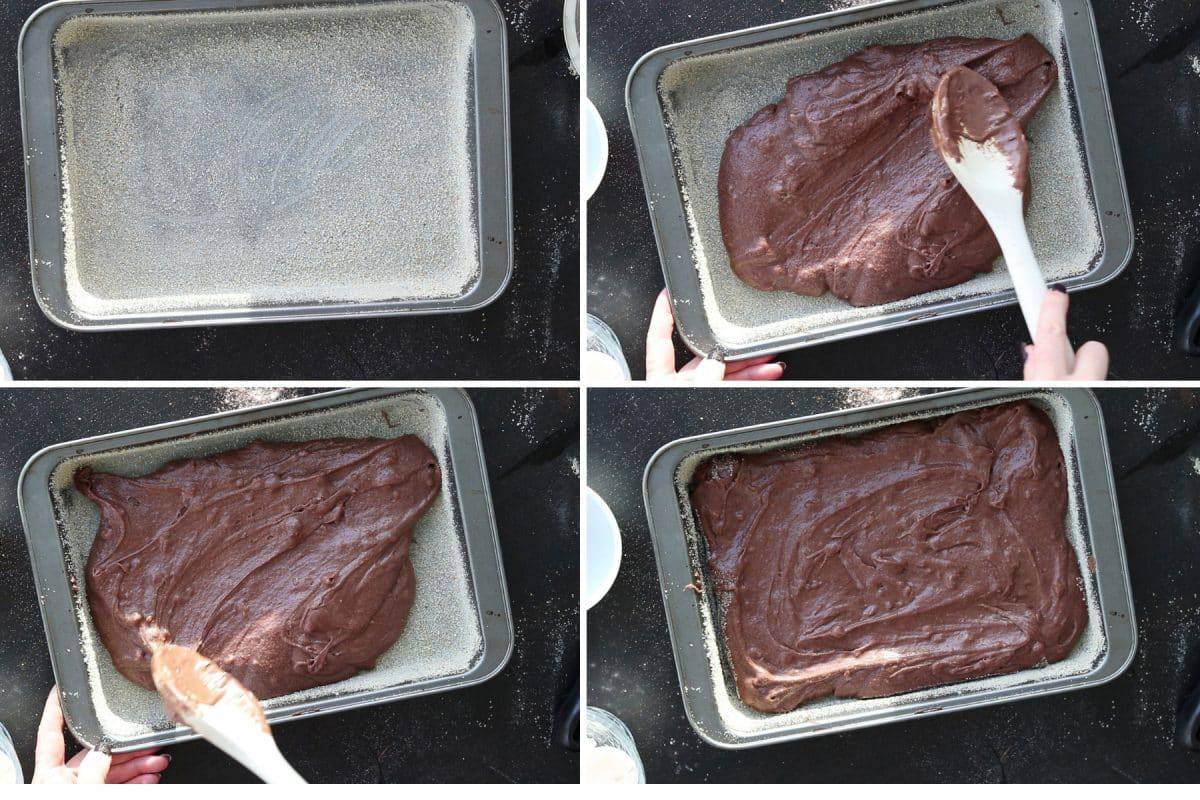 Pour into baking pan and bake in the oven until almost - but not quite! - dry inside. If it's the first time you make it, test it after 20 minutes and see. Then keep testing every 2 minutes to find your perfect cooking time. 25-27 minutes seems to be a sweet spot - but I have been known to take it out after 20 or leaving it in for 35, all depending on the particular oven I'm using.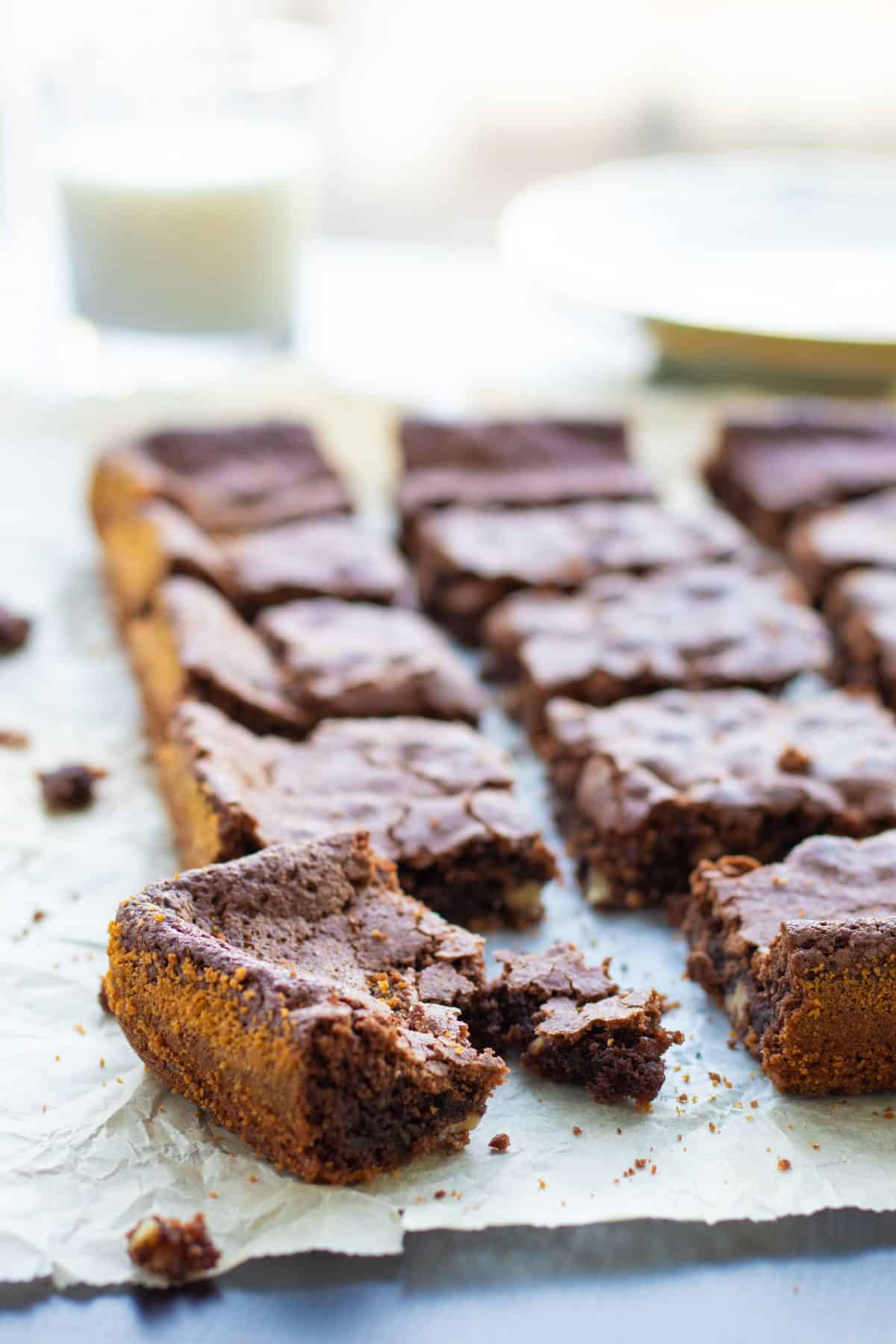 Why Brownies sink in the middle & how to avoid it
A common problem when making Brownies is that they sink in the middle. This happened to me so many times - and it's not until recently I understood why.
The secret's in the whipping of the eggs & sugar.
While we often want to whip our eggs & sugar very well, creating almost a foamy consistency before adding other ingredients, this is not at all the way to go when aiming for the perfect Brownies.
For a fluffy, lightweight cake, like a sponge cake, whipping air into the eggs & sugar gives the cake just that fluffy, lightweight consistency we're after. But for brownies, a much denser cake where we're after more of a chewy consistency, it just causes it to rise and fall (sorta like all my favorite TV shows, come to think of it).
So instead of whipping your eggs & sugar into a frenzy - just mix them together well, and then let them be. It makes all the difference!
And makes it all the more quick & easy, to be honest. No need to bring out the electric mixer!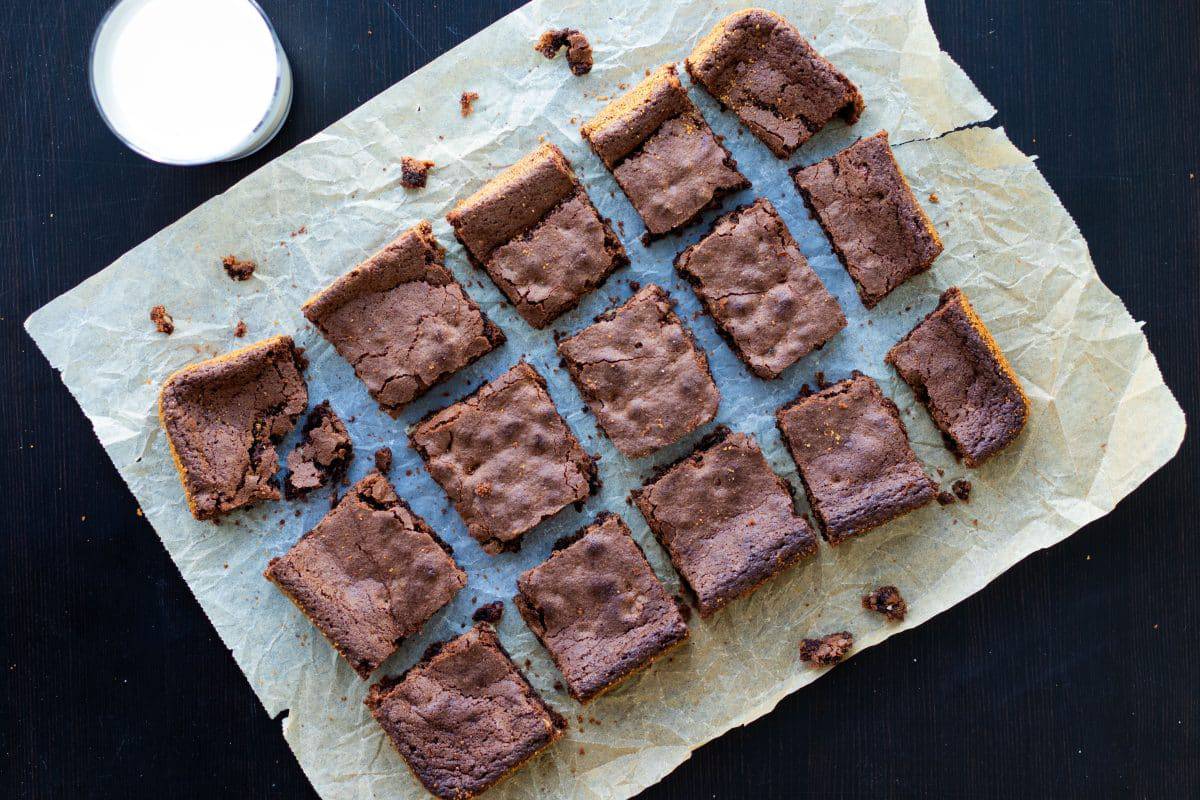 For more delicious chocolate recipes that are quick & easy to make - check out my Raspberry White Chocolate Muffins, Double Chocolate Chip Muffins and an Oreo-packed Dessert Dirt.
Did you love this recipe? Rate it 5 stars!
...and let me know what you loved about it in the comments.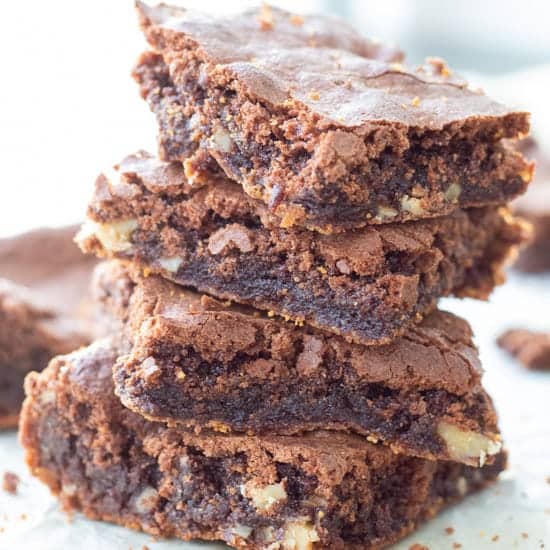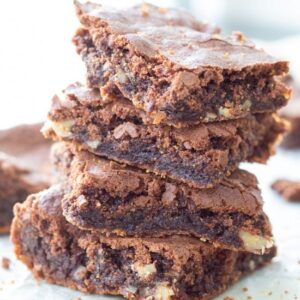 Ingredients
⅓

cup

salted butter

add extra salt if using unsalted butter

3

eggs

1⅓

cup

sugar

½

cup

flour

5

Tbsp

cocoa powder

1

tsp

vanilla sugar

¾

tsp

baking powder

1½

tsp

fine grain salt

½

cup

walnuts

roughly chopped
To grease your baking pan
1

Tbsp

butter

2

Tbsp

fine bread crumbs
Instructions
Set the oven for 375°F (190 C) . Melt your butter over medium heat and set aside to cool for a few minutes.

Meanwhile, bring out a 8x11'' (20 x 30 cm) baking pan (non-stick or other) and grease it with the 1 Tbsp of butter. Pour in the fine bread crumbs and tilt your pan to ensure the bread crumbs cover all sides. Pour out the remaining bread crumbs.

In small bowl, sift together all your dry ingredients except the nuts: flour, cocoa powder, vanilla sugar, baking powder, and fine grain salt. Set aside for now.

In a large bowl, whisk together your eggs and sugar. Mix well, but don't overdo it. You don't want too much air in your batter. Some bubbles on the top of the batter is OK, just not too much.

Add the slightly cooled butter to your egg-and-sugar mixture and mix together. Then add the flour-mixture and mix well.

Mix in the chopped nuts, and then pour the batter into the greased baking pan. Bake in the middle of the oven for about 25 minutes. Test your cake with a toothpick - it's done when the toothpick comes out with just a bit of batter on it.

The baking time will differ slightly from oven to oven, so if you're making this for the first time - start with 20 minutes and then leave it for 1-2 more minutes more until your satisfied.
Notes
Using unsalted butter? Add some extra salt! A little less than ¼ tsp should do it.
Baking time will differ with what oven you're using - I've made this in everything from 20 to 35 minutes. If making it for the first time, start out with 20 minutes and if not done, add 1-2 minutes and test again. Repeat until satisfied with the consistency. Test with a toothpick - it's done when it comes out with just a little bit of batter on it.
Choose your nuts based on taste. I love making these brownies with walnuts, but my sister prefers hazelnuts. Those are the only options I've tried but feel free to use your favorite nut. Or make them without nuts - this is delicious as well!
Nutrition
Calories:
237
kcal
|
Carbohydrates:
35
g
|
Protein:
3
g
|
Fat:
10
g
|
Saturated Fat:
3
g
|
Cholesterol:
45
mg
|
Sodium:
288
mg
|
Potassium:
103
mg
|
Fiber:
1
g
|
Sugar:
27
g
|
Vitamin A:
195
IU
|
Vitamin C:
0.1
mg
|
Calcium:
27
mg
|
Iron:
1
mg
Nutritional information is approximate and automatically calculated, and should only be viewed as an indication.