This post may contain affiliate links, which are always marked with *. Please read my disclosure for more information.
Quick & easy to make, this Cream of Mushroom Soup may just be the epitome of fall: warm, cosy and full of mushrooms. And as an added bonus, it's keto friendly, vegetarian and gluten-free - and can easily be made both vegan & lactose-free.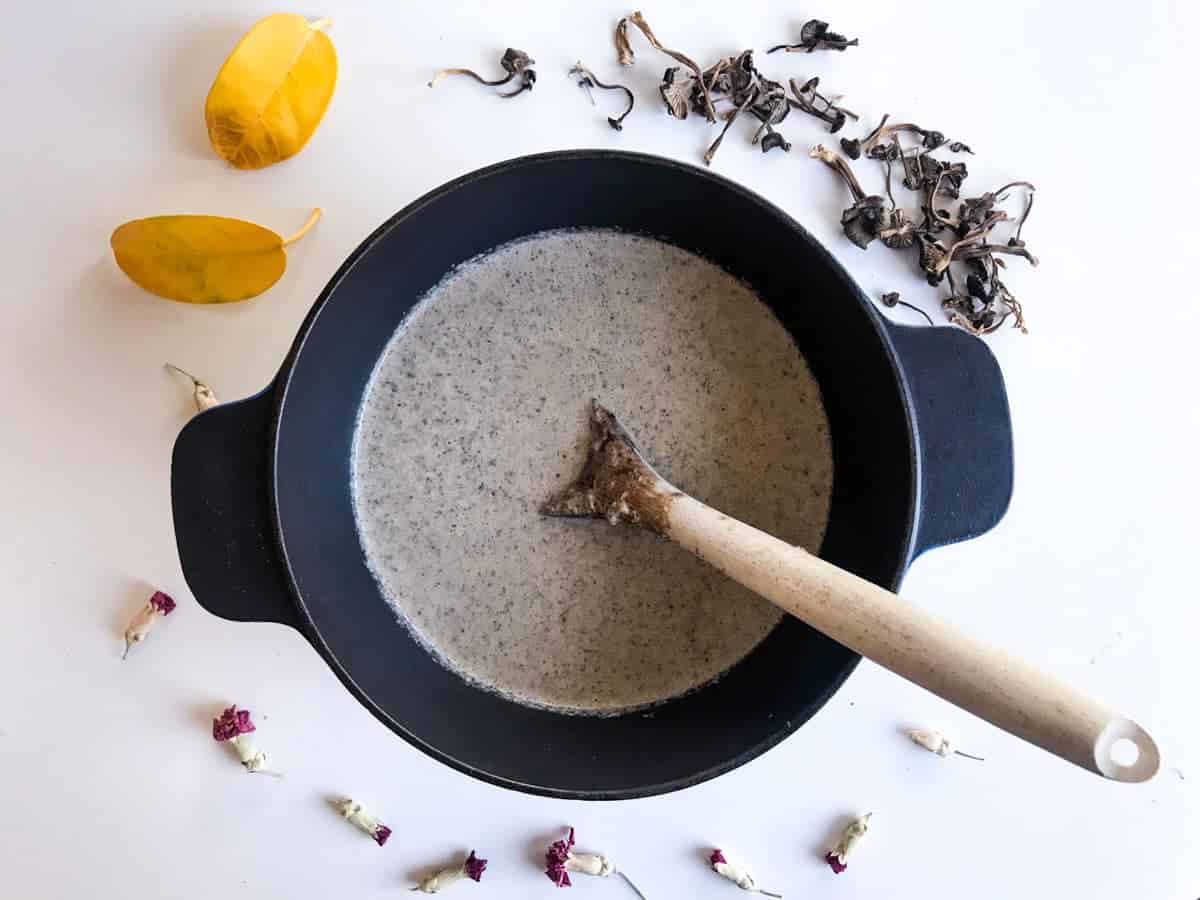 I don't know about you, but to me, there's nothing that screams as much of fall as a bowl of Cream of Mushroom soup. I don't think I've ever made it any other time of year, and I don't think there's a single fall I haven't had it.
This Cream of Mushroom Soup is great for having people over. Apart from being delicious, it can also be served to almost anyone - as long as they like mushrooms, that is. It's keto friendly, vegetarian and gluten-free and can easily be made vegan and lactose-free by switching out the butter and cooking cream for plant-based alternatives. All without losing any flavor at all.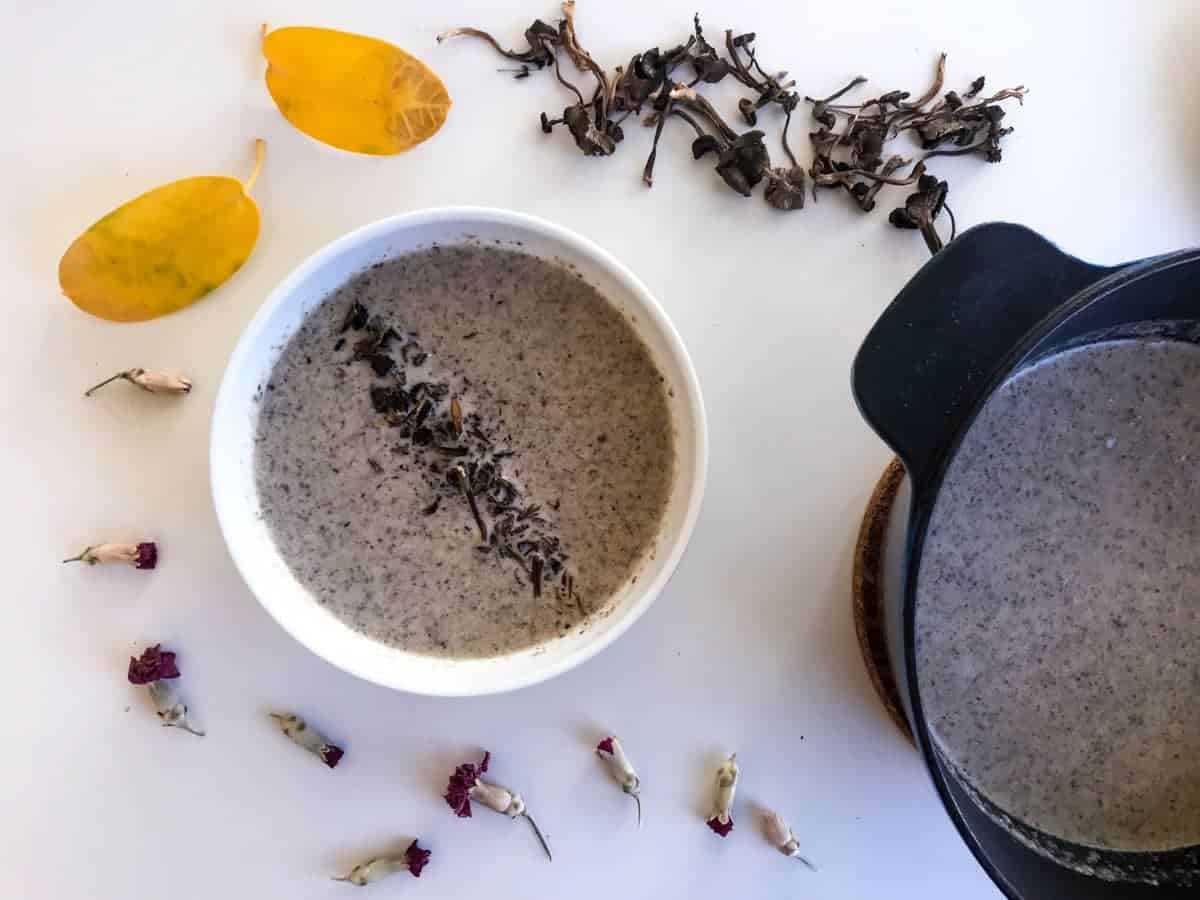 I like switching it up a bit with this soup, and use whichever mushrooms I can find. For this particular one I went basic with white button mushrooms, and spiced things up a bit with dried fall chanterelles. Oh yes, dried fall chanterelles. My cupboards are full of them. Every fall I buy loads of them, dry them on a newspaper in my kitchen and then put in jars to use throughout the winter. Soups, pastas, sauces and risottos - they can all benefit from some dried mushrooms.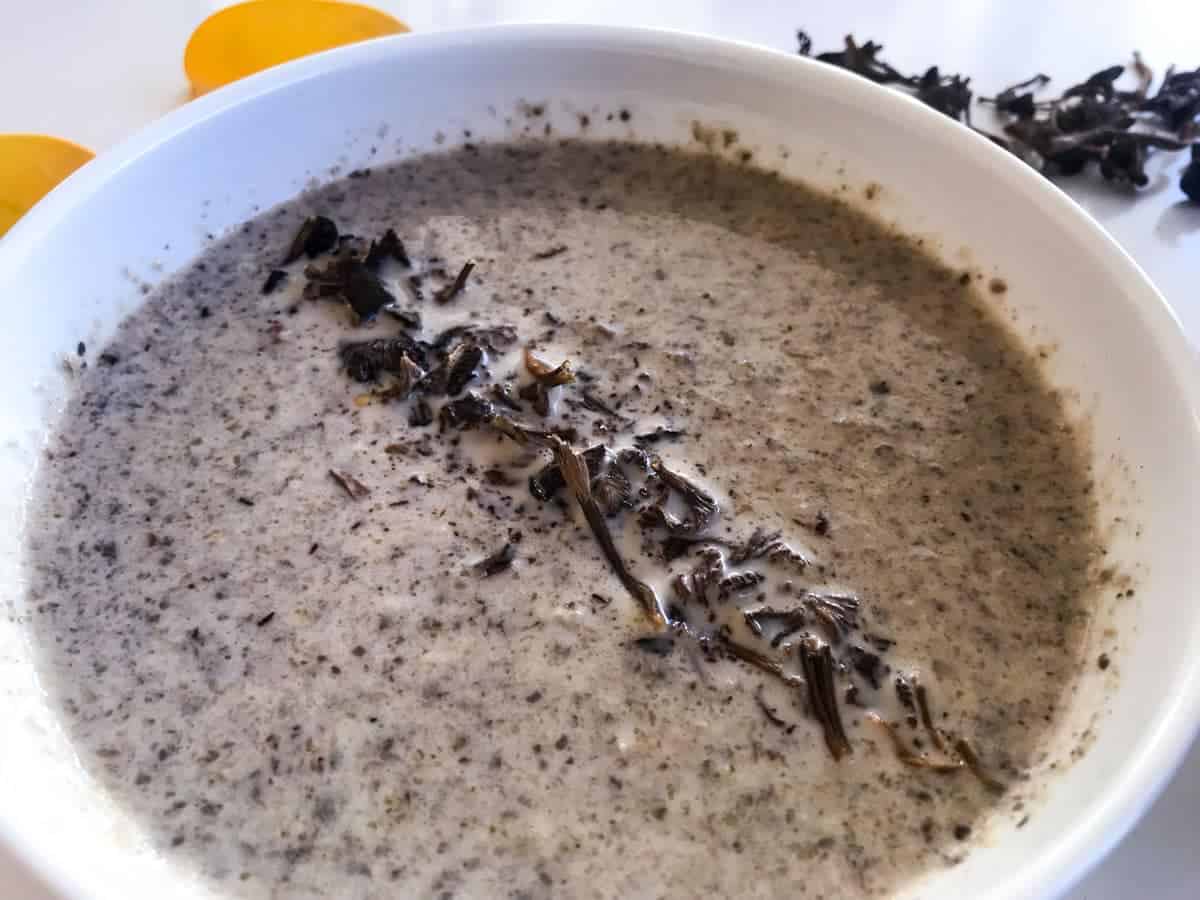 Now, for this recipe the dried mushrooms also provide an extra layer of texture. I first mix my Cream of Mushroom soup using an immersion blender, and aim for smooth, but not too smooth, you know? Like, I want there to be some kind of texture but not whole pieces of onion. And then, for a bit more texture (and because it makes the soup so much prettier!), I crush dried mushrooms on top. Then you just mix the crushed dried mushrooms into the soup right before grabbing your first spoonful, and you get those intact mushroom pieces that take the whole soup experience to a whole other level.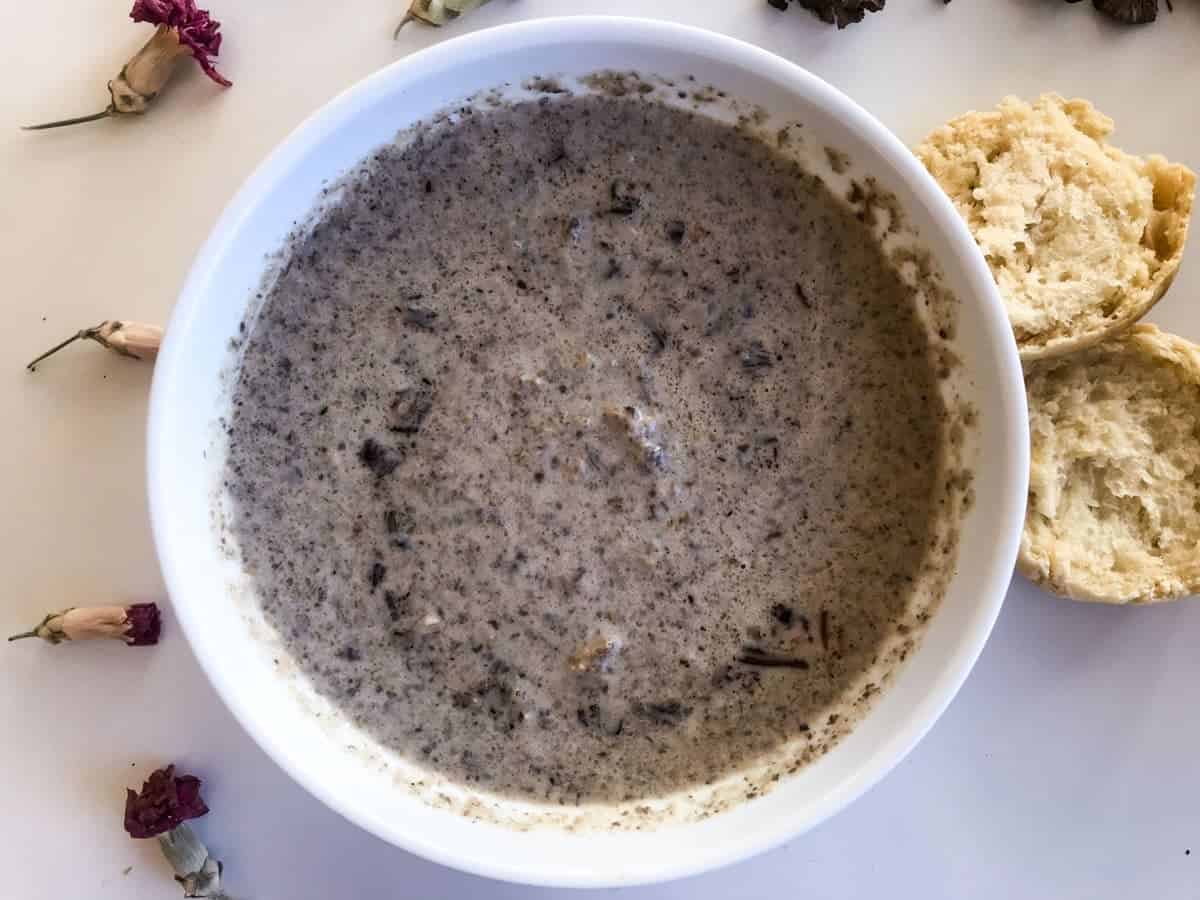 And of course, if we're talking "another level" for your soup - a nice piece of bread is a must. I eat my Cream of Mushroom Soup with homemade Overnight English Muffins, but it's delicious with a piece of sourdough bread or even garlic bread as well.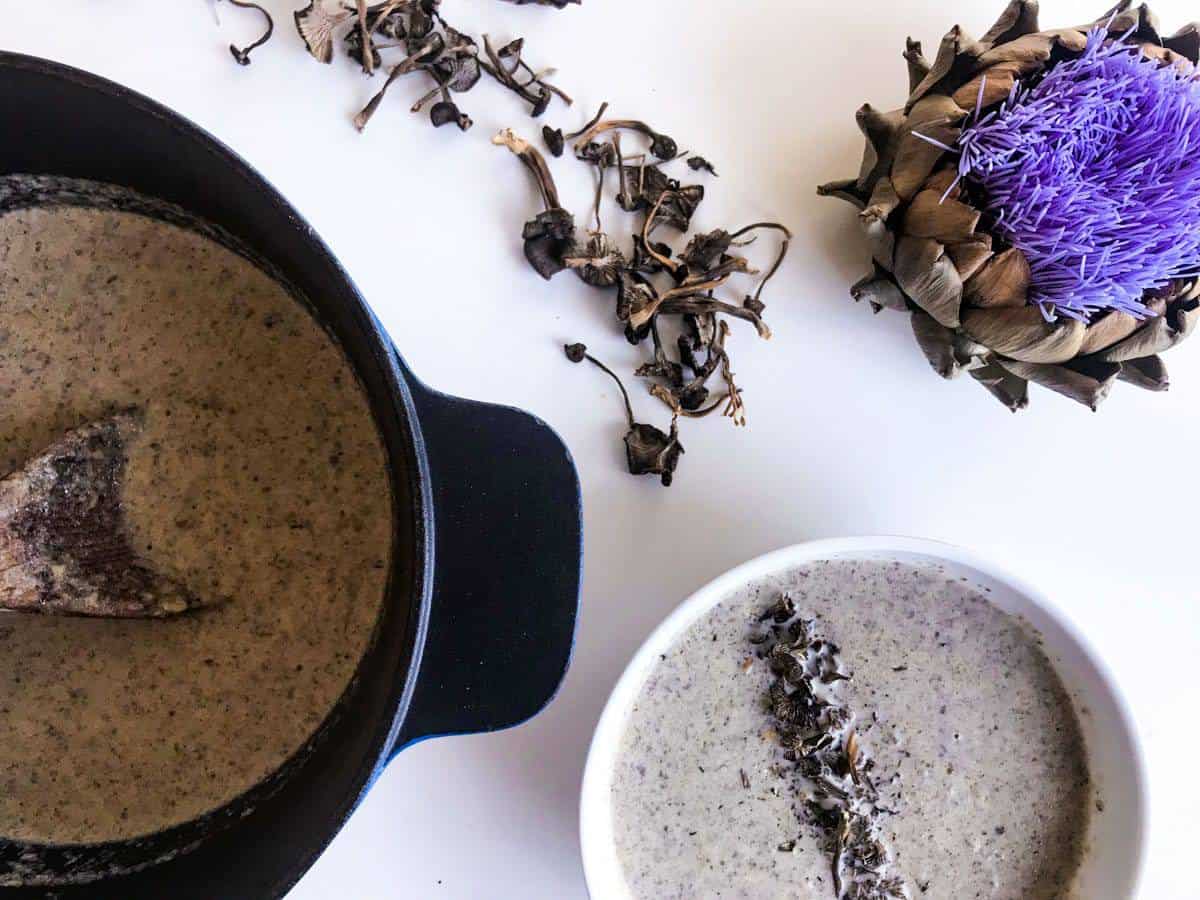 So - there you have it. The most classic of fall dishes, a basic yet not basic tasting Cream of Mushroom Soup. Enjoy!
If you make this Cream of Mushroom Soup, please be sure to leave a comment and/or give this recipe a rating! I love to hear from you and to see your versions of my recipes - so if you do make this, don't forget to also tag me on Instagram!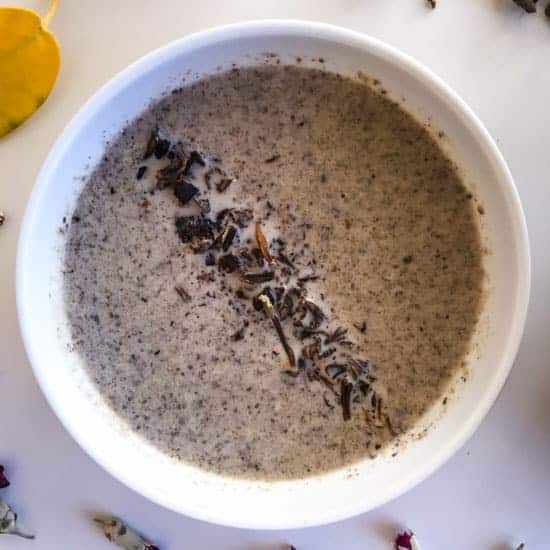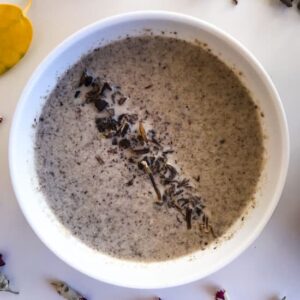 Ingredients
100

g

salted butter

1

yellow onion, chopped

2

garlic cloves, in one piece but slightly crushed

500

g

white button mushrooms, chopped

1

dl

white wine

3

dl

mushroom stock

1

Tbsp

concentrated chanterelle stock, or other concentrated mushroom stock

1

dl

dried mushrooms, divided (can be omitted)

2.5

dl

cooking cream

bread, for serving
Instructions
Heat the butter over medium heat in a pot large enough to hold all the ingredients.


Add in the garlic cloves and chopped onion. Cook until the onion has softened a bit, 3-5 minutes.

Add in the mushrooms and cook until slightly browned and softened, 3-5 minutes.

Raise the heat slightly, to medium-high, add the white wine and let cook for a minute.


Pour in the mushroom stock and concentrated chanterelle stock and add in half of the dried mushrooms, if using. Cover and let simmer for 5-10 minutes.

Take off the heat, remove one of the garlic cloves and mix with an immersion blender to desired consistency.


Put back on the heat and add the cream. Stir until well blended.

Taste test and add salt and pepper according to taste. Serve with crushed dried mushrooms on top and with a slice or two of bread.

Notes
Dried mushrooms add extra depth of flavor and more texture to the finished soup, but if you don't have access to it they can be omitted without problem
Concentrated chanterelle stock can be substituted for any other concentrated mushrooms stock, or omitted
Nutrition
Calories:
467
kcal
|
Carbohydrates:
17
g
|
Protein:
8
g
|
Fat:
40
g
|
Saturated Fat:
25
g
|
Cholesterol:
71
mg
|
Sodium:
716
mg
|
Potassium:
723
mg
|
Fiber:
2
g
|
Sugar:
9
g
|
Vitamin A:
2000
IU
|
Vitamin C:
7.3
mg
|
Calcium:
77
mg
|
Iron:
1.1
mg
Nutritional information is approximate and automatically calculated, and should only be viewed as an indication.