This Vegan Lentil Soup is a delicious, healthy and comforting dish, full of flavor from few and simple ingredients and a perfect lunch for babes on a budget - or anyone just craving something hot and tasty and, if you wish, slightly spicy.
It will suit most special diets as well as it's Vegan, Low Fat, Gluten Free, Dairy Free, Egg Free and basically free of most allergens. Don't be alarmed by the cooking time - most of this is idle time so you can spend it doing something other than watch the pot boil.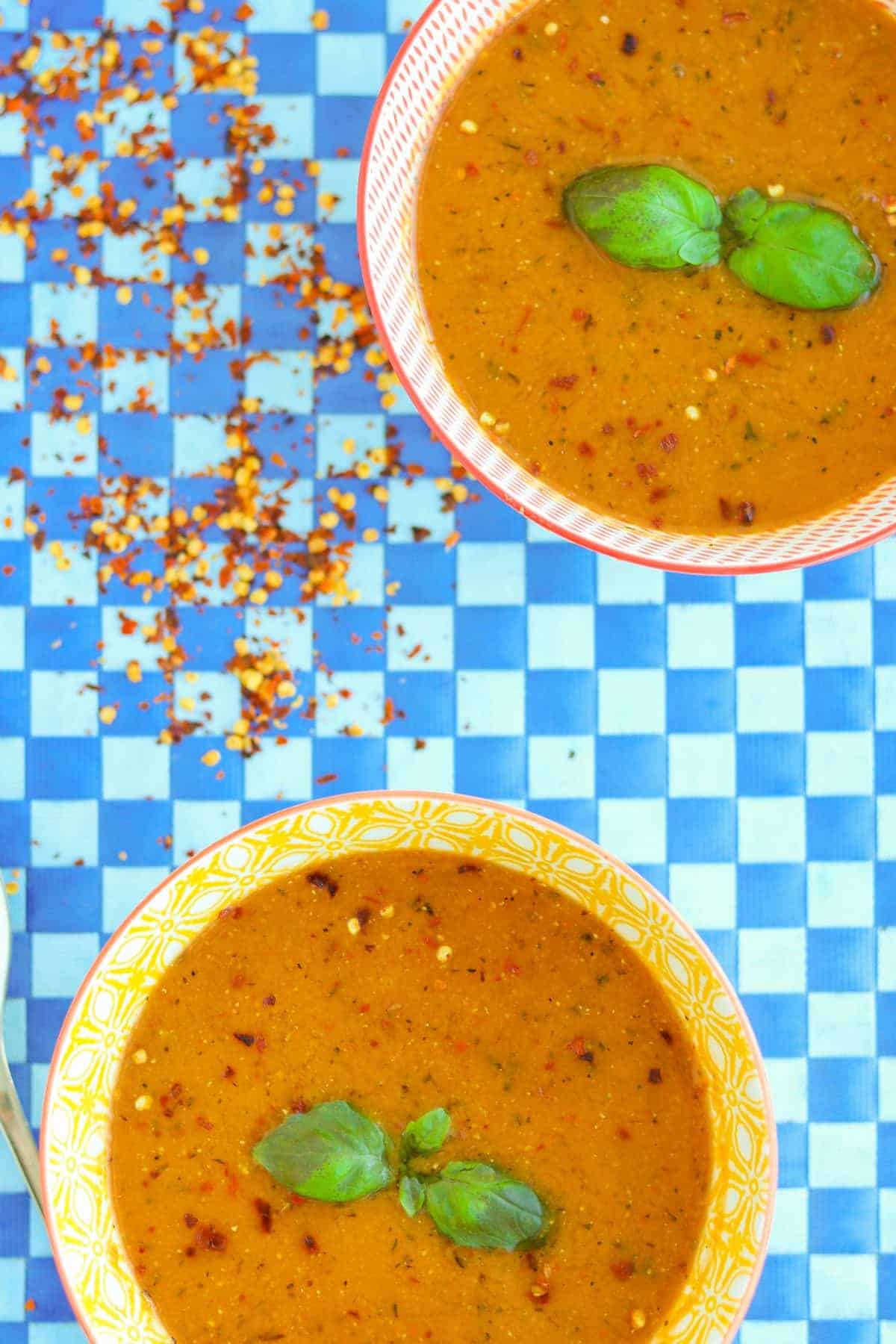 I have a Turkish friend who cooks for me sometimes. A few weeks ago he made me this lentil soup - and while initially skeptical (Lentils?? Aren't they just super boring??) he created some magical dolma for me the week before and so I went with it. And wow, did that skepticism fade quickly!!
With just a few simple and cheap ingredients, no fancy techniques, and not a lot of actual "hands-on" cooking (more on the level of making sure the pot doesn't boil over) this is a soup to keep coming back to. It's so complex and full of flavor, and one of few soups I don't even get bored of - I just want another spoon, and another, and another...
I know I will be making it over and over for a long time!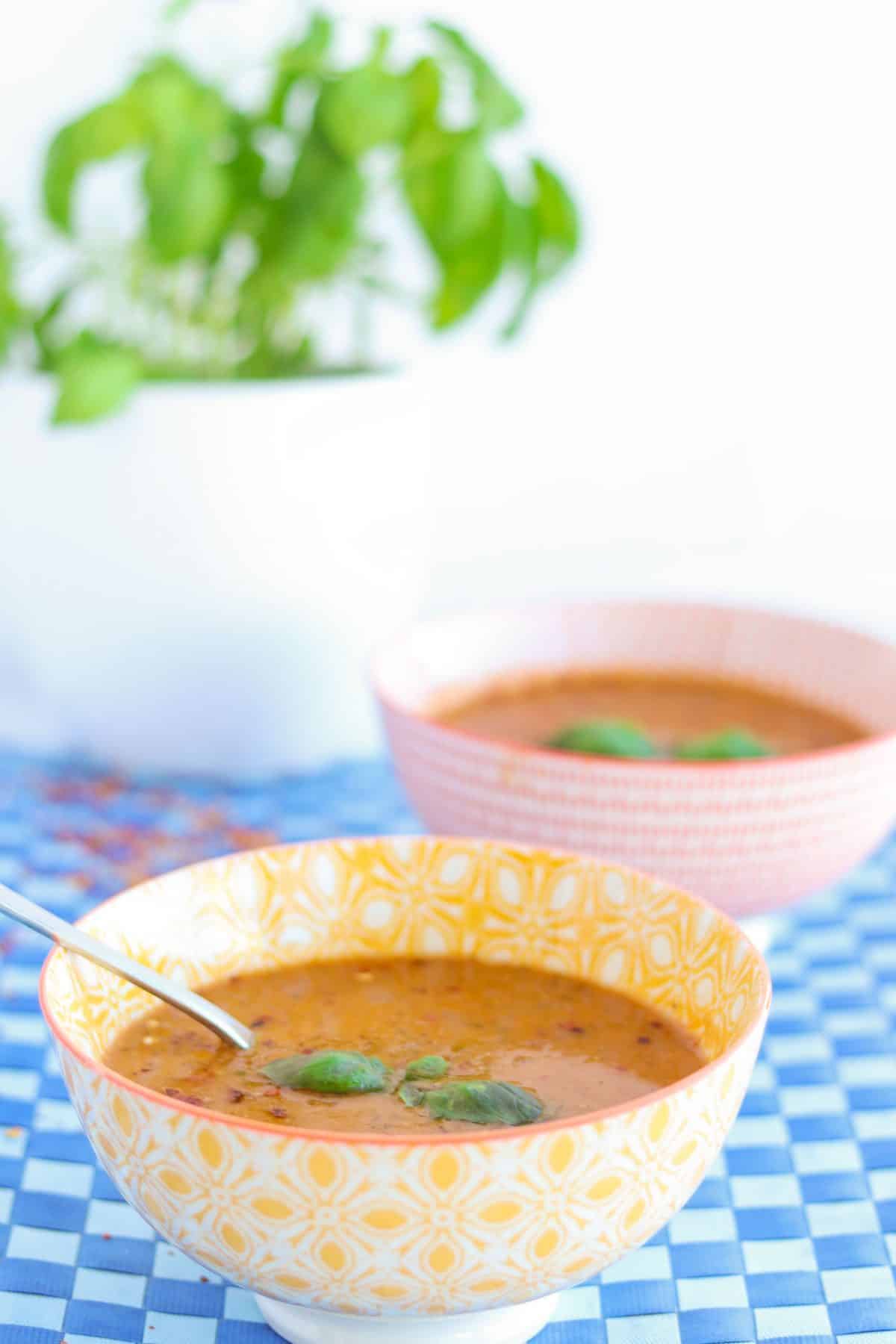 How to make Vegan Lentil Soup
Making this Vegan Lentil Soup is super easy and done with just a few ingredients. The only difficult part is actually remembering to put the lentils in water the day before, but as long as you get that right you will have no trouble with the rest!
This soup consists of two parts: cooked lentils and the sauce base. We make them separately, mix them together and then let them cook together to become one.
How to soak and cook lentils
Because yes, we use the dry, uncooked lentils for this. There really is no other way. Sorry about that. But hey, you're only putting them in water and letting them sit there overnight - so it's really not that much work.
When soaking the lentils, go ahead and add a lot of water. There really is no reason not to - so just make sure they have all the water they need. Then place in a cool place in your kitchen and go about your day.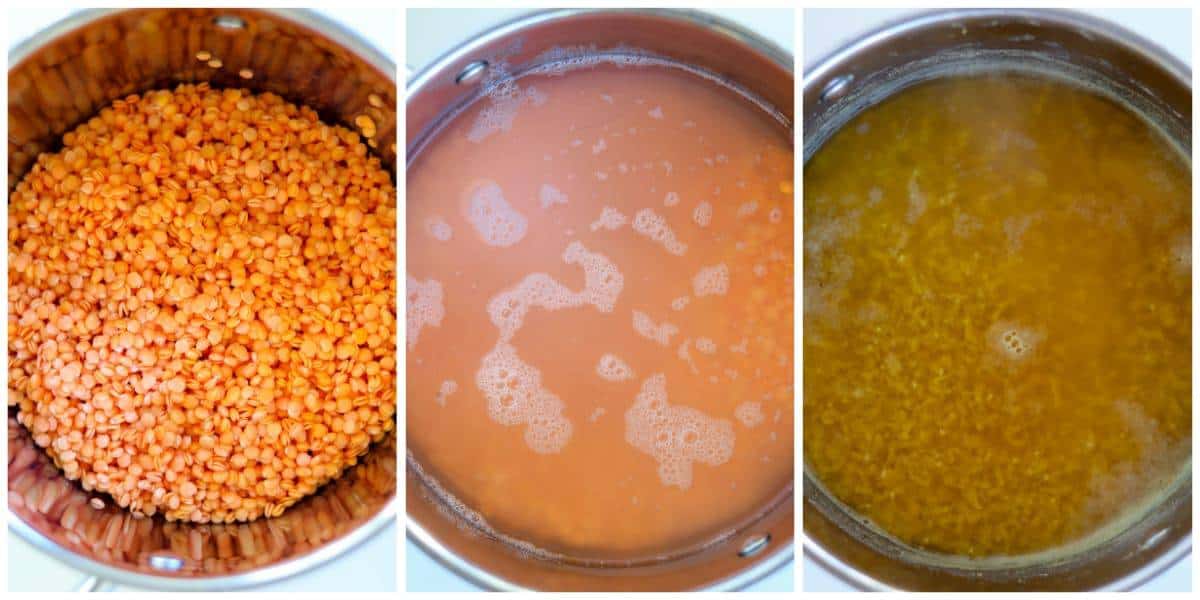 When cooking time comes around, drain the lentils and add them to a large pot. Add in cold water and salt according to the recipe and place over medium-high heat.
Cook for 20-30 minutes, until the lentils are soft. Don't worry if they get all mushy - that's 100% OK. We're gonna mush them all up anyway.
How to make the sauce base for Vegan Lentil Soup
While the lentils are cooking, go ahead and make the sauce base. It's almost as easy as cooking the lentils!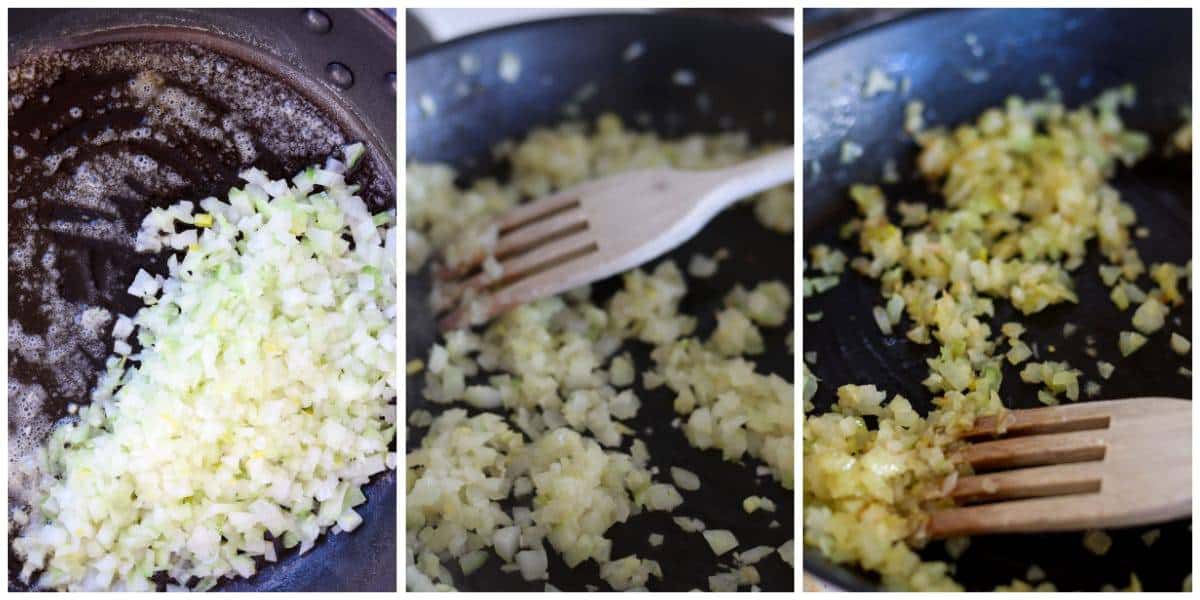 Start by chopping your onion really finely. Then fry it up in vegetable oil until soft, translucent and slightly browned.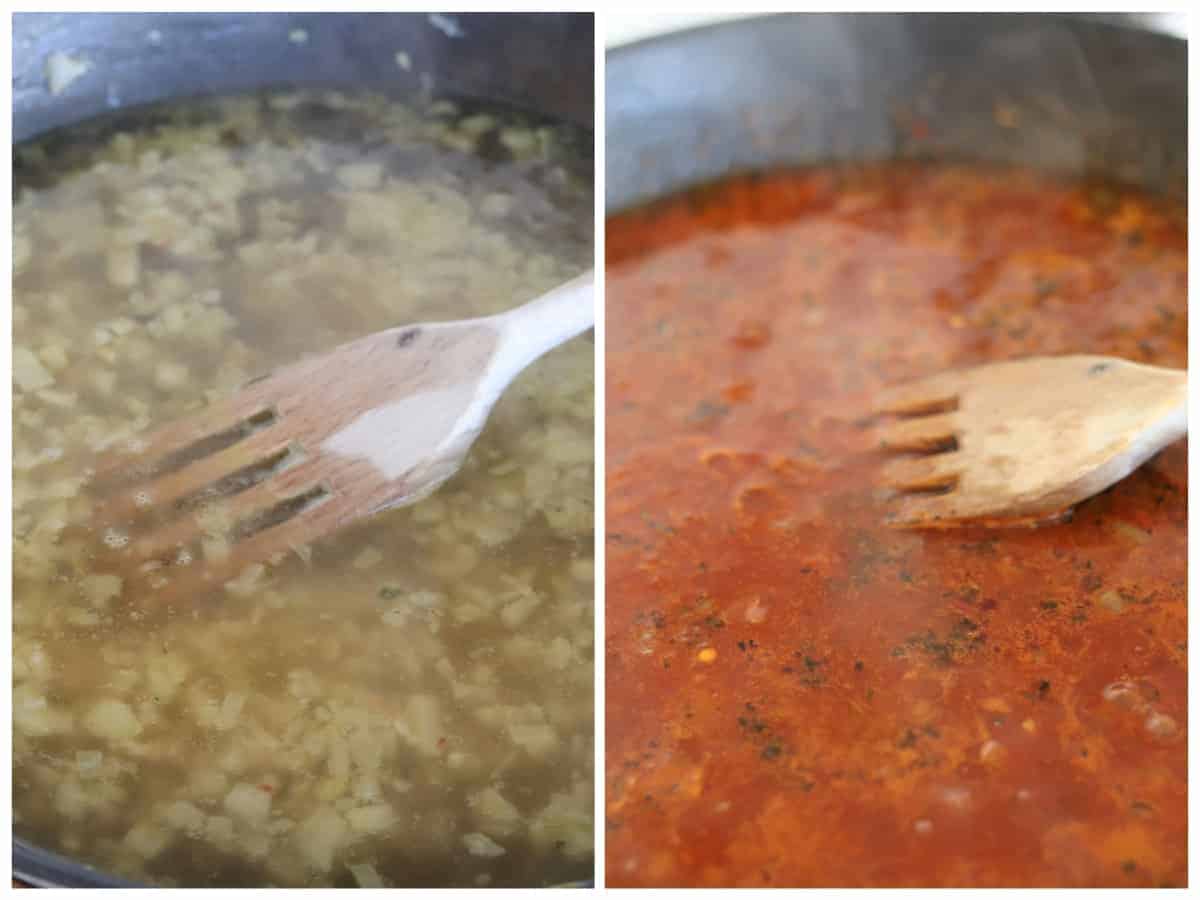 Once the onion is cooked perfectly, deglaze the pan with the vegetable stock. Now deglazing might sound fancy but it basically just means pour it in there and let it loosen all those delicious flavors from the pan.
Let the vegetable stock and onion cook for a minute or so, then add in the paprika purée along with all the spices, taste test and adjust - especially the spice. Just keep in mind that the spiciness will increase as you cook the soup, so you might want to keep it a bit on the low end for now.
Once you're satisfied - leave the sauce base to cook for at least 10 minutes over medium heat.
How to combine the lentils and sauce base for Vegan Lentil Soup
Now we've cooked our lentils and we've cooked or sauce base. So what's left is combining the two!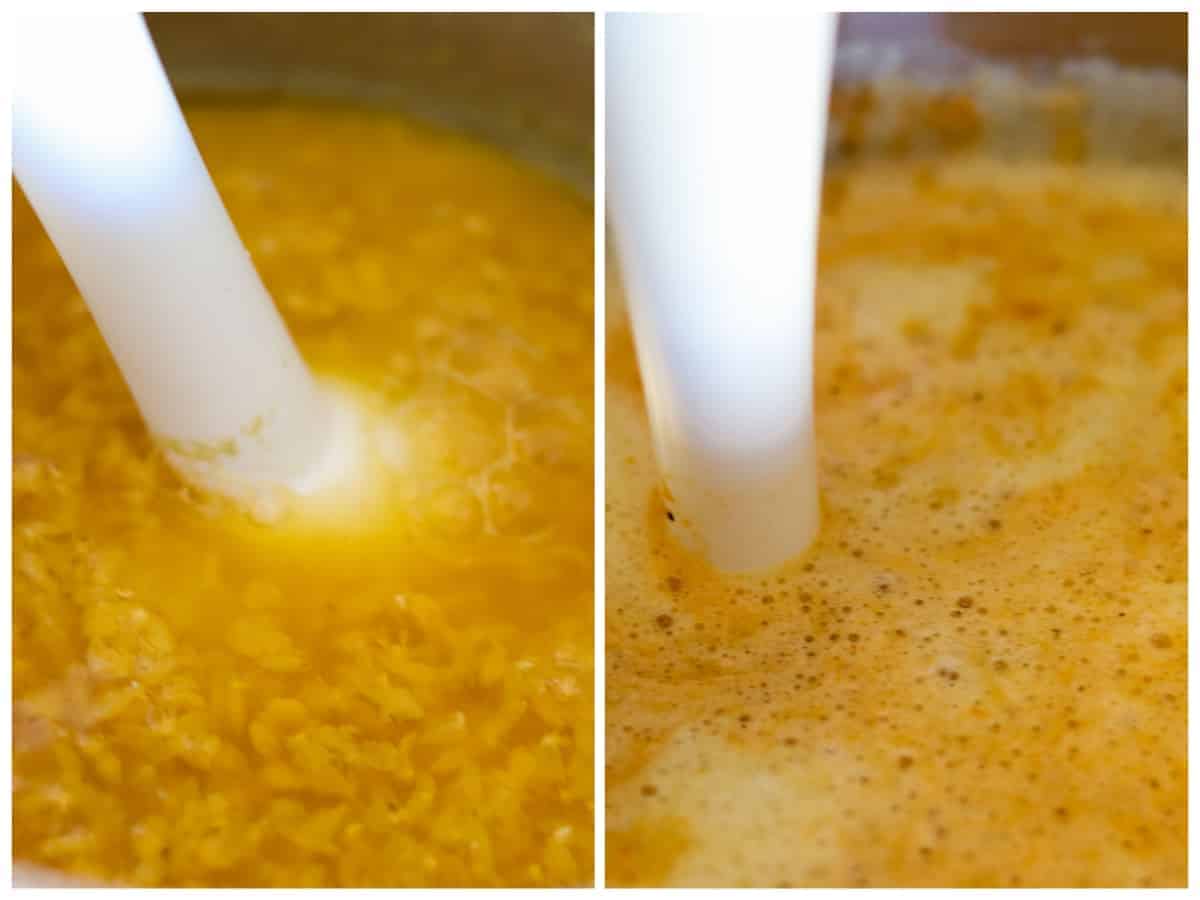 Start by mixing the lentils with their cooking water, using an immersion blender. Once it's all mixed together, add in the sauce base and mix again.
When you're happy with the consistency, taste test - adjust if necessary - and place the pot over medium-high heat. Bring to a boil and let it simmer for at least 15 minutes.
How to adjust the consistency of Lentil Soup
Now this Vegan Lentil Soup uses no thickener apart from the lentils. It really doesn't need it. However, you can still very easily adjust the thickness of the soup.
How to thicken Lentil Soup
If you want a thicker soup - add less water, or let it cook for longer in the final step.
How to make Lentil Soup thinner
If you want a thinner soup - add more water, either from the start or after cooking.
Another option is to let it cook for a shorter while, but I wouldn't recommend it as this cooking time brings out so much flavor.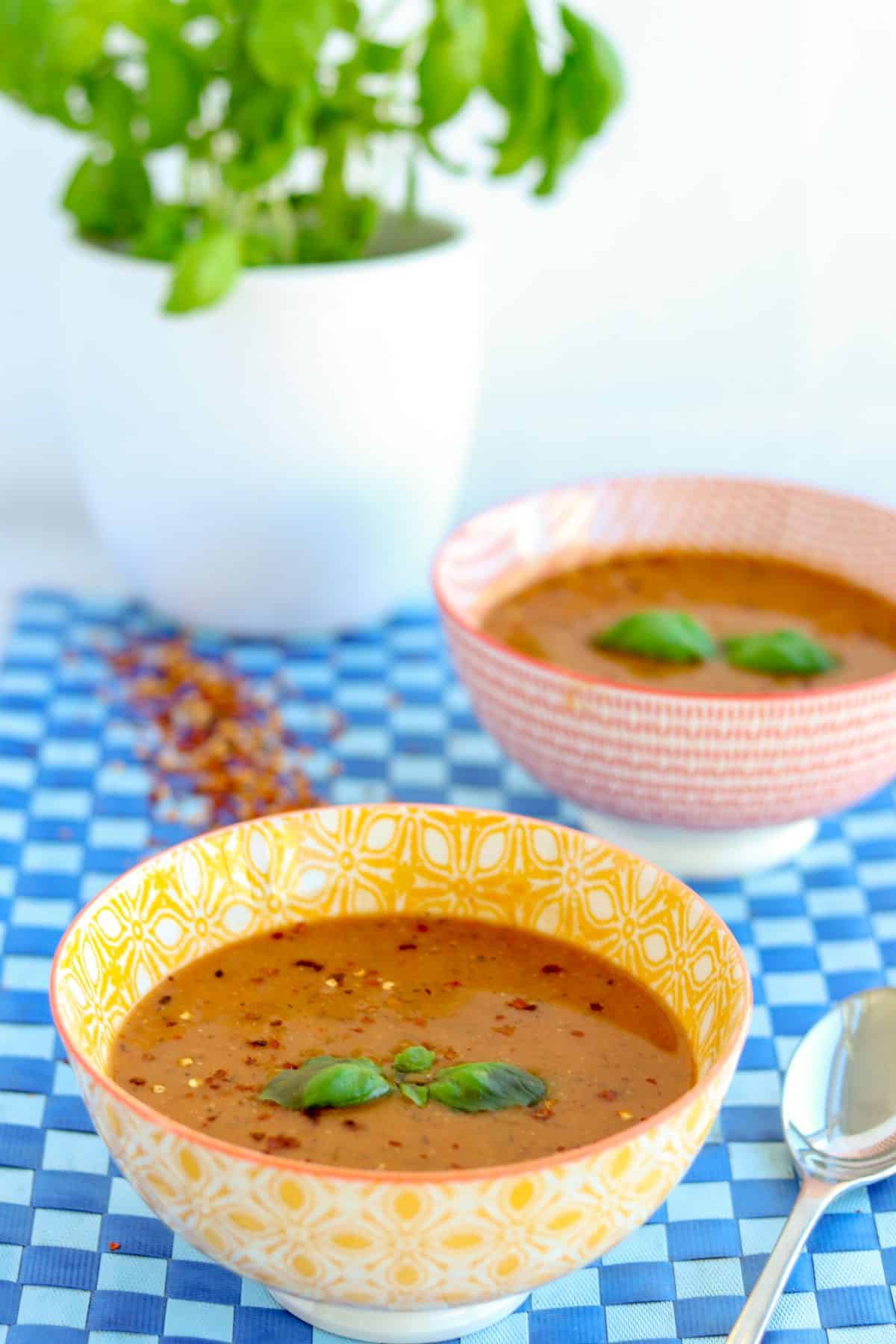 How to season Vegan Lentil Soup
This Vegan Lentil Soup is seasoned with chili flakes, cayenne pepper, thyme and basil. And some basic salt and black pepper, of course. If you don't have these spics at home, don't worry! Just add something else.
Try for at least one type of chili (chili flakes, chili powder, fresh chili or just cayenne pepper) and some type of herb (thyme and basil are delicious, but I also added in some fresh cilantro at the end once and oh my god can you say flavor explosion??).
Basically - this is supposed to be a cheap and simple dish, so don't make it too complicated. Use what you have, and make it your own.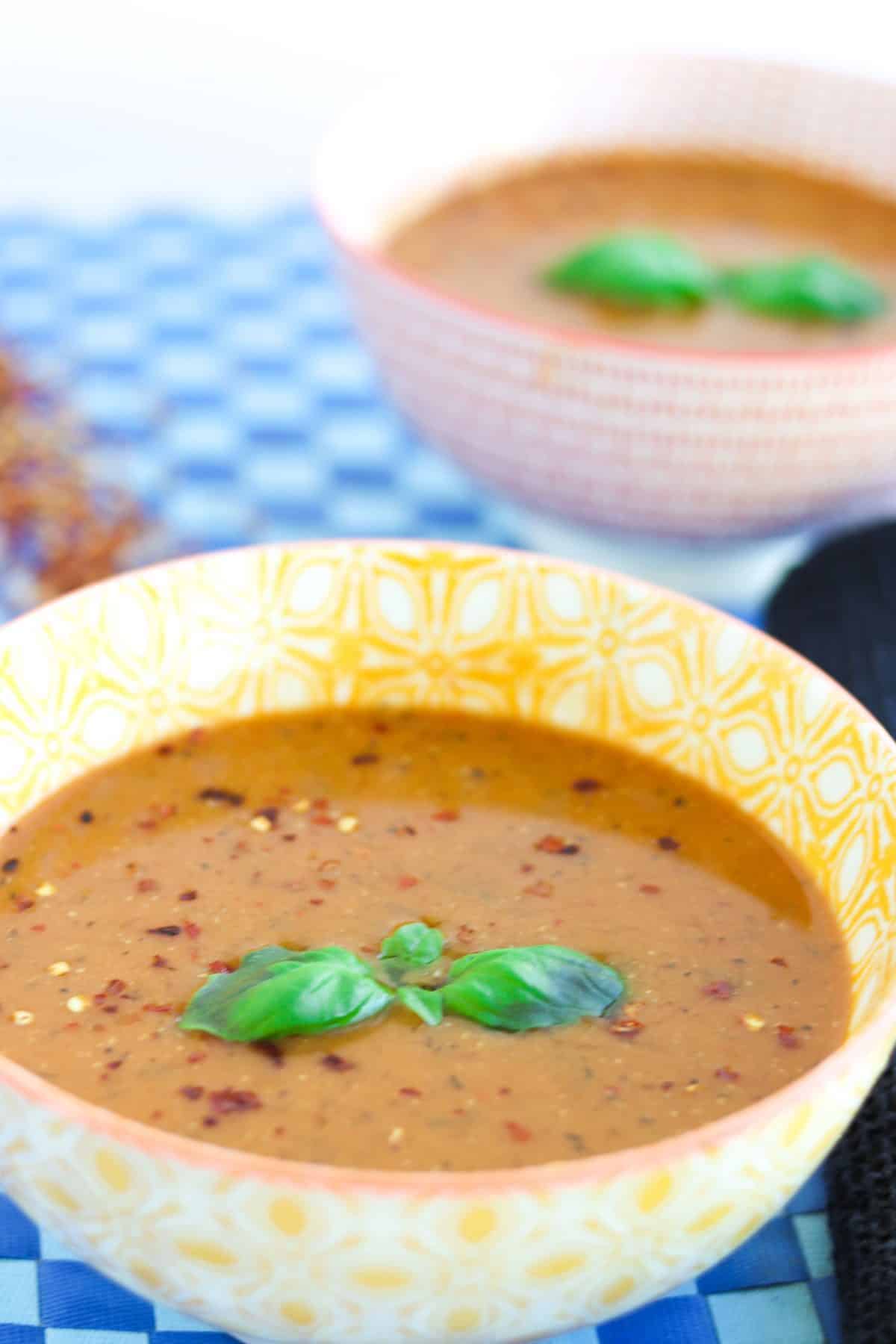 What goes with Vegan Lentil Soup?
Now this is a super low calorie meal, so I like to pair it with some other good stuff. The easiest choice of course being a piece of nice bread - but another (lower carb...) favorite is to add some crumbled feta cheese on top.
Oh and you know how I love my textures? Well, sunflower seeds and pumpkin seeds make a great topping for this! And that nice crunch...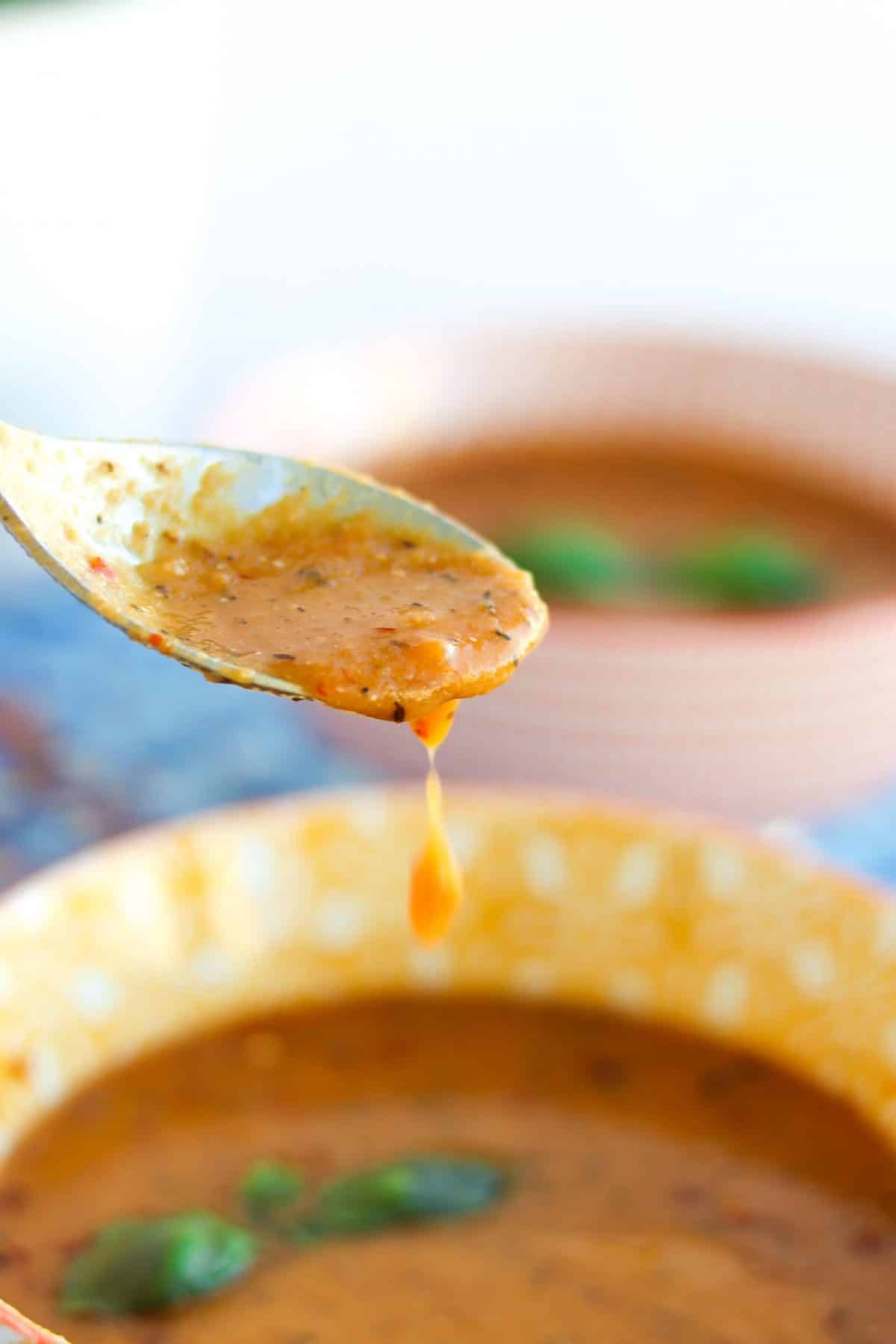 Over to you now - promise you'll try this, even if lentils aren't your thing. It just ticks all the boxes - easy, delicious, healthy and CHEAP - so I'm quite sure you will also end up making it over, and over, and over...
Not quite what you were after? Maybe this Almost Vegan Thai Ginger Coconut Soup, this Spicy Chicken Soup or a Vegan Miso Mushroom Ramen would do the trick instead?
Did you try it? Let me know by leaving a comment and/or a rating below!
Recipe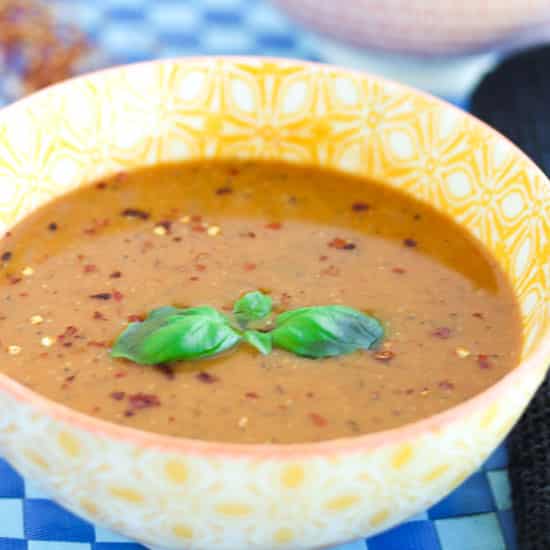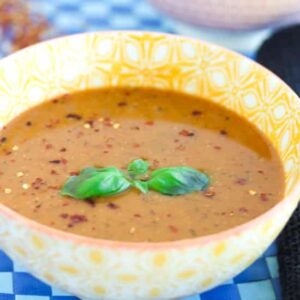 Ingredients
½

lb

uncooked red lentils

4

cups

cold water

1

teaspoon

salt

divided

1

tablespoon

vegetable oil

1

yellow onion

finely chopped

2

cups

vegetable stock

2

tablespoon

paprika purée / paprika paste

1

teaspoon

dried thyme

1

teaspoon

dried basil

0.5

teaspoon

black pepper

0.25

teaspoon

chili flakes

to taste and desired spice level

0.25

teaspoon

cayenne powder
Instructions
Soaking the lentils: at least 12 hours before cooking
Place the uncooked lentils in a bowl and fill it up with water. The water should more than cover the lentils.
Cooking the Lentil Soup
Drain the lentils and place in a pot large enough to fit all ingredients and still have room to blend it. Add the cold water and half of the salt. Place over medium-high heat and bring to a boil. Boil for 20-30 minutes until the lentils are soft and easy to smush.

While the lentils are cooking, start with the sauce. Heat the vegetable oil in a frying pan over medium heat and add in the onion. Fry for about 5 minutes, until the onion is soft, translucent and slightly browned.

Add the vegetable stock to the pan, bring to a boil and cook for a minute.

Add in the paprika purée, thyme, basil, black pepper, chili flakes, cayenne powder and the other half of the salt. Mix well and let cook for at least 10 minutes.

When the lentils are cooked soft, take them off the heat and mix - with the cooking water - using an immersion blender. Add in the paprika and onion sauce and mix again. Place back over medium high heat and bring back to a boil. Let cook for at least 15 minutes, then check the consistency - add more water if too thick or let cook a bit longer if too thin.

When the soup is finished and you're happy with the consistency - take it off the heat and taste test. Serve in individual bowls and top the soup with chili flakes and fresh basil.
Notes
Adjust the spice according to taste and the chili flakes you use - some are really spicy, and others not so much. As always, taste throughout and you will be fine! If you're worried about the dish being too spicy - add a little at the beginning and more at the end, if you think there's not enough spice.
Adjust the consistency to suit your taste - this version creates the perfect consistency for me - not runny but not too thick - but you might want to make it thicker or thinner. For a thinner soup, add more water - you can do this at the end if you're unsure how much to add. For a thicker sop, add less water or let it cook longer.
Serve with some nice bread to make into a complete meal.
Add some pumpkin and/or sunflower seeds on top for a bit of crunch.
Top it all with feta cheese if you're feeling extra indulgent. It's delicious!
Nutrition
Calories:
358
kcal
|
Carbohydrates:
57
g
|
Protein:
22
g
|
Fat:
4
g
|
Saturated Fat:
2
g
|
Cholesterol:
10
mg
|
Sodium:
1504
mg
|
Potassium:
896
mg
|
Fiber:
26
g
|
Sugar:
5
g
|
Vitamin A:
670
IU
|
Vitamin C:
7.5
mg
|
Calcium:
77
mg
|
Iron:
7.2
mg
Nutritional information is approximate and automatically calculated, and should only be viewed as an indication.