This post may contain affiliate links, which are always marked with *. Please read my disclosure for more information.
This Creamy Red Wine Chicken Pasta is the perfect way to kickstart fall - this red wine pasta sauce full of flavorful thyme and seasonal mushrooms incorporates all those cosy fall feelings and flavors all at once.
A few weeks ago, despite the summer heat still suffocating all of Stockholm, I started craving pasta. Like, seriously craving it. And not just a light, easy-breezy-sorta-summery pasta vongole or the like - but a full on heavy, creamy, sumptuous dish of pasta. Along with this pasta craving came another one, one reserved for most times of the year apart from 30 C summer days and one that goes excellently with pasta: red wine. Enter: the experiment of the red wine pasta sauce.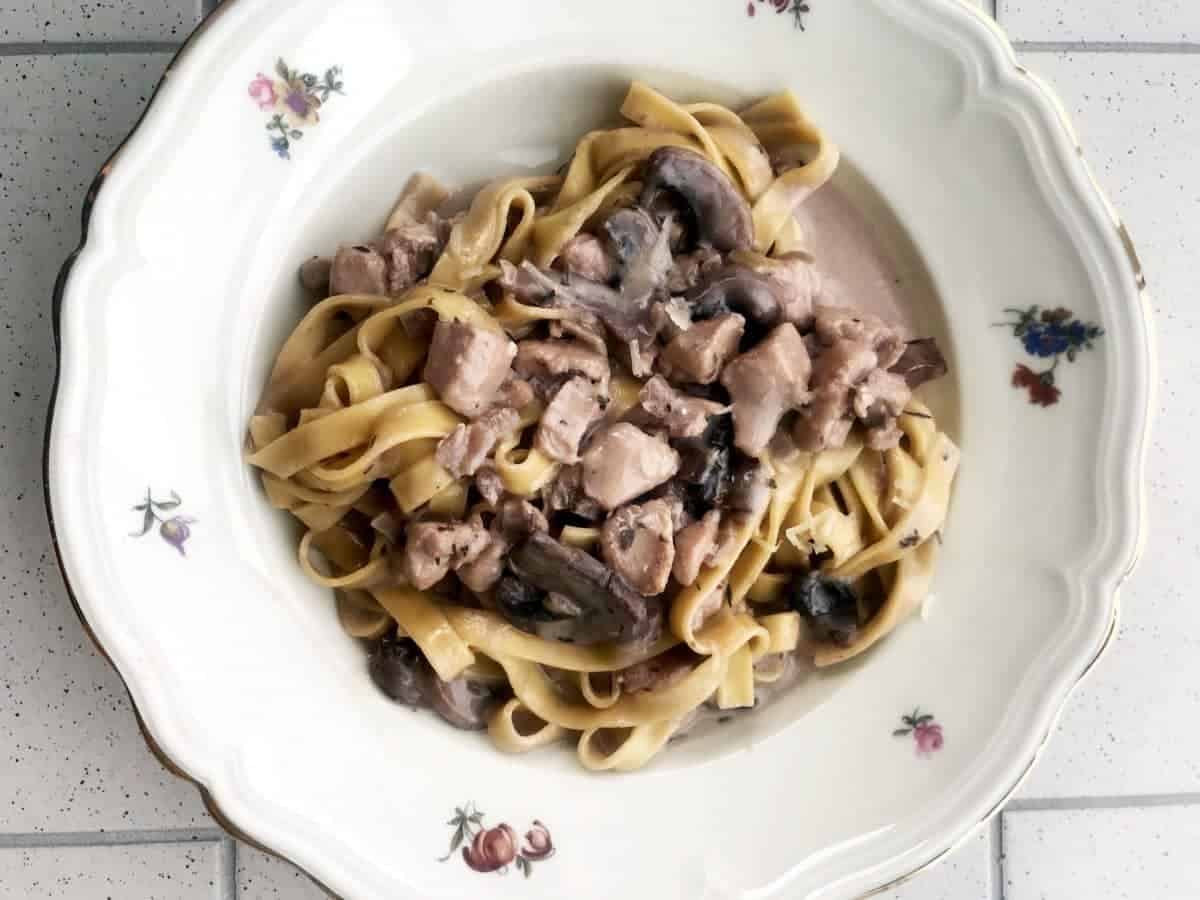 Unlike most experiments, this one actually turned out amazing the first time. I've since made it about four times and it actually turned out great each and every time, so now I feel ready to share it with you guys as well. I'm quite sure you will end up making this creamy red wine chicken pasta over and over again as well. It's definitely one of my new favorites at least!
You'll notice that the ratio of chicken and mushrooms to pasta in this recipe is quite high - if you want to you can, of course, add more pasta and it will serve more people. I, however, like having more of the good stuff and less pasta (not that pasta isn't good stuff, but never mind) - you do you, this recipe could probably hold double the amount of pasta if you like - maybe just add another deciliter of red wine, 1.5 dl more cream and another deciliter of pasta water and you should be fine.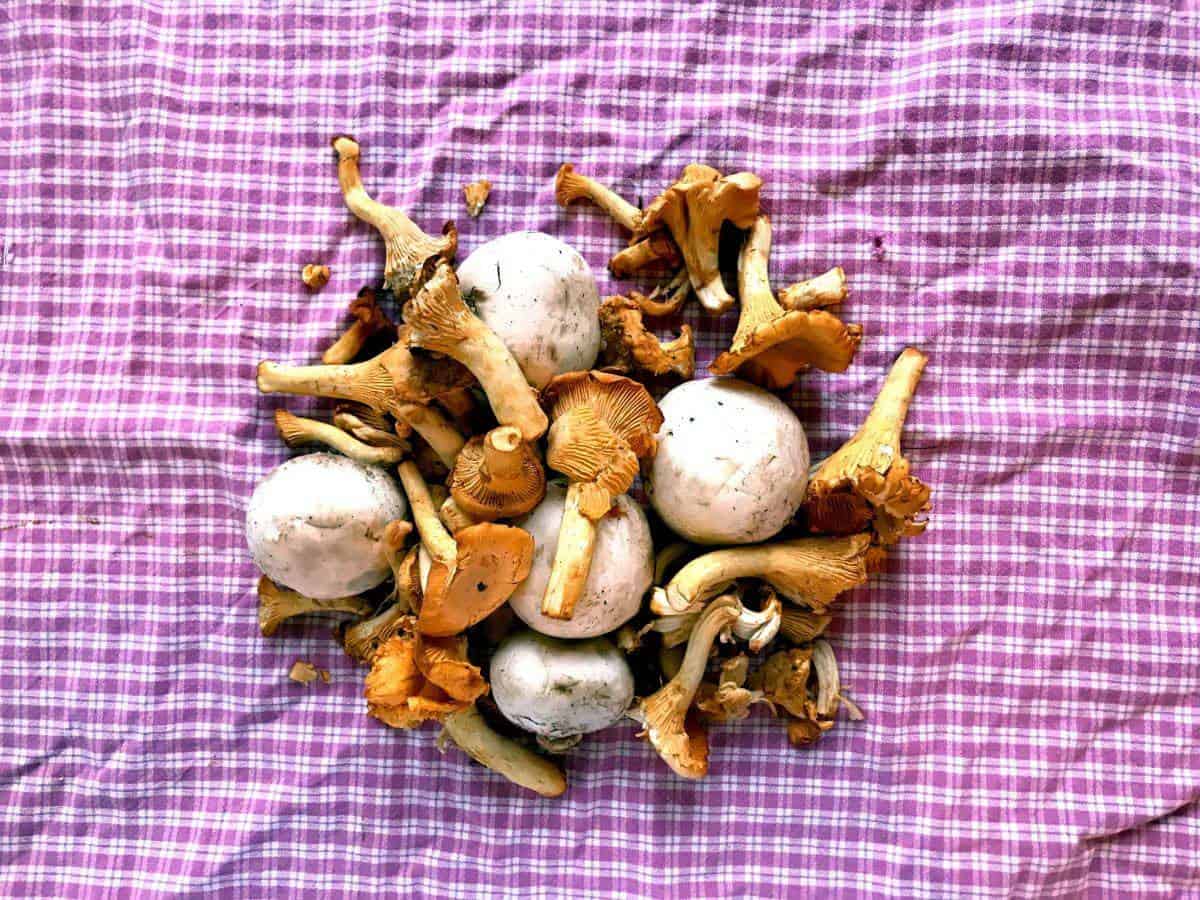 I made basically the same recipe each time I tried this, but the finishing touch was adding some chanterelles this last time, as we're coming into chanterelle season here in Sweden and they're now at least somewhat reasonably priced. They do make it a bit extra, but honestly, the recipe isn't that dependant on them so if you have trouble finding them or you wanna keep it a bit on the cheaper side - just skip them. I used both chanterelles and white button mushrooms, but it would probably be even tastier with some Porcini or autumn chanterelles added to the mix. Use whatever's seasonal and reasonable!
Depending on the water percentage of your mushrooms it might be a good idea to cook away the water before adding them to the butter and onion. Otherwise, you might end up with far too much water in the sauce. I did this with the mushrooms for this recipe but since we had such a dry summer they really didn't need it.
I also suggest cooking the chicken until it's finished or almost finished in a separate pan. This way you can add it to the sauce at the very end and will not end up with dry and tough chicken. It will probably release a lot of water in the pan - lucky you!! Don't throw this away - add it to the sauce together with the chicken, it adds a lot of extra flavor. Also, letting the chicken cook in the water it releases (as opposed to pouring it off) actually seems to make the chicken extra tender and juicy.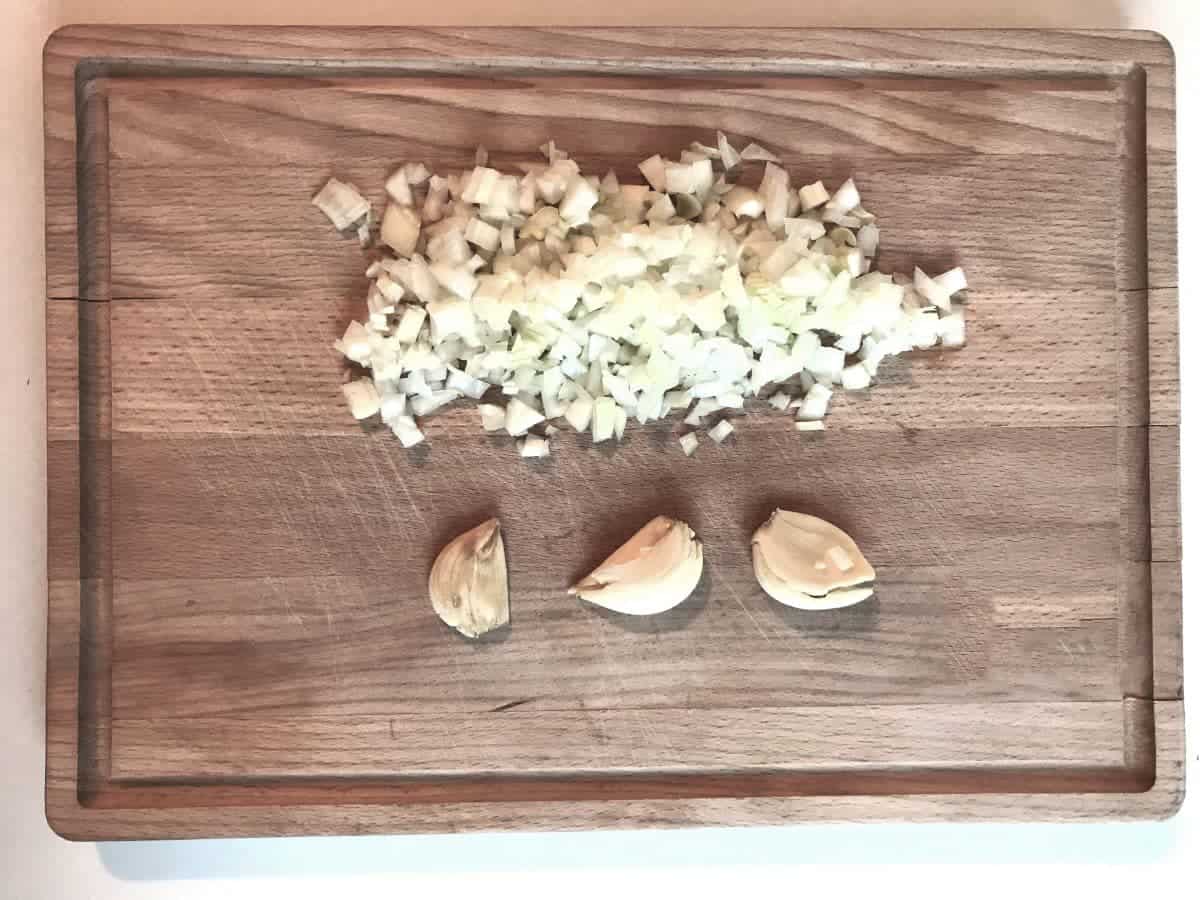 For this recipe (and a lot of my other recipes) I keep the garlic cloves in one piece, but slightly crush them using the side of the knife. This allows you to infuse the dish with some garlic flavor without it getting to be too overpowering, and without having to worry as much about garlic breath after. Just remember how many garlic cloves you put in and remember to remove them before serving.
You can of course replace the fresh thyme with dried if you want to, but what I like about using fresh thyme is that this allows me to pick it out at the end together with the garlic. I love the flavor, but I hate the sprigs, so if you do too this is the way to go. If you want to pretty it up you can always add some fresh (and easily removable...) sprigs on top when serving.
However nice the ingredients mentioned above may be, the secret to this recipe is actually the finishing touch: Parmesan. Instead of adding it over the finished dish, it's added to the sauce and mixed in well. Just do it. You are allowed to add extra at the end as well, of course. Who am I to tell you not to add excessive amounts of cheese? (And what is really an "excessive" amount of cheese? Is there even such a thing?)
Oh, and as always with pasta sauces - cook the pasta just a minute short of finished, and let it finish cooking in the sauce together with some pasta water. Makes all the difference.
I hope you'll enjoy this Creamy Red Wine Chicken Pasta just as much as I have - and don't forget to share it if you do, and please tag me @alwaysusebutter! Did you try it? Please leave a rating below!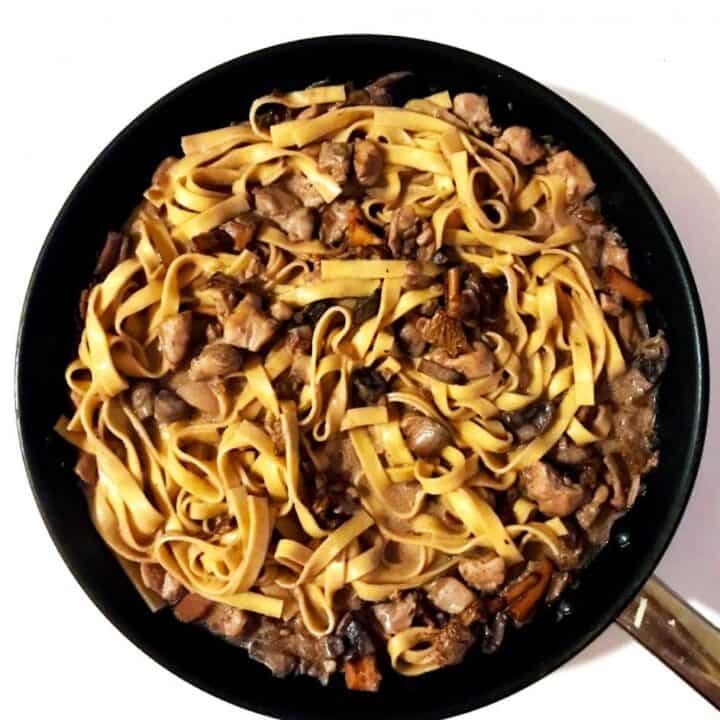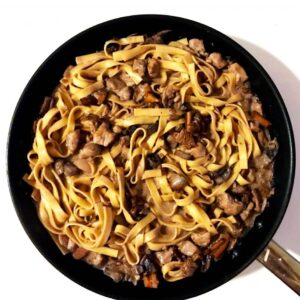 Ingredients
4

Tbsp

butter, divided

1

yellow onion, finely chopped

3

garlic cloves, in one piece but slightly crushed

6-8

white button mushrooms (approximately 300g), chopped

200

g

chanterelles, chopped

2

dl

red wine

2.5

dl

cream

1

Tbsp

concentrated chanterelle stock, or other mushroom stock

fresh thyme sprigs

4-500

g

chicken (approximately 2 chicken breasts/5 thigh fillets), cut in bite-size pieces

250

g

fresh tagliatelle, cooked 1 min less than package instructions

2

dl

pasta water

1

dl

fresh grated parmesan
Instructions
For cooking off the water from the mushrooms (optional)
Heat a pan over medium-high heat. Add the chopped mushrooms and cook until water comes out. Remove the water continuously until no more water is left.
Creamy Red Wine Chicken Pasta
Heat a pan, large enough to hold all the sauce and pasta, over medium heat. Add 1.5 Tbsp of butter, the chopped onion and the crushed garlic cloves. Let cook for a few minutes, until fragrant.

Add the mushrooms together with another 1.5 Tbsp of butter. Let cook for a few minutes. If the mushrooms start to look dry, add more butter.

Add the red wine, raise the temperature to medium-high and cook for another 2 minutes.

Add the cream, concentrated chanterelle stock and thyme. When it starts boiling, lower the temperature to medium again. Let cook for at least 5, but rather 10, minutes.

In another pan (go ahead and use the mushroom pan again), heat up 1 Tbsp of butter. Add the chicken and cook until finished. Oh, and it's probably about time to start the pasta now.

With about 2 minutes left on the pasta:, add the chicken to the sauce together with the butter and water left in the pan.

When the pasta is finished, add it to the sauce together with 2 dl of pasta water. Let cook for about 2 minutes, until the pasta is al dente.

Mix in the grated parmesan. Serve!
Nutrition
Calories:
755
kcal
|
Carbohydrates:
56
g
|
Protein:
23
g
|
Fat:
45
g
|
Saturated Fat:
24
g
|
Cholesterol:
205
mg
|
Sodium:
428
mg
|
Potassium:
900
mg
|
Fiber:
5
g
|
Sugar:
4
g
|
Vitamin A:
1345
IU
|
Vitamin C:
5.5
mg
|
Calcium:
92
mg
|
Iron:
4.1
mg
Nutritional information is approximate and automatically calculated, and should only be viewed as an indication.
Grab Some Pasta Essentials
The links in the collage below are Amazon affiliate links which means that if you buy something through one of my links I receive a small commission (at no extra cost to you).