This Creamy Truffled Mushroom Risotto is a sure hit every time, filled with flavorful mushrooms, white wine and truffle oil it's finished off with just a squeeze of lemon to lighten it up a tiny bit.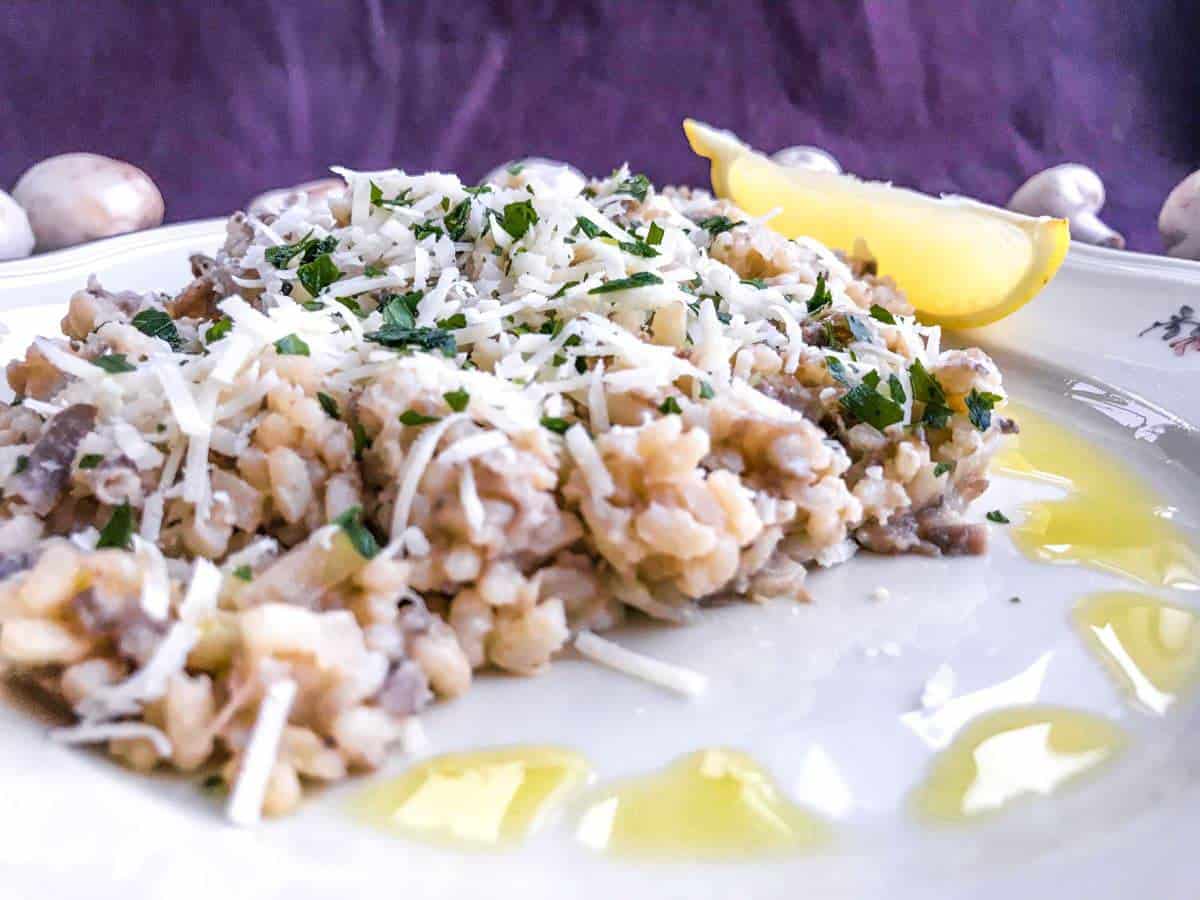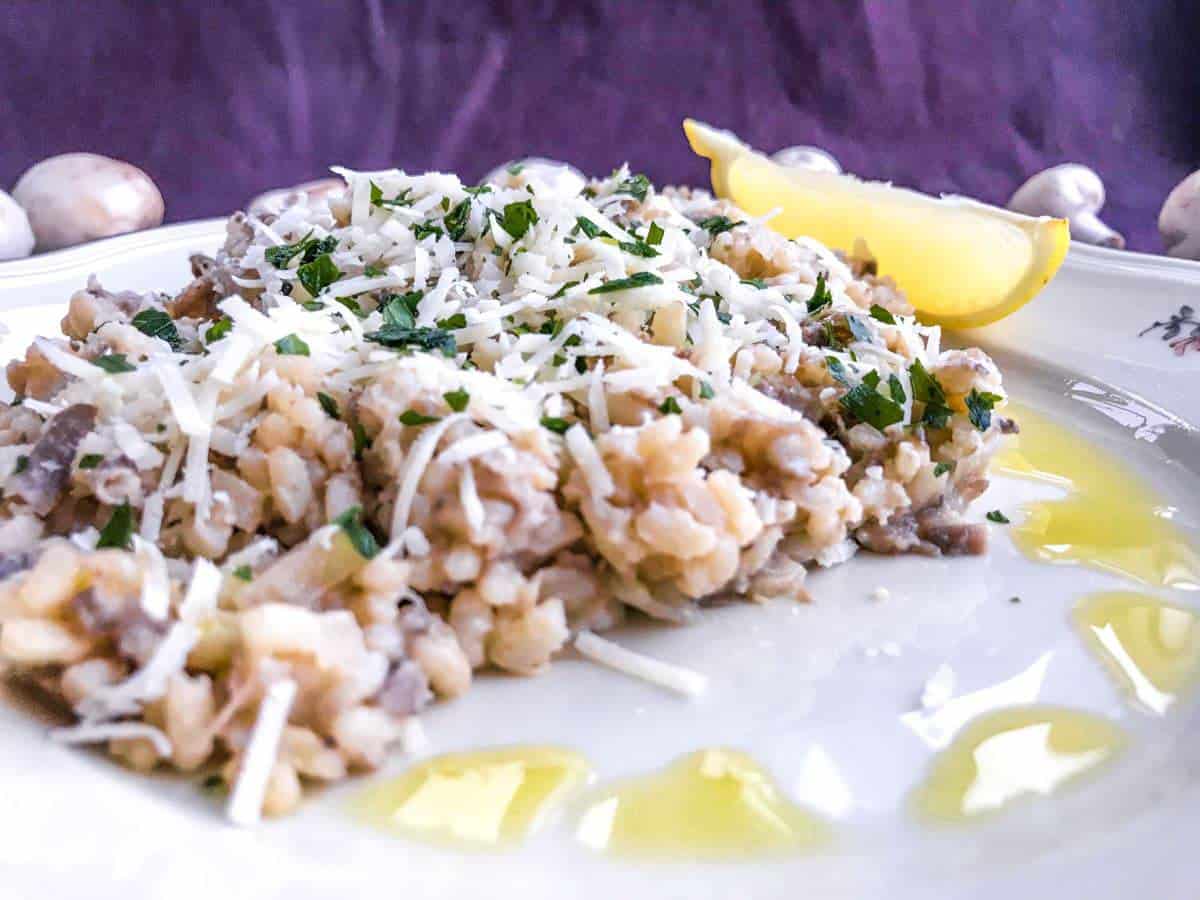 There are a few dishes everyone should have in their arsenal, foodie or not. Risotto is not only one of them, but it might actually be the most important one.
There is nothing like a risotto to impress your friends, your family, your date… It's one of those dishes that has a reputation for being really hard to make, while in truth it's just a matter patience, and mastering a quite simple technique. Add in lots of flavor as well and you'll understand why this is my number one dish to cook for a date (that's date #3, if you're wondering).
The secret? As I said – patience is the first part. This dish doesn't cook itself. It doesn't take too much time to make, but you'll need to be right there next to the stove, stirring (or, actually, performing the "risotto flip", but more about that in a while), all the time. Now don't be discouraged by this! I have the worst patience, so if I can do it – so can you! And also, seeing as we're cooking Italian, having a glass of red in your non-stirring bhand is almost mandatory. Makes having patience soo much easier!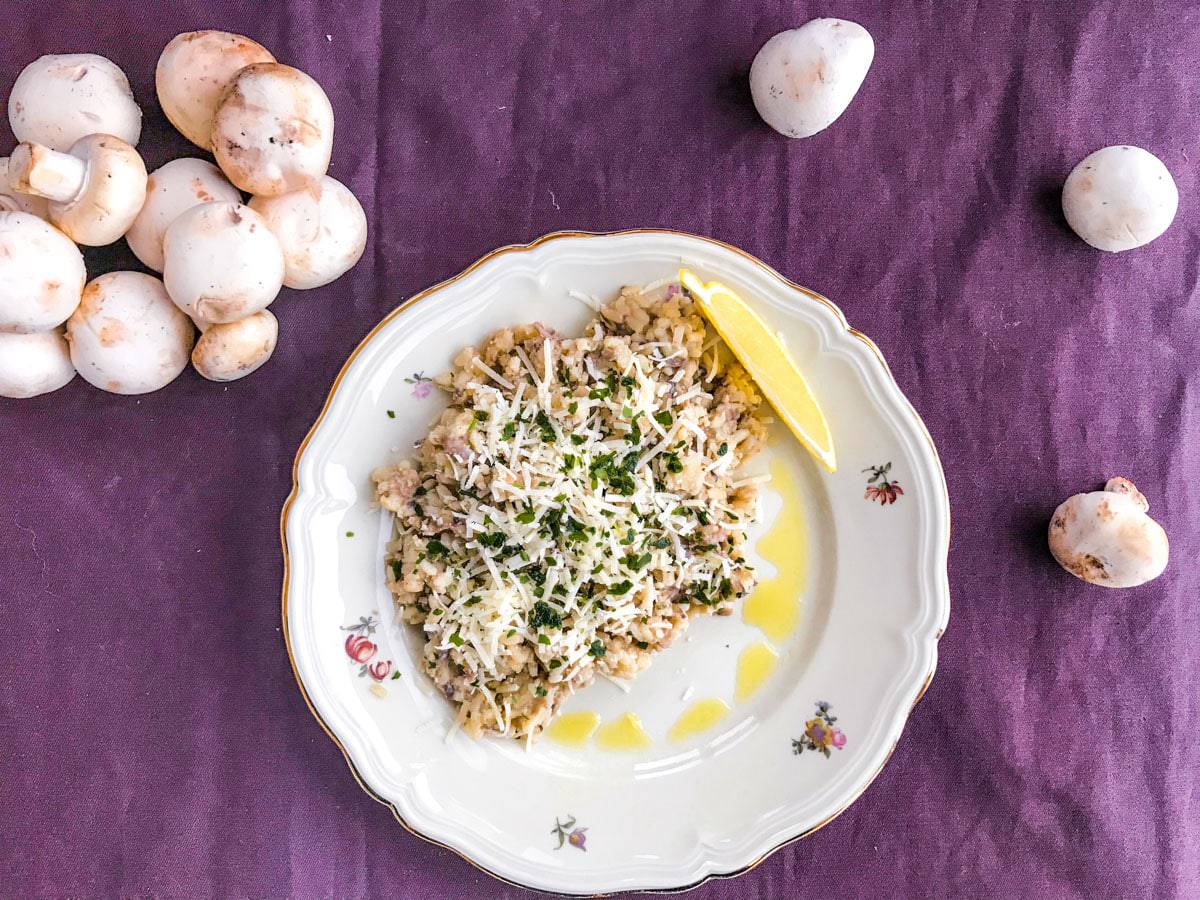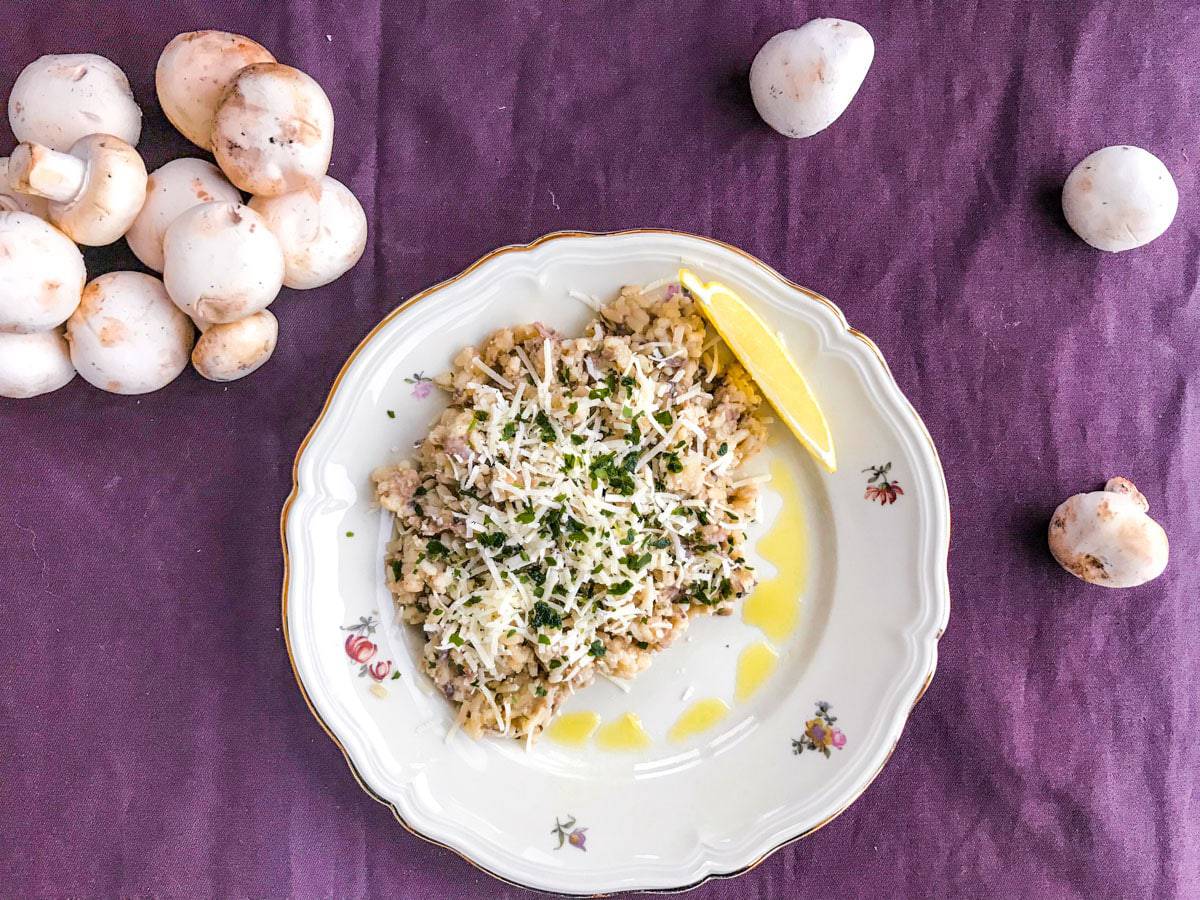 Second part – the actual cooking process. After frying the shallots, garlic and mushrooms in butter and mixing in the rice, you will start adding in liquids. First comes the wine, which you want to cook off quite quickly on high heat. Then comes the mushroom stock. And this is also where the patience part really comes in. You will want to add this stock slowly, a few deciliters or about a cup, to start and then let this absorb on low-medium heat while stirring continuously. Once absorbed, add another deciliter or half a cup of stock, and repeat.
After 16-18 minutes you'll have added about 7-8 deciliters (3+ cups) of stock and the risotto will be cooked almost through. Now – and this is important! – DO NOT let the risotto cook through. It's finished when you try it and you're like "weeeell, ALMOST there". Nope, you're not almost there. You're THERE! Take it off the heat immediately. The rice should still have an al dente core, if not it's overcooked. You can still eat it and it's still tasty, but risotto rice porridge just isn't the same as risotto.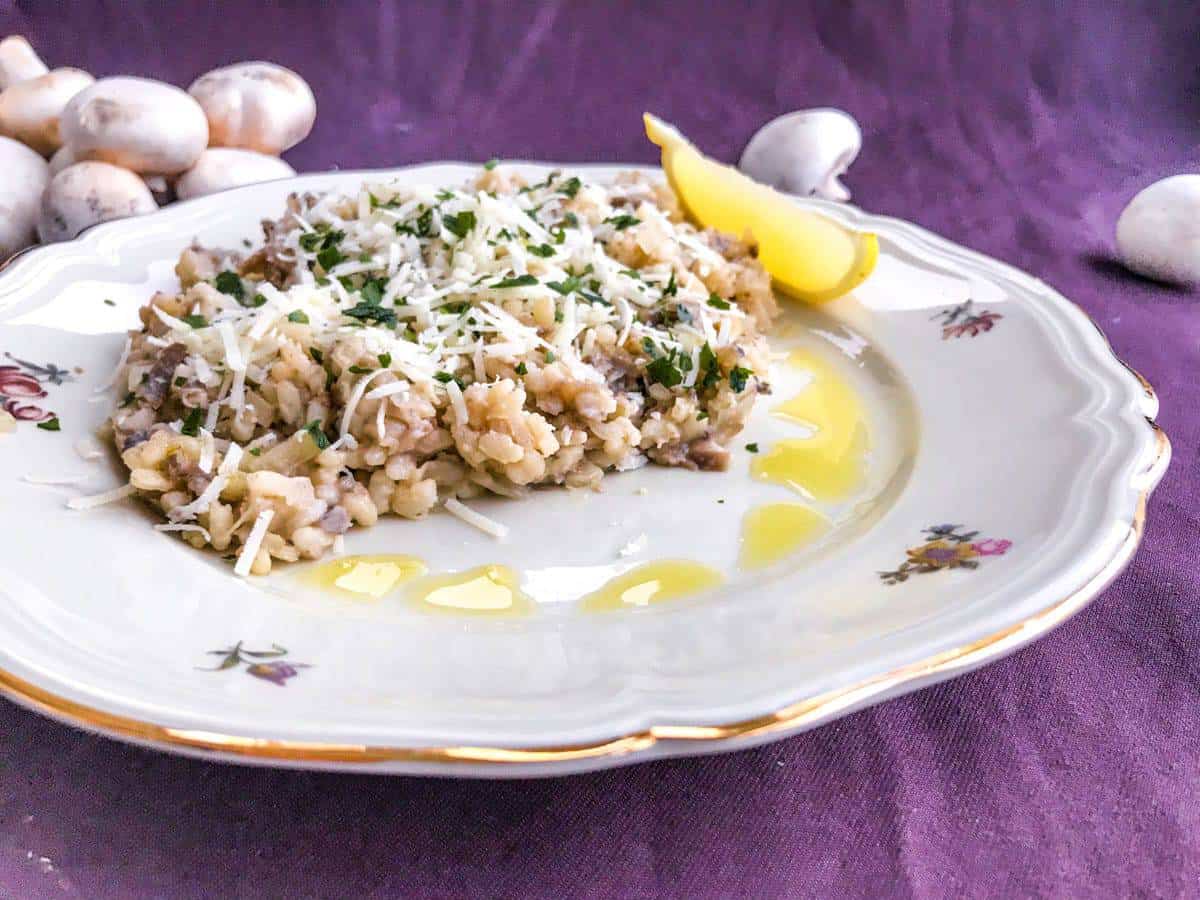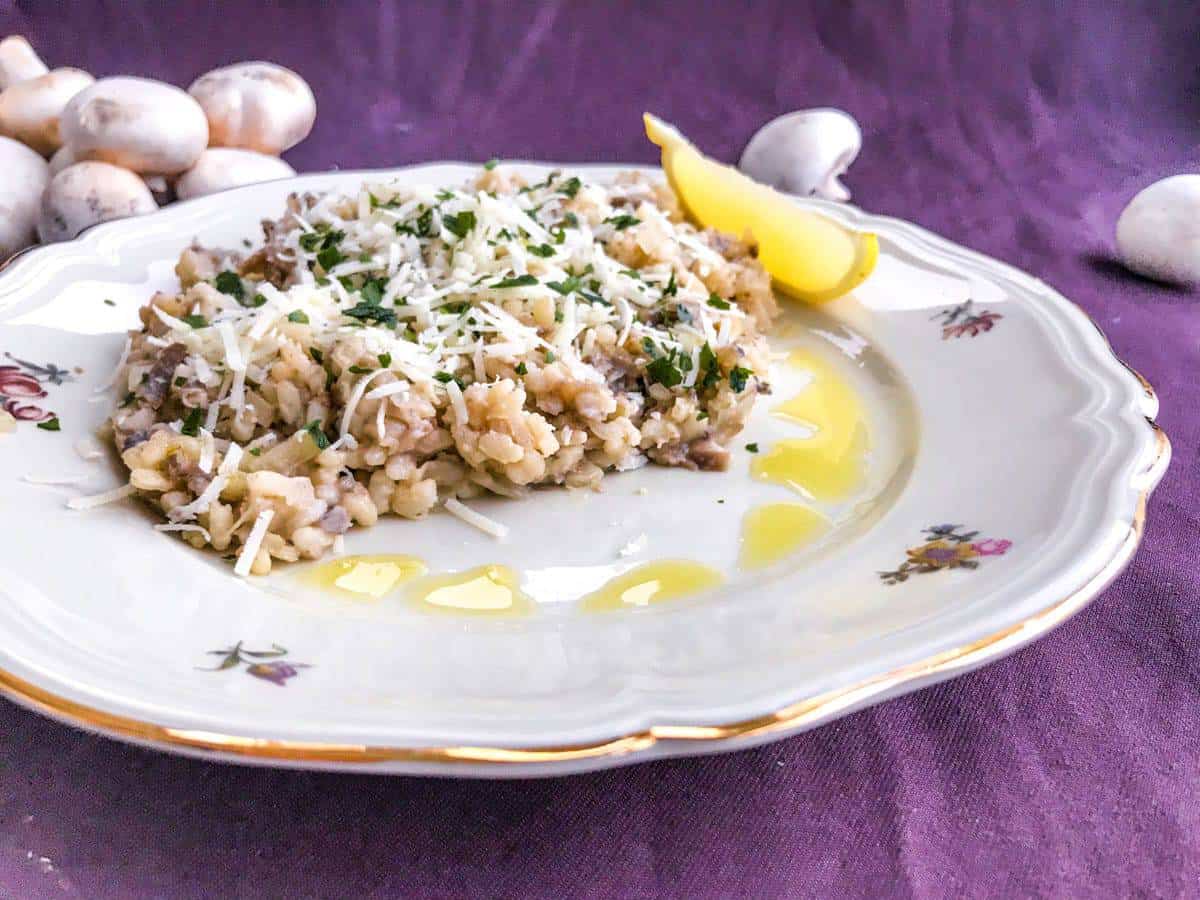 Final part of the technique then – the "risotto flip". When stirring, you're not actually stirring. You're more like picking up risotto and turning it over. You don't want the grains to break, and just casually stirring might cause just this.
OK, let's talk flavor here. I'm a bit obsessed with Italian food and wine in general, and Piedmontese food and wine in particular. There's really nothing like it – no matter the season I feel like Piedmont has fall flavors down, and you know I love those flavors. Mushrooms, full flavored wine, truffles… that's my game right there (exhibit A: Creamy Red Wine Chicken Pasta)! And, it's also the core of this mushroom risotto.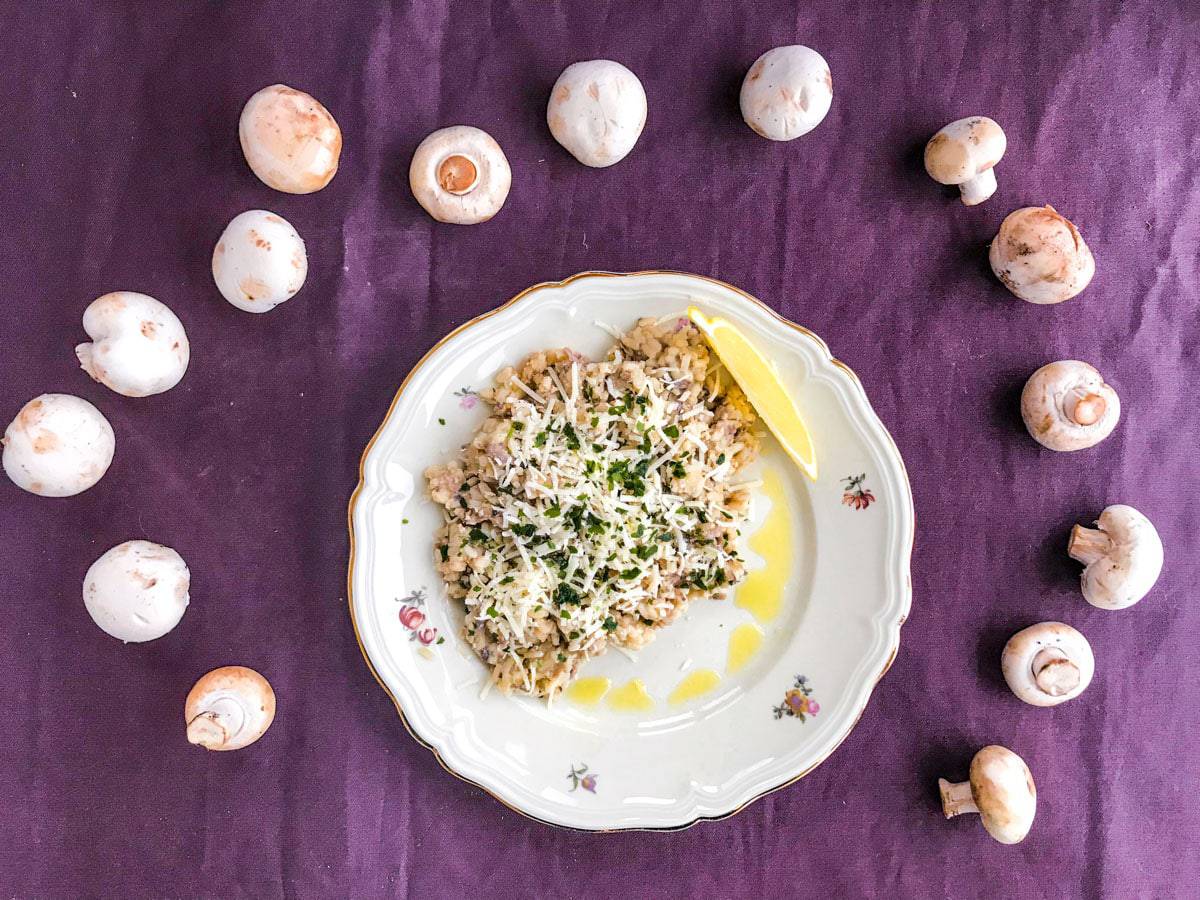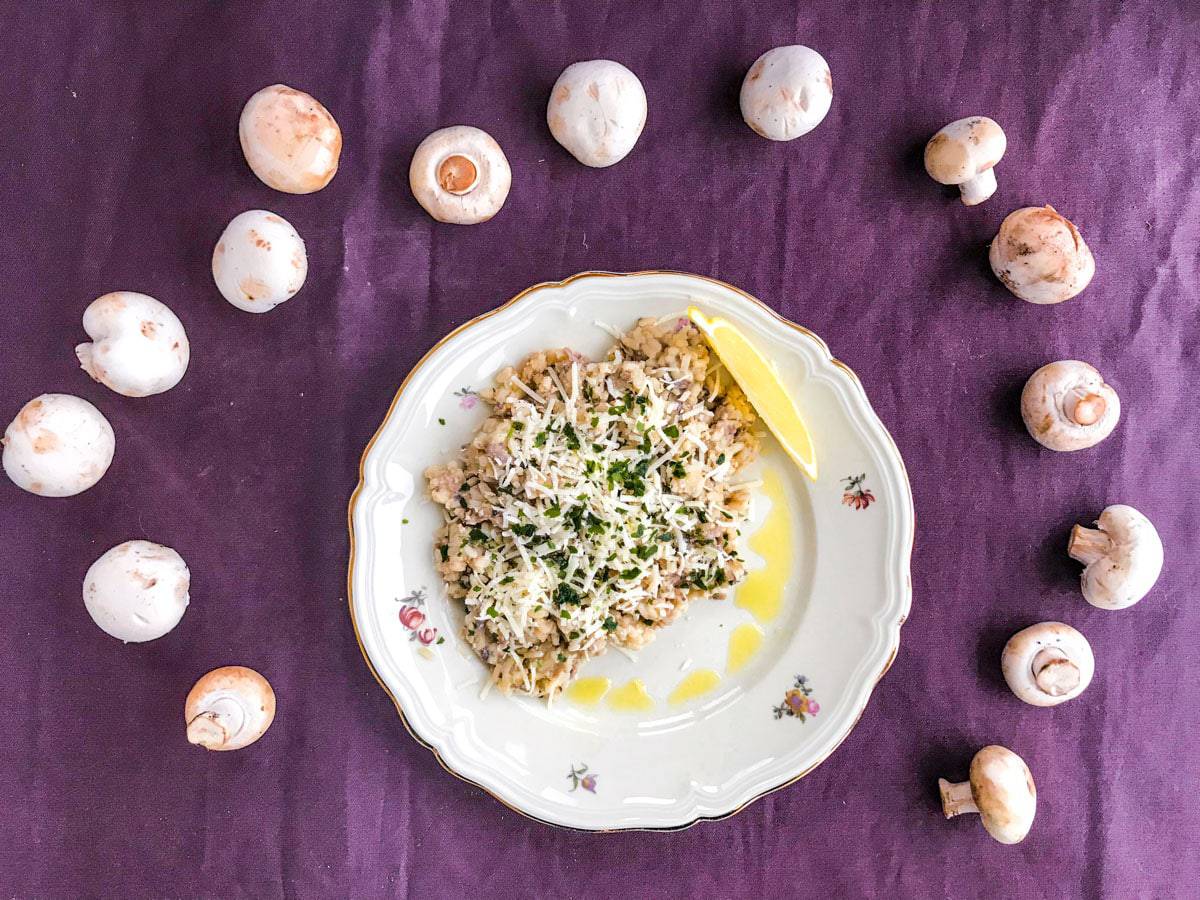 For the best & most Piedmontese result, use an Arneis white wine. It's so deliciously complex and adds terrific body to the risotto. Unfortunately, the Arneis isn't the most readily available white wine outside of Piedmont, and if you can't get ahold of it another dry, full-flavored white wine will also do the job. I do suggest going with a nicer variety, something you'd really enjoy drinking as well, as the quality of the wine makes a really noticeable difference to this kind of dishes.
Rice then – two common choices for risotto are Arborio and Carnaroli rice. I prefer Arborio, but have been known to cook with Carnaroli as well. Either works well.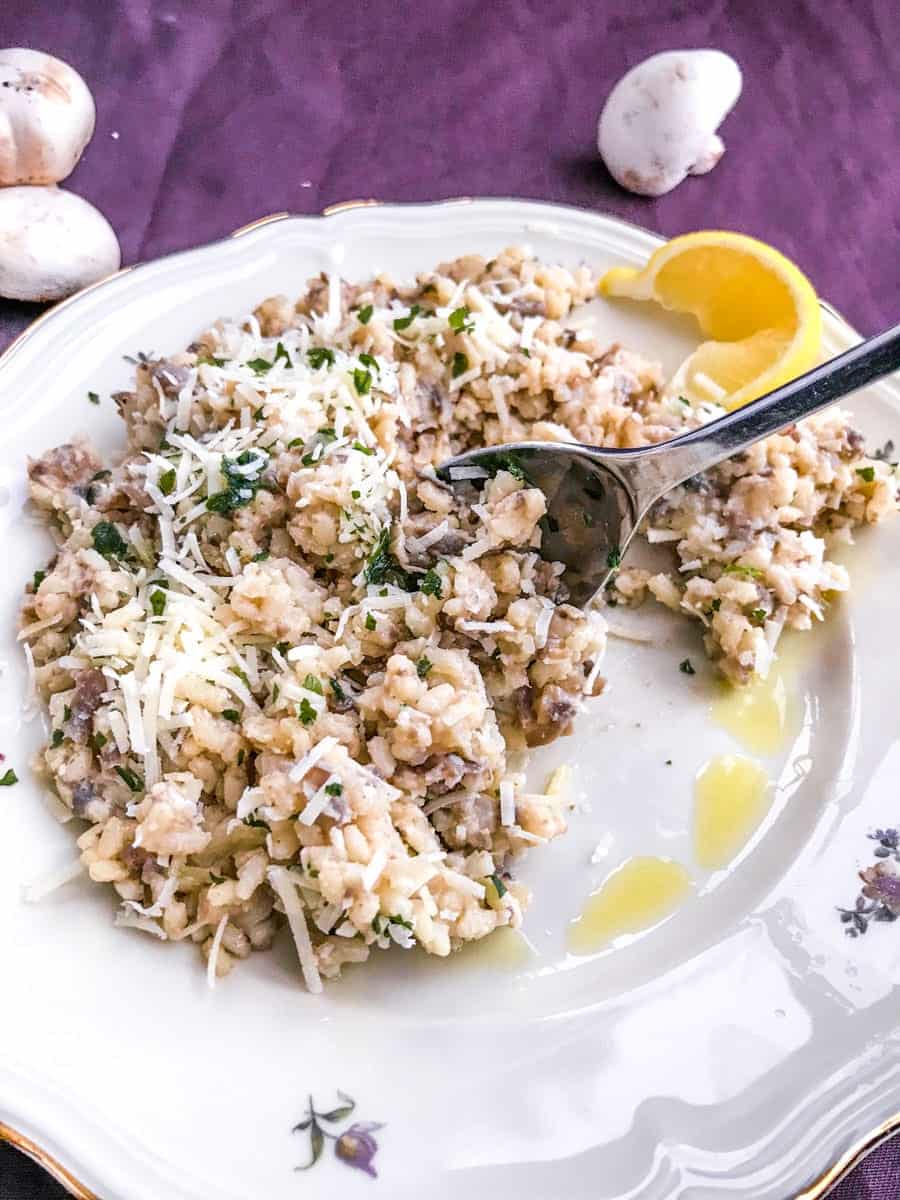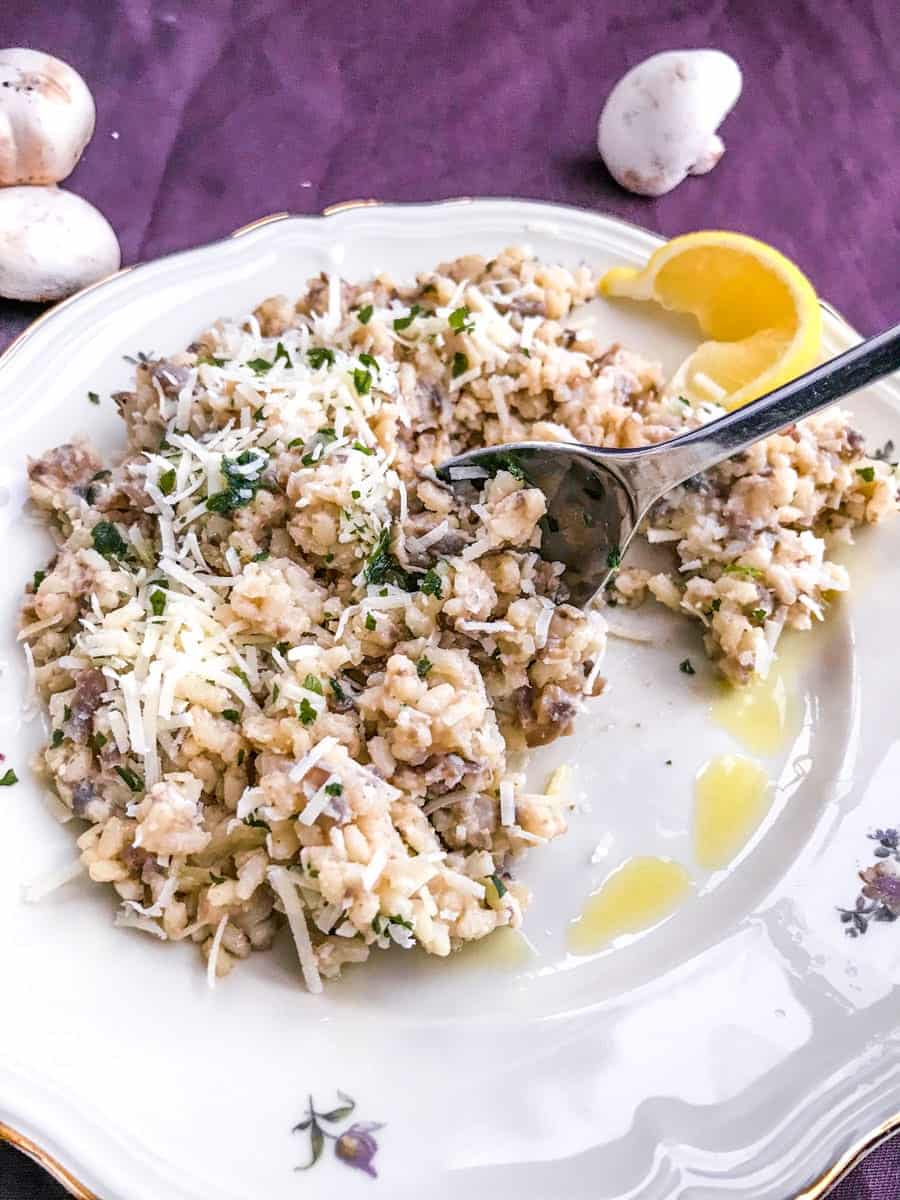 Then finally – what do you serve with your creamy truffled mushroom risotto? I'd go for a caprese salad and to pair of course a delicious Piedmontese wine of Nebbiolo-variety. Or a white Arneis if you're not into red. For me a younger Nebbiolo is perfect for this – the tannins are the perfect complement to the round creaminess of the risotto. Save the Barolo or Barbaresco for another day!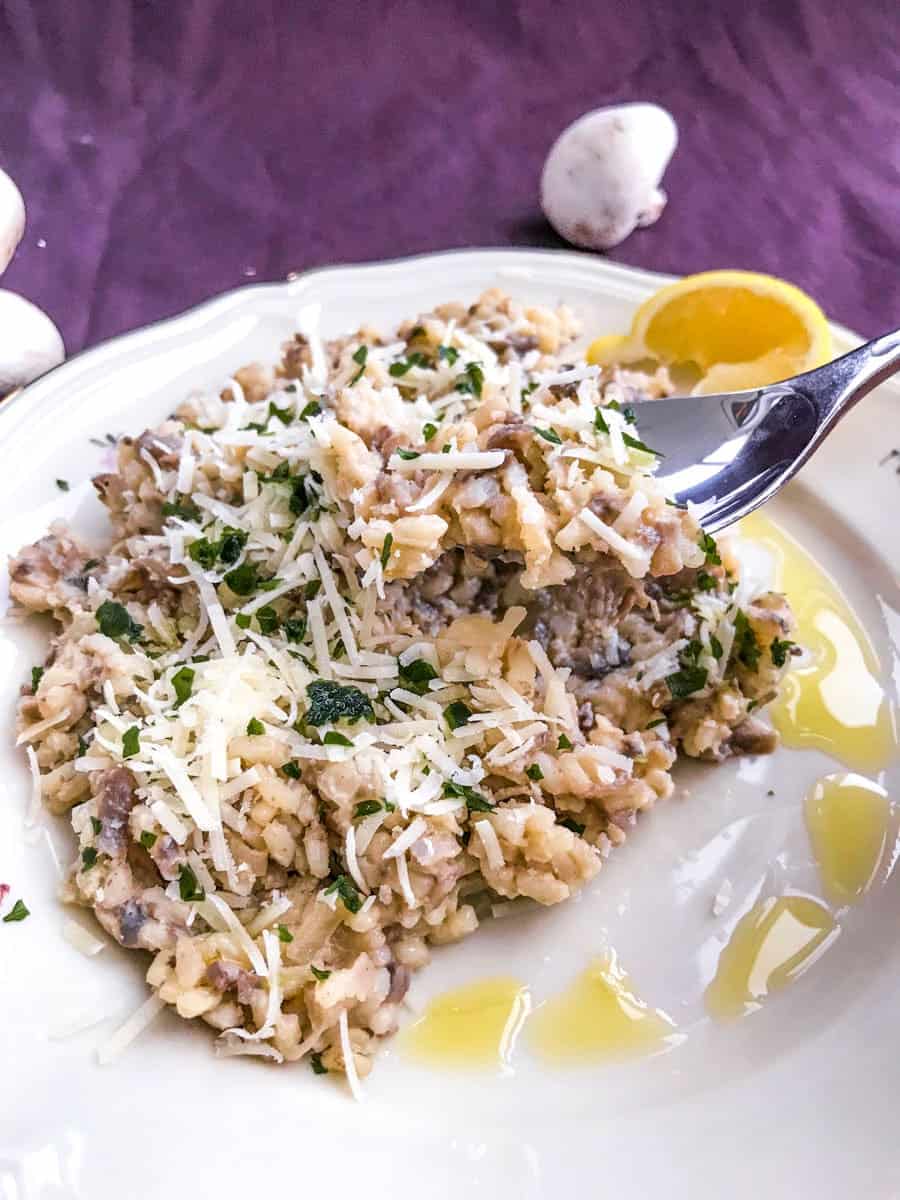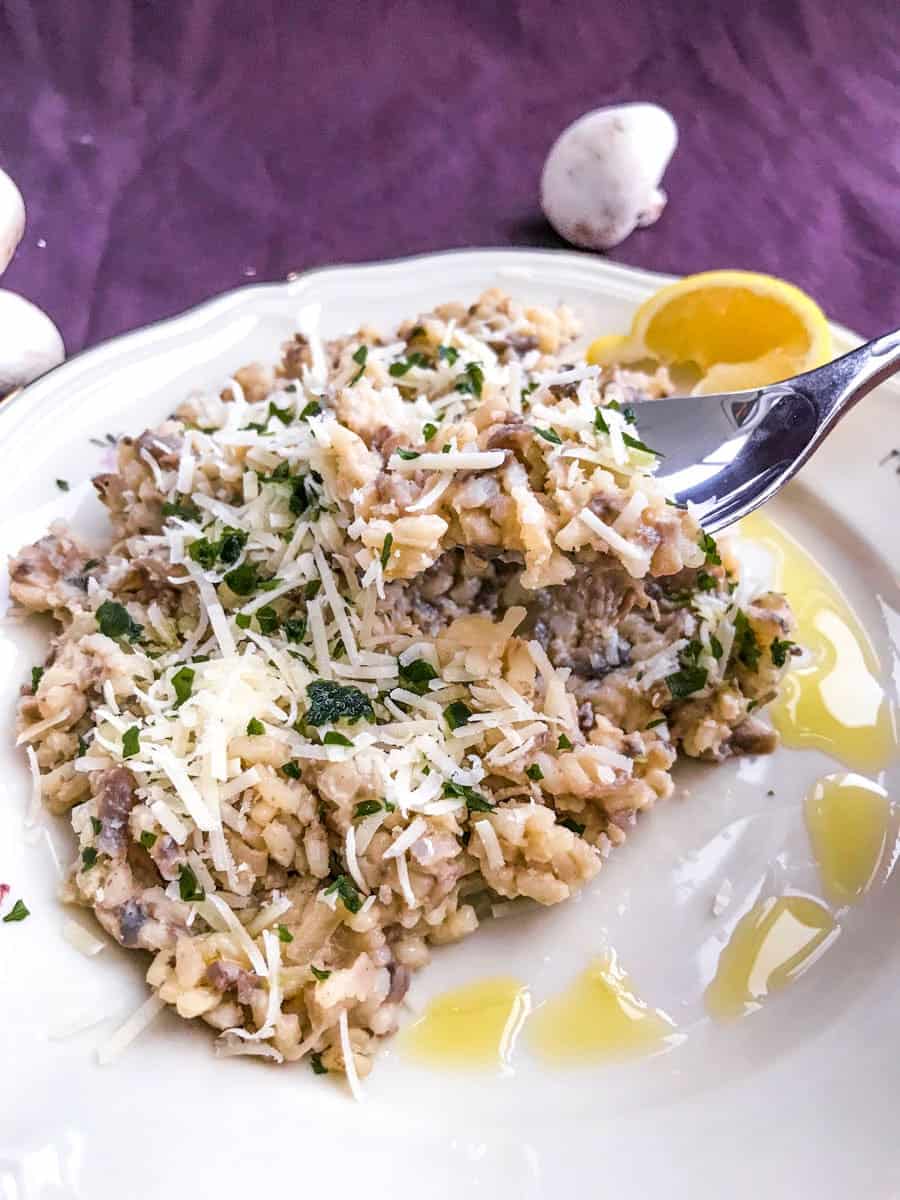 Date night, family night, treating your friends or just yourself – either way this creamy truffled mushroom risotto won't disappoint. Did you make it? Please leave a review and/or a comment below! And if you show it off on social media – you know I love when you tag me on Instagram.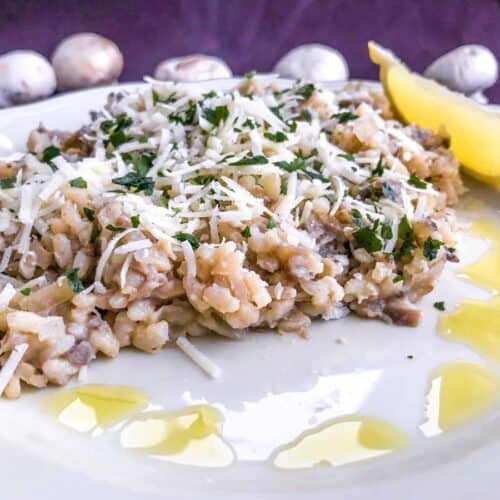 Ingredients
250

g

white button mushrooms

grated

50

g

butter

2

garlic cloves

in one piece but peeled and slightly crushed

2

shallots

finely chopped

250

g

risotto rice

eg arborio or carnaroli

700-800

ml

mushroom stock

heated

300

ml

dry white wine

150

g

parmesan cheese

finely grated

4

Tbsp

white truffle oil

salt and black pepper

to taste
For serving
0.5

lemon

cut in wedges

1

Tbsp

parsley

chopped

parmesan cheese

to taste
Instructions
Melt the butter in a large pan over medium-high heat. The pan should preferably be low and wide, but other pans work as well.

Add in the shallots and garlic and fry until fragrant, about 2 minutes.

Remove the garlic cloves and add in the mushrooms. Fry for 2 minutes.

Add in the rice, up the heat a bit and fry until the rice, shallots and mushrooms are well mixed and the butter is absorbed.

Make sure the heat is on high. Pour in the wine and cook until almost completely absorbed. Stir constantly.

Add in 200 ml or about a cup of mushroom stock and stir. Place the rest of the mushroom stock in a separate pan over low heat. Lower the heat for the risotto and add in the rest of the mushroom stock slowly over the course of 16-18 minutes, adding about 100 ml or half a cup when the previously added liquid has been absorbed. Stir often, almost constantly, with a large spoon. (See note)

The risotto is finished when it's cooked almost through - there should still be a solid core in the middle of the rice. When the risotto is finished, remove the pan from the heat and add in parmesan and truffle oil. Add salt and pepper to taste.

Serve immediately with chopped parsley and extra

parmesan

cheese, and squeeze over a little bit of lemon just before serving or serve with a lemon wedge.
Nutrition Facts
Creamy Truffled Mushroom Risotto
Amount Per Serving
Calories 679
Calories from Fat 306
% Daily Value*
Fat 34g52%
Cholesterol 52mg17%
Sodium 1400mg61%
Potassium 375mg11%
Carbohydrates 59g20%
Protein 19g38%
Vitamin A 1060IU21%
Vitamin C 4mg5%
Calcium 461mg46%
Iron 3.7mg21%
* Percent Daily Values are based on a 2000 calorie diet.