This Shrimp Risotto with Asparagus & Basil is so packed with flavor and quick and easy to make. Done in under 40 minutes, it's the perfect decadent weekend dish.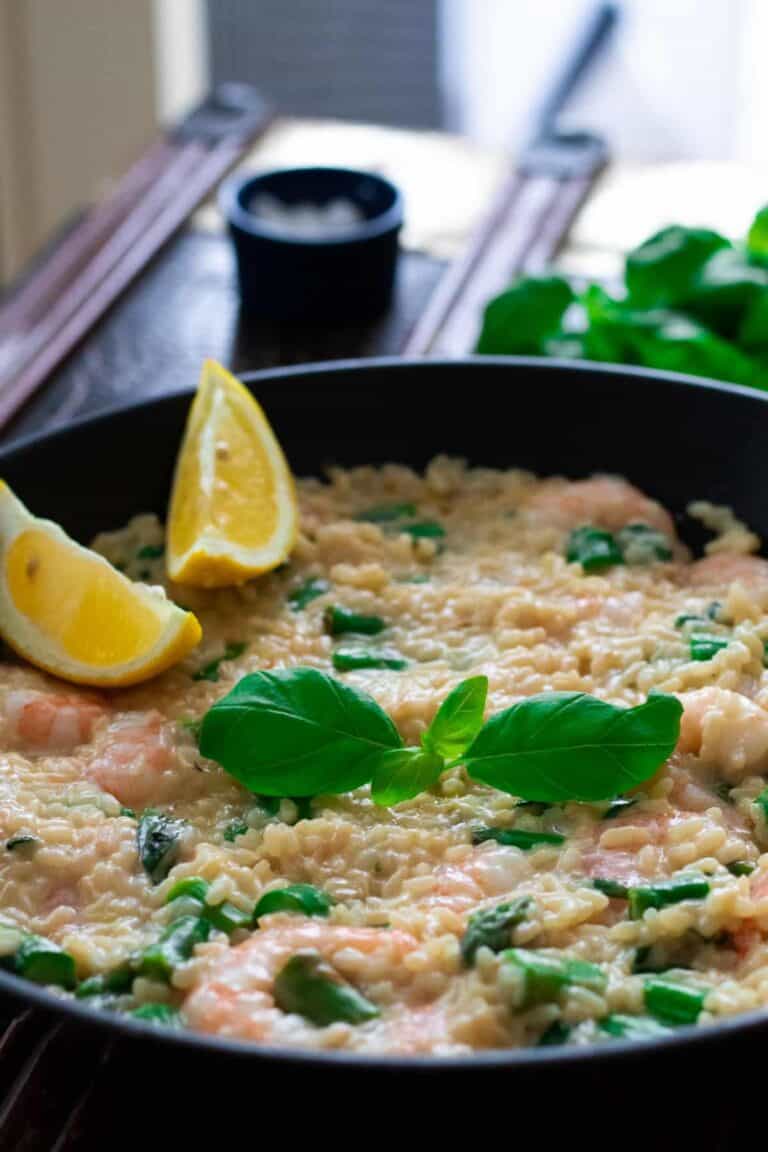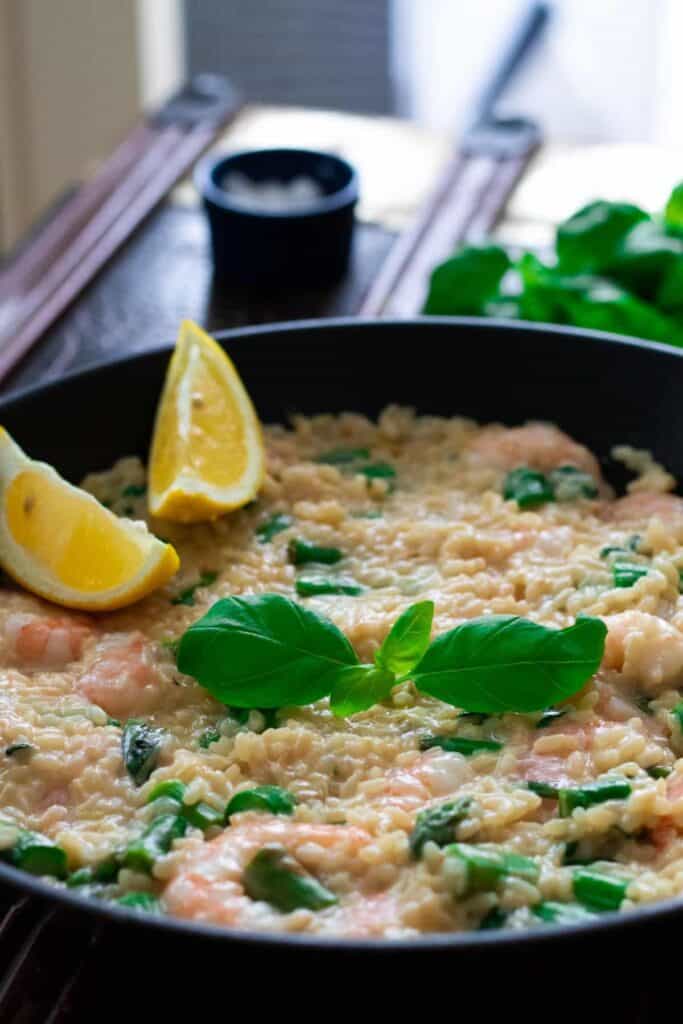 Have you made risotto before? Maybe you tried my Creamy Truffled Mushroom Risotto? Or maybe you're still a bit intimidated by the process behind making a risotto? I know, it can seem daunting. I didn't even dare try my hands at it for a long time. But then I did, and quickly realized I really had nothing to be afraid off. Making risotto isn't that hard at all – you just need to keep a few things in mind.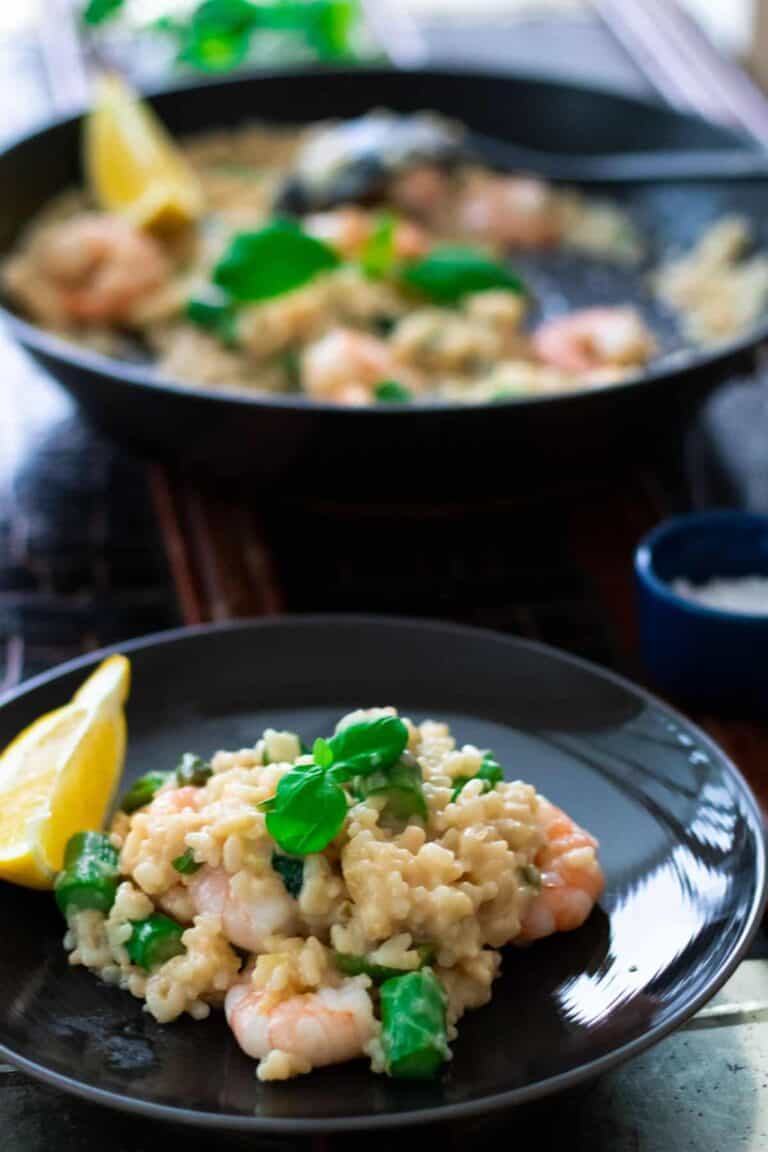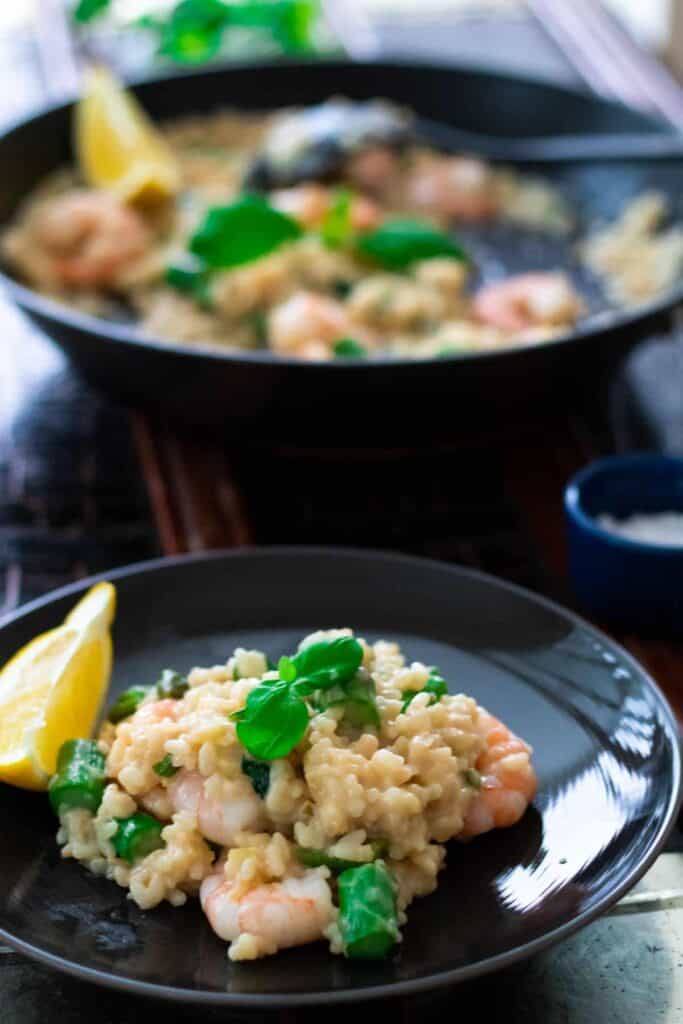 How to Make a Perfect Risotto
In my book, there are three secrets to making your risotto stand out: using a good wine, cooking it slowly, and not cooking it to long.
Use a Good Wine for your Risotto
While you could use a simple cooking wine, I suggest not. Instead, I suggest using something you would actually drink. At least a decent wine – but even better, a really good one. When I'm making risotto for a special occasion I like to use the same wine in the dish as for drinking – this makes for a perfect pairing of the flavors.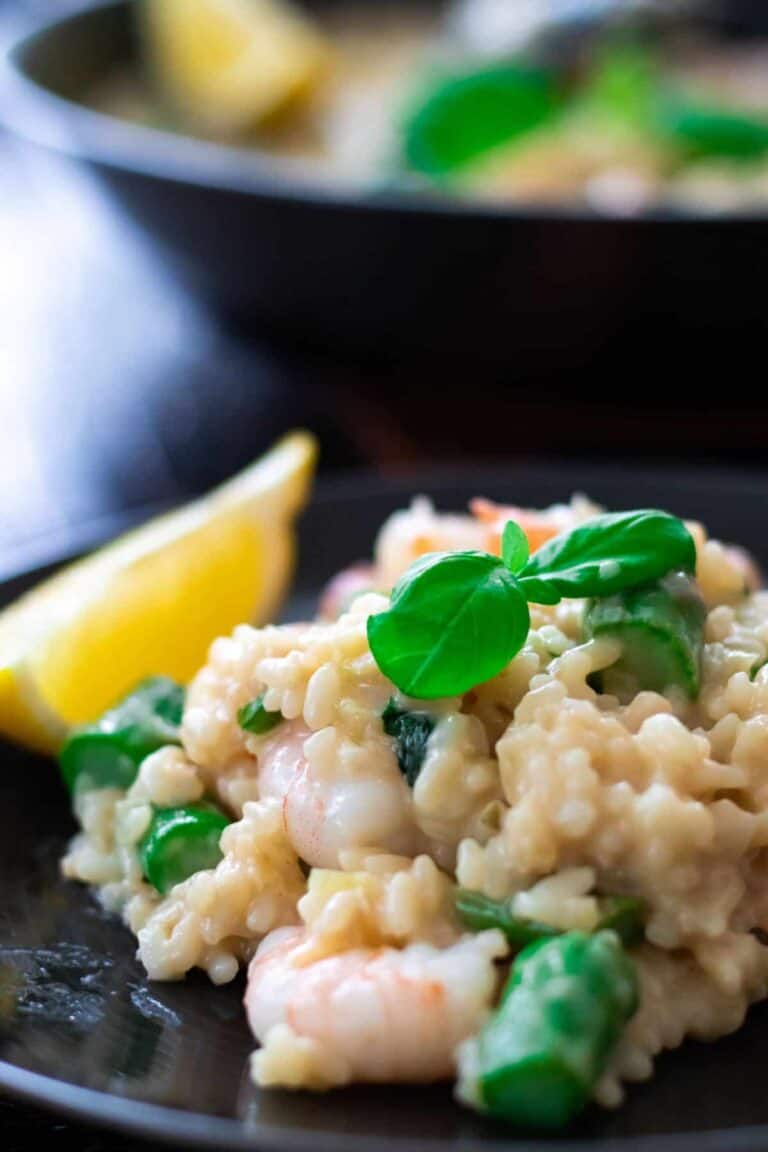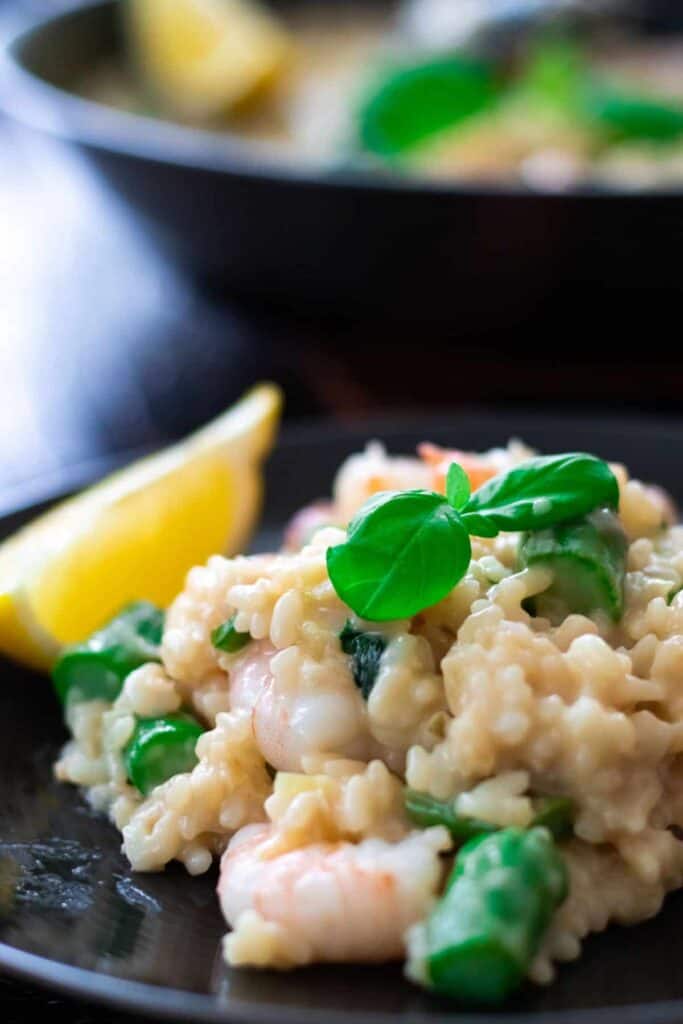 With this Shrimp Risotto I love drinking a Sancerre – so therefore, I'd use a Sancerre in the dish as well. My sister thought I was mad when I did this and called it a waste of good wine, but to me, it's just making all the more of it. You can go a bit cheaper on the wine as well, of course, but the general rule is (not all that surprisingly…) – the tastier the wine the tastier the risotto.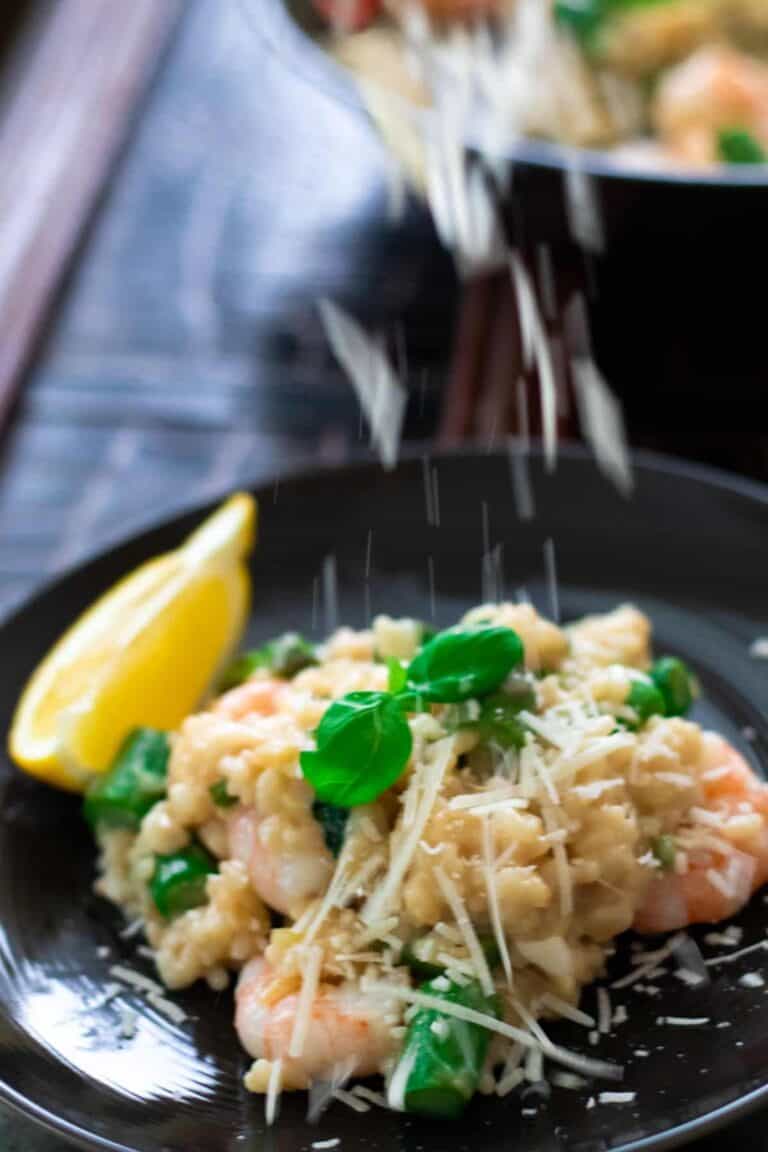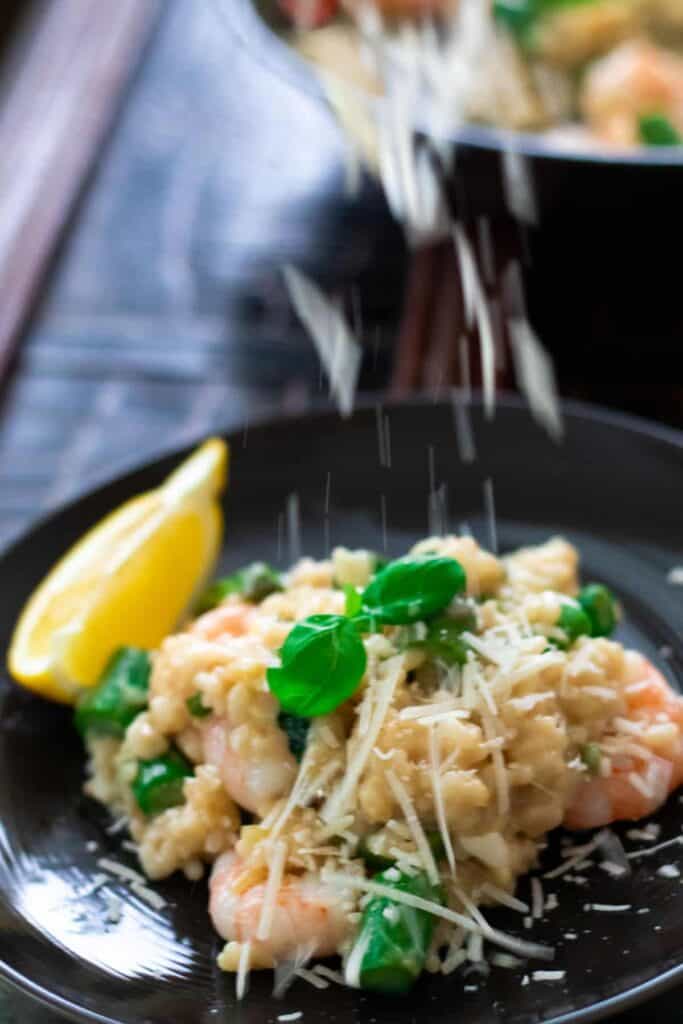 Cook Your Risotto Slowly
The second important step to making a perfect risotto is to take your time. After frying your shallots, garlic and rice, and cooking off the wine, it's tempting to just add the broth and let it cook away. But please don't. It only takes 16-18 minutes to cook anyway, so I think you can manage
What you do instead is you cook the risotto over medium-low heat – the heat should be just high enough for it to boil, but not much higher than that. While cooking, you add the broth slowly, a little at a time. And then you stir – very carefully, but very often. When almost all the broth has been absorbed by the rice and it looks more creamy than wet – add a bit more, and repeat. And continue in this way until your risotto is cooked almost through.
Which brings us to the third point.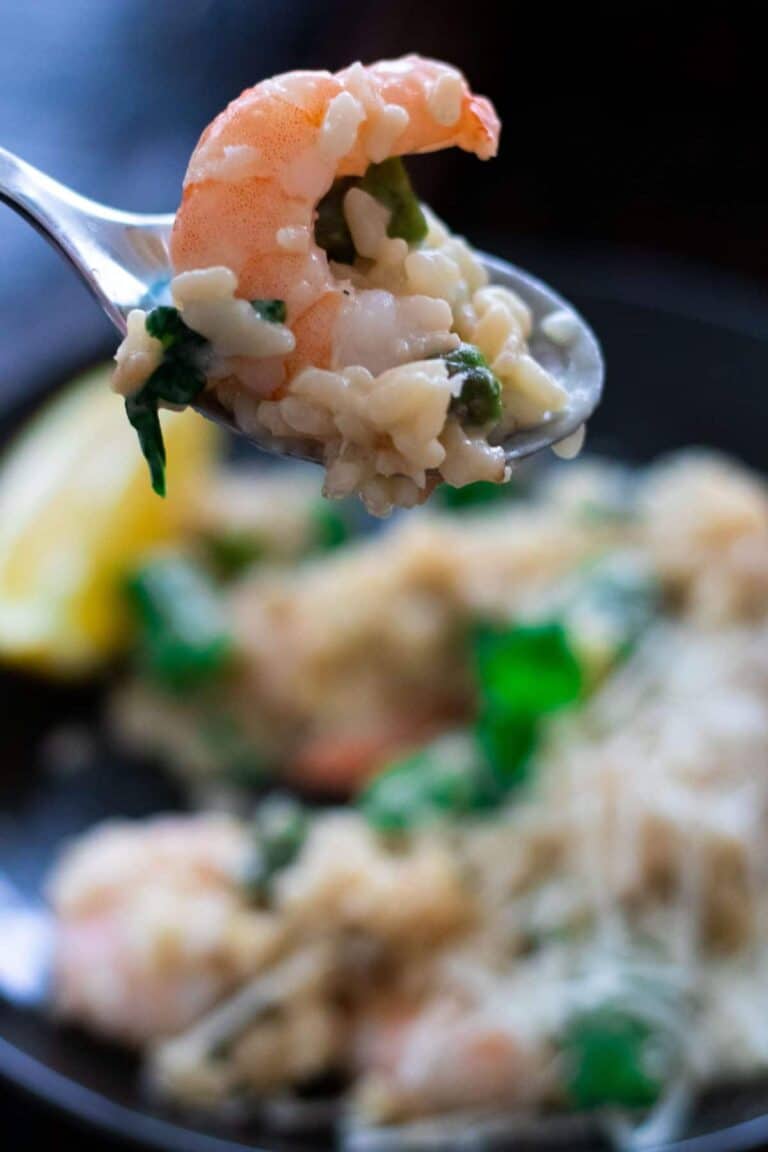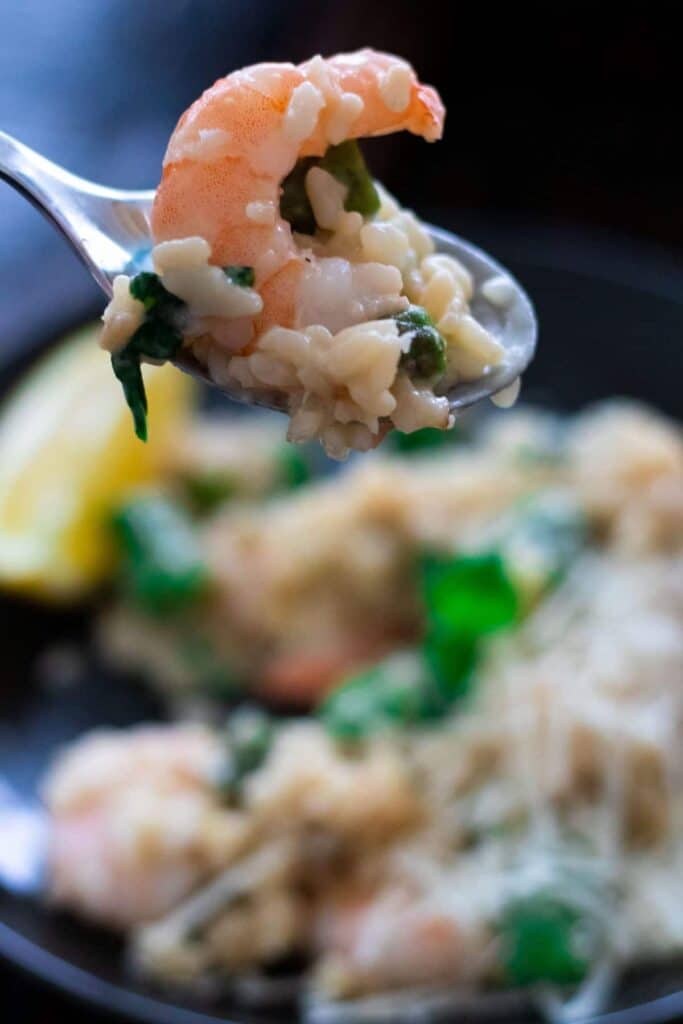 Don't Cook Your Risotto Too Long
Now, finally, and maybe most importantly – don't overcook your risotto. The trick here is that you have to take it off the heat before you think it's done. Otherwise you will most likely overcook it.
So, after cooking it for about 14 minutes, when you're about to run out of stock, start tasting the rice about once every minute. When it's finished it should still have a solid core, but not be too hard. There should just be a touch of texture left in the middle. If the rice is soft all the way through it will be overcooked.
This is somewhat scary – but just take the plunge and take it off the heat when you're not quiiiite certain it's done. I promise, if it's cooked for 16-18 minutes and you're out of broth, it most likely is. Never once have I ended up with a noticeably undercooked risotto – but several times with an overcooked one…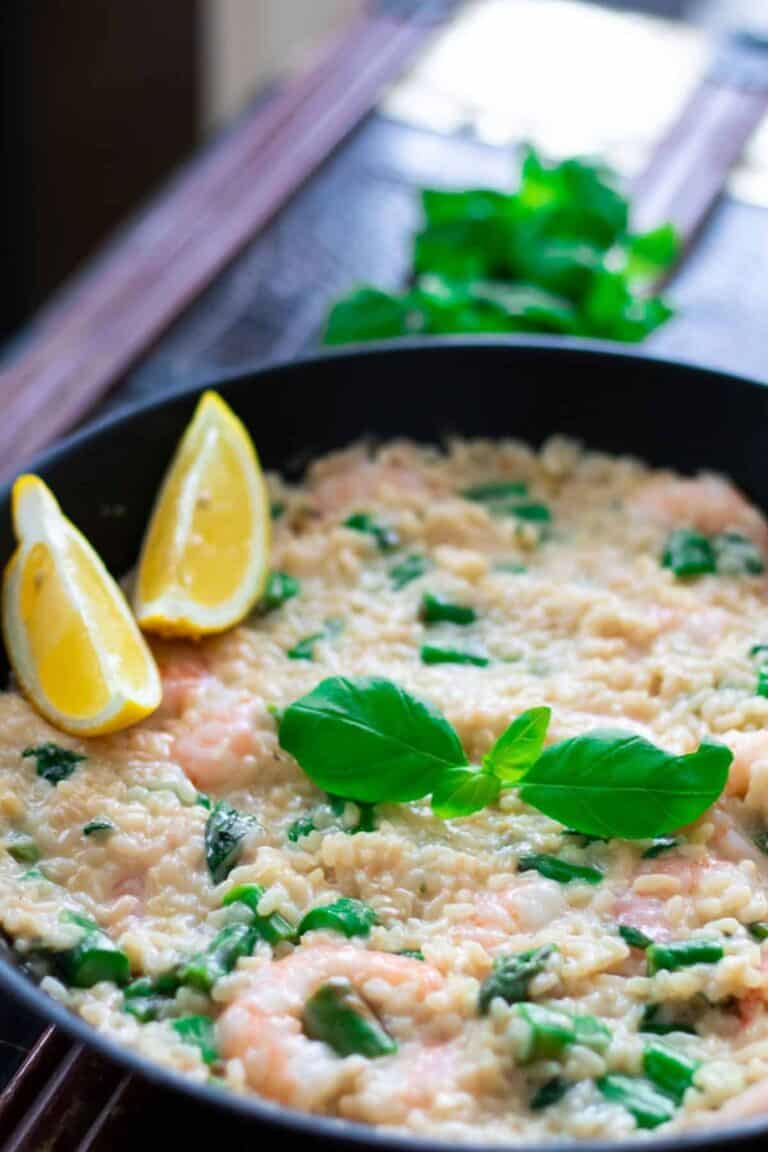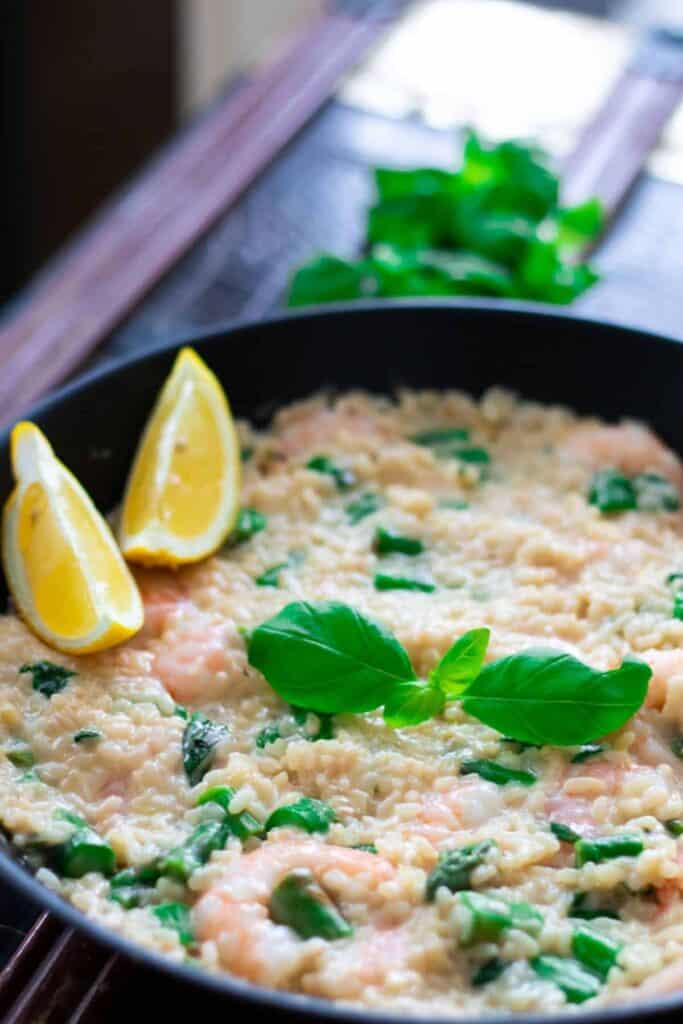 Do you have any other tips for making a perfect risotto? Help the other readers out – leave a comment below!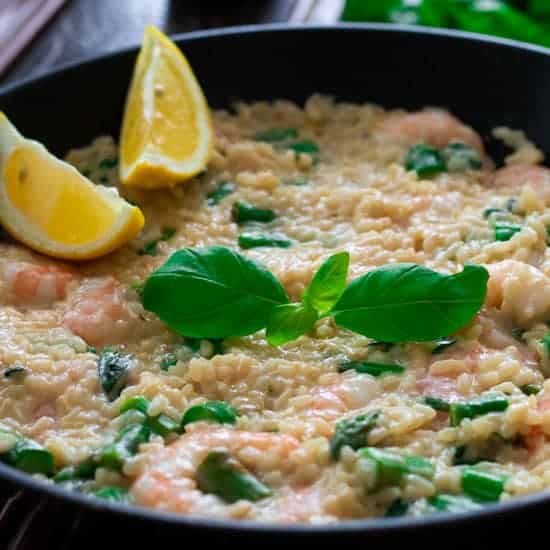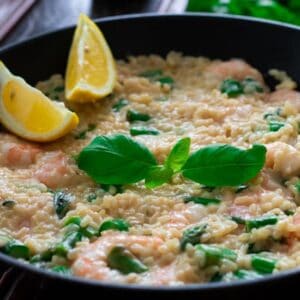 Ingredients
1

Tbsp

butter

2

shallots

finely chopped

2

garlic cloves

peeled, in one piece but slightly crushed

125

g

Avorio rice

or other risotto rice

200

ml

dry white wine

400

ml

fish stock

75

g

parmesan cheese

finely shredded

100

g

large shrimp

peeled and defrosted

100

g

asparagus

cut in bite-size pieces

0.25

lemon

juice of

10

g

fresh basil

chopped

salt & fresh ground black pepper

according to taste
To serve
parmesan cheese

shredded

0.5

lemon

cut in wedges

fresh basil

can be omitted
Instructions
Melt the butter in a large pan over medium-high heat. The pan should preferably be low and wide, but other pans work as well.

Add in the shallots and garlic and fry until the shallots are softened, about 2 minutes.

Add in the rice and fry until

the

butter has been absorbed by the rice, a few minutes.

Make sure the heat is on high. Pour in the wine and cook until almost completely absorbed. Stir constantly.

Remove the garlic cloves, add in 100 ml or about half a cup of fish stock, and stir. Place the rest of the fish stock in a separate pan over low heat to keep it wam.

Lower the heat for the risotto to where it's just simmering,

and add in the rest of the fish stock slowly over the course of 16-18 minutes, adding about 100 ml or half a cup when the previously added liquid has been absorbed. Stir often, almost constantly, and carefully with a large spoon.

The risotto is finished when it's cooked almost through – there should still be a solid core in the middle of the rice. When the risotto is finished, remove the pan from the heat and mix in parmesan, lemon juice and chopped basil. Then add in the shrimp and asparagus and mix well. Let sit for a few minutes to allow the shrimp and asparagus to heat up. Add salt and pepper to taste.

Serve immediately with fresh basil, extra parmesan cheese, and a lemon wedge.
Nutrition Facts
Shrimp Risotto with Basil & Asparagus
Amount Per Serving
Calories 631
Calories from Fat 153
% Daily Value*
Fat 17g26%
Cholesterol 166mg55%
Sodium 1687mg73%
Potassium 605mg17%
Carbohydrates 65g22%
Protein 34g68%
Vitamin A 1110IU22%
Vitamin C 30.1mg36%
Calcium 628mg63%
Iron 6.4mg36%
* Percent Daily Values are based on a 2000 calorie diet.