This post may contain affiliate links, which are always marked with *. Please read my disclosure for more information.
Dark Chocolate Salted Caramel Meringues are the upgraded Meringues you've waited for - sweet & perfectly crisp with delicious chocolate & caramel flavors, and just a hint of salt. It's impossible to have just one! Or five. Or ten... Perfect to serve with the coffee after an all-too-big dinner, to incorporate in other desserts or just have them on their own. Just make sure to make a lot of them...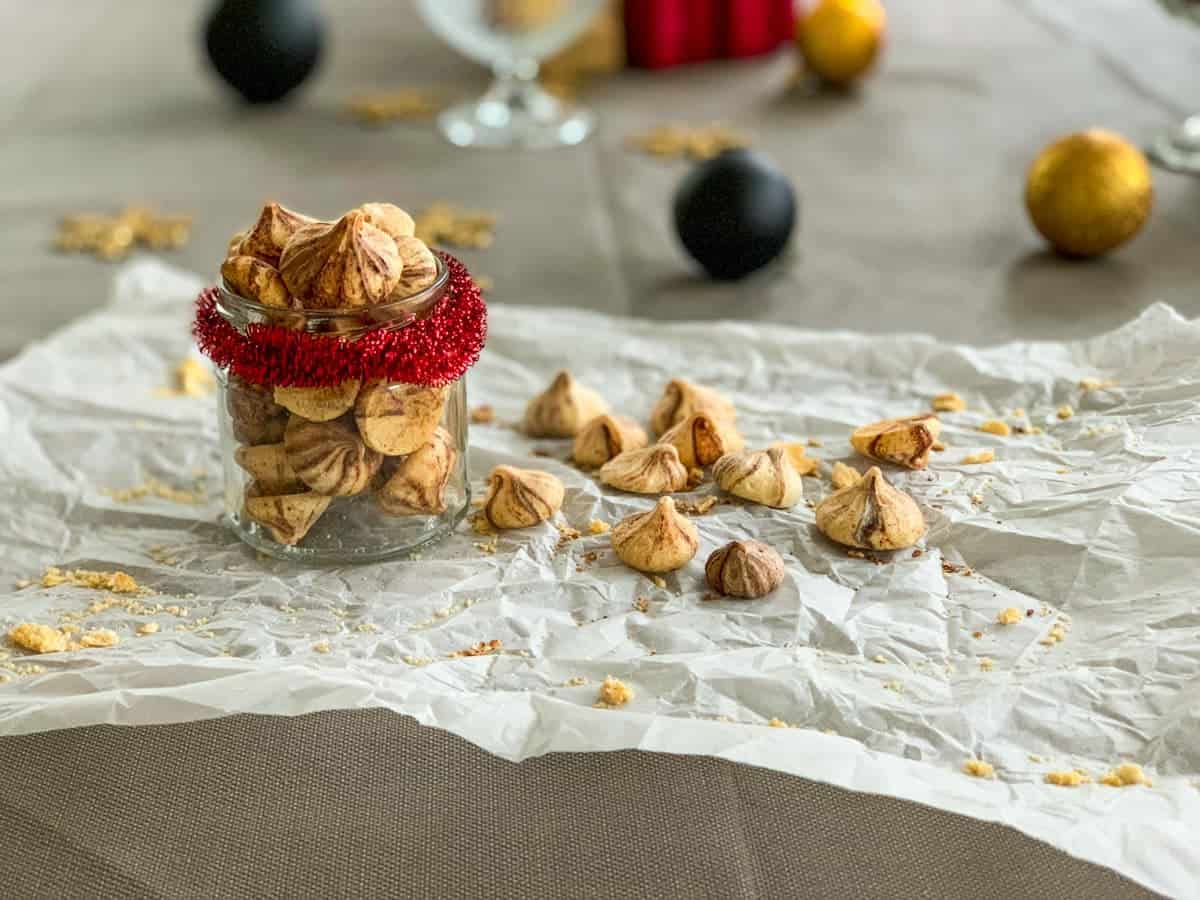 I've never been a meringue person. I never really got it. Or well, I never really got the small plain, white meringues you buy at the supermarket. I do however remember getting big, white meringues topped with a chocolate drizzle at a bakery near where I grew up, and loving them
Not to mention the soft Italian meringue used to top lemon meringue pies or lemon tartlets...
But since I use a lot of egg yolks in my cooking (hollandaise, bearnaise and carbonara being my very best friends) I always have a lot of egg whites just sitting there, going bad. Because if meringues haven't been my thing, I'm even less of a fan of white egg omelets (I mean, I'm not even a fan of regular omelettes! And then you remove the only good part - the egg yolk - and try to get me to eat THAT? No way.). So I figured, I probably need to start making meringues anyway. Hate throwing away food, even if it is just egg whites.
And so, after a quick discussion with my baker-extraordinaire-coworker (or actually, as of last Friday, EX-coworker - yep, I'm what we call self-employed these days) about the best way to make meringues, I started up the Perfect Meringue Project.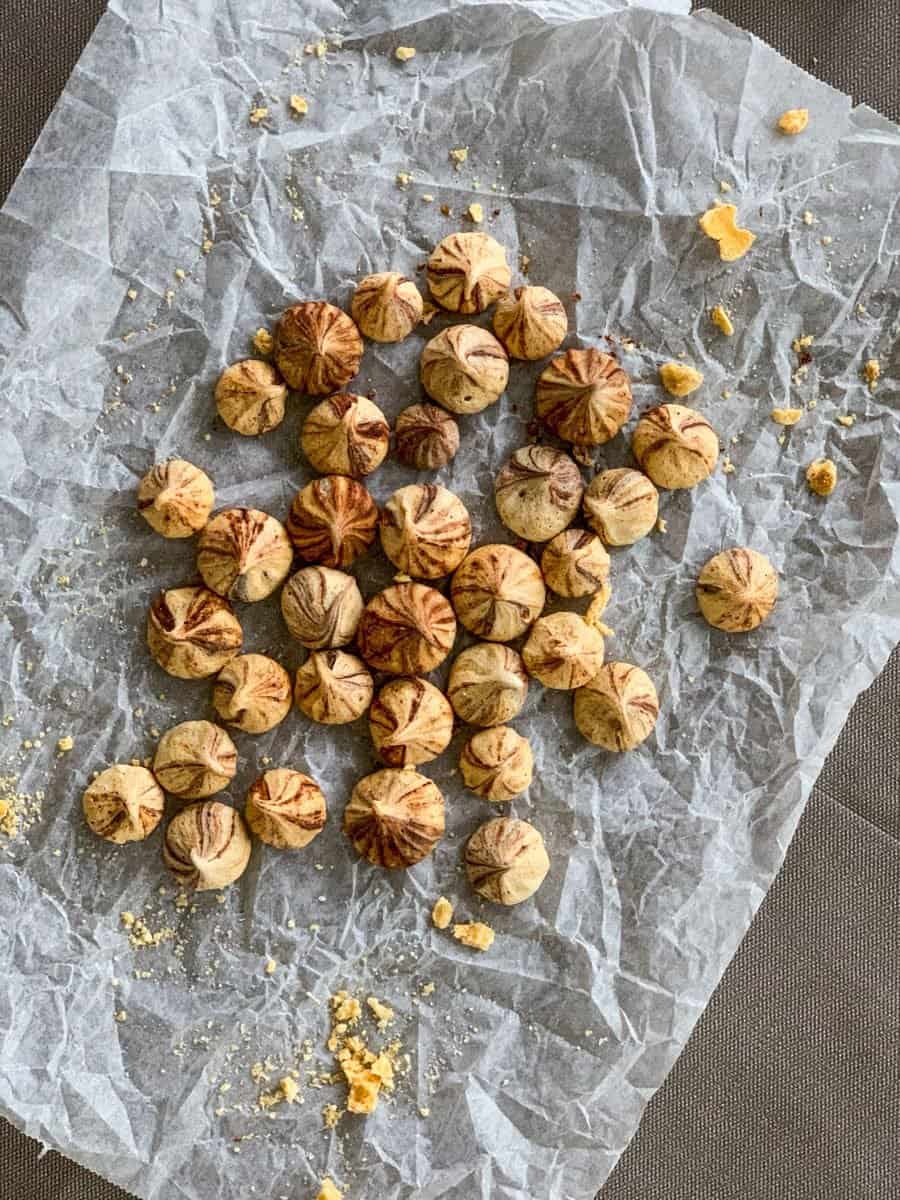 One trial bake in I changed my stance on meringues, and now I more often have egg yolks left over in the fridge than egg whites. Figures the homemade kind really has very little in common with the store-bought kind, which I could probably have guessed, but anyway. I've now made and re-made and perfected this recipe & my meringue making technique (Again, with some help from Alexandra. Trying to get her to start a blog but she just won't. She's still my go-to person for baking tips though so I'll likely share more of her tips & tricks here in the future.)
OK, well soon move on to Making Meringues. But first, let me go a little wikipedia on you and establish what kind of meringues we're actually making here.
The difference between Italian, Swiss and French Meringue
Maybe you never knew there even was a difference - or maybe you know there's something, but aren't quite sure what. Either way - read on to find out what to use the different varieties for, as well as how to make them.
What to use Italian, Swiss and French Meringue for
Before exploring the subject further, I always though Swiss & Italian Meringues were softer than French Meringues by default. These two are the kinds you most commonly see on top of cakes, pies and tartlets and well, they're always soft. But actually, they're the more stable kinds. Think about it - without baking, they still sit beautifully on top of a lemon meringue pie or lemon tartlets, and can even withstand the heat of a blowtorch for those pretty burned peaks. And while Swiss Meringue is a bit denser, Italian Meringue is fluffy yet stable enough to withstand these previously mentioned trials.
The hard French Meringues have instead been baked for a long time on low heat, ensuring a crisp exterior and, hopefully, a slightly chewy interior.
So for hard, crispy meringues, the slightly easier process of making French Meringues make them the easy choice. For a soft, non-cooked meringue, it's close between the Italian and Swiss variety. If you're worried about salmonella, then the Swiss meringue is a good choice, as the eggs have been heated enough to kill any germs. This however makes the process a bit more tedious, so if you're certain your eggs are salmonella free, then the Italian meringue is the easier choice.
How to make Italian, Swiss and French Meringue
While the ingredients for all three kinds of meringue are about the same, the process differs a bit. Making Italian and French meringues both start out with whipping egg whites until they're hard and peaky - you might be familiar with the common test to turn the bowl upside down to make sure they're done (But please don't do this unless you're pretty sure or you'll have egg whites all over yourself. Maybe try to just lean the bowl a bit to either side first, OK?).
After the whipping of the egg whites comes the big difference. For French Meringues, you slowly incorporate sugar into the egg whites. For Italian Meringue, you instead mix the sugar with water and heat to get a syrupy mixture, and incorporate this into the egg whites while still hot.
For the Swiss meringue, you instead start out by gently beating the egg whites with the sugar in a water bath (in a heat resistant bowl over a pot of boiling water - the bowl shouldn't touch the water). When the sugar is completely dissolved and the mixture has reached at least 79 C/175 F, you take the bowl off the heat and beat the mixture at high speed until voluminous and then at a lower speed until it's cooled and very stiff.
Then, as you know from the previous section, what you do with the meringue at this point varies with the three kinds. Bake until crisp or top a cake? Choose your meringue accordingly!
Now if you want to try your hands at an Italian Meringue - this recipe for Italian Meringue looks nice. If Swiss is where you're at today I think this recipe for Swiss Meringue will do the trick. But if it's French Meringue you're after - then read on to find out how to make the perfect french meringues!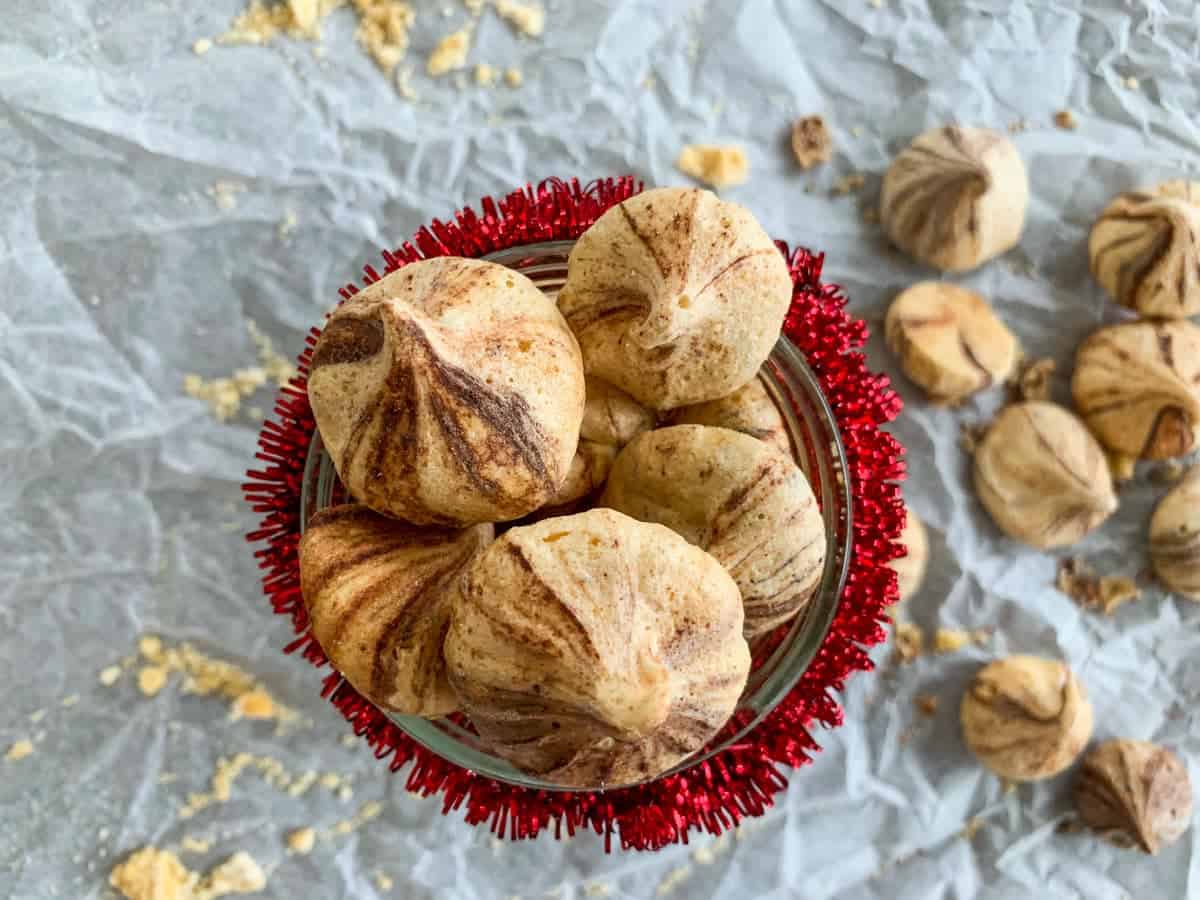 How to make Perfect French Meringues
Making french meringues can seem hard, and I don't think I'm the only one who's failed at it at least once or twice. I remember once as a kid I wanted to make meringues but it never got stiff, so I just decided it was finished and stuck it in the oven. Problem was, it was more like an egg white-sugar soup than meringue batter at that point, so it didn't turn out too well. Actually, turned out really bad. Not my proudest moment, but I was like 7 so I've forgiven myself by now. (Don't worry, I've failed with french meringues as a grown-up as well. As late as a few weeks ago. I've forgiven myself for that as well.)
However, if you just follow a few basic rules you'll be able to succeed with your meringues every time. I therefore give you the 7 French Meringue Commandments:
Never use a plastic bowl for making meringues. Always use either glass or stainless, and make sure it's newly washed so there is no fatty residue on it. Fat is stable egg whites worst enemy and a sure way to fail with meringues.
Use room temperature eggs - when in doubt, always go for room temperature. And here it will save you time - warmer egg whites just get whipped a lot faster.
Add something acidic - like lemon juice, white wine vinegar or, in Sweden, a special, strong, type of vinegar called "ättika" (my relatives always bring it from Sweden, so I don't think there is an American equivalent). This helps ensure a stable end product that will stay the shape you make it. Something with the egg proteins and the pH-level - all you really need to know is that it makes it better!
Whip the egg whites on their own first, togther with the acidic component, until they're hard and peaky and can withstand the bowl-upside-down test. Some recipes call for adding some sugar from the beginning, but this is just cray-cray. Don't do it, or you'll be whisking for days!
Add in in the sugar sloooooowly. Really slowly. Like a tablespoon at a time, or even less. If using both regular sugar and confectionary sugar, add in the regular sugar in this slow manner, and then sift in the confectionary sugar and carefully stir it in with a large spoon.
Let the steam out. Depending on what type of oven you're using (this is the only time I'm happy about my old-school-non-convection oven - no steam for me!) - open the oven door and let any steam out once halfway through baking. If you're not sure what kind of oven you have, it won't hurt to open it once in the middle just in case.
They take their time in the oven - 1.5 hours (and that's for small meringues!) might seem like an eternity but keep in mind the temperature is low, and the end result will be delicious. Take them out earlier and they will not just be chewy i the middle, they will be underdone. Not the same thing! An easy test to see if they're done is if you try to pick one up from the baking sheet and it comes off easily, if it sticks or comes apart you know it needs a bit more time.
How to make Dark Chocolate Salted Caramel Meringues
Now, to make Dark Chocolate Salted Caramel Meringues you first make the Salted Caramel sauce according to the recipe below. This recipe will give you a bit more salted caramel sauce than is required for this recipe, but I don't think you'll mind (also, if you make a smaller batch it's easier to burn the sugar). Set it aside to let it cool a bit and then follow #1-5 of the French Meringue Commandments above. When you're happy with your meringue batter, set it aside for now. Then melt your chocolate (a really dark variety like 85% or so is delicious for this) in a water bath, meaning you place your chocolate in a heat resistant bowl over a pot of boiling water. It shouldn't touch the water. Then stir with a spoon as the chocolate melts, and once melted take it off the heat.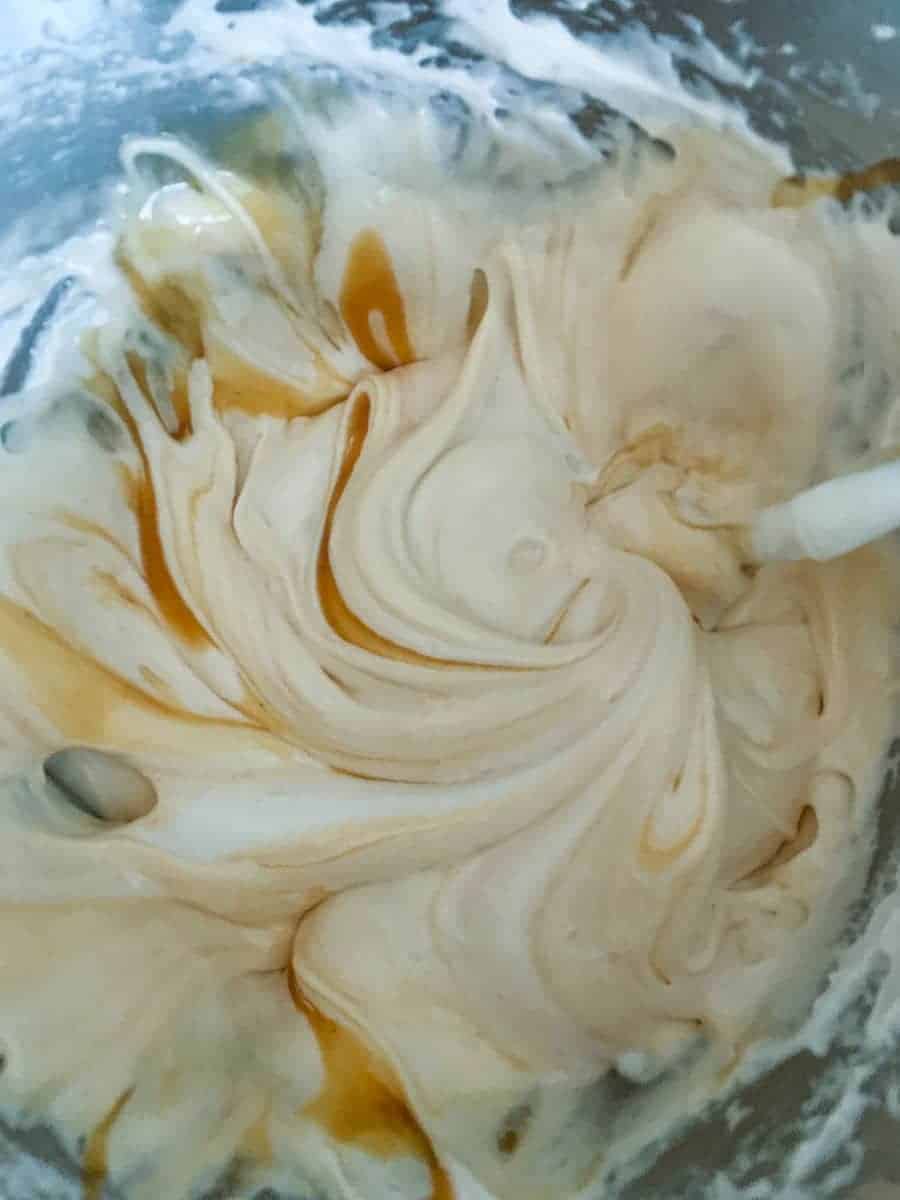 Now add a few tablespoons of the salted caramel sauce to the meringue batter, and stir. Then add a few more, and stir just slightly, so you can see some salted caramel "stripes" in the batter.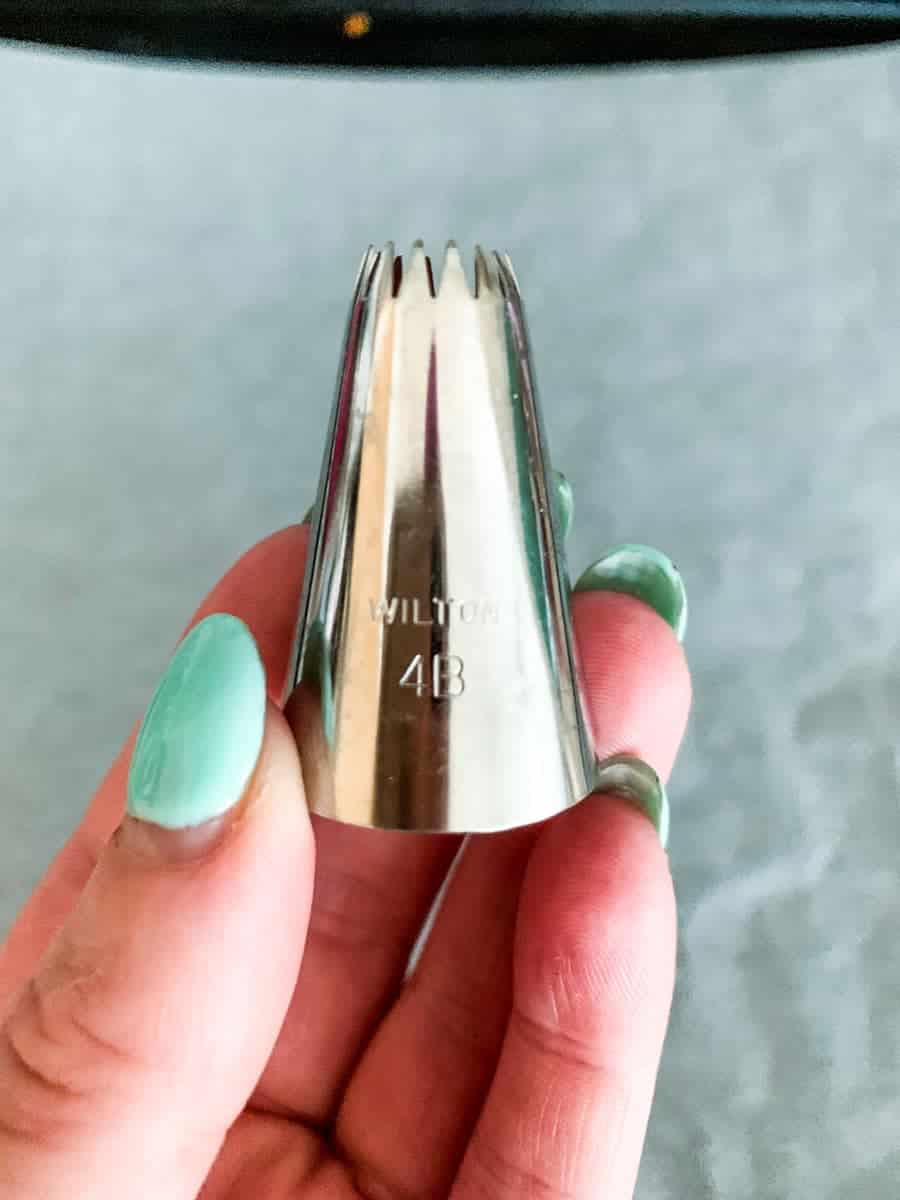 Then place a baking sheet on an oven tray and bring out your icing bag. Prep with your nozzle of choice (I used a Wilton 4B) and lace the icing bag with your melted chocolate - make sure you get it on all sides. Then spoon in the meringue and go to town. For perfect meringues, hold the nozzle still until you achieve your desired size (I like to make them quite small) and then just lift straight up and move on.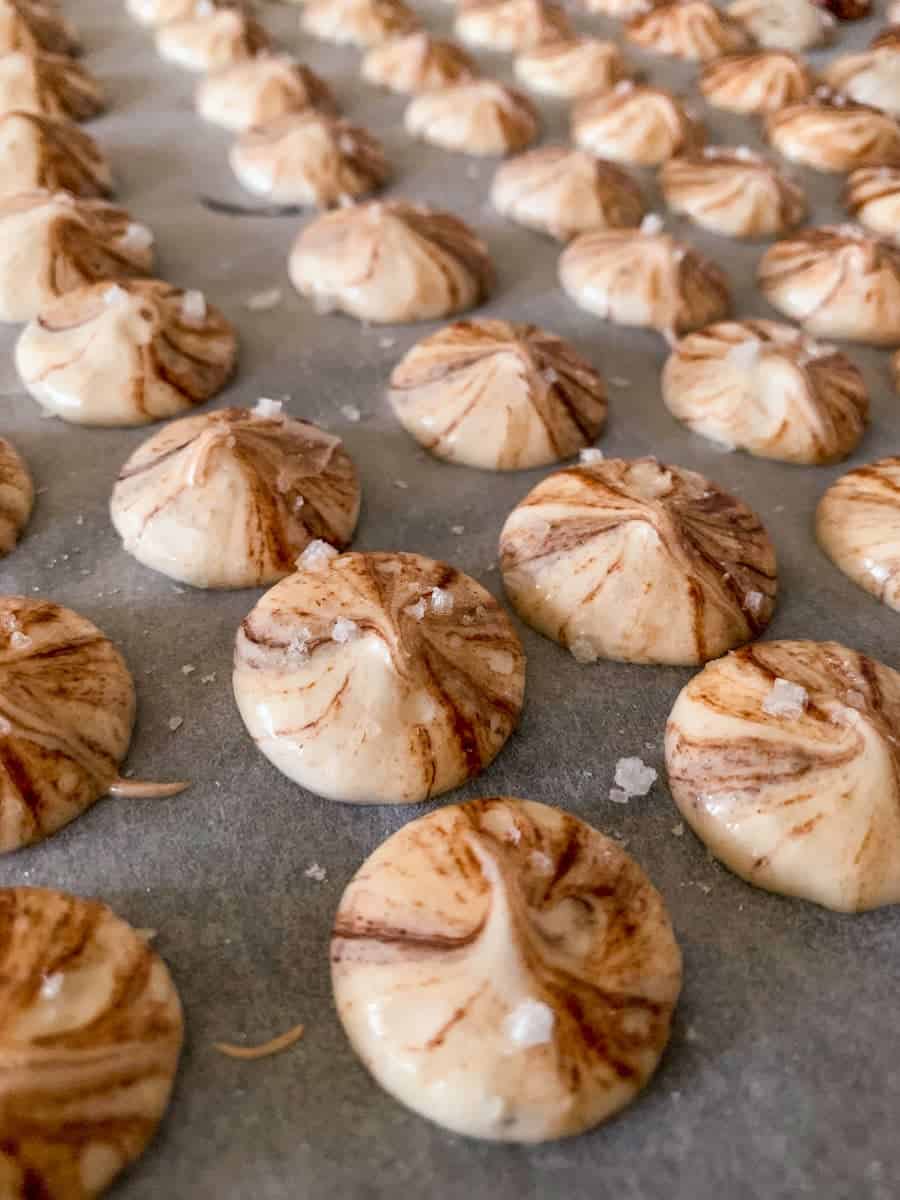 Once you've piped out all your beautiful meringues, top them with some sea salt flakes and bake at 100 C / 210 F for about 1.5 hours - of course following commandment #6 & 7 above.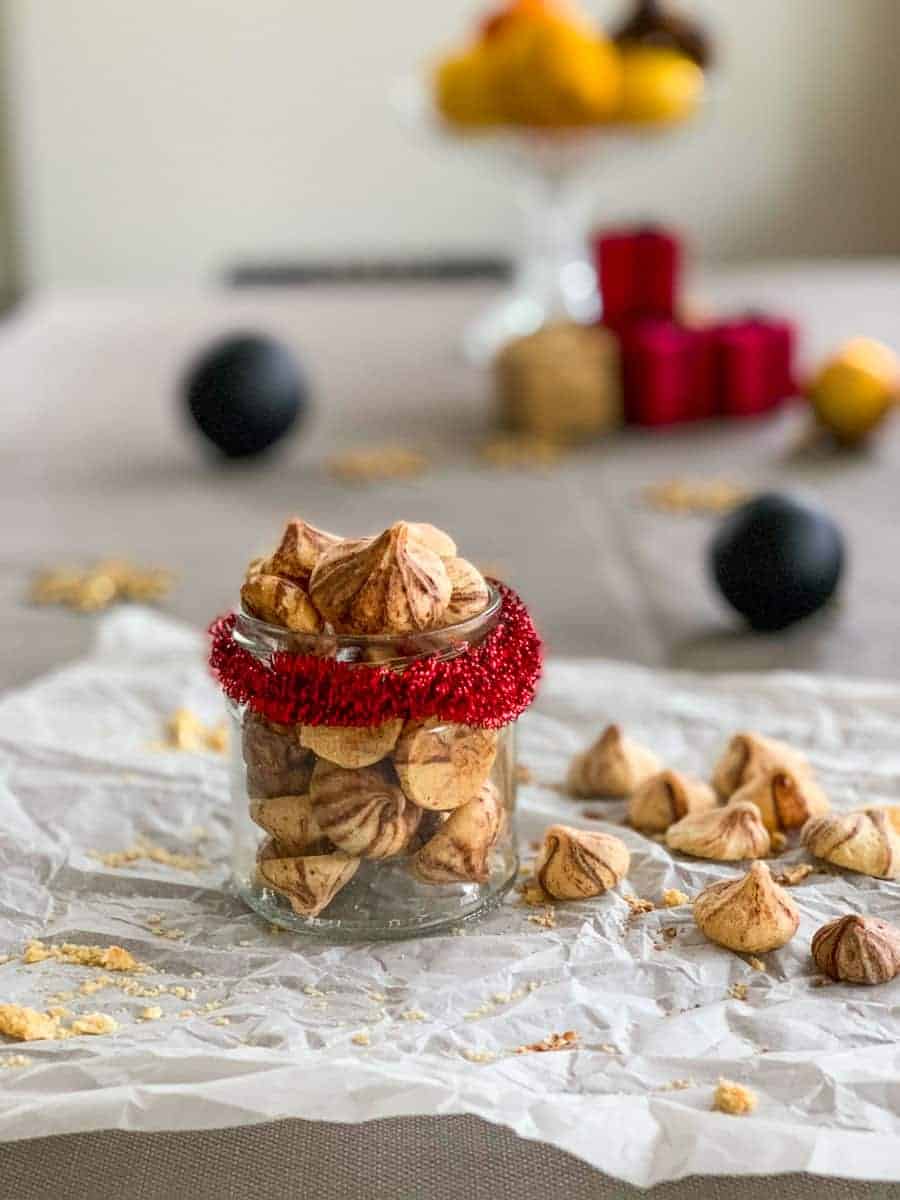 Now, that's about all you need to know to make these deliciously sweet & salty beauties. As always - I love hearing from you, so if you made this, please leave a comment and rating below! Or just leave a comment anyway and let me know what you think. And if you share your creation on Instagram - please tag me @alwaysusebutter and use the hashtag #alwaysusebutter! Not ready to make it just now? Pin it so you don't forget about it!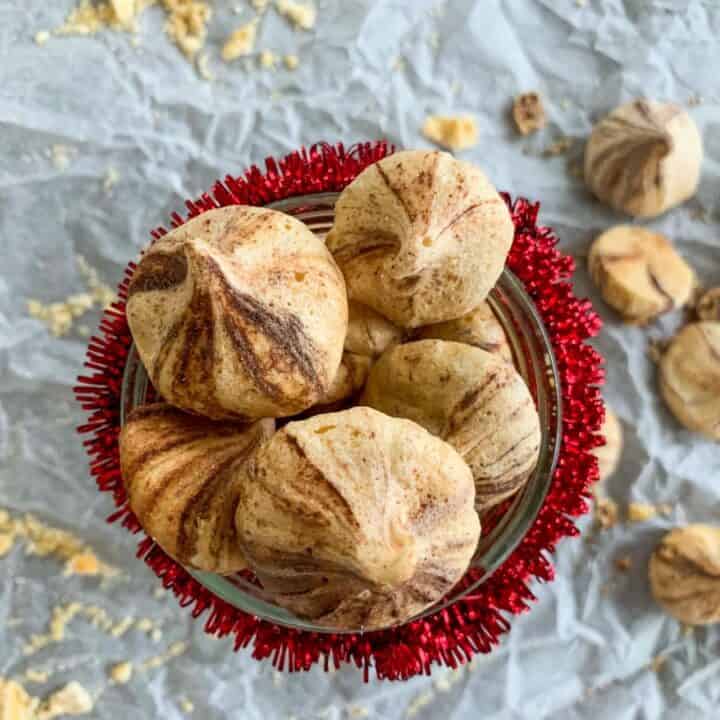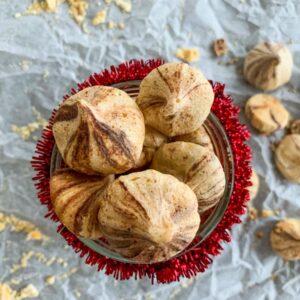 Ingredients
French Meringue
2

egg whites

60-70 g/2-2.5 oz, at room temperature

1

ml

white wine vinegar

can be substituted for lemon juice

75

ml

sugar

60 g/2 oz

75

ml

confectioner's sugar

40 g/1.4 oz
Salted Caramel Sauce
2

Tbsp

water

100

ml

sugar

100 g

75

ml

cream

2

Tbsp

salted butter

30 g, cut in small pieces, at room temperature

1/2

tsp

vanilla powder

1/2

tsp

salt

or to taste
Instructions
Salted Caramel Sauce
Mix the water and sugar in a saucepan and place over medium heat. Stir constantly until it starts to boil, then stop stirring completely.

Increase the heat to high and remember not to stir. This ensures you get a smooth sauce without sugar crystals. Let the mixture boil until the color has changed to a light brown or amber color, this takes about 5-10 minutes - keep a close watch. Remember, don't stir. If the coloration comes out uneven you can instead tip the saucepan slightly to either side to gently mix it.

Once the color is right, remove the sauce from the heat and slowly mix in the cream. Be careful as you do this, as the mixture might bubble up a lot. Then mix in the butter until melted, followed by vanilla powder and salt. Taste test and add more salt if desired.

Set the salted caramel sauce aside for now and let it cool a bit before using for your meringues.
French Meringue
Start by bringing out a glass or stainless steel bowl and wash it to ensure no fatty residue, as this will beak the meringue. Dry the bowl off.

Place your egg whites and vinegar in the bowl and mix together with an electric mixer, starting on a low setting and increasing the speed as the egg whites foam. Mix until firm (this should take 5-10 minutes)- check by removing the mixer and making sure the peaks formed stay in place, or by carefully turning the bowl upside down and making sure it all stays in place.

Once the egg whites are firm, continue mixing and add in the sugar a little at a time. Add no more than 1 Tbsp at a time, and then mix well and ensure the batter is still firm before adding more sugar. Repeat until all regular sugar has been added - not the confectioner's sugar.

Finally, turn the electric mixer off and add in the confectioner's sugar. Mix gently with a large spoon. Set the meringue batter aside for now.
Dark Chocolate Salted Caramel Meringues
Set the oven for 100 C/210 F.

Break the chocolate into smaller pieces and place in a heat resistant bowl. Place the bowl over a pot of boiling water - it should not touch the water - and stir until the chocolate has melted. Let cool for 5 minutes before using.

While the chocolate is cooling, place a baking sheet on an oven tray. Then bring out your pastry bag and your icing nozzle of choice (for example a Wilton 4B). Prep the icing bag and set a clamp just above the nozzle so your batter won't drip.

Mix in 2 Tbsp of the salted caramel sauce with the french meringue batter. Then add 2 Tbsp more, but only stir it slightly, so you can still see some salted caramel streaks.

When the chocolate has cooled a bit, lace the inside of the pastry bag with melted chocolate. Don't use too much, you don't want a pool of chocolate in the bottom (this will make your first meringues melt in the oven), but make sure you have chocolate on all sides.

Spoon in the french meringue batter in the pastry bag, remove the clamp and pipe out your

meringues on the baking sheet. Make nice-looking meringues by holding the nozzle straight and lifting straight up when you're happy with your meringue.

Top the meringues with some crushed sea salt flakes, and bake in the middle of the oven for about 1.5 hours. Open once halfway to let out any steam. The meringues are finished when they are easily lifted from the baking sheet.
Nutritional information is approximate and automatically calculated, and should only be viewed as an indication.