This post may contain affiliate links, which are always marked with *. Please read my disclosure for more information.
Chai Latte is super easy to make at home and delicious even when made sugar free - just make a batch of Chai Masala and you'll be able to make a nice Chai Latte in just 5 minutes all through winter.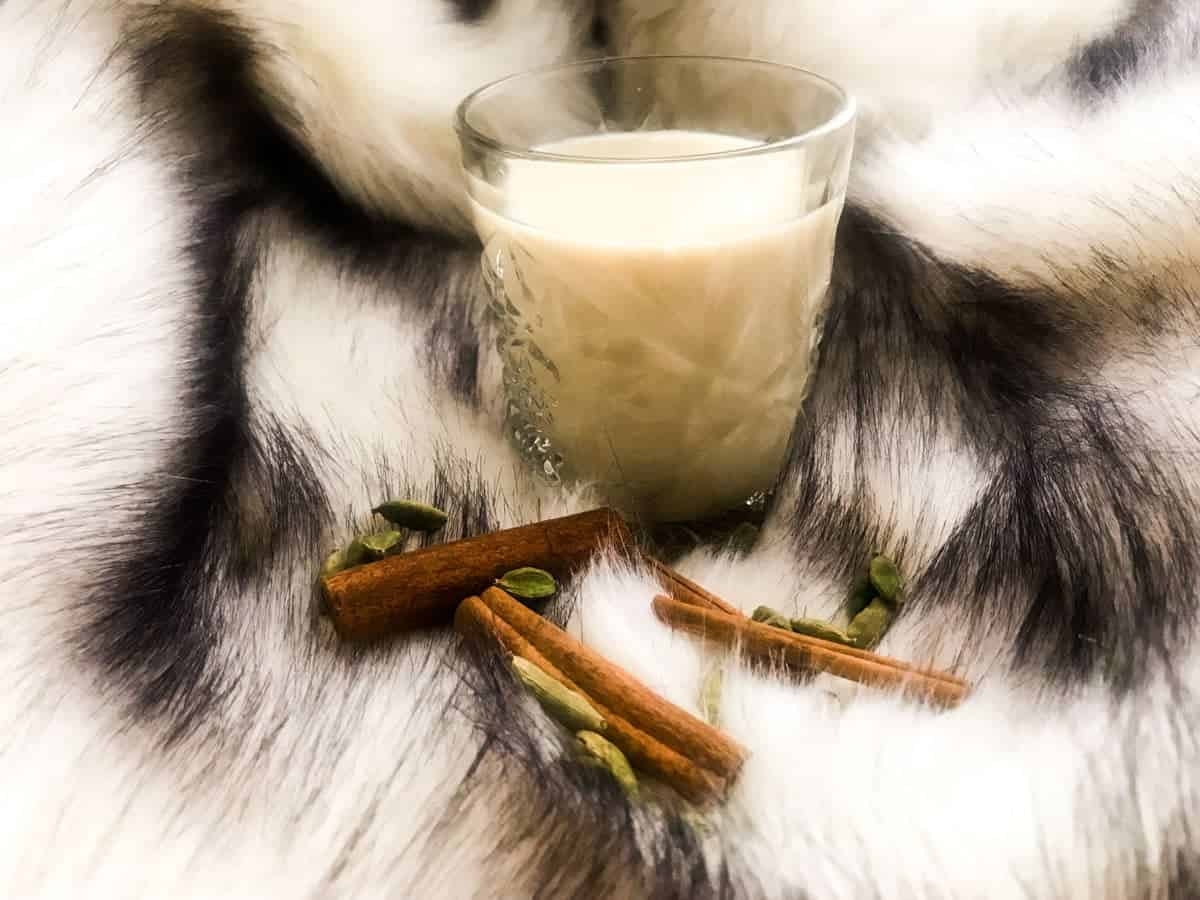 Today I'm really excited to share one of my absolute favorite recipes with you. It's without a doubt the one recipe I've made the most number of times, and it's one that always makes me so happy. It's like a hug in a cup (or a glass)! And I've made it almost every day the past 10 or so winters. And all thanks to Heroes.
Do you remember? The superhero TV show featuring a supercute Milo Ventimiglia (this was just after I finished watching Gilmore Girls the first time around and I was SO obsessed with him) and the phrase "Save the Cheerleader, save the world!" as well as a decent amount of conspiracies and other weird stuff (my favorite!)?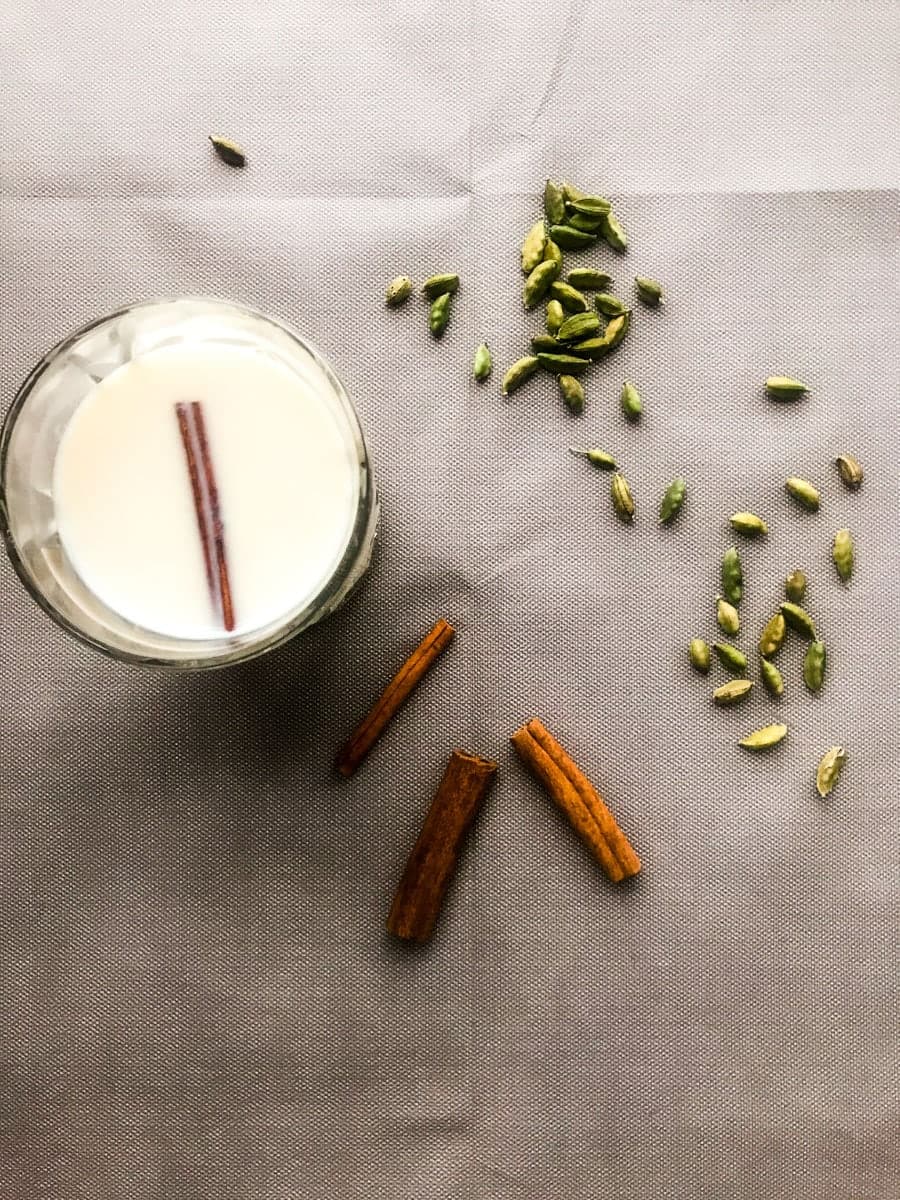 Anyway. I have this weird-ish thing I do where whenever I binge a TV show I become obsessed with whatever they're drinking and end up bingeing on that as well.
Exhibit A: Gilmore Girls. They had a lot of coffee, I had a lot of coffee.
Exhibit B: Mad Men. They had a lot of whiskey. I had a lot of whiskey. (And I don't even like whiskey!)
Exhibit C: Desperate Housewives. There was a lot of wine. (I also started baking like a mad woman during this period, so maybe this pattern doesn't solely apply to beverages...)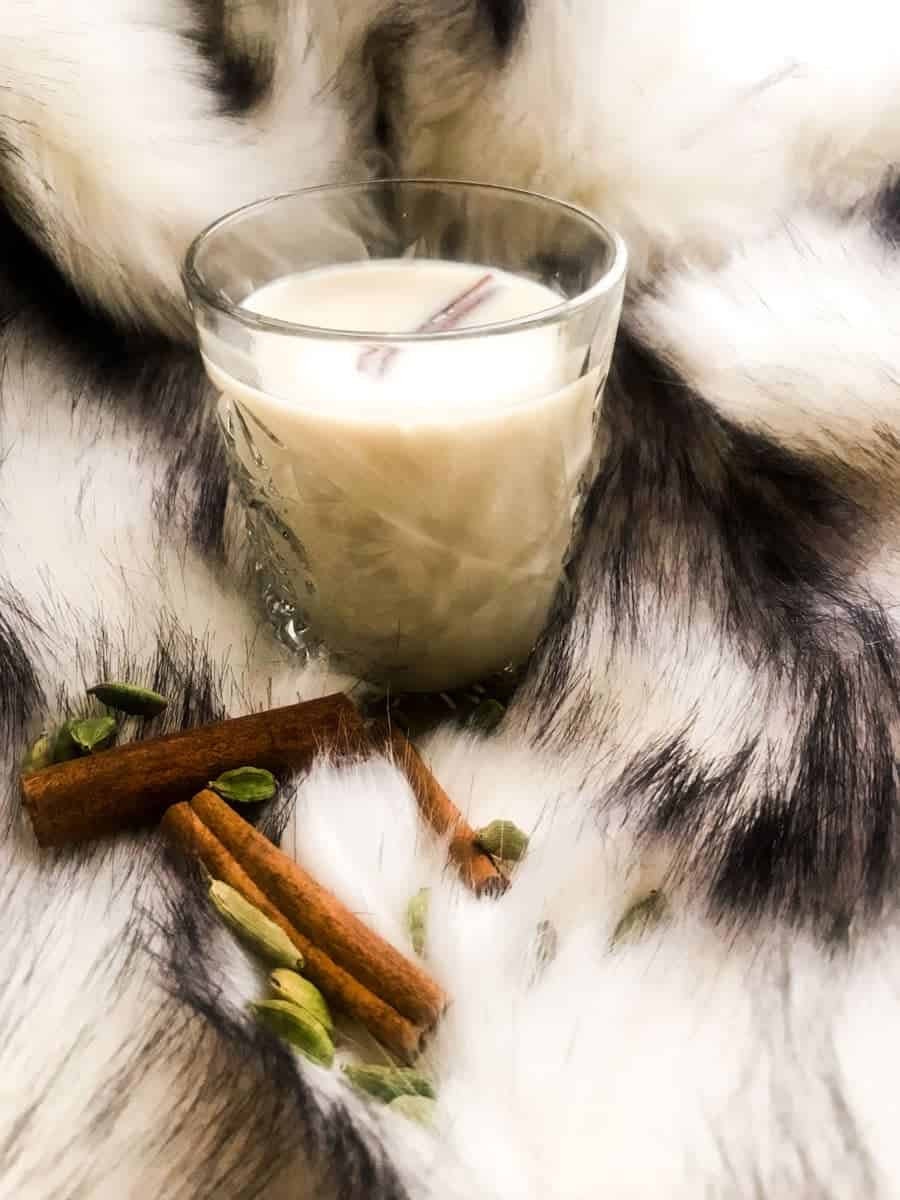 And while not everyone in Heroes had Chai, there was one character (as I remember it he was also kinda cute and one of the really good guys?) who had it. All. The. Time. And it looked so damn cosy. So, I taught myself how to make it, and since then I've been bingeing on my own Chai Lattes all through winter, every winter.
And now I'm ready to teach you! I'm not sure if this recipe is even close to authentic - but it's easy, and it's really good, and in my book that weighs up any in-authenticity.
First off, make the Chai Masala. Chai Masala is the spice blend that makes the Chai Latte so deliciously fragrant. There are quite a few spices you need for it but they're pretty easy to find, so you should be fine. And once you've made the Chai Masala you're all set for about 40 cups of Chai Latte!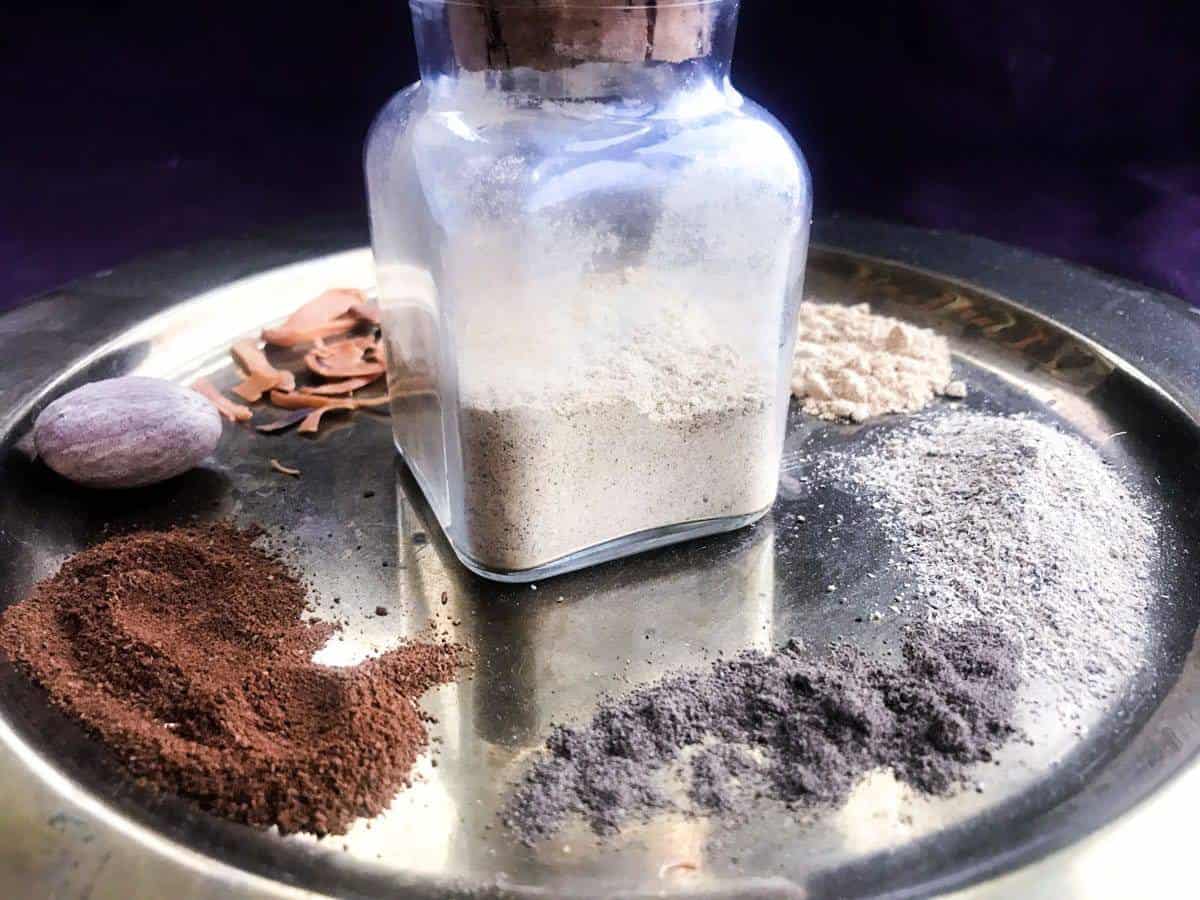 After making the Chai Masala comes the actual "making the drink" part. There are a few steps involved and it all starts with a pot of boiling water. Add in the Chai Masala and, if you like, a cinnamon rod and a few green cardamom pods as well. Then comes the milk, and the sugar if you like it sweeter, a quick boil, and then the pot is taken off the heat.
Taking it off the heat at this stage is important! Because now, you add in the tea leaves, and you don't want them to boil. If they do, they'll give off a bitter taste that's just nicer to avoid. But all you need to do to achieve a non-bitter version is really to take the pot off the heat before adding the tea. Let it sit for a minute or two, depending on how strong you like it, and then strain into a glass or mug. And that's really all there is to it.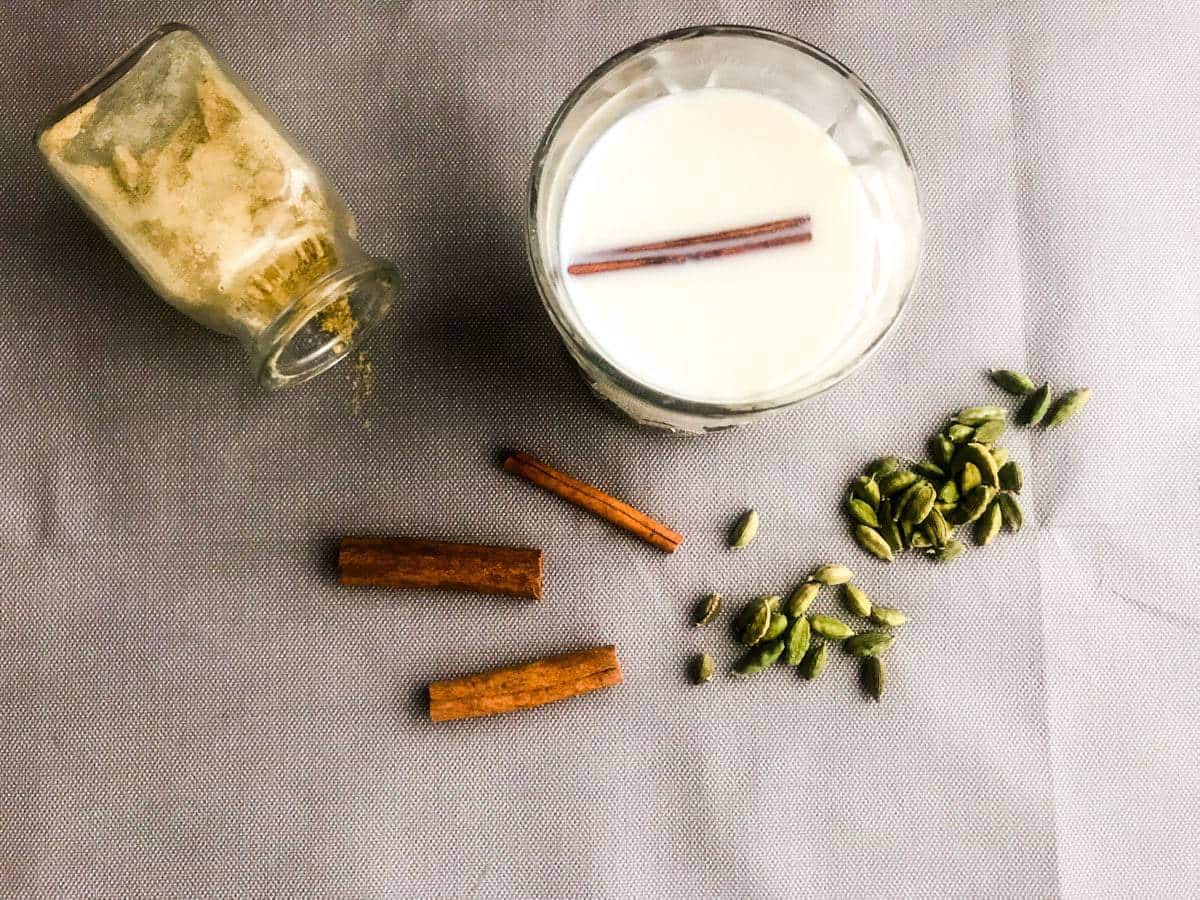 While the milk adds a bit of sweetness, adding a bit of sugar as well makes the Chai Latte a real treat. I like to add it when I'm feeling indulgent, but I just as often leave it out. Without the sugar this Chai Latte is less indulgent than even a regular Café Latte, but with so much more taste!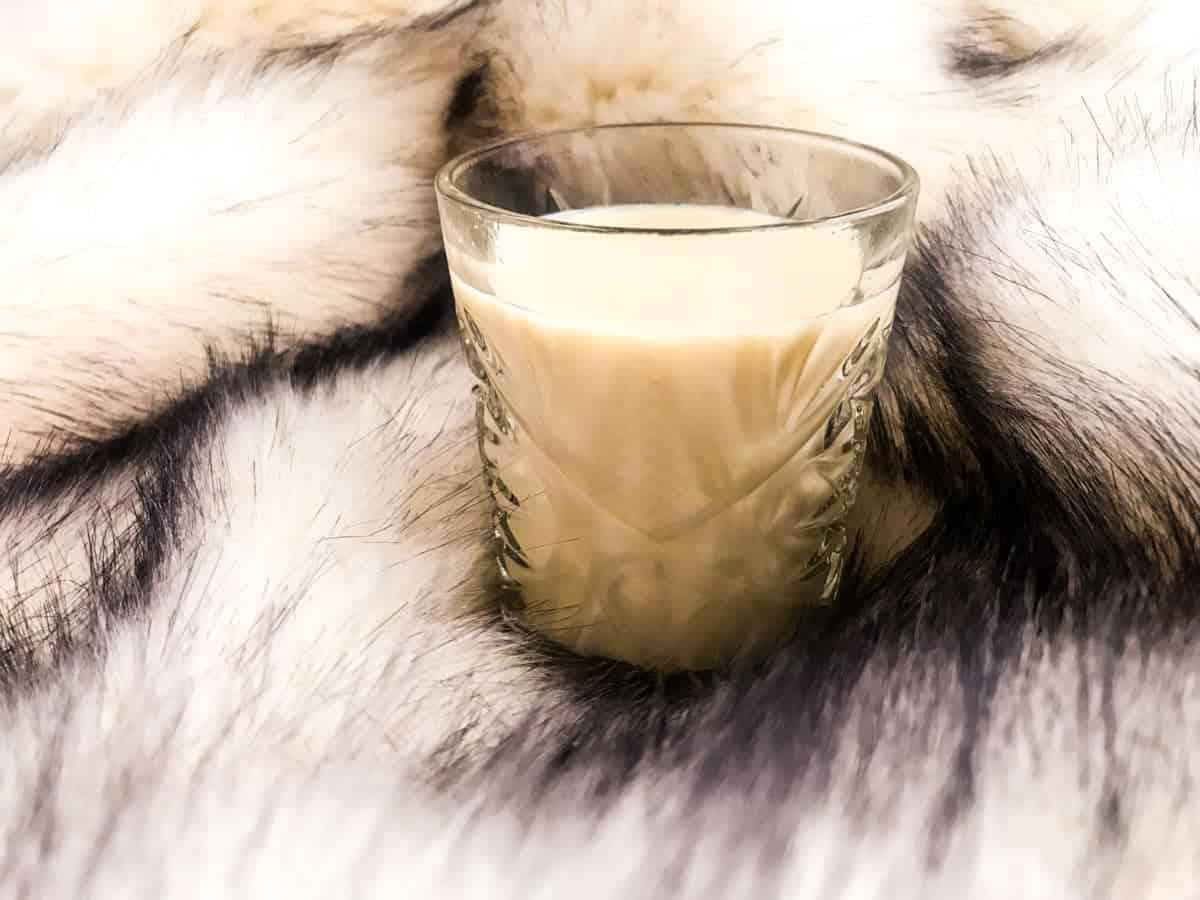 Now if there is anyone reading who knows something or other about authentic Chai Masala and what should go into making a Chai Latte - please let me know! Otherwise, I leave you with this my version of a Chai Latte - easy to make, and both a lot cheaper and healthier than the sugary & syrupy café versions.
Did you try this recipe for Chai Latte? If so - please leave a comment and/or a rating below, I love hearing from you! I also love seeing your creations - so please tag me on Instagram if you post it.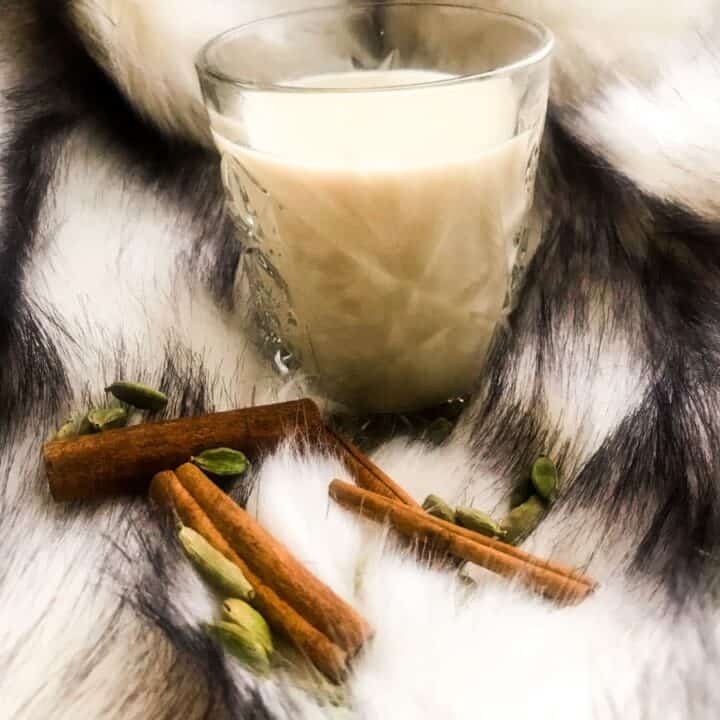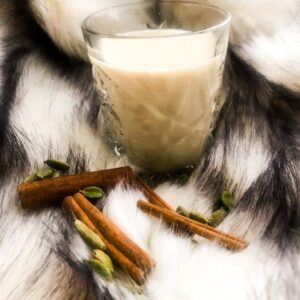 Ingredients
Chai Masala (makes 40 cups)
3

Tbsp

ground ginger

2

Tbsp

ground cardamom

1

tsp

black pepper

1

tsp

ground cloves

1

tsp

nutmeg

1

tsp

mace
Chai Latte (makes 1 cup)
200

ml

water

0.5

tsp

Chai Masala

1

cinnamon rod

can be omitted

2

green cardamom pods

can be omitted

100

ml

milk

1

tsp

sugar

optional

0.5

tsp

black Assam tea

or other neutral black tea
Instructions
Chai Masala
Mix together all the spices for the Chai Masala and store in an air-tight jar. It won't go bad for years but it might lose a bit of flavor if it sits for more than a year or so.
Chai Latte
Bring the water to a boil in a pot and add in the Chai Masala, cinnamon rod and green cardamom pods. Let simmer for a minute.

Add in the milk and sugar (optional), bring back to a boil and let simmer for a minute.

Take the pot off the heat and add in the black Assam tea (or other neutral black tea). Let sit for 1-2 minutes, depending on how strong you like your tea. Strain and serve immediately.
Notes
Nutritional information is for one cup of Chai without sugar. If adding 1 tsp of sugar, 16 calories and 4.2 g of carbohydrates are added.
The Chai Masala in this recipe is enough for 40 cups of Chai Latte - store it in an airtight container, it lasts as long as regular spices.
Black Assam tea is a traditional choice for Chai Latte, but I've made delicious versions with other kinds of black tea as well. English Breakfast tea works, as does a Chai flavored tea - just adds a little more of the chai flavor.
Sugar is highly optional - I add sugar when I make it as a treat, but for a regular Monday morning I make it without. It's delicious both ways!
Nutrition
Calories:
71
kcal
|
Carbohydrates:
7
g
|
Protein:
3
g
|
Fat:
3
g
|
Saturated Fat:
2
g
|
Cholesterol:
10
mg
|
Sodium:
54
mg
|
Potassium:
132
mg
|
Fiber:
1
g
|
Sugar:
5
g
|
Vitamin A:
162
IU
|
Calcium:
113
mg
|
Iron:
1
mg
Nutritional information is approximate and automatically calculated, and should only be viewed as an indication.