Non-alcoholic, delicious, healthy and quick & easy to make this Kombucha Passion Fruit Spritz is the perfect mocktail to serve at your next dinner party. A grown-up mocktail full of delicious passion fruit flavor and perfected by a salty & spicy rim - this is far from a kiddy drink.
Kombucha not your flavor? Check out the complete Mocktail Library for more tastes like Cranberry Ginger Ale Punch, Sugar-free Mojito Mocktails, Clean Cucumber Collins Mocktails or Lemon Ginger Mocktails instead?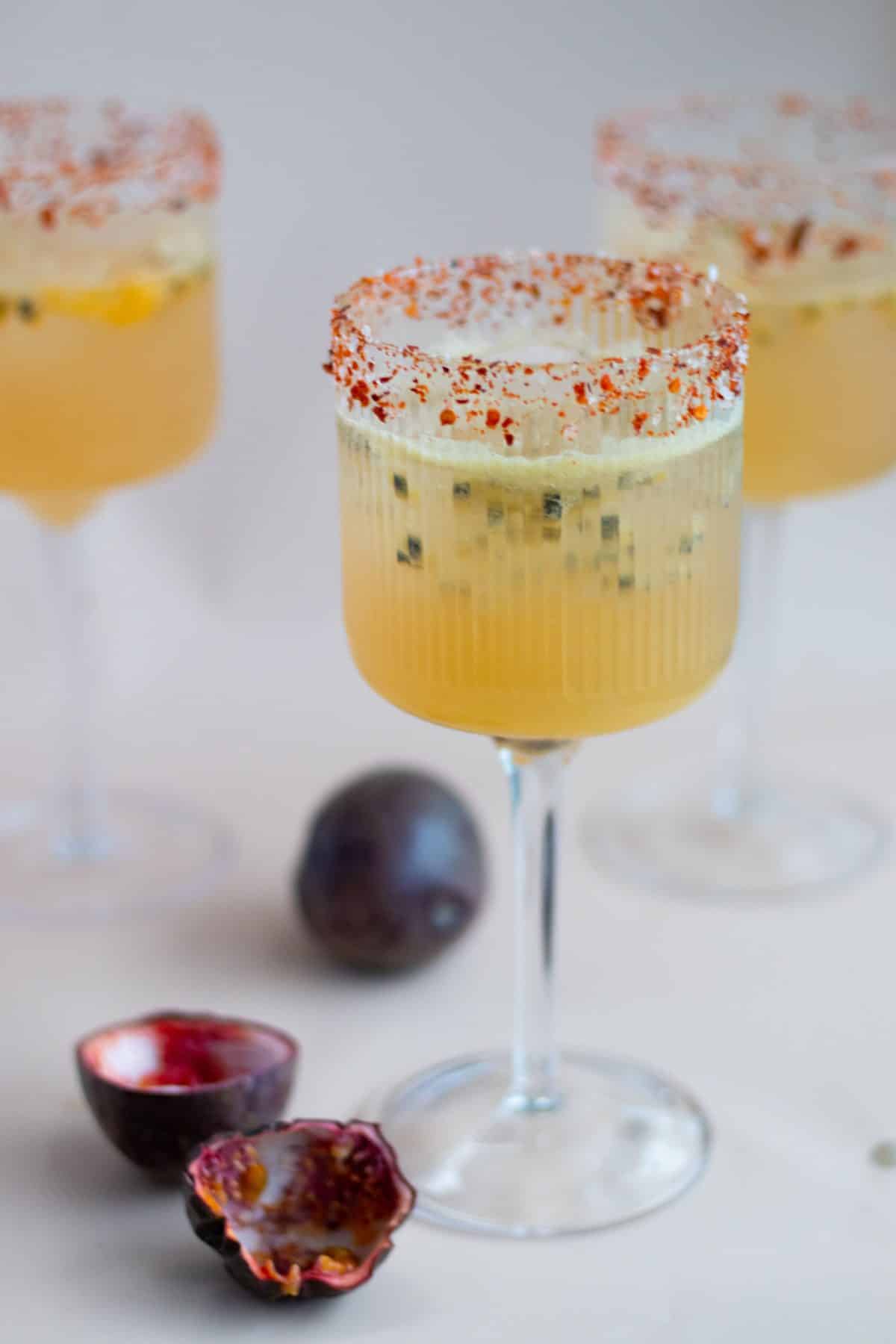 Feels like it's been a while since our last mocktail, doesn't it? Well, I've not forgotten about them - I've just been busy trying to create a yummy version with my new addiction: Kombucha.
Yeah, I know, I'm kinda late on the whole Kombucha train. But as late as I was, as quickly did I become seriously addicted to it. You know on the level that within a week of having it the first time (doesn't help that I tried the "Real Kombucha" from Royal Flush first of all - I've tried so many more after but this one is hands down the best I've had!) was I googling things like "maximum daily consumption of kombucha" and "is kombucha bad for you?".
(You in the same place? OK, I'll share: 1. There is no real limit but be reasonable, OK? Like, have some water inbetween. 2. No doesn't seem like it. Probably not good if you're pregnant and if you make it yourself you need to be careful - but that's about it. Some brands contain a lot of sugar though which is maybe not all that great for you. And all contain some sugar so you know, everything in moderation.)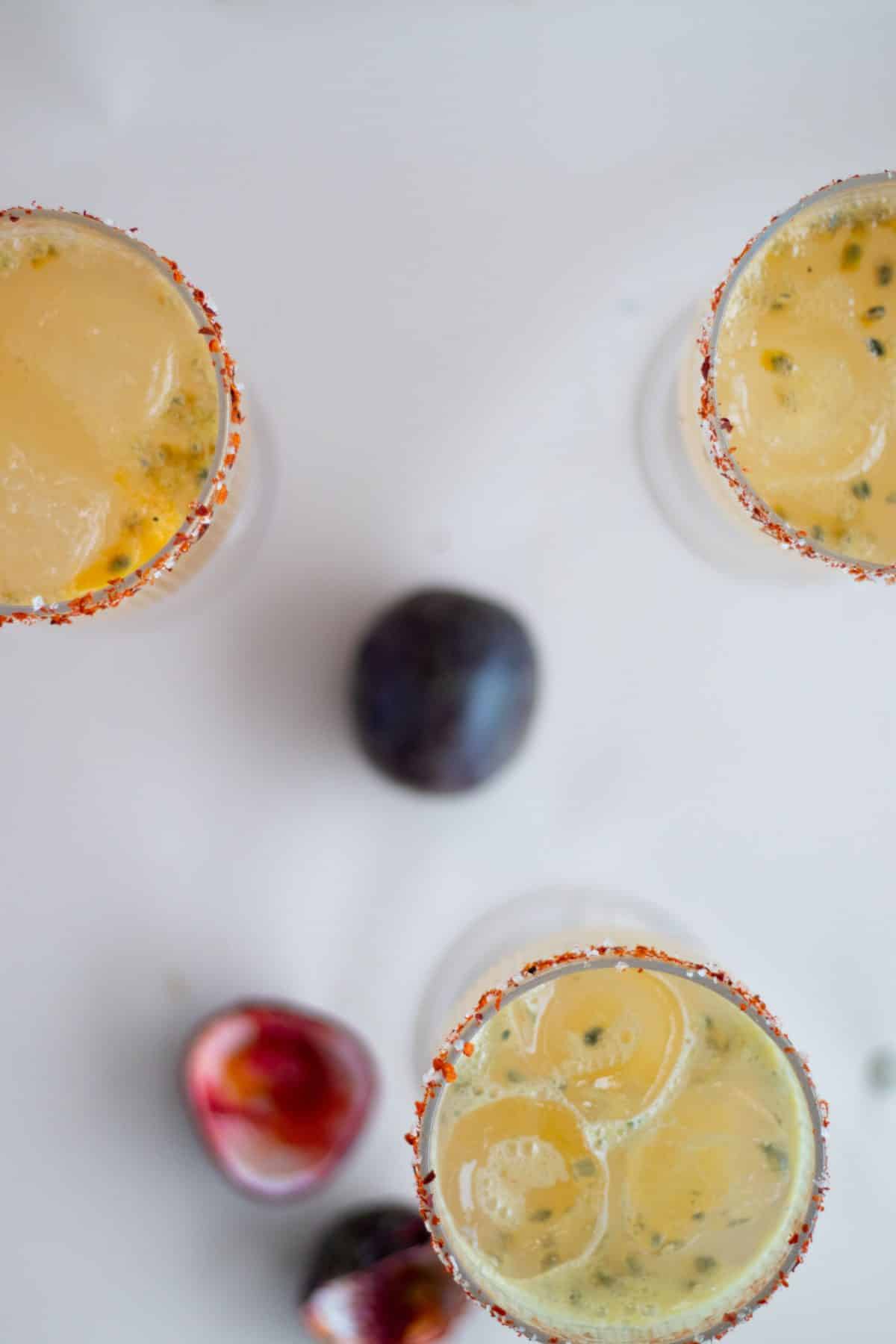 Anyway. It took some time but then I felt inspiration strike and created two yummy versions in one afternoon. No, you're not getting both now. I'm saving one for later. It's gonna be perfect for all your summer parties!
This version, however, is perfect right now. And in summer. And in fall. And whenever, you know. It's not as clean & healthy as the Clean Cucumber Collins - but hey, who is??
It's slightly sweet with loads of delicious passion fruit taste, just the right amount of acidity from lime and that yummy fermented taste from the kombucha. And while that's all great and yummy - the rim is really what takes it over the top. Salty & spicy it makes this a complete and perfect cocktail (Sorry - mocktail!! So easy to forget with all that yummy fermentation going on.), and far from a kiddy party drink.
You can make it without the rim of course - or with just a salted rim - but if you're at all into spice, try the spicy rim and let me know if this isn't just the perfect non-alcoholic spicy-margerita-ish concoction!
How to make a Kombucha Passion Fruit Spritz
Now, to create this deliciousness, start by mixing together crushed sea salt flakes (Maldon Sea Salt Flakes are my favorite) and chili flakes on a plate. I used something called "kimchi chili" (I think this is the same kind) - it's tasty and not too spicy - but use whatever chili flakes you have. If possible, stay away from the ones with loads of actual seeds in them - they tend to be a whole lot spicier. 50/50 salt and chili flakes is what I went for, but you can adjust that ratio to suit your liking.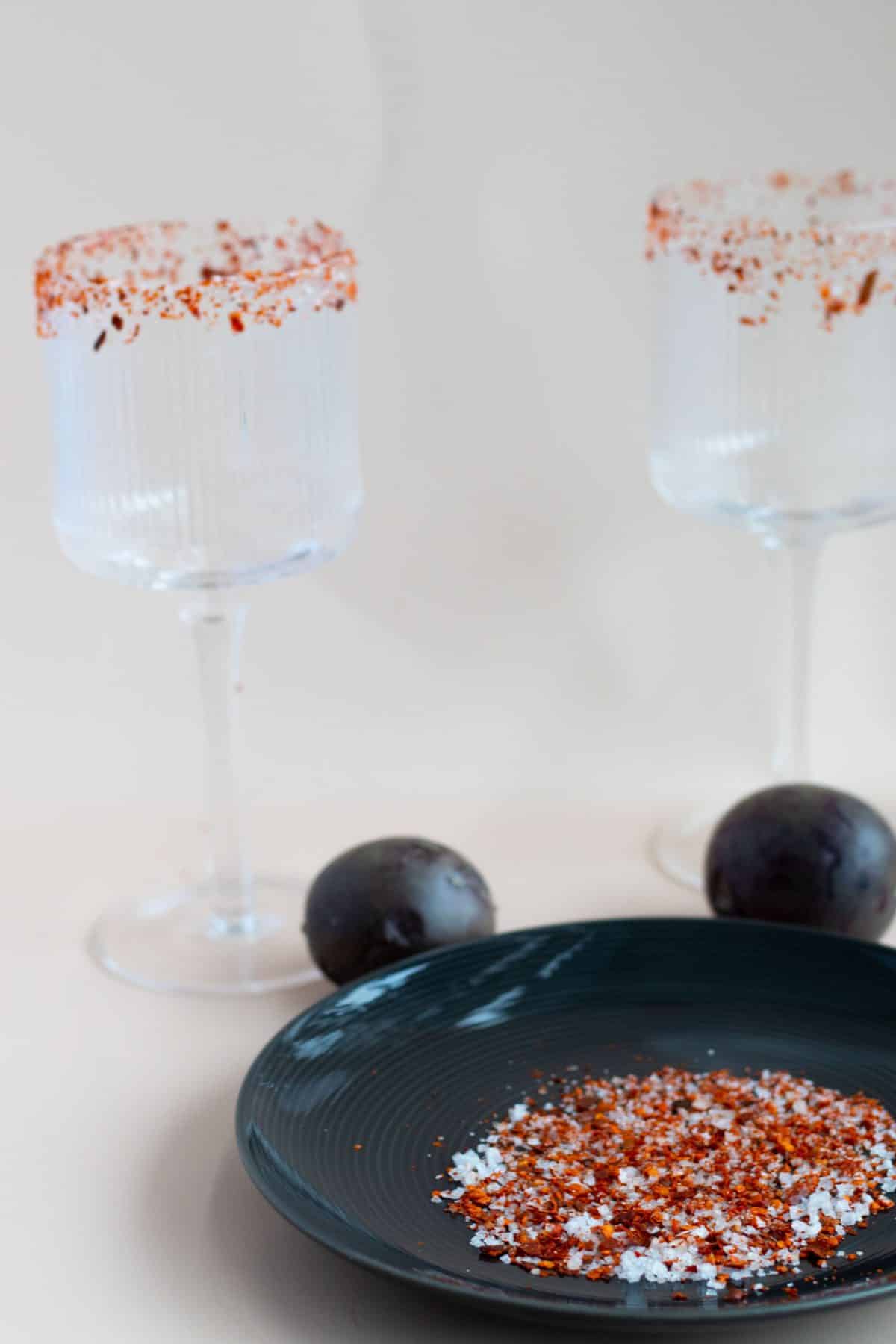 Then grab a large glass - I go for one that can hold my whole 9 oz bottle of kombucha plus some ice. Rub a slice of lime on the rim of the glass, and then roll the rim in the chili-sea salt mixture.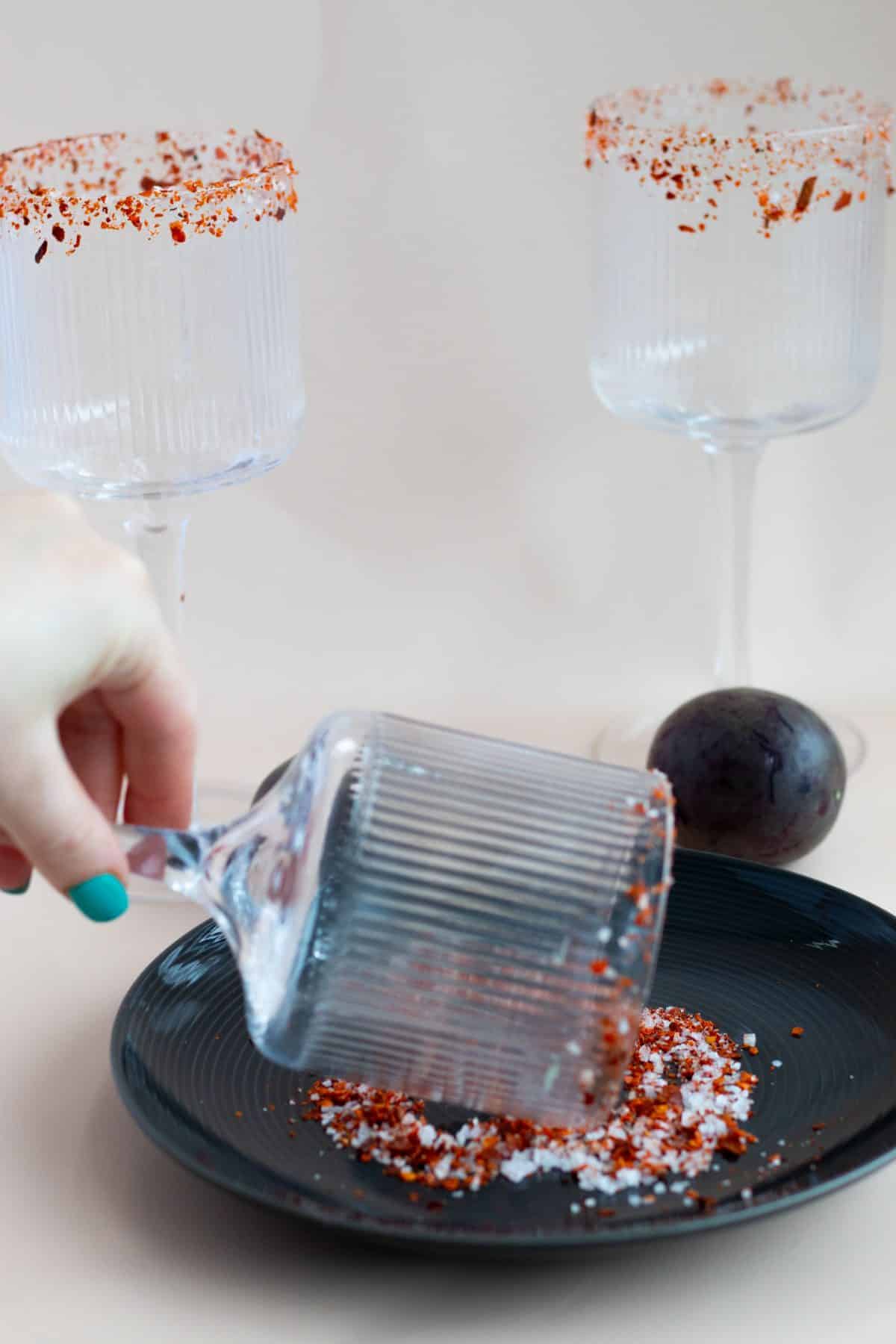 After the chili flakes - scoop out the passion fruit meat in a glass and go to town with your muddler. You want to crush up all those passion fruit seeds in order to maximize the flavor as well as the whole drinking experience. Once done, mix in the lime juice. Half a passion fruit & one whole lime is my optimum ratio for one 275 ml / 10 oz bottle of kombucha.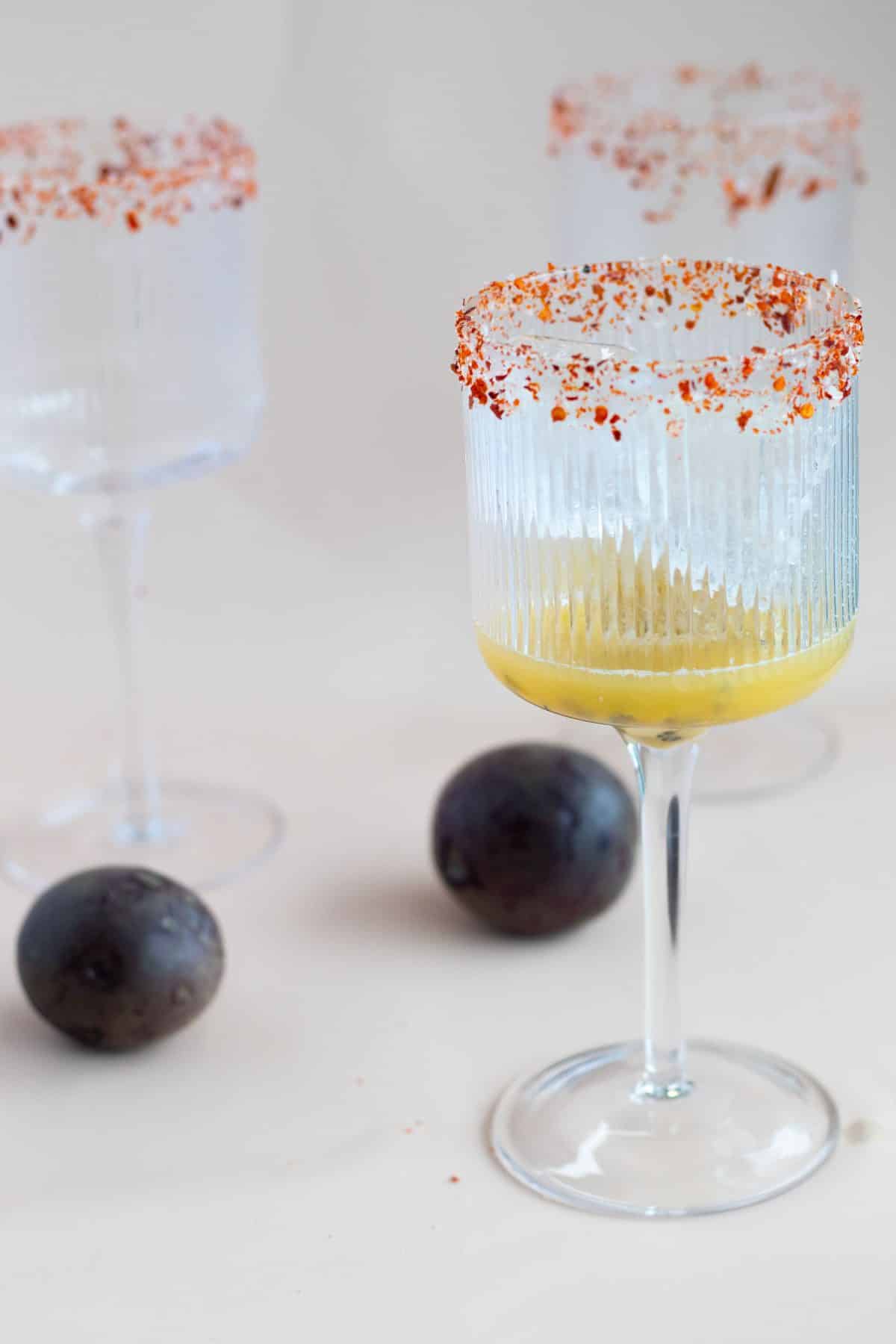 When the passion fruit and lime juice is all mixed up, pour it into your sea-salt-and-chili-rimmed glass. Pop in a few ice cubes, and then pour over your kombucha. For extra fizz - add a splash or two of soda water. I really like my fizz & my sparkle, so this is what I do.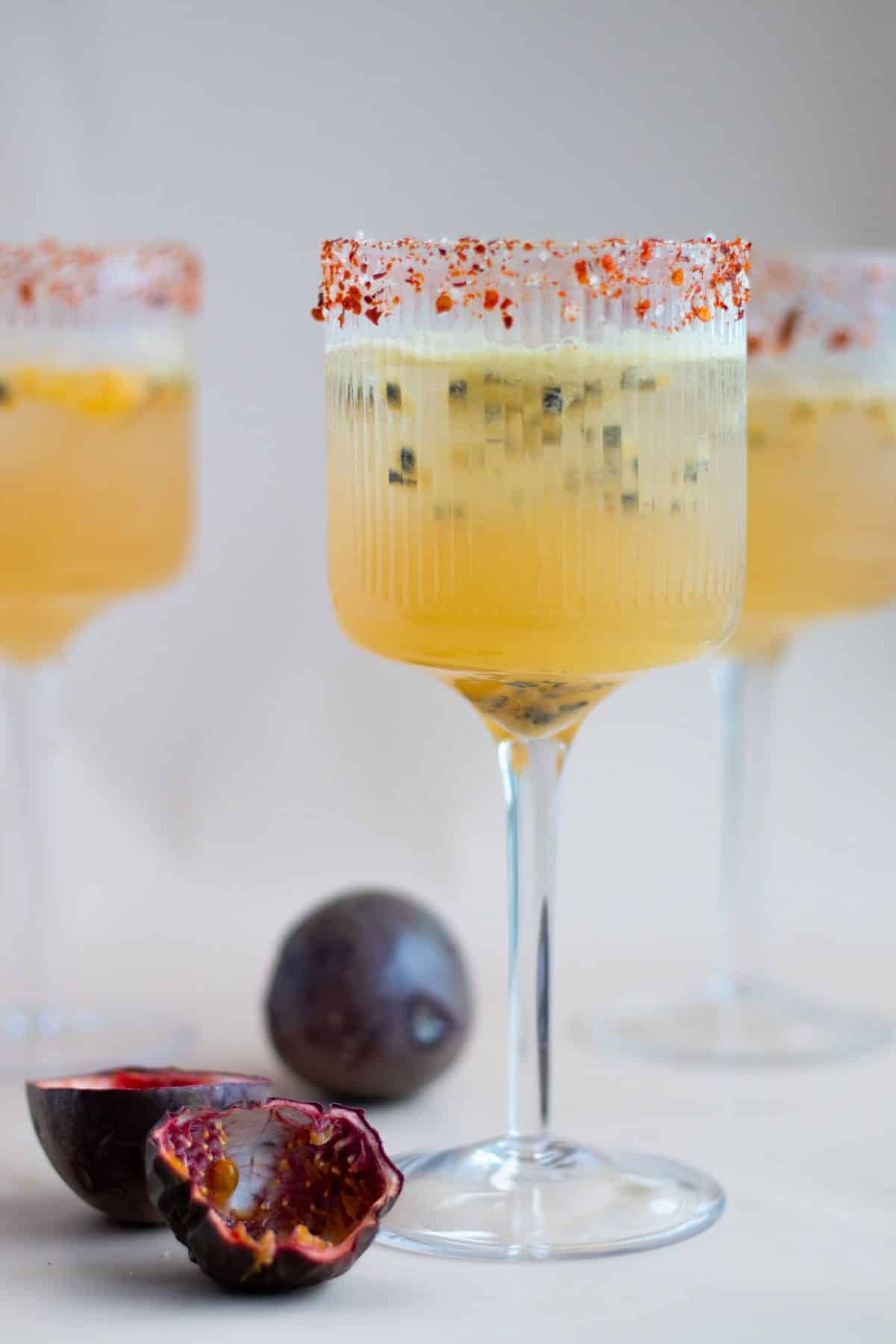 And that's it. Serve, sip, and enjoy!
What do you think? Have you tried Kombucha yet? Are you a fan?
Recipe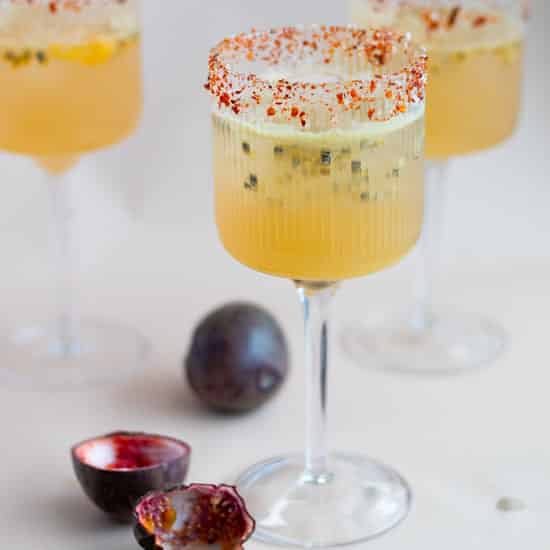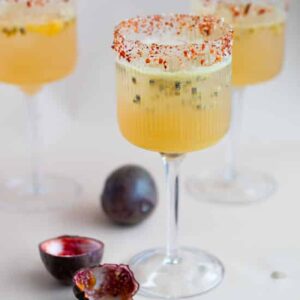 Ingredients
1

lime

juice of

0.5

passion fruit

fresh

1

cup

Kombucha

1

dash

soda water

can be omitted

1

slice of lime

can be omitted

chili flakes

can be omitted

sea salt flakes

can be omitted

ice cubes

can be omitted
Instructions
If you wish to include the salt-an-chili rimmed glass, start by mixing together chili flakes and sea salt flakes. Crush the sea salt flakes slightly in the process. Then rub your slice of lime around the rim of the glass and then dip the rim in the salt and chili mixture.

Scoop the passion fruit meat into a tumbler or a glass solid enough for muddling, and crush the passion fruit seeds using a muddler. Mix in the lime juice.

Pour the mixture into your salt-and-chili rimmed glass, and add in a few ice cube. Follow with the kombucha and top with soda water. Serve!
Notes
If spicy is not your thing you can omit the chili flakes for the rim and just use sea salt
Nutrition
Calories:
88
kcal
|
Carbohydrates:
23
g
|
Protein:
1
g
|
Sodium:
16
mg
|
Potassium:
147
mg
|
Fiber:
4
g
|
Sugar:
16
g
|
Vitamin A:
540
IU
|
Vitamin C:
21.8
mg
|
Iron:
0.7
mg
Nutritional information is approximate and automatically calculated, and should only be viewed as an indication.