This post may contain affiliate links, which are always marked with *. Please read my disclosure for more information.
Appetizers don't get any better than this - and not much easier... Salty, crispy, slightly melted Feta Cheese is served on a bed of greens and topped with a drizzle of Honey Truffle Vinaigrette - it's the perfect indulgent appetizer or snack, and all in just 10 minutes.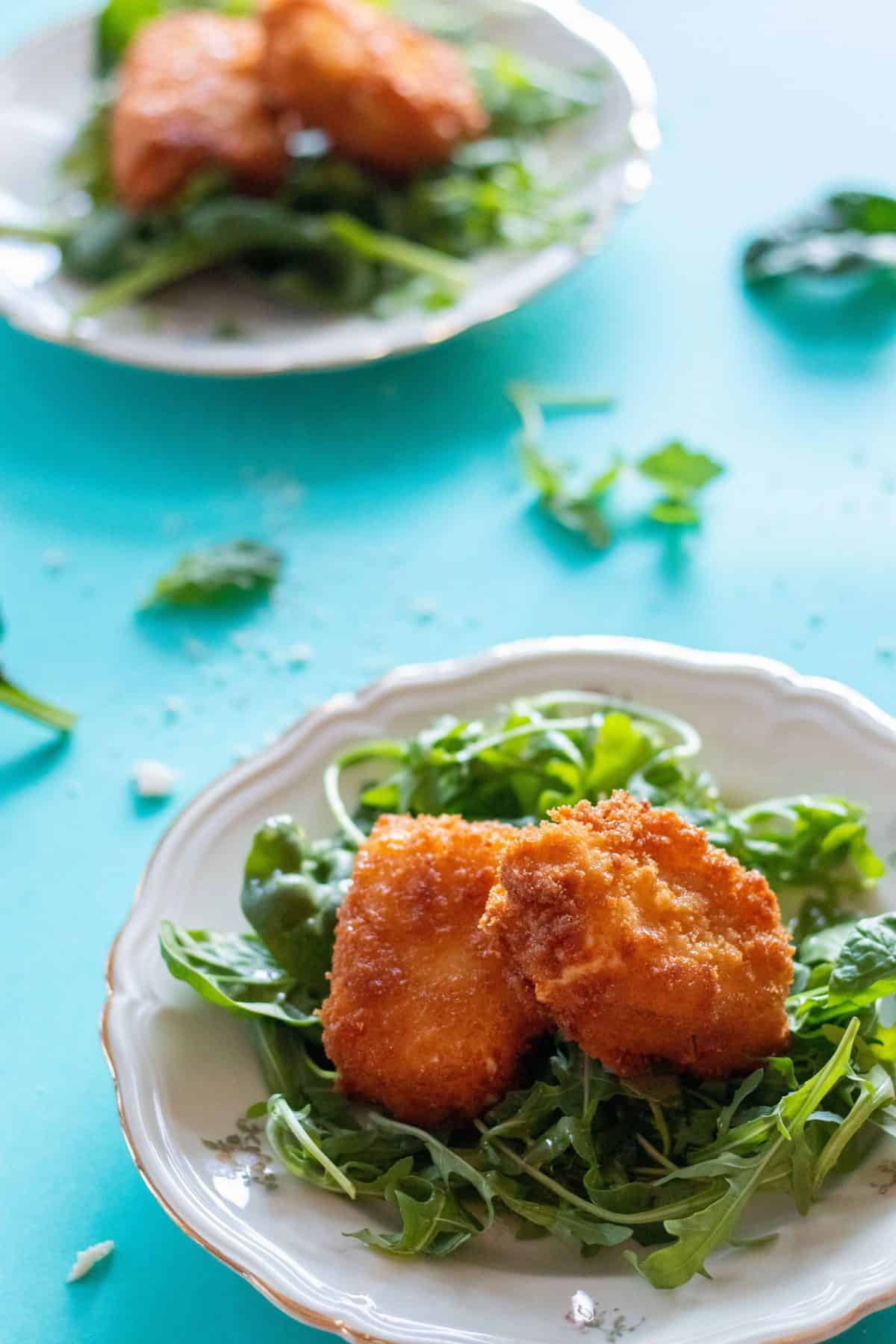 What's your relationship to fried cheese? Mine is just what you'd imagine since it's basically a combination of two of my favorite things: fried, and cheese. Put together they create this awesomeness that might just be the most addictive thing I've ever tried.
And while I still haven't met a cheese I didn't like fried, I do have one favorite I come back to over and over. And yep, you guessed it - it's Feta Cheese. As you might know by now, I have a slight Feta Cheese problem... and use it wherever I can get away with it. This includes salads, tacos, and sauces - not to mention frying it...
And speaking of frying...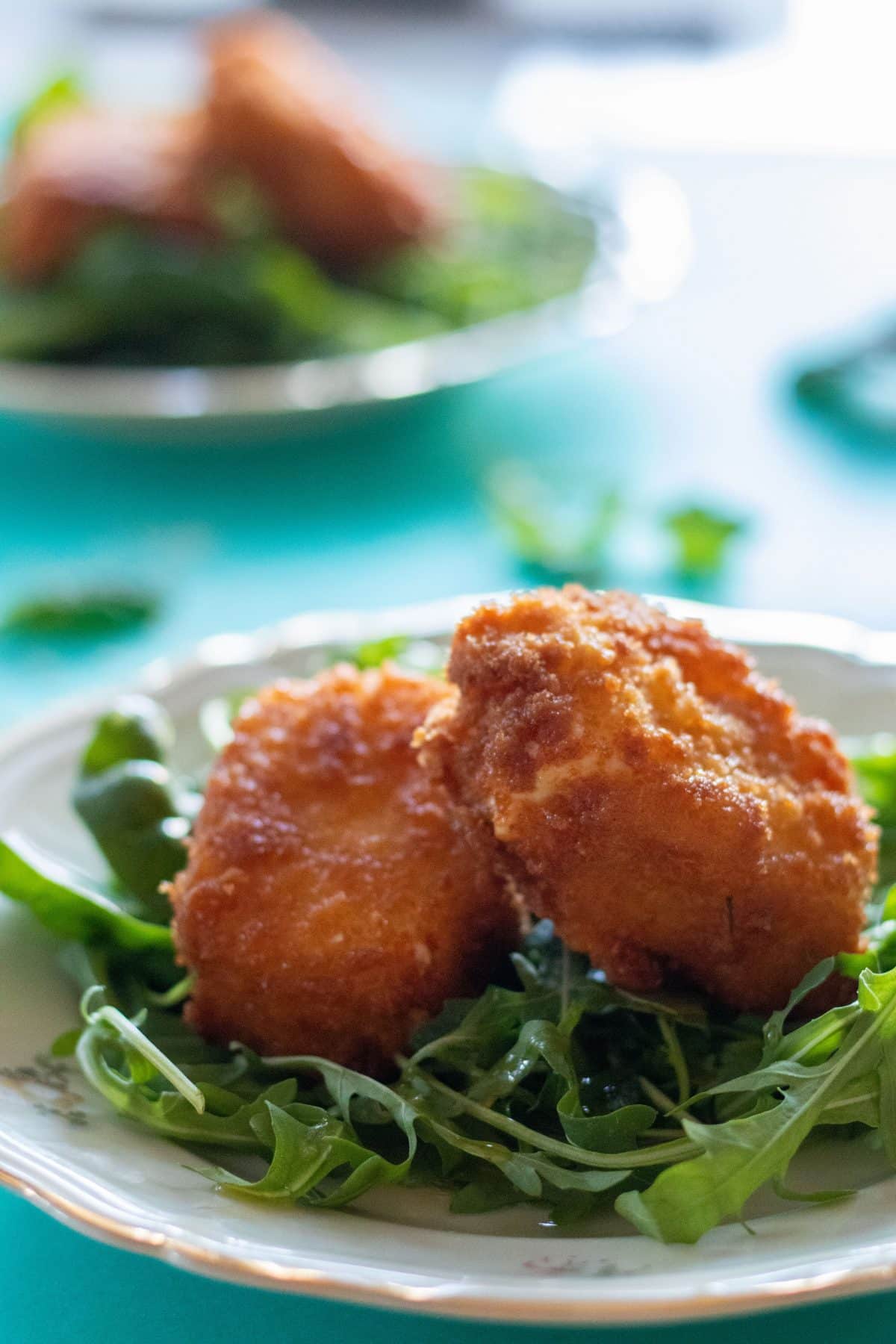 Why this recipe works
A perfect mix of flavors when salty Feta Cheese and sweet honey combine with umami and a hint of acidity
White balsamic vinegar balances the heaviness of the fried cheese perfectly
A crispy outside covering a gooey, melty inside makes fried cheese a highly addictive snack or appetizer that's a true crowdpleaser
You can easily make it without a deep fat fryer, using a regular sauce pan or wide and low pan. Just remember to turn your pieces of Feta!
Possible Substitutions
Feta cheese can be substituted for another, similarly salty hard, white cheese - for example, its cousins from Bulgaria or Macedonia
White balsamic vinegar is a bit more acidic than the regular balsamic vinegar - but you can definitely substitute one for the other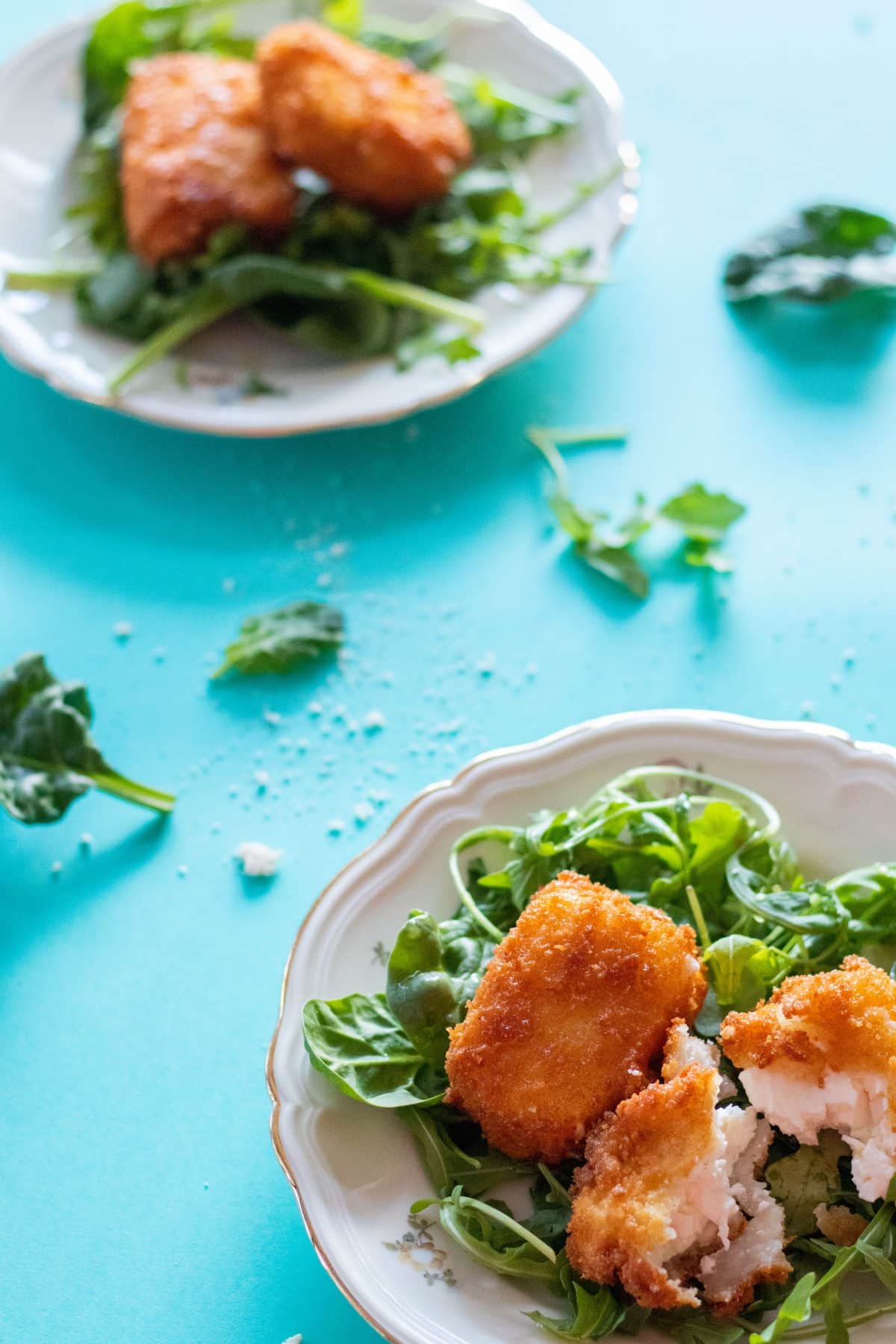 Expert Tips
To avoid the cheese leaking out - make sure you cover your pieces of Feta cheese completely in first the flour & milk mixture and then the panko breadcrumbs
Keep a watch on the temperature of your oil - it should be around 160 C/320 F and no higher than 180 C/355 F.
If you don't have a thermometer you can use a wooden spoon to test the temperature. Place the handle against the bottom of the pan with the hot oil in it - if bubbles immediately start building against the handle the oil is hot enough.
Another way to test the temperature of the oil is to just throw in some panko breadcrumbs balled up with the flour and milk (hint: you probably have a few of these already around your prep area after breading your cheese) and see how the oil reacts. Is it quiet and mellow? Not ready. Does it sputter and quickly turn the breadcrumbs golden? In you go with your Feta cheese!
Keep a lid close at hand in case of fire - it's unlikely as long as you're careful, but better safer than sorry. Never pour water on an oil fire! Use something (like a lid) to smother the flames instead.
Allow the excess oil to be soaked up by a kitchen towel for a few minutes before serving to get a crispier, less oily exterior.
Make your vinaigrette in a jar - just pour in all the ingredients, close the lid tightly and go to town shaking it like a maraca. Done!
Suggested Tools
How to make Panko Breaded Feta Cheese with Truffled Honey Vinaigrette
OK first things first - prep. And it's really easy for this one! Just cut your Feta cheese in four equal-ish pieces, mix together milk & flour in a bowl and pour your Panko breadcrumbs on a plate.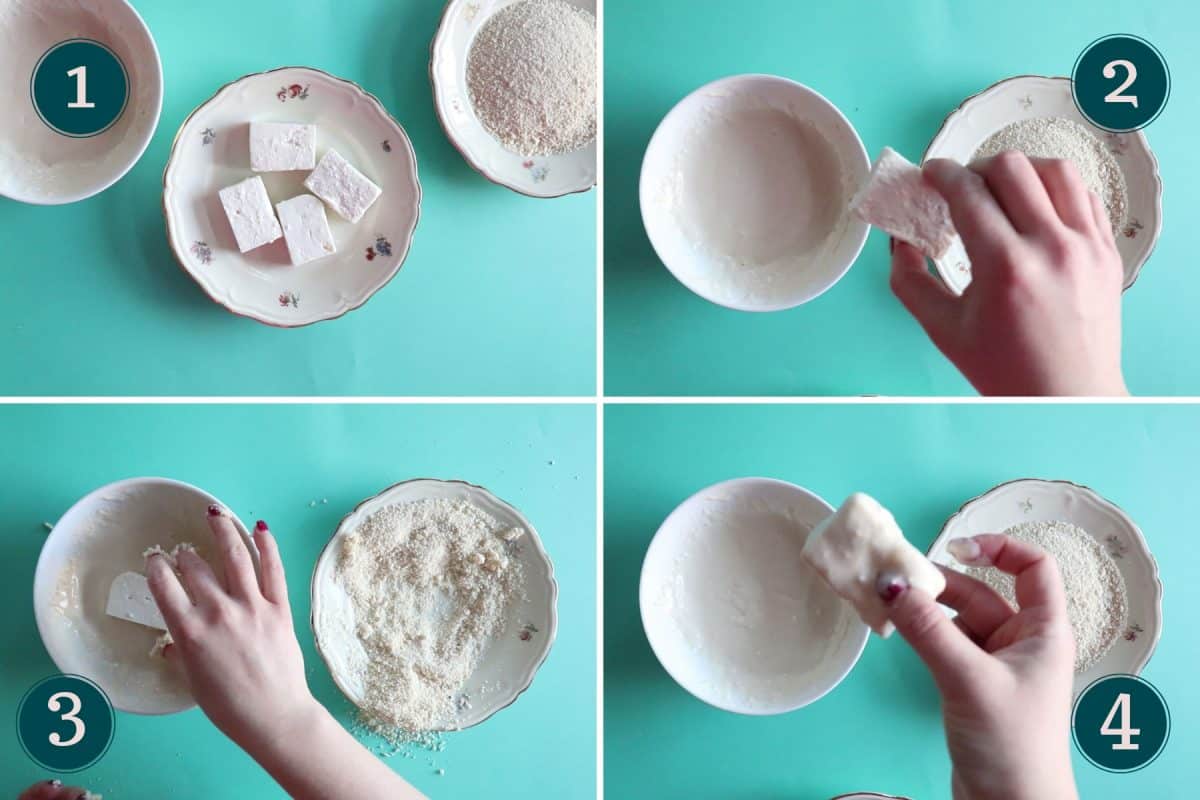 Now you're ready to bread your Feta cheese! Start by coating your pieces of Feta cheese in the milk & flour mixture.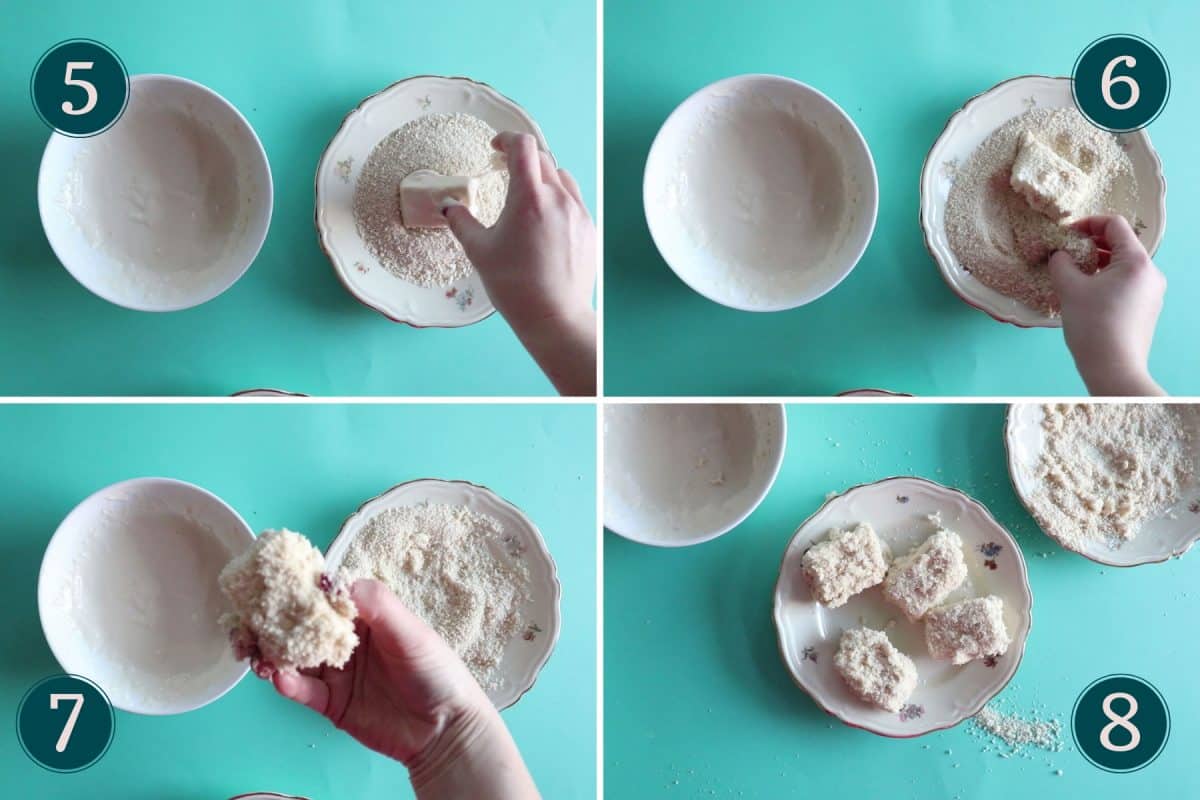 After the milk & flour mixture, move to the Panko breadcrumbs and coat the Feta cheese in generous amounts of them. Make sure to cover all of the cheese or you risk the yummy cheesiness disappearing into the frying oil.
When all the pieces are coated, it's time for frying. For tips on how to do this - have a look at the "Expert Tips" above!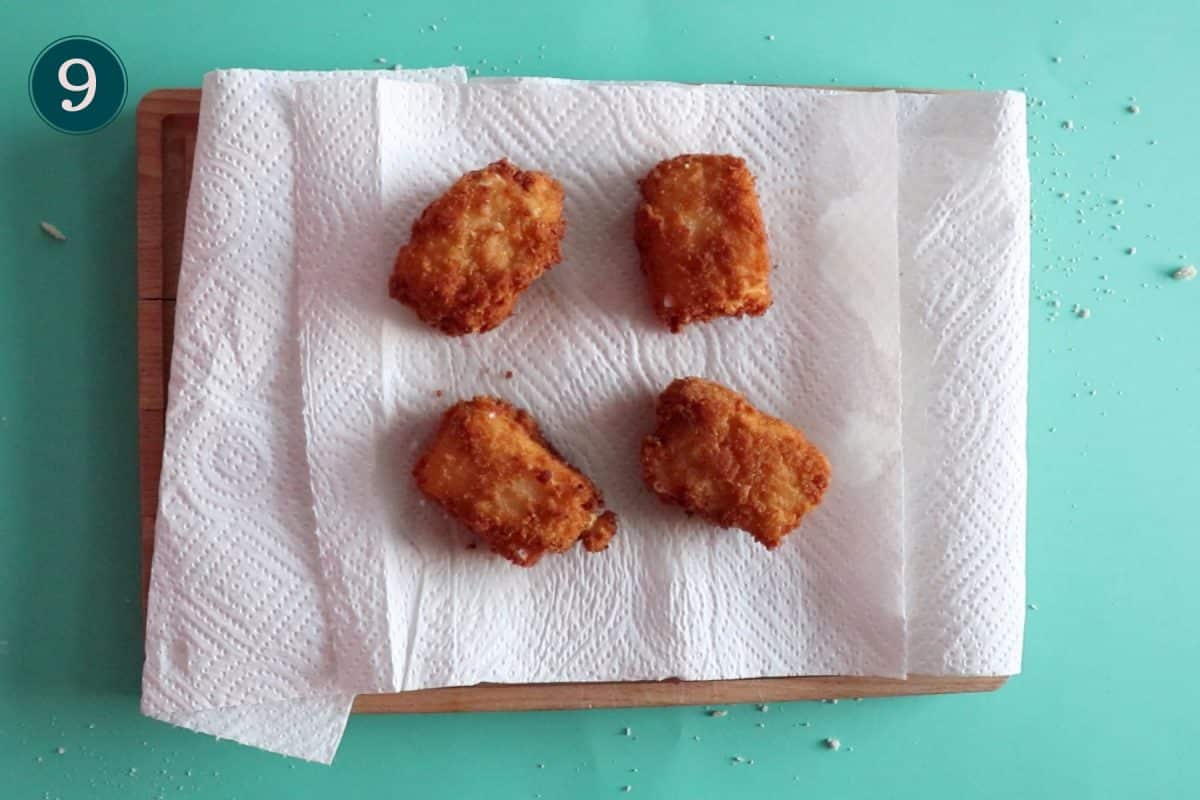 Fry your Feta cheese for about 2 minutes in hot oil. Remember to turn them a few times if you're not using a deep fat fryer! They're finished when they're all golden and crispy and it's then time to place them on a kitchen towel to allow the excess oil to absorb.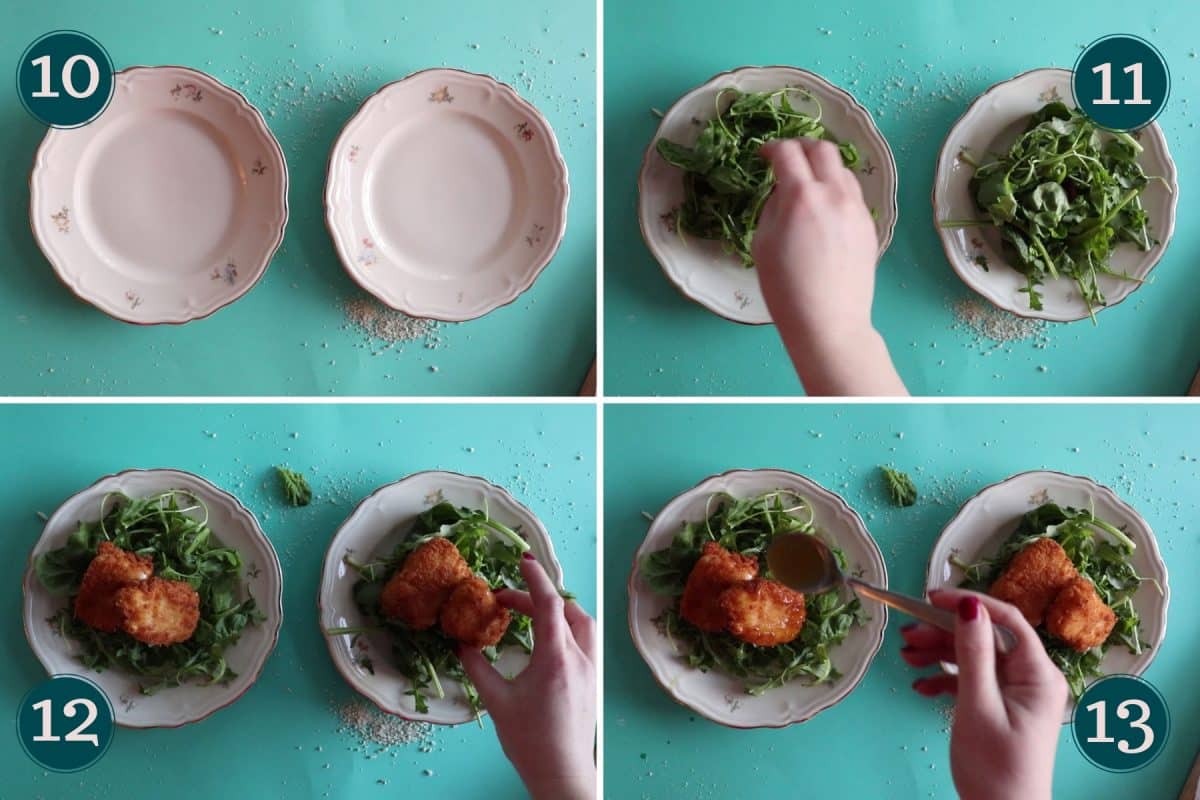 While the excess oil is being absorbed by the kitchen towel, you have plenty of time to make the vinaigrette. It's as easy as mixing together all the ingredients - nothing more to it. And if you're lazy/smart like me, you do it in a jar and just shake all of the ingredients together. Perfect mix every time!
Then plate by placing the leafy greens on a plate, top with the fried Feta cheese and drizzle over the vinaigrette.
And now you just serve, and wait for you friends to ooh and aah and ask how in the world you created this goodness and can they please have the recipe but then again maybe not because it's just so addictive they'll want to have it every single day.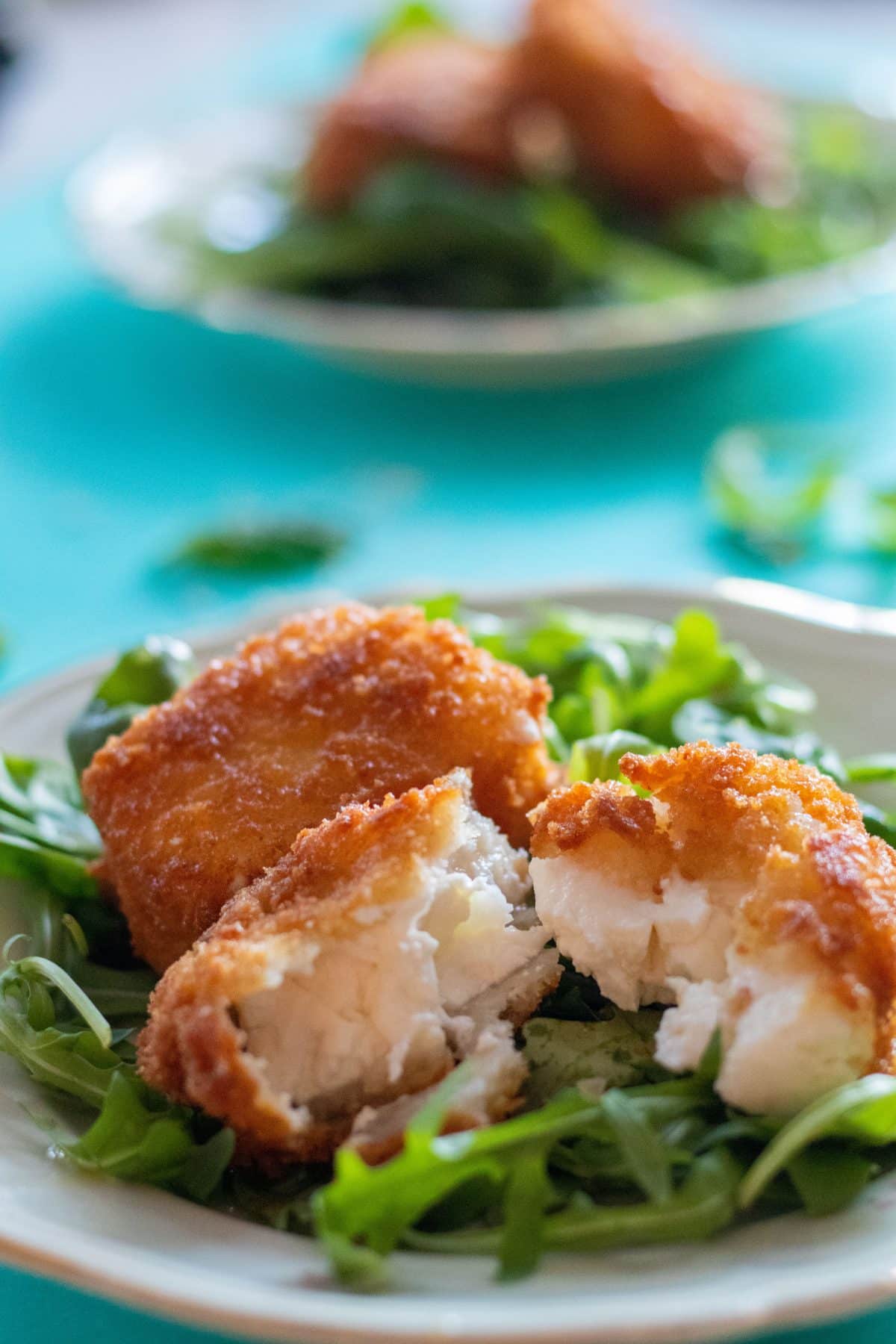 So what's your relationship to fried cheese? Are you obsessed like me? Or more balanced (is it even possible?!)? Let me know in the comments below!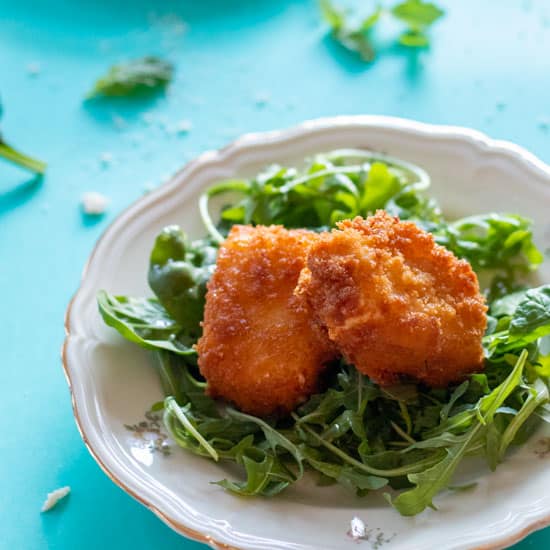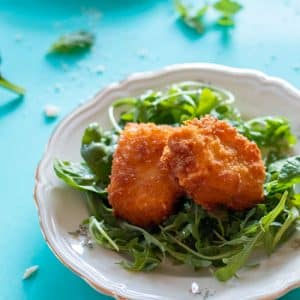 Panko Breaded Feta Cheese with Truffled Honey Vinaigrette
Print
Rate
Servings:
2
large appetizers
Ingredients
150

g

feta cheese

cut in 4 pieces

1

dl

flour

1

dl

milk

1.5

dl

panko breadcrumbs

vegetable oil for frying

amount depending on size of your pan - should be at least 5 cm / 2''
Truffled Honey Vinaigrette
1

Tbsp

olive oil

1

Tbsp

truffle oil

1

Tbsp

white balsamic vinegar

1.5

Tbsp

honey

0.25

tsp

salt
To serve
50

g

leafy greens, for example arugula
Instructions
Panko Breaded Feta Cheese
Start by mixing together your milk and flour in a bowl, and pour your Panko breadcrumbs onto a plate.

Then take one piece of Feta cheese at the time and cover it entirely in first the milk & flour mixtue and then the Panko breadcrumbs. Make sure that all of the cheese gets cover in breadcrumbs, or the cheese might leak out.

Now heat up your oil in a sauce pan or a low and wide pan to about 160 C/320 F. Keep a lid close at hand in the unlikely case of the oil catching fire. Then place the breaded pieces of cheese in the pan and let them fry for about 2 minutes, turning every once in a while to ensure an even color. When the pieces are golden, they're finished.

Pick up the fried pieces of cheese with a strainer and place them on a kitchen towel to soak off the excess oil and make them crispy.
Truffled Honey Vinaigrette
To make the vinaigrette, place all the ingredients in a jar, close the lid tightly and shake it. Done!
To serve
Divide your leafy greens between so many plates as servings you would like to make, and place the fried cheese on top. Drizzle over the vinaigrette - and serve!
Notes
Nutritional information assumes ⅔ of flour, milk and Panko breadcrumbs are consumed.
Nutrition
Calories:
580
kcal
|
Carbohydrates:
54
g
|
Protein:
18
g
|
Fat:
32
g
|
Saturated Fat:
13
g
|
Cholesterol:
66
mg
|
Sodium:
1503
mg
|
Potassium:
236
mg
|
Fiber:
2
g
|
Sugar:
20
g
|
Vitamin A:
910
IU
|
Vitamin C:
3.7
mg
|
Calcium:
501
mg
|
Iron:
3.3
mg
Nutritional information is approximate and automatically calculated, and should only be viewed as an indication.