This post may contain affiliate links, which are always marked with *. Please read my disclosure for more information.
Salty & Spicy Candied Walnuts are a delicious treat, great on their own or as part of a dessert - my favorite is to serve them together with Buttered Cinnamon Apples. They also make an easy DIY gift to bring along to all your holiday parties.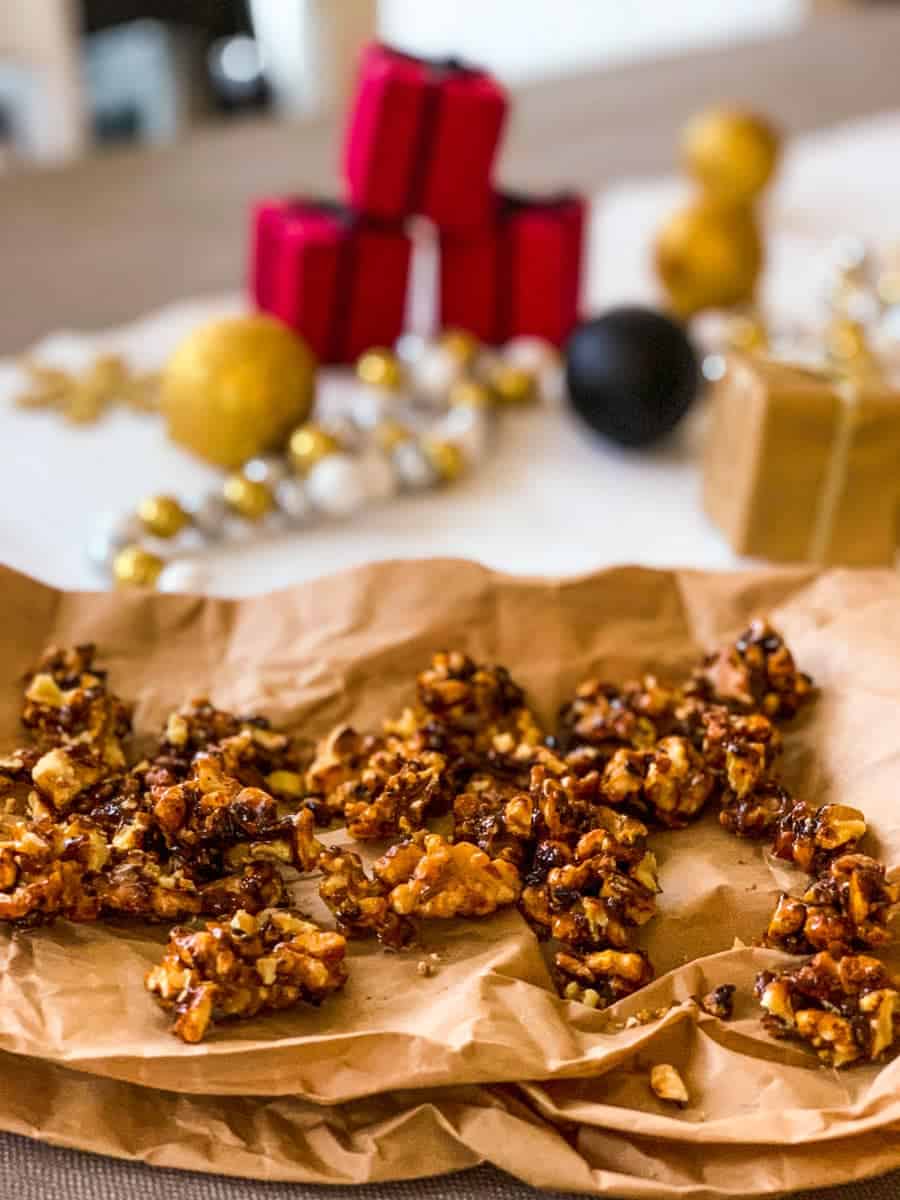 Salty & Spicy Candied Walnuts are probably my favorite topping for desserts - they add a bit of crunch as well as salty and spicy flavors so suited to complementing the sweetness.
But these candied walnuts aren't just great for topping desserts - they're also delicious on their own. The sweet/salty/spicy blend will intrigue your taste buds and make it impossible for you to grab just one. They're the perfect complement to the rest of your cookies & candies this holiday season!
Versatile as they are, they're also perfect to gift to your friends and family or bring along as a host or hostess gift. (And if you're looking for something else to bring as a gift - check out this guide to the 10 Best Homemade Food Gifts.) Stick them in an airtight container with a pretty bow on and they'll keep for at least a few weeks.
How to make Candied Walnuts
Now, making Candied Walnuts might seem intimidating but it's really quite easy. Just keep a few things in mind:
Don't let the sugar burn
Don't stir the sugar once it's melted
Wait until they've cooled down to eat them
(I know, #3 sucks, but trust me on this. Made that mistake and yes hot sugar will burn your tongue.)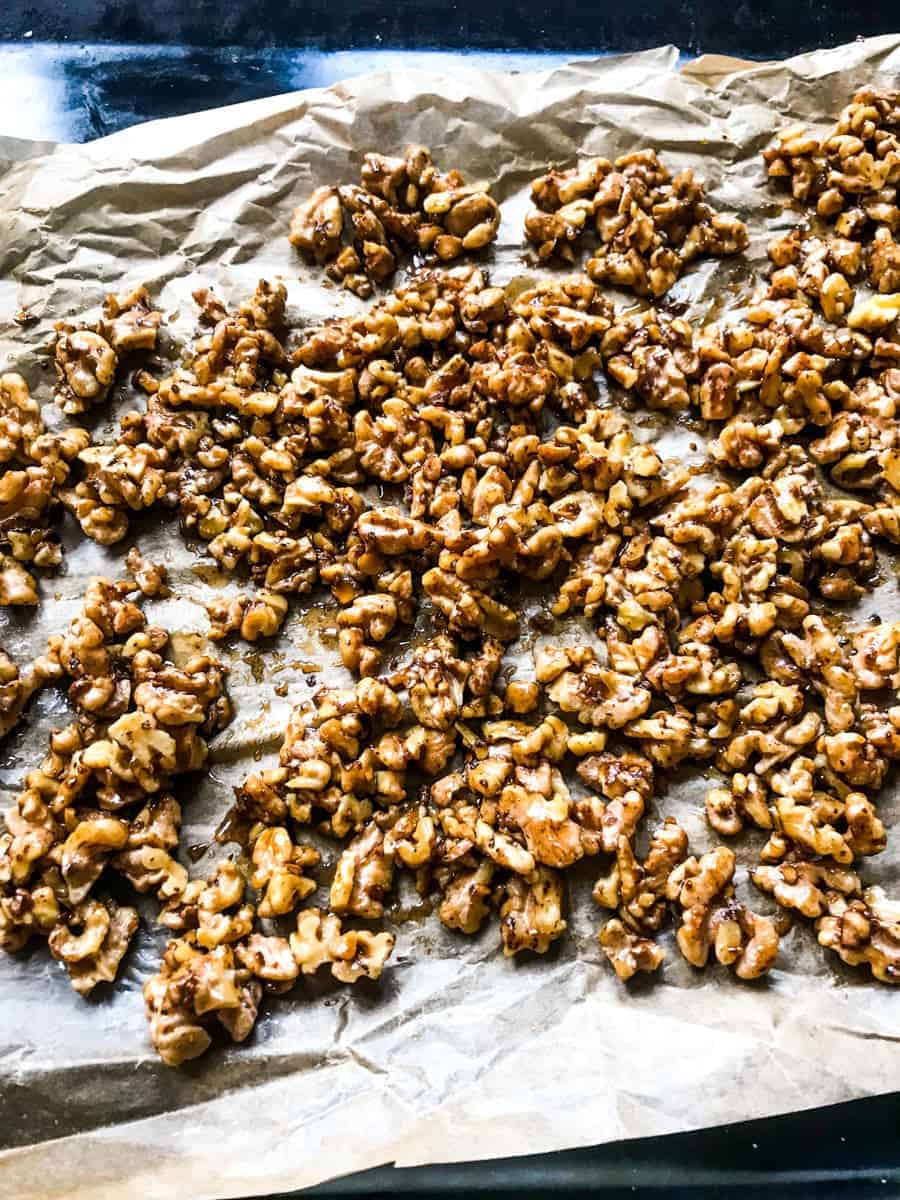 Start by roasting your walnuts lightly, then set them aside and move on to the caramelization. Make this by mixing together water, sugar, salt and cayenne pepper in a pan and heat it up over medium heat. Stir until the sugar has melted and the mixture has started boiling, then stop stirring completely (stirring after this risks creating sugar crystals, which we'd rather not have on our candied walnuts).
Look out for the color of the mixture - it should go from transparent white to golden brown. If this changing of the color happens unevenly you can tip the pan carefully to either side to "mix" it without stirring. Keeping the temperature on medium helps ensure that the sugar doesn't burn, but keep an eye on it anyway - especially if you decide to use only white sugar.
After 3-5 minutes the mixture should be golden brown, and at this point you can remove it from the heat and mix in the walnuts. Mix well until the walnuts are thoroughly coated and then pour them out on a baking sheet and let cool. They'll cool down quickly and are ready for you to taste & use in 5-10 minutes.
What sugar should I use for candied walnuts?
In this recipe, I opted for using 50/50 brown and white sugar, but you can change this ratio either way you like. If you use more white sugar there's a higher risk that the sugar will burn, but just keep a close eye on it and you'll be fine. Using more brown sugar changes the flavor profile a bit and gives it a deeper, more syrupy flavor.
You could also opt for a different type of sugar entirely, for example using muscovado sugar instead of brown sugar.
Can I use other nuts, like pecans?
You can definitely use this recipe to caramelize other nuts, such as pecan nuts, as well. Depending on their size and what you plan to use your candied nuts for you might want to chop them roughly beforehand or keep them whole.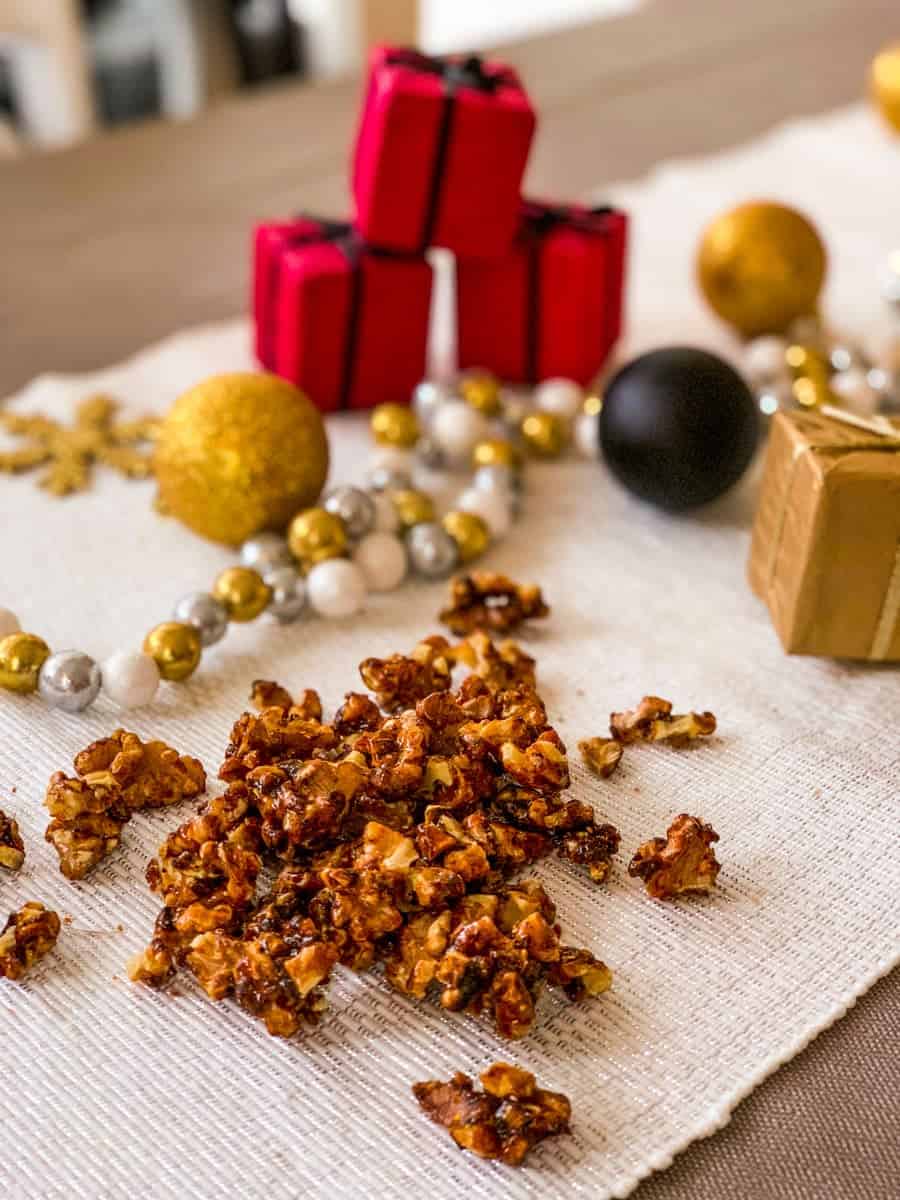 Wether you decide to gift them, eat them as they are or top a cake or dessert with them I believe you'll be very happy with your Salty & Spicy Candied Walnuts. And as always, I love hearing from you, so if you made this, please leave a comment and rating below! Or just leave a comment anyway and let me know what you think. And if you share your creation on Instagram - please tag me and use the hashtag #alwaysusebutter!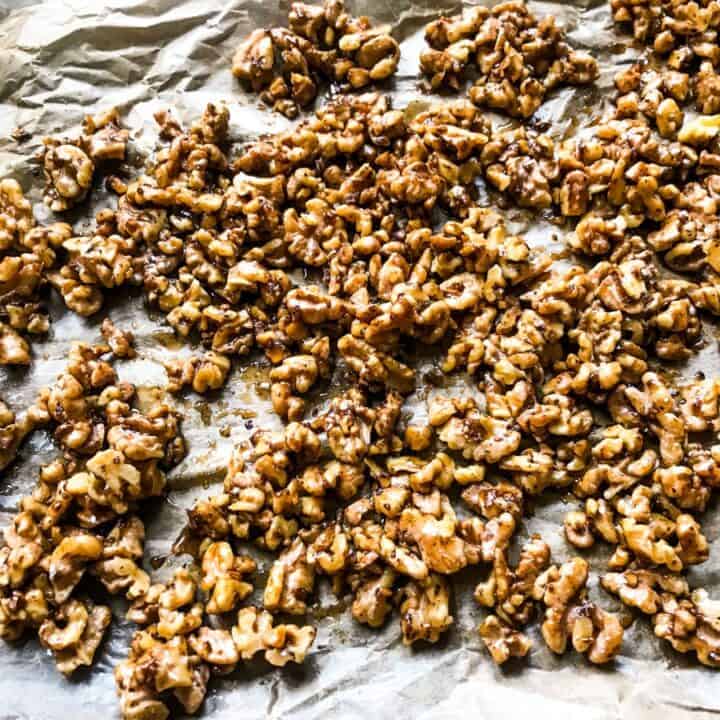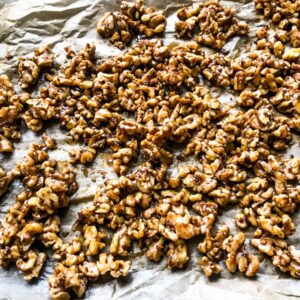 Ingredients
1

cup

walnuts

whole or roughly chopped

2

Tbsp

brown sugar

2

Tbsp

white sugar

2

Tbsp

water

¾

tsp

salt

⅛

tsp

cayenne pepper
Instructions
Place a baking sheet on a heat resistant surface, eg. an oven tray.

Heat a pan over medium high heat and place the walnuts in the pan. Roast for 3-5 minutes, stirring often to avoid the walnuts burning. Set aside for now.

In a bowl, mix together the brown sugar, white sugar, water, salt and cayenne pepper. Pour in a cold pan and place over medium heat. Bring to a boil and let simmer for 3-5 minutes, until golden brown, taking care that the sugars don't burn . Do not stir after the mixture has started boiling - if it browns unevenly, instead tip the pan a bit to mix.

Add in the walnuts and mix, and then pour them onto the baking sheet. Leave to cool for at least 5-10 minutes.
Notes
If you want to 

exchange the brown and white sugar

 for another combination or change the ratio, eg. using only brow or white sugar instead, you can. This will affect taste slightly. If using only white sugar there's a higher risk that it will burn, so keep an even closer watch if you choose to use only white sugar.

The Candied Walnuts will keep for at least a few weeks if stored in an airtight container.
Nutritional information is approximate and automatically calculated, and should only be viewed as an indication.