This post may contain affiliate links, which are always marked with *. Please read my disclosure for more information.
Thai Chicken Noodle Soup is the best comforting combination of a classic chicken noodle soup and delicious thai flavors such as red curry, lemongrass, kaffir lime leaves and coconut milk. Quick and easy to make it's sure to become a favorite for curling up with on those cold fall & winter nights!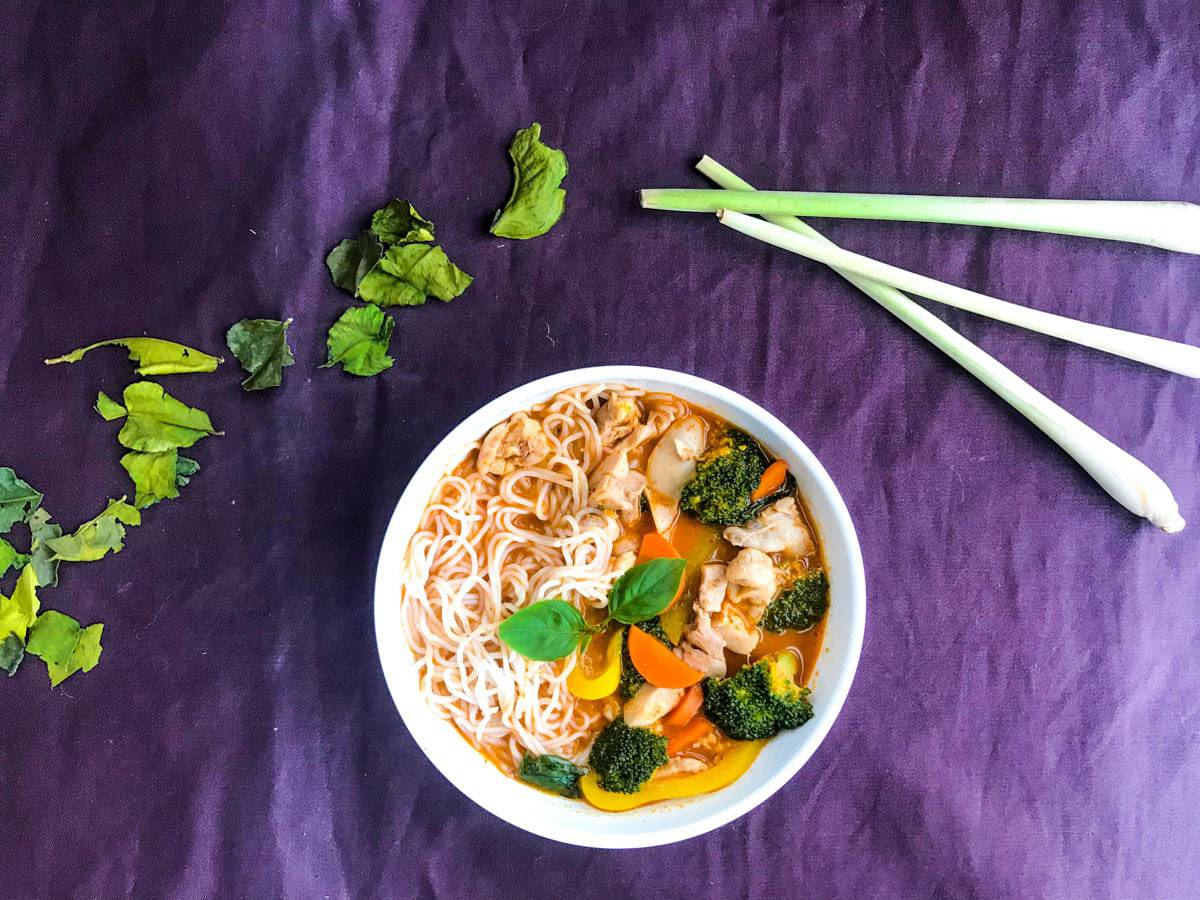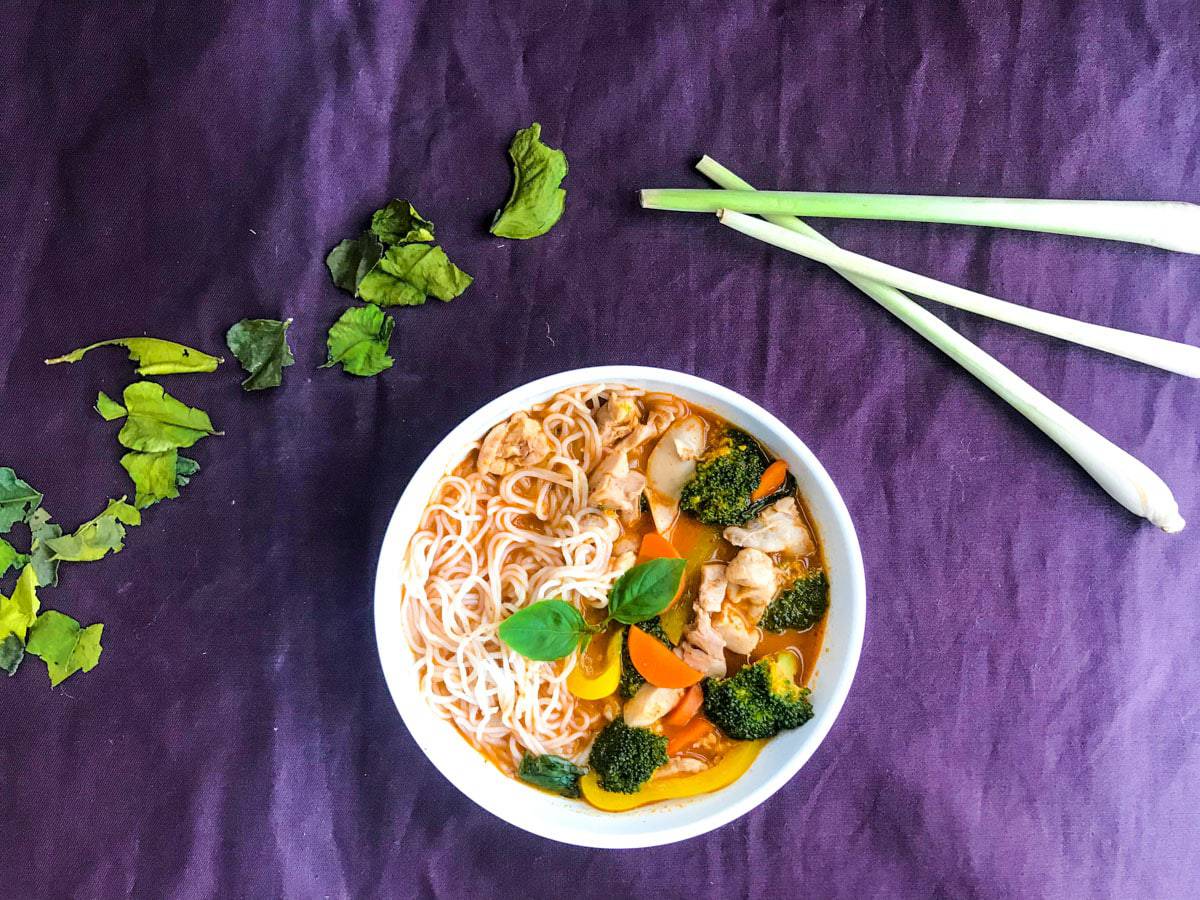 All fall I've seen delicious thai noodle sups all over the interest. Pinterest, Instagram and blogs alike - they've all been blowing up with them. From the first one I saw, I knew I wanted - no, NEEDED! - to mak my own version. That was like 2 months ago.
I consider myself to be quite good (for a European, that is) at making Thai food. I've got my spices down, I know the difference between a green curry, red curry and panang curry (hint: the difference is in the chilies), I know why you should have a Tom Kha in winter and I make a mean Larb Gai. I even went to a Thai cooking class once in Bangkok (best spent day of my life, no joke). So what trouble could a Thai Noodle soup really be?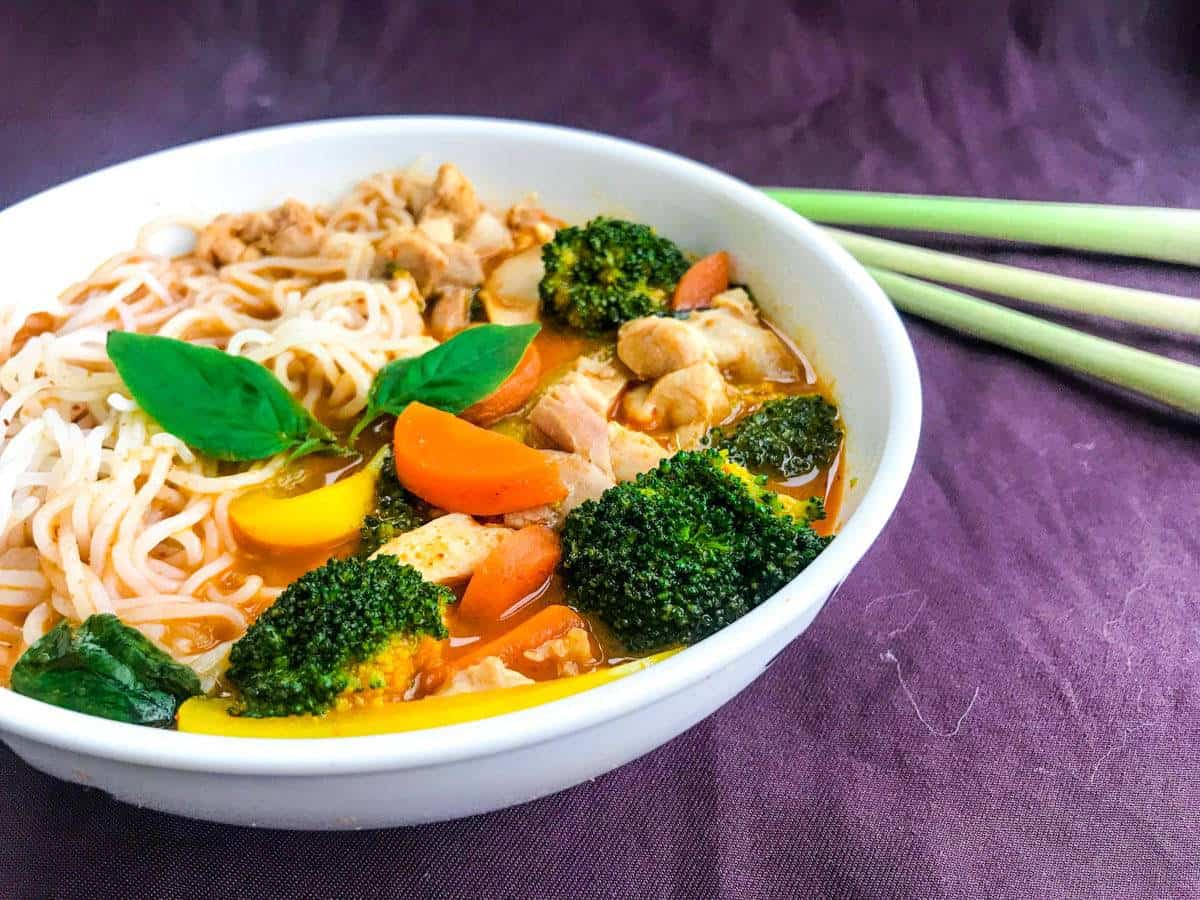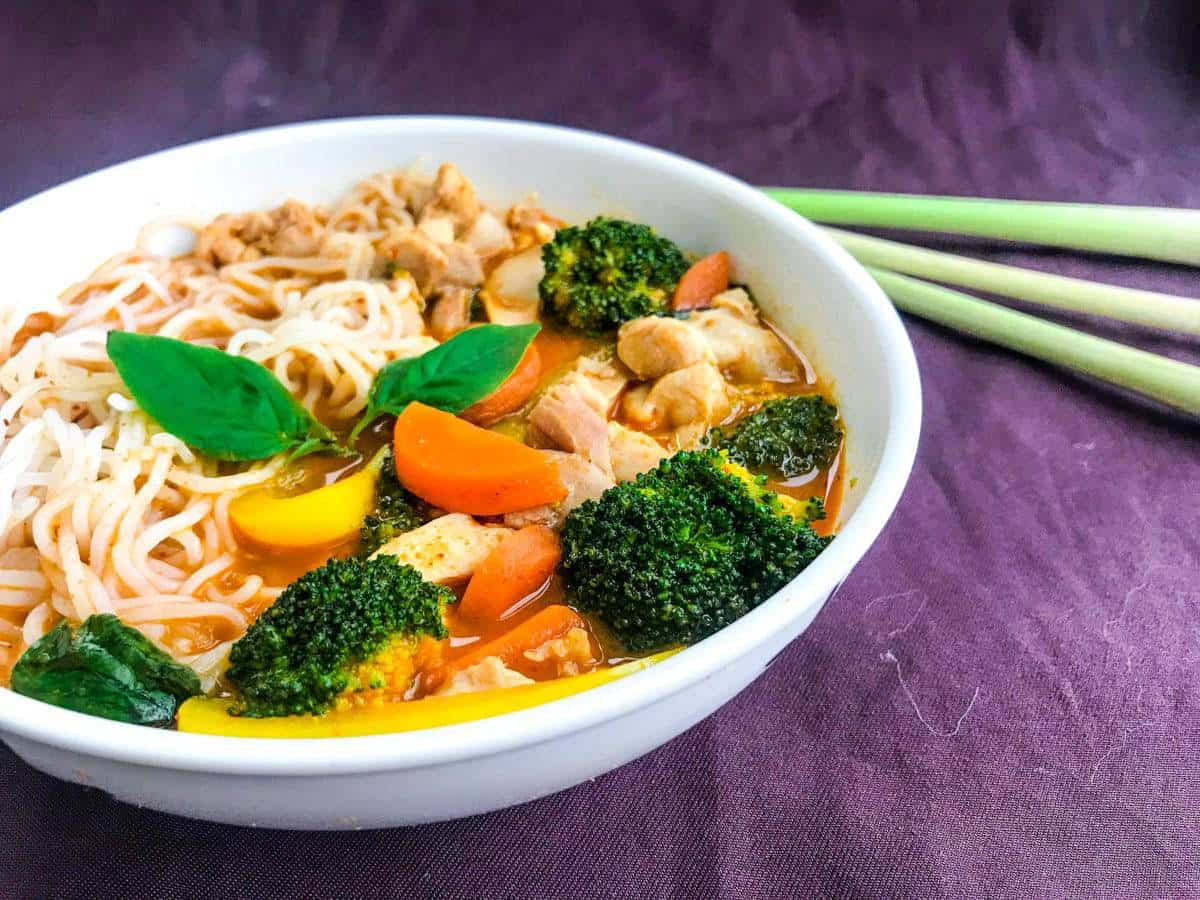 Quite a lot, actually, as it turns out. Let's just say that this Thai Chicken Noodle Soup is not at all what I first imagined. But it is delicious and comforting and perfect for the cold winter nights I feel coming on, so I'm trying to let it go (cue Frozen soundtrack).
First of all, the plan was to make a vegetarian thai noodle soup. That plan did not work out for me, but I was too stubborn to let it go until a month or so into my trials. I then added chicken stock instead of vegetable stock and bite-size pieces of chicken, and that made it so much better. But still not quite there.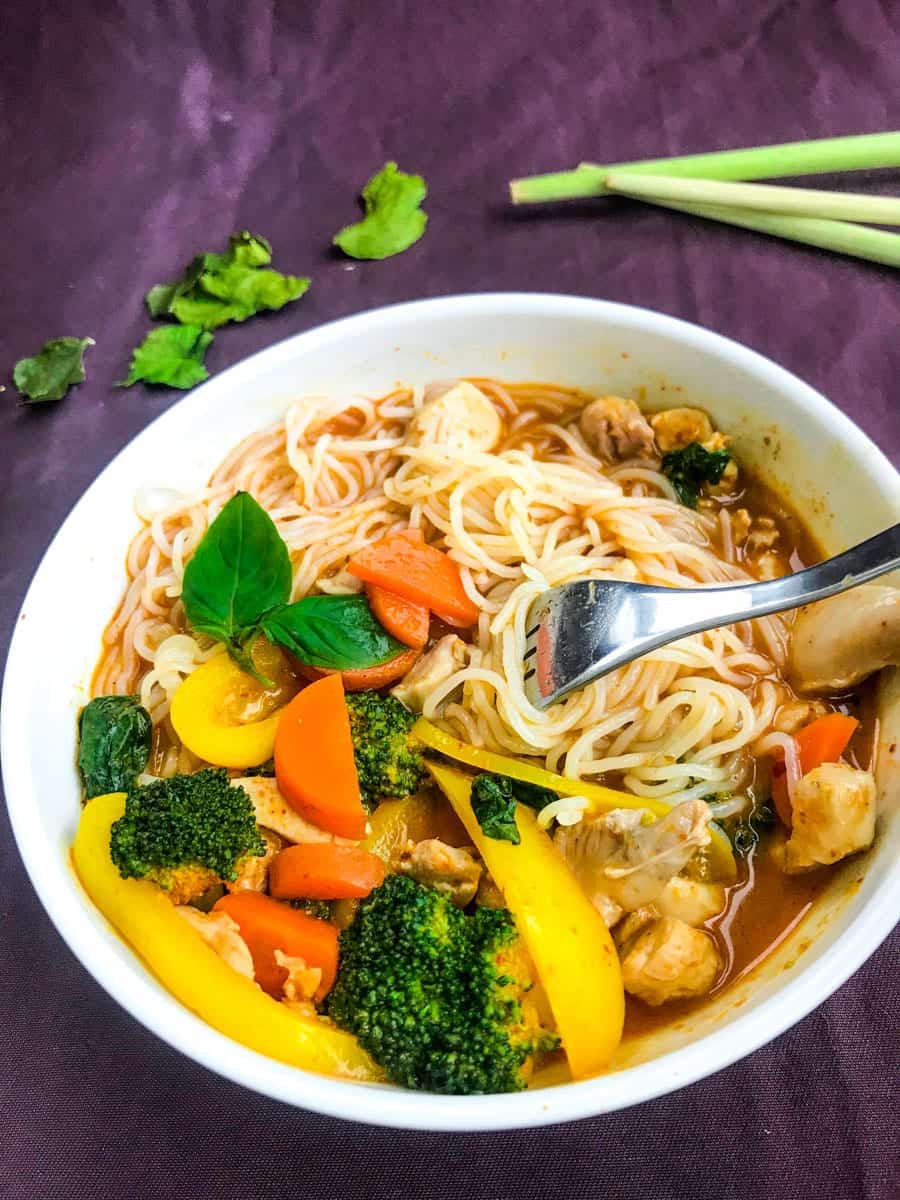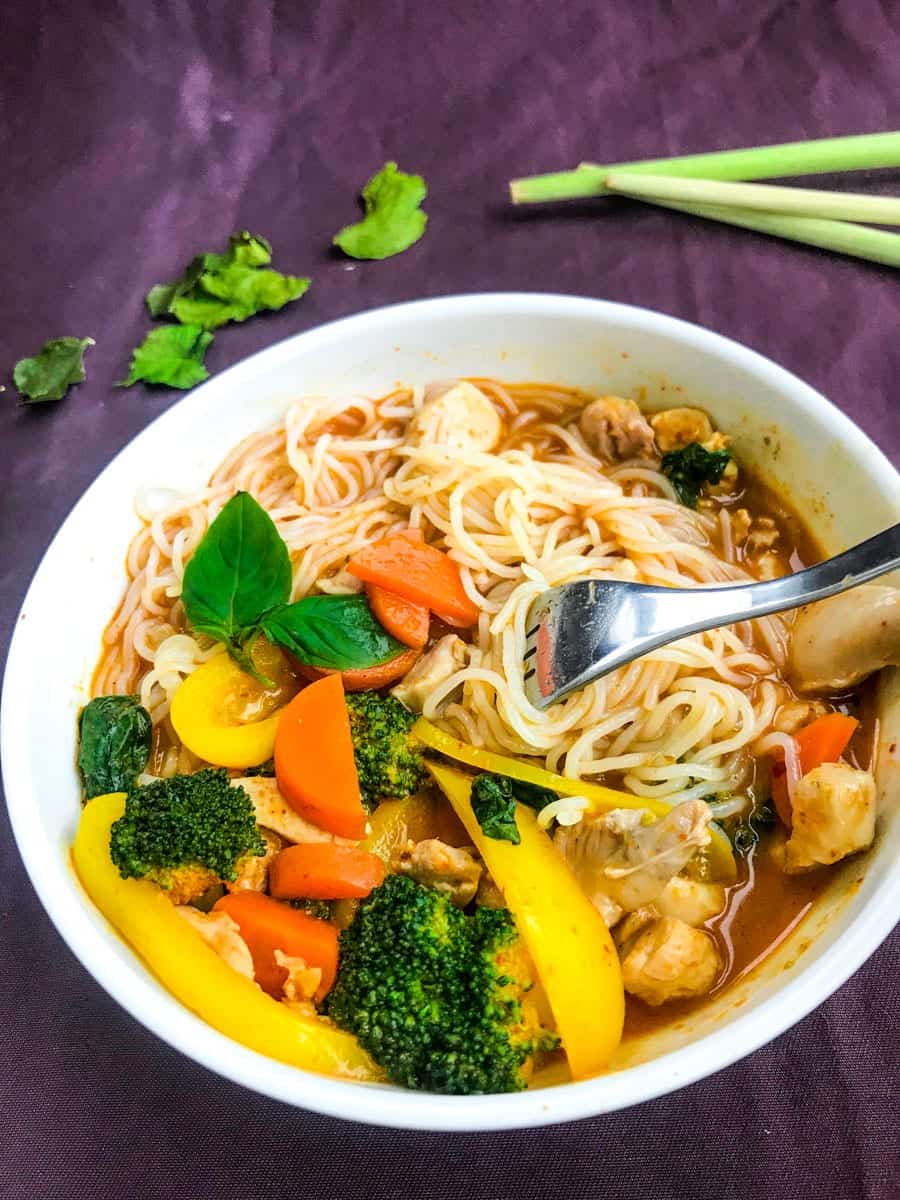 Next up. It was too creamy. I know, is that even a thing? Well, turns out, for me it is. Shocker! Somehow I couldn't get the whole richness of coconut cream to sit well with the noodles and veggies. However, this is when the magic happened. I added a whole lot more chicken stock, and my thai coconut curry soup turned into a thai chicken noodle soup.
It really is the best of both worlds. The lightness of a good chicken noodle soup with a more brothy base (at least that's how I like my chicken noodle soup), tons of flavor and a hint of heat from the thai spices and, still, a significant creaminess from the coconut milk. I know I'll be eating this all winter.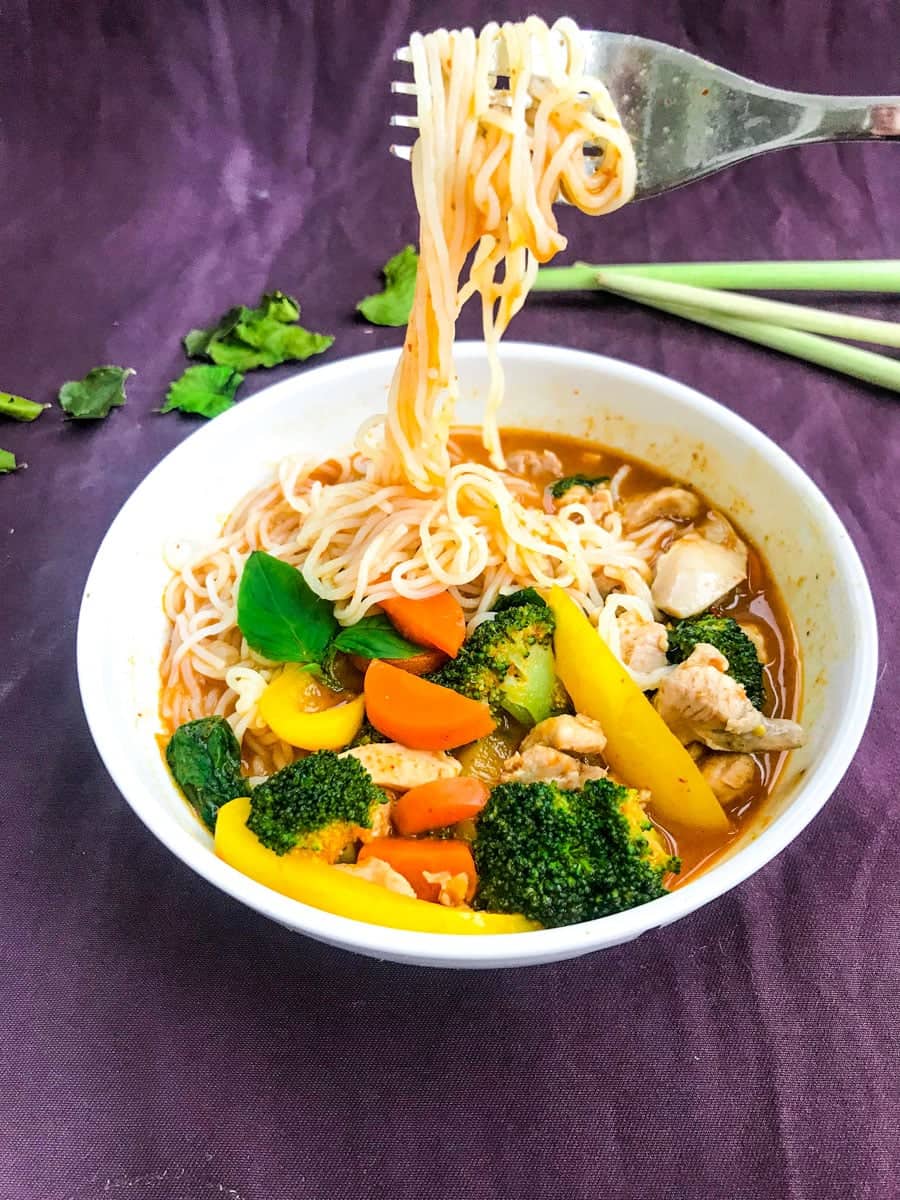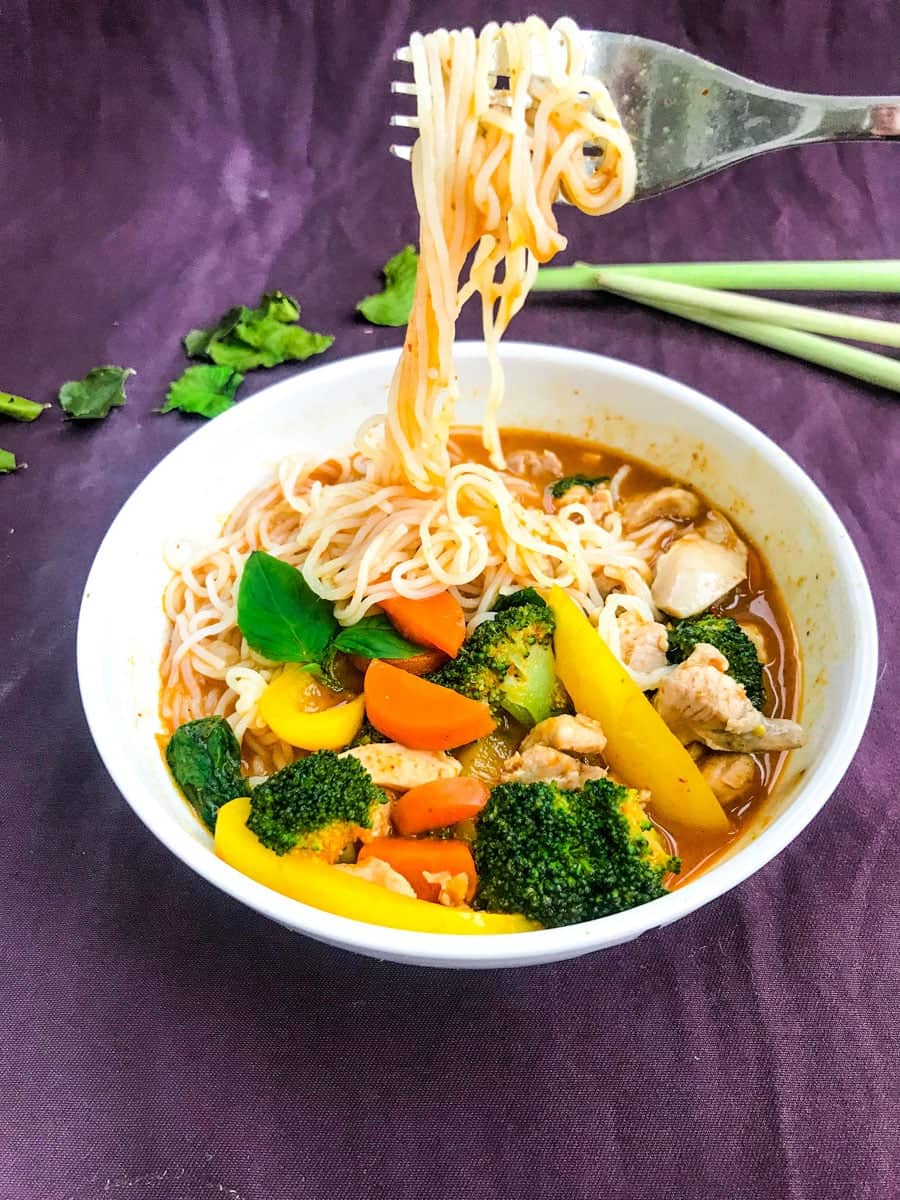 A note on the thai spices. For once, I didn't want it too spicy. I wanted it to stay comfy and approachable and perfect even for when you're feeling a bit out of sorts. More like a hug than a plunge into ice water, if that makes sense. You can do as you like, I might make it spicier another time. The secret to the degree of spiciness is in the red curry you choose. I usually go for a real thai red curry from the asian market, but for this I used a "Swedish" red curry. You know, the western brand name ones you get from your regular supermarket. It's usually got a lot of taste, but far less spice. Not perfect for everything, but really good for when you want the flavor without all the punch.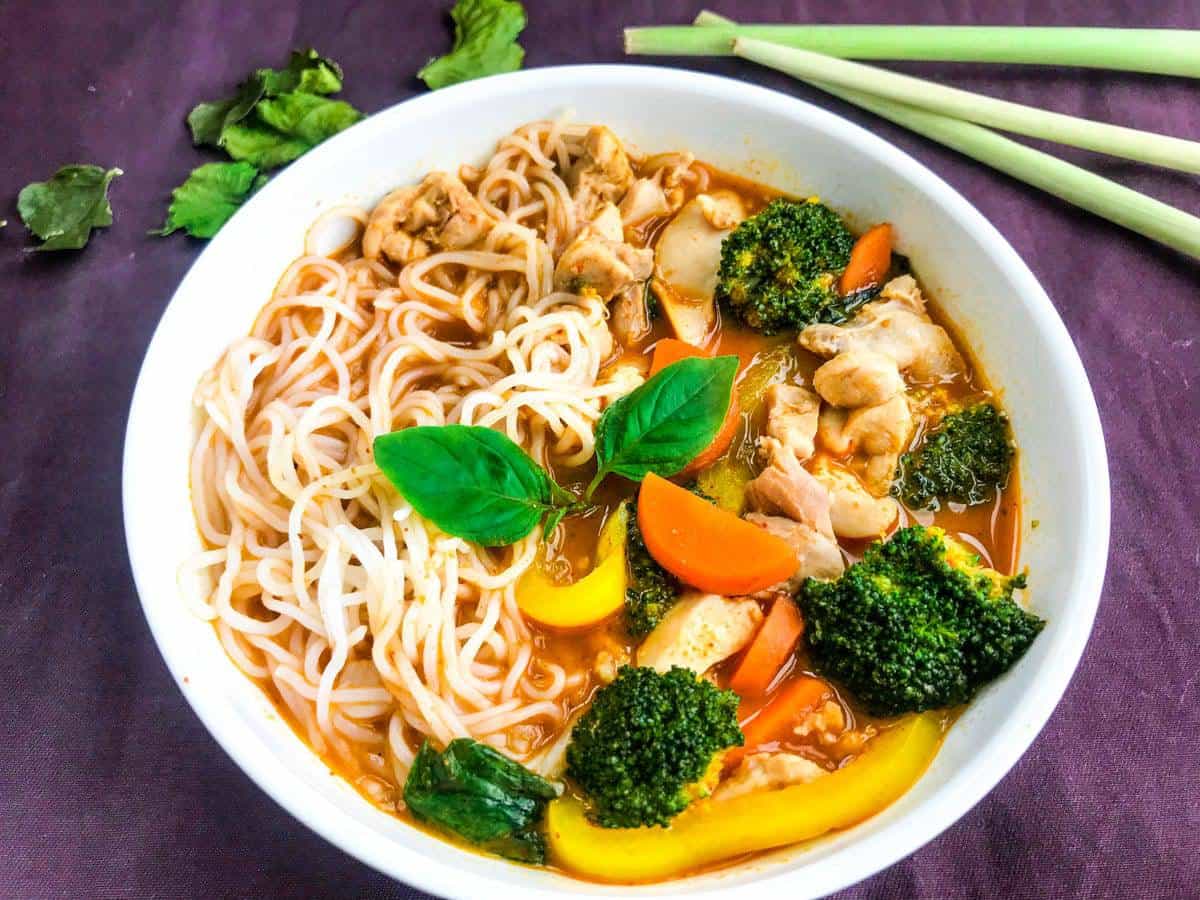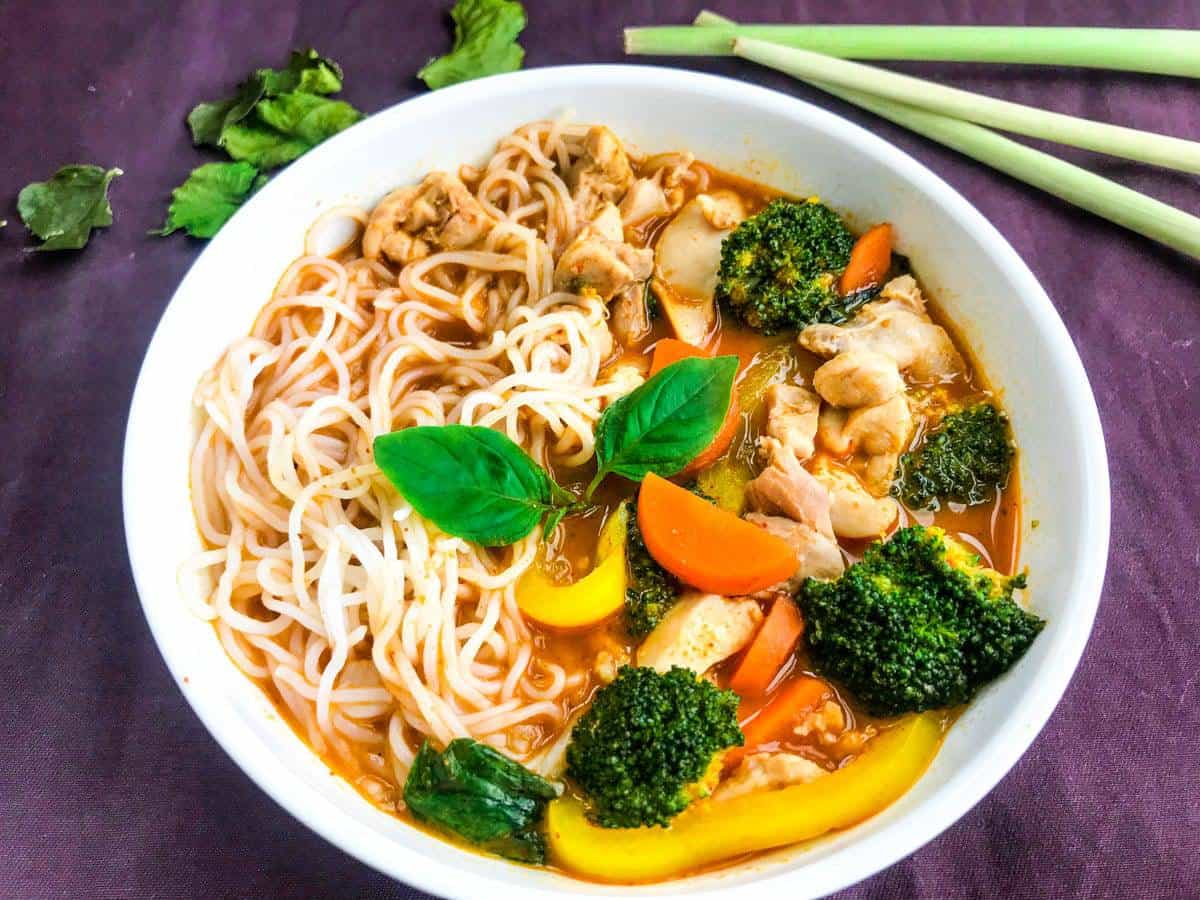 Over to you - save this one for the next time you get home and feel like it's all dark and gloomy and you just want to pull the covers over your head. I promise it will lighten things up. Or just make it tonight, that works as well.
As always, if you do make it - I'd love for you to leave a comment and/or rating below! And you know I love to see your creations whenever you show them off - so please tag me on Instagram if you post it!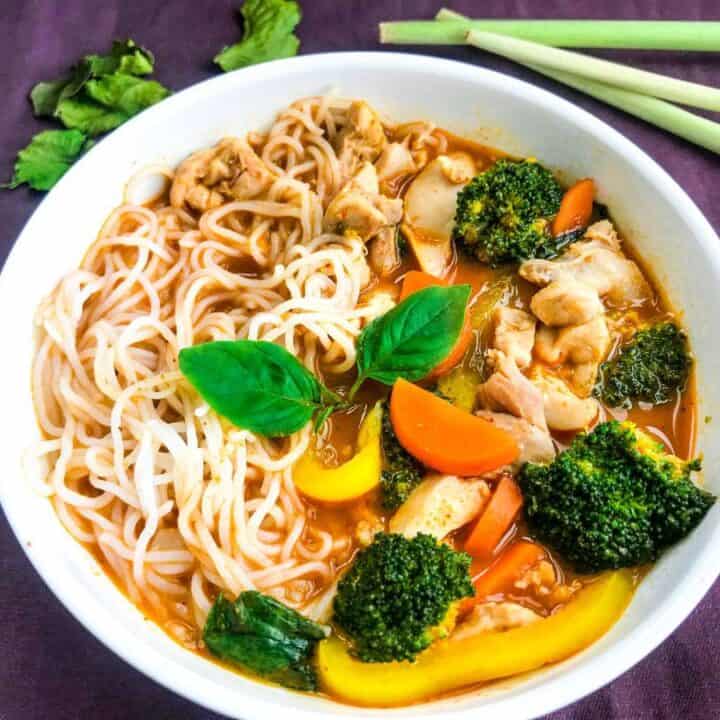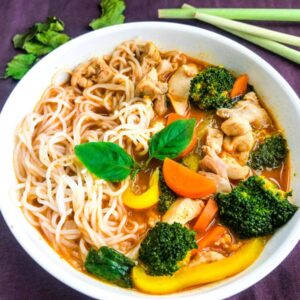 Ingredients
200

ml

coconut milk

2-4

Tbsp

red curry paste

amount depending on strength

400

ml

chicken stock

200

g

chicken

cut in bite-size pieces

2

Tbsp

fish sauce

1

lemongrass

cut in half and crushed with the side of the knife

4

kaffir lime leaves

75

g

broccoli

cut in bite-size pieces

75

g

carrots

sliced

75

g

yellow bell pepper

sliced

10

g

sweet Thai basil

2

servings

rice noodles

cooked according to package instruction
Instructions
Heat up the coconut milk in a pan over high heat. When it starts to boil, add the red curry paste and cook for 1-2 minutes while stirring.

Add chicken stock and bring to a boil again. Lower heat to medium-high and add in chicken and cook for 2-3 minutes until the chicken turns white, stirring only occasionally.


Add the fish sauce, lemongrass and kaffir lime leaves and stir.


Add broccoli and carrot and cook for 2 minutes, then add the bell pepper and cook for another minute. Stir occasionally. When finished, remove the lemon grass and kaffir lime leaves and stir in the sweet basil.


Place the cooked and drained rice noodles in a bowl, pour over the soup, serve and enjoy!

Notes
Adjust the amount of red curry to match your desired spice level and the red curry paste you are using
Nutrition
Calories:
642
kcal
|
Carbohydrates:
67
g
|
Protein:
21
g
|
Fat:
32
g
|
Saturated Fat:
22
g
|
Cholesterol:
42
mg
|
Sodium:
1887
mg
|
Potassium:
908
mg
|
Fiber:
3
g
|
Sugar:
7
g
|
Vitamin A:
9265
IU
|
Vitamin C:
108.4
mg
|
Calcium:
107
mg
|
Iron:
6
mg
Nutritional information is approximate and automatically calculated, and should only be viewed as an indication.