This post may contain affiliate links, which are always marked with *. Please read my disclosure for more information.
This quick & easy Thai Ginger Coconut Soup is almost vegan and perfectly warm and cosy for the winter months. Based on a classic Tom Kha recipe, this one uses ginger in place of galangal and the end result is equally comforting. Every spoonful tastes like a hug, with subtle flavors all complementing the natural sweetness of the coconut milk.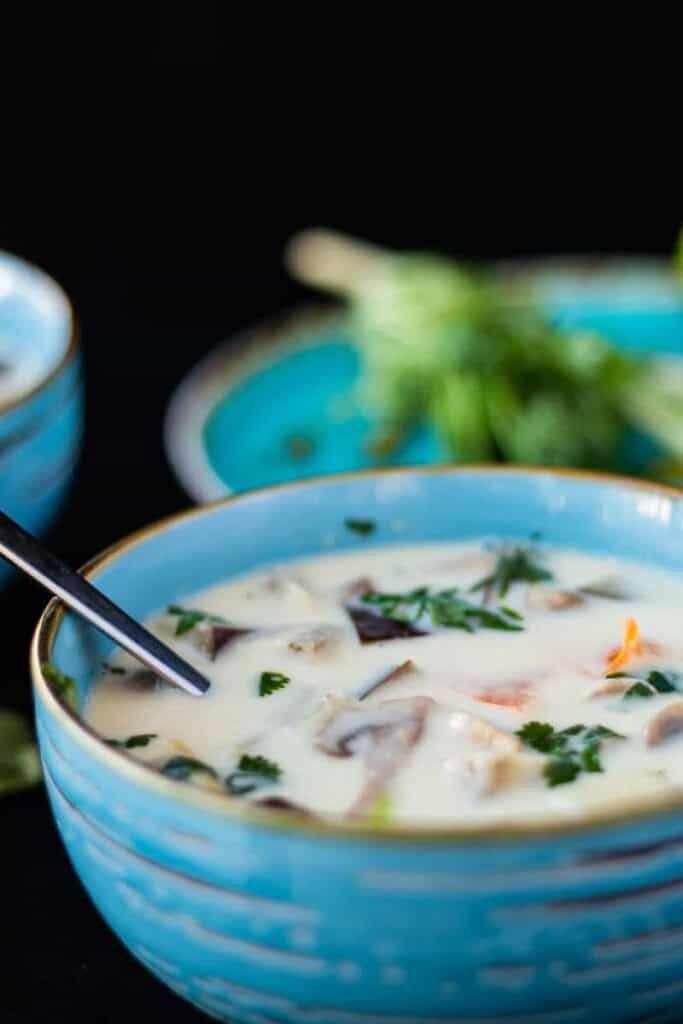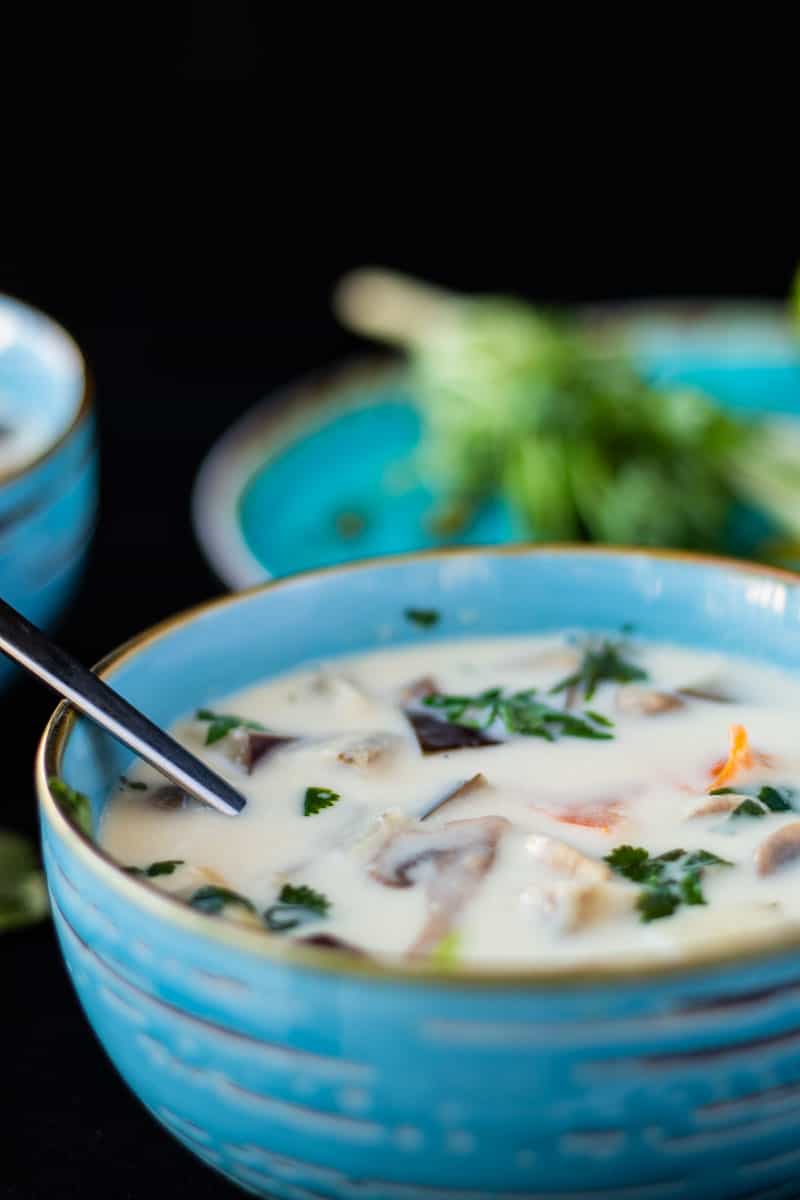 You might be familiar with the classic Thai dish Tom Kha Gai, which translates to Galangal Soup with Chicken. Traditionally served in Thailand during the cold winters (ehm, have they heard of Sweden??) the galangal is supposed to warm you up from the inside. Kinda perfect for a cold January, right?
Well, the only drawback to galangal is that it's generally quite hard to find in the west. Regular supermarkets often don't carry it, and half of the time I even fail to find it at my go-to Asian supermarket. So since I'm all about recipes you can actually create at home - something had to be done!
Enter: ginger. Another delicious root, closely related to galangal, but a bit different in taste, and even more fragrant.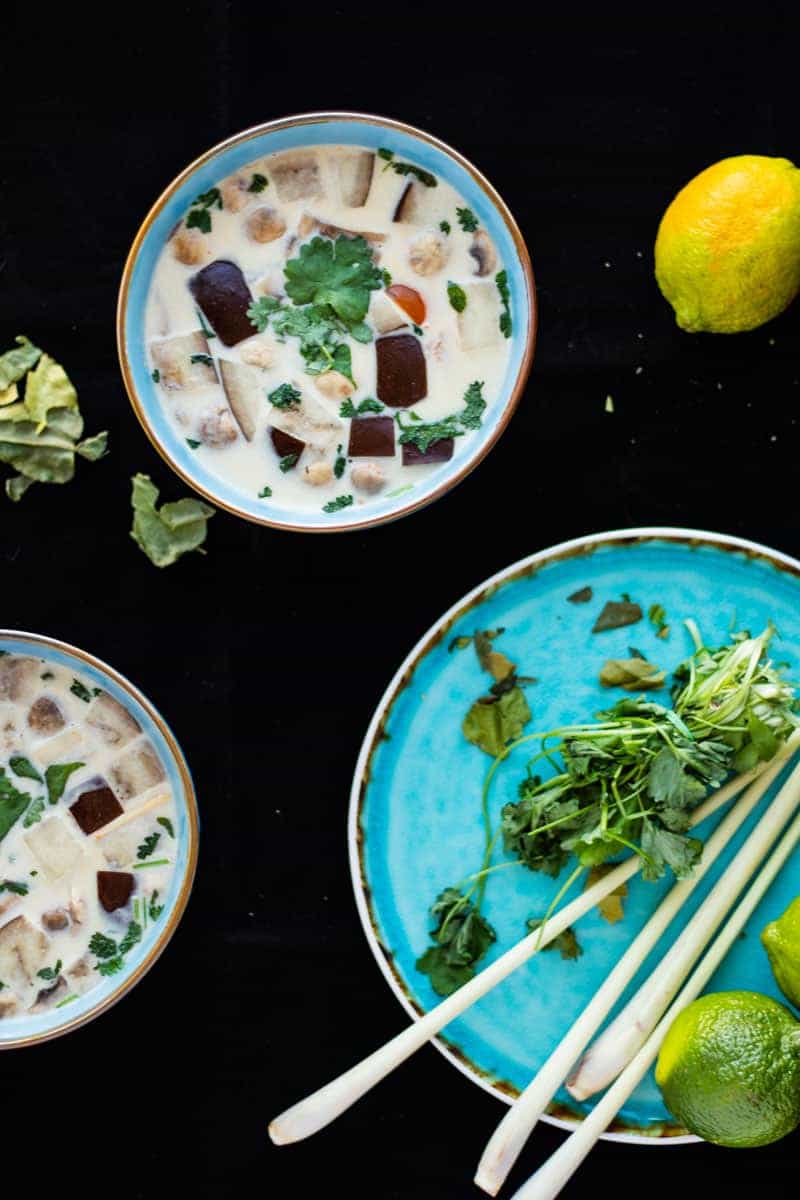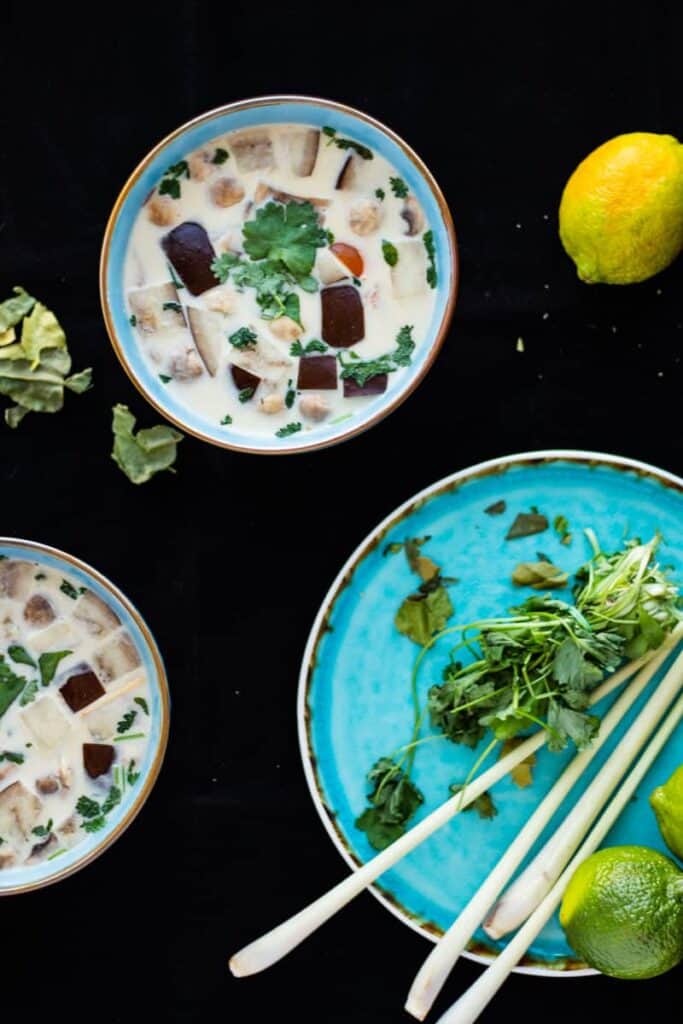 The difference between Galangal & Ginger
Galangal and ginger can look very similar, and some of you might even have mistaken them for one another at times. They are actually related, but not too close in taste.
How Does Galangal and Ginger Taste
While galangal is more citrusy and nutty, ginger is more fragrant and spicy. So when we use ginger instead of galangal we get a soup that has a bit of a bite to it - but not too much - and that longs for a touch of lime juice.
Health Benefits of Galangal and Ginger
Both galangal and ginger have amazing health benefits, and I find them both to be the perfect companions for cold & flu season.
While they're both highly anti-inflammatory and can help with digestive issues, galangal has in recent years been talked about as supposedly being amazing for fighting cancer and ginger can work wonders for all types of nausea - be it due to morning sickness, motion sickness or just a few too many glasses of vino.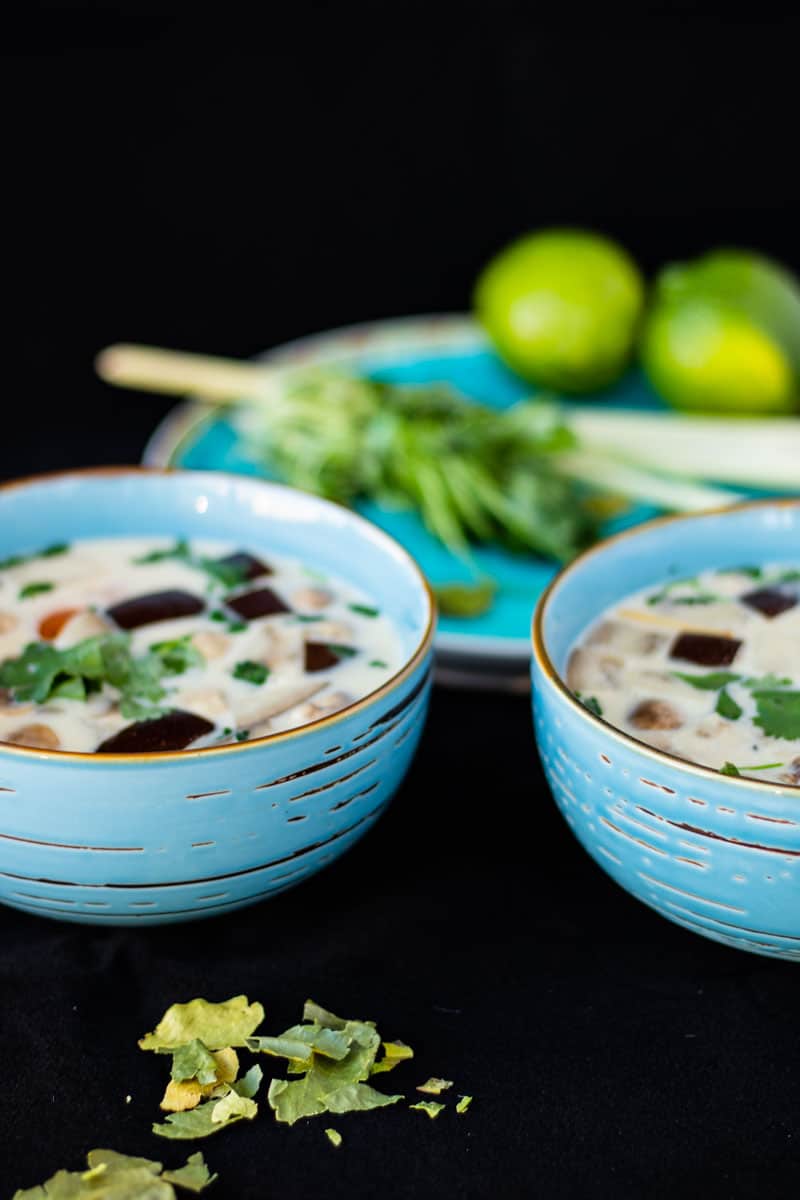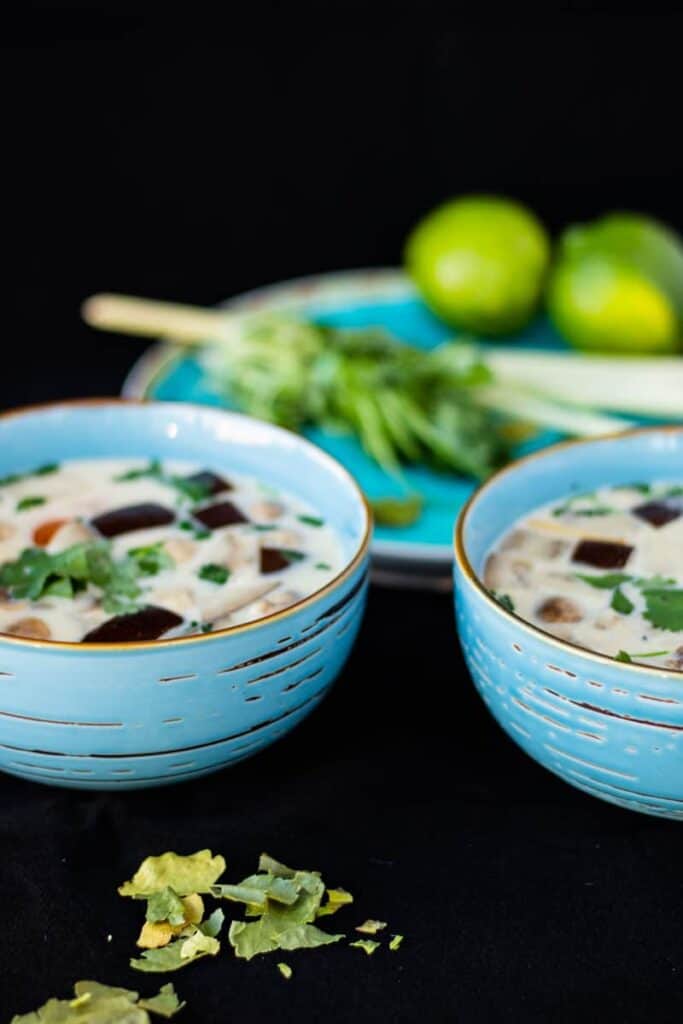 How to Make Almost Vegan Thai Ginger Coconut Soup
Making this ginger coconut soup is super easy and done in just 20 minutes. No meat, no poultry, no fish - however, there is a dash or two of fish sauce in there, making it neither Vegan nor Vegetarian. But if you're just trying to cut down on the meat, then this might just be sufficient for you. I know it is for me!
To get started, chop up your eggplant, tomatoes and white button mushrooms. Then heat up the vegetable stock, coconut milk and coconut cream.
Coconut Milk vs Coconut Cream
Now what is coconut cream, you might ask. Coconut cream is basically a fattier version of coconut milk, but the difference in fattiness isn't too big in the west. The coconut milk I used for this recipe contained 17% of fat, while the coconut cream had 20%. So if you can't find coconut cream - just add the same amount of coconut milk instead.
Fun fact about coconut milk and cream: in Thailand I was taught that what we get here as Coconut Milk is often what they call Coconut Cream, while their version of Coconut Milk is often called "Light" Coconut Milk in the west. And the difference in fattiness really comes from the coconut cream coming from the first pressing of the coconut, and the coconut milk from the second. A little trivia for you to serve with this dish!
Anyway. When you've heated up the vegetable stock, coconut milk & cream to a boil you add in the ginger, kaffir lime leaves and lemon grass. Now, two important pointers here regarding kaffir lime leaves and lemon grass.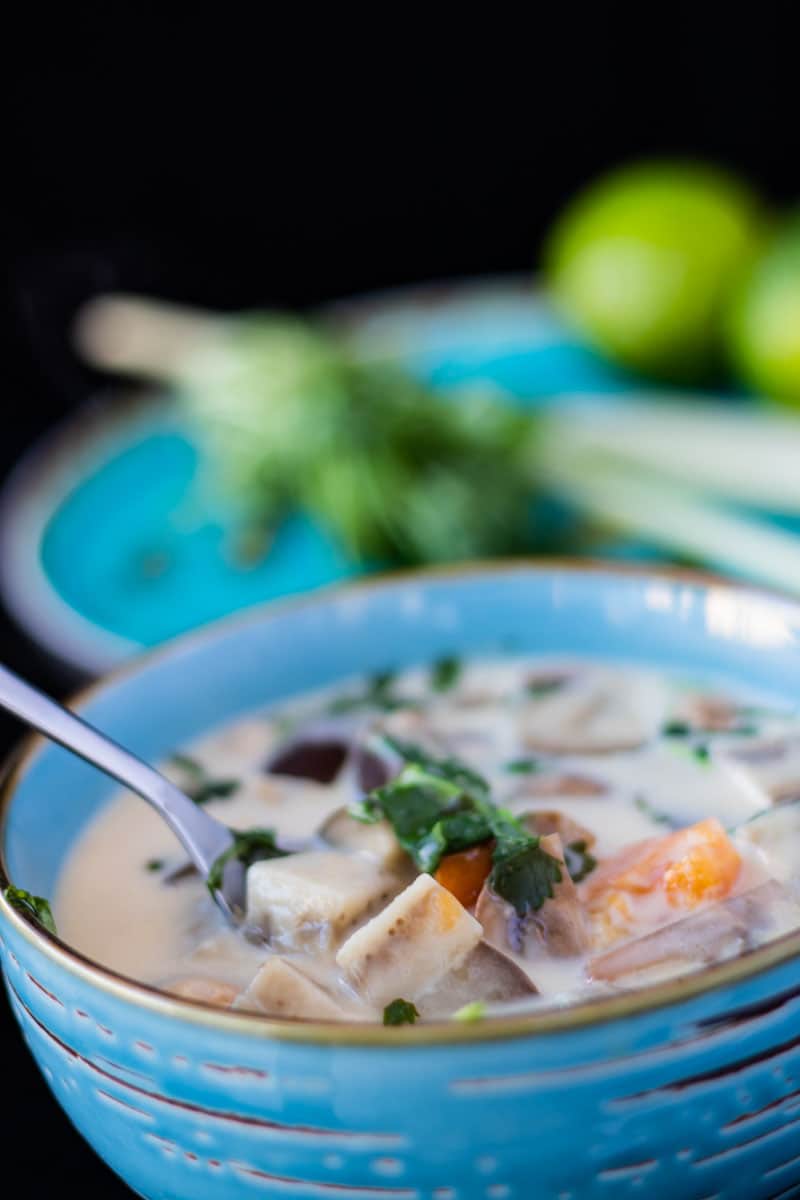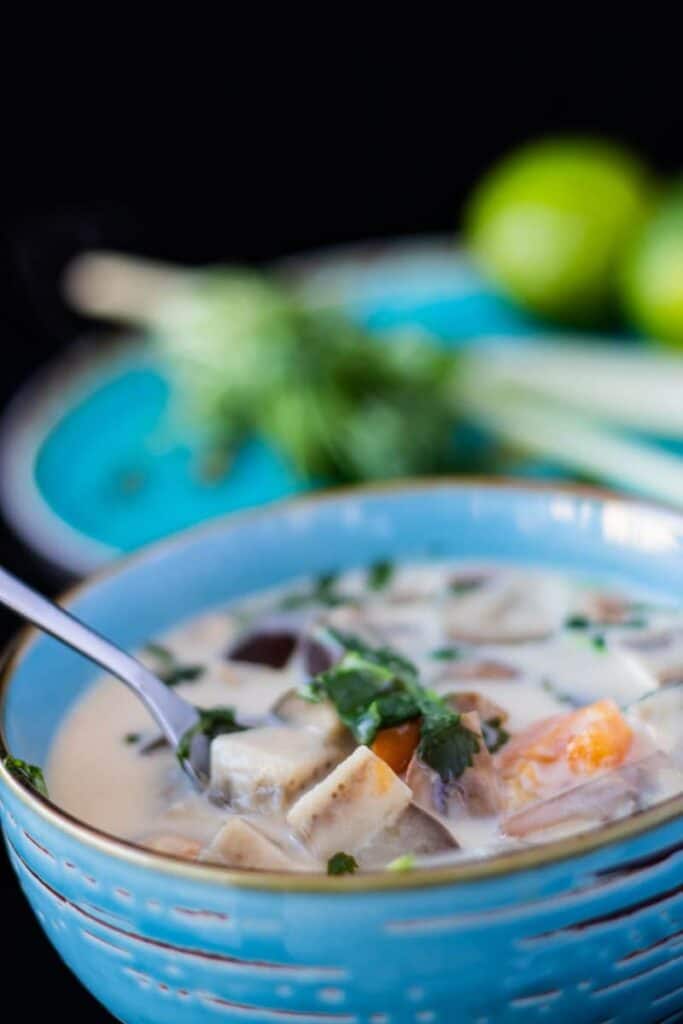 Fresh vs Dried Kaffir Lime Leaves
If you manage to get ahold of fresh kaffir lime leaves, wait and add them at the end instead - at the same time as the chili. I've never seen fresh lime leaves of any kind in Sweden and so I use the dried kind. These need a little time to release all their flavor and hence I add them earlier.
How to Use Lemon Grass
Lemon grass is deliciously fragrant, and an important part of Thai cuisine. It took me a long while to understand where that deliciously aromatic citrusy - but not acidic! - flavor came from, and a big part of that flavor is thanks to the lemon grass. (The rest? The delicious kaffir lime leaves!)
Now for lemon grass to release all that delicious flavor, you do need to manage it a bit. Nothing difficult, but if you don't you just won't get the same amount of flavor.
What you do is you cut the lemon grass into a few pieces, and then crush the pieces using the side of your knife. It should still stick together (so you can easily remove it at the end) but crushing it releases all that yummy flavor.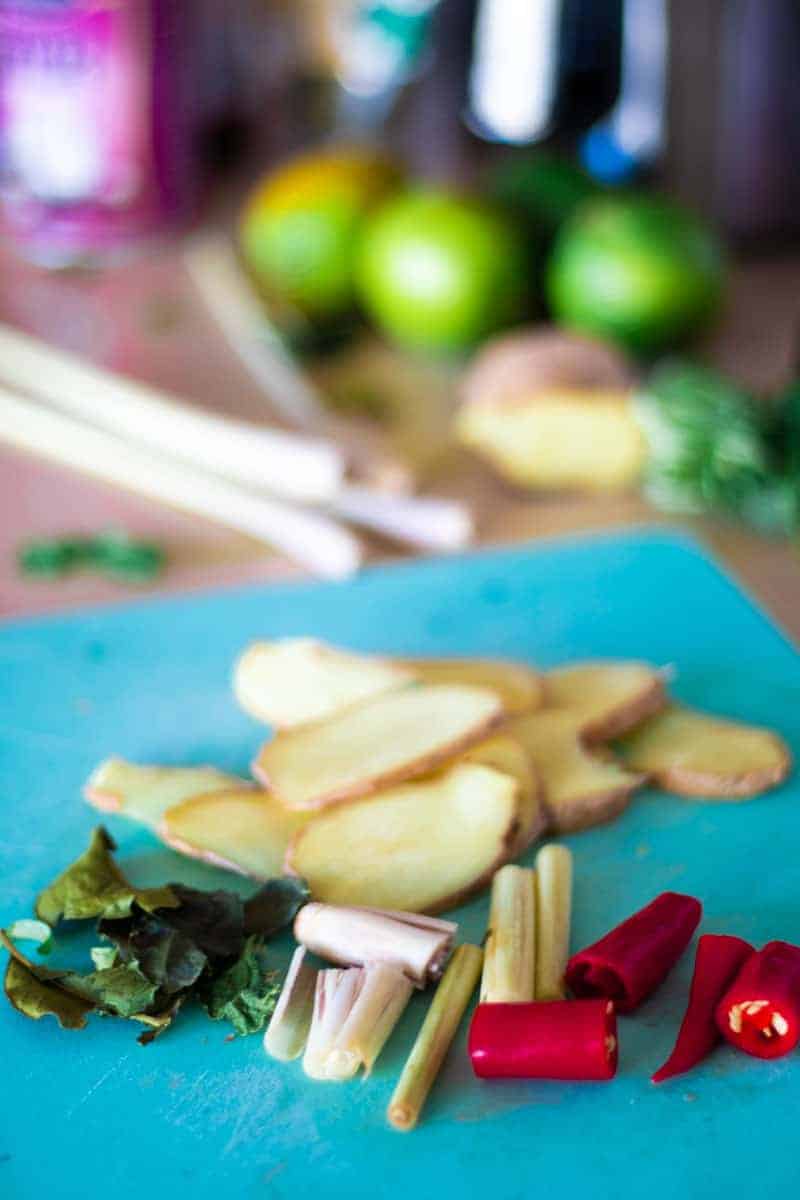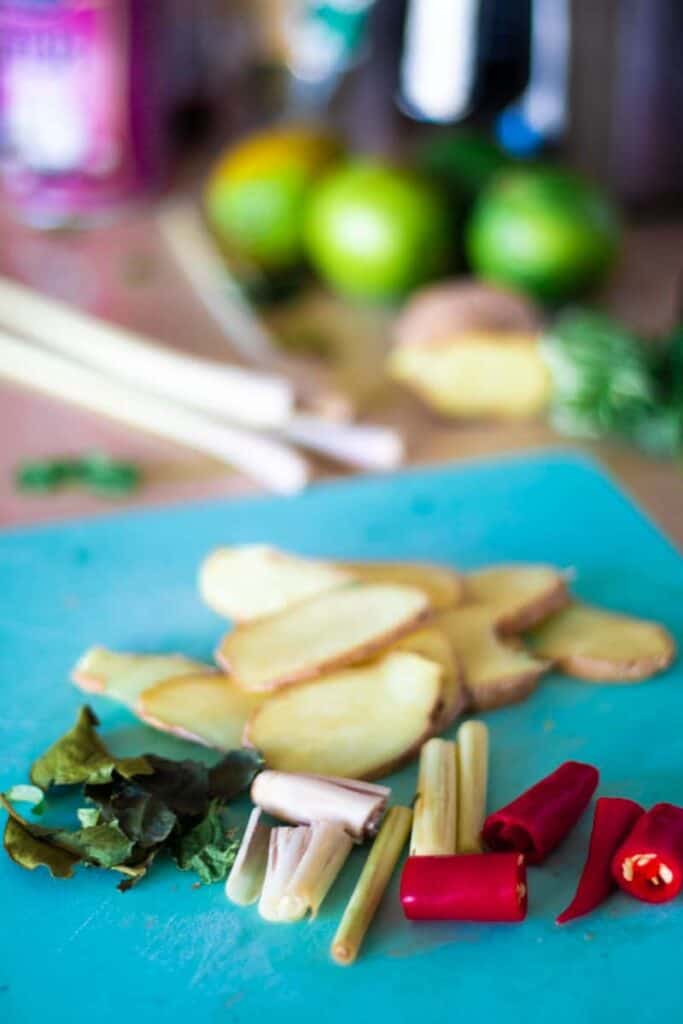 OK so when you've added the ginger, lemon grass and lime leaves you stir and let it boil for about 2 minutes. After this you add in the chopped egg plant, tomatoes and mushrooms, stir, and let boil for another 5 minutes before taking off the heat. Add in the chili (without the seeds, if you don't want too much heat), stir, and let sit off the heat for 2 minutes.
After this comes the part that will make your soup fancier than all the other Thai soups: the removing of all the stuff you don't really want to eat. This might seem tedious and yes I know they don't always do it for Thai takeout - but we're trying to be better than that, OK? It's really not too much work. Just grab a pair of kitchen forceps and pick out the ginger slices, lemon grass pieces, lime leaves and chili.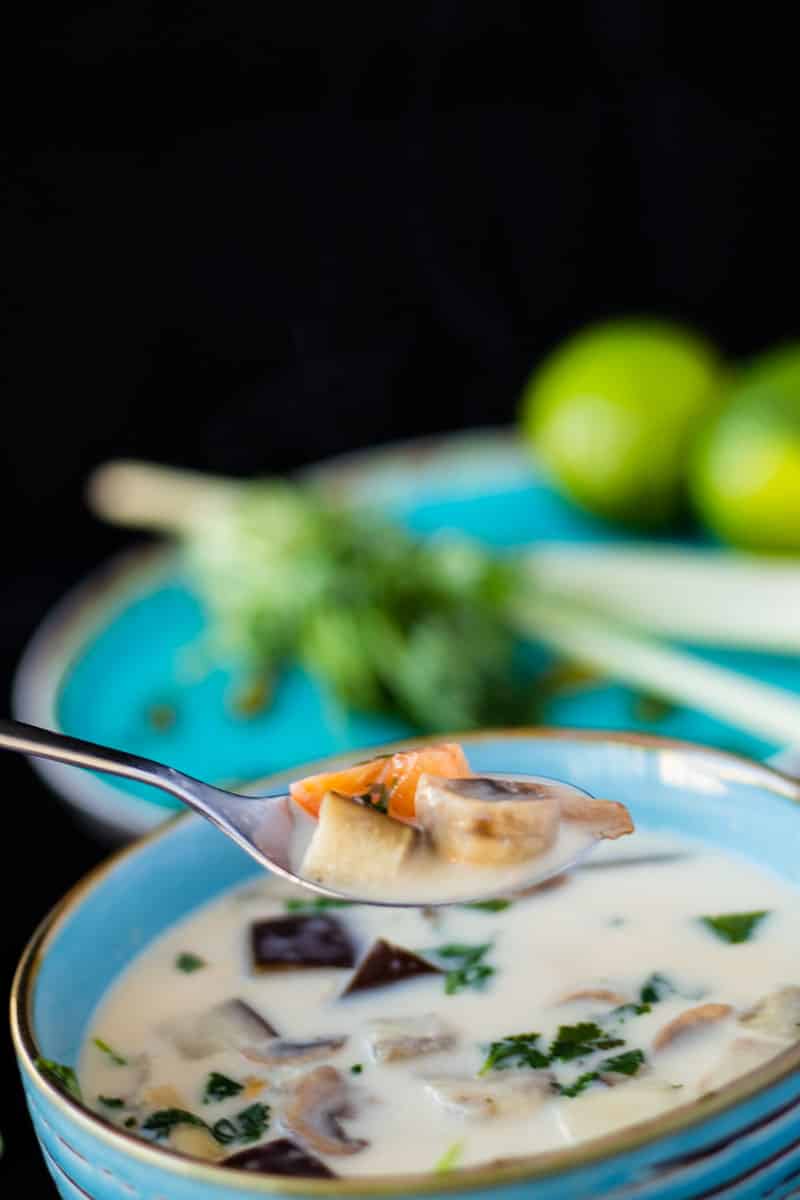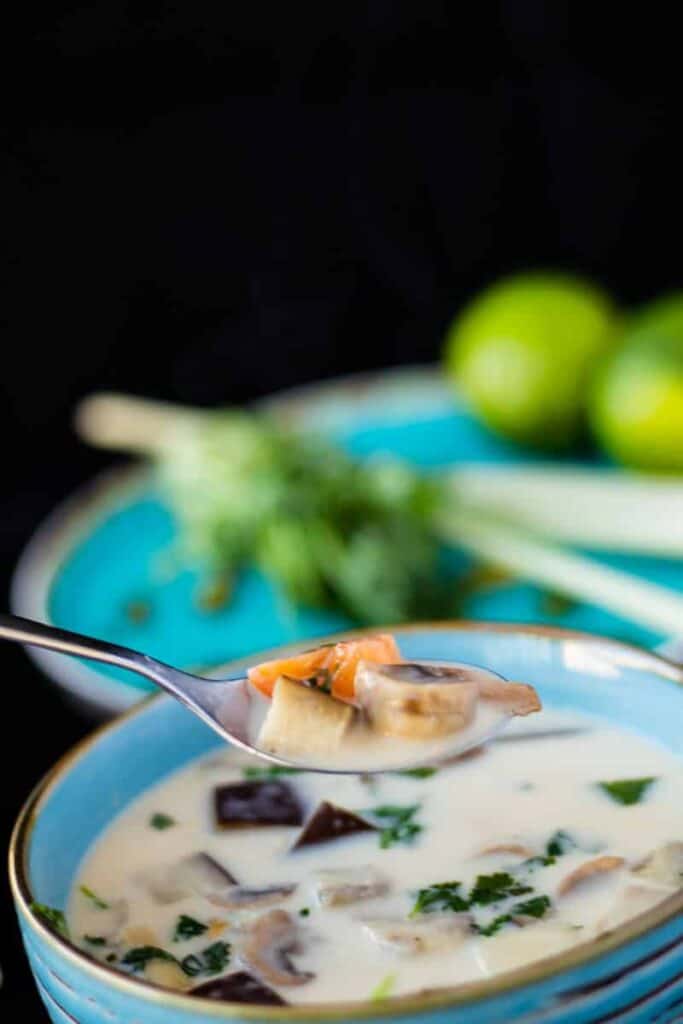 Now comes the final touch! Season with fish sauce and lime juice, according to your taste. I really like this soup not to have too overbearing tastes, but to be more soft and comforting, so the amounts stated in the recipe should accomplish just that. If you want more or less flavor - just adjust, taste test, and add as needed. Finally, mix in the chopped cilantro, and serve.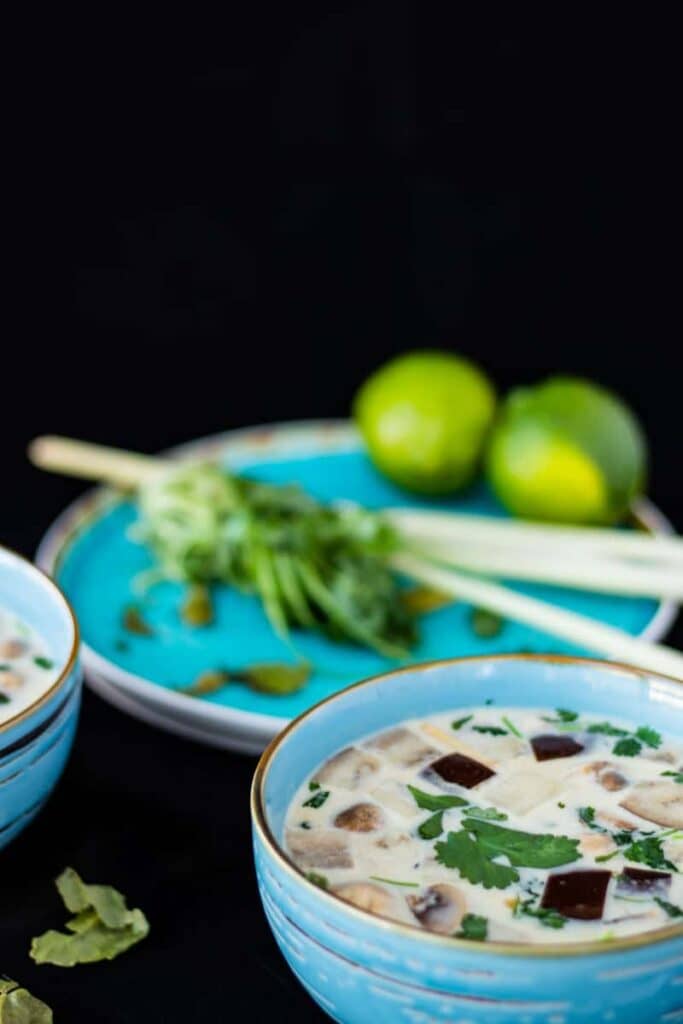 Whew! That was a long one. The actual making of ginger coconut soup is not at all as complicated as this post is long, and I am confident you will pull it off without a glitch. If you just can't get enough of Thai Soups - check out this Thai Chicken Noodle Soup as well or grab this recipe for Massaman Chicken Curry for some authentic Thai flavor. Or just go for my favorite Thai recipe of all time - this Larb Gai.
Did you try this recipe? What did you think? Please leave a comment and a rating below, and let me know! Or just leave one anyway - I love hearing from you. Posting about this anywhere? Please tag me @alwaysusebutter and use the hashtag #alwaysusebutter.
Now enjoy this cosy meal in the cold weather, and let's talk in a few days.
Love,
Emmeline
Recipe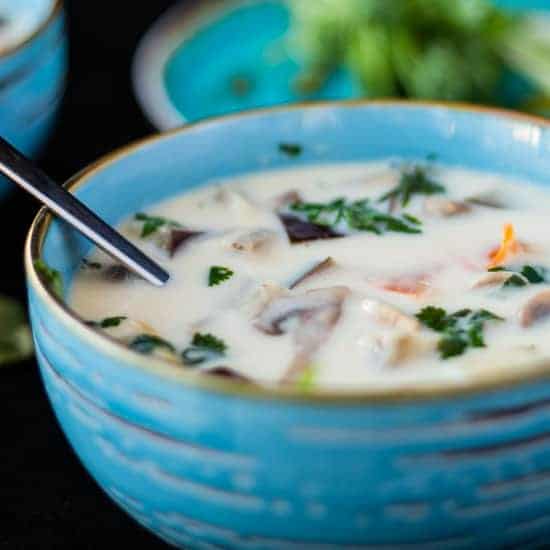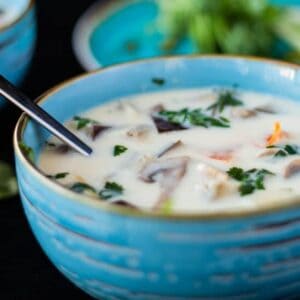 Ingredients
1.5

cups

coconut milk

1

cup

coconut cream

4

cups

vegetable stock

2.5

ounces

ginger

thinly sliced

1

lemon grass

cut in piece and slightly crushed

4

kaffir lime leaves

dried

0.5

medium-sized egg plant

roughly chopped

10

white button mushrooms

roughly chopped

4

tomatoes

roughly chopped

1

red chili

cut in large pieces, seeds removed

2

tablespoon

fish sauce

1

lime

juice of

⅔

cup

cilantro

chopped, lightly packed
Instructions
Pour the coconut milk, coconut cream and vegetable stock in a large pot and stir. Heat to a boil over medium heat.

Add in the ginger, lemon grass and lime leaves. Stir and simmer for about 2 minutes, until fragrant.

Add in the chopped egg plant, mushrooms and tomatoes. Stir and bring back to a boil. Simmer for about 5 minutes, until vegetables have softened.

Take the pot off the heat and add in the chili. Stir and let sit for 2 minutes. Meanwhile, use a kitchen forceps to remove the slices of ginger, pieces of lemon grass and lime leave. Finally, remove the pieces of chili.

Add in the fish sauce and lime juice. Taste test and adjust. Finish by adding in the chopped cilantro.

Serve on its own, or add cooked jasmine rice for a larger meal.
Notes
Like it hot? Keep the seeds in the chilis when adding them.
Make it vegan? Exclude the fish sauce or replace it with your favorite substitute.
Nutrition
Calories:
447
kcal
|
Carbohydrates:
24
g
|
Protein:
8
g
|
Fat:
39
g
|
Saturated Fat:
34
g
|
Sodium:
1736
mg
|
Potassium:
1120
mg
|
Fiber:
5
g
|
Sugar:
9
g
|
Vitamin A:
1845
IU
|
Vitamin C:
41.5
mg
|
Calcium:
48
mg
|
Iron:
5.5
mg
Nutritional information is approximate and automatically calculated, and should only be viewed as an indication.