This post may contain affiliate links, which are always marked with *. Please read my disclosure for more information.
A quick & delicious breakfast, lunch or dinner - this Frittata with feta cheese and sun-dried tomatoes works any time of day. Made without an oven and in a small pan this recipe is perfectly suited for one - or served for a crowd as part of a larger spread.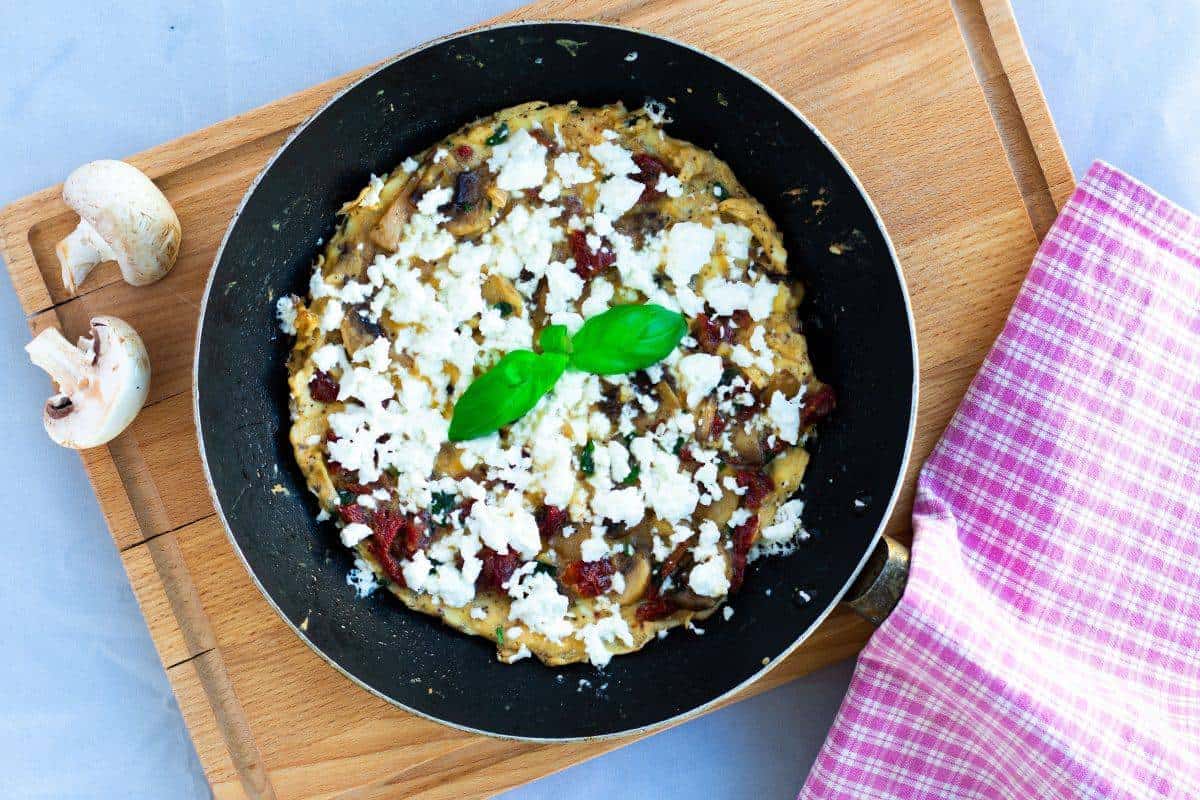 I love a nice, big breakfast on the weekend. Doesn't everyone?? And while my latest obsession is a creamy Shakshuka (yes, recipe will be coming!), this breakfast frittata stuffed with all the good stuff is an old favorite that just keeps re-surfacing. It's kinda like the indulgent (but good for you!) weekend version of the Greek Breakfast Egg Muffins.
While this frittata contains something of a holy trinity in my kitchen - feta cheese, basil & sun-dried tomatoes - the mushrooms are real stars. There's just something about mushrooms softened in lots of butter to add that umami taste, you know?
But first things first - let's talk frittata basics, and then you'll be all set to follow my recipe, or just cook up a frittata with your own favorite seasoning.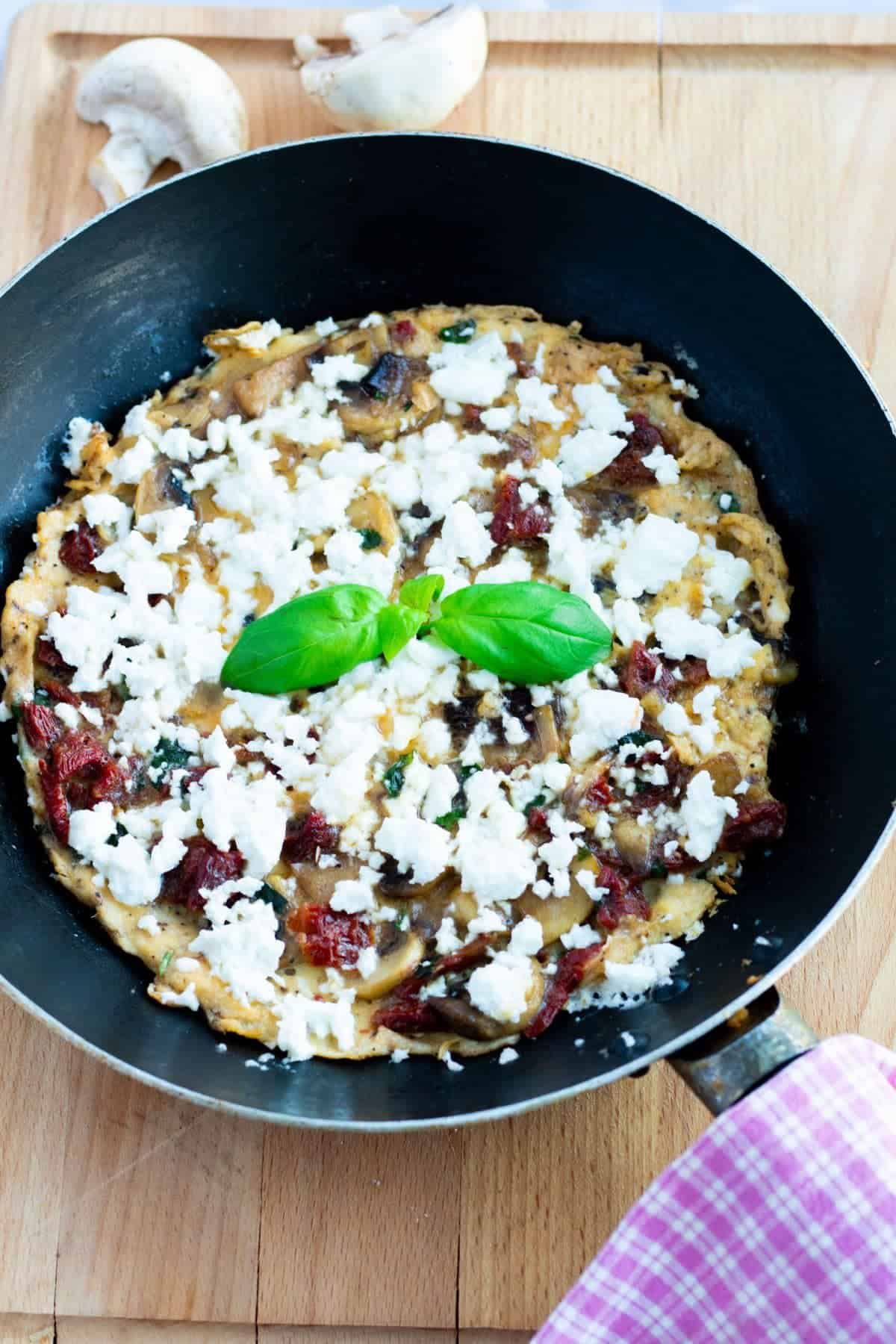 What is a Frittata
A Frittata - despite the fancy name - is not all that different from an omelet. Just like an omelet, the basic recipe consists of eggs, salt, pepper and maybe a dash or two of milk, cream or even water.
What's the Difference Between a Frittata and an Omelet
Now, of course, the frittata is not exactly like an omelett. While the omelet generally has any additional flavorings and toppings added on top of it, the frittata is cooked with all the toppings mixed into the batter. To me, a not-too-big-fan of eggs, this makes all the difference.
The whole adding-everything-to-the-pan concept of a frittata also makes it a bit thicker than an omelet, which is why it's often either flipped in the pan and finished on the other side or even finished off in the oven.
For this one-serving frittata though, neither is necessary.
What's the Difference Between a Frittata and a Quiche?
A Frittata is also quite similar to a quiche - but here the difference is even easier to spot. The reason being - the quiche has a crust. Other than that it's basically the same - so we could really just call a Frittata a Keto Low Carb Quiche and be all trendy about it.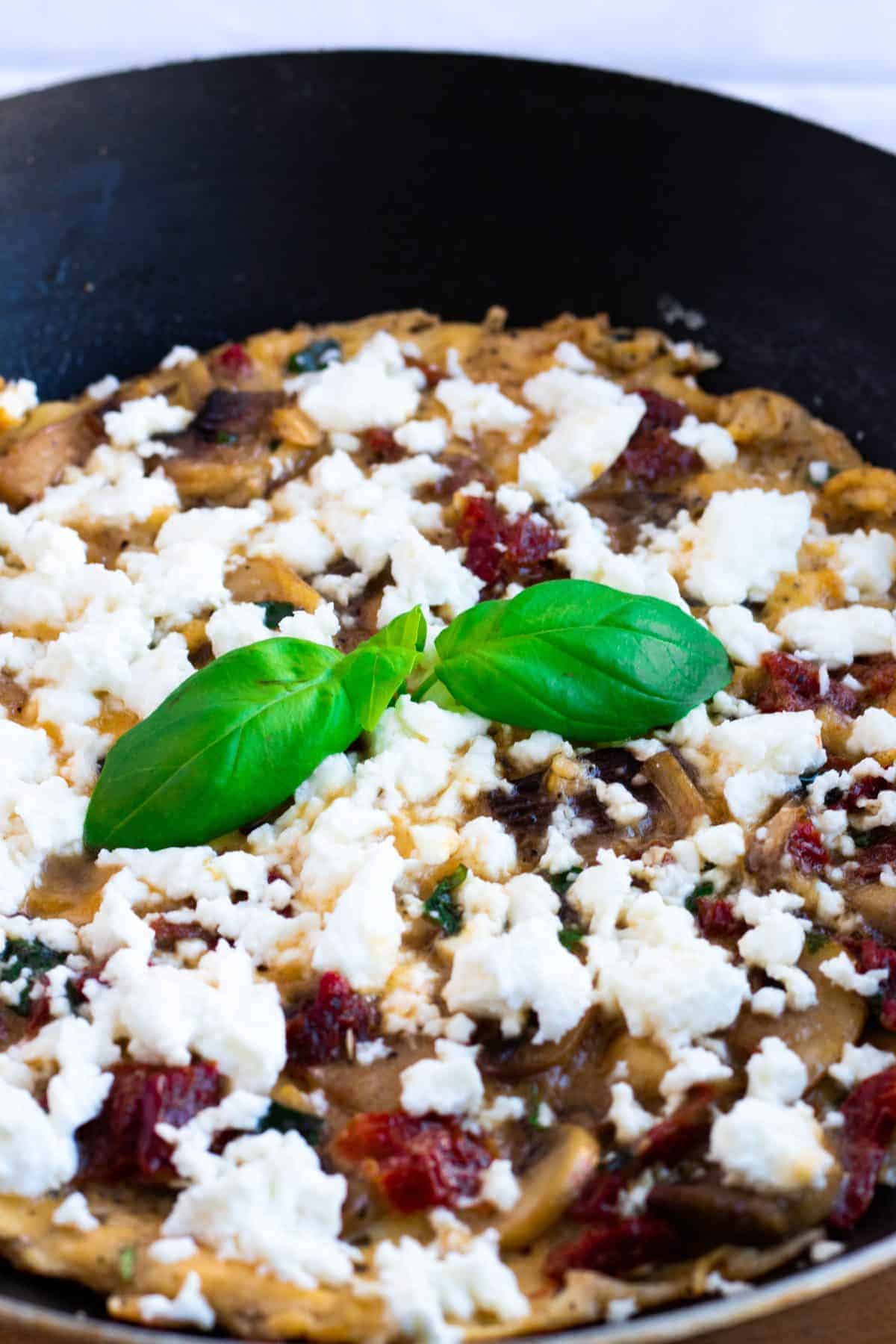 How to Make a Frittata Without an Oven
I said no flipping or oven necessary, right? Well that is 100% true. The secret to cooking it without an oven is to either take care not to make it too thick, or too flip it, cover it and let it finish on low heat.
We're making this frittata individual style, so we're going for option 1.
One serving fits perfectly in a smaller pan (20-25 cm or 8-9'' across), but you can easily double the recipe and make it in a larger pan without risking it becoming too thick. Just make sure to keep the temperature low, and allow a few more minutes for it to finish if doubling the recipe.
Now, to start, you fry your mushrooms in butter, until thoroughly saturated. Meanwhile, mix together your eggs, cream and black pepper - but don't add it just yet. Instead, add in the sun-dried tomatoes and basil, mix well, and then pour over the egg mixture. Give it a good mix again and then leave it to cook for about 5 minutes. Keep the temperature low and pour a glass of OJ.
Your frittata is finished when the egg has just set on top. When this happens, crumble your feta cheese on top and leave it on the heat for another minute. Add a few leaves of fresh basil just for show and serve.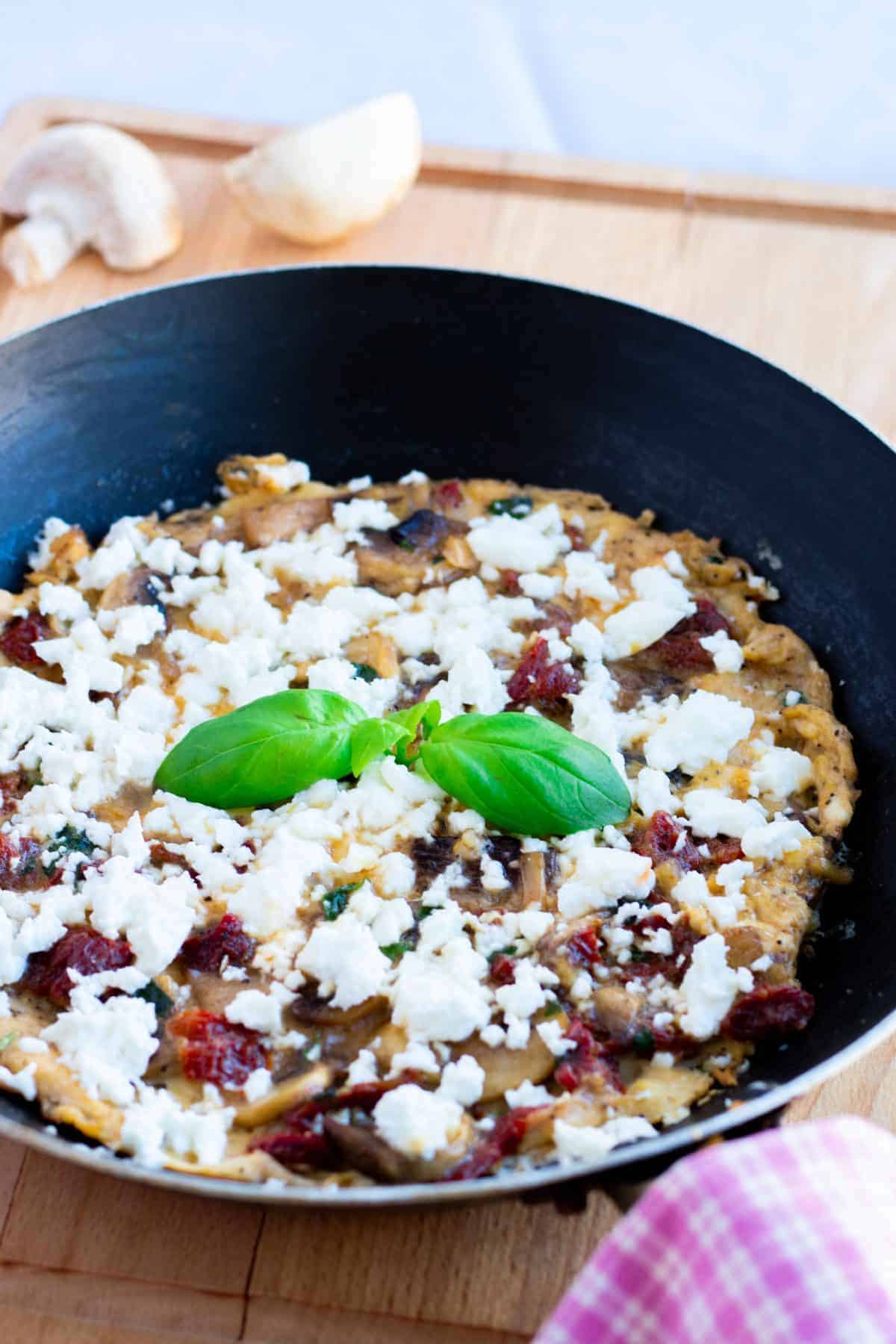 There really isn't anything more to it than that. To me, it's even easier than making an omelette - it turns out delicious every time, while I feel like an omelet can be so temperamentful and seldom turns out just as I like it.
What's your favorite egg dish? Are you Team Frittata or Team Omelet? Let me know in the comments below!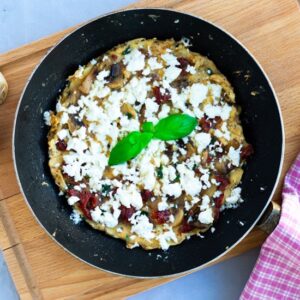 Breakfast Frittata with Feta Cheese, Mushrooms and Sun-dried Tomatoes
Print
Pin
Rate
Ingredients
1

Tbsp

butter

2

white-button mushrooms

roughly chopped

2

eggs

1

Tbsp

cream

or milk or water

⅛

tsp

black pepper

4

sun-dried tomatoes

chopped

5

fresh basil leaves

chopped

⅓

cup

feta cheese

crumbled

additional fresh basil leaves

can be omitted
Instructions
Melt the butter in a small (20-25 cm or 8-9" across) pan over medium heat. Add in the mushrooms and cook for about 2 minutes, until thoroughly saturated with butter. Meanwhile, beat together the eggs, cream and black pepper in a bowl.

Add the chopped sun-dried tomatoes and basil to the pan with the mushrooms, mix well, and then add in the egg mixture. Mix again and lower the heat. Don't stir while cooking, but, once in a while, tilt the pan so that the uncooked egg on top can run out to the sides. Let cook for 5 minutes until the egg on top has set.

Top the frittata with the feta cheese and cook for another minute. Top with basil leaves and serve.
Notes
Doubling the recipe? Use a larger pan and allow for a few more minutes of cooking time, or even finish it off in the oven.
Nutrition
Calories:
441
kcal
|
Carbohydrates:
9
g
|
Protein:
21
g
|
Fat:
36
g
|
Saturated Fat:
21
g
|
Cholesterol:
422
mg
|
Sodium:
811
mg
|
Potassium:
522
mg
|
Fiber:
1
g
|
Sugar:
6
g
|
Vitamin A:
1435
IU
|
Vitamin C:
4
mg
|
Calcium:
296
mg
|
Iron:
2.8
mg
Nutritional information is approximate and automatically calculated, and should only be viewed as an indication.