This Shakshuka is a mix of a classic Shakshuka and the Turkish dish Menemen - instead of frying the egg on top of the tomato sauce it's mixed in, but not before a nice mozzarella cheese has been allowed to melt into it. A big breakfast for one, or more moderate for two - either way, grab a piece of bread and get dipping!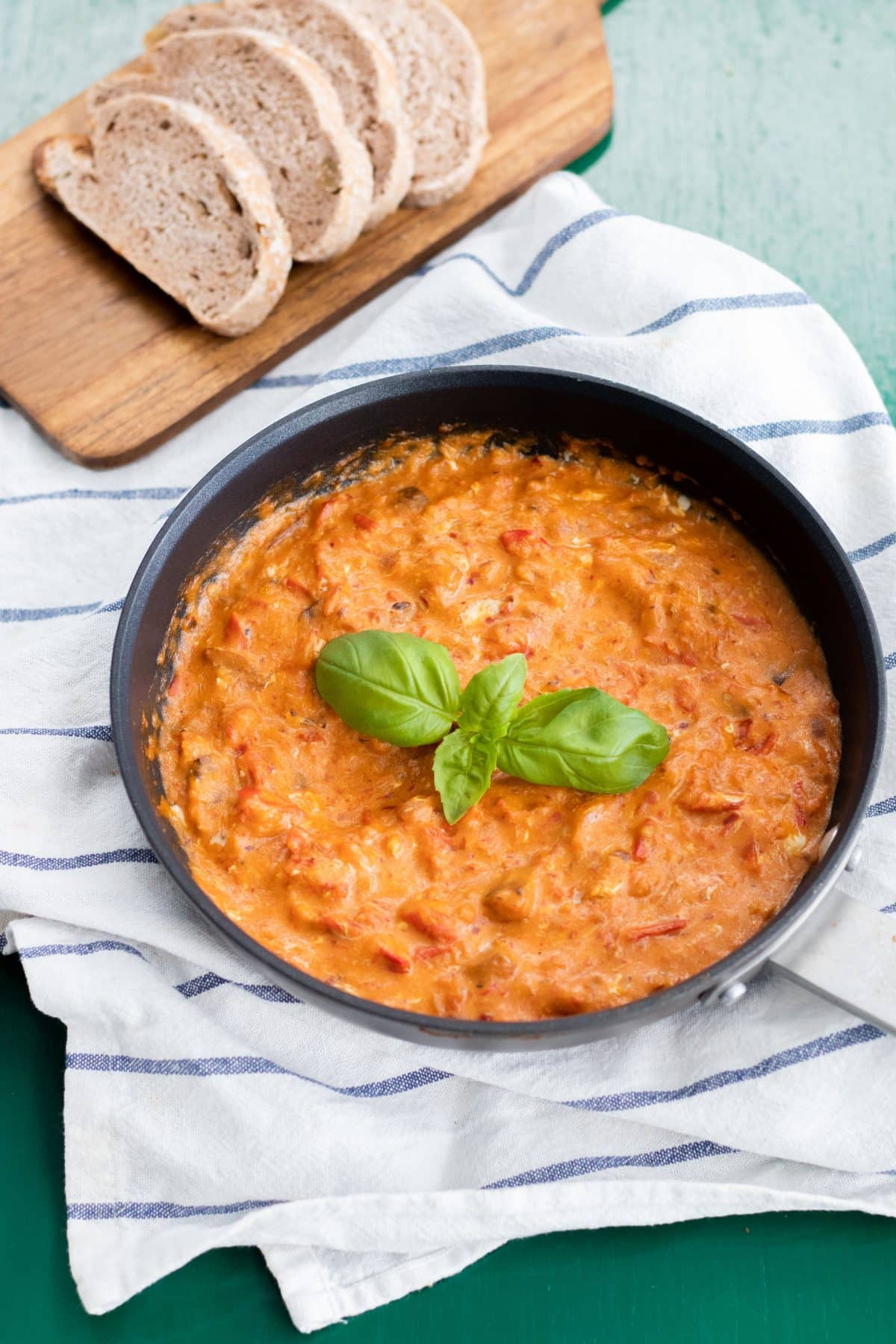 To be entirely honest, I never got the whole thing about Shakshuka. I tried it many times. I tried it at restaurants, and I made it at home. But it never felt quite right to me. It was always so tomato-ey and, to be honest, quite boring. Not being the biggest fan of eggs I couldn't really come to terms with the two blobs on top either. And the time it took to make!
So when I was treated to this version - far from boring, filled with cheese, and with the eggs mixed in - I was so surprised. This couldn't be a Shakshuka! And to be honest, it kinda isn't. But then again - it kinda is. It's just more of a Turkish version (called "Menemen" in Turkey, where Shakshuka is actually a cold meze/sauce), so much creamier and yummier than any "real" Shakshuka I ever had and guess what? You don't have to wait for the eggs to cook on top.
Since I first had it, I have it at least once every week. Sorry scones, english muffins & breakfast frittatas - this Menemen style Shakshuka has got my heart.
Why This Recipe Works
Browned onion provides a great depth of flavor
Mushrooms add an umami layer
Olive oil adds great flavor and contributes to the creaminess
Cooking it under lid first helps it cook quicker and get all that sauce out from the tomatoes - removing the lid and continuing to cook it allows for some of the water to evaporate, making it creamier and less watery.
Mozzarella cheese makes the Shakshuka super creamy
Mixing in the eggs instead of cooking them on top makes it a hit with egg lovers & others alike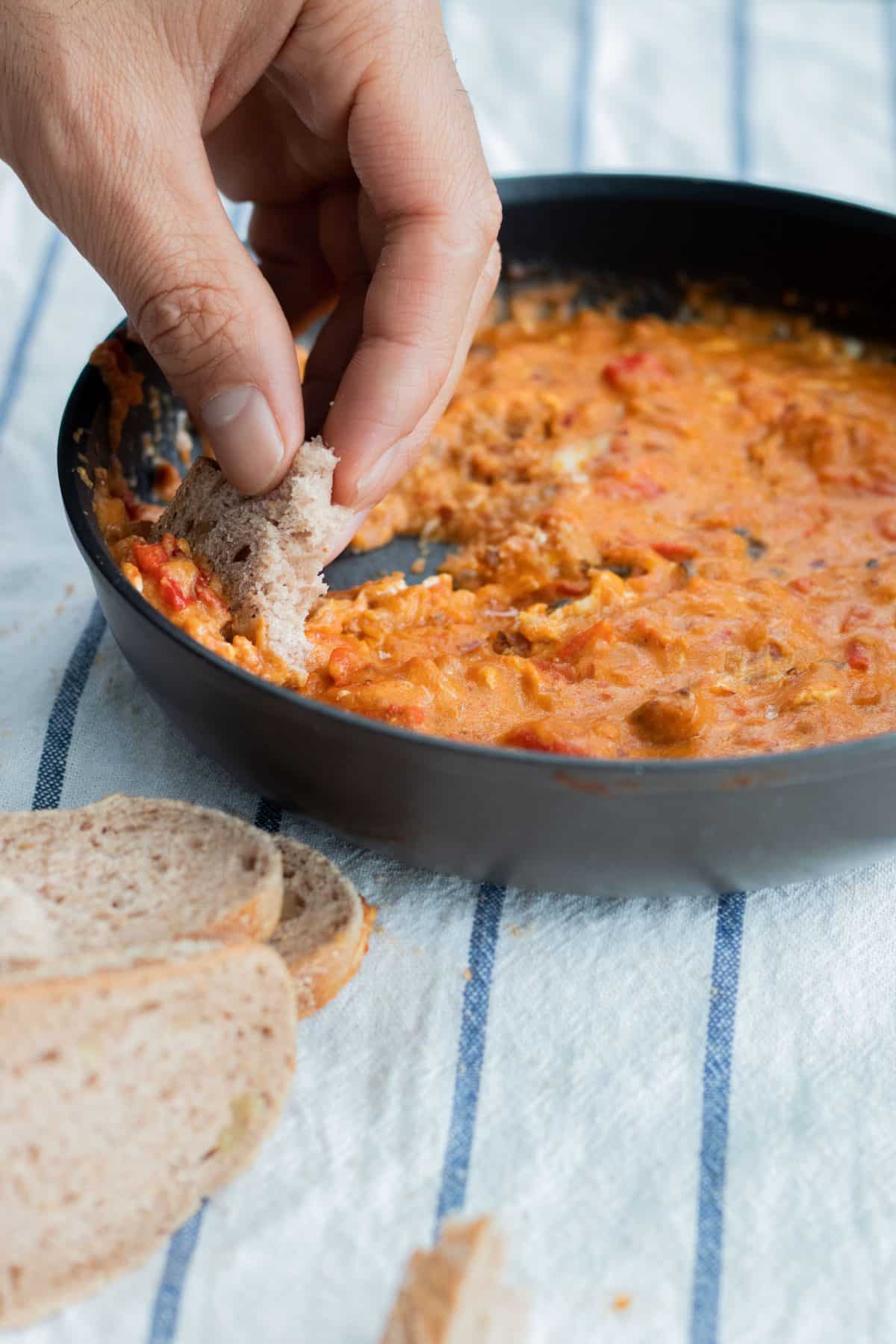 Expert Tips
Brown your onion well to add maximum flavor
If you have tomatoes almost going bad, this is where to use them! While fresh, crisp tomatoes will work - this is best made with those boring, soggy ones found in the back of the fridge.
Make sure the cheese is thoroughly melted into the sauce before adding the eggs - mix well until this is achieved
Break the eggs as soon as they hit the pan, to ensure spreading of the yolk & egg white
Add spice according to your taste & the chili flakes you have at your disposal. Rather add a little and increase, than ending up with a dish that's too spicy!
Suggested Substitutions
Use any kind of bell pepper you like - I like red for sweetness, but greenis great for more of a bite
Use any type of onion - red, yellow, shallots... they all work!
Feta cheese is delicious to add in instead of mozzarella
Olive oil can be skipped completely, but adds a nice flavor layer
Butter and olive oil can be traded for each other, and the butter portion can also be traded for any other type of vegetable oil
Make it vegan by just trading the butter for more olive oil and skipping the mozzarella - still delicious!
Tools to make Shakshuka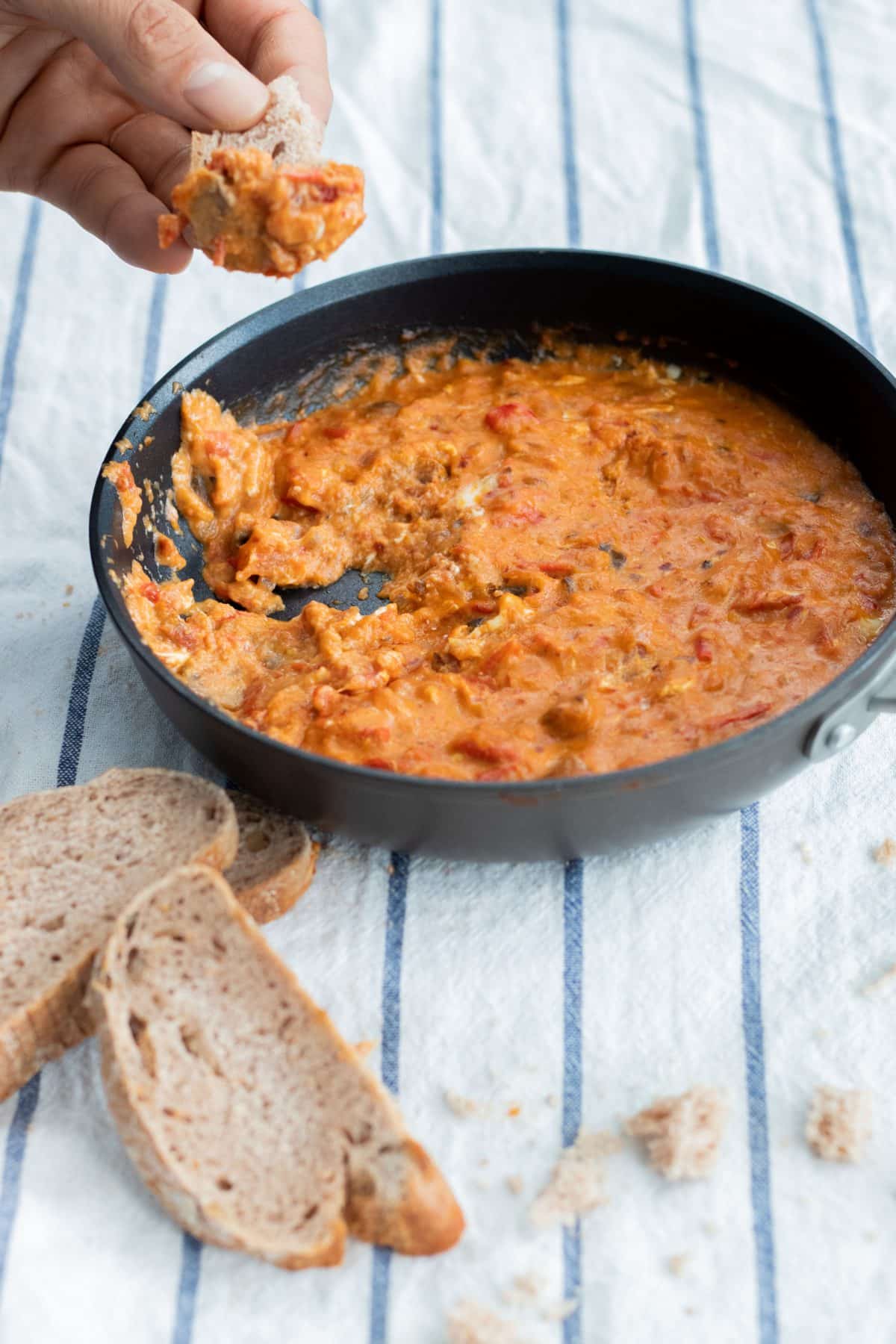 How to Serve & Eat Shakshuka
Shakshuka is often served as a brunch dish and that's my preferred way as well. Best eaten straight out of the pan! Either serve it as part of a larger spread or just as it is. The traditional Turkish way is to serve it together with cheese, olives and maybe some hummus - just add on all the yummy meze stuff you like and yes, you are still allowed to call it breakfast or brunch!
Just don't forget the bread, for the ultimate Shakshuka experience. It go so well with this saucy, creamy dish and you will definitely want it to soak up those final drops from the pan!
[mv_video doNotAutoplayNorOptimizePlacement="false" jsonLd="true" key="eoktnys9cg2jovlwxaan" thumbnail="https://mediavine-res.cloudinary.com/video/upload/eoktnys9cg2jovlwxaan.jpg" title="https://alwaysusebutter.com/shakshuka-for-one/" volume="70"]
How to Make Shakshuka for One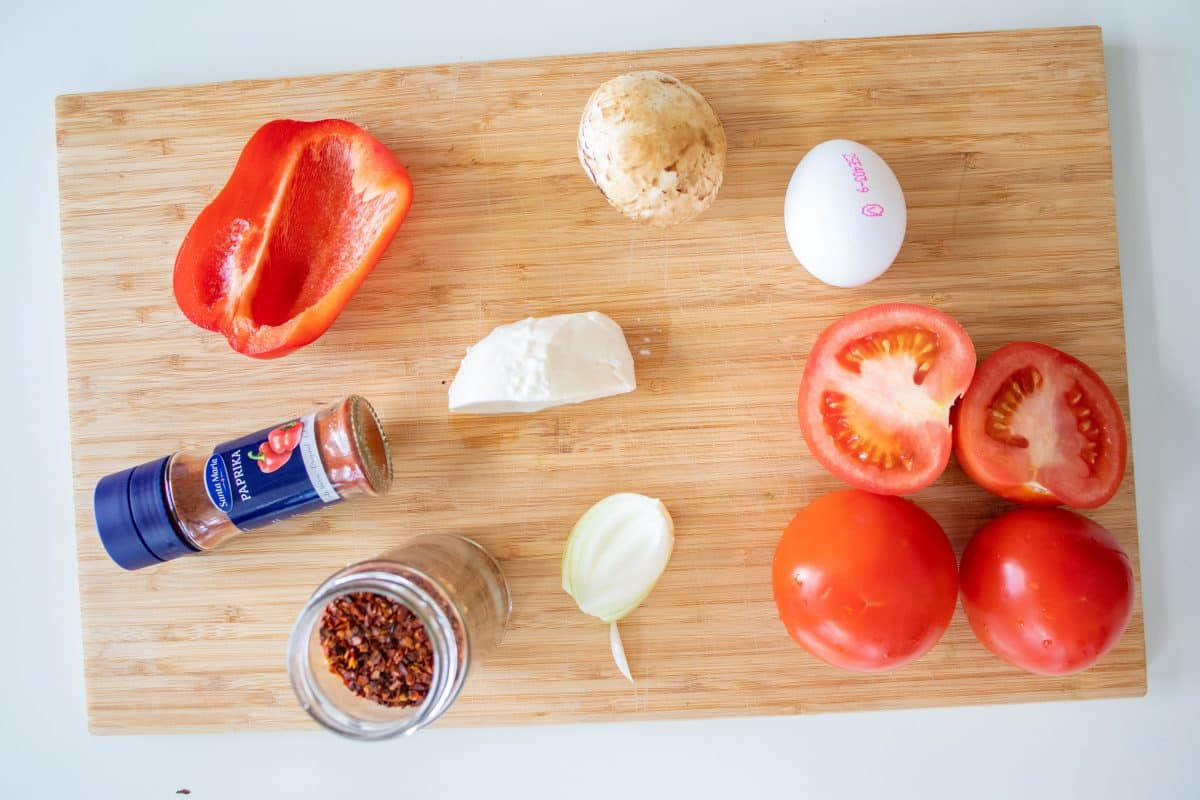 To make this Shakshuka for one you basically only need a few ingredients: some tomatoes, onion, bell pepper, mushroom, mozzarella, an egg and some spices. Add some butter and/or olive oil to make it complete. Best of all? They are all ingredients that will be fine in the fridge for a while, meaning you can make this whenever you get an urge!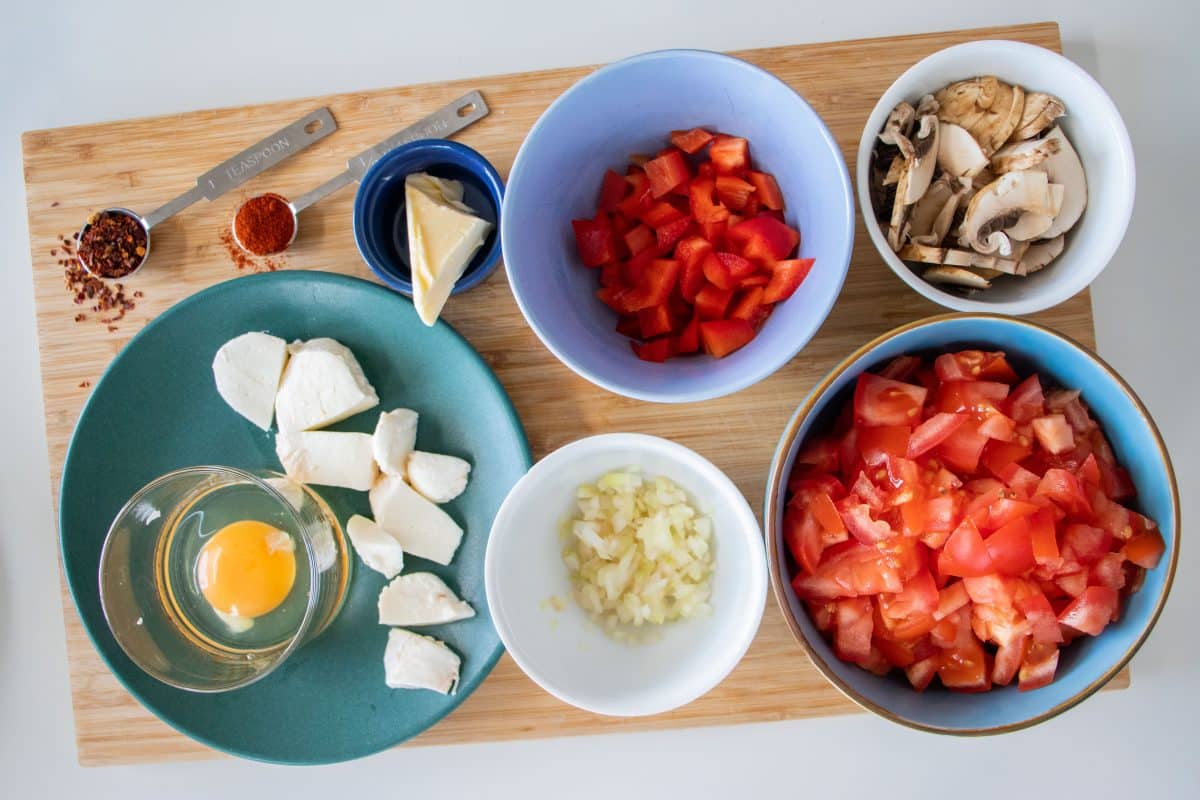 All successful cooking starts with prep - and this one is no exception. There is some chopping, yes, but just do it once then and be done with it.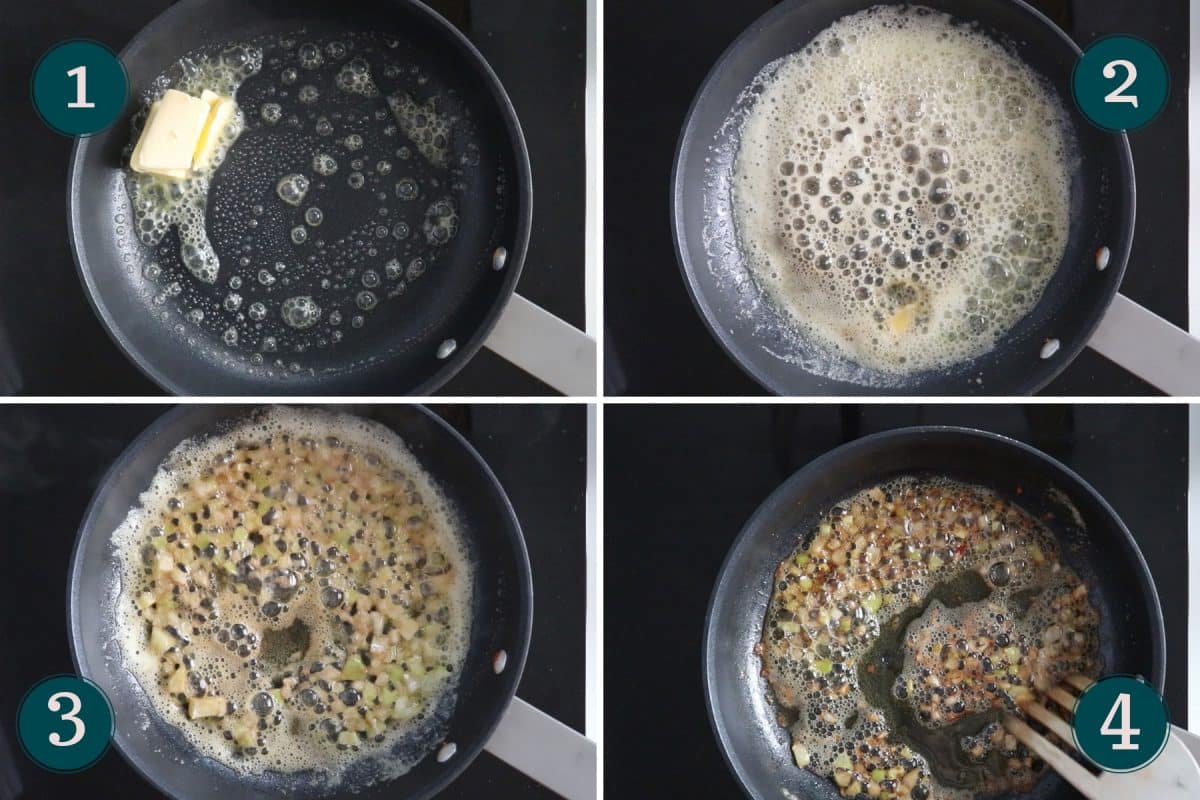 Once your ingredients are chopped, start by melting your butter in a pan over medium-high heat and then add in the onion. Fry for a few minutes, until the onion is slightly browned. This browning adds so much flavor, so don't skip it!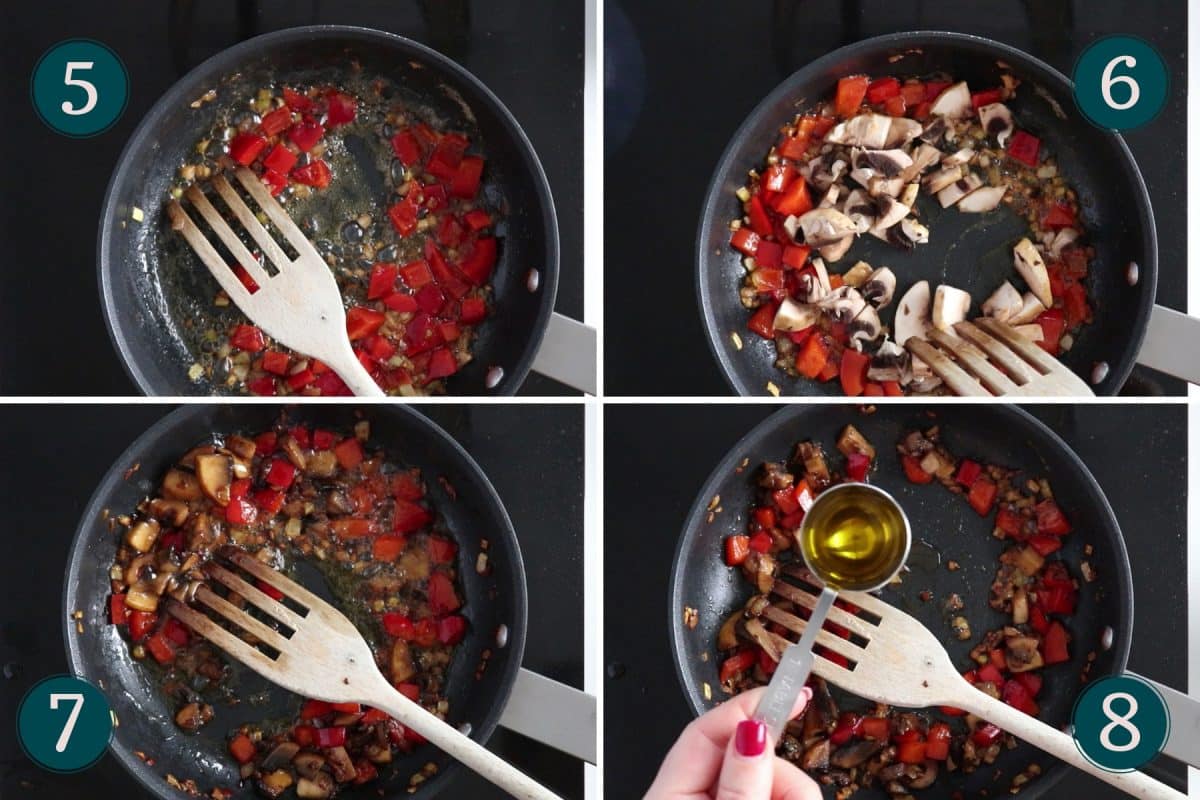 Once the onion is browned, add in the red bell pepper and fry for another minute. Then add the mushroom, fry for two minutes, and mix in the olive oil.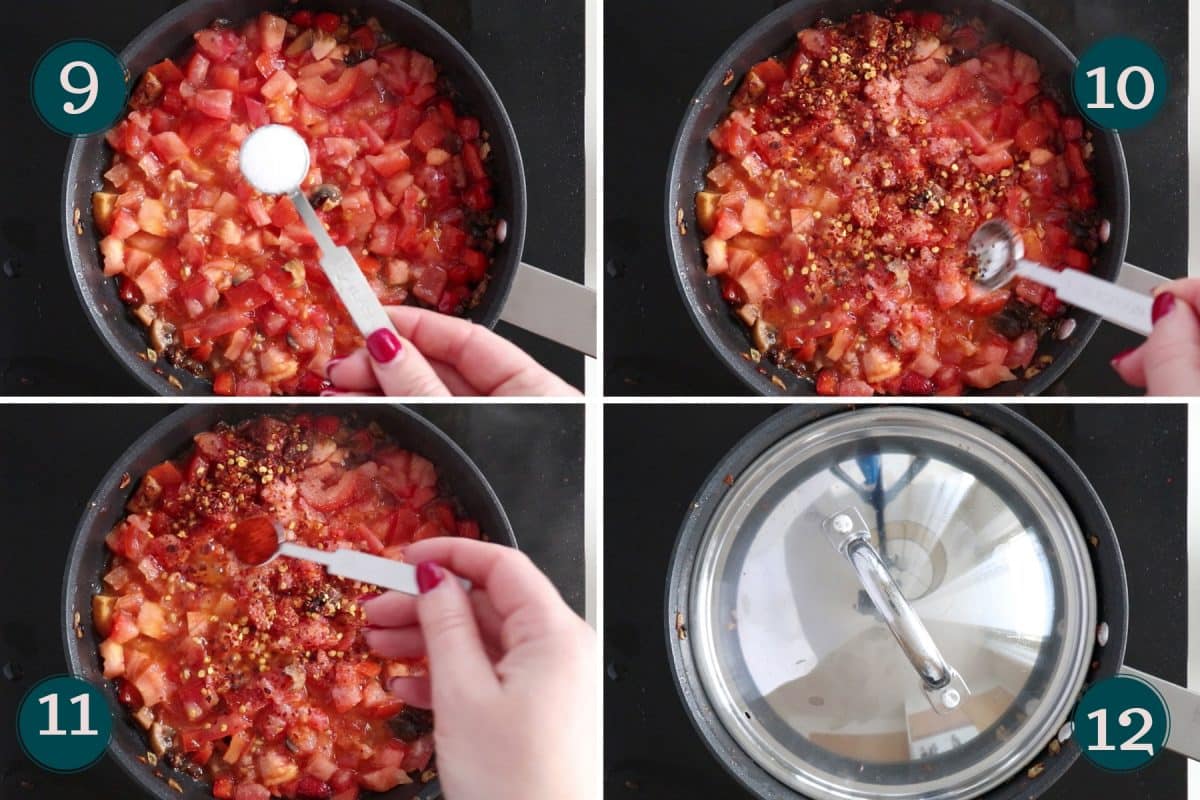 Then add the tomatoes along with the spices, mix, and cover. Let cook like this under lid for about 5 minutes. Lower the heat to medium-low to avoid burning!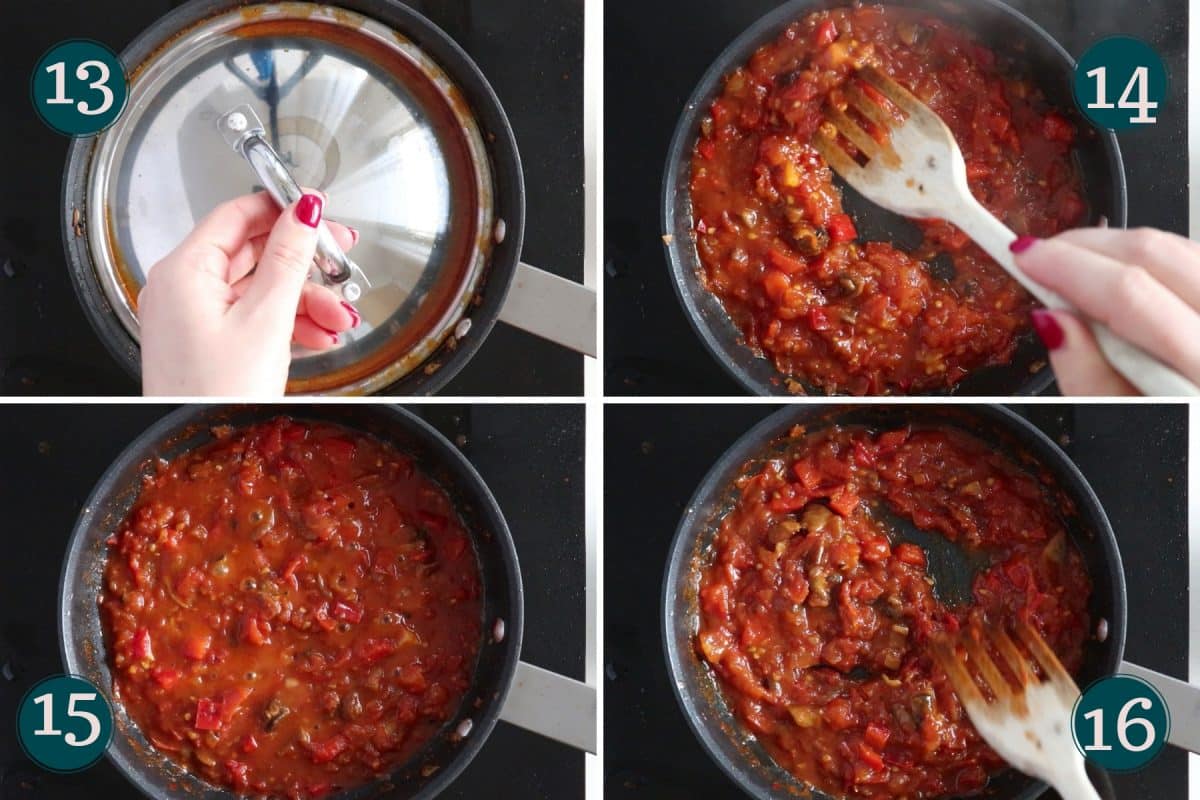 After 5 minutes under lid your tomatoes will have softened and become juicy, but you will also have a lot of water in there. So take the lid off, stir, crush the tomatoes a bit if you feel like it, and let simmer without a lid for 5 more minutes until you're happy with the consistency. It should be saucy, not watery!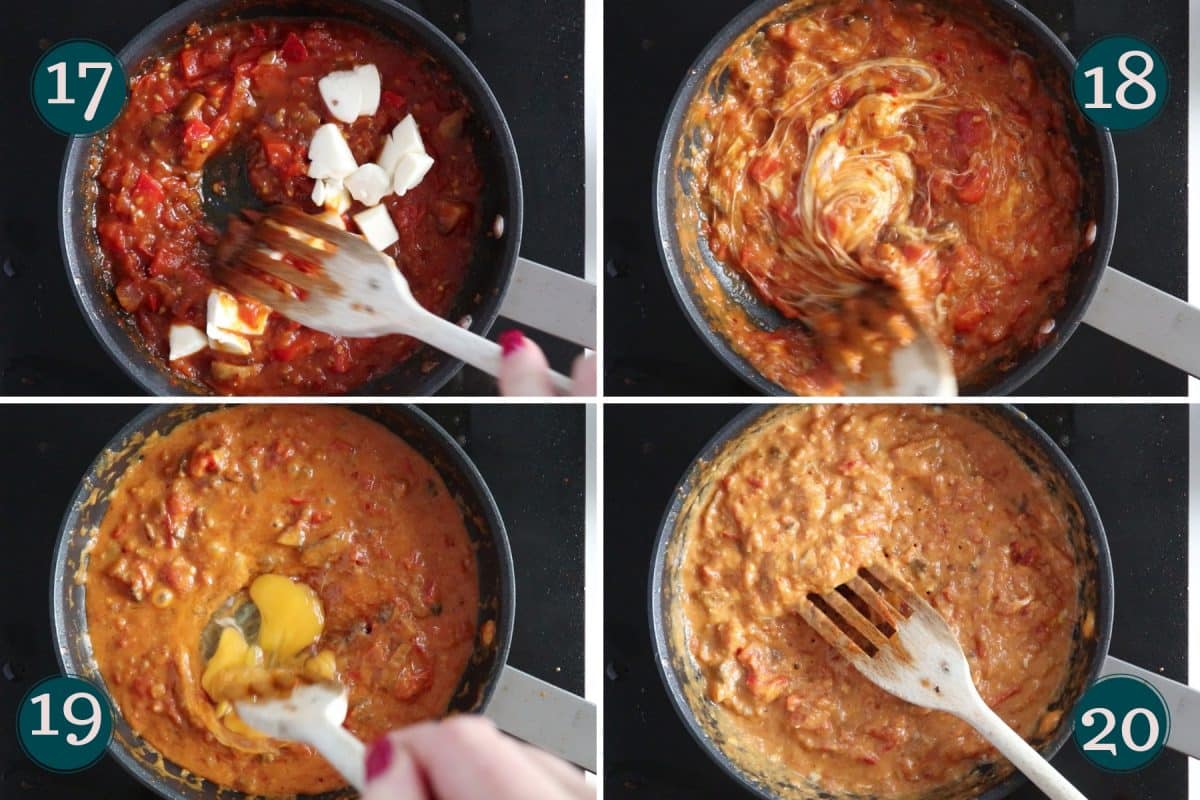 Now add in the mozzarella cheese and stir well while the cheese melts. When the cheese is completely melted (after 1-2 minutes), add in the egg and break the yolk as soon as it hits the pan. Then mix until the egg has finished cooking, which takes about 30 seconds to 1 minute.
And you are now ready to serve! Bring out the bread and anything else you wish to serve with it, and go to town - for best results, eat straight from the pan.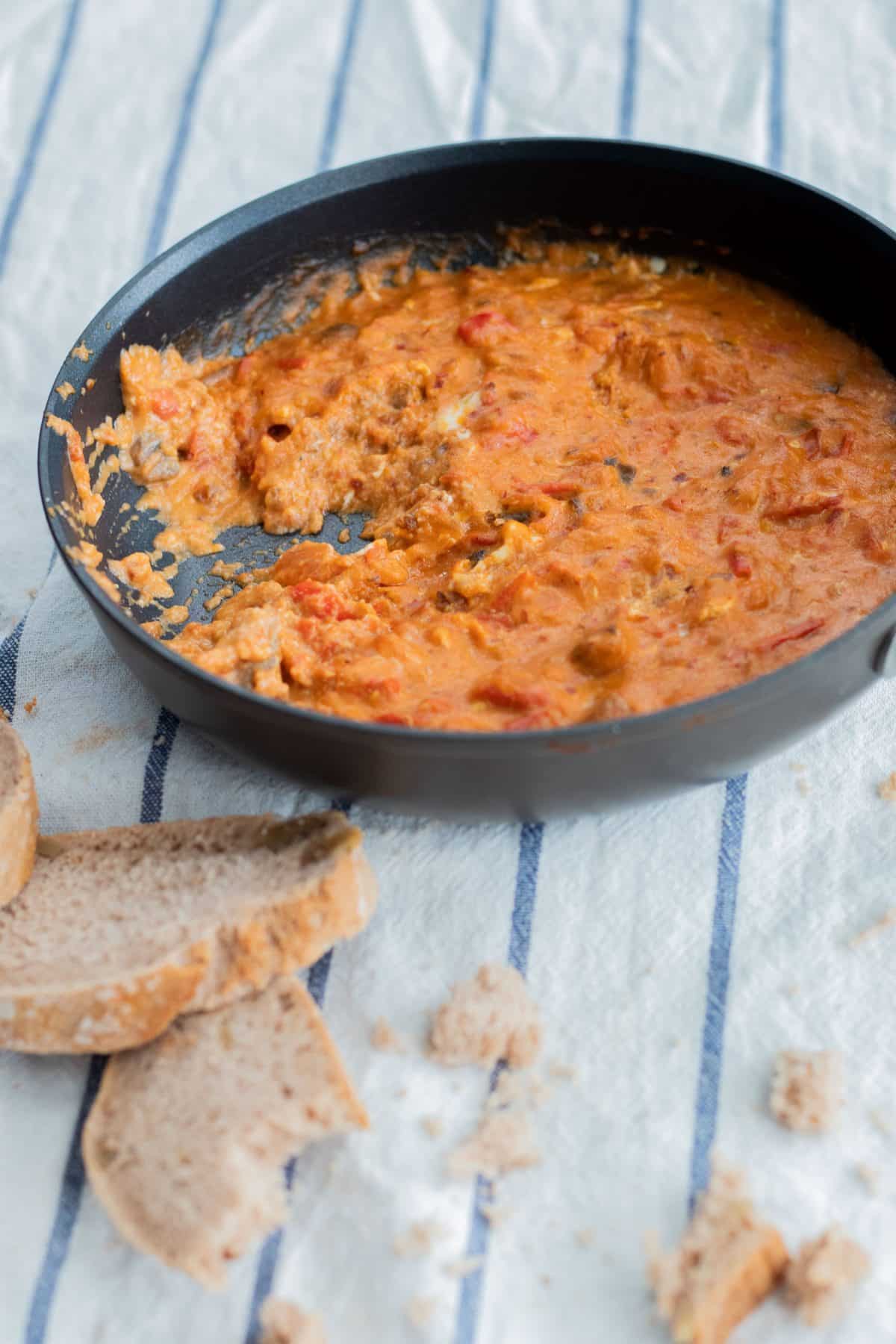 So - what did you think of this Shakshuka recipe? I know it's a bit unconventional what with the mixed in eggs and all, but give it a try and I'm sure I'll win you over. Either way - let me know in the comments below, and please leave a rating while you're at it!
Recipe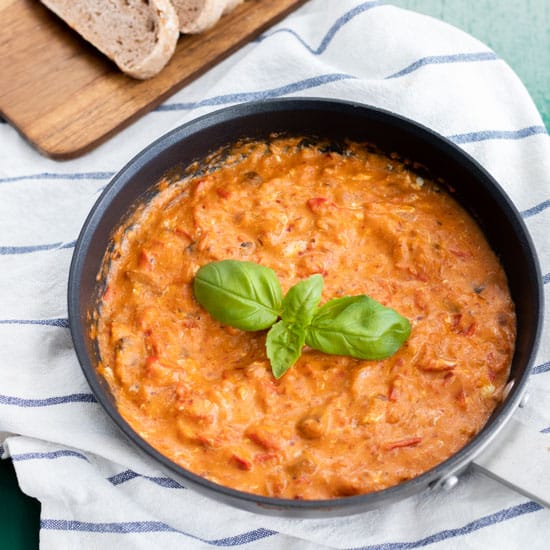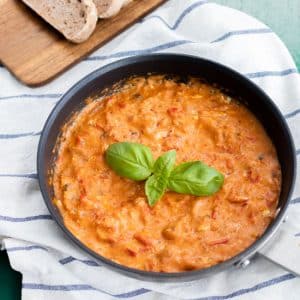 Ingredients
1

tablespoon

butter

¼

yellow onion

finely chopped

¼

red bell pepper

chopped

1

large white button mushroom

chopped

1

tablespoon

olive oil

2

medium-sized tomatoes

chopped

½

teaspoon

salt

1

teaspoon

chili flakes

according to taste

½

teaspoon

paprika powder

½

(5 ounce) ball

mozzarella cheese

chopped

1

large egg

bread

to serve
Instructions
Melt the butter in a pan over medium-high heat. Add in the yellow onion and let fry for a few minutes, until slightly browned. Then add in the red bell pepper and fry for another minute.

1 tablespoon butter,

¼ yellow onion,

¼ red bell pepper

Add in the mushroom and fry for 2 minute, then add in the olive oil. Mix well.

1 large white button mushroom,

1 tablespoon olive oil

Add the tomatoes together with salt, chili flakes and paprika powder. Mix, cover and lower heat to medium-low. Let simmer for 5 minutes

2 medium-sized tomatoes,

½ teaspoon salt,

1 teaspoon chili flakes,

½ teaspoon paprika powder

Remove the lid, stir, and let cook for another 5 minutes to make it less watery.

Mix in the mozzarella cheese and stir vigorously until completely melted, 1-2 minutes. Then add in the egg and break the yolk as soon as it hits the pan, mix well and allow for the egg to cook - this takes about 30 s to a minute.

½ (5 ounce) ball mozzarella cheese,

1 large egg

Bring out your bread, and serve!
Notes
This recipe makes a large breakfast or brunch for one person, and will serve two or more very well as part of a spread.
Adjust the amount of chili flakes to suit your taste and the types of chili flakes you use. Mine are quite spicy, and so is this dish when I make it with this amount.
Nutrition
Calories:
552
kcal
|
Carbohydrates:
17
g
|
Protein:
22
g
|
Fat:
44
g
|
Saturated Fat:
19
g
|
Cholesterol:
243
mg
|
Sodium:
1757
mg
|
Potassium:
894
mg
|
Fiber:
5
g
|
Sugar:
10
g
|
Vitamin A:
5160
IU
|
Vitamin C:
73.8
mg
|
Calcium:
352
mg
|
Iron:
2.3
mg
Nutritional information is approximate and automatically calculated, and should only be viewed as an indication.