This post may contain affiliate links, which are always marked with *. Please read my disclosure for more information.
This Healthy Strawberry Banana Smoothie is the perfect simple smoothie choice for breakfast or a snack - and loved by kids and adults alike. With hidden broccoli you won't even taste, banana, yogurt and frozen strawberries this is an easy smoothie to make - and so good you'll want to have it every day.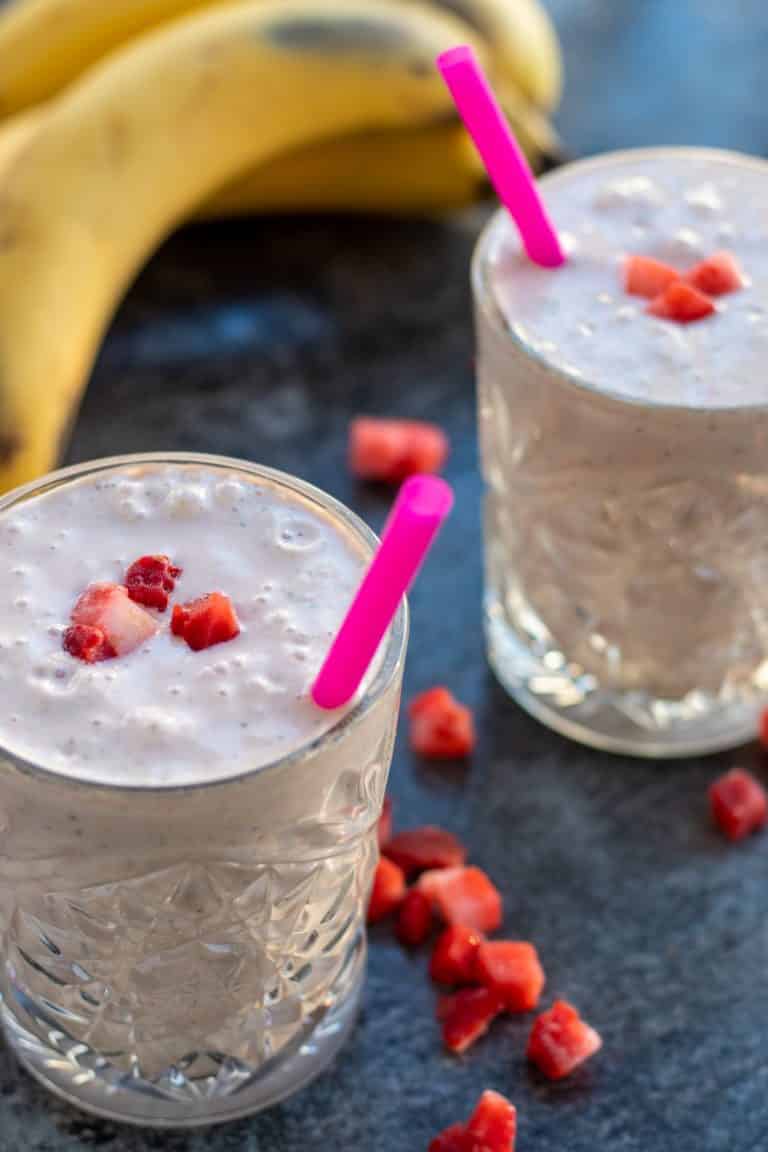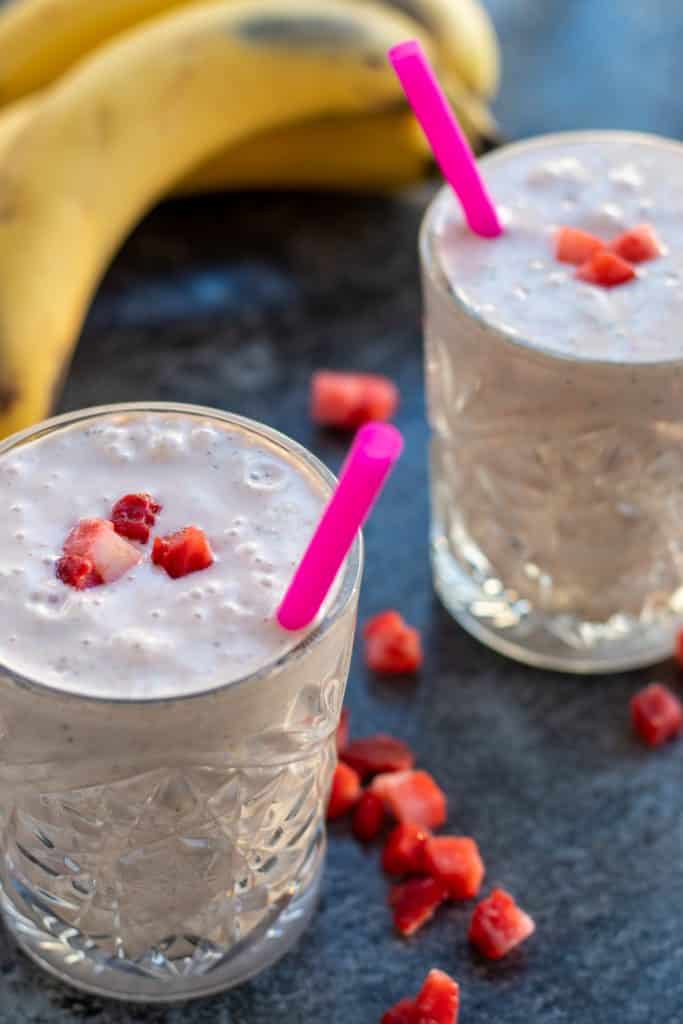 I love a good smoothie, as you probably already know. It's a great way to get lots of healthy stuff with just one glass, and best of all is that it's so easy to hide even more good stuff in there. I often hide a big handful of spinach (like in the Mango Ginger Smoothie and Chocolate Peanut Butter Smoothie).
But my new favorite veggie to hide is broccoli. I truly love broccoli, and if I'm not adding spinach to a pasta or stew or omelette – you can be sure I'm adding broccoli instead. Yes, it has a bit of its own taste – but it's also pretty easy to cover up that taste with other delicious flavors if broccoli is just not your thing.
And this smoothie is a great example of that. It tastes more like a milkshake than a healthy smoothie, and I don't think anyone could guess there's broccoli inside. Not even your kids!
And even better? You make it with frozen strawberries (so you can make it year round, and cheap!) and you can even use frozen broccoli if you'd like.
As a snack or as part of your breakfast (maybe together with a Vanilla Iced Coffee?!), this smoothie is a great way to add some health points while having a delicious treat.
Looking for more healthy smoothie recipes? Check out the full smoothie archives.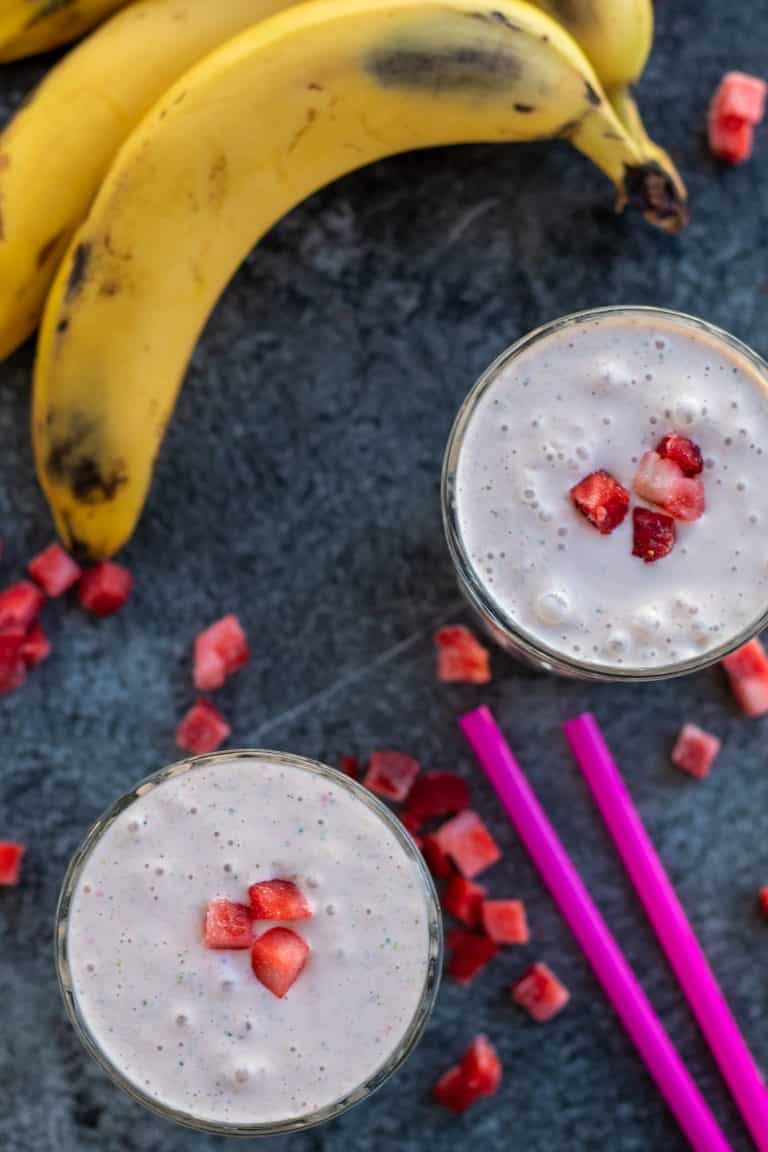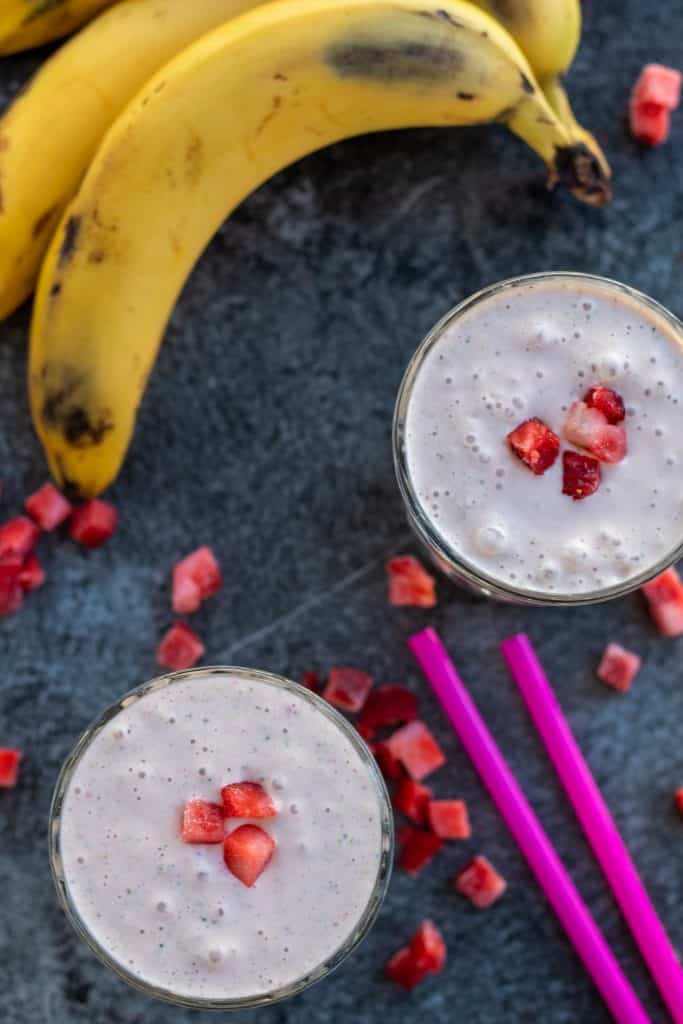 Why this recipe works
A delicious blend of sweet strawberry & banana with tart yogurt.
Strawberry & banana mask the broccoli flavor making it so you would never guess it's even in there.
Plain Greek yogurt (or another natural yogurt without added sugar) makes this smoothie creamy, without adding any sugar.
The yogurt also adds a bit of tartness, so it's not all sweet.
Banana adds extra sweetness in a natural way.
How to make a healthy Strawberry Smoothie with Yogurt & Banana
Making this smoothie is so easy you don't have any excuses! Jut place all your ingredients in a high powered blender, and run it for a few minutes. Once well blended, pour in a nice glass and top with some frozen strawberries for that extra touch – or skip, you really don't need to be that fancy on a Monday morning.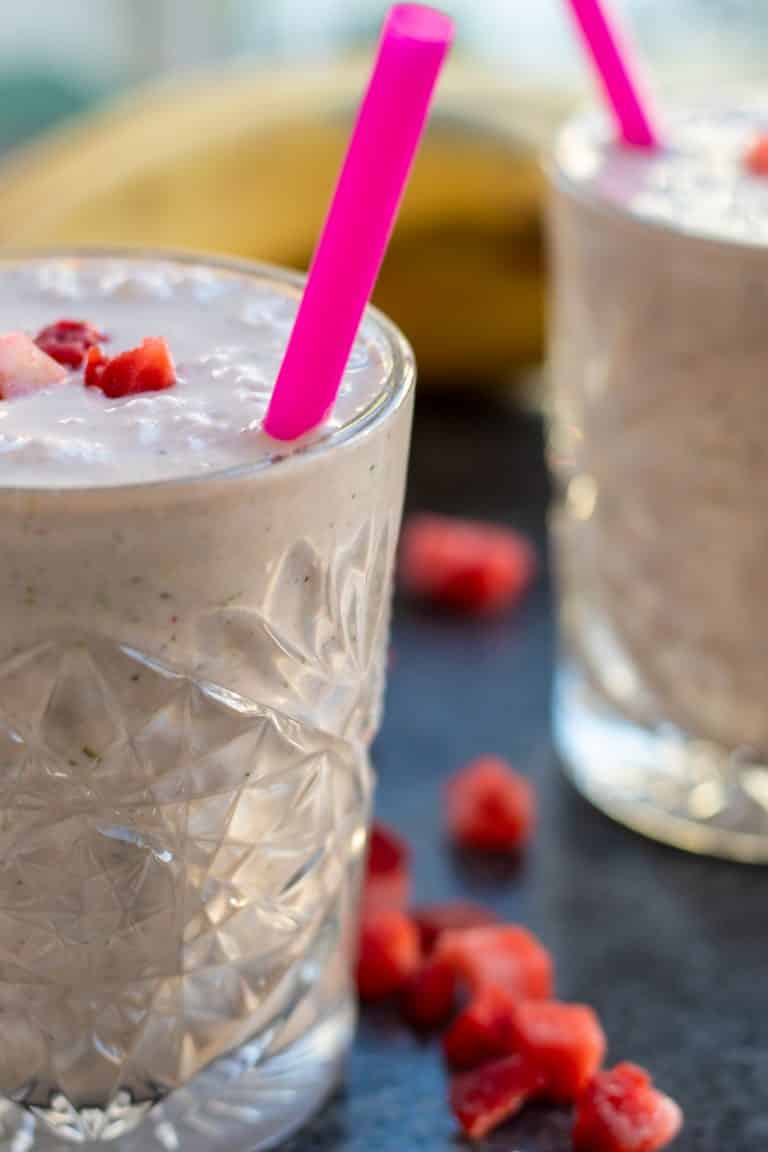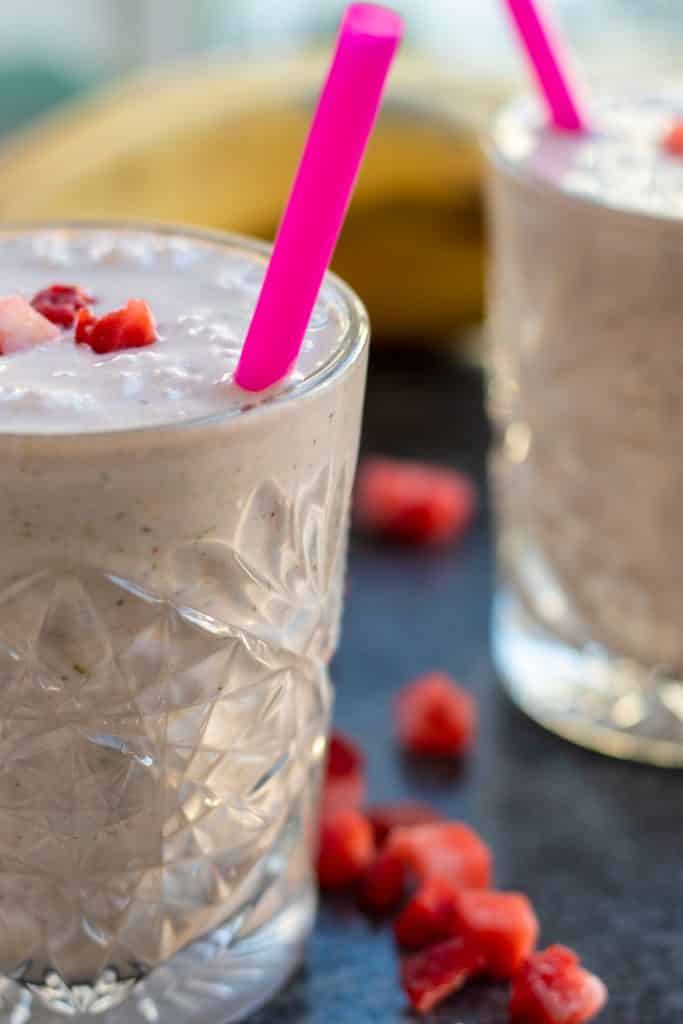 Expert tips for making Smoothies
For my top tips on making smoothies – head on over to the complete guide to making healthy smoothies where I share all my best smoothie making tips.
Recipe FAQ
Is this strawberry smoothie healthy?
Now, as I always say – healthy depends on you. Are you going full keto? Then this is not for you. Trying to keep all the sugars (natural or not!) out of your diet? Nope, not your smoothie.

But if you want to add some healthy stuff in an easy, delicious way that doesn't taste "too healthy"? If you want a treat that's not all that bad for you? Then yes, this is for you. It's all natural, it has no added sugars, and it has loads of vitamins. Which in my book means – full on healthy!
Is this strawberry smoothie keto?

This strawberry smoothie is not keto approved, as it contains too many carbs. This will likely be the case for most strawberry smoothies, as strawberries contain a lot of (natural) sugar, especially if they also contains bananas which are high in sugar.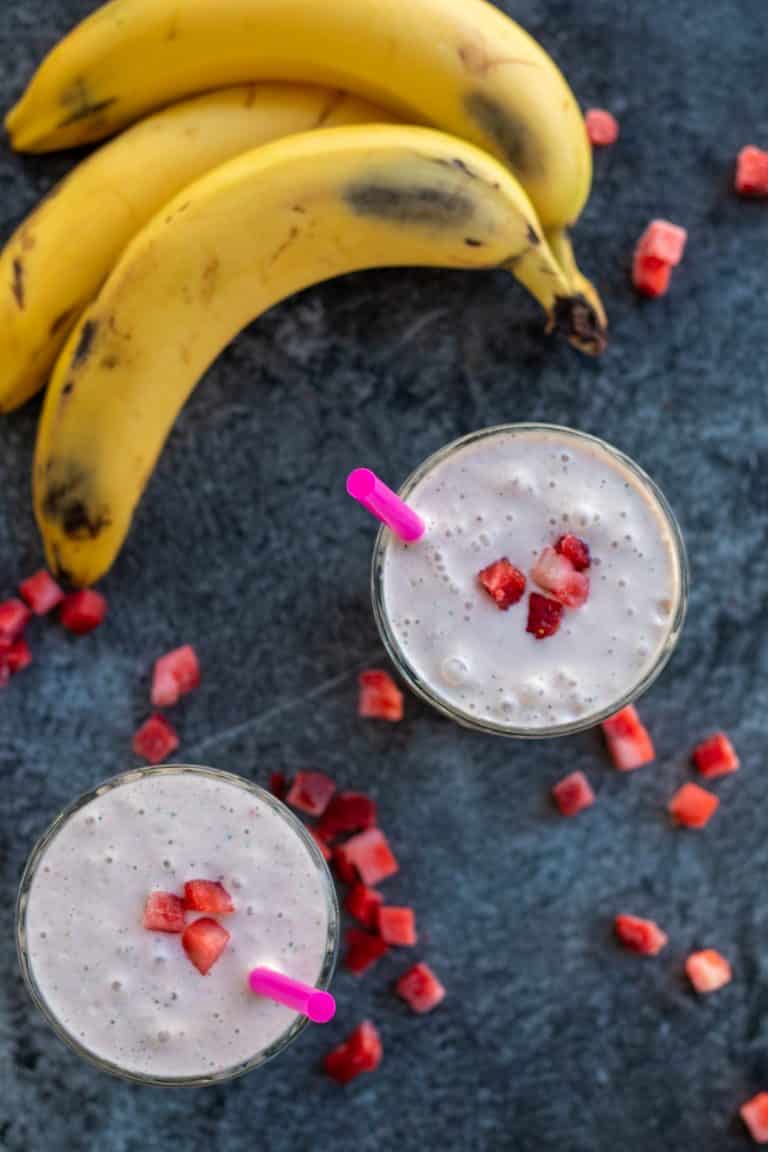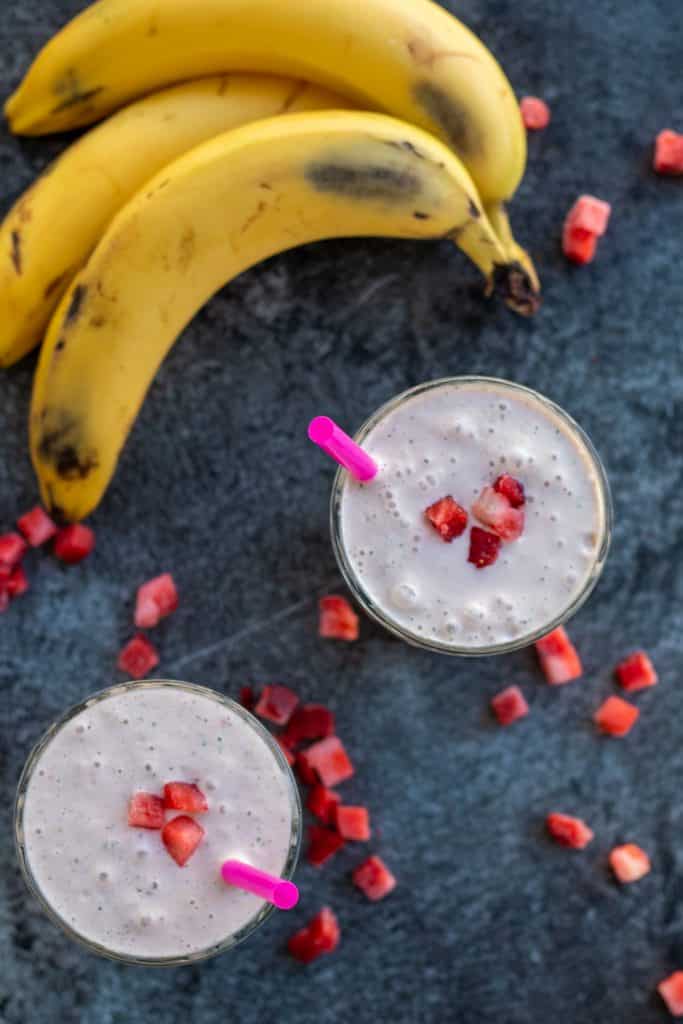 More great smoothie recipes
Love healthy, delicious smoothies - like this one? Then I think you will love these!
Did you love this recipe? Rate it 5 stars!
...and let me know what you loved about it in the comments.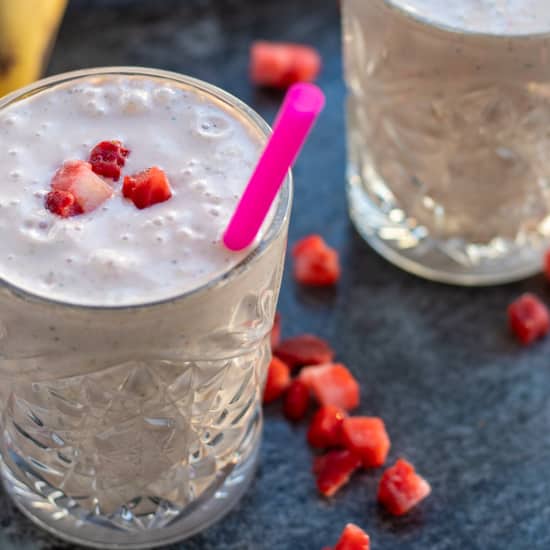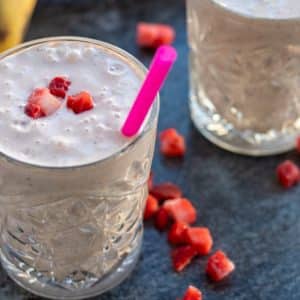 Ingredients
1

banana

¾

cups

frozen strawberries

¼

cups

broccoli

fresh or frozen

¾

cups

yogurt

Greek or other natural yogurt without added sugar
Instructions
Cut the broccoli in pieces and place all the ingredients in a blender. Blend until smooth. Serve immediately!
Equipment needed for this recipe
Nutrition
Calories:
154
kcal
|
Carbohydrates:
27
g
|
Protein:
5
g
|
Fat:
4
g
|
Saturated Fat:
2
g
|
Cholesterol:
13
mg
|
Sodium:
56
mg
|
Potassium:
598
mg
|
Fiber:
4
g
|
Sugar:
17
g
|
Vitamin A:
293
IU
|
Vitamin C:
87
mg
|
Calcium:
149
mg
|
Iron:
1
mg
Nutritional information is approximate and automatically calculated, and should only be viewed as an indication.
I hope you enjoyed this Strawberry Banana Smoothie - let me know what you think by leaving a comment and/or a rating below!
/Emmeline