This post may contain affiliate links, which are always marked with *. Please read my disclosure for more information.
If you have flour, baking powder, butter, milk and salt you can make these delicious savory scones in just 15 minutes. Perfect for a lazy Sunday morning and delicious served with butter, cream cheese or your favorite jam or marmelade.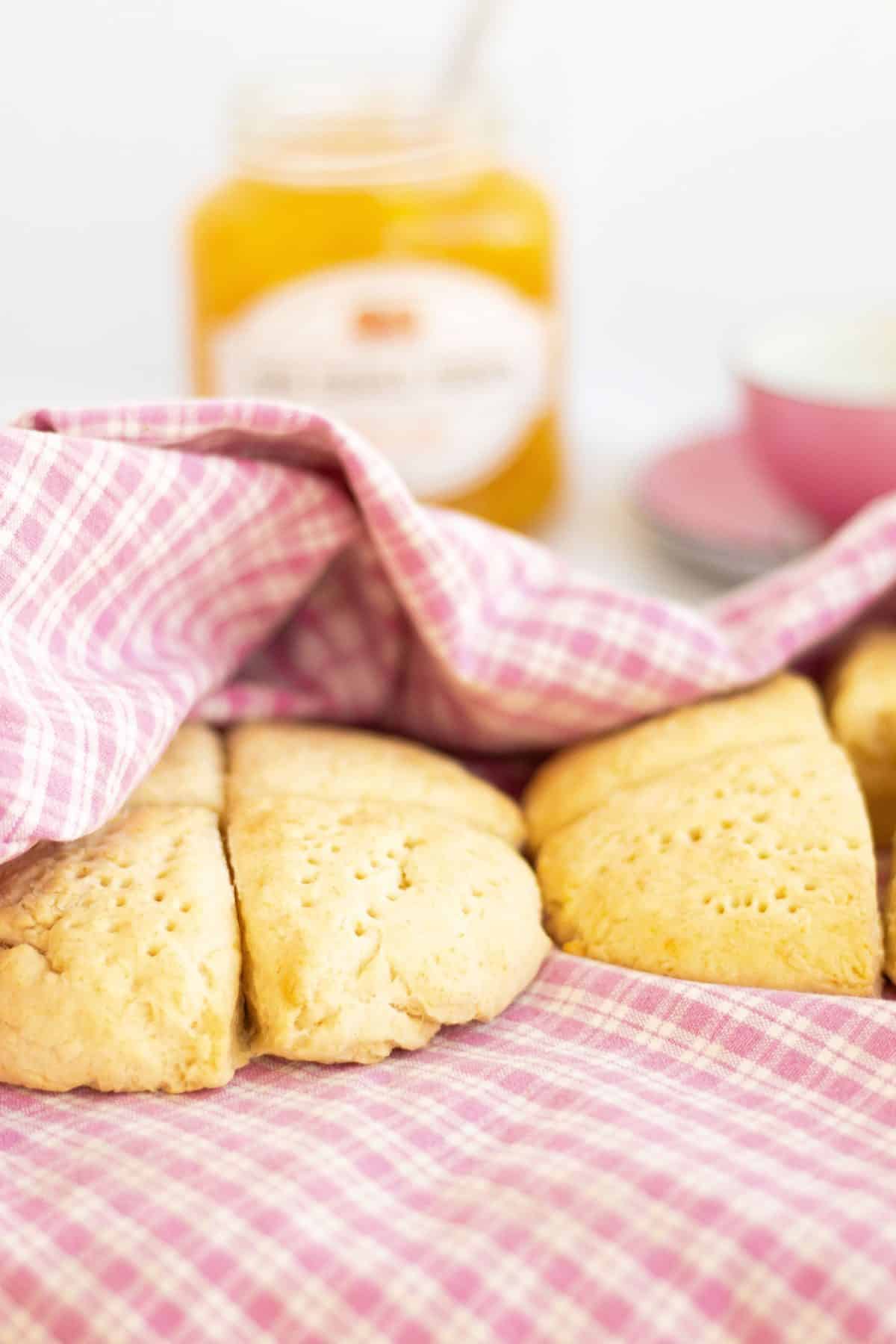 There are some recipes that can do no wrong. Recipes we go back to, again and again and again. This scone recipe is one of those for me. I think I made it the first time when I was about 10 (yes, I was an early cook!), and since then it has just stuck with me.
Many are the lazy Saturday and Sunday mornings when I've been tired of the weekday oatmeal but haven't had a lot of fun stuff in the fridge (or even some Minimal Mess Overnight English Muffins in the freezer!). Good thing then that all you need to cook up some delicious scones is plain flour, baking powder, milk, butter and salt. And if I don't have those ingredients at home - well then something is wrong for sure!
Actually, milk isn't even necessary. Neither is butter, although it of course makes them all the more yummy. Read on and find out what you can use instead!
But first, some scones basics.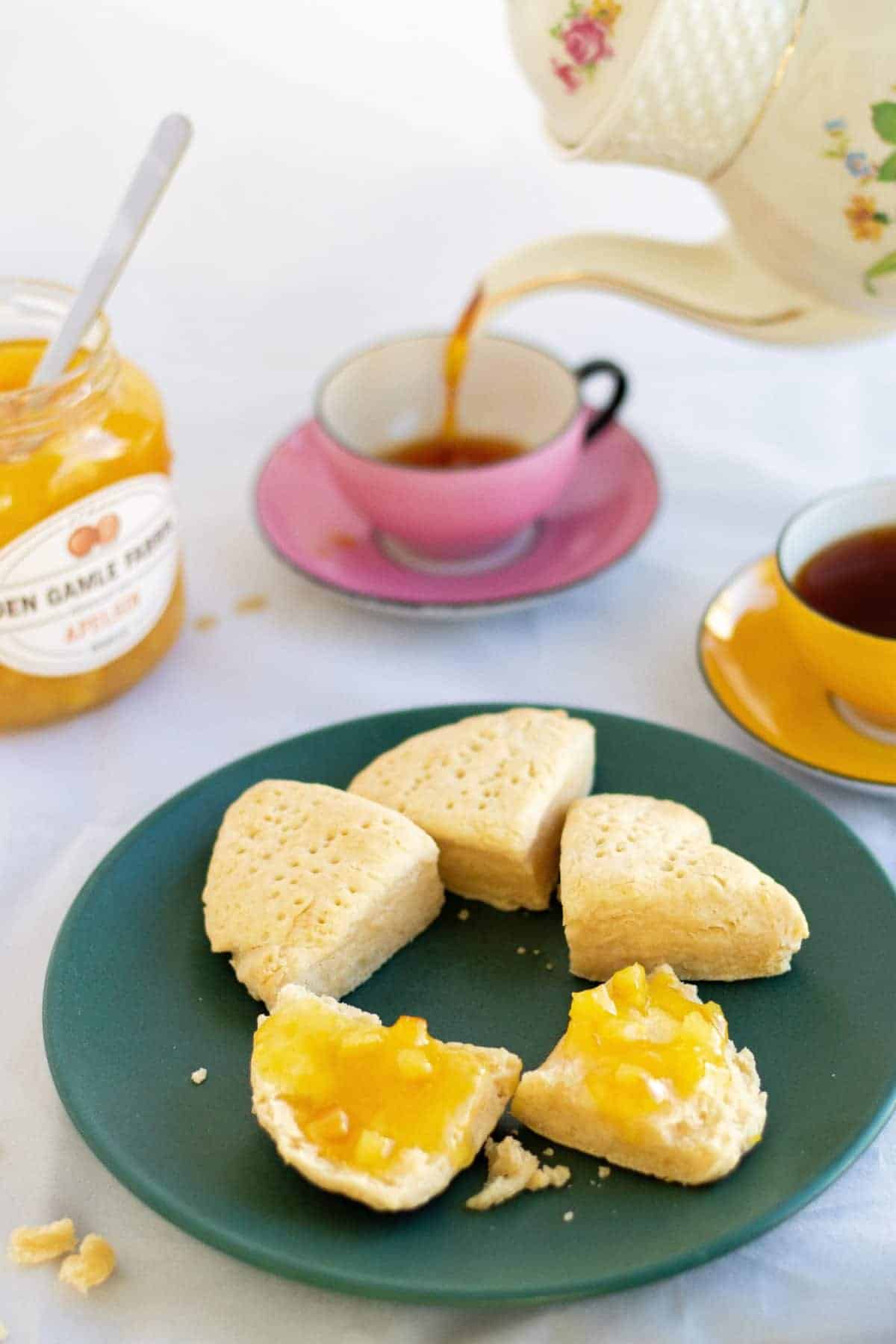 What are scones?
Scones are a simple kind of bread made with baking powder. As such, you don't need to wait for the dough to rise and they're super quick to make!
Traditionally served for afternoon tea (or high tea as it is sometimes called) by our fancy British relatives, in my house they are instead a breakfast staple.
Sometimes sweetened, sometimes not. Sometimes covered with a bit of egg wash, sometimes not. Sometimes seasoned with cheese, herbs or even fruit or chocolate - and sometimes just plain, like my favorites here.
The great thing about the plain scones is that they're 1. So quick, easy & simple to make and 2. You can make each scone taste differently with the help of your favorite toppings.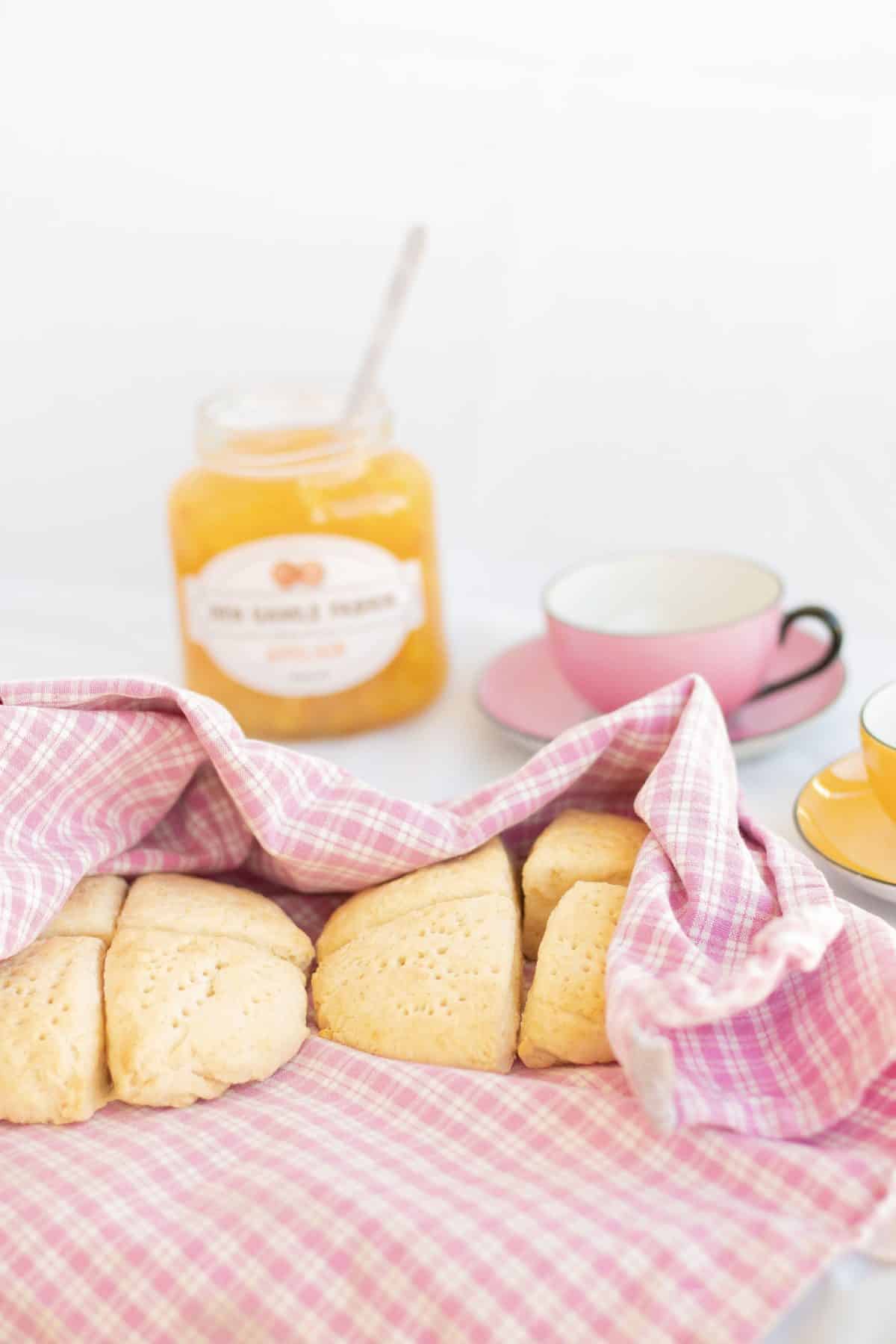 American scones vs British scones vs biscuits - is there really a difference?
So if you listened to me on BFF with the Chef you know there is some scones vs biscuits confusion going on. Well, I decided I would figure it out so that you can all sleep well at night knowing if what you're having is a biscuit or a scone.
Spoiler alert: The big difference seems to be between American scones and British scones.
Scones and biscuits are basically made from the same ingredients - flour, baking powder, butter, and milk. And while my experience is that there isn't that much of a difference, this answer will depend on who you ask! Some common differences cited are:
Scones have eggs, biscuits don't
Scones have sugar, biscuits don't
Scones often contain dried fruit, biscuits don't
Scones are triangular in shape, biscuits are round
In my experience, however, scones have neither eggs, sugar, nor dried fruit and they are almost always round. They actually look a lot like biscuits, come to think of it... My own being the exception then, as I have always made them sorta triangular.
I finally managed to pinpoint it down to the fact that American scones and English scones seem to differ quite a bit, more so than scones and biscuits.
While American scones are in fact often sweet, have egg in the dough, are triangular in shape and contain all kinds of seasonings (source: Pinterest and Google, my reliable friends) - this is not the way scones are generally served here in Europe (my very subjective experience, supported by aforementioned friends).
Here they're more like the American biscuit - although they may sometimes actually contain a pinch of sugar.
But sweet? No. Egg? No, maybe on top to glaze - but generally not in the dough. Triangular? Umm.. no. Dried fruit or seasonings? Yeah, sometimes - but it's not the norm. And to be completely honest - I have seen loads of delicious seasoned biscuits on Pinterest as well!
So to summarize:
American Scones often contain eggs, British scones and biscuits don't
American Scones contain sugar, British scones might contain a pinch and biscuits don't
American Scones are triangular in shape, British scones and biscuits are generally round
American Scones often contain dried fruit or other seasonings, British Scones sometimes do, and so can biscuits!
What does differ is the consistency. Biscuits are often a bit higher, fluffier and flakier, due to the lower butter/flour ratio. But that, my friends, seems to be all.
Either way. This scone recipe definitely falls on the more British scones biscuit-y side of the whole spectrum.
And just to mess with you - they're both round and triangular.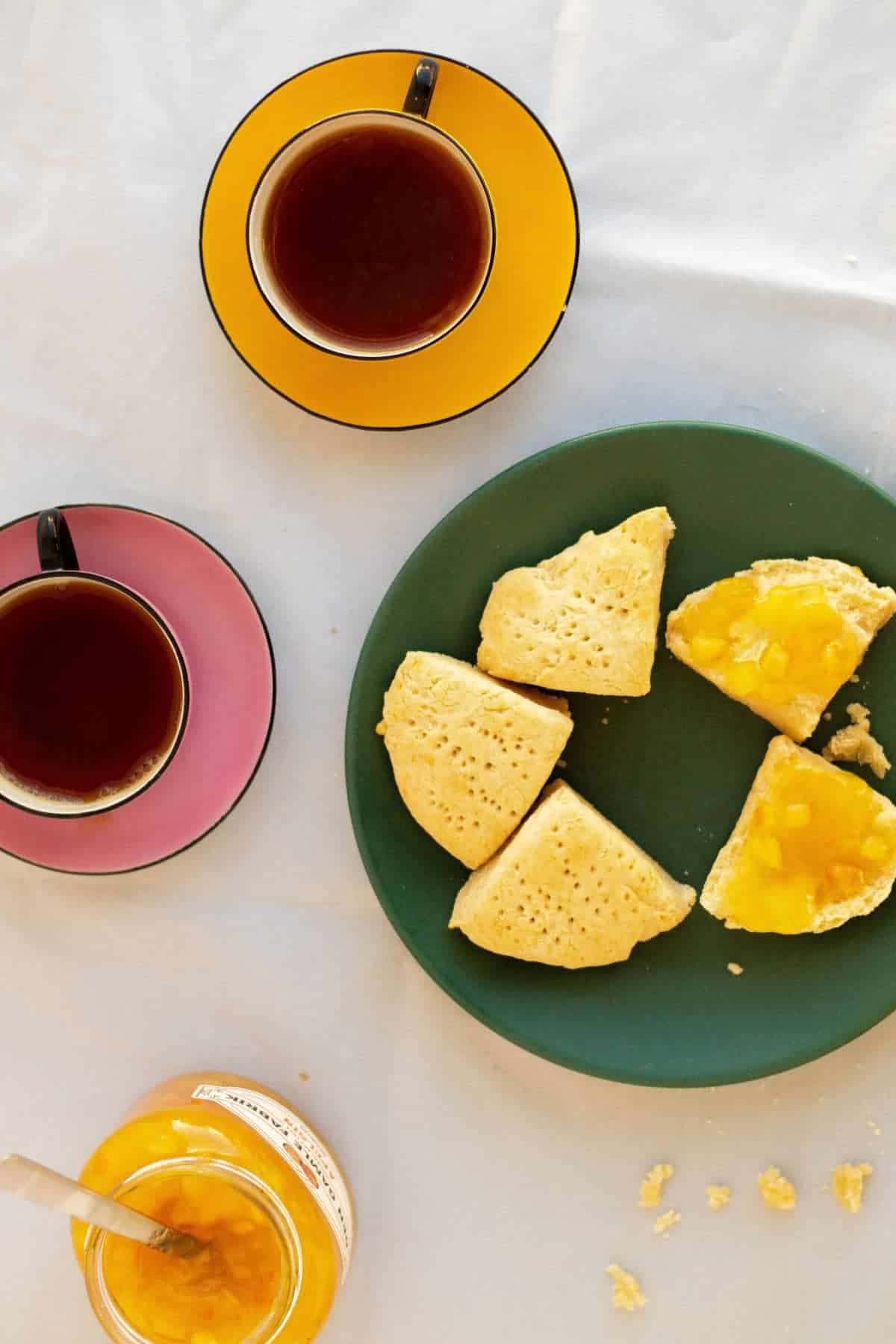 How to eat scones?
Scones are traditionally served with clotted cream and jam, but there are so many delicious ways to eat them. I love serving them with several options so that you can make every scone slightly different - some sweet, some savory, and some both at the same time.
Here are a few of my favorite toppings for scones:
Butter, just loads of butter
Marmelade - I love them with the old-school orange kind with lots of orange peel
Jam - raspberry jam goes deliciously with them and especially if you add some
Whipped cream - let's just be indulgent, it's the weekend
Feta cheese spread - Yep, you know it - in my book anything goes with feta cheese. But seriously though, it's a serious game changer for scones!
Nutella - Of course. Because it's good on anything.
Any good sauce or spread you have in your fridge - even that spicy Sriracha sauce, yep I tried it...
Jam and clotted cream - of course, this is the classic after all.
How to make scones from scratch?
This recipe serves two persons but you can just as easily double or triple it if you're making it for a crowd. They don't keep to well though, so I suggest making juuust enough.
Start by taking out your butter from the fridge. Cut it in small pieces and let it sit in room temperature until softened. This makes everything so much easier!
Then set your oven for 225 C/435 F.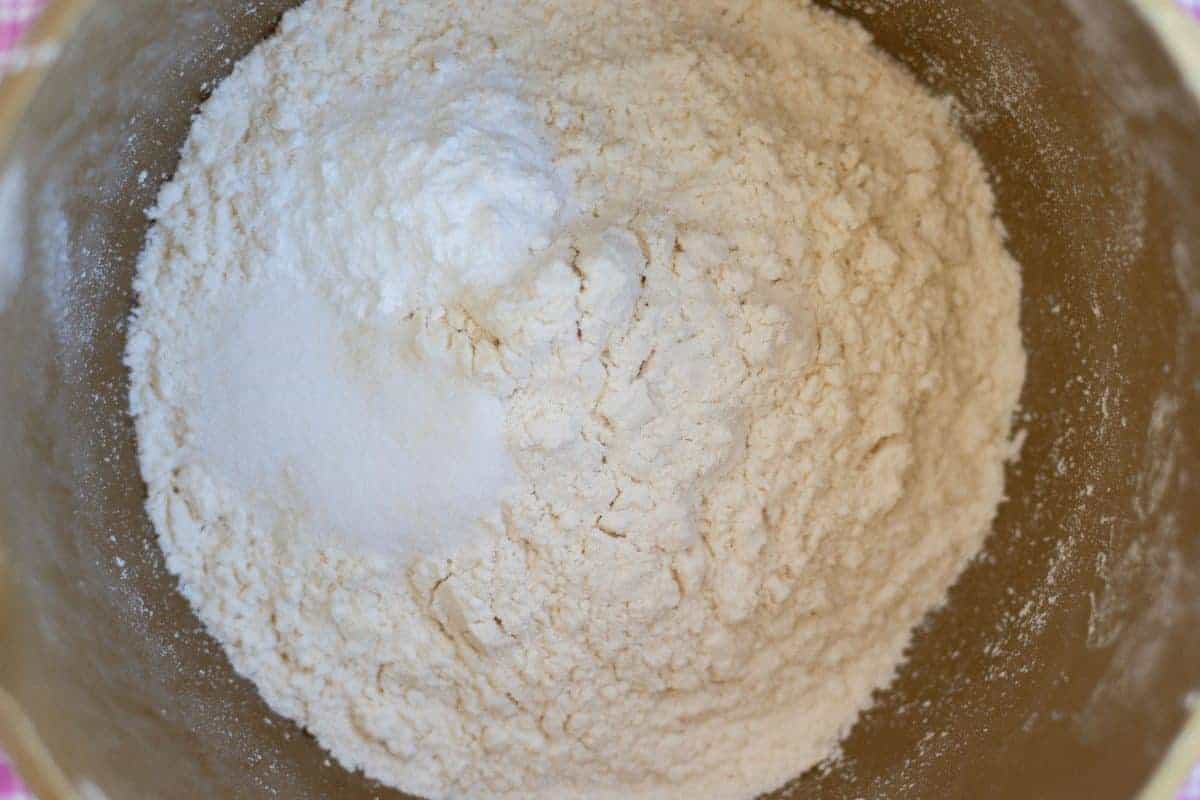 Then place your dry ingredients (plain flour, salt and baking powder) in a bowl. Mix well.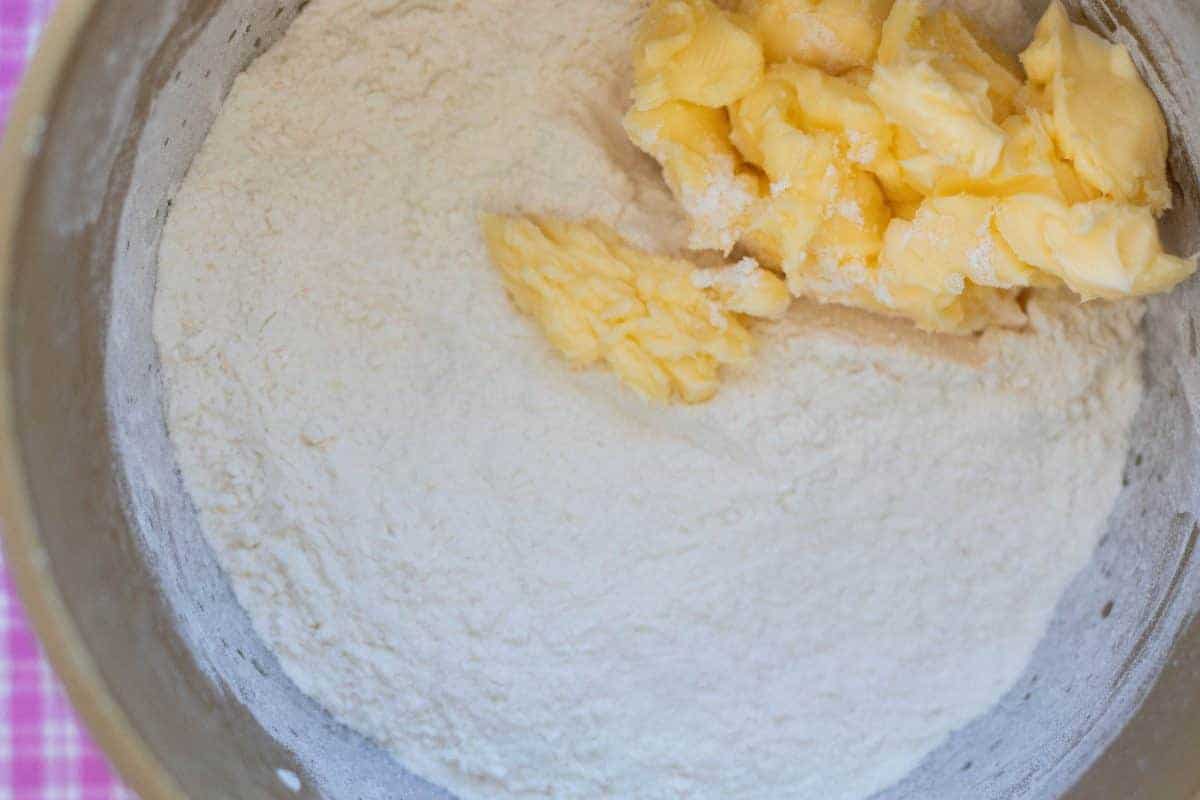 Add the butter.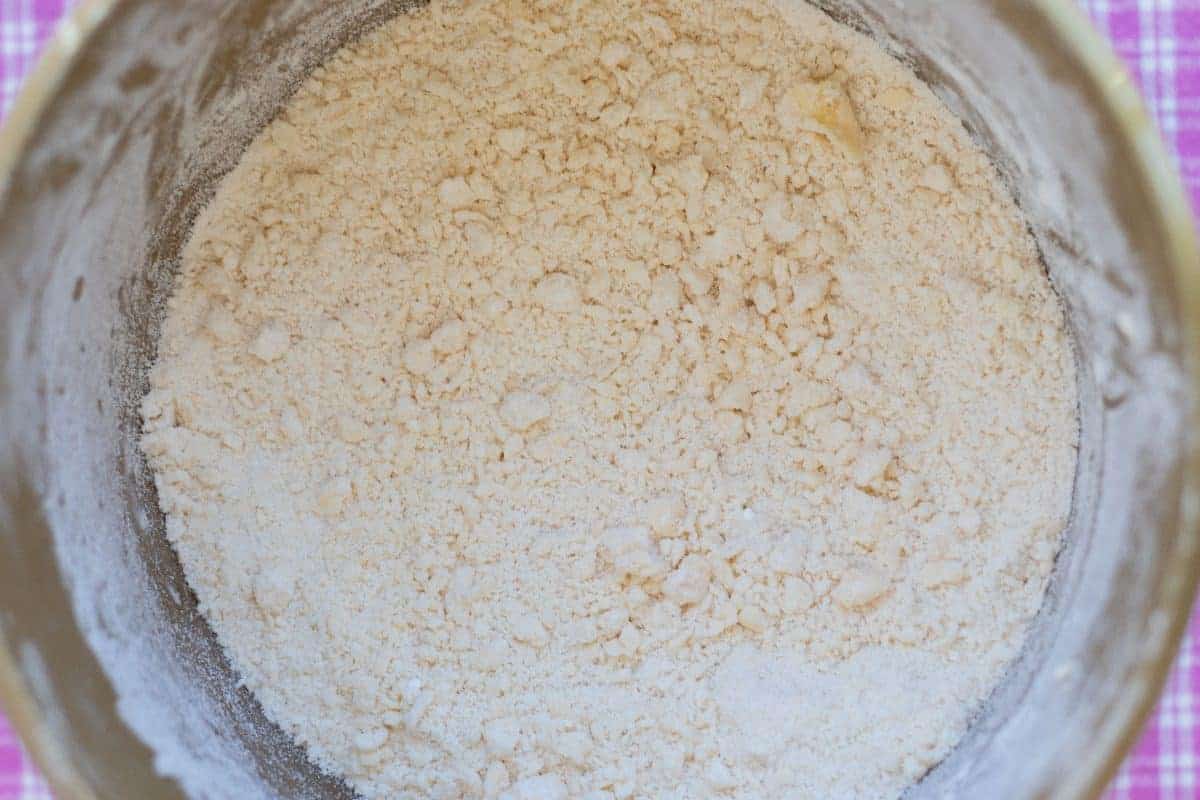 Mix it in well- yes you will need to use your hands for this. Sorry!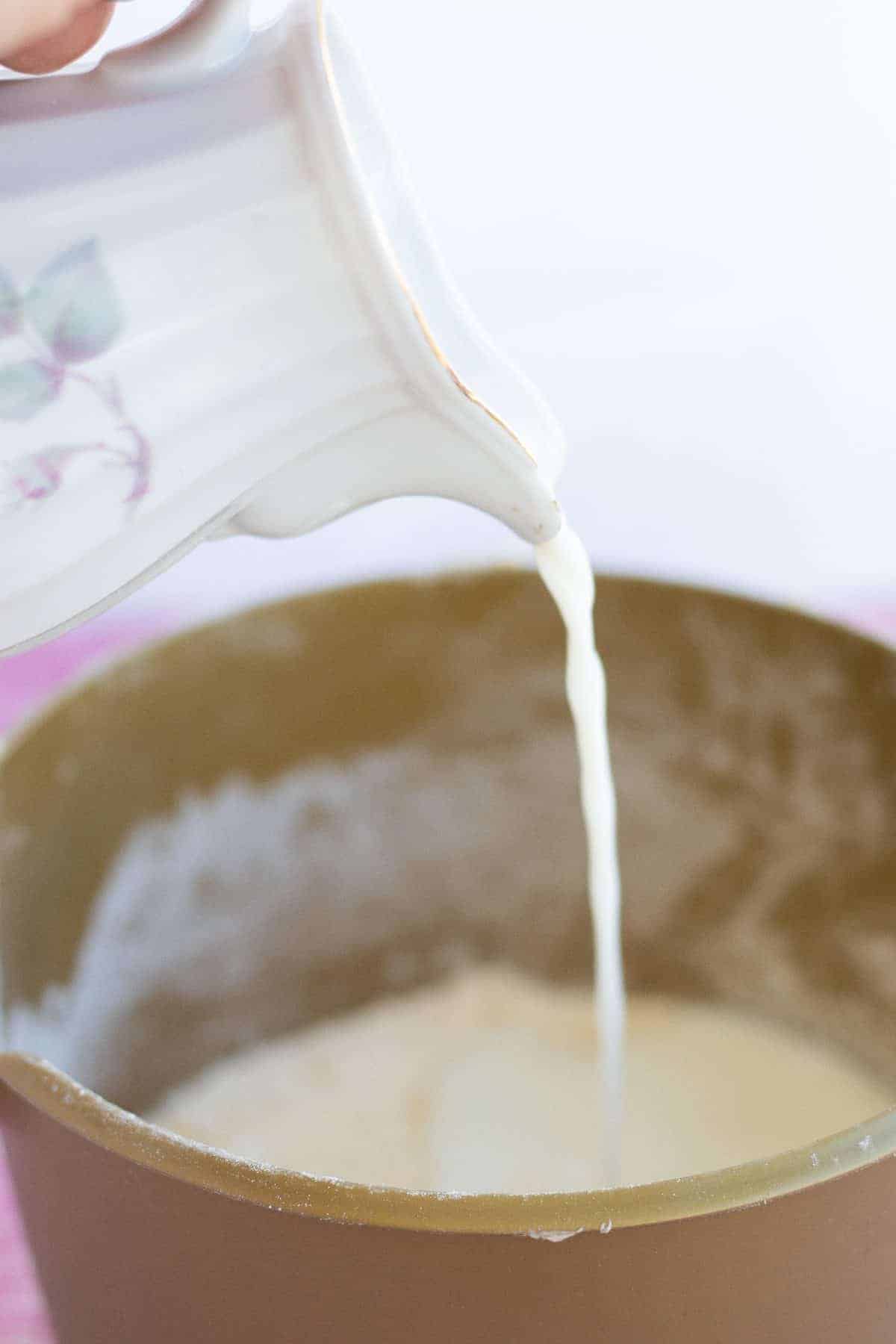 Pour in the milk. You get extra points for using a cute milk pitcher!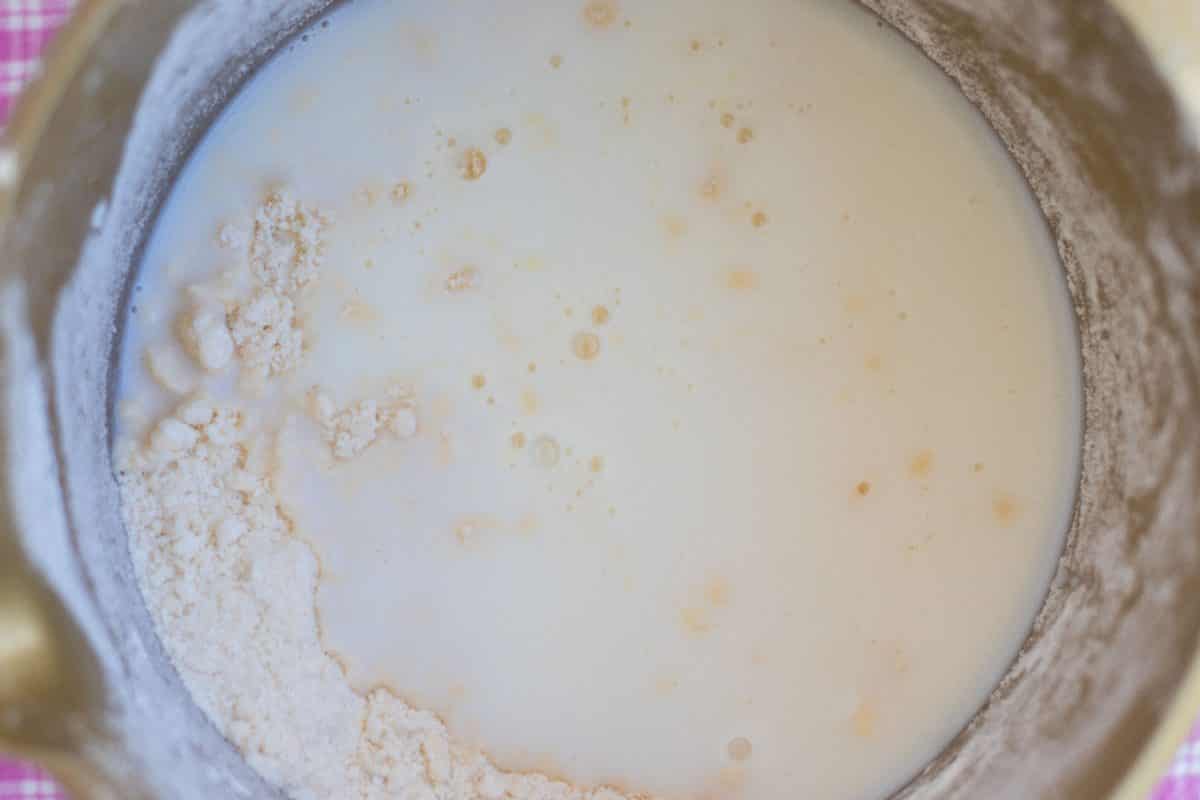 Mix together carefully. Don't mix too much or it might not bake well.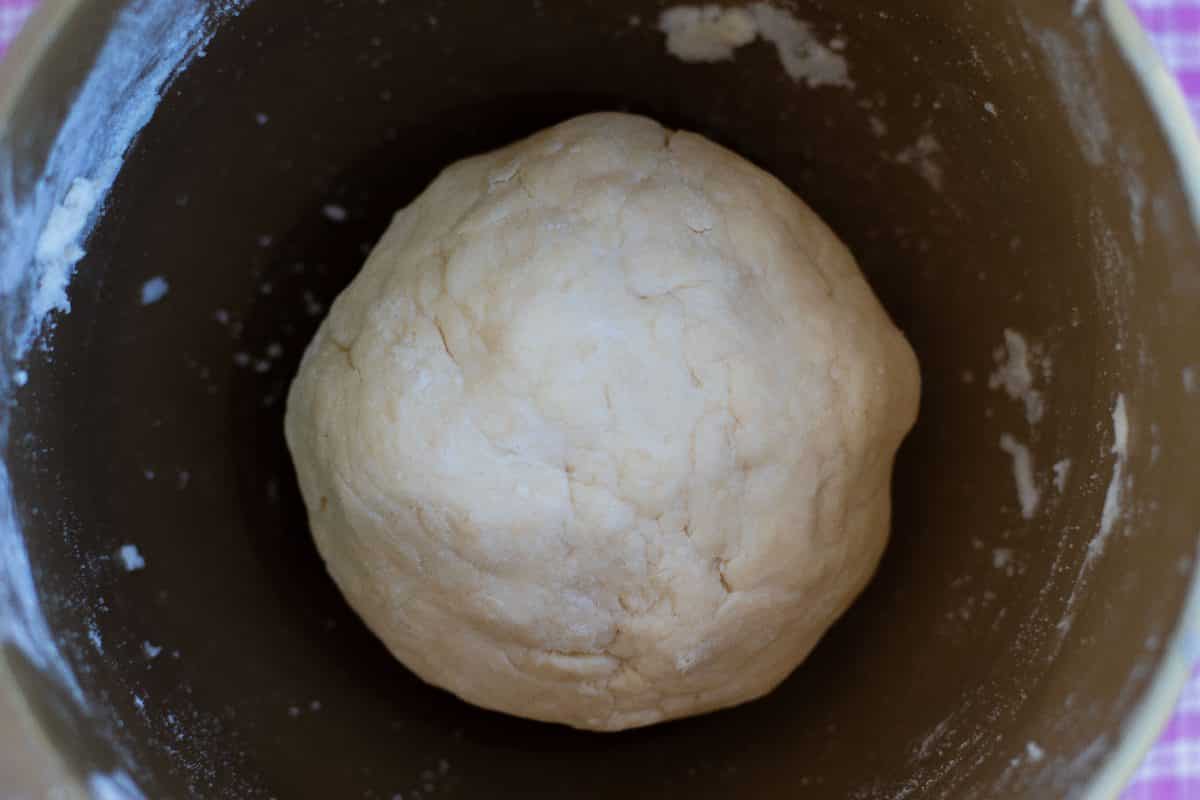 The dough is finished when everything is mixed together and you can form a ball.
Divide your dough into two balls of equal size.
Flatten with your hand to create cakes that are 10 cm/4'' in across.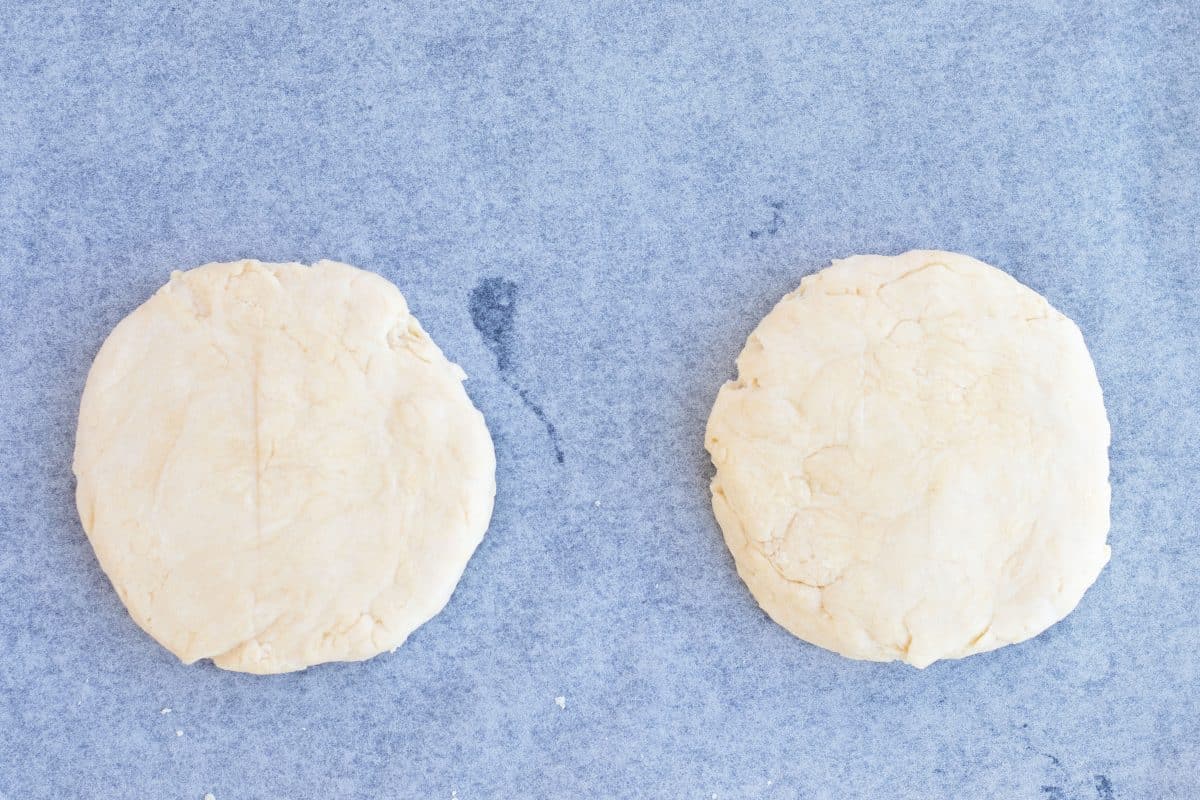 Using a regular dinner knife, cut the cakes in four. Then take a fork and make small holes in the surface.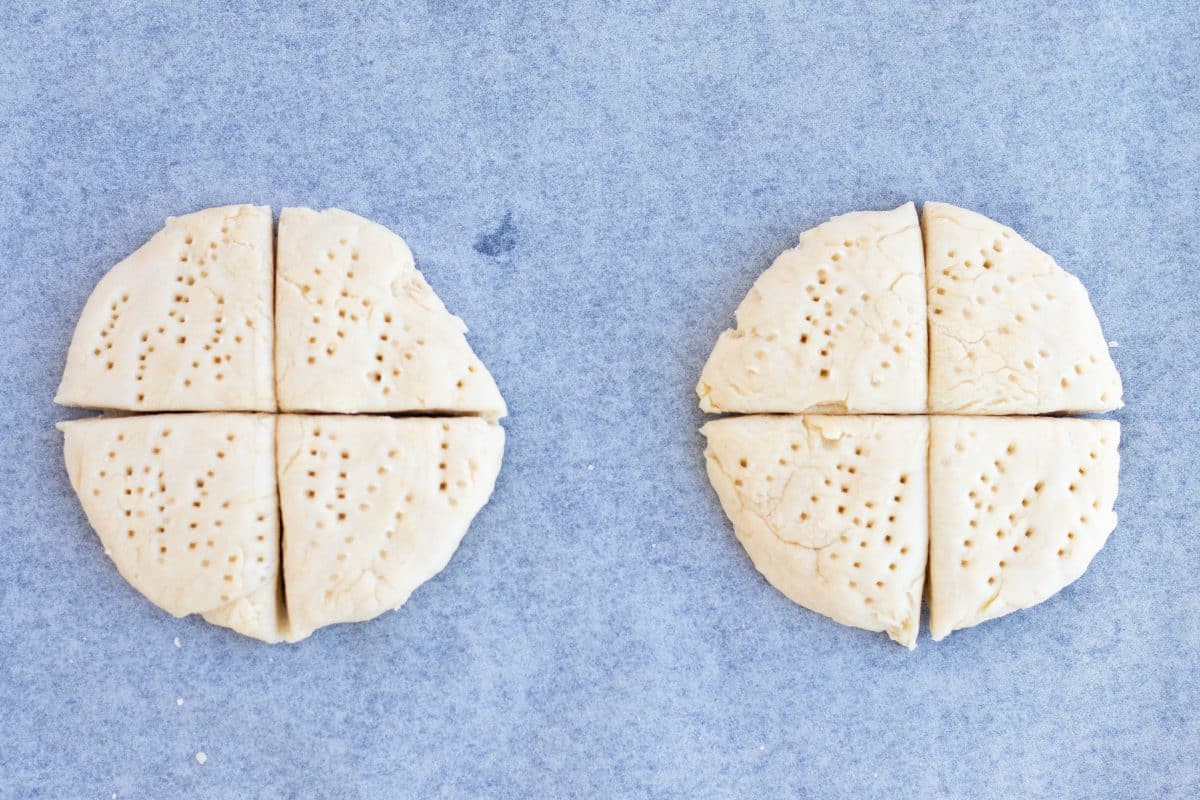 Bake in the oven for 10 minutes, until lightly browned.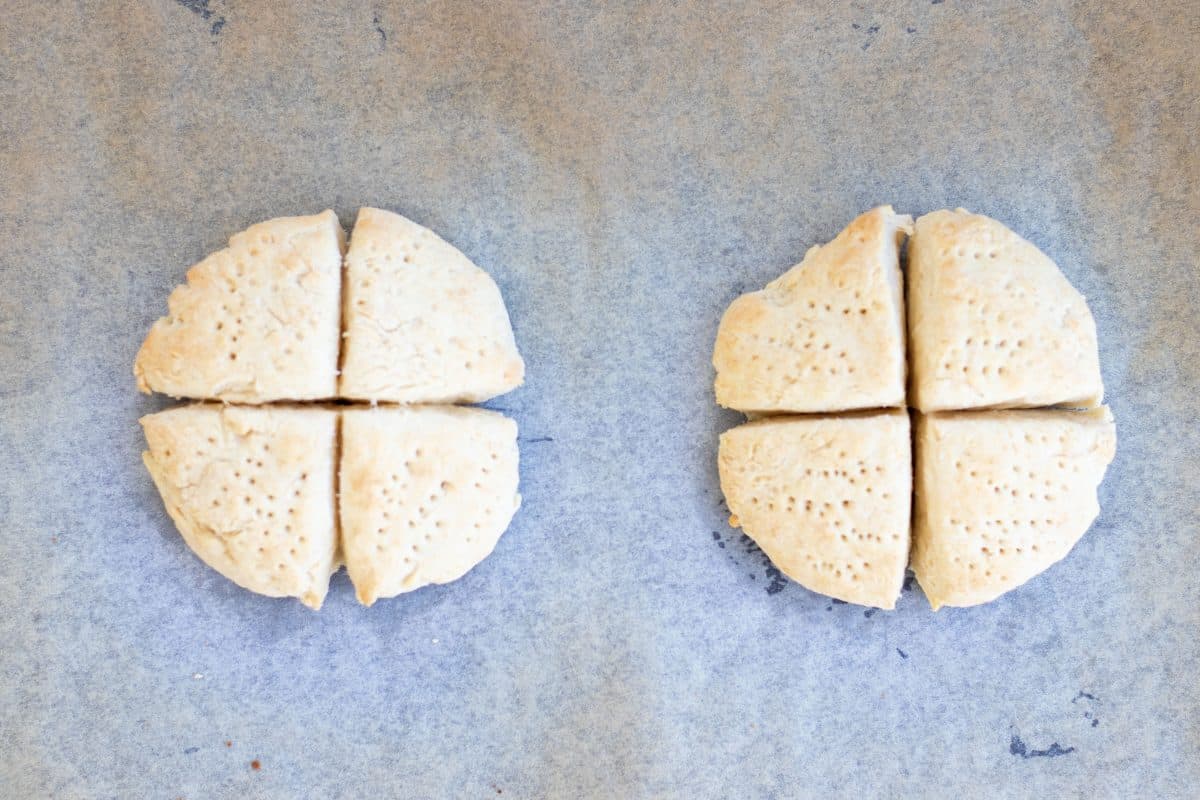 How to make scones without milk
Making scones without milk is easy. If you have cream, you can use this instead and the end result will be really yummy.
However, if you don't have any dairy at home regular water works as well. It won't be as delicious, but it will keep you from running to the store on a lazy Sunday morning.
How to make scones without butter
Making scones without butter is also possible. As for most recipes the best substitute is a vegetable oil. I like rapeseed, as it doesn't have a lot of taste. Or use another low-taste oil you happen to have on hand.
In a pinch you could go for olive oil as well - just keep in mind that they will actually taste a bit like olive oil, if you do.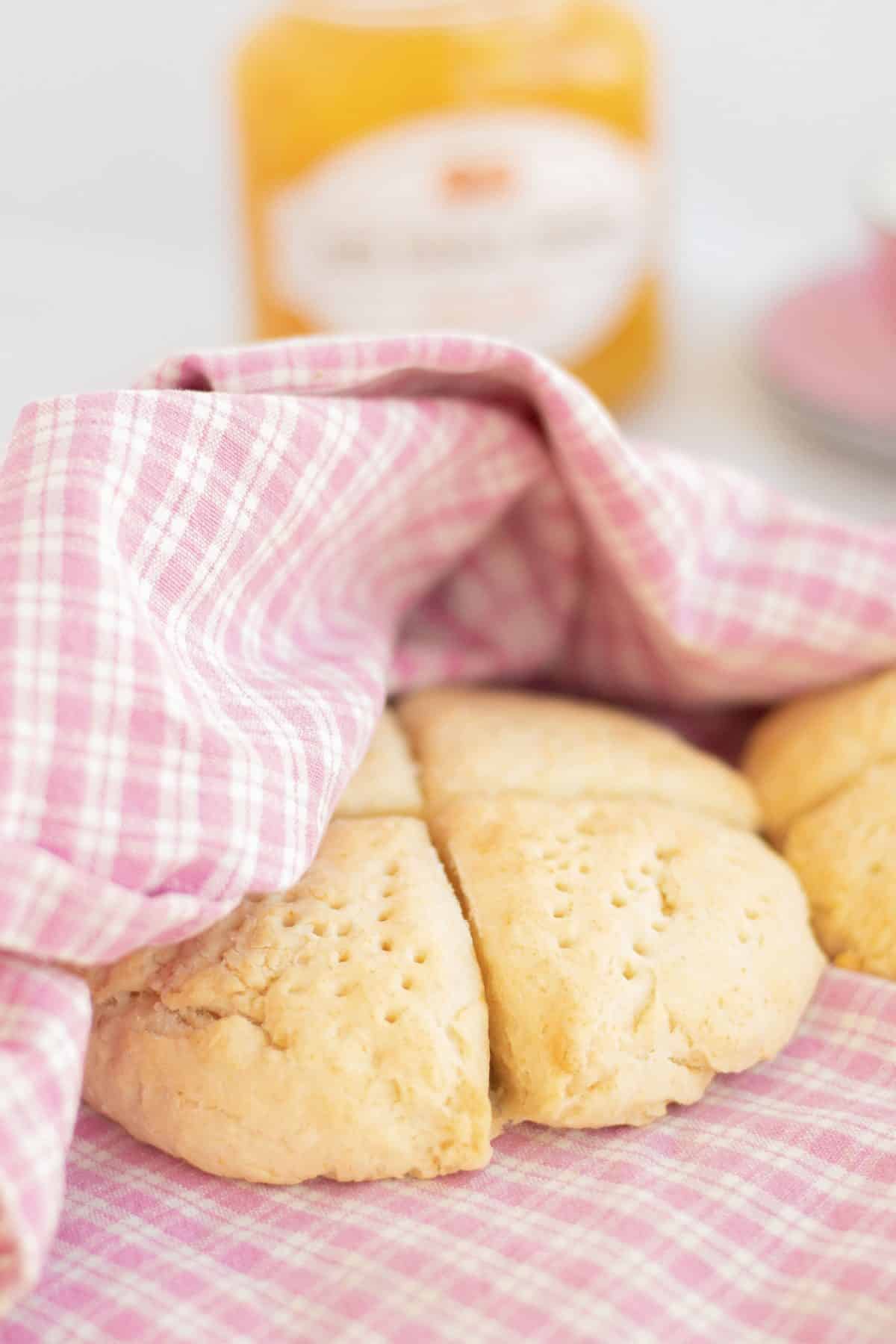 How to store scones
Scones should be eaten straight away, fresh from the oven - but if you do have leftovers you can store them until the next day. Just place them in a plastic bag - preferably while still a bit hot - and close it tightly.
Then when scones time comes around again, just heat up your oven, slice your scones in two and let them warm up for a few minutes. And once again, the butter will melt beautifully on top.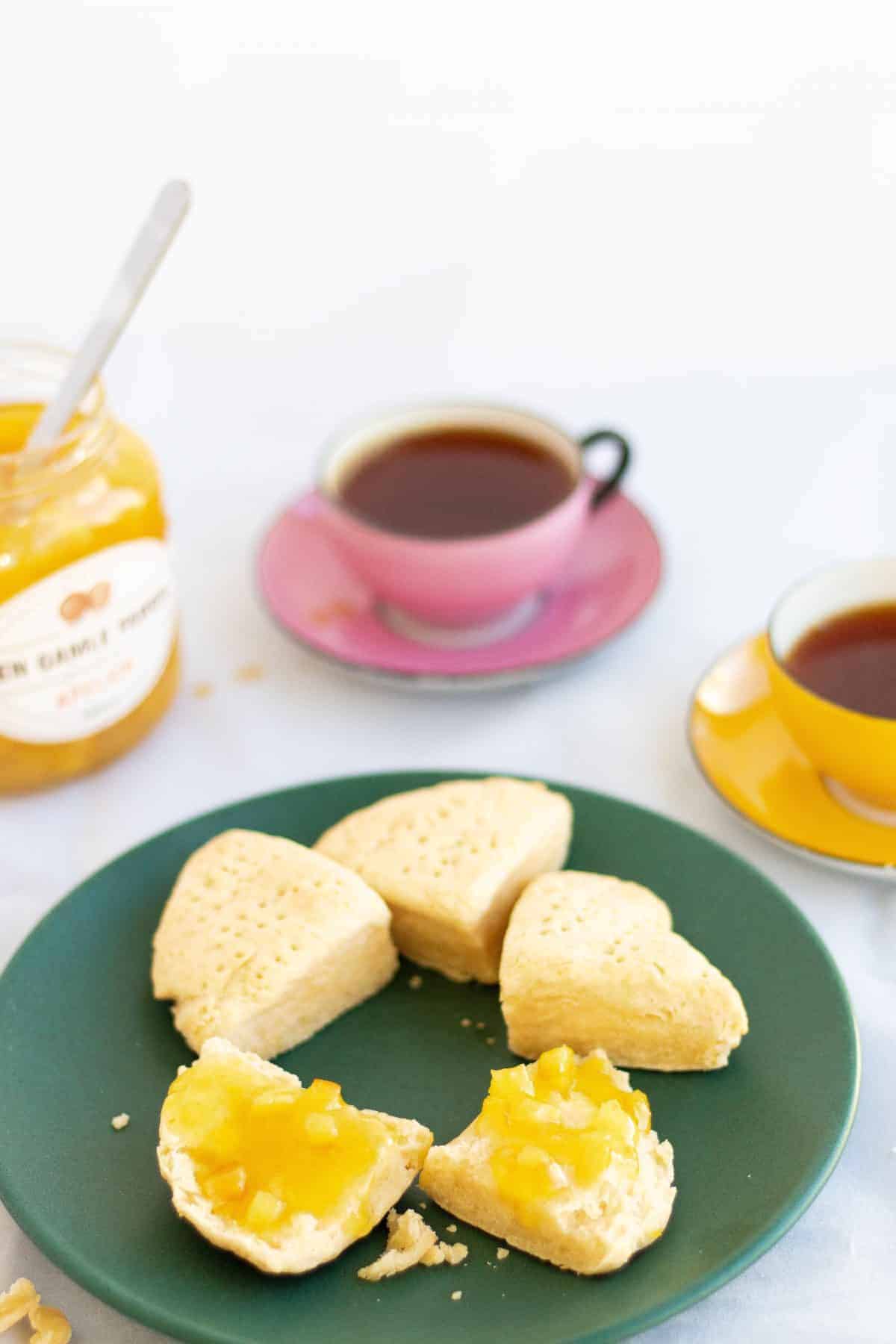 What's your take on scones? Do you agree with the differences (or lack thereof?) What do you like to serve them with? Let me know in the comments below, and leave a rating whole you're at it!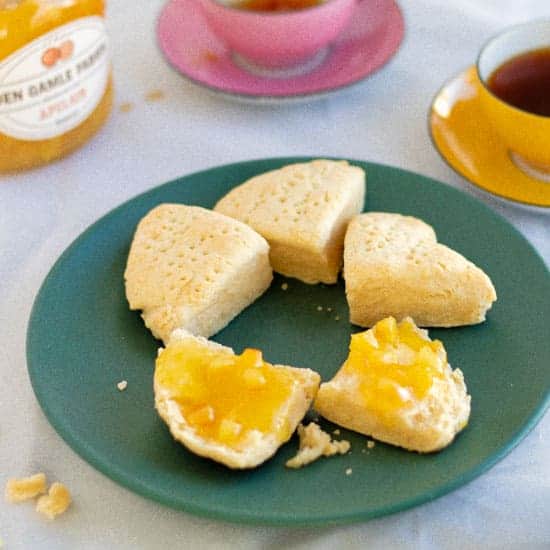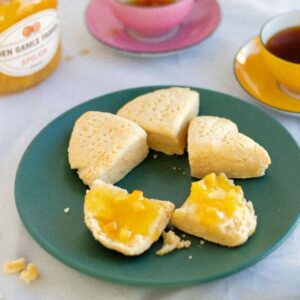 Ingredients
0.5

tsp

salt

1

tsp

baking powder

250

ml

plain flour

40

g

butter

at room temperature and cut in small pieces

100

ml

milk
To serve
Orange marmelade

or your choice of topping
Instructions
Set the oven for 225 C/435 F and place a baking sheet on an oven tray.

Mix together all the dry ingredients in a bowl.

Add in the butter in small pieces and mix well until completely combined.

Add in the milk. Mix well, but not more then absolutely necessary, and divide into two balls of equal size.

Place the balls on the baking sheet and flatten them to 10 cm/4'' across. Cut each in four pieces with a dinner knife and prick with a fork to create small holes on the surface.

Bake in the oven for 10 minutes until slightly golden and cooked through.
Notes
Serve with the toppings of your choice, some suggestions are:
Marmalade
Jam and clotted cream
Jam and whipped cream
Butter
Feta cheese spread
Cream cheese
Nutrition
Calories:
631
kcal
|
Carbohydrates:
98
g
|
Protein:
14
g
|
Fat:
19
g
|
Saturated Fat:
11
g
|
Cholesterol:
48
mg
|
Sodium:
750
mg
|
Potassium:
452
mg
|
Fiber:
3
g
|
Sugar:
2
g
|
Vitamin A:
580
IU
|
Calcium:
184
mg
|
Iron:
6
mg
Nutritional information is approximate and automatically calculated, and should only be viewed as an indication.
Great tools for baking
The links in the collage below are Amazon affiliate links which means that if you buy something through one of my links I receive a small commission (at no extra cost to you).
Make Breakfast Time Even Better
The links in the collage below are Amazon affiliate links which means that if you buy something through one of my links I receive a small commission (at no extra cost to you).