Air fryers can seem quite similar, but they do in fact vary in some ways. The answer to which air fryer is best for you depends on what you intend to do with it and what your budget is. Read this article to find out how to choose the best one for your specific needs!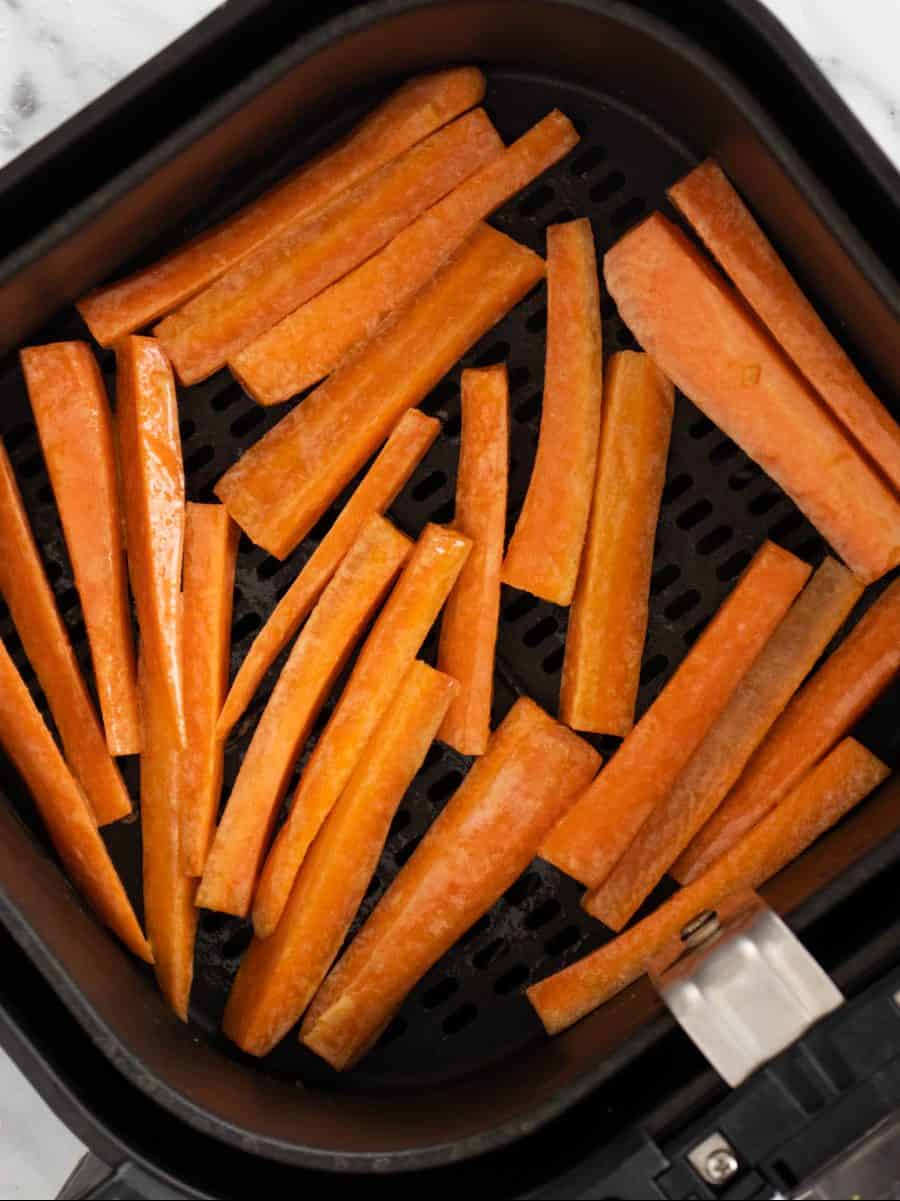 Jump to:
So you're getting an air fryer - good for you! It's a great investment and will make cooking easier, quicker, and more fun! Make sure to bookmark my extensive Air Fryer FAQ already now, for answers to all your air fryer questions.
Key factors when choosing an air fryer
Air fryers vary in a few specific ways, and here I will walk you through how they vary, as well as how to decide which type is right for you.
The 5 main things to consider when buying an air fryer are:
What type of air fryer are you looking for?
What size do you need?
How do you want to clean it?
What is your budget?
Do you need any additional features?
What type of air fyer are you looking for?
There are 3 main types of air fryers:
Classic air fryer
Air fryer oven
Air fryer lids
Classic air fryers
Classic air fryers are the most common these days. They come with an air fryer basket that can be removed, and most of these can be washed in the dishwasher.
Some are egg shaped and some are square, with the square shaped ones becoming more and more the norm. The benefit of the square shaped ones is that you get more space for cooking food in a single layer.
Some good brands are Philips*, Cosori* and Ninja*.
Who is it good for? Anyone! A classic air fryer will suit most people's needs.
Air fryer oven
An air fryer oven or (also called air fryer toaster oven) looks like a small oven. The difference from a regular convetion oven is that it's smaller - so it's quicker to heat - and comes with a mesh air fryer basket or tray. This means you get the same benefit of circulating hot air as you get with a square air fryer.
An air fryer oven will fit more food, especially when it's important to cook in a single layer, but also takes up more space. Generally food will take a bit longer to cook in an air fryer oven than in a classic air fryer, but it's quicker than a regular oven.
Some good brands are Cosori* and Cuisinart*.
Who is it good for? Anyone wanting to use their air fryer entirely instead of a regular oven, or to cook large amounts of food in a single layer.
Air fryer lids
An air fryer lid is a lid you add to an instant pot or other pressure cooker to turn it into an air fryer. Apart from an air fryer lid you will need an air fryer basket suited to your pressure cooker.
You can find air fryer lids from Instant Pot*, Mealthy* and Ninja*.
Who is it good for? Anyone with limited space who already has an instant pot or other pressure cooker.
What size do you need?
Air fryers come in varying sizes, from super small to quite large. What size you should choose depends on how many people you wish to cook for at once.
Size is a trade off, as a smaller air fryer will heat up quicker and also cook your food quicker, while a larger one will allow you to cook more at once.
What size is right for me?
Consider how many people you cook for on a regular basis:
What's your budget?
Another important aspect to consider is how much money you have to spend. Air fryers can cost anywhere from $30 to multiple hundred dollars. As can be expected, it's easier to find a small air fryer for a lower price.
Below you'll find some recommendations of specific air fryer models to fit your budget, all with amazing reviews.
What's right for my budget?
Under $50:
Under $100:
Under $200:
Higher budget
How will you clean it?
Most air fryers will have parts that can go in the dishwasher, but if this is important for you you should make sure this is true for the model you are considering.
Some exceptions to keep in mind:
Air fryer ovens: all parts for an air fryer toaster oven generally require hand washing
Air fryer lids: these can generally not be washed in the dishwasher
The main unit of an air fryer can never be washed in the dishwasher, instead you need to wipe it with a damp cloth. Do this every time after cooking, and it's no problem at all!
Consider additional features
Now sometimes you might not just want a basic air fryer, but something "extra".
Here are some additional features you might want to consider:
So, which air fryer is right for you?
By now I hope you have a bit more of an understanding of what you need to consider when buying an air fryer. If you're still not sure which one is best for you, here are my top recommendations:
Did you enjoy this post? Let me know your favorite part in the comments!