This post may contain affiliate links, which are always marked with *. Please read my disclosure for more information.
Quick and Easy to make and full of delicious Lemon & Cilantro flavor these Lamb Meatballs work just as well next to a pile of indulgent mashed potatoes as they do as an appetizer or as part of a buffet. A staple in my home, I've made these little gems since I learned how to cook - and they never fail to satisfy.
Lighter than both pork and beef, lamb is one of those meats so many people shy away from. If you're one of those - this recipe is where to start!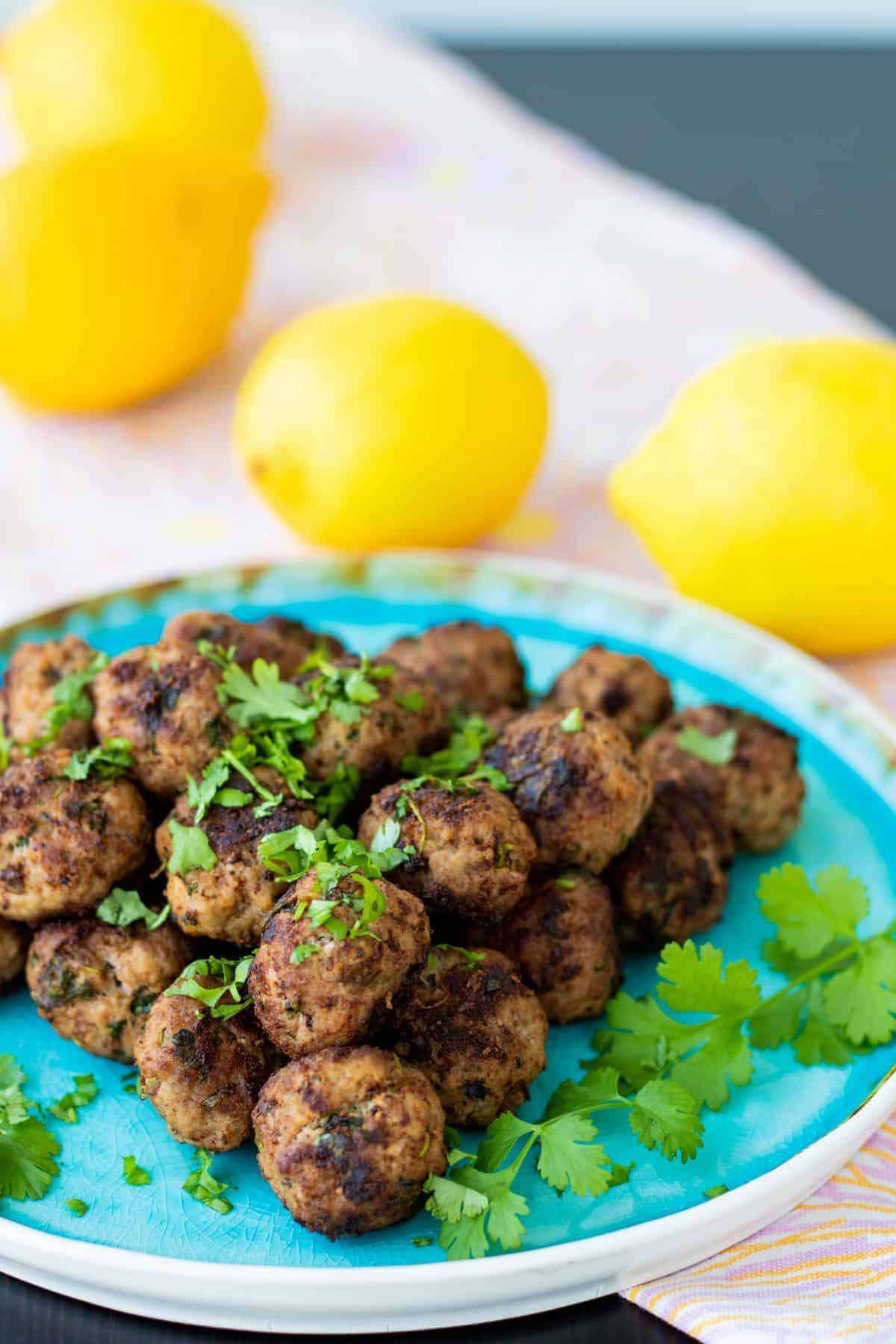 One of my favorite things about this blog is that I get to share some of my childhood favorites with you. After my favorite fish dish (going on 25+ years in that position now!), the scones I've made forever and Quesadillas featuring Mom's famous enchilada chicken the time has come for me to share these delicious Lamb Meatballs my Mom used to make.
Or, well, she made them as lamb patties but I really like the whole meatball esthetic waaay better so my version is a meatball. Same yummy flavors as I remember from my childhood, though!
How to make Lamb Meatballs
Making lamb meatballs is quick and easy - not to mention delicious! If you haven't tried it yet - now's the time.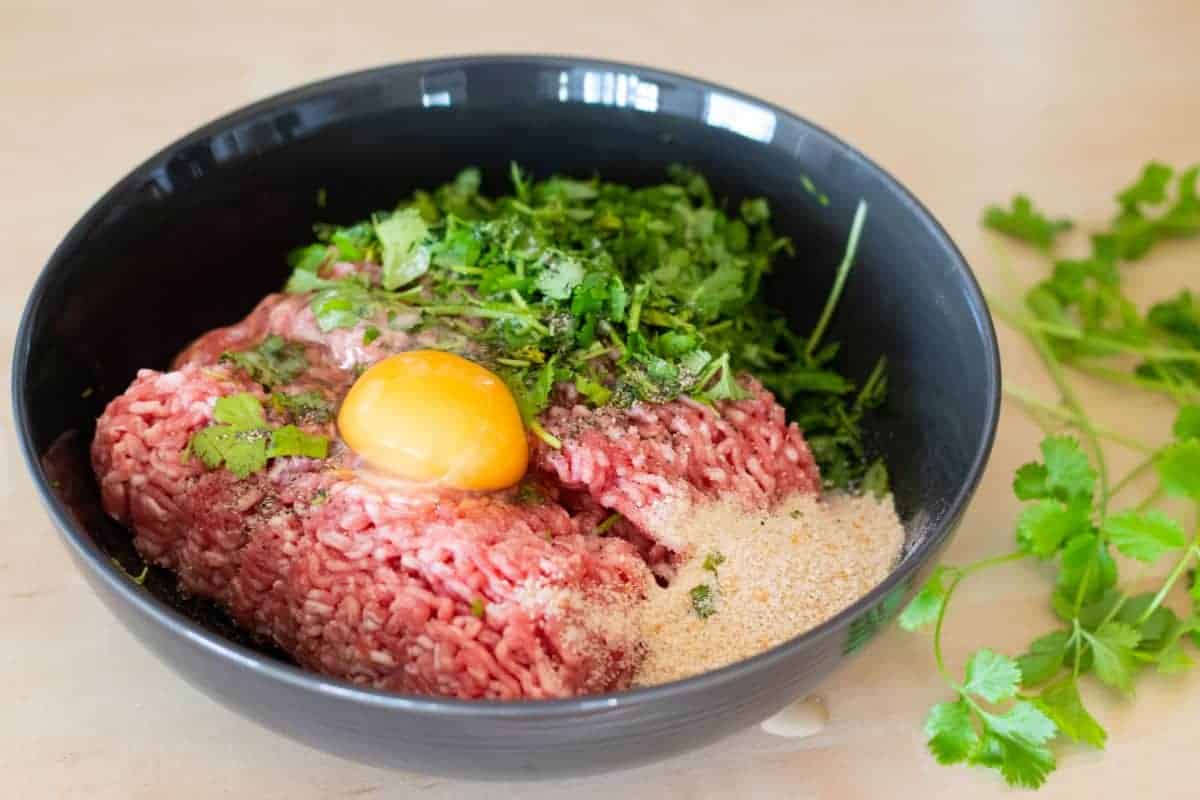 To start, place all ingredients except butter & vegetable oil in a bowl.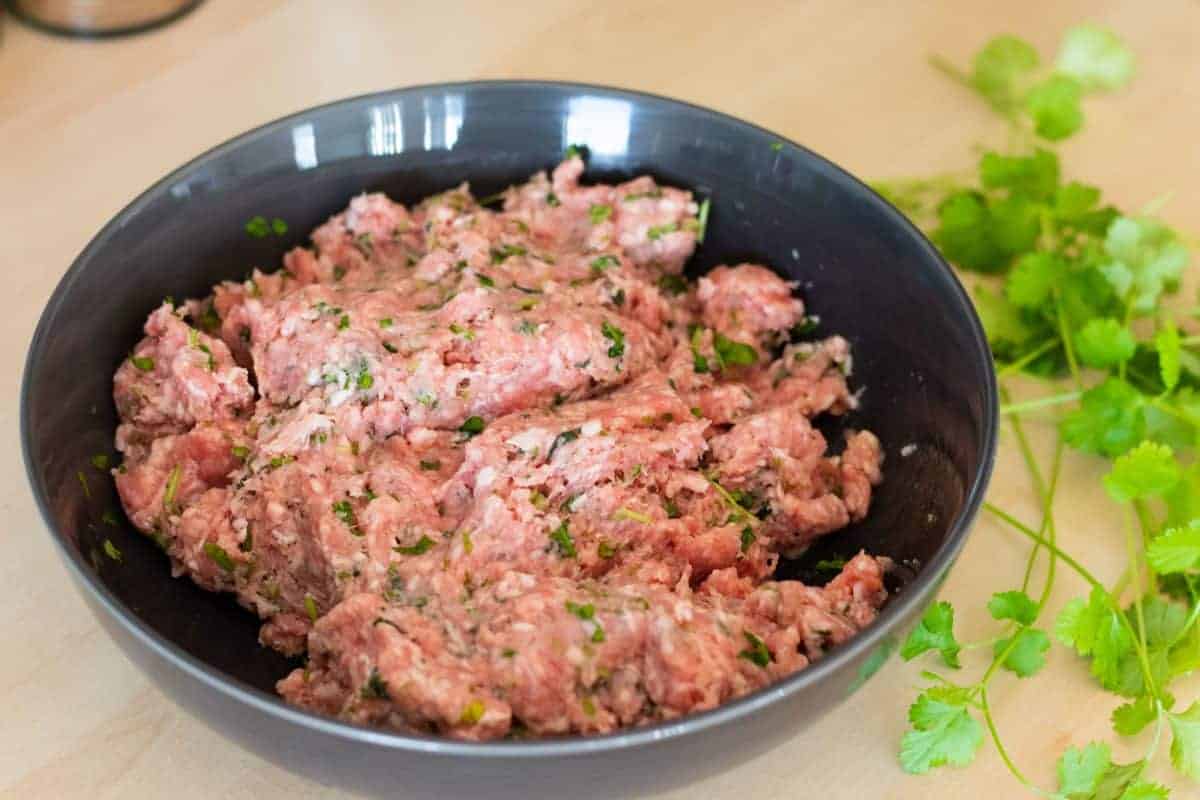 Mix well.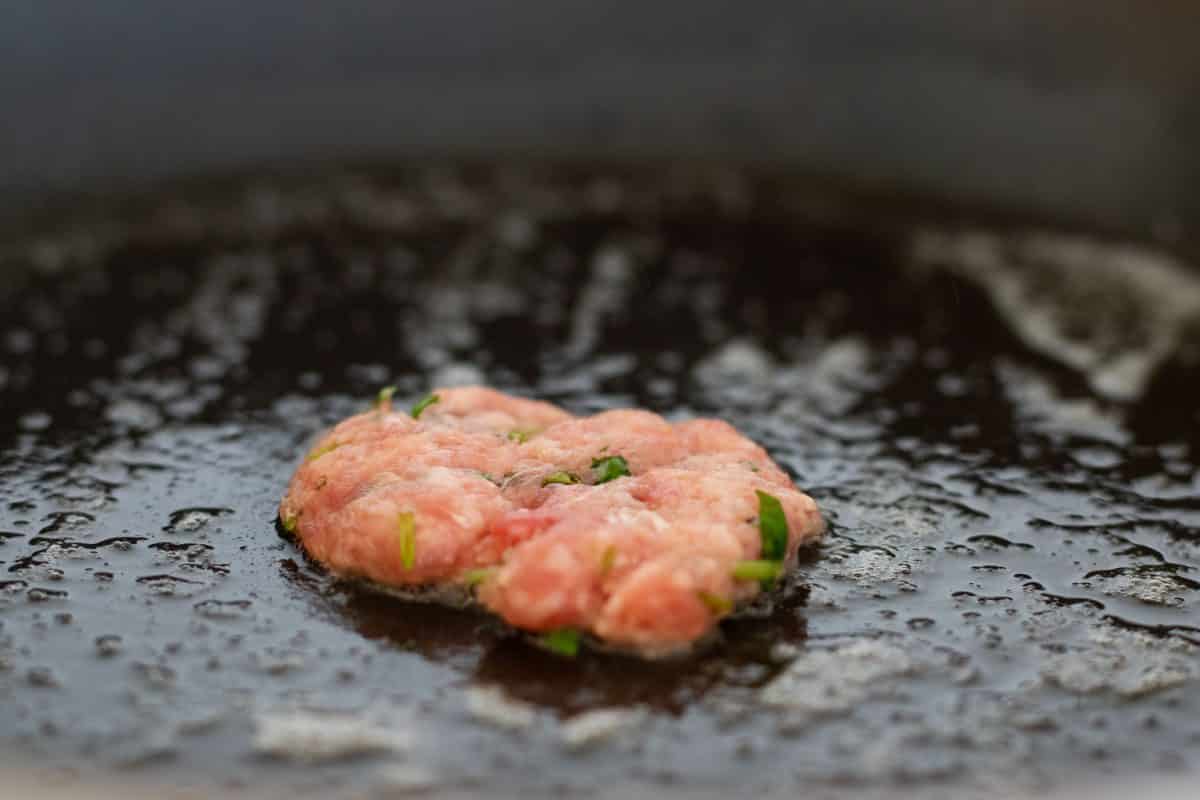 Now the trick to making perfectly seasoned meatballs: starting out with a test patty, before making all the meatballs.
Heat some oil & butter in a frying pan, cook your test patty - taste test, and adjust seasoning if needed.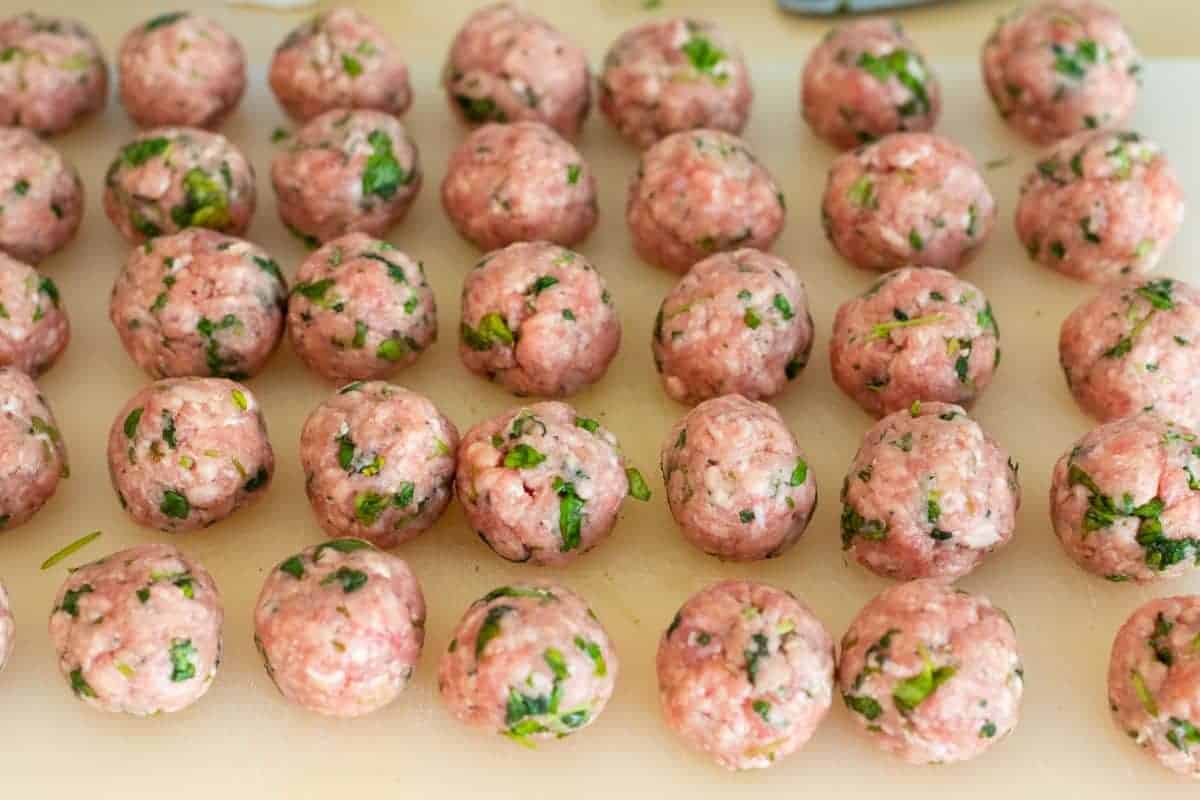 Once you're satisfied with the taste, go ahead and roll all the meatballs. I like to keep them kinda small, but you do you.
Depending on what size you make them you might need to adjust the cooking time though, so just keep that in mind.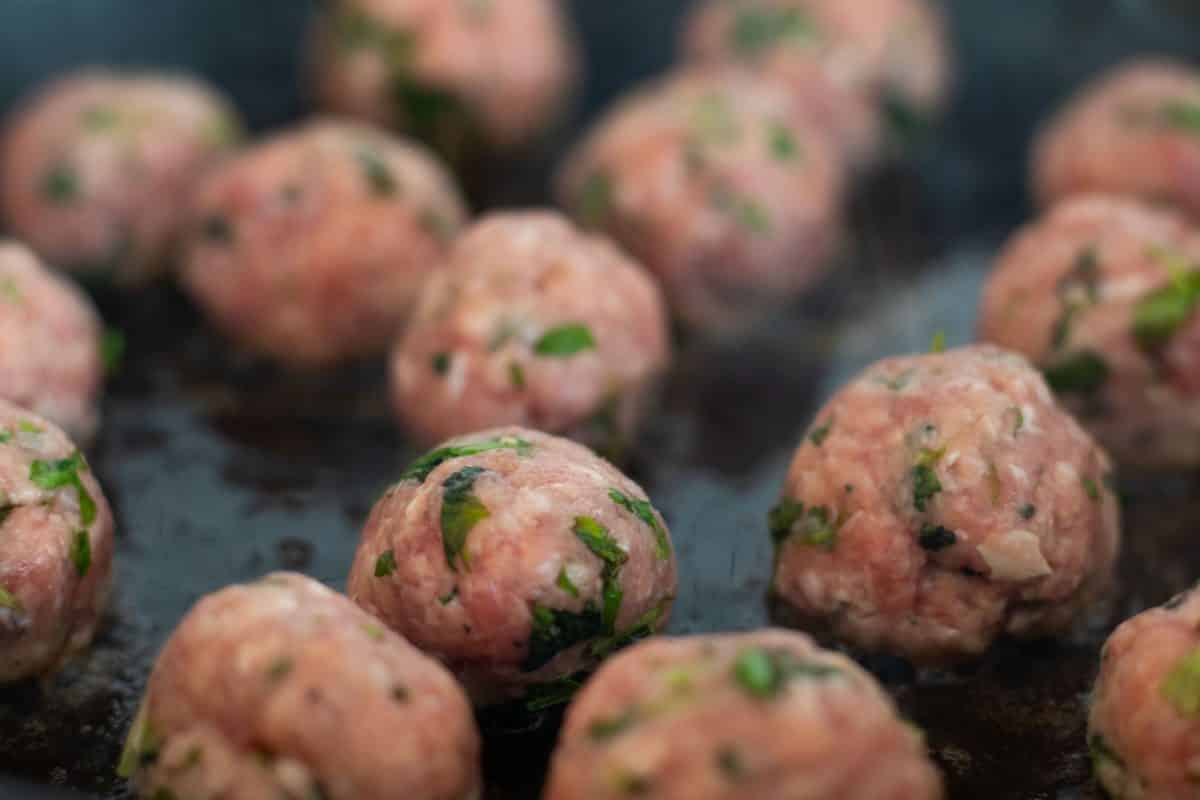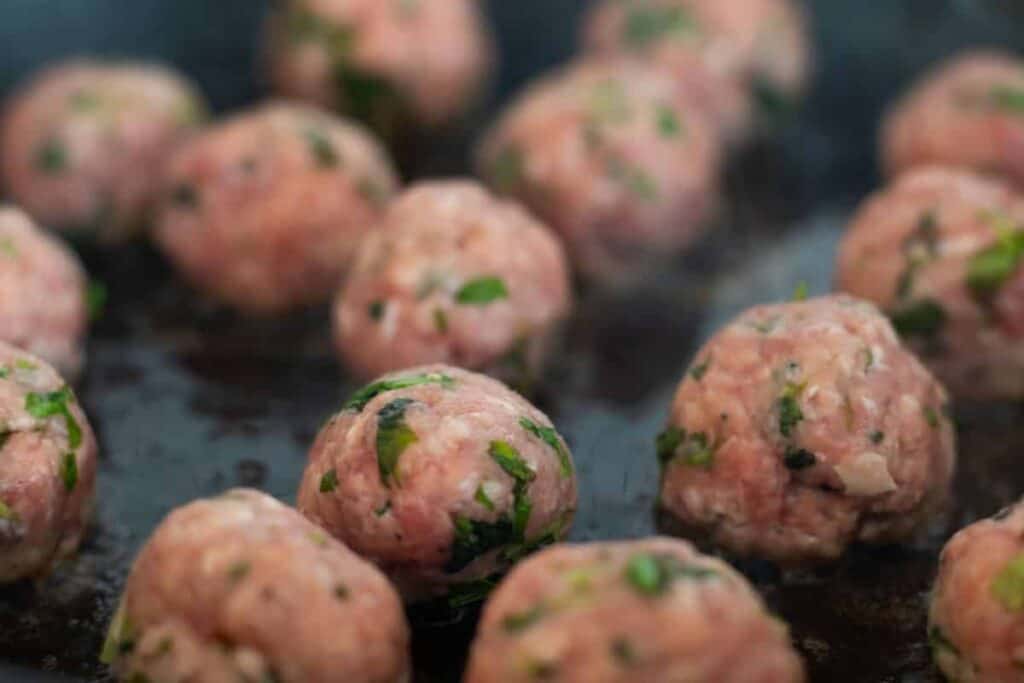 Time to cook your meatballs!
Don't overcrowd your frying pan - I usually cook about 15-20 meatballs at once in a regular-sized frying pan. So that's two batches for this recipe!
And as always - cast iron will make it all the yummier, but non-stick is easier and demands less fat. Choose accordingly!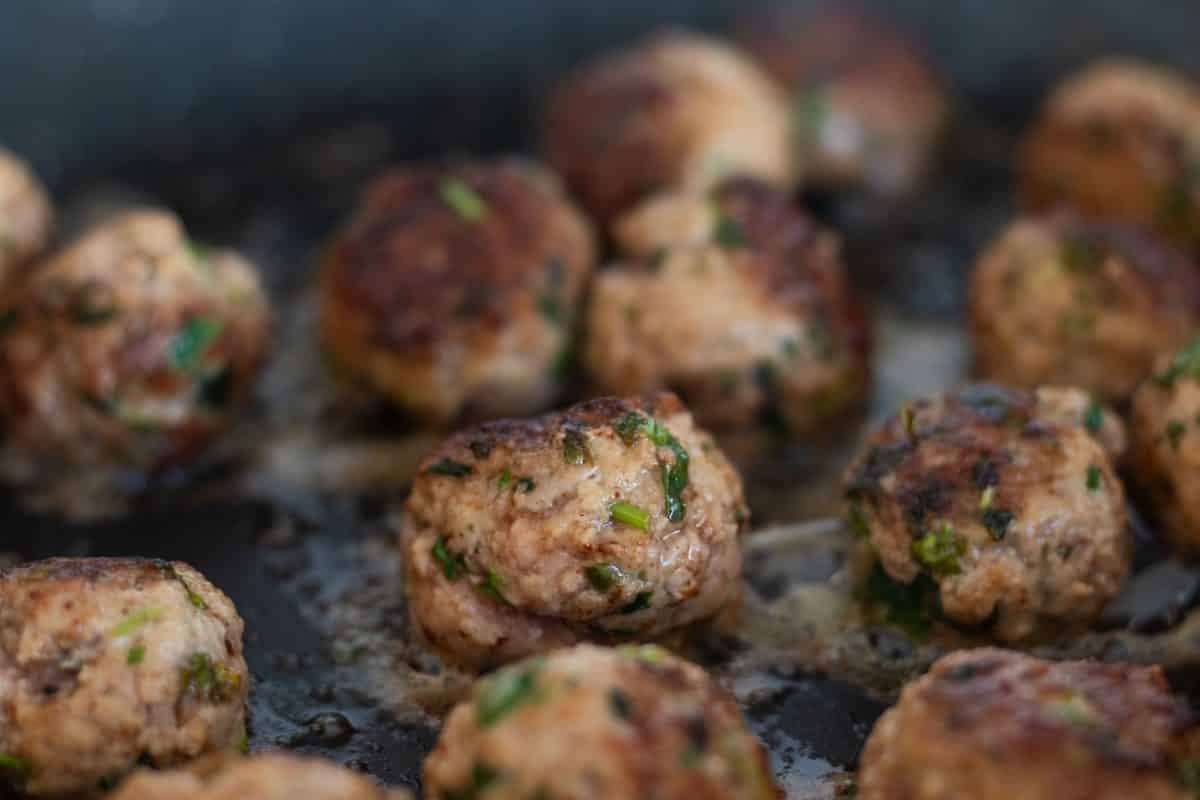 Cook the meatballs for about 6 minutes, turning often to ensure a good sear on all sides.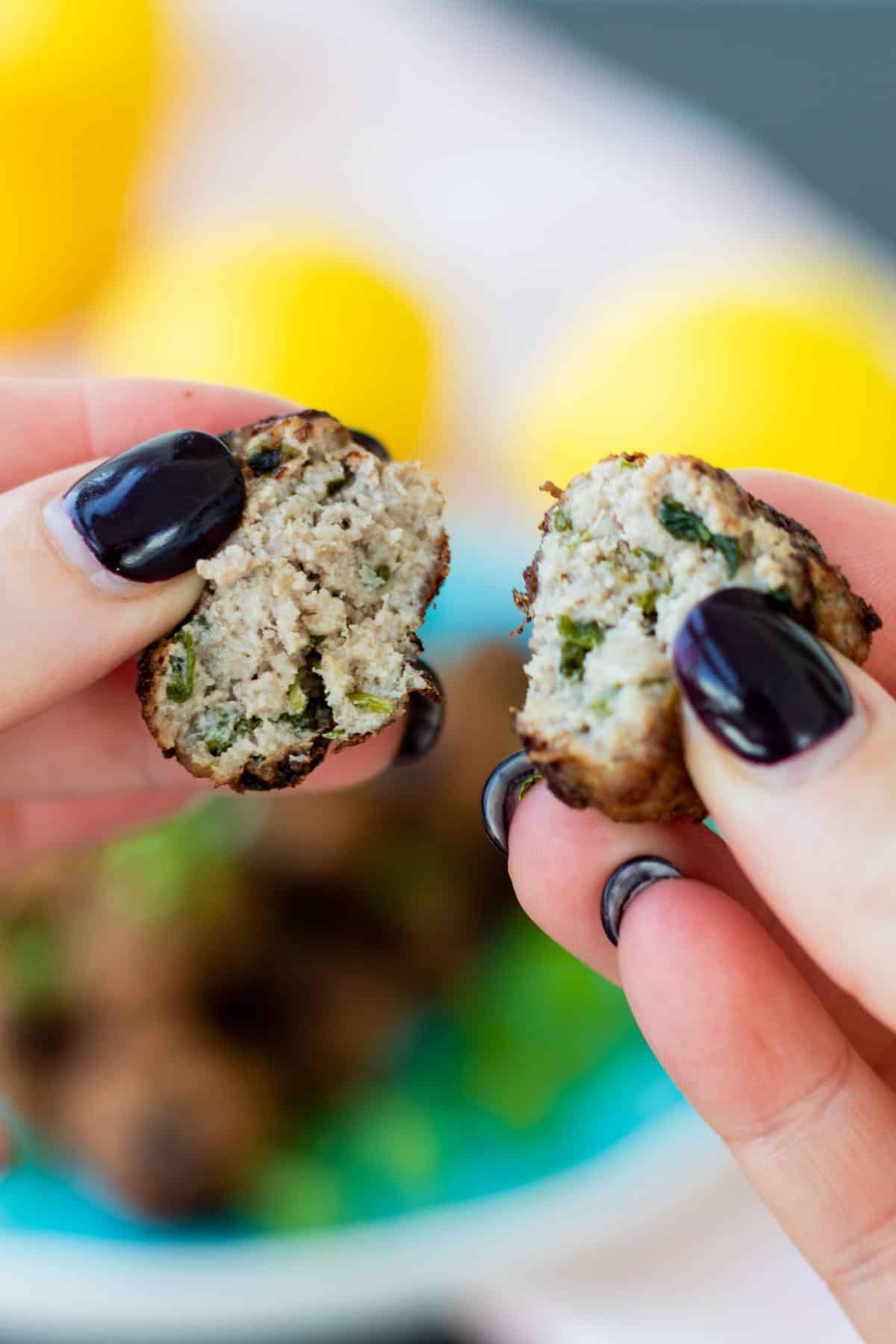 The meatballs are finished when they have a good sear and an even, white-ish color inside. It's generally OK to eat pink lamb (but please ensure your particular meat is safe!), but I just like these meatballs better cooked all the way through.
How to serve lamb meatballs
Now there are so may ways you can serve these meatballs. For one, they're delicious on their own. As a snack, an appetizer or as part of a buffet spread.
If you wish to make them into more of a meal, the lightness and lemony flavors of these meatballs will go great with lighter options like salads or a nice Moroccan couscous.
My personal favorite, however, is to have them with a big, hearty helping of mashed potatoes. The freshness of the lemon & cilantro goes so well with the dense & fat rich mashed potatoes, and together they create a deliciously balanced meal.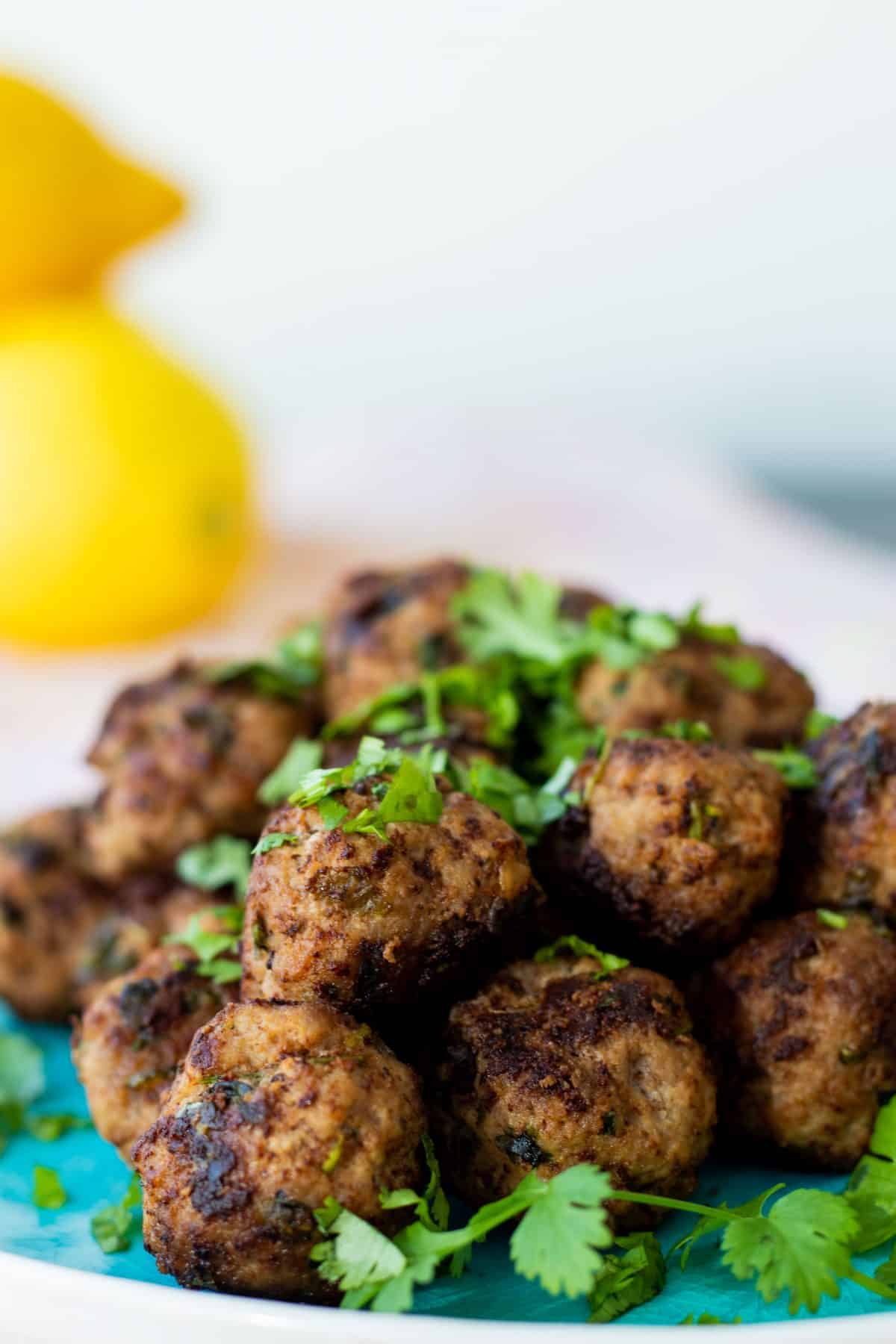 What sauce for lamb meatballs
Now I must confess, I usually don't have any sauce with these meatballs. If I do, it's generally just the drippings left in the pan that I pour over just before serving.
But I know, sometimes you just crave some sauce!
Now there are two ways to go for sauce here, as I see it - either you beef up the pan drippings with some wine and maybe even a hint of flour, or you go the yogurt route. It doesn't need much - a simple Turkish yogurt seasoned with salt, and maybe some olive oil, will go perfectly with the lamb.
What wine for lamb meatballs
Now let's talk wine! Lamb is such a delicate meat compared to beef or pork, and while I still enjoy most lamb recipes with a heavy red - this one calls for something slightly different.
Think light, think fruity, think young! I'm not a big Beaujolais fan, but this is one of few dishes I can really see it working well with. Sound a bit scary? Yeah, I hear you. Then go safe with the Pinot Noir route - and look for fruity tones rather than spicy.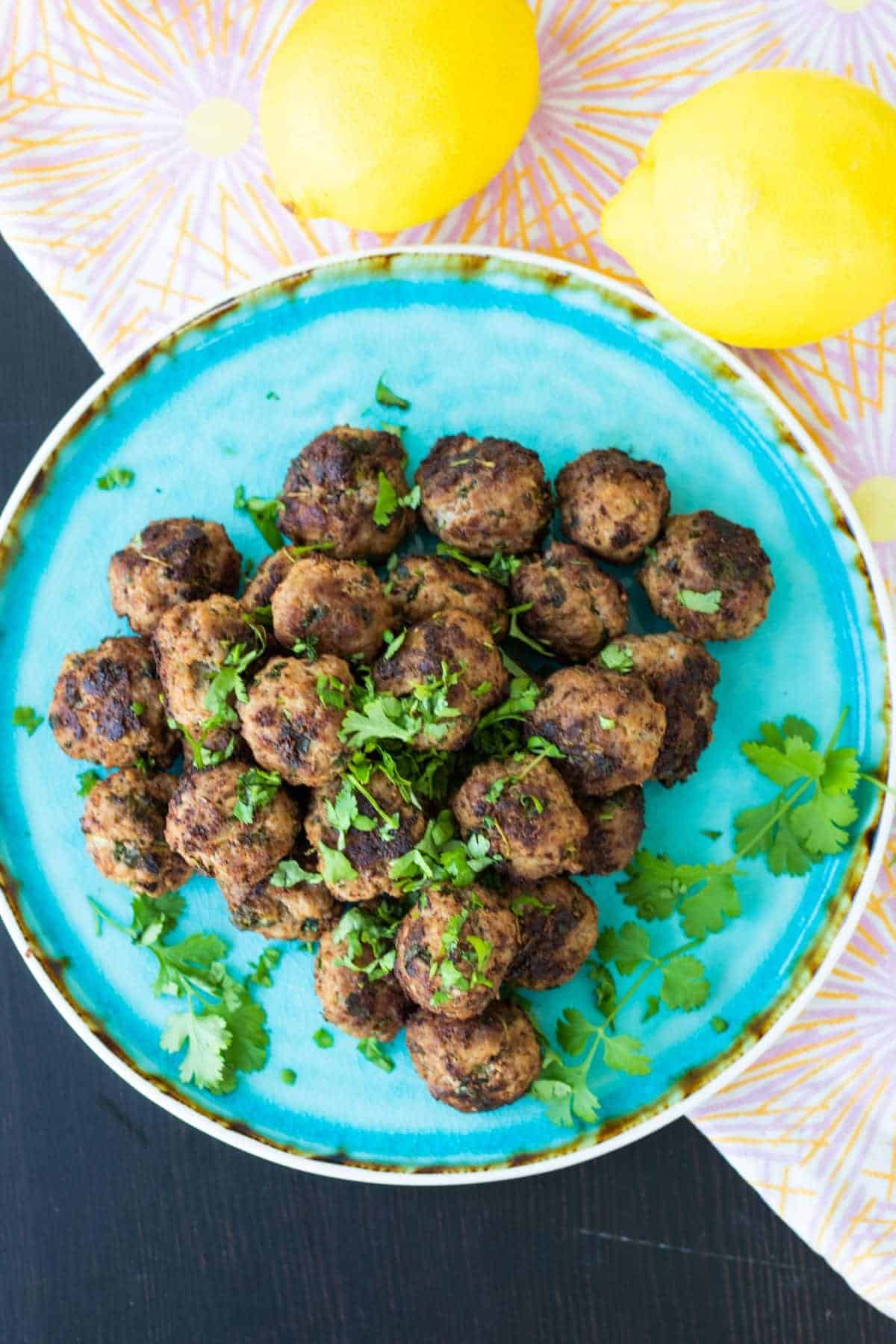 And that's really all there is to it! Easy peasy, right?! Do you make a lot of lamb? If so - what's your favorite way to cook it? If not - why not?!
Recipe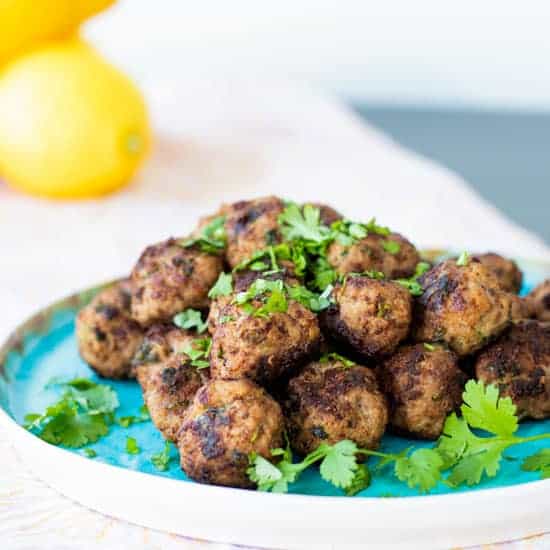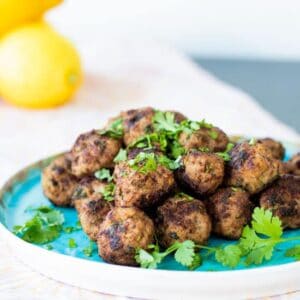 Ingredients
1

lb

minced lamb

2

tablespoon

lemon juice

fresh pressed, ½ lemon = about 2 Tbsp

⅔

cup

fresh cilantro

chopped, loosely packed

1

egg

¼

cup

breadcrumbs

½

teaspoon

salt

¼

teaspoon

black pepper

½

tablespoon

butter

½

tablespoon

vegetable oil
Instructions
Mix together all ingredients except butter & vegetable oil.

Heat butter and vegetable oil in a frying pan over medium-high heat. Make one small test patty and fry in the pan. Taste test and adjust the seasoning if needed.

Once satisfied with the seasoning, make the meatballs. Try to make them as even in size as possible for easier frying.

Fry the meatballs in two batches for about 6 minutes. Turn often to ensure a good sear on all sides. The meatballs are finished when they have a good sear and an even white color inside.

Serve with mashed potatoes or another side of your choice, or serve as an appetizer or as part of a buffet spread.
Nutrition
Calories:
50
kcal
|
Carbohydrates:
1
g
|
Protein:
2
g
|
Fat:
3
g
|
Saturated Fat:
1
g
|
Cholesterol:
10
mg
|
Sodium:
55
mg
|
Potassium:
56
mg
|
Vitamin A:
295
IU
|
Vitamin C:
1.5
mg
|
Calcium:
8
mg
|
Iron:
0.4
mg
Nutritional information is approximate and automatically calculated, and should only be viewed as an indication.