This post may contain affiliate links, which are always marked with *. Please read my disclosure for more information.
This 10-minute Shrimp Carbonara is a delicious twist on the classic Italian pasta dish. All the creamy texture of traditional Carbonara, with the addition of perfectly cooked shrimp. A delightful fusion that will satisfy your cravings for both seafood and pasta, all with an easy no-fail no-cream carbonara method!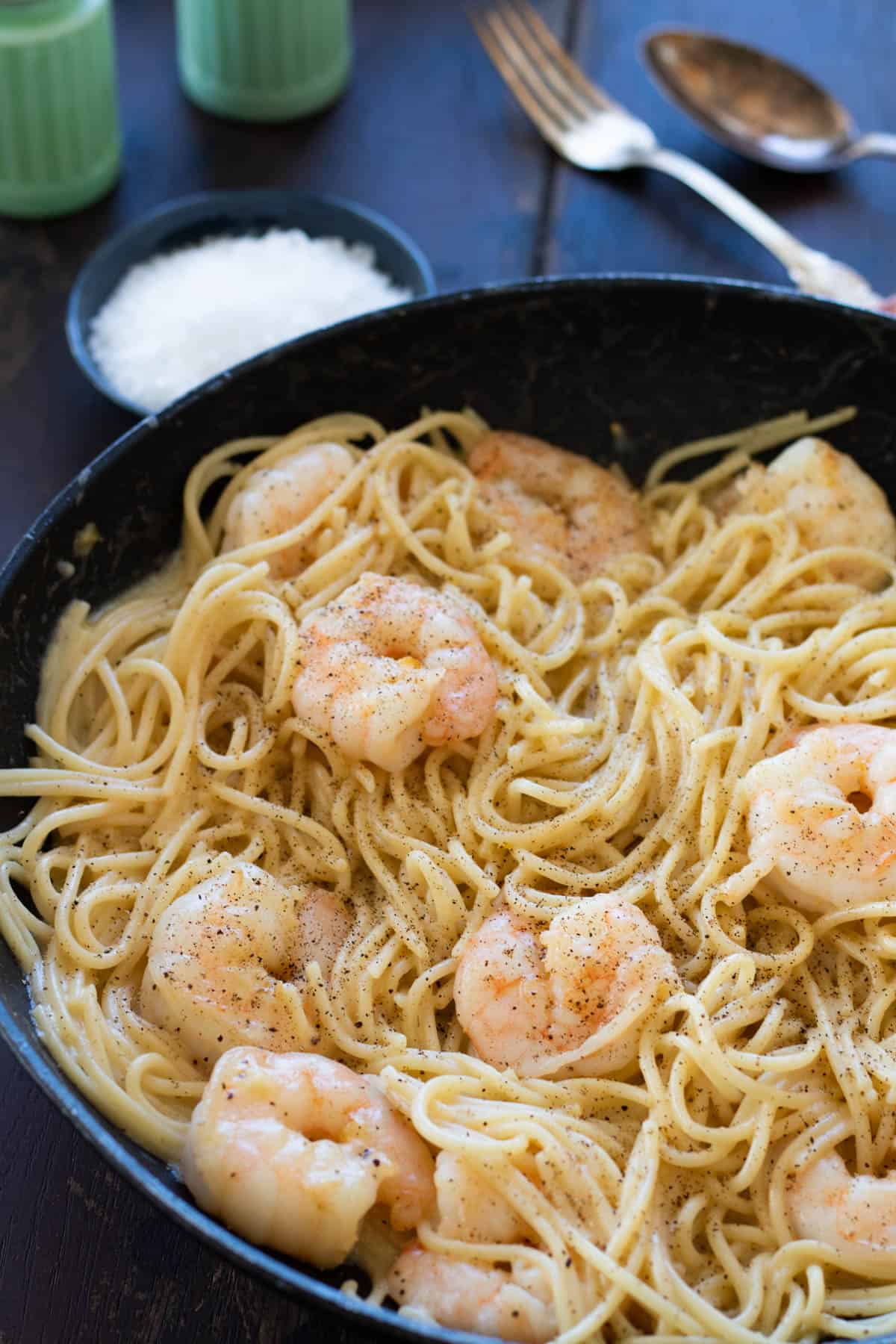 Jump to:
What is the trick to making good carbonara?
The trick to making a good carbonara is to get the egg and cheese to combine with pasta water to create a silky sauce, without adding any cream.
You want the cheese to melt and combine with the egg, fat from the pan, and starchy pasta water to create a creamy sauce. If it's not heated enough, you end up with a sauce that's too thin, and if you heat it too much, you end up with scrambled eggs.
There are 2 important steps to achieving just the right texture:
Add a bit of pasta cooking water to the cheese and egg mixture before adding it to the pan. This will heat the mixture gently, allowing the cheese to start melting - which helps it create a creamy sauce - and change the protein structure of the egg yolks so they help thicken the sauce.
Turn off the heat before adding the sauce to the pan. Even if you added pasta water to the mixture beforehand, too warm a pan can still turn your sauce into scrambled eggs. Turn off the heat, and even remove the pan from the heat source if you're not using an induction or gas stovetop that cools down quickly.
What you need to make Shrimp Carbonara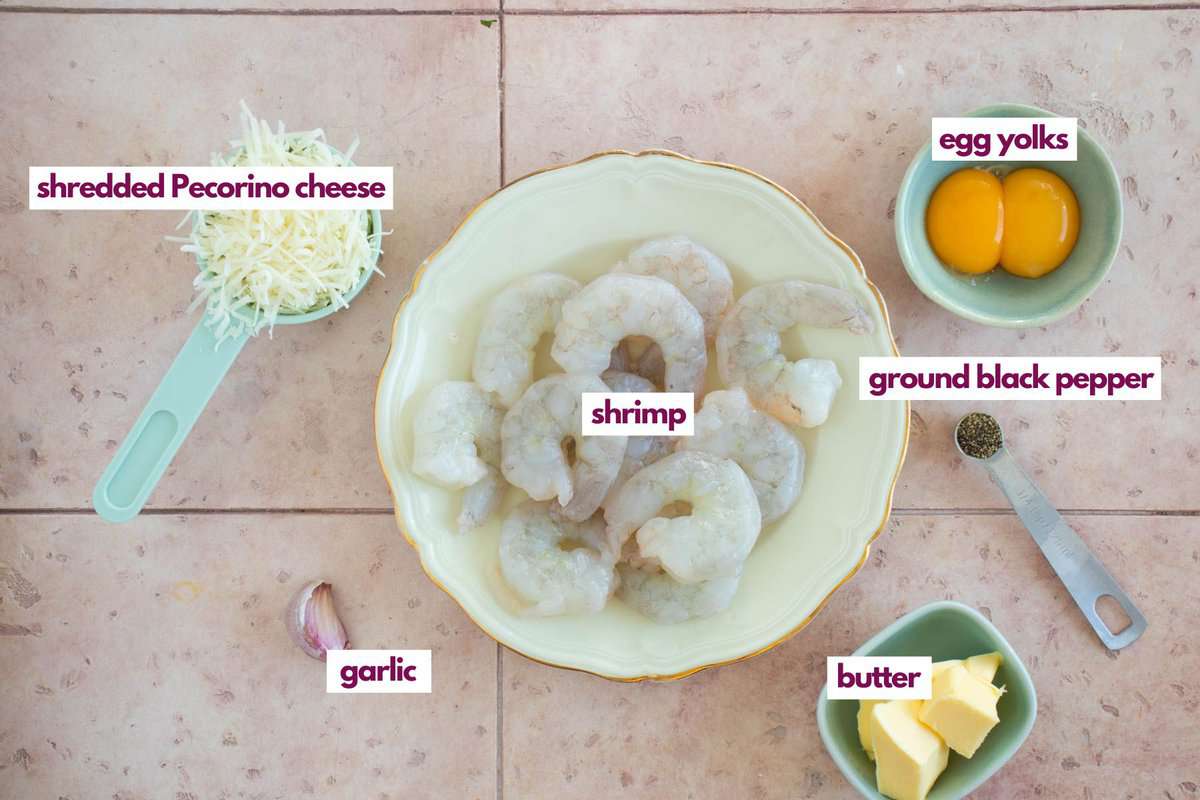 Ingredient notes & substitutions
Shredded Pecorino Romano cheese: It's best to shred it yourself, but you can also use pre-shredded cheese as long as it is 100% cheese with nothing else added. It can be swapped for Parmesan cheese.
Shrimp should be peeled, and I prefer to remove the tail for easy eating. You can use raw or pre-cooked shrimp.
Garlic is not a traditional ingredient for carbonara, but neither is shrimp. It adds amazing flavor, but feel free to skip it if you want.
Pasta: I prefer making carbonara with spaghetti, but any long type of pasta like angel hair, tagliatelle or bucatini pasta will work.
Butter can be swapped for olive oil
Salt: You probably won't need to add any salt to the finished dish.
How to make Shrimp Carbonara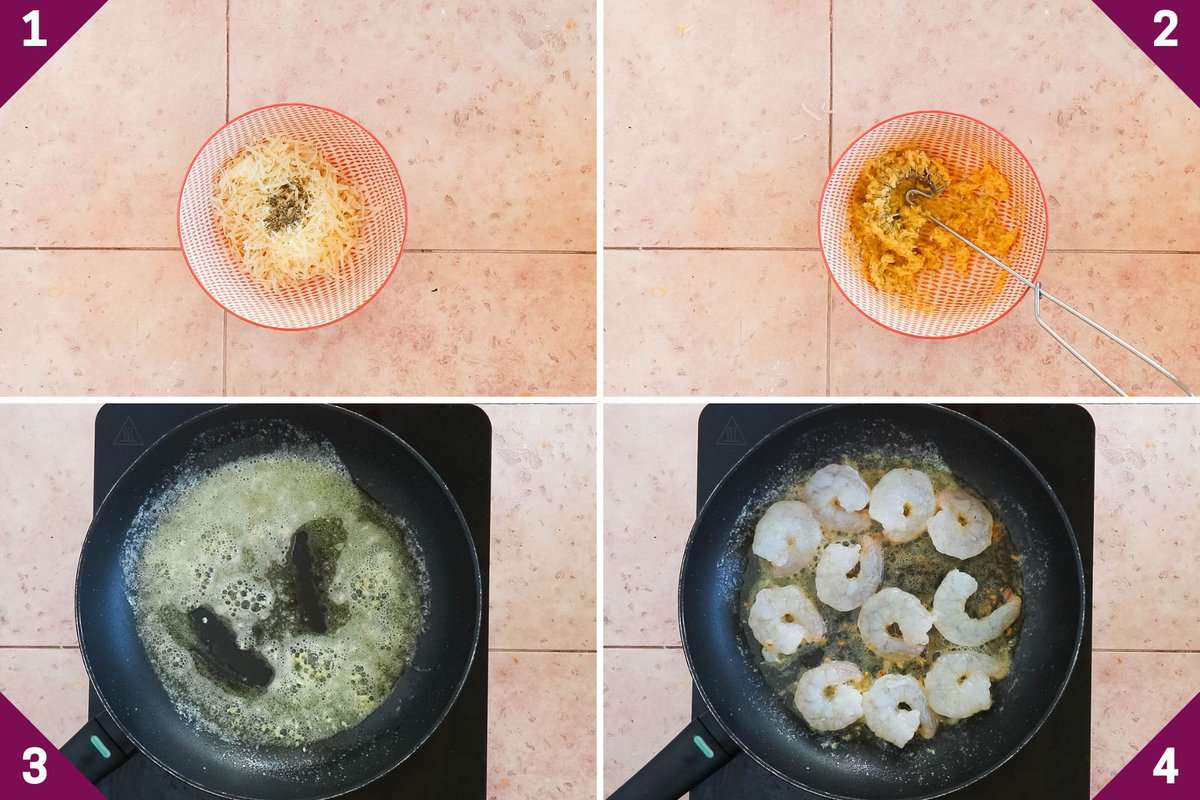 Place shredded cheese, egg yolks and black pepper in a bowl
Mix to create a paste
Sauté garlic in butter
Add shrimp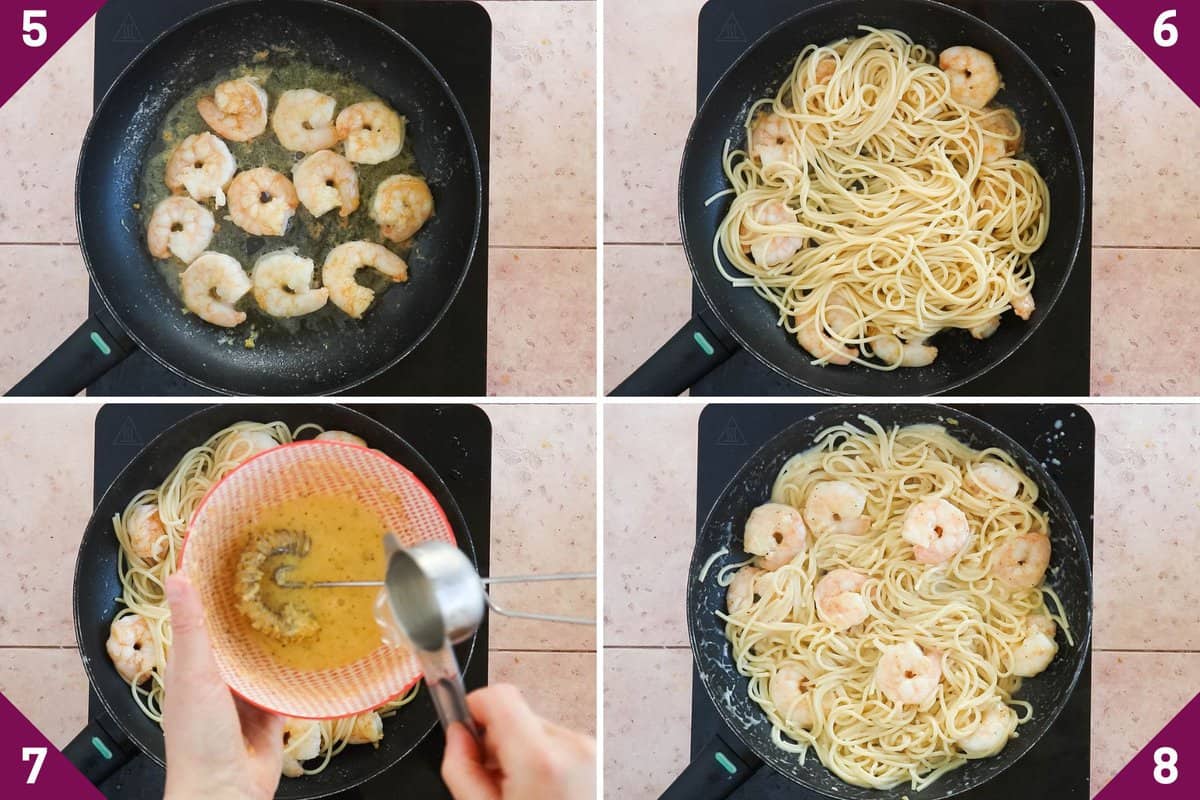 Cook shrimp 1-2 minutes on each side, until the outside is pink on both sides. If using pre-cooked shrimp, 1 minute per side is enough.
Add cooked pasta and mix well so the pasta gets coated with the butter
Add a little bit of hot pasta water to the cheese-and-egg paste, and mix well to allow it to melt the cheese and blend into a nice sauce.
Turn off the heat and add the cheese mix to the pasta and shrimp. Mix well and add more pasta water as needed for the sauce to evenly coat the pasta.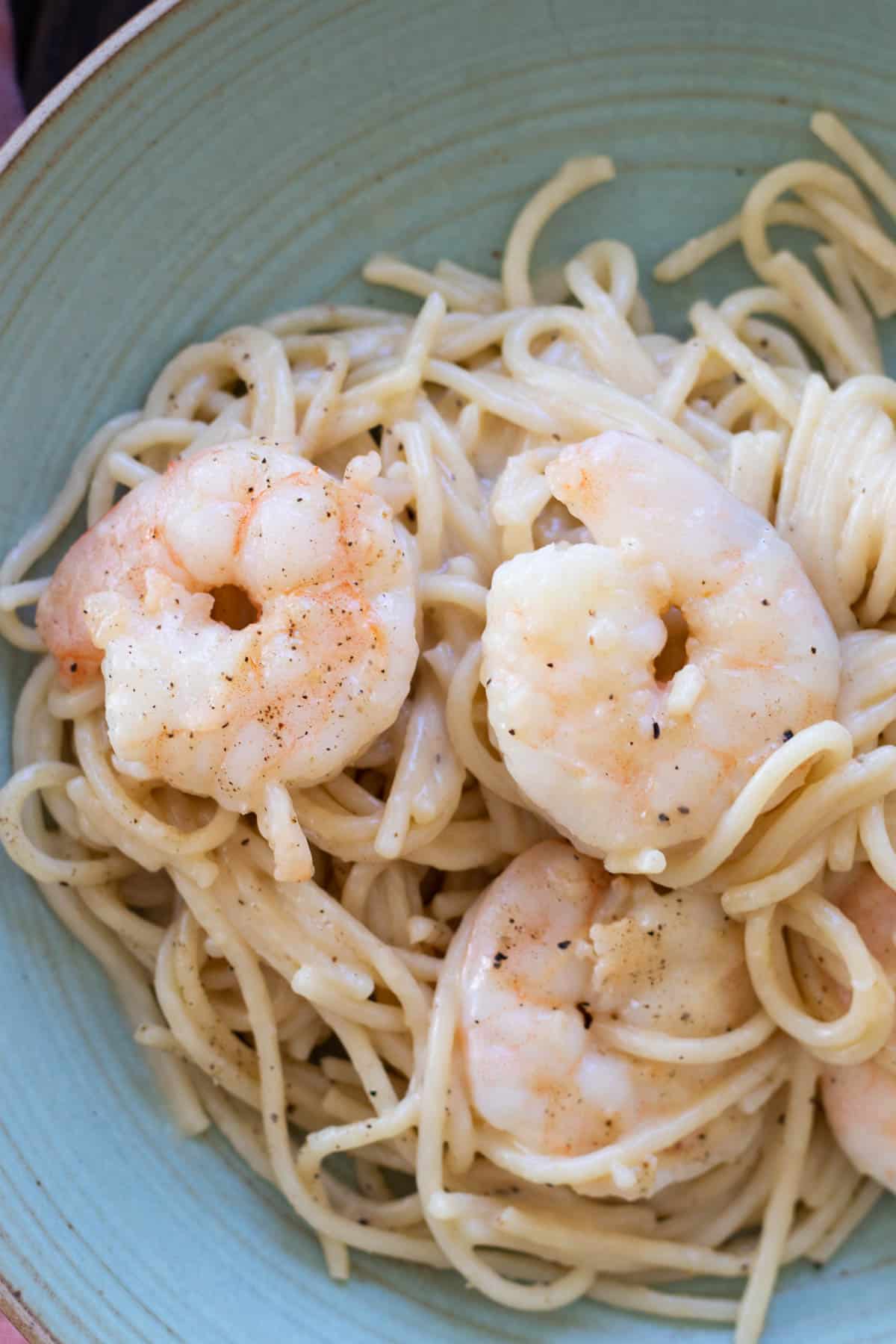 Recipe variations
There are multiple ways you can vary this recipe:
Classic Carbonara: Make it with bacon or guanciale instead of shrimp, for the traditional taste. Skip the butter and instead start of with bacon or guanciale in a cold pan, and go from there.
Shrimp & Bacon Carbonara: Start bacon bits in a cold pan, skip the butter, and cook in bacon grease instead
Chicken Carbonara: Add cooked pieces of chicken instead of shrimp.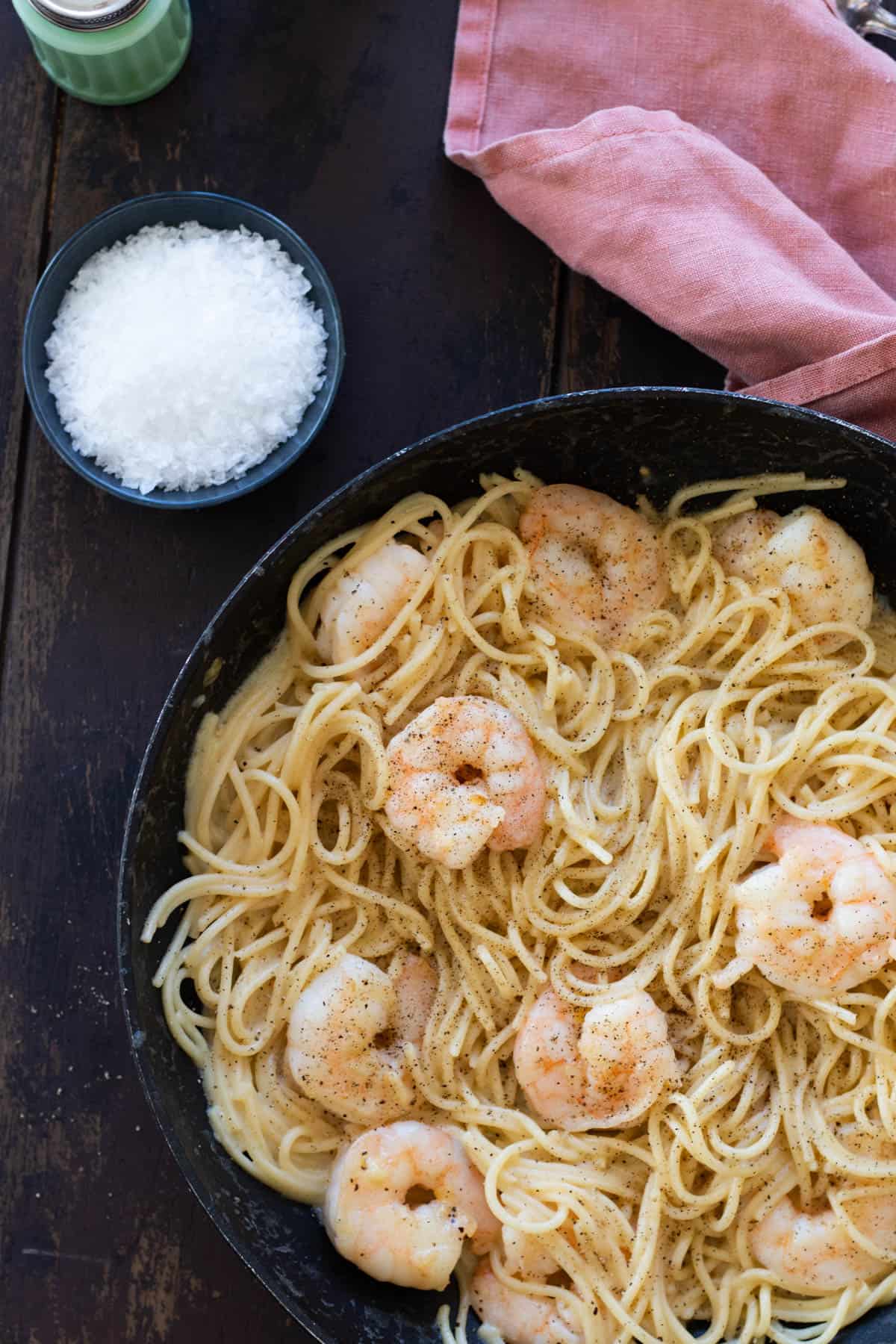 More 15-minute pasta dishes
Looking for more 15-minute pasta recipes like this Shrimp Carbonara recipe?
Did you love this recipe? Rate it five stars!
...and let me know what you loved about it in the comments.
Recipe