This Chicken Teriyaki Stir-fry is quick & easy to make with your own homemade teriyaki sauce (included in the 15 minutes!), and so filled with beautiful crisp rainbow veggies that you don't even need to add rice if you don't feel like it. Better than take-out any day of the week, both for your tastebuds and for your health!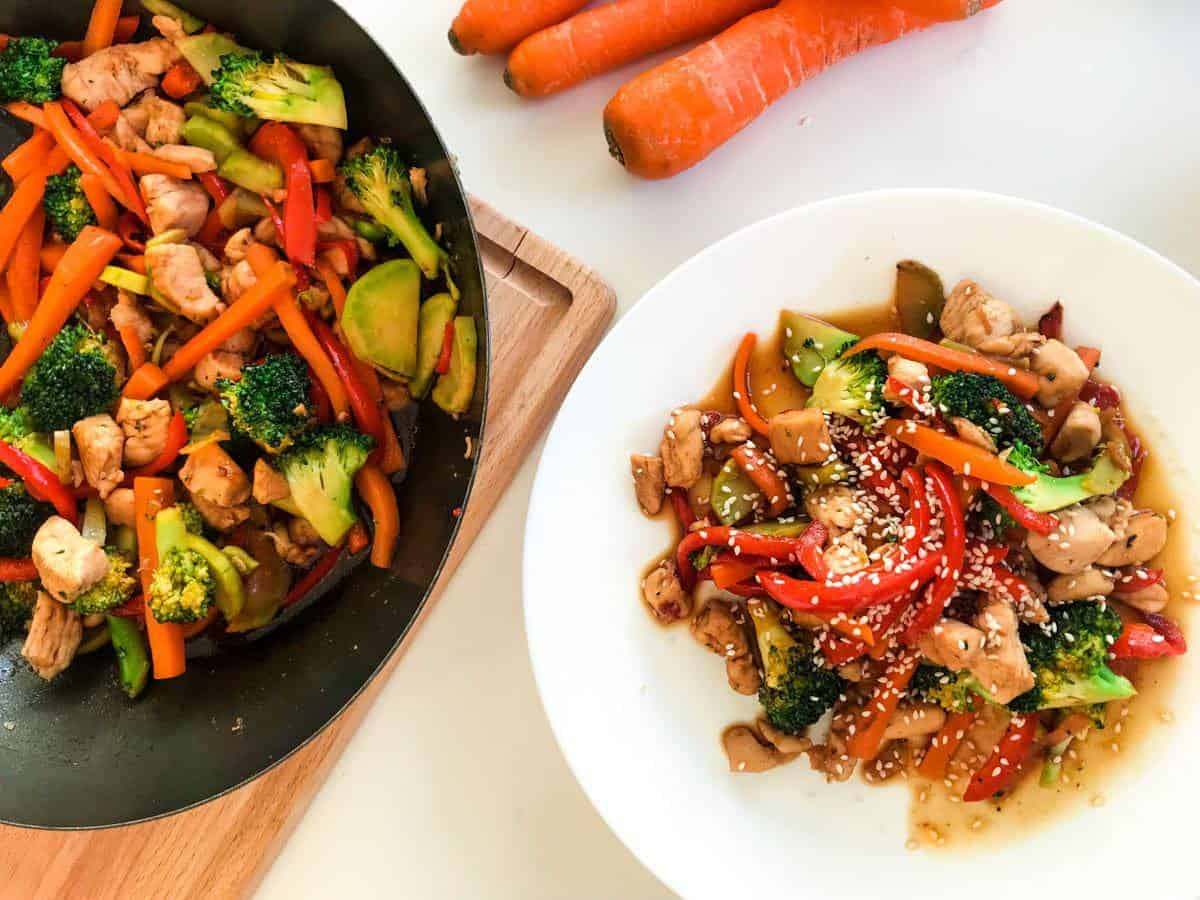 So you guys know I'm all about my carbs, my pasta, my butter, my cream… But sometimes even I need a break. Sometimes I just crave something fresh & vitamin filled.
Sometimes, I just own up to the fact that having pasta for lunch really doesn't work for me. Not unless I'm working from home and can take a long nap, that is.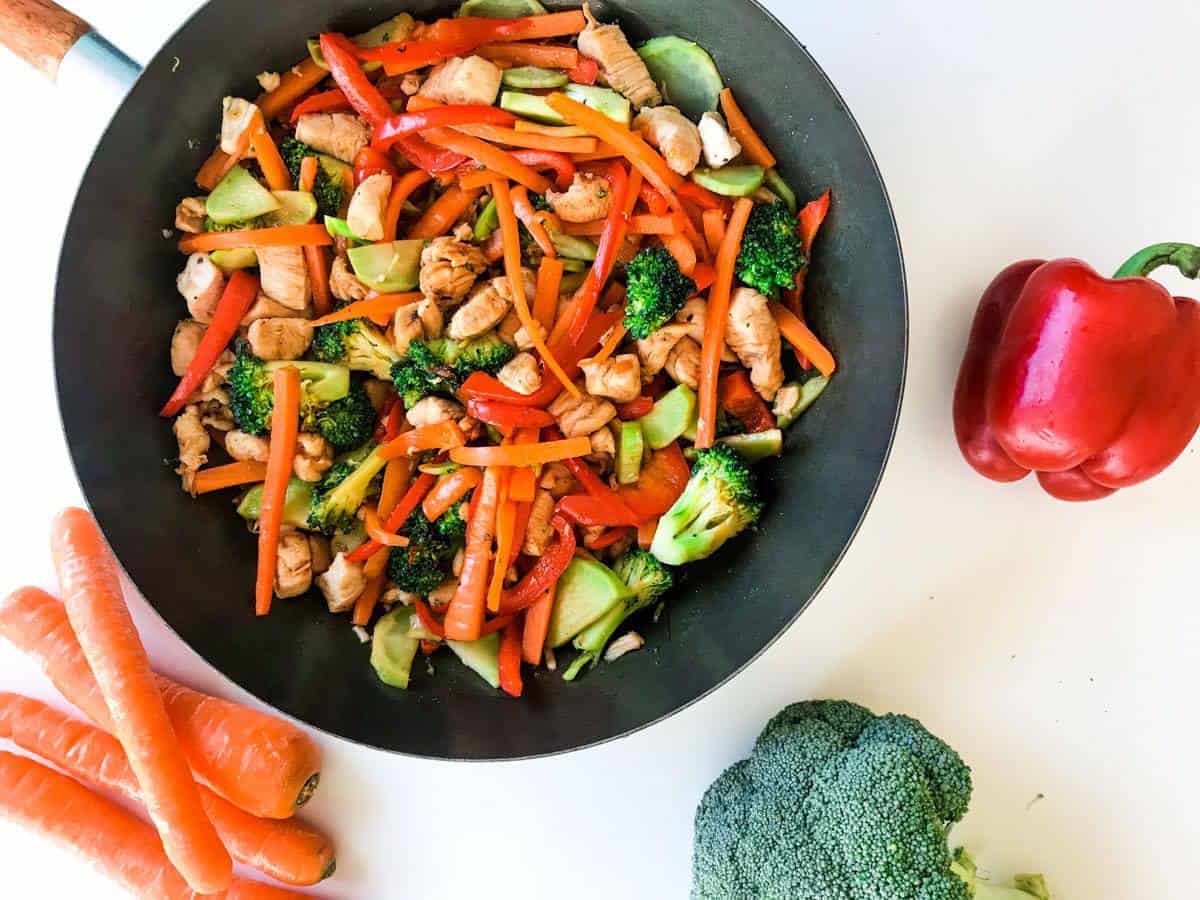 I don't know about you, but I get so tired after lunch. Like seriously fatigued. I've tried everything I can think of over the years, and sadly enough the only thing that really works for me is to just lay off the starches. Just for lunch, mind you. Crashing on the couch in the evening after a big pasta meal might be one of my favorite pastimes.
I'm not saying I skip the carbs for lunch every day. No way. Most days I do have my pasta for lunch and then struggle through a few hours of food coma. But when I do skip them my afternoon becomes so much more fun & productive.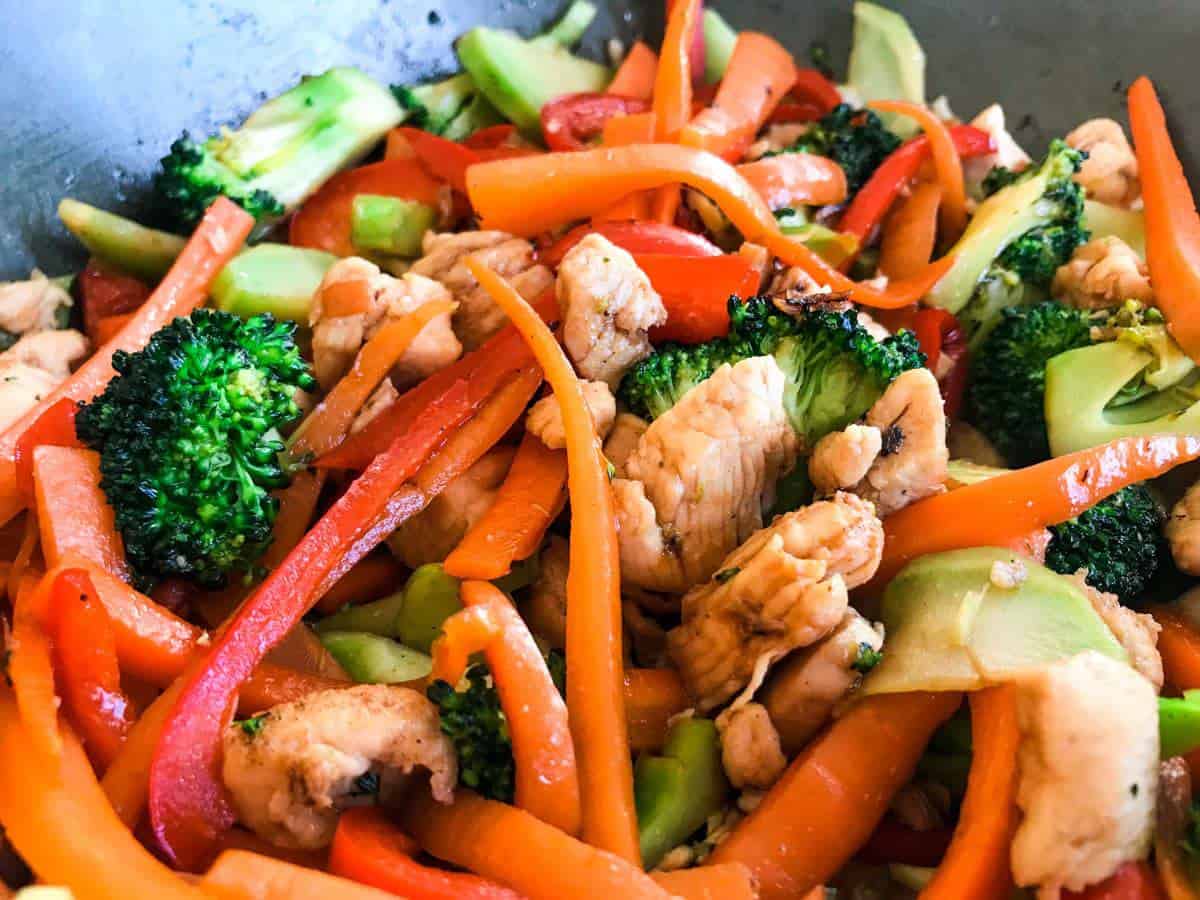 Enter this beauty – a delicious Chicken Teriyaki Stir-fry, loaded with so much carrots, broccoli and bell peppers that you don't need the rice. You can add rice as well, of course, and it will be amazing. But it's wonderful and very filling just as it is.
And come on – I know you're probably not getting your 5 a day so this might be the best opportunity ever!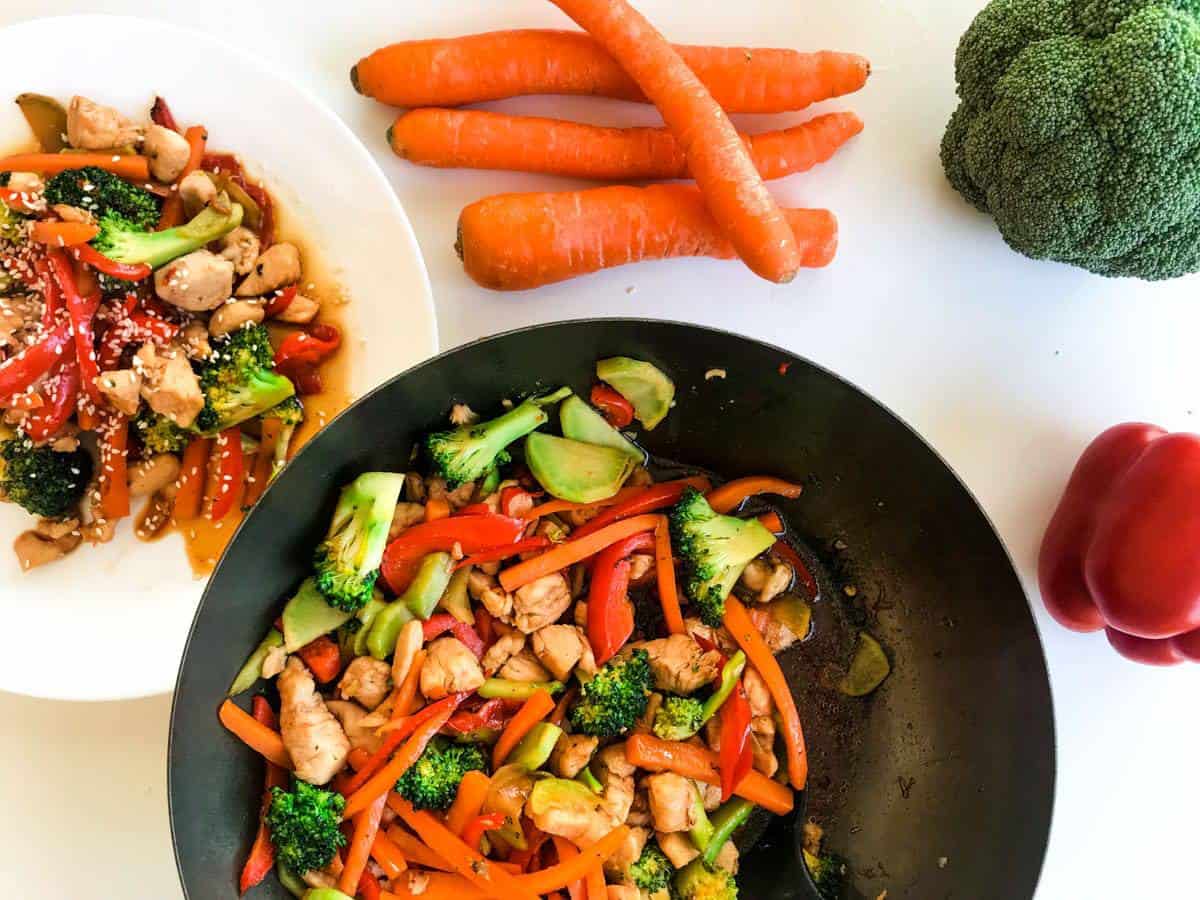 The Teriyaki Sauce then. Homemade, so you know just what's in it. Simple, because I wouldn't put you through a weekday recipe that's not quick and simple.
Now the sauce may be homemade, but it being a Teriyaki Sauce it does have a bit of added sweetness. Not too much, but a bit. It needs it. I used honey instead of sugar just because it feels a bit healthier, but it's still sugar no matter which form it comes in. However, at one tablespoon for four portions you don't need to worry too much. I promise there's more in your takeout version. And there's definitely more in your glass of juice. If you're gonna get it somewhere – here, together with all these colorful veggies, is the place.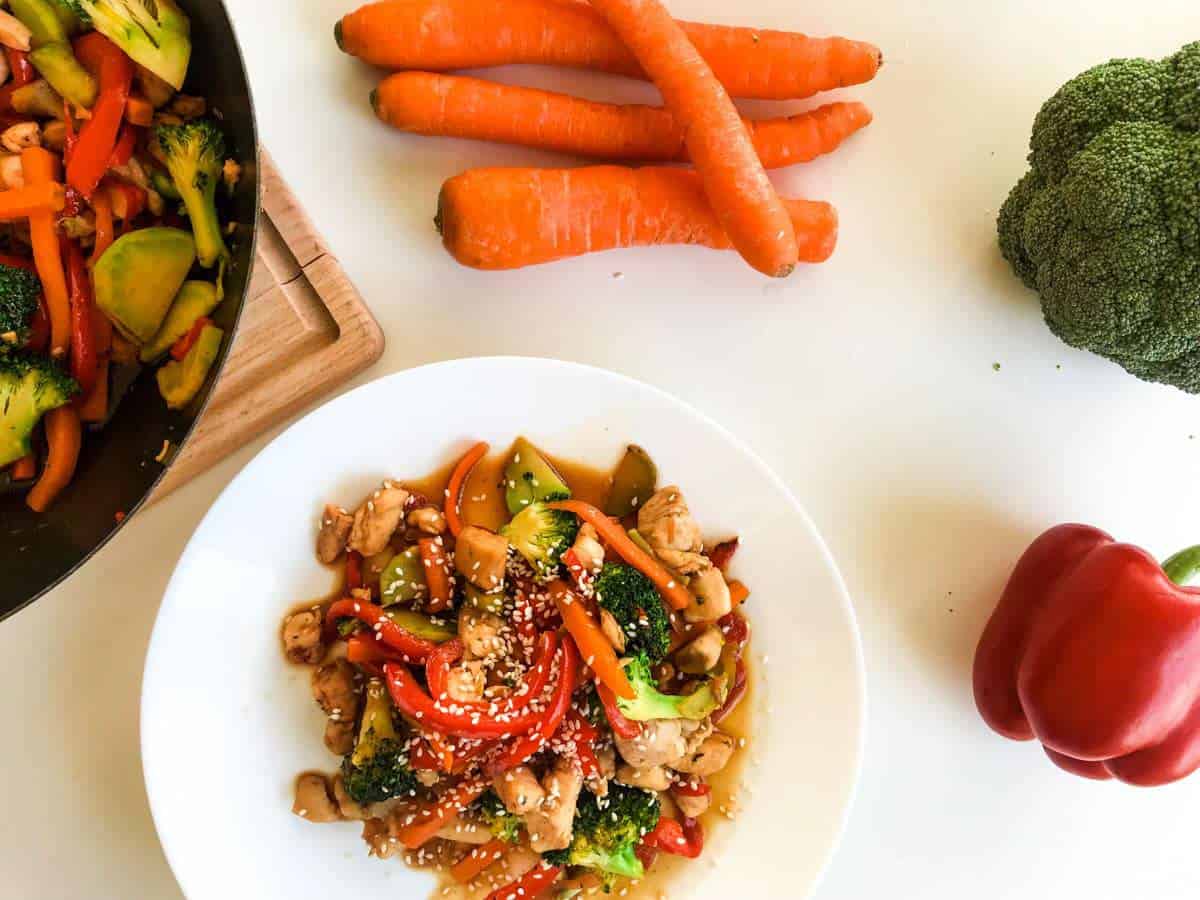 If you make this Chicken Teriyaki Stir-fry, please be sure to leave a comment and/or give this recipe a rating! I love to hear from you and to see your versions of my recipes – so if you do make this, don't forget to also tag me on Instagram!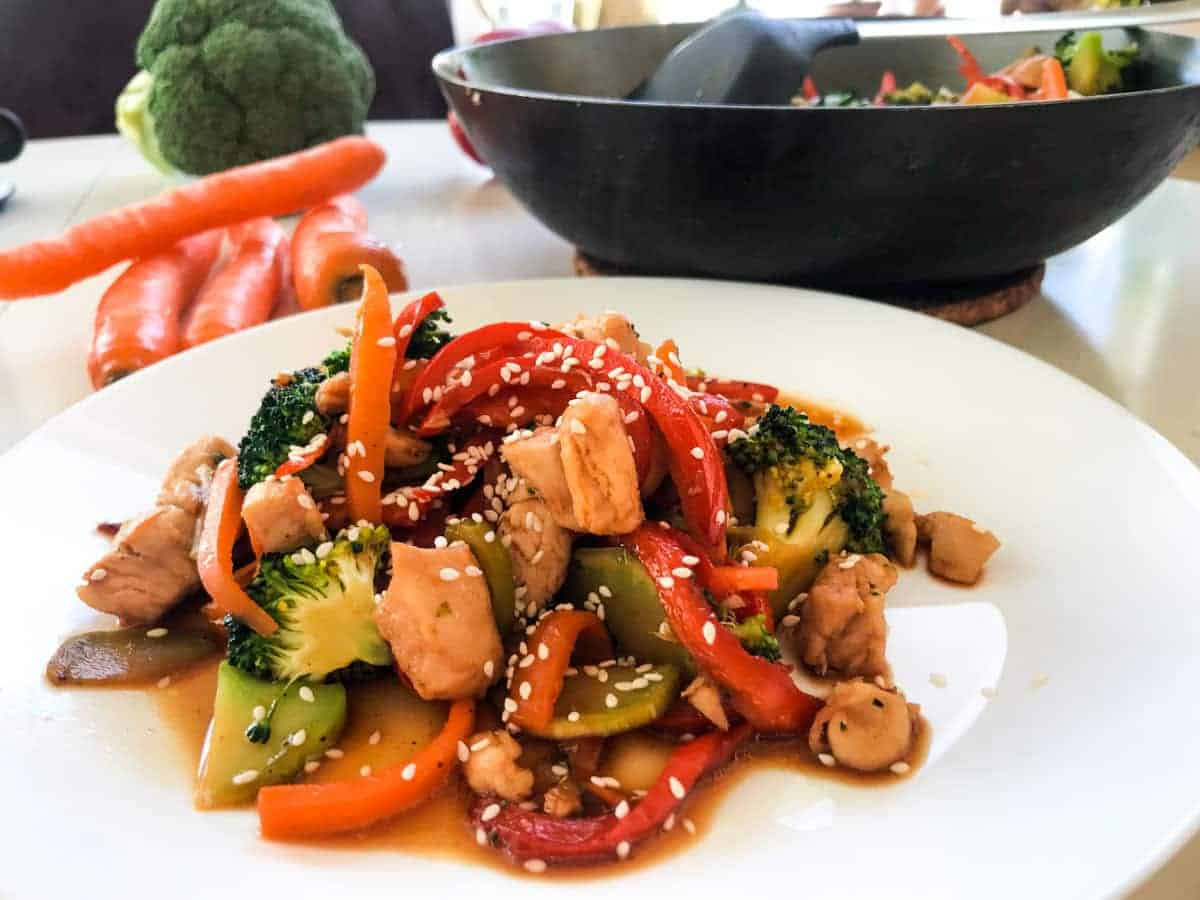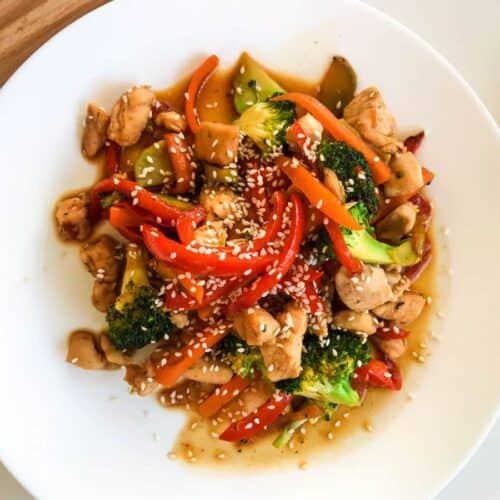 Ingredients
3

Tbsp

vegetable oil

500

g

chicken, cut in bite-size pieces

2

red bell peppers, sliced

1

head of broccoli, florets cut in bite-size pieces and stalk peeled and sliced

2

carrots, julienned (fancy name for cut like matchsticks )

1

tsp

ground ginger

0.5

tsp

salt
Teriyaki Sauce
1

dl

mirin

0.5

dl

Japanese soy sauce

1.5

Tbsp

honey
Instructions
Teriyaki Sauce
Combine the ingredients for the teriyaki sauce in a sauce pan. Let simmer for about 10 minutes, until thickened and a bit sticky.

Chicken Teriyaki Stir-fry
Season the chicken with salt and ground ginger. Heat up 1 Tbsp of oil in a wok and cook the chicken over medium-high heat for 3-5 minutes, until just cooked through. Remove the chicken from the wok.

Heat up another 2 Tbsp of oil in the wok over high heat and add in the vegetables. Cook for 1 minute on high heat, then lower to medium-high and cook for another 3-5 minutes, until veggies have softened a little bit but are still crispy.

Add in the chicken, stir and allow it to heat back up.

Add in the teriyaki sauce, mix well, sprinkle some sesame seeds on top and serve.
Notes
Cooked Jasmine rice is a great addition if you want some more carbs with your meal or want it to feed more people.
Mix up the veggies and use whatever you like or have available at home. Adjust the cooking time accordingly - you want the veggies to be nice and crisp.
Nutrition Facts
Chicken Teriyaki Stir-fry
Amount Per Serving
Calories 368
Calories from Fat 180
% Daily Value*
Fat 20g31%
Cholesterol 45mg15%
Sodium 1296mg56%
Potassium 843mg24%
Carbohydrates 34g11%
Protein 17g34%
Vitamin A 7990IU160%
Vitamin C 214.3mg260%
Calcium 92mg9%
Iron 2.4mg13%
* Percent Daily Values are based on a 2000 calorie diet.
Stir-fry Essentials
The links in the collage below are Amazon affiliate links which means that if you buy something through one of my links I receive a small commission (at no extra cost to you).