This post may contain affiliate links, which are always marked with *. Please read my disclosure for more information.
Summer is the perfect time to enjoy light and refreshing meals without spending hours in the kitchen. In this post, we've gathered 30 easy and delicious summer pasta recipes that can be prepared in just 30 minutes. From vibrant pesto dishes to refreshing pasta salads, these recipes will satisfy your cravings while leaving you plenty of time to soak up the sun and enjoy the season to the fullest.
Salmon Crème Fraîche Pasta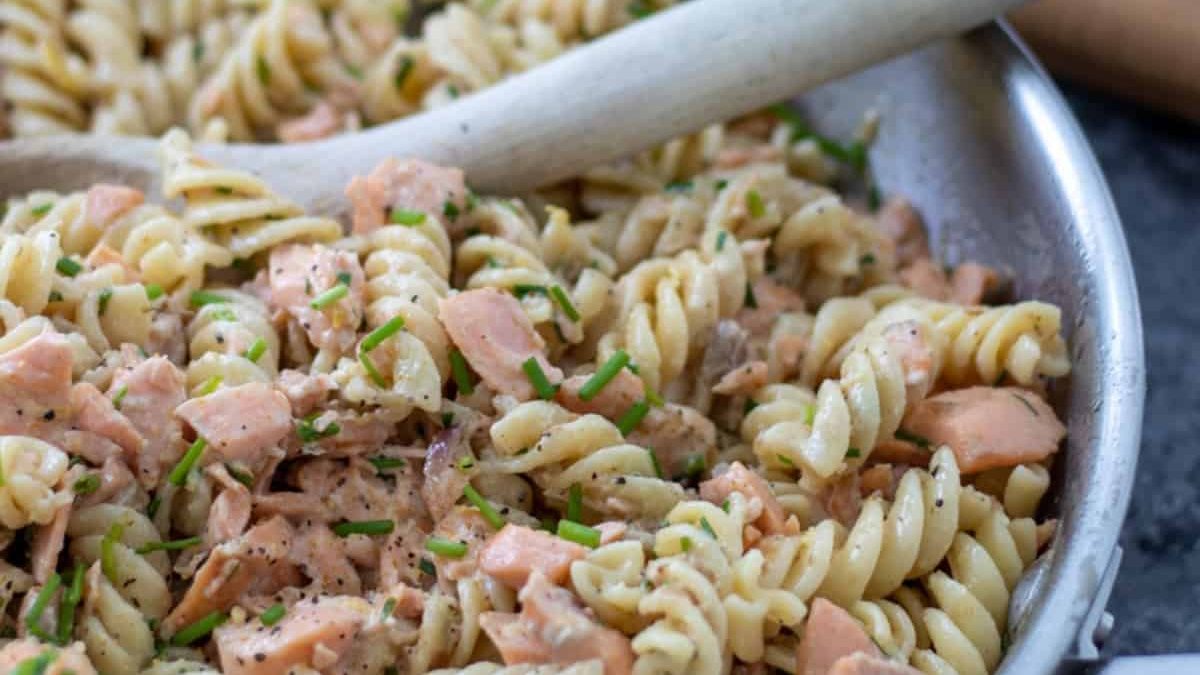 Salmon and chives make this one of the best salmon pastas ever. Get the recipe from always use butter.
Chicken Pesto Pasta Salad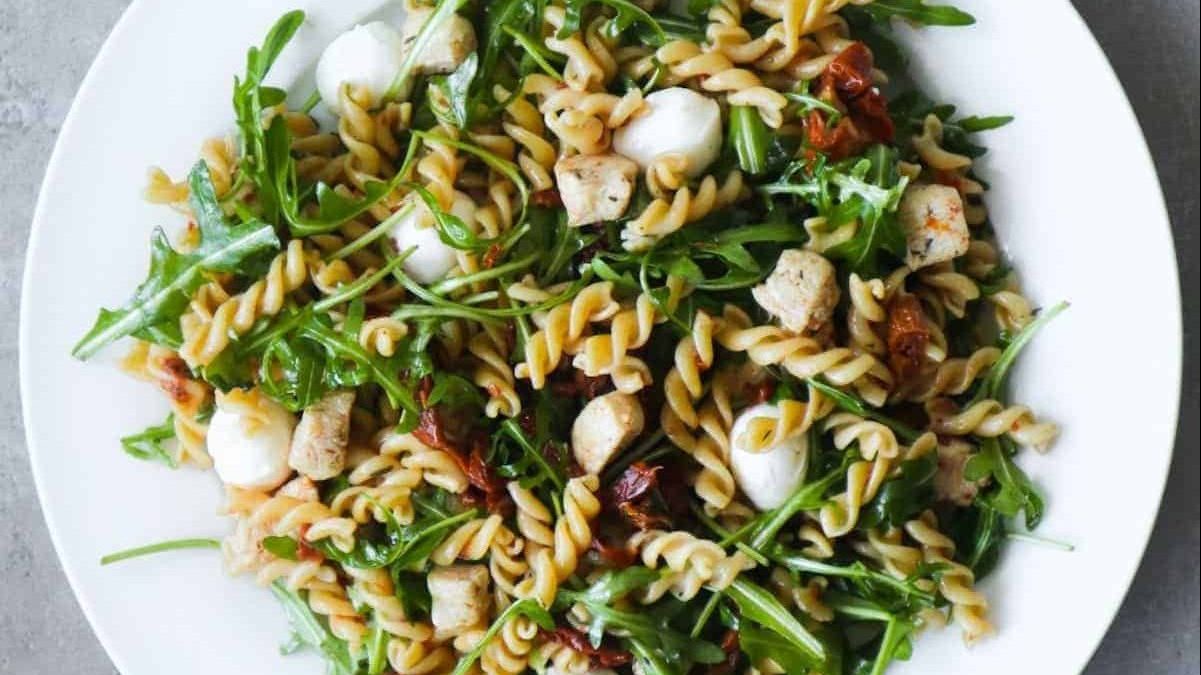 This chicken pesto pasta salad recipe is perfect for summer. This healthy, simple salad that is quick to prepare and perfect for a BBQ! Get the recipe from Nutmeg & Vinegar.
Red Pesto Pasta with Roasted Veggies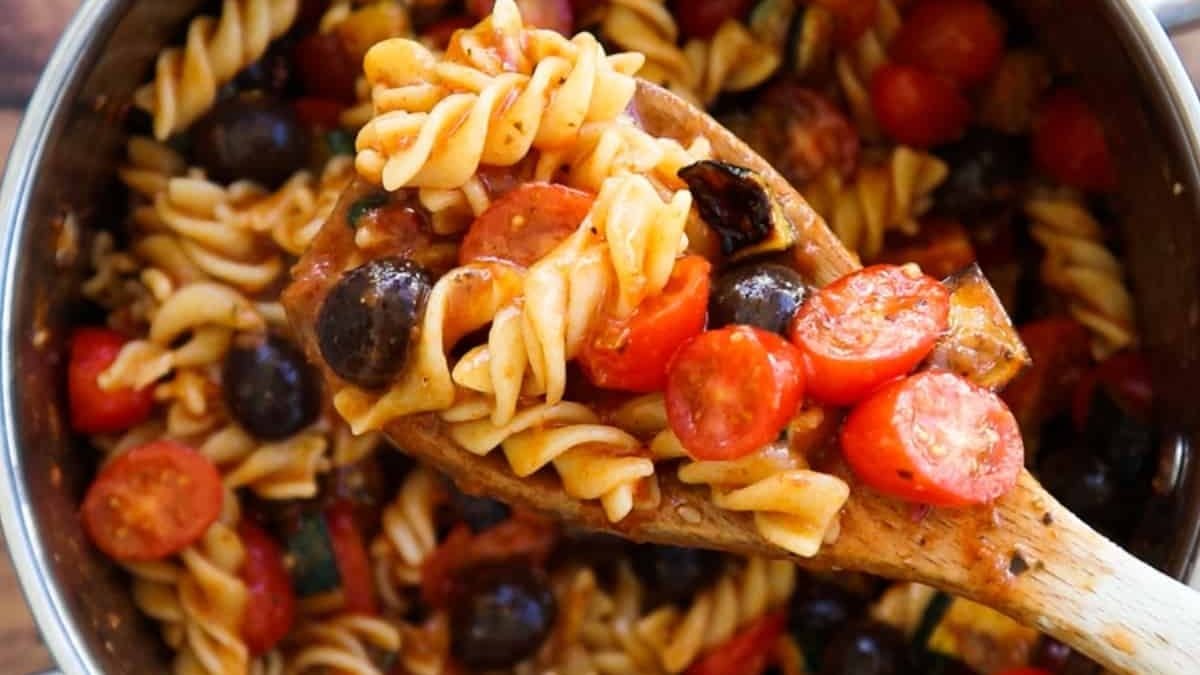 Done in under 30 minutes with just 15 minutes of active prepping & cooking this red pesto pasta is packed with veggies & flavor. Easy to make with homemade or store bought pesto - and with a great recipe for the homemade version included. Get the recipe: Red Pesto Pasta with Roasted Veggies
Roasted Cherry Tomato Pasta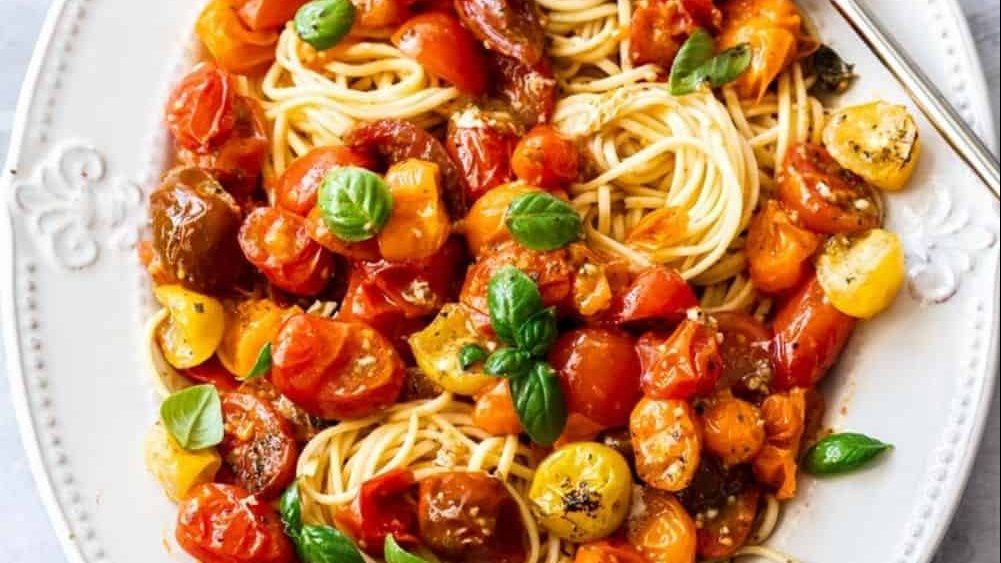 Enjoy the bright flavours of this delicious Roasted Cherry Tomato Pasta. Al Dente pasta is tossed with roasted tomatoes for a simple to prepare meal. It is so tasty, with minimal effort involved! Get the recipe.
Caprese Pasta Salad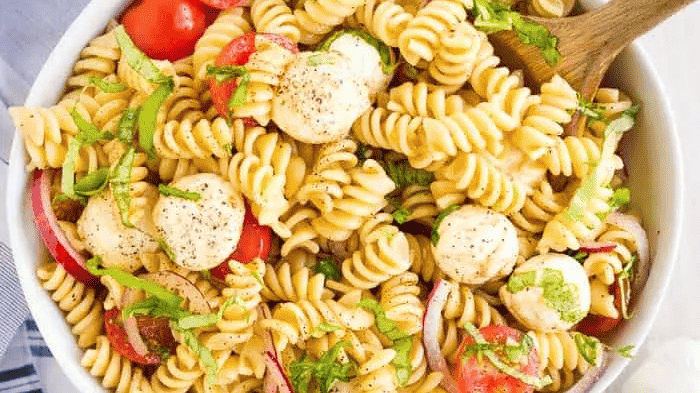 Caprese Pasta Salad is an easy and delicious summer salad full of fresh ingredients! A tangy balsamic dressing ties the fresh tomatoes, creamy mozzarella, and tender pasta together for the perfect side dish to any potluck or BBQ. Get the recipe.
Halloumi Pasta Primavera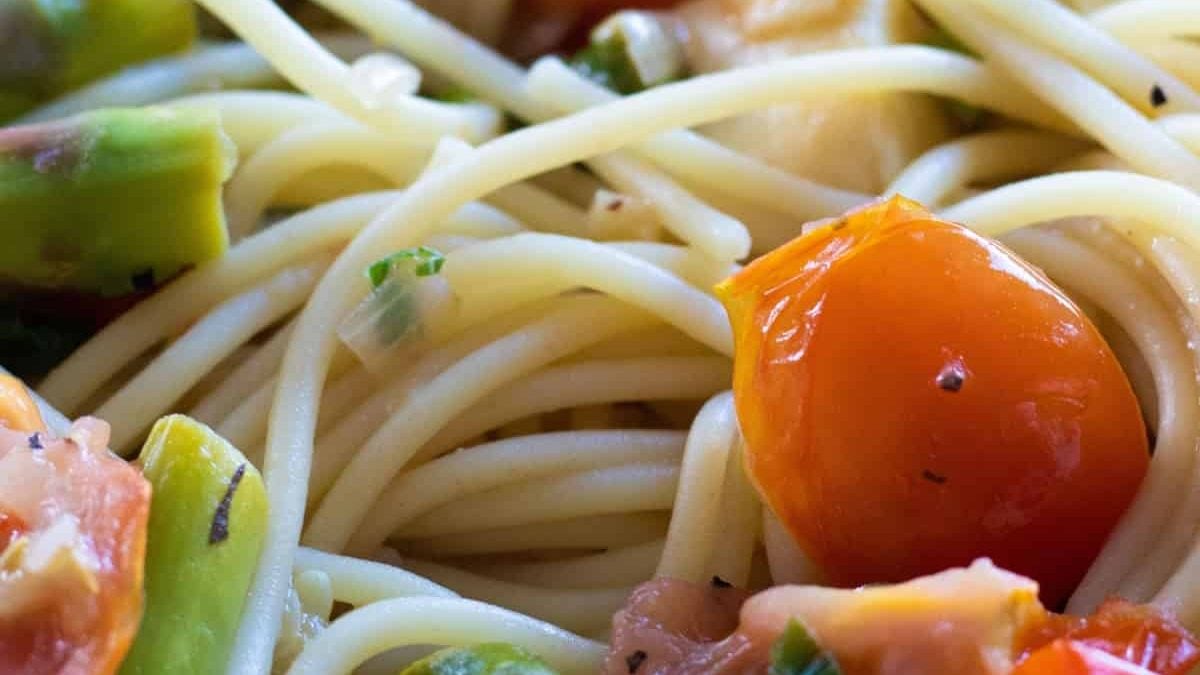 20-minutes (chopping included!) is all you need to make this delicious, vegetarian halloumi pasta loaded with veggies. A light and summery dish without cream, this is a great summer dinner that lets the veggies shine. Get the recipe from always use butter: 20-minute Halloumi Pasta Primavera [Vegetarian]
Tuna Pasta Salad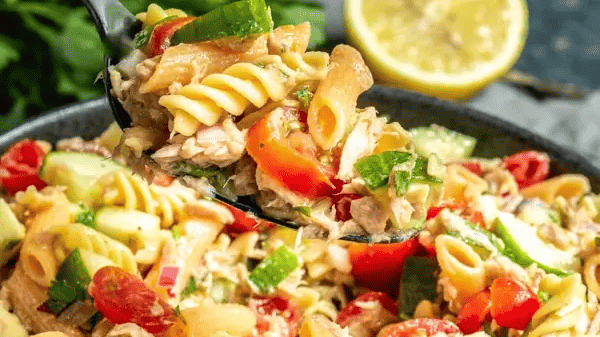 Tuna pasta salad is packed with veggies and fresh flavors. This tuna noodle salad calls for no mayo, which makes it a great, low calorie dish perfect for sharing. Get the recipe.
Creamy Broccoli Pasta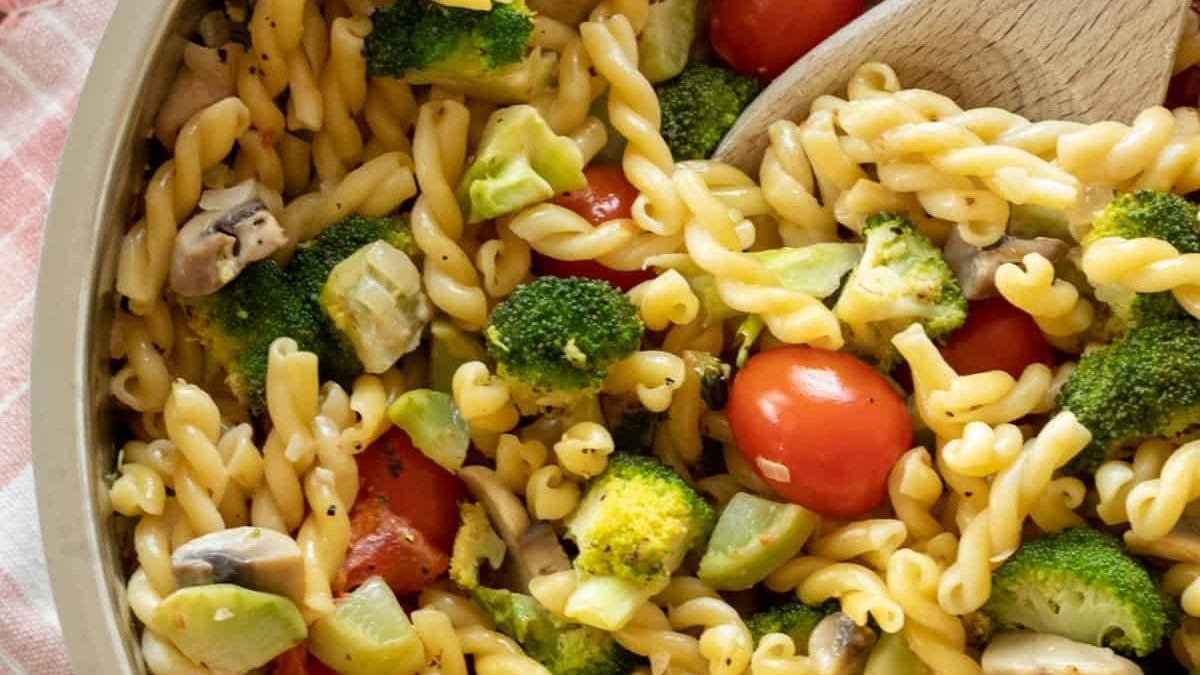 This pasta is loaded with veggies for a healthier dish you'll love. Get the recipe from always use butter.
Strawberry Balsamic Tofu Pasta Salad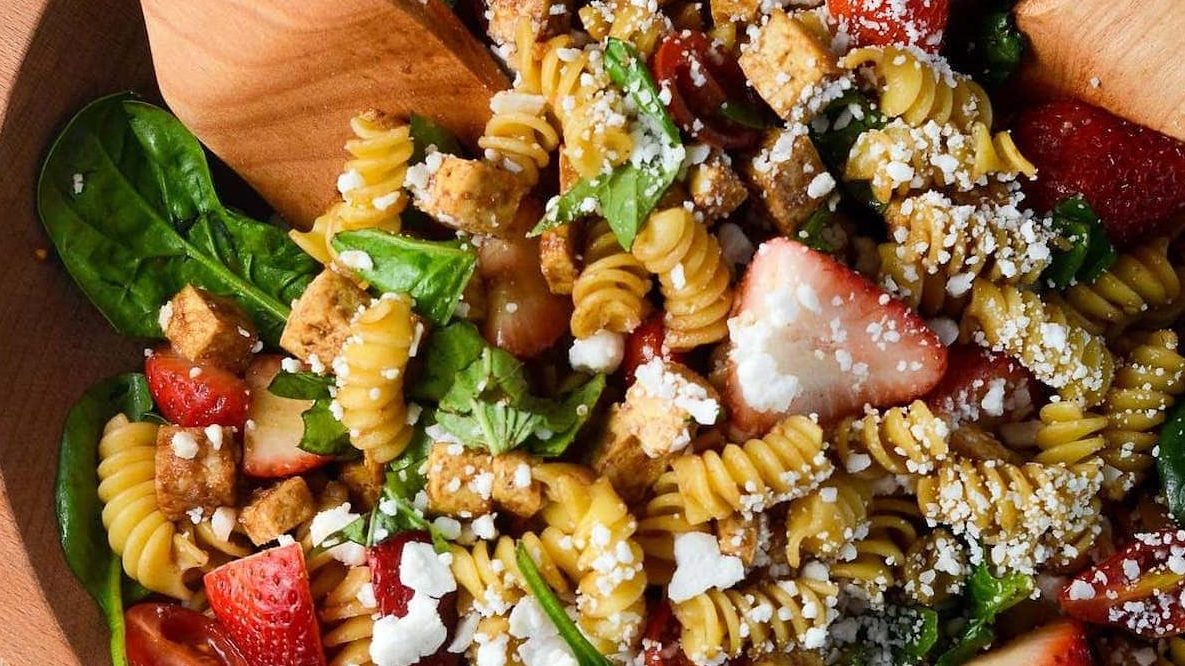 As the warm weather settles in, there's nothing better than this Strawberry Balsamic Vegan Tofu Pasta Salad with vibrant, juicy strawberries, marinated balsamic tofu, fresh spinach & basil, and creamy feta cheese. Enjoy this as a side dish for a picnic, BBQ, or weeknight main dinner! Get the recipe.
Orzo Pesto Salad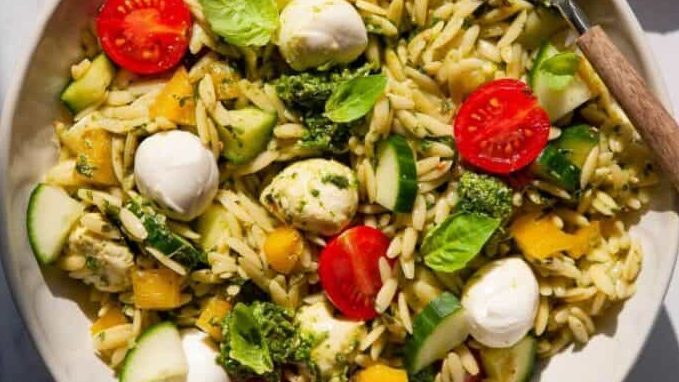 This orzo pesto salad recipe is packed with veggies, fresh mozzarella, and tossed in homemade nut-free basil pesto. Serve it for dinner, lunch, or as a side for a summer cookout! Get the recipe.
Smoked Salmon & Spinach Pasta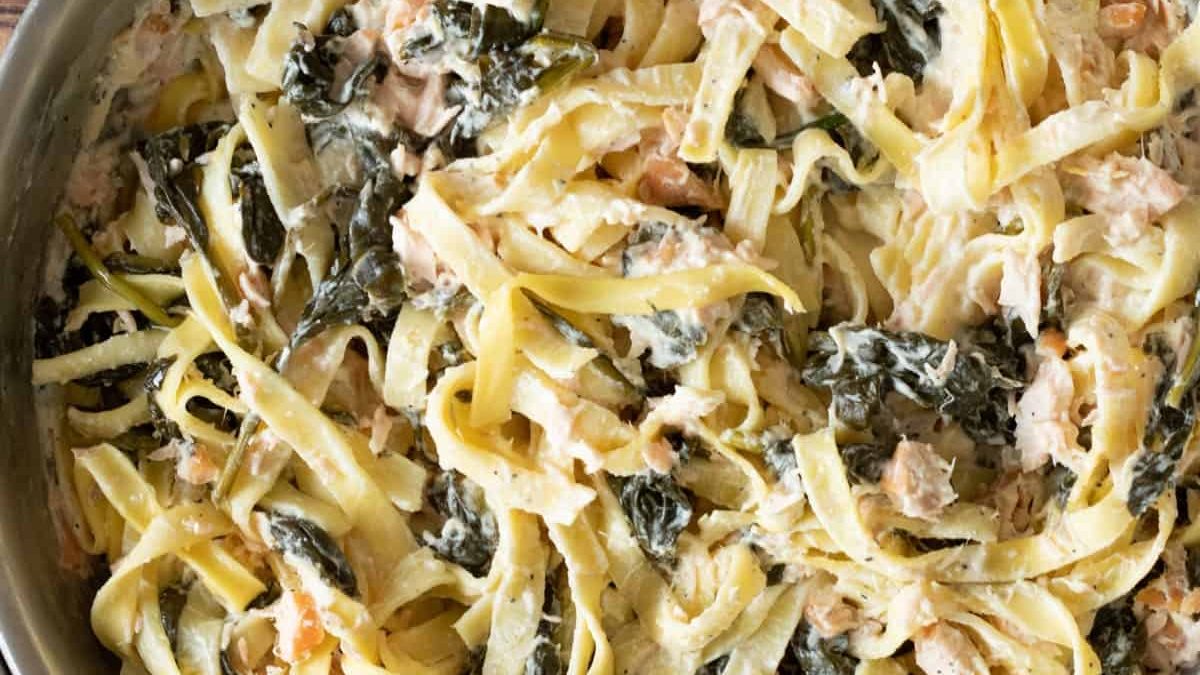 A super quick pasta dish you'll be coming back to over and over again. Get the recipe from always use butter.
Greek Pasta Salad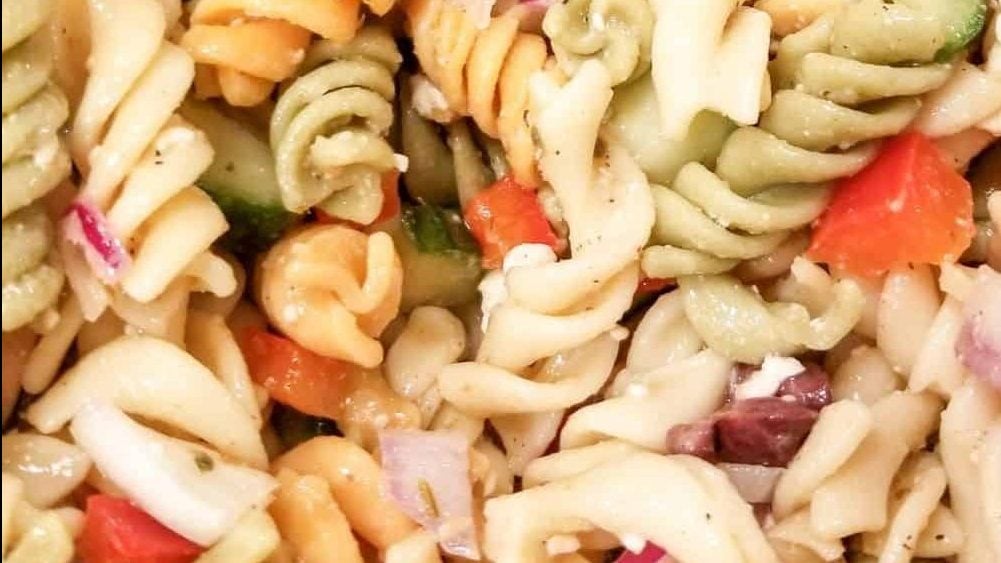 A bright, light, refreshing Easy Greek Pasta Salad full of fresh vegetables and topped with a tasty dressing- a perfect summer salad. The simplicity of this salad is incredible, and the taste is amazing. Get the recipe.
Pappardelle Pesto Pasta with Veggies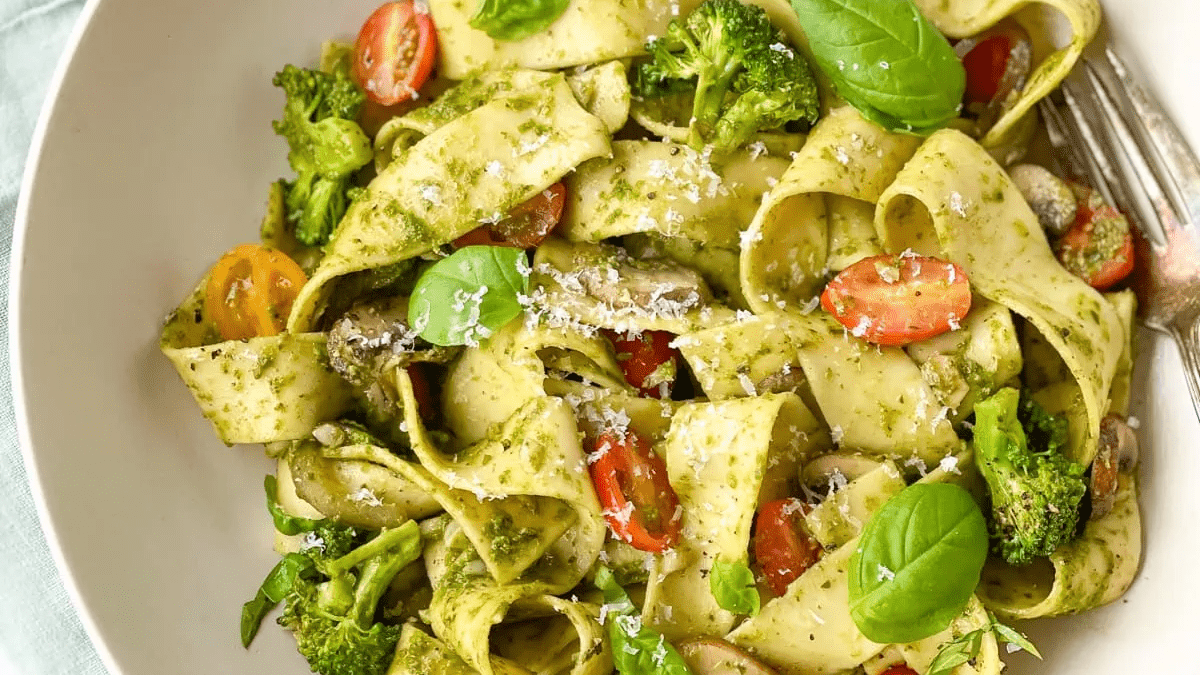 This pasta dish is quick and simple to put together. With delicious noodles, flavorful pesto, and nutritious vegetables, you get a restaurant-quality meal at home in under 30 minutes. Get the recipe from Piping Pot Curry
Grilled Veggie Pasta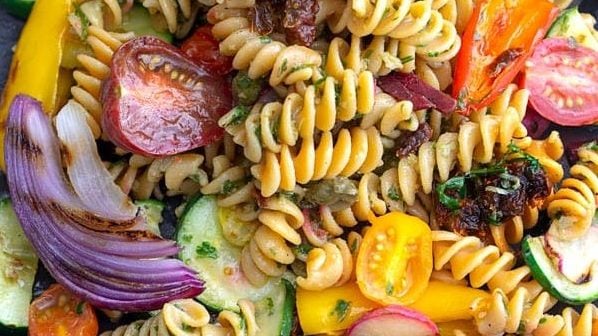 This veggie pasta dish made from red lentil noodles is the perfect base for a grilled vegetables pasta dinner. Mixed with a simple vegan butter sauce and herbs, this pasta is a fun recipe to make for weeknight dinner. Get the recipe.
Cherry Tomato Pasta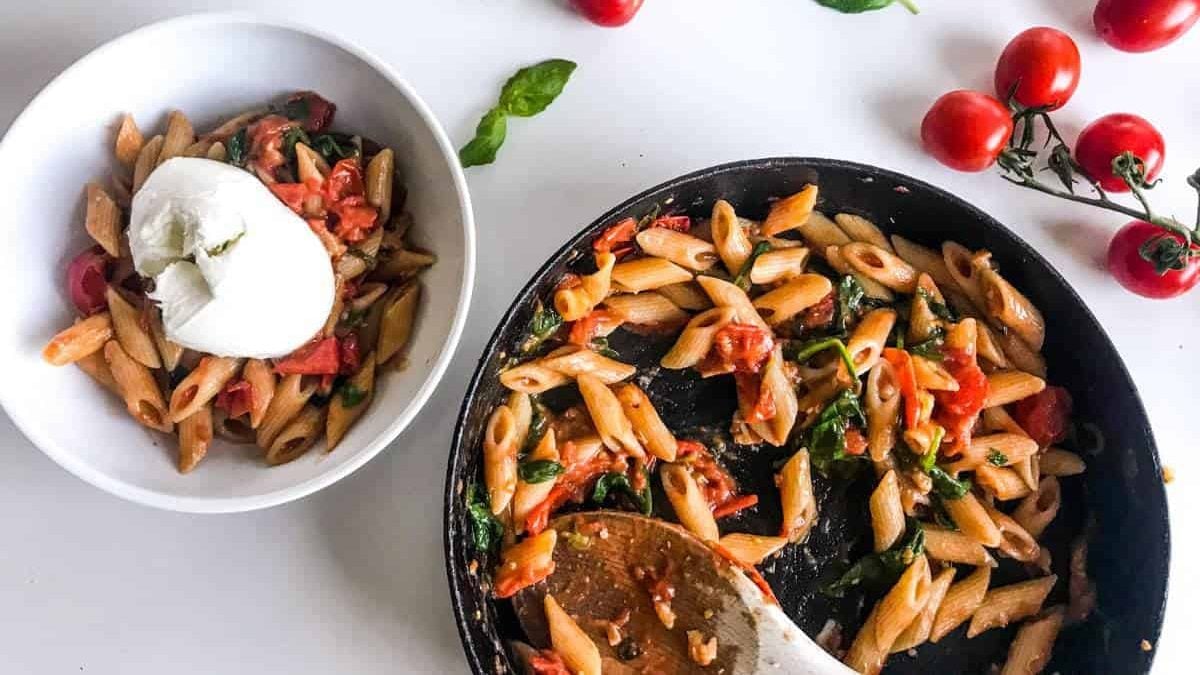 Simple can sometimes be so much more, and that's definitely the case with this 15-minute Cherry Tomato Pasta with Spinach and Walnuts. Quick and easy to make it's delicious as it is, and even better topped with a generous piece of mozzarella or burrata cheese. Get the from always use butter.
Pasta Aglio e Olio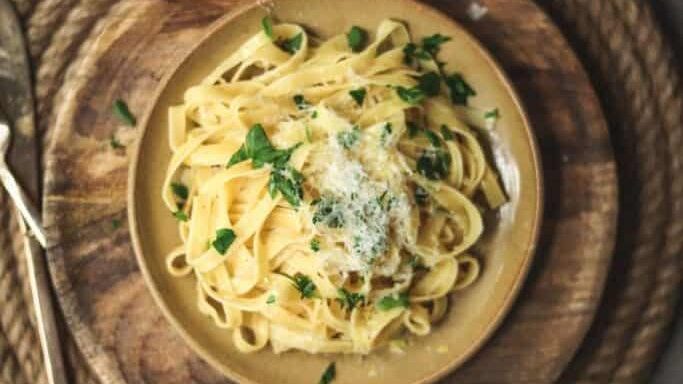 This pasta without sauce (or pasta with garlic and olive oil OR aglio e olio, it goes by many names), is basically the grown-up, gourmet version of buttered noodles.
Vermicelli di Positano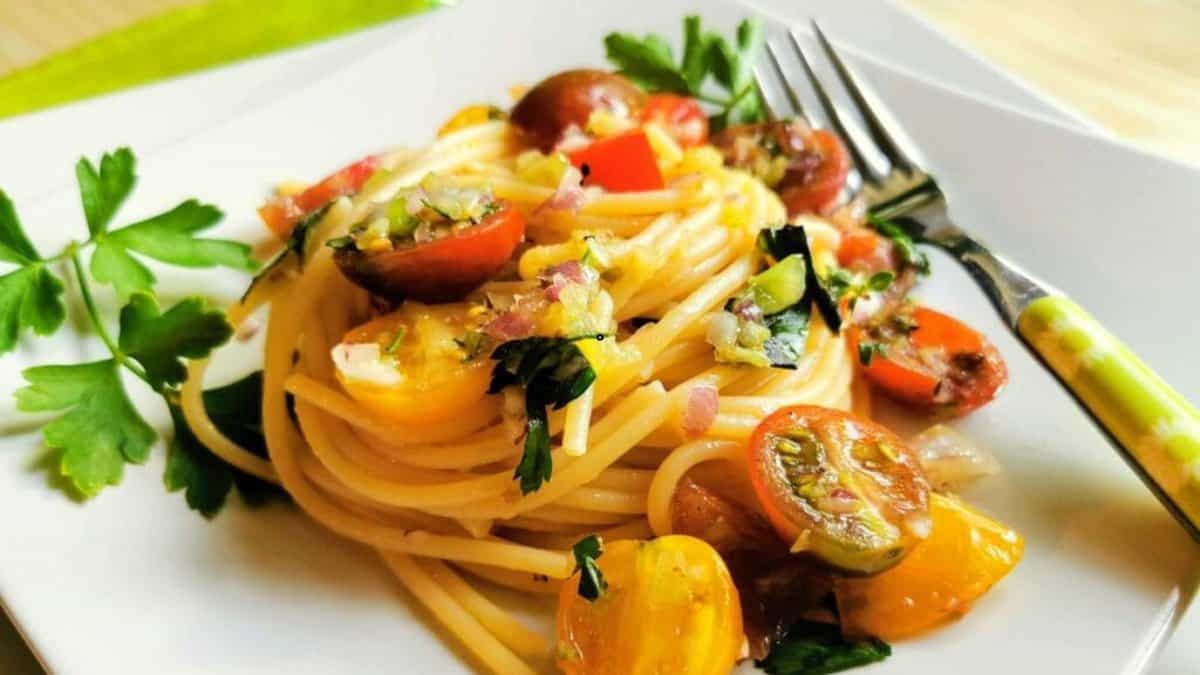 This fresh tomato vermicelli di Positano recipe is great for summer. You only have to cook the pasta and marinate the vegetables and herbs. Perfect for vegetarians and vegans, easy, nutritious and delicious! Get the recipe.
Pesto Cavatappi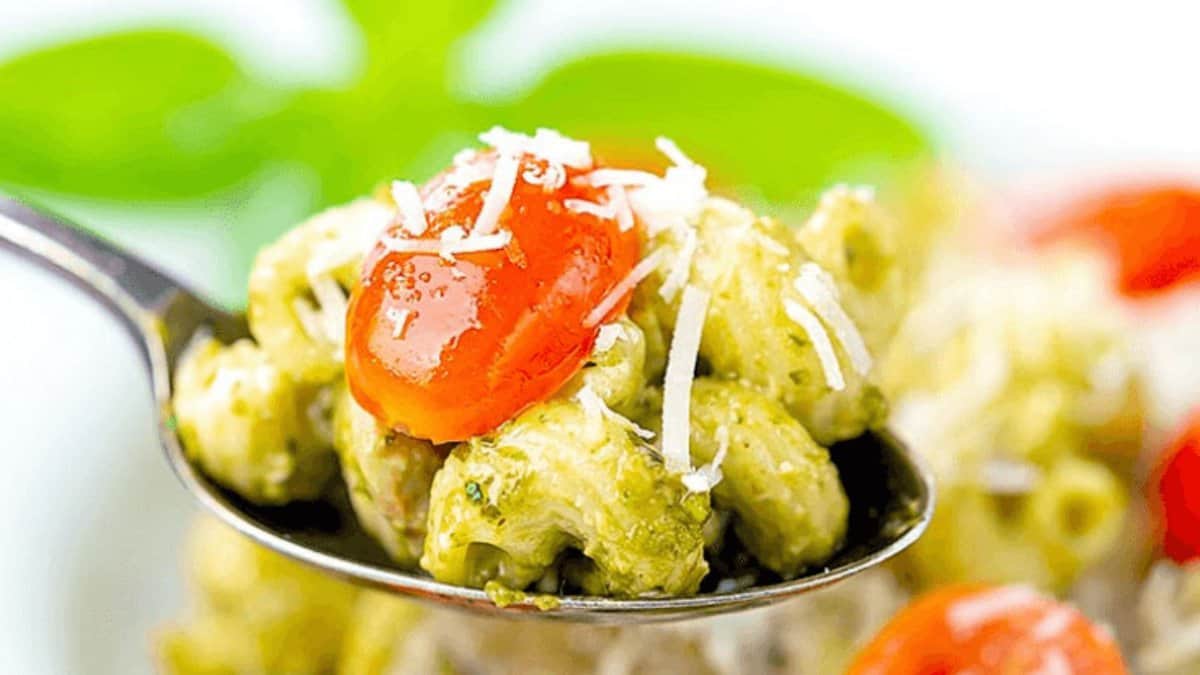 Pesto Cavatappi is a tasty copycat recipe of the famous Noodles & Company dish. This recipe uses fresh homemade basil pesto sauce. It smells and tastes amazing and is guaranteed to please the whole family. With this recipe, you can make a mouthwatering pasta any night of the week. Get the recipe.
Sun Gold Tomato Pasta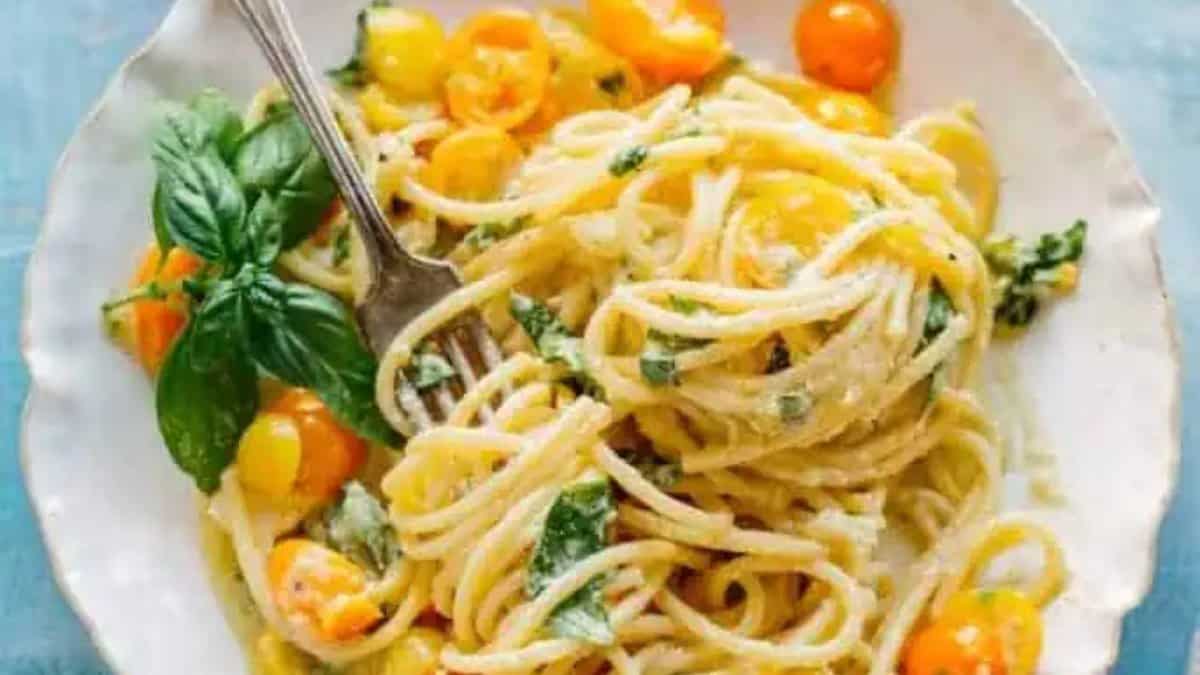 This recipe for No-Cook Sun Gold Tomato Pasta takes just 6 simple ingredients and less than 20 minutes to make! Get the recipe.
Lemon Basil Pasta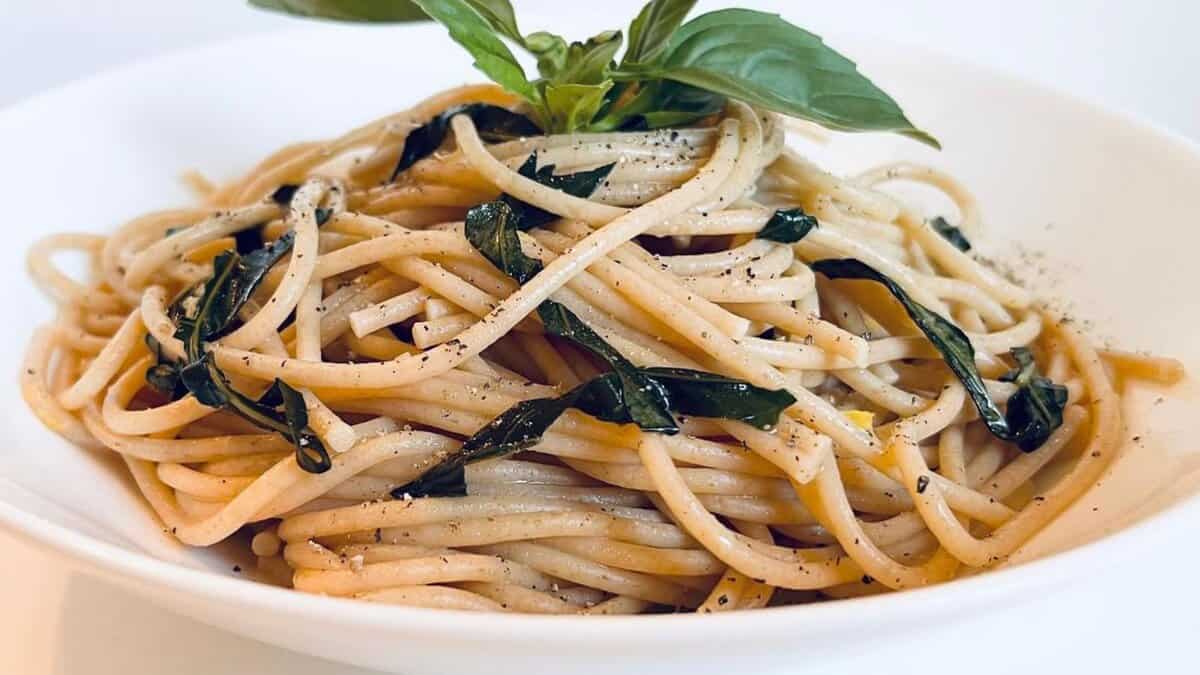 This simple balsamic roasted asparagus is a delicious side dish to serve with this pasta. Or try serving it with these oven roasted bell peppers. They're quick and easy to make. Get the recipe.
Tahini Pasta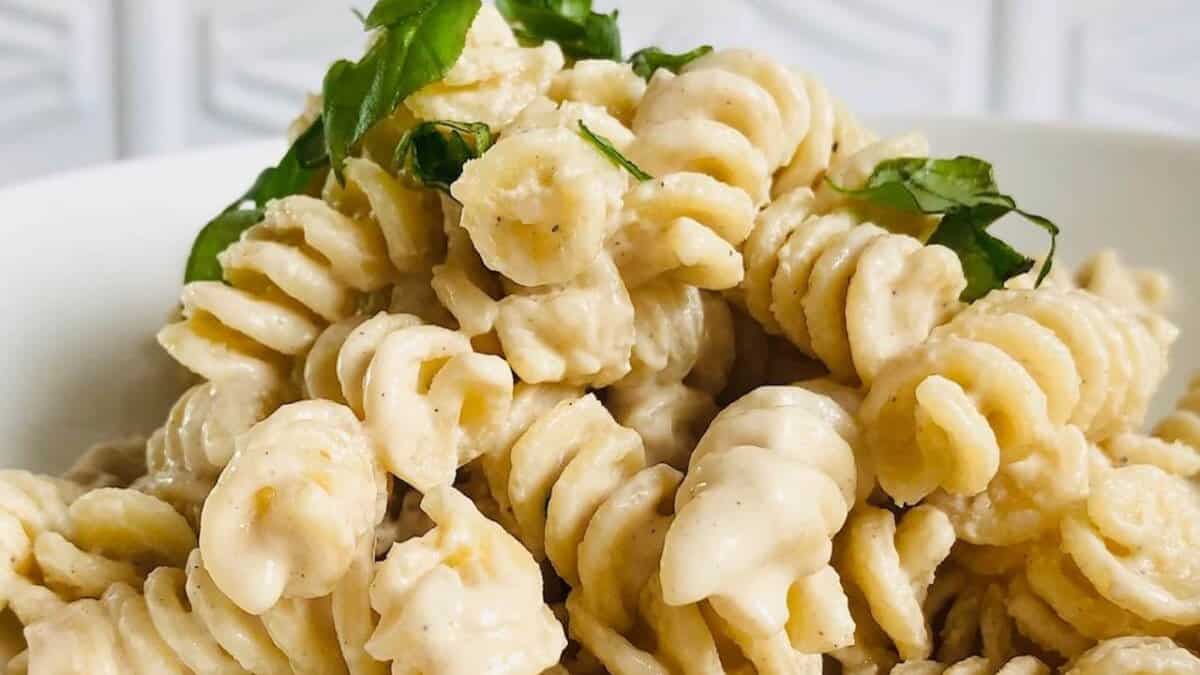 The tahini sauce calls for just a few simple ingredients – tahini being the star of this recipe. Tahini is a rich, creamy paste made from ground sesame seeds. It has a slightly bitter flavor that pairs well with fresh lemon. It can be found at many grocery stores or can be purchased online. Get the recipe.
Mushroom Sweet Corn Pasta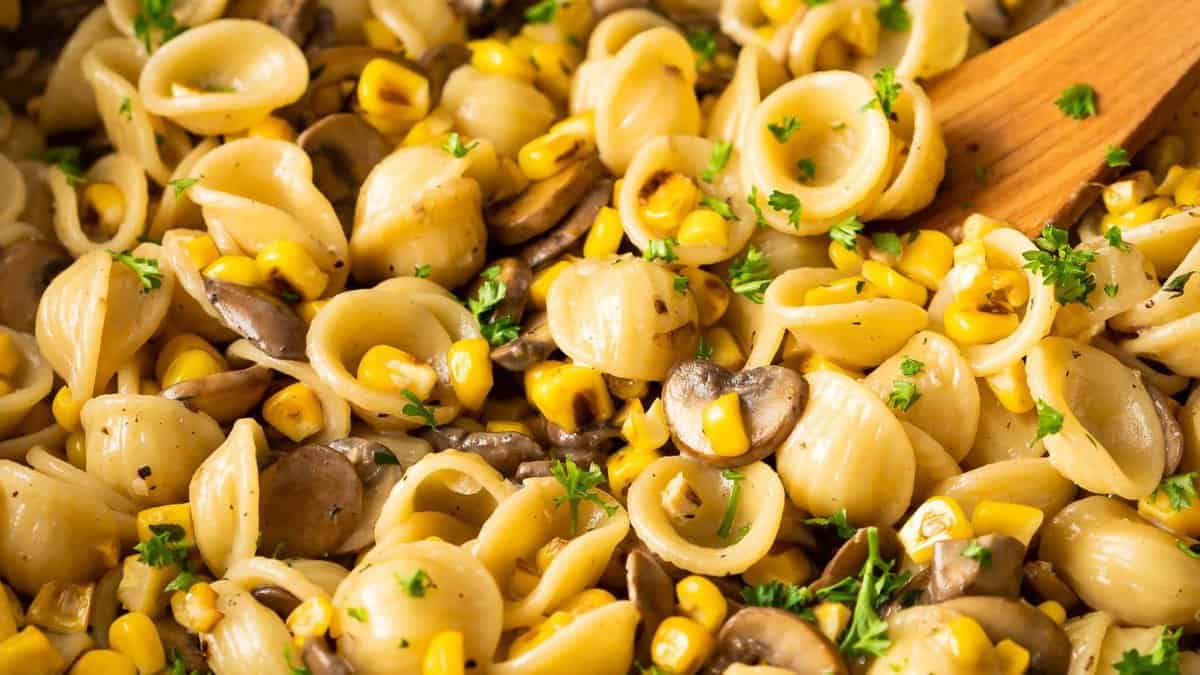 This delicious mushroom sweet corn pasta features earthy mushrooms, charred corn, and a light cream sauce. It is a quick, easy and satisfying meatless pasta dish you can throw together in half an hour. Get the recipe.
Pasta Fresca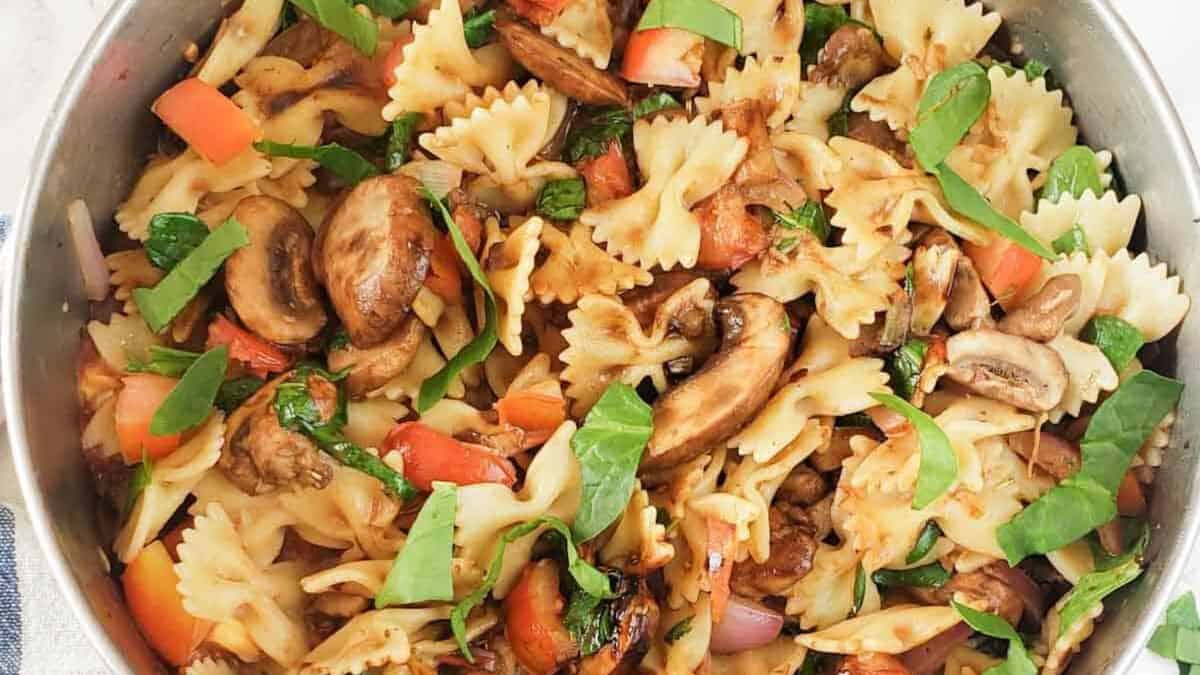 Pasta Fresca is an easy 20-minute meal full of all your favorite Italian flavors. Al dente pasta, juicy ripe tomatoes, baby spinach and earthy mushrooms sautéed with balsamic vinegar and garlic for a umami rich sauce base, with a splash of heavy cream makes this a satisfying weeknight dinner! Get the recipe.
Lemon Pepper Pasta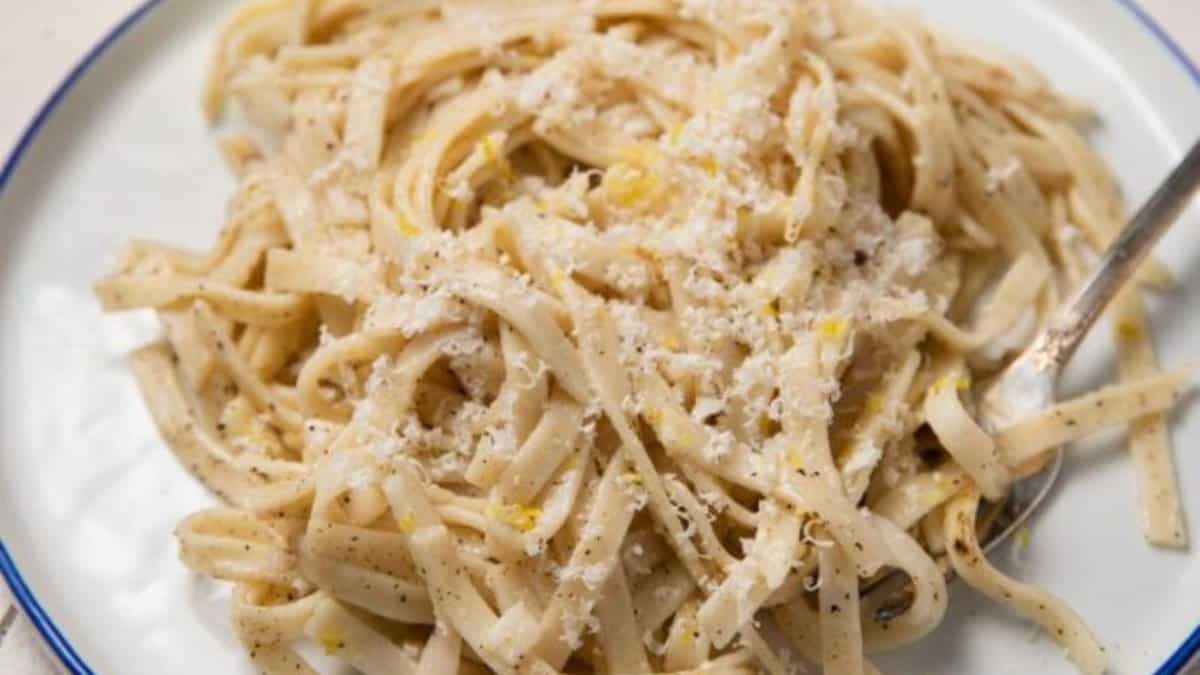 Pasta lovers rejoice! This creamy Lemon Pepper Pasta with parmesan is a delicious dinner that will quickly become a family favorite. Made with just a handful of ingredients you likely already have on hand at all times and is an easy 20 minute meal, it's the perfect quick and easy weeknight dinner that is sure to impress. Serve it with extra fresh grated parmesan cheese on top and a crisp glass of white wine or Prosecco for the ultimate in Italian delight! Get the recipe.
Easy Pesto Pasta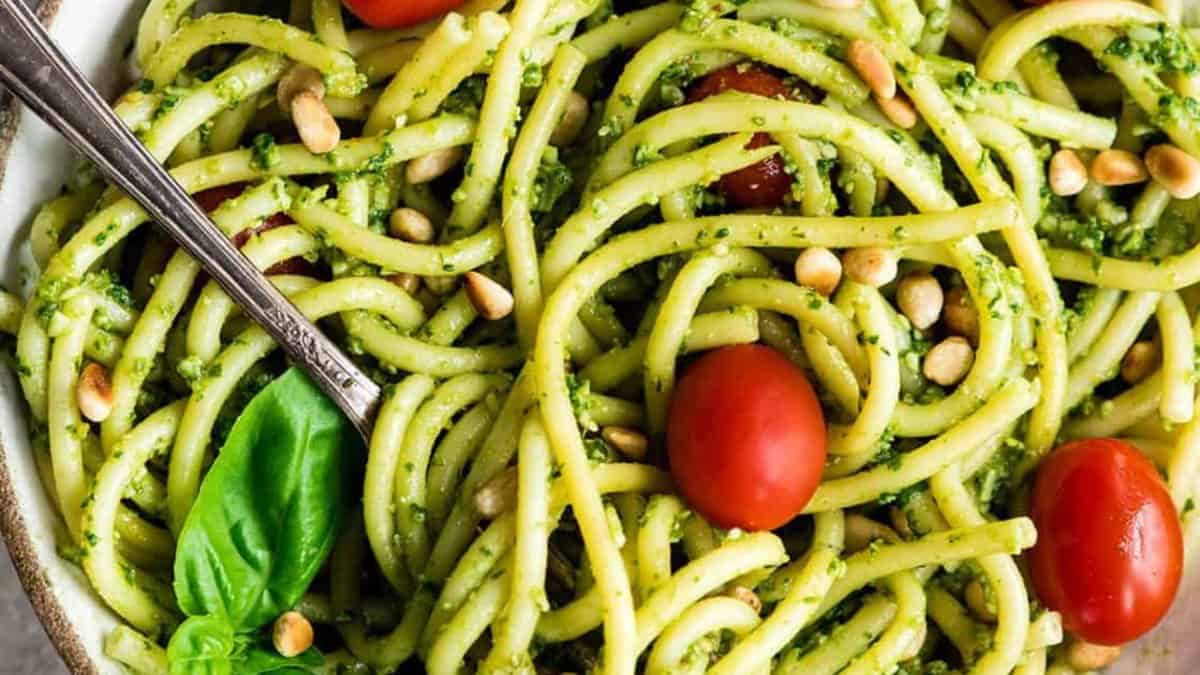 This pesto pasta recipe is a delicious quick and easy summer recipe! It can be served as a main dish or side dish, and you can enjoy it warm or cold! Full instructions how to make your own basil pesto are included, or you can make it even easier and use store-bought! Get the recipe.
Summer Tortellini Salad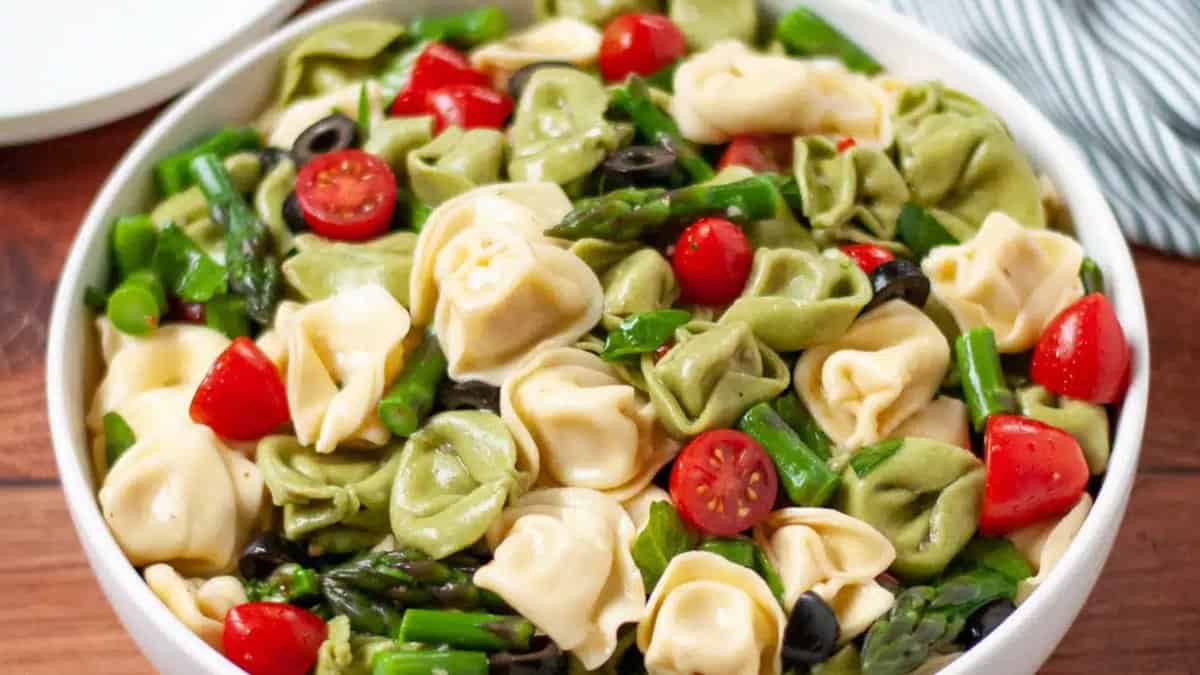 This delicious 6-ingredient summer tortellini salad is super easy and ready to enjoy in 20 minutes! A great option for potlucks, backyard BBQs, or as a light summer meal. Get the recipe.
Creamy Spinach Pasta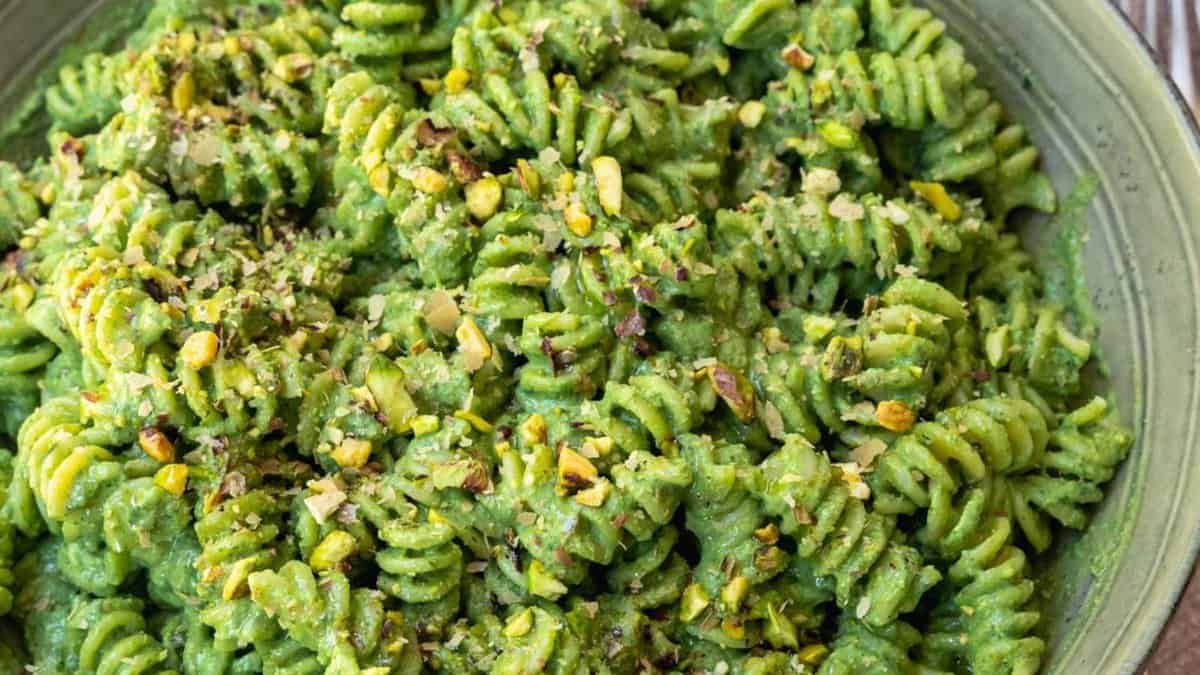 Make a healthy, nutritious, delicious, and rich pasta sauce simply using six ingredients. This creamy spinach pasta sauce is vegan and raw. All you need to make this amazing green sauce is a good high-speed blender, six ingredients, and your favorite pasta. This recipe will please your whole family, including picky eaters! Get the recipe.
Antipasti Pasta Salad
This recipe for Antipasto Pasta Salad is the perfect addition to any meal. If you're looking for something simple and Italian-inspired for your next potluck, BBQ or cookout, then this delectable salad is perfect for you! Great for a crowd and thrown together in less than 30 minutes, this easy pasta salad recipe is a definite keeper and made with flavorful salami, pepperoni, grape tomatoes, and Parmesan cheese for a pasta salad that is both filling and tasty. Get the recipe.
Spinach Lemon Orzo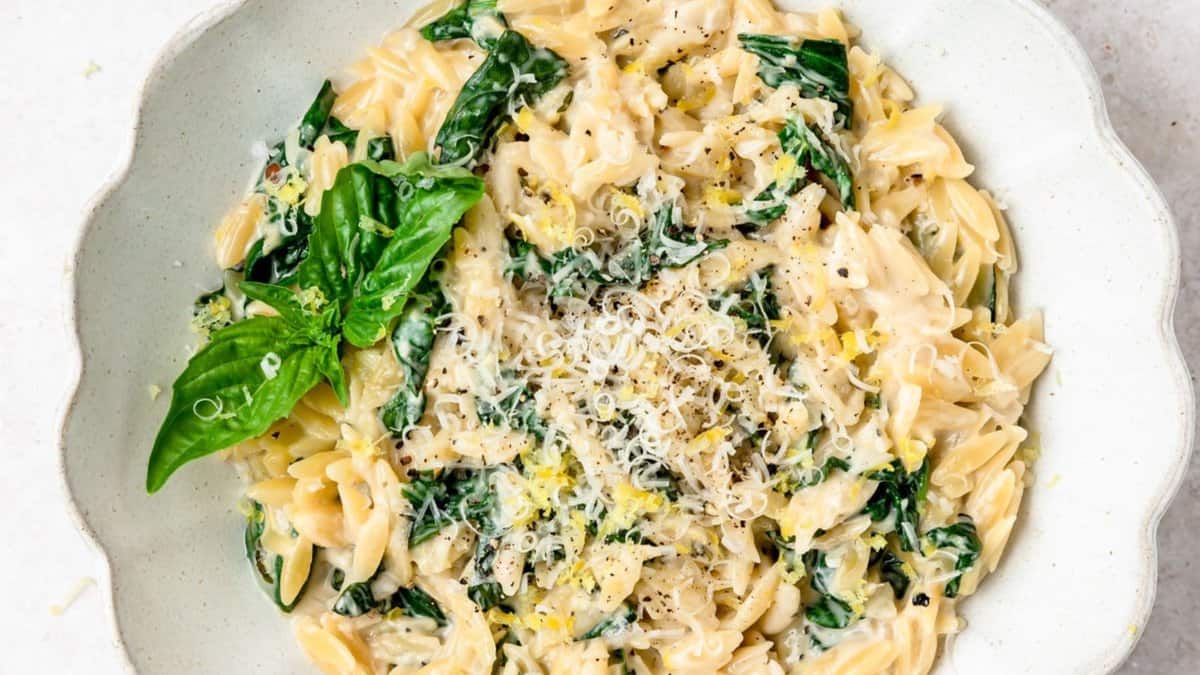 This one-pan creamy spinach lemon orzo comes together in just 20 minutes! With fresh spinach, lemon zest, and basil in a creamy sauce, it can be a light, weeknight dinner on it's own or a super easy side dish! Get the recipe.
Lemon Ricotta Pasta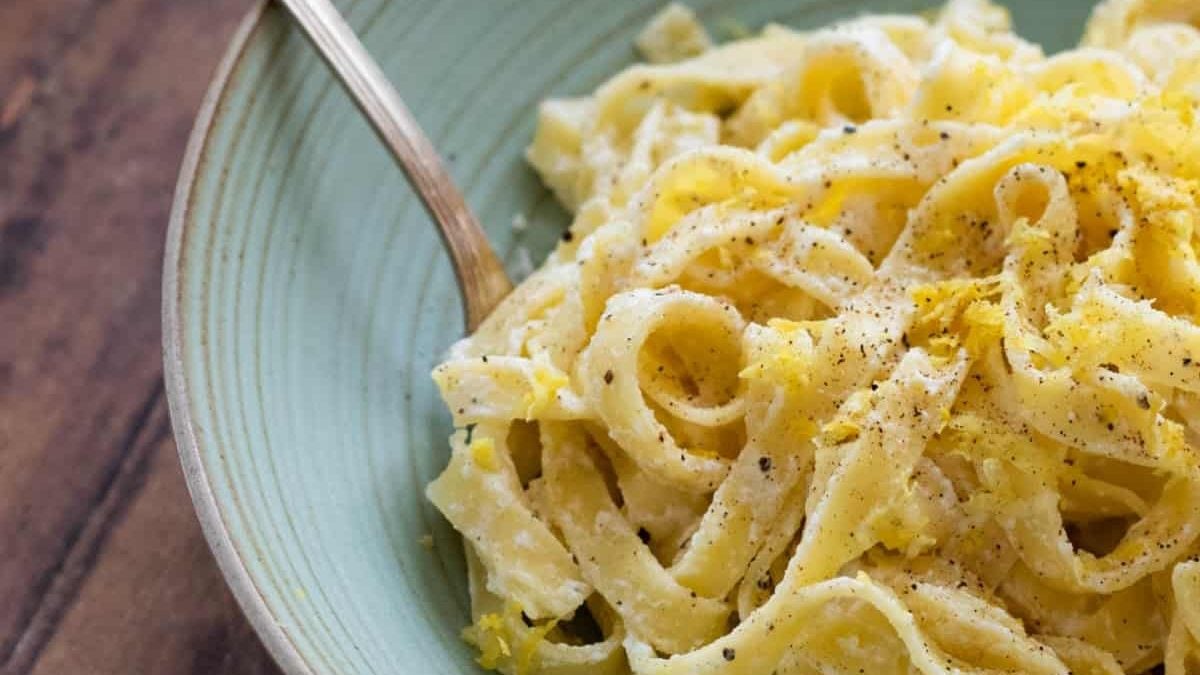 You won't find a simpler pasta dish than this. Get the recipe from always use butter.
Never Struggle with Dinner Again: 31 Easy Chicken Recipes to Save Your Night!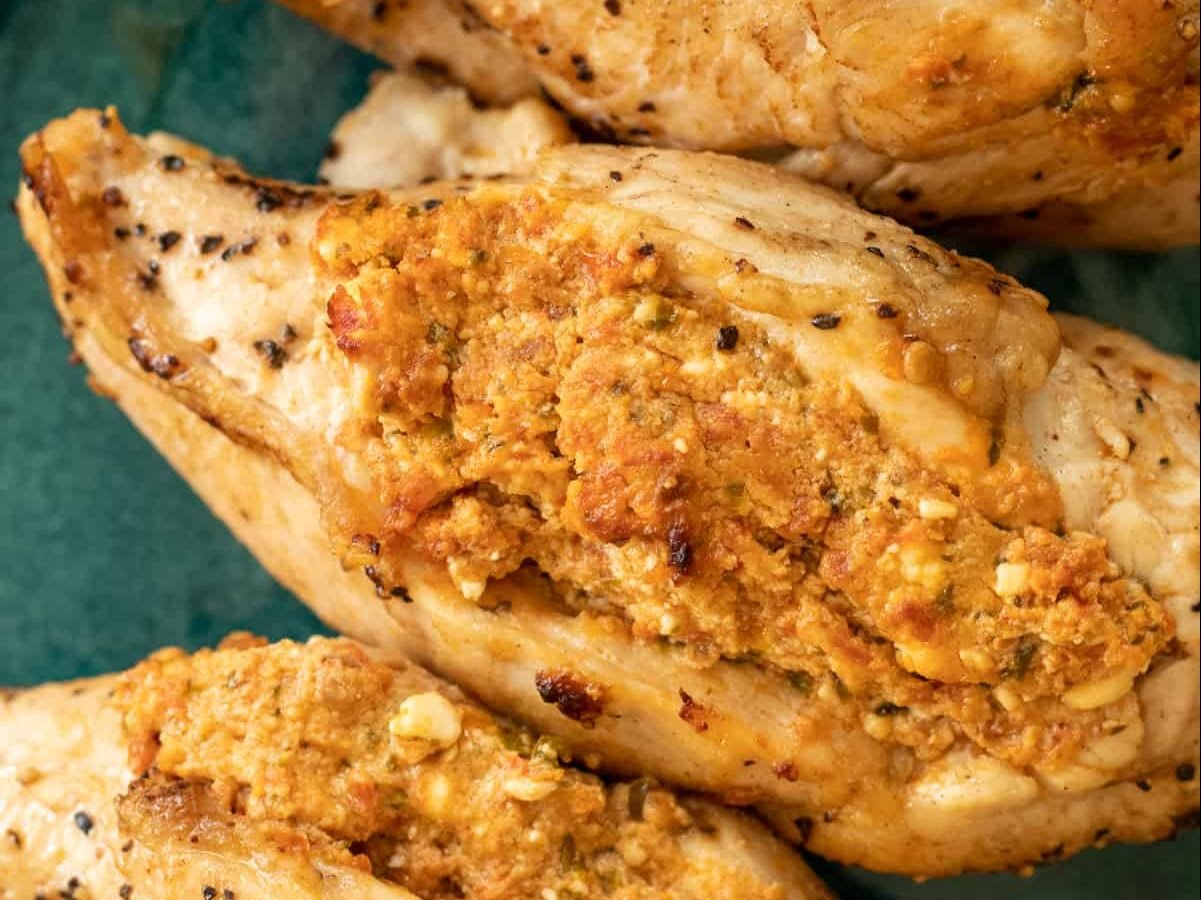 Are you tired of staring at your fridge, trying to figure out what to make for dinner? Look no further! We have compiled a list of 31 easy chicken recipes that will save your night and make dinner a breeze. From sheet pan meals to one-pot wonders, these recipes are quick, delicious, and perfect for any night of the week. Get the full list from always use butter
73 Tasty Weeknight Dinners You Can Make in 30 Minutes (Or Less!)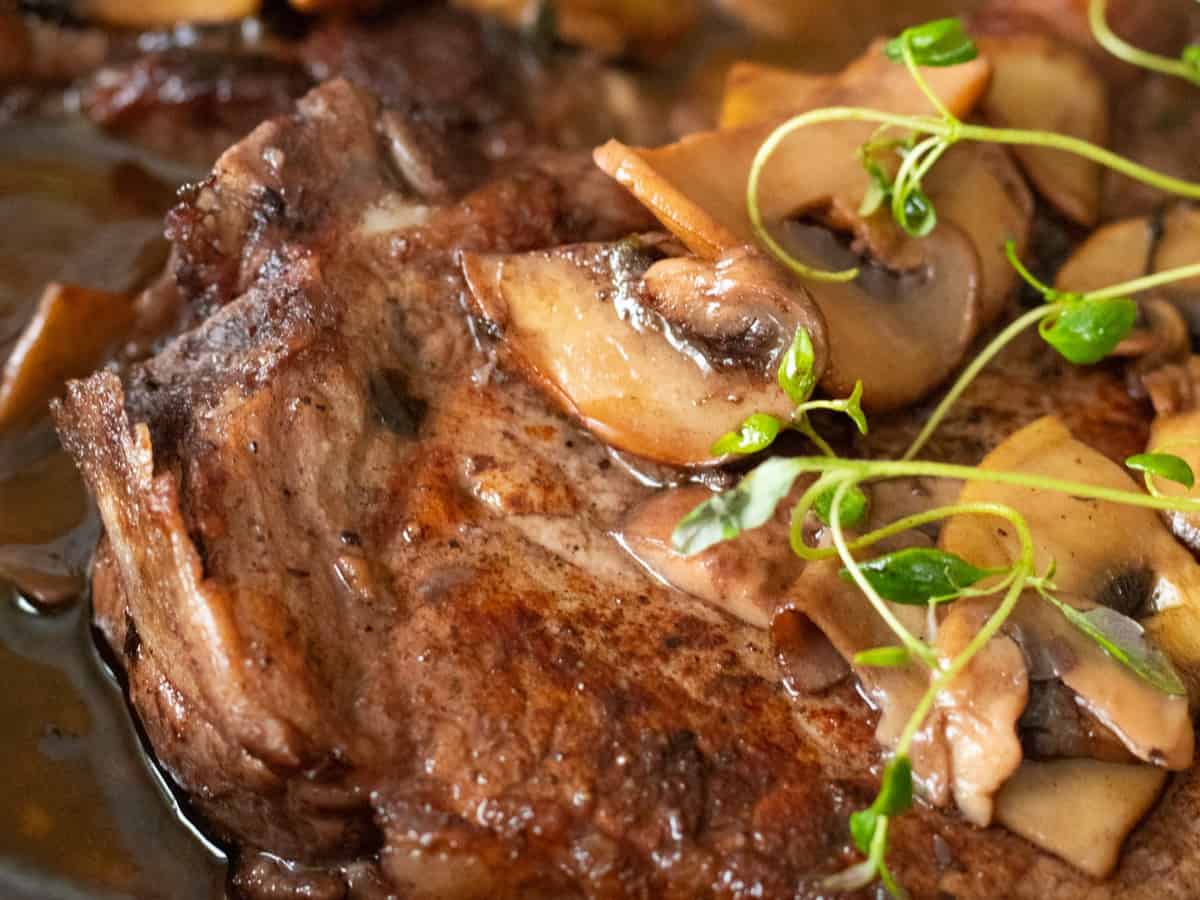 We all love quick dinners you can make even on the busiest of days, and the recipes included here all fit that description. These super tasty recipes are all done in 30 minutes - or less! - with limited prep and simple steps. Get the full list from always use butter
Tired of Cooking? Try One Of These 18 Easy Recipes Tonight!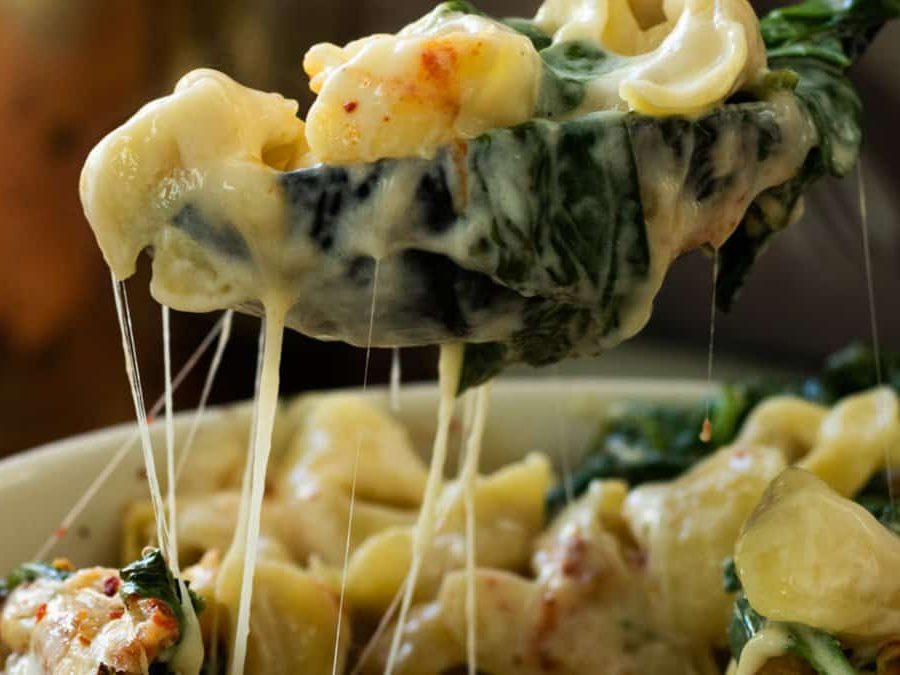 If you're feeling burnt out from cooking the same old meals, night after night, these 18 easy recipes are perfect for a quick and effortless dinner tonight. From pasta dishes to salads and steaks, these recipes are simple to make and packed with flavor, making them a great option for any busy weeknight. All with no - or very little - chopping and prep required. Get the full list from always use butter
38 Frozen Foods That Are Even Better In The Air Fryer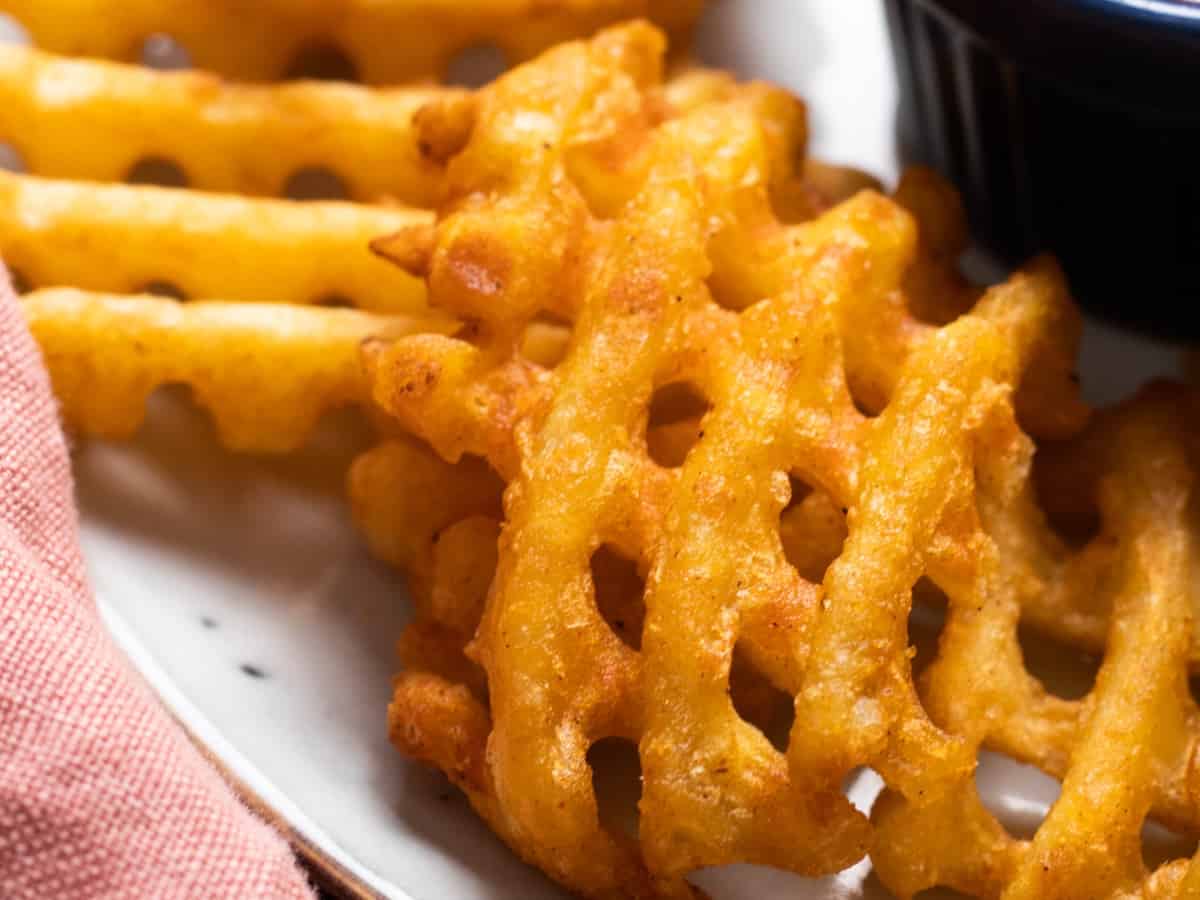 One of the best things to use your air fryer * for is to cook those frozen foods we all love: French fries, chicken wings, mozzarella sticks... not to mention frozen veggies and proteins! Air frying is much healthier than other cooking methods, and these foods are all just as good - or better - when air fried! Get the full list from always use butter
30 Tasty Sunday Night Dinners You Can Make In 40 Minutes (Or Less!)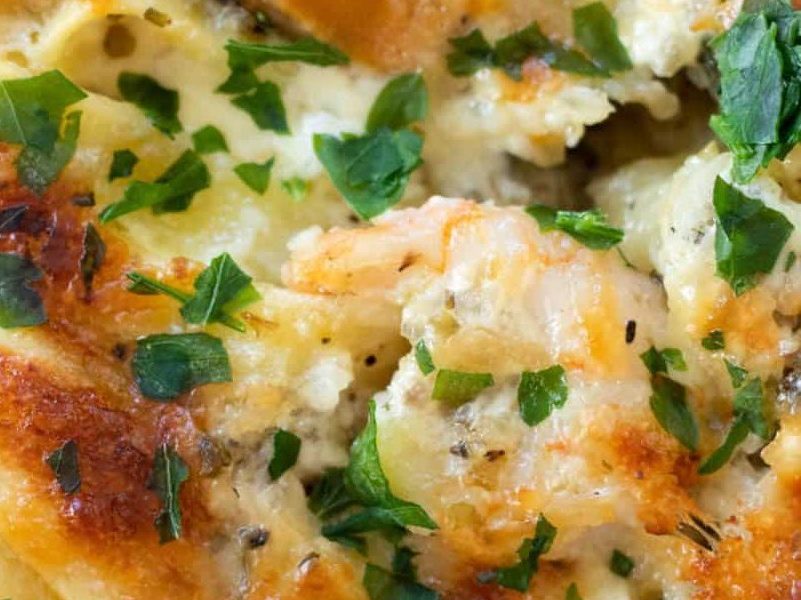 Sunday night dinners don't have to be a hassle! Whether you're winding down from a busy weekend or gearing up for the week ahead, we've got you covered with 30 delicious dinner recipes that you can whip up in 40 minutes or less. From comforting classics to international delights, these recipes are sure to satisfy your cravings and make your Sunday nights a little more enjoyable. Get the full list from always use butter