This post may contain affiliate links, which are always marked with *. Please read my disclosure for more information.
Make your own pesto for this red pesto pasta with roasted veggies - and while you're at it, maybe make some extra, it's SO good! Quick and easy to make this red pesto will make you never want to buy the pre-made kind again.
I don't often buy pre-made frozen meals, but a few years back there was one frozen meal I actually couldn't get out of my mind. I always had it on hand in the freezer and ate it whenever I could get away with it. That dish was the OG red pesto pasta with roasted veggies. Then all of a sudden I couldn't find it at my store. Panic ensued. I got mildly depressed for a few weeks. And then I did what any responsible young woman in charge of her own happiness would - I decided to try my hands at my own version.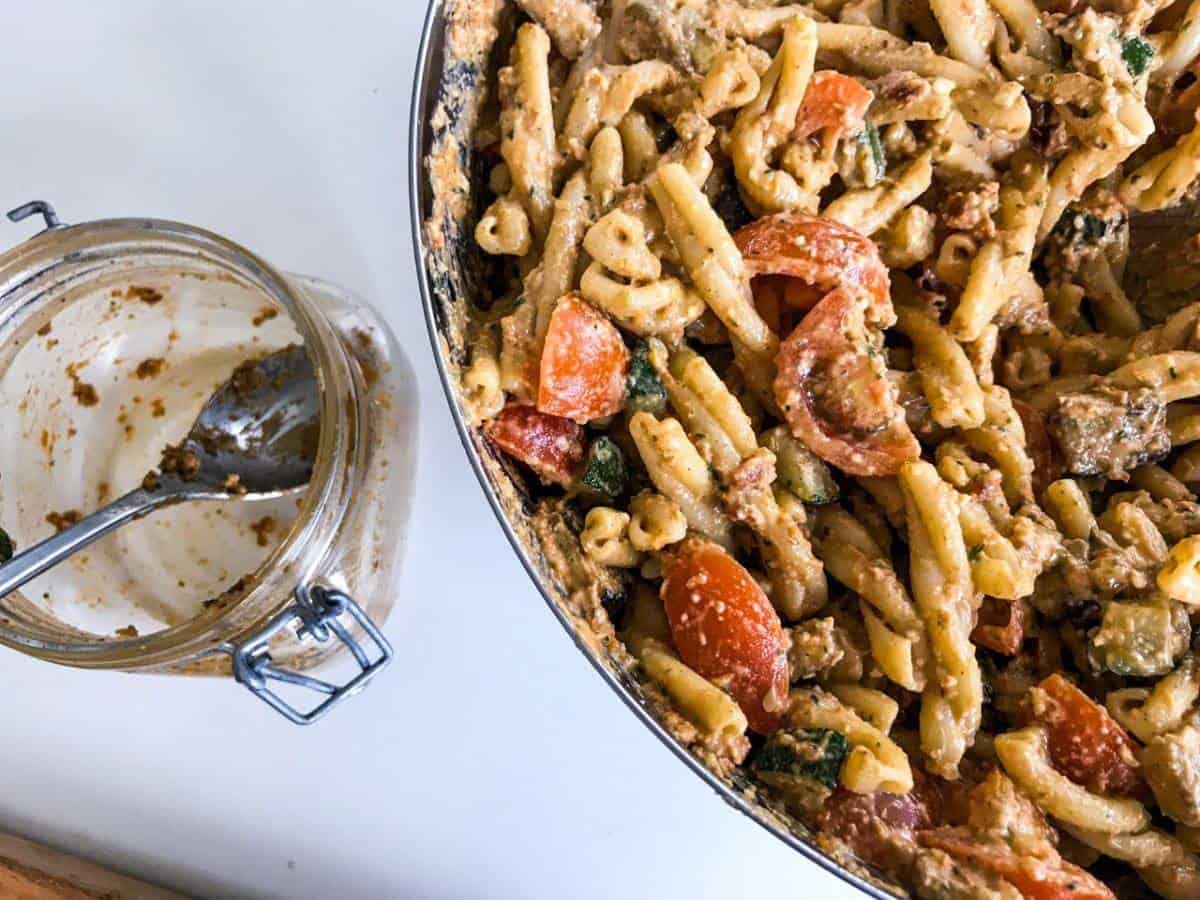 That was maybe 5 years ago by now, and I've never bought pesto since. Or pre-made frozen red pesto pasta with roasted veggies, for that matter. True story. I used to think making pesto was hard, but that was before I tried it. I used to think it was expensive, but compared to buying a piece of meat it's really not. And actually, this red pesto is even more budget-friendly than the green one as it uses walnuts instead of pine nuts.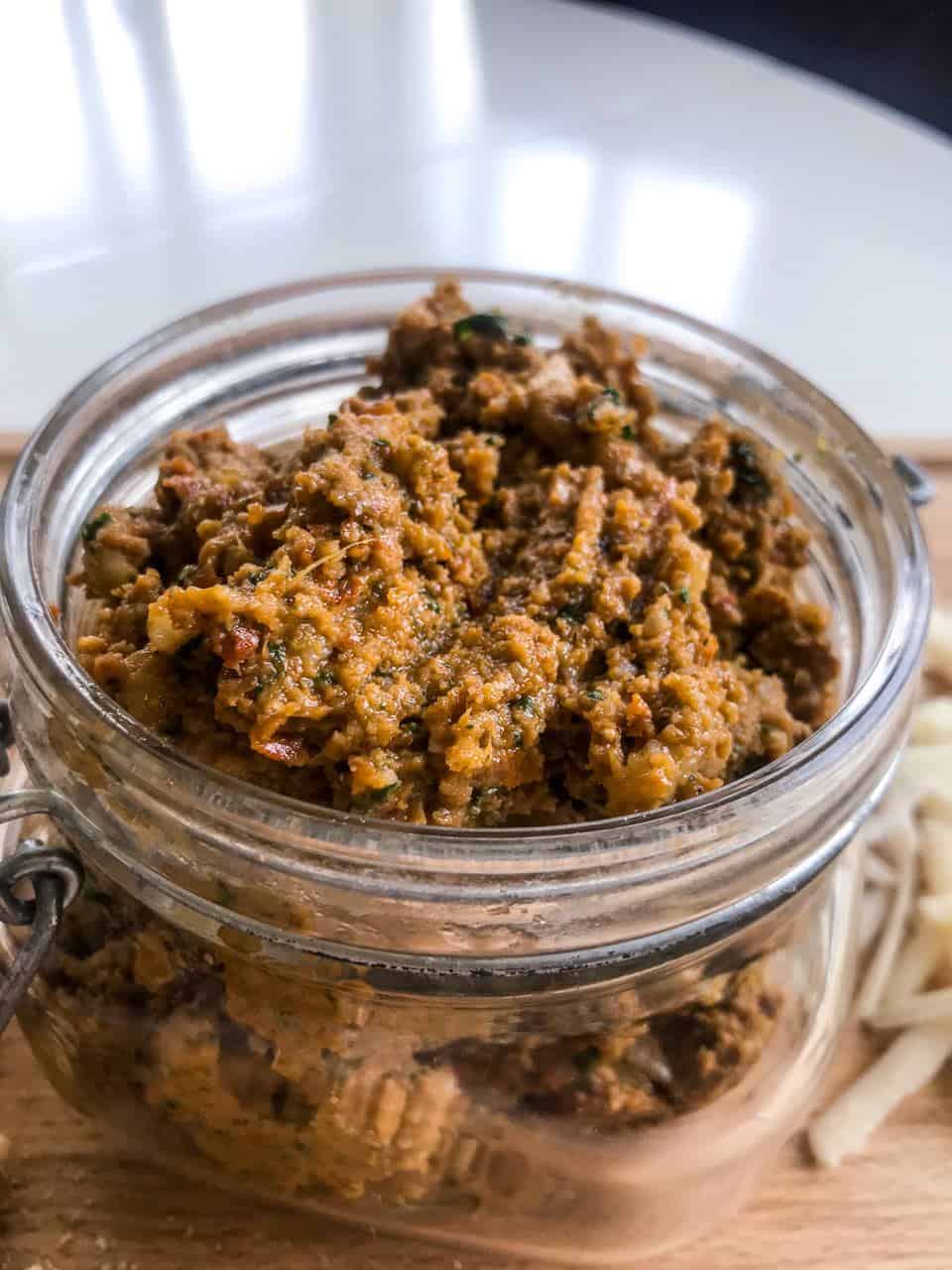 Let's talk pesto colors, while we're at it. Red is my favorite, any day. Green is not bad. But red. Red! All those sundried tomatoes, basil, generous amounts of parmesan and walnuts... let's just say those are some of my all-time favorites, and I like to have all my favorites in one go.
Keeping true to my first true love the pre-made frozen red pesto pasta with roasted veggies this dish heats up very well. It freezes very well too. So now I keep this on hand for when my cravings set in instead. It makes the perfect weekday lunch, for when your craving something comforting yet filled with healthy veggies.
And the best thing? Well, best things. 1. You know exactly what's in it. 2. It can be adapted in so many ways. Don't like eggplant? Add another zucchini instead. Not a big fan of walnuts? Use another kind of nut, like cashew, or just use less. All kinds of veggies going bad in the fridge? Add them all and call it a feast!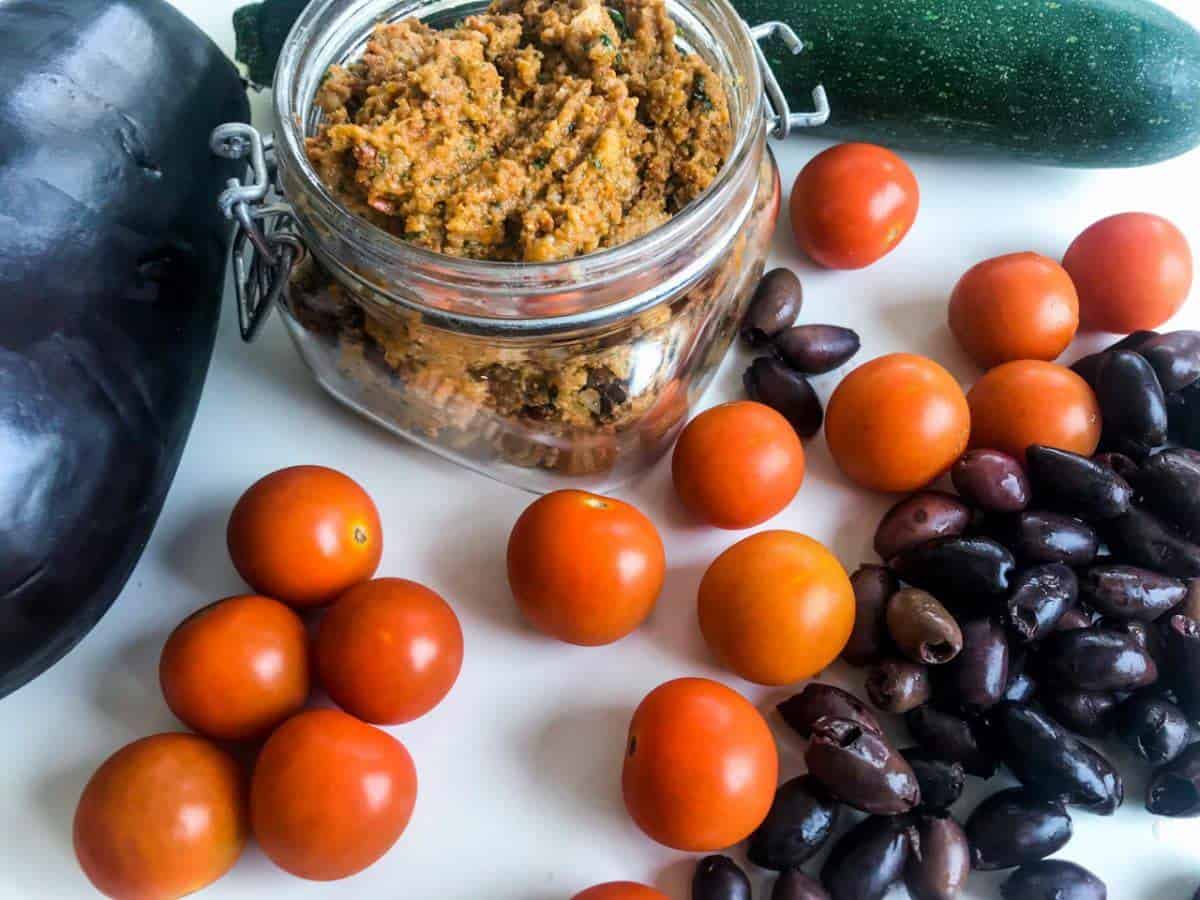 Oh, and the pesto. The pesto. It's the kind of pesto dreams are made of, if you ask me. I usually eat a couple sponfuls while making it (telling myself I need to taste it but well, maybe I don't really need to taste THAT much) and sometimes I make a double batch and use half for my pasta and half on top of toast, or salads, or to eat by the spoonful whenever I feel like it. If you want to keep it in the fridge it's good for about a week (never had an issue with not finishing it in time, so I honestly don't know when it would go bad), add a bit of oil on top and it won't dry out. You can freeze it as well, just remember to let it thaw in room temperature and you'll get as much taste as possible out of it.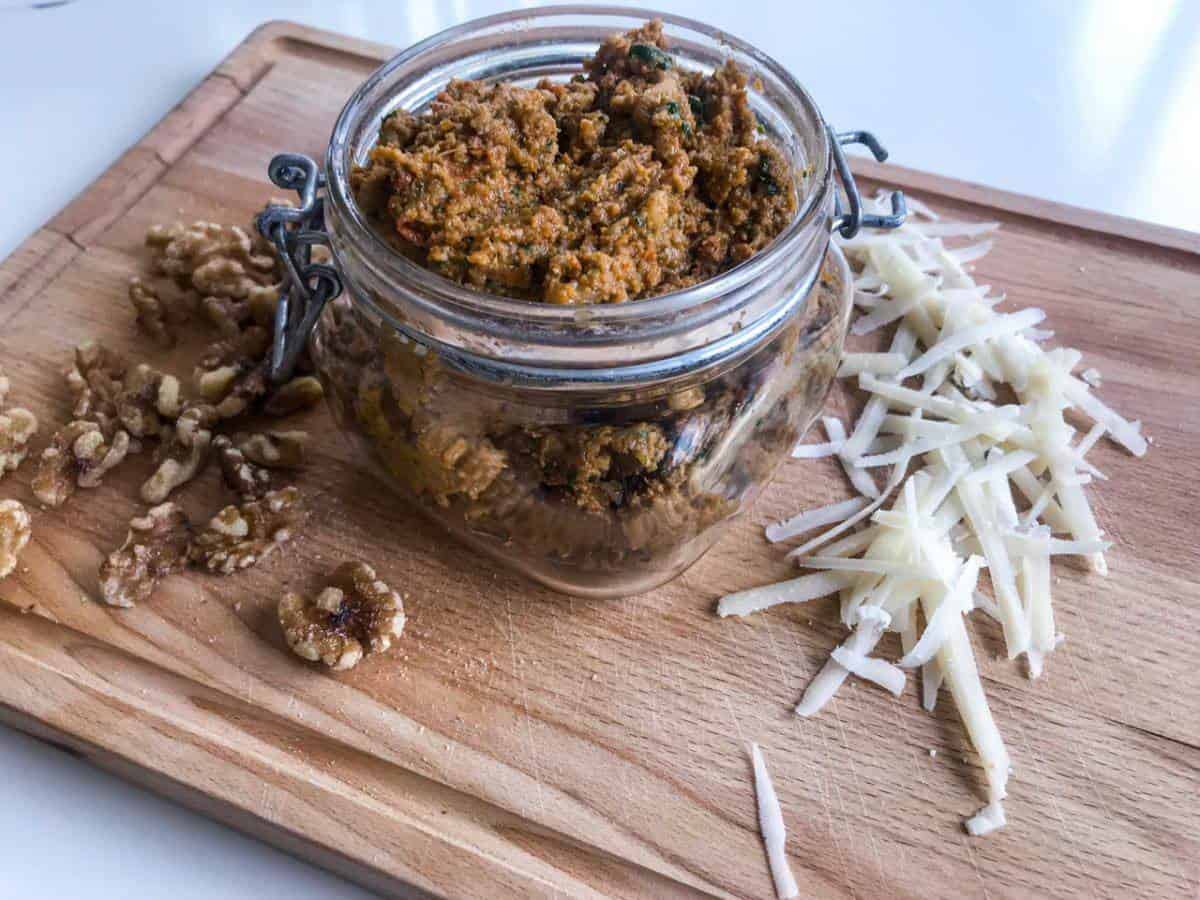 Anyway, I said making pesto was easy. And it is. It's quick as well. Seriously, you just throw everything in a bowl, bring out your immersion blender and go at it. Five minutes later and you have a pesto. And to make it into a red pesto pasta with roasted veggies, just add 20 minutes and you'll be ready for dinner.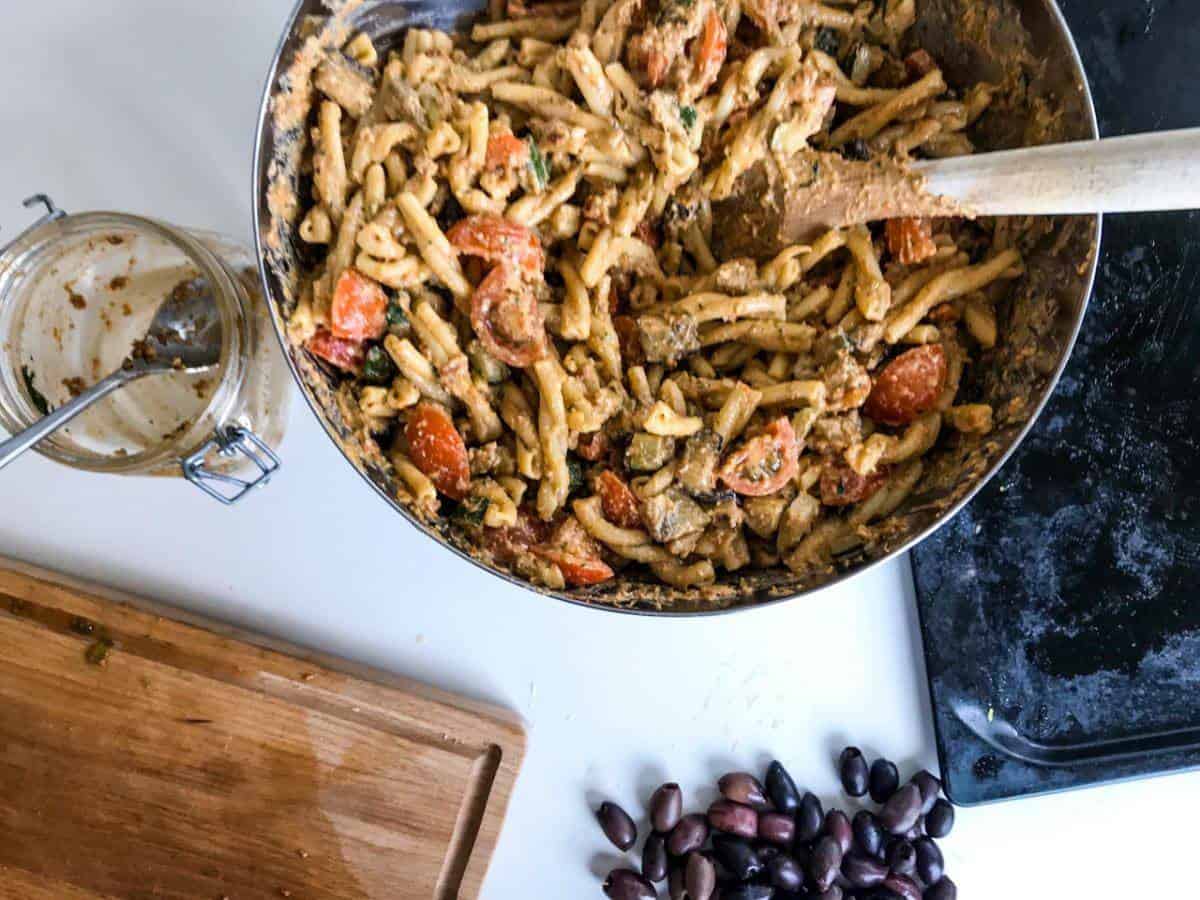 Please share this recipe if you like it, and even better - tag me @alwaysusebutter if you do! Did you try it? I'd love for you to leave a rating below!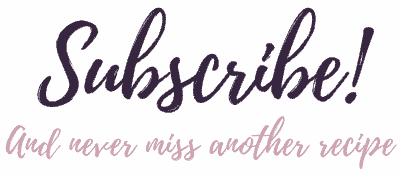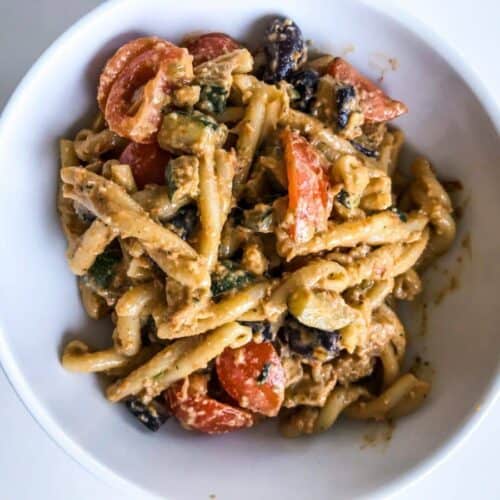 Ingredients
Red Pesto
200

g

sundried tomatoes in oil (weight excl. oil about 120g)

100

g

parmesan, shredded

1

clove

garlic, minced

100

g

walnuts

20

g

fresh basil (about 1 pot)
Red Pesto Pasta with Roasted Veggies
1

eggplant (about 300g), chopped

1

zucchini (about 400g), chopped

2

Tbsp

olive oil

500

g

cherry tomatoes, cut in quarters

400

g

black olives, pitted

400

g

pasta (penne or fusilli)

1.5

dl

pasta water

salt and pepper to taste
For serving
parmesan cheese, shredded (can be omitted)
Instructions
Red Pesto
Place all ingredients in a bowl, and mix together with an immersion blender. Taste test and set aside for now.
Red Pesto Pasta with Roasted Veggies
Set the oven for 250 C/475 F. Place a baking sheet on an oven tray. Spread out the chopped eggplant and zucchini, add the olive oil and season with salt and pepper. Mix well and roast in the middle of the oven for 15 minutes, mixing once after 5 minutes.

Cook the pasta according to the instruction on the package, until just al dente. Make sure to save some of the pasta water.

When the pasta and the roasted veggies are finished, place pasta in a bowl or pan large enough to hold all pasta and veggies. Mix in the pesto and add the pasta water a little at a time. Mix until well-mixed and creamy.

Add the vegetables, mix well, taste test and serve with some extra parmesan cheese if you like.
Nutrition
Calories:
772
kcal
|
Carbohydrates:
82
g
|
Protein:
25
g
|
Fat:
41
g
|
Saturated Fat:
7
g
|
Cholesterol:
13
mg
|
Sodium:
1651
mg
|
Potassium:
1236
mg
|
Fiber:
11
g
|
Sugar:
9
g
|
Vitamin A:
1580
IU
|
Vitamin C:
57.4
mg
|
Calcium:
359
mg
|
Iron:
4
mg
Nutritional information is approximate and automatically calculated, and should only be viewed as an indication.