This easy Pasta Primavera is the best light summer pasta, with no cream but all the veggies. Filled with zucchini, asparagus, mushrooms, cherry tomatoes, halloumi and white wine it comes together in just 20 minutes (chopping included!) and is sure to have you coming back for seconds.
Looking for a summer pasta with a different flavor profile? Try this salmon cème fraîche pasta with lemon & chives!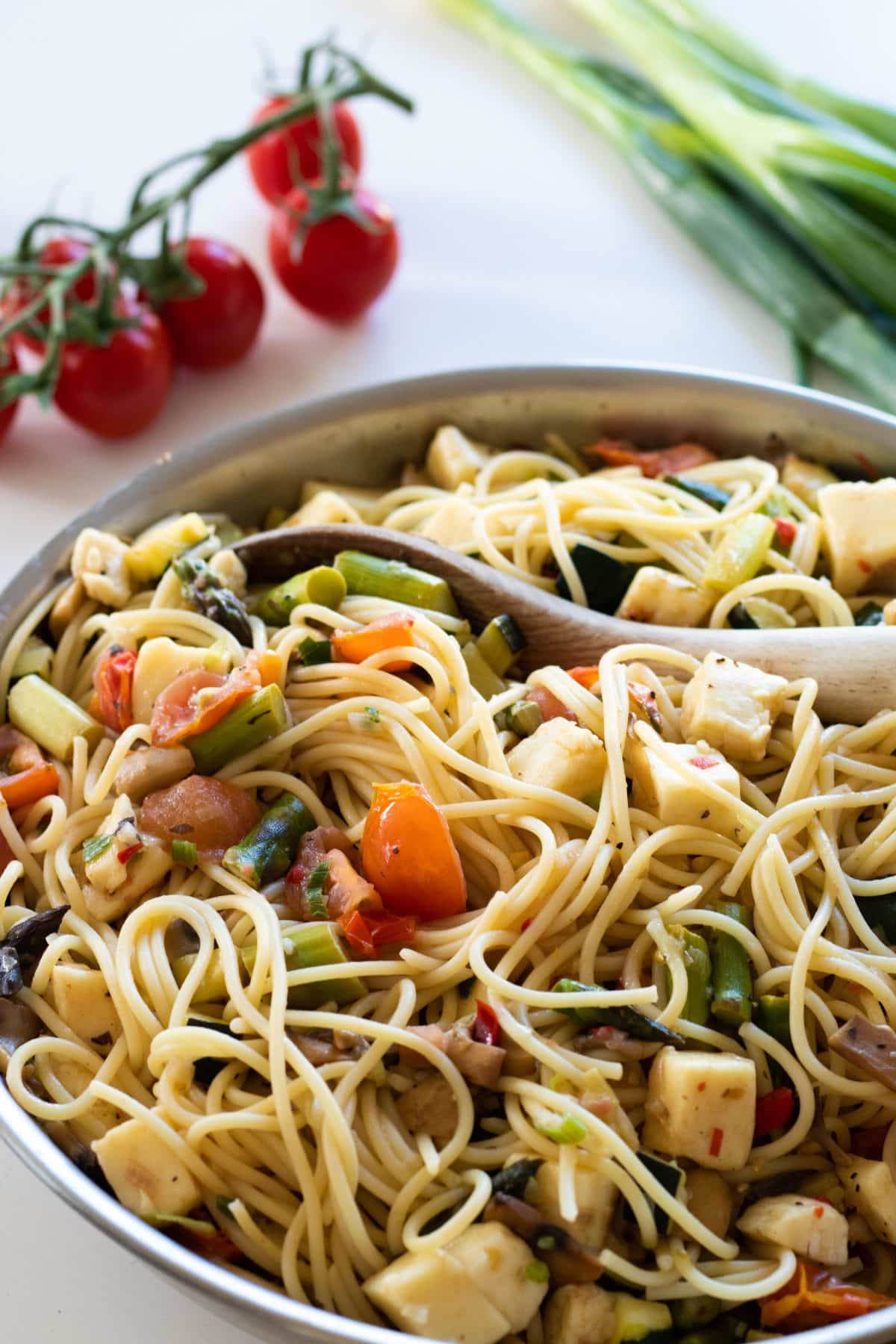 Some of the links below are Amazon affiliate links. If you buy something through one of them, I receive a small commission (at no extra cost to you). These links are always marked with *.
I think by now no one has missed the fact that I loooove a good pasta. Even a not-so-good pasta, to be completely honest. Because you know what? It's PASTA! And while I do eat pasta year-round (yes, even if it's 30 C outside) I change up the type of dishes depending on the season.
That's why in fall you'll find me whipping together creamy red wine pasta with mushrooms and thyme, in winter I'll head for flavor-packed feta filled chicken pasta and in summer I'll want something a bit lighter. And while my go-to in a restaurant would definitely be a Pasta Vongole, my local store doesn't carry the clams I need (and also, who's got time to clean clams?!) and so I end up making the second best summery pasta: Pasta Primavera.
At least it has white wine, which is probably what I wanted out of the Pasta Vongole anyway. And did I mention it's absolutely delicious and maybe I don't even want a Pasta Vongole anymore?!
What is Pasta Primavera?
Pasta Primavera might sound Italian, but was actually invented in Canada by a famous New York chef. Since, it has come to mean basically a vegetable pasta. Spring vegetable pasta, to be more exact – as the meaning of Pasta Primavera is just that; "Spring Pasta".
Why I love this version of Pasta Primavera
Layers of texture from cooking the vegetables to different degrees of done-ness: the asparagus is still a bit crispy, while the zucchini almost becomes part of the sauce, the mushrooms melt in your mouth, and the tomatoes are added at the end to get just a little bit of heat while staying firm
An extra layer and a more filling dish is created by adding halloumi to this usually all-veggie dish
A slight fresh bite from the spring onion added just at the end, complementing the softer taste of the shallot added at the beginning
Light spiciness from the chili added with only half the seeds
Subtle flavors come together to create perfectly balanced spoonfuls, with no particular flavor overpowering the others – it truly is a symphony of taste
Light and summery, the only pasta I want to have even if it's 30 degrees outside
So quick and simple to make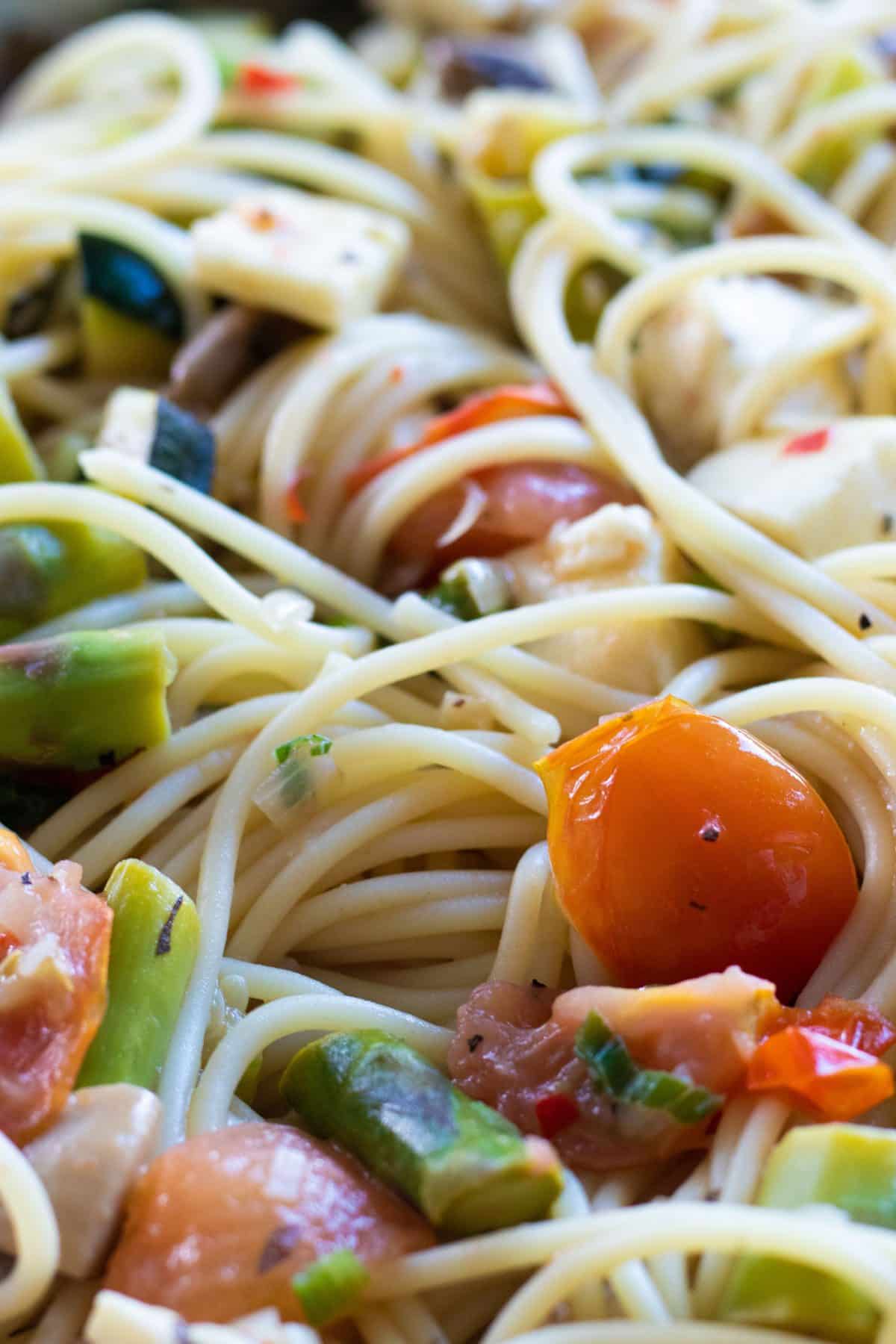 Expert tips for making this recipe
Add more butter if needed when frying the mushrooms – you want them to become completely satiated with butter.
Use whatever veggies you have at home – broccoli or bellaverde, bell peppers, cauliflower, aubergine, and even leafy greens like spinach all make great additions to this dish.
Like it hot? Add more of the seeds from the chili! I usually save them, and then I add as needed when taste testing.
Some chilies are spicier than others, so if you're unsure how spicy your chili is, leave out all the seeds to start and add them if you wish to later on.
Like it creamier? Add some cream! I'll do it once in a while just to switch it up.
Make it dairy free and vegan by switching butter for olive oil & excluding halloumi – still delicious, just add some salt since you don't have the salty butter & halloumi.
" thumbnail="https://mediavine-res.cloudinary.com/video/upload/lhhrl2n0otkjut1svaxw.jpg" volume="70″ doNotOptimizePlacement="undefined" doNotAutoplayNorOptimizePlacement="false" ratio="" jsonLd=true]
How to make my Pasta Primavera with Halloumi
First things first: prep! There's quite some chopping in this one, but don't be scared – we'll just make sure to get it over with before we start cooking. So go ahead and chop your garlic, shallot and spring onion very finely, and your zucchini, mushrooms, asparagus, cherry tomatoes and halloumi a bit more coarsely – I like to switch it up and do different sizes of all the ingredients to keep it interesting.
For the chili, remove half of the seeds and then chop it.
Now last thing before we start cooking our Primavera sauce: start the pasta.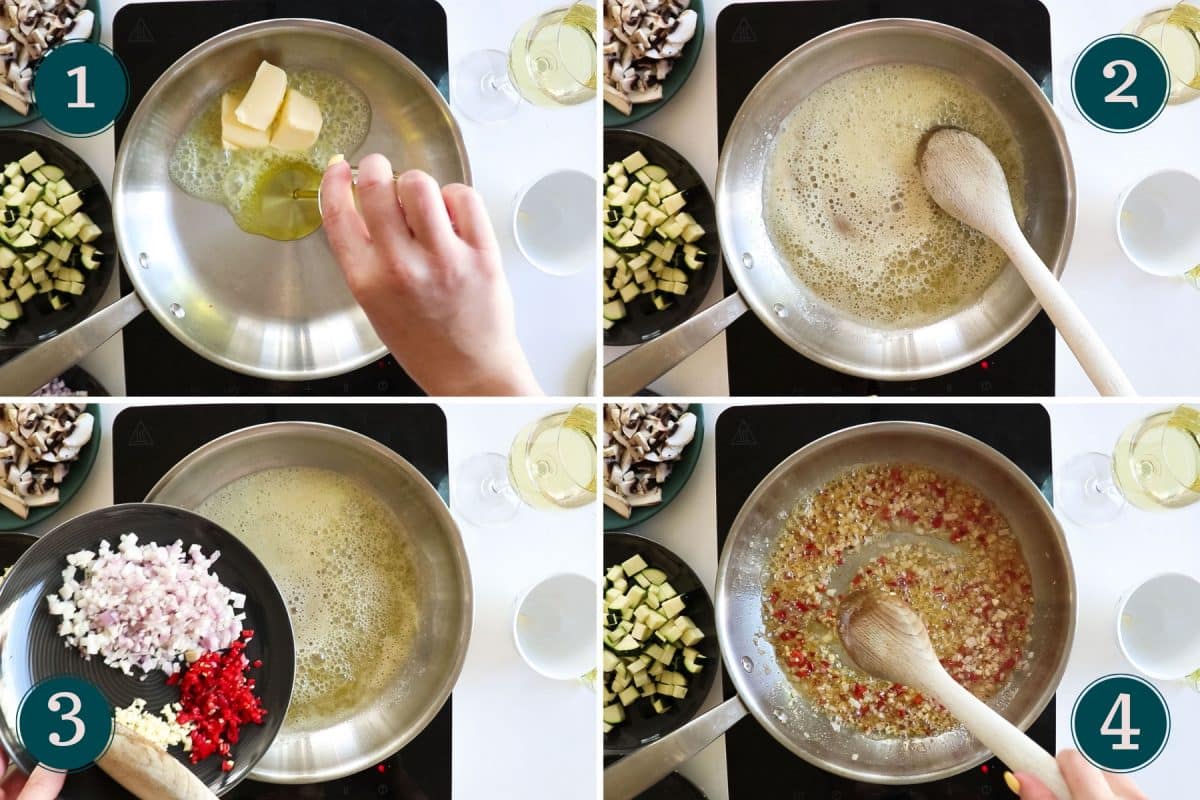 Then place a pan over medium-high heat and add in half of the butter & all the olive oil. Let the butter melt, and then add in the chopped shallots, garlic and chili. Fry for a minute until slightly browned and softened.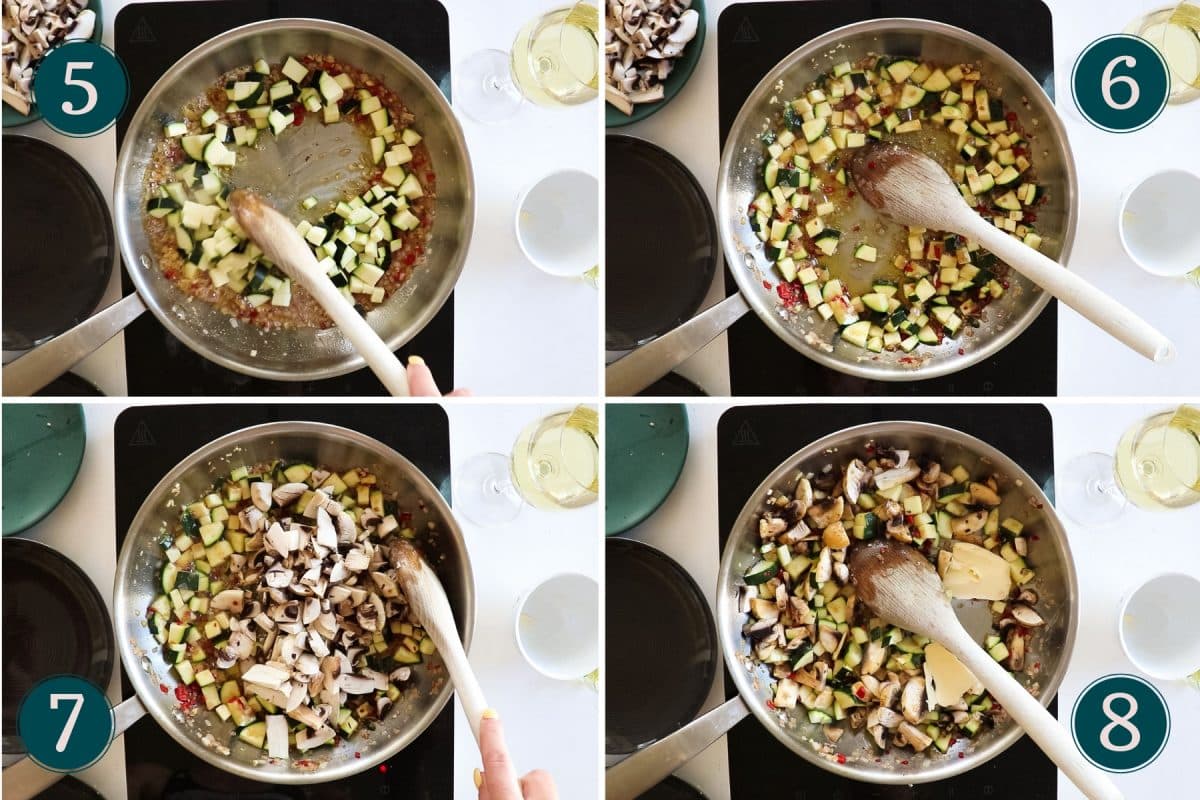 When the onion is softened, add in the zucchini. Mix, fry for a minute, and then add in the mushrooms. Mix, fry for a minute, and add in more butter as needed. You want the mushrooms to become completely satiated with butter.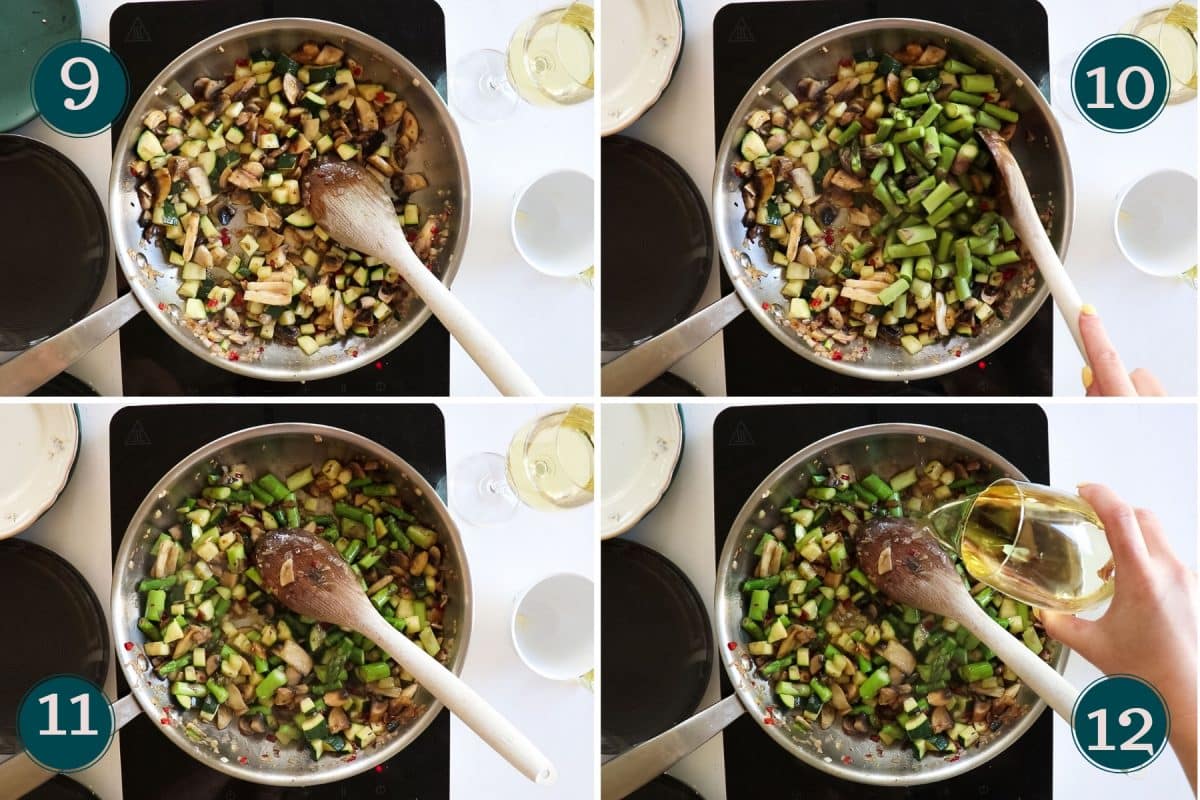 When the mushrooms won't take any more butter, add in the asparagus. Mix and cook for two minutes, then pour in the wine.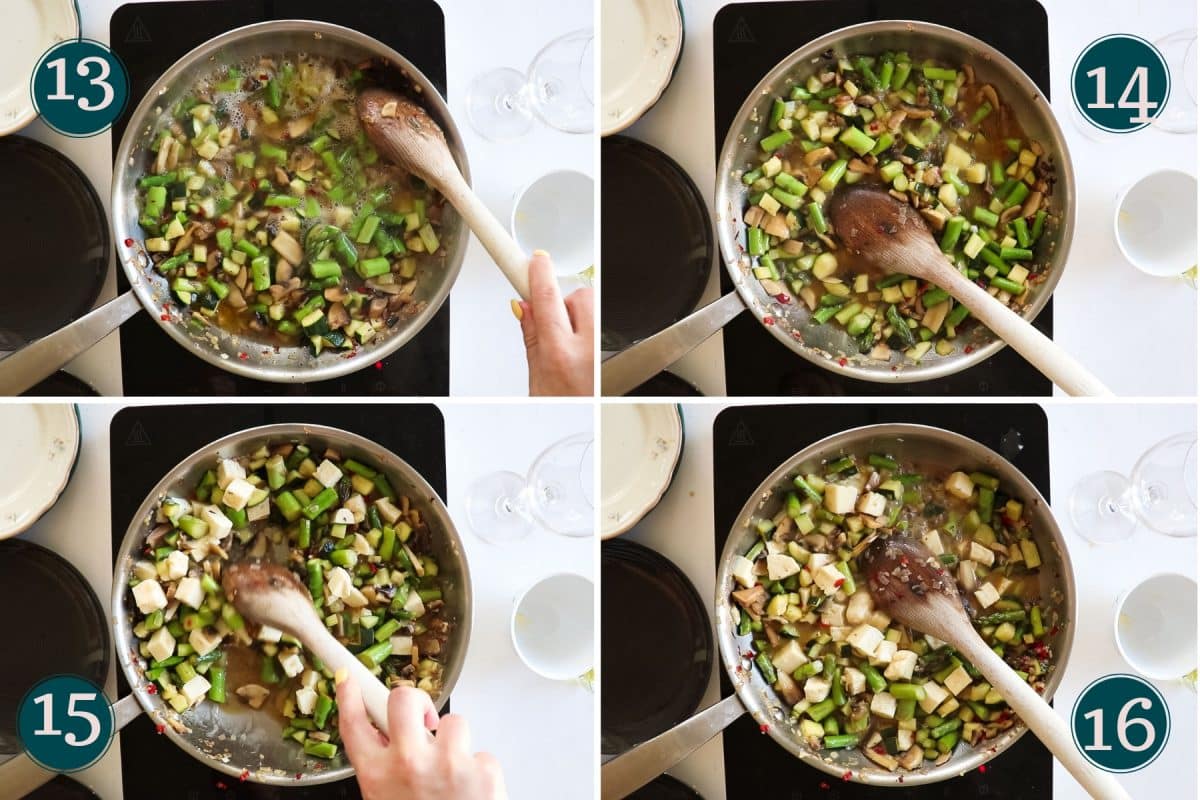 Mix, and when the wine starts to simmer turn the heat down to medium. Let cook for a minute and then add in the halloumi. Mix, and cook until the halloumi has softened. Not melted, but softened. You will feel this easily when pressing it. This usually takes about two minutes.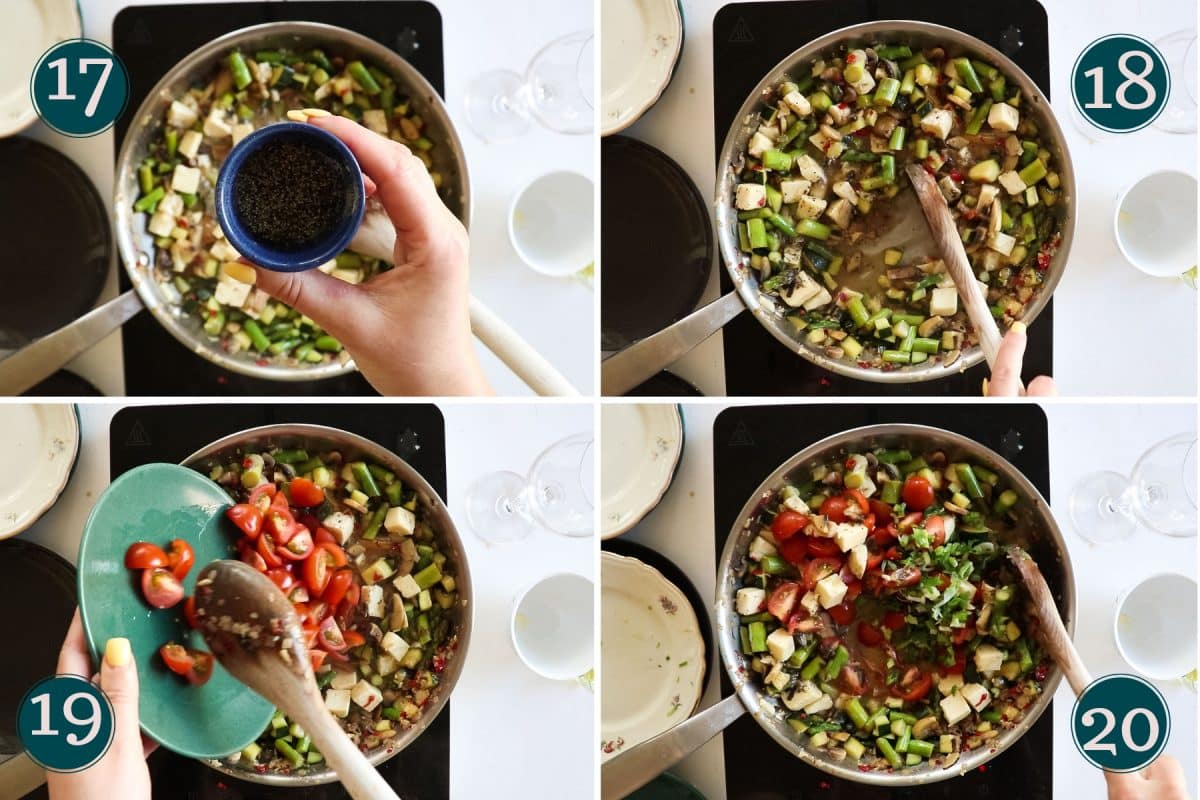 When the halloumi has softened, add in the pepper. We don't add salt here (at least not yet!) because we're using salted butter, salty halloumi and also might have added a lot of salt to the pasta water. If needed, you can add it later.
Anyway – add in the pepper, mix, and then mix in the chopped cherry tomatos and spring onion.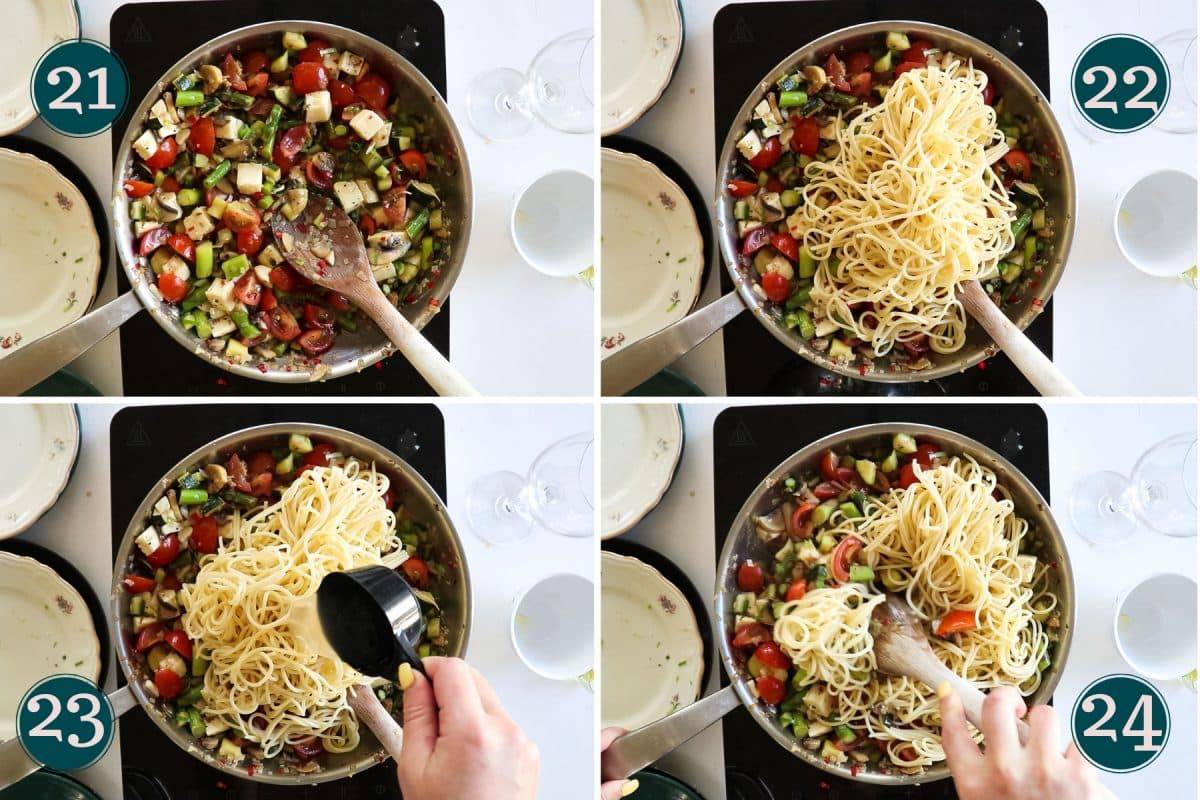 When it's all mixed together, hopefully your pasta is also done. Now drain the pasta while keeping the pasta water – you will need this for the sauce! I do this in one of two ways: either I use kitchen tongs to pick up the pasta while the pasta water stays in the pot, or I place a strainer over a heat proof bowl and pour in the pasta, allowing the pasta water to pass through and end up in the bowl.
Either way you do it – add in the pasta, a little at a time, together with some pasta water. Mix and add in more pasta and pasta water as you go. When you're happy with the mixing – you're ready to serve!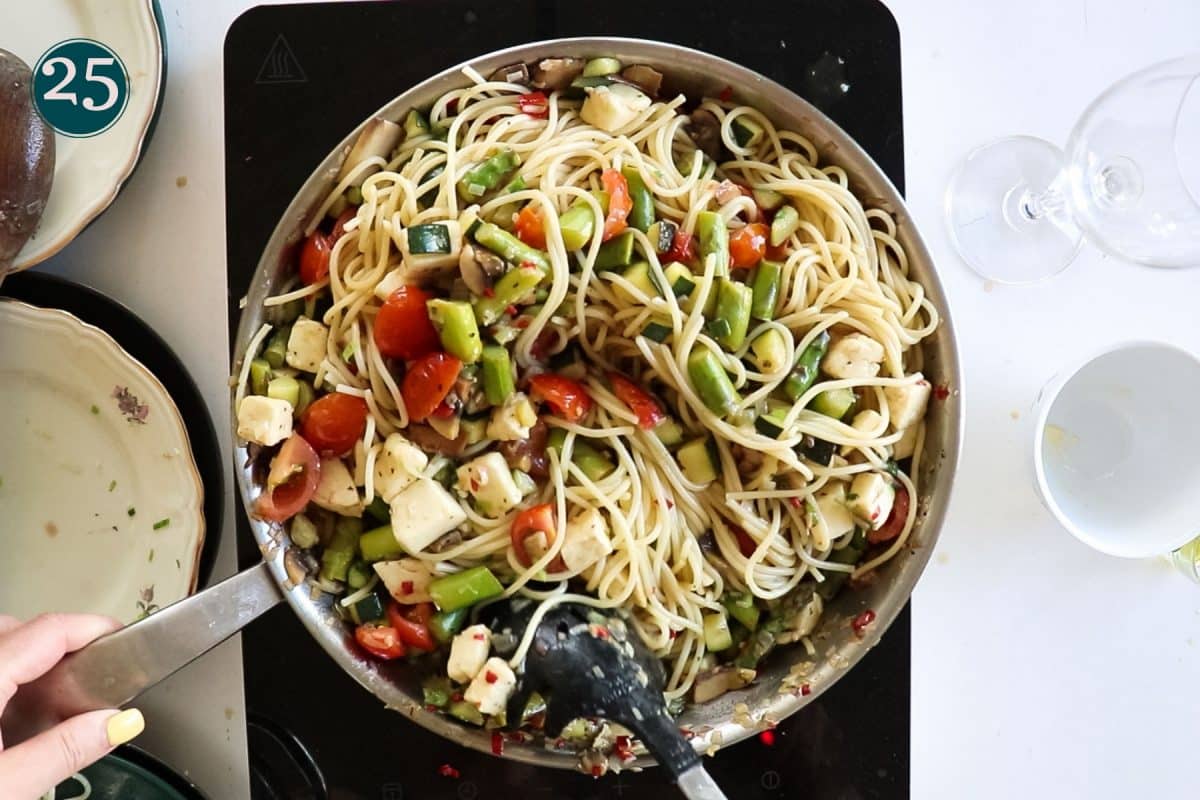 Nice to have for making this recipe
Now, over to you! Go make this delicious summer pasta and let me know what you think in the comments below! And while you're at it? Please leave a rating as well!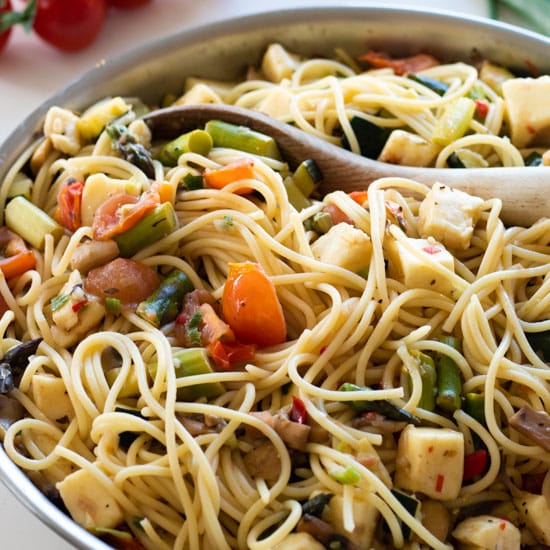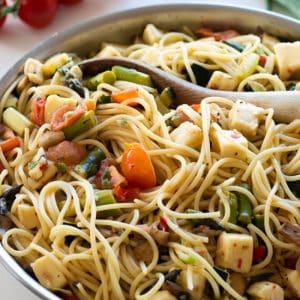 Ingredients
3

Tbsp

butter

1

Tbsp

olive oil

1

garlic clove

finely chopped

2

shallots

finely chopped

1

red chili

finely chopped, including half the seeds

1

small zucchini

chopped

4

white button mushrooms

sliced

12

asparagus

chopped

2

dl

dry white wine

300 g

halloumi

chopped

0.5

tsp

black pepper

fresh ground

250

g

cherry tomatoes

cut in quarters

250

g

pasta

cooked according to package instruction

2

dl

pasta water
Instructions
Start by heating up half of the butter and all of the olive oil in a pan over medium-high heat.

Add in the chopped garlic, shallots and chili, incl. the amount of seeds you wish to include. Fry for about a minute while stirring, until slightly browned and shallots have softened.

Add in the chopped zucchini and fry for a minute while stirring.

Add in the sliced white button mushrooms and fry for a minute while stirring. Add more butter if needed to completely satiate the mushrooms.

When the mushrooms are completely satiated, add in the chopped asparagus. Fry for two minutes while stirring.

Pour in the white wine and stir. When it starts to simmer, lower the heat to medium and leave to simmer for a minute.

Mix in the chopped halloumi and cook for about 2 minutes until the halloumi has softened.

Season with fresh ground black pepper and mix in the chopped cherry tomatoes and chopped spring onion.

Mix in the pasta, a little at a time, together with a bit of pasta water at a time. When everything is mixed in, you are ready to serve.
Notes
Adjust the amount of chili & specifically chili seeds to your taste & the chilies you're using
Use your favorite vegetables or the ones you have at home! 
Nutrition Facts
Pasta Primavera with Halloumi
Amount Per Serving
Calories 665
Calories from Fat 288
% Daily Value*
Fat 32g49%
Cholesterol 23mg8%
Sodium 1000mg43%
Potassium 678mg19%
Carbohydrates 59g20%
Protein 28g56%
Vitamin A 1140IU23%
Vitamin C 43.6mg53%
Calcium 801mg80%
Iron 3mg17%
* Percent Daily Values are based on a 2000 calorie diet.
Nutritional information is approximate and automatically calculated, and should only be viewed as an indication.