This post may contain affiliate links, which are always marked with *. Please read my disclosure for more information.
Try the best easy, homemade French potato salad! Without mayo, eggs or any dairy products it's made creamy the traditional French way with a dijon mustard dressing - which makes it vegan, gluten free and dairy free.
This version has capers & shallots, but will be delicious even if made without both.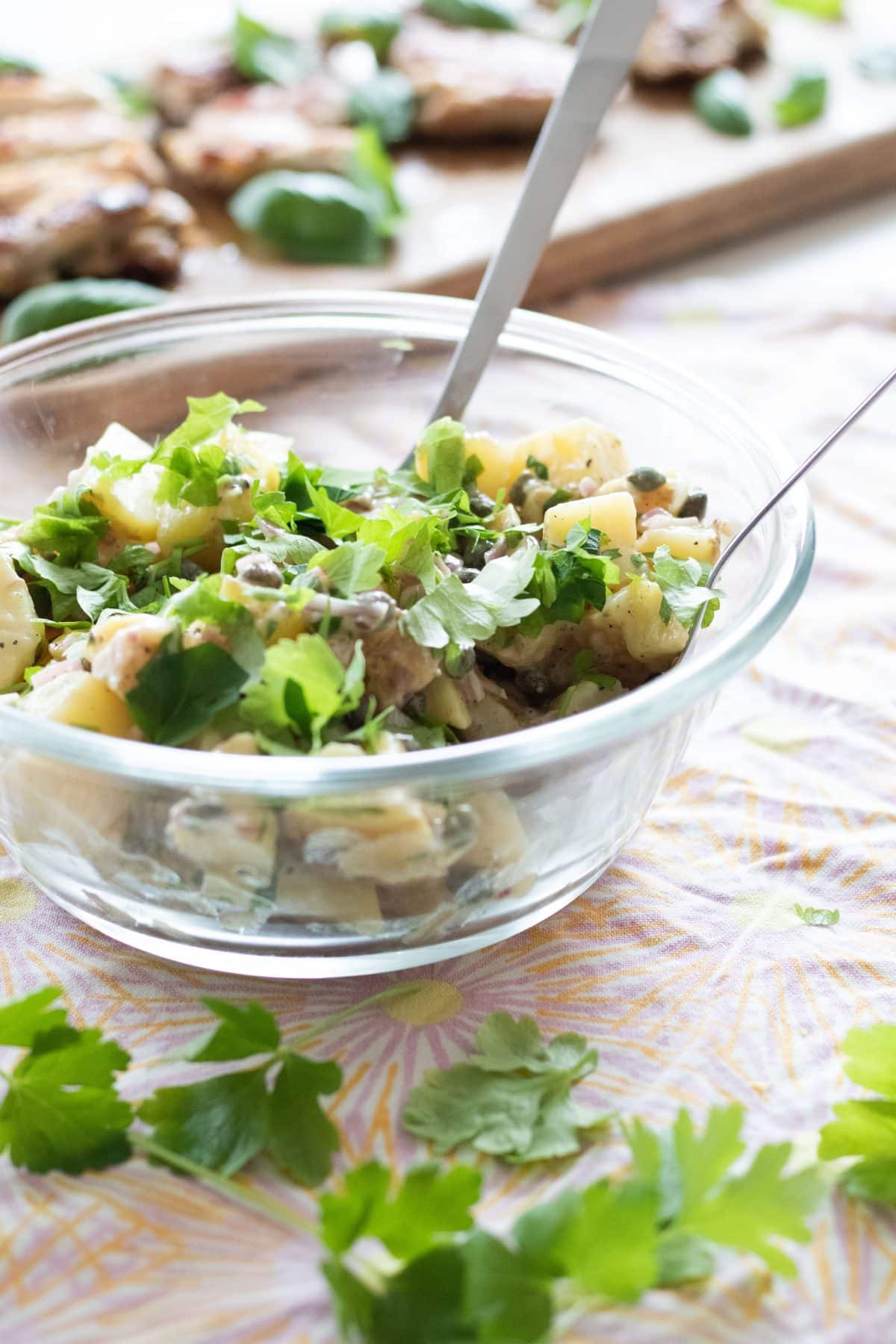 Why this recipe works
Cold, boiled potatoes... hard to beat straight off the bat!
Vegetable oil, vinegar, water & dijon mustard combine to create a delicious creamy dressing - you won't believe there's actually no dairy or mayo in there!
A good dose of dijon mustard gives the salad a nice spicy kick
Capers add saltiness & texture
Shallots add a bite & a little bit of crunch (we love those layers of texture!)
What is French potato salad?
French potato salad is a cold or lukewarm vegan potato salad that's made from boiled potatoes that have been allowed to cool partly or completely. The potatoes are then mixed with some kind of onion (usually shallots, like for this recipe, or red onion) and covered in a deliciously creamy dijon mustard vinaigrette. Perfect to pair with grilled meat, halloumi, fish, or serve as part of a buffet.
Without mayo, dairy, egg and gluten it's an allergy friendly side dish that most pople can eat. Sensitive to raw onions? Just skip them, or use less - it's delicious anyway.
For my version I've added capers (you could also add chopped pickles) which is maybe not all that traditional, but I love to get that extra bit of saltiness & crunch. For a non-vegan, super indulgent version you might want to try switching these for bacon...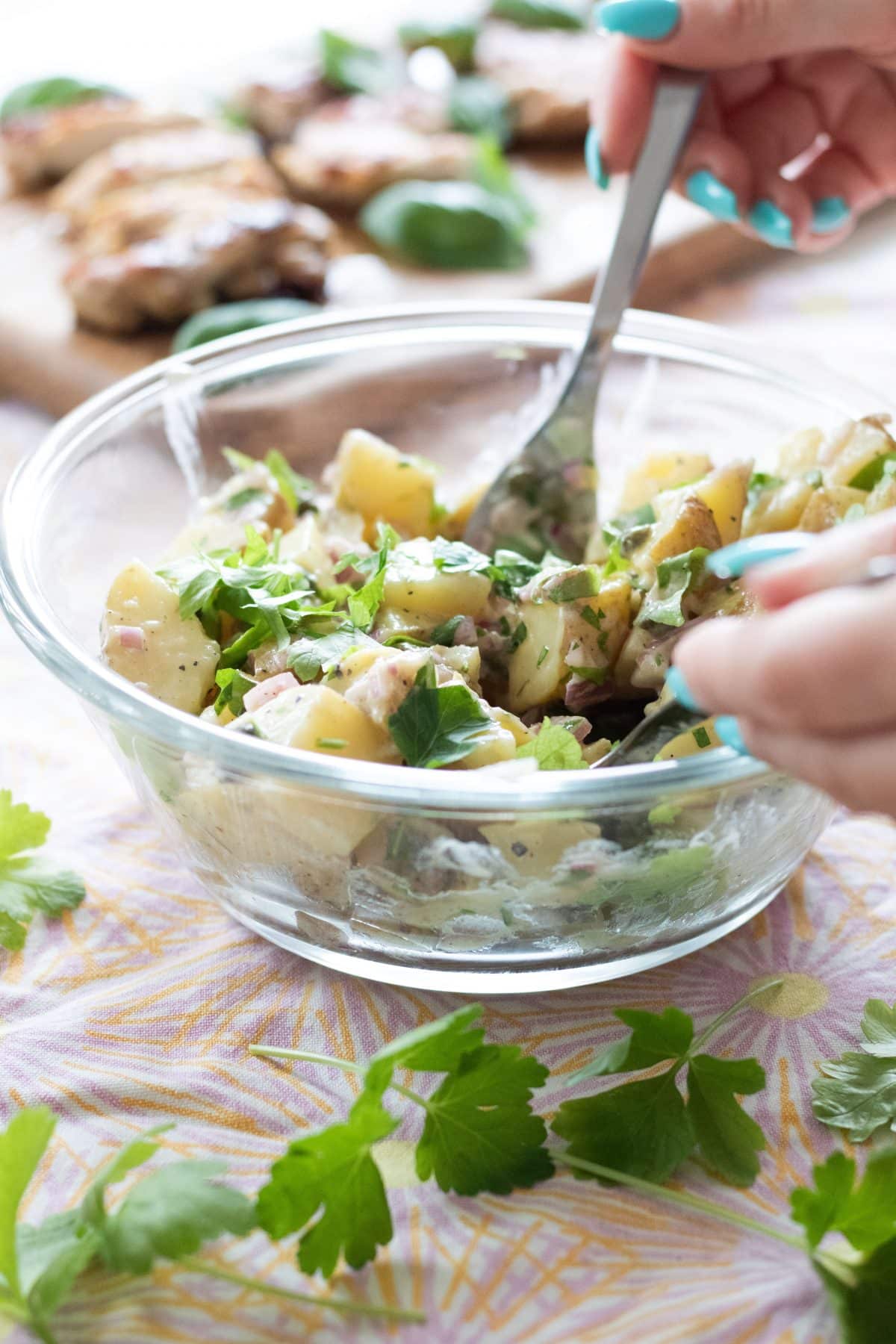 Is potato salad healthy?
Whether or not it's healthy, is really up to you - what you consider healthy, and which kind you choose.
Potatoes are a nutrient-rich carb, which makes them better for you than a lot of other carbs. And the Glycemic Index (GI) of cold, boiled potatoes is lower (hence, better for you) than for warm, boiled potatoes. So as carbs go - cold potatoes are a pretty good choice.
Now some potato salads have loads of mayo or other fatty ingredients - this one does not. So considering that, this is a good choice for your healthy lifestyle. And compared to other buffet friendly foods like french fries, creamy & buttery mashed potatoes, potato chips and pasta salad... let's not even go there, OK? Just eat the French potato salad and enjoy.
How many calories?
This version has about 3 potatoes per person and 198 kcal per serving. To reduce this you can use less dressing.
Is it keto?
Not, it is not keto as potatoes are generally not approved on a ketogenic diet.
Is it gluten free?
This potato salad is gluten free, as is homemde potato salad in general.
Is it dairy free?
French potato salad is in general dairy free, as is this specific version. However that might not be the case with other potato salads, French or not.
Is it vegan or vegetarian?
This version is vegan, most other version are either vegan or vegetarian.
Is it paleo?
No, since potatoes are generally not considered paleo.
Is it low carb?
No, potato salad is not considered low carb as it is based mainly on potatoes (=carb). However, as carbs go potatoes are a pretty good, nutrient-rich choice.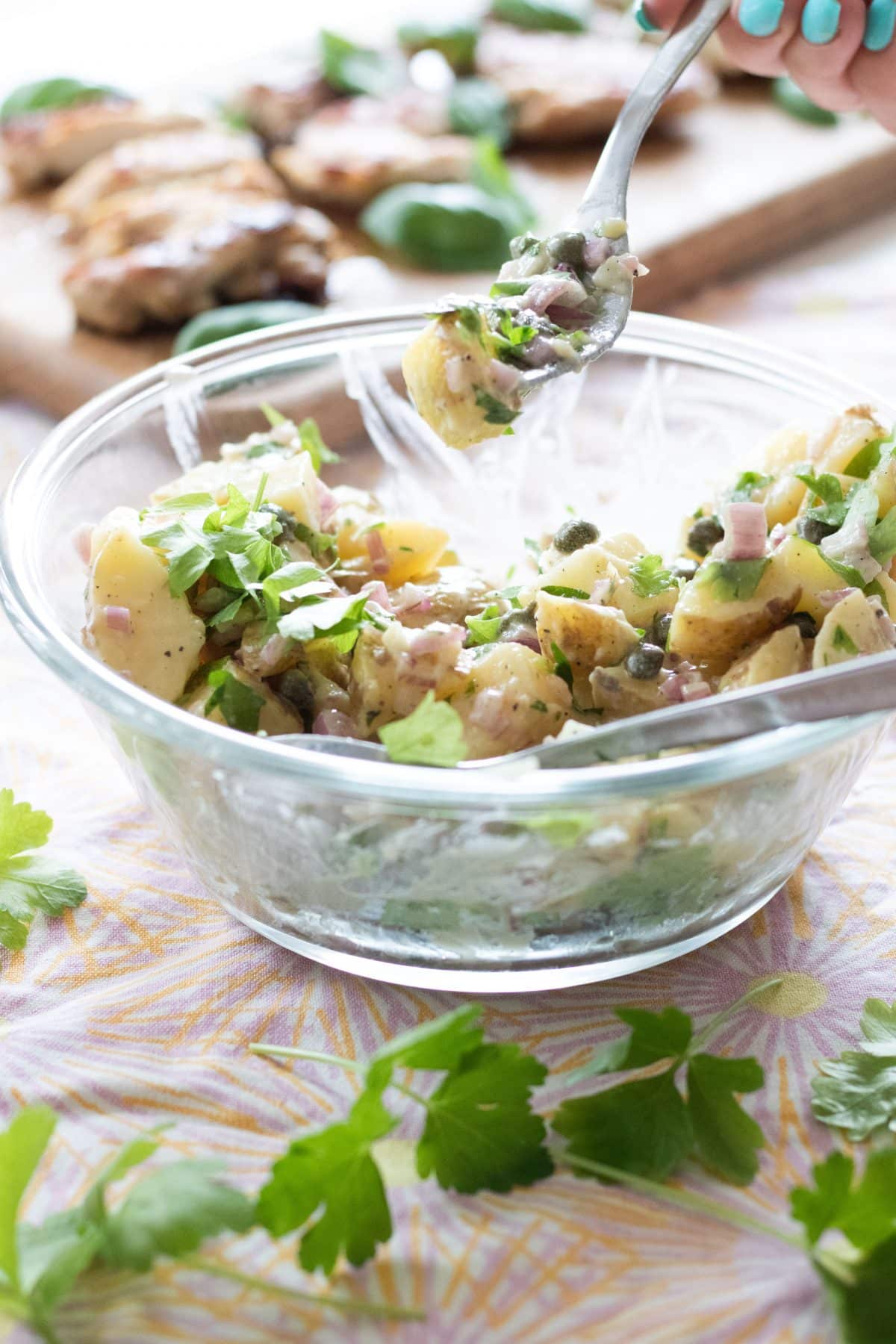 Can potato salad be made ahead?
This recipe can be made several days in advance and is best when made at least an hour before serving. So go ahead and make it the night or day before, or even 2 days in advance - just cover it up good and keep it in the fridge.
Other potato salad versions with mayonnaise can be more sensitive, so if making it ahead of time a French version is a good choice.
How much potato salad per person?
Potato salad is one of those recipe that's a simple choice whether you're making it for 1, 2, 4, 8, 50 or even 200 people. When making it as a side dish or part of a buffet I aim for 2-3 medium potatoes per person (2 for buffet, 3 for side), or 100-150 g (3.5-5.3 oz) per person (100 g/3.5 oz for buffet, 150 g/5.3 oz for side).
You can also change the number of servings in the recipe card below to find just the right amount for you.
What is potato salad good with?
Potato salad is a great choice for all summer parties, lunches and dinners. Serving a crowd at a barbecue? Yep for sure. Bringing along for a picnic? Yes please, and then I definitely want a no mayo version. With a nice steak? Any day. Grilled chicken? Maybe my favorite way to have it. Cold cuts? Oh can we get more traditional & on point?!
Fish, seafood, chicken, meat, sausages... anything you throw on the grill will most likely love this potato salad. What's your favorite??
" thumbnail="https://mediavine-res.cloudinary.com/video/upload/gz8vvifgy2bpjqfg1nwx.jpg" volume="70" doNotOptimizePlacement="undefined" doNotAutoplayNorOptimizePlacement="false" ratio="" jsonLd=true]
Expert tips
Always taste the dressing before adding to the salad, and adjust to taste.
Add half of the dijon first, if you're not sure how spicy you like it. Taste the vinaigrette, then add more if needed before pouring over the salad.
Use a neutral tasting oil - ie, no olive il for this one. Unless you really, really, really want that olive oil taste - but just keep in mind, it will taste a lot like olive oil.
Switch it up with different types of vinegar and onion - my favorite version is red wine vinegar and shallots, but another delicious option is apple cider vinegar and red onion - and I'm sure you'll find your own favorite way of making it.
Chop your onion really well to avoid biting into a big piece of onion - it should just be there as a nice backdrop, not a main player.
How to make potato salad without mayonnaise
Making French potato salad is so easy and all it comes down to is two things: prepping the potato and onion and making the mustard vinaigrette.
How to prepare potato salad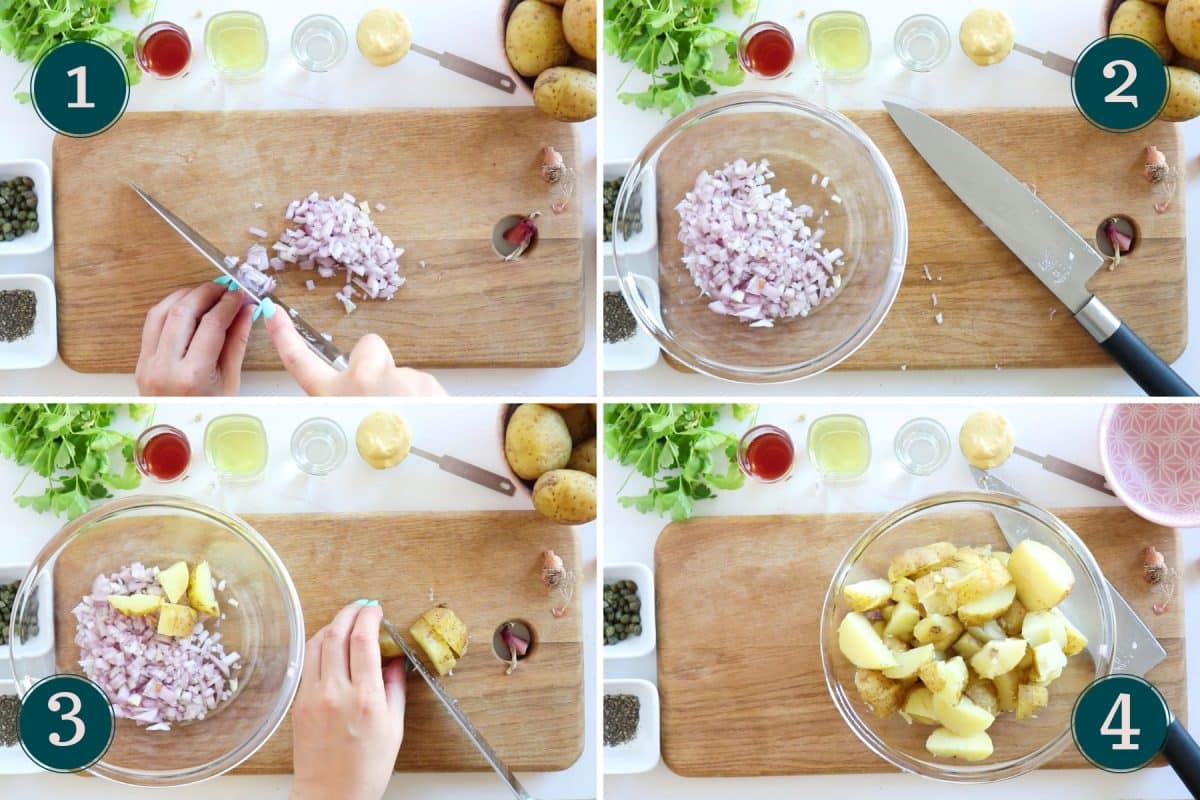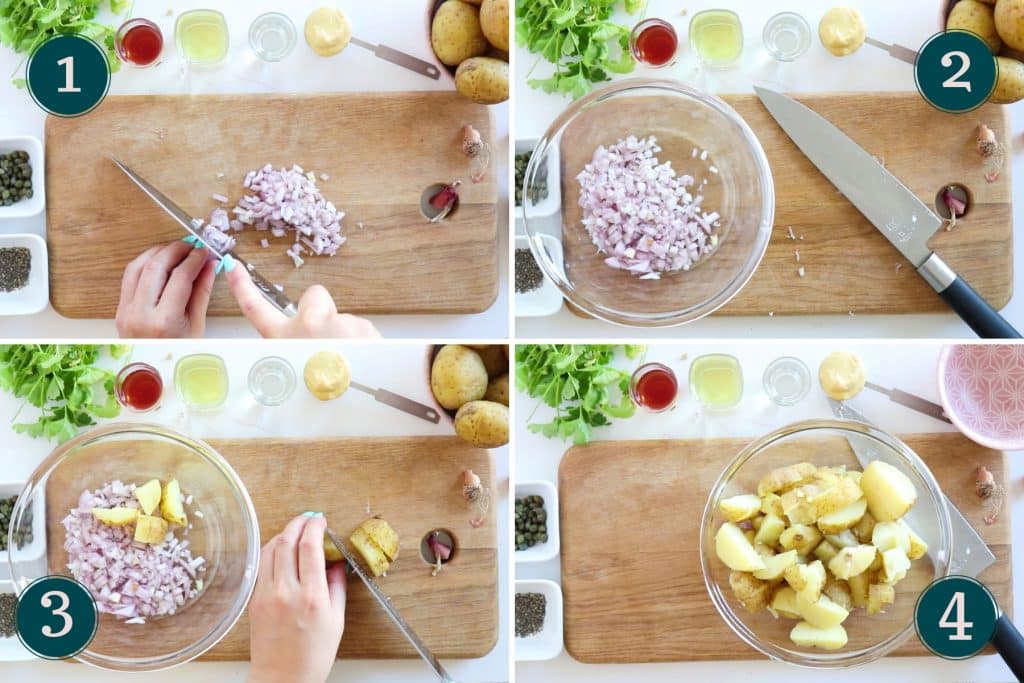 To prep the potato salad chop your shallot very finely and place in a bowl. Then cut your potatoes into bite-size pieces and place in the same bowl. Then go ahead and focus on the vinaigrette for a while.
How to make potato salad mustard dressing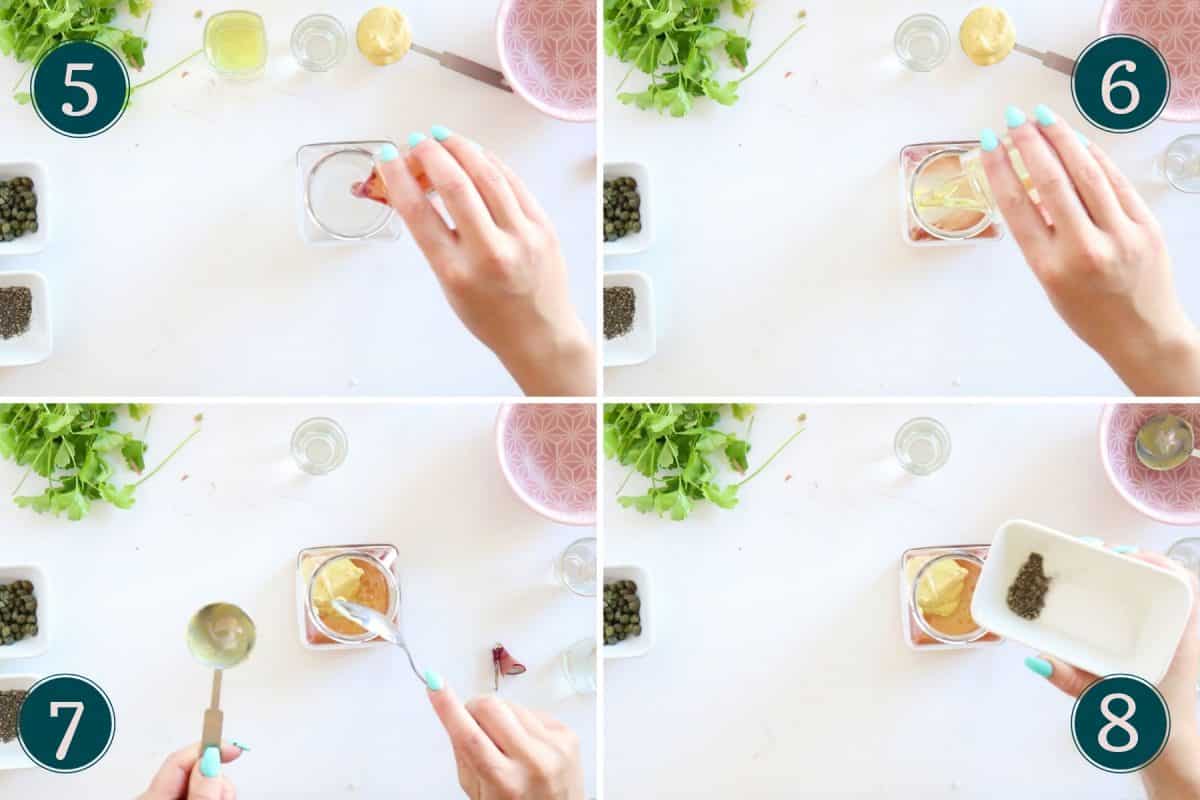 For the mustard dressing, start by adding vinegar, oil, dijon mustard, salt and pepper to a glss jar.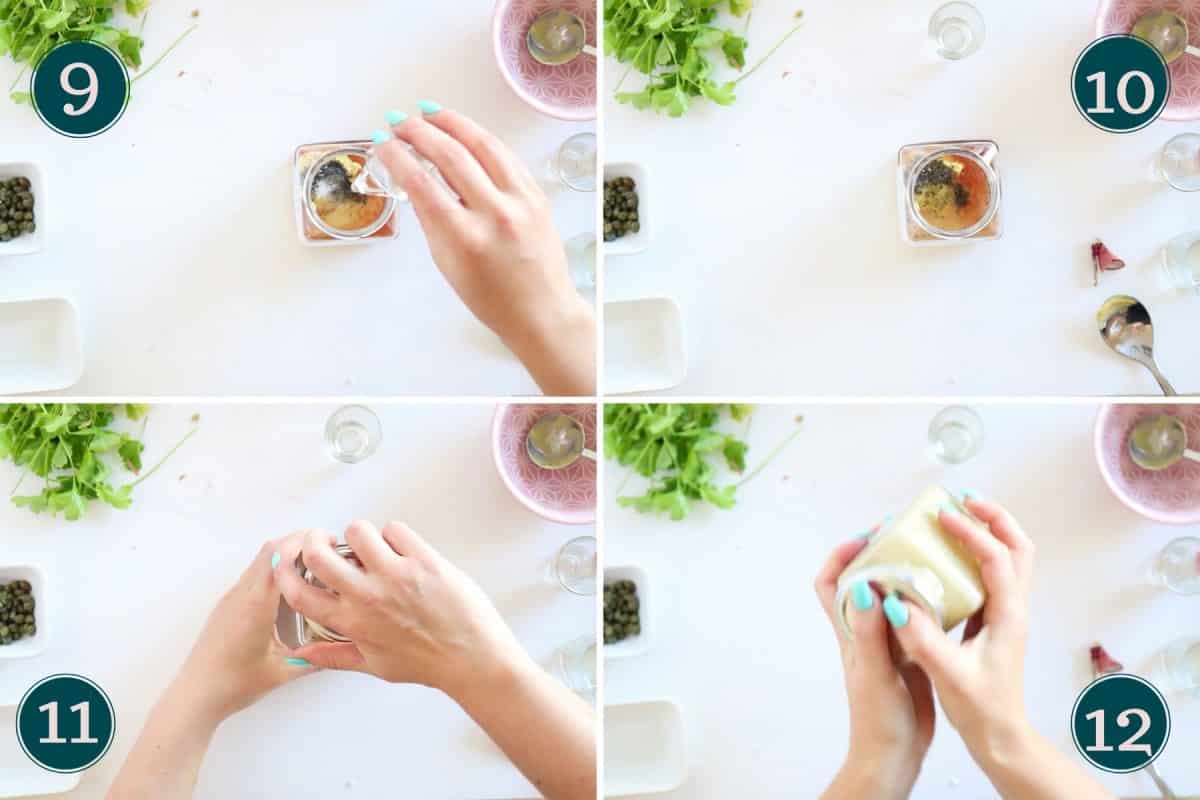 Then add the water, close the lid, and shake the jar well to mix. Taste test, and adjust seasoning if necessary.
How to put your French Potato Salad together
Now for the finishing touches.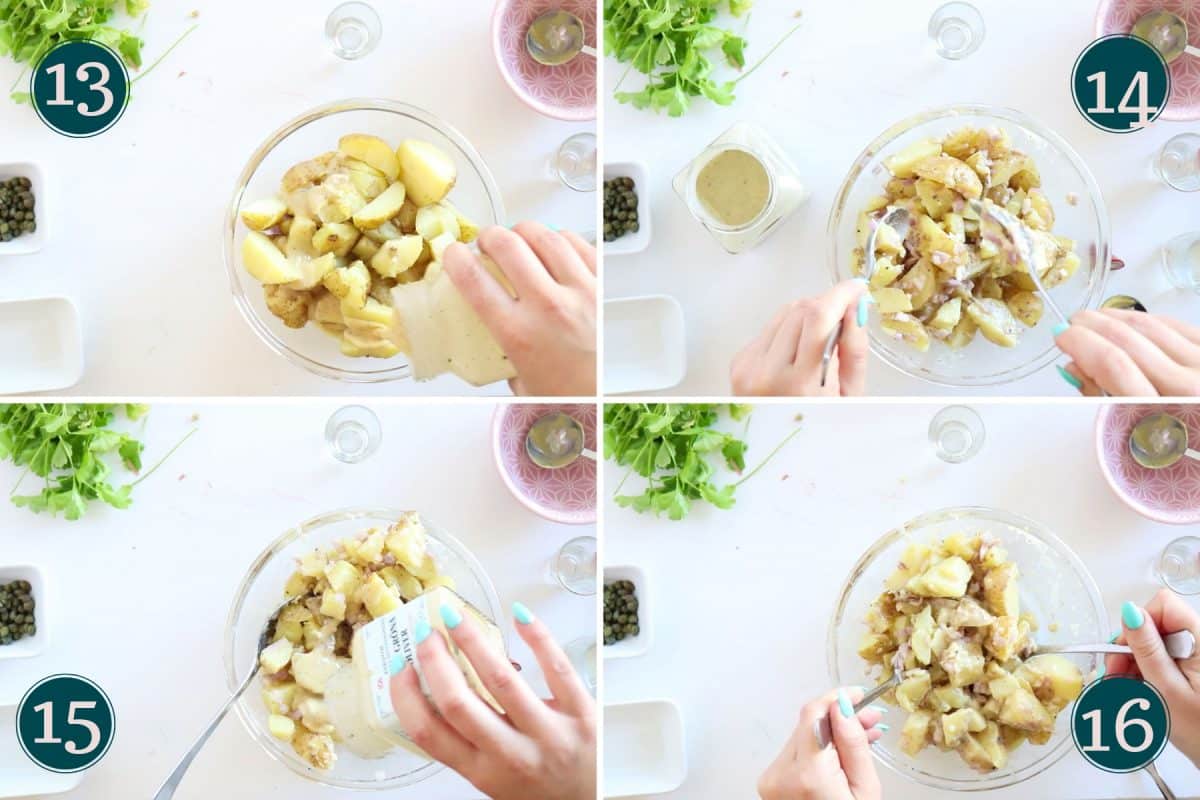 Pour half of the vinaigrette over your potatoes and shallots, then mix well. Add the other half and mix again.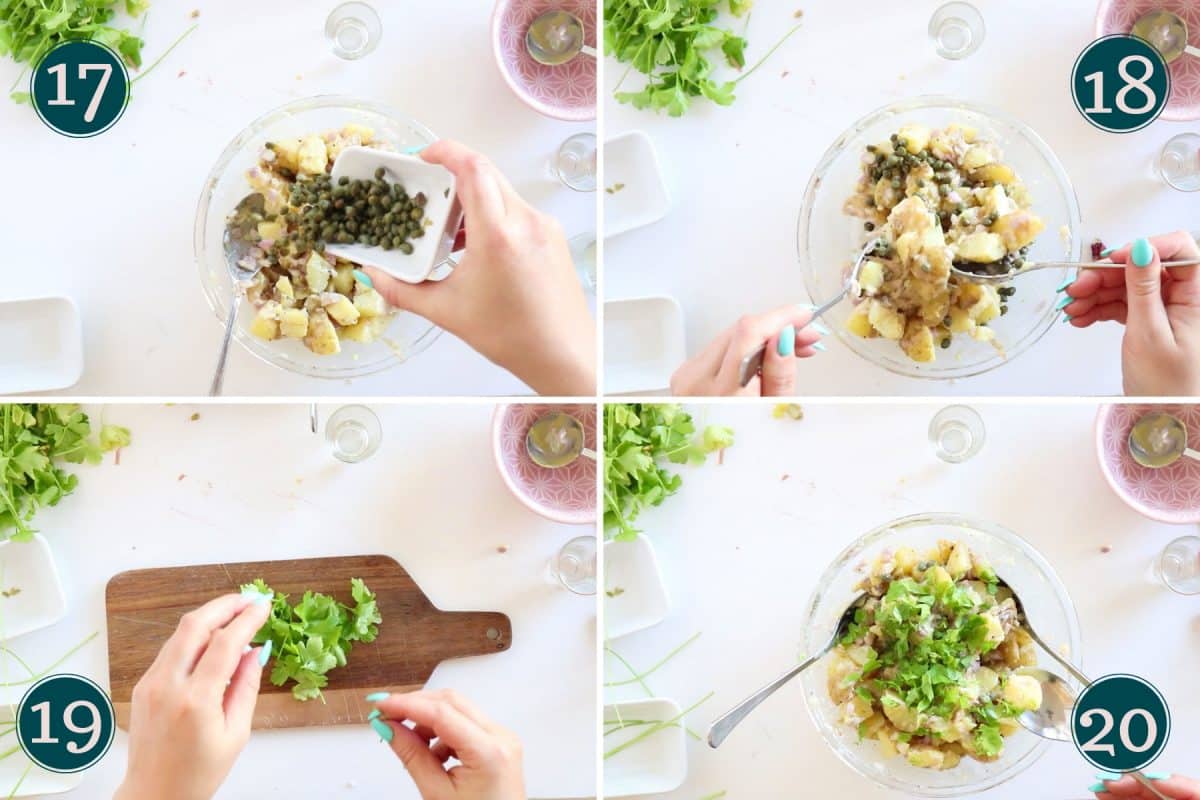 Then add in your capers, mix, and follow with chopped parsley.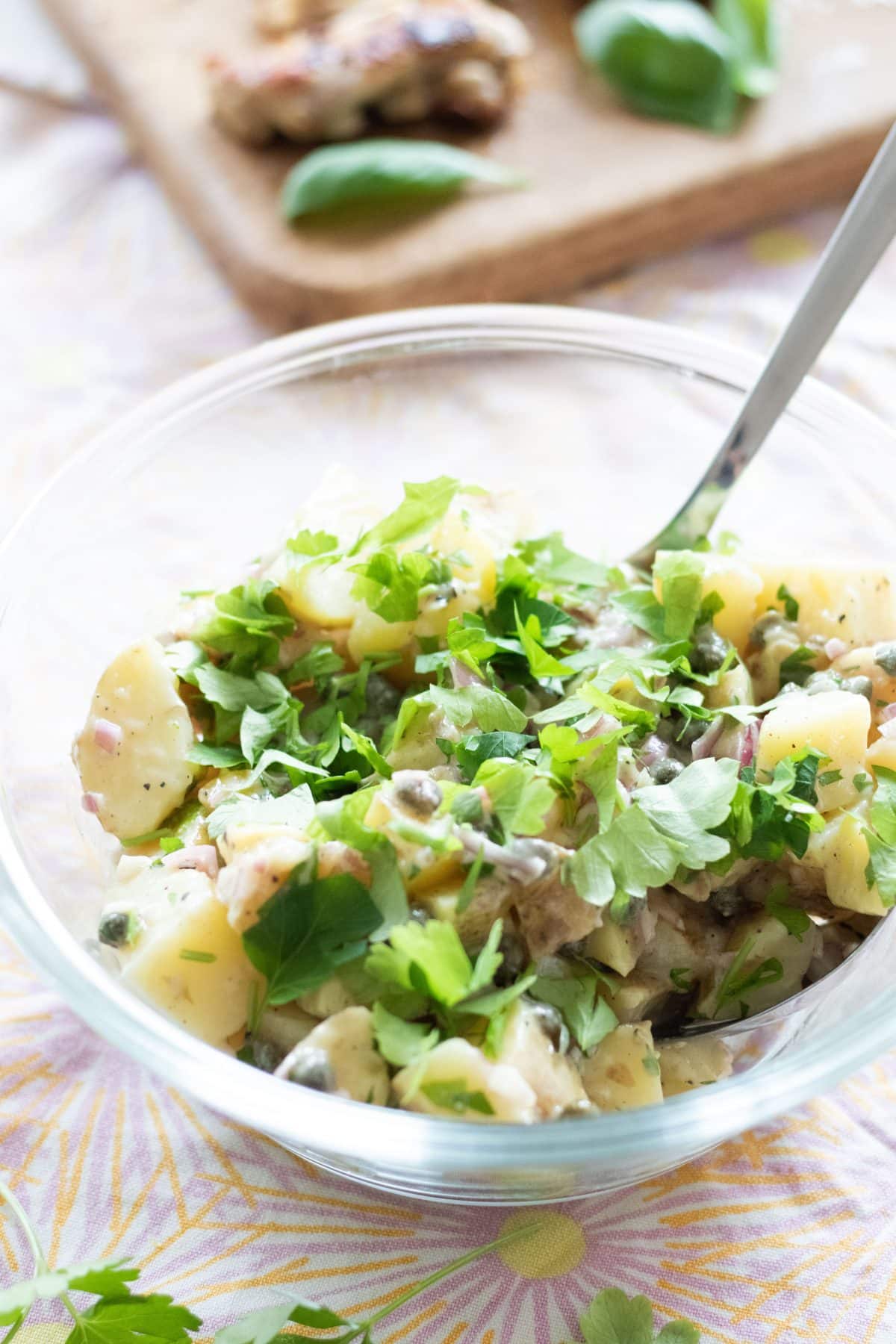 More quick & easy summer salads
Love quick & easy summer salads like this one? Then you will love these:
Did you love this recipe? Rate it 5 stars!
...and let me know what you loved about it in the comments.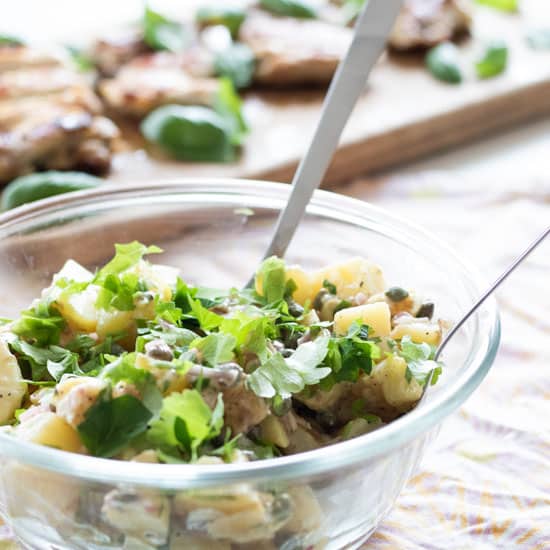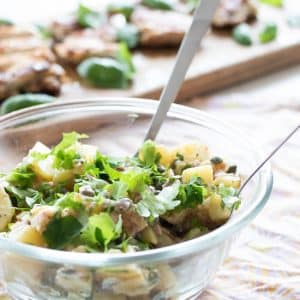 Ingredients
500

g

boiled potatoes

roughly chopped, with or without skin

2

shallots

finely chopped

2

Tbsp

small capers

2

Tbsp

parsley

finely chopped
French Mustard Vinaigrette
1

Tbsp

Dijon mustard

or other spicy French mustard

1

Tbsp

red wine vinegar

3

Tbsp

vegetable oil

1

Tbsp

water

0.5

tsp

salt

0.25

tsp

fresh ground black pepper
Instructions
Place your chopped shallots and potatoes in a bowl.

Make the French Mustard Vinaigrette by placing all ingreients for it (dijon mustard, vinegar,oil, water, salt and black pepper) in a jar. Close the lid and shake the jar until everything is well mixed. Taste test, and adjust seasoning as needed.

Pour half of the vinaigrette over the potatoes and shallots and mix well. Then pour over the remaining half and mix again.

Add capers and chopped parsley and mix again.

Place in the refrigerator for at least 30 minutes before serving.
Notes
Nutritional information assumes all vinaigrette is consumed.
Change it up by using different types of oil, vinegar and onion
Make it ahed of time - this salad is delicious after just 30 minutes, but even better the day after. Or the day after that...
Nutrition
Calories:
198
kcal
|
Carbohydrates:
25
g
|
Protein:
3
g
|
Fat:
10
g
|
Saturated Fat:
8
g
|
Sodium:
463
mg
|
Potassium:
579
mg
|
Fiber:
3
g
|
Sugar:
2
g
|
Vitamin A:
160
IU
|
Vitamin C:
28.1
mg
|
Calcium:
22
mg
|
Iron:
1.4
mg
Nutritional information is approximate and automatically calculated, and should only be viewed as an indication.