A take on a classic Duck a l'Orange – Duck with Orange Sauce – these duck breasts are glazed in a deliciously sweet and subtly acidic honey, orange & rosemary sauce. Perfect for impressing your friends at your next dinner party (maybe New Year's?) and easy to prep well ahead of time – just finish cooking them in the oven while you have your appetizer.
This dish is part of the 2018 always use butter New Year's Eve menu. Find the appetizer here: Rum-spiked Smoked Salmon Tartare, the main course side dish here: Crispy Garlic Parmesan Smashed Potatoes and the dessert here: Passion Fruit Gino – White Chocolate Fruit Bake.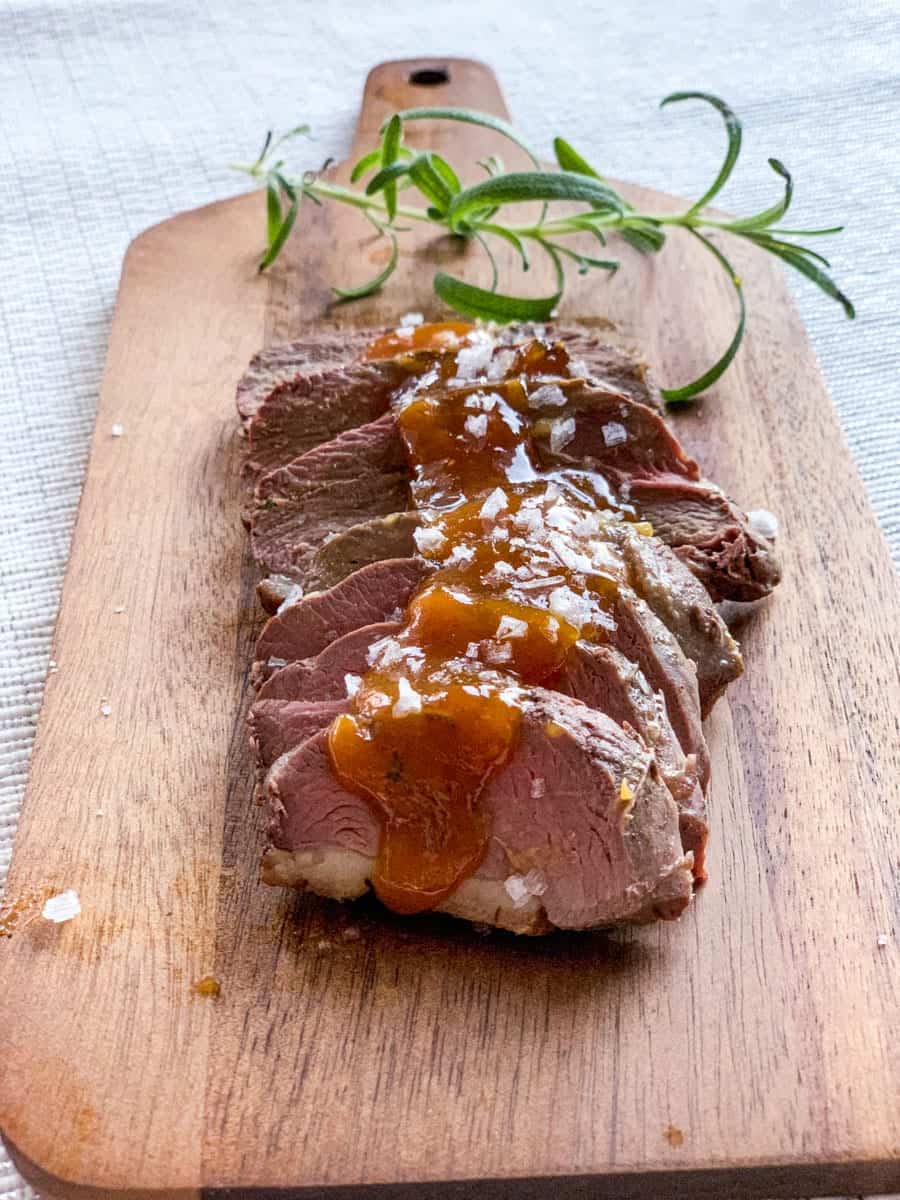 Duck is a delicious type of meat, and one I have far too seldom. Dark and beautiful it's perfect to serve to a mixed crowd – you know, when you have the hardcore carnivores and the wouldn't-touch-readmeaters sitting down to dinner together.
It's not, actually, a red meat – it's fowl, and as such is considered white meat just like chicken or turkey. But the look of it, the serving of it and, really, the taste, could fool most meat lovers.
And if not fool, it's at least sure to win them over.
How to Cook Duck Breasts
I know, cooking duck can seem a bit intimidating. And there are a few important points to keep in mind when you do. But as long as you adhere to them, your duck will turn out delicious.
The three important points of cooking duck breasts are:
Render off the fat
Don't cook them too long
Let them rest
Render off the fat
Maybe most important when cooking duck is that you render off most of the fat. You might not think about the fattiness of the bird at first, but when you start rendering off the fat and see how much there actually was – you'll be glad you did. Some say to render off all of the fat, I like to leave a little – the choice is yours.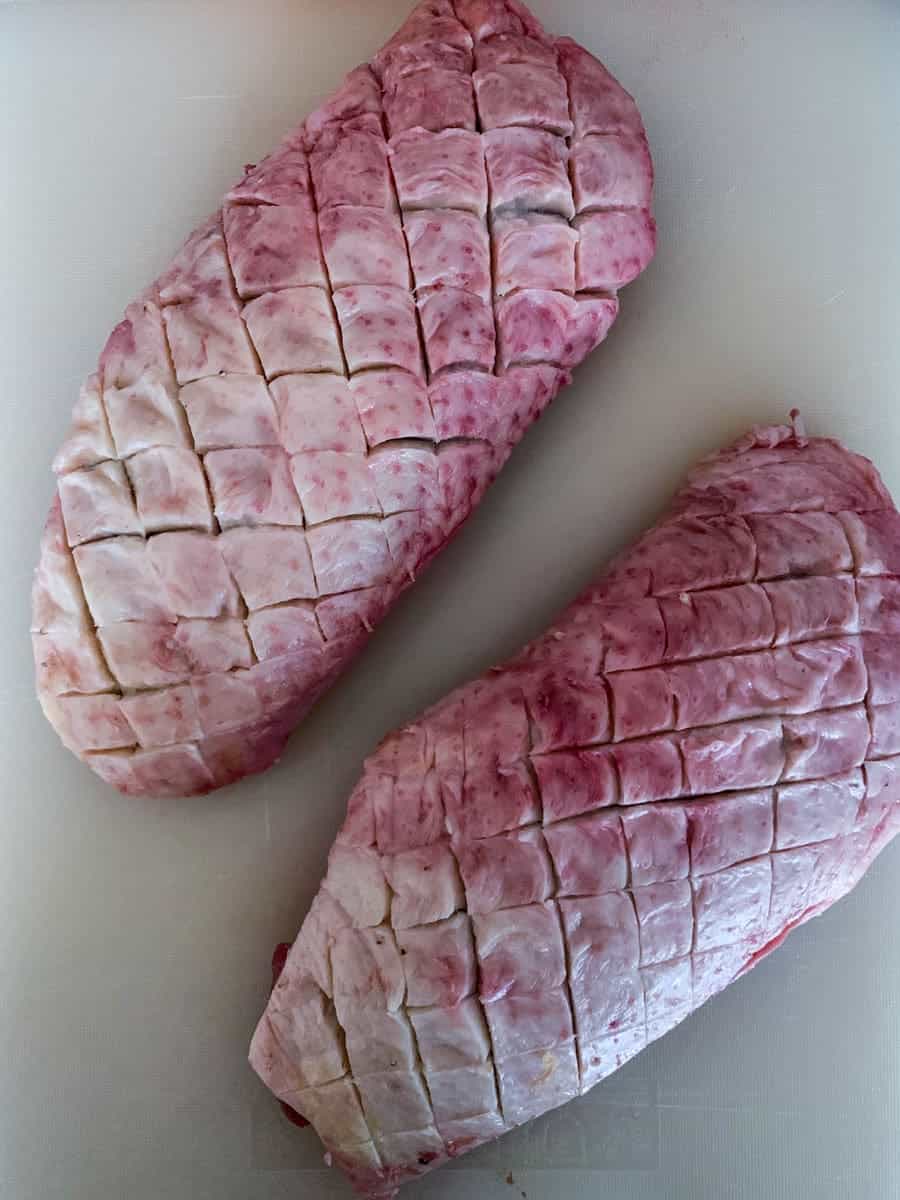 Now to render off the fat you start by scoring the skin of the duck, like in the picture above. You want to cut almost all the way through the fat – but without cutting into the flesh, as this can make the meat dry. Don't worry, if you cut through the flesh at a point or two it will still be delicious – just try to avoid it.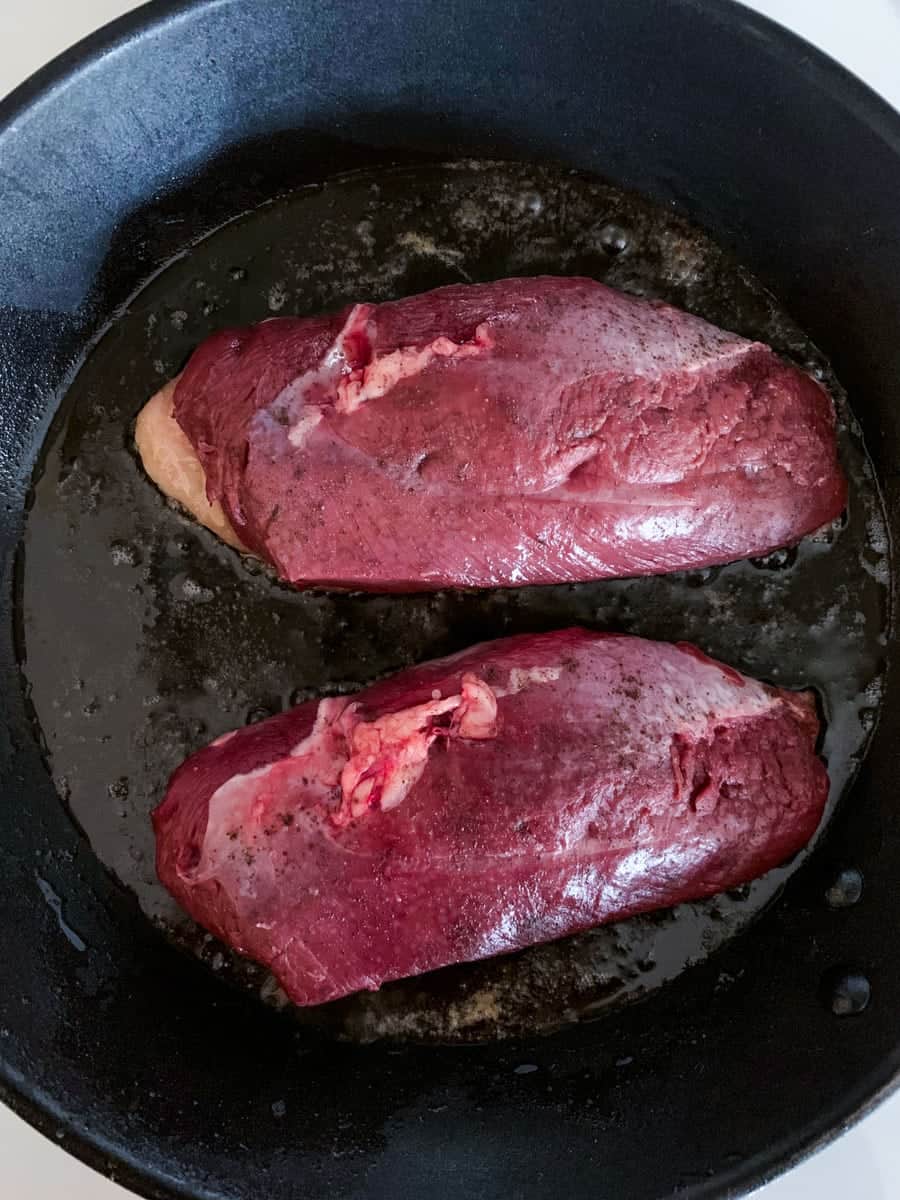 After scoring the skin, season with salt and black pepper and place skin side down in a cold pan. Yes, a cold pan. Just like when cooking bacon, placing the duck in a cold pan and letting it heat up with the pan allows for more of the fat to be rendered off. And – again, just like with bacon – allows for a crisper texture.
Rendering off the fat takes a bit off time. Don't rush it. You might need to pour off the excess fat while cooking – it's quite a lot – if you do, just please don't pour it straight down the drain as this might clog it. Instead, pour it into a bowl and after you're finished either put it in the fridge to cool and solidify before you throw it in the trash or soak it up with paper towels and throw them away.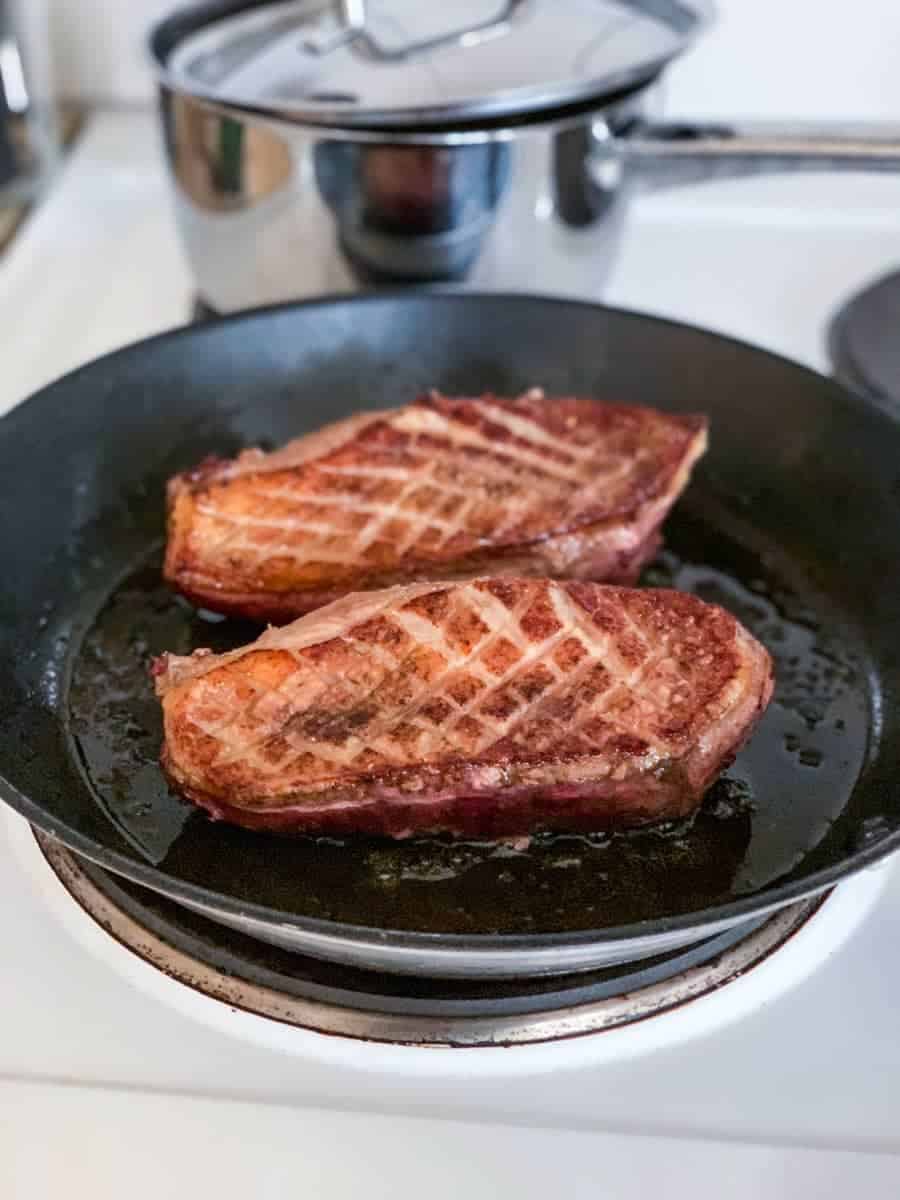 When most, or all of the fat has been rendered off (you'll know this when the amount of fat in the pan seems to have stopped increasing) and the skin is nice and crisp, turn up the heat of the pan and flip the duck breasts over. Cook for just a minute or so – both on the top and on the sides – to get a nice sear and seal the moisture in.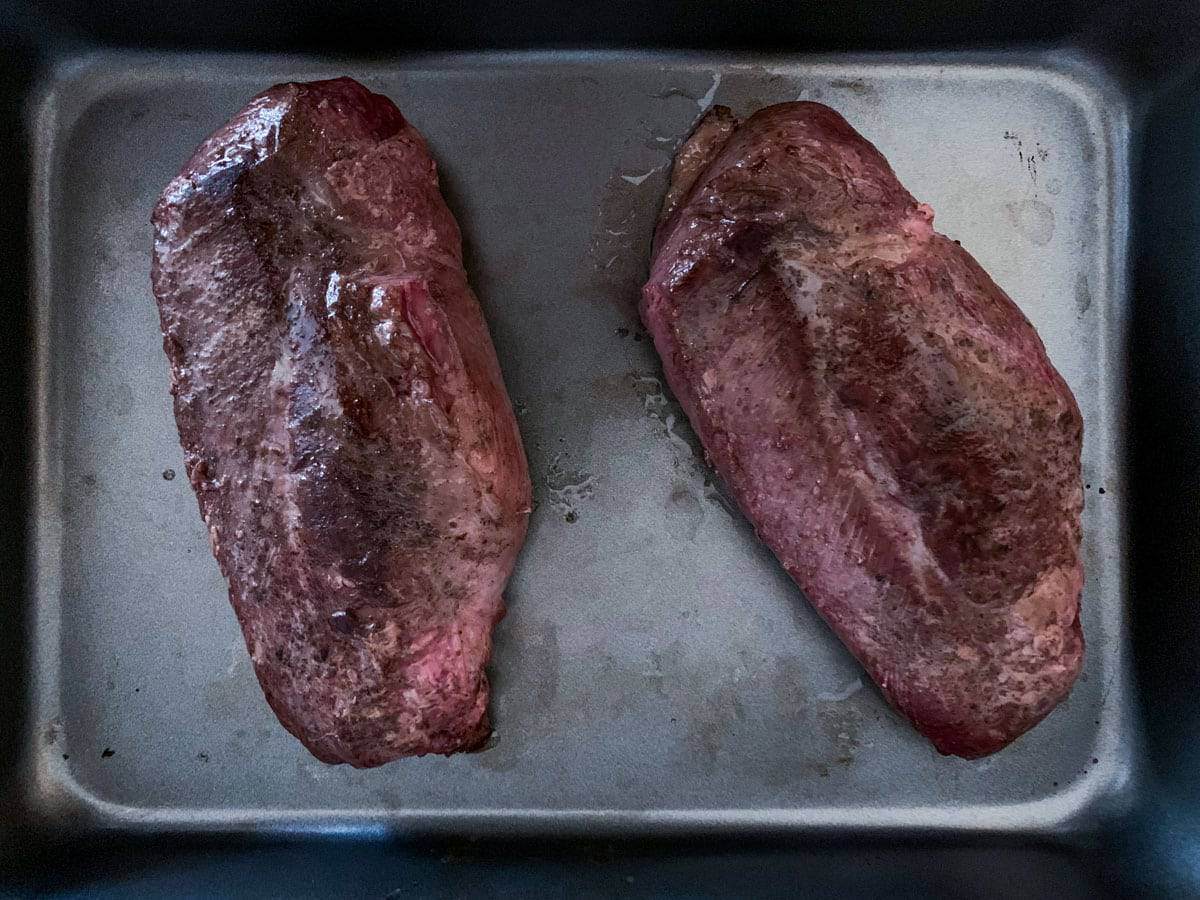 Then place on an oven tray and either put it straight in the oven or – if finishing and serving them later – cover and set aside for now.
Don't cook them too long
Now tip number two for cooking duck is basically to allow it to stay pink and juicy. Duck meat doesn't run the same risk as chicken of carrying salmonella, so it can, and should, be eaten pink. Now, that being said, there's always a risk related to eating "undercooked" meat, so you do you.
To me the perfect temperature for duck breasts is about 62 C/143 F. At this point it's a pink medium, almost medium-rare. Not dripping blood, but very juicy & tender. To achieve this I suggest using a meat thermometer and cooking to 60 C/140 F before removing from the oven, wrapping in foil and letting it rest. The temperature will rise by a few degrees while resting and you'll end up with a beautiful pink duck breast.
If you instead like it rare you should cook it to 53 C/128 F before resting (temperature after resting should be about 55 C/131 F), and for a well-done duck breast cook to about 67 C/152 F and let it rest(temperature after resting should be about 70 C/158 F).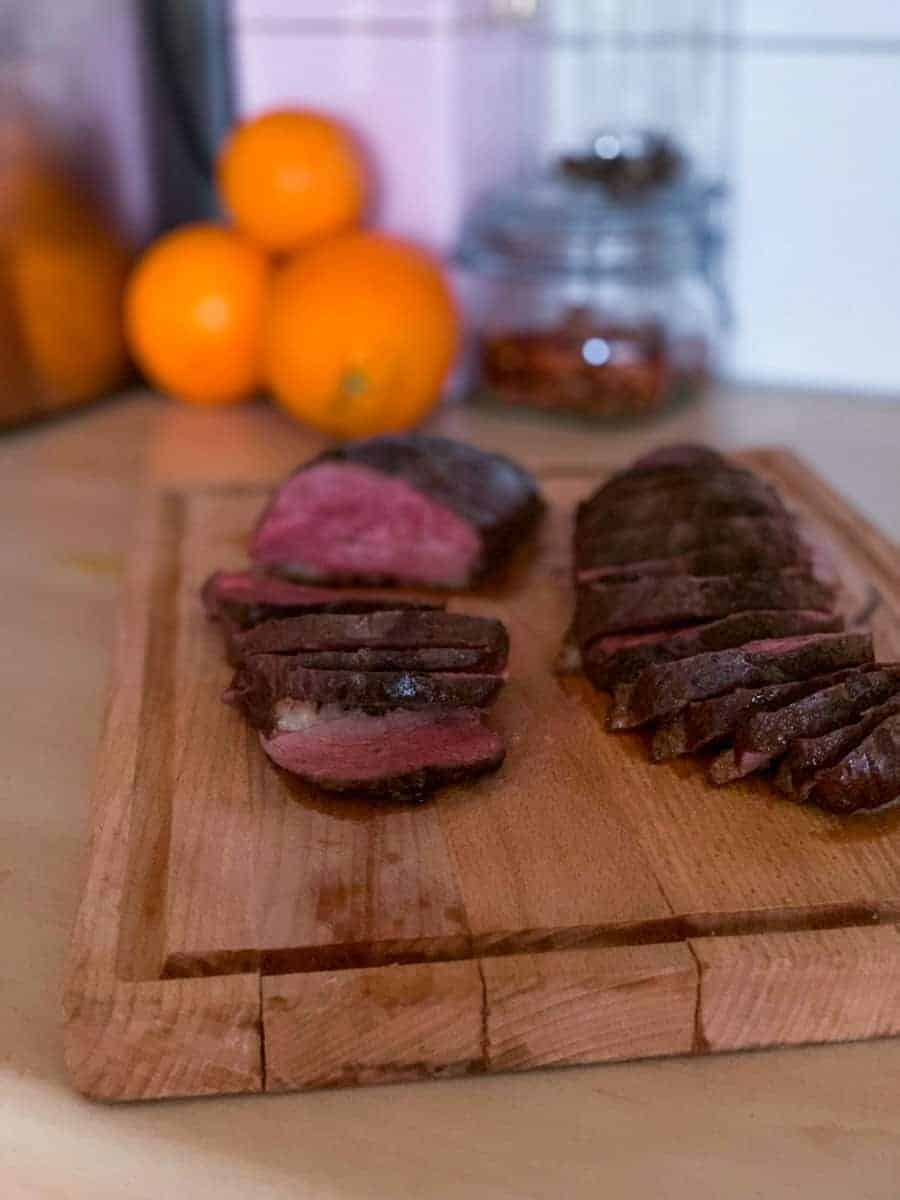 Let them rest
This resting part is really important. Rather than cooking the breasts all the way to your target tempterature, use the temperatures stated above and let the meat rest in foil for at least 5 minutes. This minimizes the risk of the meat overcooking and will keep it juicy and nice. I don't really know why it works, but it feels like the juices have time to settle back in or something making it all the more juicy.
The temperature rises by about 2-5 degrees while resting, so if you're not happy with the temperature after 5 minutes of resting – go ahead and give it another five. Often the longer the resting time the better the meat.
How to Make the Orange Sauce for Your Duck
Making the orange sauce is really simple. There are just a few ingredients and you make it in the same pan you seared your duck breasts in.
Just keep a bit of the duck fat in the pan, add in all the ingredients for the orange sauce and let it simmer for 5-10 minutes, untul reduced by about half. Remove the sprigs of rosemary and the garlic cloves, and that's it. Set aside to heat up later or serve straight away.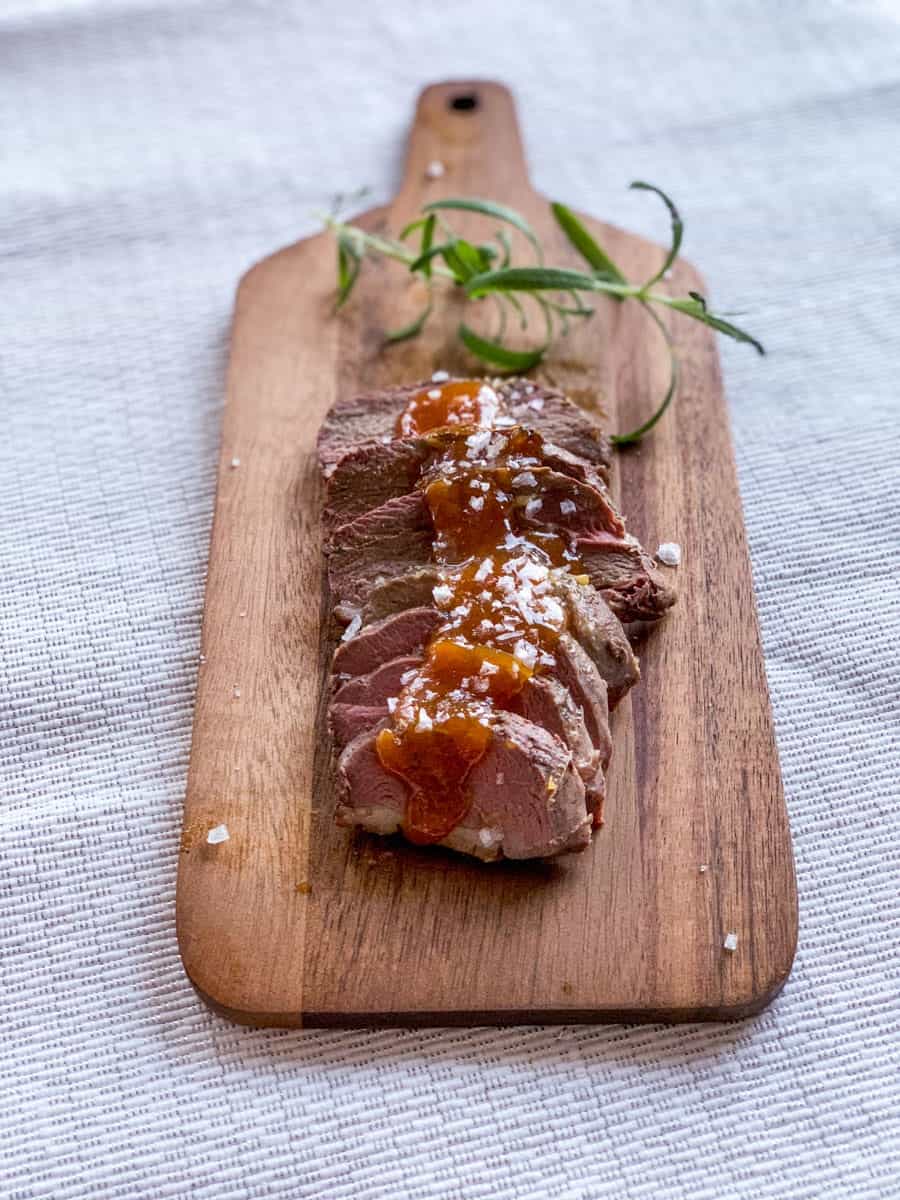 Preparing Your Duck Breasts in Advance
Now in the same way as for the rest of the New Year's menu, this recipe has been chosen specifically to allow you to enjoy your dinner and your guests' company instead of hanging out in the kitchen all night. So, of course, you'll be able to prep a lot ahead of time.
What I suggest is that you, before your guests arrive, render off the fat and sear the duck breasts. Then place them on an oven tray, cover it up and set aside until about 30 minutes before you'd like to have your main course. Make the orange sauce as well, and set aside.
Then when dinner time comes around, get the duck in the oven just as you sit down to have your appetizer. Get up once right when you're finished to glaze it again, and then enjoy your wine & company for another 5-10 minutes before getting it out and wrapping it in foil to rest. This is when you stick your Crispy Garlic Parmesan Smashed Potatoes in the oven to let the Parmesan Cheese melt, and heat up your orange sauce – all while the duck is resting.
Then all you have left to do is slice up the duck, plate, and coat with your delicious orange sauce.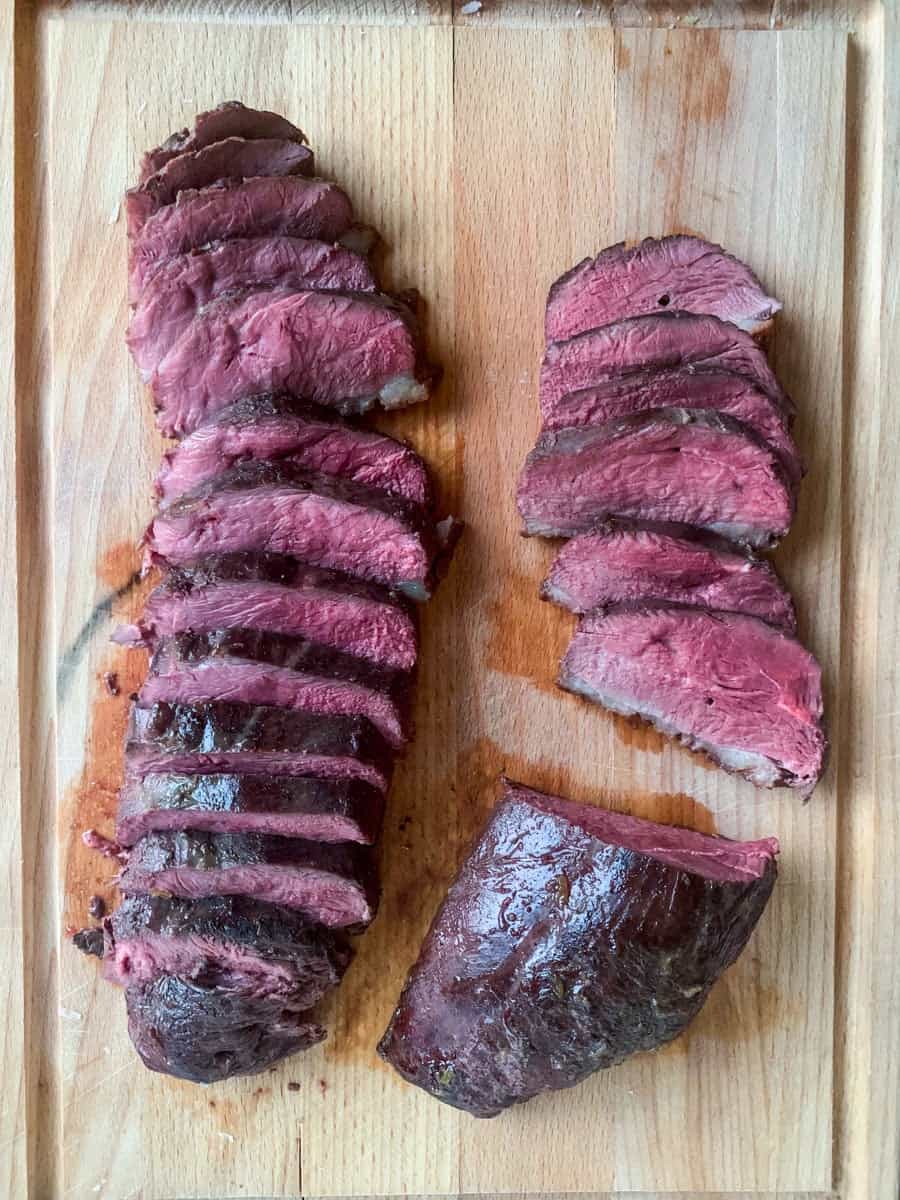 What to Drink With Duck a L'Orange
There's a lot of flavor in this dish, with generous helpings of fat, sweet honey and acidic orange. To make the best of this, I want the wine to have some of that acidity as well, but mainly I like to play with the sweetness. I do this by pairing it with (in descending order of price) a good Italian Amarone, Ripasso or other Valpolicella wine. A good reasonably priced choice is the 2016 Tommasi Graticcio Appassionato (#5354) and if working with a larger budget, the 2012 Masi Costasera Amarone (#2345) is delicious.
You could go white as well, and I actually think that's the classic Le Cordon Bleu choice for a Duck a l'Orange. If so, go quite rich and a bit acidic – I like the 2017 Boschendal 1685 Chardonnay (#6299) or the slightly pricier 2017 Couvent des Jacobins Bourgogne Blanc (#5798).
For non-alcoholic, a good quality apple juice like Jus de Pommes Artisanal Pétillant (#1990) is great as it has a balanced sweetness and is high in acidity.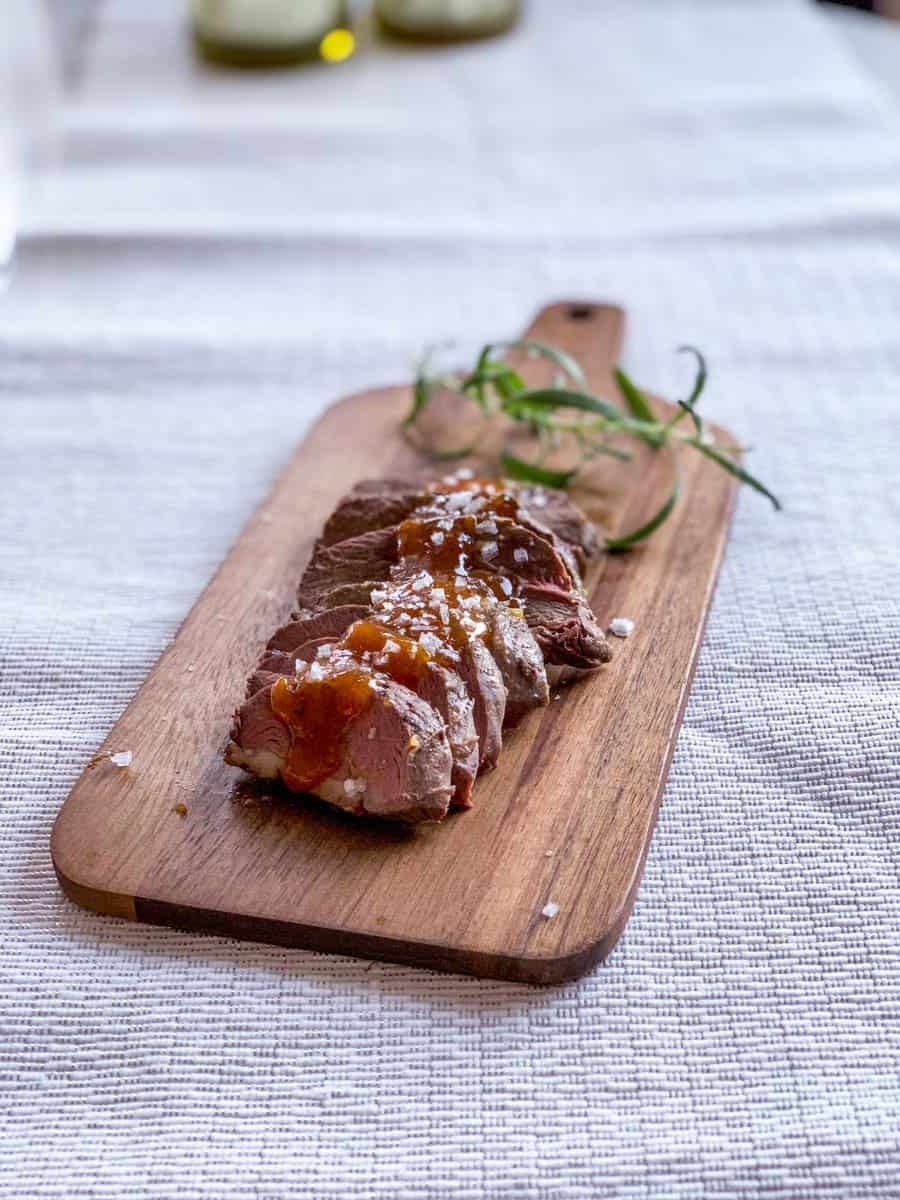 Now I dare you to go out and cook yourself some duck! Just follow the tips above and it will turn out great.
Did you try this recipe? If so – please leave a comment and/or a rating below, I love hearing from you! Or just leave a comment anyway. I also love seeing your creations – so please tag me on Instagram if you post it and use the hashtag #alwaysusebutter.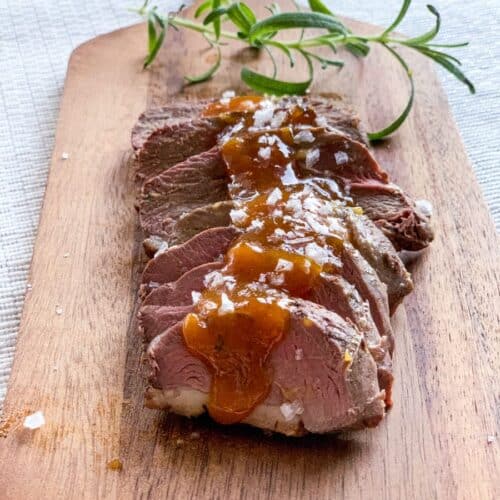 Ingredients
2

large duck breasts with skin

3-400 g each

salt and black pepper

4

dl

orange juice

fresh pressed, 1 orange gives approximately 1 dl or 0.4 cups of juice

4

garlic cloves

10

sprigs of rosemary

1

dl

honey
Instructions
Prep & stovetop cooking (25 minutes)
If cooking all the way directly, set the oven to 175C/350 F.

Bring out the duck breasts and pat them dry. Turn skin-side up and carefully cut a criss-cross pattern in the skin. Take care not to cut into the duck meat, but still cut as deep into the skin as you can. Season with salt and black pepper.

Place the duck breasts in a cold pan (do not use any oil or butter), skin-side down, and place the pan over medium heat. Cook until skin is crisp and golden, about 10-15 minutes. Pour off excess fat regularly while cooking.

When the duck skin is crisp and golden and there is not as much fat coming off the duck anymore, raise the heat to medium-high, flip the breasts over and cook skin-side up for 1 minute. Make sure to also sear quickly on the other sides of the duck breast. Then transfer the breasts to a baking tray, placing them with the skin down, and cover. Set aside until 20-30 minutes before serving.

Place the pan back over the heat with some of the duck fat left in it and add in the orange juice, honey and sprigs of rosemary. Crush the garlic cloves slightly with the side of your knife, remove the husk and add the garlic cloves to the sauce. Let the sauce cook over medium heat until reduced by half, about 5-10 minutes, then remove the garlic cloves and sprigs of rosemary.
Finishing the duck breasts in the oven (15-25 minutes if starting with a hot oven)
Heat the oven to 175C/350 F.

Glaze the duck breasts with the orange sauce, stick in a meat thermometer and place uncovered in the middle of the oven. Cook for 10-20 minutes until inner temperature is 60C/140F (for a pink center, see notes for other temperatures). Take out once after 10 minutes and glaze with orange sauce again. If you're cooking the duck all the way in one go it will take more like 5-10 minutes to finish cooking all the way.

Wrap the cooked duck breasts in aluminum foil and let rest for at least 5 minutes. Meanwhile heat up the orange sauce. Slice the duck breasts and serve topped with orange sauce.
Notes
Don't pour the fat straight down the drain as this might clog it (been there, done that) - instead, pour it into a bowl and go one of two routes:
Place it in the fridge to cool and solidify, then throw in the trash
Soak up with paper towels and throw them in the trash
Cooking temperatures:
Rare: Cook to 53 C/128 F and let rest to reach 55 C/131 F
Medium: Cook to 60 C/140 F and let rest to reach 62 C/143 F
Well-done: Cook to 67 C/152 F and let rest to reach 70 C/158 F
Nutrition Facts
Duck a l'Orange - Duck in Orange Sauce
Amount Per Serving
Calories 254
Calories from Fat 72
% Daily Value*
Fat 8g12%
Cholesterol 154mg51%
Sodium 115mg5%
Potassium 564mg16%
Carbohydrates 1g0%
Protein 39g78%
Vitamin A 180IU4%
Vitamin C 14.4mg17%
Calcium 19mg2%
Iron 9.2mg51%
* Percent Daily Values are based on a 2000 calorie diet.