This post may contain affiliate links, which are always marked with *. Please read my disclosure for more information.
These Portobello Mushroom Burgers (yes, you can call it Portabella instead of Portobello if you prefer) are "extra everything" - topped with mashed avocado, a generous amount of halloumi cheese, crumbled chevre cheese, arugula and caramelized onions, they're the perfect Friday night dinner.
Easy to make, yet full of flavor & perfect to pair with a glass of full red wine!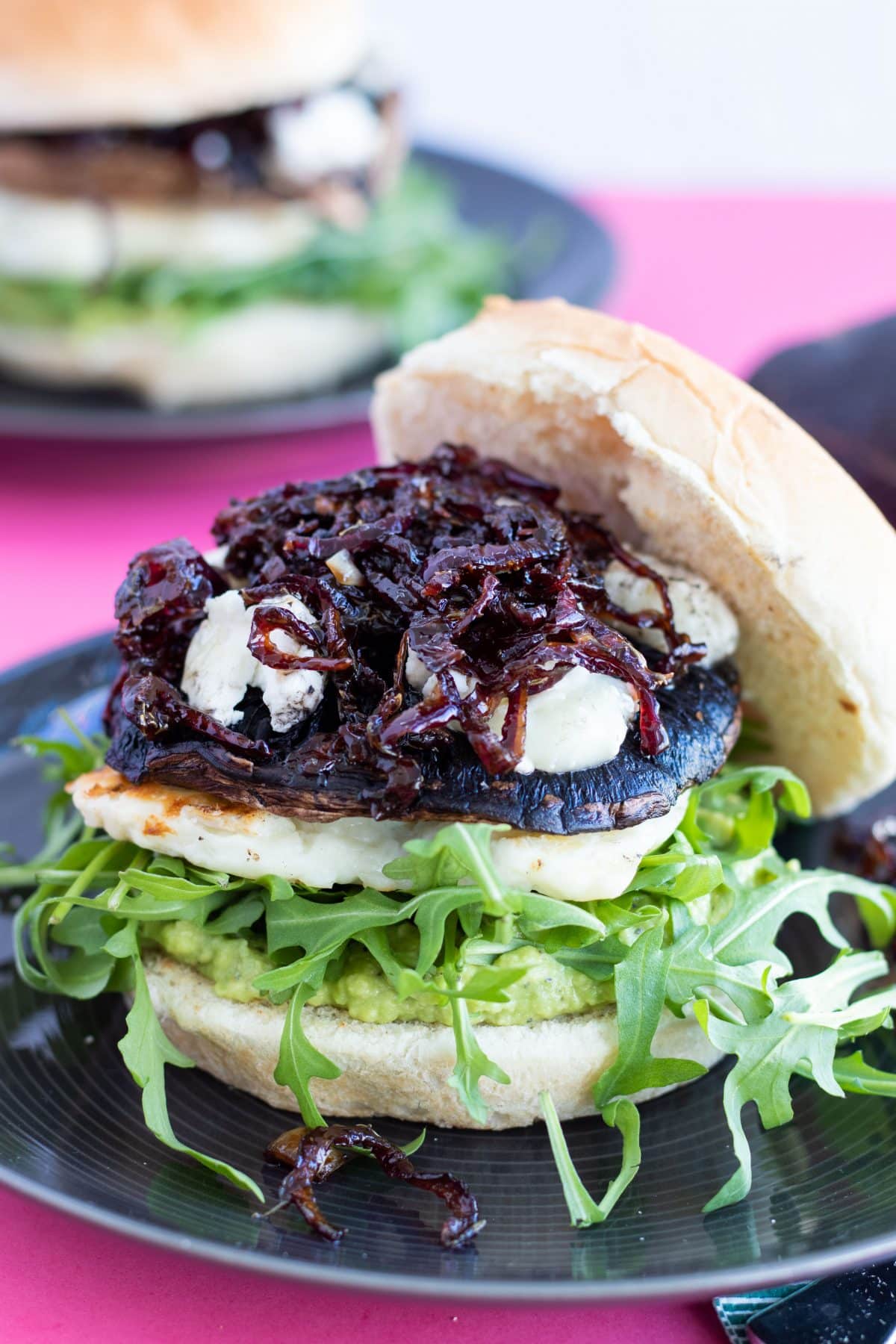 Why This Recipe Works
The well-balanced mix of the best flavors - umami, sweetness, acidity and a touch of spice - together with the roundness of the avocado & halloumi cheese is what makes these vegetarian burgers the best.
Portobello mushroom brings loads of umami flavor along with a nice chewiness.
Halloumi cheese adds a roundness along with saltiness and an interesting texture. For best result, make sure to get a nice, almost crispy, sear on the outside, with a soft center.
Caramelized onions are a delicious mixture of sweet & spicy, with the pungent onion taste softened by the sugar. The balsamic vinegar adds another, acidic dimension to them.
Avocado adds roundness and the lemon juice gives it just the right acidic punch to balance out the richness of the other components.
Arugula adds a peppery spiciness, a lovely pop of color, and not to forget some well-needed vitamins.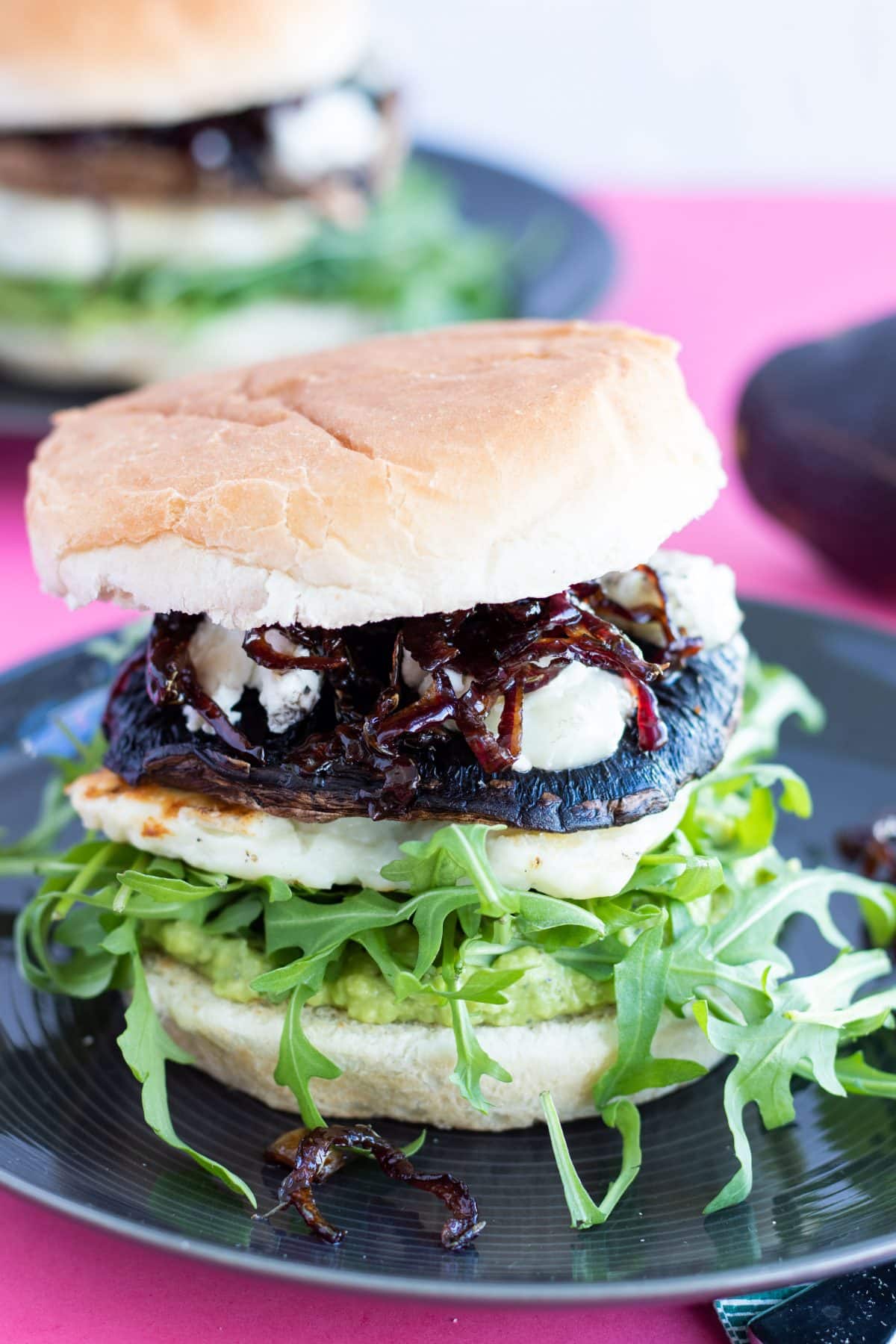 How to Caramelize Onions
Before diving into just how to make these delicious portobello burgers, I think we need to talk a bit about a concept that may seem daunting: caramelizing onions.
These days I love caramelizing onions, and I take any chance I get to add them to my dishes. But there was a time when I didn't even dare try.
Maybe this is you today? Let me then tell you: it's not all that hard. You can do it! I believe in you! And once you make them and realize just how easy (not to mention delicious!) it is to make perfect caramelized onions - I'm sure you'll also start adding them to whatever you can.
OK - so how do you caramelize onions then? We'll start out with the ingredients. What you need is:
Some kind of onion (I like red)
Some kind of fat - like butter and/or vegetable oil (I like a combination of equal parts butter & rapeseed oil)
Something sweet (I like plain white refined sugar, but honey is also a great choice - as is brown sugar, however with a slightly different flavor profile)
Something acidic (At least this is how I like it - you know me, don't wanna go too sweet! I always go for a balsamic vinegar - preferably red, but I have used white - but you could try other vinegars as well.)
Now when you have your ingredients in place, there are three steps to making perfect caramelized onions:.
Slice the onions thinly (I love my Kai Wasabi Chef Knife for this)
Fry the onion slices in fat
Let the onions simmer in sugar & vinegar until sticky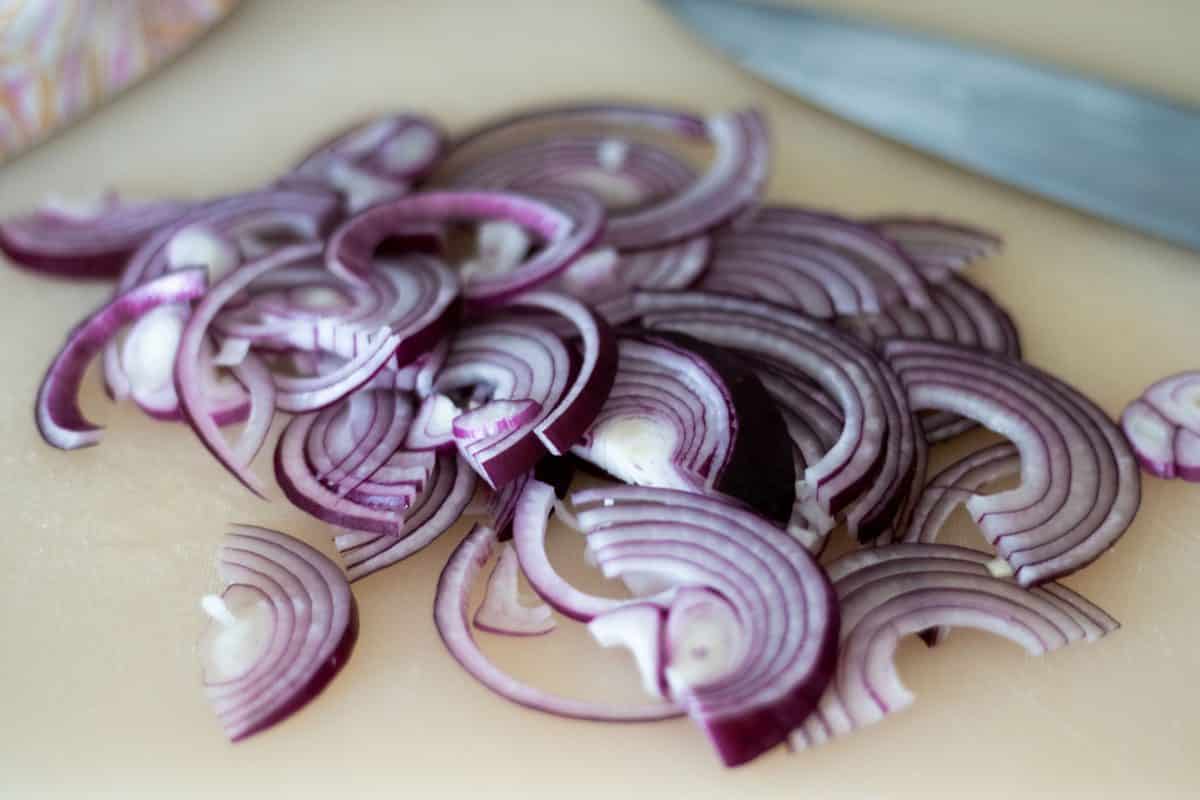 Step 1 is pretty straight forward - just peel that onion and slice it as thinly as you can.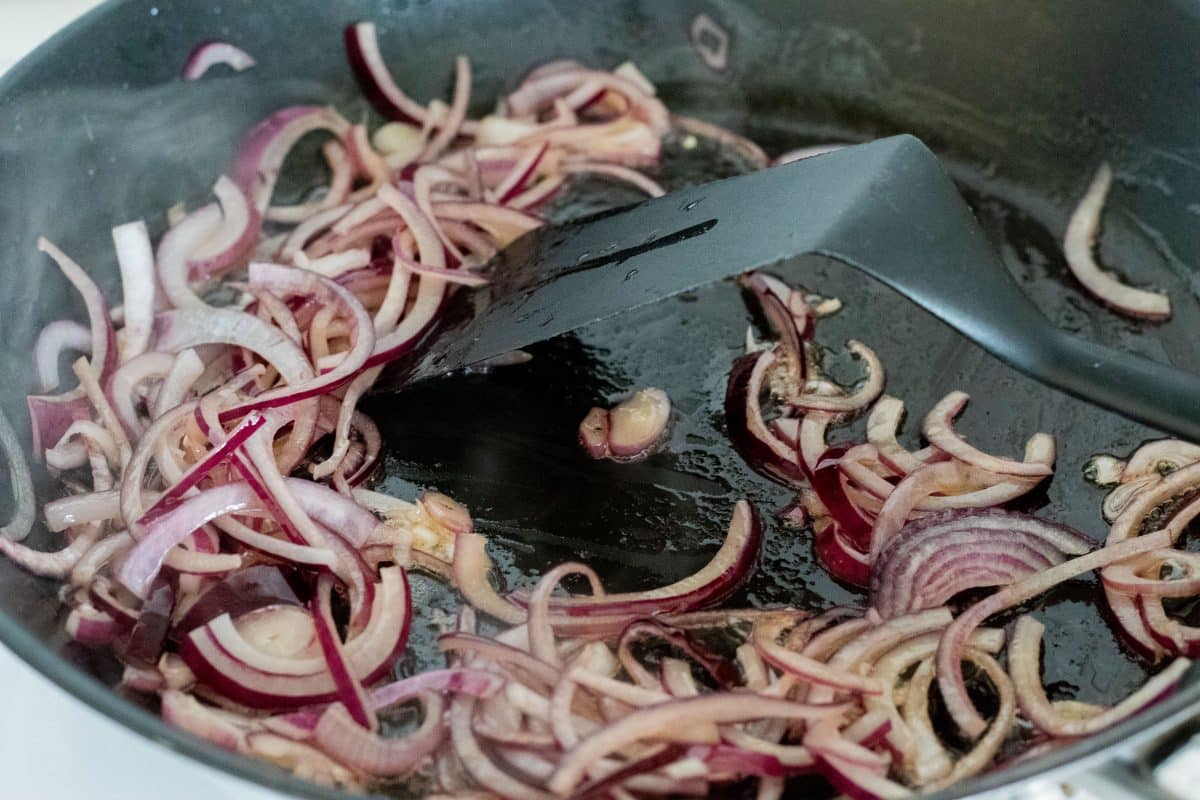 Step 2 is also not all that tough - heat your fat over medium heat (And keep it medium! You want to soften the onion, not brown it! Depending on your stove this might require even lower heat - so just put it down in case your onions start to brown.) and add in the sliced onions.
Fry for about 5 minutes until softened but not brown.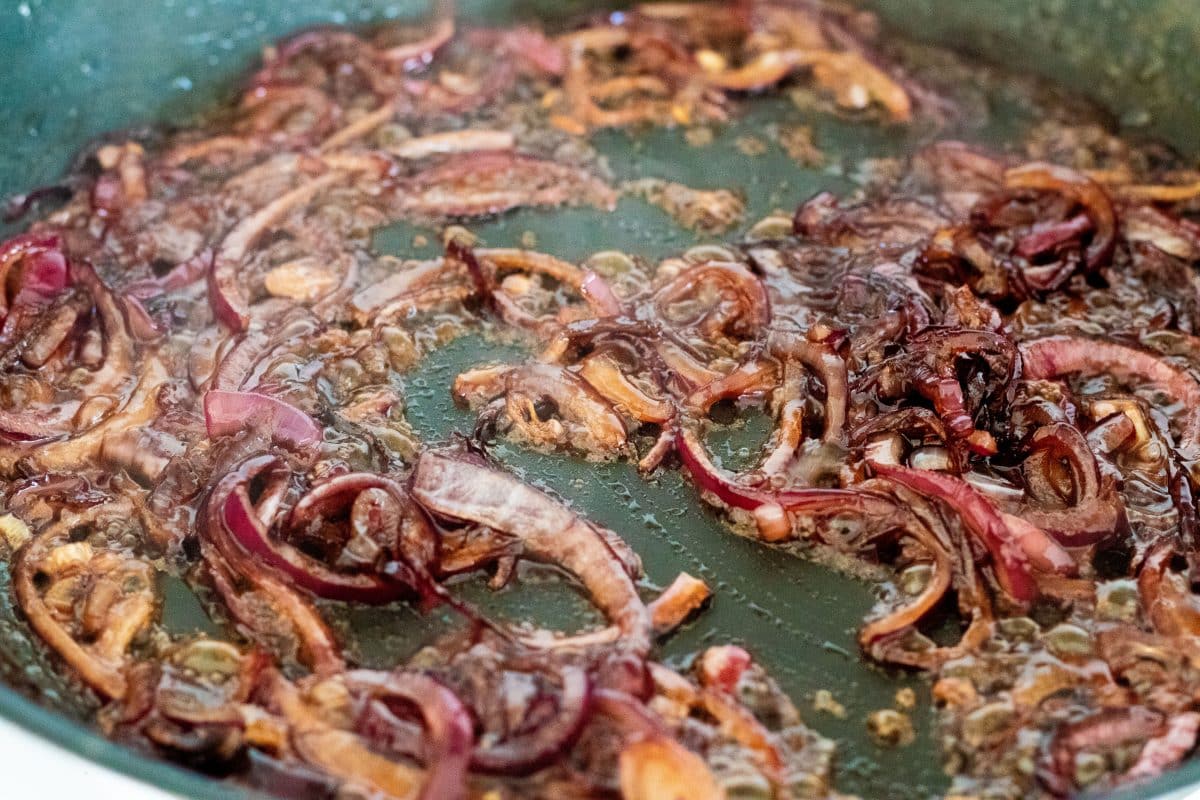 Step 3 is - would you know it! - maybe the easiest part. Once the onion is softened, just add in the sugar and vinegar, mix, and let it simmer over medium heat (or medium-low, depending on your stove). It shouldn't cook too hard, just simmer - and when it's all sticky (this takes about 5 minutes) it is done.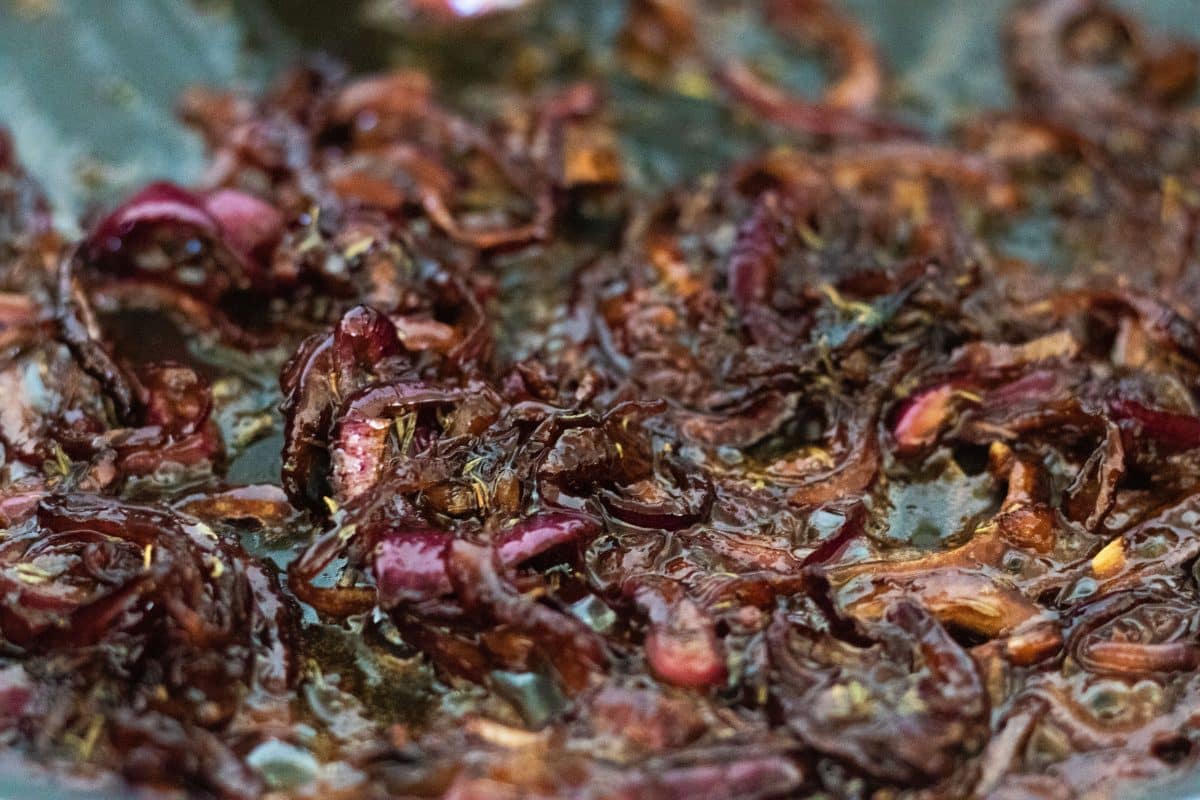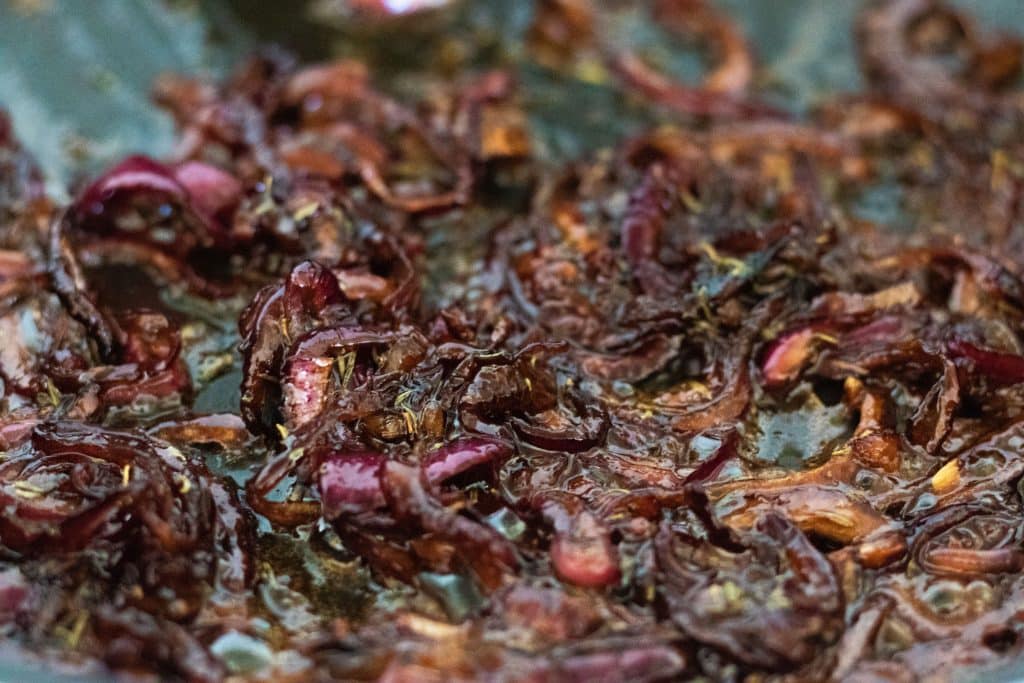 And now you have perfectly caramelized onions! At this point I might opt to add some spice or herb - for this recipe I went with thyme. But if you don't, it's still seriously tasty.
So what to use them for then? Well, as I said, in my book you can use them for just about anything. You can use them to top a burger, for one, or a pizza, or a steak, or a sandwich, or a piece of chicken, or... well, you get my drift. It's yummy, is what it is. And I'm sure you'll find a bunch of uses for it!
How to make Portobello Mushroom Burgers
To make these yummy "extra everything" Portobello Mushroom Burgers, there are a few components & steps involved. None of them hard, but best done in the right sequence if you'd like to minimize cooking time. Or do them one after another - it will take more time, but it will be delicious all the same.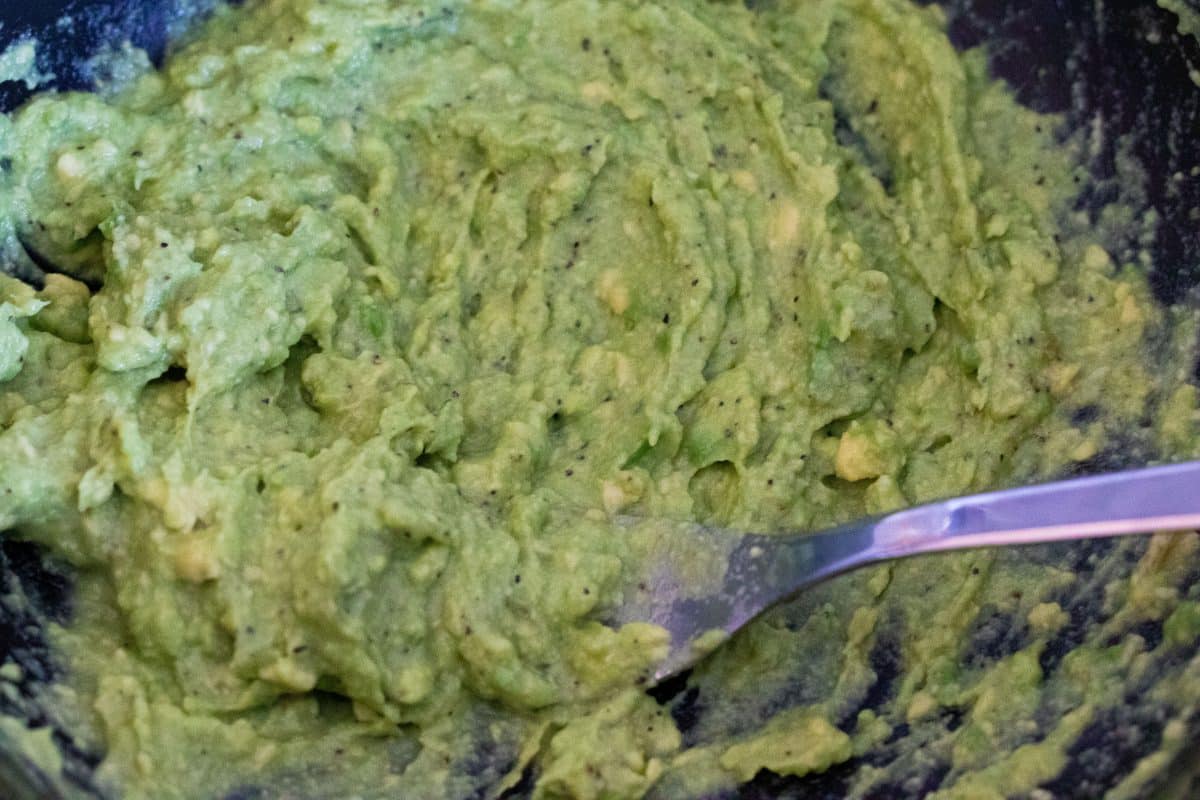 First, start by mashing your avocado with some lemon, salt and pepper. Easiest part, but best to just have this done. Set it aside for now.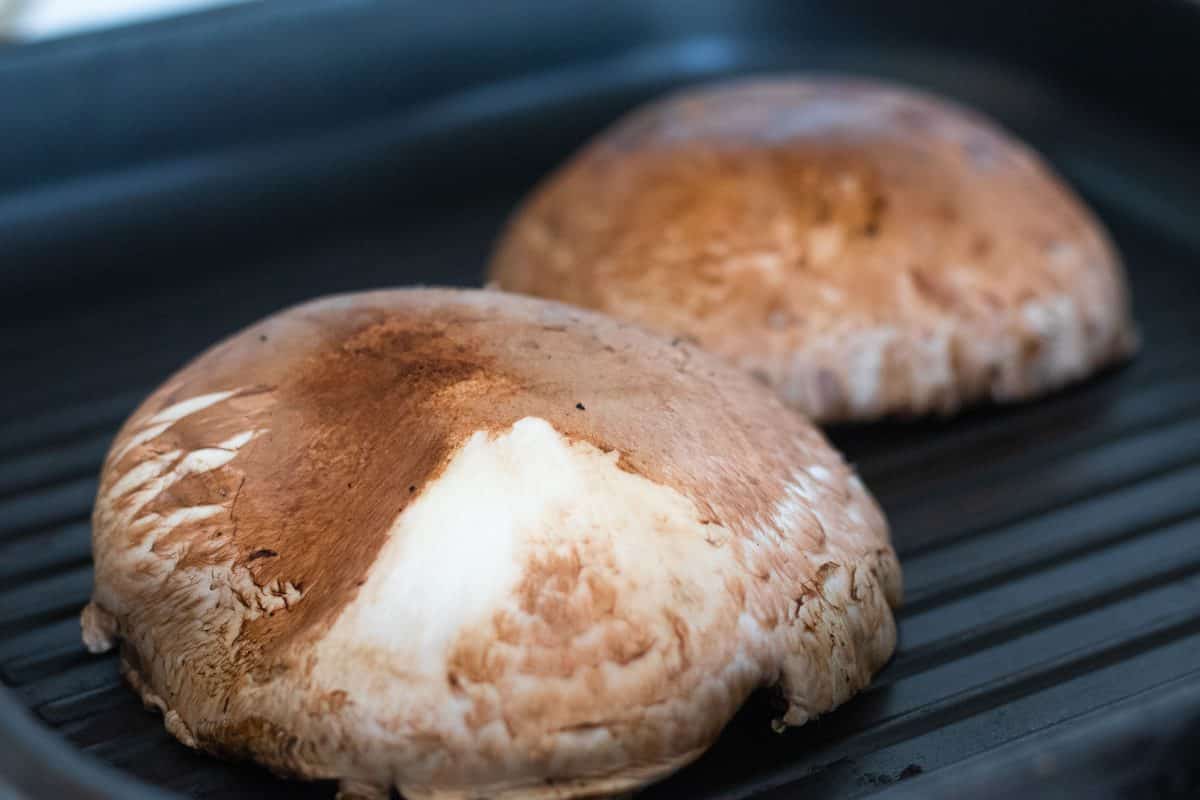 Second, start your portobello mushroom burgers. Now portobello mushrooms are super easy to cook, but they do take their time.So we season them lightly with some salt & pepper and get them started cooking - stem side down - and then they will mainly take care of themselves while we focus on caramelizing our onions.
I love using a grill pan for this - it gives such a nice sear!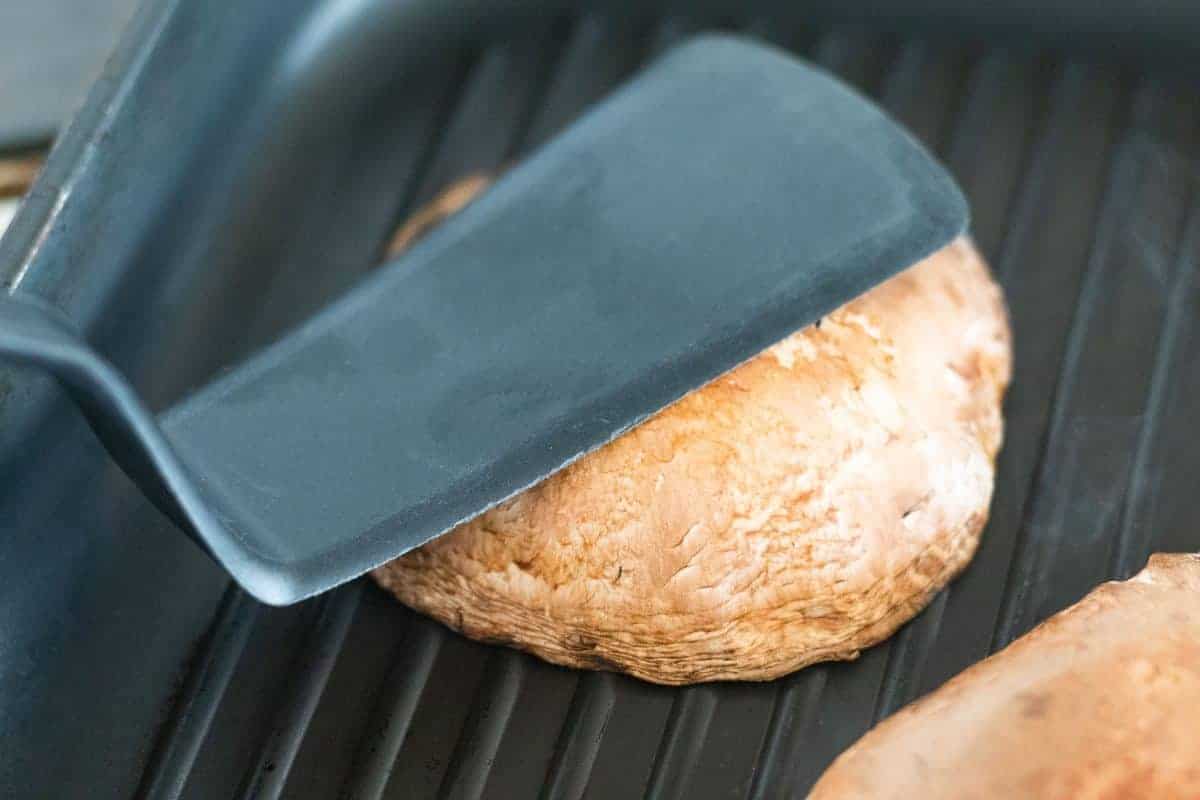 If you want to, you can press them a bit with a spatula to ensure they get a good sear all over.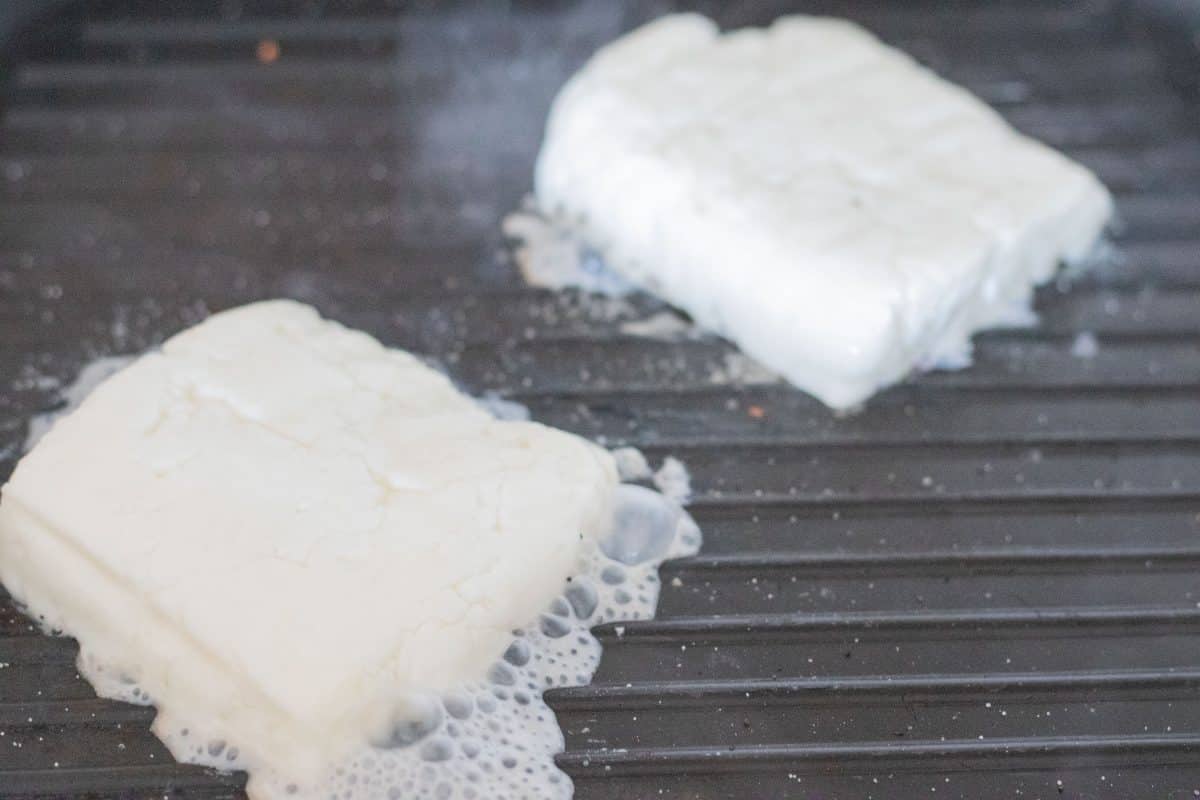 After 6-7 minutes, just come back to your pan, turn the mushrooms them and add in the slices of halloumi cheese alongside them.
The caramelized onions are started by heating equal parts butter & vegetable oil over medium heat, and then adding in thinly sliced red onion. And then we let it cook over medium heat for about 5 minutes, until the onion is soft but not browned.
When the onion slices are softened, add in balsamic vinegar and sugar, mix, and cook for another 5 minutes, until sticky. Then remove from the heat and add in some thyme.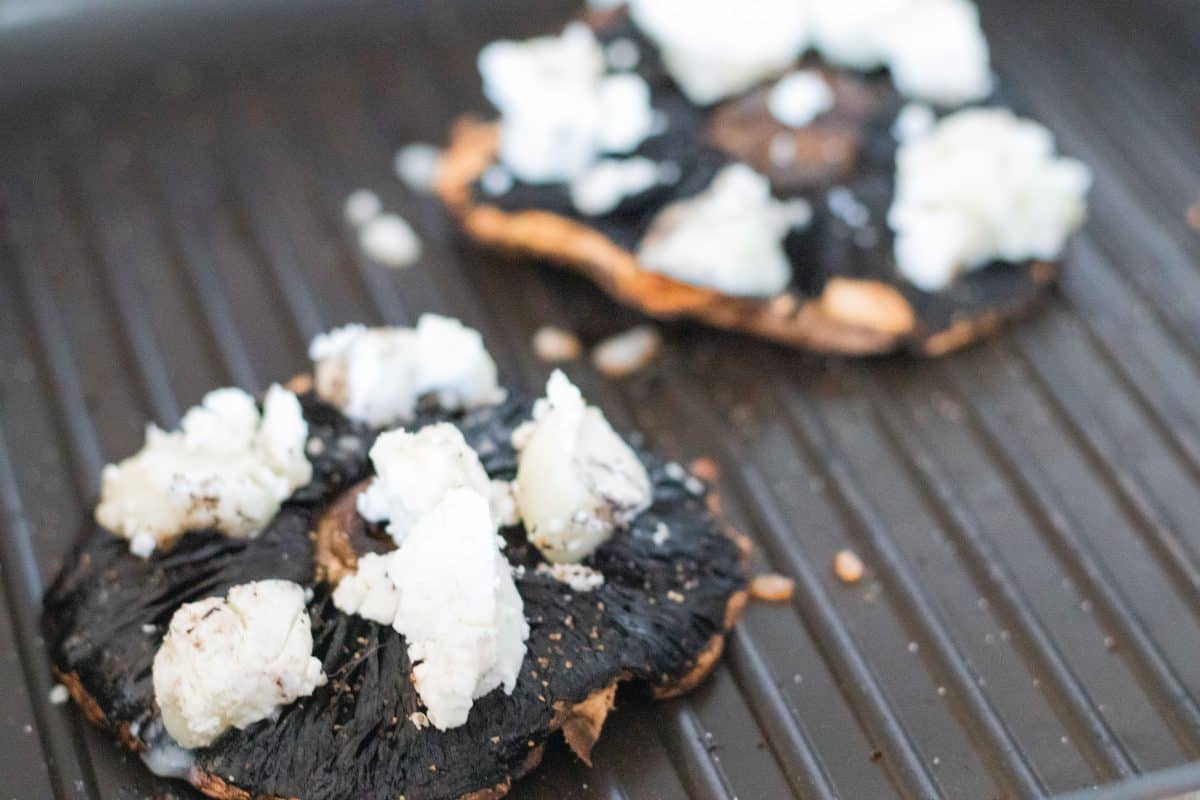 When the portobello mushroom and halloumi are done, crumble chevre cheese on top of the mushrooms.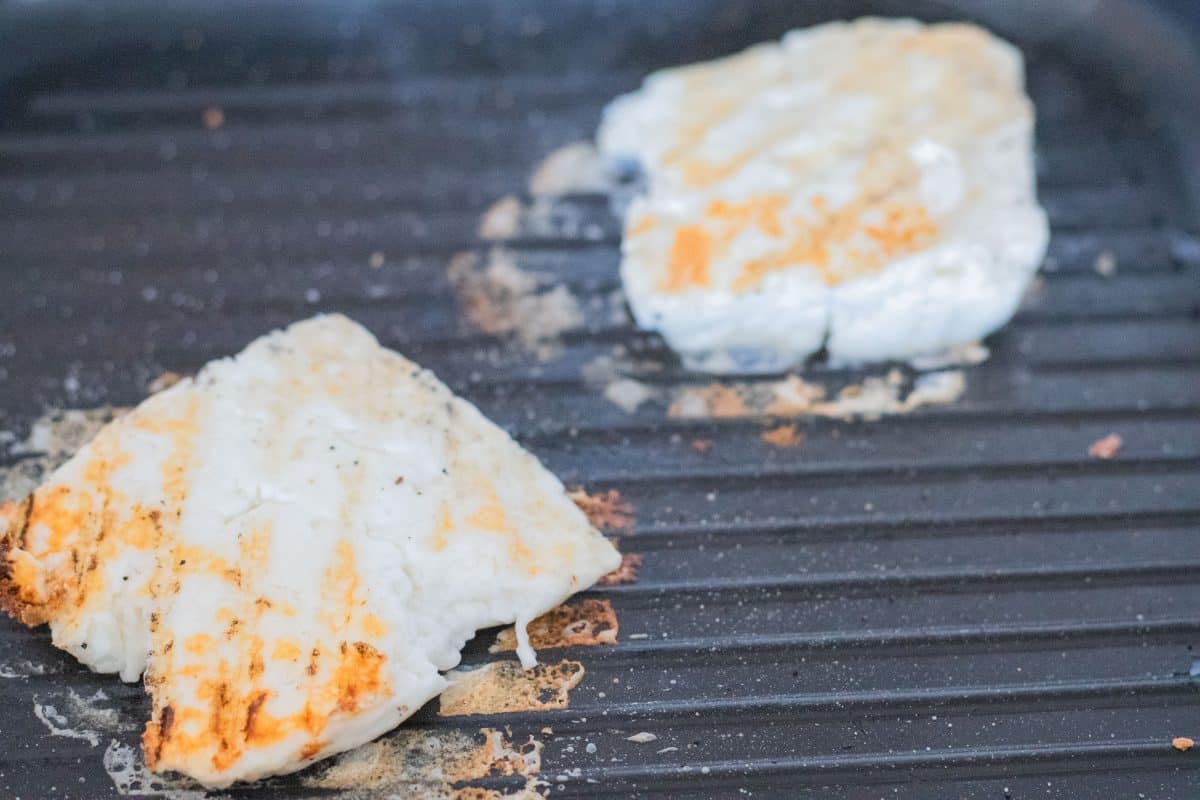 Then go ahead and bring both mushrooms and halloumi out of the pan and off the heat.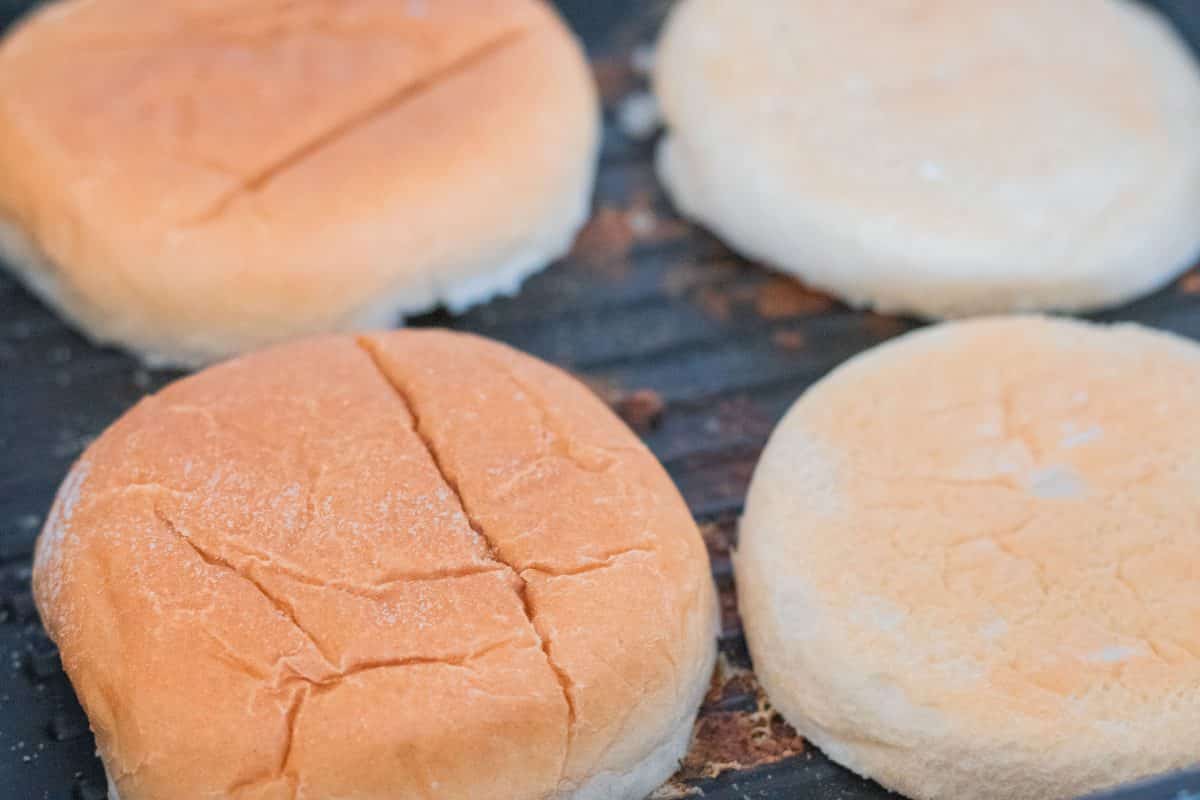 Now over to the buns - and this really does make a big difference to this whole recipe - because you're gonna roast them lightly. Just put your mushroom pan back over the heat, increase the heat to medium-high, and place your buns inside, "inside out".
Cook for about 30 seconds (or more, if you like them a bit more roasted), and then place them on your serving plates.
Plating is then just a matter of building your burger. Start with a bottom bun, add some mashed avocado, arugula, and a mushroom. Follow with one of those nice, thick slices of halloumi and top with caramelized onion. And that's it - top bun optional.
Now I'm quite sure you will love these burgers, and best of all they translate so well between the kitchen & the barbecue. In the summer you can just grill your mushrooms, halloumi & heat your buns over the grill - and you will get even more taste in there. I know I for one am looking forward to barbecue season!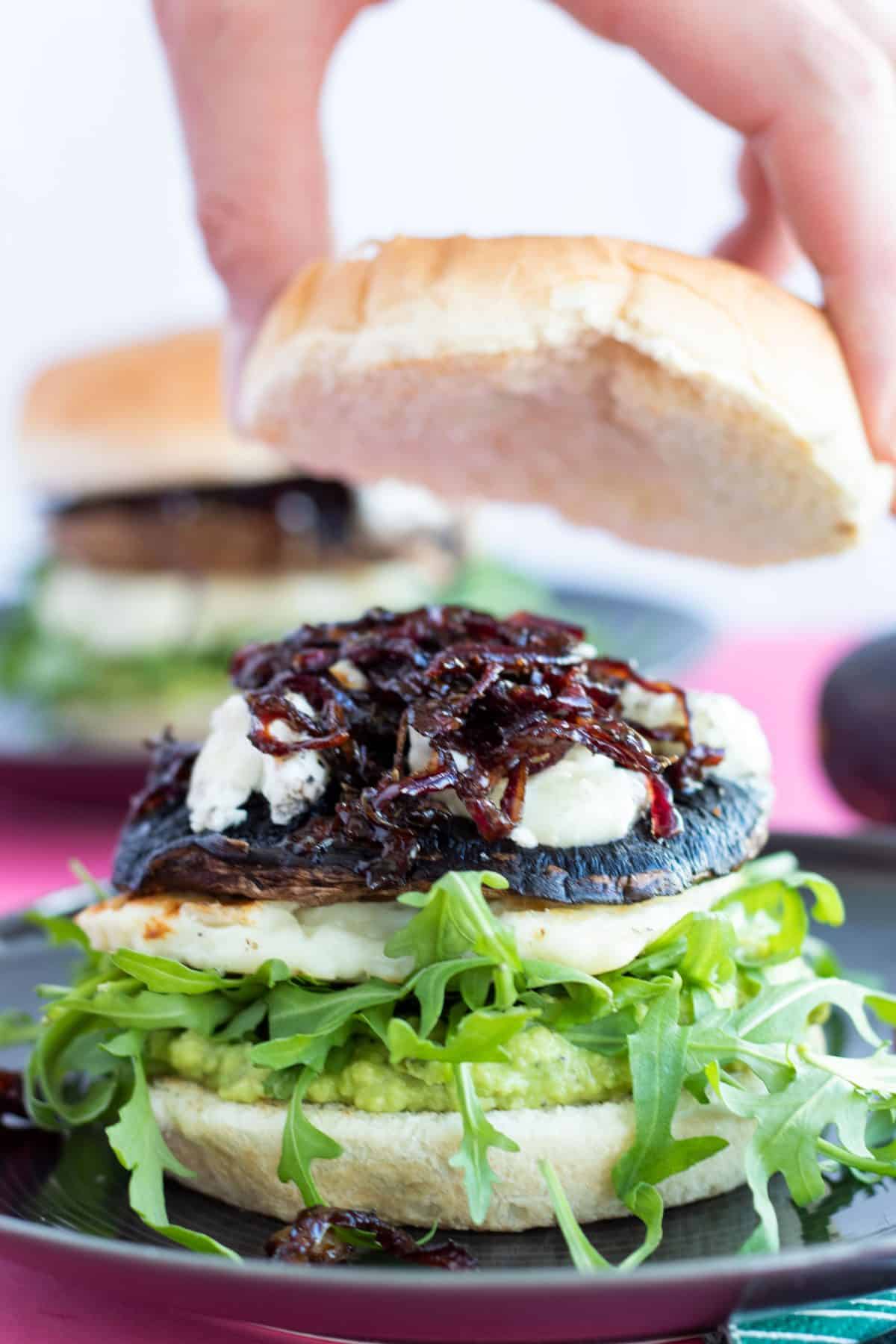 What to do with leftover Portobello Mushroom Burgers
Leftover portobello burgers might be just the best thing ever. When serving your burgers, just build as many as you will actually eat - and keep the buns, avocado and arugula separate from the rest for now. The portobello, hallumi & caramelized onions you can just keep together.
When lunchtime rolls around tomorrow, just bring out a pan (or use the microwave!) and heat up your mushroom, halloumi & caramelized onion and you're all ready to build another delicious burger. And better yet if you bring it to work - I for one know that all your co-workers will be extremely jealous!
(Yes I'm that person - the one that brings a DIY burger or DIY tacos for lunch, complete with yummy components like caramelized onion and chevre topped stuffed portobello mushrooms. But it's fun and it's delicious, so please join me in this exclusive club!)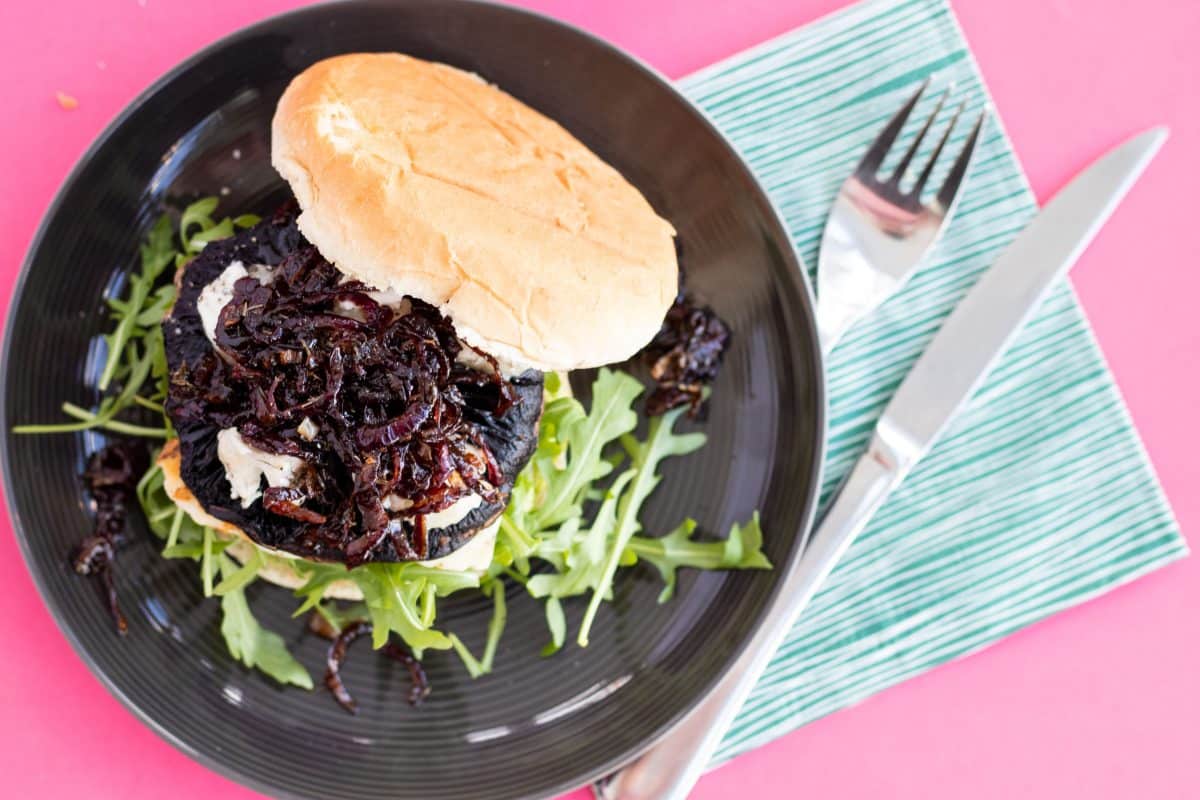 What did you think of this recipe? Which one is your favorite component? I'd love for you to let me know in the comments below!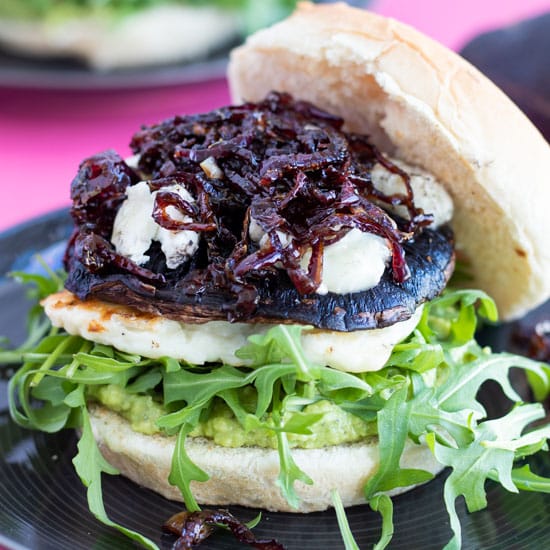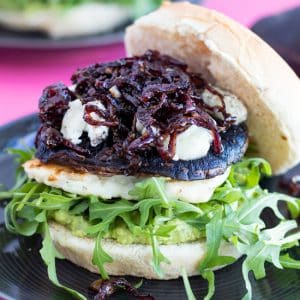 Portobello Mushroom Burgers with Halloumi, Chèvre, Avocado & Caramelized Onions
Print
Pin
Rate
Ingredients
2

portobello mushrooms

salt and pepper

⅓

lb

halloumi cheese

sliced in half

3

Tbsp

chèvre cheese

or other soft goat cheese

1

avocado

½

lemon

juice of

¼

tsp

salt

¼

tsp

black pepper

1

medium-sized red onion

peeled & thinly sliced

1

Tbsp

butter

1

Tbsp

vegetable oil

1

Tbsp

balsamic vinegar

1

Tbsp

sugar

½

tsp

dried thyme

2

hamburger buns

1

small handful

arugula

or other leafy greens
Instructions
Start by making the avocado sauce. Peel the avocado and remove the seed. Place in a bowl and mash it with the lemon juice and season with salt and pepper. Taste test and add more seasoning if desired. Set aside for now.

Place a dry pan over medium high heat - use a grill pan if you have - and season the portobello mushrooms with salt and pepper on both sides. When the pan is hot, place the mushrooms in the pan with the stem side down. Let cook like this for

6-7 minutes

, until slightly browned. Keep a watch so that the mushrooms don't burn. You can press the mushroom a bit with a spatula to ensure a good sear on the whole mushroom.

Meanwhile, caramelize the onions. Heat another pan over medium heat and add in the butter and vegetable oil. When hot and the butter is melted, add in the sliced red onion. Let cook slowly for about

5 minutes

, until the onion has softened.

When the mushrooms are cooked on one side, turn them and cook for

6-7 minutes

on the other side. On this side, you want them to brown and sweat a bit. When you see water coming out the top, cook them for a few more minutes. When turning the portobello mushrooms, you also want to add in the halloumi slices along side them and cook them for

3 minutes

per side, until browned on the outside and softened on the inside.

When the onion is softened, add in the balsamic vinegar and sugar. Mix and cook for about

5 minutes

, until sticky. Then take off the heat and add in the thyme.

When the portobello mushrooms and halloumi are done, crumble the chevre cheese on top of the portobello mushrooms and take both the mushrooms and halloumi out of the pan.

Place the pan back over the heat, increase to high heat and add in the hamburger buns. Heat them for about 30 s top side down, and then remove from the heat.

Now it's time to plate. Place a bottom-bun on a plate and top with avocado mash. Add arugula and a slice of halloumi, then add a portobello mushroom with chèvre. Top with caramelized onions and a top bun. Ready to serve!
Notes
Make it vegan by skipping the halloumi and chevre cheese and exchanging butter for vegetable oil when caramelizing the onions.
Make it lighter by using only  bottom-bun - this is what I most often do, a top & bottom are just too much for me!
Keep the price down by skipping the chevre cheese - it does add an extra "oumph" but it's a delicious burger without as well.
Nutrition
Calories:
735
kcal
|
Carbohydrates:
49
g
|
Protein:
29
g
|
Fat:
48
g
|
Saturated Fat:
25
g
|
Cholesterol:
20
mg
|
Sodium:
1541
mg
|
Potassium:
1029
mg
|
Fiber:
10
g
|
Sugar:
16
g
|
Vitamin A:
900
IU
|
Vitamin C:
31.6
mg
|
Calcium:
912
mg
|
Iron:
3.5
mg
Nutritional information is approximate and automatically calculated, and should only be viewed as an indication.
Burger Essentials
The links in the collage below are Amazon affiliate links which means that if you buy something through one of my links I receive a small commission (at no extra cost to you).