This post may contain affiliate links, which are always marked with *. Please read my disclosure for more information.
If you're like me and can't get enough of Feta cheese, then this Feta Filled Chicken is for you. You're welcome. And no, you can't make the sauce too often.
There are few things I love more than feta cheese, so whenever I find a reason to incorporate it into my dishes I take it (spoiler alert: I more often than not do find this reason). And while feta cheese crumbled on top of a salad or hot potatoes, or melted into a pasta sauce, might be nice, my ride or die choice is the plain old feta cheese sauce.
A simple cold sauce where the main ingredient is the feta cheese, and other stuff can be added as you like. This recipe contains my OG version, but since the inception of this recipe some 10+ years ago I've made countless versions of the sauce.
Sometimes I just mix feta cheese with something creamy like crème fraîche or yoghurt, other times I add a bit of garlic or basil, for fish I often add a good helping of lemon juice. That's the charm of this sauce - it goes with everything. Fish, meat, chicken, veggies, with a piece of bread or as part of a cheese platter - still haven't found a place where it doesn't fit in.
Just adapt the ingredients according to your taste, what you're serving it with and what you happen to have at home. Mix the cheese with just some olive oil to make it firm and spreadable (or, like here, suitable for stuffing) or add something creamy to make it into more of a sauce (I prefer crème fraîche, but for a healthier version greek yoghurt works just as well - makes it a bit saucier and less firm though).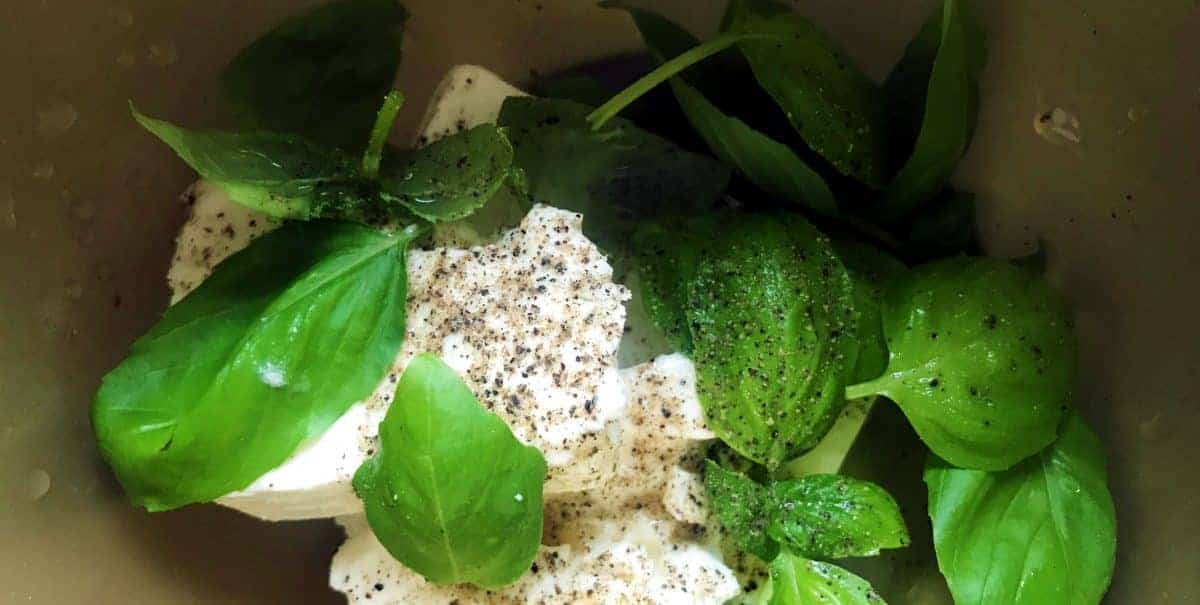 Come to think of it, feta filled chicken is probably one of my most basic recipes. Not basic in taste, not at all. But basic in the way that I use parts of it a lot and change it up to suit my current cravings, time constraints and what's in my fridge. All the components are great, and by mixing it up a bit you quickly get so many more dishes out of it. But to be honest, the feta sauce is probably the most common component in my cooking.
Feta filled chicken is in general not difficult to make. However, getting the chicken right is a bit tricky. You really want it to be finished (of course) but you also don't want it to be dry. Rather dry than salmonella in my opinion but I'd prefer neither, thank you very much. I suggest using a kitchen thermometer and sticking it in the thickest part of the chicken. It should cook to 73 C/165 F. As the stuffed chicken usually cooks a bit unevenly go ahead and stick the thermometer in a few different places to be sure. The time suggested here is 15 min, but this will vary depending on your oven. I usually stick the thermometer in at the beginning and let it sit, and it lets me know when it's finished.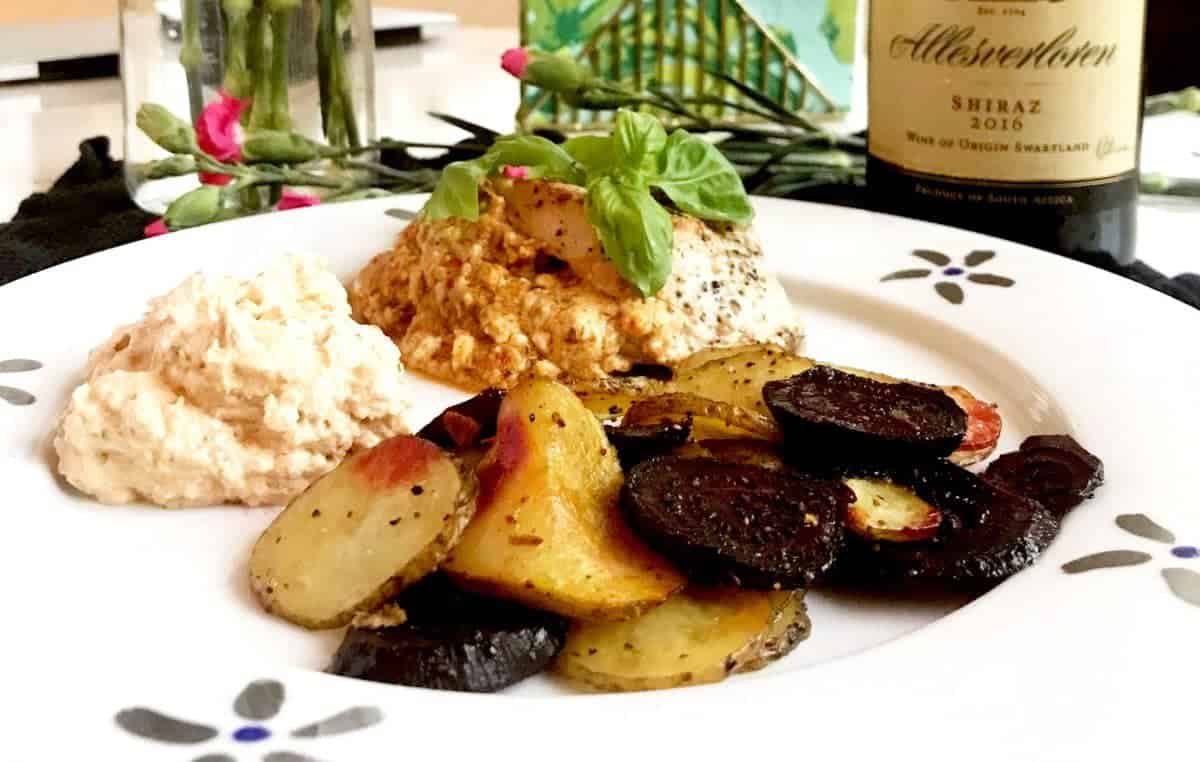 Veggie option?
Feta filled chicken just ain't the same without the feta cheese. However, for any lacto-ovo vegetarians out there I'd suggest feta loaded portobello mushrooms instead of feta stuffed chicken. Cook in the same way, but instead of stuffing them place on a bit of oven foil and add the filling on top of the mushroom, then make into a package and cook in the oven for 10-15 minutes. Damn, sounds really good actually. Off to try it myself!
Leftovers?
Lucky you! Feta filled chicken is probably my favorite bagged lunch. Just bring the sauce along in a separate container. The chicken, potatoes and beets also freeze pretty well - the sauce not so much, but it's awesome on crackers or a piece of bread as well so I don't think you'll have any trouble finishing it.
Thirsty?
I like a good full flavored Shiraz or Nebbiolo with my feta filled chicken (still not sure there are dishes I wouldn't enjoy with one of these choices). An excellent pairing that I have partaken in a few times myself is an Allesverloren 2016 Shiraz.
Oh, and one final piece of advice - if your friends or family or whoever you're serving this to are at all like mine I suggest making at least a double batch of the sauce. It tends to move quickly and the words "Oh no! There's too much feta sauce!" were never uttered once in history. Enjoy!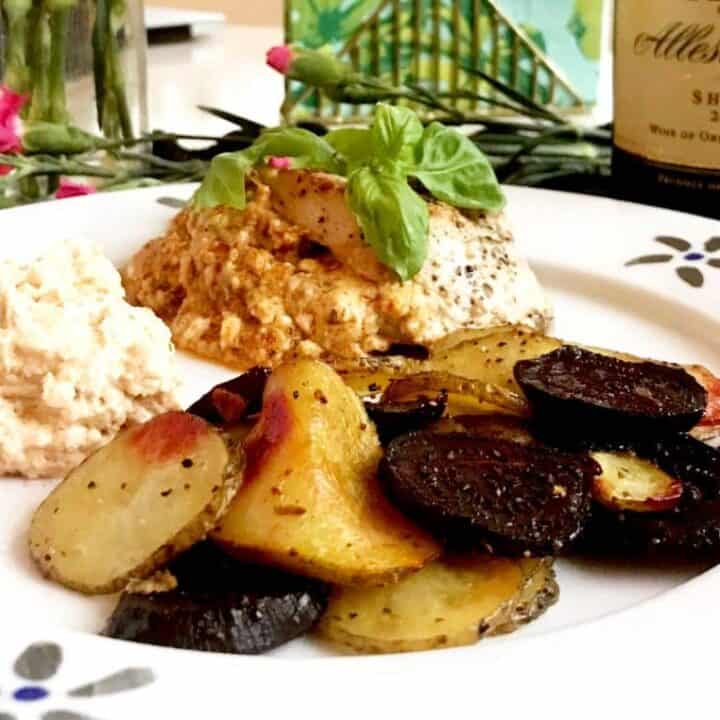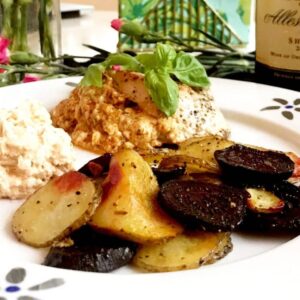 Feta Filled Chicken with Roasted Beets and Potatoes
Print
Rate
Ingredients
4

chicken breasts (400g)

500

g

firm potatoes

300

g

beets

2.5

Tbsp

olive oil (divided)

salt and fresh black pepper, to taste
Feta Filling & Sauce
150

g

Feta cheese

100

g

sundried tomatoes in oil (weight incl. oil)

2

Tbsp

sundried tomato oil (from the sundried tomatoes)

1

clove

garlic (minced)

10

g

fresh basil (about half a pot)

1.5

dl

créme fraîche
Instructions
Move the oven rack to the lowest possible setting and set the oven for 200C/400F.

In a bowl, combine feta cheese, sundried tomatoes, 2 Tbsp of the sundried tomato oil, minced garlic and fresh basil. Mix together with an immersion blender and add black pepper according to taste. Set aside for now.


Now start with the beets and potatoes. Place a baking sheet on an oven tray. Clean the potatoes and peel the beets and slice both thinly, approximately 2 mm thick. Use a mandolin if you have one. If you don't, but you hate slicing, you can use a cheese slicer.

Place the potato and beet slices on the baking sheet and add 1 Tbsp of the olive oil, sea salt and fresh black pepper. Mix together and then space the slices out as well as possible on the baking sheet.

Place in the top-middle of the oven and cook for 25 minutes, taking the oven tray out and flipping the potatoes once after 10 minutes (should be about time when you put in the chicken, see step 14 below). They should end up soft and with some nice coloring, but not burnt.

Now it's time for the chicken. Take out a baking dish that will fit all four chicken breasts and grease it with ½ tbsp of the olive oil.

Heat 1 Tbsp of the olive oil in a pan over high heat. Season the chicken breasts with salt and pepper. Place the chicken in the pan and cook on both sides until it has a nice color, app. 1 minute per side.

Place the chicken on a cooking board and, being careful not to burn yourself, slice a hole along the long side of the chicken breast. It should run as deep as possible without going out the other side and as long as possible. Scope up filling with a spoon and use another spoon to fill the holes in the chicken breasts with the filling. Be careful not to get any chicken "juice" in the feta mixture as this will be used for the sauce later on. Make sure you get as much filling as possible in there but without it falling out through the hole. There should be a good amount of filling left when you're done.

Place the chicken breasts in the baking dish. Place baking dish on the oven rack and cook for approximately 15 minutes. The chicken should reach 73 C/165F and the juices run clear - using a thermometer makes it so much easier to get it right.

While the rest is cooking it's time to take the remaining stuffing and make it into sauce by adding the créme fraîche. Take what you didn't put inside the chickens and add the crème fraîche. Mix together with the immersion blender. Taste and add fresh black pepper according to taste.

Remove the potatoes and chicken from the oven when finished, and serve together with the sauce.
Notes
Low on time?
Quick: Make the beets and potatoes into wedges instead of slices and increase cook time to 30 min. Less prep and more time for other stuff!

Quicker: Don't fill the chicken, instead make all the filling into sauce - just add another 1 dl of crème fraîche. Add some dried basil to the chicken seasoning as well, for extra flavor.

Quickest: If in a real hurry, you don't even have to cook the chicken in the pan first - just place it in the oven and add 2 minutes to the cook time. Not as pretty and not quite as tasty, but still really good.
Nutrition
Calories:
474
kcal
|
Carbohydrates:
29
g
|
Protein:
15
g
|
Fat:
34
g
|
Saturated Fat:
9
g
|
Cholesterol:
55
mg
|
Sodium:
201
mg
|
Potassium:
1294
mg
|
Fiber:
6
g
|
Sugar:
6
g
|
Vitamin A:
780
IU
|
Vitamin C:
45.1
mg
|
Calcium:
112
mg
|
Iron:
5.9
mg
Nutritional information is approximate and automatically calculated, and should only be viewed as an indication.