This post may contain affiliate links, which are always marked with *. Please read my disclosure for more information.
These Crispy Garlic Parmesan Smashed Potatoes are perfectly crispy and indulgently covered in butter & cheese, the best tasty side for steak, duck, chicken or basically anything.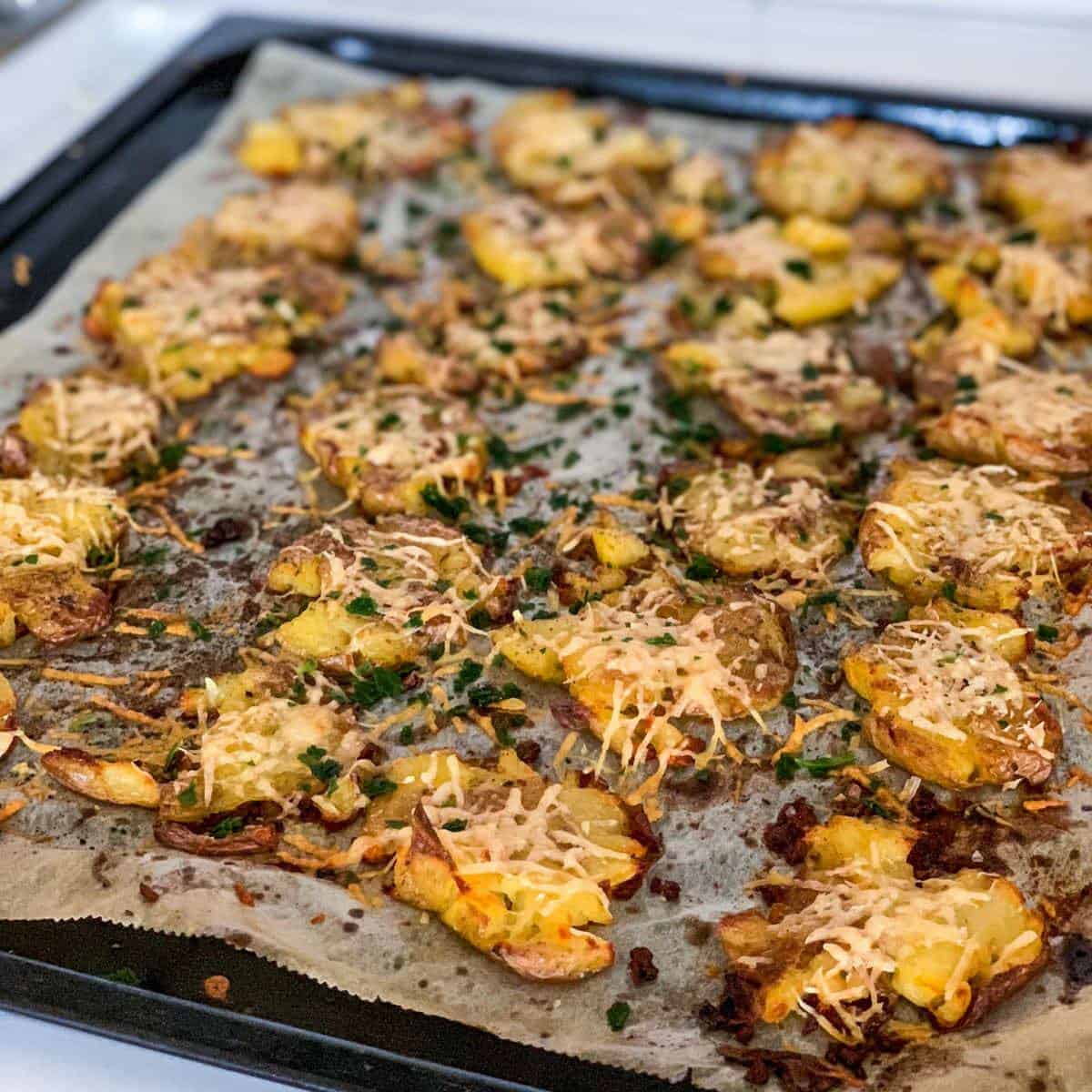 I started making smashed potatoes one night when I was tired of all my other go-to dinner party side dishes. You know, I'd done the potato wedges, the thinly sliced crispy roasted potatoes and the sweet potato fries. And I'd done versions of them. And no matter how much I loved them, I'd made them all far too many times.
Then I discovered the concept of smashed potatoes. And so I made it. And I made it again. And again. And all of a sudden those former go-to sides were a distant memory. Now, after making smashed potatoes more times than I can count, I think I've come up with the absolutely best recipe there is. Sorry, not sorry. These are just so perfectly crispy & delicious, I can't imagine anything better.
Maybe I'll one day add this to the sides I've done too many times, and need a substitute for. But several years later I'm still no way near that point. I still can't think of anything I'd rather have with my steak or duck or chicken or... anything, really. They're crispy, buttery, cheesy, with a touch of garlic - what more could a girl ask for?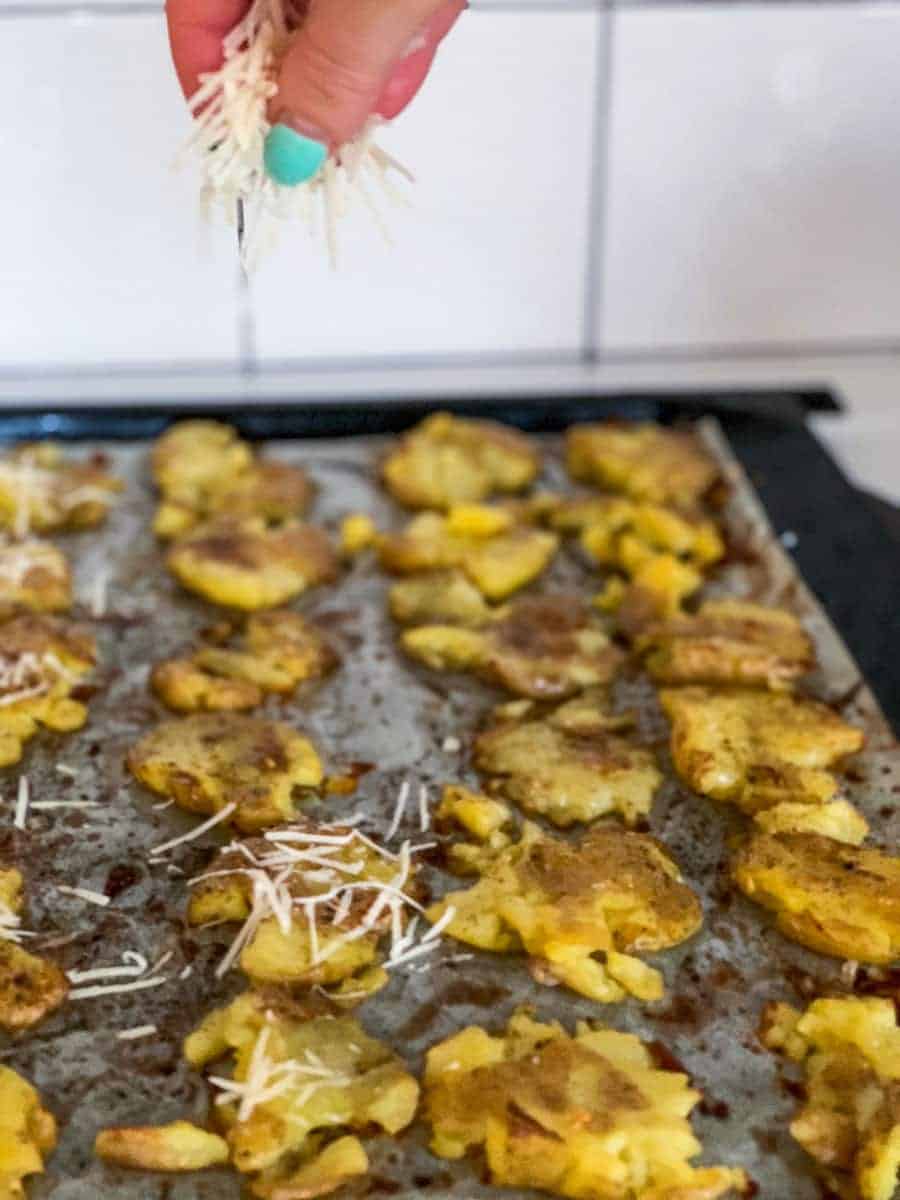 And so, when trying to come up with a perfect side for the 2018 always use butter New Year's Eve menu - I knew I had to make this recipe.
There are three reasons, apart from the pure deliciousness, that make this a perfect New Year's Eve dish in my book:
Smashed potatoes is fun & not everyone has had it before
They're super easy to make
They can be prepped beforehand and only needs 5-7 minutes in the oven just before serving - and, as you will see next week, this timing fits in perfectly with the protein component of our main dish
How to make Crispy Garlic Parmesan Smashed Potatoes
Genereic smashed potatoes are made in three easy steps:
Cooking the potato
Smashing the potatoes & coating them in delicious flavors
Baking them
And, if you're making my tasty & crispy garlic parmesan smashed potatotes, we add two more, equally easy steps (and everything up until this point can be done before your guests arrive!):
Topping the potatoes in shredded parmesan
Baking them again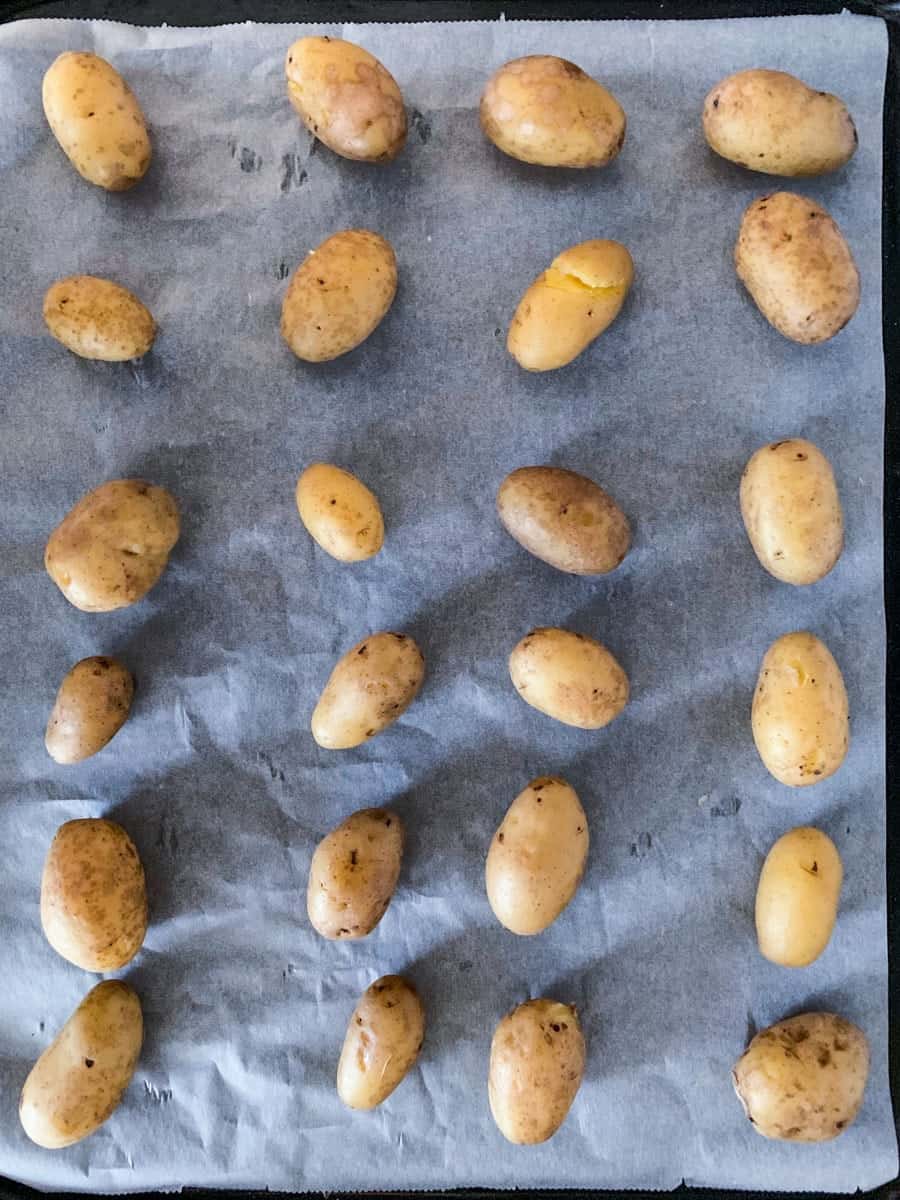 All of these steps are really straight forward. You get the smallest potatoes you can find and you cook them in heavily salted water until they're just finished. You place them on a baking sheet on an oven tray and then you go to town smashing them. Use whatever's handy to you - I use a large spatula, but other options that you probably have in your kitchen are a fork, a spoon or a potato masher.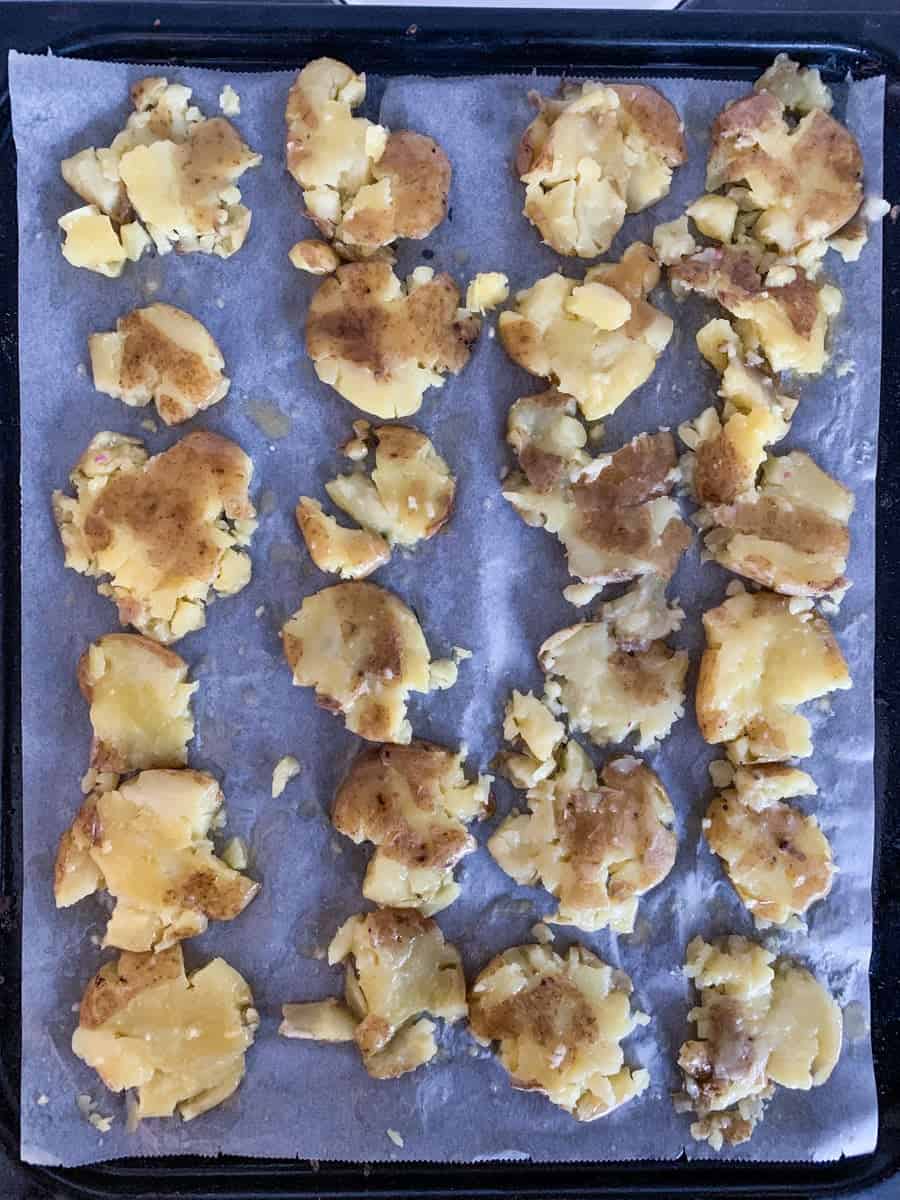 Then melt the butter and mix in the minced garlic and just a few drops of Worcestershire sauce. This Worcestershire thing is a family secret - not really sure I'm allowed to share it but let's just hope my Dad doesn't read this. It makes any garlic butter so much better - be it for smashed potatoes, garlic bread, or anything else.
Coat the smashed potatoes with the melted butter - try not to get any minced garlic on the potatoes, or it will risk burning and going bitter - and top with some sea salt flakes and black pepper. Stick them in the oven for 15 minutes and take them out when they're starting to look a bit crispy and lightly browned.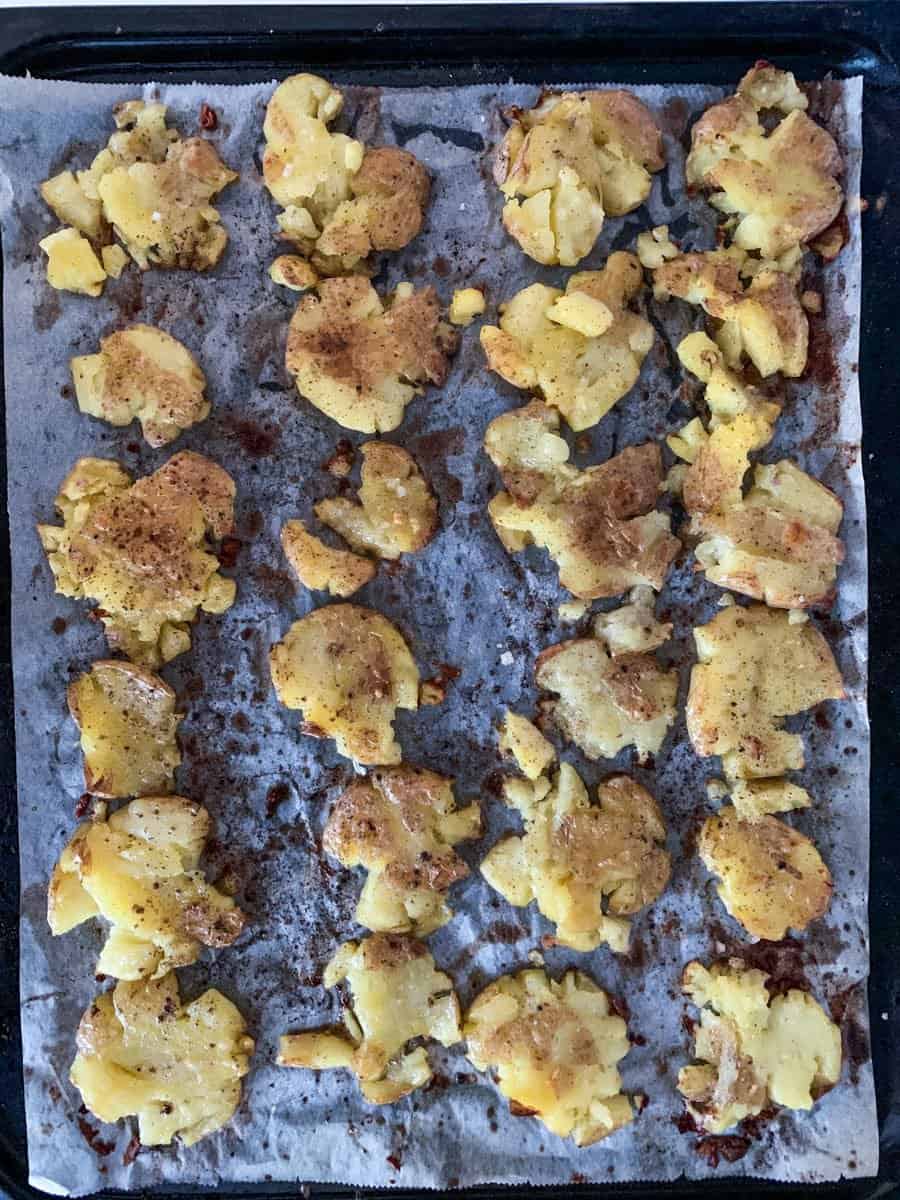 If prepping your potatoes ahead of time, this is as far as you'll want to go right now. Cover the potatoes in foil and set aside for now, and then you just have 5-7 minutes of cooking to do just before serving.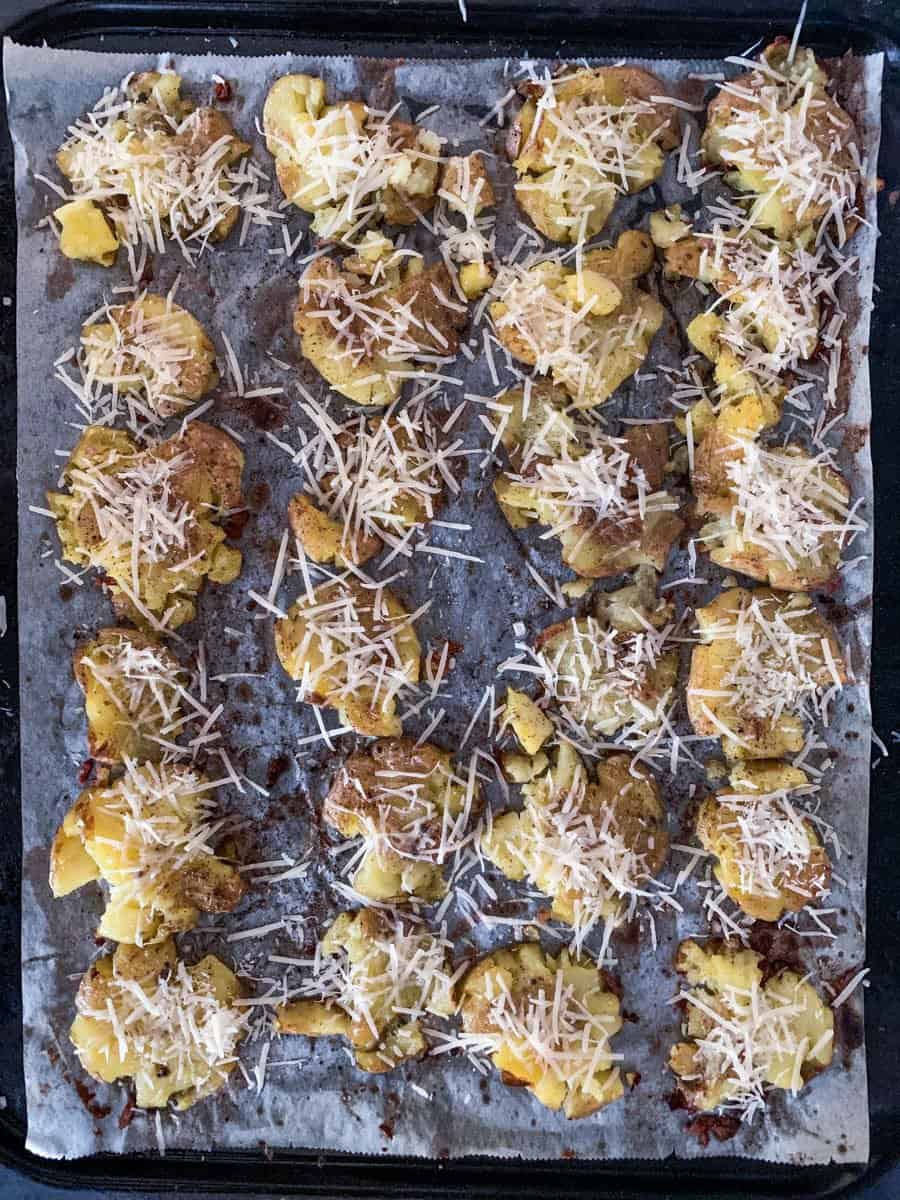 I think you know what's coming next - yup, the parmesan. Don't skimp on the parmesan, but don't add too much either. While a lot of parmesan is really tasty, and more parmesan is generally always better (in my book at least), here we want to make sure that our smashed potatoes turn out crispy. And while too much parmesan will still make them delicious, they're less likely to turn out as crispy as we want them. So - for once, use parmesan in moderation. The amount stated in the recipe should be just enough to achieve both lots of taste & lots of crisp.
So, on with the parmesan and then stick them back in the oven. Bake for 5-7 minutes, until just a bit golden and crispy.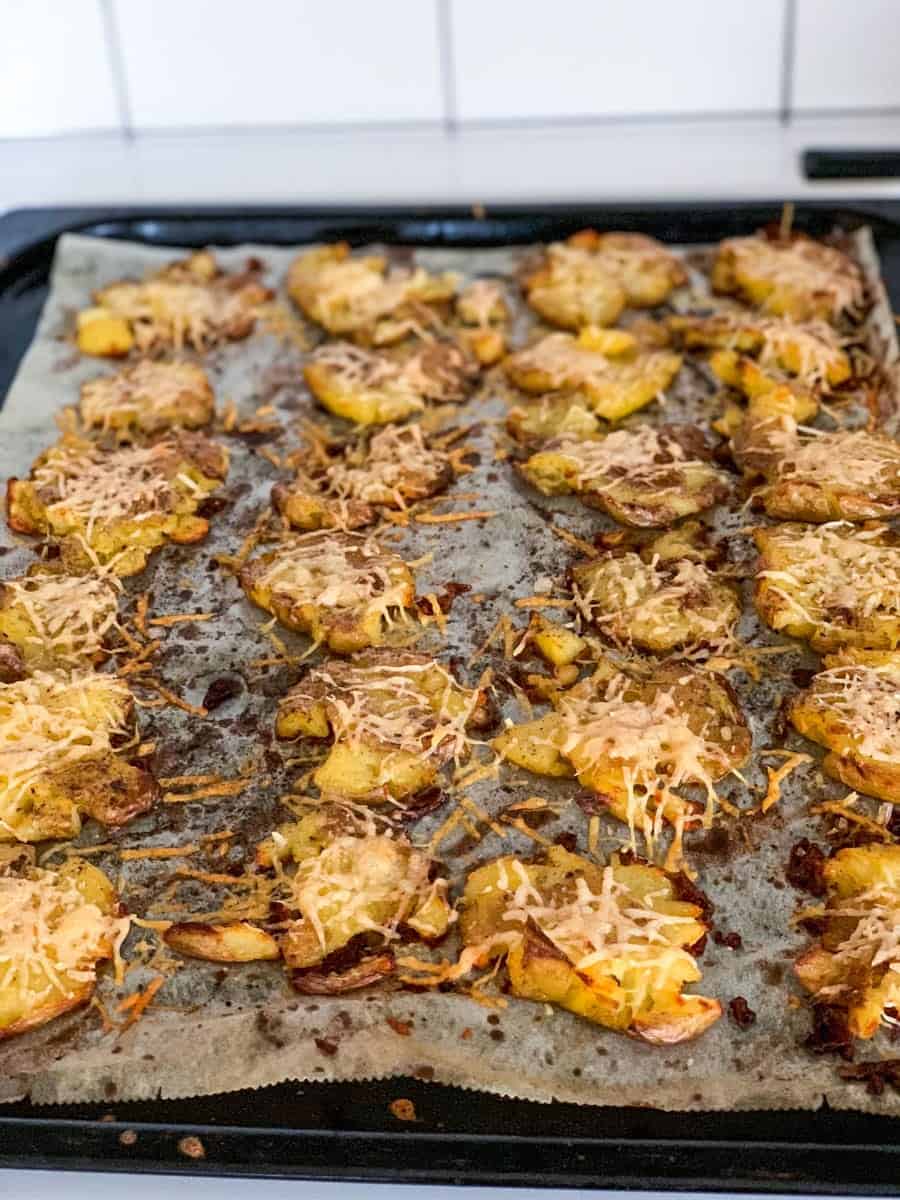 And well, that's it. You can add some parsley or other green herbs to it, if you want to pretty it up a bit. I'd usually not (far too lazy!), but it does make the pictures prettier don't you think??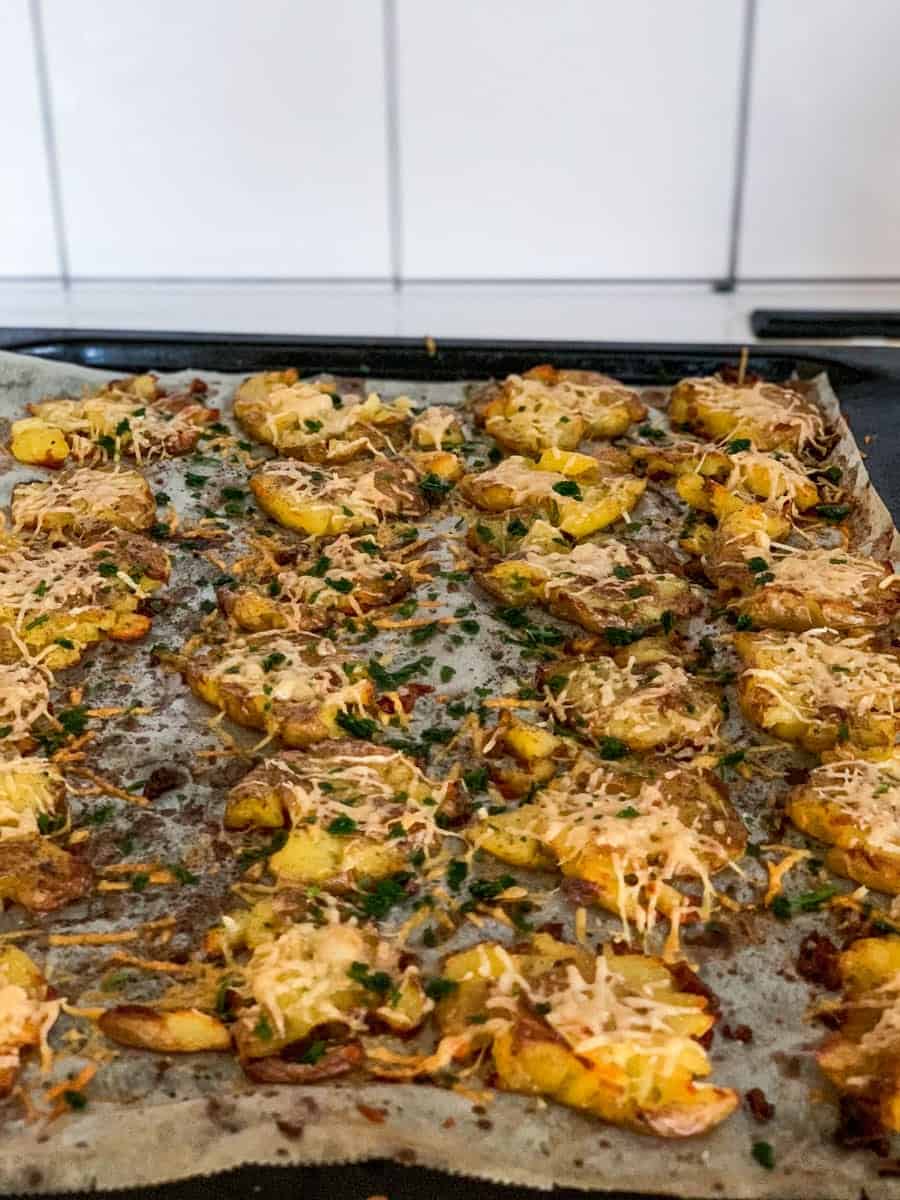 So, that's the second part or well more like part 2A of the 2018 always use butter New Year's Eve menu. Next week I'll share the recipe for the Duck a l'Orange to go with these crispy garlic parmesan smashed potatoes.
As always - I love hearing from you, so if you made this, please leave a comment and rating below! Or just leave a comment anyway and let me know what you think. And if you share your creation on Instagram - please tag me and use the hashtag #alwaysusebutter!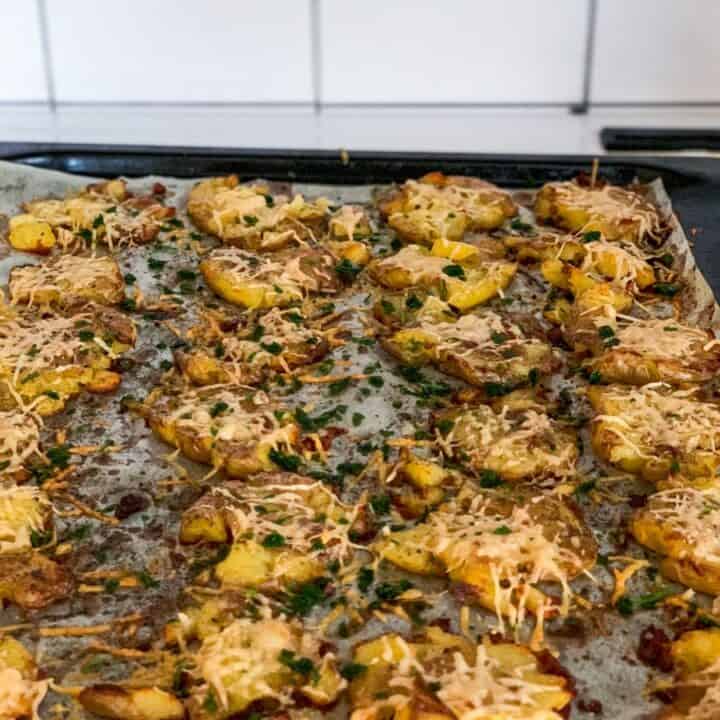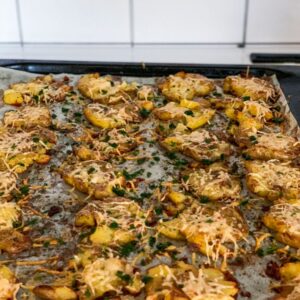 Ingredients
800

g

potatoes

as small as you can find

fine salt for the potato cooking water

1 Tbsp per 1.5 liter/6 cups of water

50

g

butter

3

garlic cloves

minced

a few drops of Worcestershire sauce

Sea salt flakes & ground black pepper

30

g

parmesan

shredded

chopped parsley

can be omitted
Instructions
Cook the potatoes in heavily salted water - use 1 Tbsp for 1.5 liters or 6 cups of water. Cook until just finished, about 15 minutes.

Heat the oven to 225 C/440 F.

Melt the butter and mix in the minced garlic and the Worcestershire sauce.

Place the potatoes on a baking sheet on an oven tray and smash them with a large fork or spoon. Brush them with the garlic-infused butter (try not to get the pieces of garlic on the potatoes) and season with a bit of black pepper and sea salt flakes. Place in the middle of the oven and cook for 15 minutes, until the top of the potatoes is starting to look a bit crispy.

You can prepare your potatoes until this point and finish them in 5-7 minutes just before serving. Top the smashed potatoes with the shredded parmesan. Return to the oven and cook for another 5-7 minutes, until crispy and golden.

Top with parsley and serve.
Nutrition
Calories:
238
kcal
|
Carbohydrates:
25
g
|
Protein:
8
g
|
Fat:
12
g
|
Saturated Fat:
7
g
|
Cholesterol:
31
mg
|
Sodium:
229
mg
|
Potassium:
835
mg
|
Fiber:
5
g
|
Vitamin A:
370
IU
|
Vitamin C:
23.5
mg
|
Calcium:
156
mg
|
Iron:
6.5
mg
Nutritional information is approximate and automatically calculated, and should only be viewed as an indication.