This post may contain affiliate links, which are always marked with *. Please read my disclosure for more information.
This savory breakfast bowl is filled with the best fried potatoes topped with a generous amount of slightly melted feta cheese and a perfectly poached egg. Cut into the egg and the silky yolk covers all that cheesy, salty, yumminess for a perfect bowl of breakfast.
Gluten free, vegetarian and full of taste, this breakfast egg recipe will have you making it over and over again. Not a confident egg poacher? Just switch it out for a soft boiled or sunny side up egg.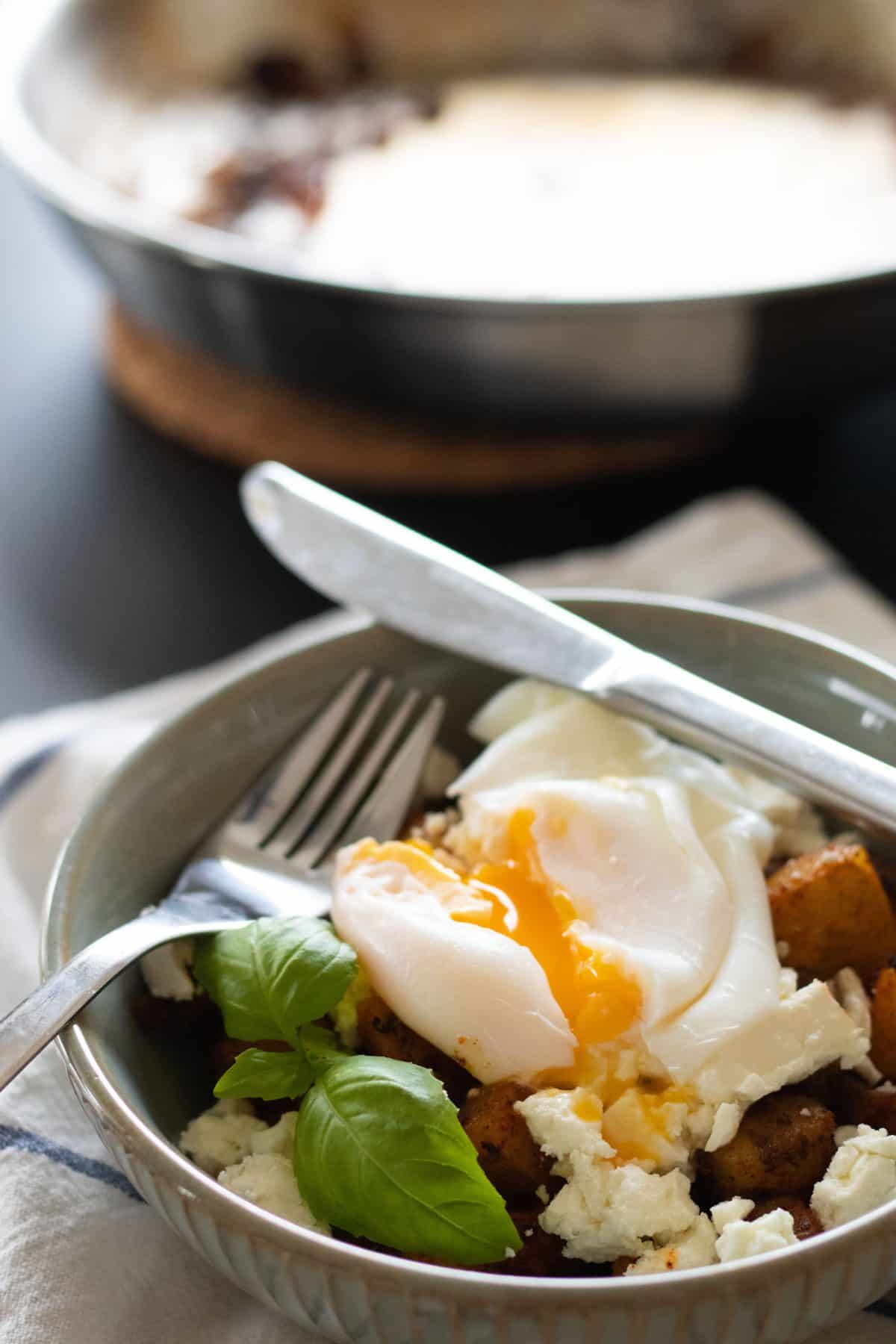 Before there was the every-weekend Shakshuka in my home, before thre was the breakfast frittata, there was this savory breakfast bowl. What they all have in common?
Eggs (a must for a breakfast dish, isn't it?).
And cheese.
And 100% of comforting flavors perfect to wake up your senses in the morning and let you know that yes, this, this is gonna be a good day.
Why I love this breakfast recipe
Warm, comforting & filling this is a breakfast that will fill you up and keep you satisfied for hours.
The cheese melts slightly on top of the hot potatoes, before everything is covered in runny yolk... mix it up and every bite becomes a dreamy mix of...
..salty, cheesy & indulgent, making it absolutely perfect if you had a couple extra glasses of wine last night.
The runny yolk is the key for this dish to come together - get it from a poached egg, a soft boiled egg or an egg fried sunny side up.
Lightly caramelized fried potatoes that will have you never making another kind again.
Quick and easy to make - 10 minutes is all you need.
Breakfast or brunch in a bowl means you can eat it lying down on the couch. My best way!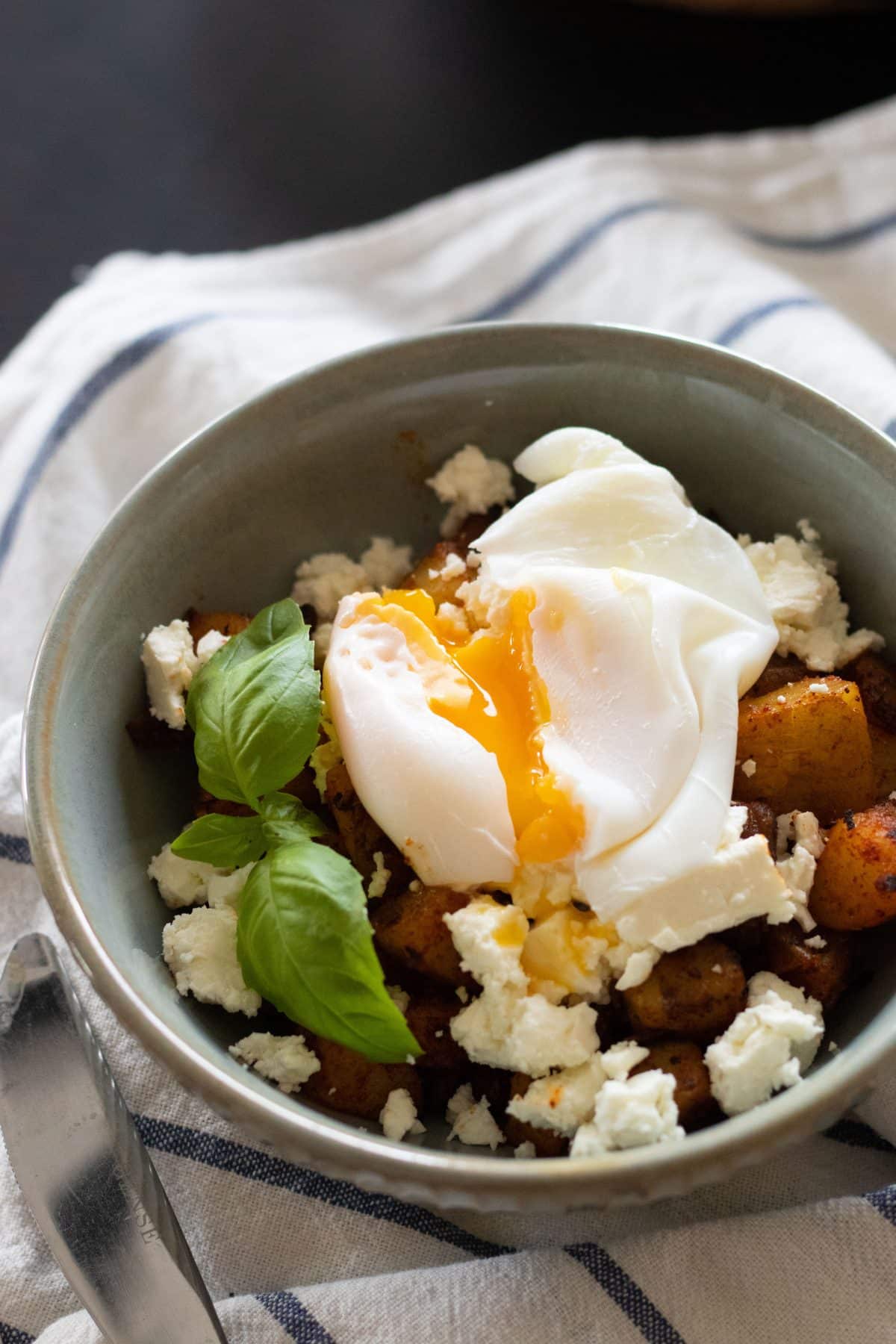 Expert tips for making Fried Breakfast Potatoes
Use butter to fry your potatoes for the best taste.
Add a dash of sugar to lightly caramelize the potatoes.
Balance the level of salt with what you're serving with your potatoes - here they're served with salty Feta cheese which means less salt is needed, but the same is true of course when serving with something else salty, like breakfast all-star bacon.
Expert tips for making Poached Eggs
You can do it!! I know poaching can seem scary and hard - but it's really not. Just follow the tips below and you'll be fine. And if you're not? Just try again and you'll soon get the hang of it. As with everything - confidence is key. (And even a not-so-perfect poached egg is delicious...)
If poaching more than one egg - make them one at a time and then place in ice water until you're ready to serve. You can poach several at a time as well, but I never feel it turns out as well.
Use really fresh eggs for poaching - this makes it so much easier.
Pour in your egg as close to the water as possible.
I use salt when poaching eggs, but there are two distinct camps here. Some say never use it because it might break up the egg white (never had this problem...), others (I'm in this camp) say to use it since it seasons the egg and also helps cook the egg without those big boiling bubbles that might break up your egg, since the salt raises the boiling temperature of the water slightly.
Always add something acidic - I use a very concentrated vinegar we have in Sweden, but regular vinegar or lemon juice is also a good choice. This really helps keep the egg white intact.
How to make Fried Potatoes with Feta Cheese and Poached Egg
How to make perfect fried potatoes
Making perfect fried breakfast potatoes starts with boiling them. So boil some potatoes the night before - or set aside some leftovers - and be ready for a quick breakfast the next day.
When breakfast time rolls around, start by chopping your potatoes and frying them in butter over medium-high heat. Let them get a lot of color.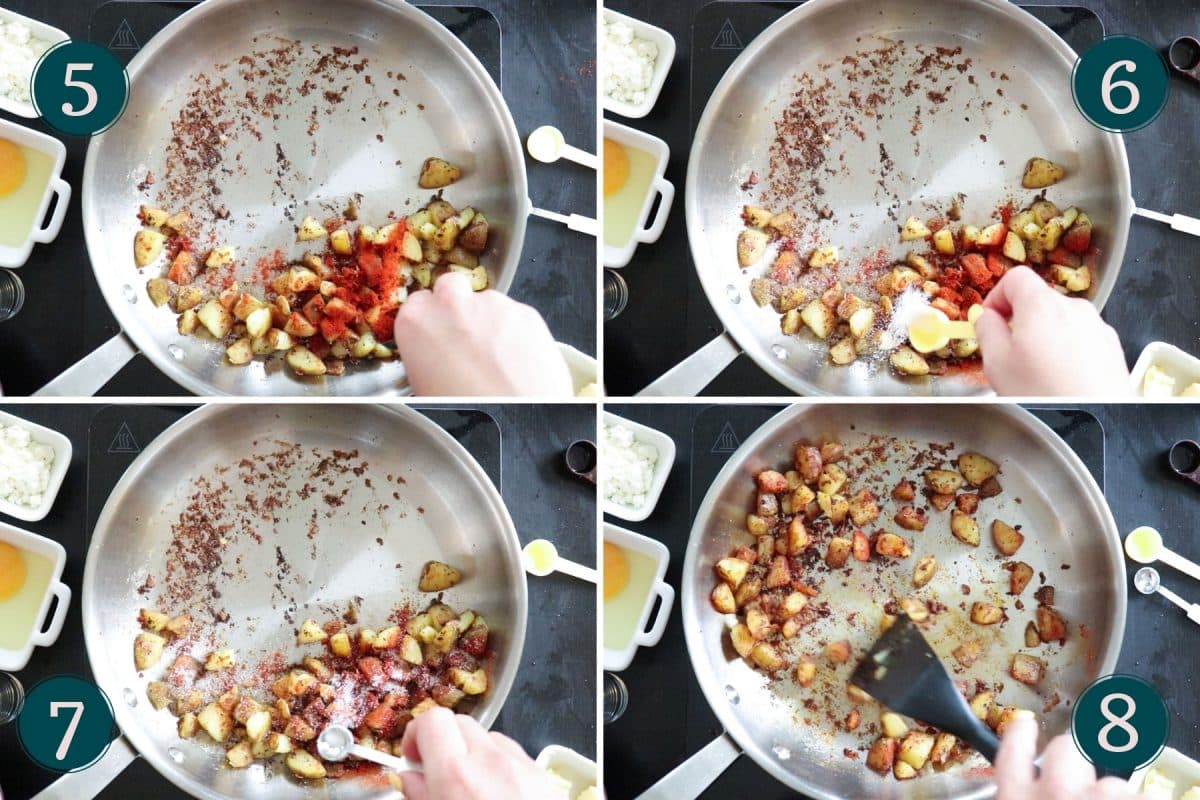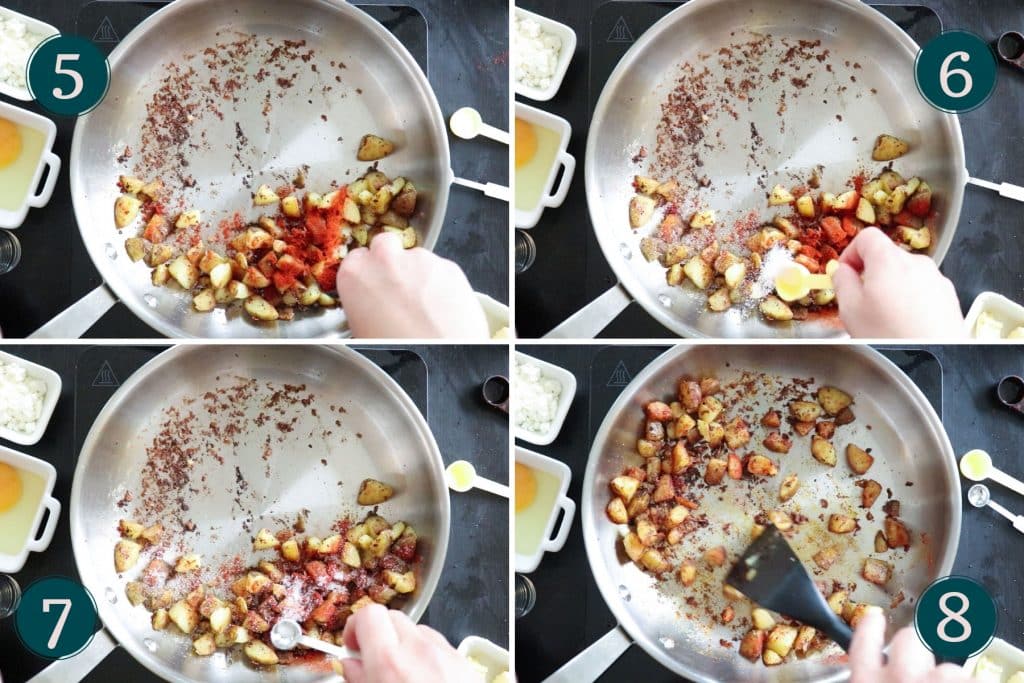 After about 5 minutes, when the potatoes are done, lower the heat and season with paprika powder, salt & sugar. Give it a good mix and fry for another minute. Then set aside and focus on the eggs.
How to make poached eggs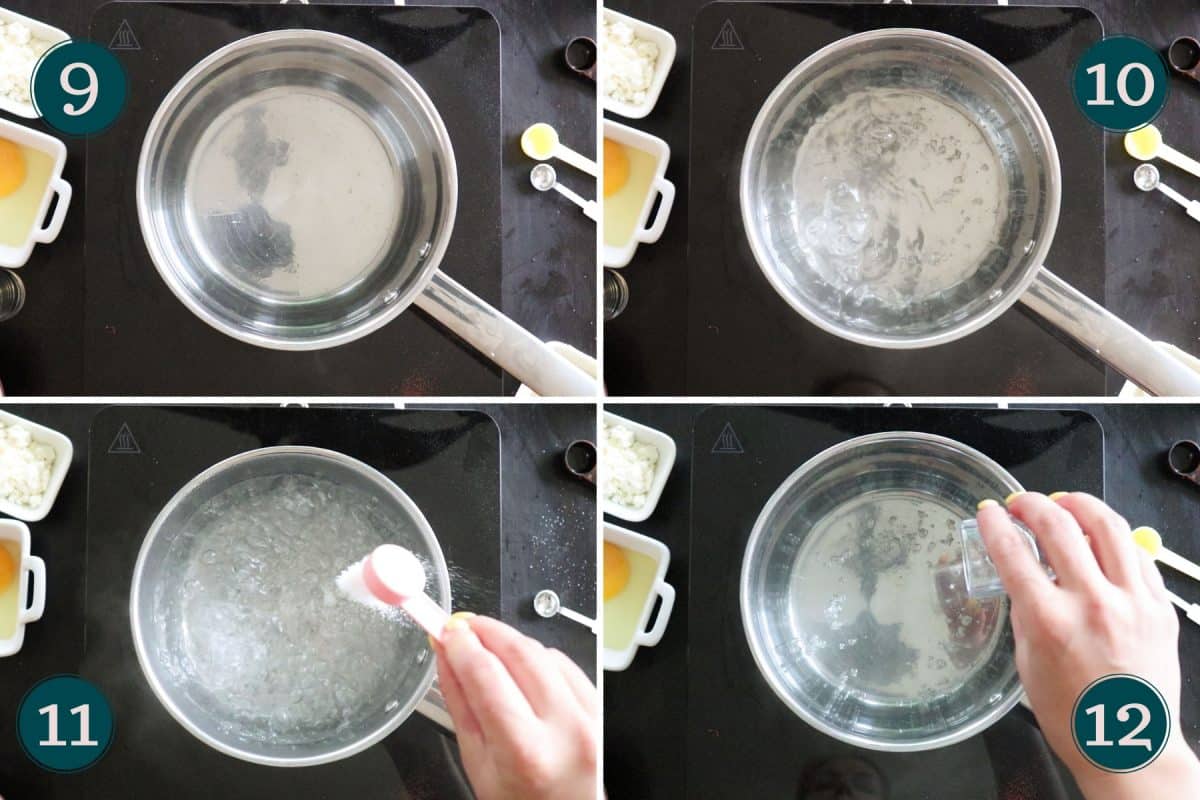 Now for the eggs, start by cracking your (fresh) egg(s) into a small cup or bowl. If making several, give them each their separate bowl. Then bring a pot of water to a boil and when it starts boiling, add in salt and vinegar. Lower the heat so that the water is just around boiling point, rather a degree or so too low than too high.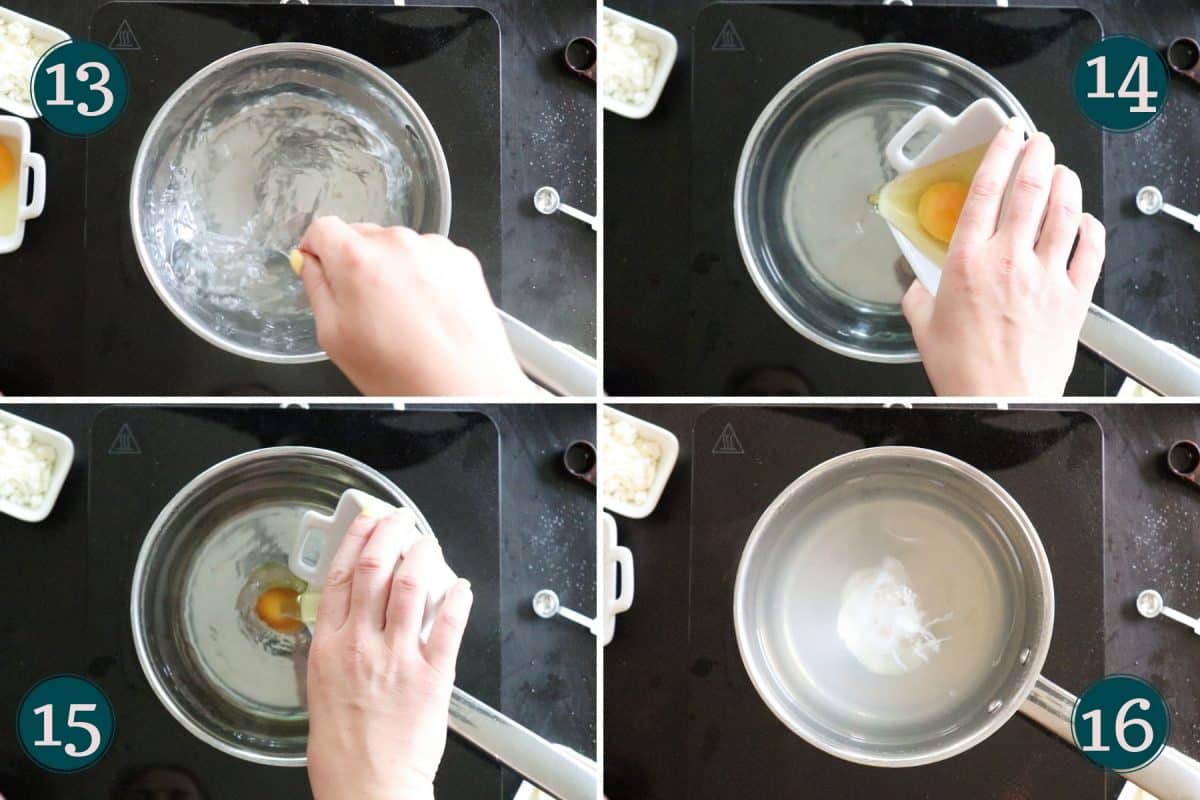 Then use a spoon to create a vortex in the middle of the pot. Add your egg to this vortex (tip it in as close to the surface as possible!) to help the white come together and cover the yolk. Then let it sit for 3 minutes before removing with a skimmer.
If you're making several eggs - transfer them as they're done to a bowl with ice water until you're ready to serve.
How to put it all together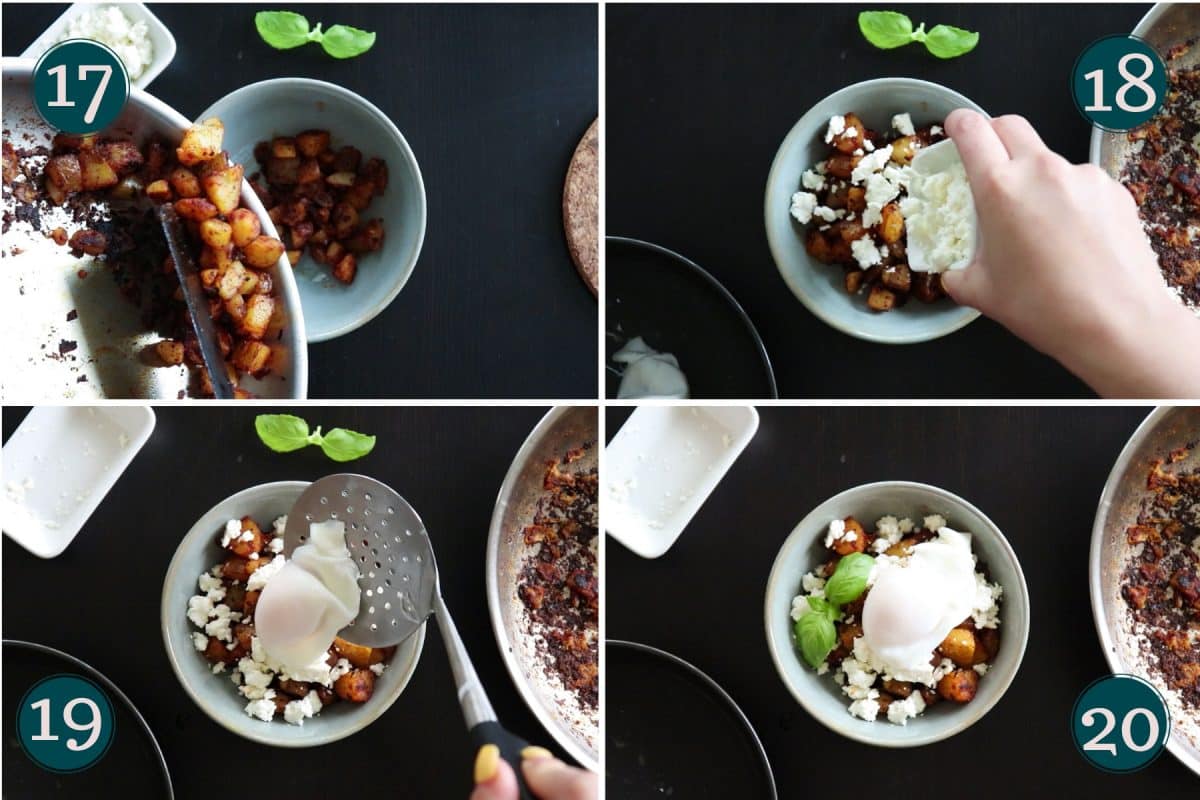 When both the potatoes and the poached egg are done, bring out a bowl and place your fried potatoes in the bottom. Top with feta cheese, poached egg and maybe a sprig o basil if you want to be fancy.
And that's it - serve, cut into your poached egg and let the runny yolk cover everything - mix it up, and go to town. Enjoy!
Tools to help you make this recipe
What did you think abut this Breakfast Bowl? What's your go-to way of making the best fried potatoes? Let me know in the comments below! And why not leave a review while you're at it?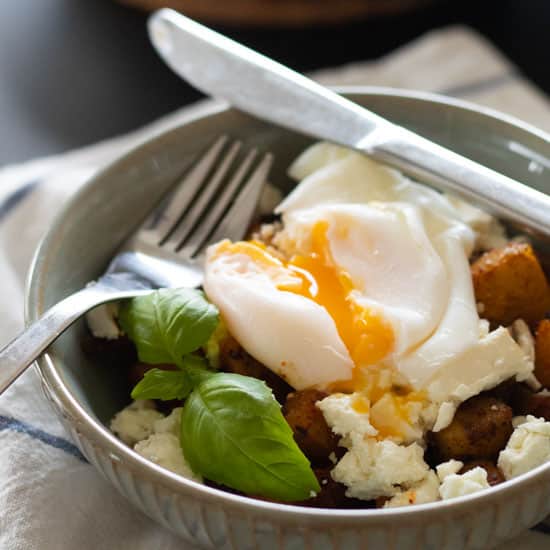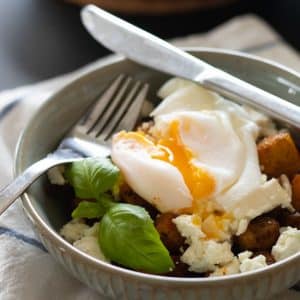 Fried Breakfast Potatoes with Feta Cheese and Poached Egg
Print
Pin
Rate
Ingredients
Fried Potatoes
1

Tbsp

butter

3

boiled medium-sized potatoes

skin on or off, chopped

1

tsp

paprika powder

1/2

tsp

sugar

1/8

tsp

salt
Poached Egg
1

Tbsp

vinegar

or lemon juice

1

tsp

salt

1

egg

as fresh as possible
Instructions
Fried Potatoes
Place a pan over medium-high heat and add in your butter. When melted and slightly browned, add in the potatoes and fry for 5 minutes.

Lower the heat to medium-low. Season the potatoes with paprika, sugar and salt, mix well, and fry for about a minute. Set aside for now.
Poached Egg
Place your egg in a small cup, glass or bowl then bring a pot of water to a boil. Add in salt and vinegar and lower the heat so that the water is just boiling - rather a degree too low than too high.

With a spoon, make a vortex in the middle of the pot, then add in your egg to the vortex as close to the surface as possible.

Let sit for 3 minutes, then bring the egg out with a skimmer or spoon. Place in a bowl with ice water if you're not serving it immediately.
To serve
Bring out a bowl and place the fried potatoes in the bottom. Follow with the crumbled Feta cheese and then top with the poached egg. Serve immediately!
Notes
Not confident poaching eggs? No worries! Switch it out for a soft boiled or sunny side up egg instead.
Nutrition
Calories:
682
kcal
|
Carbohydrates:
85
g
|
Protein:
30
g
|
Fat:
27
g
|
Saturated Fat:
16
g
|
Cholesterol:
239
mg
|
Sodium:
1078
mg
|
Potassium:
2752
mg
|
Fiber:
17
g
|
Sugar:
5
g
|
Vitamin A:
1935
IU
|
Vitamin C:
72.8
mg
|
Calcium:
463
mg
|
Iron:
22.3
mg
Nutritional information is approximate and automatically calculated, and should only be viewed as an indication.